Are you looking for information on Samuel H Boardman State Park? You are in the right place. In this article, we will walk you through everything you need to about Samuel H Boardman's state scenic corridor.
We will cover the best viewpoints, the best hikes, and the best places to stay. We will make it easy for you to plan your adventure to the park and give you all the insider information so you can have the best trip.
So, let's get started. If you want to see the natural bridges in Oregon, and the arch rock in Oregon we are about to tell you how.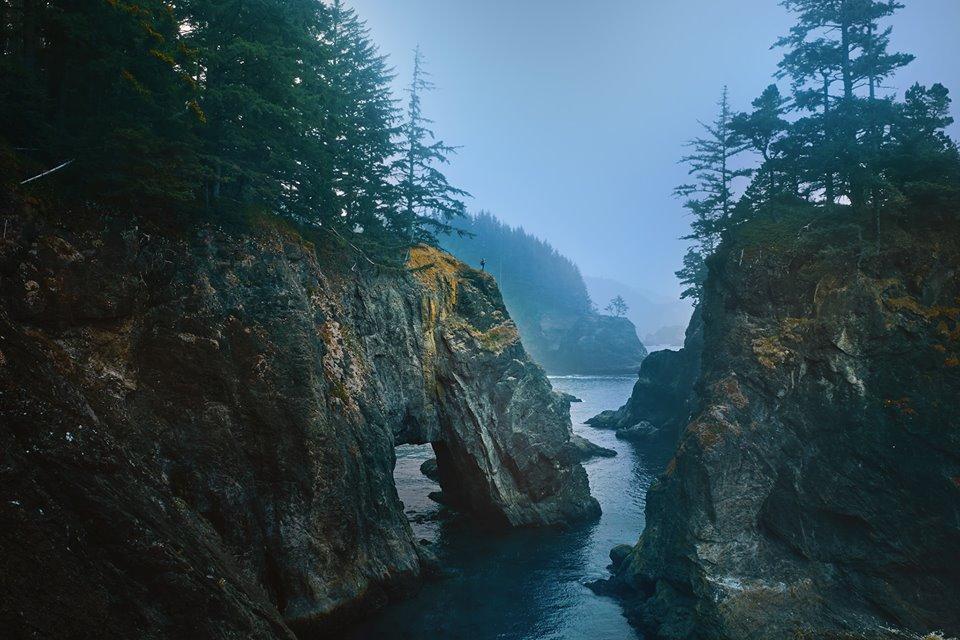 Where Is Samuel H Boardman State Park?
Samuel H. Boardman State Park is a scenic corridor along the Oregon Coast. in the southwest corner of Oregon it's like a little piece of the USA was left untouched by human hand.
The area is rugged, treelined, full of secret beaches and interesting rock formations. It really is nature at its wildest and finest.
If you have never been to Oregon we can tell you it is beautiful and most feel this area is by far the most stunning.
The park is named after Samuel H Broadman who served as Oregon State Parks superintendent, from 1929-1950. The park is there today largely due to his passion for the area and tireless work to preserve and acquire the land.
When you will go you will see why, it's one of those places that reveals itself to you getting more and more majestic with each turn you take.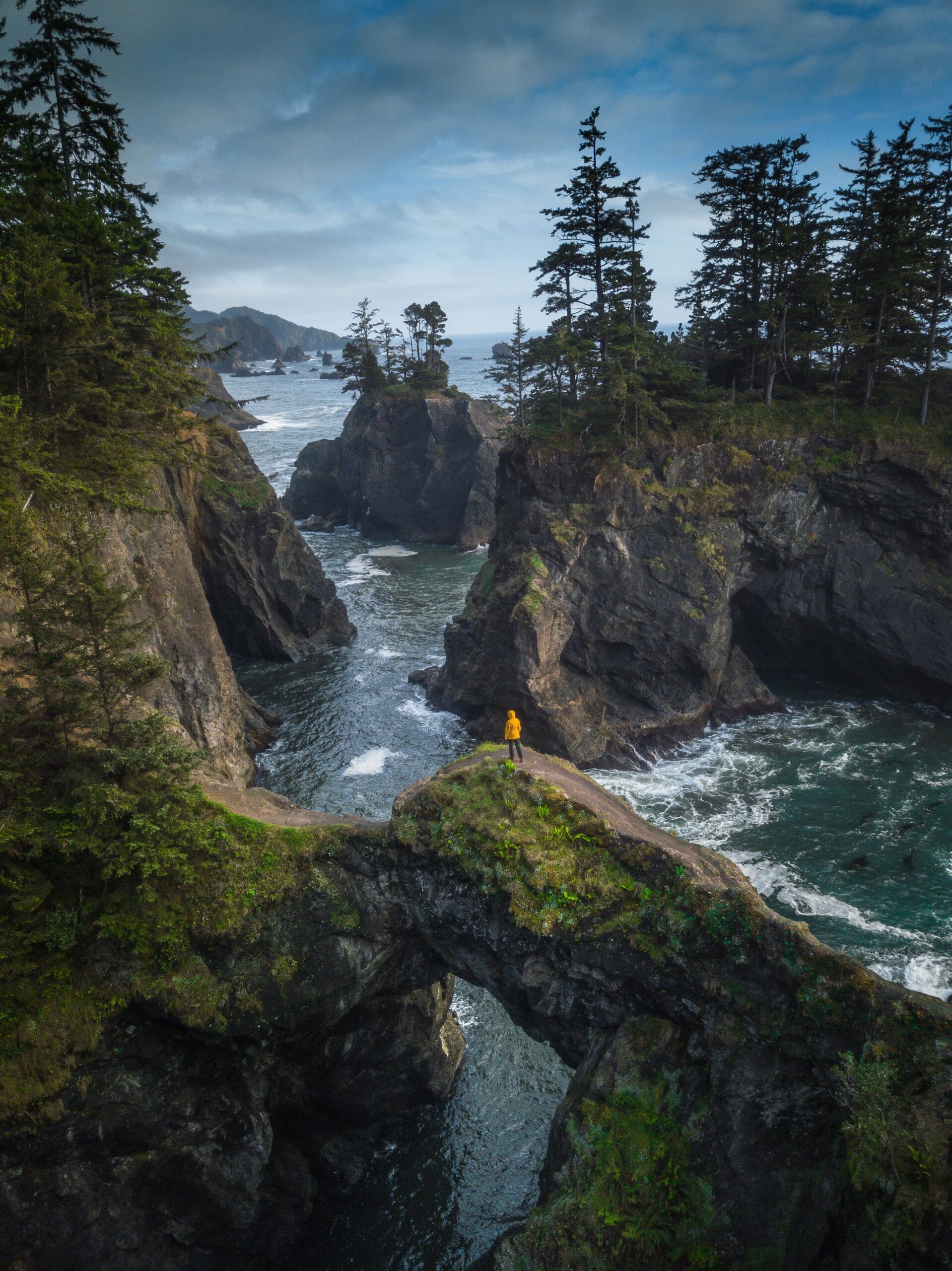 How Large Is Samuel H Boardman Scenic Corridor?
The scenic corridor is a 12 miles stretch located between Brookings and Gold Beach along Highway 101.
The stretch of highway features one turnoff after another, each with access to picnic areas, viewpoints, and trailheads.
You can hike the park, which is undoubtedly the best way to see it, however, most people drive getting off at various stops/viewpoints along the way. Each viewpoint has a parking lot so it's an easy way to see the park.
How long should I visit
Our first response to this would be as long as you can, there is so much to see and do here you really can spend as long as you want.
We have taken a three-day trip and a five-day trip and honestly we could stay there for much longer. Two days is the absolute minimum we would say.
If you are not someone who wants to take photos of absolutely everything, like us, and you just want to pass through you can do it in a day. A day however wouldn't give you a lot of time to hike any of the trails or stop very long at each point.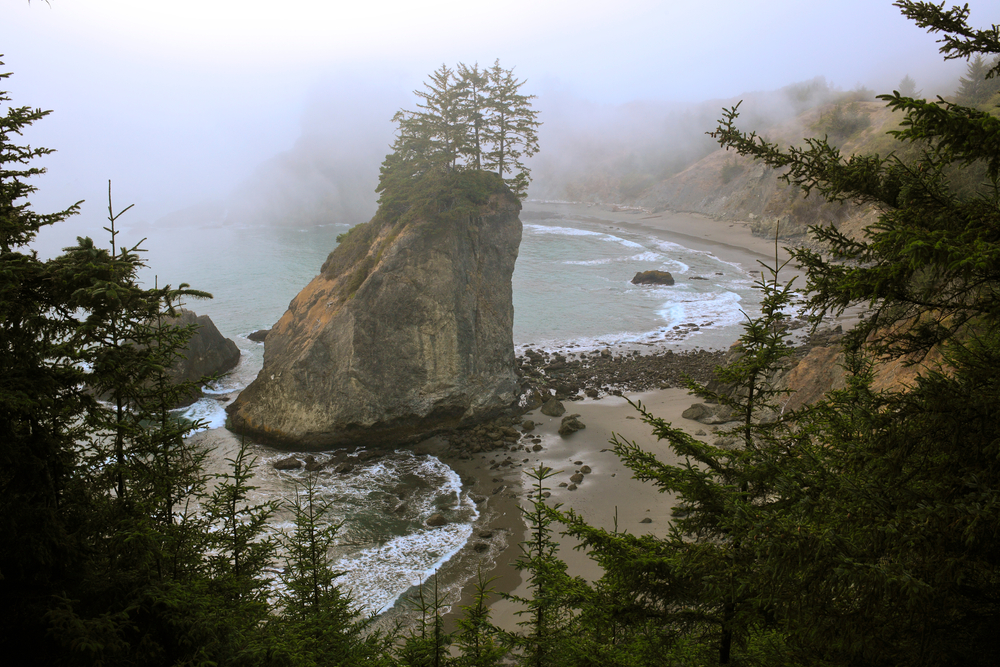 Tips for Visiting Samuel H Boardman State Park
Here are a few tips that we wished people had told us before we took our first trip to the park.
You will be in and out of the car all day so dress in layers you can quickly take on and off. We also recommend waterproof hiking boots because the weather can turn quickly.
It can get really windy so make sure you have some kind of windbreak and a day pack with whatever you will need in is also a good idea.
There is very little cell service in this area so download all the maps and information you will need for navigation.
Be prepared, while most of the trails are short some are steep and can be slippery, some will be very rocky, and often the trails aren't as easy going as you first imagine.
There is no visitor center welcoming you to the area just signs saying you are entering and leaving the corridor so keep an eye out for these.
Bathrooms and picnic tables are the stops for Lone Ranch, Whaleshead Beach, and Arch Rock.
Make sure you check tide tables as some areas cannot be accessed at high tide. Also make sure you don't get stuck in an area due to an high tide.
The best time to visit is late spring to fall as it tends to be dryer and sunnier then.
The park is free you don't need a pass or to pay.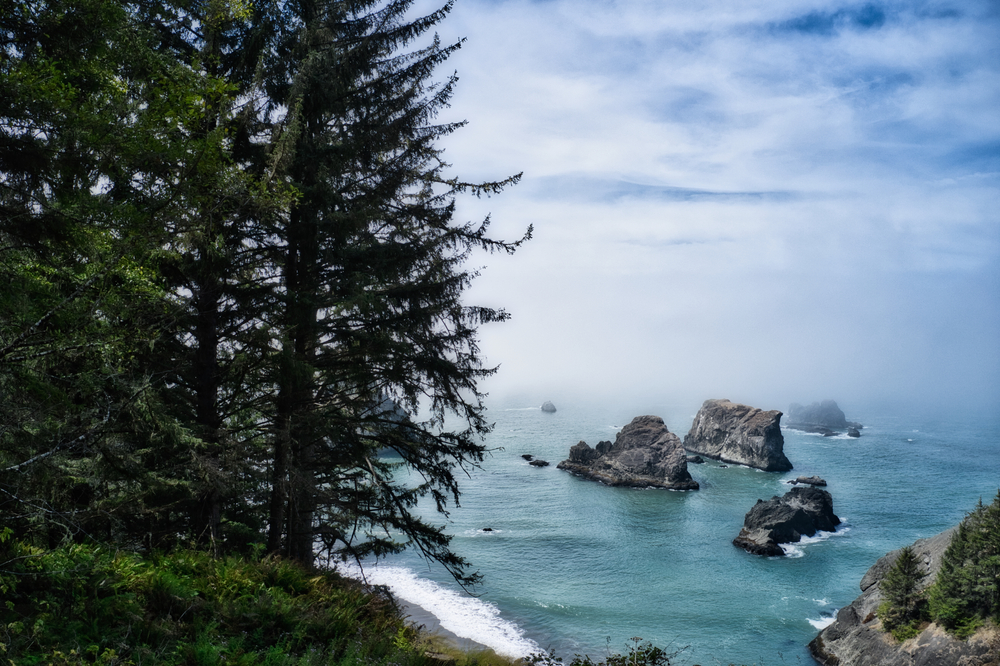 Best Viewpoints In Samuel H Boardman
Arch Rock
Mile Marker 344.8
Arch rock speaks for itself really. It's an arched rock eroded by the waves. The arched rock is about 500 feet away from shore and the view here is a photographer's dream.
The trail from the parking spot is short a 0.2-mile loop and is very family-friendly. There are picnic areas dotted around and the overlook is stunning.
There are a few viewpoints all giving you majestic window views onto the sea stacks, islands and arch below.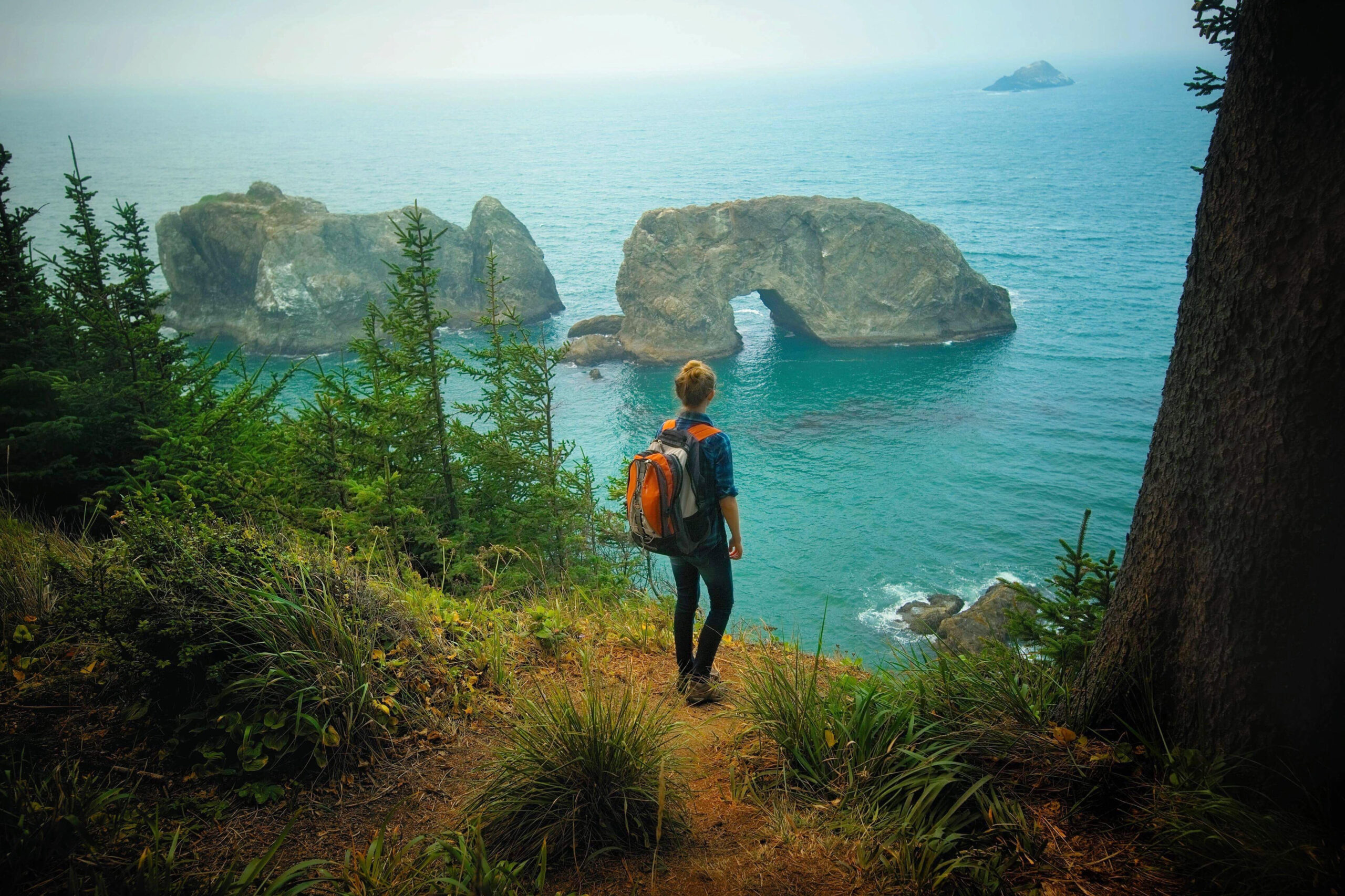 Spruce Island
Mile 345.0
The viewpoint is at the parking lot and you get to see Spruce Island. For a better view, there is a 0.3-mile trail from the south side of the parking lot, this trail would eventually lead you to Secret Beach if you kept going.
There is another trail for the north side of the parking lot taking you towards Arch Rock Park if you fancy exploring.
Thunder Rock Cove
Mile 345.8
This viewpoint can be easily missed as it's quite tucked away. As soon as you park you will see the cove on the right.
A short trail leads down to Secret beach from here it's an easy loop trail if you fancy a bit of a hike.
Secret Beach
south of mile marker 345
This place is beautiful and while it's not exactly a secret the parking area can be a bit difficult to find. The small parking area is about half a mile south of Arch Rock. It's a small parking area that fits about 6 cars and is behind a guard rail.
There is a longer trail leading here from the Thunder Cove Parking area and it's much easier to find if you are having trouble.
The trail is more of a dirt path and is right through the trees from the parking lot. It's then a steep decline down to the beach. It can be tricky to find and can sometimes be a bit of a scramble but the view is worth it.
This is of the locations you will want to visit at low tide as most of it isn't visible at high tide. It really is stunning and at sunset is just incredible.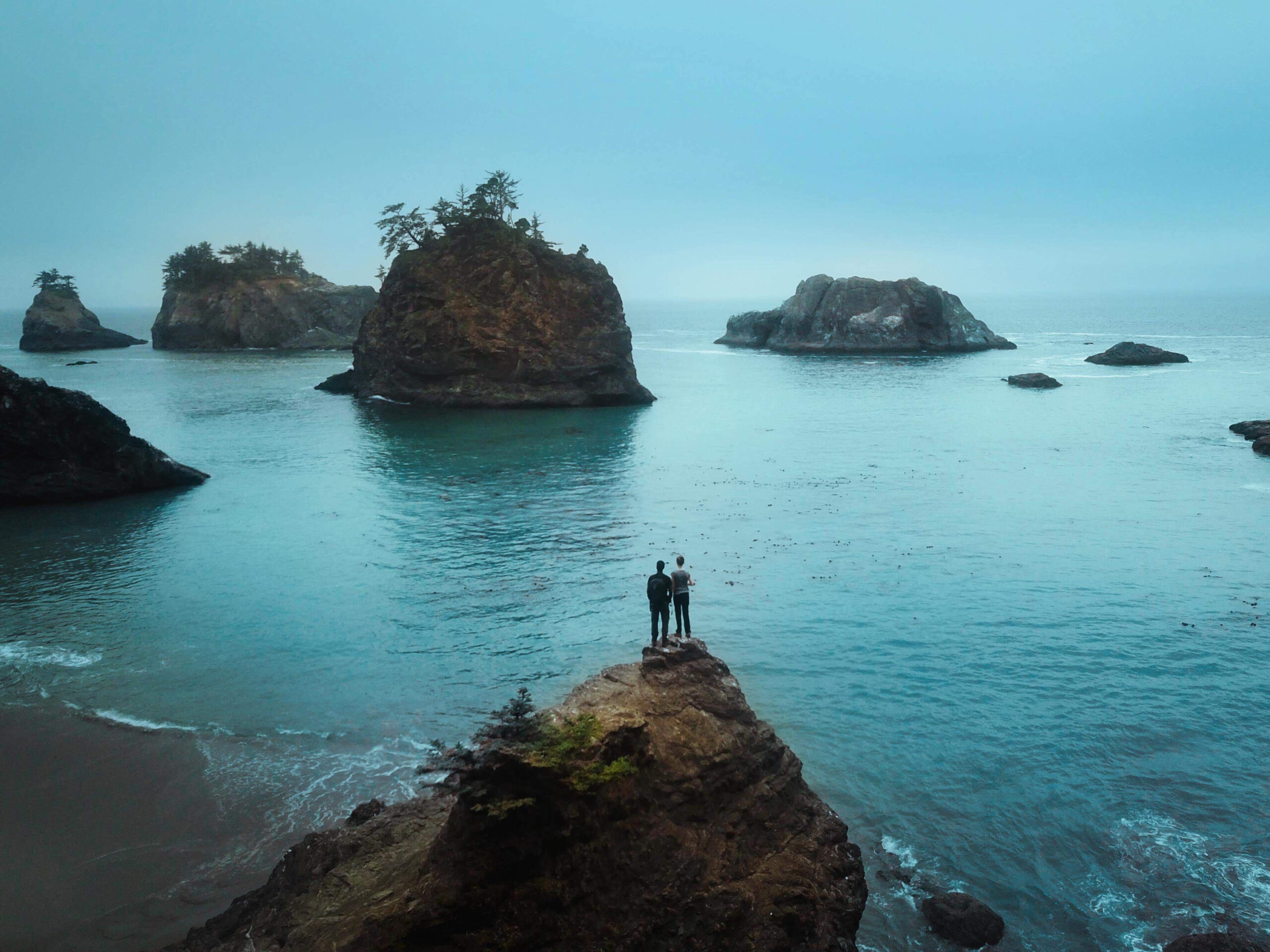 Natural Bridges
Mile 346.0
When people think of Samuel H Boardman State Park they think of this view. It's one of the best viewpoints in the park and the iconic view is only a short walk from the parking lot.
The parking lot is easy to find and the trail is well marked. The trail leads you to a wooden platform where you can see the seven iconic arch rocks and blowholes known as Natural Bridges. Some people do take a more sketchy route down to get great photos but we are not going to share that one as we want you to be safe.
You can find better views and better photo spots but you will be going off-trail and it can be dangerous. Please only consider doing this if you know what you are doing and can do so safely and without damaging the environment.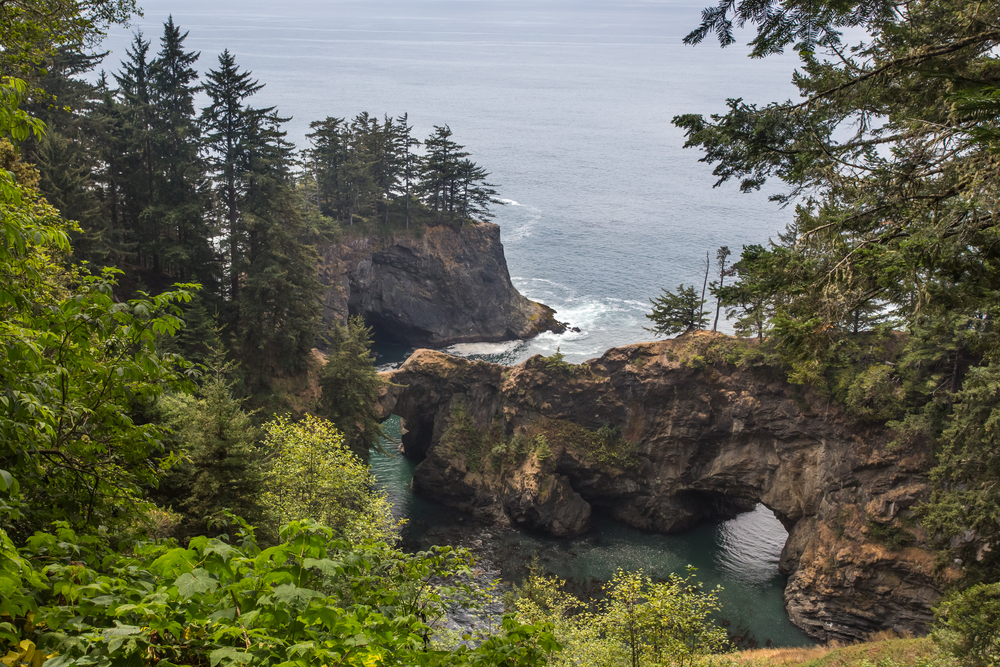 Thomas Creek Bridge
Mile 347.8
If you want to see Oregon's highest bridge then make a stop here. Built-in 1961 and 345 feet tall it really is spectacular.
The parking lot is at the south end of the bridge. You then take a short trail west to get a view of the bridge. you will see signs to the viewpoint nailed to the trees so it's easy to find.
you can also take the Thomas Creek Beach Trail from here. The trail is short but there some steep areas with ropes.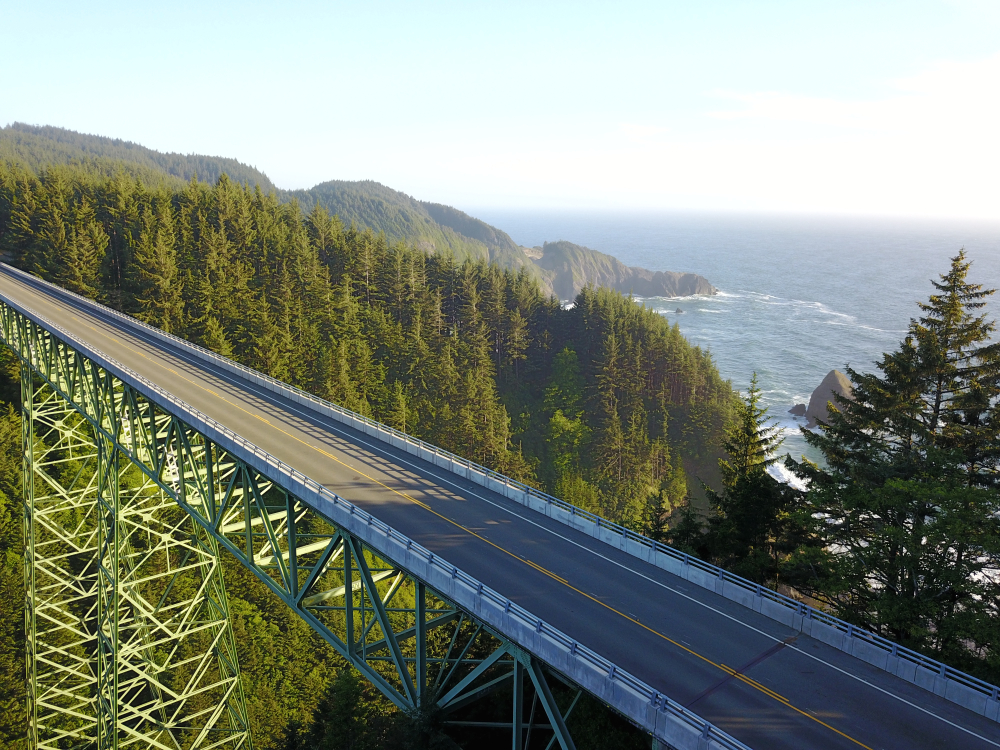 Indian Sands
Mile 348.6
Indian sands are the place to go if you like pretty cool sand dunes. But these are sand dunes with a difference that is that the sand comes from the eroding cliffs and not the beach.
The trail is a one-mile loop leading from the parking lot. It starts with a rapid descent then does through the forest. Be careful around this area as the sand cliffs are prone to collapsing at any time so just be vigilant.
This area isn't as popular so tends to be a bit quieter.
Whaleshead viewpoint
Mile 349.3
Whaleshead Beach is a very popular beach and it's a great spot to stop for a picnic. The beach is more than a mile long so while busy it is easy to find your own space.
This place gets it's name due so a rock offshore representing a whales spout.
The viewpoint and picnic area are a little further south than the beach parking lot. The road from the parking lot to the beach is a little bumpy but the path to the beach is very flat and easy going.
This is a great spot to catch the view but also stay and relax a while.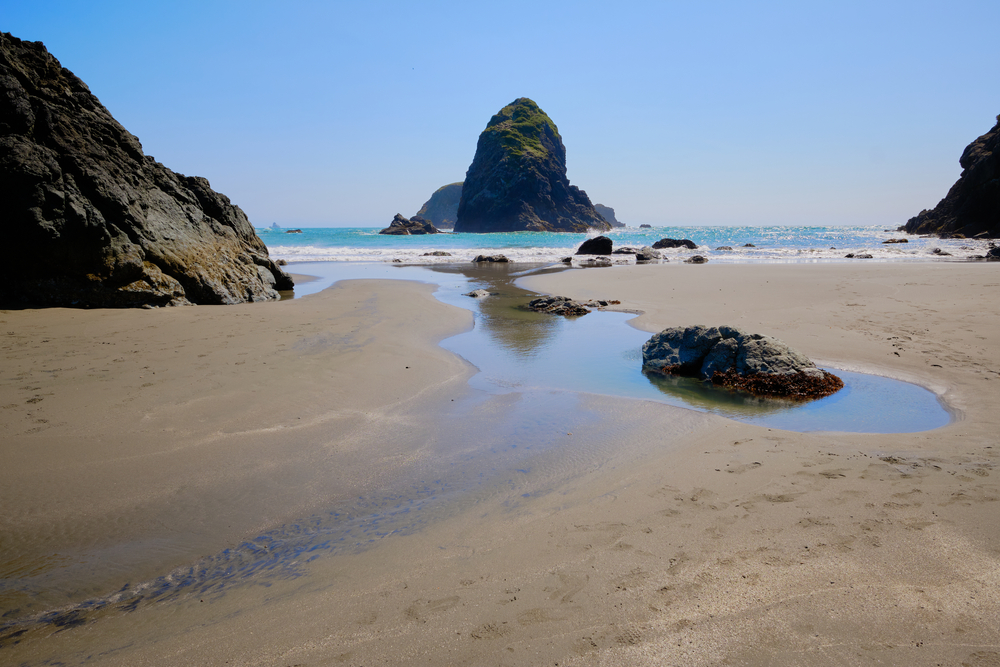 House Rock viewpoint
Mile 352.6
You can either hike here from Cape Ferrelo or stop at the viewpoint to take in the stunning views.
Here you will also find a memorial for Samuel H Boardman. There are no trails leading from this viewpoint just a few steps leading you to the overlook and a bench.
Lone Ranch Picnic Area
Lone Ranch is the southernmost stop in the Samuel H Boardman State Park. We recommend going at low tide if you can, especially if you have children as they will find the seashore pools interesting.
The picnic tables all have incredible views so it is a great place to stop and take a bite.
The beach is crescent shaped with the familiar sea stacks you see all over this area.
Depending on which way you approach the park this is a great place to start or finish your day.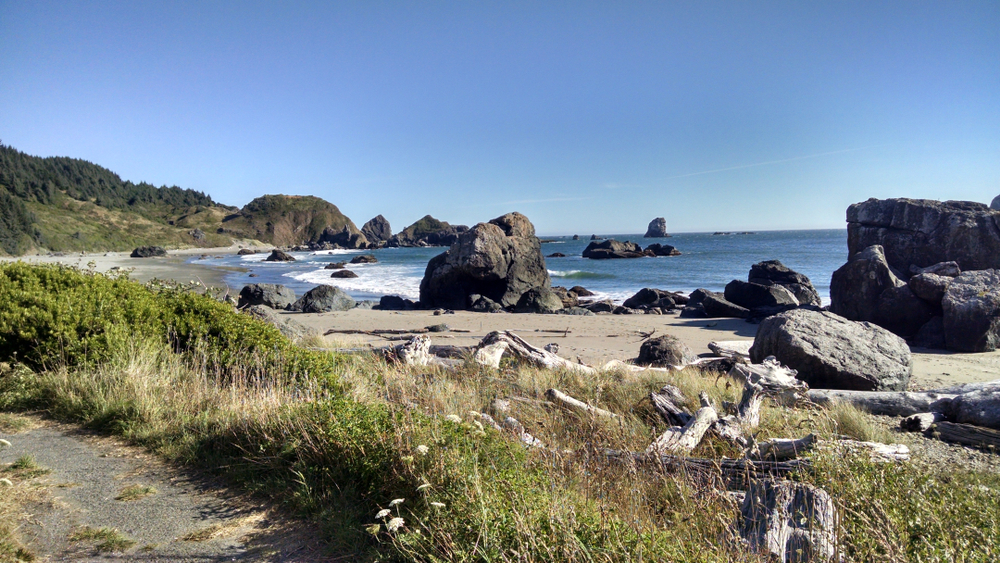 Best Hikes At Samuel H Boardman
While the park has lots of little hikes from the parking lots to the viewpoints, here we will focus on the slightly longer trails within the park.
Indian Sands to China Beach
This 7-mile round trip begins at the Indian sands parking lot. You will follow the old cat trail and then the Oregon Coast Trail north to Indian
Sands.
You will see the sandstone sand dunes, Thomas Creek Canyon, Sitka spruce, and eventually into China beach.
The trail can be a little difficult in some places and make sure you have downloaded a map because the ever-changing sand dunes can obscure the way a little.
Cape Ferrelo to House Rock
If you fancy a longer hike from the beautiful Cape Ferrelo Viewpoint you can head north for four miles to House Rock viewpoint. You will walk through spruce and red alder.
It's a lovely easy walk for those who want something a little longer
Thomas Creek Whaleshead Beach Trail
A moderate hike consisting of a 2.9-mile loop. The trail takes you from Thomas Creek to Whaleshead Beach and back again. You will see amazing views of the coast and walk through the forest.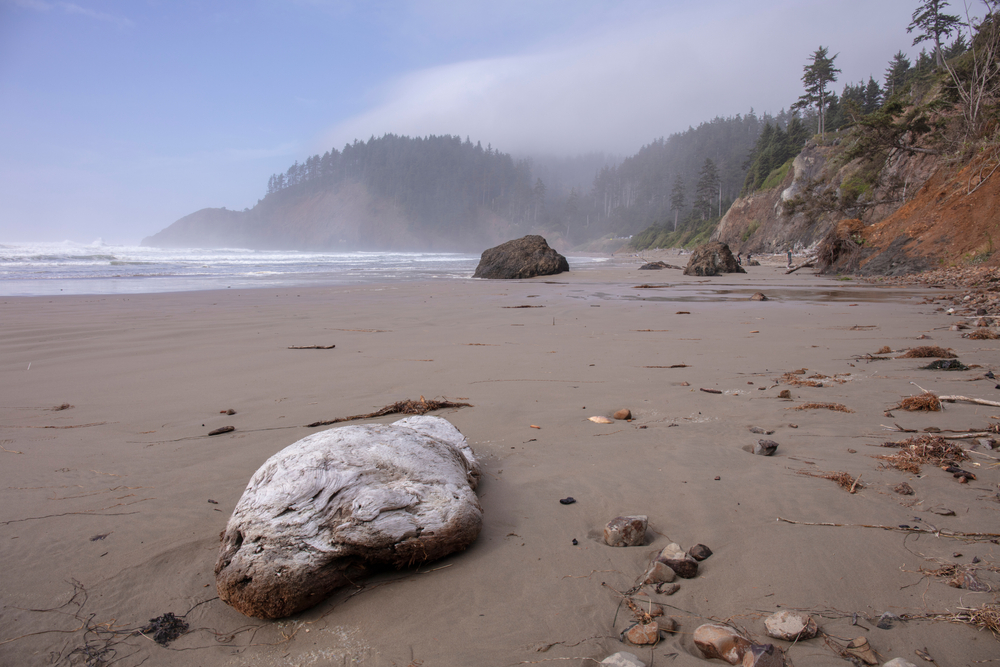 Lone Ranch South Trail
At just over 3 miles this trail is a moderate trail and is accessible all year round. It's more of a beach trail and takes you to the rocks and the hills to the left of the beach.
It starts at the southern tip of Samuel H. Boardman and is a great easy way to get a feel for the area.
Whaleshead Beach Trail to Indian Sands
This hikes links the Whaleshead beach and Indian sands trails together. The whole trail is just short of 3 miles.
Before heading off on the trail stop at Whaleshead beach first because it is well worth seeing.
The first part of the trail offers little in terms of views but once you hit the Indian Sands portion it is beautiful.
It's steep in some spots but quite manageable.
You will need to connect a few trails together to complete this and walk next to the 101 for a couple of hundred feet near the beginning or end depending on which way you approach it.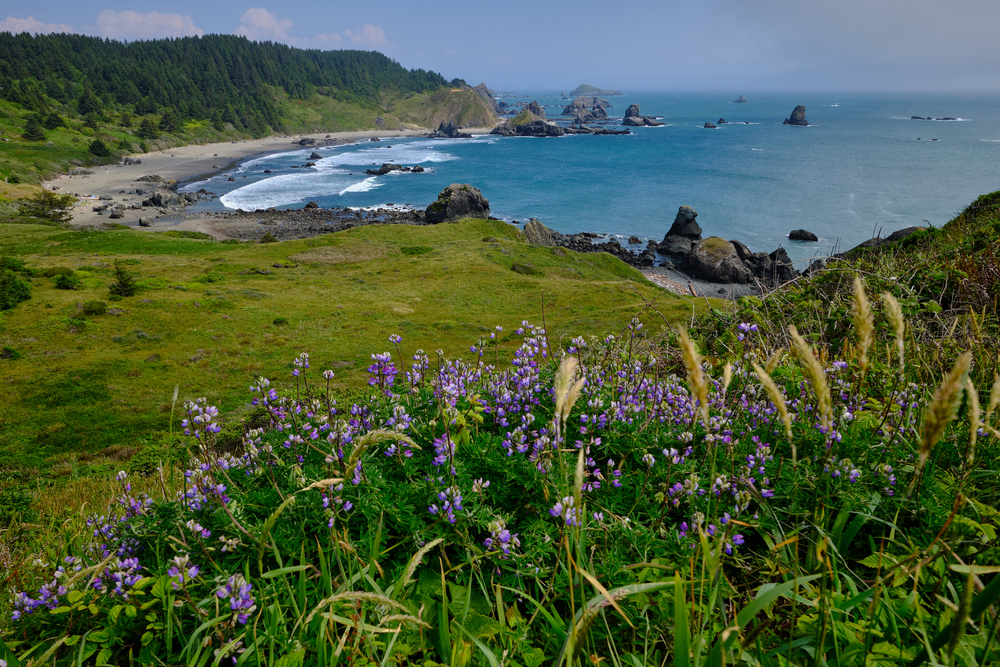 Where To Stay Near Samuel H Boardman
If you are thinking of staying near the Samuel H Boardman State Park then we have found some great accommodation for you.
The Lighthouse Cottage, Gold Beach
This cute little lighthouse is perfect for two and the views are amazing. The Lighthouse Cottage, Gold Beach is an incredibly cozy and comfortable space for two and an amazing base to enjoy the Samuel H Boardman State Park. Oh, and it has its own hot tub.
The Bluebird House
The Bluebird House in Brookings sleeps four and is one of the coolest treehouses we have seen.
The view is breathtaking, the décor quirky and is the eptimty of tranquil.
Such a brilliant quirky place to use as a base for a family of four.
Private Ocean Peninsula
if you are after a romantic getaway then they don't come much better than this. The Private Ocean Peninsula is luxurious and incredible views all mixed into one.
The property offers 270-degree views of nothing but the ocean and the Oregon and California coast. The cottage sits at the end of its own private peninsula with a stunning deck jutting out into the sea.
If you are after something different this might just tick the box.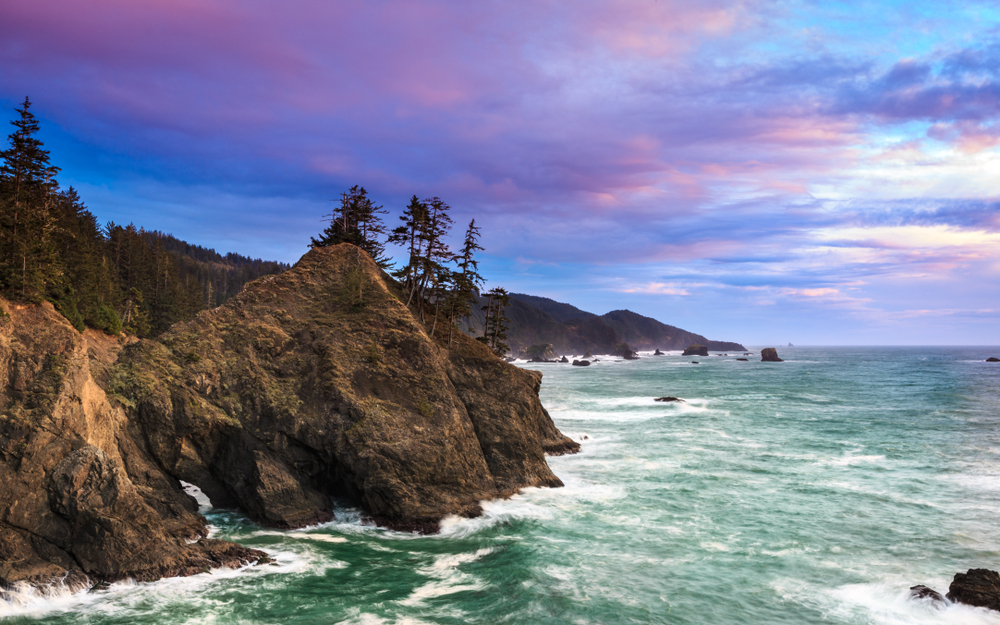 We hope this article on Samuel H Boardman State Park prepares you for your trip and comes in handy. Whenever you visit the Samuel H Boardman State Scenic Corridor we know you will have an amazing time. Like I said we adore this place.
Please come back and tell us all about it we would love to know how your trip goes.
You might also like this The Ultimate Oregon Road Trip Itinerary You Should Steal