Are you looking for the best hot springs in California for your upcoming trip? You've come to the right place!
Soaking in one of nature's mineral-filled springs is one of the most relaxing things you can add to your Golden State vacation, and we've included some of the best California hot springs!
Here's a delightful detail for you: every one of the hot springs we've put on this list for swimming and soaking is clothing optional, if that's something you're into! Visitors are welcome to wear bathing suits or not, up to you.
Visit any one — or all! — of these soothing, restorative locations for a body, mind, and spirit rejuvenation. The warmth and beauty of these natural hot springs in California will bring joy and rest, even to the busiest of itineraries! Be ready for a good night's sleep after washing away any stress and worries in these gorgeous spots.

PLEASE NOTE: Natural hot springs are fragile, often on private land, and sometimes overused or disrespected by visitors. Please be courteous, safe, and kind during your time here! Do not leave any trash or anything else behind, and don't do any damages to the hot springs or surrounding land. Let's leave no trace and keep these stunning natural beauties thriving and sustainable!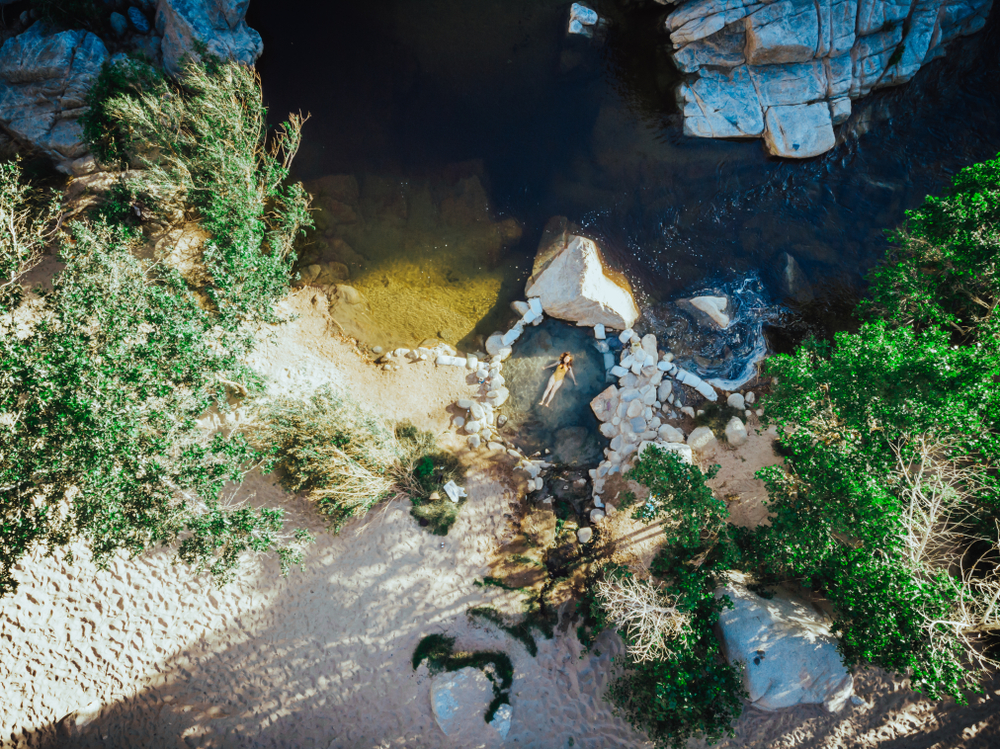 5 Natural Hot Springs In California You Must See
Travertine Hot Springs
Travertine Hot Springs is located just south of Bridgeport, CA. The water is toasty warm and comfortable, and the views are stunning!
A nice perk in visiting Travertine, one of the best natural hot springs in California: it's free! There's no admission cost which is why it is one of the best things to do in California!
While you are not allowed to actually set your tent up at the edge of this stunning California hot spring, camping is permitted around the dirt road that leads up to Travertine Hot Springs. And the camping is free too, since this area is BLM land.
Keep in mind that you're off a dirt road here, so you'll want to come prepared and know that things could get muddy.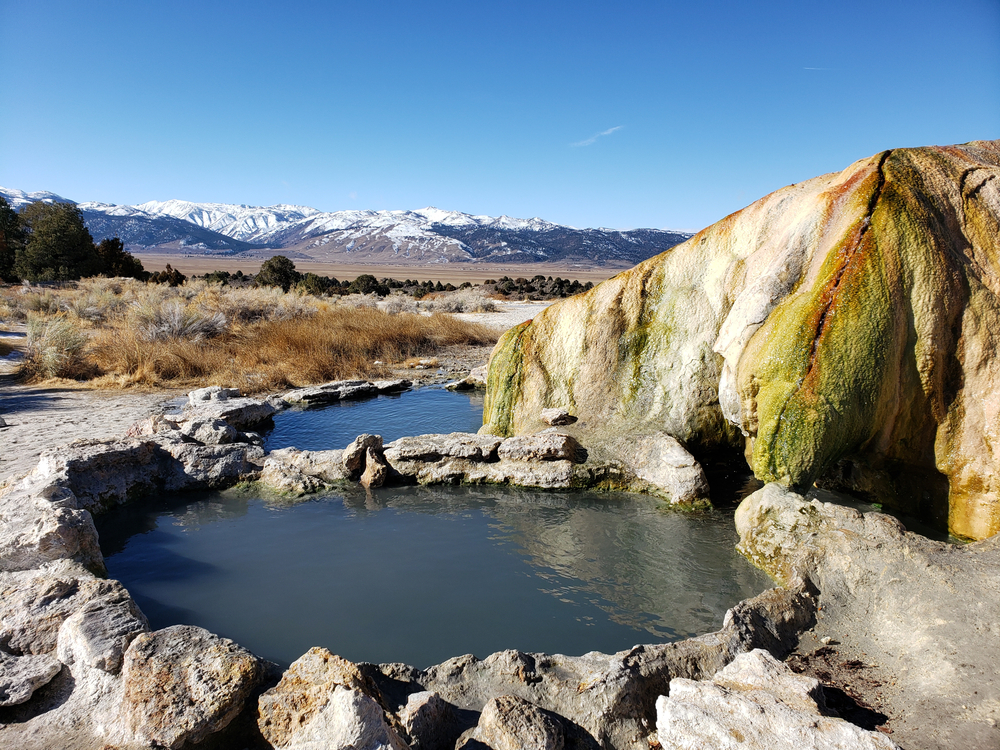 This gorgeous geothermal California hot springs location is in the Sierra Nevadas, which will give you an abundance of awesome mountain views! Think about what time of year you're visiting, and be ready for colder temperatures and possibly snow in the winter months.
Lastly, there's a small — and somewhat rarely maintained; think: likely dirty — outhouse, but other than that, it's totally undeveloped! You can really get out in nature and unwind. Just be sure to take everything you want to have with you, and then clean up behind yourself when you leave. Remember, pack it in, pack it out!
Travertine Hot Springs is just one of the prettiest California hot springs and an amazing stop on any Cali road trip! Enjoy your mineral soak.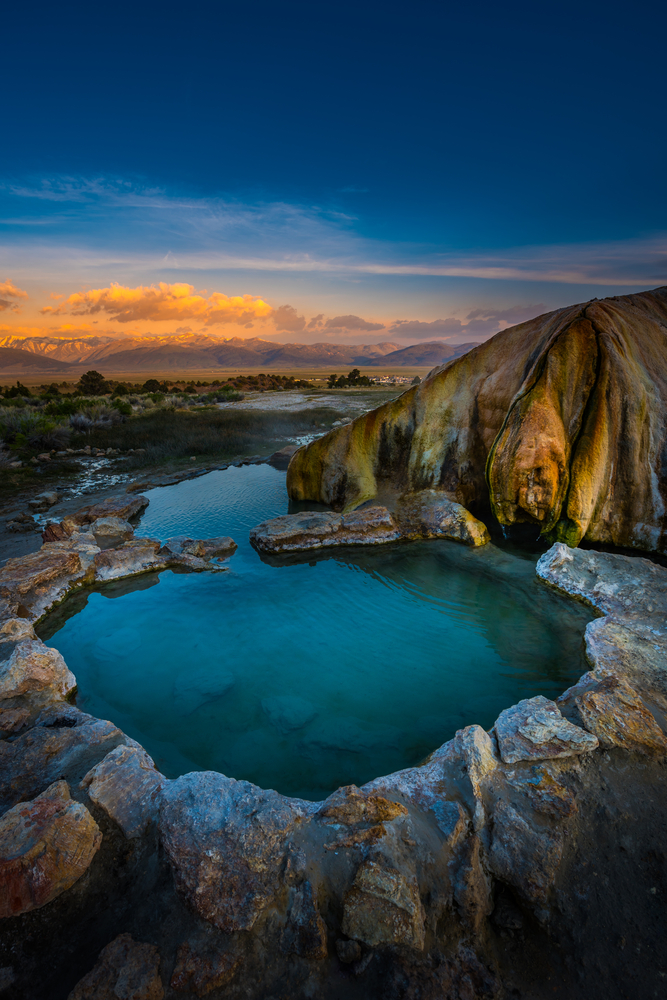 Deep Creek Hot Springs
This is one of the best natural hot springs in California, especially if you're looking for a more desert-y atmosphere: Deep Creek Hot Springs! These hot springs are located on the north edge of the San Bernardino National Forest, in Southern California's Mojave Desert.
The water temperature at Deep Creek Hot Springs is a cozy average of 100 degrees. While taking a dip here, you'll see a great mix of rocky formations, trees, sand, and scrub brush. There are plenty of hiking opportunities around this natural California hot spring; in fact, the Pacific Crest Trail goes through the area!
You will go through private land in spots around Deep Creek, so there are some small fees to pass through.
When visiting, be sure to bring plenty of fresh water… you cannot drink from the hot springs, as it's unsafe, and you always want to have plenty of water in the desert (or on any outdoor adventure!).
We hope you'll love this natural hot springs in Southern California!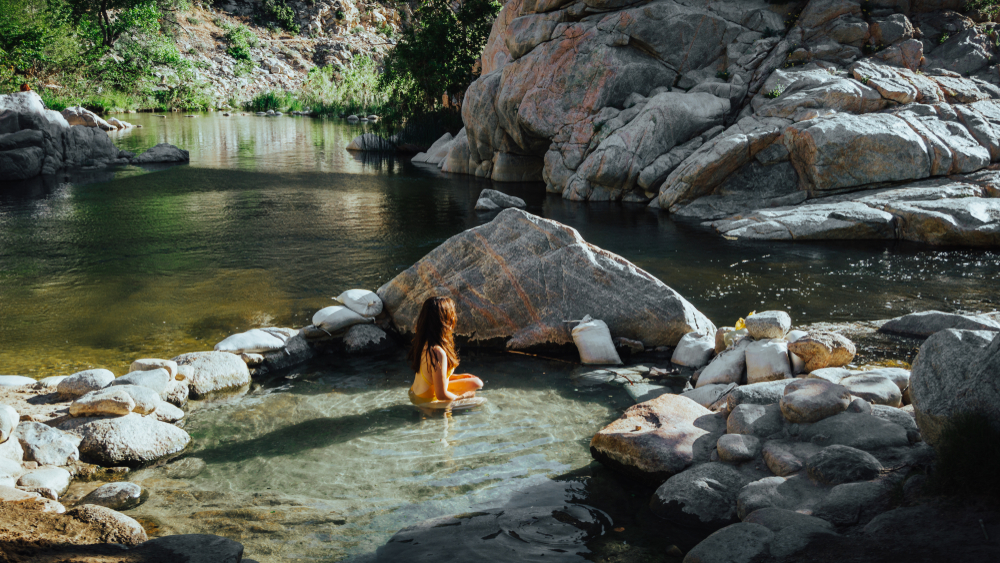 Wild Willy's Hot Springs
Wild Willy's is located off Highway 395, in the Mammoth Lakes area. These are the hot springs you'll want to visit for more mountain views and sagebrush — and to see the heart-shaped pool!
There are two pools at this natural California hot springs. One of them really is shaped like a heart!
Getting to Wild Willy's Hot Springs is pretty easy, compared to some other hot springs which require quite a bit more hiking. You'll drive a dirt road and then have a short walk on a cool wooden boardwalk path, about a quarter mile. And this is another free hot springs spot! No charge to visit.
Because it's public, free, and easy to access, you might find this California hot springs to be crowded at times, and it seems to be known for a great party hang out spot. If you're up for it, you can take your favorite drink and meet some new people! (Just remember to be respectful of the hot springs and surrounding environment, of course!)
For those who want more seclusion or the place to yourself, try going at sunrise! You may find a peaceful, quiet start to the day.
If you're looking to camp, there are camping spots nearby, as well as free BLM lands you can stay on. Do be warned about the temperatures… you're in the mountains, at high elevations, and it gets cold — below freezing — at night, unless you go during the hottest parts of summer.
Overall, Wild Willy's Hot Springs is one of the best natural hot springs in California to visit, with deliciously clear, blue water and remarking views!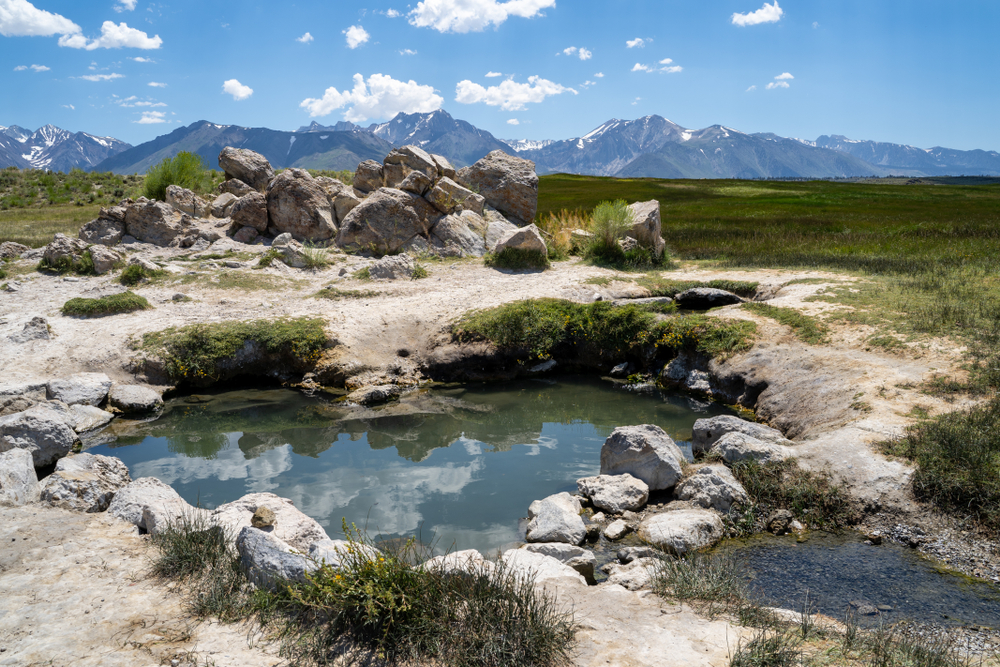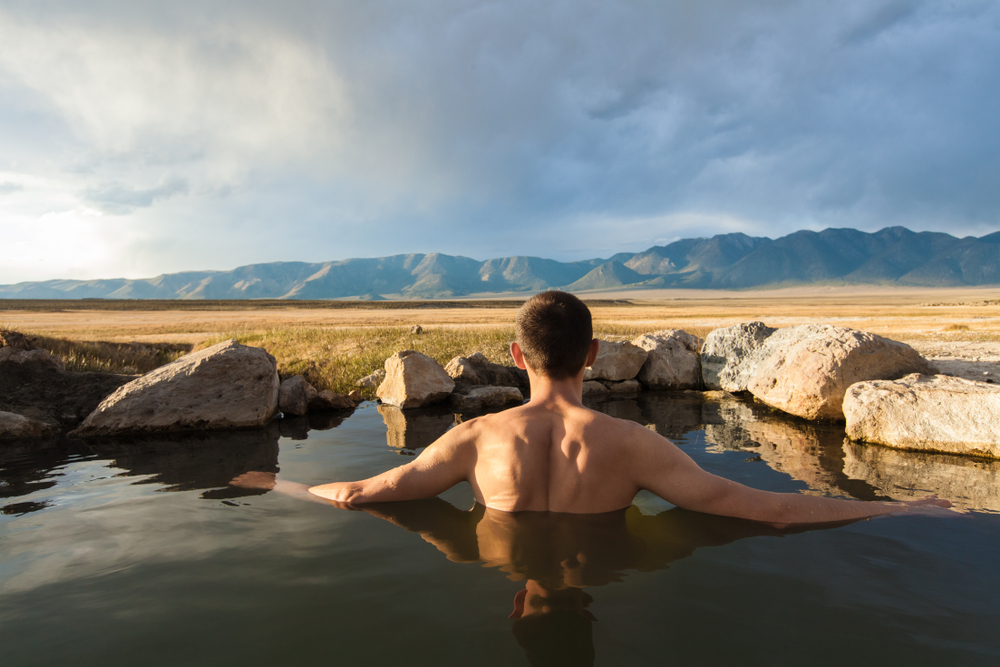 Whitmore Hot Springs
Whitmore Hot Springs is another of the amazing natural hot springs in California… and it's only about 4 miles away from Wild Willy's Hot Springs! While you're visiting one, you might as well go to the other as well, right??? We think so!
Since this is in the same area as Wild Willy's — right near Mammoth and Inyo National Forest — and even on the same dirt road as Wild Willy's, a lot of the info about Wild Willy's Hot Springs also applies to Whitmore Hot Springs. Whitmore has the same type of mountain scenery. There are many campgrounds nearby and free BLM camping.
These natural California hot springs are said to be the result of a long ago, ancient volcanic explosion. They're non-commercial and also free to visit.
Again, the water temp is around 95-105 degrees, and the geothermal health benefits of soaking in these best California hot springs are said to help not only your mind but also your circulation, blood pressure, arthritis pains, and skin irritation. But remember that same as soaking in a hot tub, hot springs can dehydrate you, especially if you're sitting in them for a long time, so be sure to drink plenty of water.
Whitmore Hot Springs is one of the best hot springs in California, not only for the hot springs themselves, but also for the views and mix of mountain scenery and desert-like scrub brush all around. It should certainly be a stop on one of your future California road trips!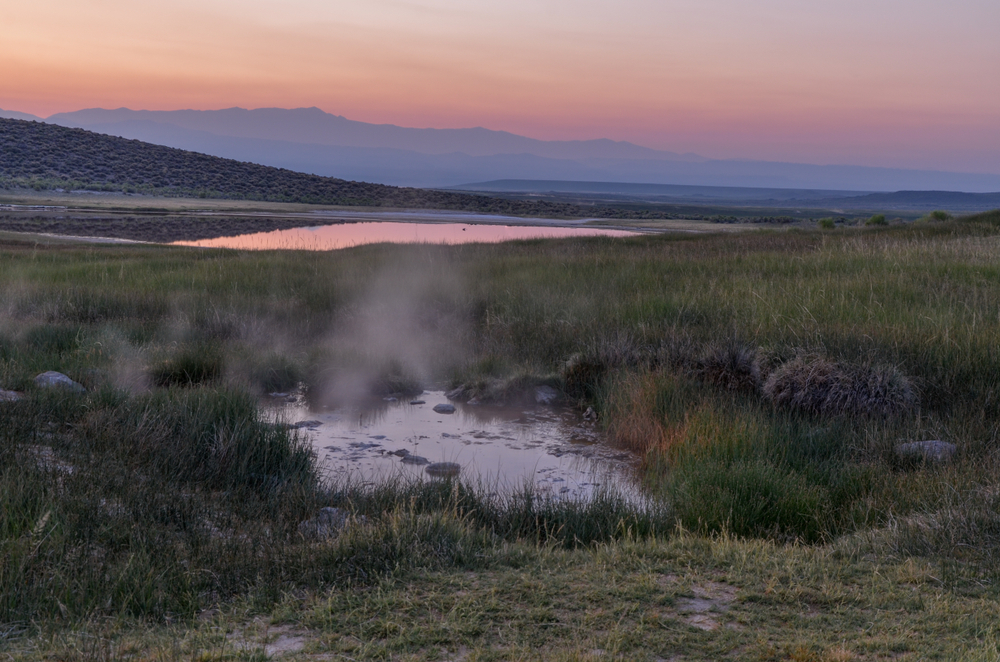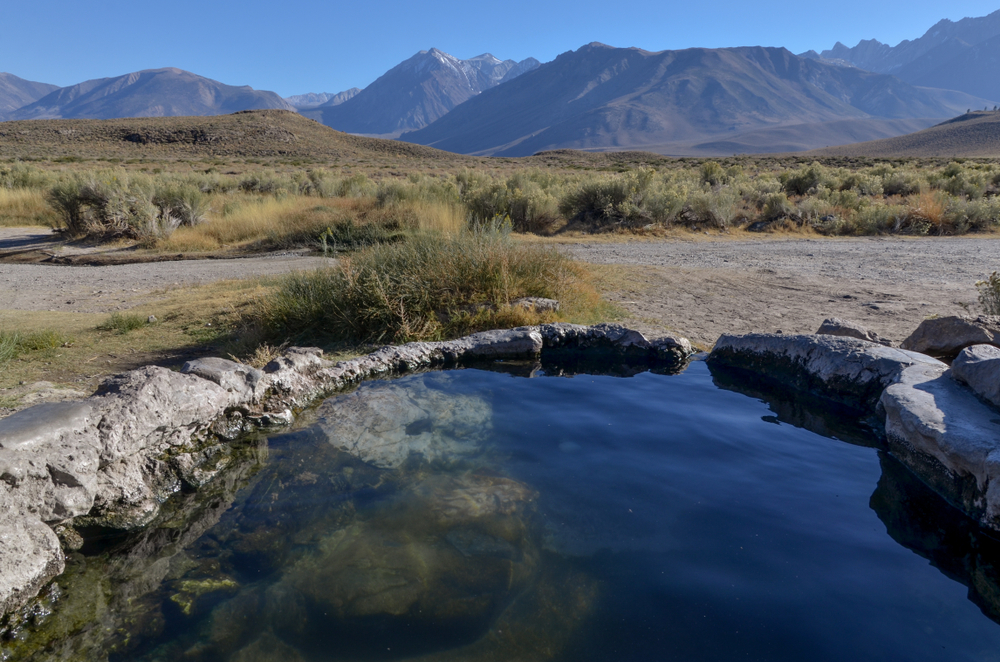 Tecopa Hot Springs
Tecopa Hot Springs is located southeast of Death Valley National Park, in Southern California. This is another of California's best natural hot springs for desert views.
Some areas along the edge of this hot springs get really muddy, so avoid those… or go for a mud bath if that's your thing!
The water is warm — hotter the closer you get to the source of the spring — and comfortable.
It may, at first glance, just look like a little stream or pool out in the middle of a field, off the road, but once you get in, you'll see what a great place to relax Tecopa Hot Springs is.
This one is free and undeveloped! Get in and enjoy nature in one of the best hot springs California!