Planning the perfect Ireland road trip itinerary does not have to be stressful or overwhelming. No matter where you choose to visit in Ireland, whether it is the whole Emerald Isle or only a piece of it such as Northern Ireland, you are in for a real treat.
We have explored Ireland from top to bottom and have yet to be disappointed by a single place! Ireland is a diverse country that offers something for everyone and this ultimate Ireland itinerary hits it all.
Save money on your trip to Ireland! Get a FREE $55 Airbnb coupon by using our code when you book!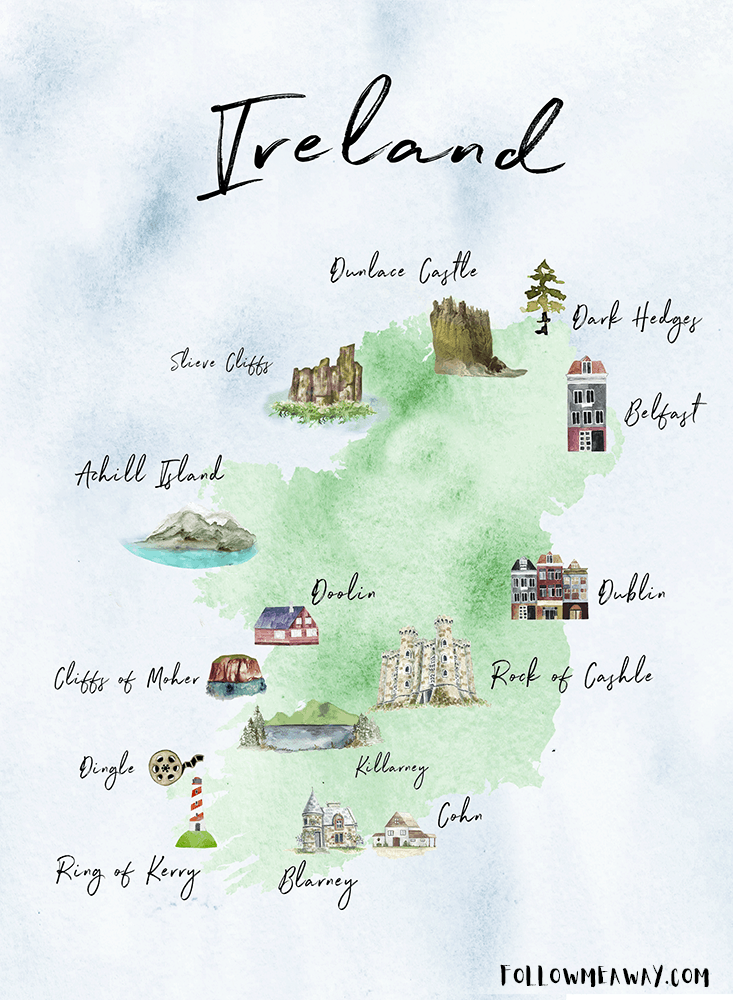 Our Ireland road trip itinerary is written in a clockwise manner around the island, but feel free to modify in any way or go completely against the grain and go counter-clockwise if you are a true rebel!
For this Ireland road trip itinerary, we are not specifying an amount of time so that you can make the drive as time allows for your schedule. If you are
planning a trip to Ireland
and only have 5 days for your itinerary, then modify this Ireland road trip route to fit that length of time.
If you have two weeks, consider spending a few days in each location to really take in what Ireland has to offer such as gorgeous beaches and beautiful waterfalls! No matter what amount of time you choose to explore the country, your Ireland road trip will not disappoint.
Read more: What To Pack For Ireland
Get $55 off your Airbnb Stay!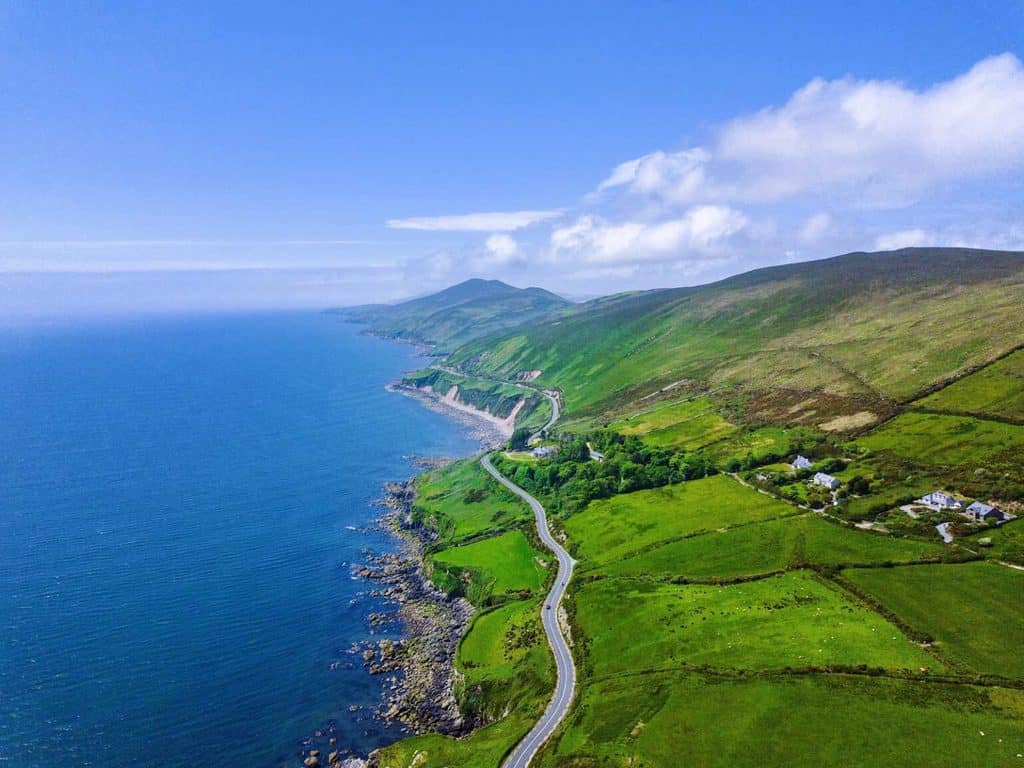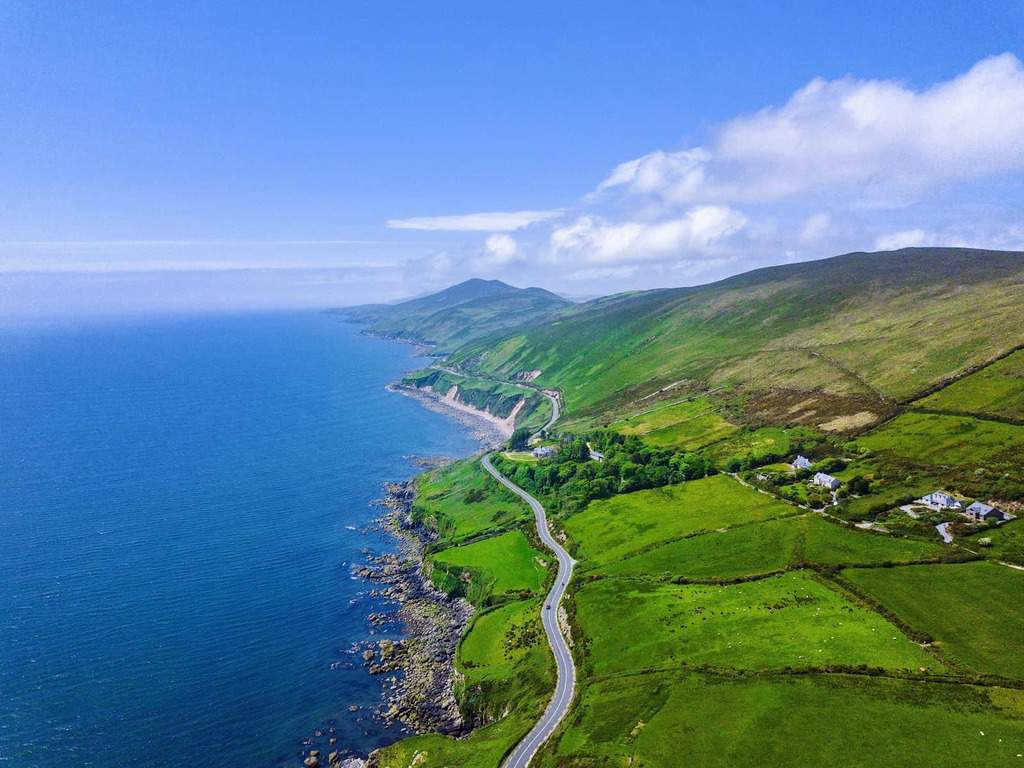 The Perfect Ireland Road Trip Itinerary You Should Steal
Begin Your Ireland Road Trip By Flying Into Dublin Airport
You will begin almost any trip to Ireland by flying into Dublin Airport. Dublin Airport is a major international airport and flights into Ireland are often relatively affordable. In fact, the reason we went to Ireland on our very first trip was that it was so cheap to fly into! We had no clue how amazing the country really was and are very glad we went on a whim!
Since you will be renting a car in Ireland as this is indeed a road trip, picking up your rental from the Dublin airport is a really great and affordable way to go about securing your vehicle.
Alternatively, you could fly into Belfast Airport in Northern Ireland and being this Ireland itinerary from there. Otherwise, flying into Dublin airport is the perfect place to begin your Ireland road trip as it is affordable and there are tons of car rental options on airport property so you can easily pick up your rental and get going. This is one of the BEST ROAD TRIPS IN EUROPE so you are in for a real treat and a memorable experience!
We recommend checking out Skyscanner to find the best and most affordable flights into Ireland. We use this tool to discover the best flights for our trip because you can easily compare rates.
We also suggest booking your Ireland road trip on a travel credit card so you can earn points towards future travel! These are the travel credit cards we personally use!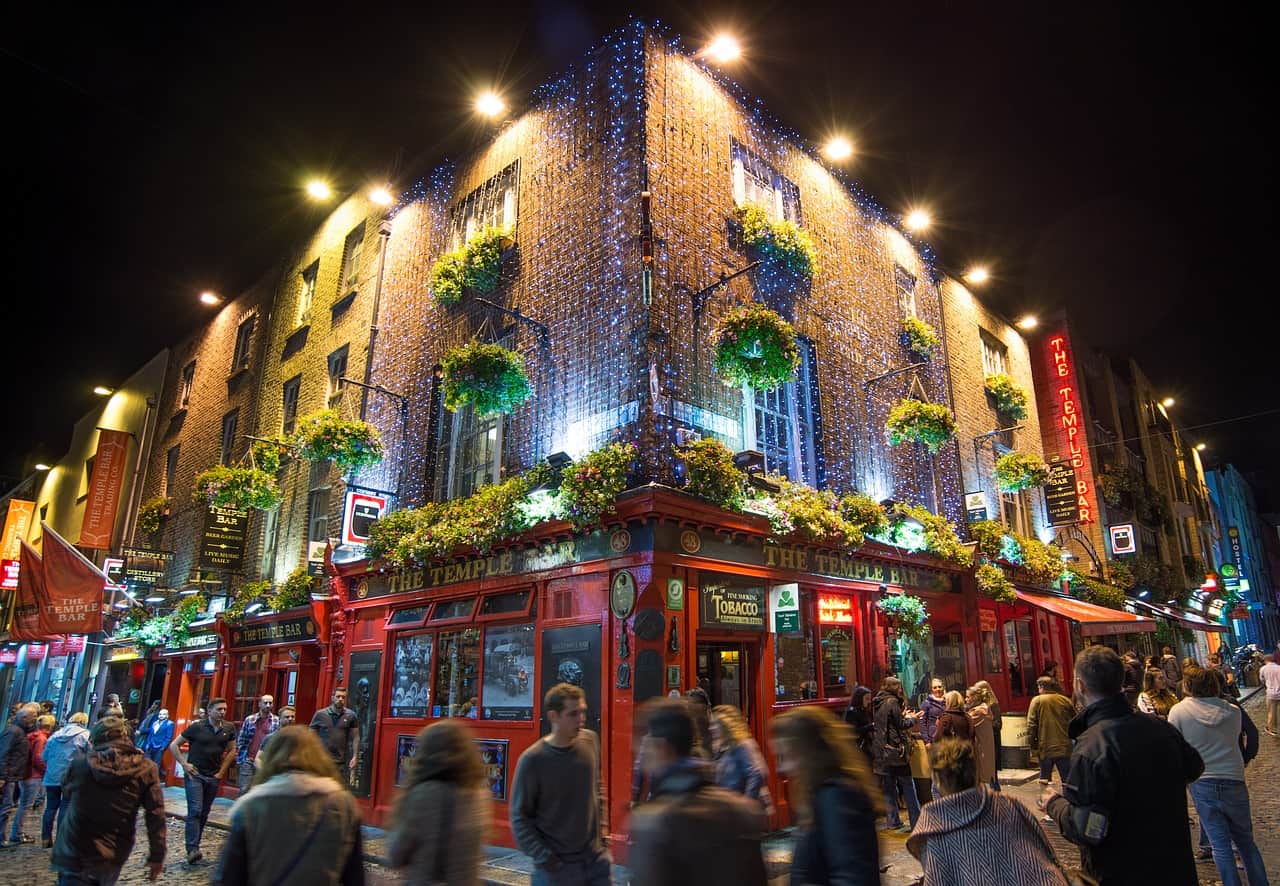 Stop 1: Spend Time Exploring Dublin To Begin Your Ireland Road Trip
Dublin is the largest city in the Republic Of Ireland and has a lot to offer. We will be honest, we recommend a quick stop in Dublin and then getting out to visit the rest of what Ireland has to offer. No Ireland itinerary would be complete without a stop in Dublin, but the rest of Ireland is much less expensive and way cooler as you will see! Spend as long or as little as you like in Dublin but we recommend 1-2 nights.
Don't forget to check out our Detailed Road Trip Packing List so you don't forget any essentials for your trip!
Noteworthy Things To Do In Dublin:
Have a Guinness in the Temple Bar area. Temple Bar is one of the most popular neighborhoods in Dublin. It is bustling and lively and the perfect place to experience your first Irish pub! Temple Bar is a great place for dinner and a pint and even though it is "touristy" it is still a cool thing to visit in Dublin.
Book Here: Pub Crawl of Dublin 
Walkthrough St. Stephens Green. We love nature and St. Stephen's Green is sort of like the Central Park for Dublin! It is so relaxing and pretty with lots of nature and flowers and walking paths.
Visit Dublin Castle. Dublin Castle is a real castle located in the heart of Dublin and the perfect introduction to castles in Ireland!
Visit Trinity College and the Book Of Kells. You must pay Trinity College and the famous library a visit when you are in Dublin! It is stunning and unlike anywhere else in the world!
Get Fast Access To Dublin Castle
Experience The Guinness Storehouse. If you love beer, then visiting the Guinness Storehouse in Dublin will be the best possible way to start off your Ireland itinerary. You get beer included and will learn about the history!
Skip The Line With This Guinness Storehouse Ticket 
Where To Stay In Dublin On Your Ireland Road Trip
Dublin is experiencing a shortage of hotel rooms and as a result, prices are sky-high! As a result, we recommend spending a shorter amount of time in Dublin to leave time for the rest of your Ireland road trip itinerary. We have an entire post about Where To Stay In Dublin if you are looking for more information. This post breaks down our favorite areas in Dublin and helps you plan and choose which area is best for you!
Best VRBO's in Dublin: 
Best Hotels in Dublin: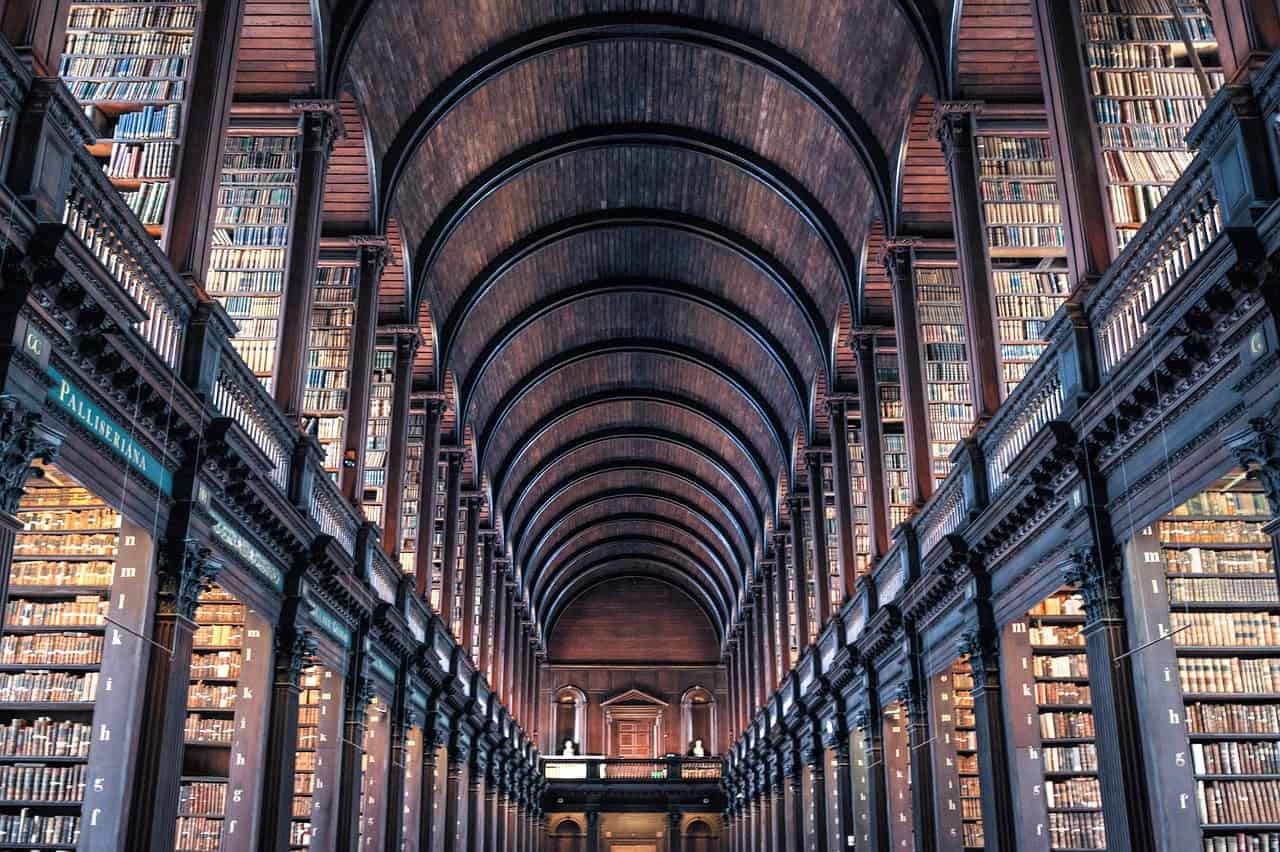 Stop 2: Enjoy Rock Of Cashel And Hore Abbey
We did Rock Of Cashel as a day stop on our way from Dublin to Cork, but you can totally spend the night in the area if you want even more time to explore during your Ireland road trip. Rock Of Cashel is hugely touristy, but for a good reason! It is an epic ruin set on the top of a hill surrounded by sheep, does it even any more Irish than that?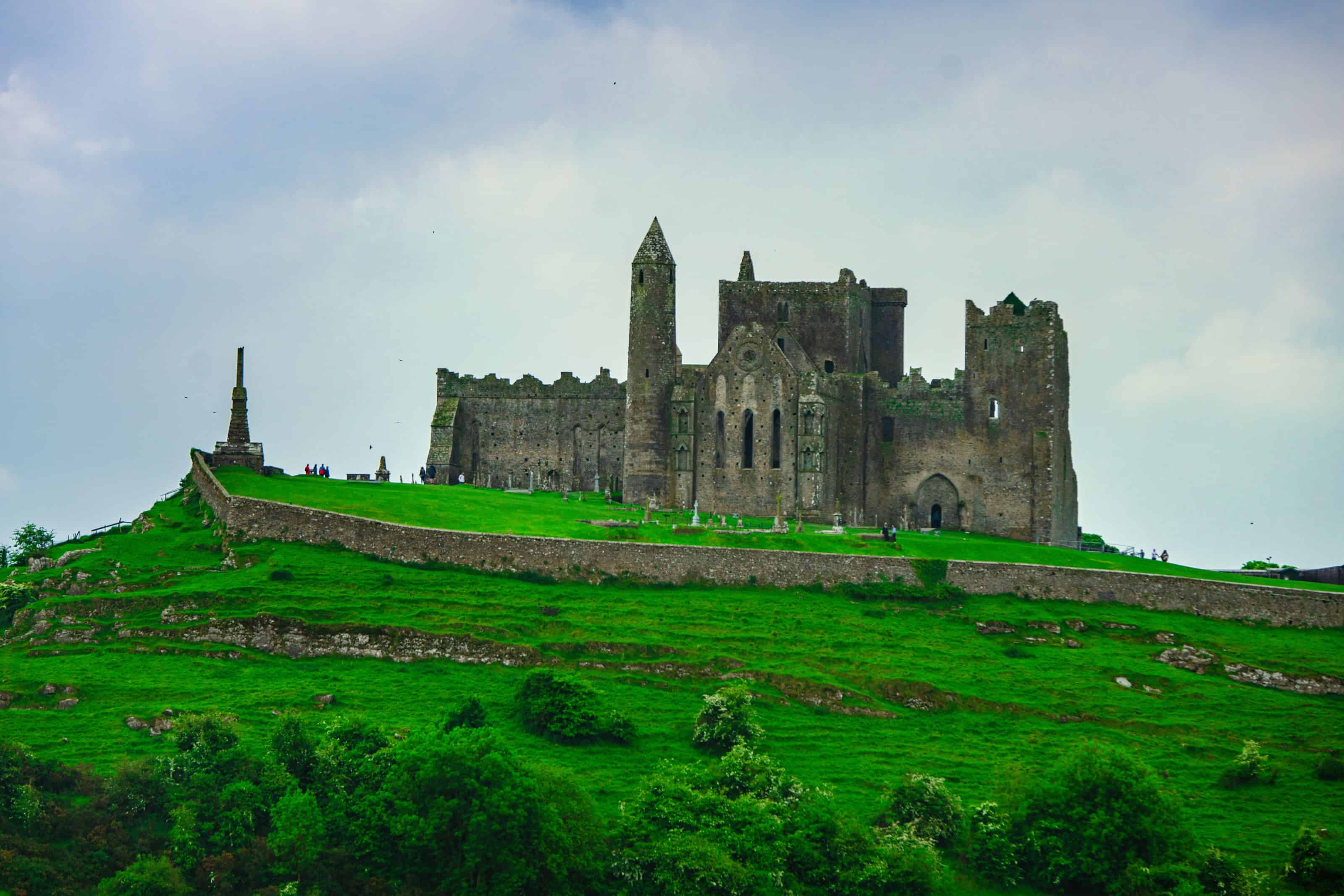 There is an entrance fee to visit Rock Of Cashel and in all honesty, the inside wasn't all that! The outside is the best part and a dream for photographers. If you are looking to get off the beaten path, visit the nearby Hore Abbey instead.
You can see Hore Abbey from Rock Of Cashel and while Rock Of Cashel has tour buses and hundreds of people visiting at the same time, Hore Abbey had maybe 4 people there at the same time when we were visiting during our Ireland road trip.
Explore Rock of Cashel on this Castle Tour
Hore is Gaelic for grey, which is the color the nuns wore back in the day. The abbey ruins are magnificent and you will have the whole place to yourself! The view of Rock Of Cashel from Hore Abbey and the field beside it is totally worth making this a stop on your Ireland road trip itinerary.
Best VRBO's Near Rock of Cashel: 
Best Hotels Near Rock of Cashel: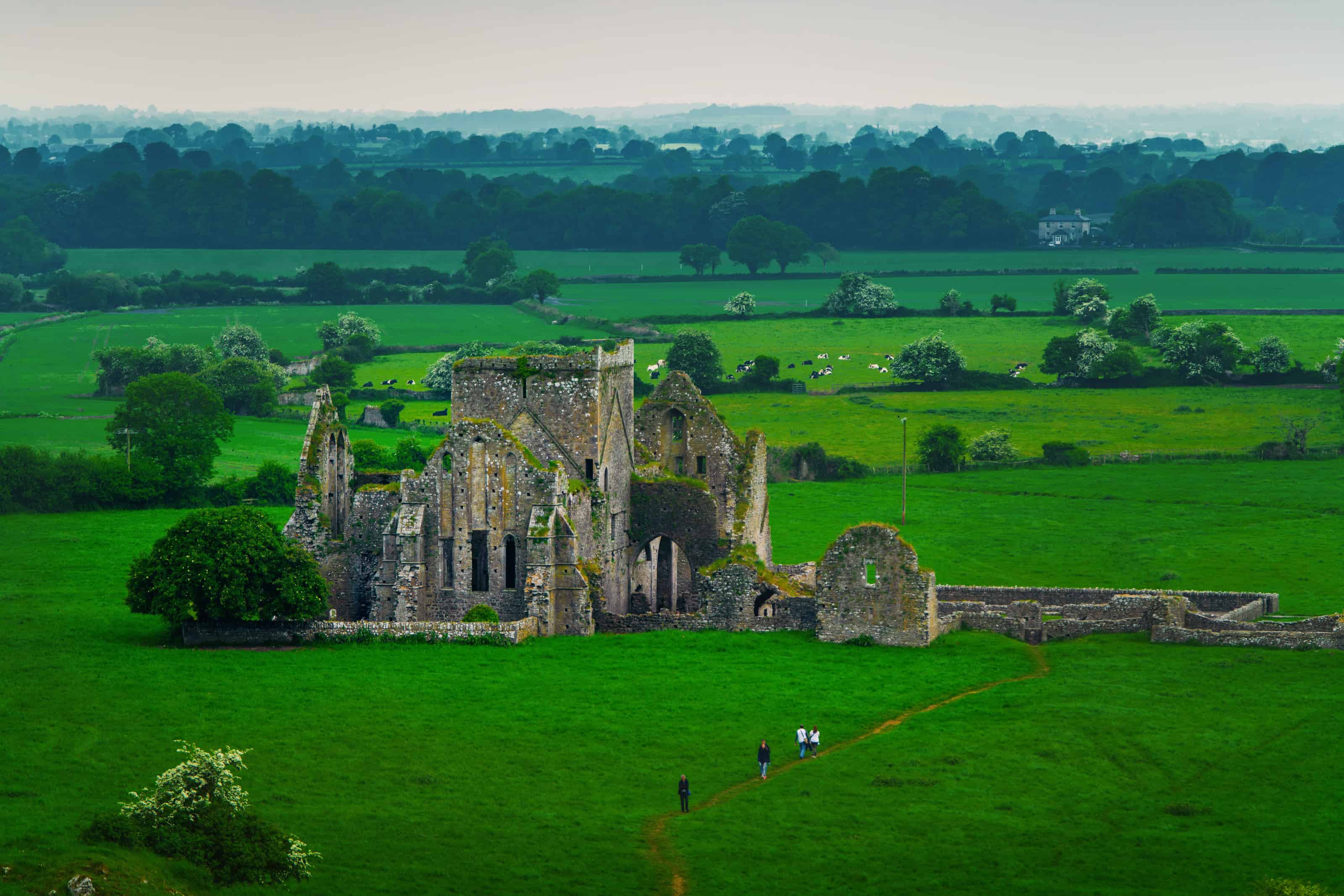 Stop 3: Visit Cork, Cobh, And Blarney Estate In Irelands Ancient East
Cork is located just a few hours away from Dublin and is totally worth a stop on your Ireland road trip itinerary. It is centrally located to a lot of stops in Ireland's Ancient East and you will not be disappointed.
Seeing Cobh During Your Ireland Road Trip
When visiting Cork, you must mak30-minute drive to visit the colorful nearby town of Cobh! Cobh is home to a Titanic Museum experience and is actually the last stop the Titanic made before crossing the Atlantic. Cobh is also the top of our prettiest towns in Ireland and it a must-see during your trip!
While in Cobh, you will want to visit the church which is high on the hill and may want to explore the colorful local neighborhoods that are perched on a steep hill. The town is the perfect way to spend your morning and grab an ice cream if you want! While the town is small, there are actually quite a lot of things to do which makes for a fun stop or day trip on your itinerary! Check out some Fun Things To Do In Cobh! 
If you want to stop in Cobh, stay at the Commodore Hotel. It is centrally located and offers a wonderful location for exploring Cobh and the surrounding areas. We wish we could have spent longer in Cobh because it is so beautiful!
Check Rates On Booking.com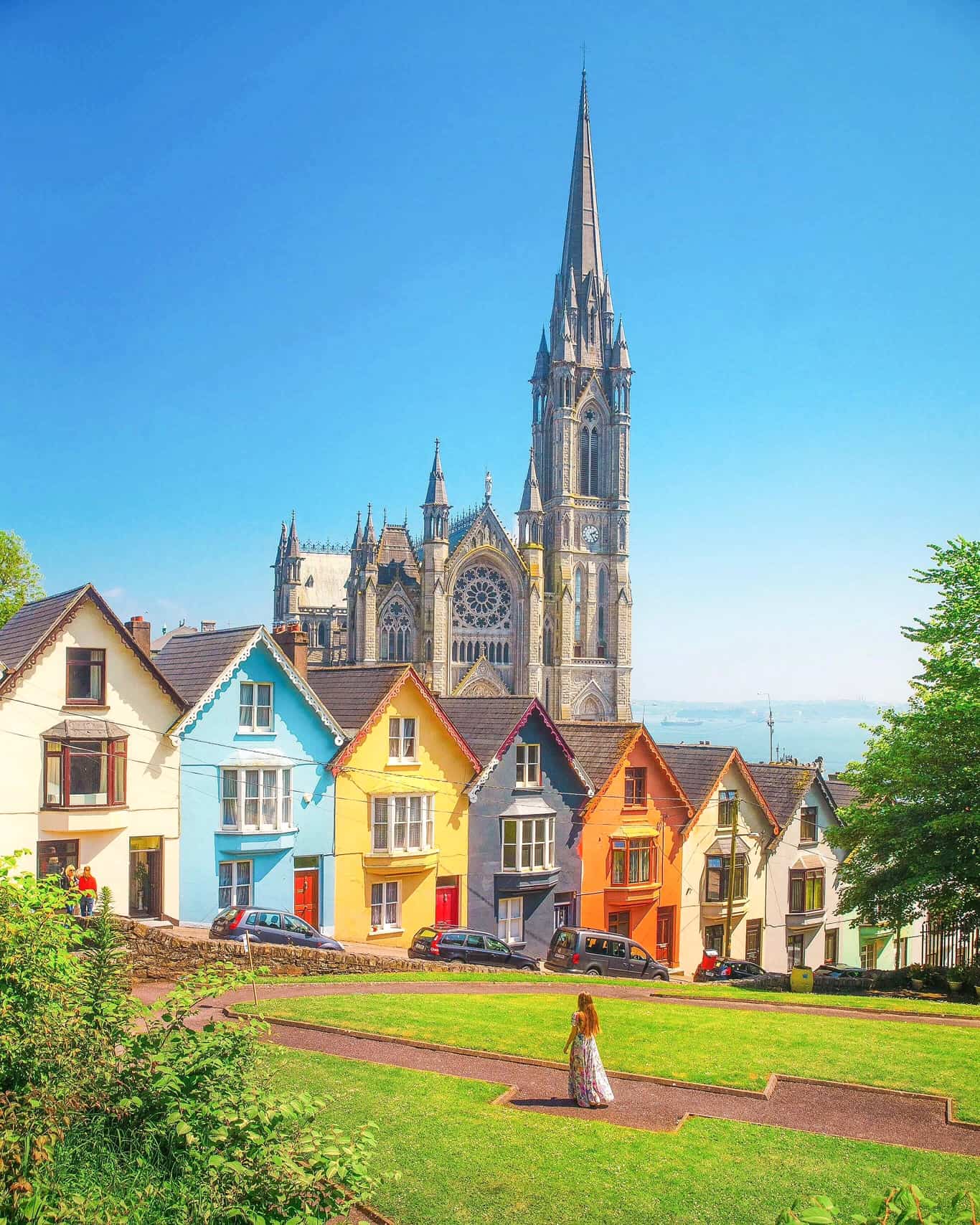 Kissing The Blarney Stone Is A Must On Your Ireland Itinerary
When we made the decision to visit Blarney Estate and kiss the famous Blarney Stone during our Ireland road trip, we thought you basically walked up to the castle, kissed the stone, and left.
This could not be further from the truth! Blarney Castle is located on Blarney Estate which is a huge property right outside of Cork!
The Estate is massive and you could spend an entire day there. We recommend budgeting at least 3 hours to kiss the Blarney Stone in Blarney Castle, to explore the Blarney Manor where the family lived, and the explore the fabulously landscaped grounds.
You could spend three days there but you have to keep your Ireland road trip itinerary moving along so stick to a few hours!
Kiss The Blarney Stone on This Castle Tour
If you don't want to drive and want to stay right in the thick of things, we recommend staying at Blarney Castle Hotel if you want to explore Blarney Castle before all of the crowds! It is mid-range and centrally located so you can easily walk around the town and even to Blarney Castle grounds should you desire!
Best VRBO's near Blarney Castle: 
Best Hotels near Blarney Castle: 
Blarney Castle Hotel: Check Rates On Booking.com
If you are looking for a more local and affordable experience, the Maranatha Country House is just the place to stay for you. It is a little outside of Blarney but it isn't that far at all! It is cute and affordable and traditionally Irish.
Maranatha Country House: Check Rates On Booking.com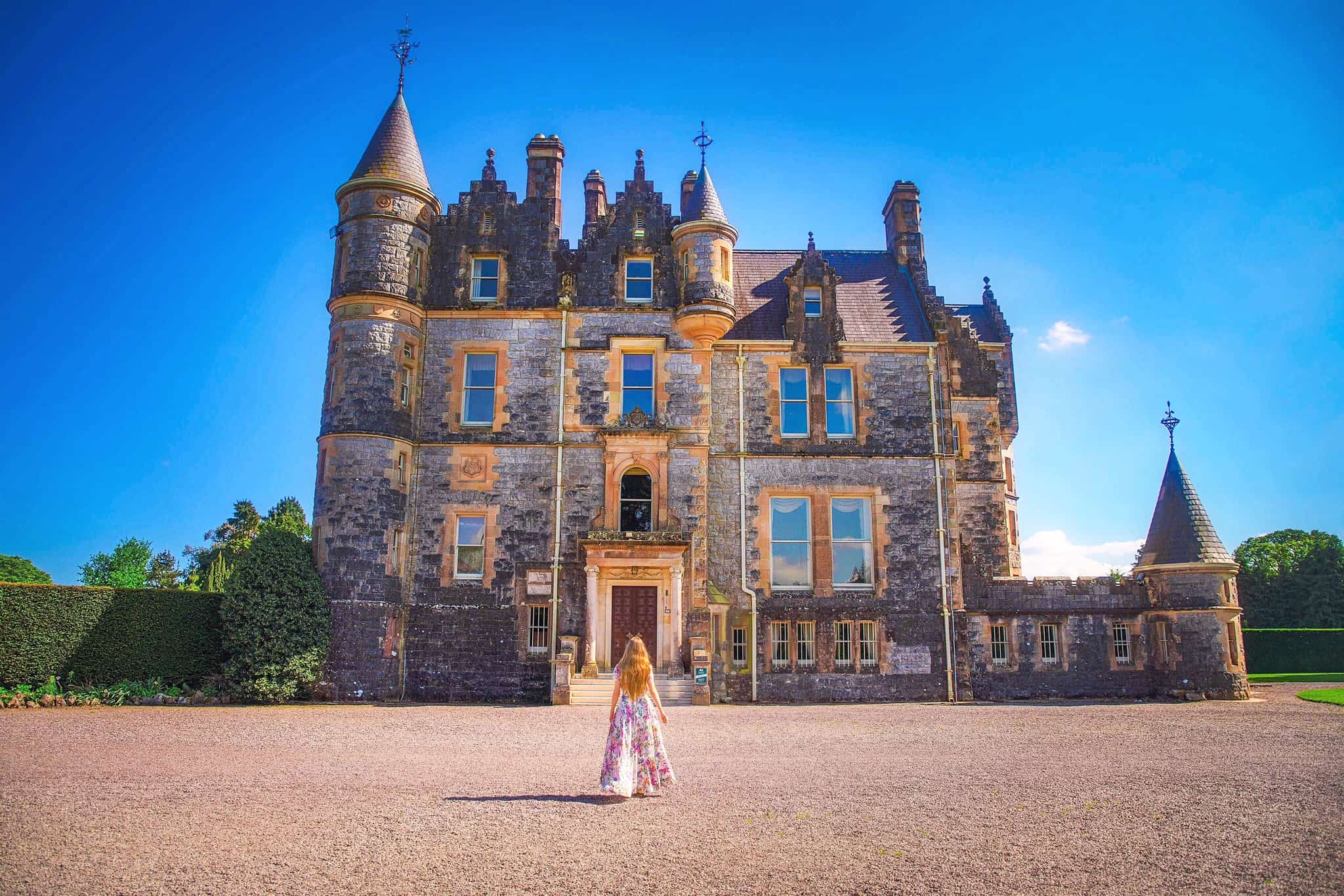 Where To Stay In Cork: Hayfield Manor
If you are looking to treat yourself during your Ireland road trip, Cork is the perfect place to do it! Hayfield Manor, an Ireland's Blue Book property, is an old manor house converted into a hotel in the heart of Cork. The hotel is centrally located and it is easy to jump on the highway to visit Blarney and Cobh if they are a part of your Ireland itinerary.
We loved the fact that Hayfield Manor transports you to a bygone era with its luxurious accommodations and perfect service. We stayed in a suite it was perfect for a romantic getaway. We were greeted with truffles and drinks upon our arrival and enjoyed a turndown service at night. It is the perfect place to stay if you are celebrating your honeymoon in Ireland too!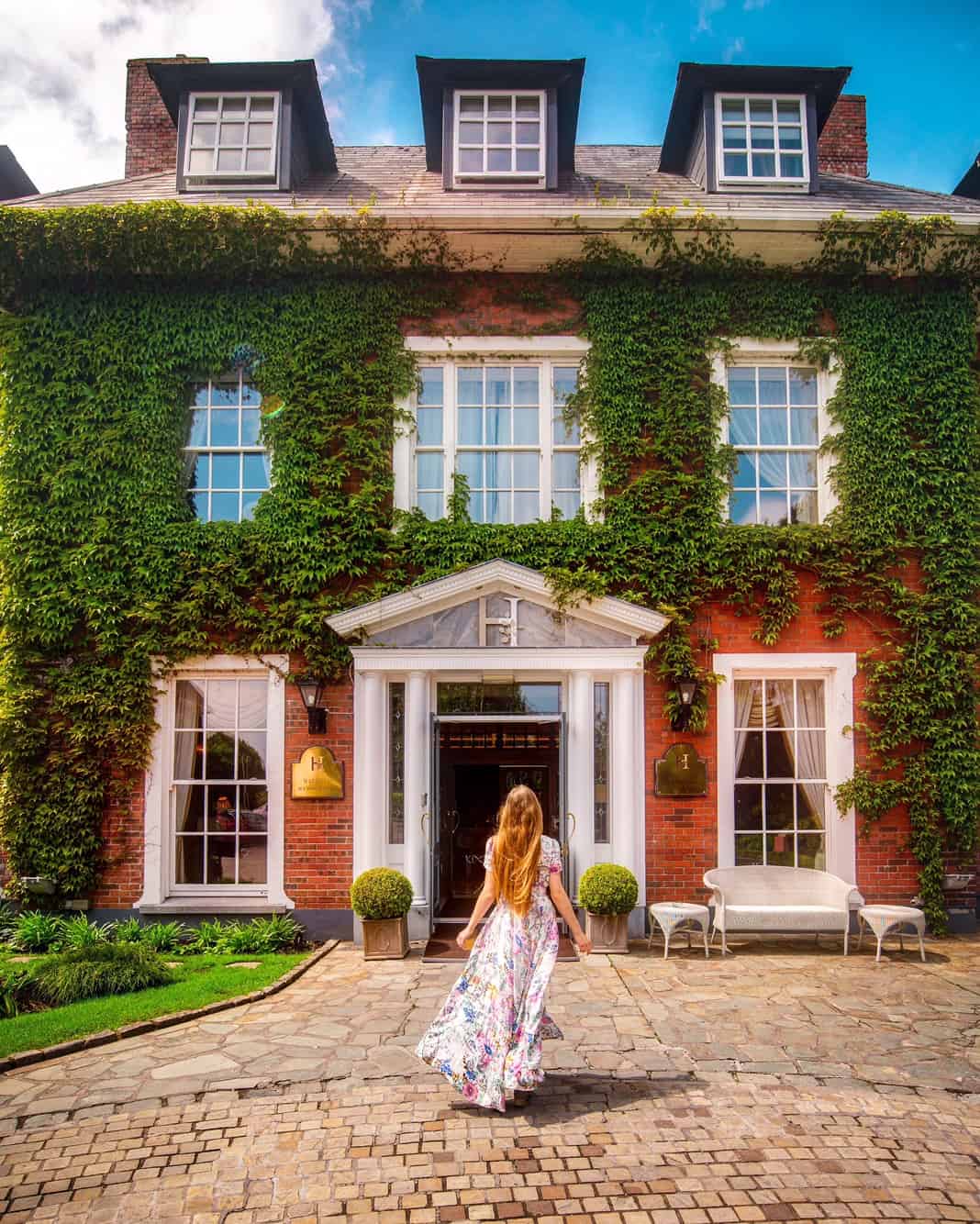 Hayfield Manor has multiple on-site restaurants and we ate in the bistro which was located in a stunning all-glass room. The food was delicious and there were different pricing options. If you wanted to get all fancy, you could choose to eat at Hayfield Manor's fine dining restaurant as well.
Hayfield Manor boasts a lovely garden area and outdoor hot tub as well as a luxurious spa and warm indoor pool. Of course, we had to check out the pool and spa and enjoyed that Hayfield Manor had classical music playing in the pool and spa area which added to the experience.
Finally, the rooms at Hayfield Manor were decorated in such a romantic and classical way that we actually did a full-blown photo shoot of the property.
You really get a feeling of how the family who once owned Hayfield Manor used to live and we think that a night or two at Hayfield Manor is the perfect luxury getaway experience for your Ireland road trip. We especially recommend it for couples on their honeymoon or anniversary trip to Ireland too!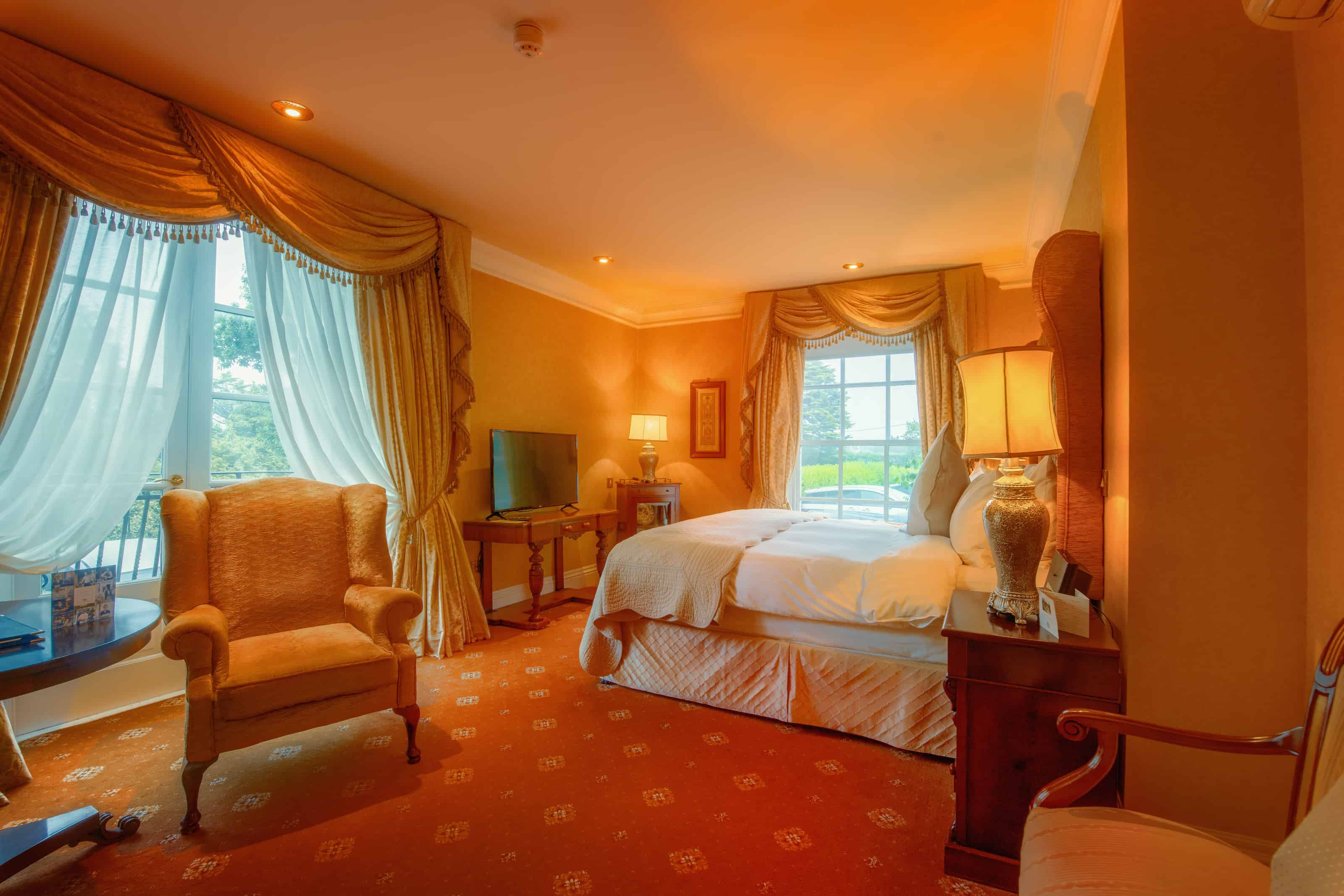 Best Airbnb's in Cork: 
Stop 4: Drive The Ring Of Kerry
No Ireland road trip itinerary is complete without a drive on the famed Ring Of Kerry. Please note that the Ring Of Kerry is quite a harrowing drive as roads are extremely narrow and thin and there are large tour buses that go by quickly so you must be very careful.
If you see a car coming down the road, it is best to pull over if you are able and wait for them to pass you before proceeding. The narrow roads make this quite an interesting part of your Ireland road trip itinerary.
Visit Kerry Cliffs During Your Ireland Road Trip
Kerry Cliffs are basically a miniature version of the Cliffs Of Moher and they are located on the very middle of the Ring Of Kerry along the Skellig Ring.
The Skellig Ring is a short circle drive that is at the end of the Ring Of Kerry and easy to see as there are many signs. You can even see the Skellig Islands, where Star Wars was filmed, from the Kerry Cliffs!
It costs 2 euros per person to visit but it is a pretty cool stop to make during the Ring Of Kerry drive on your Ireland road trip. The Kerry Cliffs are home to many seabirds and make for a wonderful walk to explore the cliffs during your Ireland itinerary.
Take In All of The Amazing Sights Along The Ring of Kerry on This Scenic Tour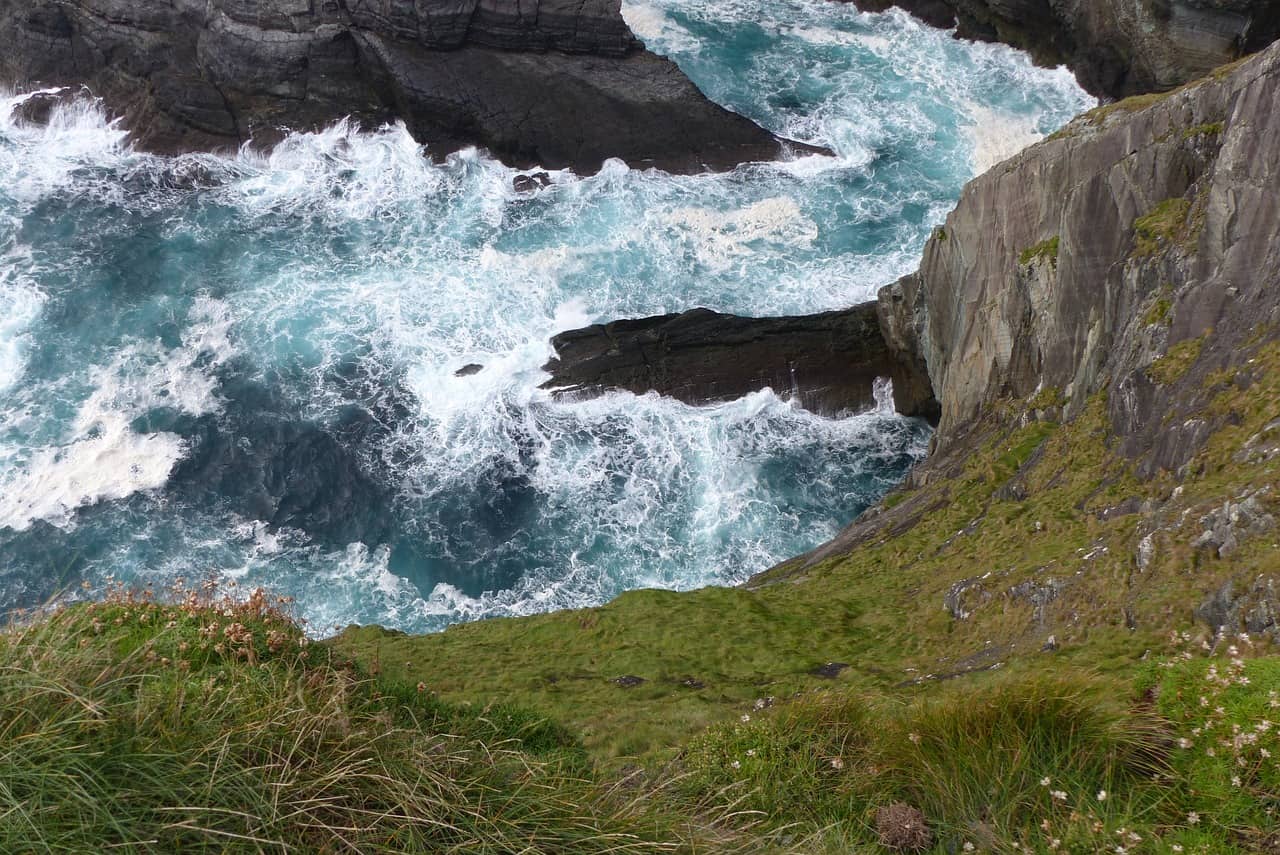 Ride The Car Ferry To Valentia Island
Valentia Island is an island on the Ring Of Kerry road trip located right near the Kerry Cliffs. If you drive the Skellig Ring during your Ireland road trip, then Valentia Island is literally less than 2km away!
The island is home to a stunning lighthouse that you can visit and explore as well as quaint seaside towns that are perfect to stop for ice cream. Valentia Island can be accessed near Kerry Cliffs by a bridge and by a ferry on the other end of the island.
We recommend getting onto the island by the bridge and exciting the island by the 8 euro car ferry. It is a fun and unique thing to do during your Ireland road trip!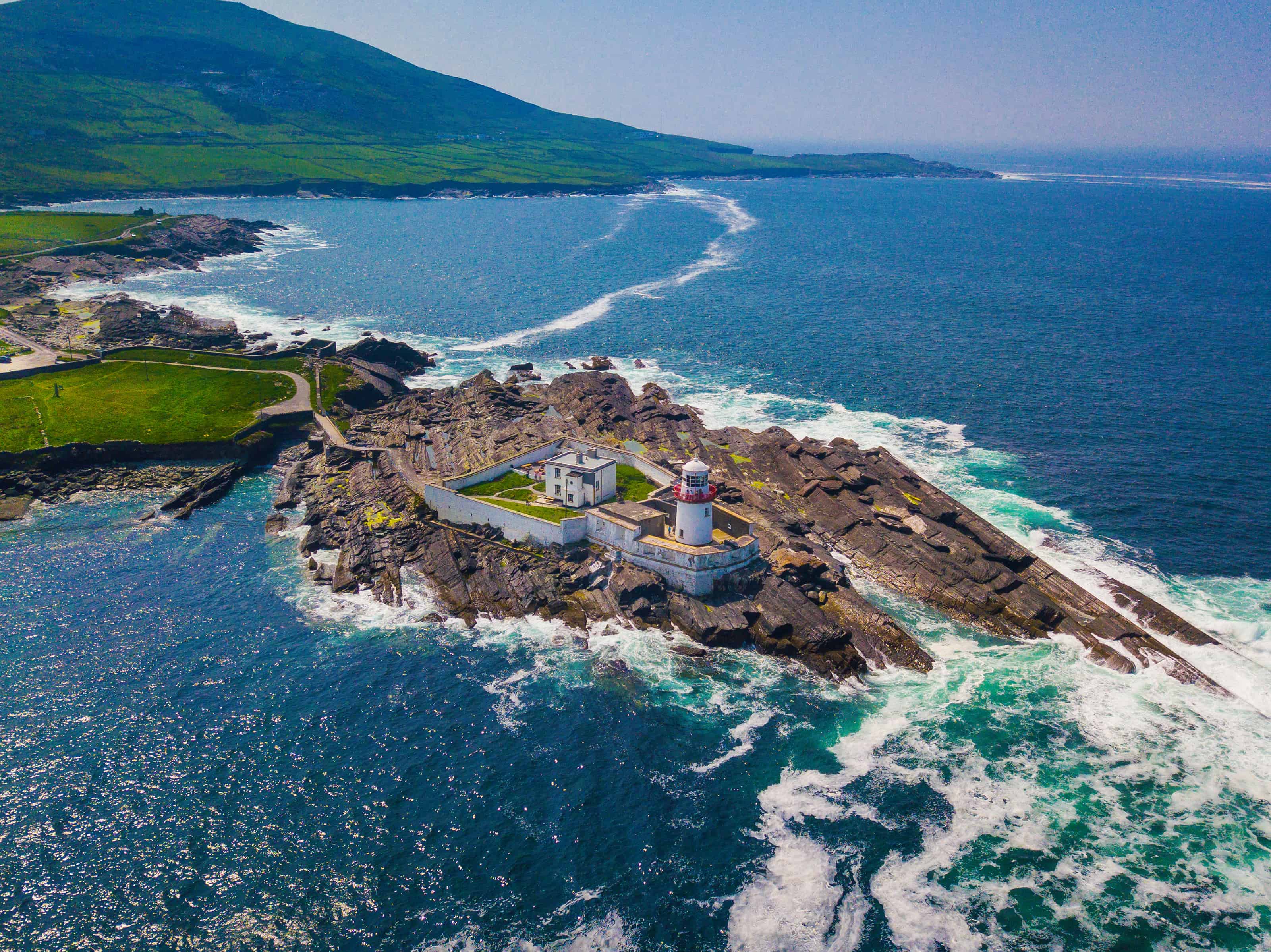 Where To Stay On The Ring Of Kerry: Parknasilla Resort And Spa
We really can't say enough about Parknasilla Resort and Spa located right on the Ring Of Kerry. We visited during high season during a holiday weekend and the resort was full of guests and we don't blame them!
The property and hotel are stunning! Parknasilla Resort is located in the northeast corner of the Ring Of Kerry, right by the town of Sneem.
It is the perfect place to spend a night or two and right on the Ring Of Kerry so you can easily drive and explore the nearby beaches and cliffs and come home to a restful night sleep.
Parknasilla Resort's best feature is its location and view, not to mention the fact that it looks like a literal castle! The view from Parknasilla Resort offers unobstructed vistas out over the Kerry mountains and the ocean.
There are on-site walking trails as well as a golf course and kayak tours. Parknasilla Resort boasts multiple restaurants and even an in-house coffee shop so you can get your java fix.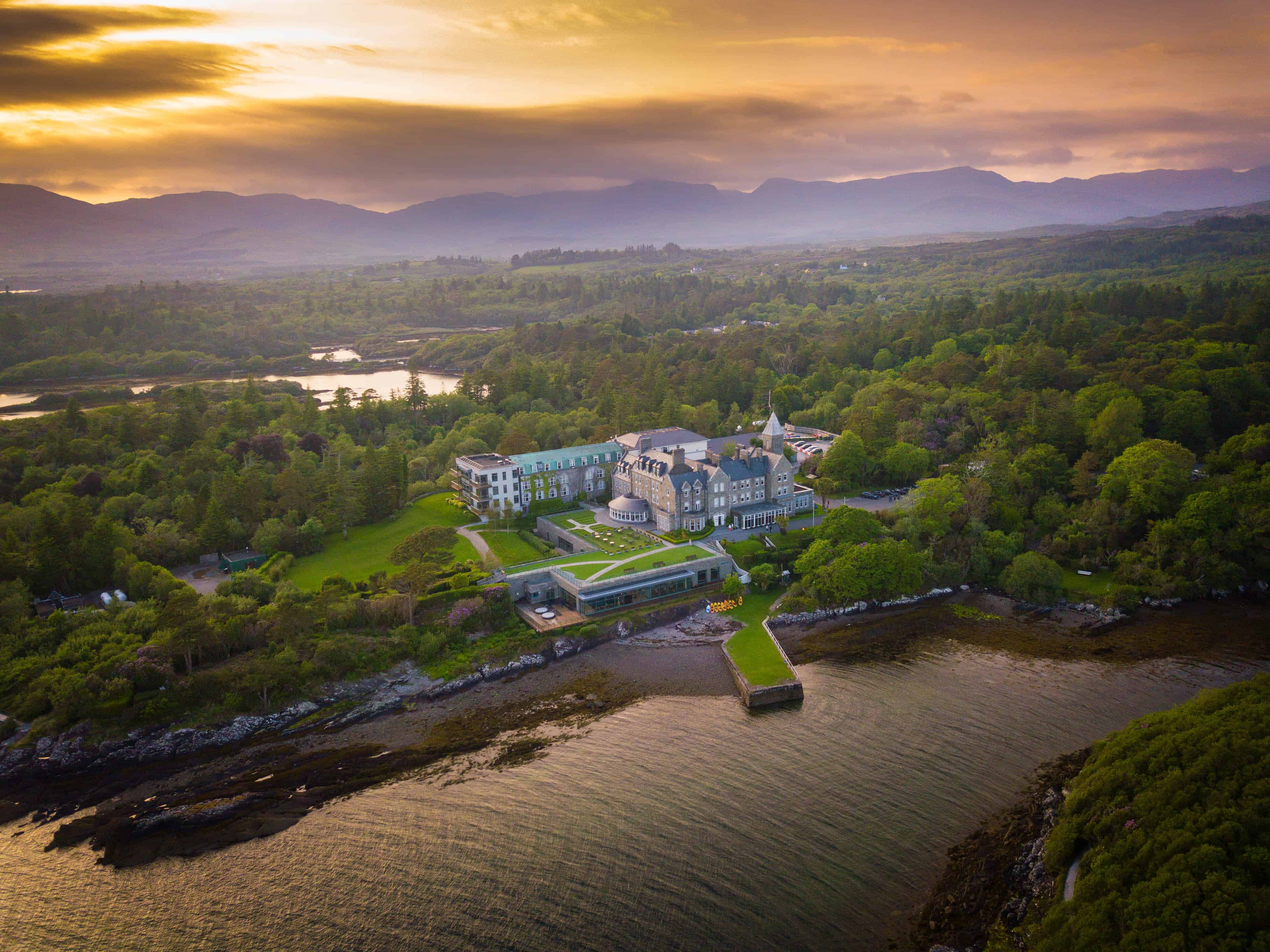 Our room was located on the top floor of the "castle" portion of the resort and had multiple windows overlooking two different views of the ocean and mountains. The room was decorated in a classical fashion with pastel-colored walls, carpet, and bedding.
The bathroom came complete with a rain shower and pedestal sinks. The atmosphere of the resort was relaxed luxury without feeling stuffy. The resort was very family friendly and couple friendly as well.
If you visit Parknasilla Resort, make sure to spend time in their pool and spa. The pool and spa both offer panorama views of the mountains and water outdoors with floor-to-ceiling windows.
You can even use the thermal circuit for free in the spa area if you are a hotel guest and the pool is heated to a nice temperature. To top it all off, Parknasilla Resort also has an outdoor hot tub overlooking the stunning scenery nearby.
Check rates for Parknasilla Resort On Booking.com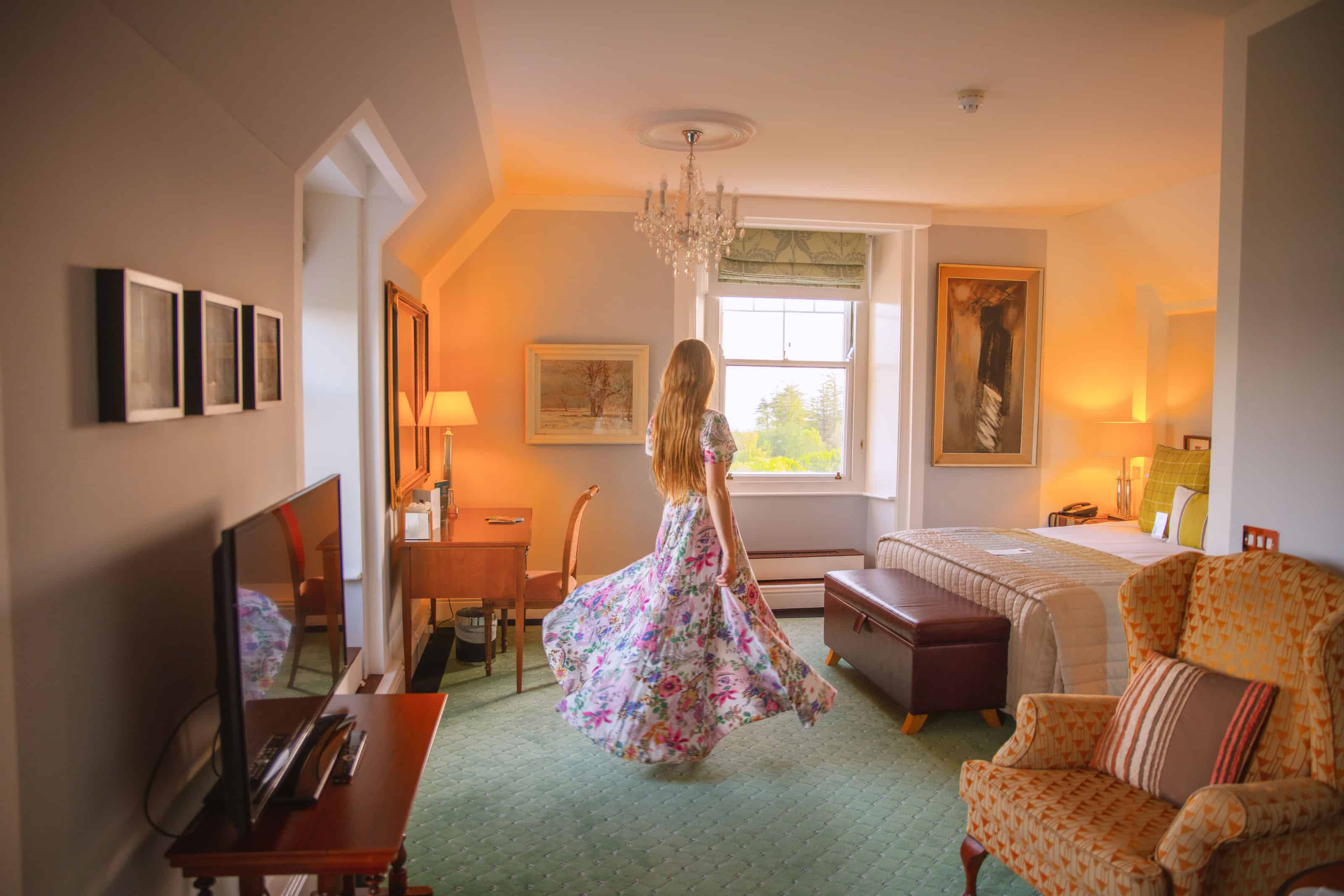 Best VRBO's on The Ring of Kerry: 
Stop 5: Explore Killarney For Some Of The Best Drives Of Your Ireland Road Trip
Killarney is one of our absolute favorite places to visit in Ireland! The city of Killarney is so vibrant and welcoming and the nearby scenery is just breathtaking. Killarney is a wonderful place to stop on your Ireland road trip because the area is so diverse and truly has so much to offer!
Noteworthy Things To Do In Killarney:
Visit Muckross House And Killarney House. Killarney House and Muckross House are located in the Killarney area and are both fascinating places to visit during your Ireland road trip. Muckross House is located a bit out of the city and can be quite busy.
The grounds are stunningly beautiful! Killarney House is located in the heart of Downtown Killarney and you are free to walk in and out of the grounds as you please!
Torc Waterfall. Torc Waterfall is a unique stop on your Ireland road trip because you would not really think about waterfalls being in Ireland!
The waterfall is located right off the main road and is just a quick and easy walk to visit. It is a must-see on your Ireland itinerary because of how unique it is! Torc Waterfall tops our list of the best easy hikes in Ireland and it is so unique and pretty to see!
Ross Castle. Ross Castle is the perfect stop on your Ireland road trip itinerary because it is beautiful and easy to get to. It is located in the heart of Killarney on a lake and it is completely free to visit the castle and view it from the outside. There is a fee if you want to go inside, but we think you get the best views from the outside near the lake!
Killarney National Park. The town of Killarney is located right on Killarney National Park and there is so much to see and do. We recommend driving through the Gap Of Dunloe and seeing Ladies View during your Ireland road trip stop in Killarney.
Book Here: Ross Castle & Killarney National Park Tour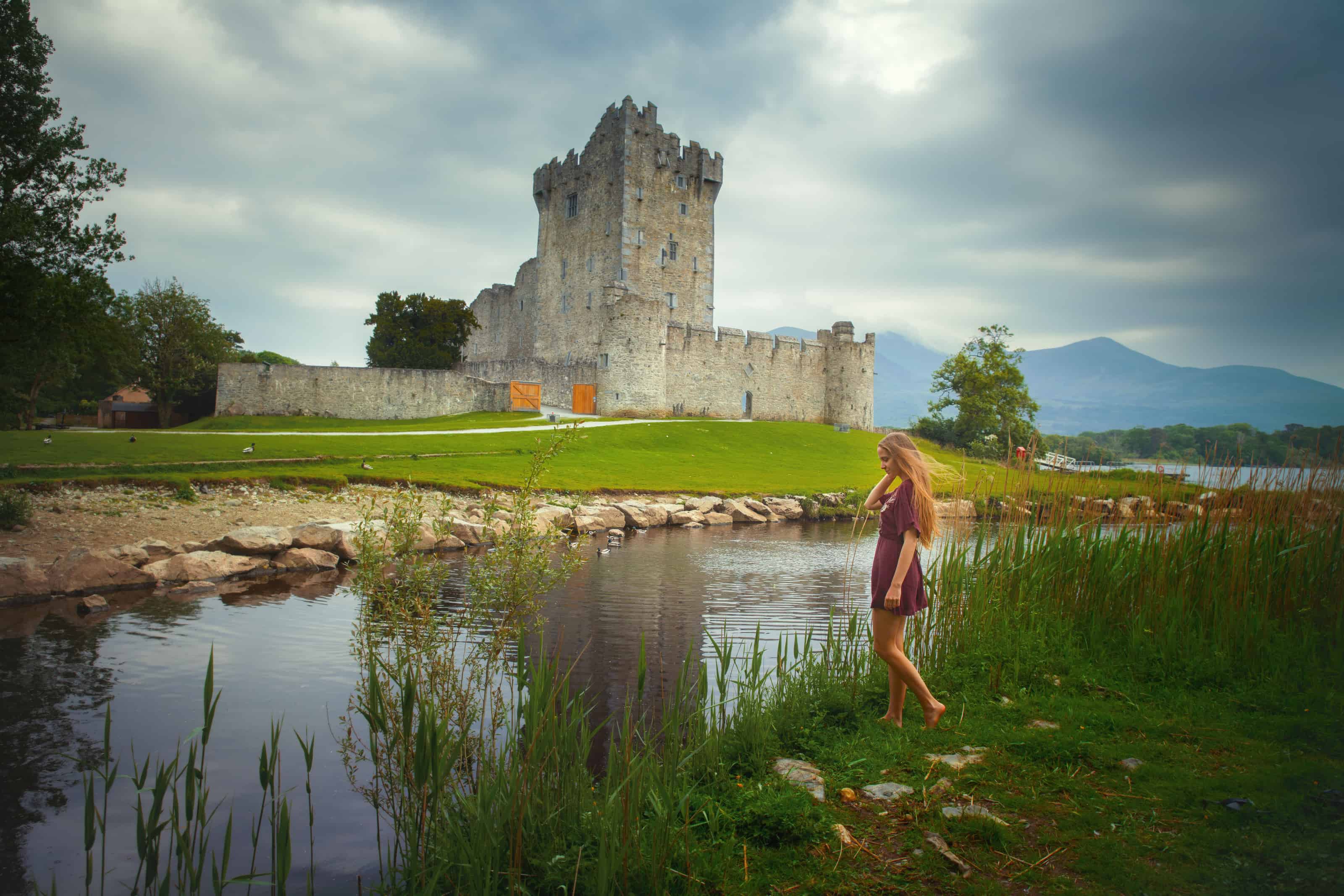 Where To Stay In Killarney On Your Ireland Road Trip:
Killarney is one of those places with plenty of lodging options! It is quite a popular town and for a good reason! We love Killarney and here are some of our recommendations of where to stay in Killarney during your Ireland road trip itinerary!
Best VRBO's in Killarney: 
Best Hotels in Killarney: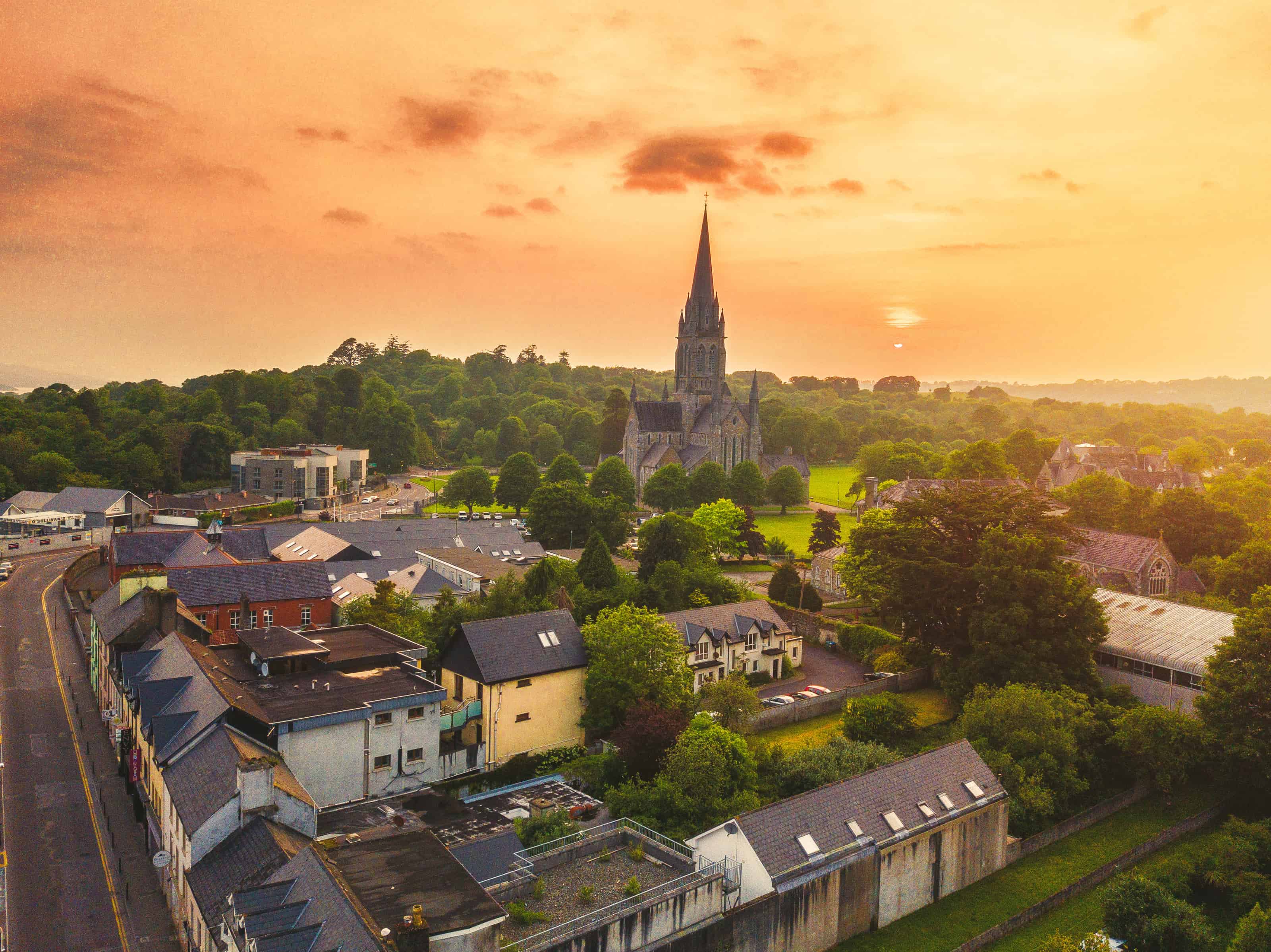 Stop 5: Visit The Breathtaking Dingle Peninsula, One Of The Best Ireland Road Trip Drives
As we said above, we have done multiple Ireland road trips around the entire country on multiple different trips and the Dingle Peninsula is one of the most spectacular places to visit. It will meet and beat all of your prior expectations and the views go for miles!
We only spent 24 hours on the Dingle Peninsula but plan to come back and spend at least 2 nights. This is one area that you will want time to enjoy everything so you should listen to us because we didn't listen to those who told us to extend our Ireland road trip for longer in Dingle!
While you are on the Dingle Peninsula during your Ireland itinerary, there are so many things to see and do! Here are our recommendations!
Must-See Stops On The Dingle Peninsula:
Slea Head Drive. This is the most epic thing you will do during your Ireland road trip [okay, one of them!] Slea head drive is a loop that starts and ends in the town of Dingle. It offers stunning cliff views, Star Wars movie locations, mountains, quaint towns, and breathtaking views as far as the eye can see. Discover the 12 Best Stops On Slea Head Drive!
Dunquin Pier. Dunquin Pier is an iconic 'postcard" destination on the Dingle Peninsula. It is located in the town of Dunquin on the Slea Head Drive loop and is actually a ferry pier. It is quite a good photo location for catching the sunset and you will have lots of fun walking down to the water.
Connor's Pass. Connor's Pass is the highest pass in Ireland and a wonderful addition to your Ireland itinerary. If you make this drive part of your Ireland road trip, be prepared for slow driving and very narrow roads. Conner's Pass is beautiful but the roads are quite thin so be sure to pull over well in advance for any oncoming traffic.
Dingle Town. The town of Dingle is a must-see on your Ireland road trip because it is so cute and centrally located. It is right at the start and end of Slea Head drive and has so much to see and do! Make sure to walk around the shops and grab an ice cream while you enjoy the waterfront.
Explore The Scenic Views of The Dingle Penninsula on This Tour
Where To Stay In Dingle On Your Ireland Road Trip:
Luxury Option: Dingle Benners Hotel
If you are planning a luxury Ireland itinerary, the Dingle Benners Hotel is the perfect place for you to stay on the Dingle Peninsula. Dingle Benners Hotel couples traditional Irish hospitality with modern-day amenities. The 52 rooms are luxurious and beautiful and the hotel is small enough so that you still get the boutique luxury experience.
Dingle Benners Hotel is located in the heart of downtown Dingle and is just steps away from all the shops and local attractions you will want to experience during your Ireland road trip.
The luxury hotel offers multiple dining options as well as a spa for when you want to wind down at the end of a busy day in Dingle! Make sure to check out their Afternoon Tea for a fun and totally Irish experience!
Check Prices: Booking.com | Hotels.com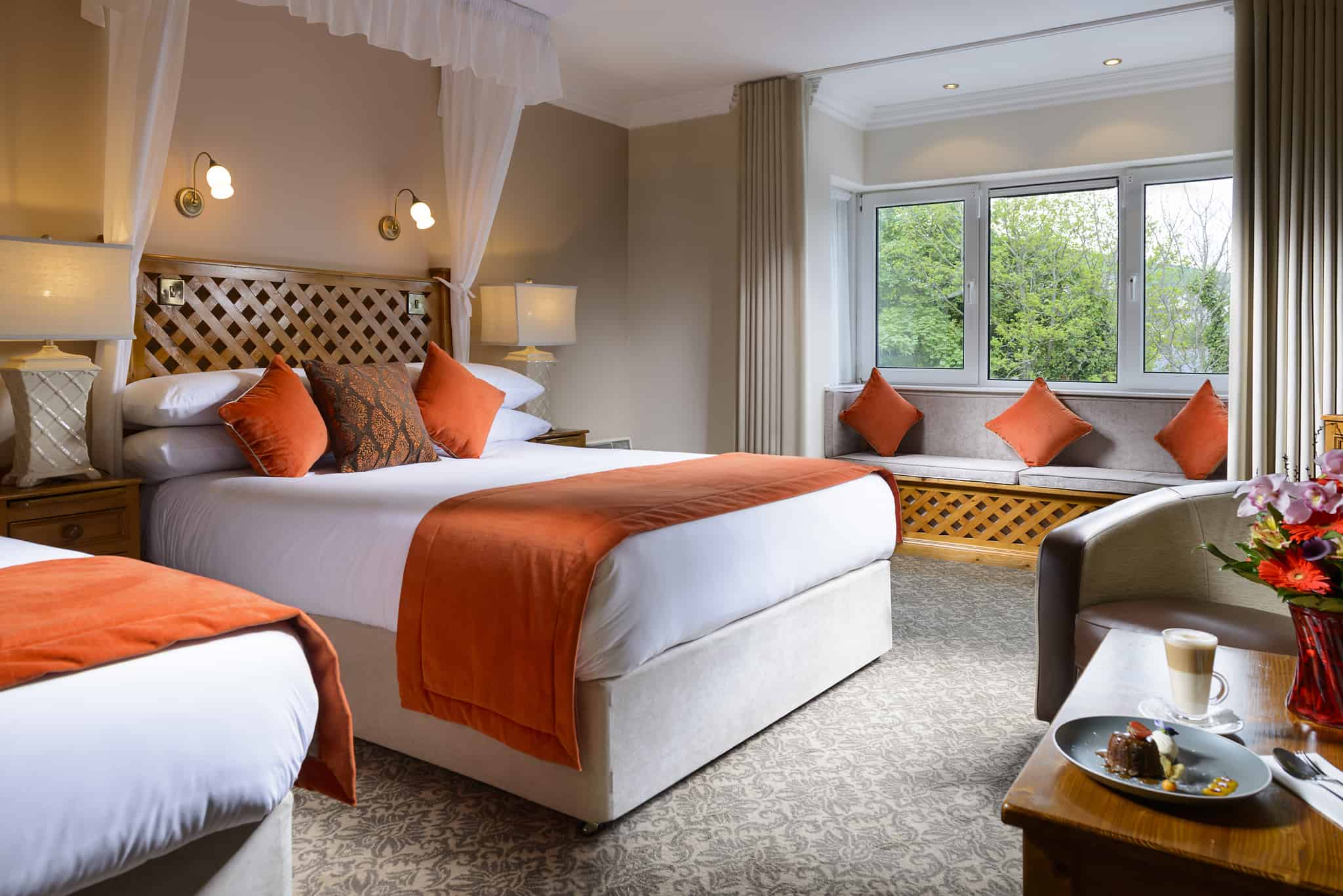 Moderate Option: Dingle Skellig Hotel
The Dingle Skellig Hotel is located right on the waterfront and within walking distance of Downtown Dingle. This option is more affordable than Dingle Benners Hotel but doesn't sacrifice service, style, or location. In fact, it is one of the only waterfront properties in such close proximity to Dingle Town! You can walk to the heart of Dingle Town in less than 10 minutes.
Dingle Skellig Hotel offers a relaxing pool and spa as well as outdoor hot tubs overlooking the bay. There is a pub and two on-site restaurants.
When we arrived back later than we thought, the staff at Dingle Skellig Hotel graciously cooked us a delicious meal, even though the kitchen had just closed. The rooms at Dingle Skellig are relaxing and many have views of the bay or Downtown Dingle.
Check Prices: Booking.com | Hotels.com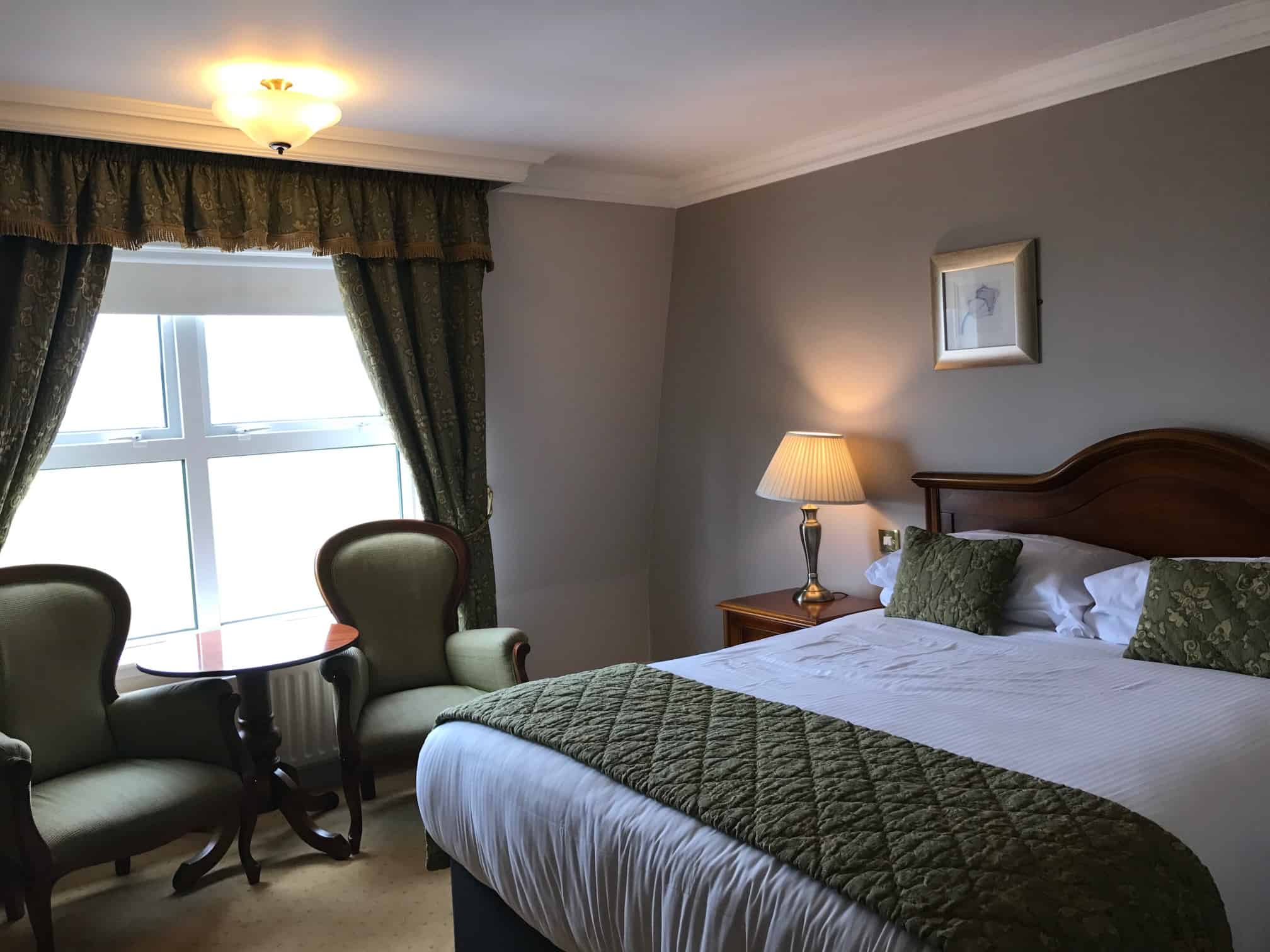 Best VRBO's Near Dingle: 
Stop 6: Check The Cliffs Of Moher Off Your Ireland Itinerary Bucket List
Is there anything more iconically Irish than the Cliffs Of Moher? Even if you don't generally like to do "the touristy" things, the Cliffs Of Moher are a must-see on your Ireland road trip itinerary.
We recommend budgeting at least 2 hours to see the Cliffs Of Moher, although we have spent even more there ourselves! Seeing the Cliffs Of Moher in person will blow your mind and exceed all of your expectations!
Book Your Cliffs of Moher Excursion Here
During your time at the Cliffs Of Moher, you can visit the Visitor Center for some education and also grab a bite to eat before heading out to the views! You can stay on the Cliffs Of Moher visitor center property, or you can go outside of the property and walk on top of the Cliffs themselves.
This is one of the more dangerous things you will do on your Ireland road trip, so make sure that you practice extreme caution!
There are a lot of fabulous Irish Castle Hotels near the Cliffs Of Moher so if you are looking to add one to your bucket list, this is a great place to do it!
Check Prices For Cliffs Of Moher Hotels: Booking.com | Hotels.com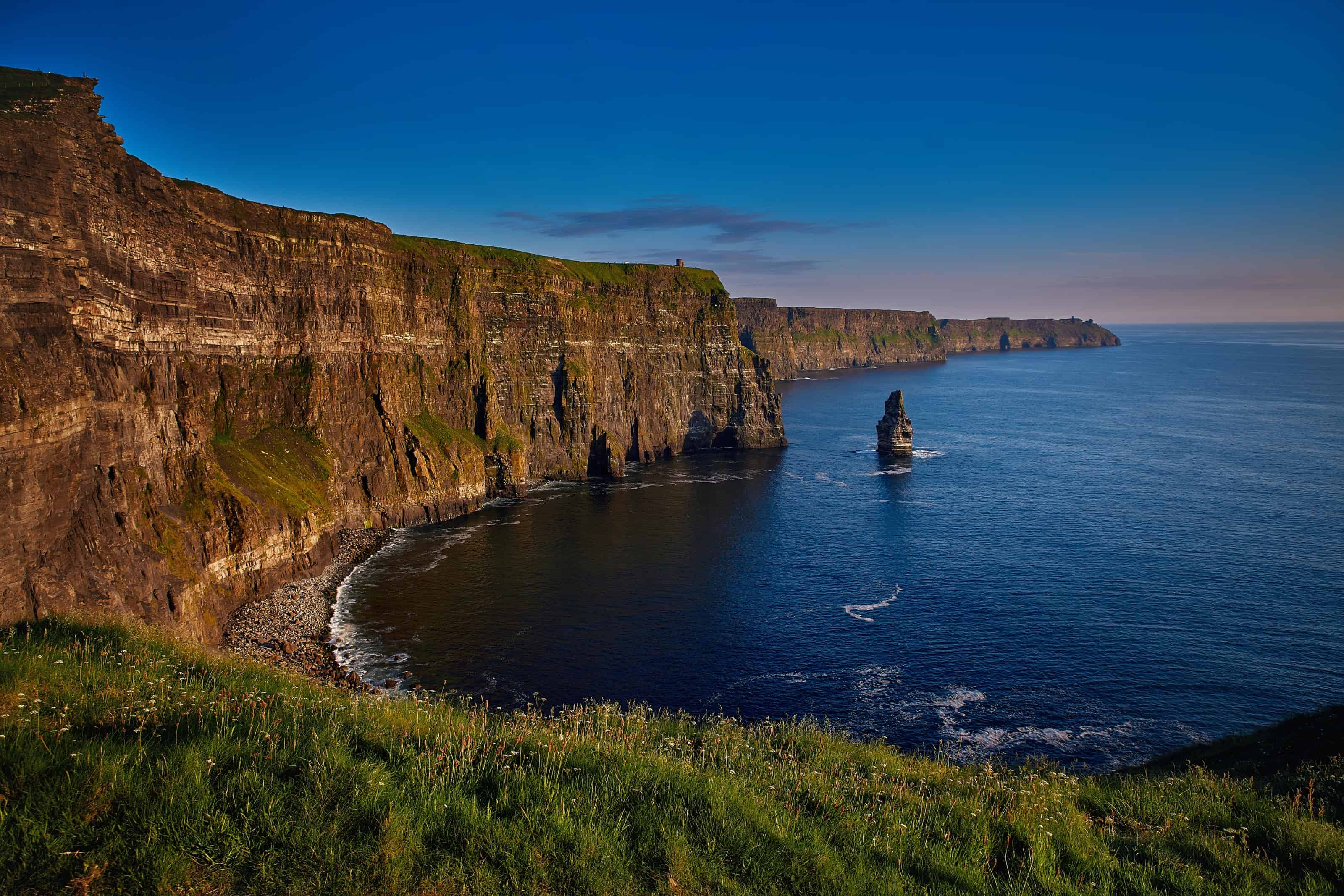 Stop 7: Drop By Doolin For Picture Perfect Irish Charm
Doolin is an adorable town located just 10 minutes north of the Cliffs Of Moher. If you are already visiting the Cliffs Of Moher on your Ireland road trip, we recommend a quick stop in Doolin too. Doolin is such a cute little town, with iconic pink houses, an adorable downtown, a castle turret, and a cute harbor.
While you are in Doolin, you can also take a day trip to the nearby Aran Islands. We have never done the Aran Islands before but they are high on your Ireland road trip bucket list for next time! You can catch an affordable ferry from Doolin and it is a short boat ride to the islands!
Check Rates For Doolin Lodge: Booking.com | Hotels.com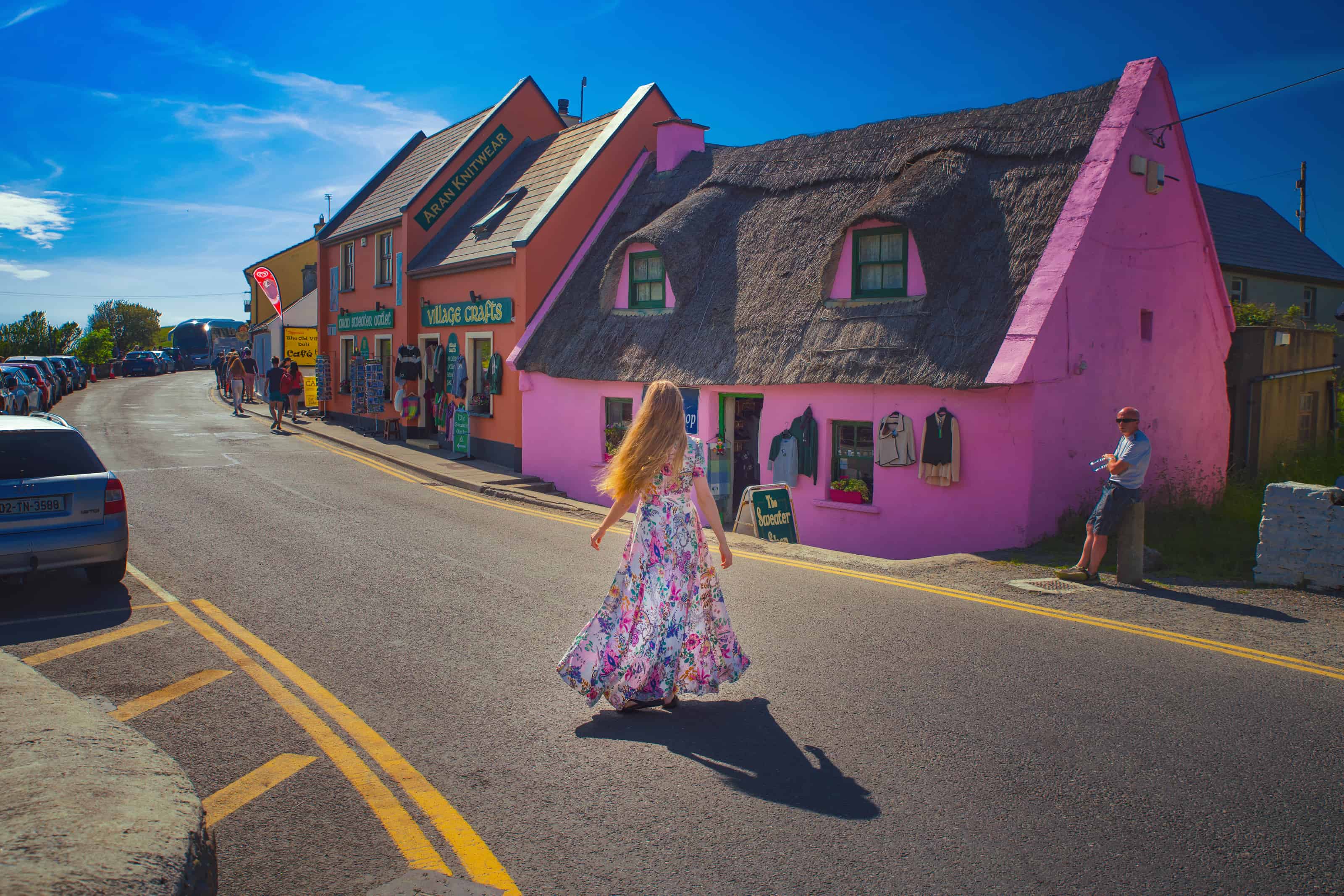 Best VRBO's in Doolin: 
Stop 8: Experience Westport And Achill Island On Your Ireland Road Trip Itinerary 
We love getting off the beaten path and there is no better place to do that than Westport and the nearby Achill Island. Westport is an adorable town located in Co. Mayo has so much to offer.
You can choose to visit Westport House and see their falcon demonstration or take a bike ride on electric bikes through neighboring towns. Westport House is where famed pirate Grace O'Malley lived and you can even go into a real dungeon too!
Book Here: Westport House Tour
We highly recommend taking a day trip to the nearby Achill Island or even adding extra time to your Ireland road trip to stay on Achill Island. Achill Island is pristine Irish beauty at its best, with white sand beaches, mountain lakes, and cute towns.
You can even go surfing, paddle boarding, or snorkeling on Achill Island if you want a more adventurous Ireland itinerary!
Read more: The Ultimate Guide Of Things To Do In Co. Mayo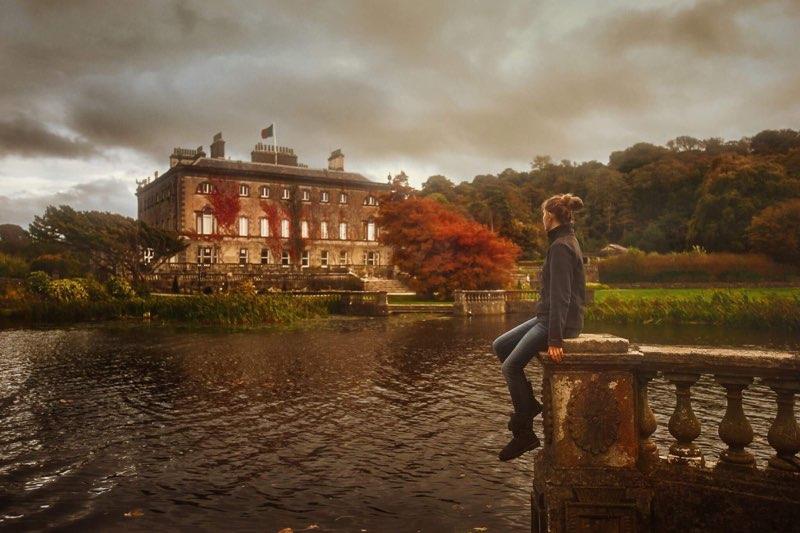 Best VRBO's in Westport Ireland: 
Best Accommodations And Hotels In Westport Ireland
Suggested Achill Island Hotels:
Stop 9: Explore The Slieve League Cliffs And Bad Eddie's Boat In Co. Donegal 
Co. Donegal, Ireland's Northernmost county is known as it's most "wild." This isn't a place most people visit on their Ireland road trip, but we have gone and we highly recommend it. This is "real" and unspoiled Ireland, far away from any tourists. This is where you will find sheep wandering in the road and no fences to keep the animals in.
Things To Do In Co. Donegal On Your Ireland Road Trip:
Slieve League Cliffs. You have to put the Slieve League Cliffs on your Ireland road trip itinerary because they are one of the highest sea cliffs in Europe [second only to the cliffs on Achill Island]. The cliffs are located in the southern end of Donegal and you can drive to them and walk the rest of the way.
The views are incredible and you will hardly see another tourist in sight. After the busy Cliffs Of Moher, this is a more relaxed portion of your Ireland itinerary to enjoy. Check Rates Slieve League Bnb: Booking.com | Hotels.com
Bad Eddie's Shipwreck. Once you leave Slieve League, make your way up to the town of Bunbeg, where you will find a shipwreck right on the beach. This isn't any old boring shipwreck, this is an old wooden shipwreck located on a beach that you can drive on! This is such a cool part of your Ireland road trip itinerary because you can get up close and personal with an actual shipwreck on a beach! Check Rates For Bunbeg Lodge: Booking.com | Hotels.com
Glenveagh National Park. Glenveagh National Park is the epitome of wild Irish landscapes and if you love mountains, this is the place for you! Make sure to leave time to either drive through the national park or take a walk up one of the mountains! This is another one of the lesser-known things to do on your Ireland itinerary that you will just love!
Malin Head. Malin Head is the northernmost point in all of Ireland. If offers stunning views of the Atlantic Ocean and there are many sea cliffs and beaches to explore. Malin Head is also a Star Wars filming location so if you love the movies, this will be a must-see stop on your Ireland road trip itinerary and you won't regret visiting! Check Rates For Malin Head View Bnb: Booking.com 
Best VRBO's in Donegal: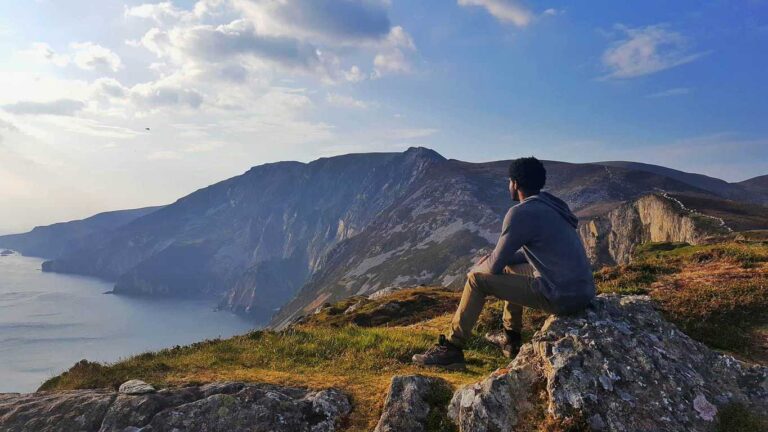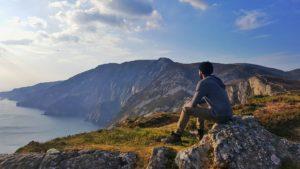 Stop 10: Finish Your Ireland Road Trip By Exploring Belfast And The Causeway Coast
Northern Ireland is much less visited than the Republic Of Ireland but the country is so beautiful you must make it a stop on your Ireland road trip itinerary. Belfast is located less than 2 hours away from Dublin, so if you are flying out of Dublin after your Ireland road trip, you can spend a night or two in Belfast or Northern Ireland's Causeway Coast.
Exploring The Causeway Coast On Your Ireland Road Trip
Northern Ireland's Causeway Coast is a stunning coastal drive that offers everything from pristine white sand beaches to castles perched high on the edge of cliffs! The stops listed below are all very close to one another so all of these locations can easily be seen in one day. There is so much to see and do on the Causeway Coast, but here are a few things you must make sure to see during your Ireland road trip:
Dunluce Castle. Dunluce Castle is an age-old castle ruin perched on the side of a cliff overlooking the ocean. Could it get any more stunning than that? The castle is steeped in history and bloodshed, and it makes for fantastic photos!
Giant's Causeway. Giant's Causeway is a spectacular ode to nature with basalt rocks pushing up from the ocean in the shape of hexagons. If you are making this part of your Ireland itinerary, make sure to go early in the morning so you beat the tour buses.
Dark Hedges. The Dark Hedges is simply a hedgerow leading up to an old manor house, but they became popular from being featured in Game Of Thrones. Like Giant's Causeway, if you aim to stop here on your Ireland road trip, make sure to go early or late to beat the tourists.
Mussenden Temple. Mussenden Temple is a temple perched on a cliff in Northern Ireland overlooking a perfect stretch of white sand beach! It is a fantastic place to catch the sunset and a wonderful stop on your Ireland road trip itinerary.
Game Of Thrones Doors. If you are into Game Of Thrones, you are going to want to pop into a pub or local hotel and see some of the Game Of Thrones Doors! There are many located along the Causeway Coast. You can read more about the Game Of Thrones Doors here! 
Book Here From Belfast: The Causeway Coast Tour 
Book Here From Dublin: The Causeway Coast Tour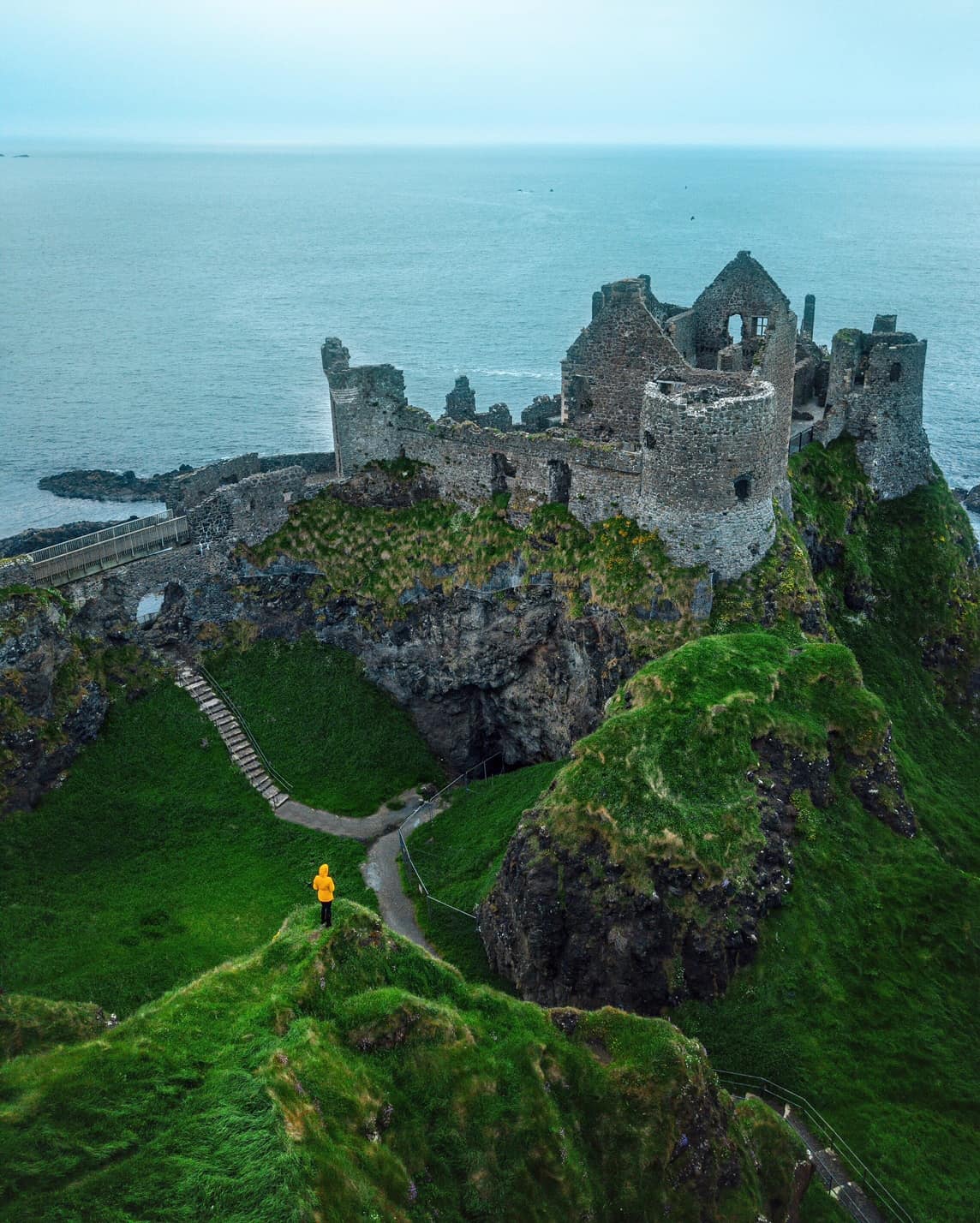 What To See And Do In Belfast To Conclude Your Ireland Road Trip
Belfast is the capital of Northern Ireland and is located under 2 hours away from all the best nature that Northern Ireland has to offer. If you visit Belfast during your Ireland road trip itinerary, and we think you should make sure to check out the Titanic Museum Experience and walk around the Titanic Quarter.
Did you know that Belfast is actually where the Titanic was built and originally set sail from? Now you do!
Belfast is also home to the buzzing Cathedral Quarter, which is the perfect place for a bite to eat and a visit to one of the many pubs. If you have time, you can even take a pub tour or walking tour around Belfast.
Check Hotel Prices In Belfast: Booking.com | Hotels.com
Best VRBO's in Belfast: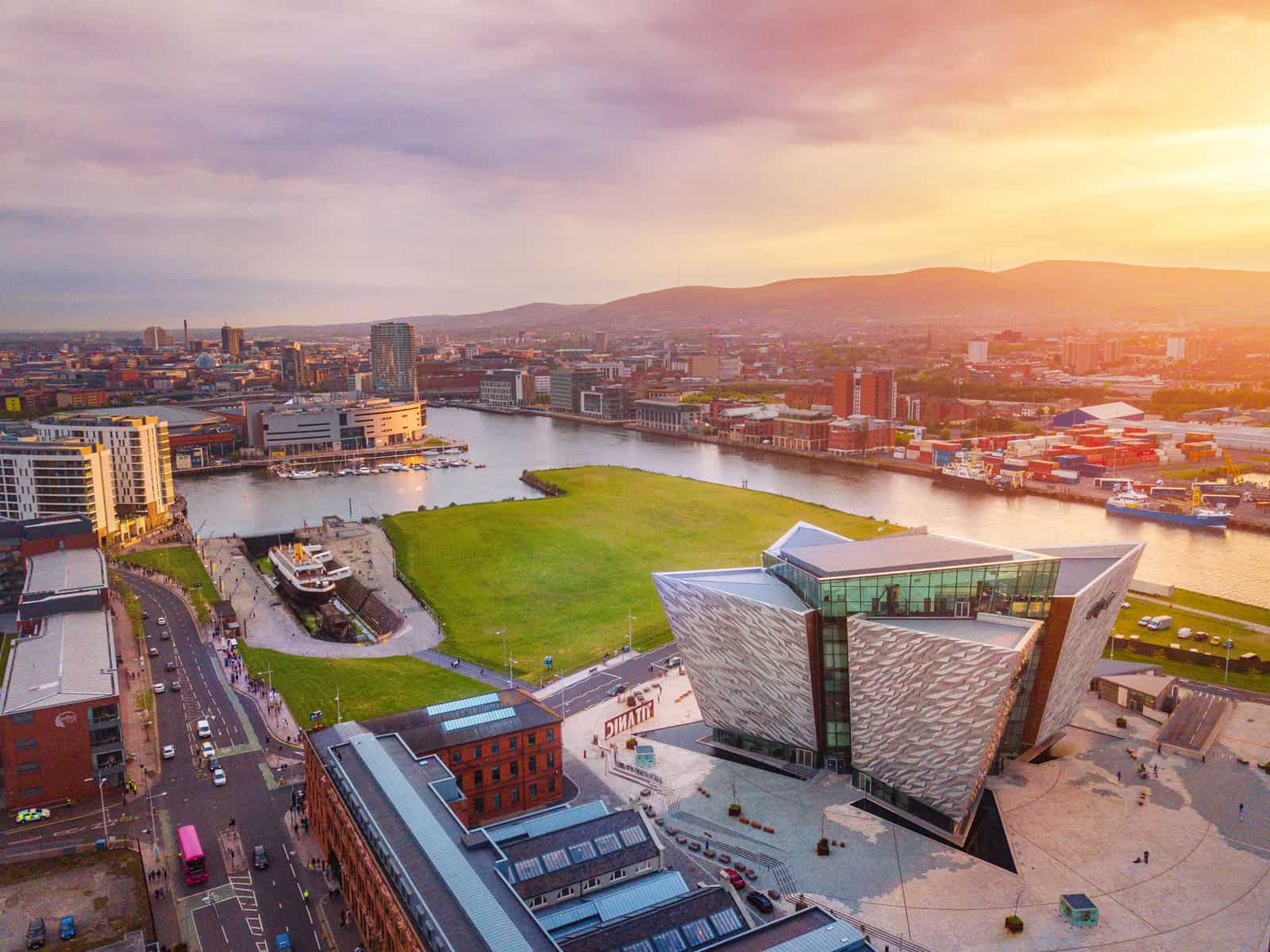 End Your Ireland Road Trip By Flying Out Of Dublin Or Belfast
Sadly, at one point or another, your Ireland road trip must come to an end. You will either be flying back out of Dublin or Belfast. If you fly out of Dublin, we highly recommend staying outside of Dublin City and then driving in on the day your flight leaves. This will save you from having to go back to Dublin and will save you money on a hotel as well.
Packing Tips For Your Trip To Ireland:
Here are some of our favorite items that you should consider packing for your trip to Ireland! These are essential travel items that we use and love and you should make sure to consider for your travels.
A concealed travel pouch may be one of the most important items you bring with you! This unisex RFID blocking concealed travel pouch is lightweight and comes in several colors. It has lots of organization to give you peace of mind. You can keep your most valuable documents safe and secure next to your body.
If you have a pouch already you may not want to or need to invest in a new one. If it does not come with the RFID protection, these RFID sleeves would be handy to prevent identity theft. This configuration comes with enough passport and credit card sleeves that the entire family would be protected. They are slim too, so they will easily fit into your current pouch or wallet. These are the kind our family uses not only when traveling but at home as well.
If you have a camera on your packing list, you need to add additional memory cards on your list as well. Unless you are packing a computer for your trip, you will not be able to upload photos and clear your existing memory card. Purchasing additional memory cards cost under $20 and take up no space in your luggage. Having a backup can have the potential to save you a lot of heartaches if something goes awry! There is nothing worse than coming across that perfect moment and then finding out you don't have enough space to capture it on your camera!
Similarly, If you are planning to capture your trip on a smartphone, we beg you to bring some way to back up your memories. The best way to do this is with a portable smartphone flash drive. A flash drive is a small storage device that you can connect up to your smartphone and then safely and easily download the photos onto this device.
If you are planning on taking a lot of pictures with your phone you will definitely want to consider an external charging battery. This Anker high-speed phone charging battery is the exact one we carry with us on all of my trips. It can be used on a variety of phones, not just an iPhone like we have. And wow is it fast! We like that it holds its charging capabilities for several uses so we do not have to worry about it while out and about. And if we forget to recharge it at night, it will still be good to go the next day.
My mom was never a fan of packing cubes until she tried them out! Now she is sold. These Bagail packing cubes are the exact ones she uses whenever she travels and she travels a lot. She cannot believe how much more organized she is now! And she will never leave without them anymore.
We never leave home on a trip without our Bobble filtration bottle. The 18.5-ounce size is perfect for travel and it will fit nicely in the pocket of a backpack or your purse. Also when filled with water, it is not too heavy to carry. And the Bobble carbon filter ensures fresh clean water whenever and wherever you fill the Bobble. You can find filter replacements here. 
Perhaps you are traveling a long distance and packing space is a premium. Then this set of collapsible silicone foldable water bottles would work well for you. Would not take up much space in your suitcase at all. And you will be receiving a set of two.
You will want to bring a backpack or daypack with you to store snacks, your water bottle, phone, extra clothes, etc.. This foldable water-resistant backpack would be great. It is very affordable and is available in many color options for you to choose from. The fact that it folds down into a zippered pouch will make it easy to pack.
Perhaps you need a more substantial backpack for your international travel. This antitheft backpack has a charging port, is water-resistant and can comfortably carry up to a 15.6″ laptop. It comes in a range of colors to choose from and it is inexpensive as well.
We all need to protect our eyes from the sun's harmful UVA/UVB rays. These unisex polarized sunglasses come in a lot of lens colors and frame designs and are extremely affordable too.
If you are fond of the aviator-style of sunglasses these polarized aviators may interest you. We like polarized sunglasses because they remove the glare off the water and help you to see things more clearly.
Don't forget to bring along a universal power adapter if you are traveling abroad. This worldwide power plug is a great example and will charge your phone at the end of your busy days. And this world traveler adapter kit can charge several devices at the same time. This is what you will need when there are several people traveling in your group, or if you bring several electronic devices on your trip that require charging at the same time.
Ireland Road Trip Map
In case you want to see what it all looks like on paper, here is your Ireland road trip map! Unfortunately, Google Maps only lets us put 10 destinations, so we weren't able to capture all the small stops like Cobh or Slieve League Cliffs. This is the general idea of where our route will take you and the driving time for the total Ireland road trip. Feel free do an Ireland road trip in a circle from the bottom of Dublin and Cliffs Of Moher or from the top to modify and save time!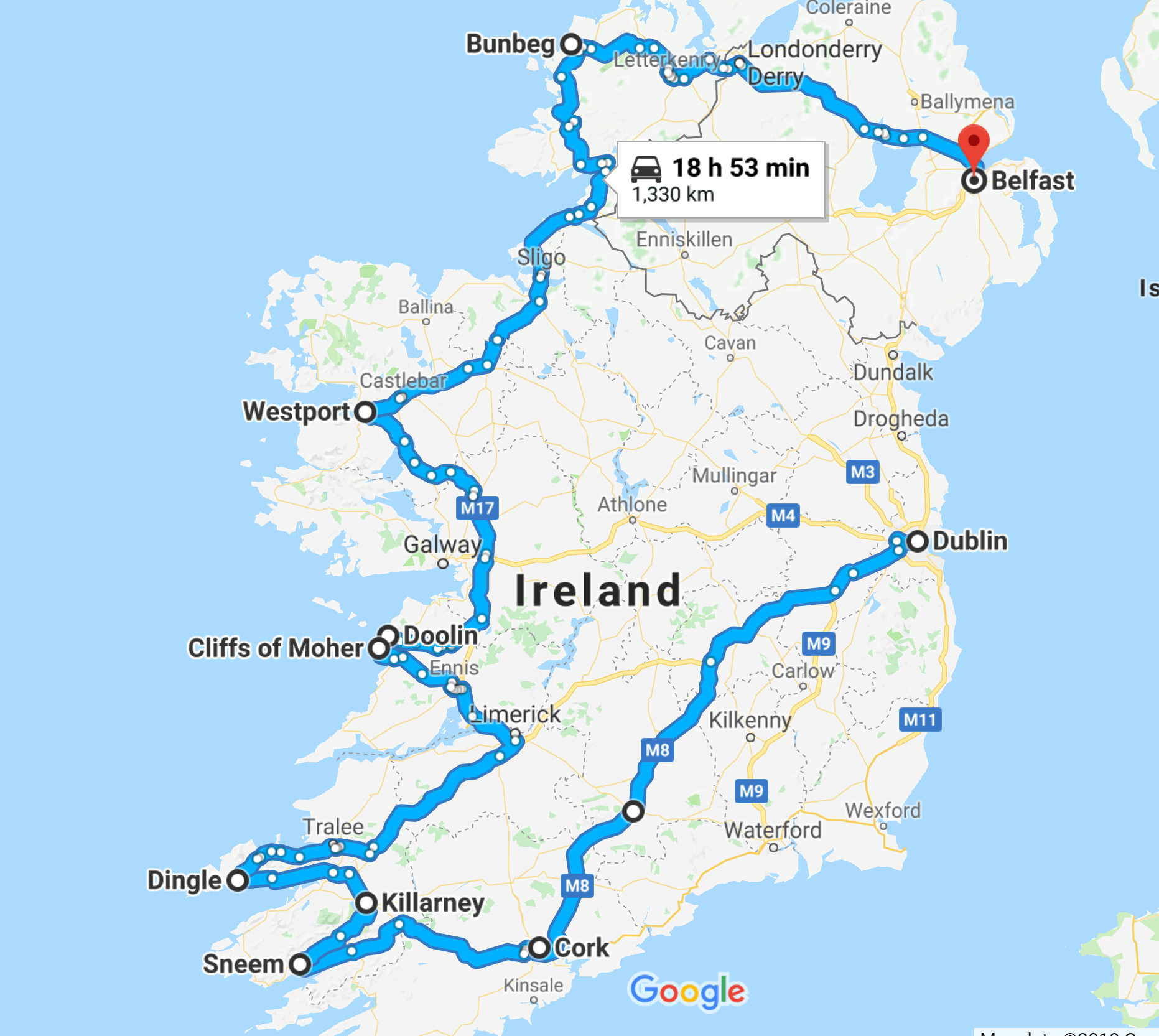 This Ireland road trip itinerary showcases the best of what Ireland has to offer, from the touristy things to the lesser-known things to do! There is something for everyone and we purposefully didn't put times or days so that you don't have to limit yourselves! If you have two weeks, then modify this Ireland itinerary to fit your schedule and if you only have a few days, pick which stops are most important to you and go from there! Either way, Ireland is waiting for you to come visit!
Pin this post: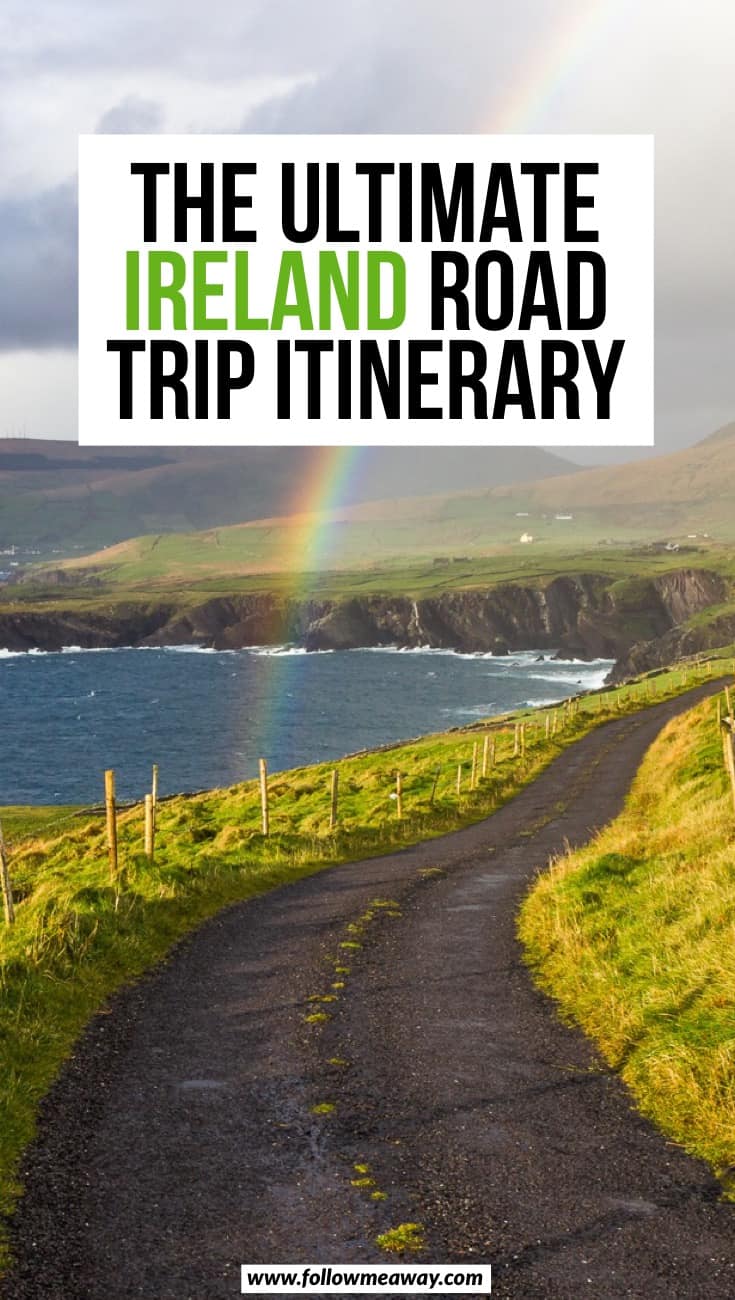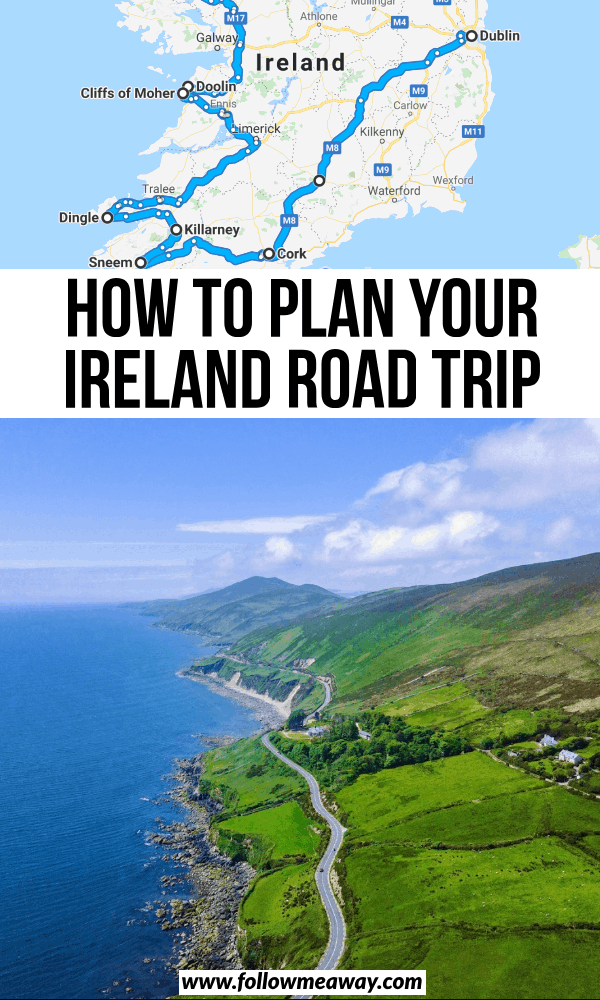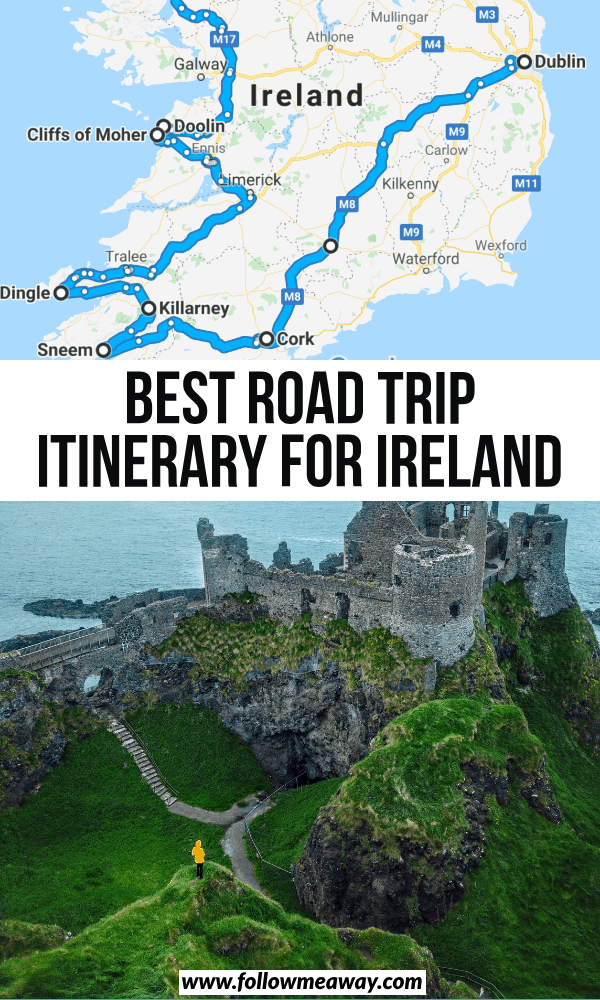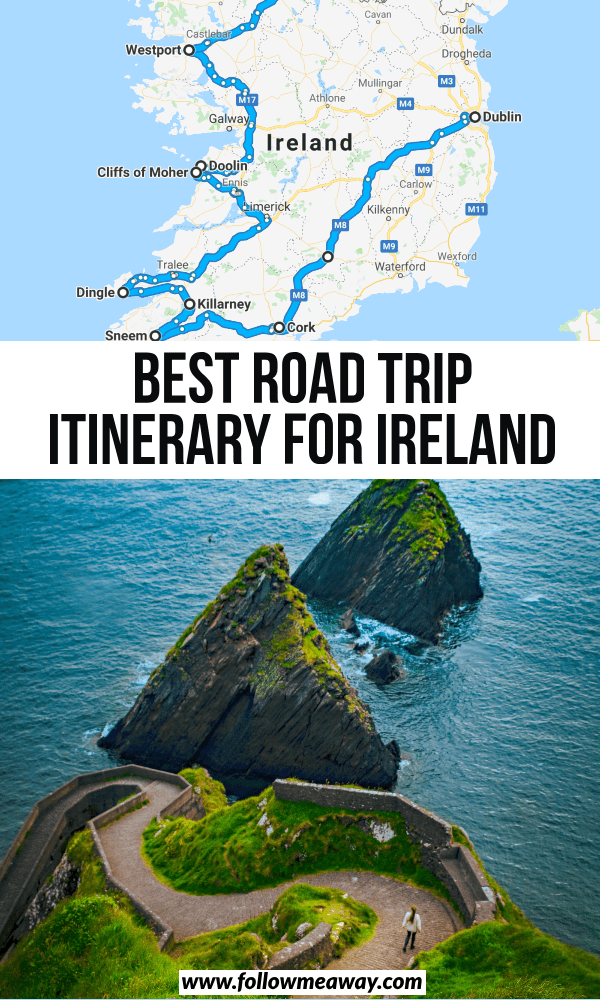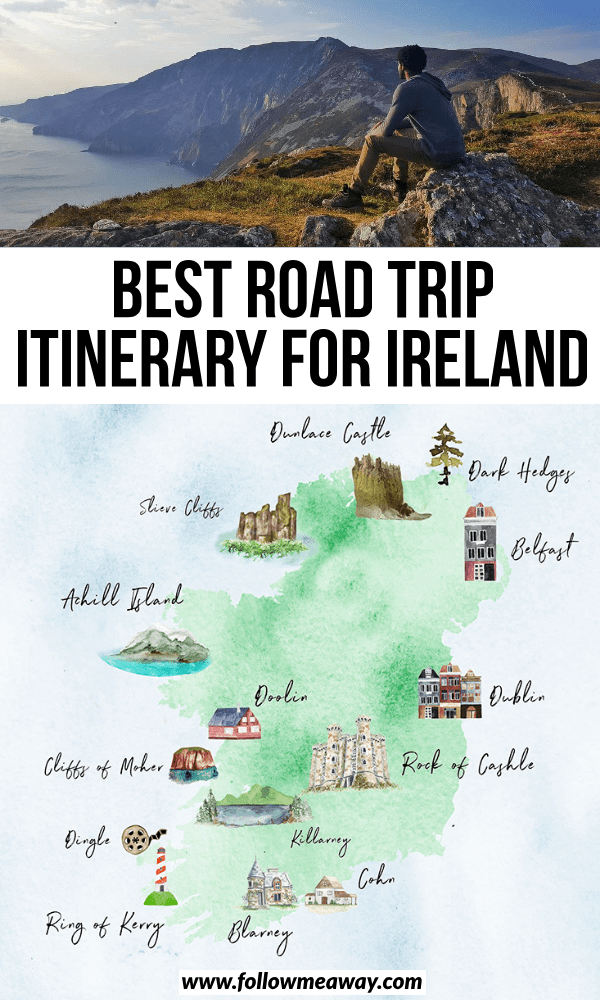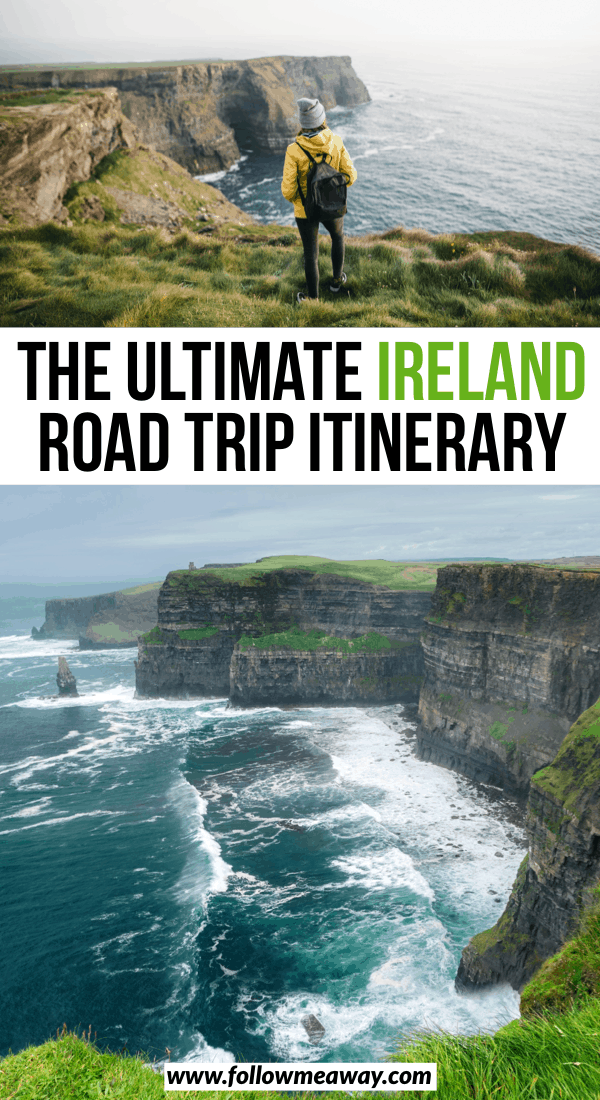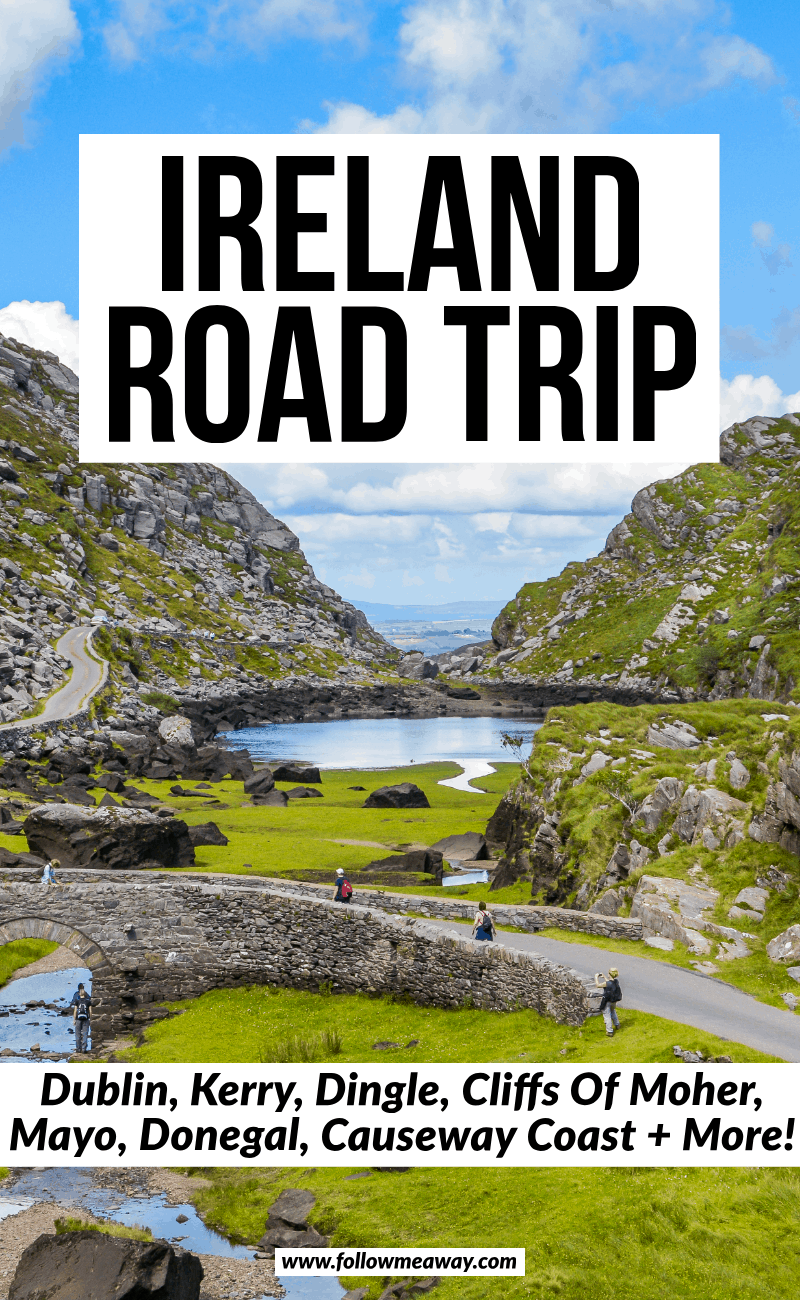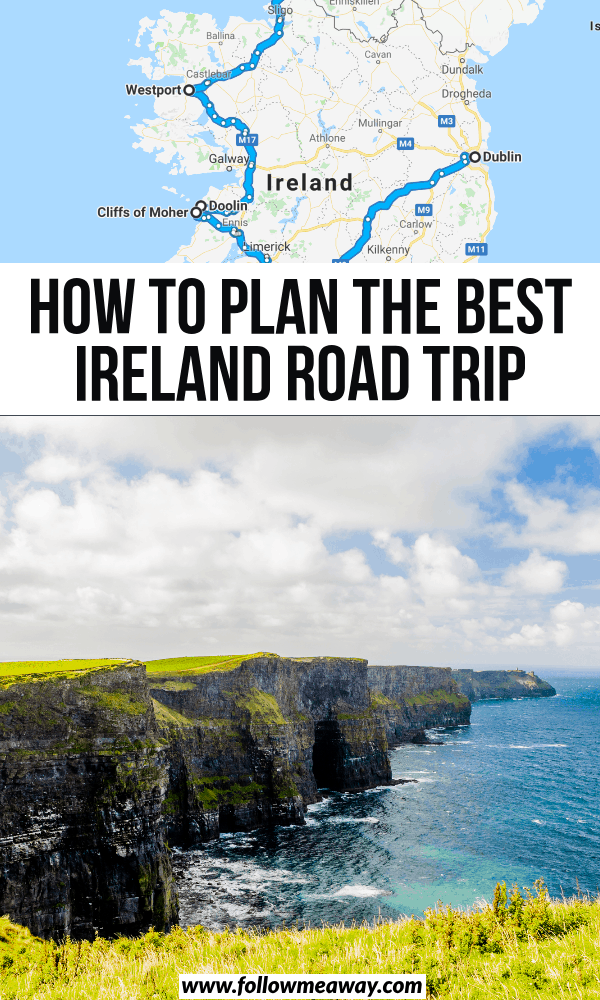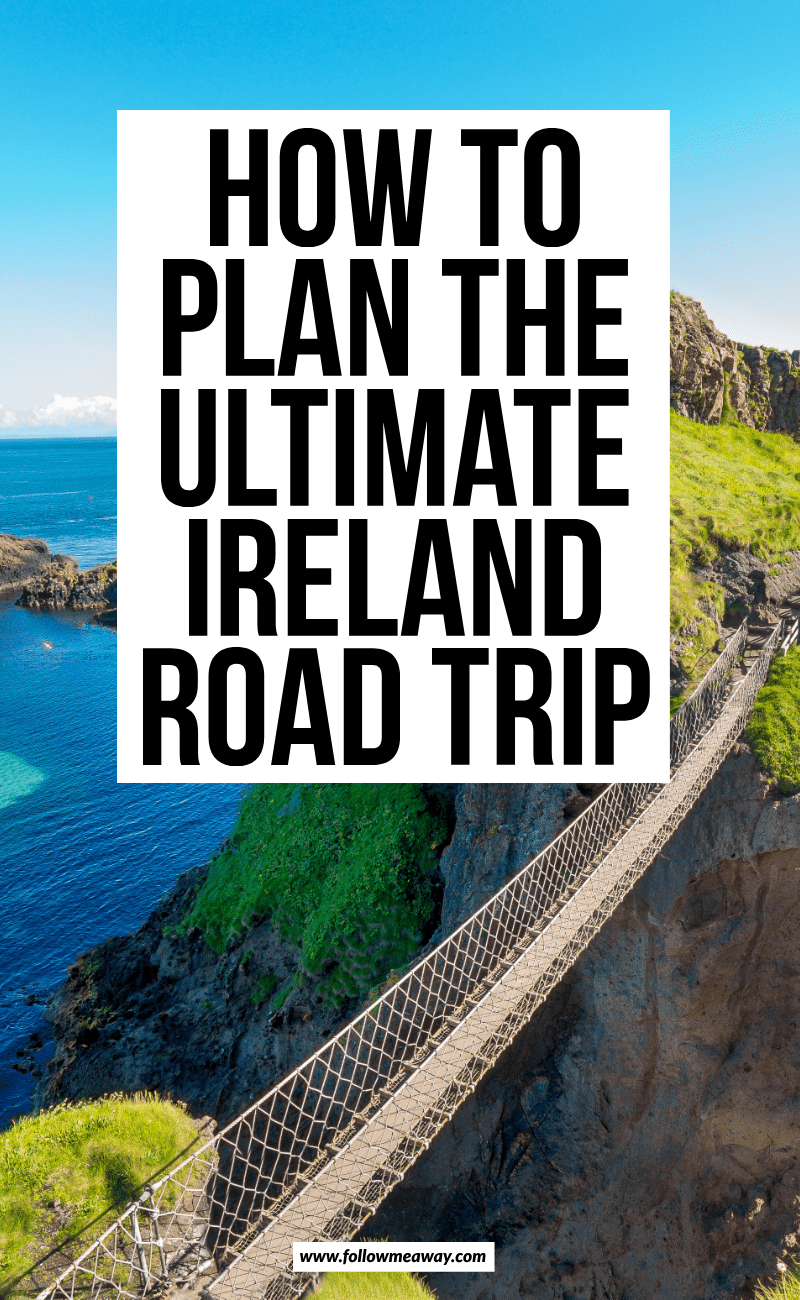 Please Note: For the purpose of this post, we have partnered with Tourism Ireland, Parknasilla Resort, Hayfield Manor, Killarney Tourism, and Dingle Benners Hotel. All opinions are our own and we were not paid for this post. Affiliate links may be used in this article which means we make a small portion of the sales.