Traveling to Prague in winter is an incredible experience that you will remember for years to come!
The weather during winter in Prague will be a bit cold (Prague has an average temperature of 35°F in January and 36°F in February), but with the right preparations you won't even mind the chilly air and you can focus on creating magical moments in the City of a Hundred Spires!
Even as a Florida girl, I love visiting Prague at Christmas or in the winter. There is no wrong weather, only wrong clothes! So make sure you pack something cozy and warm and you will enjoy it.
In this post, I am going to tell you exactly what I would tell a close friend, my Mom, or a family member about traveling to Prague in December or any other time during the winter.
Winter in Prague is generally defined as December to February, but the months of November and March can experience winter weather in Prague as well.
December in Prague means you will see cheerful Christmas decorations hanging from every street, plus the chance of snow and less crowds to wade through. A huge bonus? The Christmas Markets in Prague stay open past
With a few tips and this handy guide by your side, you will be off to an enjoyable trip in this historical, beautiful city during the winter months.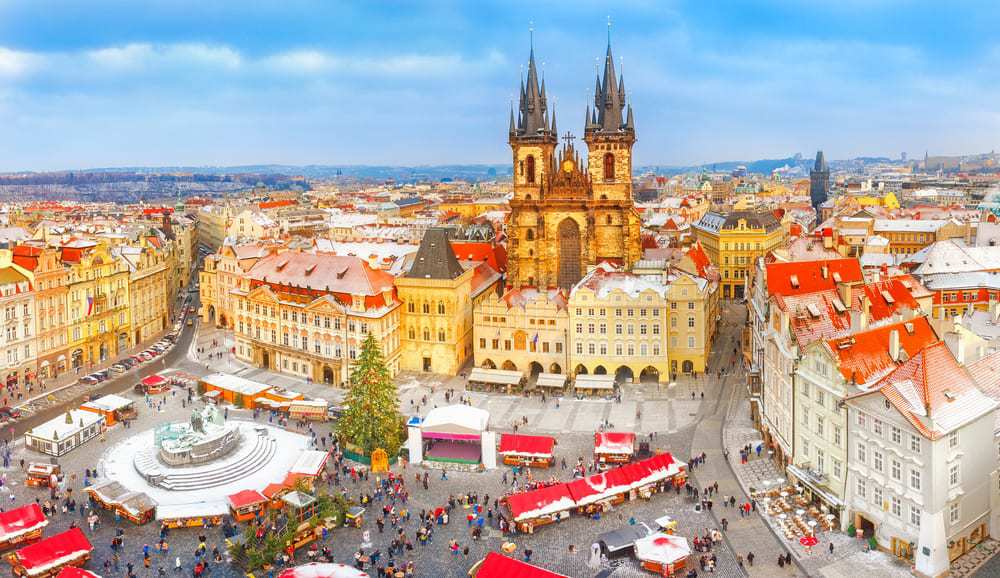 Average Prague Weather In Winter
Winter in Prague can be very chilly. You can expect cloudy skies for the most part, and some days can bring light rain or snow. Prague in December tends to be slightly warmer over January and February, and January is when the most snowfall is likely.
Prague has much shorter daylight hours in the winter months, with the sun rising about 9 am and setting around 5 pm or earlier. That makes for 8 hours of proper daylight, after which the night air starts kicking in and colder temperatures are more likely.
If you plan on exploring Prague once it's dark out (which is a great way to see all the outdoor winter decorations!) then plan on wearing extra layers and making sure you stay warm enough. Always check the weather forecast before going outdoors so you know what Prague in winter has in store for you!
Average Winter Temperatures in Prague:
Prague In December: 36-40F high, 28-32F low
Prauge in January: 34-37F high, 25-27F low
Prauge in Februrary: 35-37F high, 27-30F low
This might seem pretty cold but winter in Prague is actually very doable in this weather as long as you pack the necessary clothing.
As January is the coldest month in Prague, it also means far less tourists are around in that timeframe. If you're itching to go to this lovely city but can't stand being around crowds of tourists, consider going to Prague in January and saving yourself the trouble of waiting in long lines and dodging strangers congregating in the streets.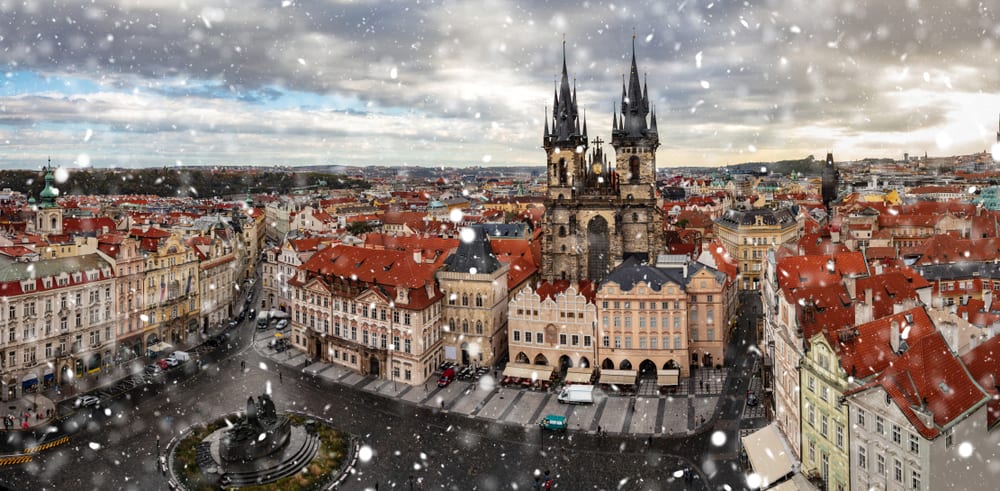 How to Get to Prague in Winter
Getting to Prague is very easy, no matter what form of transportation you take to get there. If you don't live anywhere near the Czech Republic, you will probably be flying into Prague. Václav Havel Airport is the main airport in Prague and is located just outside the city center. You can easily take either a taxi or an Uber from the airport and arrive in the center of Prague within 20 minutes. You do not need to pre-book a taxi, as there are several of them lined up outside the terminals for anyone to choose, but you can do so if you wish.
Having a taxi or an Uber is probably the easiest way to get into the city center as it is fast and the drivers can take you exactly where you want to go without any stops along the way. Prices vary, as it depends on where you're going and how long it takes to get there, but most likely you will pay anywhere from 600-800 Czech korunas (crowns), which equals 23-31 euros ($26-32).
There are also several other options to get to the main area of Prague. Public transportation is readily available during winter in Prague and this is no exception at the airport. To get to the city center, you can take a bus that will stop at a metro station, where you can switch to a new line to get to the station closest to the location of your hotel or apartment. Most travelers take the 119 bus, as it connects to stations in the Lesser Town and Old Town areas, which is most likely where you will be staying in Prague. Taking the bus is the cheapest option—you can buy the 90 minute ticket for about 32 Czech korunas, which equals 1.5 euros and $1.40. Tickets are available at the airport and you can pay with cash or credit card.
The main train station in Prague is called Praha hlavní nádraží. It's a 5 minute walk away from Wenceslaus Square and 15 minutes away from the Old Town Square. The train station is also connected to the metro on Line C and has bus stops in the front of the station for you to use as well. It is also possible to call a taxi or an Uber from the train station if needed. No matter where you're coming from or where you want to go throughout your winter in Prague, you'll find that getting around the city is easily manageable and nothing to stress over.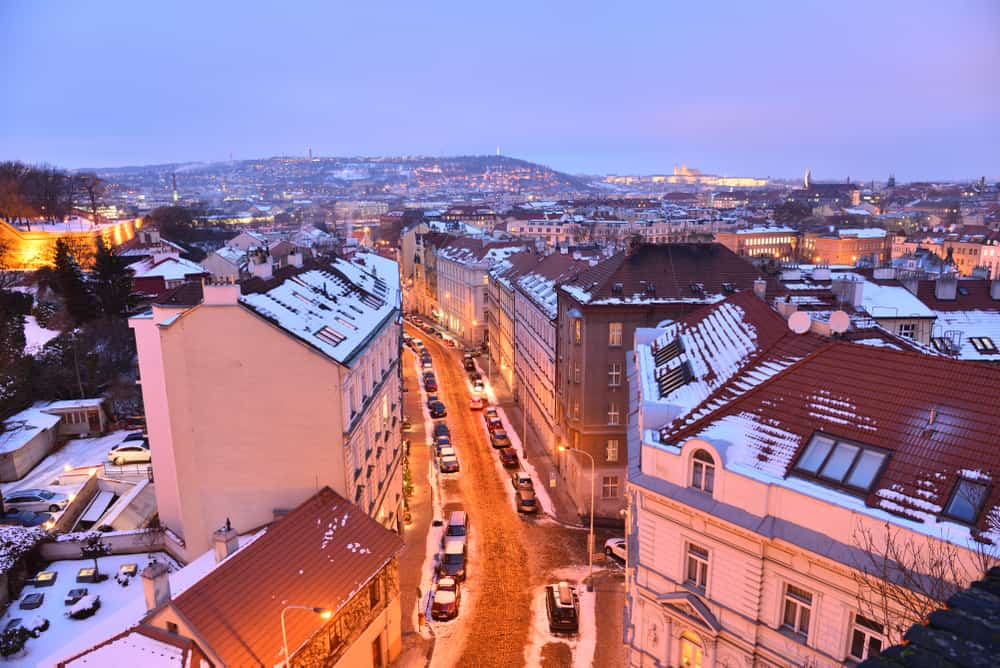 How to Get Around Prague in Winter
The best and cheapest way to get around Prague is to walk! Prague is a city made for walking and you honestly don't need to bother with the tram or the metro if you are able to walk long distances. All the best sights in Prague are in close proximity to each other so you shouldn't have a problem walking along the streets to get where you need to go. If you do decide to walk around Prague and have a specific destination in mind, it always helps to have either a map or directions on your phone handy in case you aren't sure where you are.
For the most part, Prague is easily navigable and once you get your bearings, it's easy to tell what direction you need to go in order to get to a certain spot. Walking during winter in Prague is also the best way to see the gorgeous historical buildings on every street and to marvel at the pretty seasonal décor around you. A note of caution—a vast majority of Prague's sidewalks are made of cobblestone, which can sometimes create uneven and slippery surfaces, so bring sturdy, comfortable shoes on your trip!
Since Prague in winter can be very cold, however, you might find the winter air disagreeable for walking for long periods at a time. If that's the case, don't worry! The next best option is to use the tram, bus or metro. Depending on the length of your stay and how often you decide to use public transport, tickets are good for different time periods (30 minutes, 90 minutes, 1 day, 3 days, and a month) and will be accepted on all three modes of public transport. You can buy public transportation tickets at major tram, bus, and metro stops. Children (0-5 years old) and seniors (70+) can ride public transportation for free, but need an accompanying passport or photo ID for proof of age. If you travel with children who are 6-15 years old, then you can get tickets at a discounted price for them, but they also need a passport or photo ID in order to get the discount.
The starting ticket option is a 30-minute travel ticket that is 24 korunas for adults ($1.10, £0.94) and 12 korunas for the discounted children ticket ($0.55, £0.47). Prices go up for the longer travel time you select. Before traveling, be sure to validate your ticket in the clearly marked yellow machines (by the doors on trams and buses, and near the escalators in the metro stations) so your travel time is marked. Once validated, you are good to go for the duration of your travel ticket!
The tram and the metro are the most used methods of public transport around Prague in winter. Public transport in Prague is pretty safe and reliable so as long as you follow basic safety procedures and exercise caution when necessary, you should be fine!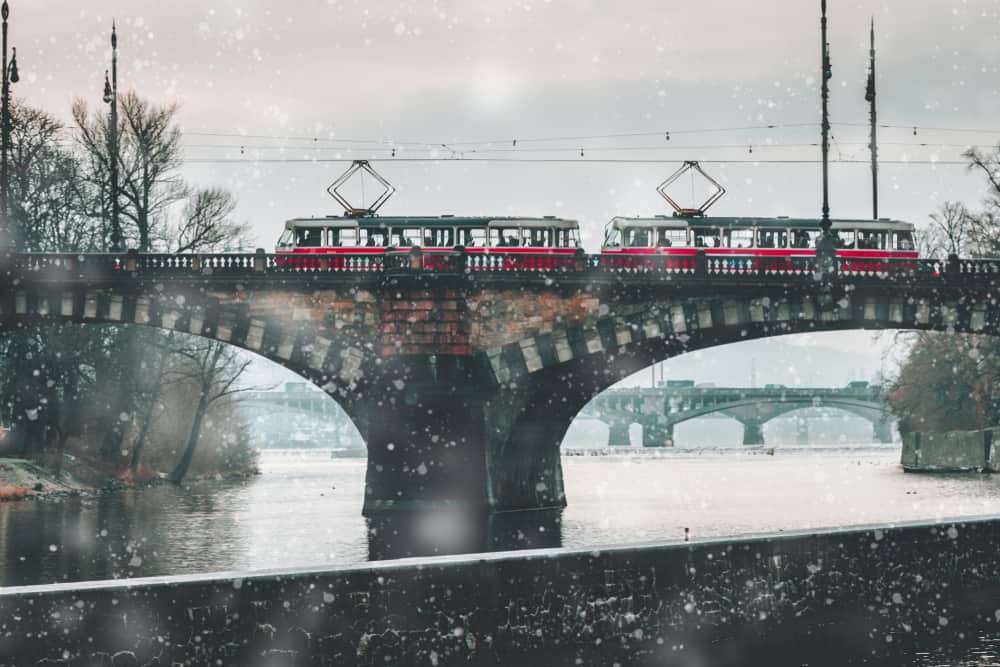 What to Pack for Prague in Winter
If you are heading to Prague in the winter, here are a few packing tips! Visiting Prague in winter is quite enjoyable and magical, but you need to stay warm and dry. Dressing in layers is key! If you get too hot or too cold, simply add or take away a layer until you feel better. Don't forget vital accessories like gloves and hats, as chances are you will be walking quite a bit and your face and hands will likely be frozen if left unprotected from the winter air!
While winter in Prague may call for cozy sweaters and warm pants, if you're staying in Prague for the holiday season, don't be afraid to bring some fancier outfits if you feel like celebrating in style! You can throw in some fun skirts or dresses and pair them with nice tights or leggings for added warmth, or pack a fitted suit in a heavier fabric to keep you from feeling the bitter cold. No matter what you choose to add to your suitcase, these tips will be sure to help you throughout winter in Prague.
We suggest packing:
• Fleece lined leggings. We don't care who you are; if you are packing for Prague in winter, you need to bring fleece lined leggings! You can actually bring two pairs each so that you can double them up if you want to wear a dress! Fleece lined leggings are the perfect thing to add to your winter packing list for Prague because they don't take up much space and they keep you warm under slacks, jeans, or dresses!
• Warm winter dresses. Jeans and pants only go so far! Make sure to pack at least 3 winter dresses [if you are the dress-wearing type] for your winter trip to Prague! Warm winter dresses pair well with doubled up fleece lined leggings, boots, and a warm hat keeping you comfy and stylish on the streets of Prague! Add a few of these affordable ones to your winter in Prague packing list and strut your stuff in style!
• Thin Long Sleeve Thermal Tops. We recommend bringing 2-3 thin thermal tops for your winter trip to Prague. These tops are affordable and pack up very small all while keeping you extra warm! They are perfect for layering and can be worn underneath other tops as a base layer or under dresses with shorter sleeves to transform them from summer to winter wear.
• Comfy Knit Hat. Simple knit hats or beanies are a staple to add to your winter in Prague packing list. Not only do cable knit hats make any outfit a bit cuter, they also keep you warm and protect your ears from the wind. You really only need to bring one, but we won't blame you if you pick up a few! The best part? You probably already have one lying around the house!
• A Solid Pair Of Waterproof Boots/Comfortable Walking Shoes. Although you can probably get away with bringing canvas or lighter shoes to Prague in winter, we do not recommend it! Prague is a very old city with cobblestone streets everywhere, so warm and comfortable shoes are a must. Add to the fact that it's very cold throughout winter in Prague and you can have the occasional snowfall, so you will not want to bring anything except winter boots or sturdy walking shoes that can withstand a bit of water. It's good to have a pair of these Hunter Boots on your Prague packing list for a winter trip! They are a little pricey to begin with, but you can find cheaper versions like these that aren't the brand name. If it snows or rains a lot, your feet will stay warm and dry in a pair of rain boots or waterproof winter boots. By having waterproof boots, you can still have fun outdoors in a light drizzle in the middle of winter without worrying about getting cold or wet.
• A Winter Jacket. Do not think that you can visit Prague in the winter and NOT bring a winter jacket. Bonus points if that winter jacket is waterproof! A durable, warm winter coat will be your best friend during your winter trip to Prague, as it will keep you snug and warm even in the coldest temperatures. Victoria has two winter jackets, one waterproof and one more stylish but not waterproof, which she wears often. We recommend looking at the weather for when you go to Prague and then pack accordingly. You can't go wrong with a jacket that is stylish AND waterproof like this one here!
• Warm Gloves. Don't forget to add warm gloves to your list of what to pack for Prague in winter! Since you will be sightseeing, you will be on your smartphone or snapping pictures on a larger camera most of the time and your fingers will get super cold if you don't protect them! Even walking the streets of Prague in winter without gloves will make your hands freeze! Try to buy touch screen gloves so that you can still access your phone without taking them off!
• A Balaclava. Winter weather in Prague can get windy and blow your scarf all over the place. Cut down on chasing your clothing around and add a Balaclava to your Prague packing list! A balaclava is perfect for both men and women and is often unisex. They fit neatly under your clothing and are barely noticeable but you notice the benefit that they provide! By protecting your neck from the elements, you will stay much warmer during your time exploring Prague in winter!
• Dark Denim Jeans. Darker Colored jeans are perfect to add to your packing list for Prague because they fit in instead of making you stand out as a tourist. Use them as a top layer and add fleece lined leggings as your base so you can stay warm. Then accessorize as you see fit—for men, with a flannel or sweater, and for women, with a stylish jacket or cute sweater.
• Pull-Over Sweaters. Pair a pull-over sweater with jeans, leggings, or slacks and you are set for winter in Prague. Sweaters make for the perfect Prague packing list accessory for everyone and keep you warm and cozy while looking stylish. We recommend picking sweaters that are in neutral tones for your winter trip to Prague so you can mix and match with other pieces.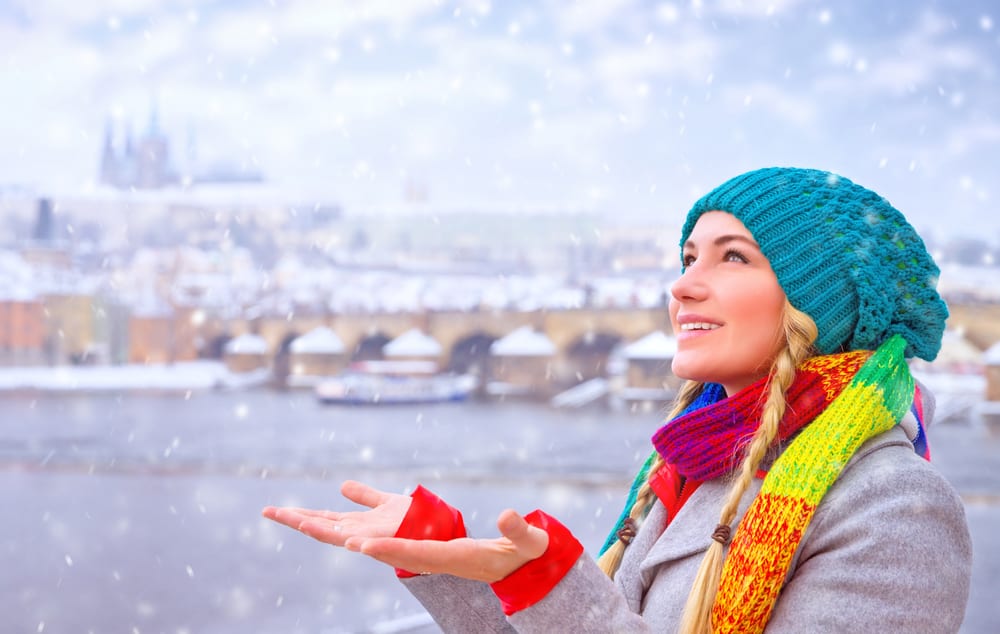 Top Things to Do During Prague in Winter
Exploring Prague in winter is such a fun and lovely experience! There are so many places to see and great things to try during the winter season, so you will enjoy your trip. Whether you stick to outdoor sightseeing or go inside to take refuge from the cold, Prague in winter will not disappoint! Here are a few suggestions to kick off the festivities during winter in Prague.
Join the Festivities and Shop at the Christmas Markets
If you are traveling to Prague for the winter holidays, you won't want to miss the Prague Christmas Markets all around the city! The Christmas markets in Europe are truly a one-of-a-kind experience. From December 1 to January 6, Prague holds two main Christmas markets in the big city squares for people all around the world to come together and share in the holiday spirit. The Christmas Markets in Prague are renowned for selling local handmade goods and treats and are open every day, including Christmas Eve, Christmas Day, and New Year's Day.
The best and most well-known Christmas markets during Prague in winter are held in the Old Town Square and Wenceslaus Square. The squares will be filled with festive décor, dominated by a giant Christmas tree covered in twinkling lights, creating an enchanting and delightful atmosphere. You can buy goods such as fine jewelry, wooden toys, Christmas ornaments, handmade soap or scented candles, and food consisting of tasty ham roasted on a spit, amazing sausages, gingerbread, pastries known as trdelník, hot mulled wine or hot chocolate to warm your cold hands, and so much more!
You can also usually find a nativity scene, either being acted out live or with statues set up by the Christmas tree, as well as sheep, goats, and a donkey for children to pet and watch. Christmas carolers are also common in the markets, with performances by local schools and choirs held on a stage in the square multiple times during the season.
Winter in Prague is incomplete without at least one visit to the Christmas Markets! Smaller Christmas markets are also held around key places in Prague, such as the St. George's Basilica area at Prague Castle, Peace Square, and Republic Square. The Christmas Markets are typically opened at 10 am and close at 10 pm, so don't miss out!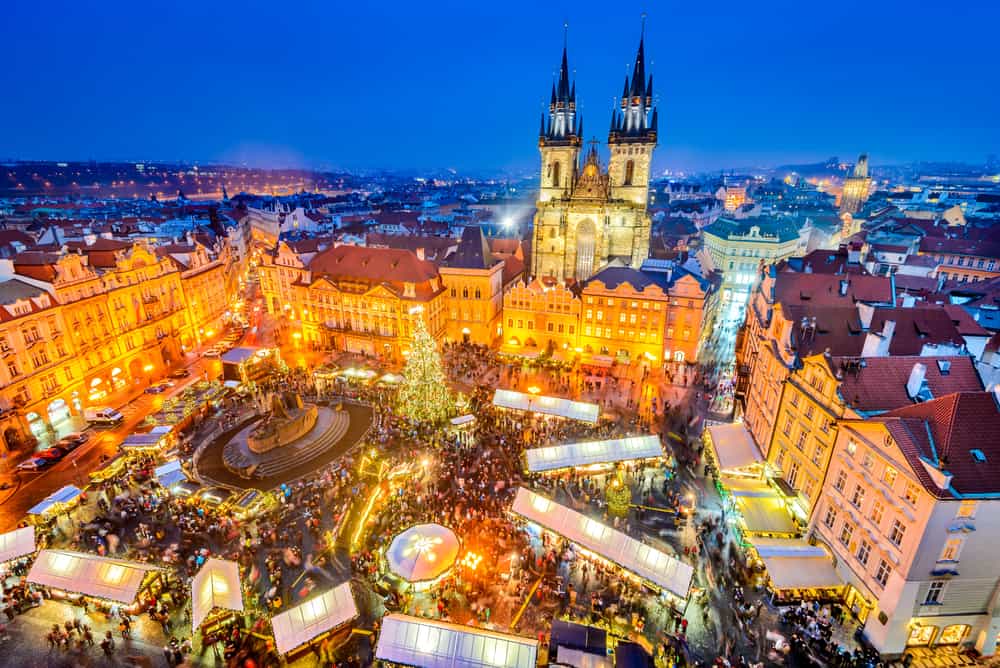 Uncover the Historical Roots of Prague
Prague is steeped in incredible architecture and legends from ages past. One of the best ways to learn more about the history of Prague is to visit Prague Castle, a place with a vital role in how Prague has defined itself over the years. Dating back to the ninth century, Prague Castle has served as the residence of Bohemian kings, Holy Roman Emperors, and even Czech presidents. Take a tour of the Old Royal Palace and see official rooms where major historical events took place, such as the Defenestration of Prague in 1618, and venture up and down winding sets of stairs for amazing views of the city. Step inside the grand and marvelous St. Vitus Cathedral, where coronations of Czech kings and queens took place and where several saints are buried inside, including St. Wenceslaus, the patron saint of Prague. Peek inside the tiny colorful houses of Golden Lane, where the knights and servants of the castle lived and worked.
Prague Castle is the largest castle complex in the world and is truly extraordinary to look at. It's strongly recommended to go on a guided tour of the castle to understand the complex historical significance of the area and the figures associated with it, but you can also buy a ticket and explore the castle by yourself if you like. The winter season means Prague Castle will be much less crowded than the summer, but it never hurts to get there early to have the complex all to yourself! Visiting Prague Castle is one of the best activities to do during winter in Prague.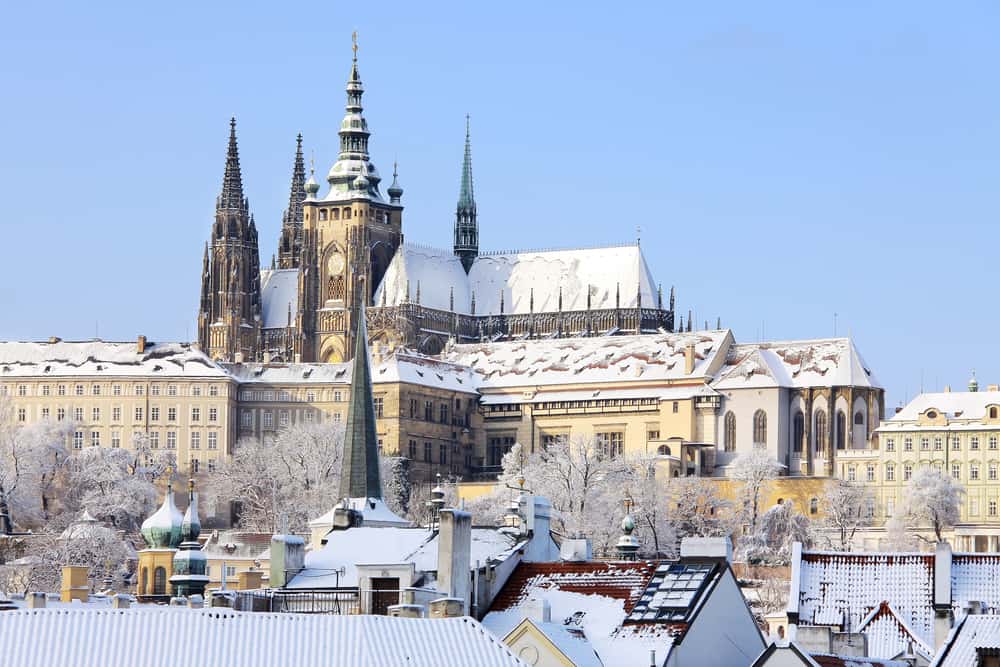 Go to Interesting Museums Around the City
Looking to get out of the cold as you traverse around Prague in winter? Check out the many museums Prague has to offer! Prague has some very interesting museums that cater to everyone's different tastes and interests. If you enjoy art museums and beautiful architecture, check out the Museum of Decorative Arts and the Colloredo-Mansfeld Palace. The Museum of Decorative Arts has several different exhibits ranging from glassware to fashion, and the building's interior décor is simply stunning to look at. The Colloredo-Mansfeld Palace was once home to Prince Heinrich Paul Mansfield in 1735, who belonged to a noble family that originated from Italy. The palace features a glorious ballroom and several grand official rooms that you can walk through on your own, and a special art gallery is open on the top floor. Mozart is also said to have played numerous times at the palace!
If you're looking for something a little different, then head on down to some more unique museums in the city center. The Illusion Art Museum in Prague is great for people of all ages! Walk through rooms of full-scale artwork that make for some pretty cool (and sometimes head-scratching) pictures, as you interact with the displays and see how the illusions work! Also in the area is the Apple Museum, which explores the history behind the famous technology that millions of us use today, and the Museum of Communism, which offers an in-depth look at what life was like in Czechoslovakia under Communist control, from 1948-1989. These museums are both great learning experiences and efficient ways to dodge the cold temperatures of Prague in winter!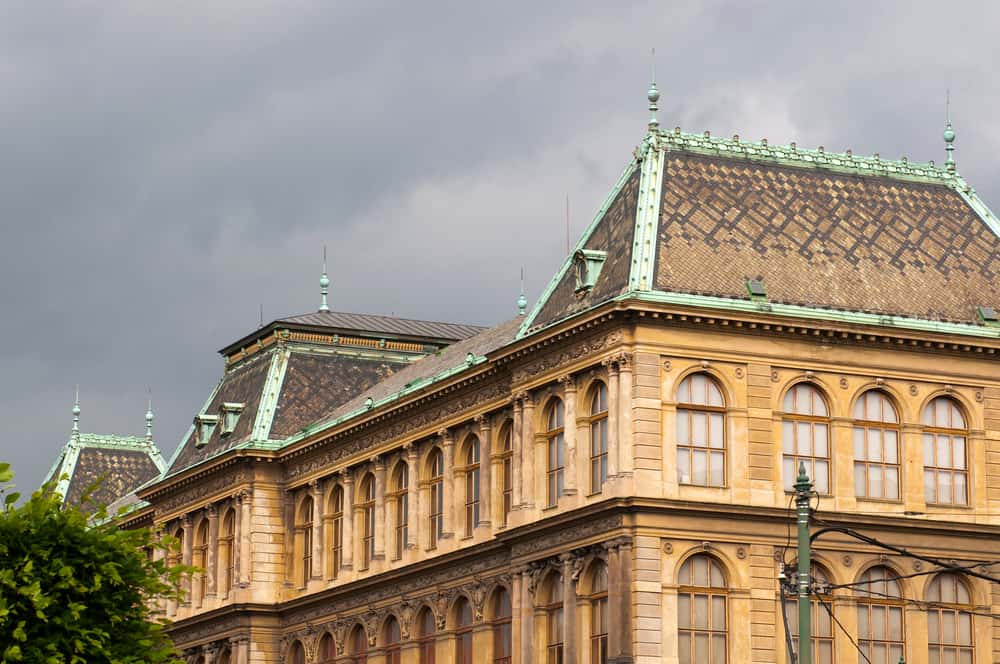 Experience the Czech Culture by Bundling Up and Exploring by Foot
Winter in Prague is best encountered by foot. In order to truly immerse yourself into the city and experience what Prague has to offer, you need to see it for yourself first! As the holiday season approaches, winter in Prague is truly the most wonderful time of the year in the city. No matter the weather, you will find incredible things to look at and take part in as you walk around every street corner. Gorgeous buildings that have stood the test of time for centuries, amazing restaurants with traditional Czech recipes, stores that carry hand-crafted goods by local artisans—every street carries something new and exciting.
A great way to experience Czech culture is to sit in a restaurant and eat some traditional Czech food! Get some delicious goulash soup or sausages and try ordering your meal in Czech! While a lot of Czech people speak or are familiar with the English language, it's good to step outside your comfort zone and make an effort to speak the language of the country you're visiting. It never hurts to be polite and it's always fun to try, even if you butcher the pronunciation a few times. It's handy to know a few basic Czech words like "please" and "thank you" before you visit Prague in winter!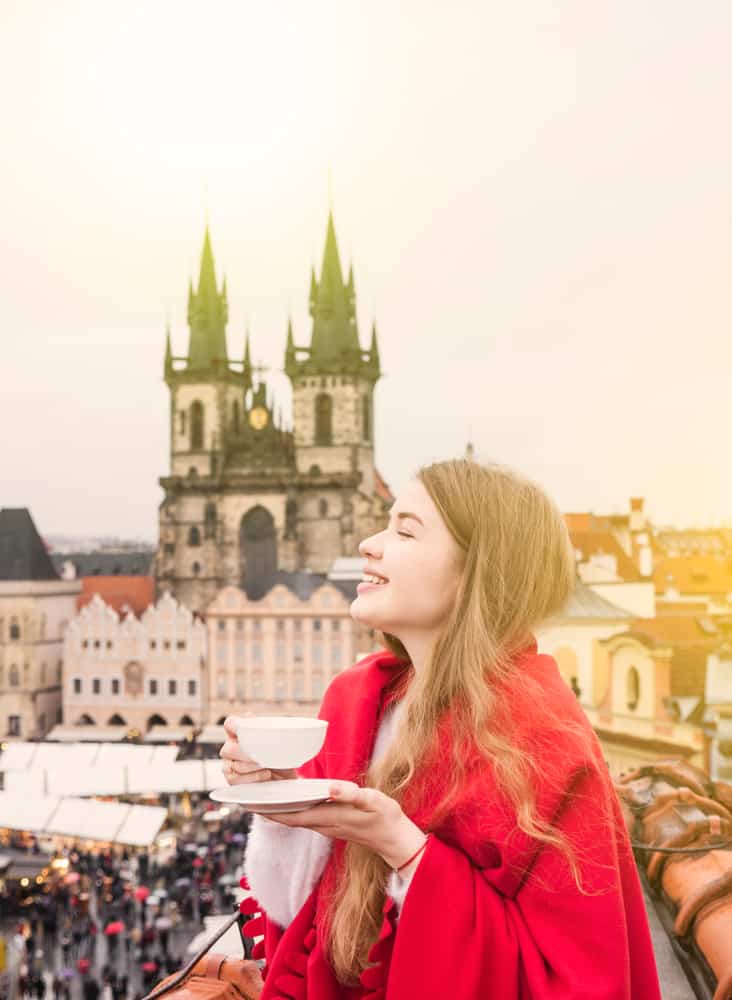 Stop by all the Major Sights in Prague
Every city has its classic sights and tourist destinations, and Prague is no exception! Prague has several locations that you should see at least once on your trip to Prague in winter! First among them is Charles Bridge, an iconic bridge connecting both sides of Prague separated by the Vltava River. Charles Bridge originates from the year 1357 and is about 1700 ft long, lined by statues of saints that look down on the travelers passing by. It's a great place to look out over the river and watch the boats drift along, especially when the bridge is lit up at night.
Another sight not to be missed is the Astronomical Clock, located in the Old Town Square. The Astronomical Clock is an extraordinary mechanism put together in 1410, designed to function as a clock, calendar, and astrolabe (tracking the movement of the sun, moon, and stars), and is still in perfect working condition today. Every hour, the top windows of the clock open to reveal a moving procession of the apostles. Below them is a skeleton figure ringing a bell, reminding people of their eventual death, with a man known as "The Turk" next to the skeleton, shaking his head. Two other figures representing greed and vanity sit across from the skeleton, also shaking their heads. It's fun to watch the clock move and crazy to consider how technologically advanced this clock was when it first debuted. Observing the Astronomical Clock is a must-see during winter in Prague!
A special sight in Prague would undoubtedly be the Klementinum, nicknamed "The Most Beautiful Library in the World." This Baroque-style library used to be part of a university founded by the Jesuits in 1622. A guided tour takes you up a winding staircase to see the inside of the library, as well as to explore other parts of the Klementinum building's history. The tour ends with a spectacular walk on the rooftop balcony, where you can see the entire city of Prague below you and marvel at the magnificent view. The Klementinum is truly an exceptional place to see during winter in Prague!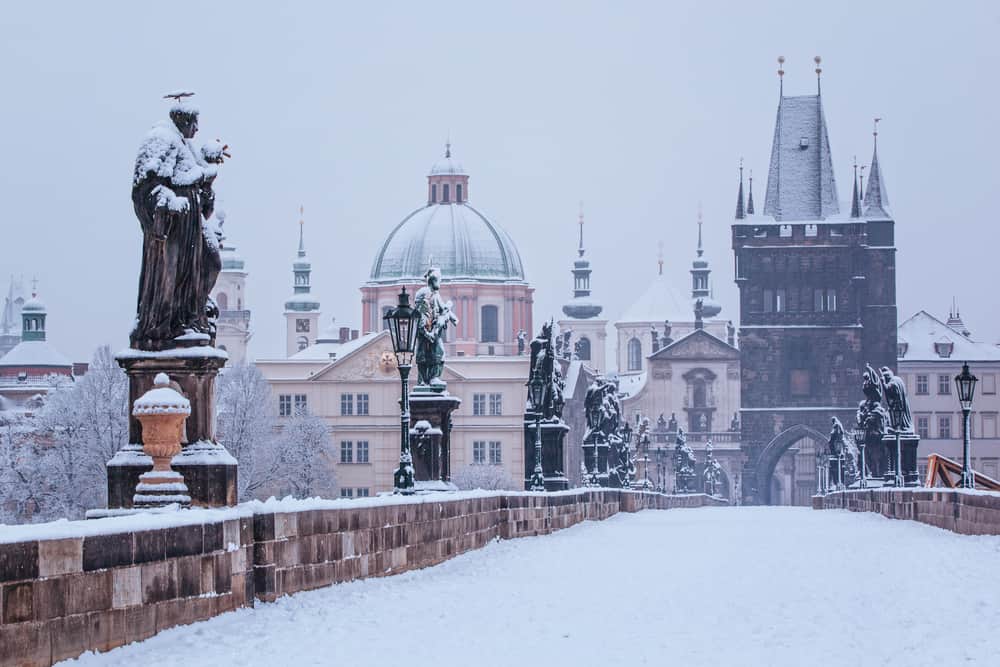 We hope you enjoyed this ultimate guide to Prague in winter! No matter what you choose to do or where you end up going, this city will amaze and delight you and you will be sure to have a fantastic holiday season. We hope you keep these tips in mind as you journey to the remarkable city of Prague!