Planning the perfect France road trip itinerary doesn't have to be stressful or overwhelming. No matter where you choose to visit in France, you are in for a real treat. From the famous Eiffel Tower in Paris to the pretty white cliffs of Etretat to the stunning Château in Chantilly, there is no limit to the breathtaking and fun places to put on your France itinerary! And there's something for everyone, whether you're a nature-lover, a food connoisseur, a fan of the arts, or simply love to travel. One of the best parts about road trips is that you don't have to narrow down your options to one or two places, but get to see so much of the country you're visiting!
However, you might be thinking that planning your France itinerary sounds a bit overwhelming. Not to worry! That's why you're reading these very words and why we have written this article. We are here to help and to make your special France road trip as fun and effortless as possible!
For this France road trip itinerary, we are not going to specify an amount of time so that you can make the drive as time allows for your schedule. If you have 5-7 days for your France itinerary, then modify this France road trip route to fit that length of time. If you have 2 weeks, consider spending a few days in each location to really take in what France has to offer. No matter what amount of time you choose to explore, this France road trip itinerary will not disappoint!
This is one of the BEST ROAD TRIPS IN EUROPE so you are in for a real treat and a memorable experience!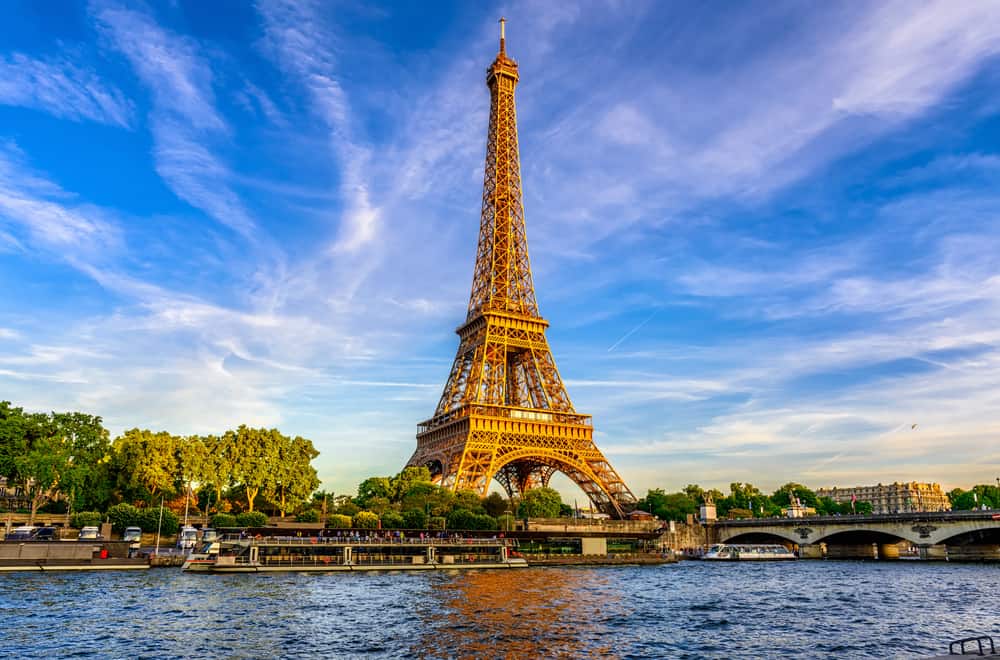 The Ultimate France Road Trip Itinerary
Begin Your France Road Trip By Flying Into Paris
Paris is the best and the most accessible city to fly into to begin your France road trip. You can often find great deals on flights that fly into Paris. We recommend checking out Skyscanner to find the best and most affordable flights into Paris. We use this tool to discover the best flights for our trip because you can easily compare rates. There are three main airports in Paris: Charles de Gaulle Airport, Paris Orly Airpor, and Beauvais Airport.
Charles de Gaulle (CDG), is the primary airport of Paris, and while its prices might be higher than the other two, it offers a much wider range of hotel selections if you're planning to spend the night in Paris to begin your France road trip.
Paris Orly Airport is located nearest to the city center, and being less busy than CDG, security and flight delays tend to be lower. However, it is slightly more expensive to rent a car from Orly.
Beauvais Airport may offer cheaper flights than the other two options, but keep in mind that it will take 2-3 hours to reach the airport from Paris. If that is not is a problem for you, a bonus of Beauvais Airport is that the cost of renting a car is slightly cheaper. If you're not planning on exploring Paris during this particular France road trip, if you've already been there on a previous trip and want to move on to exploring other parts of France, Beauvais Airport might be the best choice for you.
Depending on your plans for your France itinerary, you can rent a car from the airport and move on to the next stop on the itinerary immediately. Or, if you plan to include Paris on your France road trip, you can fly in and explore Paris before renting a car and leaving the city. The choice is totally up to whatever sounds best to you! If you do want to take some time in Paris, check out these articles: How To See Paris In A Day | Where To Stay In Paris
Where To Stay In Paris:
Affordable: Hôtel de la Tour Eiffel. Check Rates: Booking.com
Mid-Range: Grand Hôtel Lévêque. Check Rates: Booking.com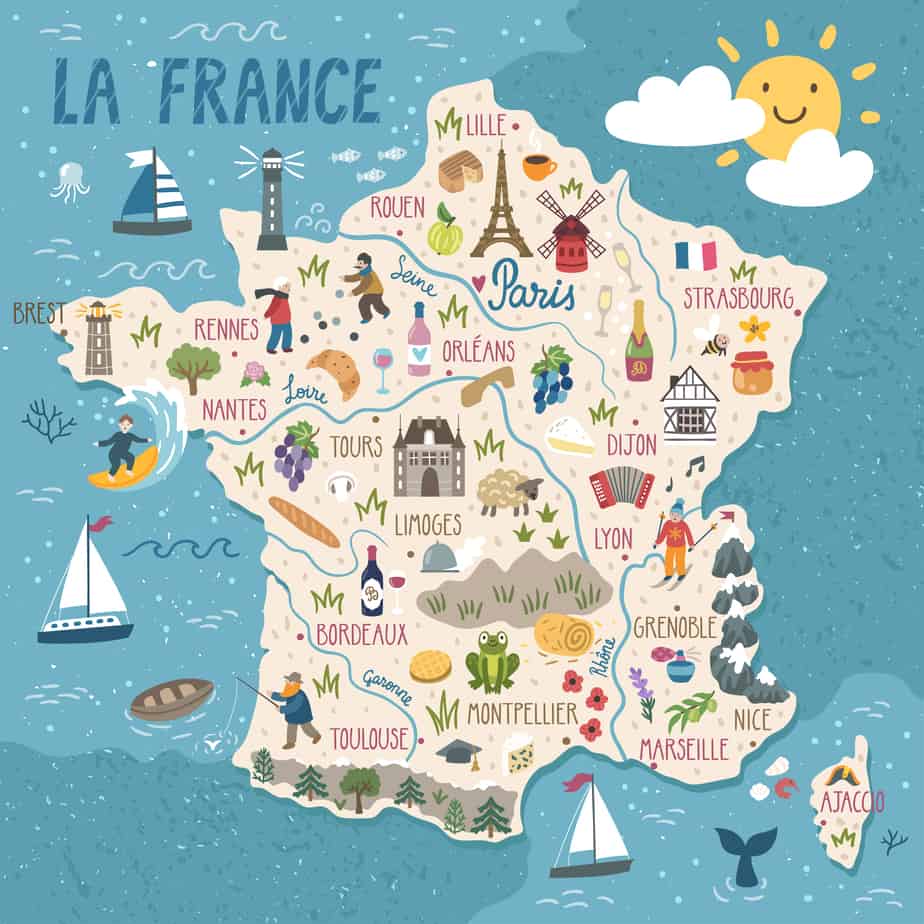 Stop 2: Explore Giverny, Etretat and Mont St. Michel
Whether you head out immediately after landing in France or if you stay to explore Paris first for a while, your next stop will be the beautiful towns of Giverny, Etretat, and Mont St. Michel in the region of Normandy in northern France. If you plan to see all three towns in a day, make sure you leave from Paris early! You can, of course, spread your trip out further depending on your timetable and plans, but if you want to hit all three spots in a day, make sure to give yourself plenty of time! It's about a three-hour drive from Paris to Etretat, and then another three-hour-drive from Etretat to Mont St. Michel, which is a bit of a drive but that is okay! This is hands down, the best place to start your France road trip! After all, how can you have a road trip without a little driving to start it off? This is truly one of the best things to do in France outdoors! 
The village of Giverny is known for being the place in which the renown impressionist painter Claude Monet lived and worked, from 1883 until his death in 1926. The Foundation Claude Monet Museum is where you can see the artist's home and elaborate gardens, including where he produced his famed water lily series. You can purchase tickets in advance, especially if you want a guide for your visit to the museum, but if you aren't entirely sure of your timetable and want a more relaxed France itinerary, you can just show up for a self-guided perusal of the house and gardens.
From Giverny, it's about an hour and forty-five minutes to drive to Etretat. You can, of course, forgo a stop in Giverny if you simply want to reach the northern coast first on your France road trip. Etretat is a beautiful place, mostly known for the awesome rock formations carved out of its white cliffs. The Porte d'Aval arch and L'Aiguille (the Needle), a pillar rising up from the sea, are by far some of the most striking and definitely something you'll want to see during your stop at Etretat. The cliffside Chapelle Notre-Dame de la Garde, to the north, has incredible views that will take your breath away!
Don't forget to check out our Detailed Road Trip Packing List so you don't forget any essentials for your trip!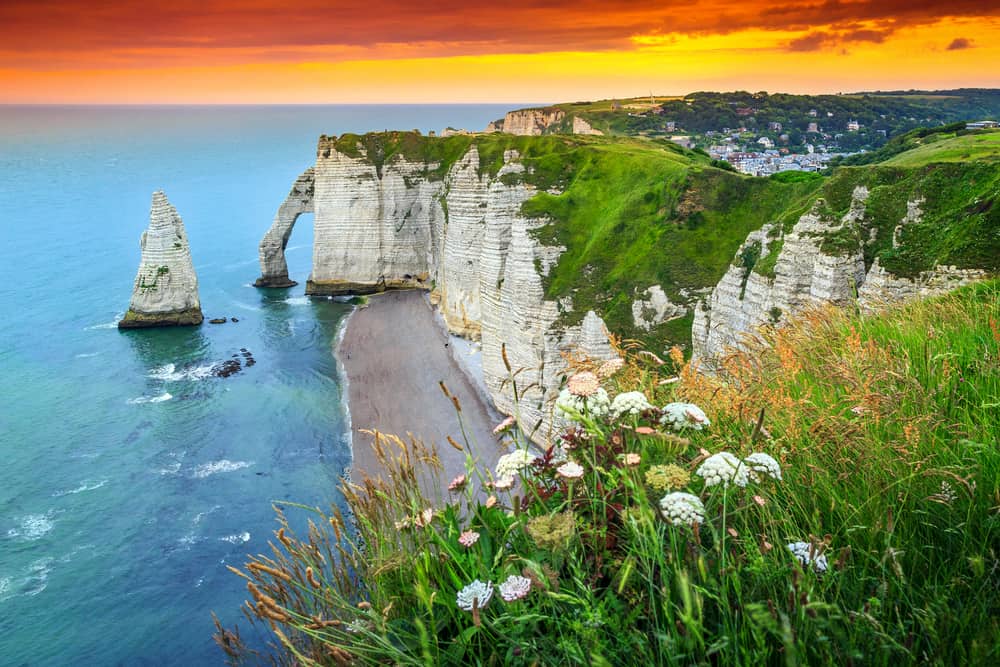 After your time in Etretat, head to Mont St. Michel. This will be about a three-hour-drive, partly along the gorgeous northern shore of France. You'll want to make sure to give yourself lots of time in Mont St. Michel, as it is the home of one of the most spectacular and memorable sights in France–the Mont St. Michel Abbey! Mont St. Michel is an island and mainland commune in Normandy, France. And by far the most unforgettable part of this magical island is the medieval monastery that towers above the landscape. There is a lot to do and see in Mont St. Michel (and LOTS of photos to take!), so keep that in mind while planning your France road trip itinerary
Where To Stay In Mont St. Michel:
Mid-Range: Hôtel Vert. Check Rates: Booking.com 
Affordable: Mercure Mont Saint Michel. Check Rates: Booking.com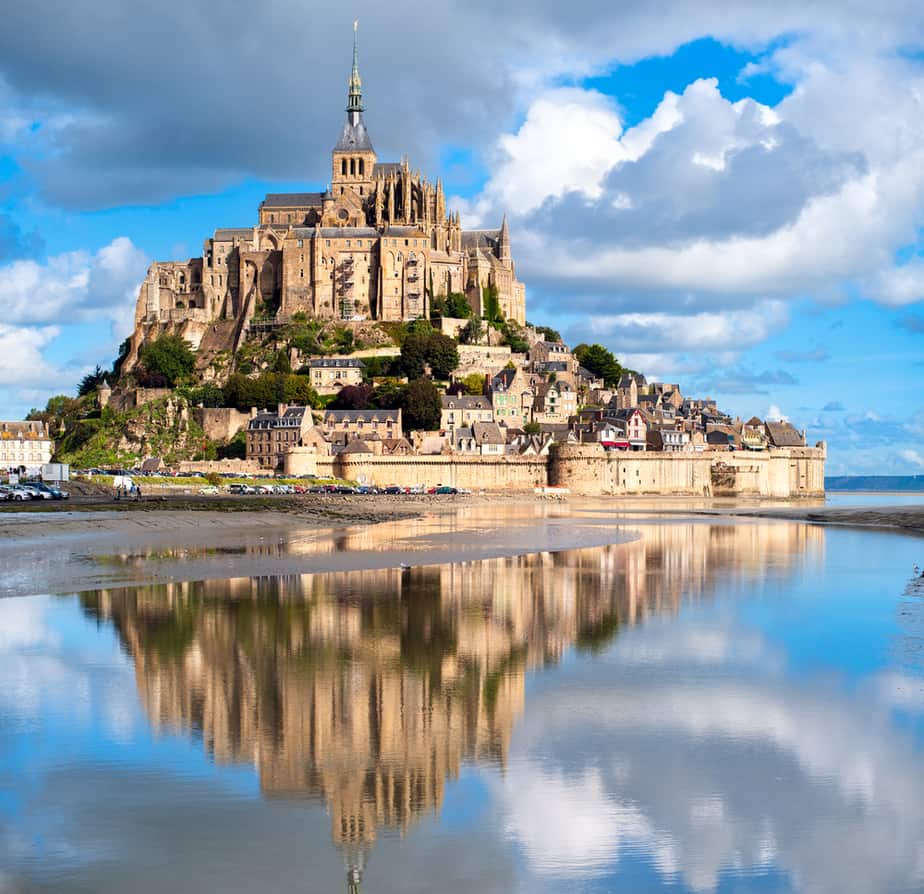 Stop 3: Enjoy The Beauty And History Of Numerous Châteaus In The Loire Valley
Located in the middle stretch of the Loire River in central France, the area of the Loire Valley comprises about 800 square kilometers (310 sq mi). This is truly one of the prettiest landmarks in France!
Due to its rich profusion of vineyards, artichoke and asparagus fields, and fruit orchards lining the banks of the river, it is known as the Cradle of the French and the Garden of France. But upon seeing its lush beauty, you might think you have instead stumbled upon the Garden of Eden! Which is why adding the Loire Valley to your France road trip itinerary is a must!
Beyond its dreamy landscape, the Loire Valley encompasses a wide range of fun and interesting things to do and sights to see. It is noted for its amazing architecture, historical towns, and delicious wines. Some of the most notable historic towns in the Loire Valley include Amboise, Angers, Blois, Chinon, Montsoreau, Orléans, Saumur, and Tours. Any or all of these make great places to stop, get out, and explore, and ones you might want to consider adding to your France itinerary!
If you're a wine connoisseur, or simply enjoy wine tasting, the Loire Valley will be an extra special treat for you, being one of the most famous areas of wine production in the world! Situated along the Loire River, from the Muscadet region close to the city of Nantes on the Atlantic coast to the region of Sancerre and Pouilly-Fumé, a little southeast of the city of Orléans in north-central France, are the wine regions of the Loire Valley. The numerous regions provide lots of lovely options to choose from when deciding the best places to check out wines in the Loire Valley. Even if you aren't a wine person, these regions are wonderful to drive around in and explore simply for the beauty of them!
By far one of the best parts of the Loire Valley is the number of incredible châteaus you can go visit! There are so many to choose from and so much to see you could easily spend weeks and weeks just in the Loire Valley trying to see them all (not to mention the tons more in other parts of France). Some of the most memorable and splendid castles are Château de Chambord, Château de Chaumont, Château de Chenonceau, Châteaux of the Loire Valley, and Château d'Amboise.
If you don't plan on staying very long in the Loire Valley during your France road trip and want to see at least one château, we recommend Chambord! It's definitely popular, but the reasons are very obvious, as it is a breathtaking piece of architecture and history! For more information on Chambord, other châteaus in the Loire Valley, and ones all over France, check out this post!
Where To Stay In The Loire Valley:
Mid-Range: Relais de Chambord. Check Rates: Booking.com
Affordable: La Maison De Rose. Check Rates: Booking.com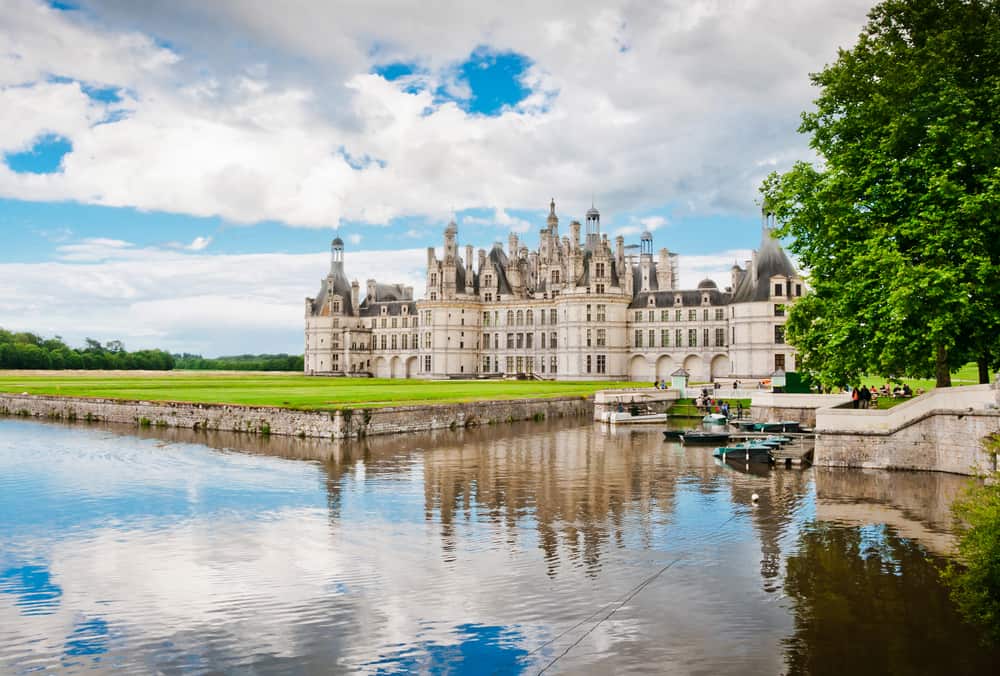 Stop 4: Spend Some Time Exploring The Romantic Port City of Bordeaux
Situated on the Garonne River in southwestern France, Bordeaux is a beautiful port city and hub of the wine-growing region. At this point along your Frace road trip, you'll probably be blissfully thankful that you chose to do a road trip and not just stick to one or two of the touristy cities like Paris. There is just so much that France has to offer, and the beautiful city of Bordeaux is one of them!
You may know of Bordeaux from some of its more famous sights, such as the grand Place de la Bourse which overlooks the stunning Miroir d'Eau reflecting pool. Other famed parts of Bordeaux include its Gothic Cathédrale Saint-André, its 18th/19th-century mansions, and notable art museums, including Musée des Beaux-Arts de Bordeaux. One of the most gorgeous features of Bordeaux are the public gardens that line the curving river wharves.
As in the Loire Valley, Bordeaux is famed for its wine and wineries. There are just about an endless amount of wineries to enjoy and wines to sample! Some great wineries to check out are Chateau La Dominique, Chateau Villemaurine, Chateau de Sales Pomerol, Chateau de Candale, and Chateau Tertre Roteboeuf.
And again, wine lover or not, there is something for everyone in this magical French city! The lists of beautiful and historic sights are even more endless than the lists of great wineries to try in Bordeaux. You really can't wrong with what you decide to choose and see in Bordeaux, but we will recommend you some of our top favorite places that shouldn't be left out of your France itinerary!
As mentioned above, the breathtaking Place de la Bourse that overlooks the Miroir d' Eau reflecting pool is an absolutely stunning and magical place that we just know you will love! You might want to consider planning to see it at nighttime for the best experience of the mirror-like pool. The Column of the Girondins on the Esplanade des Quinconces is a fun and beautiful spot to stop at, as well as the church of St Pierre, the Pont-de-Pierre bridge, and the Grand Théâtre de Bordeaux.
Where To Stay In Bordeaux:
Mid-Range: Le Turenne Apartment. Check Rates: Booking.com
Affordable: Golden Tulip Bordeaux Euratlantique. Check Rates: Booking.com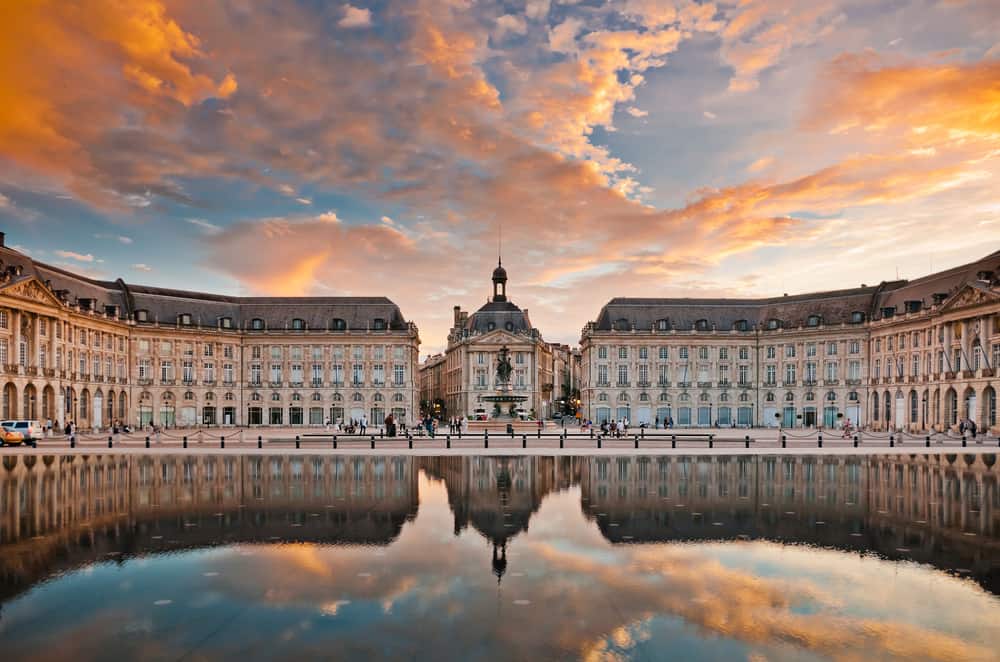 Stop 5: Make Time For A Stop At Rocamadour, One Of The Most Breathtaking Towns In France
You're in for an amazing treat at your stop in Rocamadour, which is why including it in your France road trip itinerary really is a must! An assortment of buildings–namely pilgrimage churches and monastic structures–rise above the town in layers of cliffside. You'll immediately think you've stepped into some kind of fantasy movie upon seeing the mountainside town towering over a gorgeous French landscape.
Set in a gorge above the headwaters of the River Dordogne, Rocamadour has been a popular destination for centuries, drawing pilgrims, bishops, nobles, and kings from near and far to see its historical monuments, among which is its sanctuary of the Blessed Virgin Mary. Considering the complex of structures rising in stages up the mountainside is mainly made up of churches and monastic buildings, Rocamadour has been a religious pilgrimage site for centuries, which simply makes it dripping with rich history! If you are a history-lover, Rocamadour is going to be one of your favorite stops on your France road trip!
But whether you love history or not, Rocamadour is a jaw-dropping location to enjoy and explore. The river Alzou runs between craggy walls 390 ft in height, and on its right bank rises the assortment of historic Rocamadour buildings. The town below is located near the river on the lower slopes. From here, the lower town, you can climb flights of steps up the cliff to the historic pilgrimage buildings. The most noteworthy of these buildings is the church of Notre Dame, which contains a wooden Black Madonna, which is said to have been carved by Saint Amadour. Whether that sort of thing draws your interest or not, it is a fascinating bit of history!
On another historical note, Rocamadour is also reputed to be the home of a fragment of the famous sword Durandal, which was wielded by the hero Roland, and rumored to have once been used by a young Charlemagne. On a terrace below the pilgrimage church of Saint-Michel, called the Plateau of St. Michel, you can see a broken sword jutting out of a rock, which makes for a fascinating bit of mystery and history, even if the sword isn't the renown Durandal.
There's a château that stands on the summit of the cliff, which was built to defend the monastic buildings, the church of St. Sauveur, whose interior walls are covered with inscriptions and paintings depicting various pilgrimages of famed people, and the subterranean church of St. Amadour that resides beneath St. Sauveur, containing relics of St. Amadour. And we could list lots more! There is so much to see and do in Rocamadour you could easily stay for weeks, but you can also see plenty in a shorter amount of time too, depending on your timetable and desires. However long, you will simply love your time in Rocamadour during your France road trip!
Where To Stay In Rocamadour:
Mid-Range: Hotel Beau Site. Check Rates: Booking.com
Affordable: Hôtel Restaurant du Château. Check Rates: Booking.com
Stop 6: Marvel At The Beautiful And Historic City of Lyon
What would a France road trip be without a stop at Lyon, the third-largest city in France? There's a reason the area is famous and populated, considering the ancient Romans recognized its strategic location, at the confluence of two navigable rivers, the Rhône and the Saône. It soon became the capital of the province (Gallia Lugdunesis), a communications hub, and the starting point of the principal Roman roads in the area, and it quickly became the capital of the province. Two Roman Emperors were even born in this city: Claudius and Caracalla.
Lyon is a World Heritage Site–and a very large one at that–with Roman ruins, a renaissance old town, historic industrial neighborhoods, and the 19th-century Presqu'île quarter. Because of its fascinating and lengthy history, and the notable size of the city, there really is no limit to what you can do and see while in Lyon. And that's not even included the amazing food! The food critic Curnonsky referred to Lyon as "the gastronomic capital of the world", which goes to show just how incredible the dining options are in this city. You will definitely want to save time and money to sample some of Lyons' delicious culinary experiences.
Your options for what to do continue with sightseeing opportunities. We could make a list that goes on forever but instead will narrow it down to some truly unique and memorable experiences for you to have while in Lyon. In Vieux (Old) Lyon, semi-concealed, covered passageways known as Traboules that run between buildings, connect courtyards with the Saône. In old times, the Traboules gave silk workers direct and easy access to the riverbank and provided shelter from the weather. Many of these Traboules are open to the public, but most of them are in residential areas of Lyon, so please be quiet and respectful to the locals as you explore.
Considering the city is 2,000 years old, you can see the long history in the wide range of architecture and sites. It's a bit like taking a walk back through history! The Ancient Roman Theatre of Fourvière gives a glimpse of what life was like here two thousand years ago. Back then, it held 10,000 spectators, and though today it is still used for performances during the Nuits de Fourvière drama festival in June and July, only the middle and lower levels of the cavea remain. However, you can still see the ruins of higher levels of cavea built up the hillside. For a further look at the ancient history of Lyon, take a tour in the Gallo-Roman Museum of Lyon-Fourvière.
For a taste of medieval Lyon, seeing the impressive and beautiful Lyon Cathedral is a must! It was constructed on the ruins of a 6th-century church, begun in 1180 and completed in 1476. It is a Roman Catholic Church, dedicated to Saint John the Baptise. Step a little further forward in time, and take a tour of the Basilica of Notre-Dame de Fourvière. Built between 1872 and 1884, it is a striking monument set in a prominent position overlooking the city. The architecture is quite breathtaking, and you will simply adore the view of the Basilica at night!
Don't forget to take some time to enjoy shopping and dining between touring the fascinating historic sights of Lyon while on your France road trip!
Where To Stay In Lyon:
Mid-Range: Maison Nô – Hôtel et Rooftop. Check Rates: Booking.com
Affordable: Hotel Elysée. Check Rates: Booking.com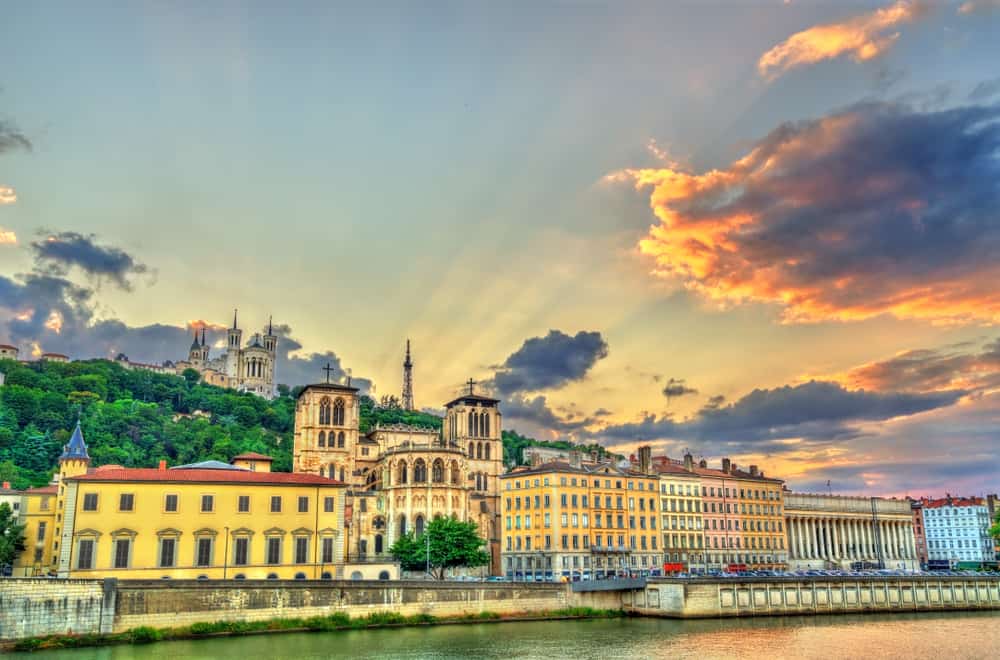 Stop 7: Discover Chambéry, An Urban And Rural Treat On Your France Road Trip
An Alpine town in southeastern France, Chambéry is both historic, gorgeous, and a fantastic stop on your France road trip itinerary! There's always lots to do and see in these beautiful French towns, and Chambéry is definitely no exception! You'll want to make sure you plan well for your time Chambéry, as you are likely to be torn between all the wonderful options of what to do and see!
Once the capital of its own sovereign state, Chambéry has a long and fascinating history. You will be able to feel a strong Italian influence in the arts, food, and architecture of Chambéry, which is not surprising as the city was only annexed by France in 1871. It is located in a valley between mountain ranges in what is known as the Prealps and thus has stunning mountainous views to enjoy. The Chartreuse and Bauges natural parks are a great option if you are a nature-lover and want to include some hiking in your France itinerary. Lac du Bourget is the largest freshwater lake in France and provides a unique experience for your travels. You can simply enjoy casual walks by the lake, participate in summer watersports depending on the season of your trip, or you can hike one of the peaks near the water. Dent du Chat has views that stretch as far as Mont Blanc when you reach 1,400 meters.
Chambéry also offers a vast array of more urban things to do during your stop there. Though not large, the charming old town of Chambéry will draw you in for ages with its numerous charms. A bit like the Traboules in Lyon, there are vaulted passageways that lead into secret courtyards, streets, and alleys, some shockingly narrow. These will make your explorations of the old town extra fun!
A memorable and notable sight to add to your itinerary is the medieval Château des Ducs de Savoie, a beautiful castle that offers historical exhibits. Access to the Château can be limited, but during the summer you will find tour options to parts of the castle. It is truly an impressive piece of architecture and history, parts of it dating back 1,000 years, and once was the fortress of a sovereign state before Savoy was annexed to France. It is still even used for administrative purposes today!
You simply can't visit Chambéry on your France road trip without stopping to see its most famous landmark: the Fontaine des Éléphants! You might have already seen this impressive monument on a postcard or calendar, as it possibly the most notable part of Chambéry. The fountain contains a plinth out of which four elephants are protruding from each of the four sides. You can only see the elephants' front legs and heads, which has earned the fountain the nickname "les quatres san suls" or "the four without butts". Standing on top of the plinth is a state of Benoît de Boigne, the general that the fountain commemorates.
Where To Stay In Chambéry:
Unique: Château de Candie. Check Rates: Booking.com
Mid-Range: Hotel le Cinq Hyper. Check Rates: Booking.com
Affordable: Le studio du Moulin. Check Rates: Booking.com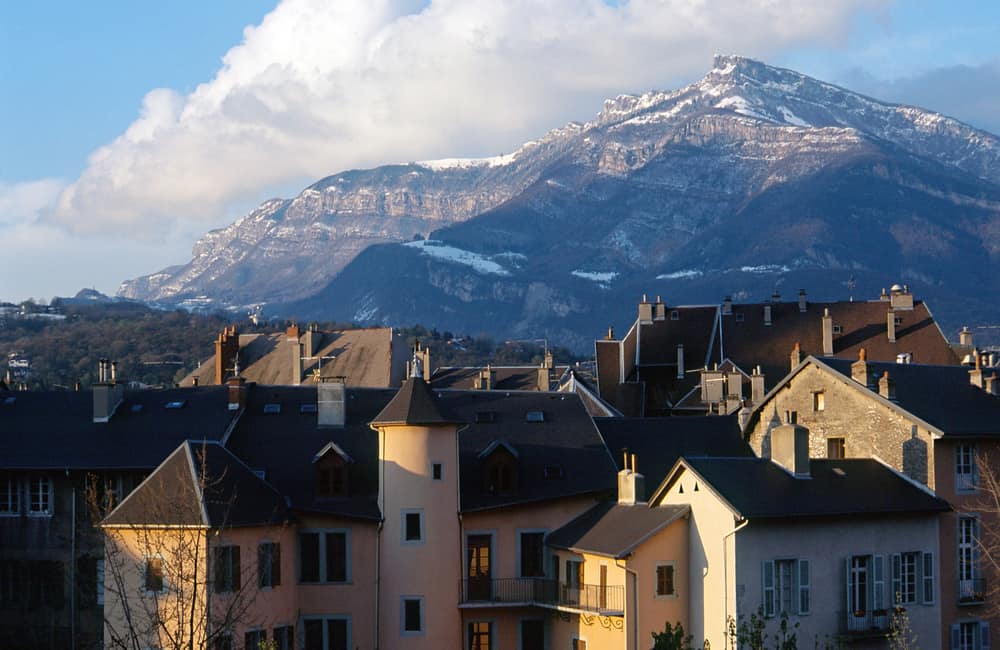 Stop 8: Take A Walk Into A Fairytale Town Dripping With History In Colmar
An absolute gem of a town, we know you will just love adding Colmar to your France road trip itinerary! The photos of the town are fit for a postcard of a fairytale. Quaint, half-timbered medieval and Renaissance-style houses line a quiet river, and vivid flowers dot the landscape with shocking colors in the summer. Situated in the Grand Est region of northeastern France, near the border of Germany, Colmar may look like the picturesque-perfect French town, but in fact, it has a long, dark, but altogether fascinating history. If you are passionate about history, we recommend making time to learn about the history of Colmar before visiting, considering it will greatly enhance your experience of this amazing town.
Though it would take far too long to list all the interesting facts of the history of Colmar, here are a few that you might find interesting! Colmar was first mentioned by Charlemagne, during the Thirty Years' War; it was taken by the Swedish army in 1632; under King Louise XIV, the city was conquered by France in 1673; in 1854 cholera epidemic greatly decimated the city's population; Colmar was annexed by Nazi Germany in 1940; in 1945, it reverted to French control after the battle of the "Colmar Pocket". There is even a famous treasure known as "The Colmar Treasure", which was hidden by Jews during the Black Death and discovered in Colmar in 1863. As you can see, the history of Colmar is simply engrossing, and dating back hundreds of years!
But whether you are into history or simply want to explore a charming time like something out of a medieval fairytale, Colmar will be a wonderful stop on your France itinerary! The buildings and architecture of the old town are a charming medieval and Renaissance style, lining the cobblestone streets. Just walking around and sightseeing will fill up your day (or days) with charm and fun!
There are many historic and beautiful sights to see as well. The Maison Pfister is a charming German Renassaince building from 1537, and can be clearly seen in the Japanese film "Howl's Moving Castle." The Église Saint-Martin is the largest church in Colmar and one of the largest in Haut-Rhin. Built between 1234–1365, it has beautiful stained glass windows, a grand Baroque organ case and Gothic and Renaissance sculptures and altars. Though no longer a church, the Église des Dominicains, built between 1289–1364, has 14th-century stained glass windows, and the nearby convent buildings are a section of the municipal library.
And to top it off, Colmar happens to be on the Alsace Wine Route, so if you're looking forward to sampling more amazing wines, you're going to love Colmar even more! The famous Riesling and Gewürztaminer wines are both specialties of local vineyards.
Where To Stay In Colmar:
Mid-Range: Residences Du Theatre. Check Rates: Booking.com
Affordable: Colmar Hotel. Check Rates: Booking.com

Stop 9: Sip Some Champagne In Reims, The Unofficial Capital Of The Campagne Wine-Growing Region
If you're a wine connoisseur, you're going to be very excited to add Reims to your France road trip itinerary! Reims is known as the unofficial capital of the Champagne wine-growing region. There are many champagne houses in Reims, and many of them provide tastings and cellar-tours, adding a relaxing, fun, and unique flair to your France road trip. What a better way to spend a special vacation in France than in tasting actual French wines and champagnes?
Located in the northeastern Grand Est region, Reims, like the nearby town of Colmar, has a long and fascinating history. Founded circa 80 BC as Durocorteron ("round fortress"), Reims was the capital of the tribe of the Remi, before the Roman conquest of northern Gaul. The Remi allied with the Romans during Julius Caesar's conquest of Gaul between 58–41 BC. Talk about an OLD city!
If your time in Reims is limited and you have to narrow things down to one sight to see, we highly recommend the Cathédrale Notre-Dame de Reims. The gorgeous cathedral was where the French kings were crowned for around 1,000 years! It's amazing just to think about all the historical people who have come through this building. Sadly, the cathedral took heavy damage during World War I during German bombings in 1914, which included the decapitation of the Smiling Angel figurine, which you can see in the north portal of the west facade. Many of the stained glass windows were also broken and have been replaced by artist Marc Chagall. It's an amazing attraction and something you don't want to miss during your time in Reims!
There are, of course, tons more options of things to do in Reims, and depending on the timetable of your France road trip, you can hit just one or as many of them as you'd like! A few prestigious champagne houses that are open for visitors are Ruinart, Tattinger, Mumm, and Veuve Clicquot-Ponsardin. While other amazing buildings to visit besides the Cathédrale Notre-Dame de Reims are ones like the Palace of Tau, the Villa Demoiselle, and Porte de Mars.
Where To Stay In Reims:
Mid-Range: Best Western Premier Hotel de la Paix. Check Rates: Booking.com
Affordable: Séjours & Affaires Reims Clairmarais. Check Rates: Booking.com

Stop 10: Dine On Chantilly Cream And Take A Walk In The Forest In Chantilly
Resting in the valley of the Nonette, in the Hauts-de-France region of northern France, Chantilly is a beautiful commune that is considered in the metropolitan area of Paris. You may recognize the name not from your knowledge of the geography of France, but from famous things like Chantilly cream and Chantilly lace, both of which get their names from this lovely French town. There is so much to do and see in Chantilly, it's no wonder that it is considered an important tourist destination in the Paris area and no wonder why it's Stop No. 10 on your France road trip!
The town of Chantilly, which only boasts of 11,000 inhabitants, is surrounded by 24 sq miles of the Chantilly Forest. This is a beautiful destination to go for long walks in and simply enjoy the beauty of nature. There are many paths you can take through the Chantilly Forest, perfect for a leisurely nature-walk and daydreaming meanders. While the grounds are used for horse-training and hunting, its a huge tourist attraction, drawing around four million visits a year! If that doesn't tell you Chantilly Forest is a must-see on your France road trip, we don't know what will!
A particularly beautiful castle resides in Chantilly–Château de Chantilly, and we highly recommend a visit! It's a bit like taking a trip back in time. Not only are the infamous art galleries a huge draw, but the exquisite and breathtaking rooms of Chantilly are also a work of art in and of themselves. Located on the ground floor of the petit château, you can view the private suites of the Duke of Aumale and his wife, which are full of history in the form of the rich, gaudy designs and personal memorabilia. The Duke's bedroom has remained unchanged since 1897, making it feel like a portal to the past upon visiting.
And, of course, what would a trip to Chantilly be without dining on scrumptious desserts with Chantilly cream? You might not know this, but Chantilly cream is actually just whipped cream, as English-speakers call it. In France, you'll see the word "Chantilly" on menus, speaking of whipped cream. The reason for this is the recipe for what we know as whipped cream comes from Chantilly, where it was discovered that adding sugar made the cream so much better! Chantilly cream will definitely be a cherry-on-top (or the cream on top!) of your France road trip!
Where To Stay In Chantilly:
Mid-Range: Manoir des Cavaliers BnB. Check Rates: Booking.com
Affordable: B&B Hôtel Creil Chantilly. Check Rates: Booking.com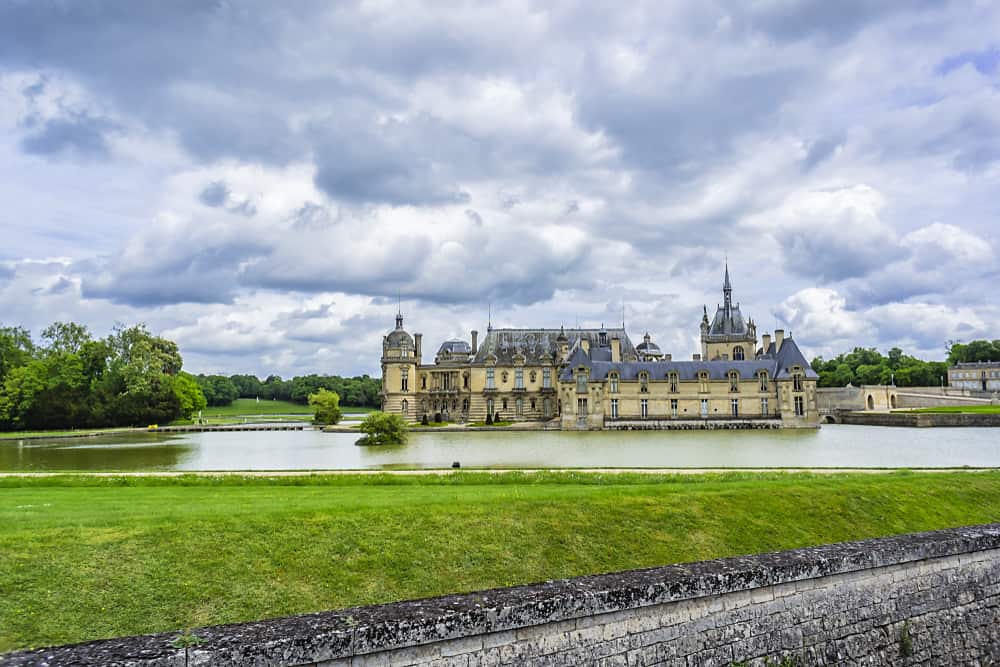 End Your France Road Trip By Flying Out Of Paris
And there you have it! You have just completed an epic France road trip itinerary. Once you end in Paris, you now must choose which airport to fly home out of. As we mentioned in the beginning, you have three main airport choices in Paris. Of course, you will likely already have everything planned in advance and already have your tickets and know which airport you are flying out of.
There's no right or wrong way to do it or airport to choose, just what whatever works best for your budget and timetable. We recommend comparing prices and distances between the airports so that you don't have unexpected surprises come at you here at the end of your amazing France road trip! For instance, remember that while Beauvais Airport may offer cheaper flights than the other two options (Charles de Gaulle and Paris Orly), keep in mind that it will take 2-3 hours to reach the airport from Paris. Since this is indeed a road trip, driving isn't all that bad if you budget in the time if indeed flying round trip out of Beauvais Airport is more affordable.
Either way, you will have had a fantastically rewarding trip and whichever you choose we know it will be the right decision for you!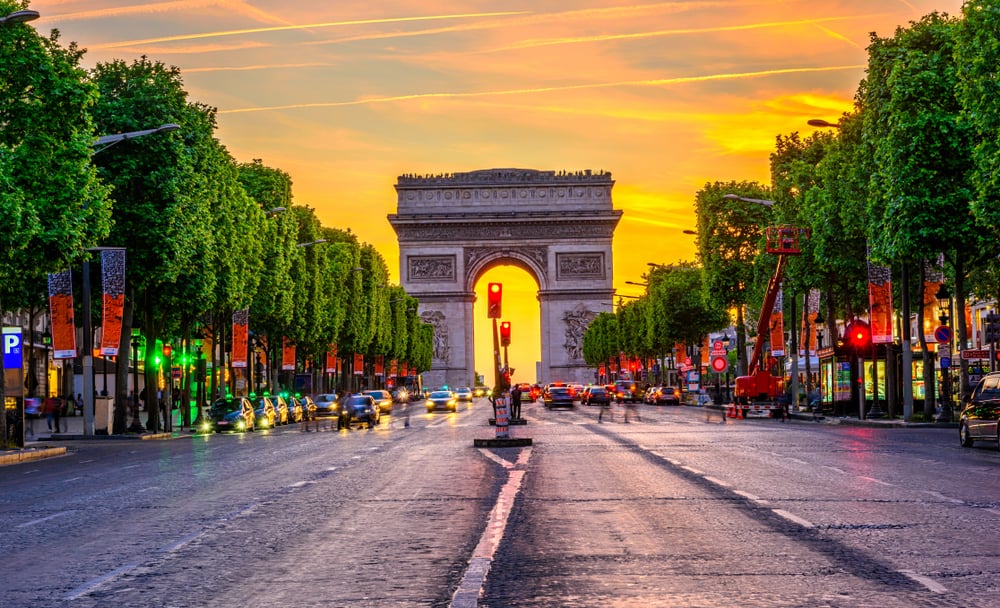 We hope you have a fantastic time on your France road trip itinerary. We are happy to answer any questions you may have about planning your trip to France in the comments below! Please let us know how you got on and if you went to any of the places we suggested in this itinerary!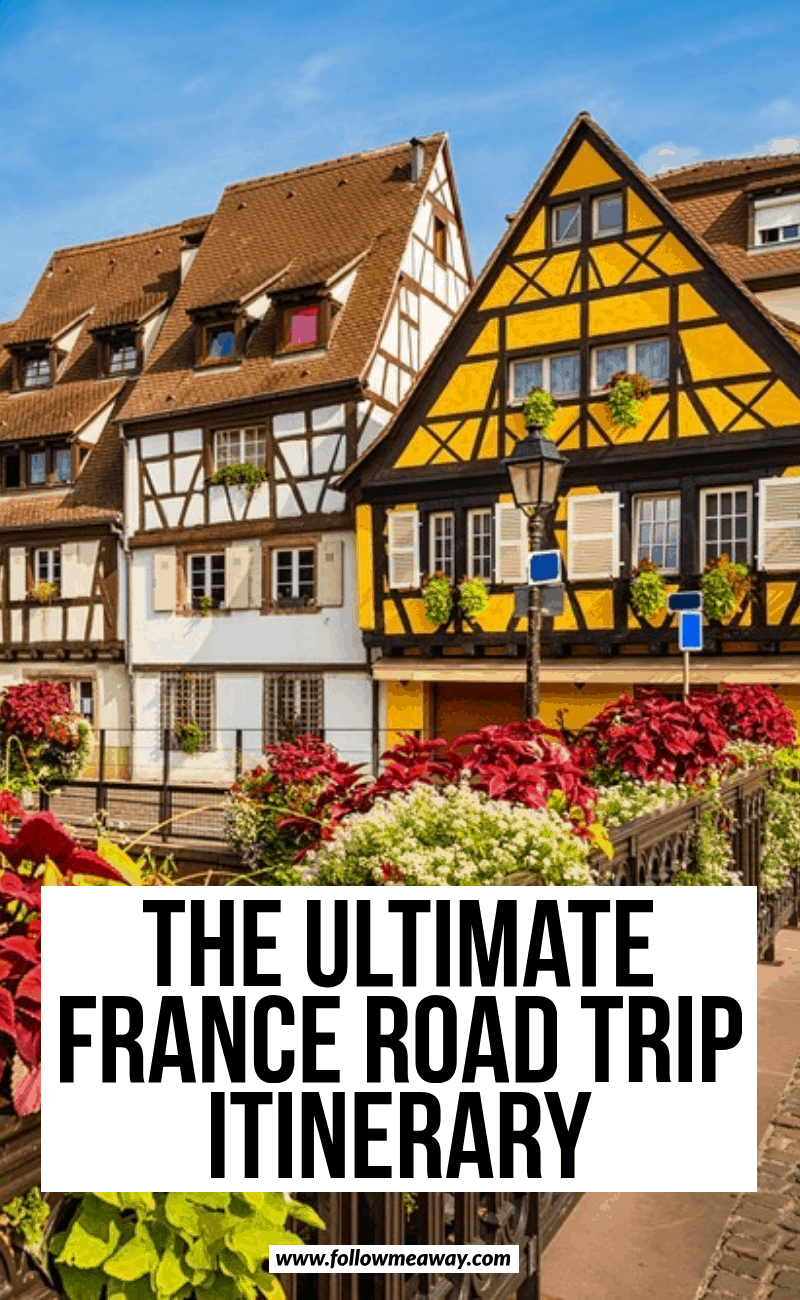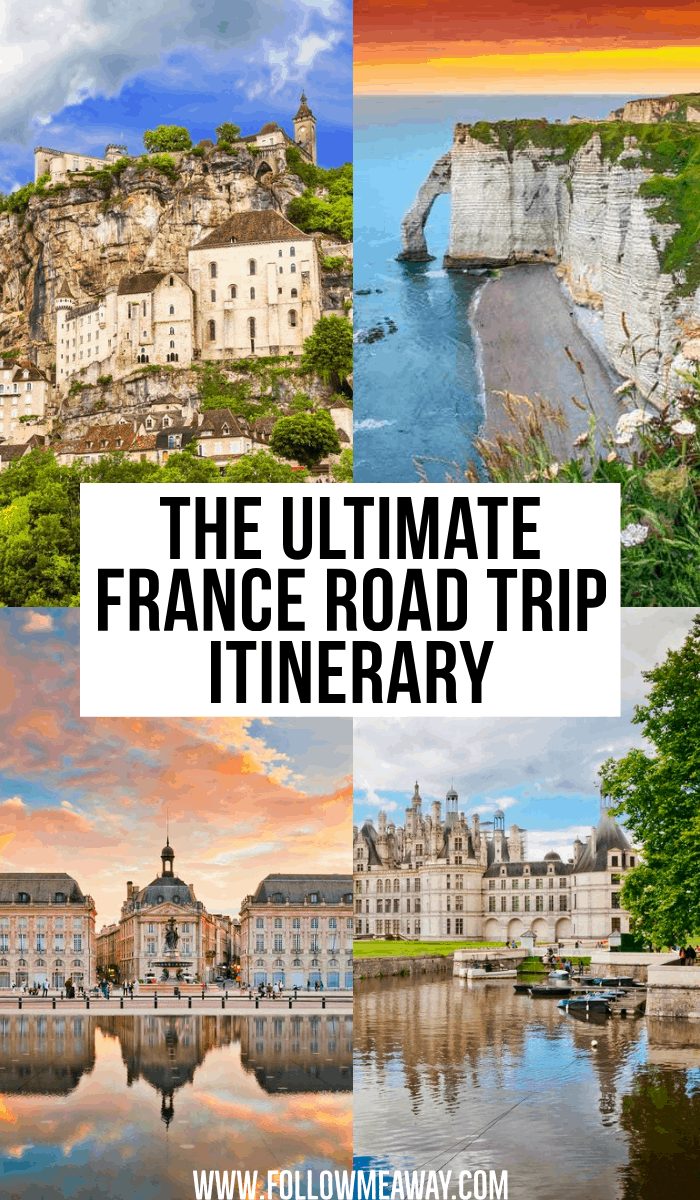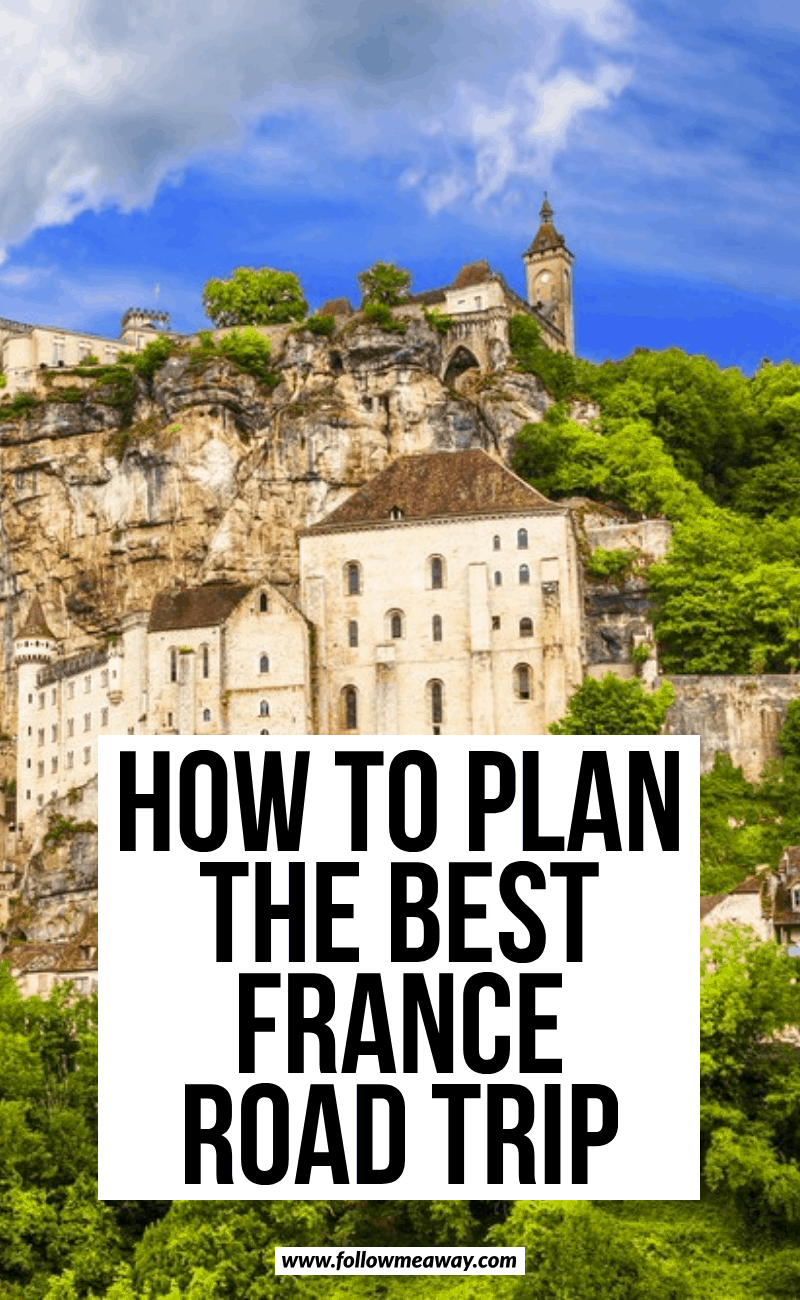 Please note: Affiliate links may be used!