Are you planning a trip and looking for the best small towns in France? Well here is a list of 11 French towns that look like they have come straight out of a fairytale. Each of these towns is different and unique, and definitely deserve a visit during your time in France. However, since you will most likely not be able to visit all of these towns in France, below are descriptions so that you can decide which towns to visit.
No matter what you are looking for, there is a town in France to fit your needs. If you want to absorb all of the French histories that you possibly can, in which case you should go to Lacoste or Rocamadour. If instead, you want to stay in French towns where you can see some of the most spectacular sites of nature, then there is Villefranche Sur Mer which is on the beach, Annecy which sits against the "cleanest lake in Europe", or the island commune of Mont Saint Michel.
There are so many unique and beautiful towns in France, so it can be difficult to decide where to visit. This list can help you make the best choice!
Read Next: Roadtrip Of France And Fairytale Castles In France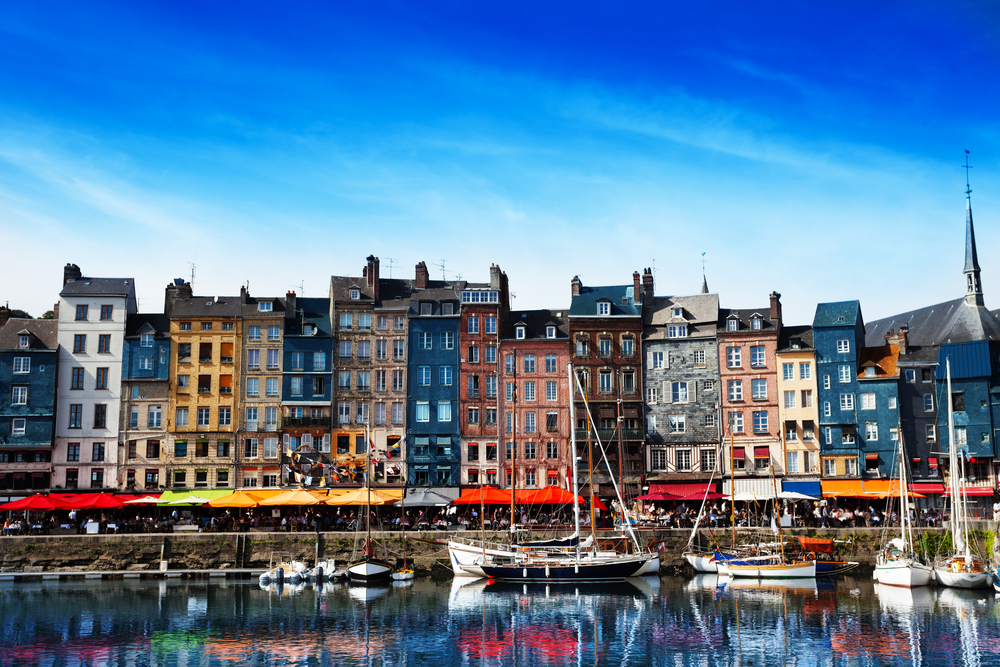 11 Prettiest Small Towns In France Out Of A Fairytale
Colmar Is Straight Out Of A Fairytale
Colmar is located in Alsace and is one of the most picturesque small towns in France. Some believe that this town was the inspiration for Belle's village in Beauty and the Beast. Part of what makes Colmar such a unique French town to visit is that it was not always French.
The town is located less than 25 km away from the German border and has switched ownership between France and Germany many times during the last thousand years. The German influence in Colmar can be seen in both the architecture and the food that the town boasts.
One of Colmar's popular neighborhoods is Petite Venise, which translates to 'Little Venice'. It has received this name due to the canals that divide the candy-colored houses. There is so much to do during your time in Colmar, including exploring the Old Town, visiting a French museum that is located in a 13th-century Dominican convent, and discover the rich history that this town possesses. This is a beautiful town to visit no matter the season, as in the winter it is filled with Christmas markets, and during the spring and summer, beautiful flowers can be found.
Where To Stay In Colmar
It is very easy to find affordable and comfortable accommodations in Colmar. Colmar Hotel is one of these hotels. It is located very conveniently and offers stylish and comfortable rooms, perfect for relaxing after exploring this historic French town. Petite Venise is only around half a mile away and Colmar's most popular attractions are under a mile away. This is a great place to stay while experiencing one of the prettiest small towns in France.
Check Rates: Booking.com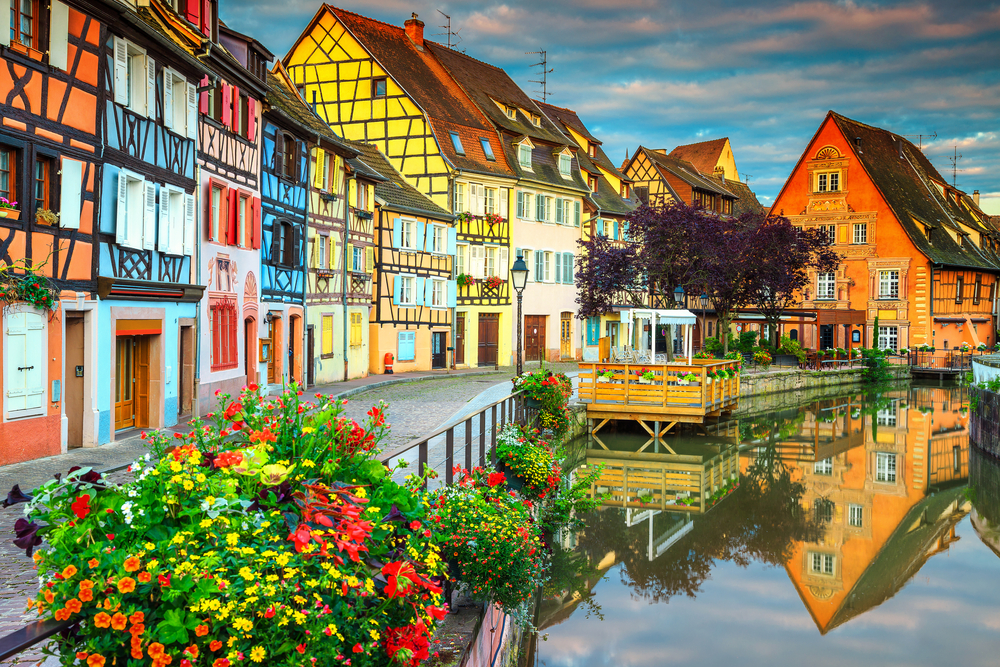 Mont Saint Michel Is An Island Commune
This tiny commune is only 240 acres and is the only island on this list of small towns in France. However, it is one of the most beautiful small towns in France. Mont Saint Michel is also one of the most visited towns in France, welcoming over 2.5 million people every year. It is truly one of the best old towns in Europe!
This town is overflowing with history, and a visit to Mont Saint Michel is like going back in time. The main street in Mont Saint Michel, La Grande Rue, looks like it has come straight out of a fairytale. It can get rather crowded though, so consider visiting when there are not as many tourists.
Mont Saint Michel's most popular attraction is the Abbaye du Mont-Saint-Michel, which houses the island's 44 inhabitants. It offers visitors a chance to explore large courtyards and enchanting architecture.
If you are looking for a less crowded option while exploring French towns, La-Chapelle-Saint-Aubert is a charming little chapel that is hidden along the beach. The view is considered to be the best during high tide, but it can also be a little riskier. If you are bringing children or are very worried about safety concerns, then you should plan your visit when the tide is low.
Where To Stay In Mont Saint Michel
It is suggested that you consider spending the night in Mont Saint Michel, as it is at least a couple of hours from any main French cities and there is so much to explore. Located in the heart of Mont Saint Michel, La Mère Poulard is the perfect place to stay. Its location makes it easy to explore all of the town's popular sites. From your room, you will either have a view of the bay, the abbey, or the medieval city.
Check Rates: Booking.com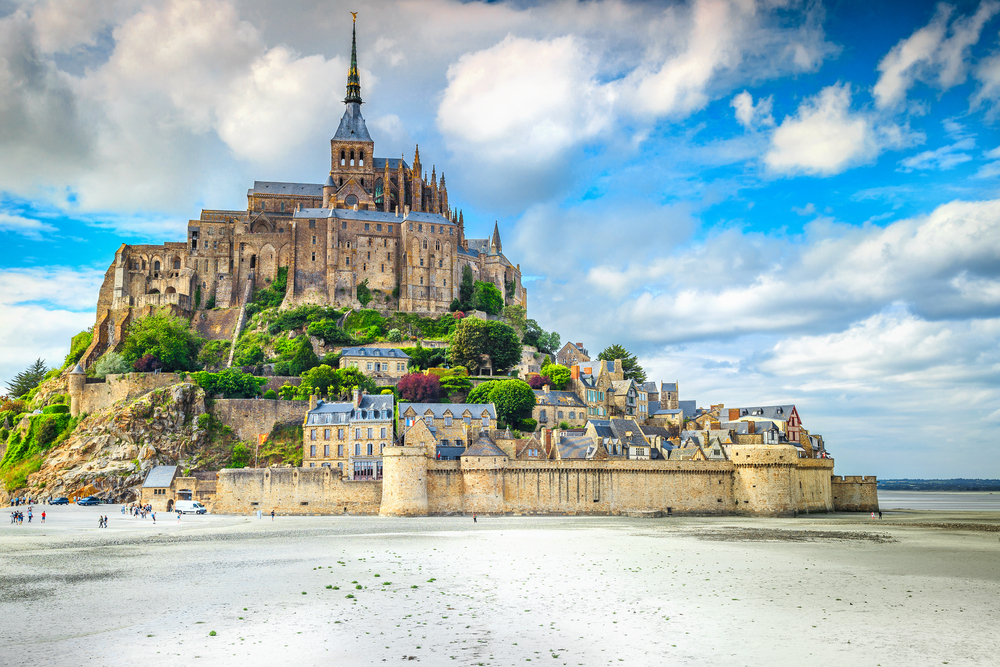 For French Towns With The Best Wine, Visit Riquewihr
With less than 1,500 people living there, Riquewihr has become one of the French towns to visit for historical architecture and its great wines. It offers a beautiful historic Old Town dating back to the 16th century with meandering paths colorfully painted buildings.
There are also many restaurants, and it is a great base for beautiful walks into the forests and mountains or exploring some of the world-famous wineries. The most popular wine producer in Riquewihr's Old Town, Hugel et Fils, was founded in 1639 and draws around 2 million visitors every year.
If you want to get out of the town and explore the beautiful surrounding countryside, then consider walking the Sentier Viticole des Grands Crus path. This walking path goes through six French communes, picturesque villages, ancient castles of Ribeauvillé, and has multiple stops at different wineries.
English speaking guides are also available on request. Riquerihr is one of the most historic and beautiful small towns in France and is definitely worth a visit while exploring French towns.
Where To Stay In Riquewihr
A great place to stay in Riquewihr is Hôtel le Saint Nicolas. It is incredibly affordable, and it has the perfect location! It is set in a half-timbered home from the 17th century and is in Riquewihr's Old Town. This makes it an awesome base for exploring the town and the surrounding countryside. The hotel also offers a breakfast buffet and a restaurant that boasts many of the town's specialties.
Check Rates: Booking.com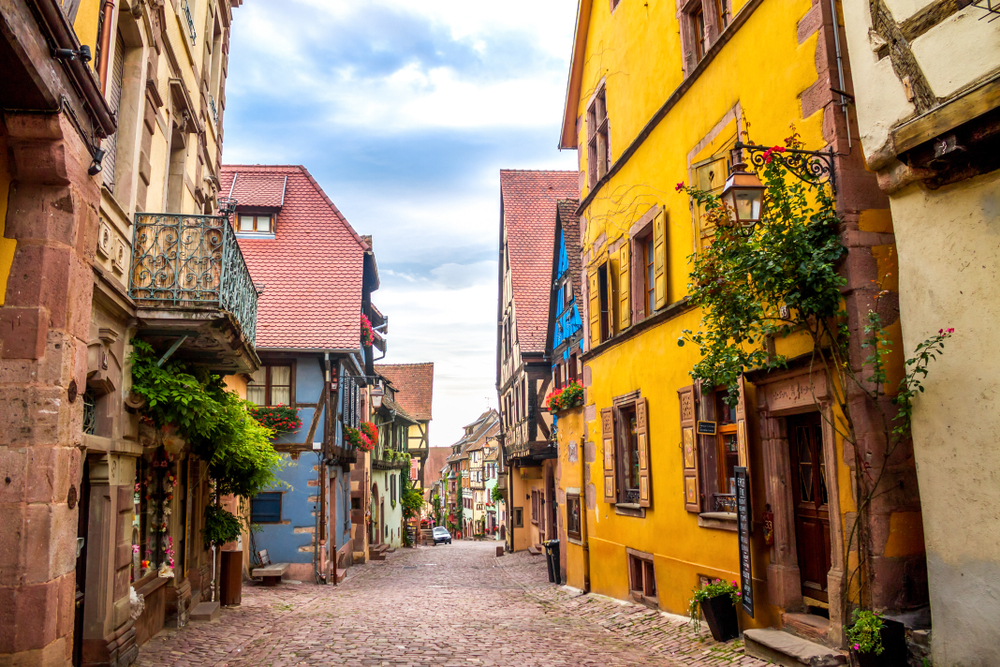 Lacoste Is One Of The Most Historic Small Towns In France
Lacoste can be found sitting on top of a hill in the center of the Luberon region. It is a gorgeous medieval town that offers some spectacular views. Exploring Lacoste is very different from other French towns. The buildings here have had very little if no restoration.
While it does not have the same romantic feeling as other small towns in France, it is such a unique experience to see all of that history basically untouched. This also means that Lacoste is not an overly touristy destination. There are only a few artisan shops, two cafes, and one bed and breakfast.
Something else to know about Lacoste is that cars are not allowed within the walls. There is parking at the base of the hill though.
The walls of the town are from the 12th century, and the castle ruins at the top of the hill date back to the 16th-18th century. The castle was once owned by Marquis de Sade, who was working on renovations. After his death, though it was bought by the millionaire designer Pierre Cardin. Though renovations continued, the castle is still a ruin. However, there are now parts of what is left of the castle and there is an opera festival held there every July. While the castle is the main draw of Lacoste, there are many other sites to visit. Just outside of the walls is Sainte Trophime, which is a historic church, and there is also a beautiful square tower.
Where To Stay In Lacoste
Le Clos des Lavandes is the one bed in breakfast in Lacoste. The rooms are still very affordable though, and the bed and breakfast is very charming. The views are absolutely amazing and are a very good reason as to why you should spend the night in Lacoste. If you would like more options for where to stay, then consider looking for accommodation in Bonnieux, which is a nearby town with a little more variety.
Check Rates: Booking.com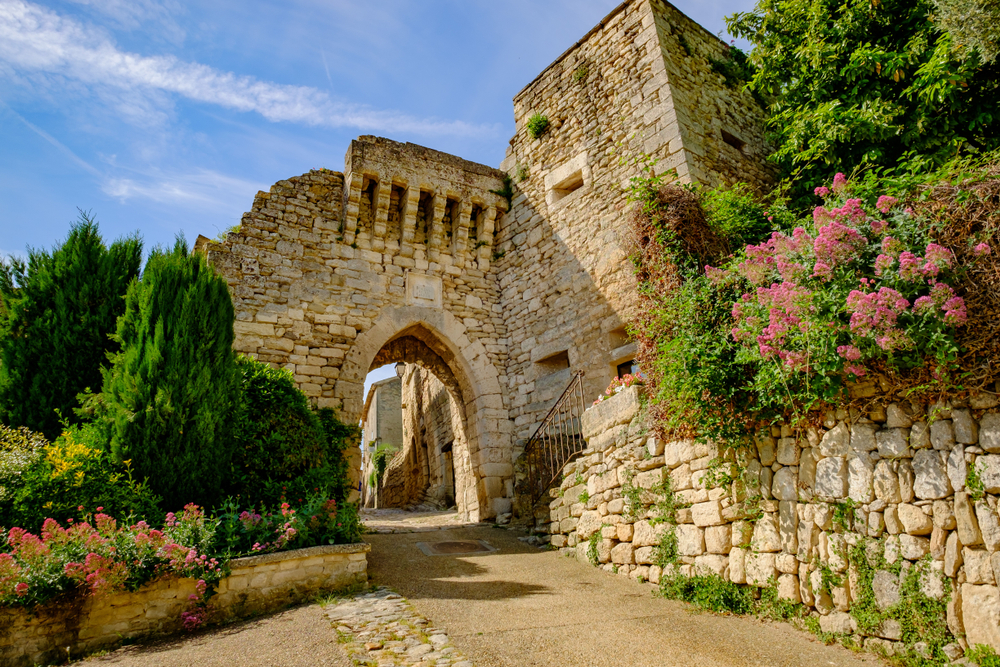 Villefranche Sur Mer Is Known For Its Beach
Villefranche Sur Mer is one of the most picturesque small towns in France. It is also close enough to Nice that it is accessible by foot, bus, or train. The main reason that travelers visit Villefranche Sur Mer is the bay and the beach. The harbor at Villefranche is one of the deepest natural harbors in the Mediterranean Sea. It is a fun place to swim, paddleboard, or just soak in the sun while visiting small towns in France.
Villefranche also offers a beautiful Old Town, that is perfect for exploring during the afternoon. Located in Old Town is the 18th-century baroque style St. Michel Church. There is also Saint Elme Citadel, which is a stone fortress from the 16th century. It is free to enter and boasts four museums, an outdoor theater, and gardens.
Next to the port is a Roman-style chapel dedicated to St. Peter, the Patron Saint of fishermen. From May to October, on the days that cruise ships come into port, you will also be able to see Amélie's market which has many different artisan products.
Where To Stay In Villefranche Sur Mer
Boasting ocean views and stylish rooms, Welcome Hotel is the perfect place to stay while exploring Villefranche Sur Mer. If the views from the stunning rooms weren't enough, you can also take in the beauty from the terrace of Welcome Hotel's wine bar. Then, when you are ready to dip your toes in the ocean, your room will be only 1,300 feet away from the beach!
Check Rates: Booking.com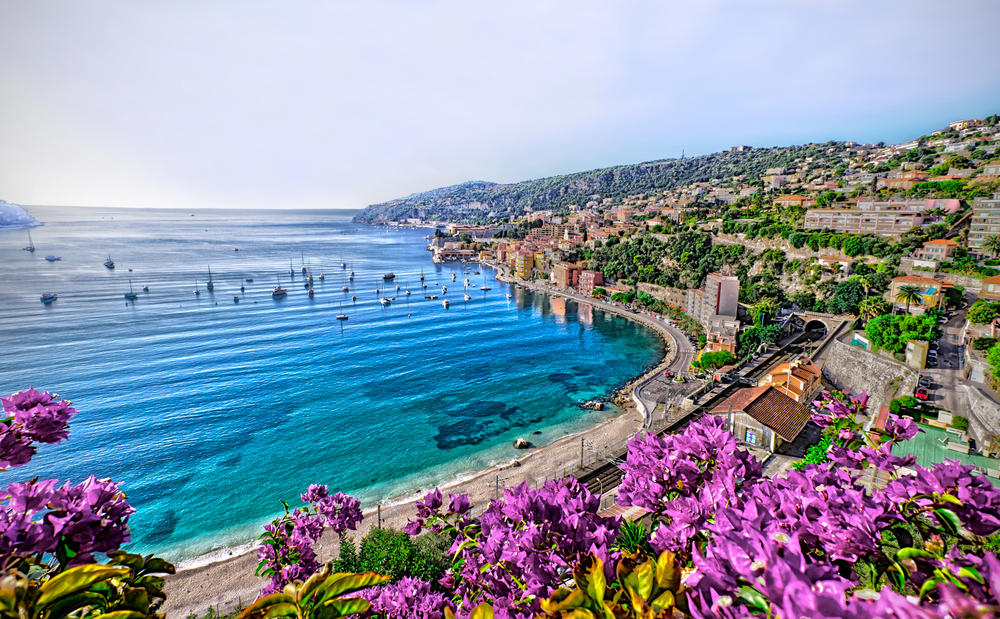 Rocamadour Is A French Town Built Into The Side Of A Cliff
Rocamadour reached the peak of its popularity during the 13th century when it was one of the most famous pilgrimage sites for Christians. Many pilgrims still visit, but not in the numbers that they used to, now visitors come to enjoy the beautiful town that seems to be carved into sheer rock.
Rocamadour definitely deserves a visit, as it is one of the most unique small towns in France, with Towers, churches, and oratories rising up the side of a cliff in stages. There are only around 600 people who live in the village year-round, but that number rises drastically in the summer when tourists arrive.
Something to note about Rocamadour is that cars are not allowed in the city, but it is a short walk from the parking lot to the village. There is also a lot of stair climbing, but if you do not feel like you could do all of that climbing, there is also an elevator.
Rocamadour is a UNESCO World Heritage Site and brings in over 1 million visitors every year. The village itself is absolutely breathtaking to see. The streets are long, narrow, and lined with medieval houses. A site that you will want to see while in Rocamadour is the Grand Escalier, a series of 216 monumental steps that pilgrims would once climb on their knees.
Once you reach the top, you will find a small square surrounded by eight important religious buildings. One of the main reasons that pilgrims would visit Rocamadour was because of the statue of the Black Madonna, and travelers today still flock to see it.
Another unique experience while you are in the area is going to the Foret des Singes at Rocamadour where over 100 monkeys live. Rocamadour can look like a very different city depending on which part of the year you visit. Summer is when this French town is going to be the busiest, it will also be more expensive.
Where To Stay In Rocamadour
A nice place to stay in Rocamadour is Logis Hôtel Le Belvédère. This hotel is incredibly convenient for exploring the town's most popular sites and attractions. It also has an outdoor pool that is located a quick walk away. Rooms here are also very reasonable and are great for travelers looking to keep to a budget, while still being comfortable and stylish.
Check Rates: Booking.com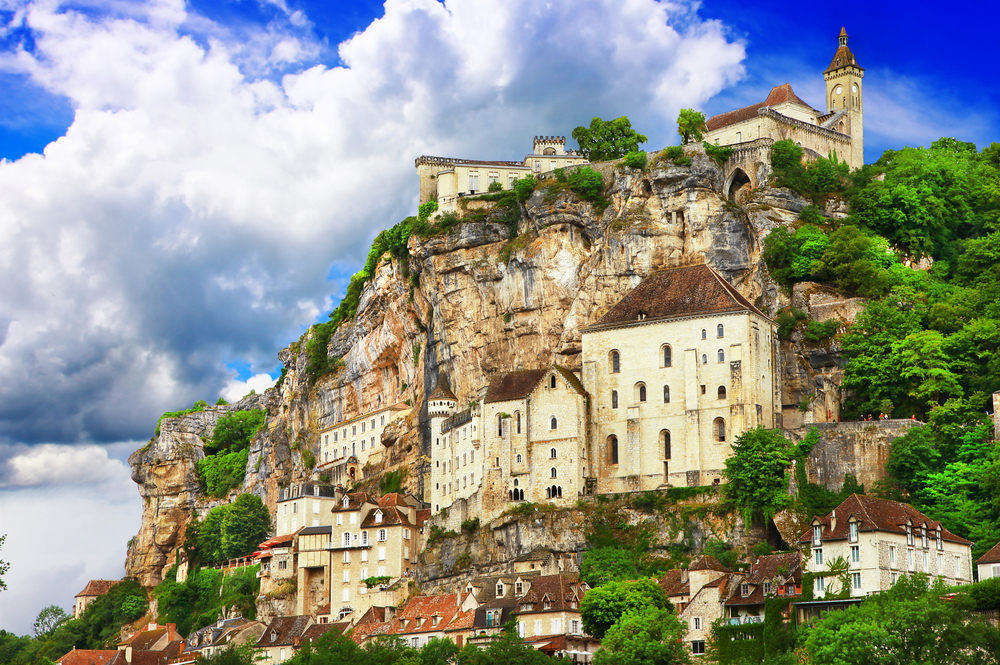 Honfleur Is Home To The Largest Wooden Church In France
Located in the north of France, Honfleur is bursting with over 1,000 years of history. It is also one of the three small towns in France on this list that are by the ocean. It is a port city that was very important to England in the past.
Besides the harbor, Honfleur is also full of cobbled roads and half-timbered houses. The beauty one of the prettiest small towns in France does not stop there though. There are also many different churches and other sites that you should visit!
The most popular attraction in Honfleur would have to be Saint Catherine's Church. It was built in the 15th century, entirely out of wood from the nearby forest, and is still the largest wooden church in France. Other must-see churches in Honfleur are Notre-Dame de Grace and Honfleur Saint-Leonard's church.
Then there are multiple museums and gardens to visit including the Naturospace, The Jardin des Personnalités, The Satie House and Museum, and The Eugène Boudin Museum. A unique thing to do in Honfleur is to ride the carousel that has been put up every year since 1995. It is present from May to October, then again in December. A visit to Honfleur would not be complete without going Butin Beach
Where To Stay In Honfleur
Ibis Styles Honfleur Centre Historique is a stylish and unique hotel in Honfleur located only 300 feet away from the port. It is very a very convenient place to stay if you are planning on exploring the town, with many of the popular sites and the beach is only a short walk away. The rooms are very bright and colorful and are great for relaxing when you are not out in the town.
Check Rates: Booking.com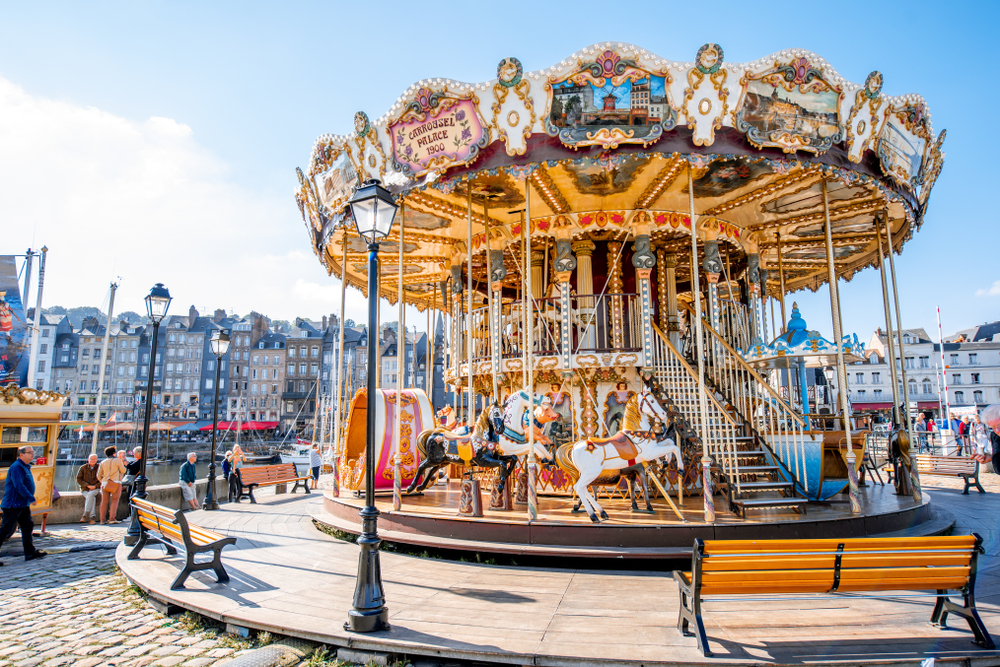 Carcassonne Is Known For The Walls That Surround The French Town
The walls around Carcassonne protected the citadel for centuries, and have since been restored during the 19th century. The walls around the citadel are one of the most unique sites to see while exploring small towns in France.
Within the walls, the town is filled with winding alleys and romantic streets, that are perfect for strolling down. The buildings are an engaging mixture of half-timbered and ivy-covered, making it one of the most picturesque French towns.
Château Comtal and Ramparts are the centerpieces of Carcassonne. The walls and 52 towers go on for three kilometers around the town. The best way to learn about the walls is by taking a tour, which should last around two hours.
Another popular site is Basilica of Saints Nazarius and Celsus, which is a unique combination of romanesque and gothic design. There is so much history and beauty to be found in Carcassonne, making it one of the best small towns in France to visit!
Where To Stay In Carcassonne
Located only 100 feet from the entrance to Carcassonne, Hôtel Montmorency & Spa is the perfect place to stay while exploring small towns in France. It boasts spectacular views of walls and towers that surround Carcassonne, as well as an outdoor pool that is great for relaxing! The rooms have been designed beautifully, and the landscaping at the hotel is excellent.
Check Rates: Booking.com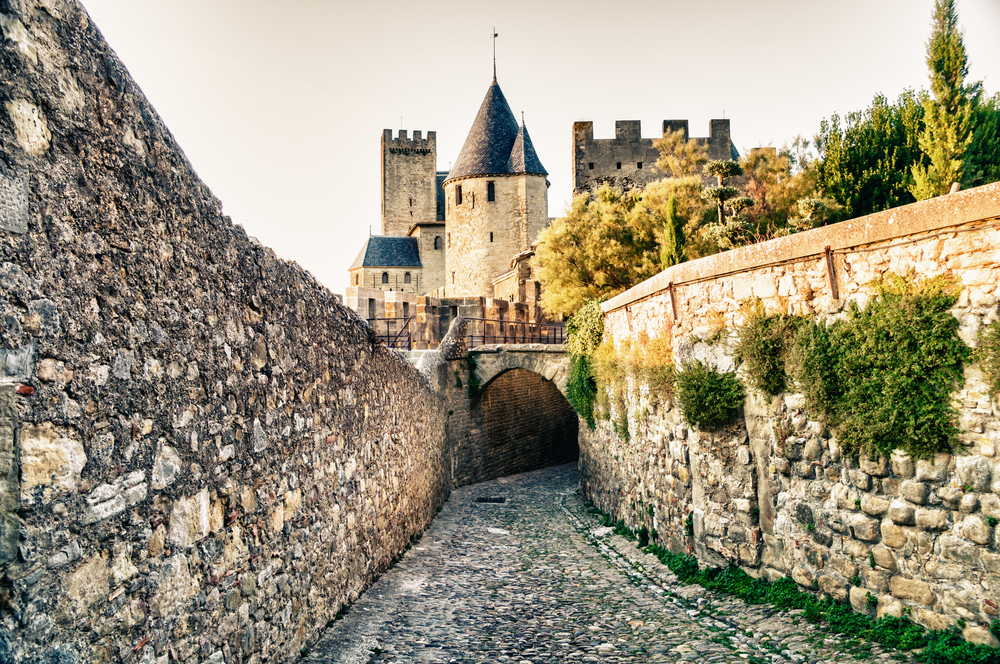 Annecy Is Set Upon A Beautiful Lake
This lake-side medieval town definitely deserves to be on your list of small towns in France to visit! Annecy is most well-known for its location on the edge of Lake Annecy, which is known as Europe's cleanest lake.
The combination of lake and mountains make this one of the most stunning towns in France and gives the town the confidence to promote itself as the outdoor sports capital of Europe. The town itself is also very beautiful and very historic. Canals run through the town, and the medieval core of the town is located on Thiou River. There are also 21 historical monuments within the town!
A romantic spot while exploring Annecy is Pont des Amours, a bridge that offers views of the lake. It is said that if a couple kisses on the bridge, then they will be together for life! Another interesting site is Saint-Pierre Cathedral, which is partly built over canals.
If you are looking for a home base while participating in the winter sports that the area has to offer, then Annecy is a great place to stay, as it is less then 45 minutes from the local ski areas. No matter when you are traveling, or if you would rather spend your time gazing at a cathedral or swimming in a lake, Annecy is one of the best French towns to visit!
Where To Stay In Annecy
Only 650 feet from Lake Annecy and right at the entrance of this historic town, Atipik Hotel Alexandra is the perfect location for exploring! It is incredibly convenient, with everything in Annecy being walkable, and it is very reasonably priced. The rooms have been uniquely designed, and are each different.
Check Rates: Booking.com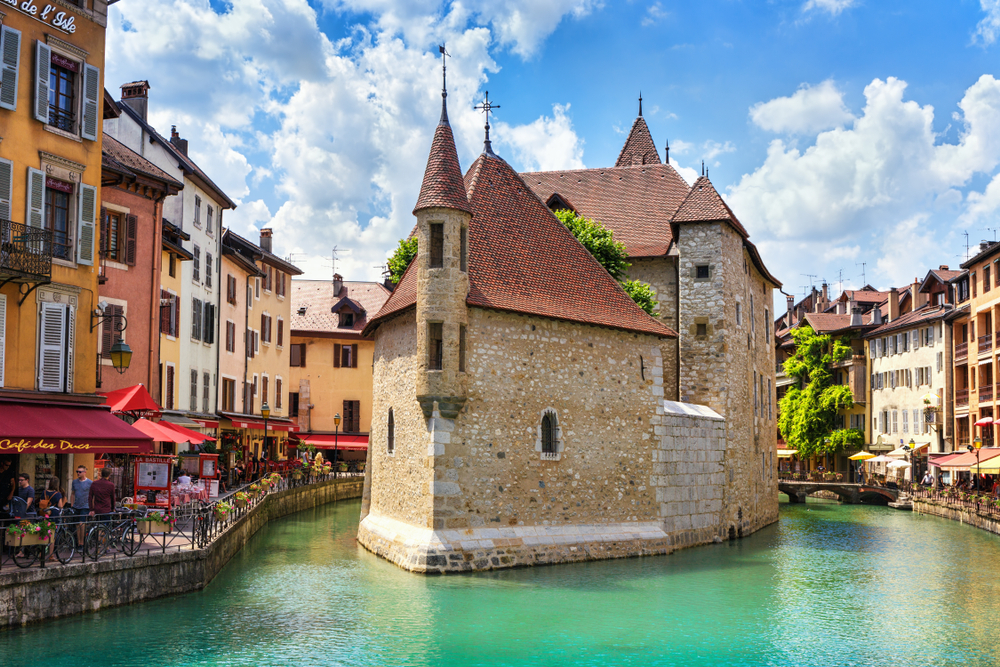 Roussillon Is One Of The Most Unique Towns In France
Thousands of visitors travel to Roussillon every year to see the unique red buildings which are made out of ochre, a mineral that naturally occurs in the surrounding cliffs. If this is something that sounds interesting to you, there are two different trails that you could take to one of the oldest quarries. One of the trails should take about 30, while the other one is a little longer and should take around an hour.
Rousillon has worked at giving the town an artsy and creative vibe, with at least eight galleries now located there. Another thing to do in Rousillon is simply walk through the town and admire all of the brightly colored buildings, as they make Roussillion unlike other towns in France. Coming to Roussillon is definitely a great photo opportunity, so make sure to bring along your camera!
Where To Stay In Roussillon
Located in one of the red buildings that Roussillon is so well-known for, Hotel La Maison des Ocres is an awesome place to stay! The hotel itself is very beautiful, and the rooms are all very stylish and comfortable. The hotel is only 500 feet away from the city center and there are plenty of restaurants in the area, so it is also very convenient.
Check Rates: Booking.com
One Of The Most Beautiful Towns In France Is Ribeauvillé
Ribeauvillé is considered to be one of the most beautiful towns in France. The 16th-century half-timbered houses and spectacular architecture give this town its picturesque quality. One of these buildings is probably the most unique half-timbered house of  French towns. It is called the Elephant Inn and gets its name from the elephant painted on the facade of the building.
In the center of the town, right by Town Hall is the Winegrowers' fountain, which was built in 1909 to show the importance of winegrowing in the town.
Where To Stay In Ribeauvillé
Set in a former winery in Ribeauvillé, Hôtel De La Tour is the perfect base for exploring the surrounding town. It is also nearby multiple restaurants that serve some of the area's specialties. The rooms are comfortable, affordable, and great for relaxing when you aren't seeing all of the amazing sites that Ribeauvillé has to offer.
Check Rates: Booking.com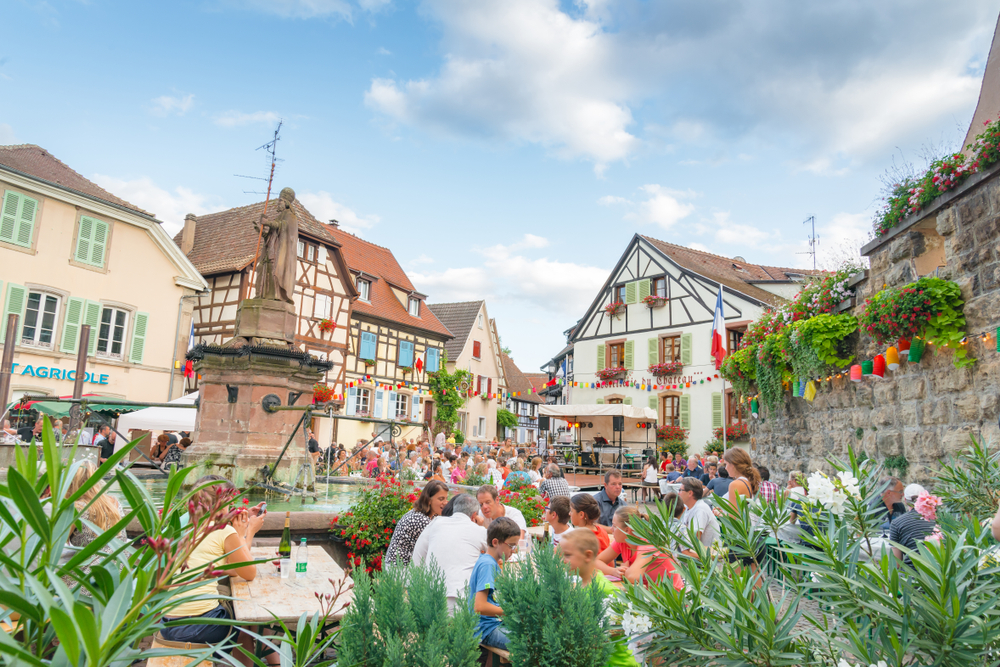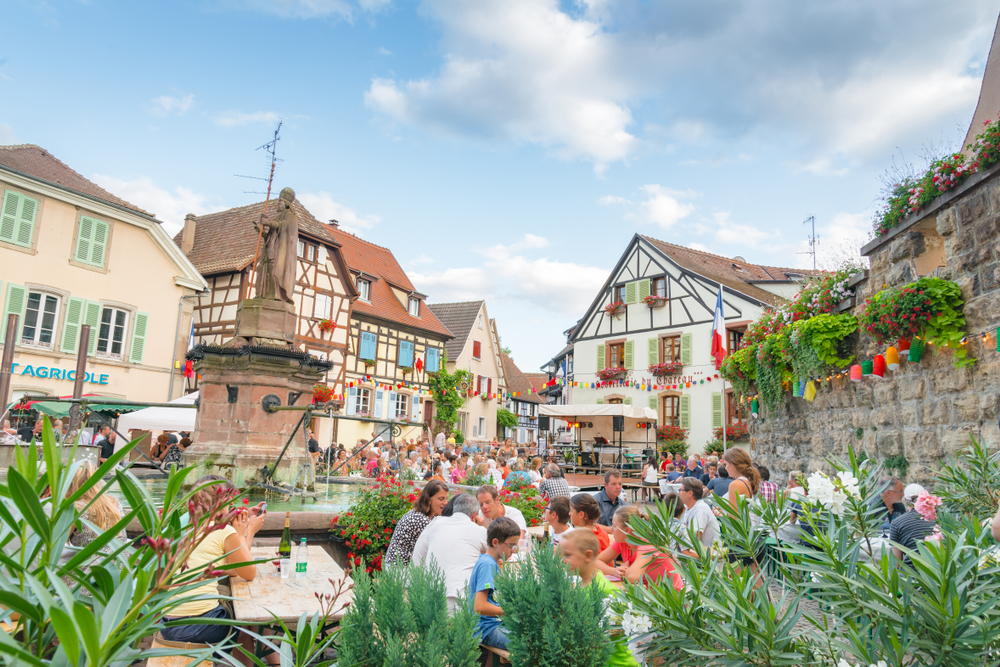 When deciding which French towns to travel to, all of the options can make it overwhelming. They are all so beautiful, unique, and all look like they belong in a fairytale. There are differences though, and aspects that would attract some visitors over others. Hopefully, this list has made it much easier for you! Do you have any favorite French towns that did not make it on this list? Let us know in the comments!