Are you looking for castles in France that feel like a real-life fairytale? Look no further! From opulent Renaissance-era palaces to mysterious ruins of the Middle-Ages, formal gardens to fortified towers, castles in France make magical destination highlights. You may even just feel as if you have stepped back in time when touring these French castles, many of which look almost exactly like they did hundreds of years ago. For the lovers of history out there, that alone will be a dream-come-true!
But not only are the castles in France full of rich, fascinating history, they are also simply some of the most stunning fairytale locations you can find. If the various mansard roofs, cupolas, pink sandstone, turrets, towers, and terraces of these different French castles weren't memorable and magical enough, you may find equal delight in the gorgeous interiors, some of which even hold hidden treasures. In Château de Chantilly, you can find medieval manuscripts in the vast library, while the esteemed, skylight-lit central staircase of Château de Chambord is a breathtaking feature that must not be missed. When it comes to castles in France, it is as if you have walked into a real-life fairytale.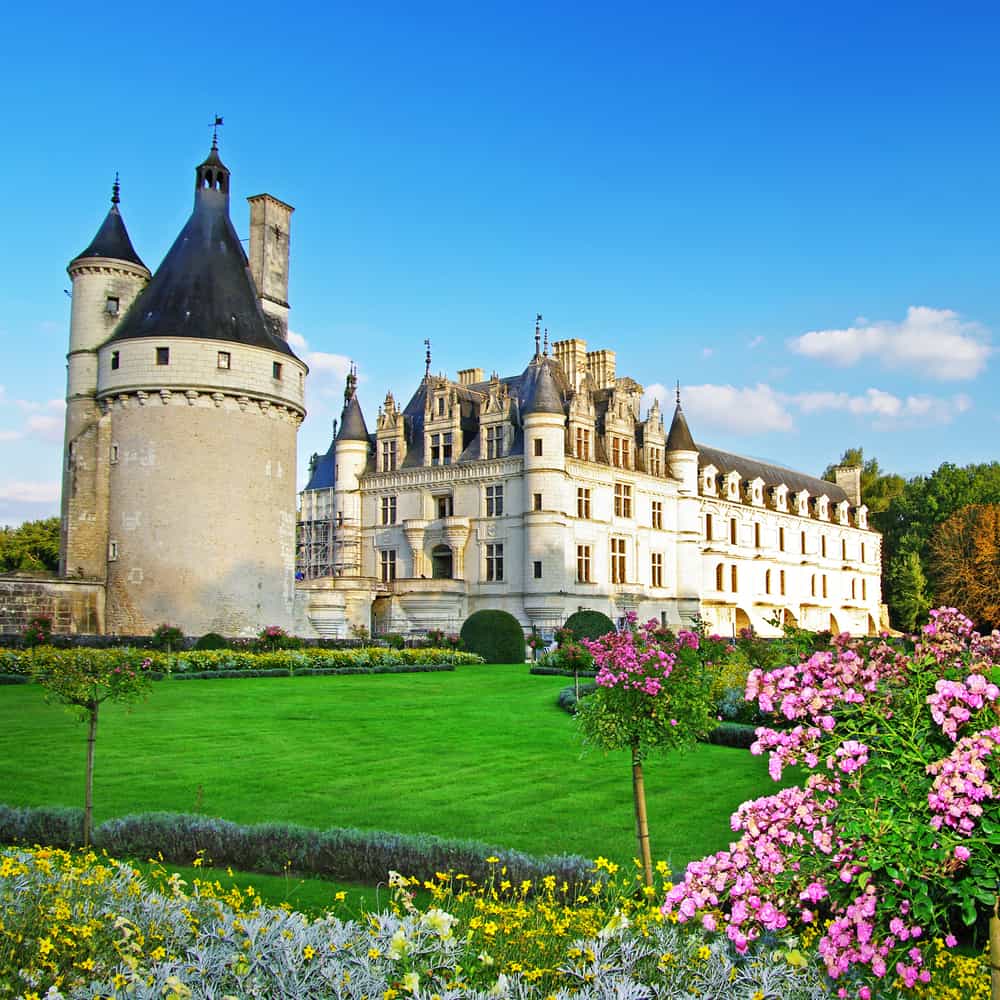 10 Fairytale Castles In France You Can't Miss
Château de Chambord
One simply cannot think of castles in France without picturing the fantastical and memorable architecture of Château de Chambord. It is almost the epitome of the perfect castle in France. The lasting splendor of Renaissance-era Chambord is a credit to François I, who ordered its construction not as a permanent residence, but as a display of magnificence and architectural accomplishment to showcase his power. Leonardo da Vinci himself is said to have had an influence in Chambord's design.
Probably the most memorable feature at Chambord is its skylight-lit central staircase. This celebrated spiral, double helix staircase may very well be the highlight of your visit to Chambord. Situated in the center of the square-shaped keep, the double helix staircase twists and turns around a hollowed core, one above the other. Simultaneously both mind-blowing and entertaining, one of the famed features of the twin staircase is that when you use one set of the staircase at the same time someone uses the other, you can see each other, but will never meet. This is a particularly fun phenomenon to experience with your travel buddies!
With over 60 rooms open to the public and a collection of 4500 objects of art, the interior of Château de Chambord is not one you want to miss, even though the striking exterior is enough to keep you busy for the entirety of your visit to this epic castle in France.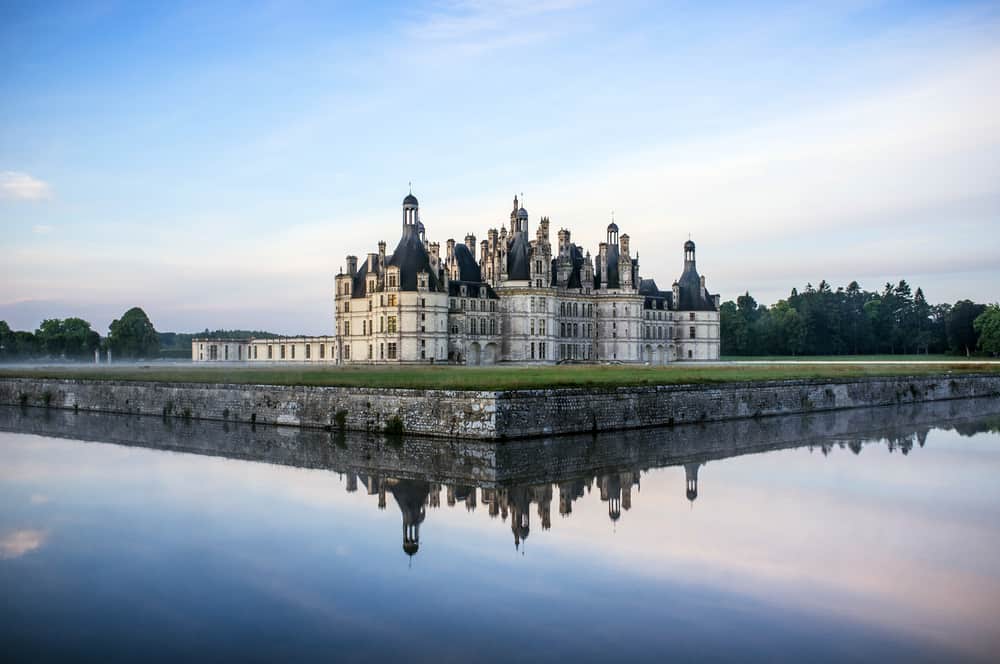 Château de Chantilly
It's like a journey back in time when visiting Château de Chantilly, a 19th-century treasure. Built by Henri d'Orléans, Duke of Aumale, son of King Louis-Philippe, of the many castles in France, this is definitely one with a rich cultural heritage. Not only was the Duke of Aumale considered to be the greatest collector of his time, using Chantilly to display his massive collection of masterpieces, but in 1886, he left the entire Château to the Institut de France. The layout of the art galleries—the second largest in France after the Louvre—has been left unchanged since the 19th century, which gives you the very unique experience of getting to view the art galleries as they were in the days of the Duke of Aumale.
Not only are the infamous art galleries a must-see, but the exquisite and breathtaking rooms of Chantilly are also a work of art in and of themselves. Located on the ground floor of the petit château, you can view the private suites of the Duke of Aumale and his wife, which are full of history in the form of the rich, gaudy designs and personal memorabilia. The Duke's bedroom alone posses a historical cylinder desk, gifted to the Duke of Aumale by his father, King Louis-Phillipe, in 1847. This room has remained unchanged since 1897, making it feel like a portal to the past upon visiting. Château de Chantilly becomes one of the most fairytale experiences you can have while visiting the castles in France when you realize that you are walking in the footsteps of princes.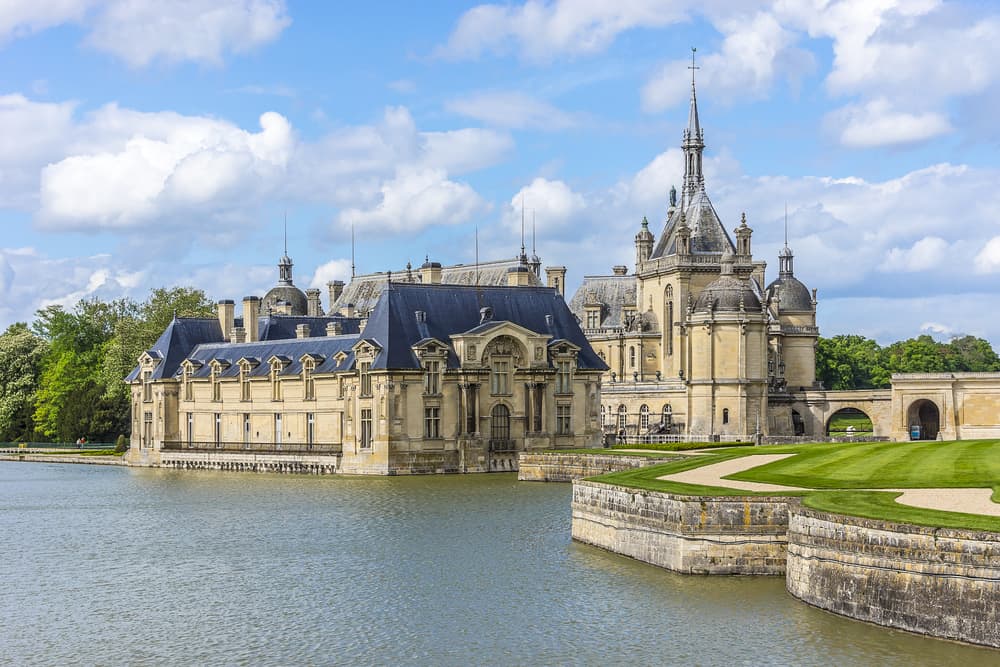 Château de Pierrefonds
If you are looking for hidden gems amongst the castles in France, you'll be thrilled to learn about the magnificent, yet little-known Cháteau de Pierrefonds. Though it dates back to the 15th century, Château de Pierrefonds was restored and changed in the 19th century to make it into a regal residence for Napolean III. Imperious, stunning, and looking as if it popped right out of a medieval-themed blockbuster, this particular french castle is full of memorable features, such as its defensive system, walkways, draw bridge, and two reconstructions of siege engines. The rooms inside carry a rich, medieval feel and are fascinating to explore when you discover details like monsters built into fireplaces. You also don't want to miss a trip down to the mysterious underground crypt!
To top off the fun of this particular french castle, Pierrefonds happens to be the filming location for the hit BBC series Merlin. Fans of the show will be ecstatic to explore the rooms and scenery used throughout the series, and even get to view some props, such as The Cup of Life, and little videos playing in the King Arthur exhibition.
As far as fairytale castles in France are concerned, Château de Pierrefonds is about as close to the real-life version as you can get.

Château du Haut-Kœnigsbourg
Situated high above the Alsace plain, Kœnigsbourg stands out amongst the castles in France as a mighty mountain fortress. Records show its construction beginning in 1147, when it was called Castrum Estuphin, only to have its name changed to Kœnigsbourg ten years later, which means "royal castle." At an altitude of more than 700 meters, this particular french castle made for a strategic lookout of all the routes in the region. However, during the Thirty Years War, Kœnigsbourg was besieged and burned to the ground in 1633. Left in ruins, it was classified as a historical monument over 200 years later, and not until the nearby town of Sélestat purchased the ruins in 1865 did reconstruction begin.
Not only does Château du Haut-Kœnigsbourg have a fascinating history, but this castle in France is a visually-stunning fortification. It is an interactive experience with a wide variety of tours, events, and activities, many of which are geared toward families with children, making this castle in France a great vacation destination for the family! Beyond enjoying the castle itself, you won't be able to get enough of the sweeping view it provides of the Alsace plains, the Black Forest, the Vosges mountains, and, on clear, sunny days, even the Alps.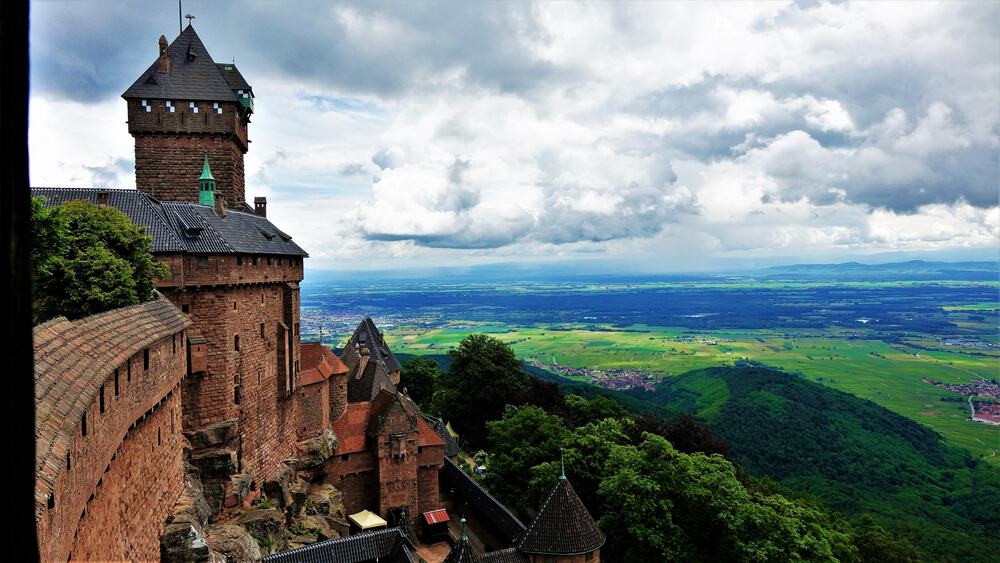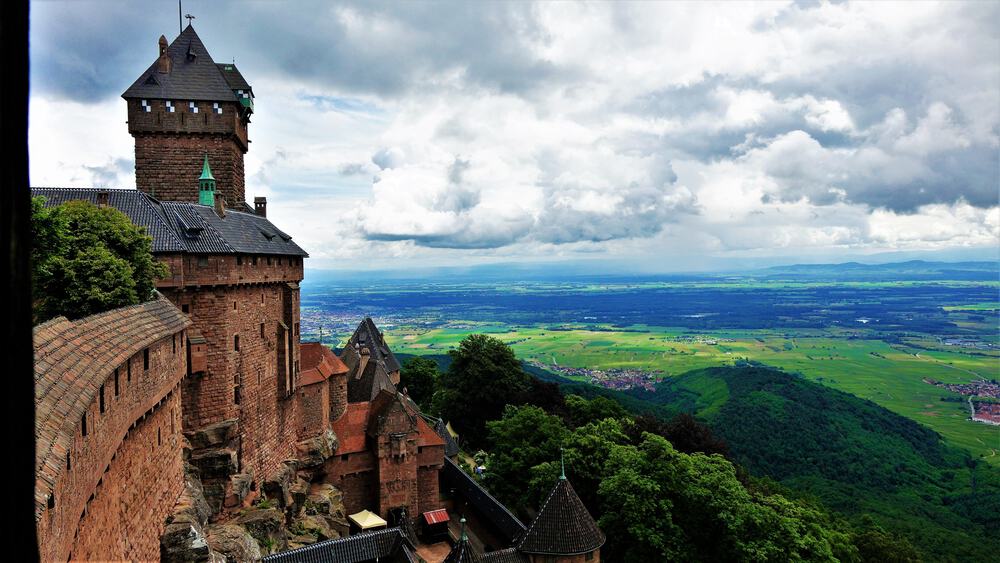 Château de Chenonceau
One look at Chenonceau is enough to understand why it is the second most visited of the castles in France after Versailles. This Renaissance beauty is built on arches that span the River Cher, making it an incredibly unique and altogether magical palace. The architecture of turrets, towers, arched windows and elaborate masonry on the outside, and the lavish rooms filled with art on the inside combine to make Chenonceau a fairytale experience.
Not only is the Château itself absolutely stunning, but the vast, manicured grounds will have you mesmerized for hours! The numerous gardens of the estate include a "floating" parterre, a massive circular basin, woods, a flower garden, a floral workshop, and even a maze with a gazebo in the center, which offers a view of the whole labyrinth, once you manage to reach it. Your only problem will be trying to decide which garden to choose for your picnic!
Between the bridge-like arches across the River Cher that support the palace, and the many lush, distinctive gardens, Château de Chenonceau is one you definitely don't want to miss on your tour of castles in France.

Tours de Merle
While many of the castles in France are perfectly well-kept, you definitely want to visit a mystical ruin or two while on your tour. Nothing says "fairytale" quite like mossy, craggy turrets peeking between the evergreens of a misty mountainside, and the crumbling stone of Tours de Merle is a perfect option. Dating between the 1200s – 1500s, the fortified towers of Tours de Merle were involved in many historical conflicts throughout the middle ages, such as the 100 Years War, during which time they were occupied by the English. The broken staircases, empty windows, and overgrown rooms seem to positively radiate with history, making you wonder what secrets and stories the stones would have to tell if they could talk, about the lives they watched, the battles they faced, the centuries lost to time.
Beyond its magical, ethereal, and even slightly-spooky appearance, Tours de Merle is situated in a particularly lovely valley on the western side of the Massif Central, which makes it a beautiful, rural castle in France to visit. The very ruins seem to be part of the 10-hectare park in which they are located, overgrown with greenery and woodland. To top it off, if you visit Tours de Merle in the summertime, there are even medieval-themed entertainment and activities to enjoy!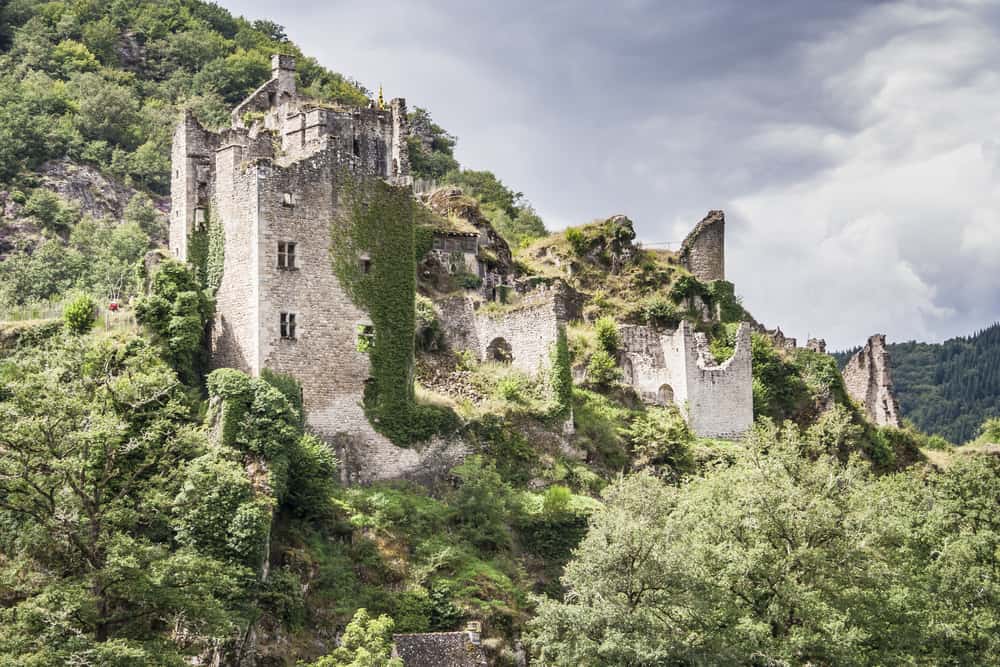 Château de Langeais
By far, one of the most spectacular, entertaining, and interactive of the castles in France is Château de Langeais. Not only is the architecture like something out of a dreamy, medieval fairytale, but this french castle comes with added fun, such as a royal wedding portrayed by incredibly realistic wax figures, reconstituted costumes brought back to life, medieval-styled gardens, a treehouse, and a working drawbridge—one of the very last to be manually-activated! There are both guided and unguided tours options, but no matter which one you pick, you won't miss out on all the fun and information that this castle in France has to offer.
The Château as seen today was constructed in 1465 under Louis XI, but fascinatingly, it was the second fortification built on this land. At the end of the 10th century, the Count of Anjou, Foulques Nerra, founded a fortress after many years of fighting over Langeais. Langeais suffered a long and turbulent history over the years, including being occupied by armed bands during the 100 Years War. Finally, in 1422, Langeais was purchased by Charles VII, who ordered the fortress to be destroyed, except for the keep. Today, the ruins of that keep are some of the oldest in stone to still be standing. Not only will you be able to enjoy the beauty of the Château, but the ruins of the old keep can also be viewed on the extensive grounds.
All together, Château de Langeais is one of the castles in France that makes for an epic experience.

Château de Bonaguil
Don't let its semi-ruined state turn you off, Château de Bonaguil is a beautiful, awe-inspiring, jaw-dropping castle in France. One of the last of the feudal castles (before the introduction of artillery demanded a less flamboyant style), Château de Bonaguil holds many of the quintessential elements of what you might imagine a classic castle to be like, while at the same time possessing a few more "modern" additions, such as gun ports. Château de Bonaguil has mostly kept the same appearance and has remained in much the same state since the early 1600s, possibly because no one was ever crazy enough to try to siege it. Not only is this french castle situated on a rock, but it was also fortified with state-of-the-art defense systems. Seven drawbridges, a casemate, gunboats, countless murder holes, and a tower of loopholes are some of Bonaguil's incredible defenses.
Château de Bonaguil also has a massive barbican and six towers—one of which is said to be the most beautiful in France—which are stunning to see, and is full of rich halls and spiral staircases. The view from the top of the keep is one you definitely don't want to miss! Make sure you bring good shoes and plan for a bit of a hike as part of your expedition when you visit this castle in France, as the walk up to the top isn't a stroll in the park.
A perfect combination of mysterious ruins and fairytale towers, this is a castle in France worthy of remembrance!

Château Vaux-le-Vicomte
Built in the mid-1600s, this baroque castle in France is visually stunning in many ways. The Versailles designers Charles le Brun and André le Nôtre were brought together for the first time for this design project. The grounds are extensive, le Nôtre, the gardener of the king, created a masterpiece of a French Formal Garden at Vaux-le-Vicomte. The grounds are so large that at one point 18,000 laborers were needed to care for them! You definitely want to consider renting a golf cart if you want to see it all, especially if you have kids. And speaking of kids, of the castles in France, Château Vaux-le-Vicomte is a child's dream-come-true as they can rent period costumes to wear for the tour. Make it an unforgettable family day by taking the guided tour, where your kids not only get to dress the part but will discover what the life of a child in the 17th century was like.
Not only are the tours of this castle in France and grounds enough to keep you occupied for the day, but Château Vaux-le-Vicomte also offers events throughout the year to make the experience even more fun, such as an Easter egg hunt in the gardens, a water show, Vaux-le-Vicomte at the movies, and best of all, candlelit evenings, during which the château and gardens are lit by 2,000 candles!

Château de Cheverny
Château de Cheverny stands out amongst other castles in France for several reasons, one of which is that château has been in the same family for the last six centuries! The rooms are regally decorated in 17th and 18th-century interiors, and many are still set up as if families from hundreds of years ago still lived in them. The tables are elegantly laid, the nursery is full of old dolls and rocking horses, there are instruments and sheets of music at the ready in the music room, all looking as if frozen in time.
Another interesting feature that makes Château de Cheverny unique is that it was the model chosen by Hergé for Marlinspike Hall, as fans of Tintin will immediately realize. Lovers of the books will be thrilled to find a small Tintin exhibition at this castle in France.
Beyond the richly-decorated, memorable rooms and beautiful grounds, you can also visit the dog kennel. One hundred hunting dogs are exercised here every single day! There is also an elegant little cafe to enjoy. But to make your tour of Cheverny even more fun, make sure to check out the tourist train ride through the grounds, the boat trip across the sizable pond, or the mystery game.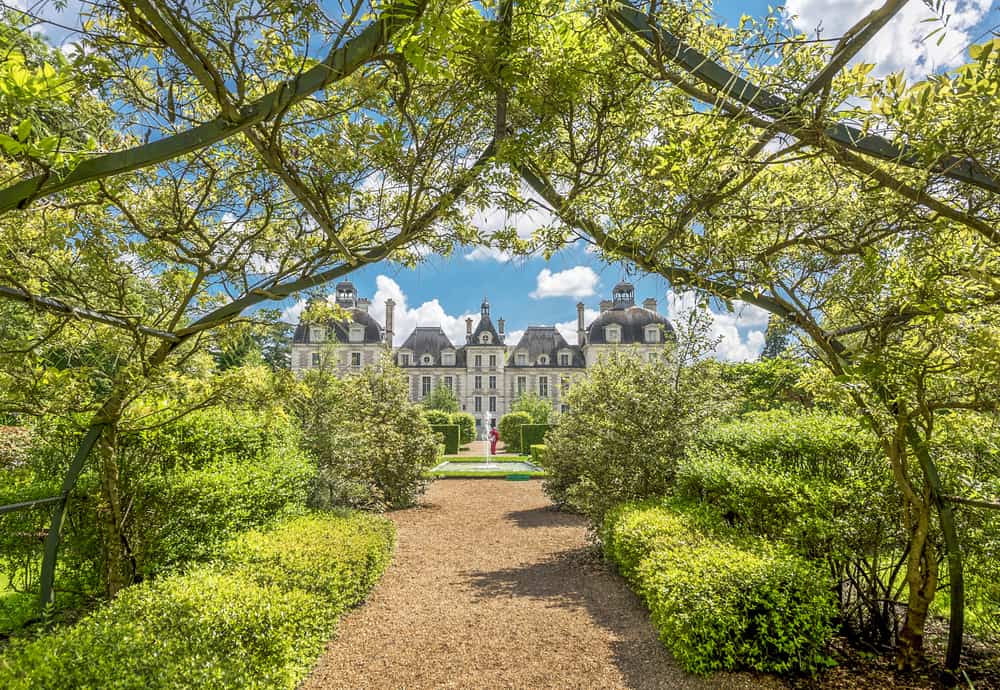 Whether you're a lover of France, architecture, history, fairytales, gardens, or a combination thereof, the castles in France have it all! There's something to see for every interest and every age. Castles in France are the perfect backdrop for a fairytale romance with your significant other, unforgettable experiences for your kids, bonding adventures with your friends, or an incredible vacation destination for just you. You really can't go wrong deciding where to go and what to see. Just make sure you've got your camera or phone battery charged up, as you won't be able to stop taking pictures at each new, breathtaking sight!
So which castle do you want to visit first? We'd love to hear about it in the comments!