Looking for an amazing Florence Airbnb for your upcoming trip to Italy? We've collected the very best Florence Airbnbs to help you squeeze as much utility and enjoyment from your trip as is humanly possible.
All of our selections have amazing amenities, beautiful interiors (and exteriors), and excellent hosts to help you explore like a local! We even have a detailed post on Where To Stay In Florence if you are looking for a more detailed breakdown!
Florence, the capital of the Italian region of Tuscany, is one of the most culturally and architecturally significant cities in all of Europe, flowering to full bloom during the renaissance. There are so many amazing Things to Do In Florence so you are in for a real treat!
Other than having been home to gloriously wealthy men and women who displayed their wealth and passions without provision, the city might be best known for its dominant art scene, producing cultural giants like Leonardo da Vinci, Michaelangelo, and Dante.
When visiting a city that's so architecturally wonderous and classically romantic, it's almost equally important to take advantage of staying somewhere authentic and inspiring (of which Florence has so many) as it is to visit Florence's famous sights.
Here's some of the very best Airbnbs in Florence to help you inspire your senses in the very heart of the city!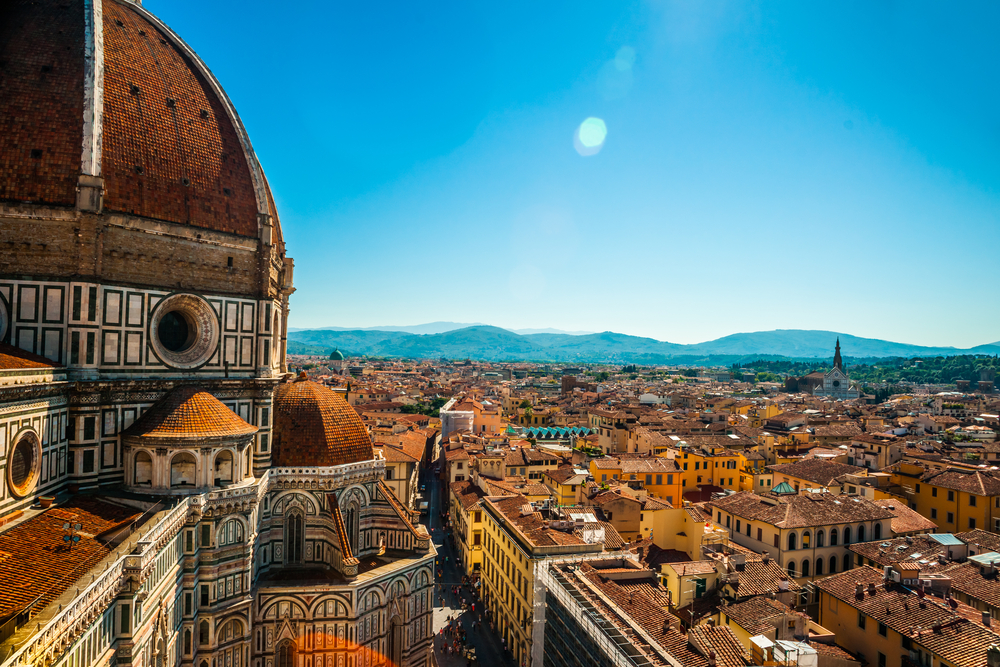 15 Best Airbnbs in Florence (with the best views and locations!)
Industrial Lux in Santo Spirito
Located near the Plazzo Pitti, Ponte Vecchio, and just steps away from Santo Spirito, this Industrial Lux Apartment will make you melt in its perfection! Immediately south of the Arno river in the quiet Oltrarno neighborhood, the area offers an enhanced cultural experience, thanks to the area's local population.
Florence's last authentic quarter is home to many amazing restaurants popular with locals and plenty of small artisan shops! This apartment is just doors down from a coffee shop and corner bakery, and mere steps from Piazzo Santo Spirito! 
Best distinguished by its sweeping arches, doorframes, and windows that seamlessly widen and accentuate the intervals between its spaces and illuminate its corners, this Santo Spirito loft applies a mix of textiles and materials such as stone, glass and wrought iron into its architecture, designs and furniture.
The apartment's owner, an art restorer, has put his hand into everything in the apartment, including its plethora of restored relics. It's nostalgic, industrial and opulent- styled furnishings are perfectly framed by an off-white color scheme that's dotted with pastels and dark, crisp modern edges that elevate the apartment into a unique but modern space.
This loft paints a perfect portrait of the city itself as a space that's multi-dimensional and historical. This apartment is an absolute dream for the detail-oriented!
This Florence Airbnb offers everything from kitchen and bathroom essentials to a washer, dishwasher, heating, wifi, tv, and a coffee maker! It's also located on the first floor, which is ideal for families and groups with individuals who don't want to climb Florene's famously difficult medieval stairs (elevators are not common in this city)!
Both bedrooms (one with a queen-sized bed, the other with 2 twin beds) have their own living room (one containing a library) and bathroom. The heart of the apartment, the kitchen/ dining room, is decorated in fantastic detail, with objects like an authentic oven hood and an antique serving bar. Craving some natural sunlight? The apartment features an adorable yellow patio attached to the dining room!
Check out this amazing Oltrarno apartment for yourself and your family for your next stay in Florence! Located in the cultural heart of the city, this Florence Airbnb will be the highlight of your stay!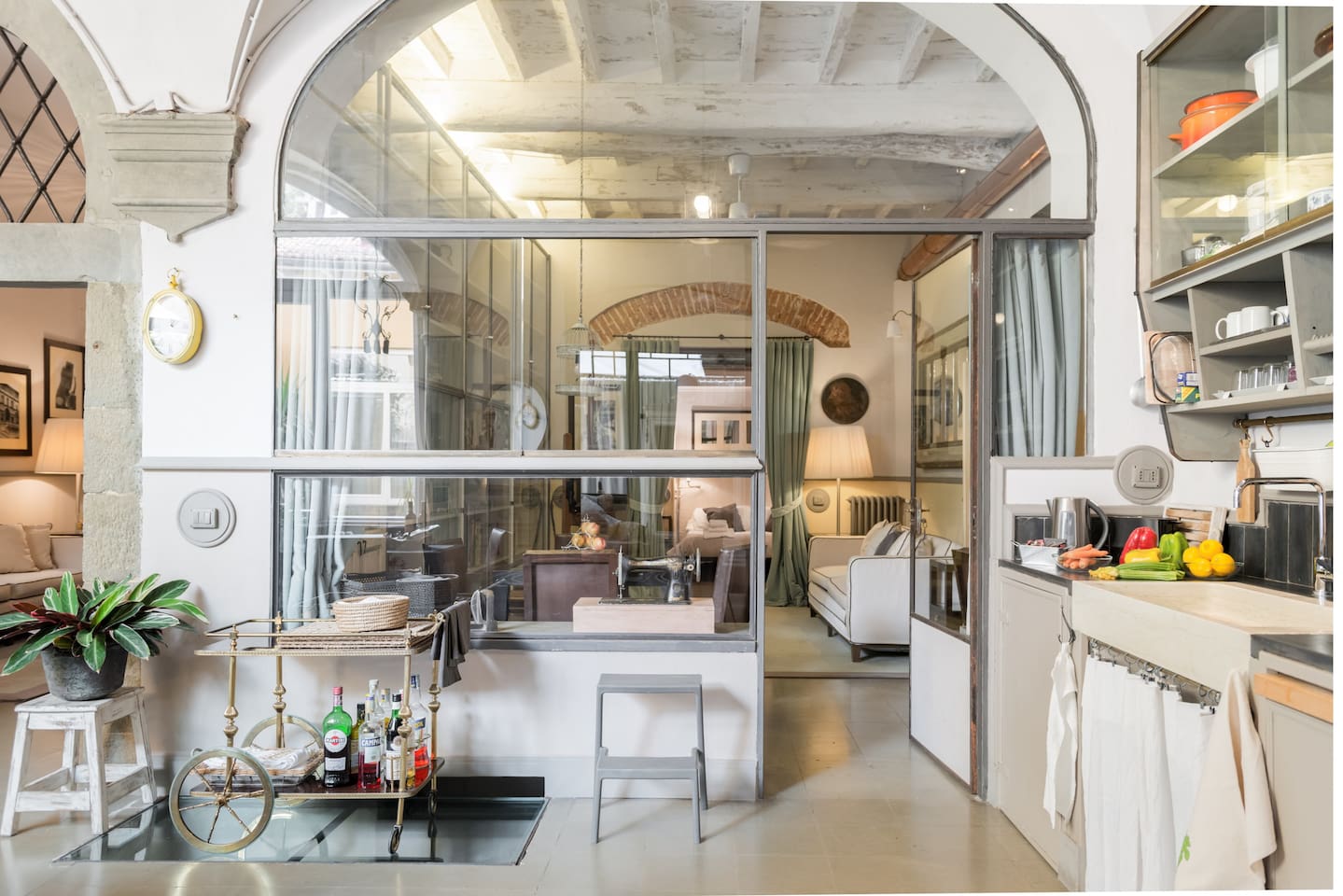 Quaint Suite with a View
Only a few buildings away from the iconic Florence Cathedral, this Quaint Suite is going to be your room with a view! The apartment's balcony boasts what may be the most fantastic view of Florence's famous Cathedral's magnificent dome.
Located on the third floor overlooking a quiet courtyard, this suite's spacious balcony is perfect for photoshoots or drinking in the cityscape with a bottle of wine or a cup of coffee. Sun spoiling your perfect view? The terrace even offers balcony-goes a motorized retractable awning to help you enjoy the view at any hour! 
This newly renovated 6-sq-meter Florence Airbnb is located on the third floor of a historic Florentine building, offering an ultra-modern kitchen with a large refrigerator, a coffee machine, and kettle, plus competitive modern amenities like wifi, air conditioning, heating, a washing machine, unlimited hot water, and ambient lighting.
 The loft carries with it some personality from the antique pieces which have long inhabited the apartment, the red herringbone-patterned wood floor that weaves the space together, and it's modern, bright orange bathroom.
Best yet, the loft is completely accessible by elevator – a rare amenity in the center of Florence. This adorable loft is the perfect getaway for a couple of travelers looking to explore the walkable city from its center, and there's surely no better space than one with the dreamiest of views!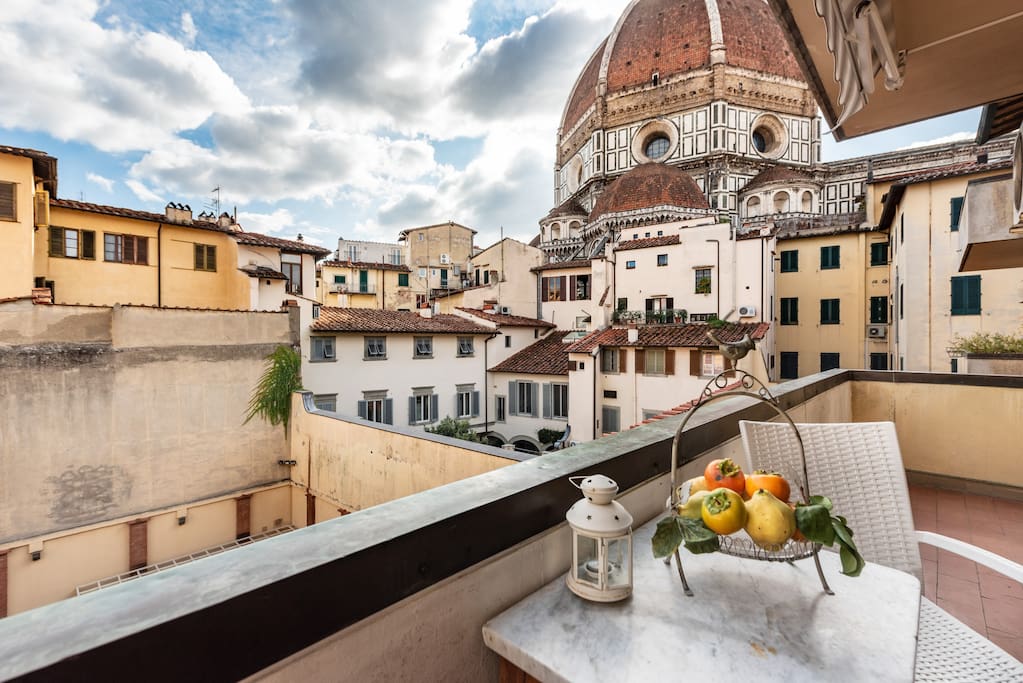 The Elegant River-View
This Elegant River-View Flat will transport you into a world of luxury on your next visit to Florence! The apartment's opulent style, a nod to the city's legendary grandeur, and is flawlessly delivered with the help a handful of chandeliers, an ornate groin-vaulted ceiling, beautiful wooden ceiling beams, and the occasional reference to famous renaissance artists.
 The flat's bright and white, spotlessly clean interiors are finished with soft, plush, and elegant furniture and sharp, modern edges. It's washed in subdued blue and grey hues, only occasionally met with deeper hues and accents that aid the eye in appreciating the apartment's finer details.  
More impressive to come is this Florence Airbnb's balcony view! Stepping out onto the terrace, the color scheme instantly becomes warm as red terracotta tiles meet your feet, matching the city's earthy-toned exteriors and red-tiled rooftops.
The Arno dominates the landscape in the very foreground of this Florincian apartment! Two ornate steel chairs with a matching table center the balcony, joined by a small nook seat that's perfect for reading, writing, or just soaking in that amazing view! 
This fairytale apartment is a perfect size for a group of up to 6 guests and consists of 3 bedrooms (one lofted), two full bathrooms, a full kitchen, a living room, and a fantastic balcony!
The apartment's amenities cover all of the basics, from a washer and dryer to heating and air conditioning, an iron, a hairdryer, and much more! 
This loft is located in a perfect, quiet location fewer than 15 minutes away from the city's most popular tourist destinations and museums.
Located on a quiet street in the central Duomo neighborhood, it's also steps away from many boutiques and vintage clothing shops, cafés, wine, and grocery stops. This elegant Florence Airbnb is the perfect gem in the heart of the ancient city!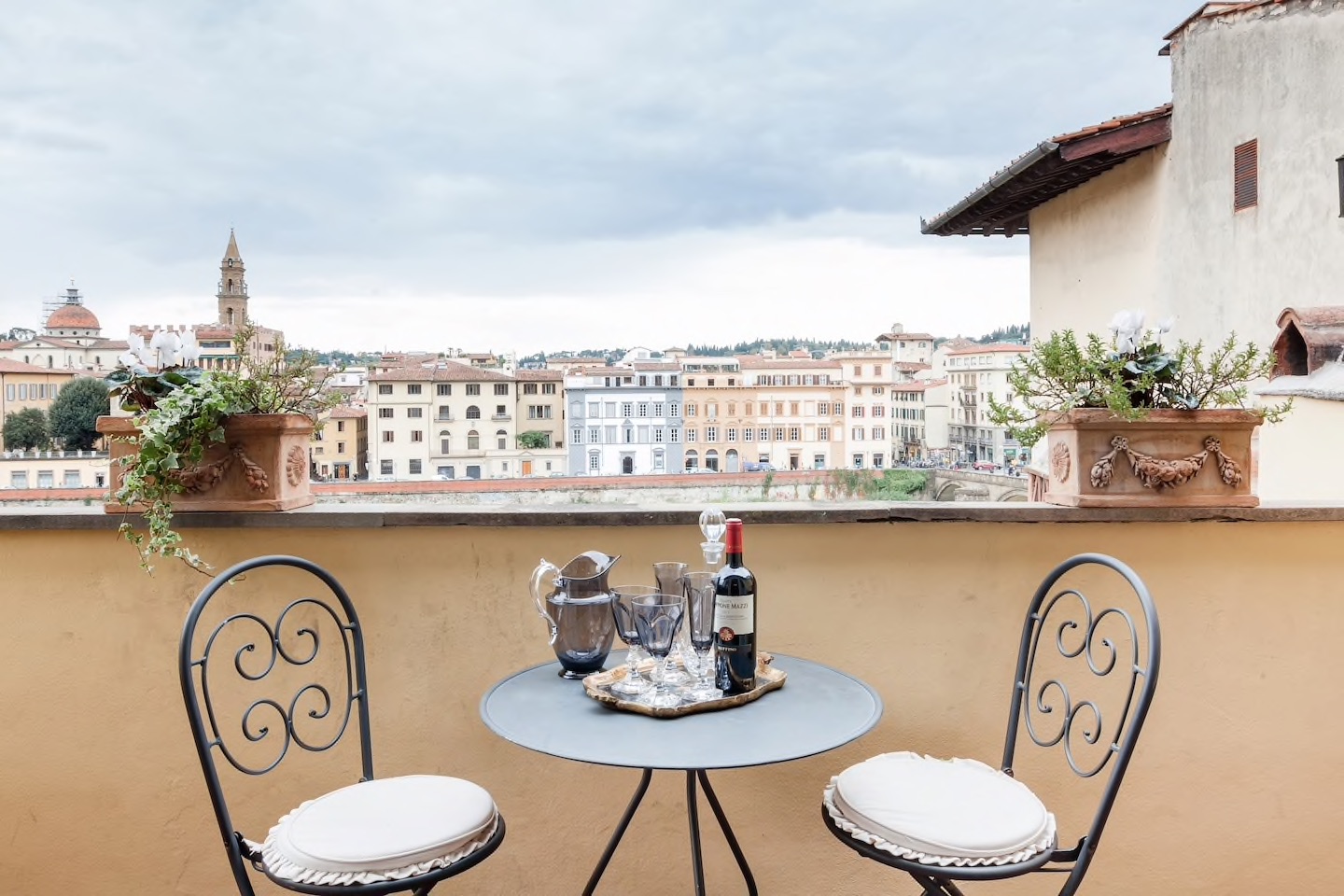 Boutique Airbnb with Rooftop Terrace
This ultra-modern Boutique Airbnb has the ambiance of a light and airy boutique hotel, right in the center of Florence! However, the apartment dons bold textures and patterns, and is sure to make a daring impression on its guests!  
Namely, a black and white Harrington floor pattern that flows throughout an otherwise white-washed interior, whose design is geometrical to the point. Unique lighting fixtures and novel surfaces are emboldened with bright blue furnishings and accessories. Every detail of this Florence Airbnb is ultra-modern and artsy.
Most impressively, this fearless Florence Airbnb has an amazing (and we mean amazing!) rooftop terrace. The enormous rooftop has 360-degree views of downtown Florence, complete with cushioned outdoor seating, a Bose sound system, and a dining table for the most romantic of dinners. And of course, this terrace has an up-close, exclusive view of Florence's famous domed cathedral!
This luxurious Florence Airbnb is located in the very center of the historic city and far superior to any boutique hotel on the market! Equipped with 2 bedrooms boasting memory foam queen beds, a full kitchen, a living room, 1 1/2 bathrooms, and an unparalleled terrace, this perfect stay offers a complete set of amenities, including a washer, a dishwasher, wifi, a tv, heating, air conditioning, and more. This boutique Airbnb has everything you'll need to enjoy your trip to Florence!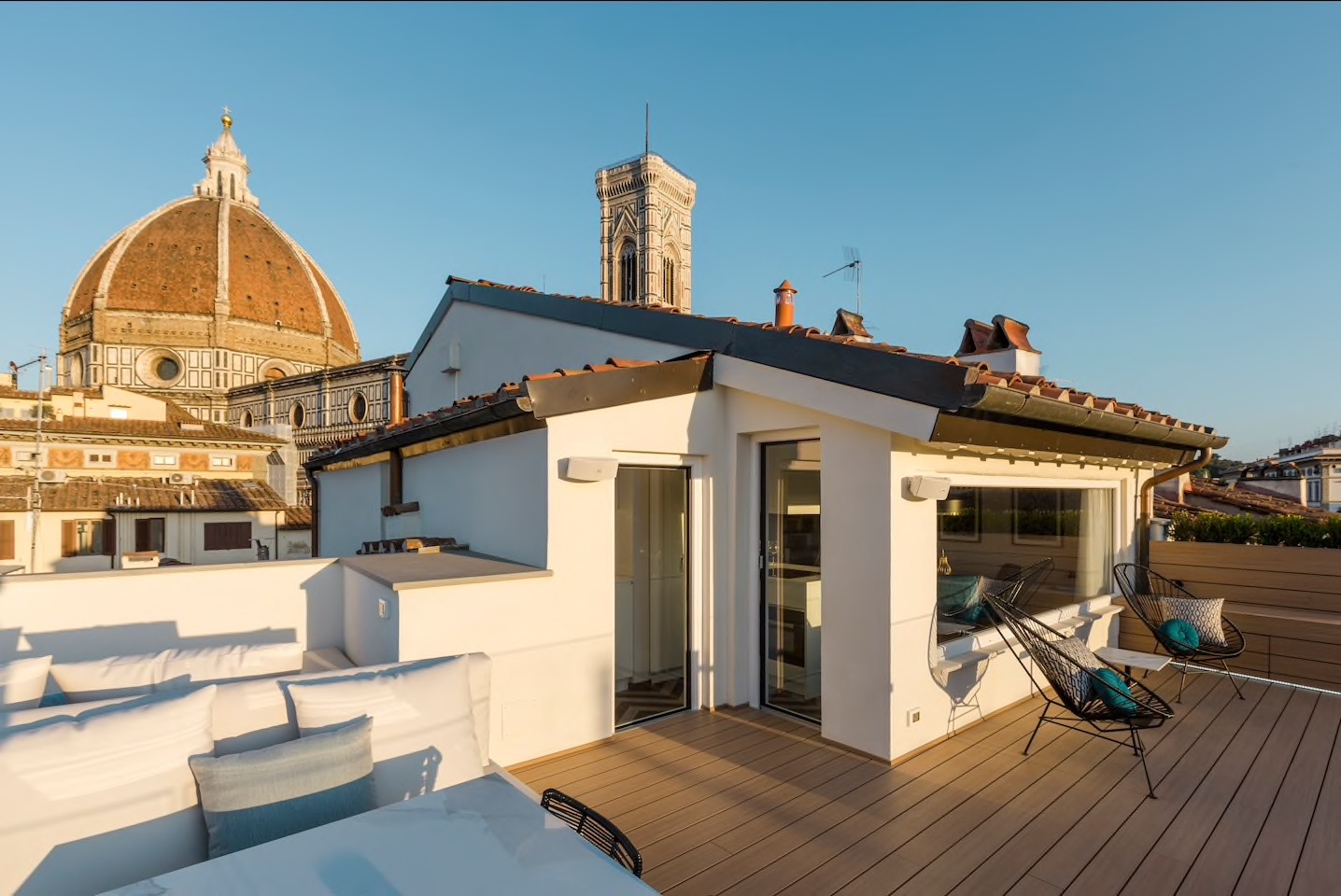 The Cappelle Medicee Suite
This charming Capelle Medicee Suite is stacked with charm and gusto! Located on the third floor of a historic building overlooking the Mercato Central square in the San Lorenzo neighborhood of Florence, this apartment has large windows that open to the perfect panoramic view of the market below!
Its proximity to the market also guarantees you quick and easy access to fresh food, pastries, and dining. San Lorenzo' Basilica and Cappelle Medicee are located just steps away from this location.
Simultaneously rustic while modern, this comfortable suite is romantic from head to toe and perfect for a traveling couple! Tall, unpainted wooden beamed ceilings compliment the bold, original brick accent wall and two inward-opening windows that give the apartment a traditional Tuscan aesthetic.
This cozy apartment consists of a single bedroom and bathroom. No kitchen is included in this property,  but a variety of dining options are right across the street!
Other than a kitchen, this apartment has everything you'll need while in Florence, including air conditioning, heating, wifi, a refrigerator, a coffee maker, tv, and other essentials. This charming suite in the center of Florence will beat a hotel room any day!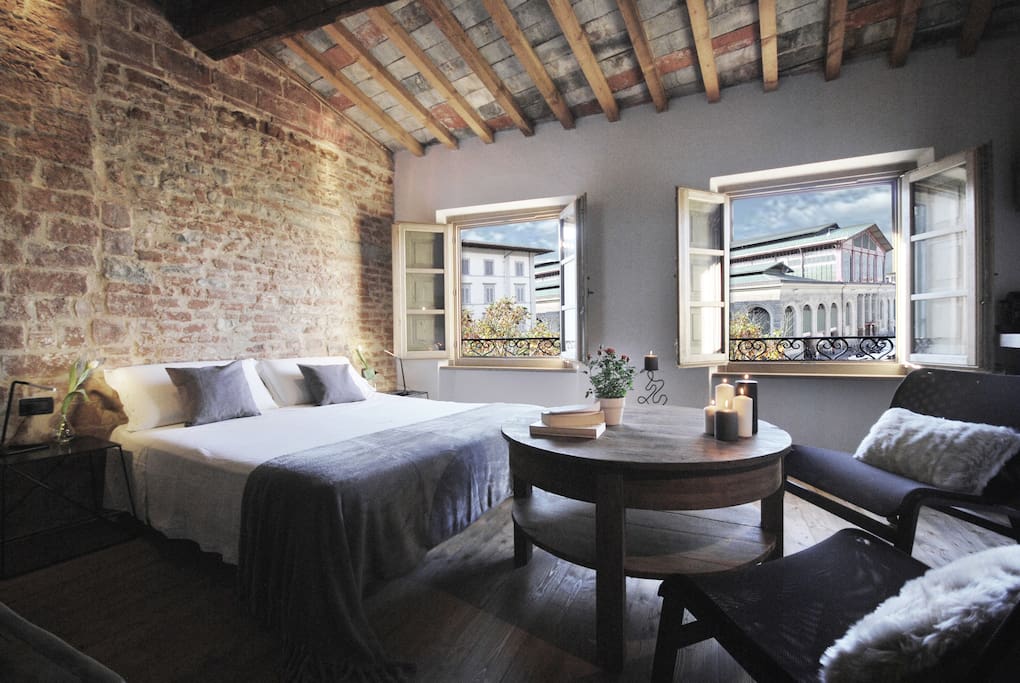 The Mercato Centrale Loft
Perfect for couples who wish to stay in a central location without compromising their access to a kitchen, the Mercato Centrale Loft will be your perfect budget-friendly cure!
Located near the Basilica de San Lorenzo, the Cappelle Medicee, the Cathedrale di Santa Maria and a little over 10 minutes from the Stazione Centrale, you'll never have to travel far to get anywhere! Don't forget to head over to the Mercato Centrale, just across the street, for authentic Italian food! 
Although not huge, this loft offers as many features and amenities as it can pack, which is a lot! The apartment consists of a living room, a kitchen and bathroom with a shower on the first floor, and a bedroom on its second lofted level.
The stylish loft offers guests a charming slice of old Florentine aesthetics and a fantastic view from the loft's wide, interior-opening windows.
This stylish, expertly designed apartment is simple yet hip with a soothing atmosphere and plenty of texture and pops of color. The loft's dark grey walls delightfully contrast with the apartment's unique brick accent wall.
The living area is plush and modern, furnished with a tv, an industrial fireplace and accent sofa. Behind this seating area, the compact kitchen counter divides the room. A floating staircase climbs the room's single brick wall, leading to the apartment's bonus space – a simple, chic bedroom with a skylight.
The wooden staircase is flanked with beautiful green vines growing vertically up its steel supports. Though miniature, this loft doesn't make any compromises in style or amenity!
This 3rd-floor apartment is equipped with air conditioning, a tv, wifi, fridge, oven, coffee machine, a kitchen, and basic bathroom essentials. As is standard of Florence's historical buildings, this Airbnb does not have an elevator – but its proximity to popular sights and its fantastic view are definitely worth the climb!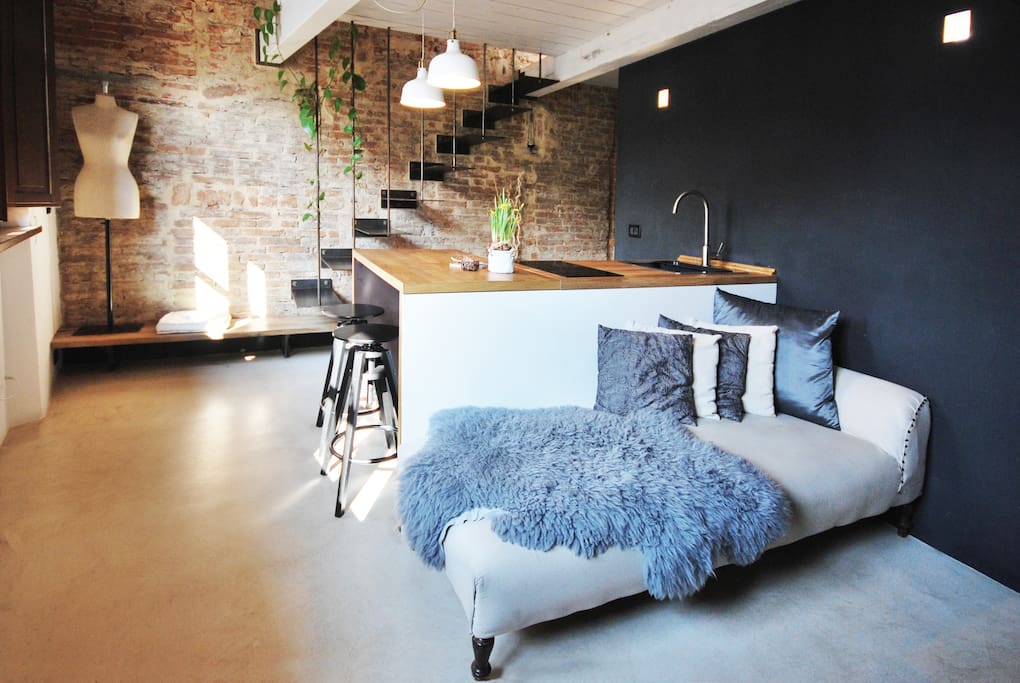 Spacious Plazzo Pitti Vista
Located in the Oltrarno district on the south side of the Arno, this Spacious Plazzo Pitti Airbnb has an exclusive, unparalleled view of the Palazzo Pitti in the center of Florence, though it boasts a relatively quiet atmosphere compared to the main tourist district north of the river.
The apartment is located within Florence's last authentic neighborhood, known for its authentic artisan shops and premier dining. Santo Spirito, San Frediano, the Boboli Gardens, and the ancient Ponte Vecchio bridge are all short walks away from this location.
Dominated by ancient, unpainted wooden beams on a ceiling that angles upwards and three traditional opening windows that open to the Palazzo Pitti, this apartment's comfortable living space gives off an authentic Florentine character that blends its original renaissance structure, antique Tuscan pieces and traditional terracotta flooring with modern bohemian furniture. Its rooms are modern and trendy, and bathrooms sleek and modern!
This spacious and airy apartment is perfect for a family or group of up to 7 members! Located on the entire 3rdfloor of a 16thcentury structure (which of course, has no elevator), the apartment comprises of 3 bedrooms, two bathrooms, a patio that connects to the master bedroom, large, sleek bathrooms and a kitchen that opens into a large living area.
The kitchen is complete with 4 gas burners, an oven, microwave, a kettle, toaster, 2 coffee machines, a refrigerator, and other common kitchen essentials. Other amenities include heating and air conditioning, a washer, a Tv, Wifi, and other basic bathroom and bedroom essentials.
For the perfect location an equal distance from every corner of the famous city, this apartment will be you and your family/friend's go-to Florence Airbnb retreat! And did we mention the fantastic view?!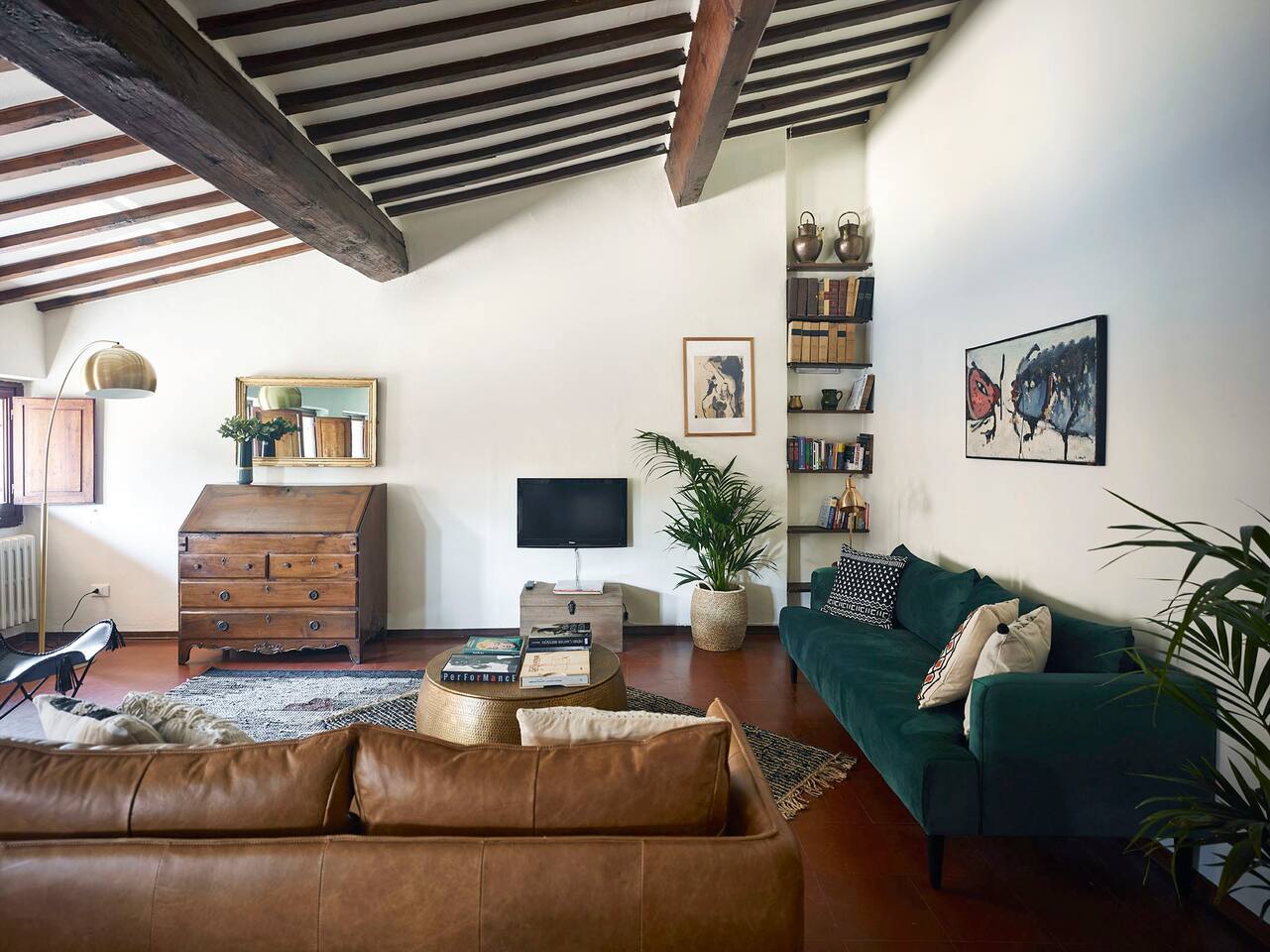 Simple Rustic Mediterranean Apartment
Fantastically minimalist with old-world cottage charm, this Simple Rustic Mediterranean Airbnb is dreamy, spotlessly clean, and cozy all in one. Decorated with a mix of Tuscan, Italian, and Mediterranean influences, the apartment is the best kind of modern!
While many Airbnbs in Florence recalls the medieval city's opulence in their designs, this apartment fondles the idea of a simple cottage's many charms.
This concept is brought to life with simple wooden surfaces, exposed ceiling beams, window shutters, and delicate houseplant accents. The newly renovated apartment is nevertheless very modern and seamless in its appearance, with sparkling white rooms and clean-cut accents and edgings.
Upon renting, be aware of the fact that being close to everything often means compromising with a medieval building, which weren't built with elevators – and this Airbnb is no exception. Luckily, scrambling up small medieval steps is a small price to pay for an amazing location and the stunning views of the Church of All Saints.
The apartment comprises of 2 bedrooms, a full kitchen, living room, and a modern bathroom. A/C, heating, wifi, a tv with Netflix and amazon prime, a coffee maker, and paid parking off the premises are only some of the many amenities you'll have access to while staying in this apartment.
With fantastic hosts to help you discover the area's best restaurants and explore the city, be equally prepared to relax and enjoy your downtime in this bright and cozy Florence Airbnb!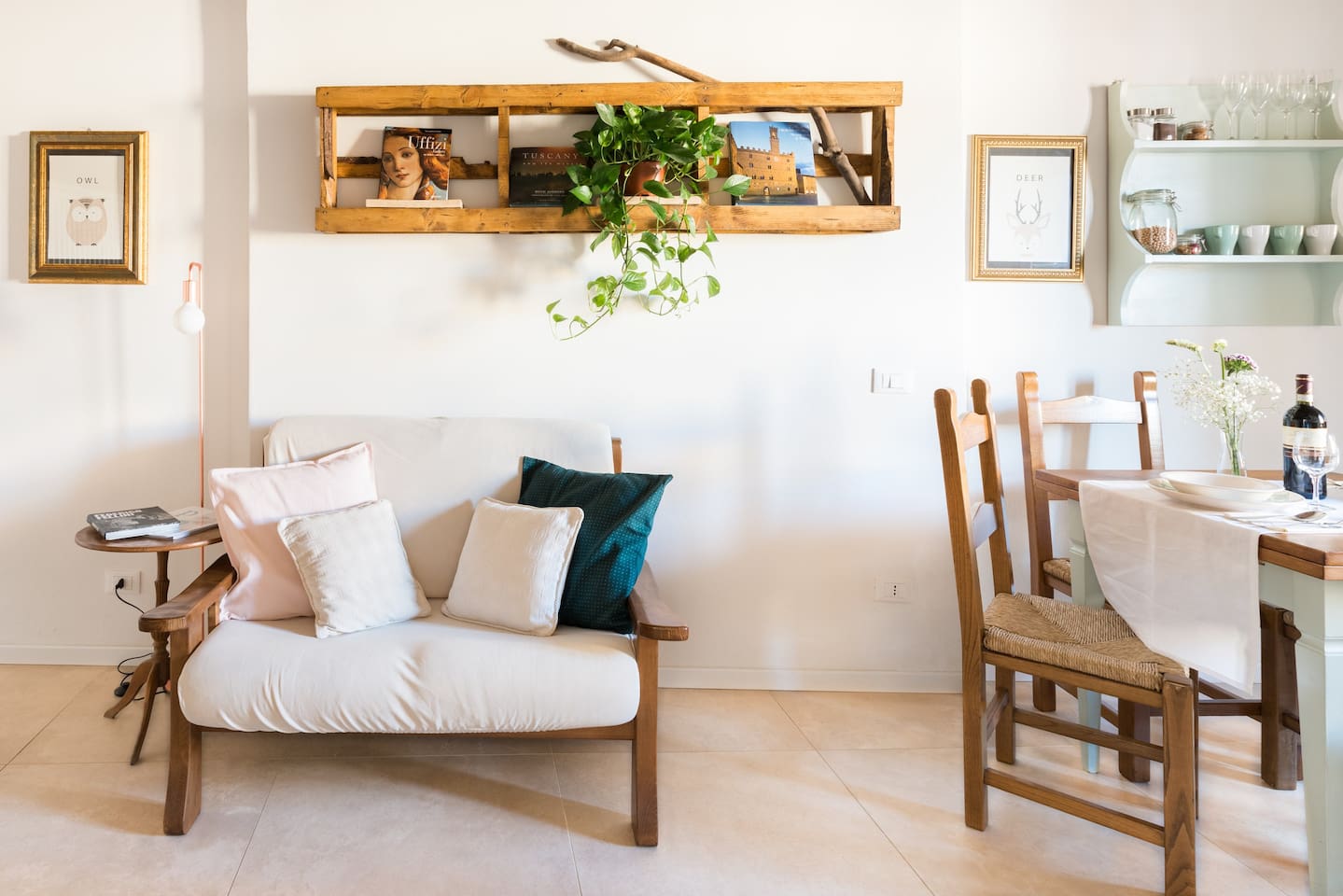 Magical Window to the Duomo
The most magical one-guest studio apartment is located right across the street from the Duomo and Saint Marie Cathedral, offering guests its fantastic views from two enormous windows (11ft or 3.4 meters tall)!
Although by far the largest selling point, this little apartment has more aesthetics to offer travelers with an appreciation for detail and art. As a portrait, this artist's studio's trendy bohemian design is rustic, elegant, and concentrated. 
Tall curtains, a plushy bed, rustic white frames, carefully curated antique items, and the owner's original artwork comprise the beige/grey living space and bedroom.
A second room houses the apartment's kitchenette – a small marble countertop with a stainless-steel sink, a mini-fridge filled with Italian goodies, and a coffee/tea Nespresso machine.
The room, which also functions as an artist's studio, is filled with rustic memorabilia, an easel, eclectic pieces, and bright house plants that enliven the space. Best of all, the large windows brighten either room, helping to extend the small space into one that extends into the very bustle of Florence itself. From the perch of this very apartment, the city is uniquely accessible like none other!
This one-of-a-kind studio apartment offers guests free wifi, a tv, heating, and fan (no a/c), a hairdryer and flat iron, a guitar for recreational use, and kitchen and bathroom essentials including a coffee machine and mini-fridge filled with local snacks.
The primary limitation to keep in mind when considering this Airbnb, however, is their strict one guest policy. If you're able to, snag this property while it lasts! 
This tiny studio apartment is full of personality and punch – it's the perfect place to find inspiration, and fall in love with the beautiful city. Throughout the day you'll be able to listen to musicians play, artists paint, and street bands preform as night falls. If this isn't inspiration enough, Leonardo Da Vinci is believed to have lived only 2 houses down from this apartment! And why not? This location may have the best view in all of Florence!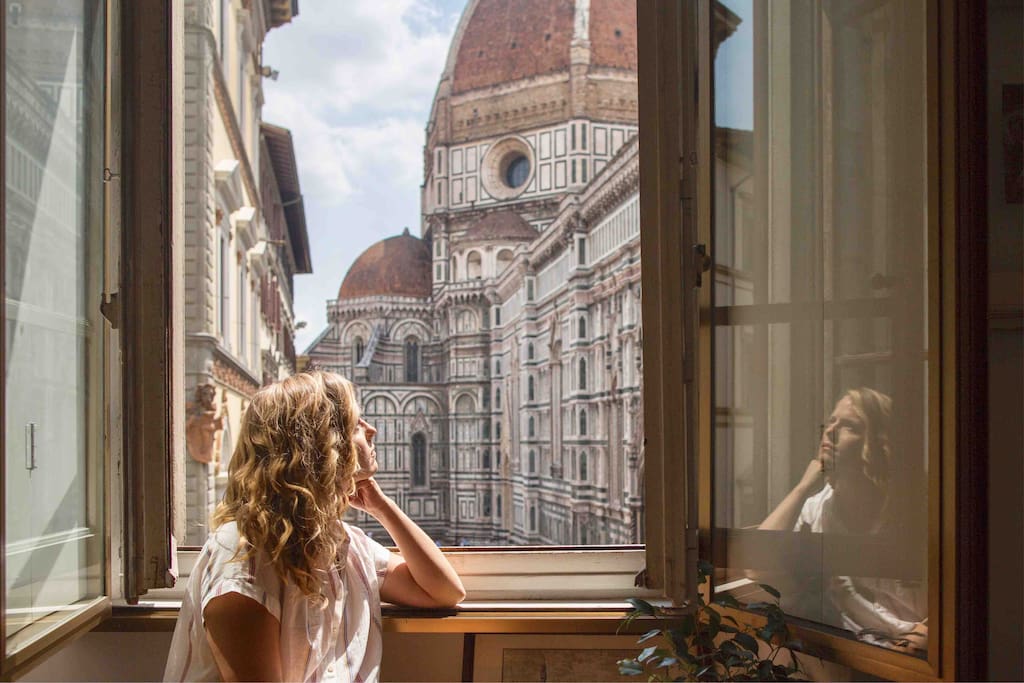 Rustic Santo Spirito
Located in Santo Spirito, the lively local neighborhood to the south and center of the Arno, you'll find Florence's identity palpable from this amazing location! With the city's best restaurants, nightlife, and small artisan shops just around the corner, this location offers plenty more than the city's concentrated tourist center slightly north. Ponte Vecchio, the Uffizzi, and Piazza Pitti are just a short walk from the apartment, as is the city's center!
What makes this Rustic Santo Spirito apartment so romantic are its tall ceilings accentuated by original brick, its brick-accented walls, large wooden ceiling beams that have been painted white, rustic accent furniture, beautiful wooden floors, and low hanging industrial lights.
The kitchen is a painted beige, outfitted with ultra-modern steel appliances, and decorated with extraneous kitchen items above and below its wooden countertops and finished with small house plants that give the room some pop. The cottage-like rustic dining table is the center of this room, whose metal fold-up chairs and simple metal light adds a real industrial edginess to the apartment's character.
The single bedroom carries the same theme, with more subtle wooden ceiling beams, simple bedding, industrial-style lighting and textured brick walls that are uniformly beige. The bedroom's desk, a rustic and worn elegant piece, along with an antique hand-painted wardrobe makes the space more romantic and colorful.
The apartment also has a small bonus room that acts as a living space and includes a reading nook – a short set of stairs filled with books leading to the most adorable pillowed landing.  
While this apartment is largely subtle, its bathroom is the opposite. The bold turquoise-colored room has wooden floors, brick-patterned tiles on its walls, modern installations, and tall ceilings. The views from this apartment are of the romantic Italian streets and their warm yellow facades with colorful shutters!
The amenities offered in this stay cover absolutely everything you wanted to bring with you but couldn't – paid parking, a full kitchen, a washer and dishwasher, heating and air, wifi, a tv, a coffee maker, an iron, a game console and plenty more! You and your significant other (or your friend!) won't regret staying here in Santo Spirito!
The Twins Boboli House
The Twins Boboli House is a unique Florence Airbnb located within what may well have been a fantastic ballroom with a soaring ceiling and gorgeous artwork to justify it. A magnificent 18thcentury vaulted ceiling spans the majority of the loft, with small details, including one depiction of the Greek god Apollo.
The complex vault ceiling can be studied from every corner of the apartment, including the bedrooms, which are closed off from the rest of the loft, save for their ceilings. This amazing loft was designed by artists, who have made the space a masterpiece with its own unique, eccentric character.
The apartment is scattered with furniture that could only belong in a palace – luckily the large space easily accommodates the grandness of each piece! The loft has been made very bright, with the help of massive rectangular windows, a large iron-clad gate leading onto a patio, and with low-hanging contemporary chandeliers.
The apartment's kitchen and dining space are centered around a circular domed ceiling that fixates the viewer to yet another beautiful period artwork. The room is centered on a lavish, brightly upholstered dining set and decorated with whimsical pieces that complement the room's grandeur.
The 2 bedroom, 1 bath apartment also flaunts a fantastic patio, accessible through a magnificent arched, black iron gate. Large, arched shutter-like doors open up to a marble checker-patterned patio with ample flowering plants and a small patio table to help you enjoy your morning coffee or your evening glass of wine!
The large property includes a full kitchen, washer and dryer, Wifi, Tv, a dishwasher, heating, and air conditioning, and so much more! This loft is without a doubt one of the most unique, spectacular finds in all of Florence. This apartment is a bold first step into one of Europe's most Romantic cities!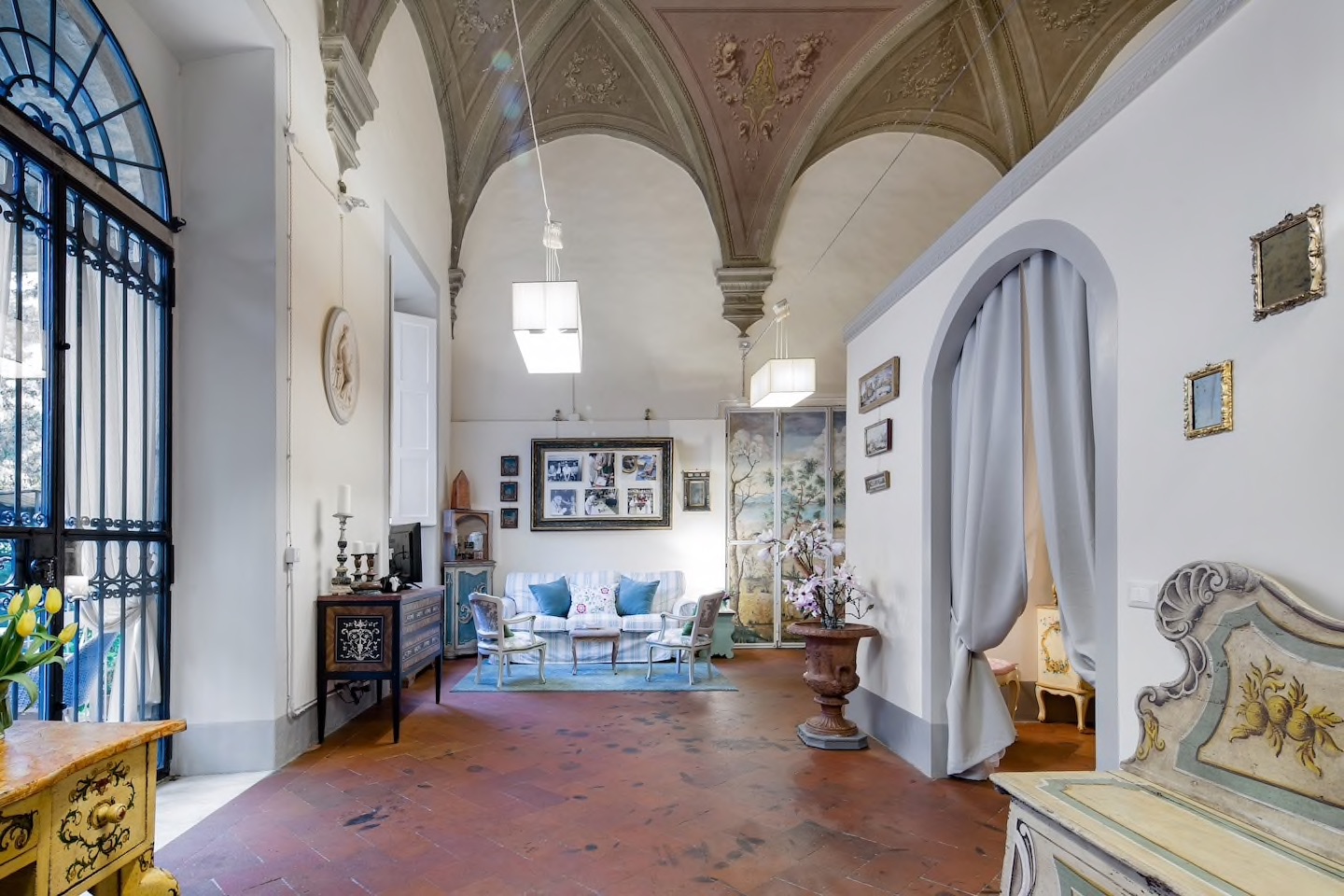 Charming San Frediano Apartment
Located in the San Frediano district, this charming San Frediano apartment is nestled on the left bank of the Arno, a short 10 minutes from the city's train station. This neighborhood is hands down one of the cutest neighborhoods in the area, and a great location for your Airbnb in Florence!
 This flat is ideal for individuals, couples, small families who want an alternative to the hustle and bustle of the central downtown without wholly leaving the area, and budget travelers. The location is off the grid to most tourists, being slightly farther away than some tourists prefer to be from the center of the city, though Florence's main attractions are still 100% accessible by foot from the charming neighborhood!
And of course, you'll be equally enthusiastic to explore the San Frediano between your main destinations. Don't forget to check out the Piazza del Carmine, just a short walk from the apartment!
This San Frediano flat consists of a bright and open kitchen, a partial- living room, a bedroom, and a courtyard. The most diagnostic feature of the apartment are its tall, red brick vaulted ceilings, an original and typical feature in this area of Florence.
The apartment's original floors also give the flat a wholeness and charm that isn't seen just everywhere. The otherwise open and bright, modern furnishings couple beautifully with the large space's original structure. During the summer, you'll also enjoy the apartment's green courtyard, equipped with a set of table and chairs for lazy afternoons.  
Fully equipped with your most-needed necessities, the apartment includes access to a coffee maker, Wifi, heating, air conditioning, a washer, a toaster, and much more!
The apartment is conveniently located on the first floor of an amazing historical residence – which means you'll be able to enjoy the benefits of the historical space without having to trod up multiple flights of uneven stairs after a very long day of walking! You're going to love staying at this charming and airy historical residence in San Frediano!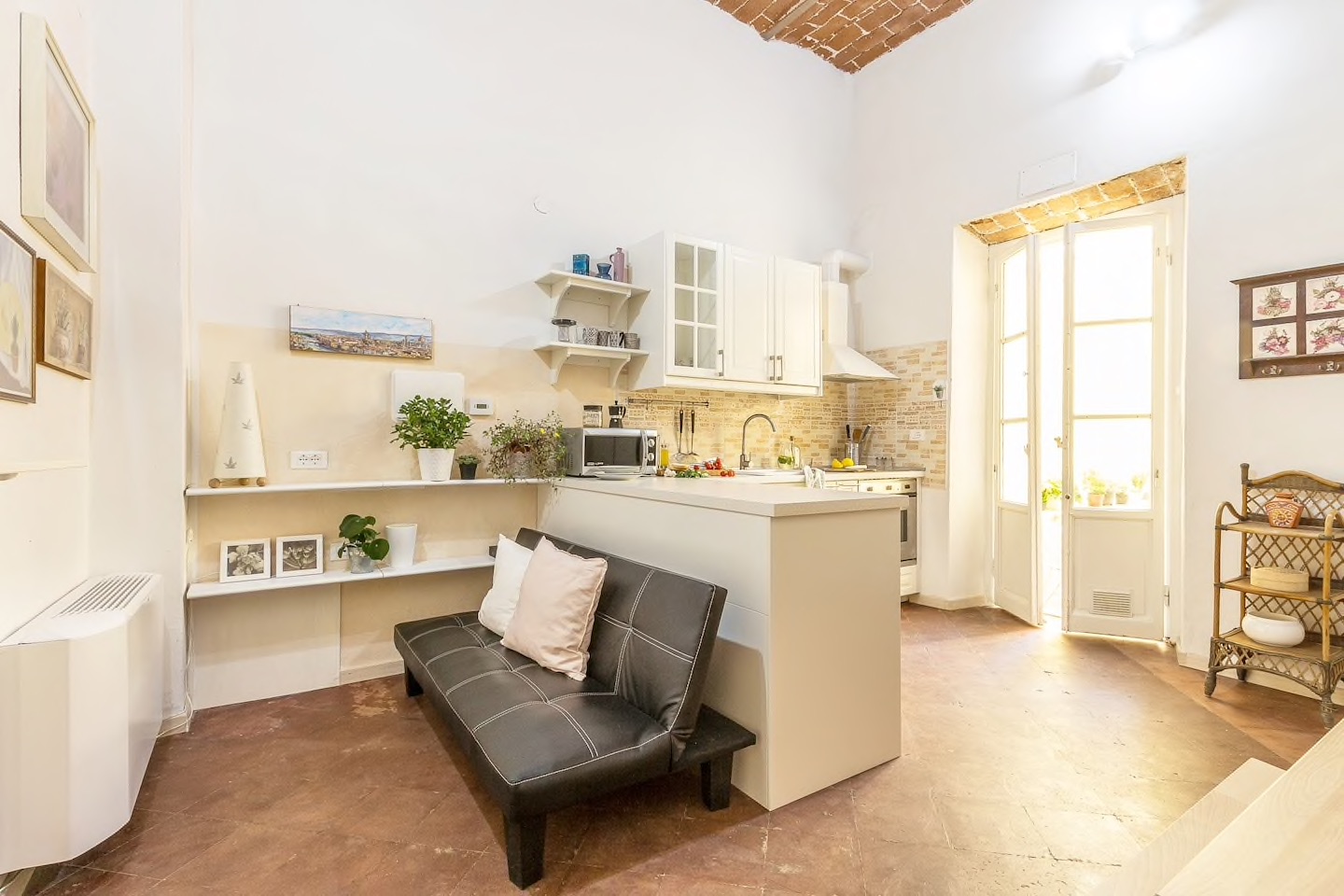 Tuscan Charm in the Oltrarno
Located north of the Boboli Gardens just south of the Arno, this gorgeous Tuscan-styled apartment will bring you into the countryside and inspire your travels indoors and out.
The apartment has Florence's typical wooden-beamed ceilings and hints of the space's original brick walls against otherwise white-washed facades – including one surface in the living room where the purposeful visage of corrosion reveals more of the original brick body underneath.
Traditional windows open to the gorgeous Oltarno neighborhood outside, and the dining room features beautiful Tuscan-styled brick-lined archways that help the eyes proceed through the space while giving the space a unique Tuscan character.
These restoration choices make the entire flat much larger than life. The simple apartment is seamlessly color-coordinated with modern yellow and blue accents, ample lighting, and pieces that simultaneously appear modern though antique.
The one bed – one bathroom apartment packs all of its amenities into an efficient space. The apartment's interior design is absolutely flawless, and will have you transported back in time without sacrificing any modern amenities or trendiness! More beautifully restored than most, you won't regret staying in this charming Tuscan Airbnb in Florence!
The apartment's amenities include a full kitchen, a TV, Wifi, heating, and air, a coffee maker, a washer, bathtub, and game console!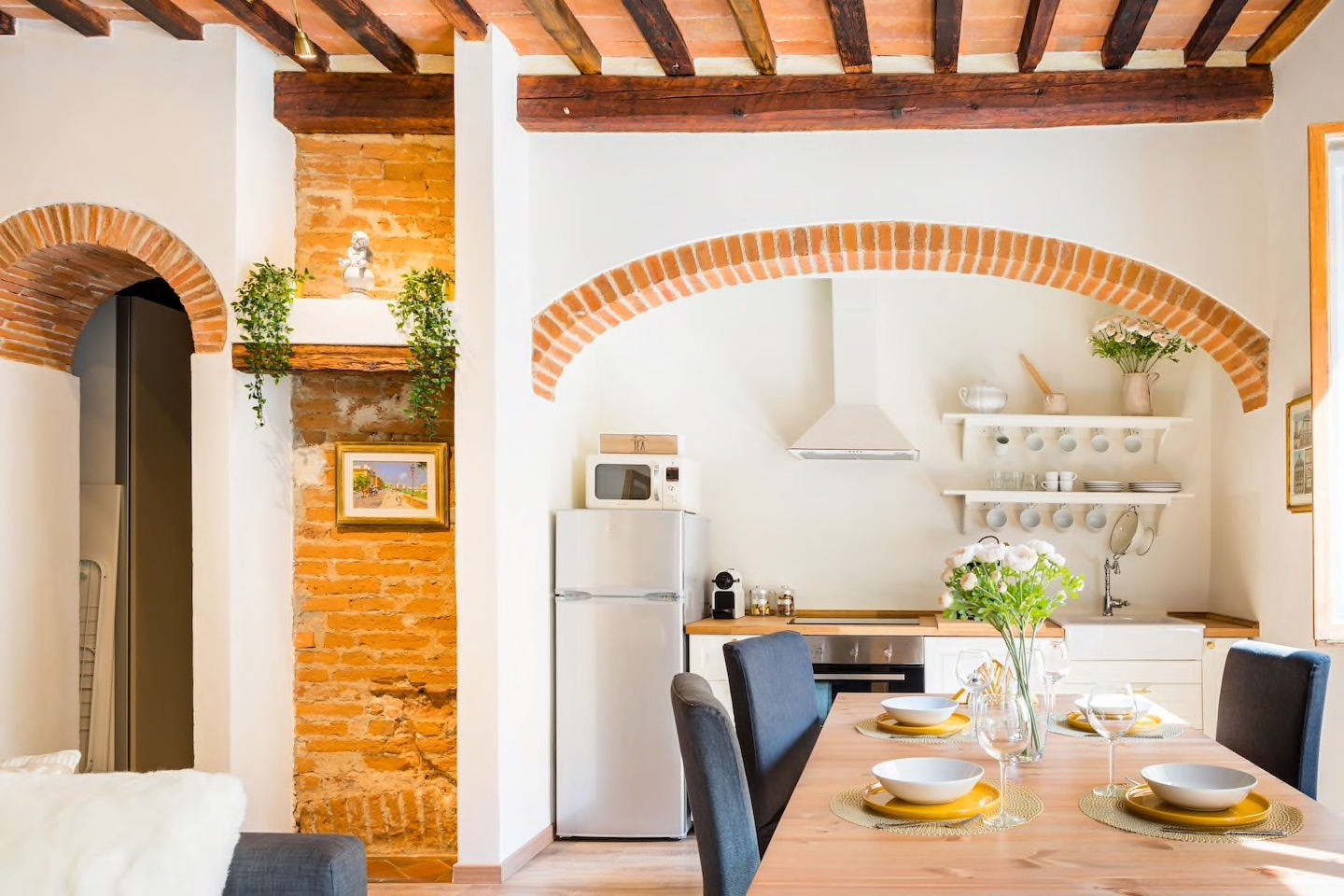 Color-Bold modern apartment
This eye-popping bold modern apartment features bold prints, patterns, and colors in a modern, yet authentic historical setting. The unique lofted apartment is truly one in its own with custom-built furniture and artwork, and some interesting experimentation with levels. It's boldness certainly doesn't overshadow its appeal or efficiency, and offers just enough intrigue to keep guests engaged in its fun design!
This Florence Airbnb has a knack for sharp, modern edges and seamless transitions in space. Where some spaces are tranquil and white, some corners are bright and full of character.
One of the boldest spaces is the kitchen, which has a sleek black/ orange set of cabinetries with a black tile backsplash and a wooden countertop decorated with bright fruits and wine bottles.
The bedroom is leveled and dons an orange accent wall that mimics the color in the kitchen and has original wood-beamed ceilings. And of course, the entrance into this one-of-a-kind apartment is an equally bold, though the charming red gate. This attractive apartment certainly doesn't have a habit for the ordinary!
The one-bed, one-bathroom apartment is located in the Oltrarno neighborhood nearest the Boboli Gardens, Palazzo Pitti and Piazza Santo Spirito, and the city's premier dining establishments. And of course, the neighborhood is still within walking distance of practically everything else! The property's host is, fittingly, an Italian architect with a marvelous eye for style and art.
The apartment offers all your basic essentials, including a kitchen, TV, parking, heating, air conditioning coffee maker, and more! Geared towards couples with a keen eye for design and fresh, contemporary spaces (as well as just about everyone else) this space is going to be a fantastic choice for you on your upcoming trip to Florence!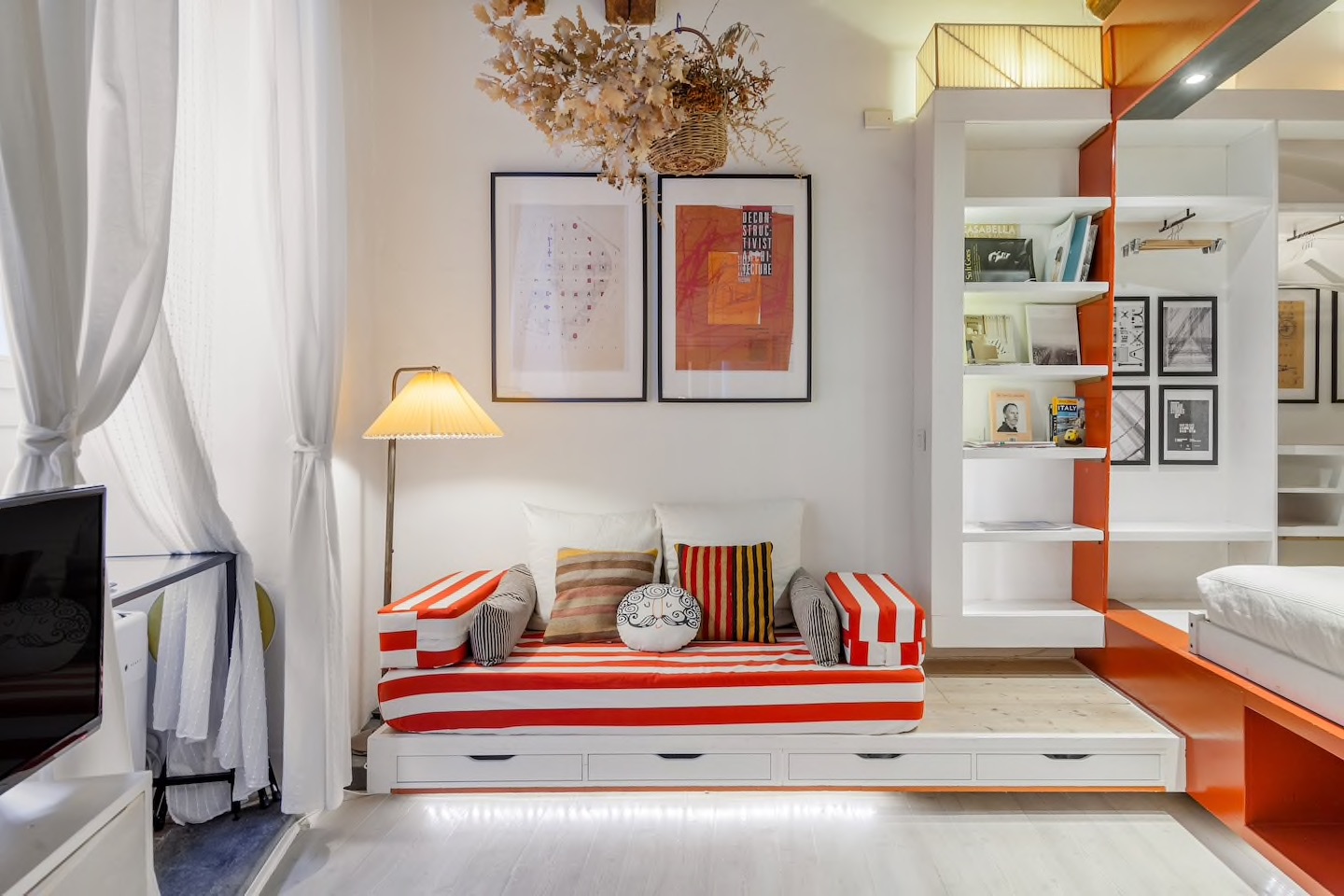 Trendy Architect's Loft
Located just south of the Arno, next to the Chiesa di Santa Maria del Carmine, this trendy loft is an architect's dream, embracing a bright, ultra-modern ambiance with playful architecture.
The tall and spacious one-bedroom loft includes a large living space with edgy white furniture and bold accents, including a large hide accent rug. The modern kitchen is also fairly minimalistic, with a few trend-setting accents, such as a unique rounded oven hood and rustic dining set.
The space as a whole has many unexpected shapes and mediums in its structure, including a wooden suspended staircase that leads to the upstairs bedroom. The upper floor is very unique, involving two levels, a glassed-in jacuzzi tub that opens directly into the bedroom, an attached bathroom, and a glass floor overlooking the main level.
The elegant and unique design of this apartment will appeal to almost everyone, having the upmost standards in cleanliness, amenity, and utility. The loft is also completely accessible and doesn't require flights of stairs to access. Not only does this fantastic apartment offer things like a jetted tub, washer, dryer, dishwasher, and….a (bidet!), but it's also incredibly gorgeous and novel! Let this amazing loft be your "stayaway" on your next getaway!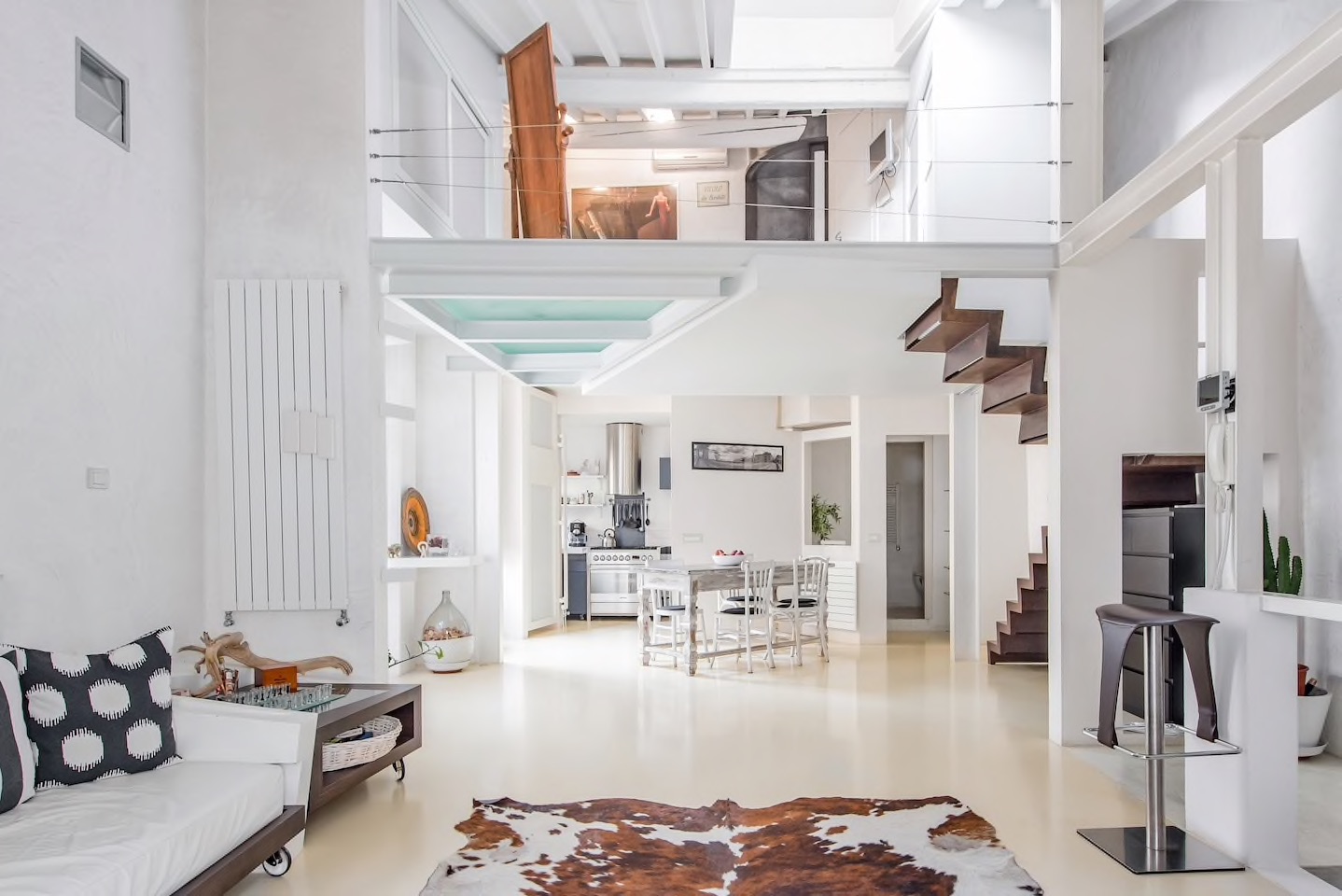 Florence, Italy is one of the most famous travel destinations for a great reason! Completely walkable and flooded with historical sites, world-famous artwork, fantastic architecture, it's home to a generous and lively culture, and a horde of fantastic hosts – and this is why you won't regret taking to an Airbnb in Florence!
The city is one of the most beautiful cities in the world and must absolutely be visited once in a lifetime. Whether you're setting off on your Italian journey today in a few years down the road, we have your accommodation! Whichever way you choose to travel, these 15 amazing Florence Airbnbs are bound to inspire and energize your travels your adventure!