If you are traveling to Oregon or Washington, there is a good chance you are looking for some of the best cabins in the Pacific Northwest. Airbnb has plenty of amazing choices for you and we have gone ahead and narrowed it done to twenty.
The Pacific Northwest is a very popular travel destination in the United States for a number of reasons. In Oregon and Washington, you can find so many diverse landscapes, from forests to mountains to ocean coastlines. The weather is known to be moody and aesthetic. Cities such as Seattle and Portland are hip and welcoming.
While you are bound to have a great time exploring the PNW, you might very well enjoy it more with a cute, photogenic cabin to come home to at the end of the day!
Looking to save money on your trip to the Pacific Northwest? Get a FREE $55 Airbnb coupon by using our code when you book!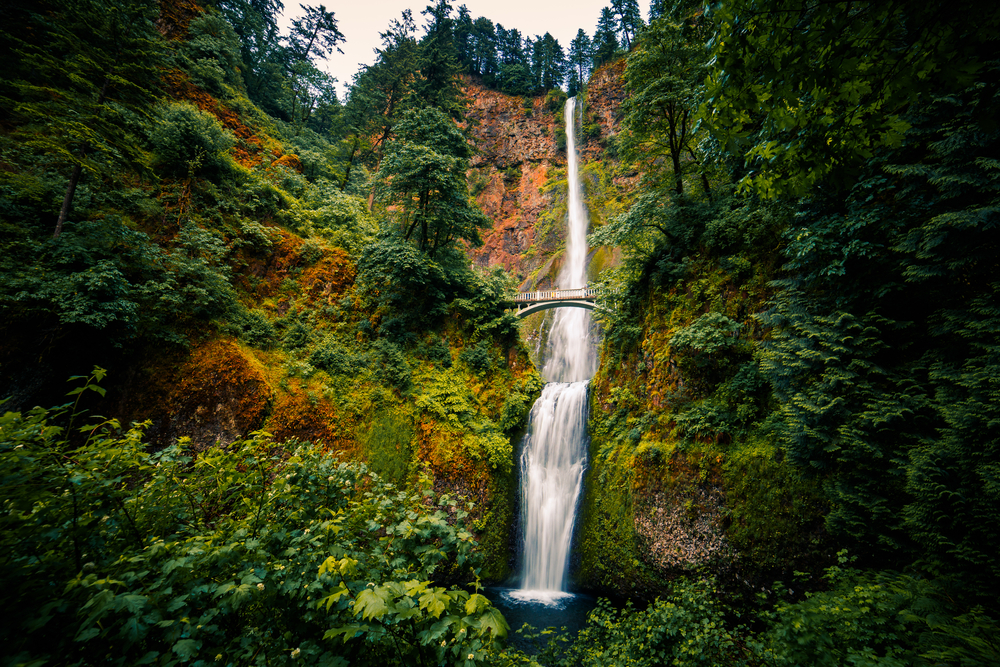 20 Epic Cabins In The Pacific Northwest
Wald House
Wald House is an architectural dream and definitely one of the best cabins in the Pacific Northwest! This home was built in 1979 by the architect James G. Tropfenbaum and is found in the forest just outside of Portland, OR. Along with the outside, the inside is beautifully designed too. It is both bright and open as well as modern and cozy. You are sure to feel right at home here!
This property is large enough to host five guests, so it's great for a girls' weekend or family vacation. Since it is only about a ten-minute drive to downtown Portland, you get the beauty of nature as well as close proximity to the city. The peace and quiet of the woods are great for anyone who sleeps best without the noise of the city.
Click Here To Check Rates On Airbnb!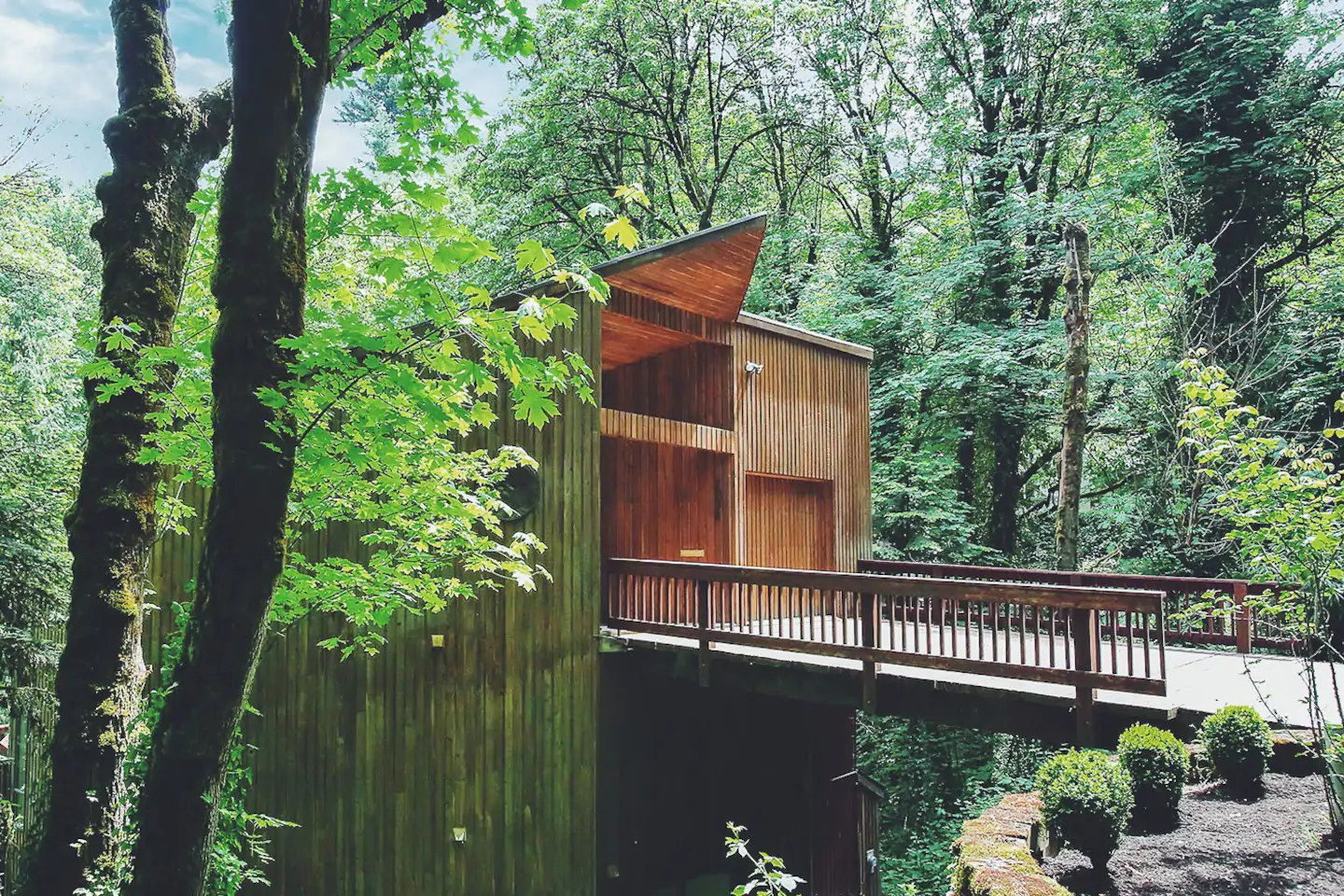 Salacia Chalet
The Salacia Chalet is another cabin big enough to fit a large group. Up to six people can enjoy this cute, A-frame home. This cabin is found in the quaint, small town of Gleneden Beach, OR, on a cliff overlooking the ocean. Could you ask for a better view?! The scene will be even better from the bubbling hot tub. Settle in at sunset to create a fantastic memory!
With wood-paneled walls, plenty of windows to let in the light, and a wood-burning stove, it would be hard to find a cozier and more classic cabin. This home dates back to 1960 and has been restored to become one of the best Airbnb cabins in Oregon. The main floor is open and functional while the loft creates a private place to sleep. You can listen to the lapping ocean waves as you drift off to sleep.
Click Here To Check Rates On Airbnb!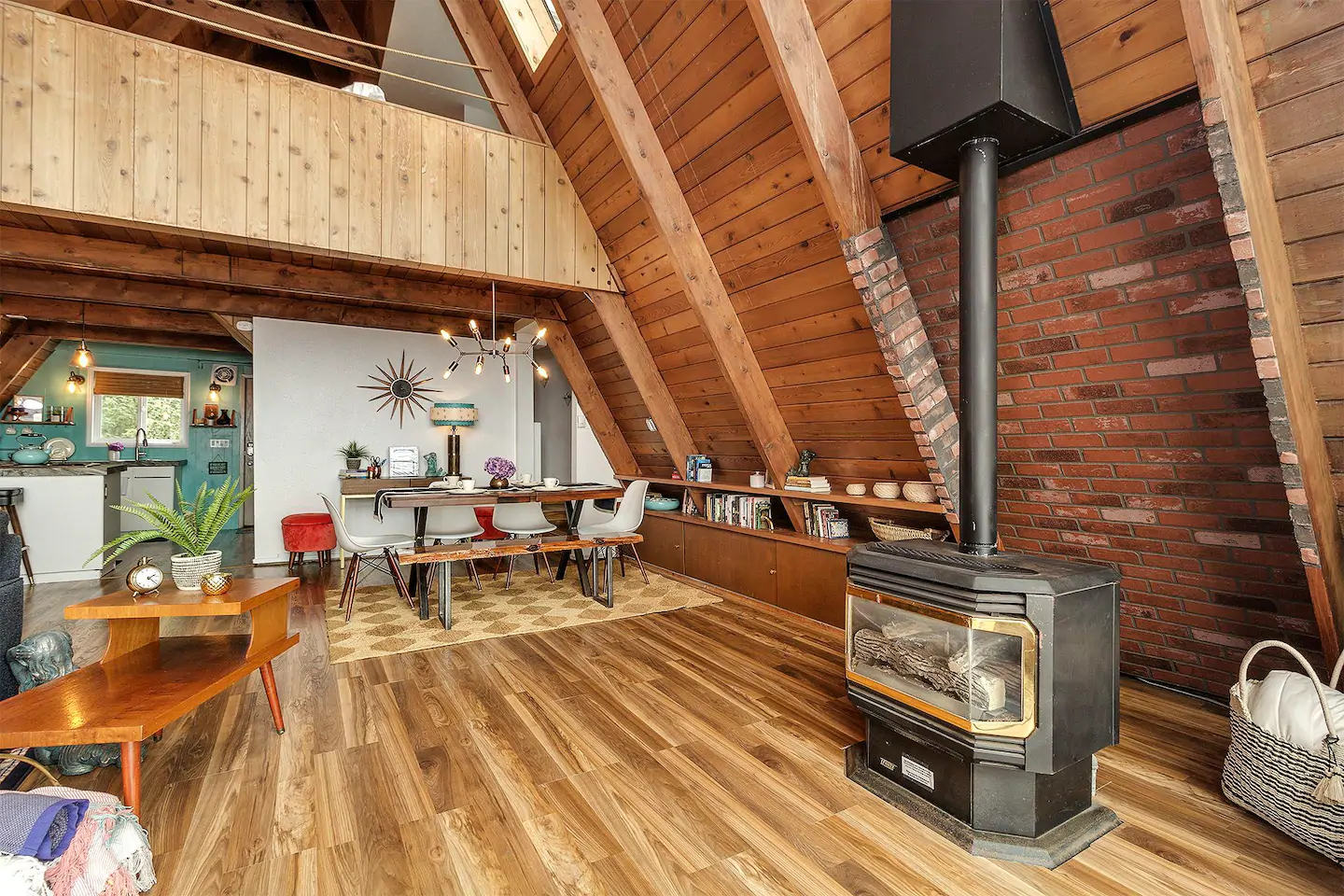 Oceanside A-Frame
Here is another ocean side A-frame cabin perfect for anyone who loves the feel of a rustic cabin but prefers the beaches to forests. Found in the aptly named town of Oceanside, Oregon, this pretty cabin provides amazing, unobstructed views of the ocean. This is the upper portion of a duplex, so if you need extra room for a larger group, you can book both sections.
When you stay here, you can use the wood-burning stove to keep you warm on chilly nights or open some of the many windows to let in a sea breeze when it is warm. Along with being only a short walk to the beach, you will be near a few cute restaurants and coffee shops. Oceanside is a relatively sleepy town, so it is great for a peaceful getaway. Even so, if you need some extra excitement, try surfing or parasailing!
Click Here To Check Rates On Airbnb!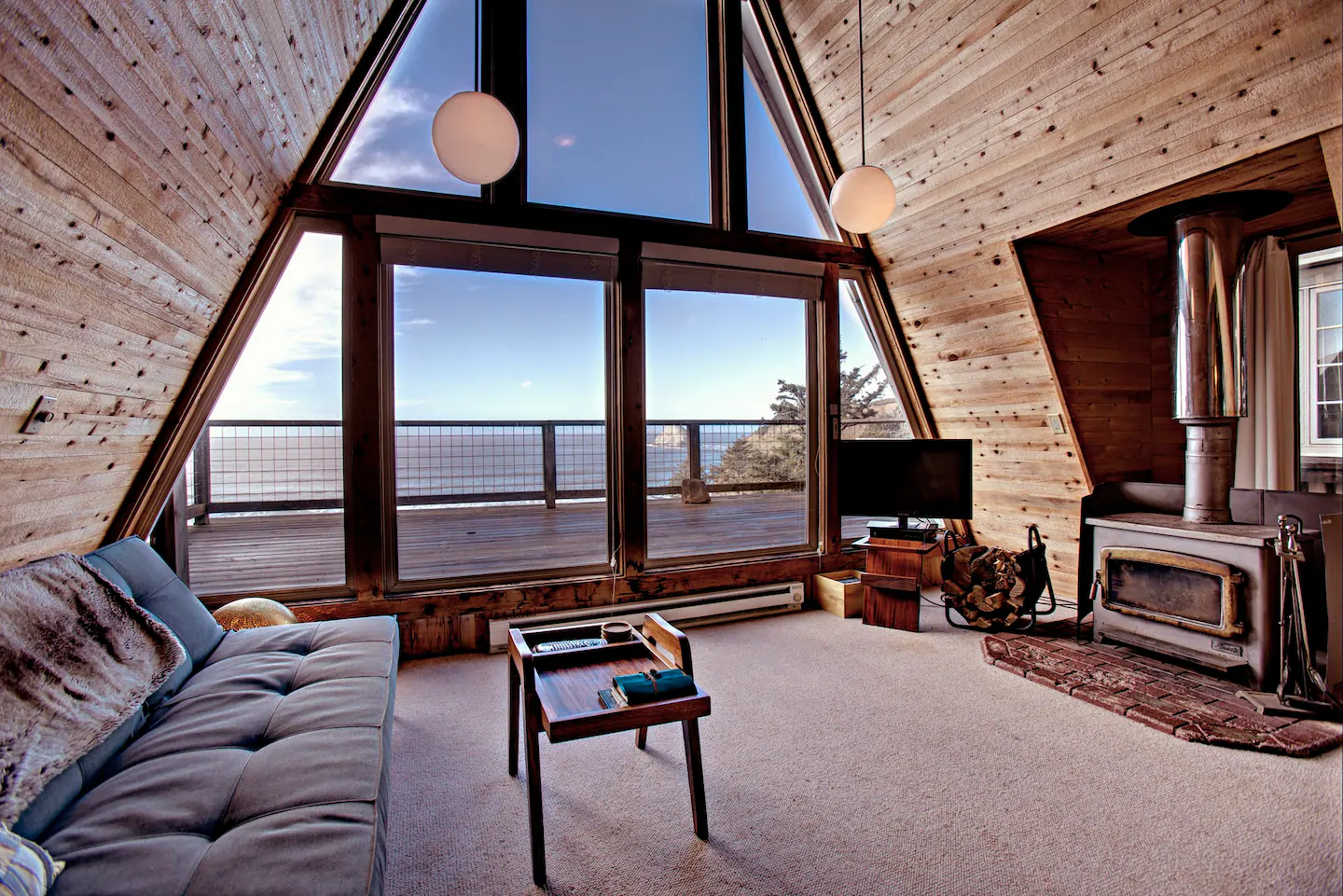 Rancho Relaxo
Okay, spoiler alert, there are going to be a lot of A-frame cabins on this list! They are just too cute and aesthetic to resist! Rancho Relaxo is found near the Mt. Hood National Forest, making it a great getaway for anyone who loves the great outdoors. This location is not far from scenic mountain biking and hiking trails, thrilling ski slopes, prime fishing rivers, and beautiful lakes.
This PNW cabin is perfect for cuddling up and relaxing! There is a large sofa, a fireplace, and a cute, cozy reading nook. While there is no TV, that only adds to the authentic, rustic feel of the place. Instead of binge-watching shows, enjoy some classic fun with provided board games or play a game of horseshoes. There is both a BBQ grill and a campfire ring for cooking or roasting marshmallows. You will make great family memories here!
Click Here To Check Rates On Airbnb!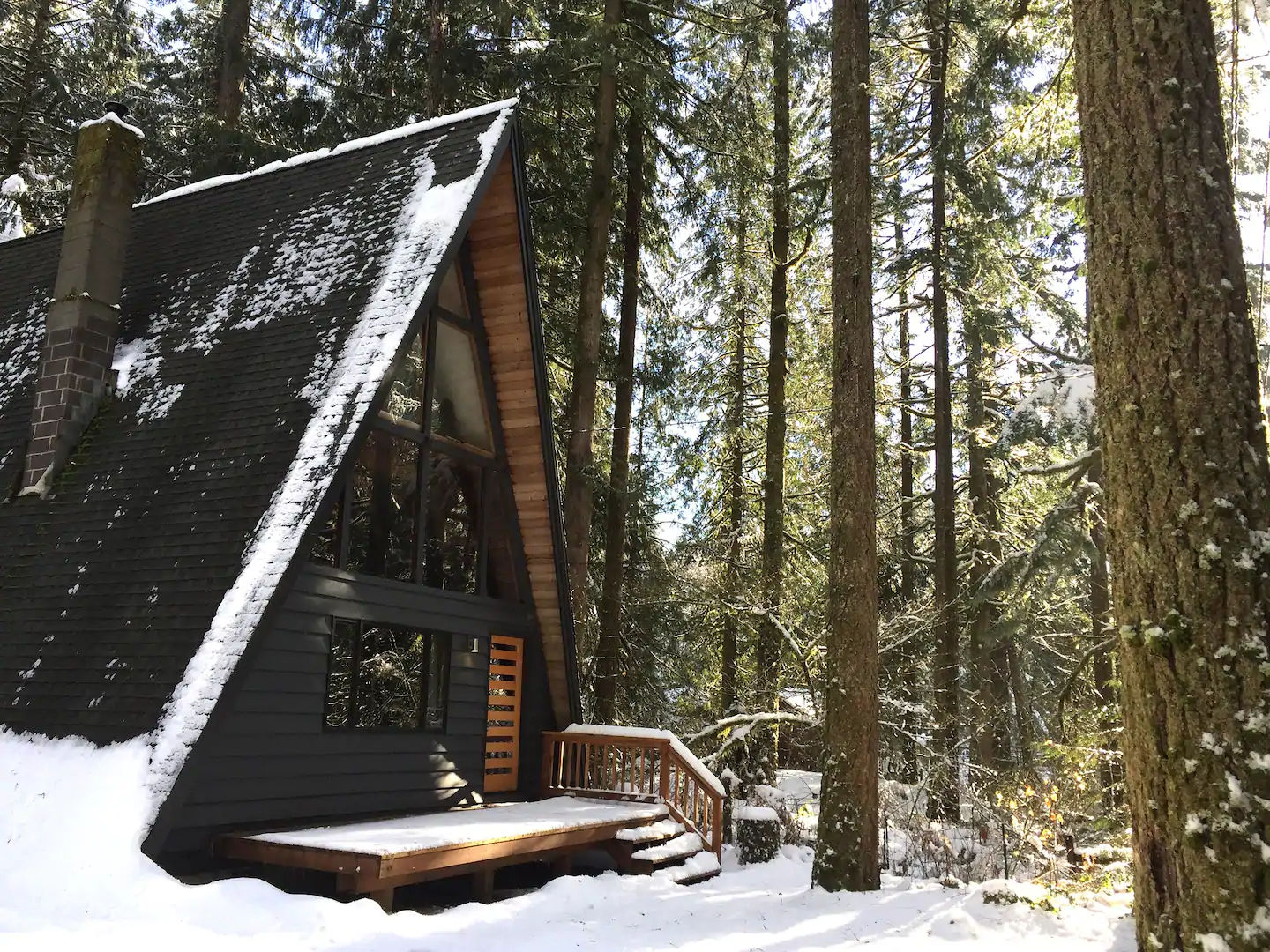 Cozy & Private A-Frame
This cozy and private A-frame cabin is located near the Salmon River and Mt. Hood and acts as a fantastic getaway no matter the season. If you are a fan of hiking, mountain biking, fishing, or cross country skiing, then consider booking this Airbnb! If you are just a fan of relaxing and cuddling up in front of the fire, this cabin is for you as well!
This A-frame is adorable inside and out with beautiful dark wood, exposed beams, and rustic details. The wood-burning stove in the center of the main floor will keep you toasty as you gaze out the giant windows. You can BBQ on the deck or pick up a meal at one of the cute restaurants or cafes in town. There are two bedrooms for four people, or you can pay extra for access to an extra, separate studio bedroom if you have a couple more people with you.
Click Here To Check Rates On Airbnb!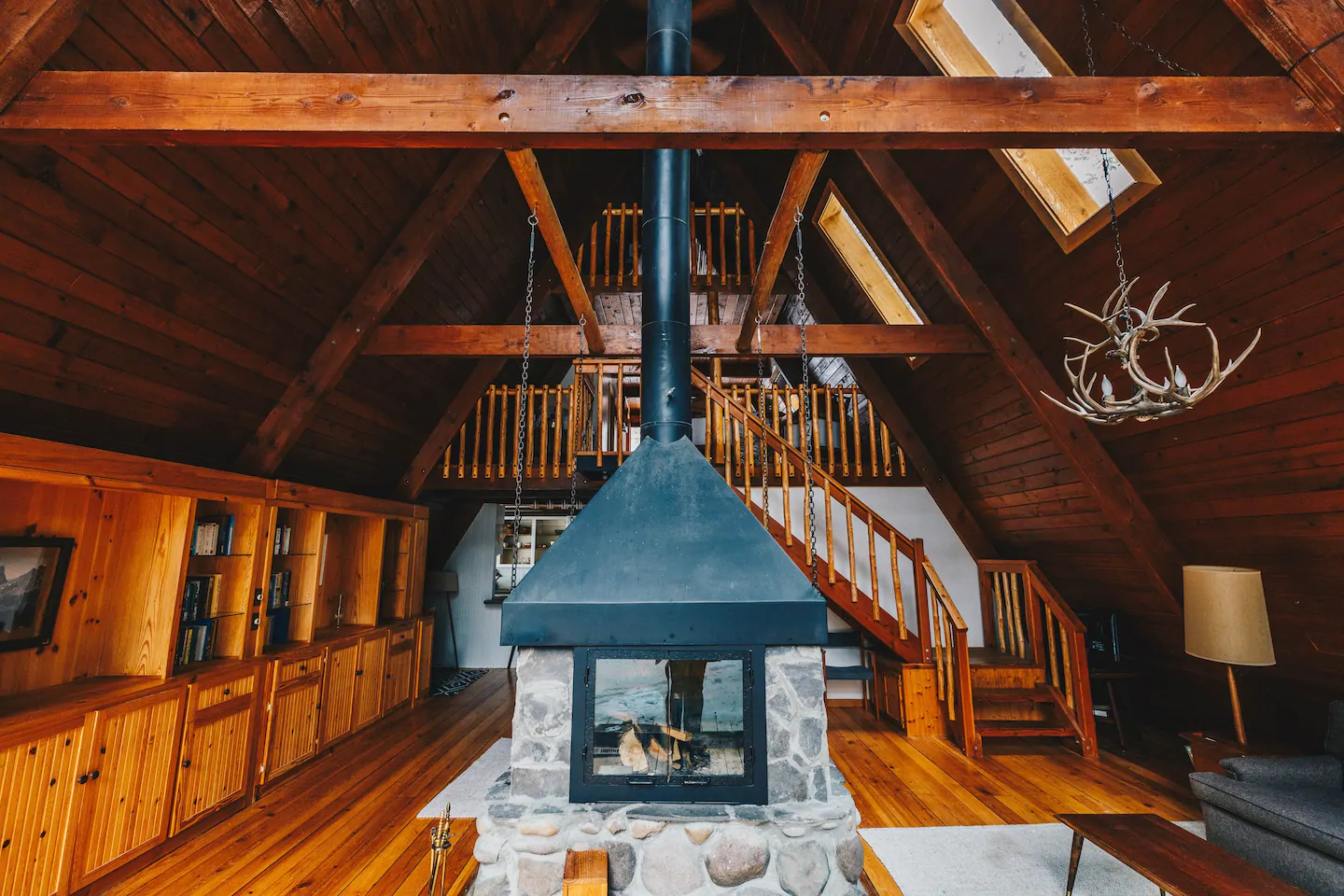 Niksen House
The Niksen House is another PNW cabin in the Mt. Hood area. It is about an hour's drive to Portland but is much closer to outdoor fun. Hiking, skiing, and fishing are all at your fingertips. This cabin can fit a party of five, so it is great for the whole family! This property is also pet friendly, so you will have a blast watching your fur babies run around in the woods with your kids!
After a day of exploring nature or discovering Portland, you can settle down in your Oregon cabin. There are plenty of ways to unwind here! You can watch Netflix in front of the wood-burning stove, roast s'mores on the outdoor fire pit, or take a long, relaxing soak in the jetted bathtub. Cabins are some of the coziest accommodations you can find and this sweet property is no exception.
Click Here To Check Rates On Airbnb!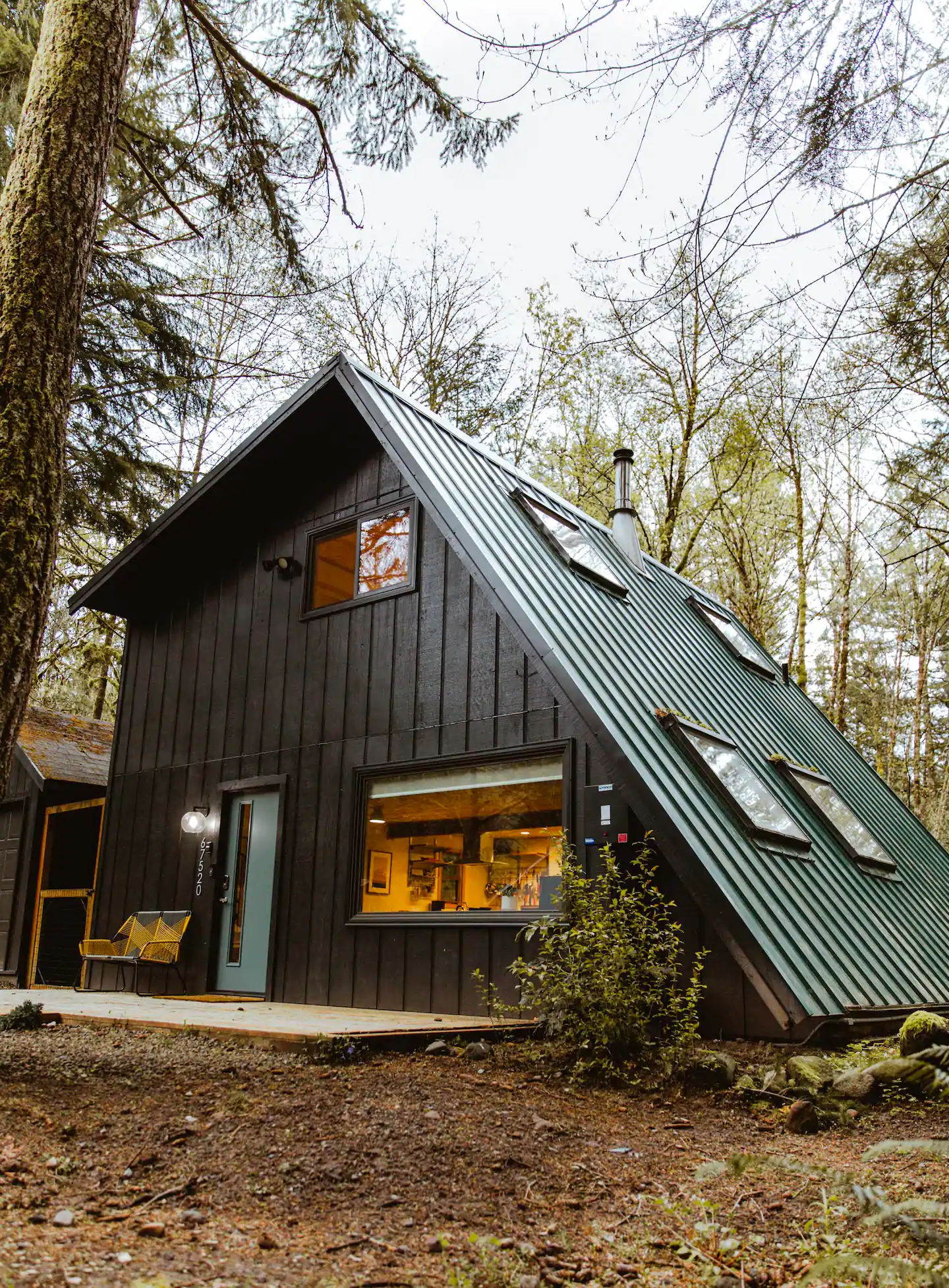 Cedarwood Cabin
The Cedarwood Cabin offers an authentic cabin experience in the Pacific Northwest. The building dates back to 1922 and has many cute vintage and hand-crafted details. While there is no heating, there is a wood-burning stove that will keep you toasty in colder months. The bathroom is in a separate building a few steps from the backdoor, but this room is probably the most modern and is completely remodeled.
If you love roughing it as well as unique experiences, this PNW cabin is for you! This property is surrounded by trees and is near a couple of rivers. Mt. Hood is a short drive away and is the perfect place to go hiking and exploring. There are plenty of cozy spaces inside to cuddle up with a good book or you can hang out around the outdoor fire pit.
Click Here To Check Rates On Airbnb!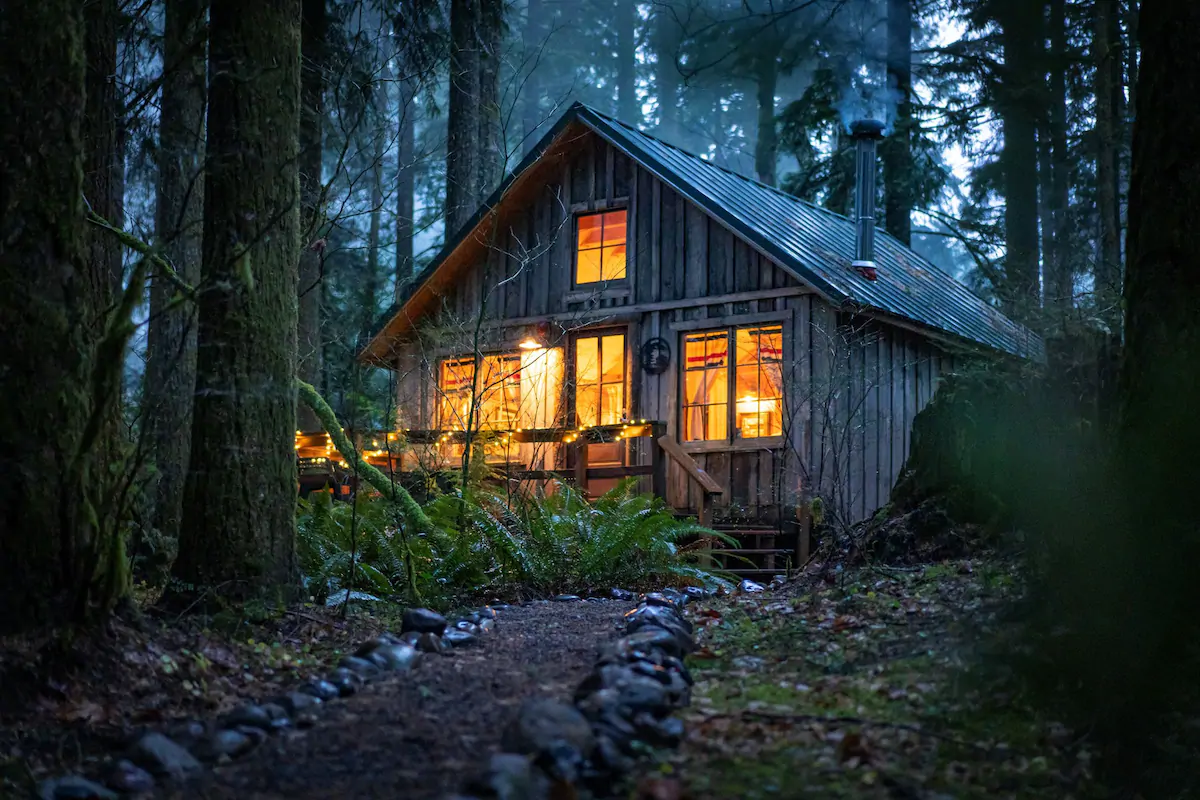 Dome Sweet Dome
This dome-styled cabin is very unique and definitely one of the best Airbnbs in Oregon. This interesting architectural wonder sits on a hillside overlooking the woods. A wrap-around deck gives you a great place to sit and take in the scenery. Or if you visit in the winter and would like to stay warm, there are plenty of windows inside to look out of. This property is fun and quirky, perfect for travelers who like to try something new.
This cabin is found in Bend, Oregon, and is near a ton of scenic hiking trails as well as the Deschutes River and Mt. Bachelor. When you are not out exploring, take time to sit around a fire either inside or out. In the winter, there is plenty of snow to build a snowman or have a snowball fight. No matter what, you are going to have a good time here!
Click Here To Check Rates On Airbnb!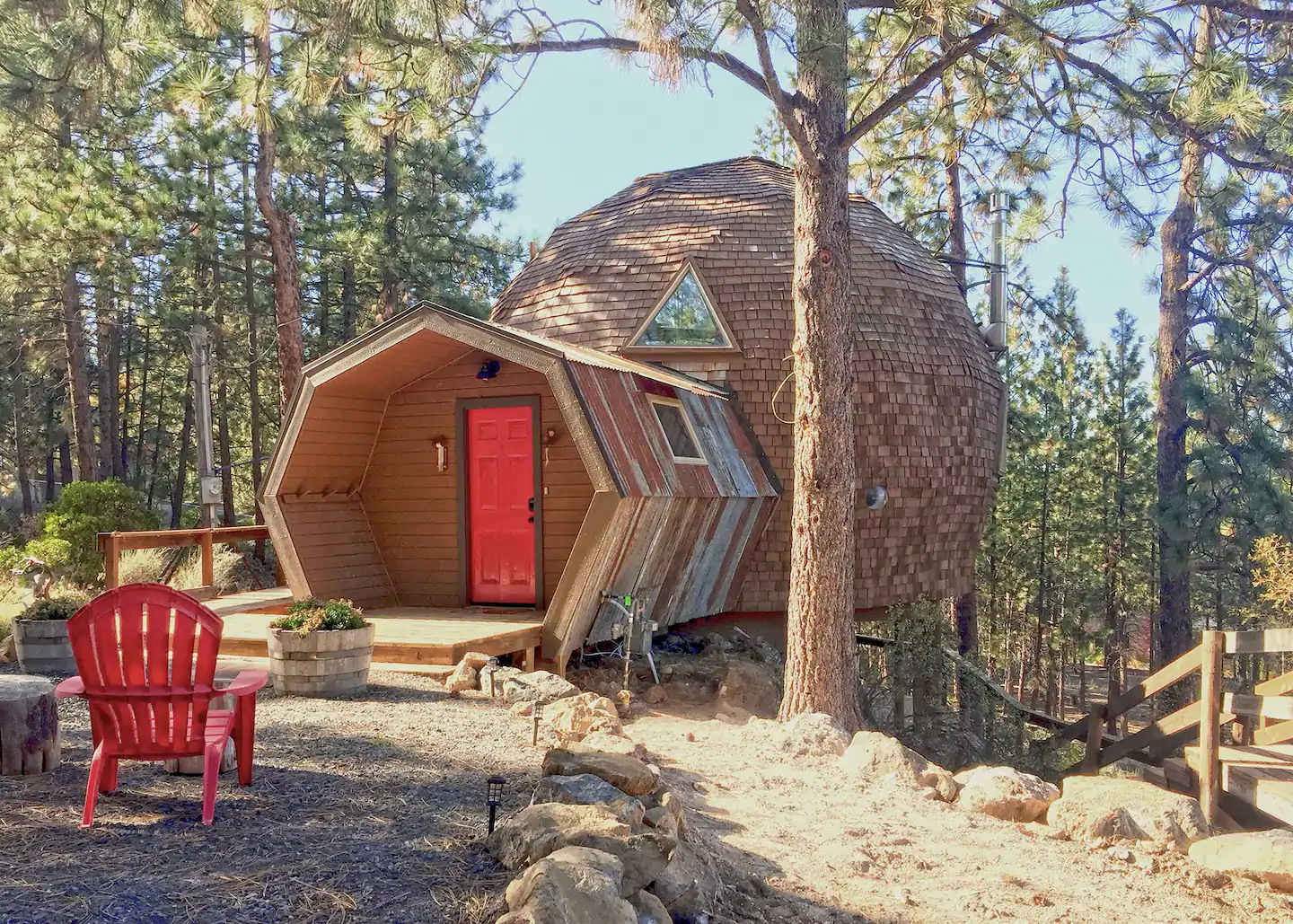 Koosah Cabin
The Koosah Cabin is one of three cabins on a ten-acre property in Lane County, Oregon. This gives you the opportunity to meet fellow travelers or even host a family reunion or other event if you book all three cabins. No matter what type of vacation you want, this PNW cabin will be an awesome retreat. The home is nestled in the woods near the McKenzie River and National Forest land.
This area is a great jumping off point for outdoor recreation. Hiking, mountain biking, and fishing are all available. If you don't mind getting wet, give white water rafting a go! When you return to the cabin after a day of adventure, settle around the fire pit to relax. There is also a volleyball net and horseshoe pit on the property. You are really guaranteed not to be bored here!
Click Here To Check Rates On Airbnb!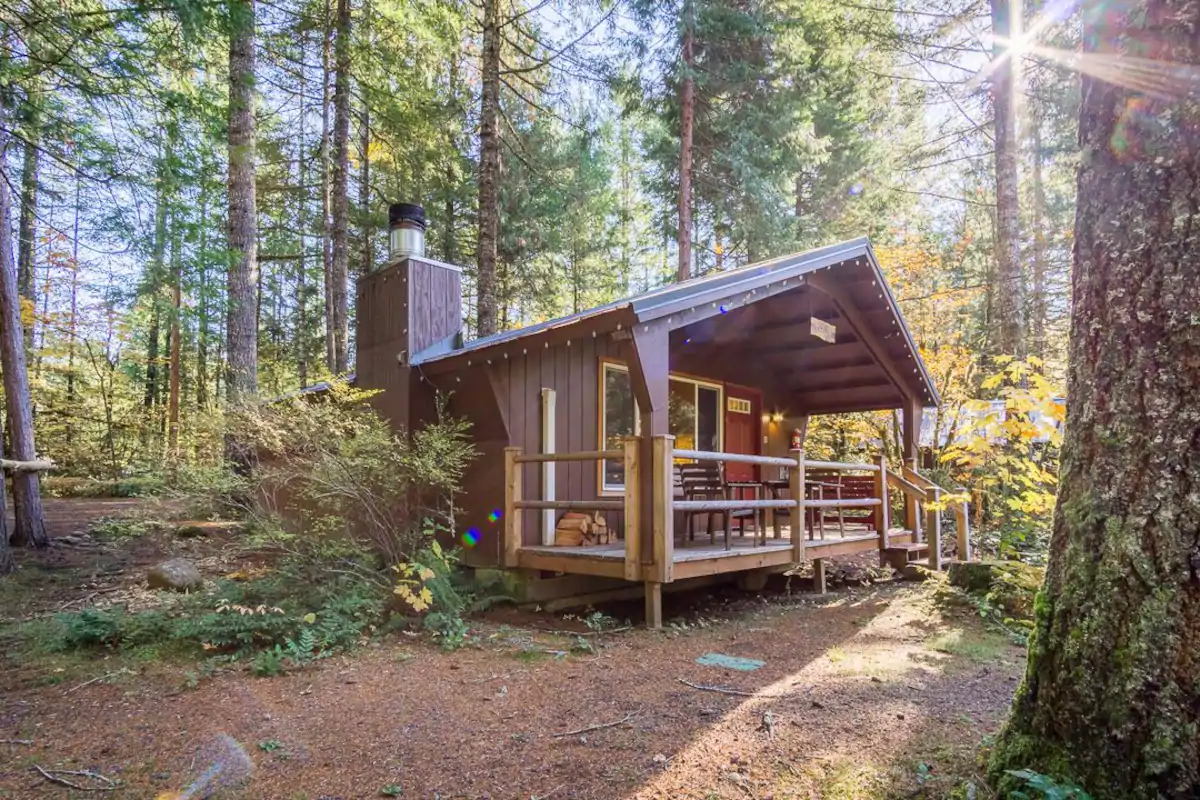 Tomahawk Island Houseboat
This next PNW Airbnb is not only a cabin but a houseboat as well! Isn't that cool?! If you love staying in unique places while on vacation, this is another great option for you! This houseboat is found in Portland, Oregon, on the Columbia River in a marina on Hayden Island almost right on the border with Washington. This cabin is relatively tiny, but snug and comfy for one or two people.
The home has both AC and space heaters to make whatever season you visit comfortable. There is a deck where you can sit and watch boats go by or watch the water change color with the sunset. Two kayaks are also provided so you can enjoy some time gliding through the water. Though you are in the city, you get a more rural feel here away from all the people. Even so, great local places are within walking distance.
Click Here To Check Rates On Airbnb!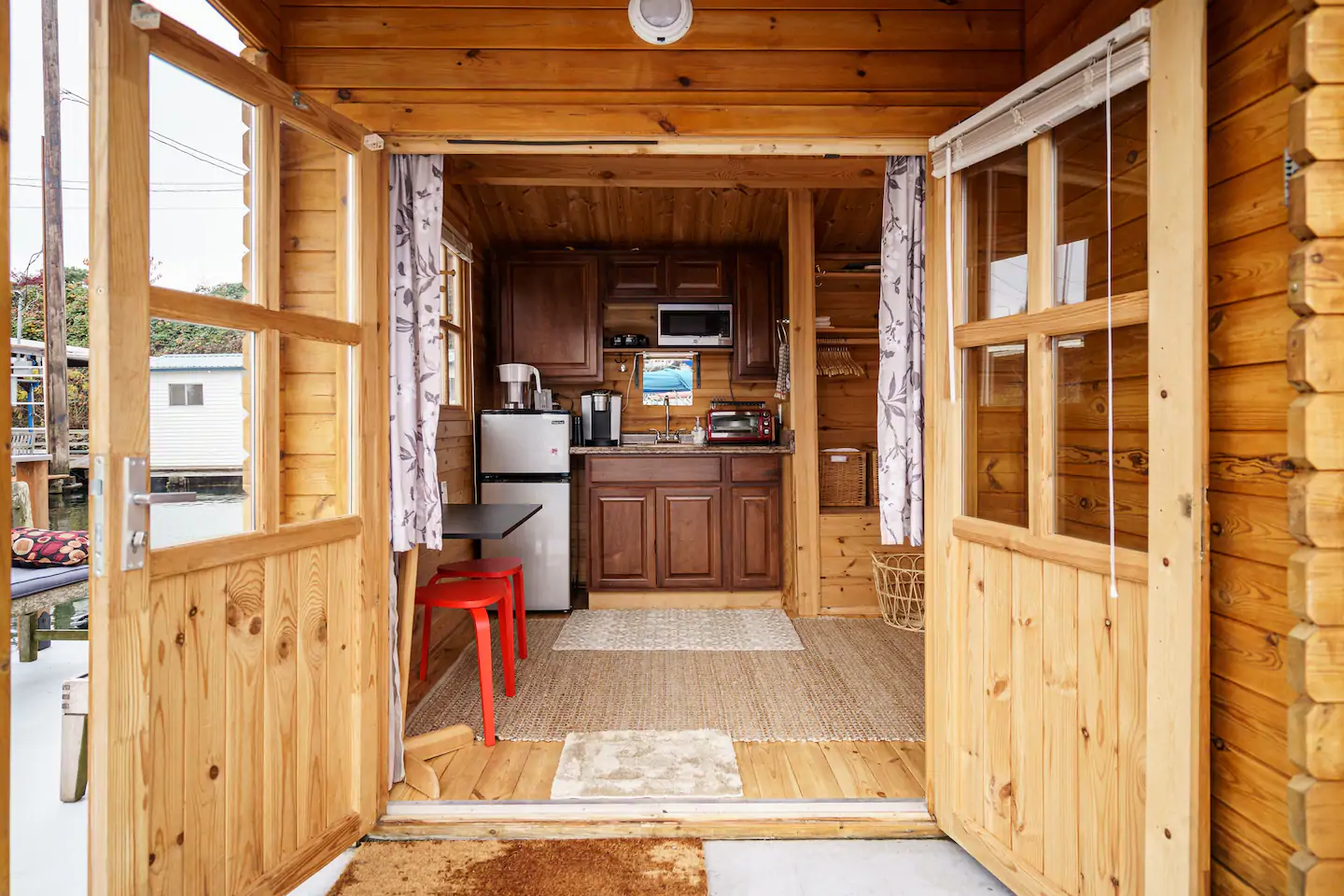 Sky Haus
Next, we have an adorable A-frame cabin dubbed the Sky Haus, and this cute name really exemplifies the fairy tale vibe you will find here. This property is found nestled in the forest in Skykomish, Washington, within a small community of cabins. It is about an hour and a half from Seattle, so you could easily make a day trip to the big city when you tire of peaceful solitude.
Not only is Sky Haus postcard-worthy, but it is also fun! If you stay here, you will be close to ski slopes and hiking trails. Plus, there is a hot tub right outside the door! A wood-burning stove will keep you toasty on cool evenings. This location will accommodate up to four people, and dogs are allowed as well!
Click Here To Check Rates On Airbnb!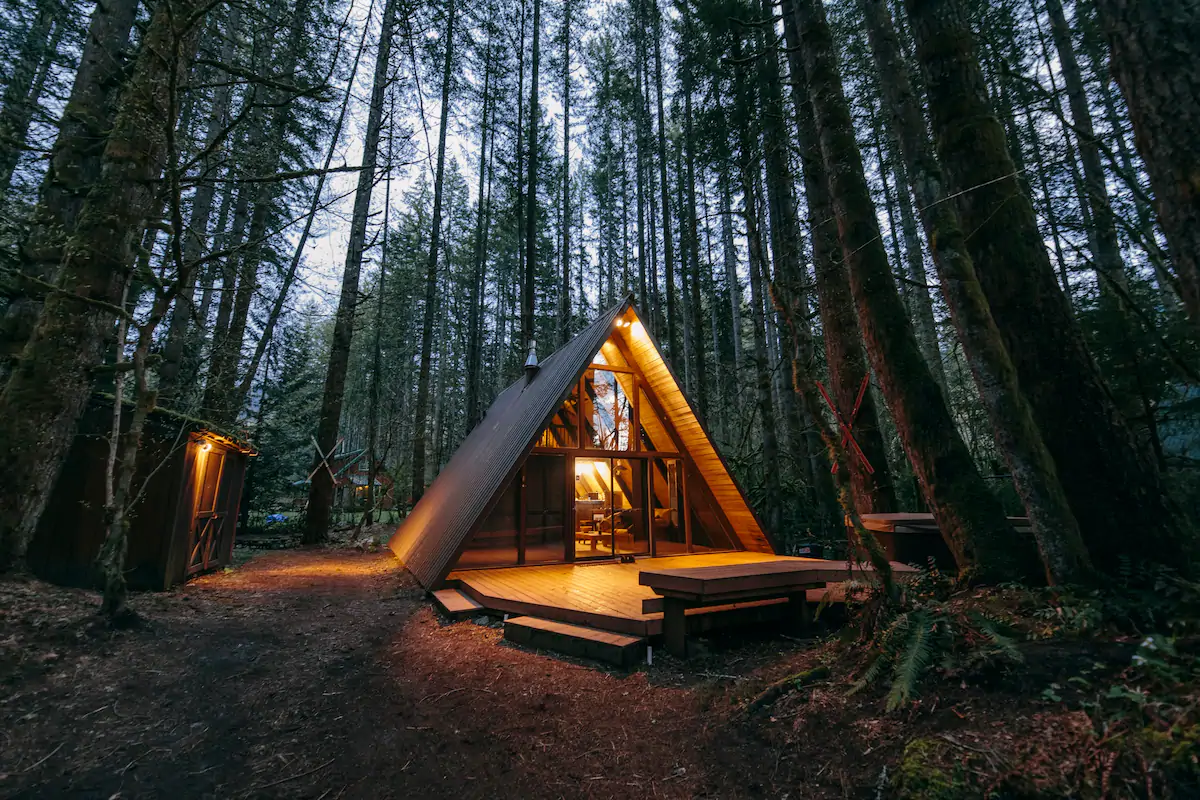 Sky Cabin
People in the small, outdoorsy town of Skykomish, Washington, really grab onto the sky idea when naming their Airbnbs! This next one is called Sky Cabin, and it is a mid-century modern cutie. With so many large windows, you will be bathed in natural light while being given views of the surrounding trees.
This cabin is in a good location close to Stevens Pass where outdoor fun can be had! Skiing, snowboarding, hiking, and mountain biking are just some of the recreation you can enjoy. When you get back from your day out, you can relax in the heat of the gas fireplace. In warmer weather, cook on the BBQ and eat at the outdoor table as you listen to nature. Sky Cabin can comfortably fit four people, plus two more if you use the air mattress and futon.
Click Here To Check Rates On Airbnb!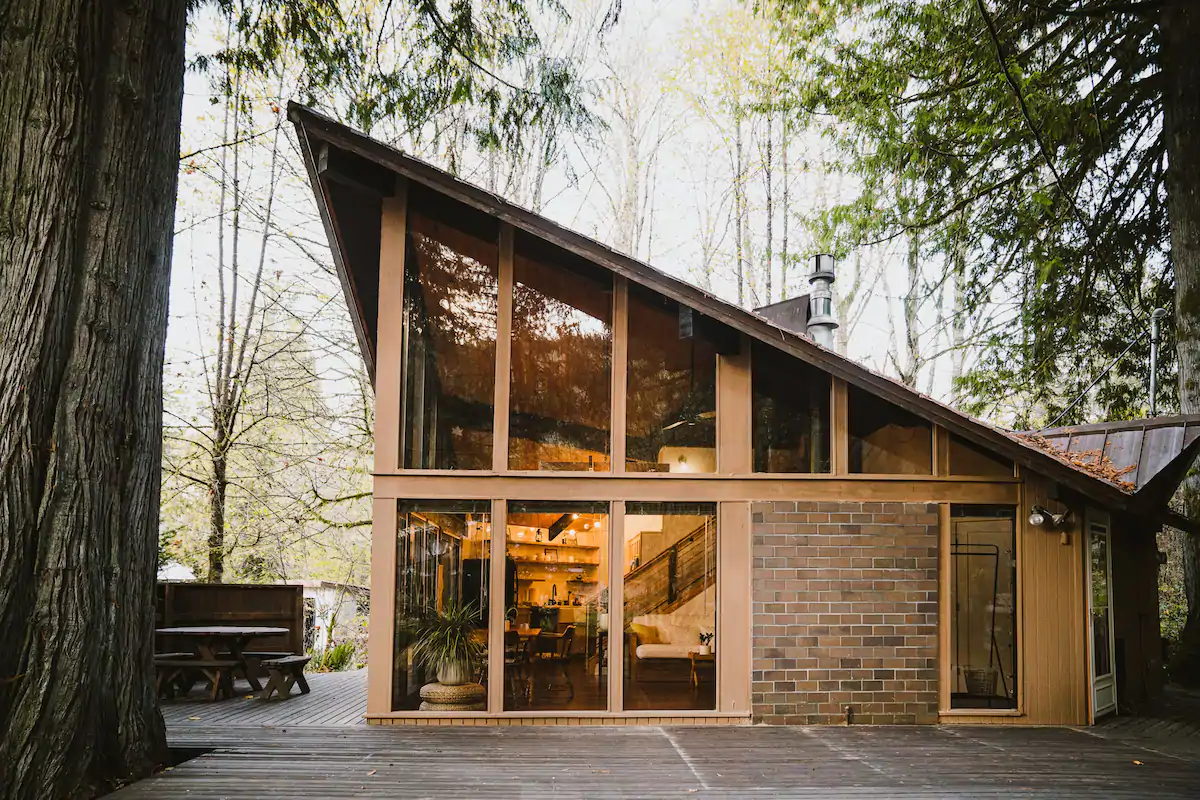 Hera's Chalet
Hera's Chalet is found in Washington, just a short drive from Mount Rainier National Park. This PNW cabin is not too terribly big, but it is perfect-sized for a couple's nature retreat. There are plenty of places to cuddle up and relax! You will love the cute, rustic sleeping loft, the warming fire ring, and of course the hot tub and neat sauna!
This is a fantastic cabin to stay in at any time of the year. In spring and summer, the surrounding trees are lush and green, perfect for exploration and hiking pretty trails. In winter, the landscape turns white with snow allowing you to go skiing and snowboarding. Afterward, warm up in the hot tub or in front of the electric fireplace. Whichever season you visit this Washington cabin, you are sure to have a good time!
Click Here To Check Rates On Airbnb!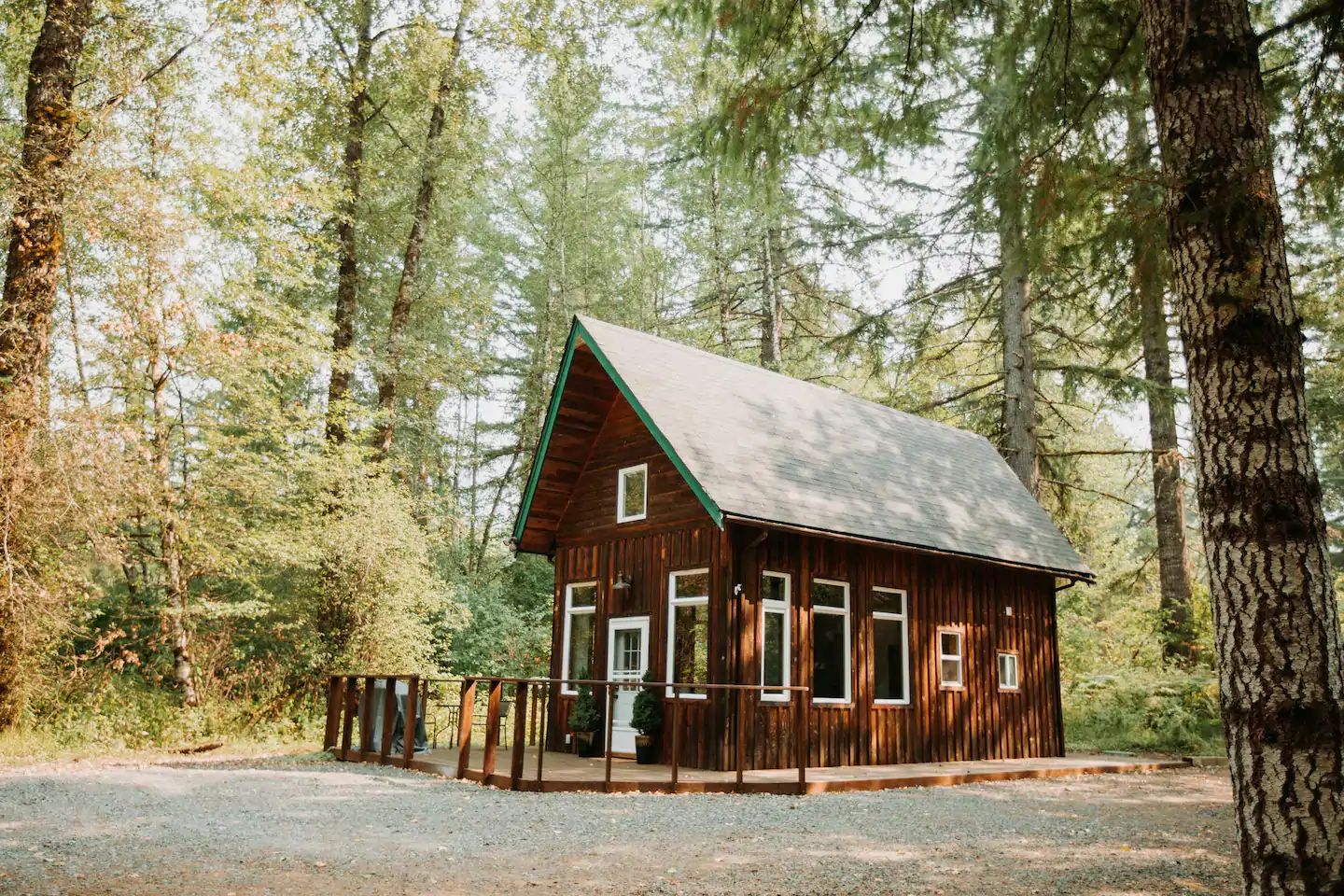 Dog-Friendly Cabin With Hot Tub
This is a roomy A-frame cabin near Leavenworth, Washington, welcoming to up to six people and two dogs. It is found in a charming community with access to a private beach on the river, a playground, and a basketball court. The cabin also has its own hot tub and fire pit. People who love to spend time outside will love this location!
Lake Wenatchee State Park is nearby with plenty of recreation options. You can go kayaking, paddle-boarding, or swimming. Bring a blanket to enjoy a picnic on the beach. Leavenworth is a cute, mountain village with many quaint shops and eateries as well as festivals throughout the year. Walking along the themed streets, you will feel as if you are in Bavaria instead of the Pacific Northwest!
Click Here To Check Rates On Airbnb!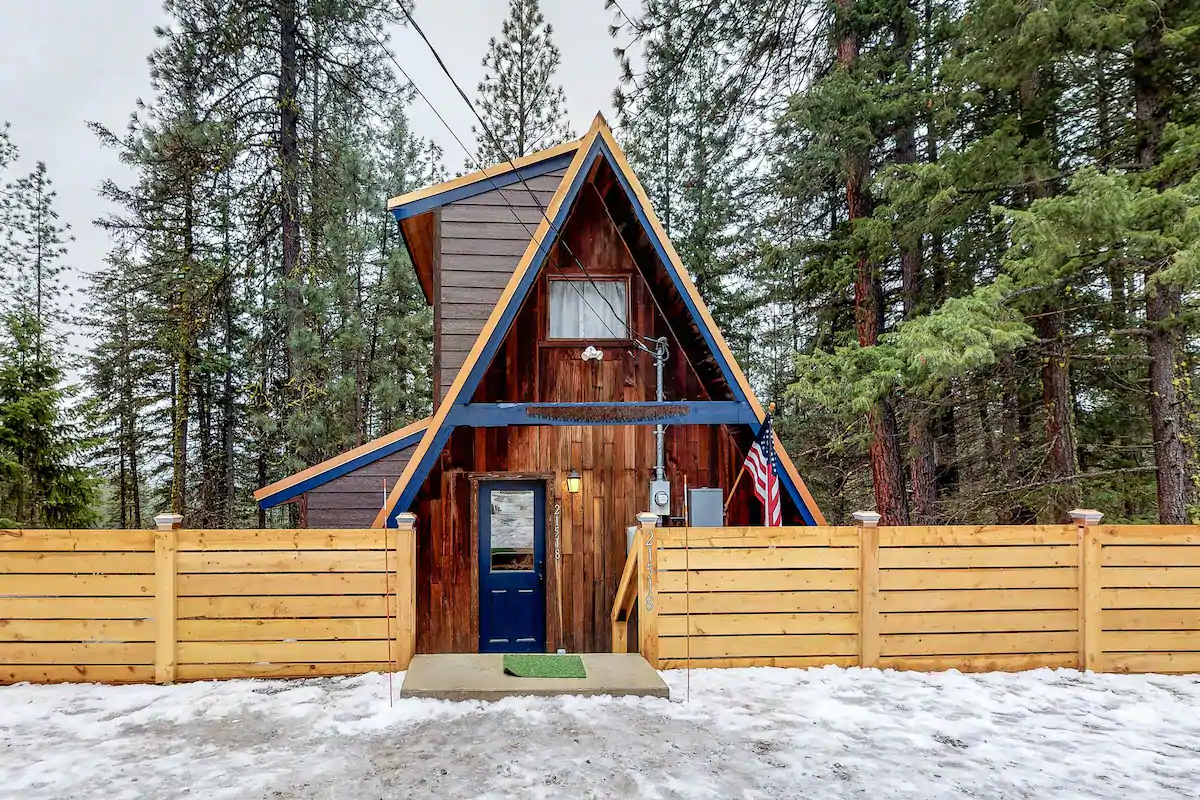 Lovely & Cozy Cabin at Mt. Rainier
Here is another cabin at Mt. Rainier in Washington. Book this PNW Airbnb is you are traveling in a large group since up to seven people can enjoy this open and inviting home. With high ceilings, big windows, an open floor plan, and plenty of places to sit inside and out, you will not feel cramped here! There are even two TVs, so you do not need to fight over what to watch.
The amenities here are great as well! There is a hot tub big enough for everyone. Soak at night with the hanging string of lights on for a charming atmosphere. There is a also a fire pit for making great memories or maybe some great s'mores! A large deck provides a perfect place to sip your morning coffee and take in the scenery.
Click Here To Check Rates On Airbnb!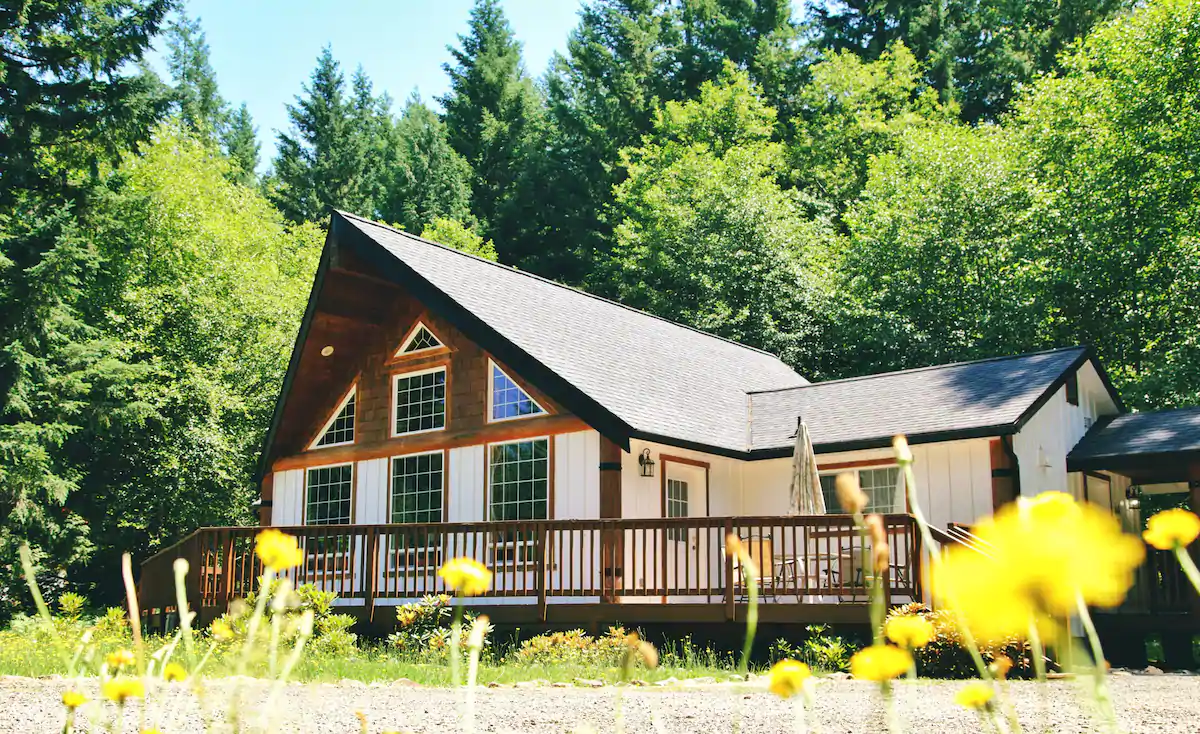 Hebe's Hideout
Hebe's Hideout is simply darling and at 700 square feet, it is small but cozy. The A-frame style and front wall of windows make it another one of the picture-perfect cabins in the Pacific Northwest. You will definitely want to do an Instagram photoshoot here! The inside is just as cute with a wood-burning stove in the middle to warm up the place.
A fairy tale-like stone path leads to a cute fire circle. The Nisqually River is just a few steps away and Mount Rainier National Park is not far either. There are surrounding small towns with cute shops and restaurants. Overall, this is a quaint and peaceful cabin stay perfect for a couple's woodland retreat.
Click Here To Check Rates On Airbnb!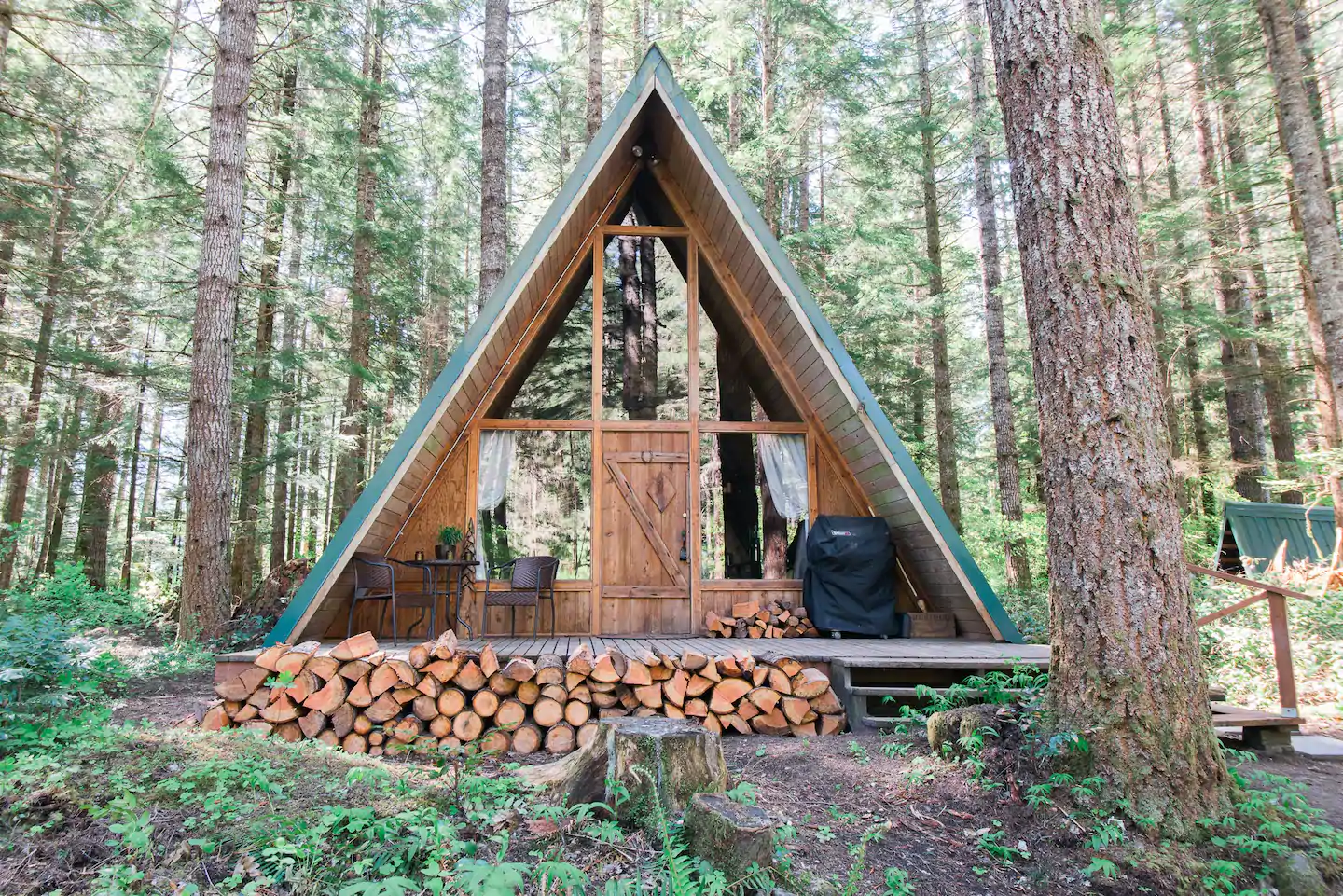 Hansel Creek Gust Tree House
The Hansel Creek Gust Tree House offers a beautiful and peaceful retreat to lose yourself in nature. Walking into this hand-crafted home is like walking into an actual tree. The log details really highlight the craftsmanship here. Since the home is set on 150 acres of private property, you will be secluded and have plenty of lands to explore.
The Hansel Creek loops around the house and is super pretty with waterfalls to discover! The host provides gold sifting pans if you want to try your luck at finding some nuggets in the water. Because you are so far from city lights, this is also a great location for stargazing. You will be about fifteen minutes from the darling town of Leavenworth, Washington, so when you start getting cabin fever, you can venture into town to find fun bars or cute shops with local art.
Click Here To Check Rates On Airbnb!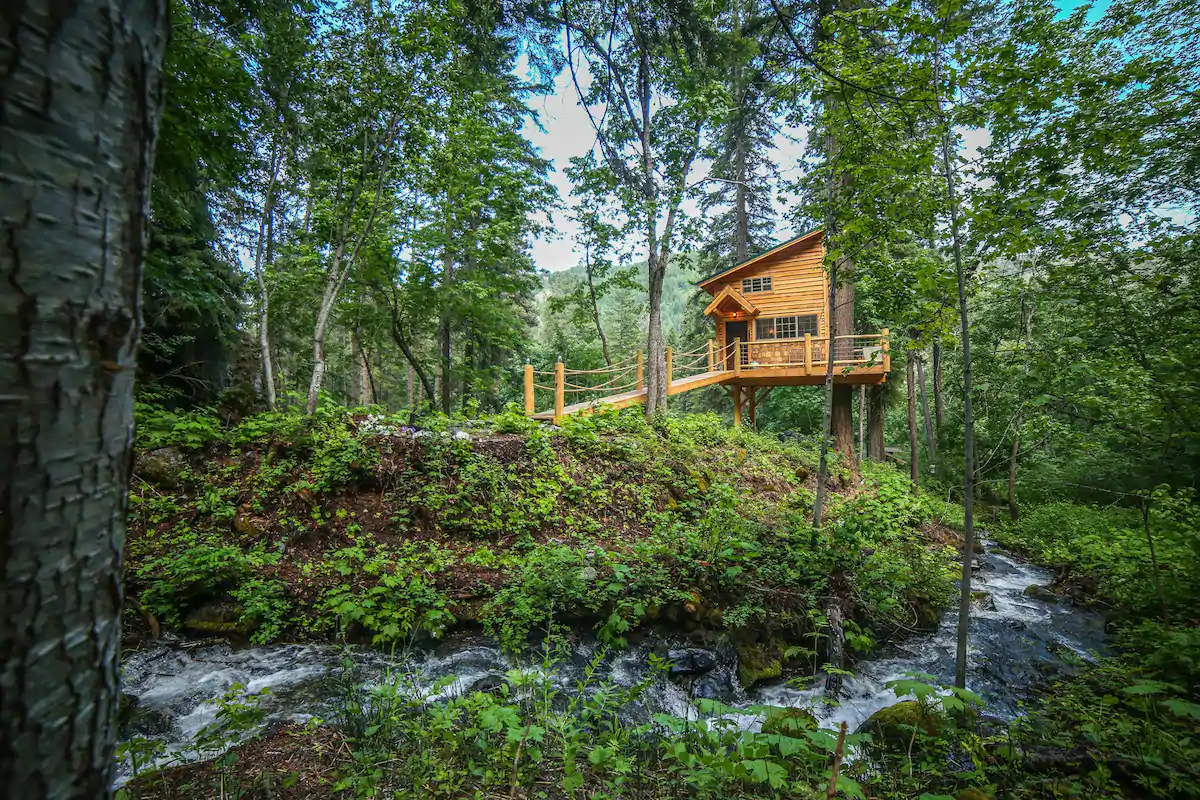 Totem Lodge
The Totem Lodge is a large, beautifully crafted cabin near Mt. Rainier National Park. Up to five people can stay here to soak in nature and the rustic charm. There is plenty to do in the area, from mountain climbing and hiking to skiing and fishing. But even a little stay-cation would be great as well since there are plenty of amenities and fun things to do right at the cabin!
There is a covered deck with a hot tub and hanging lights perfect for an evening of relaxation. There is also a BBQ grill and a fire pit so you can cook up a delicious dinner then enjoy s'mores for dessert. If you love spending time outside, there is a picnic table as well as a hammock. Along with the chairs around the fire pit, there is plenty of outdoor seating. If you want to have some fun, there are provided board games and outdoor games which are great for making family memories.
Click Here To Check Rates On Airbnb!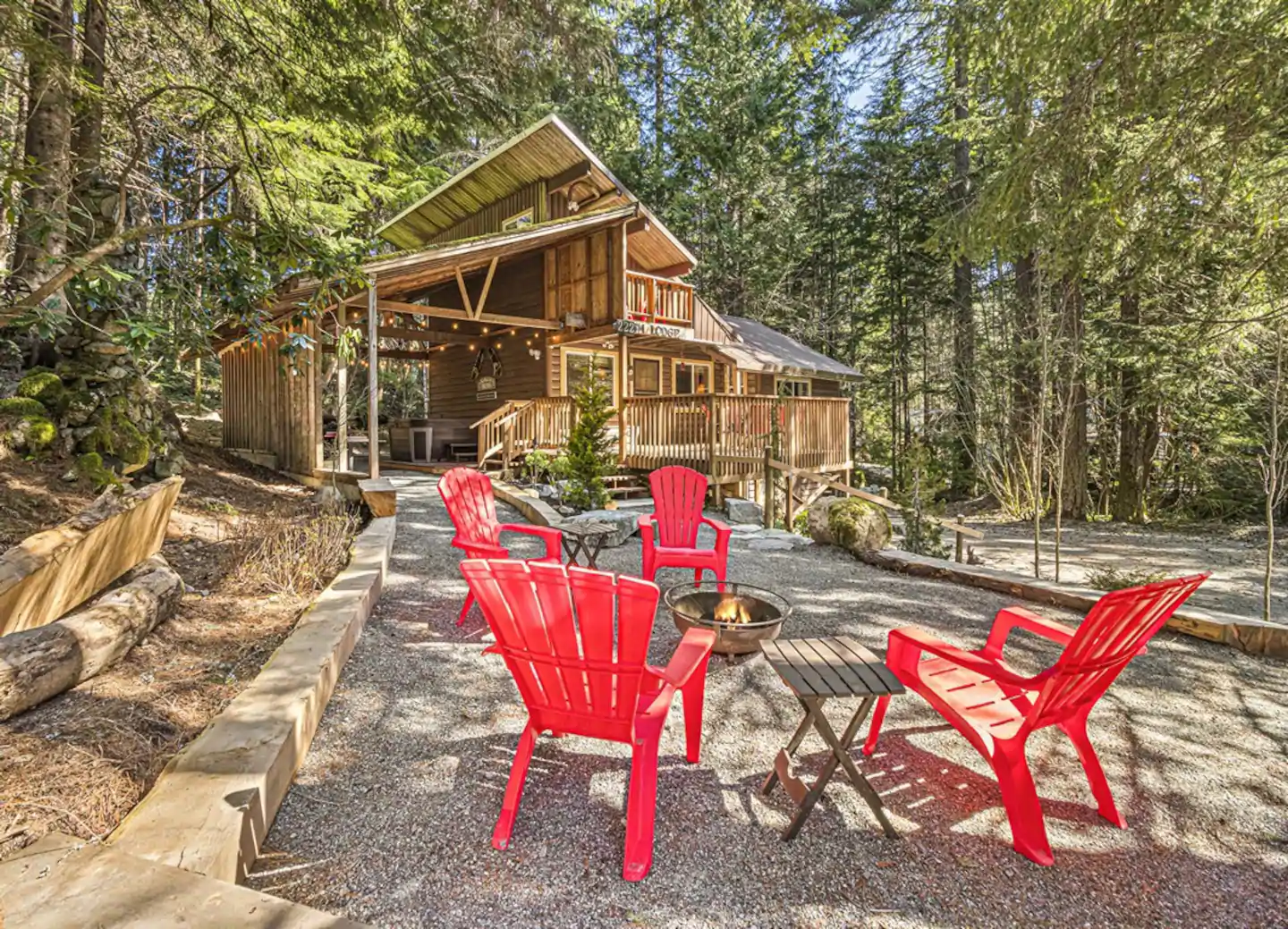 Knotty Cedars Retreat
The beautiful and renovated Knotty Cedars Retreat cabin is found near Mt. Rainier National Park. With an interior that is the perfect mix of modern and rustic, you will not want to leave! Chill on the deck as you take in the forest view and listen to birds chirp or pull a chair up to the fire pit. When you go to sleep for the night, you will love the queen-sized, memory-foam mattresses.
The cabin is right next to hiking trails that will lead you to waterfalls and other amazing forest and mountain views. Go a bit farther to find ski slopes and many mountains to climb. If you want to go swimming, soak in a hot tub, or golf, you can go to the nearby High Valley Country Club for a $10 per person fee.
Click Here To Check Rates On Airbnb!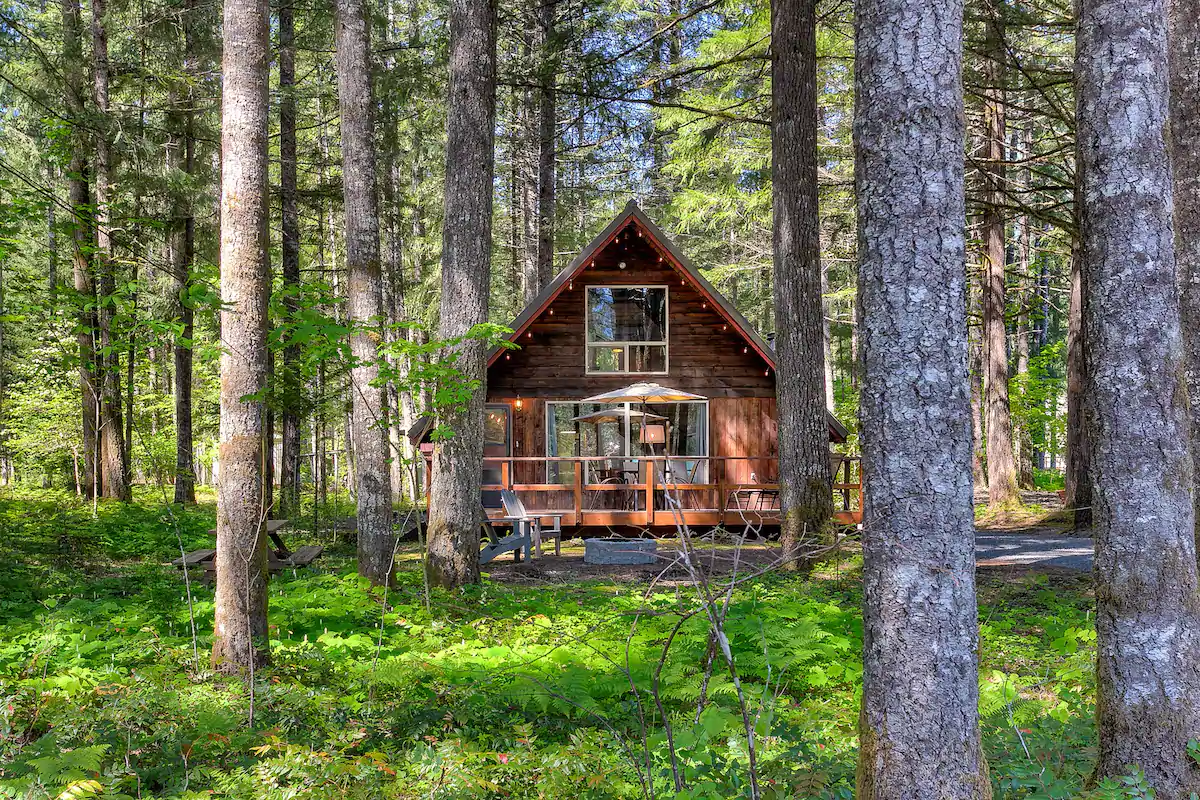 The Baker
Finally, we have reached the last of our cabins in the Pacific Northwest! The Baker is a fun and quirky looking cabin at the Clydesdale Outpost farm in Amboy, Washington. Horse enthusiasts will love the chance to get up close and personal to these giant working horses. You can watch them graze in nearby fields as you soak in a barrel hot tub. In the evenings, you can listen to the record player or enjoy a bonfire.
This cabin is not far from many scenic lakes as well as Mt. St. Helens so you do not need to go far to immerse yourself in nature. There are also kayaks available to borrow if you want to get out on the water. This property is beautiful and charming. Your Instagram followers will certainly be jealous as they scroll through your many pretty pictures!
Click Here To Check Rates On Airbnb!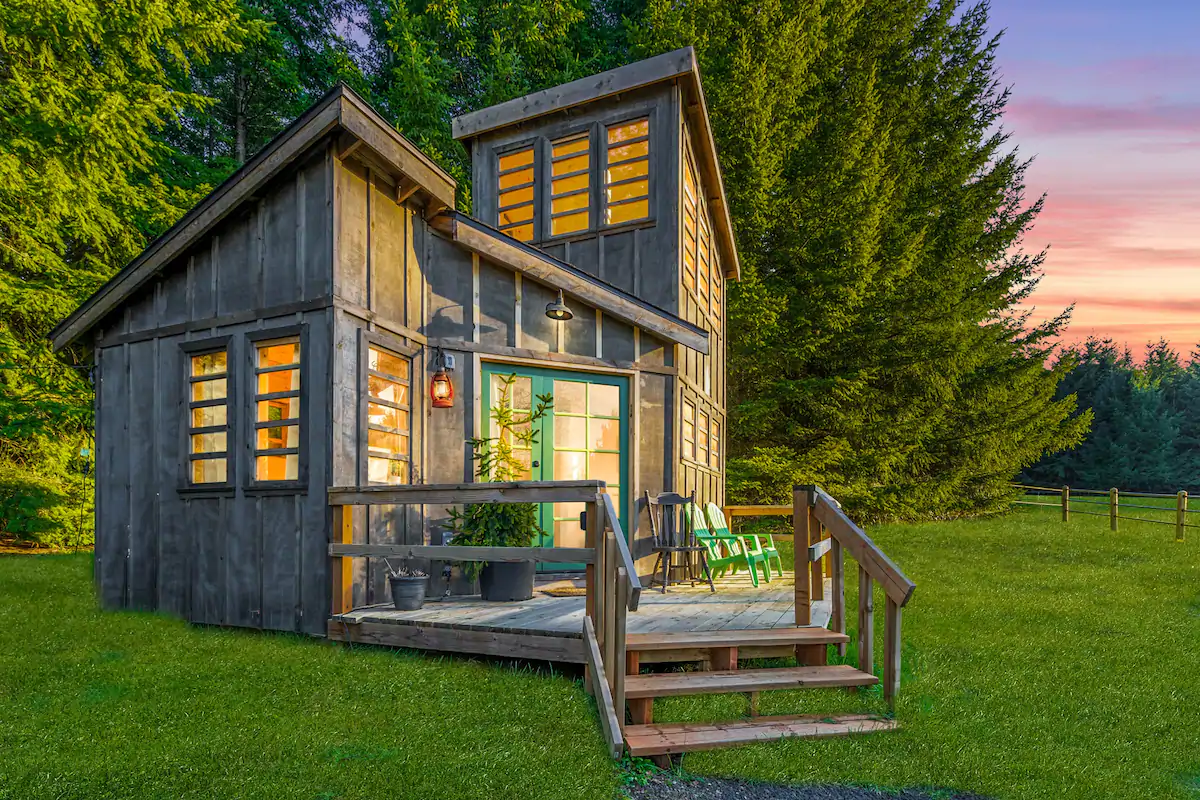 If cabins were not your thing before, you are sure to be in love with them now after looking at these beautiful retreats! From forests to beaches to mountains, there are plenty of scenic Pacific Northwest cabins begging you to stay and relax. They are all close to fun outdoor activities perfect for the whole family. So, what are you waiting for? Book one of these cute cabins to create lifetime memories!