If you are traveling to Oregon, Washington, Idaho, or Northern California there is a good chance you are looking for some of the best cabins in the Pacific Northwest. Airbnb and VRBO have plenty of amazing choices for your trip. It was a difficult task but we have narrowed down the top 20 cabins in the Pacific Northwest for you.
The Pacific Northwest is a very popular travel destination in the United States for a number of reasons. It has s so many diverse landscapes, from forests to mountains to ocean coastlines. The weather is known to be moody and aesthetic. Cities such as Seattle and Portland are hip and welcoming.
While you are bound to have a great time exploring the PNW where ever you stay, a cute cabin to come home definitely adds to the Pacific Northwest vibe.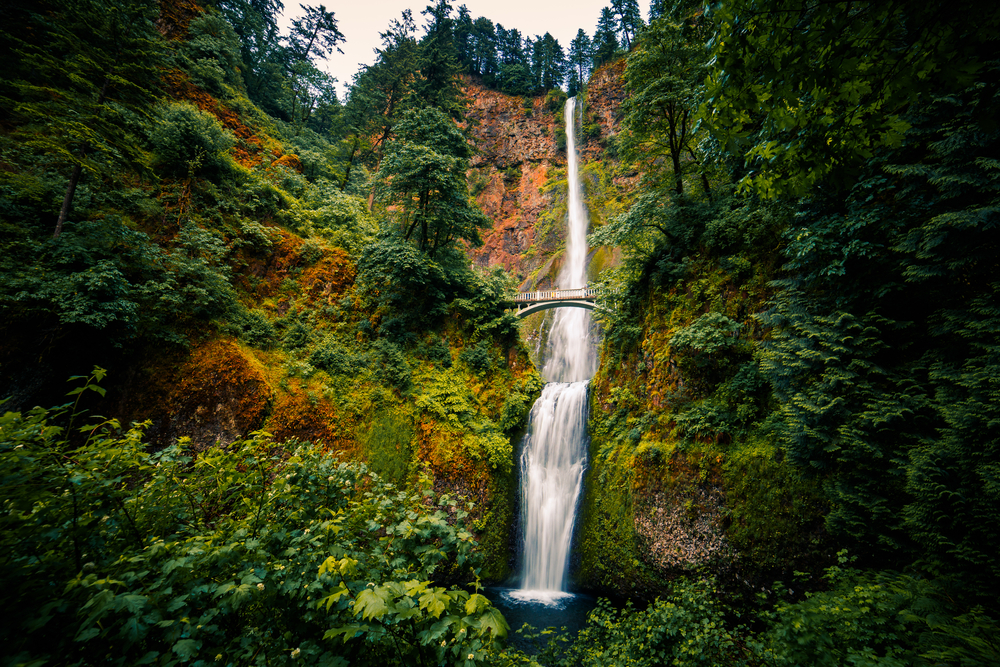 20 Epic Cabins In The Pacific Northwest
Washington Beach Treehouse
If you're looking for Pacific Northwest treehouse rentals, this is the VRBO for you! Just look at this log cabin-esque rustic exterior and iconic PNW old-growth trees.
Inside, you'll find a cozy space with huge windows for taking in the birds-eye views. The wood paneling and rustic touches really enhance the woodland vibes. This 150-square-foot VRBO can sleep 2 guests. Please note- the bathroom is down the stairs at the base of the treehouse.
It doesn't get more quintessentially Pacific Northwest than the Twilight franchise. This treehouse is located in a part of Washington famous for being in the Twilight books and movies. Whether you're a Twilight fan or not this would definitely be a memorable home base for exploring this beautiful area!
Click Here To Check Rates On VRBO!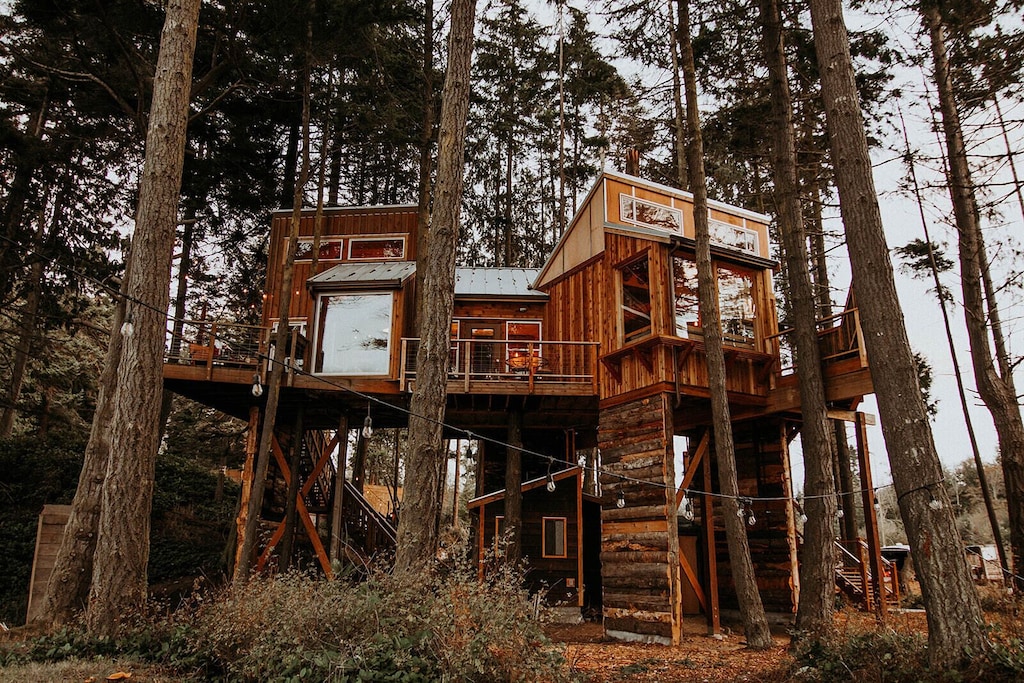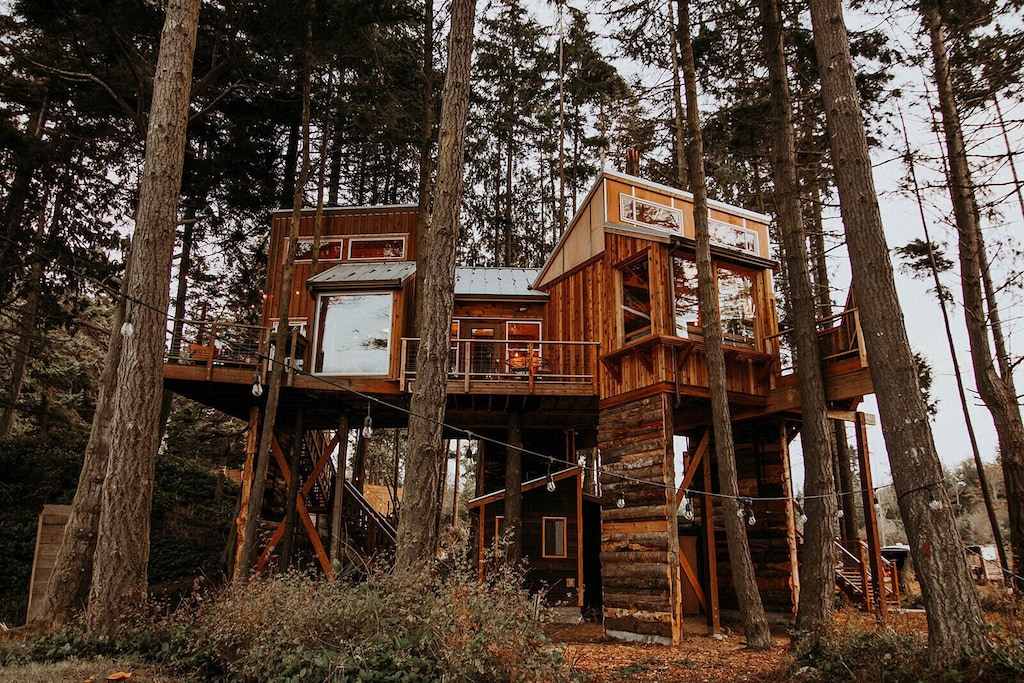 Oregon Coast Dome
Get the once-in-a-lifetime experience of dome living while taking in the Oregon coast when you stay at this Geodesic Dome. Amazing sunsets views and proximity to the beach make this a must-visit among the Pacific Northwest cabins for rent
This 1445 square foot geodesic dome can sleep up to 8 guests. It is "studio style" without real separation between sleeping spaces so it is best suited for close family or friends. Every detail has been considered, from an awesome outdoor shower to convenient surfboard storage. Definitely check out this epic dome home next time you're looking for cabins in Oregon. This VRBO certainly stands out among all Pacific Northwest cabins.
Click Here To Check Rates On VRBO!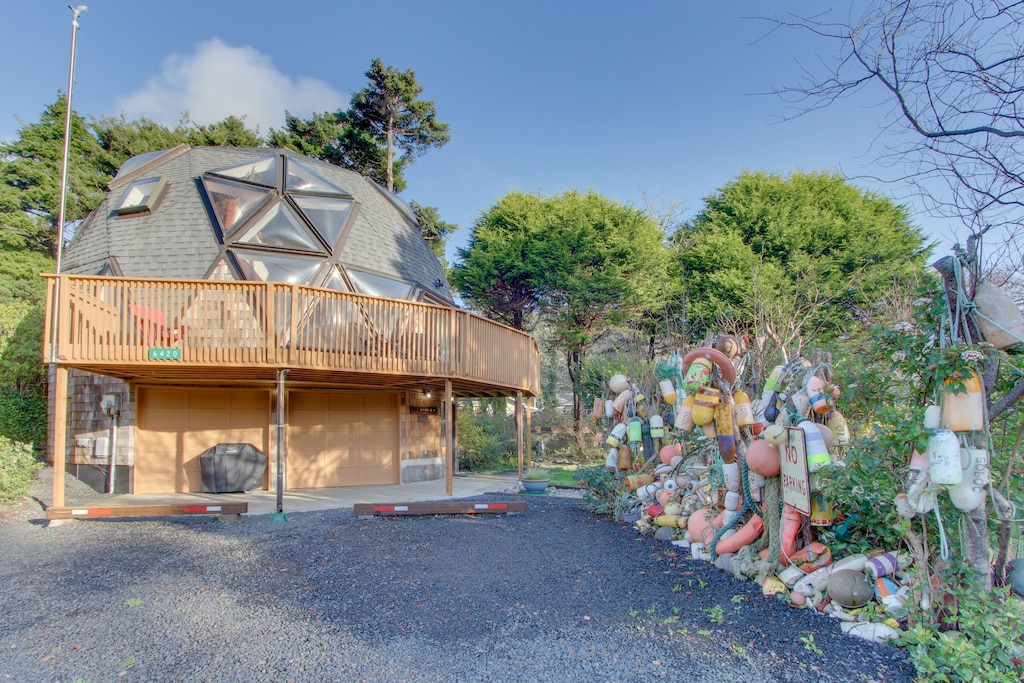 Forest Luxury Lodge
If you are looking for a luxurious lodge for the whole family or a large group, you'll love the Forrest Lodge. This massive lodge is located on three acres of wooded land in Rhodendron Oregon, which is near Mt. Hood. The property has a private hot tub and firepit that encourage you to spend time in the great Oregon outdoors! This VRBO definitely stands out among all the PNW cabin rentals.
Inside, you'll find plenty of space for everyone. There are four bedrooms. A king-sized suite, two queen-sized suites, and a twin-sized trundle bed in the last bedroom. In the additional loft space, there are two more twin-sized beds. There are also three full bathrooms. The 2nd floor ensuite has an epic soaking tub you're sure to love. The main living area has a large living room with massive semi-circle windows. The round window makes me think of cozy hobbit holes from Lord of the Rings. What a great setting to get cozy around the large stone fireplace or watch a movie.
Click Here To Check Rates On VRBO!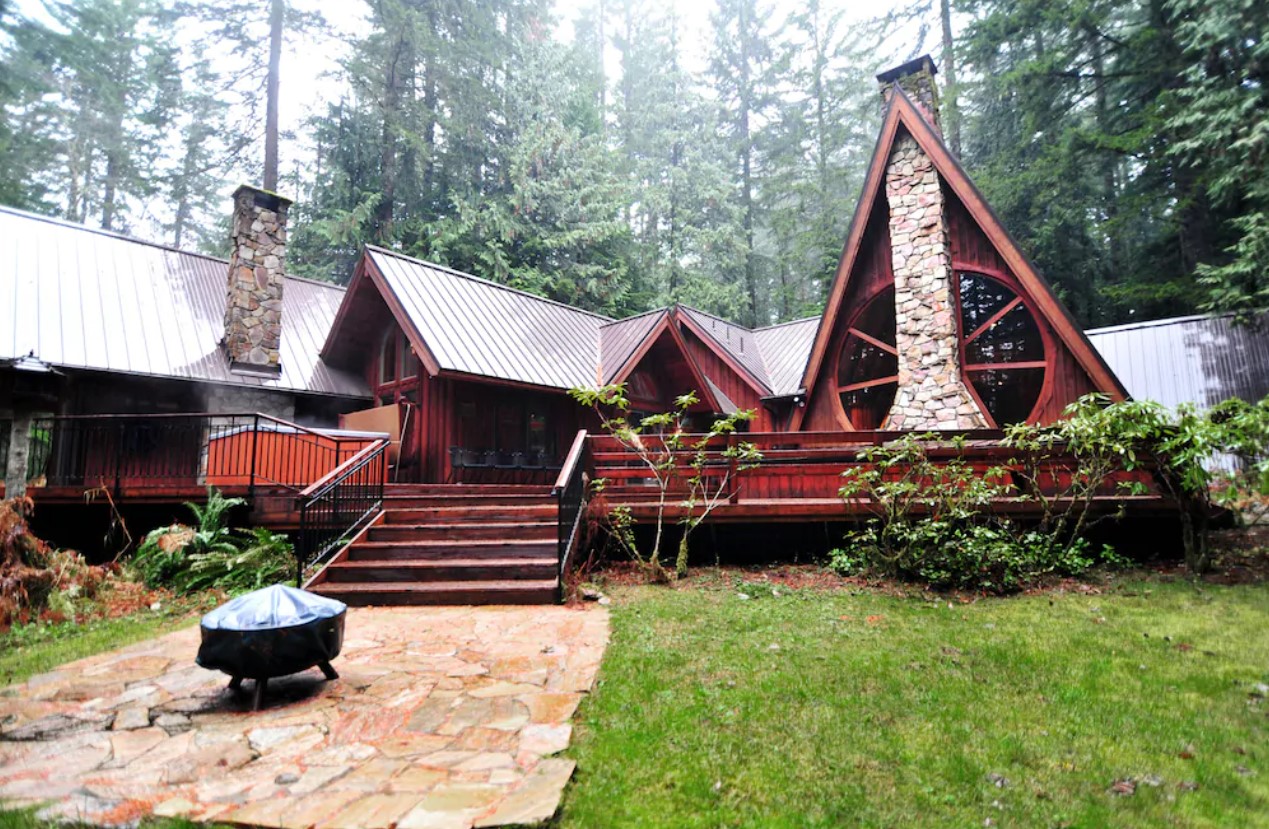 Idaho Log Cabin
Near Ponderosa State Park you'll find this lovely Traditional Log Cabin in Idaho. It is also near McCall, which hosts a popular golf course, and plenty of restaurants, cute shops, breweries, and recreational outfitters. It's secluded but within driving distance of plenty of activities. This makes it the best of both worlds when you're looking for cabin getaways in the Pacific Northwest!
The Traditional Log Cabin has a beautiful front porch with a porch swing and a nearby fire pit. Inside you'll find a large living room with a funky circular fireplace and two bedrooms, a full kitchen, and a full bath and half bath. The upstairs loft also has a sectional sofa and two twin-sized beds nestled in the nook of the peaked roof. What a great spot to relax and enjoy the natural beauty of a Pacific Northwest forest.
Click Here To Check Rates On VRBO!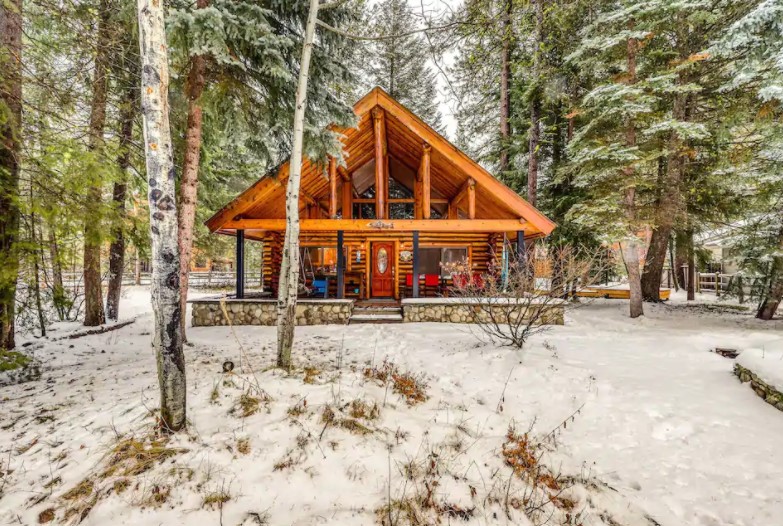 Riverfront Log Cabin
If you really need to get away from it all, this is the best choice out of all the cabins in Oregon for you! The famous Deschutes River runs right through this property. Relax in a hammock by the river and watch for blue herons. Soak in the private hot tub with an amazing view of the Milky Way. This cabin is an extremely private vacation rental with the National Forest on one side and the river on the other.
This log cabin can host 10 guests. It has 4 bedrooms and 3 full bathrooms. We know you'll enjoy the homey Lincoln log feel of this traditionally constructed 2800-square-foot cabin.
The Riverfront Log Cabin boasts great fishing, paddleboarding, kayaking, and mountain biking nearby, as well as great swimming holes along the river. This spot would be great for a peaceful PNW summer getaway. When looking for log cabins in Oregon, this one is definitely worth checking out.
Click Here To Check Rates On VRBO!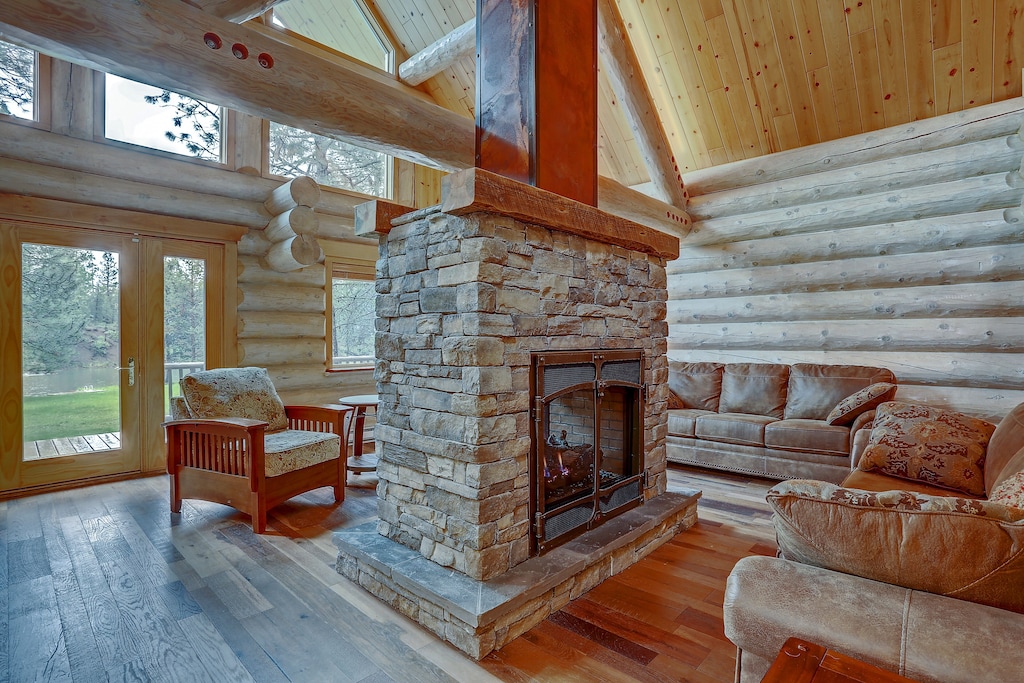 Washington Barn Cottage
The San Juan Islands are one of our favorite spots to explore in Washington State. Take the island tranquility to the next level by staying in this cabin at Dragonfly Farm.
You'll feel like you've stepped back in time while staying in this lovingly refurbished old barn. The greenhouse, gardens, orchards, and pond are yours to explore. The owners even have kayaks and canoes you can take out on the water.
With so much to take in you might not want to leave the 25-acre farm, but if you do feel the call to explore further the farm adjoins Turtleback Mountain Preserve, home to some lovely hiking and birdwatching. The cabin's stove, oven, and dishwasher mean you can easily prepare farm-fresh meals to nourish you after your adventures. The cottage can host 6 guests in 2 bedrooms. This is easily one of the best cabin rentals in the Pacific Northwest.
Click Here To Check Rates On VRBO!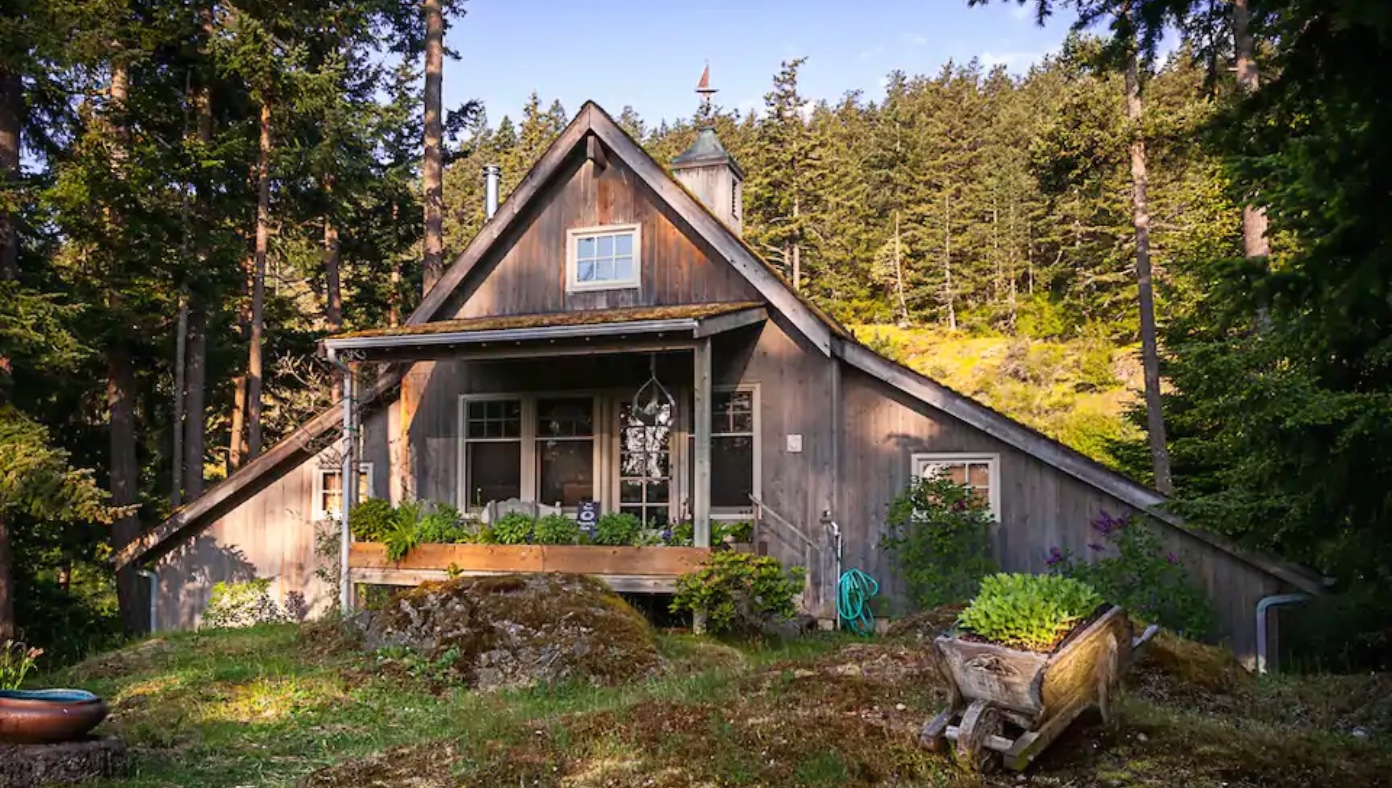 Eagle's Nest Cabin
Love the forest and the beach? While staying at the Eagle's Nest Coastal Cabin you don't have to choose which one is your favorite. Experience both from one of the best cabins in the Pacific Northwest! This cabin was built on the ocean edge of Neahkahnie Mountain to give you an incredible bird's eye view of the coastline and surrounding old-growth forests.
This spot has all the PNW cabin features we love- a wood stove, exposed beam redwood ceilings, as well as so many cozy wood and stone textures and features. The skylight over the loft bed with a beautiful forest view is the perfect place to unwind from your day of Oregon Coast adventures. This VRBO can host 4 guests. It has 2 bedrooms and 1.5 bathrooms. It's definitely one of the most romantic cabins in the Pacific Northwest.
Click Here To Check Rates On VRBO!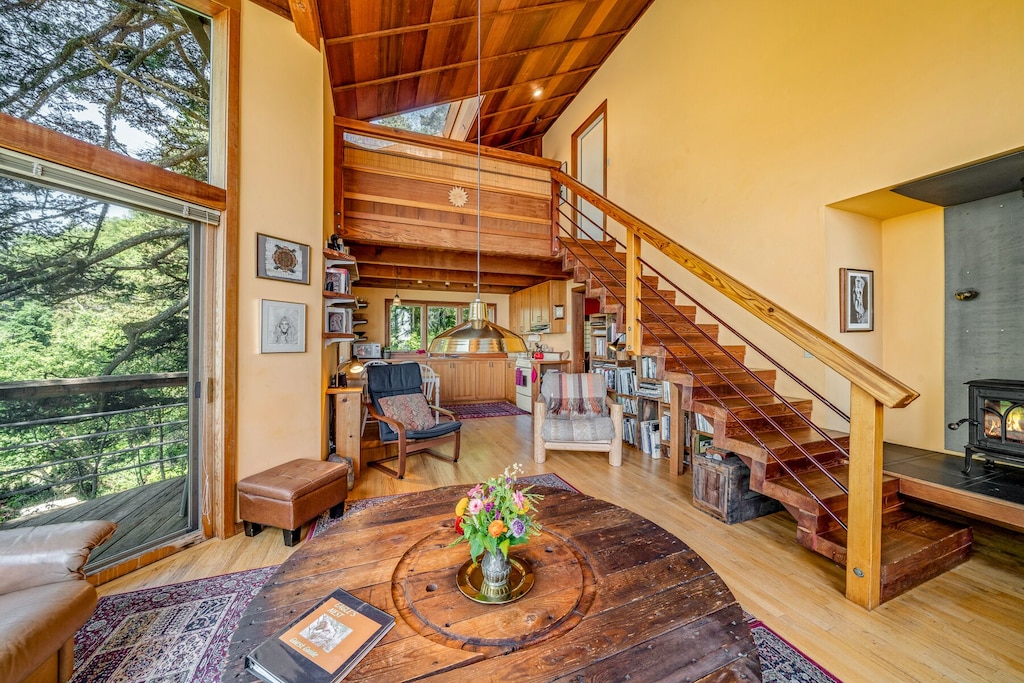 Idaho Hot Tub Cabin
If you're looking for romantic cabins in the Pacific Northwest, this is a great choice! Nestled in the foothills of the Centennial Mountains in Island Park, you'll find the Hot Tub Cabin. This cabin in Idaho is just 14 miles from Yellowstone National Park and near some of the best activities, Island Park has to offer.
This sweet little cabin is 840 square feet. It can accommodate 6 guests. It's got one bedroom and one bathroom. This cabin shares an entire private mountain full of trails and things to do with only two other local cabins. What a great place to enjoy the unspoiled Idaho wilderness!
You'll love the private hot tub, as well as the outdoor firepit and grill. This little handbuilt cabin really encourages you to go outdoors and relax in nature. When you're looking for mountain cabins in the Pacific Northwest, put the Hot Tub Cabin on your list!
Click Here To Check Rates On VRBO!
Hood Canal Beach Cabin
If you like your cabin with a side of sea breezes, this entry on the best cabins the Pacific Northwest list is for you! This Washington cabin is right on its own stretch of a secluded beach. Kayak, swim, sunbathe or search for crabs and clams for dinner right off the deck. It doesn't get more convenient than that!
The inside of the cabin is comfy and cozy, but you'll likely spend most of your time at the beach when staying at this gem. There is even a clever pass-through window in the kitchen so that most dining can be done outdoors.
This cabin was built in the 1930s. It's been thoughtfully updated to have modern conveniences while retaining its vintage charm. Make sure to take advantage of the well-equipped kitchen so that you can fry up your catch of the day in style.
Click Here To Check Rates On VRBO!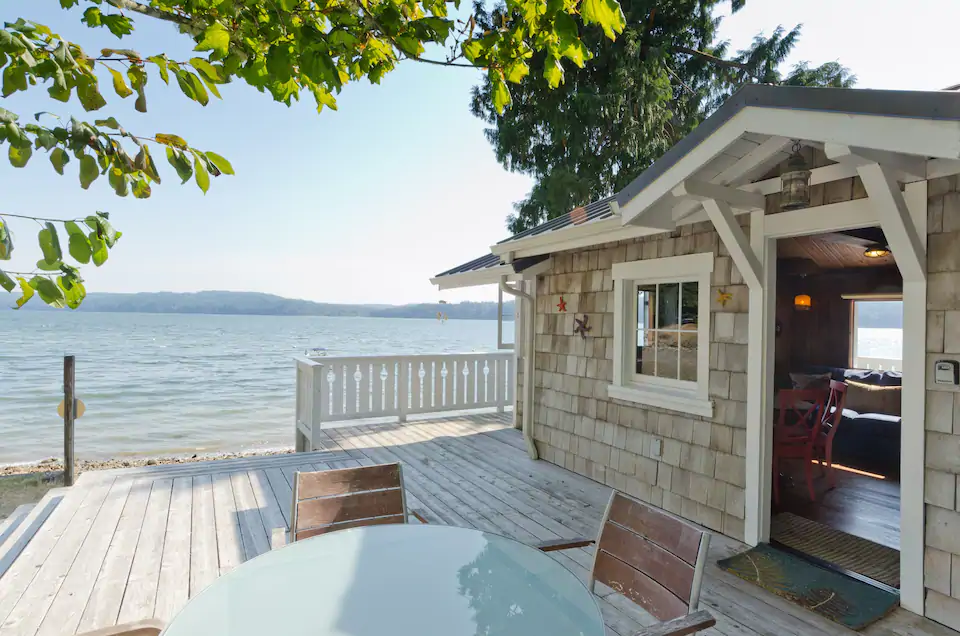 Columbia River Houseboat
This next PNW VRBO is not only a cabin but a houseboat as well! Isn't that cool?! If you love staying in unique places while on vacation, this is another great option for you! This houseboat is found in Portland, Oregon, on the Columbia River. It's docked in a marina on Hayden Island which is near the Washington/Oregon border. This cabin is relatively tiny (900 square feet) but snug and comfy for between 1 to 3 guests.
There is a deck where you can sit and watch boats go by or watch the water change color with the sunset. There are many kayak and paddleboard rentals nearby so you can enjoy some time gliding through the water of the Columbia River. Though you are technically in the city, you definitely get a more rural feel here away from all the people. This is such a standout option on our list of cabins to rent in the Pacific Northwest.
Click Here To Check Rates On VRBO!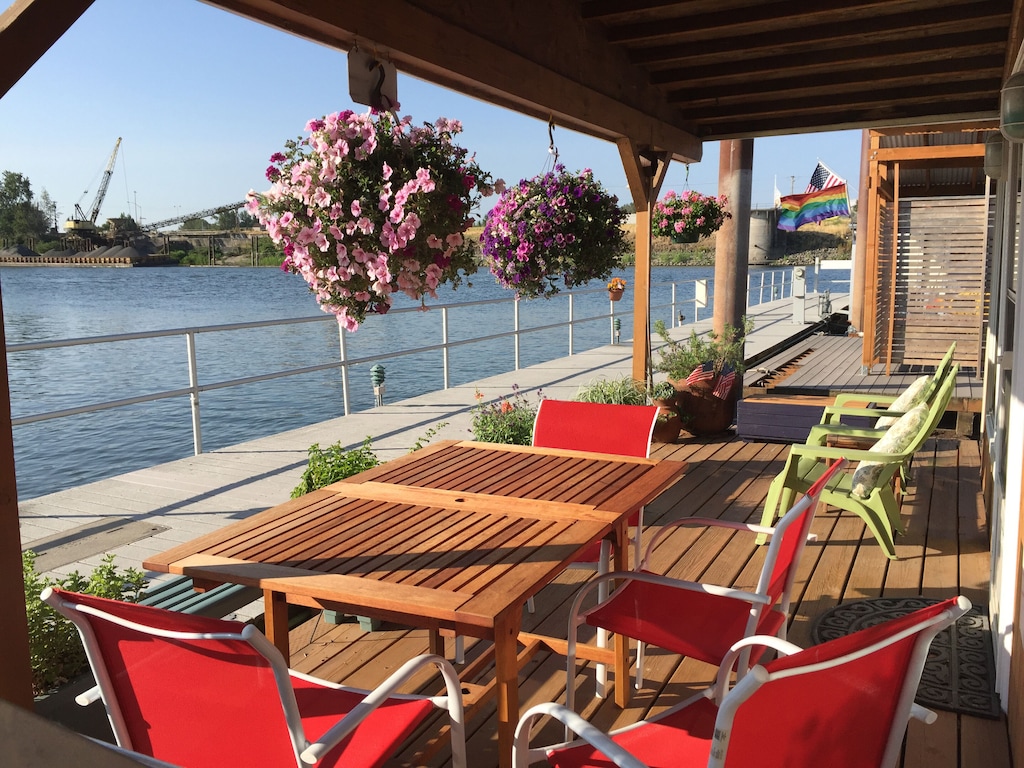 Gingerbread Cottage
This cute-as-a-button entry on our list of the best cabins in the Pacific Northwest is located in Northern California. The hand-built octagon shape makes it a cozy and unique stay.
Located in the highly sought-after Lake Tahoe vacation destination, this VRBO truly has it all. It comes with a kayak and bicycles to make sure you make the most of California's great outdoors! This cabin has views of the area's beautiful mountains and lakes.
The Gingerbread Cabin can sleep up to 5 guests. It has one bedroom and 2 bathrooms in its 918 square feet. Pets are welcome at this unique and lovely cabin!
Click Here To Check Rates On VRBO!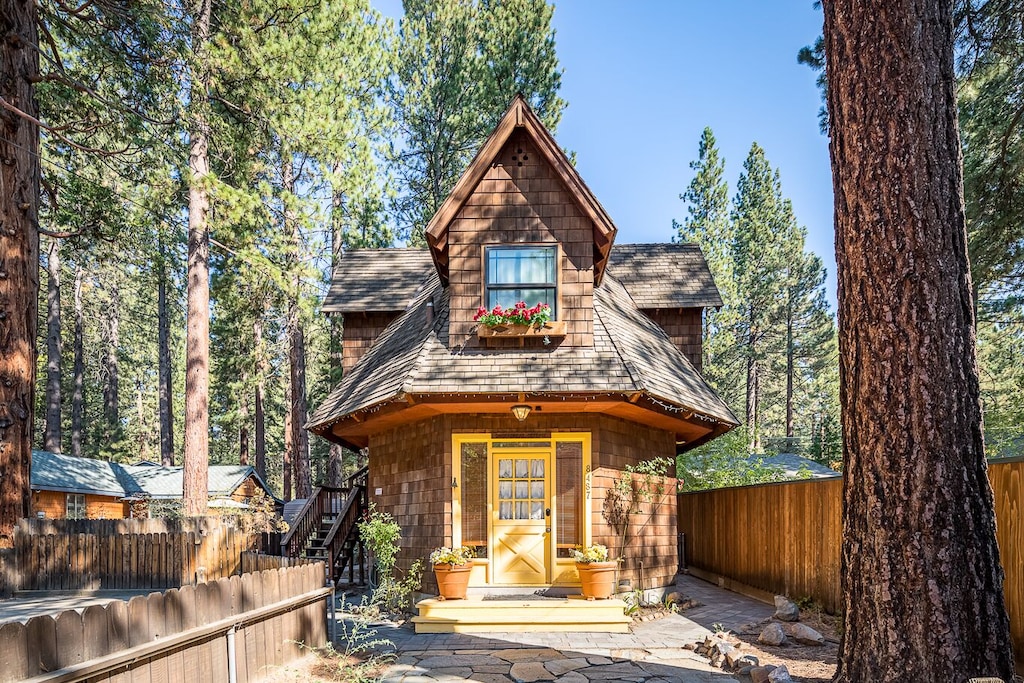 Bottle Bay Lodge
Nestled in the Idaho forest and overlooking Lake Pend Oreille you'll find this stunning getaway. Make sure to the Bottle Bay Lodge on your list next time you're looking for luxury vacation rentals in the Pacific Northwest!
Outside, you'll find a spacious back porch that overlooks the lake and welcomes you into this romantic lakefront retreat. Inside, you'll find an open floor plan with large picture windows and epic timber cathedral ceilings. The cabin is 2,908 square feet and can host 8 guests. It has 3 bedrooms and 3.5 bathrooms. You'll love the private beach access and dock!
Even if you're stuck inside on a rainy day, this cabin is stocked with shuffleboard and ping pong tables, and board games. The huge stone fireplace is just begging you to curl up next to it with tea and a good book.
The location right on Lake Pend Orielle makes this one of the best cabins in the Pacific Northwest. It is also close to the famous Silverwood Theme park and the town of Sandpoint. This is a great choice for your next lake house getaway!
Click Here To Check Rates On VRBO!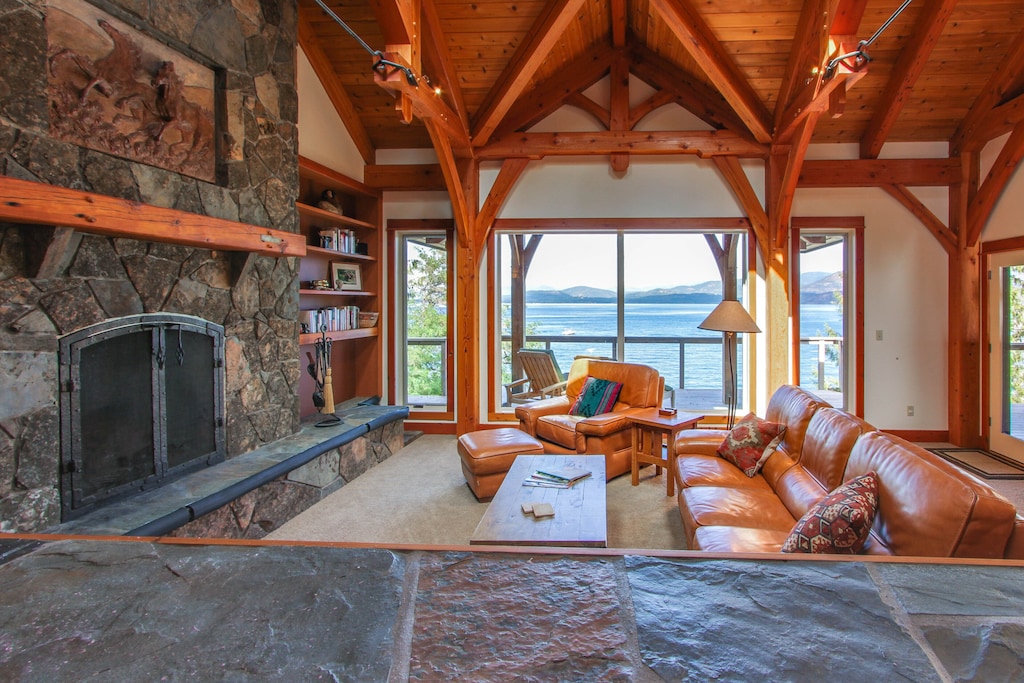 Hera's Chalet
Hera's Chalet is located in Washington, just a short drive from Mount Rainier National Park. This PNW cabin is perfect-sized for a couple's nature retreat. There are plenty of places to cuddle up and relax! You will love the cute, rustic sleeping loft, the warming fire ring, and of course the hot tub and neat sauna! Make sure to save this one for the next time you're looking for romantic cabins in the Pacific Northwest.
This is a fantastic cabin to stay in at any time of the year. In spring and summer, the surrounding trees are lush and green, perfect for exploration and hiking pretty trails. In winter, the landscape turns white with snow, allowing you to go skiing and snowboarding. Afterward, warm up in the hot tub or in front of the electric fireplace. Whichever season you visit this Washington cabin, you are sure to have a good time!
Click Here To Check Rates On VRBO!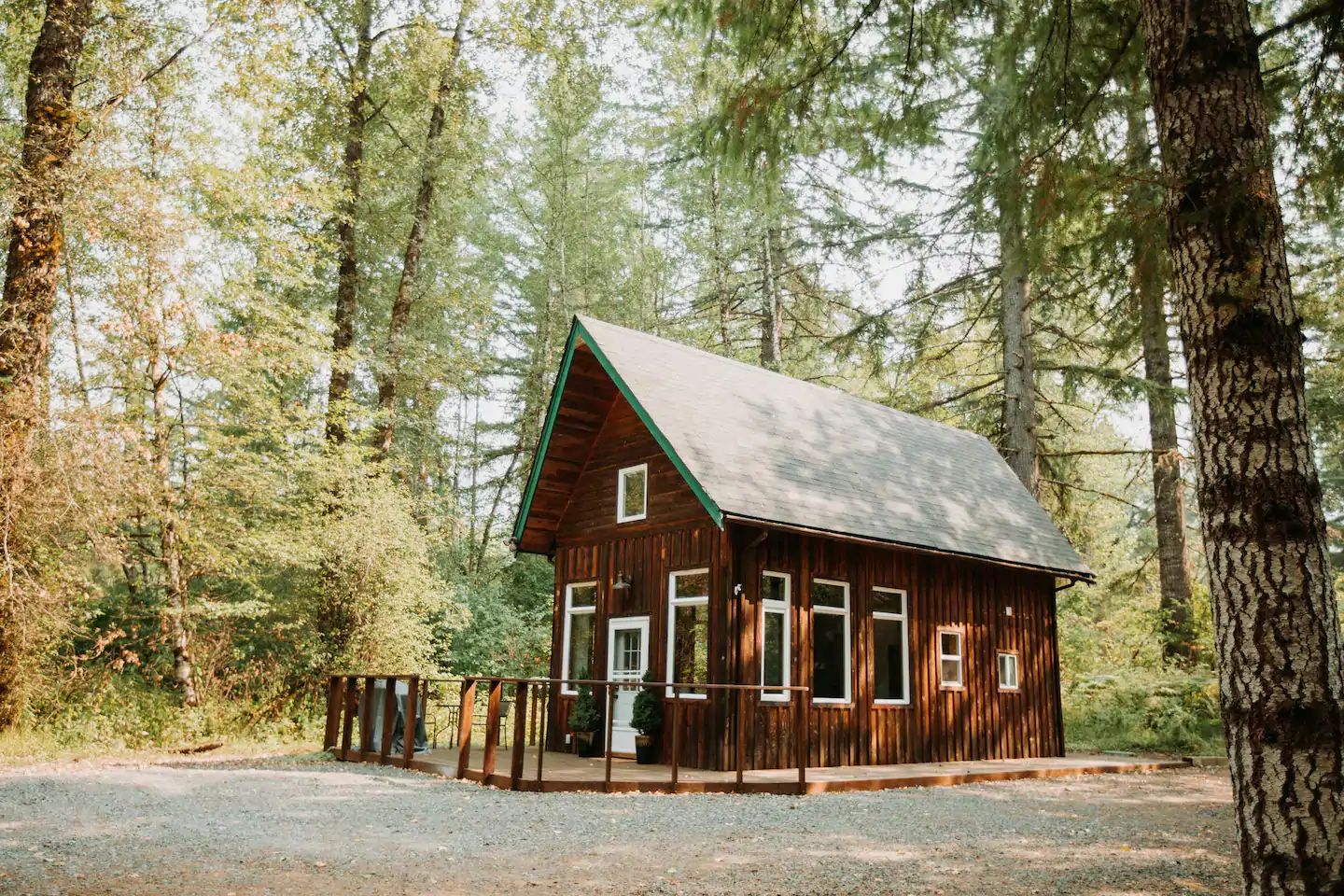 Dog-Friendly A-frame
This is a roomy A-frame cabin near Leavenworth, Washington. It can welcome up to 12 guests! You can even bring your dogs for a small additional fee. This A-frame is one of the largest on our best cabins in the Pacific Northwest list at 2624 square feet. It has 4 bedrooms and 2 full bathrooms.
This is a riverfront Airbnb with direct access to a sandy beach. The stairs to the river are gated so that small children can safely come to visit this VRBO. This would be a magical place to explore with family, friends, and pets!
Lake Wenatchee State Park is nearby with plenty of recreation options. You can go kayaking, paddle boarding, or swimming. Bring a blanket to enjoy a picnic on the nearby beach. Nearby Leavenworth is a cute, mountain village with many quaint shops and eateries as well as festivals throughout the year. Walking along its themed streets, you will feel as if you are in Bavaria instead of the Pacific Northwest!
Click Here To Check Rates On VRBO!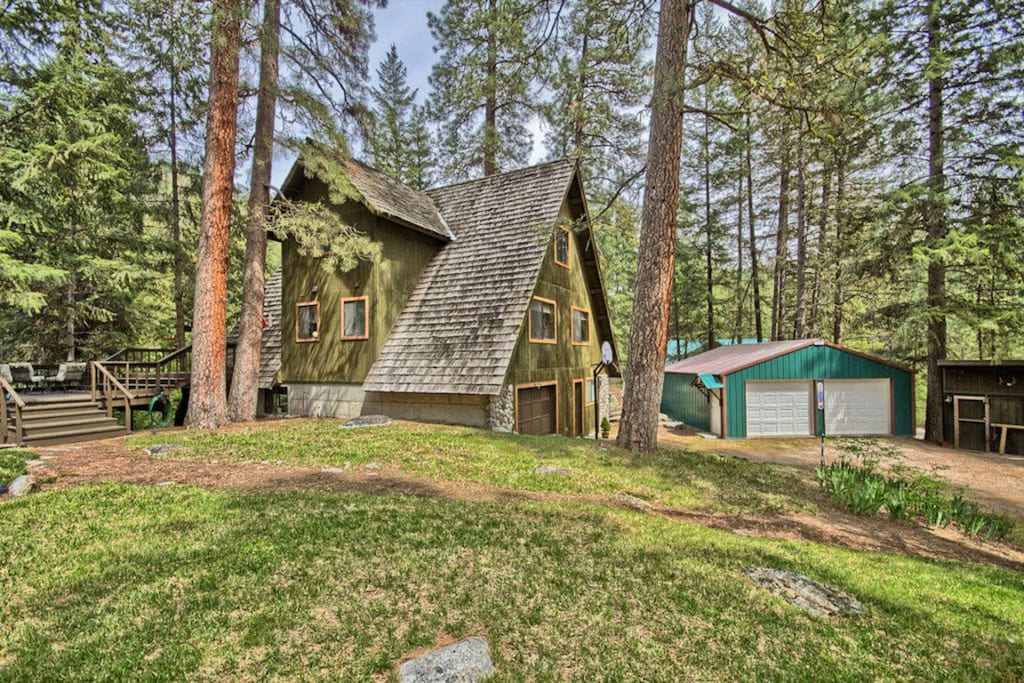 Lovely & Cozy Cabin at Mt. Rainier
Book this PNW Airbnb if you are traveling in a large group. Up to seven people can enjoy this open and inviting home! With high ceilings, big windows, an open floor plan, and plenty of places to sit inside and out, you will not feel cramped here! There are even two TVs, so you do not need to fight over what to watch.
The amenities here are great as well! There is a hot tub big enough for everyone. Soak at night with the hanging string of lights on for a charming atmosphere. There is also a fire pit for making great memories or maybe some great s'mores! A large deck provides a perfect place to sip your morning coffee and take in the scenery.
Click Here To Check Rates On Airbnb!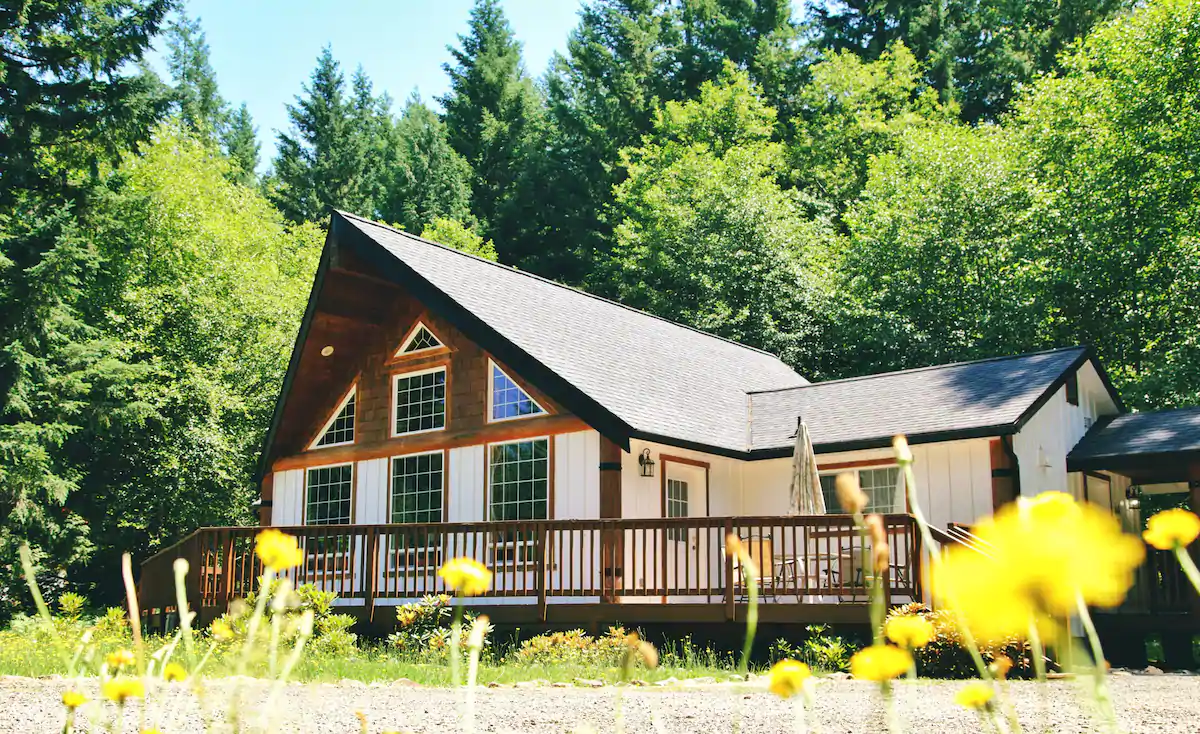 Hebe's Hideout
Hebe's Hideout is simply darling and at 700 square feet, it is small but cozy. The A-frame style and front wall of windows make it another one of the picture-perfect cabins in the Pacific Northwest. You will definitely want to do an Instagram photoshoot here! The inside is just as cute with a wood-burning stove in the middle to warm up the place.
A fairytale-like stone path leads to a cute fire circle. The Nisqually River is just a few steps away and Mount Rainier National Park is not far either. There are surrounding small towns with cute shops and restaurants. Overall, this is a quaint and peaceful cabin stay perfect for a couple's woodland retreat. You should keep Hebe's Hideout in mind next time you are looking for romantic cabins in the Pacific Northwest!
Click Here To Check Rates On VRBO!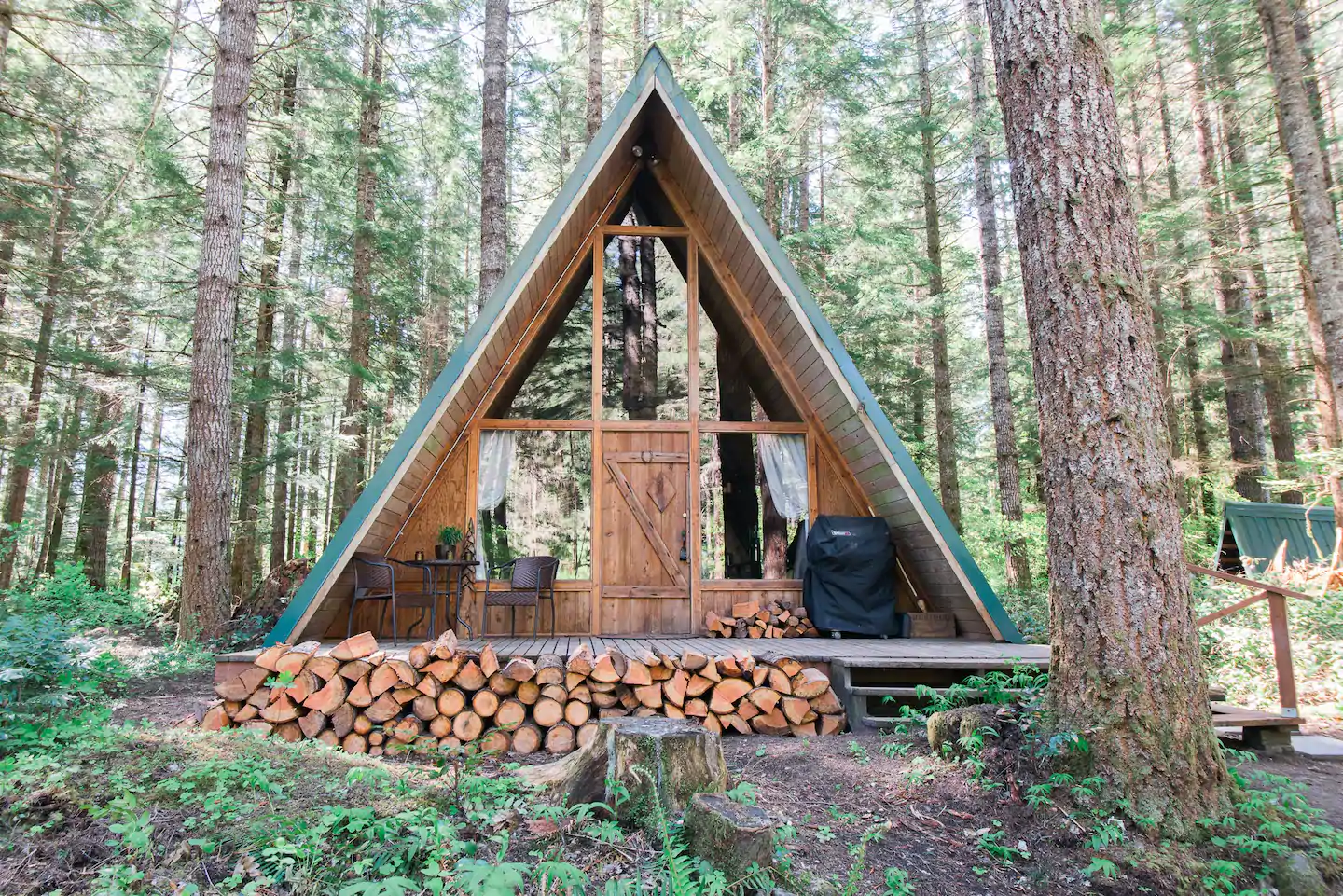 Mt.Tabor Tree House
This charming treehouse is a 10-minute drive or 20-minute bike ride from downtown Portland, but you'd never know that from its quaint, remote, feel. From its spacious deck to the wood paneling, to the wood burning stove, to the pine-themed stained glass, this one of the Pacific Northwest treehouse rentals that can't be beaten. The Mt. Tabor treehouse is a studio that can sleep 2 guests. It has 1 bathroom.
This is a great option if you're into the cabin lifestyle but want to experience the hustle and bustle of Portland during the day. This treehouse has the added bonus of being located less than a mile from one of Portland's most famous parks- Mt. Tabor. Next time you're looking for Portland cabins, make sure to click here for some of our favorite things to do in Portland, OR.
Click Here To Check Rates On VRBO!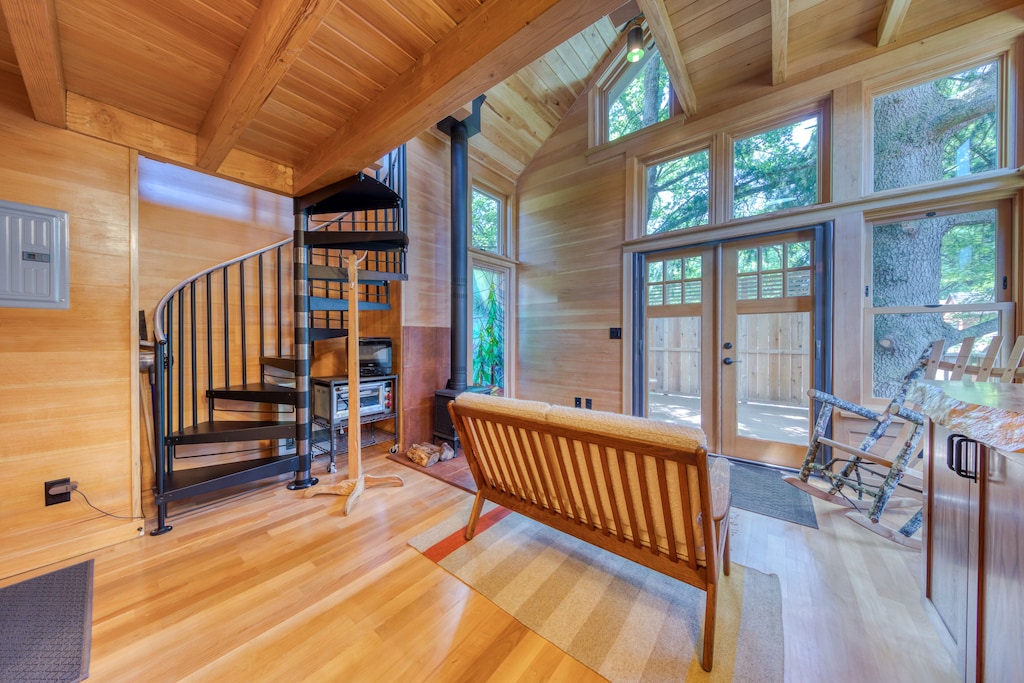 Washington Log Cabin
Are you looking for a rustic cabin in the Pacific Northwest? If so, be sure to check out this 100-year-old log cabin. This is a standout even among all the amazing cabins in Washington. Come live your Little House on the Prairie childhood dreams in Yakima County, Washington.
This antique log cabin has been lovingly refurbished and can now host up to 10 guests. It has 5 bedrooms and 2 full bathrooms. The property has both a firepit and a hot tub for you to use. The home is full of amazing vintage touches like a clawfoot bathtub and hand-carved furniture.
This 220-acre property near the Naches river is truly what homesteading dreams are made of. You'll likely see some cool wildlife if you choose to stay at this VRBO in the Washington wilderness. Lots of reviewers report epic elk herd sightings in the Winter!
Click Here To Check Rates On VRBO!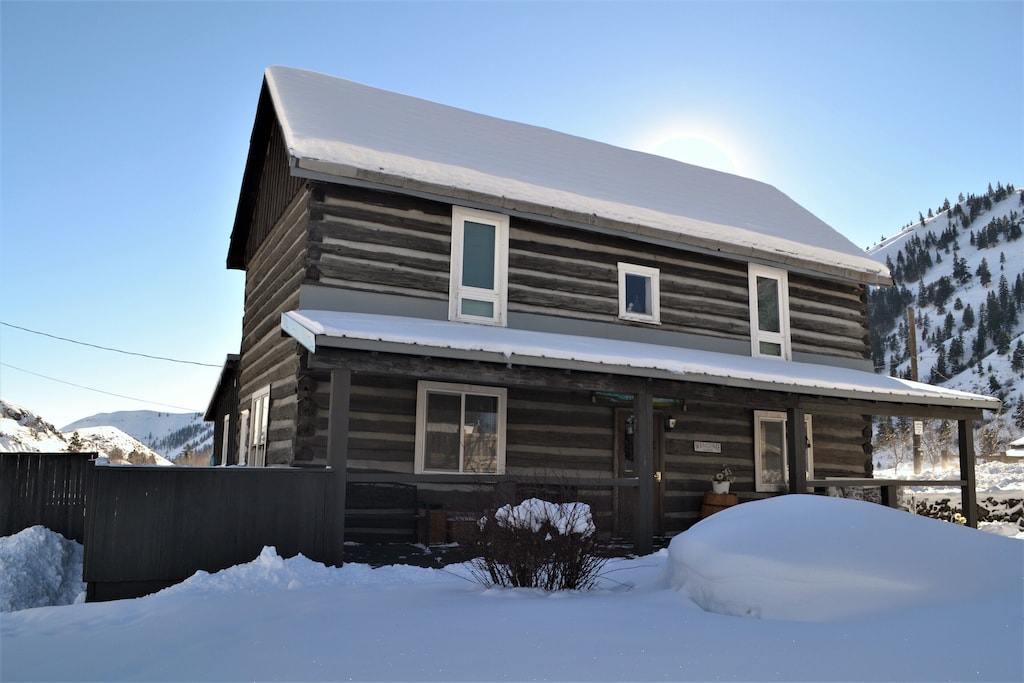 Carlotta Cabin
Are you looking for cabins in Northern California? This is an epic choice if you want to experience some California magic on your Pacific Northwest vacation. This cabin is tucked into a forest of redwood and douglas fir trees. It is near all the famous redwood state parks, including Cheatham Grove where part of one of the Star Wars movies was filmed.
You'll love relaxing in front of the wood-burning fireplace after a day exploring the largest trees in the world. This 950-square-foot cabin would make a sublime home base for all your NorCal adventures. The Van Duzen river is only a 2-minute walk from this property!
Click Here To Check Rates On VRBO!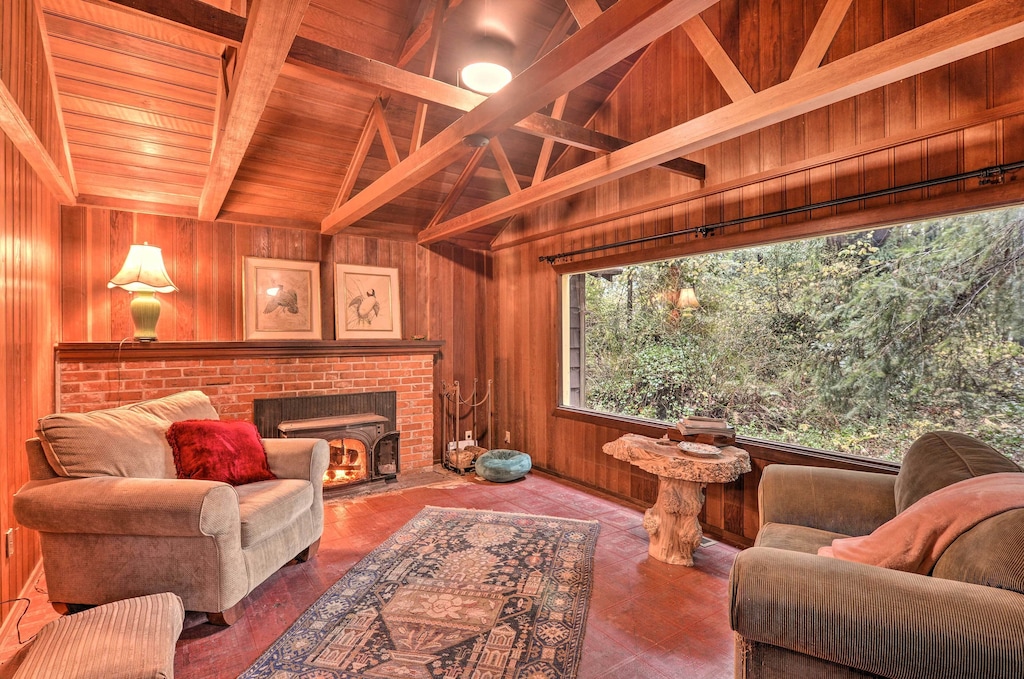 Glacier Cabin
If you long to escape to the mountains, you will love this cabin in Washington! Its location near one of our favorite Washington stops, Mt. Baker makes this spot extra special.
The lovely porch, fire pit, and large private outdoor hot tub make this PNW cabin a must-stay. There's a spacious and well-equipped kitchen so that you can get gourmet during your mountain stay. There is a full-sized washer and dryer to keep up with all of your adventure laundry. This cabin has 4 beds and is pet friendly so you can bring your whole crew on this getaway. This is a great choice if you're looking for mountain cabins in the Pacific Northwest!
Click Here To Check Rates On VRBO!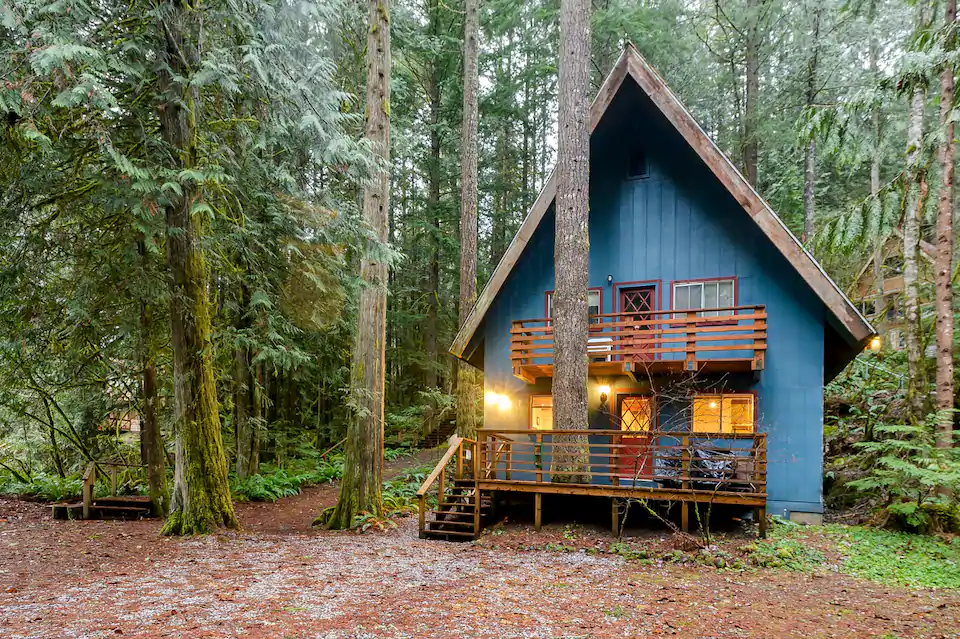 If cabins were not your thing before, you are sure to be in love with them now after looking at these beautiful retreats! From forests to beaches to mountains, there are plenty of scenic Pacific Northwest cabins begging you to stay and relax. They are all close to fun outdoor activities perfect for the whole family. So, what are you waiting for? Book one of these cute cabins to create lifetime memories!