If you're looking for cozy cabins in Maryland, then this list of beautiful retreats is perfect for you! Maryland may be best known for its capital city, Annapolis, or the lively Baltimore, but the state is also full of gorgeous woodland views and quiet countryside.
Maryland boasts 2.46 million acres, about 40% of the state's landmass, of forests. Many of the cabin rentals in Maryland that are on this list are beautifully nestled on that expansive forest land. What also makes cabin stays in Maryland unique is all the different landscapes Maryland has to offer.
On this list, you'll find cabins in Maryland located near the Chesapeake Bay, in Maryland's most popular historic cities, near State Parks, and even a working farm. Maryland is a great state to vacation in. It even made it onto our list of the 17 cutest small towns on the East Coast twice. Whether you're looking for a romantic cabin in Maryland to escape it all, or you simply want the quaint aesthetic of a cabin near all the action of a city, there's a cabin on this list for you.
14 Cozy Cabins in Maryland You Must Visit
Serene Log House
This entry on our list of Maryland cabins is in Middletown. Middletown is the home of South Mountain Battlefield Park. South Mountain was the first battle of the Civil War to be fought in Maryland, and the battle took place only a few days before the infamous battle of Antietam, which was also nearby.
American History buffs will love how close this log house is to some of Maryland's most famous historic sites. The house itself is also a piece of history. It was built on the original spring house foundation from the early 1800s. Middletown is located in Carroll County, where you can also find historic cities such as Boonesboro, Thurmont, and Frederick.
The log house is full of charm. It has a large stone fireplace that heats the whole house, a loft with a catwalk across the top of the cabin, a beautiful backyard, and a welcoming outdoor firepit. This VRBO is perfect for those wanting to disconnect, as it has no tv or wifi. This property is definitely a strong start to our list of cabin getaways in Maryland!
Check Rates: VRBO.com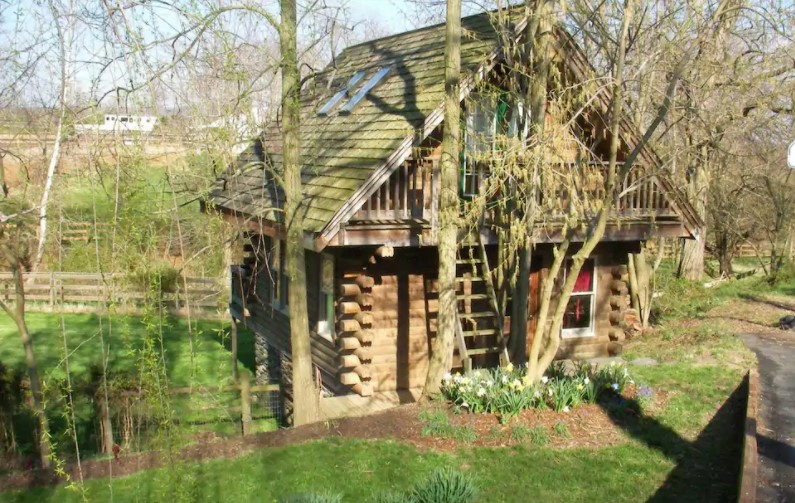 The Maryland Love Shack
If you're hunting for deep creek Maryland cabin rentals, you have got to put The Love Shack on your list! This 2 bedroom one bath cabin is totally charming.
This cabin retains its old-world charm while having lovely amenities like a newly renovated kitchen, a washer and dryer, air conditioning, and flat-screen tvs equipped with streaming services. Outside is just as spectacular with a 6-person hot tub, and an outdoor firepit, and a new gas grill.
You'll love staying in the beautiful Deep Creek Lake area. It's a great area for boating, golfing, hiking, fishing, rafting, kayaking, mountain biking, and more! There is also great restaurants and unique shops in nearby historic Oakland. There's definitely something for everyone when you stay at this entry on our list of the best cabins in Maryland.
Check Rates: VRBO.com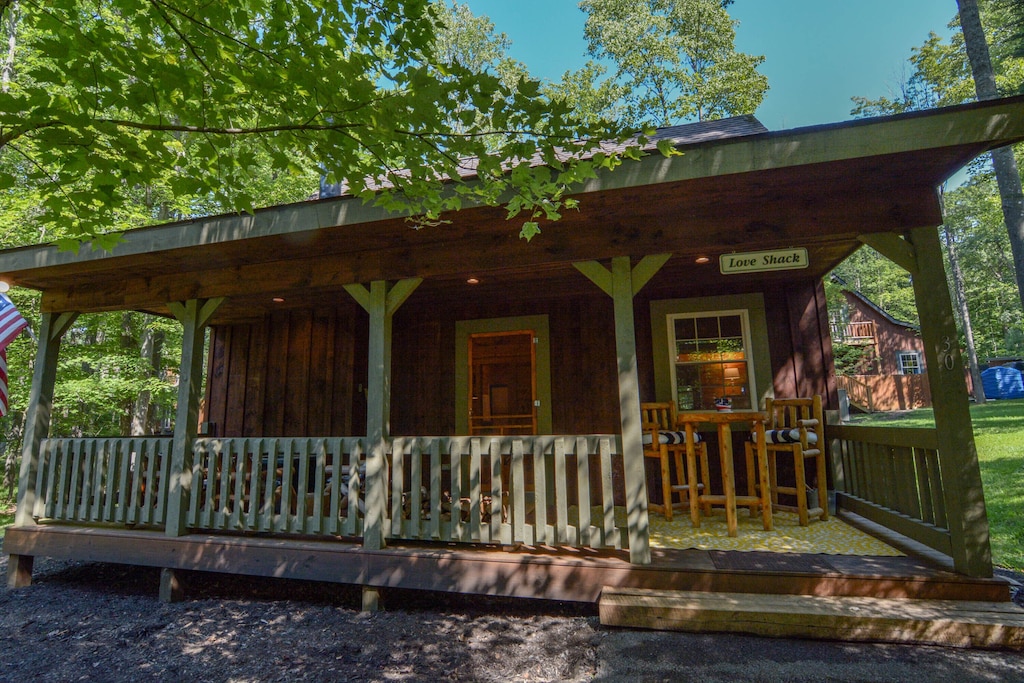 Christian Royer House Log Cabin
This cabin in Maryland is located in beautiful Westminster, in Carroll County. It also happens to be on one of the most sought-after wedding venues in the area. This definitely makes the list of the most romantic cabins in Maryland. It would make a great honeymoon cabin!
Westminster is full of wonderful shopping and dining experiences. You can drive 45 minutes and go skiing at Liberty Mountain Resort, which is just over the state line in Pennsylvania. The infamous Gettysburg Battlefield is also a short 30-minute drive away, and also just over the state line in Pennsylvania.
The Log Cabin itself was built in the 1700s and completely renovated in 2020. It now features a large open floor plan with a brand new kitchen, a cozy living room with wood burning stove, and a nice-sized dining room. In the upstairs loft, you'll find a beautiful bedroom and modern bathroom with a full-size washer and dryer.
Enjoy this romantic cabin in Maryland by taking time to sit on the front porch which overlooks beautiful open fields and the Christian Royer House. Depending on when you visit, you might even get to see a wedding taking place at the Main House.
Check Rates: Airbnb.com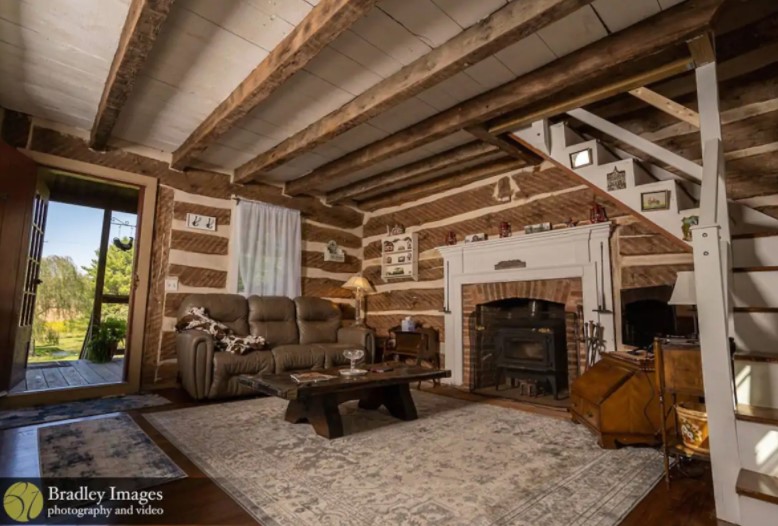 Deep Creek Log Cabin
Deep Creek is one of Maryland's most popular vacation areas. Don't worry, we're here to help you find the best deep creek Maryland cabin rentals.
This log cabin has a good balance of privacy and is close to local attractions. It is only 5 minutes from Deep Creek Lake and the highly sought-after Wisp Ski Resort. Despite being close to the action it has a lovely secluded, woodsy feel.
This charming log cabin can host up to 6 guests. Small and medium-sized dogs are also welcome to tag along for an additional fee! This 1800 square foot log cabin has 3 bedrooms and 2 bathrooms. Amenities include an outdoor fire pit, an outdoor grill, a washer and dryer, and TVs with streaming options.
Whether you're visiting Deep Creek for a summer lake getaway, to take in the stunning autumn foliage, or to check out the skiing, you're sure to have an amazing time at this Maryland log cabin.
Check Rates: VRBO.com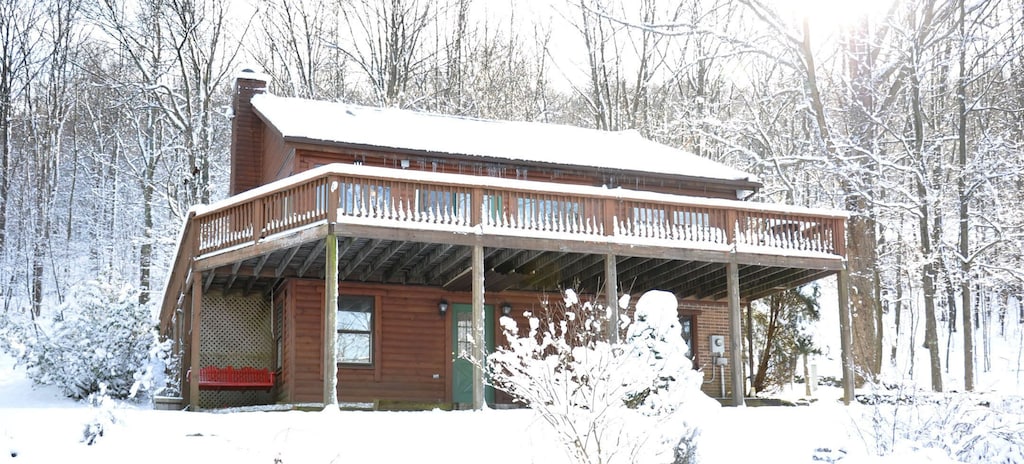 Little Lodge
If you want to visit Maryland for the stunning Blue Ridge Mountains, this is the entry on our list of cabin rentals in Maryland for you. This gorgeous Little Lodge cabin in Maryland is nestled right in the hills of the Blue Ridge Mountains in Boonesboro.
Boonsboro is a beautiful little historic town full of interesting things to do and see. If you're interested in spending some time in the good outdoors, visit Greenbriar Park and find trailheads for the Appalachian Trail. You can also visit Harper's Ferry, which is just across the state line in West Virginia. For those more interested in what's underneath the Blue Ridge Mountains, enjoy the Crystal Grottoes Caverns.
For history buffs, you can take a stroll through the William Boone Family Gravesite. Or you can check out the Boonsboro Trolley Museum and explore the Bowman House and Boonsboro Historical Society and learn what it was like for early Western Maryland settlers.
The Little Lodge itself features 14 acres of private forest land, making it a strong contender as one of the most romantic cabins in Maryland. Inside the cabin, you'll find a large fireplace with a wood-burning stove insert, beautifully exposed beams, a master bedroom on the main floor, and an upstairs loft with two twin beds. The Little Lodge definitely stands out among all the Maryland mountain cabin rentals!
Check Rates: VRBO.com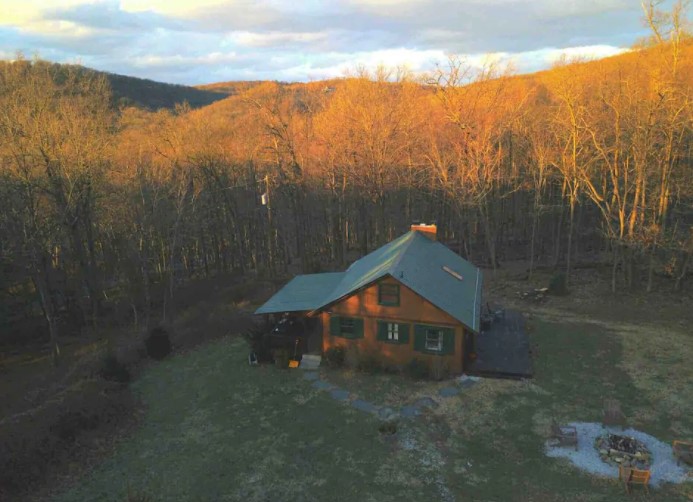 Lazy Bear Luxury Lodge
If you've been keeping an eye out for Luxury Cabin Rentals in Maryland or cabins in Maryland with hot tubs your search is over! The Lazy Bear Lodge definitely checks all the boxes for a deluxe cabin stay.
This is one of the largest homes on our rental cabins in Maryland list, coming in at 3200 square feet. This lodge can accommodate up to 13 guests. It has 5 bedrooms and 3.5 bathrooms.
The cabin is surrounded by a serene hemlock forest. There is a large outdoor fireplace on the deck, as well as a hot tub and fire pit in the yard. These areas are perfect for stargazing! Western Maryland cabin rentals often have epic stargazing because the area is so remote.
Every detail has been considered, from providing sleds for the snowy season to making sure there is super fast 1 gig wifi so guests can do remote work from this VRBO. The Lazy Bear Lodge is truly head and shoulders above many deep creek Maryland cabin rentals.
Check Rates: VRBO.com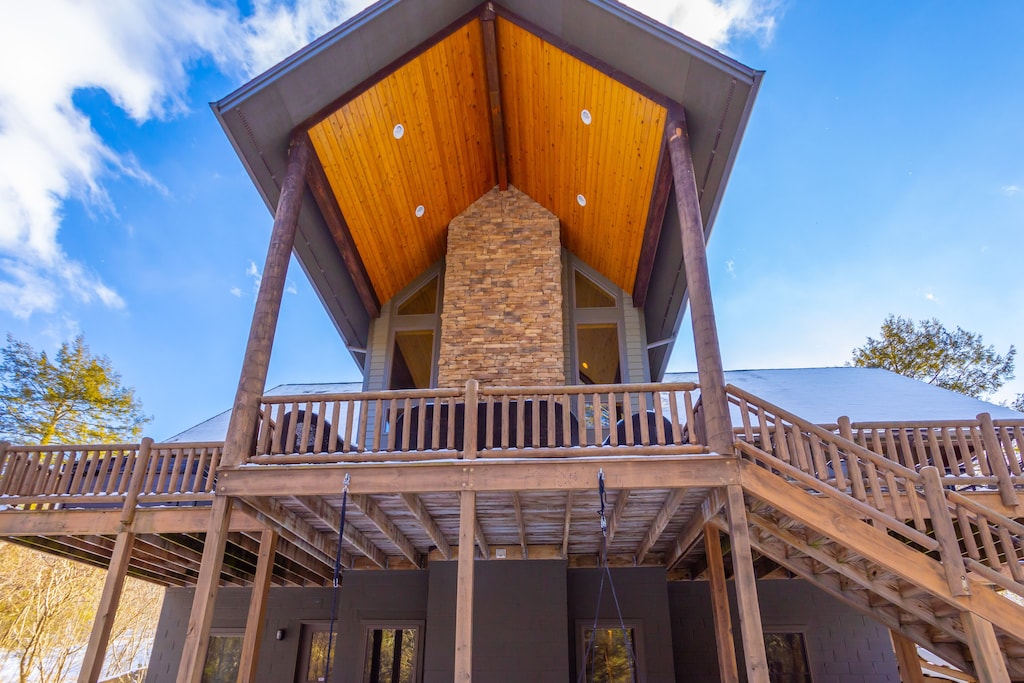 Charming Cabin
If you're looking for an authentic and cozy Maryland rental cabin, it really doesn't get better than this! The Charming Cabin's exterior has such strong east coast cabin getaway vibes. The interior is full of shabby chic charm and is perfect for those wanting to experience the comfort of home while staying in a vintage cabin retreat.
This cabin in Maryland was originally built in the 1890s and was renovated in 2016. It features a propane fireplace, a loft with a queen-sized bed, a stocked and fully updated kitchen, a front side porch, fire pit, and a shed for storage. It also is equipped with wifi and a living room tv as well as a bedroom tv.
Take a trip to the nearby skiing resort, kayak or float down the Potomac River, check out the famous Appalachian trail, or go antique shopping. The list of things to do near this Charming Cabin is endless!
Check Rates: VRBO.com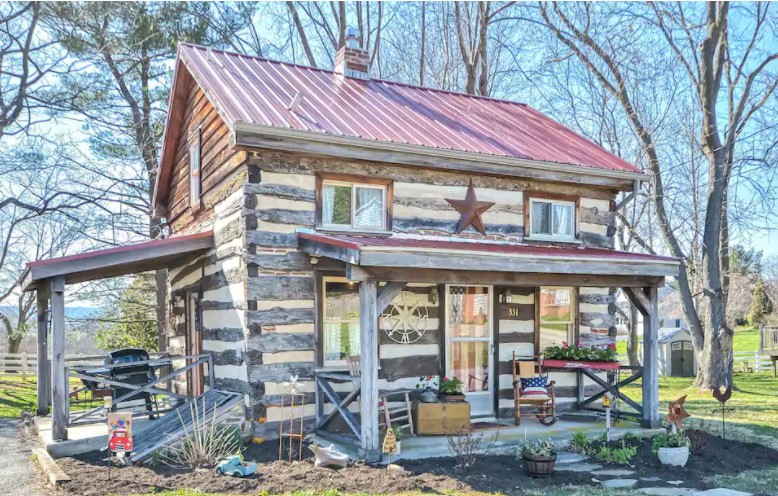 Annapolis Cottage
The next cabin on our list happens to be in one of our favorite east coast towns. This is a great choice out of all the Maryland cabins for rent if you want cozy cabin vibes while staying near a city!
This cozy cottage is located in a waterfront neighborhood in Annapolis. You'll be able to walk right to downtown!
The cottage is colorfully decorated and has all the amenities you will need for an amazing stay. The cabin is 810 square feet and can host 4 guests. It has 1 bedroom and 1 bathroom. It even has a fenced backyard and parking for 2 cars, a luxury in this part of Annapolis. As far as cottages in Maryland go, this one is definitely a winner!
Annapolis is Maryland's capital and is full of things to do. From the United States Naval Academy, an Arts District, a popular Main Street, and so much more, Annapolis has something for everyone. You can also head to DC and check out all our nation's capital has to offer.
Check Rates: VRBO.com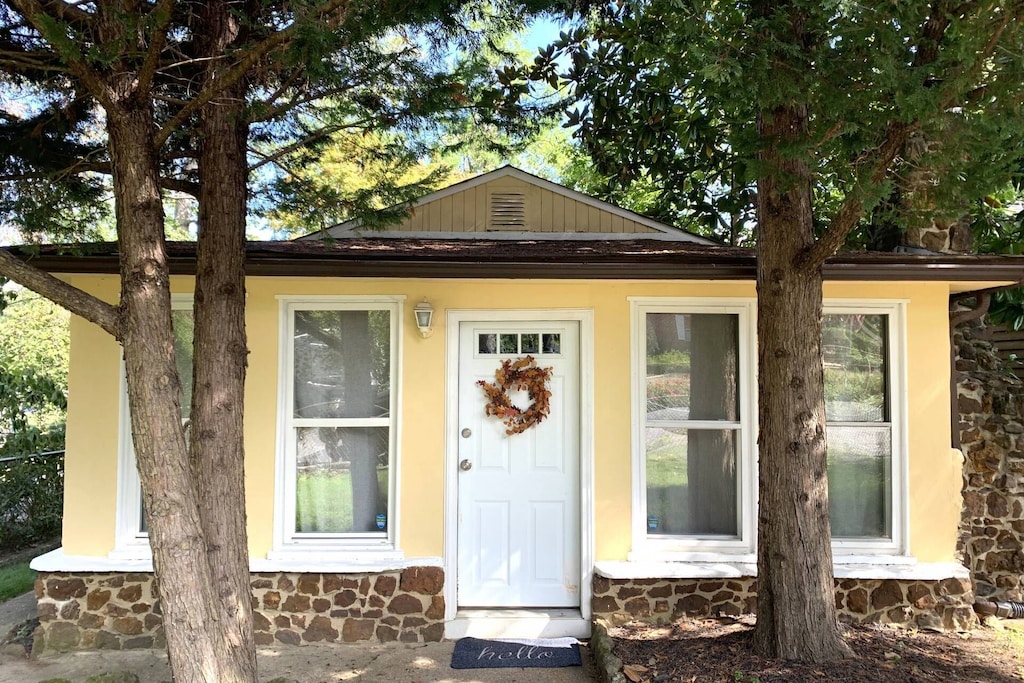 Cabin with Hot Tub
One thing that can make every cabin stay even better is an outdoor hot tub! If you're looking for the best cabins in Maryland with hot tubs, we've got you covered.
This quaint wooden cabin can sleep 4 guests. It has 2 bedrooms and 2 full bathrooms! This cabin is a cozy 822 square feet. You're sure to love the stone fireplace and high wood ceiling! There is also a charming spiral staircase.
The cabin is located in a secluded community with lots of paved trails for a stroll, run or bike ride. This Deep Creek Lake vacation rental is located in the Yellowstone neighborhood, near all the best things to do in the area. After you go out and explore, grill up dinner on the back deck or take a dip in the private hot tub surrounded by towering trees.
Check Rates: VRBO.com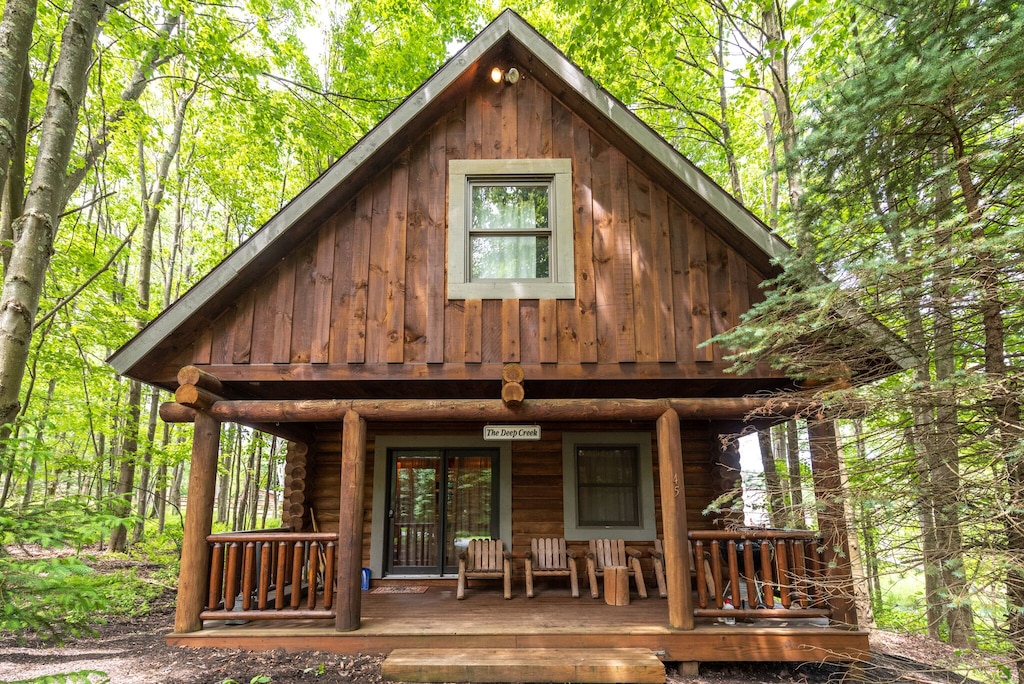 Country Acres Retreat
Next up on our list of the best cabins to rent in Maryland is a cabin with a view! There is a one-acre lake right out back. This area is so picturesque that guests often rent out a Pavillion on the same property for weddings!
This is a spacious and airy cabin that can host up to 12 guests. There are 9 beds in 3 bedrooms and 2 full bathrooms. The wood planks that make up this cabin are really special and unique. The kitchen is made of all hickory wood and the floor planks are old sugar maples- you can even see where the maple syrup taps went into them in the past.
When you stay at the Country Acres retreat you're less than 5 miles from Deep Creek Lake State Park. The famous Wisp Ski Resort is only 5 miles from you. There are also a number of golf courses where you can practice your swing. This is another great choice when you're looking for deep creek Maryland vacation rentals.
Check Rates: VRBO.com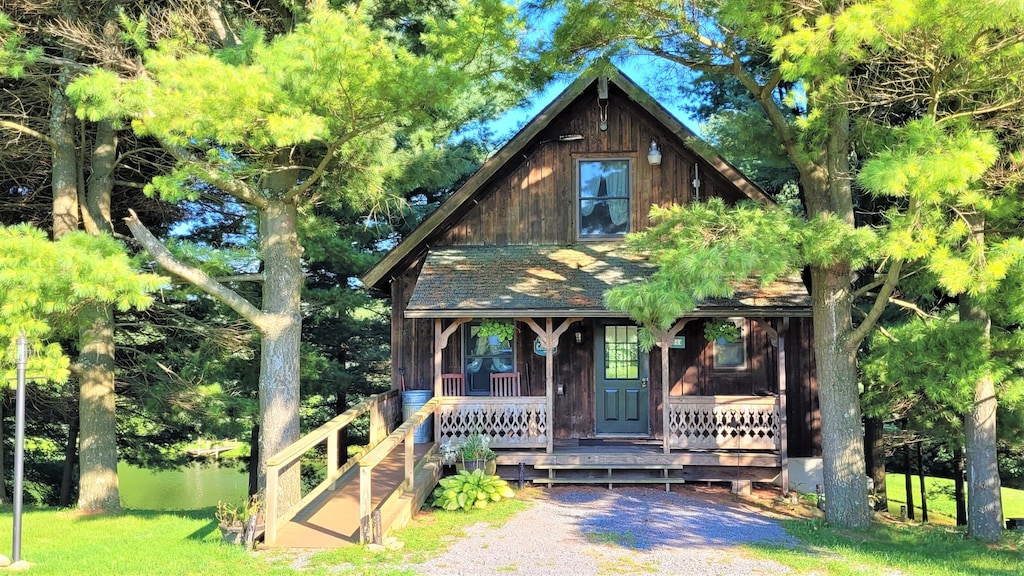 Barn Apartment
While this Historic Barn Apartment may not exactly be a cabin in Maryland, it's full of the rustic charm of some of the best cabins. It features a wall of tall windows, exposed beams, lots of historic details, and not one, but two floors of lofts.
Surrounded on all sides by 100 acres of working farmland, this makes an amazingly peaceful retreat. It is also only 25 miles northwest of Baltimore. It gives you the option of secluding yourself on a working farm and enjoying nature all day or adventuring into Baltimore and then coming back to the tranquility of the farm to spend your nights.
You'll definitely enjoy the peaceful solitude of the Historic Barn Apartment. When you stay here you'll find an open floor plan with a large living room, full kitchen, and a wood-burning stove. In the second-floor loft, you'll find a fully stocked library, which is a perfect place to spend your days. In the third-floor loft, there's a queen-sized bedroom.
While a little unconventional, we definitely think this apartment earns its place on the list of the most romantic cabins in Maryland.
Check Rates: VRBO.com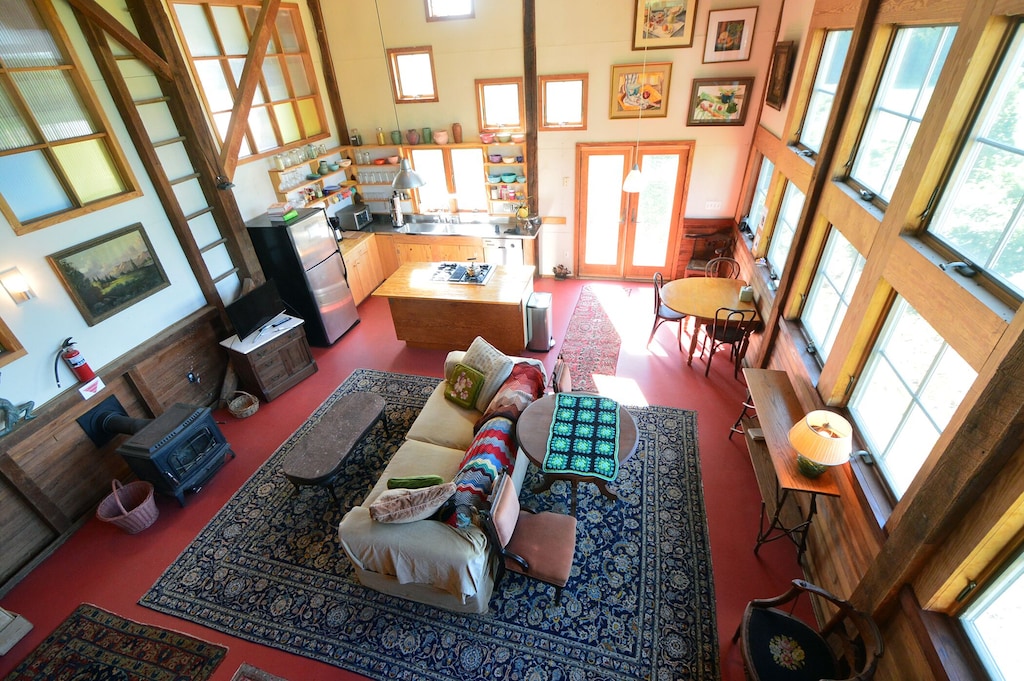 Bay Log Cabin
If you've always wanted to stay at a log cabin near the ocean, this is the entry on our list of cabins to rent in Maryland for you! This 1930s log cabin is a rare find indeed.
This 1300 square foot cabin has 2 bedrooms and 2 bathrooms. It can host up to 5 guests. The host is open to having dogs visit too, contact him about your dog's size, age, and temperament for more details.
The log cabin's location up on a 50-foot cliff means you'll have incredible views of Chesapeake Bay. It's only a 1-2 minute walk to the stairs down to the beach, which is known to be a great spot to find fossilized shark teeth. How cool is that? There are lots of paths and trails in this quiet community, and the American Chestnut Land Trust is also nearby if you feel like taking in even more of the area's natural beauty.
Check Rates: VRBO.com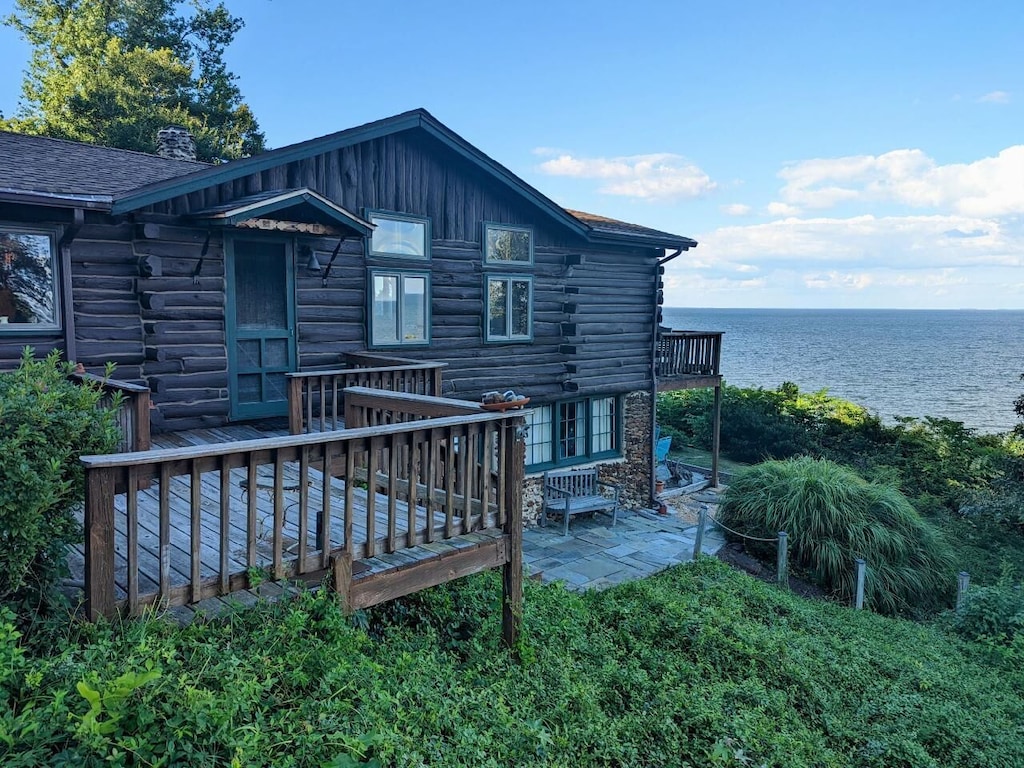 Middle Creek Cabin
On nine private acres of forest land, you'll find this Middle Creek Cabin in Maryland. The Middle Creek Cabin is located in Myersville Maryland a quaint small town in Frederick County.
Frederick County is full of beautiful parks and outdoor activities. You will find the Catoctin River Nature Center, Fountain Rock Park, Rose Hill Manor Park, and plenty of hiking trails. Near the cabin, you'll find Middle Creek, the cabin's namesake, which is full of Rainbow, Brook, and Golden Trout.
The Middle Creek Cabin is situated between Gambrills State Park and South Mountain State Park and feels completely secluded. Inside the cabin, you'll find a cozy living room with a smart tv and French doors that open up onto a covered front porch. On the second floor, you'll find a queen-sized bedroom with a reading nook and a day bed. This is a great choice for a getaway out of all the rental cabins in Maryland.
Check Rates: VRBO.com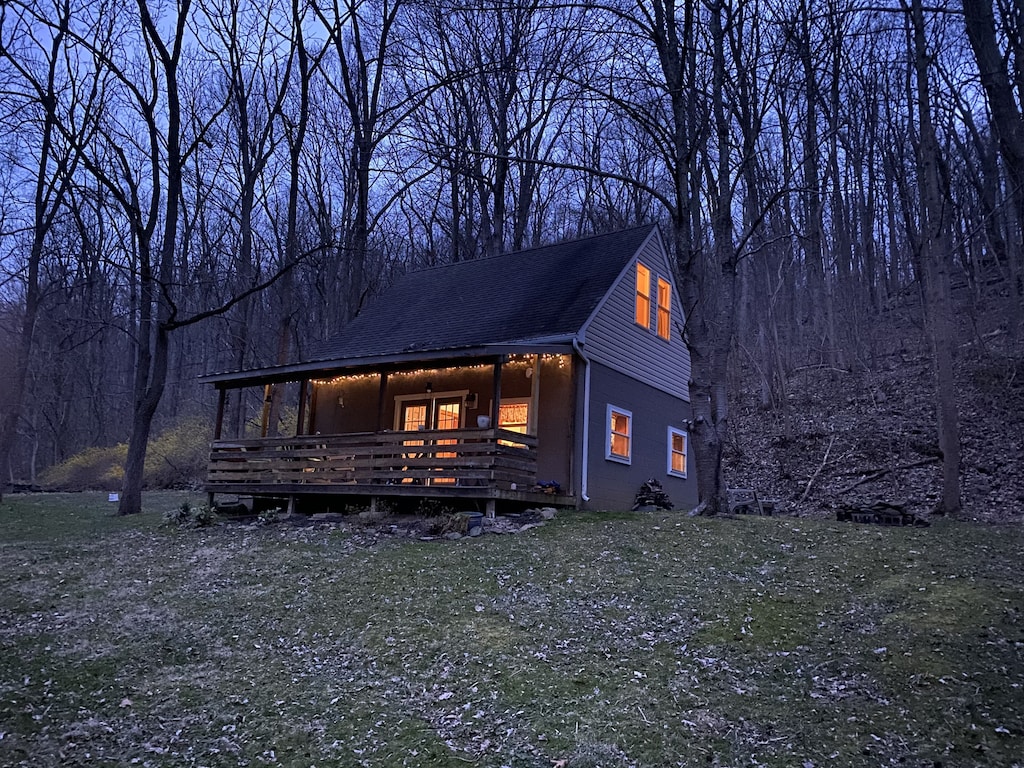 Waterfront Cottage
Perfect for two, this Waterfront Cottage is easily one of the most romantic cabins in Maryland. It has views of Rogers Creek, The Potomac River, and Chesapeake Bay. The property also has its own sandy beach that is secluded and shared with only the other rental house on this plot of land.
This little cabin invites you to spend lots of time outside, with a welcoming hammock, a fire pit, and a lovely screened-in porch. The hosts provide beach chairs, a beach umbrella, noodles, inner tubes, coolers, fishing gear, sand toys, bikes, an adult kayak, one junior kayak, and 1 paddle board in the garage. The hosts and reviewers say that this property feels like "being back and summer camp" and I've got to say I agree!
This excellent example of cottages in Maryland can sleep up to 4 guests. It has 2 bedrooms and 1 bathroom. Come soak up some sea breezes at one of the coziest cottages around!
Check Rates: VRBO.com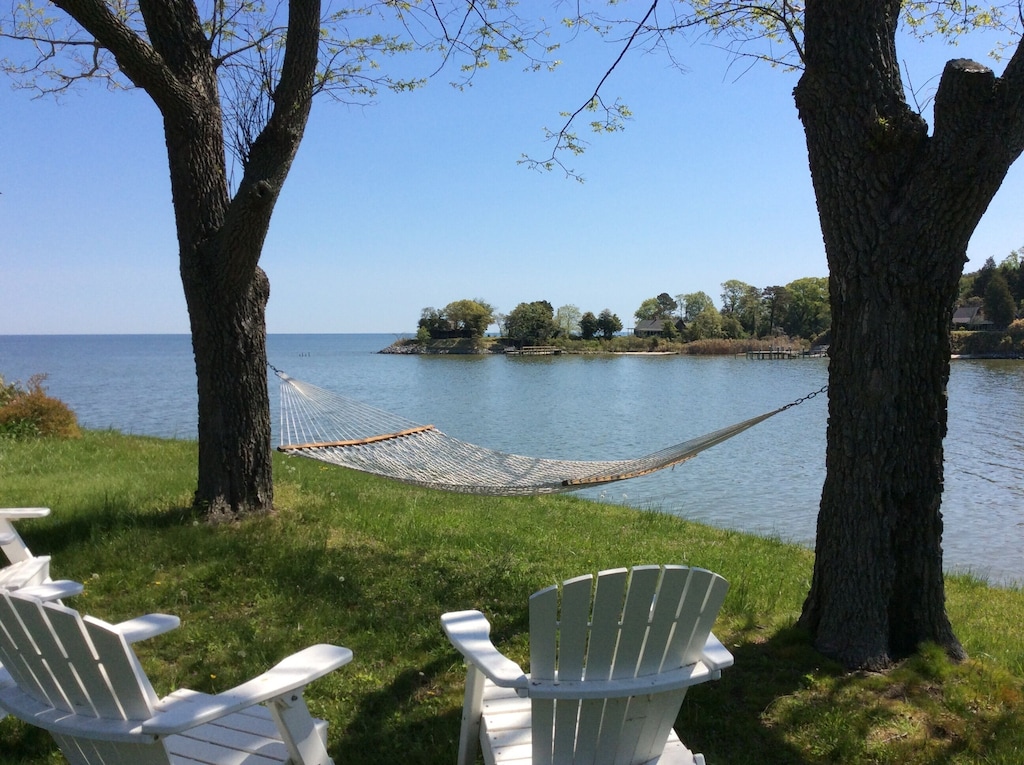 We hope one of these cabins in Maryland inspired you to plan a getaway to this amazing state. There is truly something for everyone on this list and you'll have an amazing time at whichever cabin or cottage you choose!