Are you planning on visiting Italy in October? Then you have come to the right places!
We have a few things you should know before traveling to Italy at this time of year. Simply being aware of these things can help make your Italian vacation go more smoothly than imagined!
October in Italy can be tons of fun. In fact, you can do much of what you would typically do in Italy during the summer, minus some water activities. While the water is getting cooler, the temperatures are pleasant, and you can still see historic sites as well as eat lots of pasta!
So whether you are going to Italy for one week, two weeks, or just a few days, you'll want to keep reading! There are so many things to do in Italy, and whether you go in October or any other month, there will rarely be a dull moment.
Pack your bags for Italy and get ready to discover the best things to see in Italy in October with the help of these tips and tricks!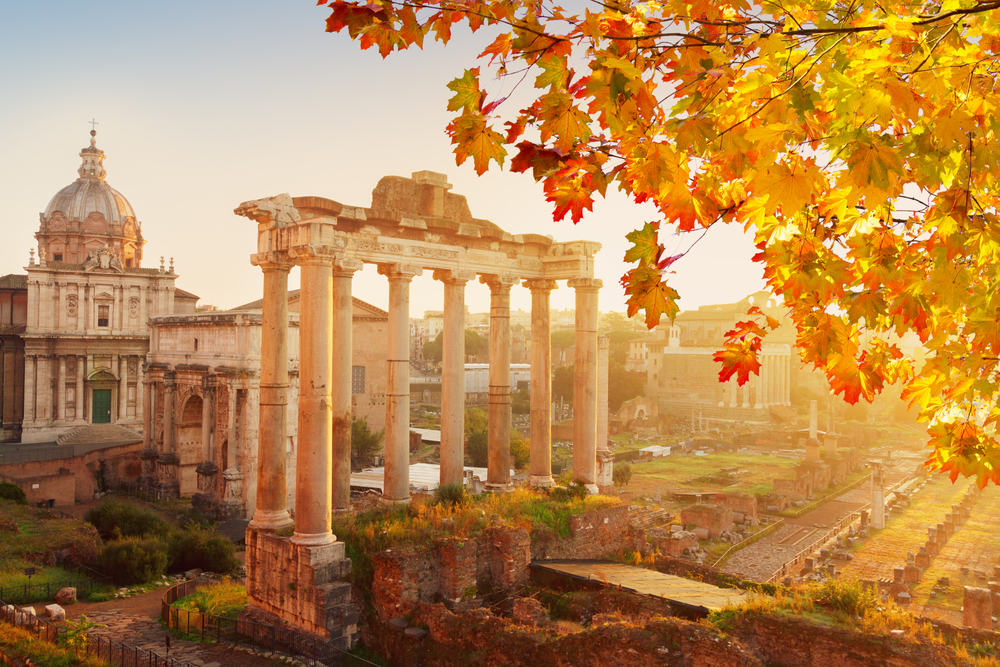 7 Things to Know Before Visiting Italy in October
October Weather in Italy is Cooling Down but Still Pleasant
Italy weather in October is pleasant! Temperatures naturally cool down as we process into fall, so starting in September and moving into October means that the weather will gradually get cooler
Expect crisp fall leaves, and sunny days when visiting! But don't forget about the possibility of some wet weather too. You'll really get to see the changes of autumn in Northern Italy. These changes will be more subtle in Central and Southern regions.
Overall, the weather in Italy in October is mild. Historically, the average temperature in Italy in October stay around 77 degrees Fahrenheit (25 degrees Celsius). But of course, the region can also influence this!
For example, in Milan the average temperature is about 18 degrees Celsius (22 degrees Fahrenheit) and in Rome in October it is about 22 degrees Celsius (71 degrees Fahrenheit).
When taking the water temperature into consideration, know that the nation's center averages between 55-70 degree Fahrenheit (13-21 degrees Celsius). And don't forget that the more south we go, the warmer we get! So pack light layers and waterproof clothing. Know that when you book the warmest place in Italy in October will be toward the south!
Don't forget to check out our helpful post on When To Visit Italy which talks about the pros and cons of different seasons, weather, crowds, festivals, and more!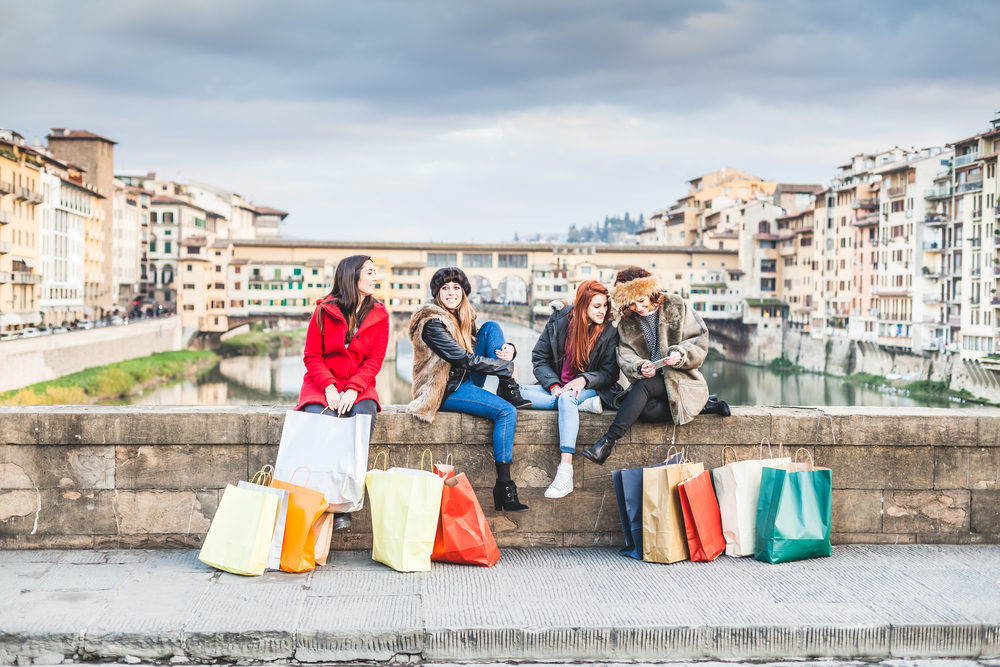 Water Temperature In Italy are Getting too Cold to Swim
Overall, October is not a great time for swimming. The water temperatures in Italy are getting too cold. However, if you are visiting the more Southern regions, you may find yourself having a nice sunny beach day at the beginning of the month!
On average, the water temperature of the seas hover around 69 degrees Fahrenheit (21 degrees Celsius). Again, this can very depending on where you are visiting. The closer you are to the south, the warmer the water can get.
For example, in Sicily, the water averages about 72 degrees Fahrenheit (22 degrees Celsius), and Positano is 71 degrees Fahrenheit (21 degrees Celsius). So these are warmer locations! But if you are trying to visit Cinque Terre, chances are a beach day is not on your agenda.
With the average water temps being 14 degrees Celsius (57 degrees Fahrenheit), you'll freeze! But that does not mean that visiting Cinque Terre in October is off your bucket list– just don't go swimming when visiting 🙂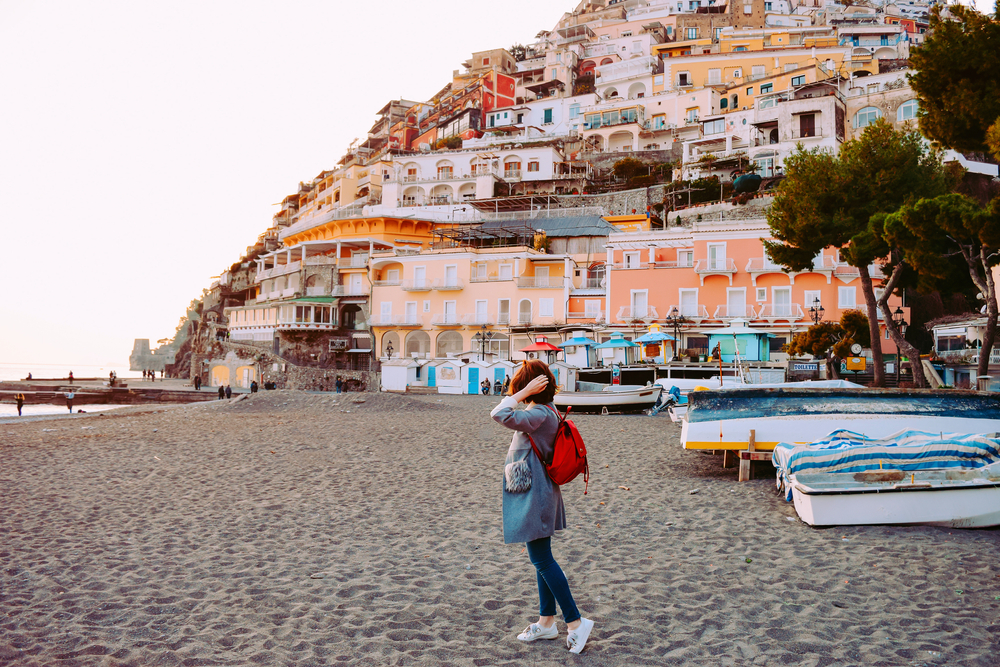 October is Shoulder Season in Italy
Busy season for Italy is typically between May- September. That means visiting Italy in October or looking for vacation spots shouldn't be too difficult!
October isn't as busy as July or August. This is because many people are no longer on summer break. So when you ask "is Italy crowded in October?" your answer is "it's shoulder season."
This should season simply means that the high-season crowds have left, and yet the weather is still decent. It has not reached the winter chill levels. This also means you may find some cheaper airfare to Italy in addition to reduced prices on hotels. You may even find up to 50% off hotels when comparing it to the high tourist season.
And better yet? October in Italy is when the harvest festivals occur! While these bring in some crowds, they are something you don't want to miss. We will talk about this more later. And if you are interested in other "shoulder seasons" know the other "shoulder season" occurs in spring.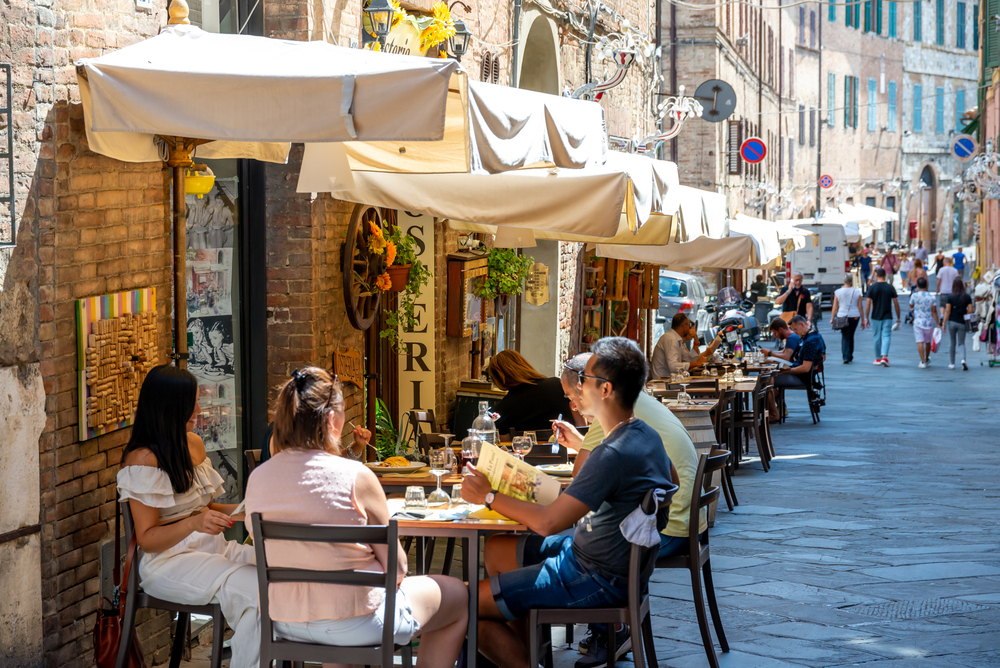 October is the Last Time to Visit the Dolomites Before the Snow
The Dolomites are hands down one of the best places to visit in Italy in October! Usually the snow comes in around November and stays onward for a few months.
This is not to say that is may not be possible to experience October temperatures in Italy that are more correlated with winter weather. The Dolomites have seen snow in October before!
Keep this in mind when planning your trip. While the cooler weather can make the hikes of the Dolomites nice, with winter setting in, some lifts may close. Make sure to plan and call ahead!
And if you are hiking in this cooler weather, pack appropriately. Down jackets, beanies, gloves, hiking poles– these will keep you safe and comfortable in the cooler temps. Try to remember as well that the probability of participation is higher toward the end of October, so this may up your chances of snow too!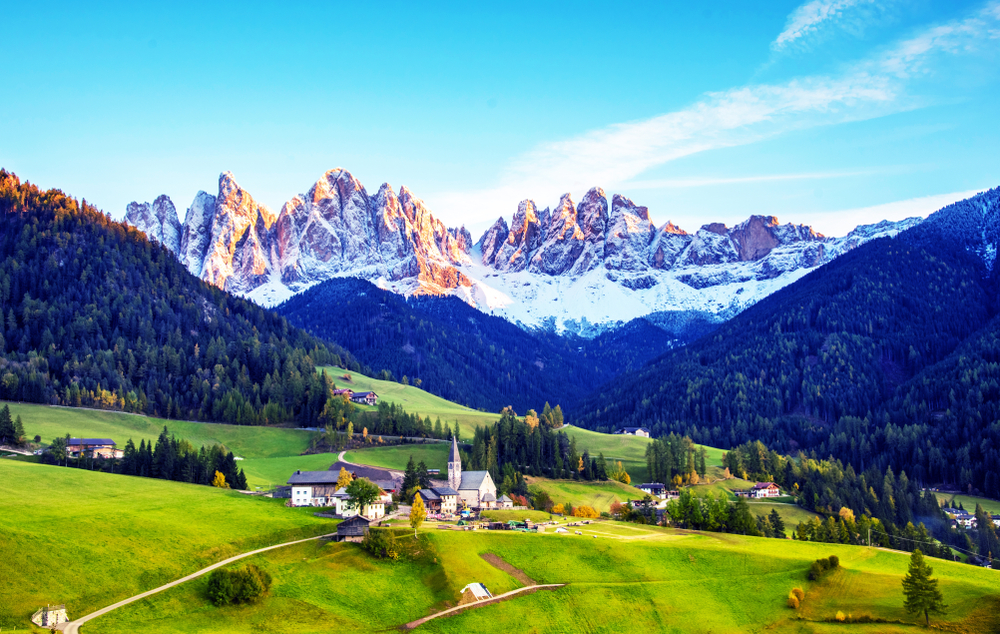 October Ushers in Rainy Season in Italy
Rain is common throughout all regions during the month of October. This means a good raincoat or umbrella is your best friend! And while the participation may increase toward the end of the month, most of the rain is often accompanied with sunny days too.
When looking for the best part of Italy to visit in October, know that everywhere gets rain. On average, there will consisntely be a 49% chance of a perfect sunny day, and a 51% chance of seeing a mixture of sunshine and rain and clouds.
The average rainfall for the month of October is 38 mm. This is a nice build up to the rainiest month for Italy: November. November features 101.3 mm of rainfall each year, so if when visiting Italy in October, you're escaping the downpours!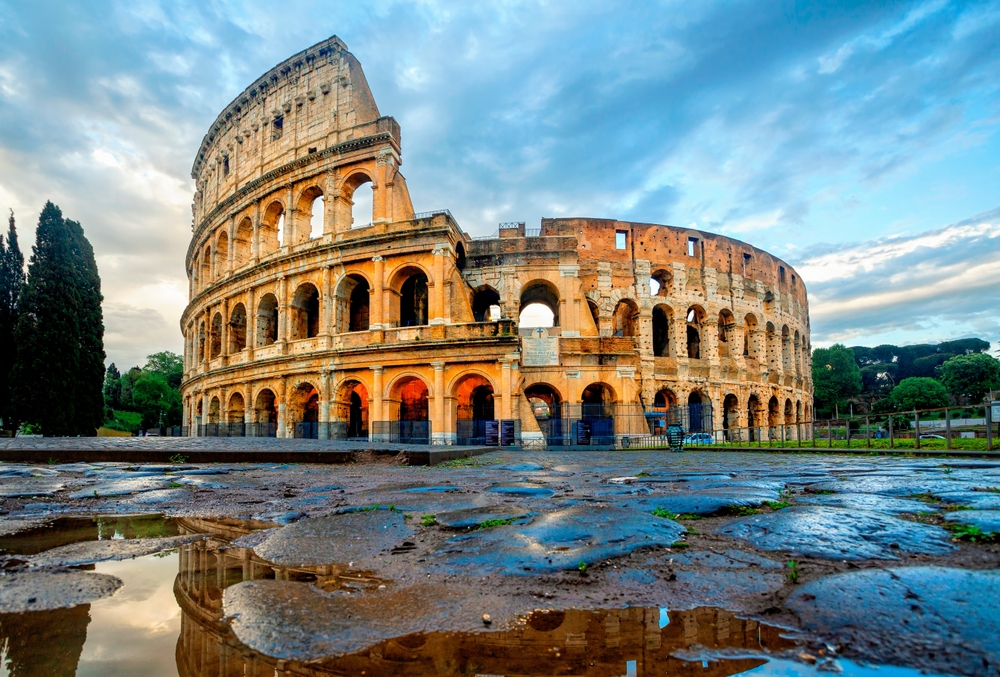 October is Harvest Season in Italy
The most wonderful thing about October in Italy is hands down the events! Even if you don't plan for local holidays, festivals, and more, check your calendars! Closures for festivals during this month happen all the time.
Some of the best vacation spots in Italy in October feature these wonderful festivals. For example, you can take a 7 day tour of food and wine throughout Bologona, Tuscany, and Rome— and trust us, nothing is better than Tuscany in October
You can also enjoy the white truffle festival in Alba, or even the EuroChoclate Festival toward the end of the month. Who doesn't love the occasional sweet tooth indulgence? All cities– from Venice in October, to Tuscany in October– typically have some harvest season festival going on.
The 4th of October is also San Francesco, which will cause towns to host special festivals to mark the occasion. And don't forget about Halloween. While not a traditional Italian holiday, Halloween has arrived and is blossoming within city museums, parks, and more. Come in costume!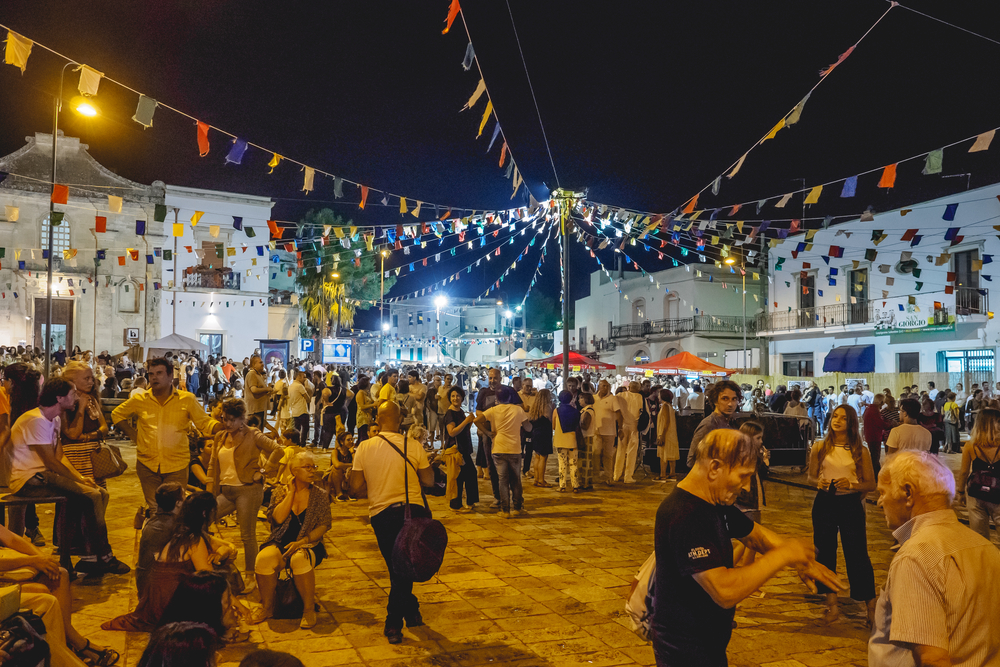 Dress in Layers When Visiting Italy in October
There is no denying that the weather is getting cooler. So how does that impact your packing? Most Italians put away their summer clothes in October.
Thus, we suggest packing a few short sleeved tops in case you are visiting those more southern regions. Or incase you get a nice sunny day! But for the most part, waterproof jackets and sweaters will help combat the rain and cooler average temperatures.
We also suggest investing in a good pair of walking shoes. Whether you are visiting the touristy spots during October (which will be less busy), taking hikes on mountains, trying out the beach in the cold, or just simply exploring a festival, you want to be comfortable. Pack smart!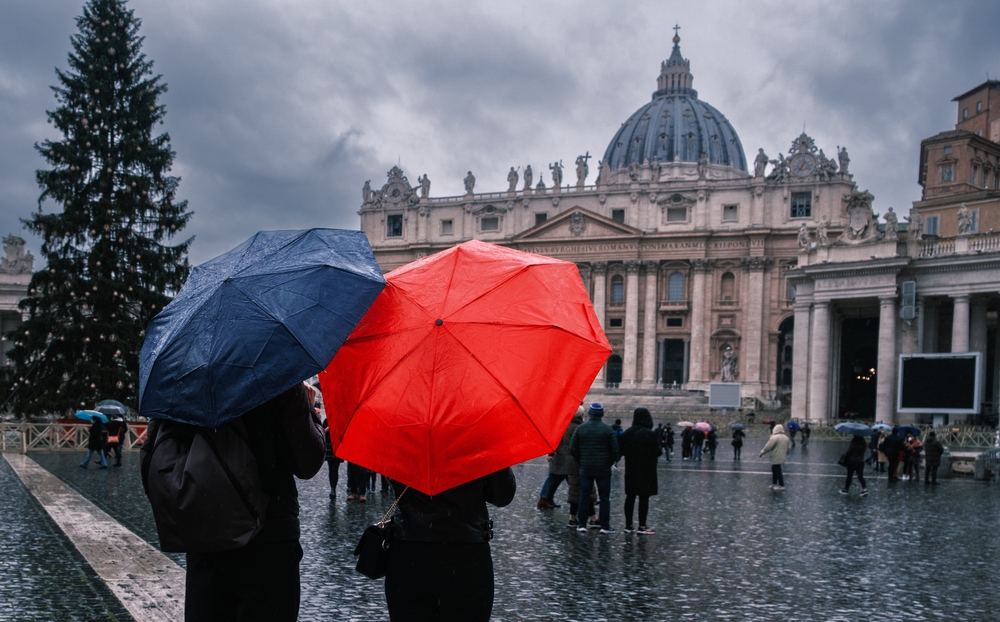 And there you have it, folks! 7 things you must know before visiting Italy in October. We hope this insight to festivals, weather, temperatures, and crowds help make your vacation worth the wild. But to be honest, you can never go wrong with Italy at this time of year!