If you are searching for the best castles near London, you have come to the right place! These amazing castles all seem to have come directly from the pages of your favorite fairytale. Too bad a fairy godmother is not included in your visit!
Even though London is full of historic architecture to explore and incredible experiences to have, after seeing some of these breathtaking castles, you might just be tempted to leave the city for a day and take a drive to one of these castles near London. All of the magnificent castles listed here are simple day trips from London. Meaning that after you experience some of these magical castles, you can be back in time to grab a bite to eat at one of London's many restaurants for dinner!
Whether you wish to leave the bustle of London behind for a more peaceful setting, or you want to adventure into the country to see these spectacular sites, this list of castles near London is for you! Enter your very own fairytale as you gaze upon these enchanting castles near London!
Read next: The Ultimate 4 Day London Itinerary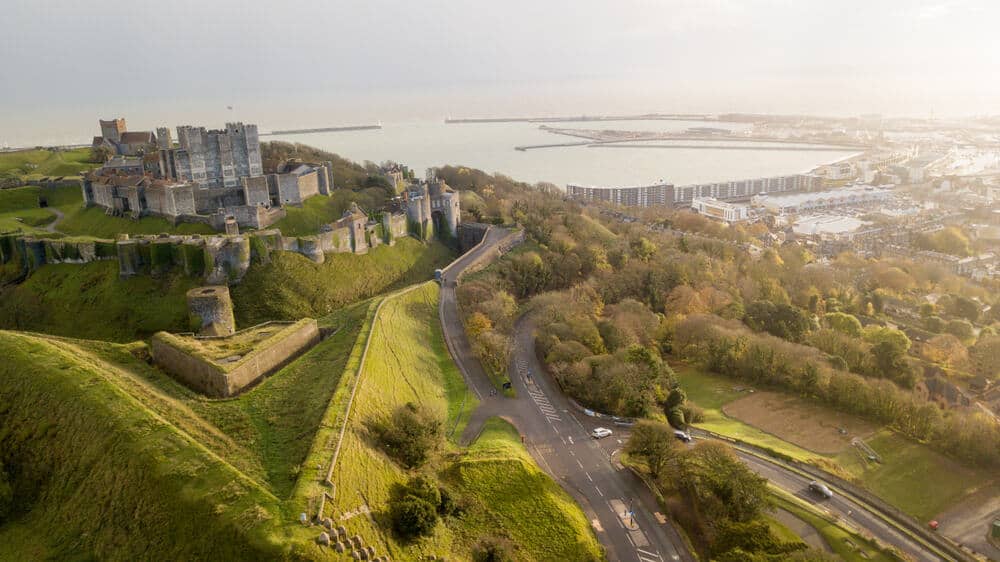 10 Fairytale Castles Near London You Can't Miss
Dover Castle
Our first castle near London can be found in the South of England and is set upon the white cliffs of Dover. Initially built in the 11th century by King Henry II, Dover Castle still stands proudly from its perch on the cliffs. Due to the castle's historical importance in the defense of England, Dover castle has been nicknamed the "key to England."
Over the centuries the location of Dover Castle has been home to many other buildings including a Roman lighthouse, multiple churches, and finally a Norman castle. The Roman lighthouse, or Pathos, is still present at the castle, and it dates back to AD 43. If you are interested in the history of World War II, Dover Castle will be the most impressive of these castles near London, as it was the control center for Operation Dynamo, also called the Dunkirk evacuation.
There is enough at Dover castle to keep you busy for the entire day! One of the highlights of visiting one of the most famous castles near London is the view from the roof of the Great Tower which is in the center of Dover Castle. It is a steep four-story climb to get to the roof, but if you can make it to the top, it is worth it! On the different floors of the Great Tower, you can also see six rooms which have been modeled after how they would have looked during the time of King Henry II. There are also two tours of the castle that you can choose to participate in. One is the tour of the secret wartime tunnels, which takes around 50 minutes and occur every 15-20 minutes.
To get to Dover Castle, you have two options. The first is by driving there yourself which should take you 90 – 120 minutes. The castle near London offers free parking to 200 cars at a time, so make sure you get there early to secure a parking spot! The second option for your trip is to take the train from London to Dover, which can last a bit more than an hour. Understand that there is a little over a mile between the train and Dover Castle though, so you will either have to walk it or get a taxi.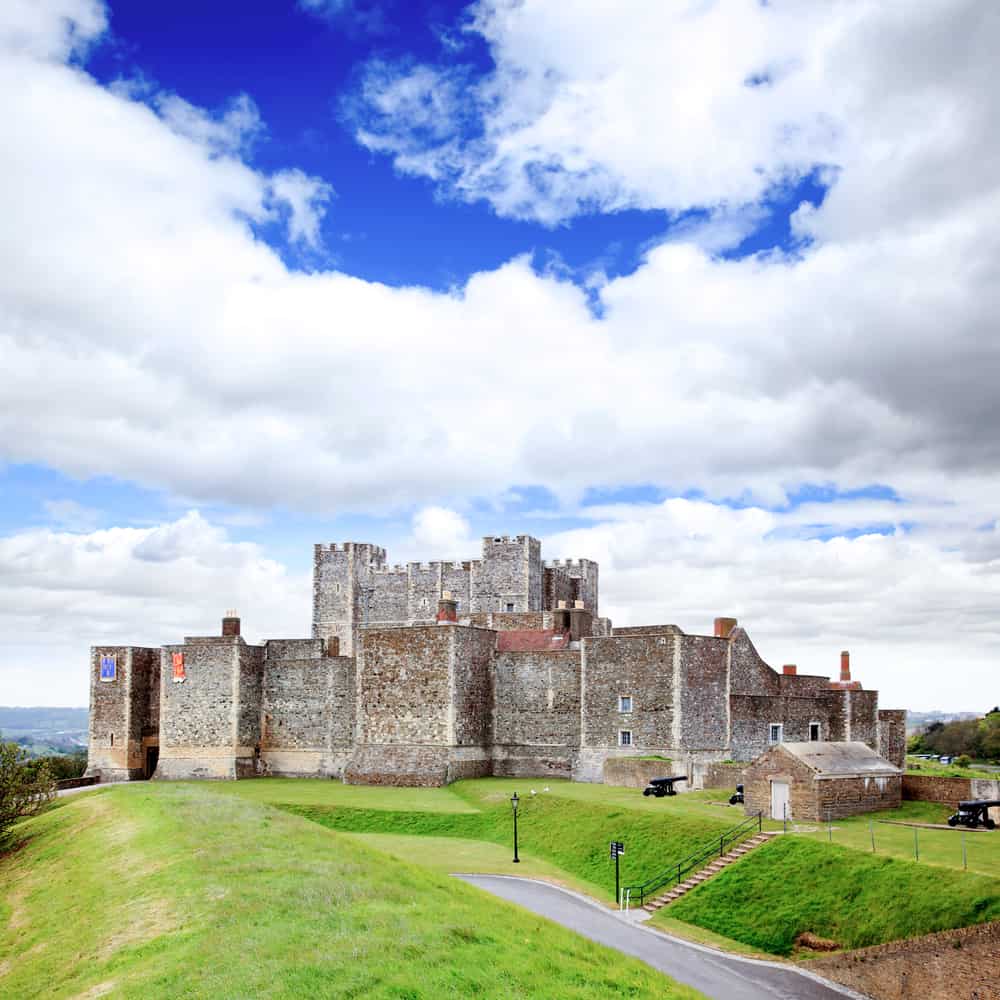 Highclere Castle
The next of our castles near London is actually out of a fairytale. Well, it's not actually a fairytale, but it is the filming location of BBC's popular television show, Downton Abbey. Built upon a 5,000-acre estate, you will feel genuinely separated from the world as you tour this elegant castle and its grounds. When exploring the property, make sure to save time to view the Egyptian exhibit and walk through some gorgeous gardens. The Egyptian exhibit is in honor of the 5th Earl of Carnarvon, a past owner of Highclere Castle, who discovered the tomb of Tutankhamun in 1922.
When planning your visit to Highclere Castle make sure you check their website for when they have tour dates or when they are open to the public, as they are only open on certain days. On the days that they are open, they have two separate times that you can choose to explore the castle. You can buy tickets online or in person, but they can sell out.
If you decide to purchase your tickets once you arrive at the castle, make sure you get there before the opening. They also do a bunch of fun events though, so look out for some awesome opportunities. The drive to Highclere castle is around one and a half hours, making this an excellent day trip from London! Please keep in mind that Highclere Castle is still someones home though, so be respectful of the property during your visit. You are sure to enjoy visiting one of the most interesting castles near London.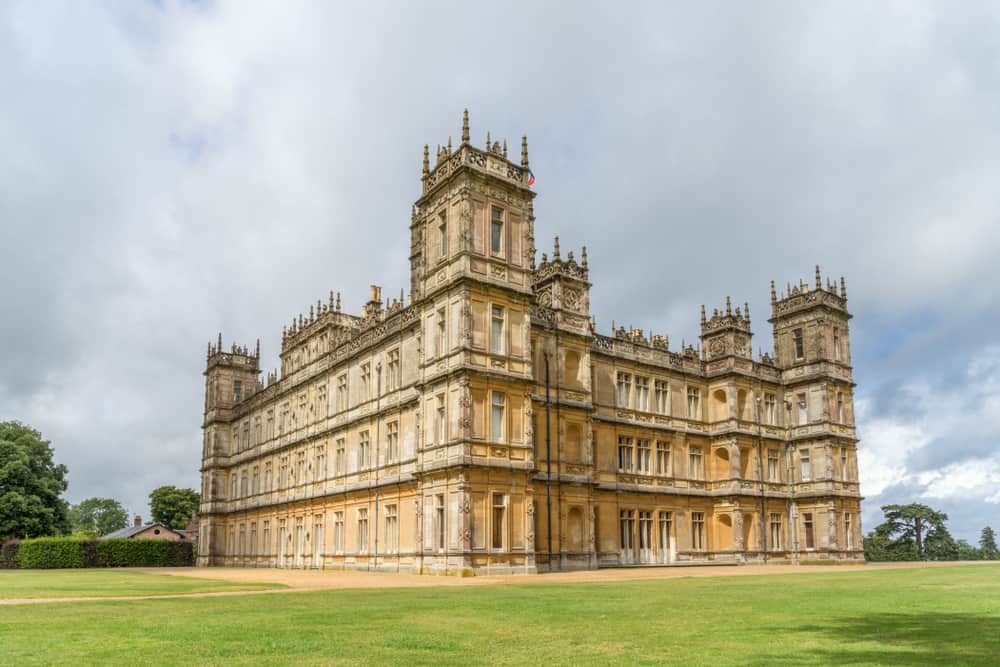 Windsor Castle
Windsor Castle is one of the most famous castles near London, and for good reasons. Not only is it one of the prettiest castles near London, but it is also still in use as a weekend home for the Queen. This means that if you see the Royal Standard flag flying during your visit, you get to brag about how close you were to the Queen of England. Depending on when you plan your trip, you might also have the opportunity to witness the changing of the guards, which occurs at 11 am every Tuesday, Thursday, and Saturday.
Windsor Castle was built in the 11th century by William the Conqueror. Since then, Windsor Castle has housed the monarchs of England. While you explore the castle, make sure to look for some of the many portraits of some of the kings and queens who lived at Windsor Castle. There is also the option of wandering through the grounds and seeing St. George's chapel which is the location of the tombs of many monarchs.
Because Windsor Castle is still a working royal home, you will need to visit their website because it will be closed some days; while other days will have limited access to the Staterooms. Visiting on these limited days will be cheaper though, so you can decide what is most important to you. If you choose to drive to Windsor Castle, which should take almost an hour, know that there are no parking lots at the castle. However, there are public parking lots that only require a ten-minute walk. Another option is taking the train. It takes about 40 minutes to get to Windsor Castle from London, and the station in Windsor is only a few minutes away when walking.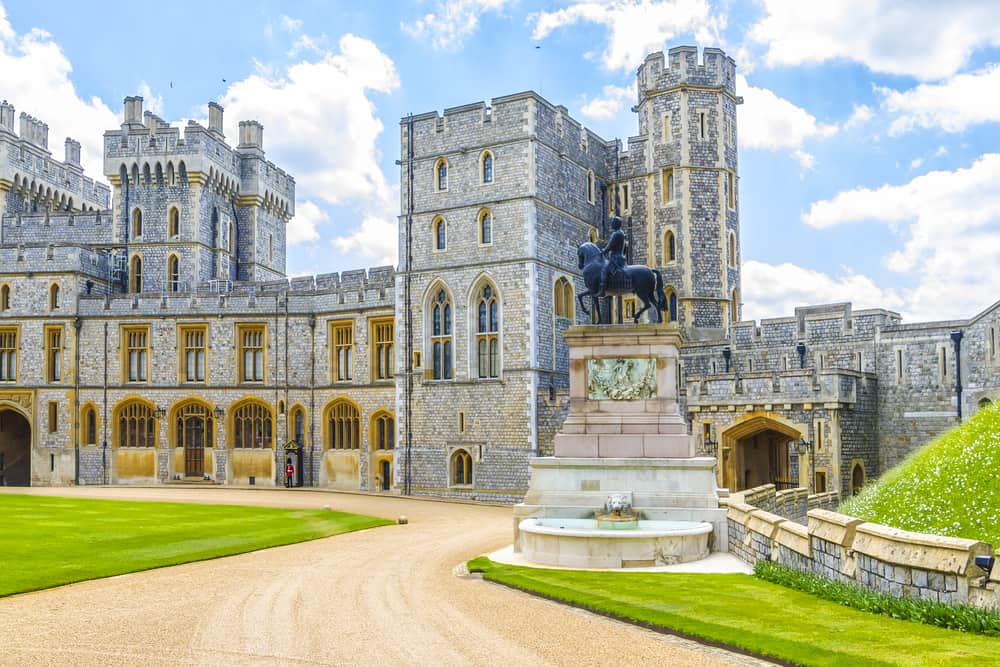 Hever Castle
Hever Castle is one of the smaller castles near London; however, it is still a beautiful sight. Hever Castle was originally built in the 12th century, but it is known most for its Tudor history. Hever Castle was the home of Anne Boleyn, the second wife of Henry VIII. After the castle fell into disrepair, a wealthy family purchased it. They restored the castle and brought many artifacts from the time period to make it one of the popular castles near London. If you are planning a visit to London in the spring, make sure to head to Hever Castle. They have over 21,000 tulips in bloom! Even when the tulips aren't in bloom, the gardens at this castle near London are stunning!
The gardens take up 125 acres on the property and there are 4,000 rose bushes, an Italian garden, and a Tudor garden. There are also some fun options if you have children. There are two playgrounds that have been created to match the design of the castle, and two mazes to explore. One of the mazes is only open during certain times of the year though. There are also lessons in archery and shield painting, and there are chances to watch jousting on the property.
When visiting this castle near London it is suggested that you should drive. This is because the two train stations that are closest to Hever Castle are still not close. If you decide to take the train you have the option of arriving at Edenbridge and taking a cab the rest of the three miles. You also have the ability to take the train to Hever and walking one mile to get to your destination. The train to Edenbridge lasts about 30 minutes and the train to Hever takes around 40 minutes. If you choose to drive, it should only take you just over an hour.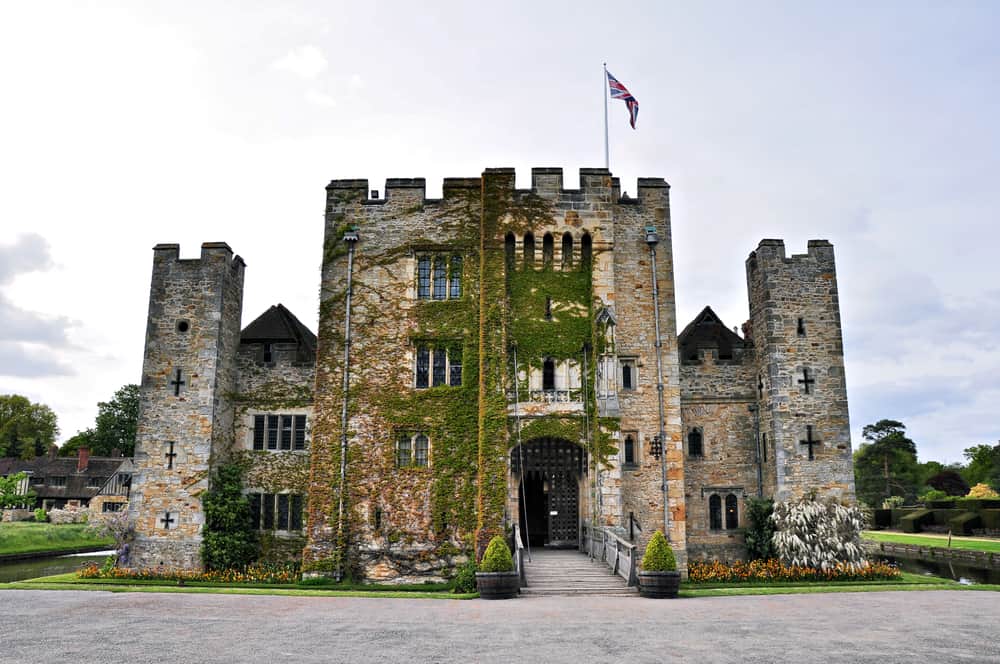 Leeds Castle
No list of castles near London would be complete without Leeds Castle. It has been called the loveliest castle in England! If you are wondering if that is true, you'll need to visit it to decide for yourself! Built in 1119, Leeds Castle has been a palace used by Henry VIII, the private residence of six medieval queens, a country house, and a 20th-century retreat.
It is one of the most visited historic buildings in Britain. Something that makes Leeds Castle one of the most unique castles near London, is the dog collar museum that you have the option of exploring during your visit. There are over 130 dog collars that are exhibited at Leeds Castle. You can also explore the maze that is located on the property of Leeds Castle, and if you manage to find the center of the maze, you get to return through an underground grotto! There is also a falconry at Leeds Castle where you can see different types of birds.
Leeds Castle is located in Kent and is just over an hour away from London. If you drive, you will be happy to know that parking at Leeds Castle is free. You can also choose to take the train from London to Leeds Castle. You will need to take a train to Bearsted, where you can take a shuttle or a taxi from the station to Leeds Castle.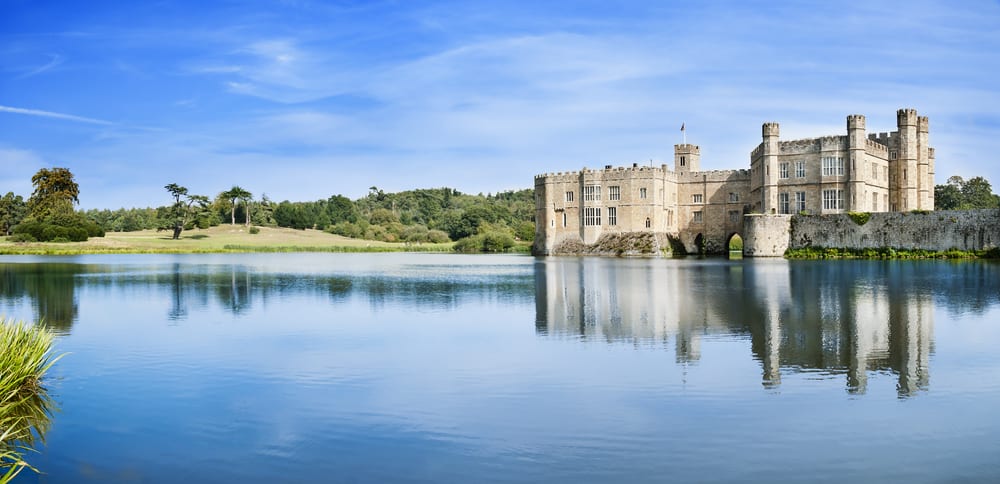 Arundel Castle
Even more than some other castles near London, Arundel Castle truly looks like it came straight from a fairytale. The process of building Arundel Castle began in 1068, and it was consistently added to until 1189. Besides the occasional reversion to the crown, Arundel Castle has been passed down solely through female heiresses.
Climb up the steps of the keep, and you will have a spectacular view of the River of Arun, the sea, and the town located a short distance away. Arundel Castle also has some magnificent gardens that you can explore. You can choose to see the rose gardens, the stumpery, the glass greenhouse, or all three! If you plan your visit in the spring, you might also have the chance to see some of the 60,000 tulips that are grown on the property. This is one of the best castles near London to visit if you love gardens!
For your day trip to Arundel Castle, you have a couple of options on how to get there. You can take the train, which will take you almost two hours. The station in Arundel is a mile away from the castle, so you can either take a 20-minute walk or find a taxi to take you. You can also drive to Arundel castle, which will take about the same time as the train, but you won't have to walk or take a taxi.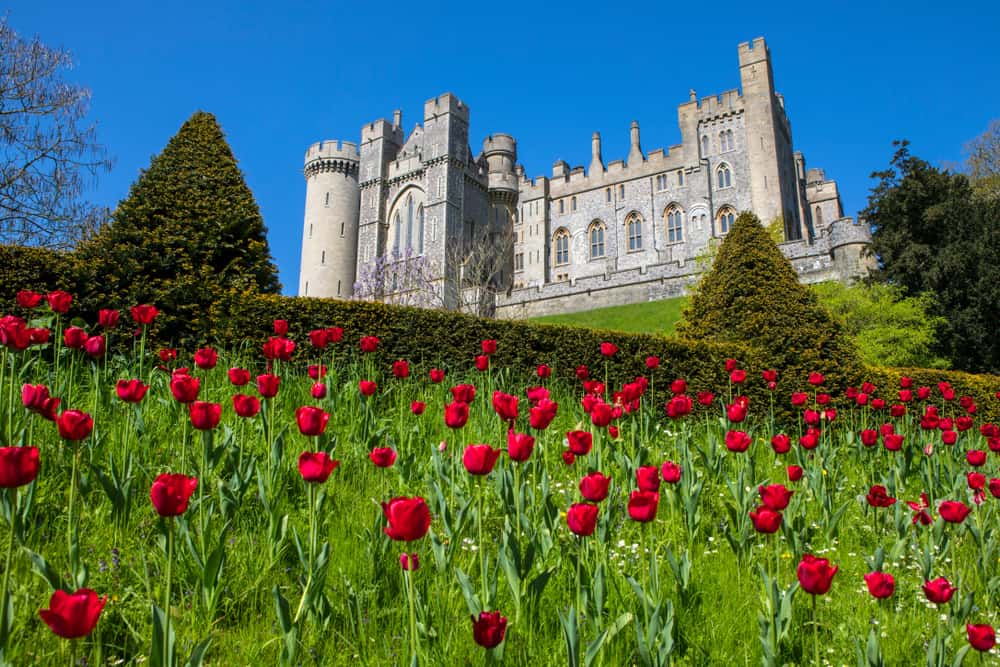 Rochester Castle
One of the less well-known castles near London, Rochester Castle sits alongside London Road in the county of Kent. There it has guarded the River Medway for centuries. It was originally built in the early 12th century. Even though parts of it have been destroyed or fallen into disrepair, after different renovations throughout the years, this castle near London still stands proudly. The tower-keep is three stories high, reaching a height of 113 feet. This is one of the tallest tower-keeps from that period of time that is still remaining today.
Like most of these castles near London, Rochester Castle is usually reached by car or train. Taking the trip by train will take you almost an hour. There is no parking specifically for the castle though, so if you drive you will need to park in one of the nearby parking lots that you will have to pay for. The other popular option for getting to Rochester Castle is by taking the train. This journey will be around an hour long. Once you reach the station in Rochester, you can choose to walk or taxi the half-a-mile to Rochester Castle.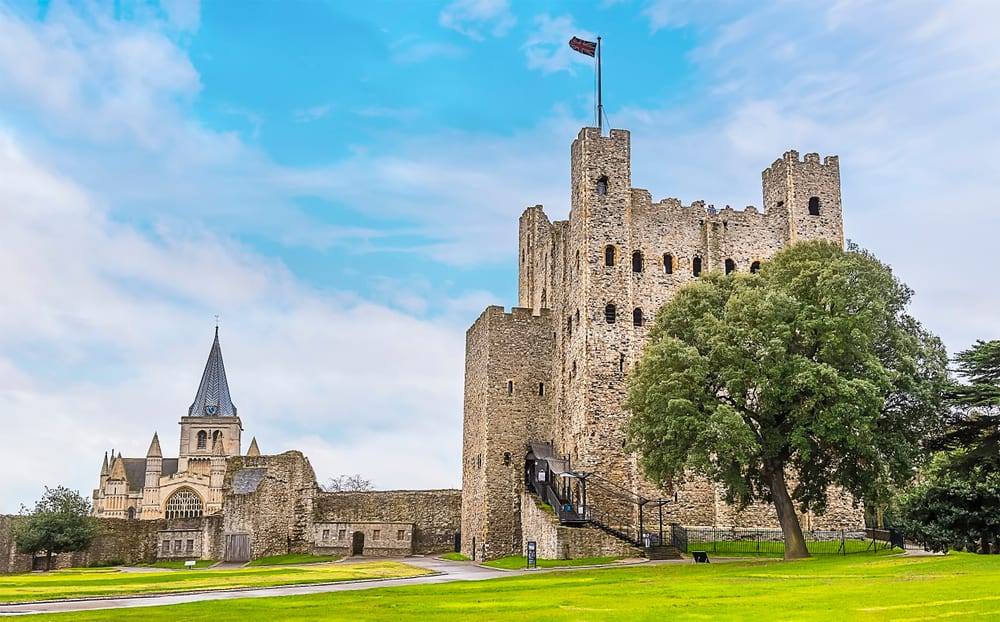 Camber Castle
Unlike most of the other castles near London that are listed here, Camber Castle is in actually in ruins. Don't let this discourage from visiting though, as there is still so much beauty and history located here. Not to mention, the sheep that are sometimes grazing near the castle are perfectly picturesque. No matter how you choose to get to Camber Castle from London, one thing will stay the same. The mile-long walk from the road to Camber Castle will truly make you feel as if you have left this modern world and are walking into another time. There is a pathway, so do not worry about getting lost as you journey through the fields, where you might even be lucky enough to see sheep!
Your visit to Camber Castle will require more planning than some other castles near London though, as you can only explore the castle with a tour. Tours at Camber Castle only occur on every first Saturday of the month at 2 pm. There are also some guided walks that the Sussex Wildlife Trust does occasionally. The drive to Camber Castle will take you almost two hours, and parking can be found across the street from the pathway leading to Camber Castle. If you are okay adding almost a half-a-mile to your walk, you could also choose to take the train, which will take you almost an hour and a half. If you are going for a tour, know that tours start at the castle at 2 pm, so you need to account for how long the walk will take you in your planning.
Framlingham Castle
Next on this list of castles near London is Framlingham Castle. Framlingham Castle was built in the 12th century by a powerful Norman family, and over its history, it has been many different things.
It has been the home of many powerful families, and the home of the first woman to be named Duchess in her own right.
It is also where Mary Tudor found out that she had been proclaimed the queen of England. Eventually, it became the location of many poorhouses, followed by a parish hall. You can see all of this history while exploring this castle near London. You can also walk around the castle's beautiful courtyards, or choose to take the wall walk where you can see all of the surrounding countrysides.
Although there is still the option of taking the train to get to Framlingham Castle, unlike most other castles near London, the closest train station, Wickham Market, is six-and-a-half miles away from the castle. It will take you about two-and-a-half hours to get to Framlingham Castle if you choose to take the train.
You can also drive to Framlingham Castle, which will take you almost three hours. Once you get to the parking lot, there is a small fee for parking though.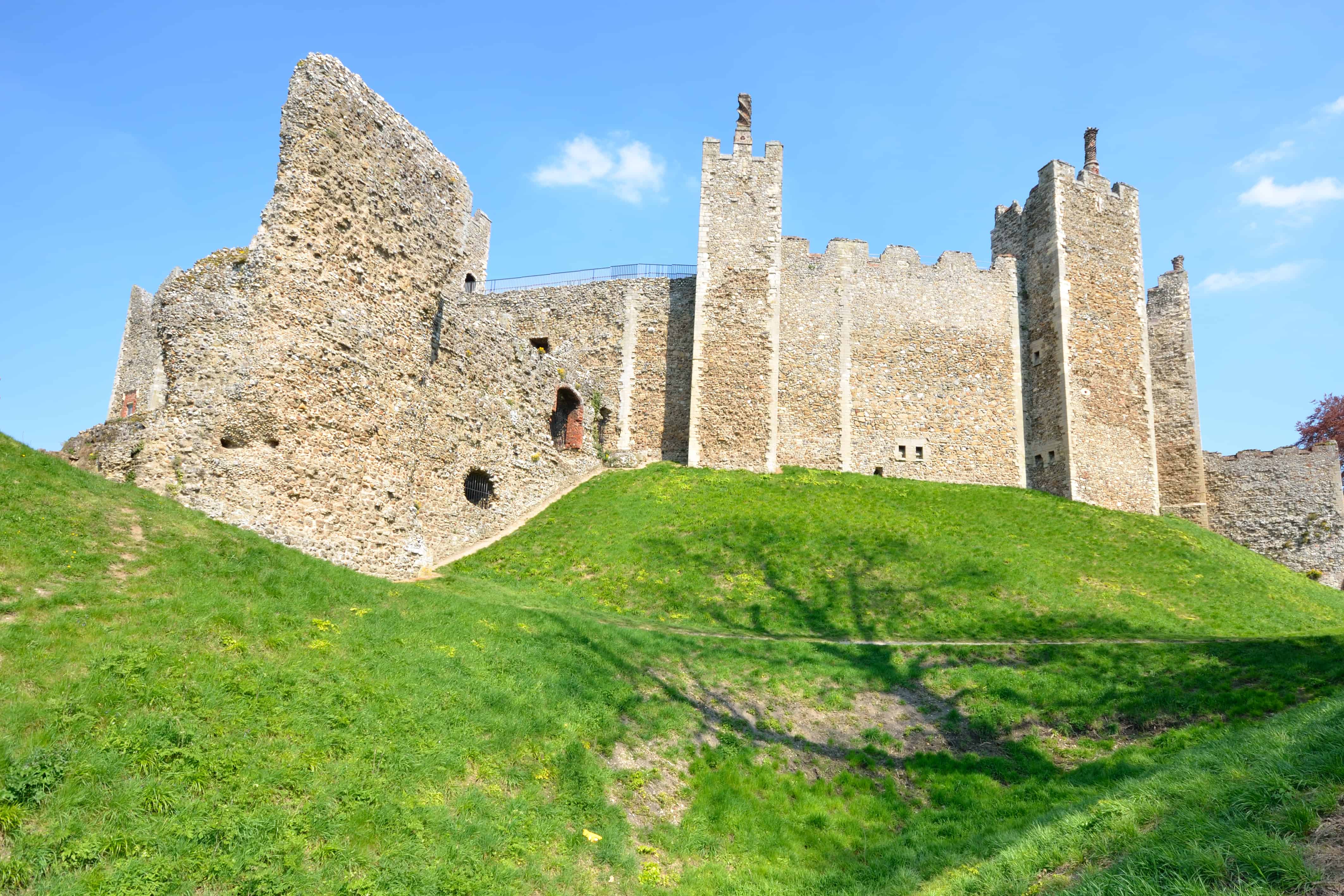 Bodiam Castle
Bodiam Castle offers free tours that occur almost every day and give a brief history of the castle. The tours start at 12:15 pm and 2:15 pm and last around 35-45 minutes. There is also the option of climbing two different towers in order to see some of the most spectacular views from this list of castles near London. It is not an easy climb, with the steps being steep and narrow, so you need to decide for yourself whether or not this climb would be a good idea. if you believe that you can do the climb though, you do not want to miss the sight from the top of the towers!
The drive to get from London to Bodiam Castle is almost two hours, and there is a fee to park in the parking lot. The other option is using public transportation. Sadly, if you want to use public transportation, this castle will be one of the trickier castles near London to get to. Depending on where in London you are coming from, you might need to use a mix of train, bus, and possibly a taxi. The train station, Bodiam Station, is only a quarter of a mile away from Bodiam Castle. There is also a bus that transports people from Hastings Station to right outside of Bodiam Castle.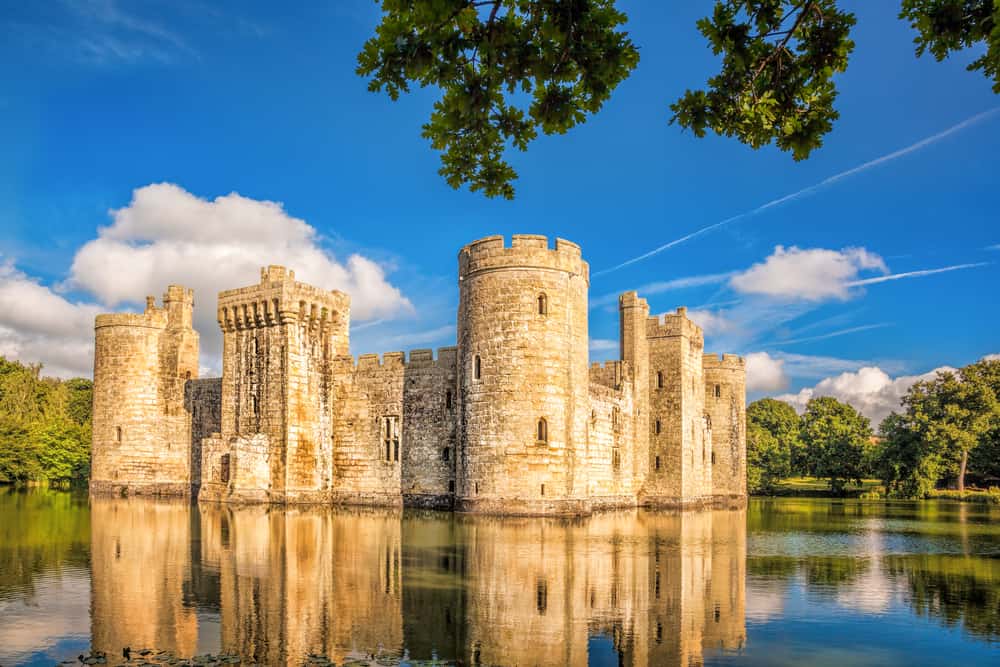 We hope that you enjoyed learning about the best castles near London! London is such a world-famous and well-known city that sometimes you just want to take a break and escape to see something different. These castles near London will not disappoint and each has been hand selected as being the best and worth the trip. Please let us know if you have any questions regarding the castles near London and if you visit, tell us which is your favorite!
Pin this post: