If you are looking for some of the most festive Christmas markets in Switzerland, you have come to the right place! What's not to love about Christmas markets in Europe? They are full of sparkling lights, cheerful music, and bright colors (Hopefully some snow too!) All of this at one of the happiest times of the year! When combined with the wonder and beauty of Switzerland in the winter, you do not want to miss out on these 10 Christmas markets in Switzerland.
When planning a trip to Switzerland this winter, you will not have any problems finding plenty of Switzerland Christmas markets to explore. With all of the options of where to go this December, the only struggle might be choosing which Christmas market in Switzerland to visit! No matter which Christmas markets in Switzerland you decide on seeing, you will not be disappointed!
Read next: Christmas Markets in France or Christmas Markets in Austria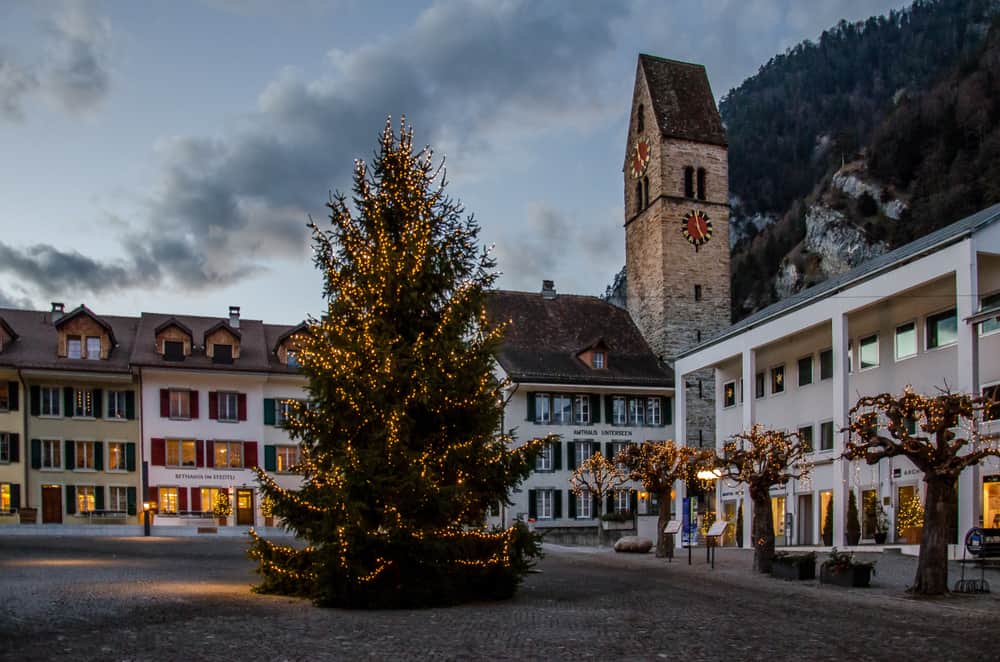 10 Festive Christmas Markets in Switzerland to See in 2020
The Basel Christmas Market Is One Of The Prettiest Christmas Markets In Switzerland
Though there are a few Christmas markets in Basel, the most popular one is the market at Barfüsserplatz and Münsterplatz. This Basel Christmas market is one of the largest and one of the prettiest Christmas markets in Switzerland. This market takes place from November 28th through December 23rd, giving you plenty of time to enjoy this market. Every year this Christmas market draws in over a million tourists just during the four weeks of advent.
The Christmas market is located in the center of Basel in the festively decorated old town. The market is split into two sections, Barfüsserplatz and Münsterplatz. Münsterplatz, translated to Cathedral Square, is made up of around 40 stalls located in the square in front of the Gothic cathedral of Basel. In the square is also an area that is called the Enchanted Forest of Christmas which provides plenty of activities for children. Nearby, a Swiss tree nursery allows you to buy a Christmas tree. While you're at it, don't forget to see the decorated Christmas tree in front of the cathedral that will be shining through the night. The other part of the Basel Christmas market is Barfüsserplatz. Around 140 chalets make up this part of the market, with a few children's rides as well.
One of the favorite things to buy at the Basel Christmas Market is hot orange juice or pomegranate juice. Another local specialty is Läckerli biscuits. Läckerli biscuits are made out of honey, hazelnuts, almonds, candied peel, and Kirsch (a fruit liquor made with cherries). Make sure that when you go to the Basel Christmas market that you stop at some of the many chalets selling these delicious treats.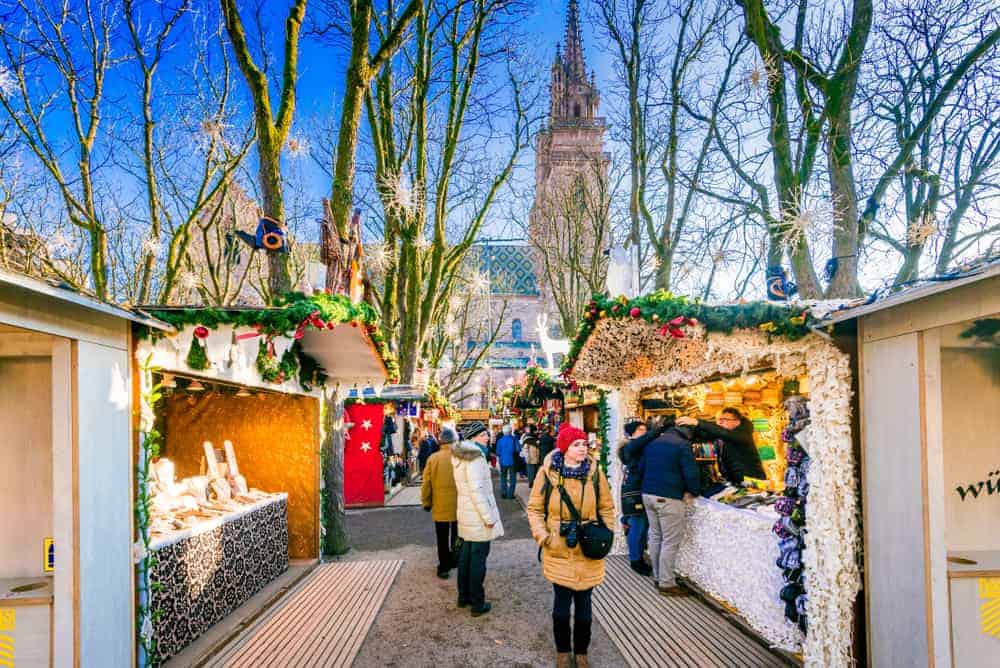 The Weihnachtsmarkt Im Dörfli Christmas Market Is The Oldest Christmas Market In Zurich
From November 21st to December 23rd, you have the opportunity to explore what is the oldest Christmas market in the city of Zurich. Zurich is the largest city in Switzerland, and while there you will find that there is no shortage of Christmas markets to discover. This particular Christmas market, however, is not only the oldest in Zurich but one of the most popular. It is also said to be one of the most traditional Christmas markets in Switzerland.
Filled with tons of dazzling lights and festive colors, the Weihnachtsmarkt im Dörfli Christmas market deserves its spot on this list of Christmas markets in Switzerland. Along the cobbled streets of the city are fantastic stores with unique and beautiful goods for sale, not to mention all of the food that you can eat until your heart's content. There is also the possibility of taking a tour throughout the old town where the market is located. Whether you take the tour, or you walk through the bustling town by yourself, have fun exploring one of the oldest Christmas markets in Switzerland.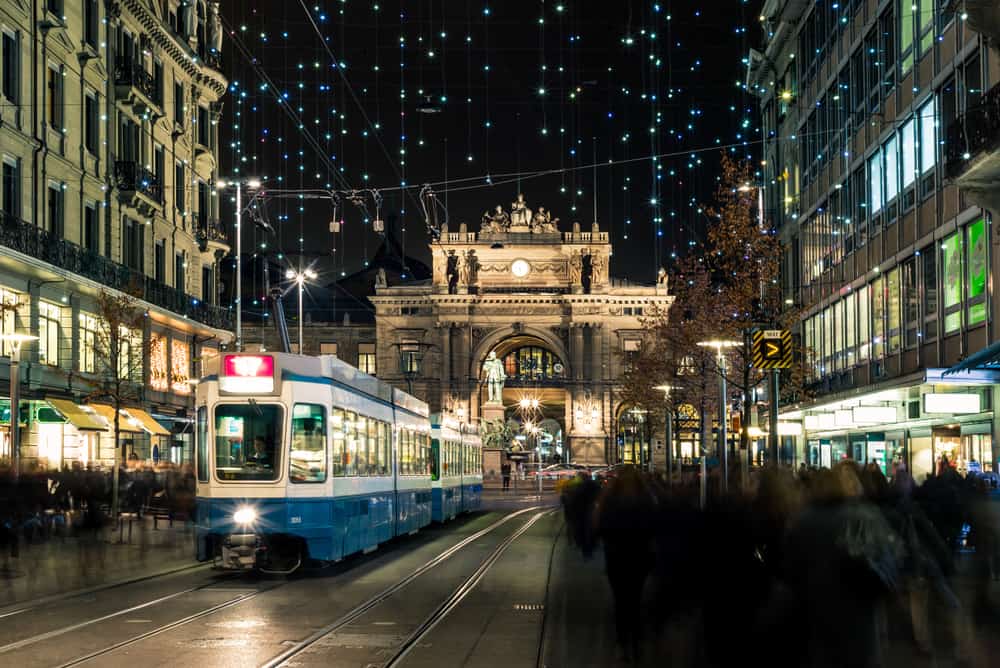 The Montreux Nöel Christmas Market Is Located Next To Lake Geneva
Over 160 decorated chalets makeup one of the most beautiful Christmas markets in Switzerland! Set upon the quays of Lake Geneva, the view alone makes the Montreux Nöel Christmas Market one of the Switzerland Christmas markets that you have to visit! A new part of this Christmas market will be the gourmet section- an area devoted solely to delicious food! This Christmas market is open from November 21st to December 24th, making it the perfect place to spend Christmas Eve if you are in Switzerland.
Besides shopping, there are many other attractions that make this Christmas market one of the Christmas markets in Switzerland that you must visit! The massive Ferris wheel located at this Christmas market is just one of the reasons that it makes this list. There is also an area called Elves Square which is for kids and is filled with workshops and the spectacular sight of Santa Claus flying on his sleigh. A train runs up to Rochers-de-Naye mountain, where you can explore Santa Claus's house and office. This attraction is open Wednesday to Sunday during the Christmas Market. After 5 pm every evening there is also a magical light show that takes place at the Fairmont Le Montreux Palace.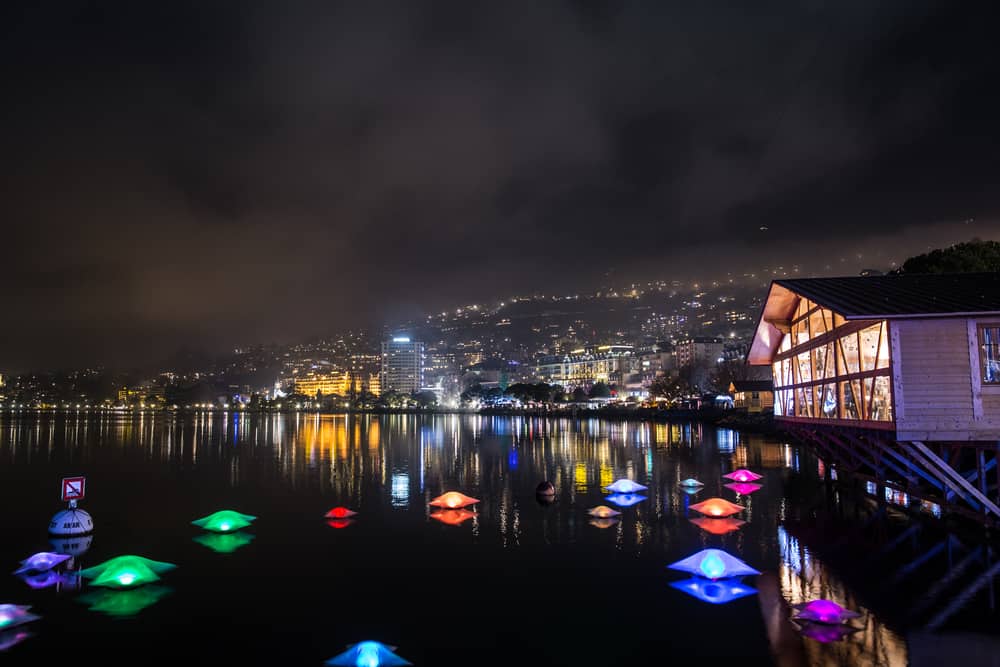 Enjoy Two Individual Christmas Markets When You Visit The Bern Christmas Market
The Bern Christmas market is actually made up of two Christmas markets, Münsterplatz and Waisenhausplatz, making it different than other Christmas markets in Switzerland. The Bern Minster Christmas market also called the Bern Christmas market by the Münsterplatz, is one of the best Christmas markets in Switzerland if you want to find quality artisan goods. The products that you can buy are unique and made by the same artists that sell them in the market. This charming location, which is surrounded by buildings from the 15th to 17th centuries, gets its name from Bern Minster which stands at the eastern side of the market and boasts the tallest bell tower in Switzerland.
Take a short walk down the pedestrian-only streets to the other section of Bern's famous Christmas market, which is on the Waisenhausplatz. Here you can find even more selections of artisan goods and delectable treats. There are plenty of gifts, household goods, and food. While walking through the chalets of this Christmas market, you can smell the spices being used all around you.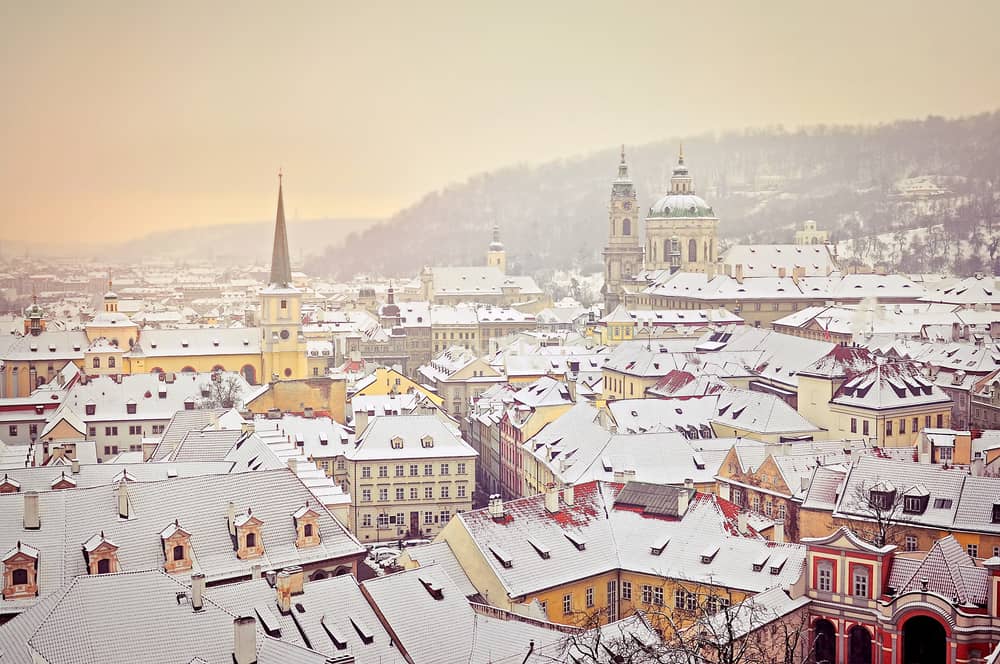 Thousands Of Tiny Lamps Illuminate The Christmas Market In Rapperswil
The Christkindlimärt Christmas market is one of the most enchanting Christmas markets in Switzerland, with thousands of lamps lighting the streets. The market first opens at the Fischmarktplatz from December 6th to 11th, being closed on the 9th. Then from December 13th through 15th, it will move to the old town and the shore of Lake Zurich. Finally, it will reduce to only the shore of Lake Zurich from December 17th through the 22nd.
This Christmas market isn't just appealing because of its location, though. Throughout this Christmas market, there are musical performances, candle dipping classes, cooking classes, and some popular cheese fondue. There is also the massive collection of shops selling any food you could dream of, with waffles, crepes, multiple hot chocolates, and honey and apple punch! You could spend all night exploring the 250 stands of food and crafts, and sights of one of the most popular Christmas markets in Switzerland. Christmas markets are something you should see, even if you have 4 days in Switzerland!
There Are Only Three Days To Explore The Murten Christmas Market
During the holiday season, the chalets that are a part of the Murten Christmas market are all elaborately decorated with twinkling lights and candles, making this wonderland appear almost fairy-like. With all of the options at the Murten Christmas market, it is a perfect place to spend a day in December shopping, exploring, and eating!
The Murten Christmas market is the shortest running of the Christmas markets in Switzerland on this list, but don't let that stop you from taking a trip to explore this exciting and enchanting town. This Christmas market in Switzerland will be open from December 13th through the 15th, boasting over 70 wooden chalets selling handmade goods. Plan your trip accordingly if you want the chance to wander the streets of this Christmas market.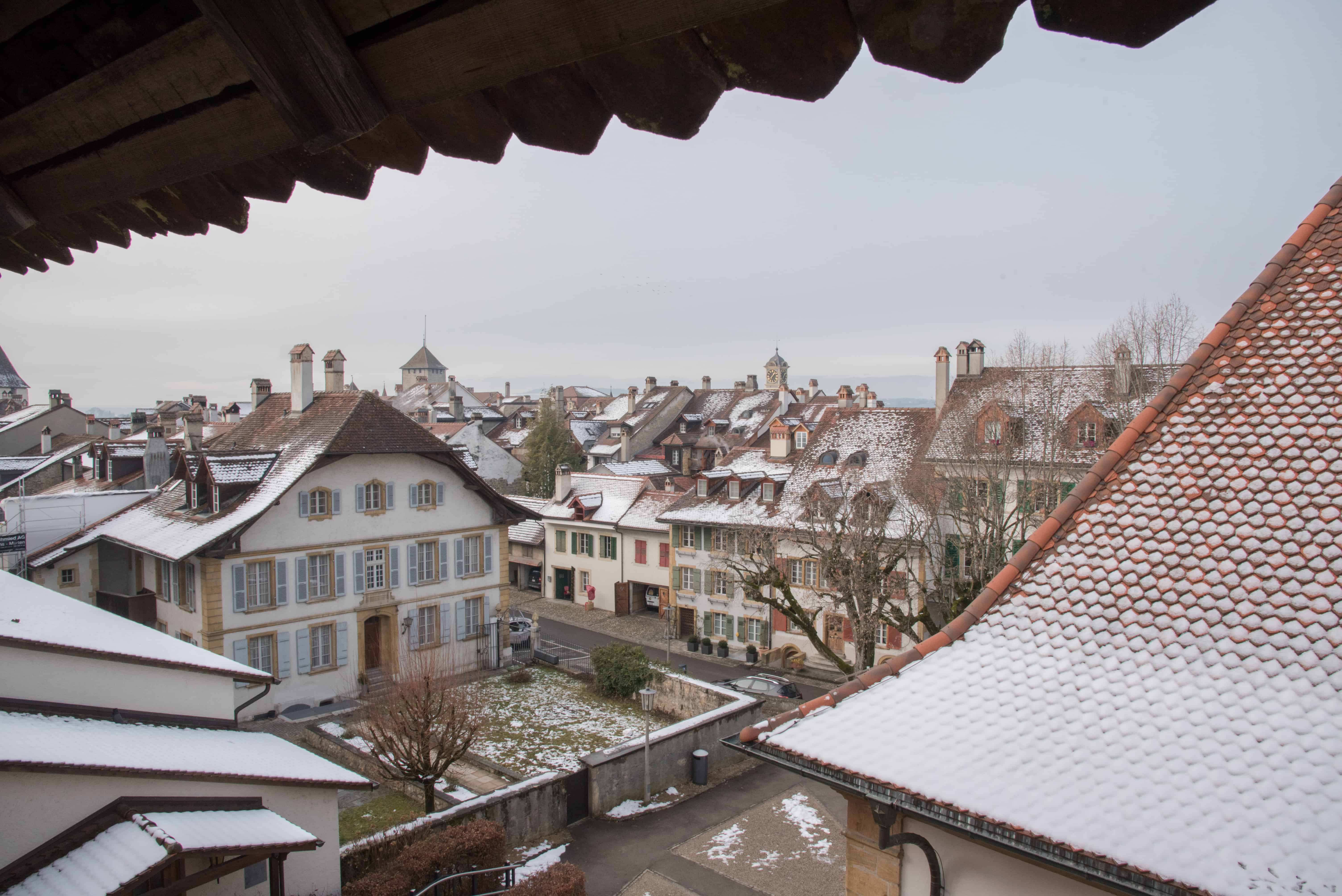 The Stein Am Rhein Christmas Market Is Held In A Fairy-Tale Town
During the Stein am Rhein Schaffhausen Christmas market, this picturesque fairy-tale town is decorated with twinkling lights and filled with families enjoying shopping, a carousel, a Santa Clause with his ponies (an interesting twist on the usual Santa Clause), and a steam railway. If you find yourself in Stein am Rhein during this time (which is actually very close to Germany) make sure you walk to the Rhine bridge which will be under a canopy of twinkling lights. As you stroll through this town, you will be able to see all of the medieval buildings that have been preserved. The combination of medieval buildings and twinkling lights truly make this town look this it has come right out of a fairy-tale and gives it a unique twist compared to other Christmas markets in Switzerland.
You can explore this wonderland from December 4th to 31st. This means that you could continue to enjoy Christmas markets in Switzerland after Christmas! What better place to continue to experience all of the fun and delicious benefits of Christmas after the holiday than at the winter wonderland that is the Stein am Rhein Christmas market.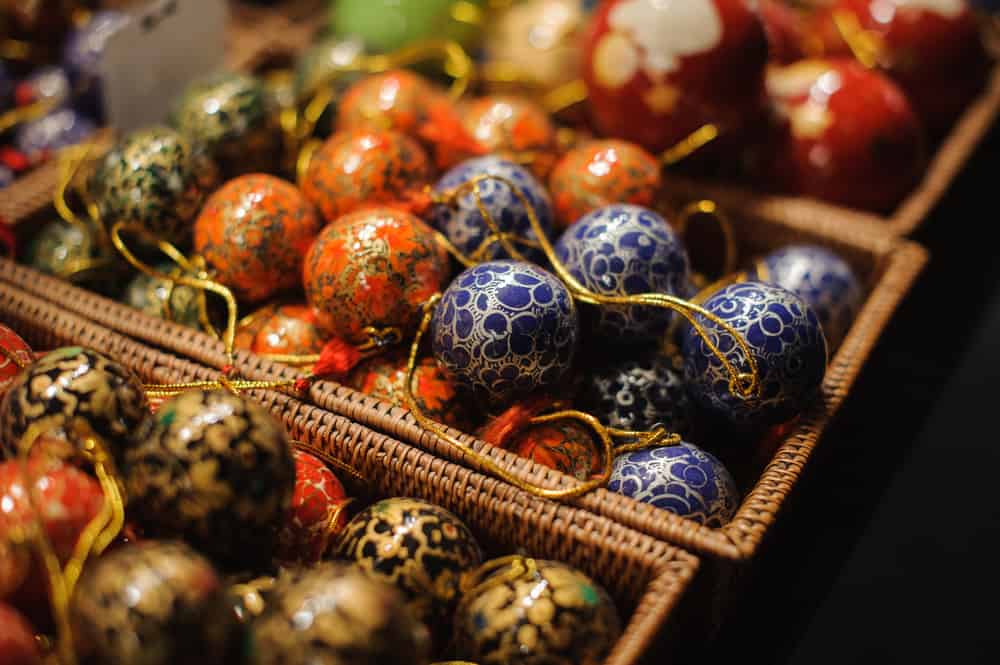 The Einsiedeln Christmas Market Is Located Near A Gingerbread Museum
With the backdrop of the Einsiedeln Schwyz Christmas Market being the beautiful Einsiedeln monastery, this is one of the most beautiful Christmas markets in Switzerland. What makes this town even better is the gingerbread museum that you can visit while you are in Einsiedeln. There is also an elaborate nativity scene for you to enjoy. While in Einsiedeln, don't forget to check out the huge Christmas tree in the center of the market. The perfect mix of lights, Christmas trees, and architecture make this one of the most stunning Christmas markets in Switzerland that you should visit this winter! If you are walking to the Christmas market from the train station, you will also be able to enjoy the pastry shops that line the road leading to the market.
This unique Switzerland Christmas market is only open from November 30th to December 8th, so if you want to experience this gorgeous Christmas market in Switzerland, you will need to plan your trip accordingly. On your visit, don't forget to enjoy some gingerbread!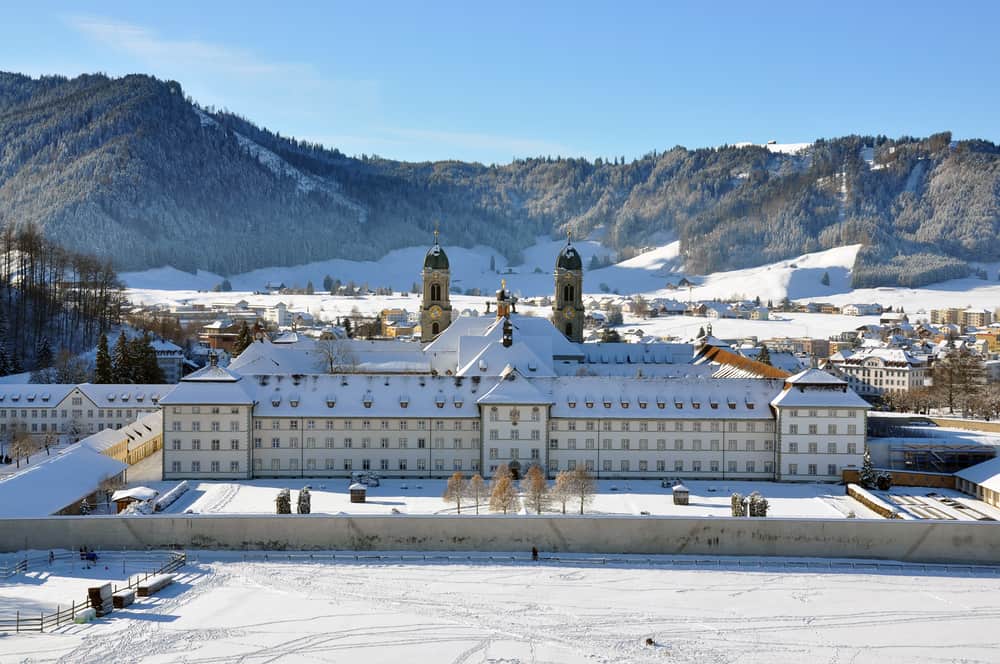 Ice Skate At The Geneva Christmas Market
Ice skating at one of the Christmas markets in Switzerland is certainly a unique experience. Imagine skating, with the sounds and smells of Christmas washing over you. It is one of those instances that you will remember for the rest of your life. One of the most popular places to do this is the Geneva Christmas market. While at the Geneva Christmas market, you have the opportunity to stroll through an international section of shops. There you are bound to find affordable and unique items from all over the world.
Last year was the first time that Christmas Village was a part of the Geneva Christmas market. Over 8,000 square meters make up this new attraction where you can shop and eat your fill! The whole area is devoted simply to Christmas, giving you a memorable experience!. At the Geneva Christmas market, you can also enjoy music and the festive decorations that cover the market every year. The Christmas Village was a popular addition to the Geneva Christmas market and differentiates it from other Christmas markets in Switzerland.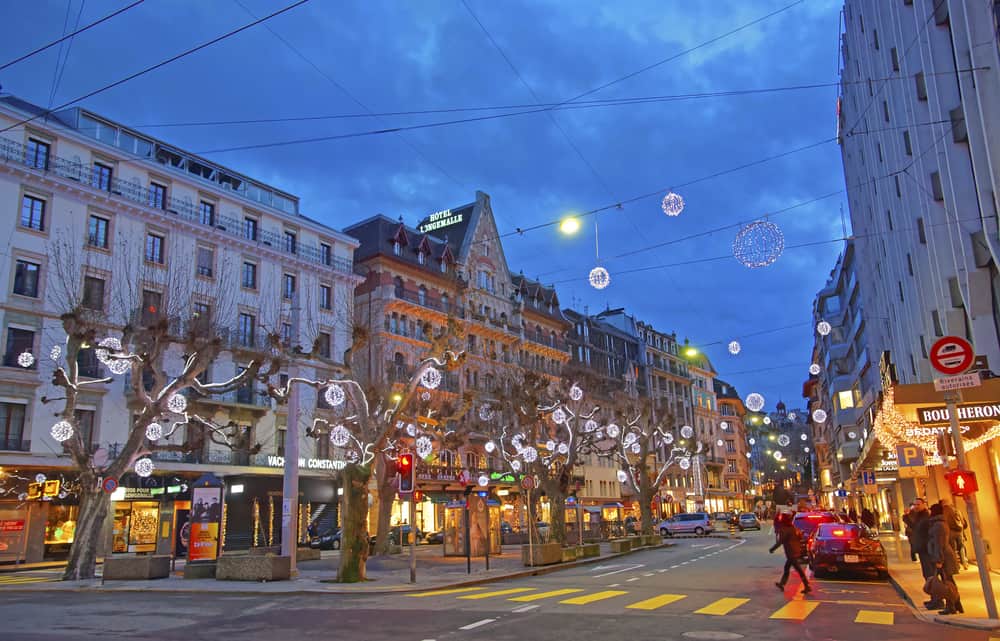 The St. Gallen Christmas Market Is One Of The Most Enchanting Christmas Markets In Switzerland
Nicknamed the "Swiss Star City," the St. Gallen Christmas market is a must when exploring Christmas markets in Switzerland. The nickname comes from the 700 stars that shine over the squares during Advent. St. Gallen is also a UNESCO World Heritage Site, ensuring that the buildings will only help with making the St. Gallen Christmas market one of the most romantic Christmas markets in Switzerland. Starting November 28th, the lights will be shimmering over the town. This will continue until December 24th, making this one of the Christmas markets in Switzerland that you can spend Christmas Eve.
If you are in St. Gallen during the Christmas season, many of the restaurants will have special menus for the holiday. Even if you have been to St. Gallen before, going during Christmas time is like going to a completely different town. If you are looking for Christmas markets in Switzerland to go to this December, the St. Gallen Christmas market should definitely be one of them!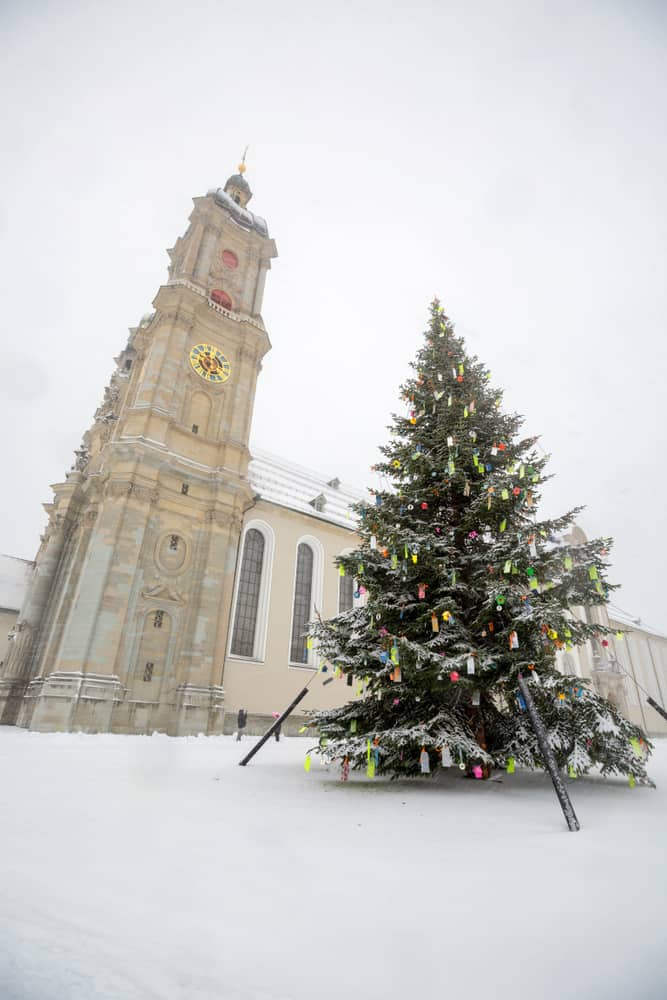 Packing Tips For Your Trip To Switzerland:
Here are some of our favorite items that you should consider packing for your trip to Switzerland! These are essential travel items that we use and love and you should make sure to consider for your travels.
A concealed travel pouch may be one of the most important items you bring with you! This unisex RFID blocking concealed travel pouch is lightweight and comes in several colors. It has lots of organization to give you peace of mind. You can keep your most valuable documents safe and secure next to your body.
If you have a pouch already you may not want to or need to invest in a new one. If it does not come with the RFID protection, these RFID sleeves would be handy to prevent identity theft. This configuration comes with enough passport and credit card sleeves that the entire family would be protected. They are slim too, so they will easily fit into your current pouch or wallet. These are the kind our family uses not only when traveling but at home as well.
If you have a camera on your packing list, you need to add additional memory cards on your list as well. Unless you are packing a computer for your trip, you will not be able to upload photos and clear your existing memory card. Purchasing additional memory cards cost under $20 and take up no space in your luggage. Having a backup can have the potential to save you a lot of heartaches if something goes awry! There is nothing worse than coming across that perfect moment and then finding out you don't have enough space to capture it on your camera!
Similarly, If you are planning to capture your trip on a smartphone, we beg you to bring some way to back up your memories. The best way to do this is with a portable smartphone flash drive. A flash drive is a small storage device that you can connect up to your smartphone and then safely and easily download the photos onto this device.
If you are planning on taking a lot of pictures with your phone you will definitely want to consider an external charging battery. This Anker high-speed phone charging battery is the exact one we carry with us on all of my trips. It can be used on a variety of phones, not just an iPhone like we have. And wow is it fast! We like that it holds its charging capabilities for several uses so we do not have to worry about it while out and about. And if we forget to recharge it at night, it will still be good to go the next day.
My mom was never a fan of packing cubes until she tried them out! Now she am sold. These Bagail packing cubes are the exact ones she use whenever she travels and she travels a lot. She cannot believe how much more organized she is now! And she will never leave without them anymore.
We never leave home on a trip without our Bobble filtration bottle. The 18.5-ounce size is perfect for travel and it will fit nicely in the pocket of a backpack or your purse. Also when filled with water, it is not too heavy to carry. And the Bobble carbon filter ensures fresh clean water whenever and wherever you fill the Bobble. You can find filter replacements here.
Perhaps you are traveling a long distance and packing space is a premium. Then this set of collapsible silicone foldable water bottles would work well for you. Would not take up much space in your suitcase at all. And you will be receiving a set of two.
You will want to bring a backpack or daypack with you to store snacks, your water bottle, phone, extra clothes, etc.. This foldable water-resistant backpack would be great. It is very affordable and is available in many color options for you to choose from. The fact that it folds down into a zippered pouch will make it easy to pack.
Perhaps you need a more substantial backpack for your international travel. This antitheft backpack has a charging port, is water-resistant and can comfortably carry up to a 15.6″ laptop. It comes in a range of colors to choose from and it is inexpensive as well.
We all need to protect our eyes from the sun's harmful UVA/UVB rays. These unisex polarized sunglasses come in a lot of lens colors and frame designs and are extremely affordable too.
If you are fond of the aviator-style of sunglasses these polarized aviators may interest you. We like polarized sunglasses because they remove the glare off the water and help you to see things more clearly.
Don't forget to bring along a universal power adapter if you are traveling abroad. This worldwide power plug is a great example and will charge your phone at the end of your busy days. And this world traveler adapter kit can charge several devices at the same time. This is what you will need when there are several people traveling in your group, or if you bring several electronic devices on your trip that require charging at the same time.
There are so many fantastic Christmas markets in Switzerland, all of which you could spend hours exploring, so narrowing down which ones to visit might be quite a challenge. With unique aspects like a gingerbread museum or medieval buildings, though, there are more than enough options to satisfy every traveler this winter. After all, what better way to spend a day in December than strolling through chalets decorated with bright lights and glimmering candles as well as enjoying delicious treats and finding the perfect gift? For a memorable holiday experience, plan a trip to see these Christmas markets in Switzerland!