Are you headed to Europe for the Christmas holidays? Christmas markets in Belgium are a must-see then! Belgium Christmas markets are the ultimate way to get in the holiday spirit. Whether you're shopping for Christmas presents for yourself, your family members, or just picking out some savvy souvenirs, Christmas markets in Belgium are something you definitely don't want to miss out on.
When planning your Christmas markets in Europe itinerary, stopping by these markets are something we highly recommend, because no matter how small, large, busy or quaint these markets are, these seven festive Christmas markets in Belgium are bound to make your trip magical. Below we have listed some of our favorite and most festive Belgium Christmas markets.
They are listed in no particular order, but we highly suggest stopping by at least one– if not all of of them! Take some time to enjoy the Holiday season abroad and enjoy these gorgeous Christmas markets in Belgium.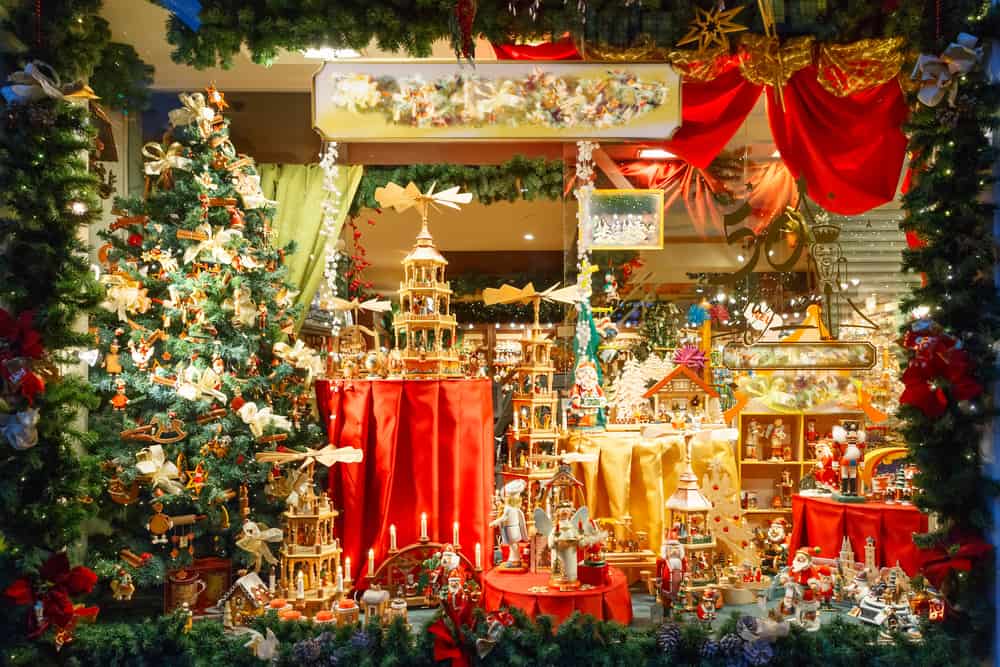 7 Festive Christmas Markets in Belgium in 2020
1. Winter Wonders is the Best Brussels Christmas Market!
The Winter Wonders Brussels Christmas Market is known as a real-life Winter Wonderland. It is annually held in the Place of Saint Catherine, close to the city centre, and offers a glimpse into Brussels' history by being home to over 200 traditional wooden chalets. These chalets pop up every year for this annual market and are filled with local treasures and souvenirs that are perfect for the holidays, such as ornaments, warm winter accessories, and jewelry. The market itself covers about two kilometers and offers a variety of local goodies, such as Belgian cheese, waffles, chocolate and fondue sandwiches– so make sure to pack good walking shoes and visit on an empty stomach!
But if shopping isn't your main priority, this is one of the best Christmas markets in Belgium because if offers other actives that are fit for any visitor. From ice skating, carnival rides, and a sound and light show, these seasonal activities are bound to put anyone in a festive mood. Last year they even had a Van Gogh Immersive Experience as well as a Smurf Parade! Opening on November 30th, this market will close on January 6th, giving you plenty of time to enjoy the market, its nearby cabins, and the flavors of the local mulled wine and famous hot chocolate!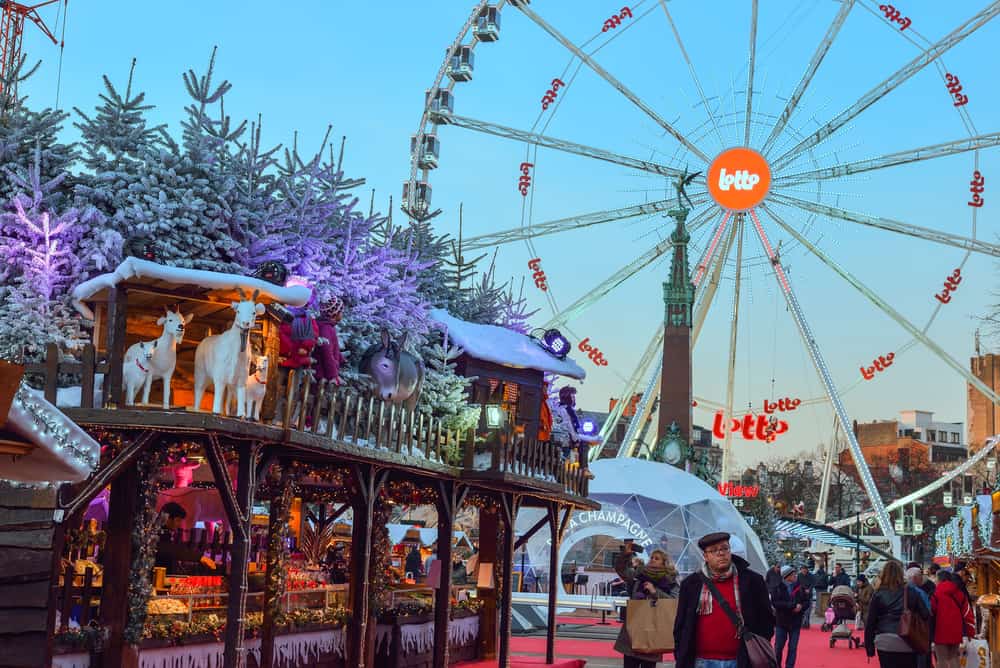 2. The Antwerp Christmas Market Has One of the Best Locations!
The Antwerp Christmas Market is one of the largest Belgium Christmas markets, spreading itself across the squares of the historic city. Everything is within short walking distance to one another, including the Groenplatts and Antwerp Steen Castle, which makes it a great market for exploring! This annual event usually opens around the first weekend in December and closes just after New Years. It has over 100 market stalls for your shopping pleasures as well as great food, such as smoutebollen.
But even if you don't purchase anything, this market is a great adventure, as it has a giant ferris wheel, fantastic kiddie rides, and an ice rink. Better yet, because of the location of this market, you can spend all day in the city, exploring the nearby zoo, aquariums, and museums before exploring one of the most famous Christmas markets in Belgium. The historical setting and the fact that tat Antwerp is the home base of Rubens, making it the worlds diamond center, offers visitors a great combination of festive and touristy options.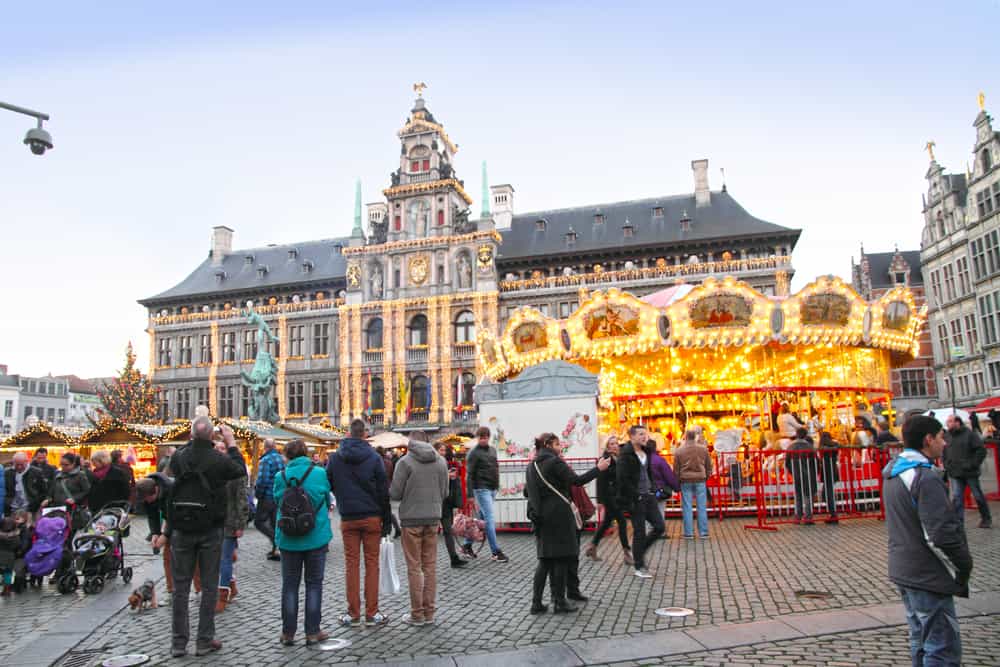 3. The Bruges Christmas Market is Straight From a Fairytale!
From late November until Christmas every year, Bruges turns itself into a Christmas market wonderland. Despite Burges being a small town, Bruges promises a festive time as one of the most cheerful Christmas Markets in Belgium. The fairytale setting of Bruges, also known as Brugge, sets the perfect, festive backdrop for this market. Combined with the decorations, food, and drinks, this town knows how to celebrate Christmas!
Bruges main square is the focal point of this market, and it is full with craft stalls as well as an ice rink and food stalls. Behind the square is the backdrop of the Belfry of Bruges, and the narrow streets that lead away from the main square are lined with Christmas shops that are famous for their decorations, ornaments, and chocolate! From fairy lights draped across the town, to adorning Christmas trees in every window, the cool backdrop of the atmosphere combined with their comfort food (potatoes anyone?), make this one of the most charming, quiet, and idyllic Christmas Markets in Belgium.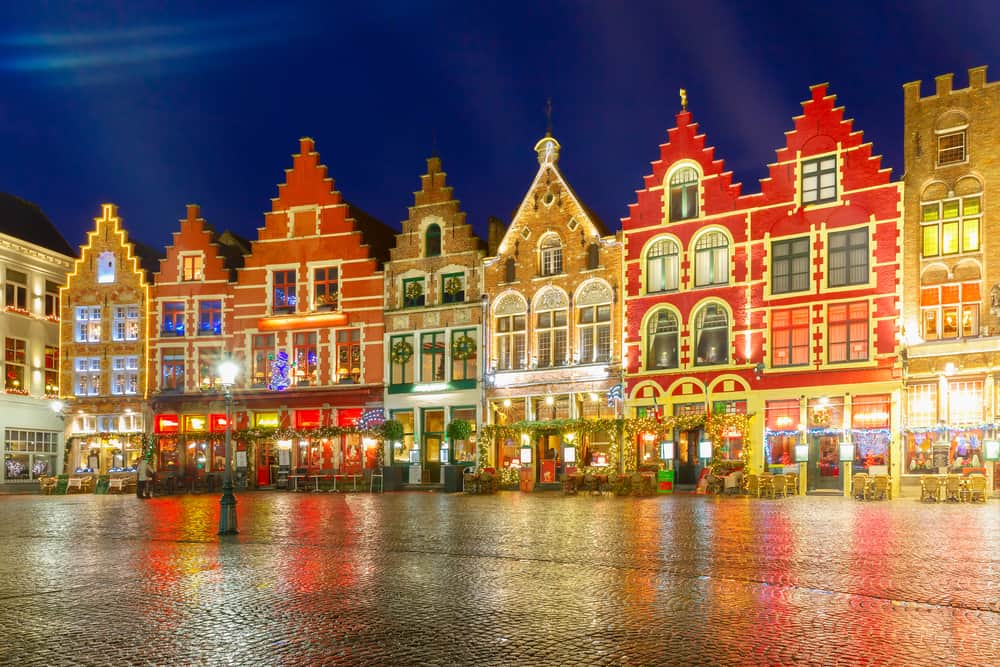 4. Visit Santa at the Leuven Christmas Market!
Leuven is a lively town known for it's history, distinct architecture, restaurants, and shopping opportunities. But better yet, the Leuven Christmas market is one of the oldest Belgium Christmas Markets known to date. It is held every year in the centre of Leuven, starting 10-14 days before Christmas, and has dated back since 1988. This Christmas market has KUL, Belgians oldest University, as a backdrop. Leuven is a smaller town, and thus is less busy. However, the Leuven Christmas Market is diverse despite its quaintness!
From Christmas decoration and gift stands, as well as sampling stands that offer traditional Belgian snacks such as fries and waffles, there are a variety of different treats and sweets to try. Besides of this, kids will love to visit Santa's houses at this market! They will also love to meet the real Santa Claus– and rumor has it, if children visit Santa face-to-face, they are promised a spot on the nice list! Outside of visiting Santa, you can also walk down the gothic town hall of the city, admiring the beautiful castles and Christmas lights that cover it. St. Peter's Church also offer a monument Christmas stable for those who are interested in stopping by. Ultimately, there is so much to do in Leuven, especially during the holidays, so you must stop by one of the best Belgium Christmas markets!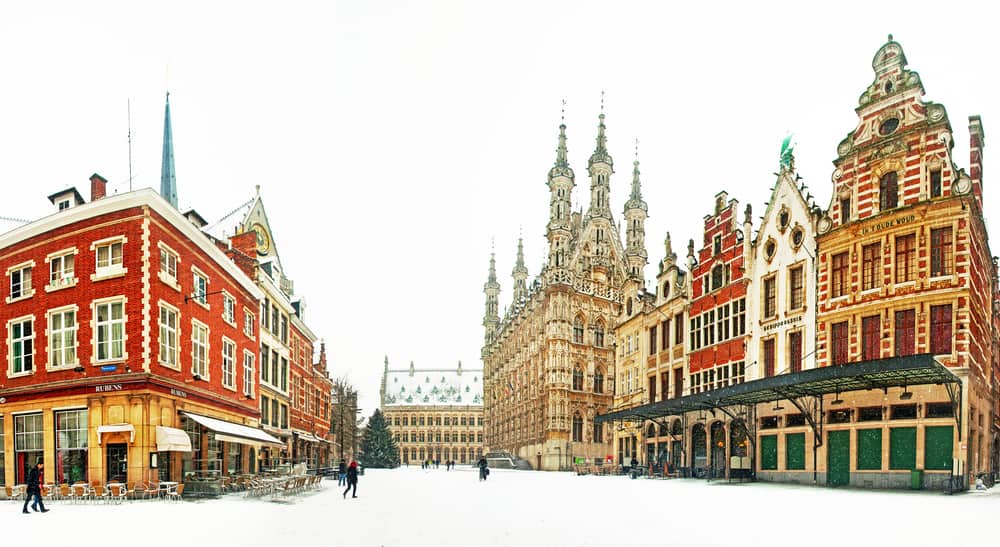 5. The Liege Christmas Market is the Biggest and Oldest Market in Belgium!
Paying tribute to the long standing traditions of Germany Christmas markets, the Liege Christmas Village Market reproduces a festive atmosphere full of Christmas activities for their annual market. Over a five week period, from late November until late December, 200 wooden chalets are set up and welcome visitors for an authentic shopping experience. They sell jewelry, Santon figures, toys, stockings, tinsel, Christmas cribs, cards and more! While some chalets solely sell items, others offer a variety of things to taste, like brisket, black pudding, Christmas beers, and oysters. In terms of food and drinks, this market is one of the most diverse Christmas markets in Belgium.
The Liege Christmas market is located in the heart of the town, which is in immediate reach of shops, restaurants, and other forms of entertainment. During the holiday season, the town also puts up the Cathedral ice-skating rink, which holds about 250 people. Surrounding the rink are more than forty other chalets as well! But better yet, this market is known for being home to the European Circus Festival. Drawing in almost 80,000 spectators last year, this festival demonstrates some of the most famous and traditional circus acts, making it a family fun activity when exploring the Liege Market.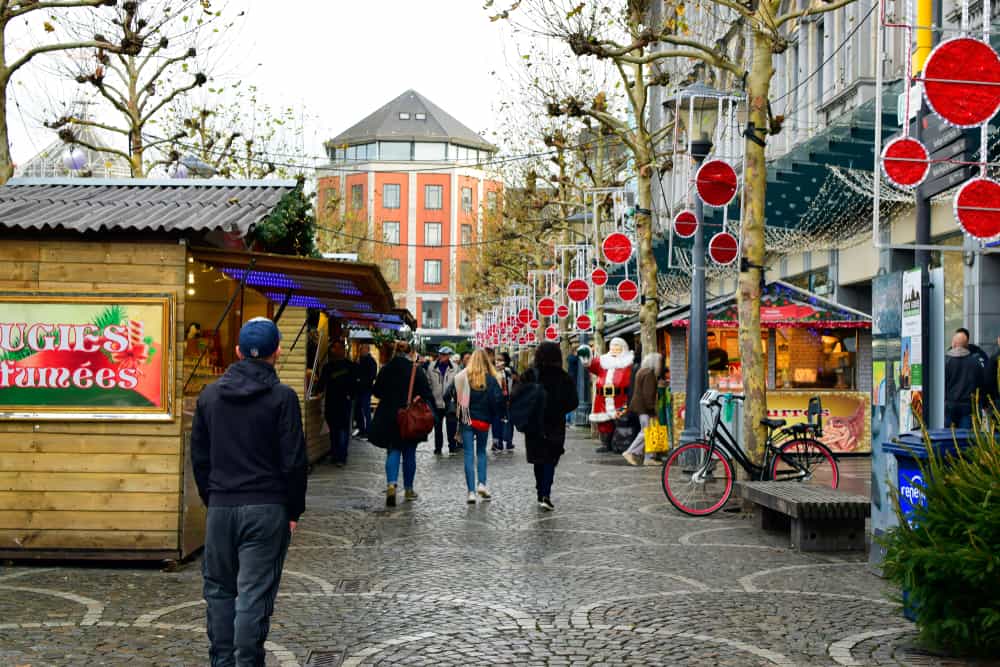 6. The Mechelen Christmas Market is Great for Visitors of any Age!
Mechelen's historic center showcases its glittering Christmas market every year! Surrounding the marquee and adjoining squares, you can find a whole host of Christmas market stalls that can help you stock up on last-minute stocking stuffers for family and friends. But don't worry– you can also purchase a few more Christmas decorations too! Food is a huge aspect to this market, but more importantly, traditional Christmas music sets the tone for the market as it floats in-between the stalls, giving it a relaxing atmosphere.
Locals set up beautiful window displays and inside specialty shops there are luxury and irresistible gifts for everyone! Besides the stalls, you can also take a free water taxi to explore the town and enjoy the Christmas lights, and you also can go ice skating. Mechelen lets you rent skates as well as "bananas" so you can push around those not-as-graceful skaters along beside you. There is also a variety of Nativity scenes located around the city, and kids seem to love to have the chance to create a Christmas card at the nearby Toy Museum. This is one of the best Belgium Christmas Markets as it appeals to visitors of all ages!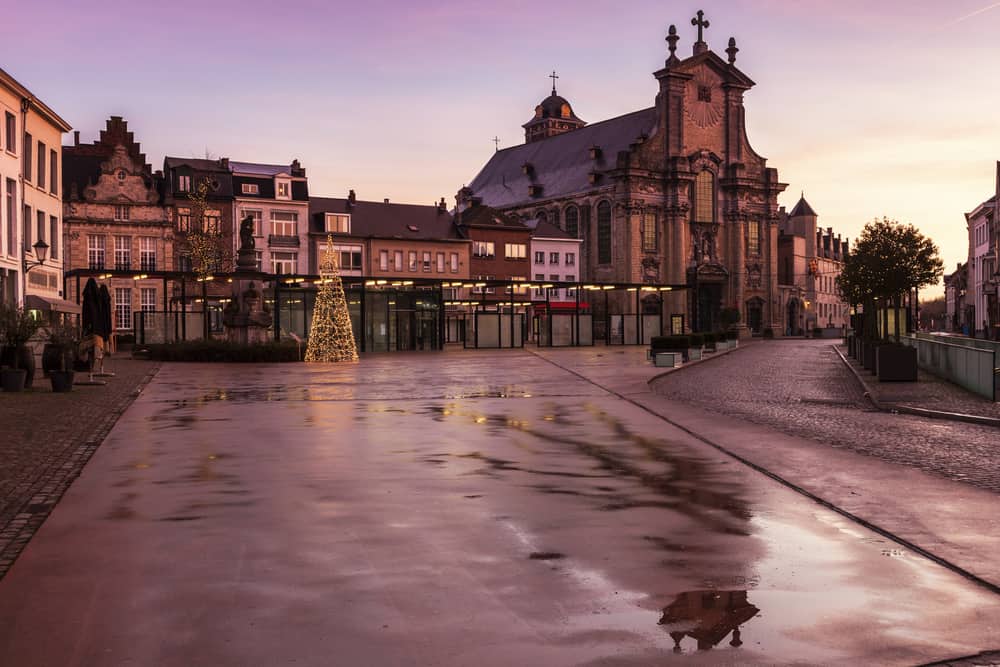 7. The Winterland Hasselt Christmas Market is Magical!
Since its opening, the Winterland Hasselt Christmas Market has grown from one of the most modest Belgium Christmas Markets to a town that creates an amazing winter village where even Santa is welcome to stay in his custom house!
For six weeks, Hasselt's market is the perfect location for a winter visit. This market is usually open in late November and runs until early January and has a variety of attractions. The Grand Cafe is one of the largest attractions: it is a large, cosy winter chalet. It is the perfect spot to sit and eat or catch up with friends, and has themed nights.
Outside of the Cafe, visitors can also enjoy an indoor ice rink (stay warm!), as well as Santa's house. Everyone is welcome to also visit the Christmas Ghost House or take a ride on a roller coaster.
You can also try out archery or go for a spin on a grand carousel. From the variety of activities to the small stands selling crafts, food like bratwurst and Spanish churros, and drinks, this is a market that you must visit.
Even if you don't visit during Christmas, there are still so many things to do in Hasselt you can enjoy!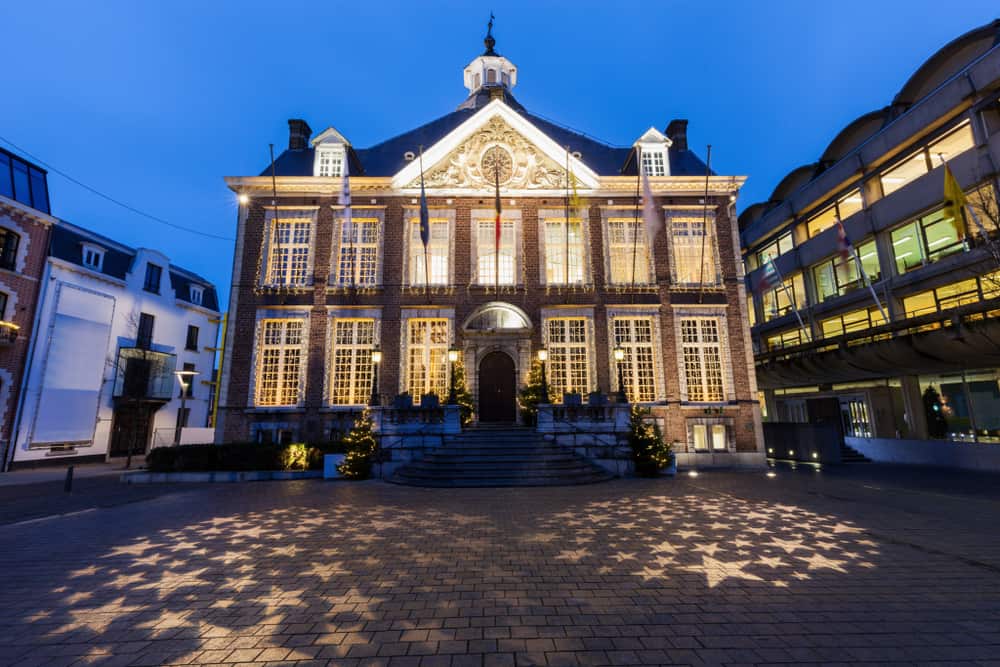 Packing Tips For Your Trip To Belgium:
Here are some of our favorite items that you should consider packing for your trip to Belgium! These are essential travel items that we use and love and you should make sure to consider for your travels.
A concealed travel pouch may be one of the most important items you bring with you! This unisex RFID blocking concealed travel pouch is lightweight and comes in several colors. It has lots of organization to give you peace of mind. You can keep your most valuable documents safe and secure next to your body.
If you have a pouch already you may not want to or need to invest in a new one. If it does not come with the RFID protection, these RFID sleeves would be handy to prevent identity theft. This configuration comes with enough passport and credit card sleeves that the entire family would be protected. They are slim too, so they will easily fit into your current pouch or wallet. These are the kind our family uses not only when traveling but at home as well.
If you have a camera on your packing list, you need to add additional memory cards on your list as well. Unless you are packing a computer for your trip, you will not be able to upload photos and clear your existing memory card. Purchasing additional memory cards cost under $20 and take up no space in your luggage. Having a backup can have the potential to save you a lot of heartaches if something goes awry! There is nothing worse than coming across that perfect moment and then finding out you don't have enough space to capture it on your camera!
Similarly, If you are planning to capture your trip on a smartphone, we beg you to bring some way to back up your memories. The best way to do this is with a portable smartphone flash drive. A flash drive is a small storage device that you can connect up to your smartphone and then safely and easily download the photos onto this device.
If you are planning on taking a lot of pictures with your phone you will definitely want to consider an external charging battery. This Anker high-speed phone charging battery is the exact one we carry with us on all of my trips. It can be used on a variety of phones, not just an iPhone like we have. And wow is it fast! We like that it holds its charging capabilities for several uses so we do not have to worry about it while out and about. And if we forget to recharge it at night, it will still be good to go the next day.
My mom was never a fan of packing cubes until she tried them out! Now she am sold. These Bagail packing cubes are the exact ones she use whenever she travels and she travels a lot. She cannot believe how much more organized she is now! And she will never leave without them anymore.
We never leave home on a trip without our Bobble filtration bottle. The 18.5-ounce size is perfect for travel and it will fit nicely in the pocket of a backpack or your purse. Also when filled with water, it is not too heavy to carry. And the Bobble carbon filter ensures fresh clean water whenever and wherever you fill the Bobble. You can find filter replacements here.
Perhaps you are traveling a long distance and packing space is a premium. Then this set of collapsible silicone foldable water bottles would work well for you. Would not take up much space in your suitcase at all. And you will be receiving a set of two.
You will want to bring a backpack or daypack with you to store snacks, your water bottle, phone, extra clothes, etc.. This foldable water-resistant backpack would be great. It is very affordable and is available in many color options for you to choose from. The fact that it folds down into a zippered pouch will make it easy to pack.
Perhaps you need a more substantial backpack for your international travel. This antitheft backpack has a charging port, is water-resistant and can comfortably carry up to a 15.6″ laptop. It comes in a range of colors to choose from and it is inexpensive as well.
We all need to protect our eyes from the sun's harmful UVA/UVB rays. These unisex polarized sunglasses come in a lot of lens colors and frame designs and are extremely affordable too.
If you are fond of the aviator-style of sunglasses these polarized aviators may interest you. We like polarized sunglasses because they remove the glare off the water and help you to see things more clearly.
Don't forget to bring along a universal power adapter if you are traveling abroad. This worldwide power plug is a great example and will charge your phone at the end of your busy days. And this world traveler adapter kit can charge several devices at the same time. This is what you will need when there are several people traveling in your group, or if you bring several electronic devices on your trip that require charging at the same time.
Belgium is known for its picturesque towns, famous painters, award-winning chocolate and beers. But it is also well known for its Christmas markets! Because of such, it can be a bit difficult to decide what Belgium Christmas Market to visit for the holiday season.
While you are here, don't forget to check out some of the best castles in Belgium too!
We hope that this article can help you decide what Christmas market to go to– but know that no matter what you decide to do, you cannot go wrong with Belgium Christmas Markets. They will all have you in the festive, holiday spirit!