Are you looking for delightful Christmas markets in Austria that are full of yuletide cheer? You've come to the right place! Not only do we have an amazing list to share with you, but Austria has no lack of quintessential, Christmassy markets. The only thing you will need to worry about is deciding which Christmas markets in Austria you want to visit! Luckily, you just can't go wrong in choosing any of these amazing Christmas markets in Europe. We really don't know what says getting into the holiday spirit quite like wandering around snowy, magical Christmas markets in Austria, sipping hot apple cider, purchasing old-fashioned wooden toys, staring at twinkling lights, and humming to the festive sound of Christmas carols.
Austria is a stunning place to visit any time of the year, but especially so during the Advent season, with the festive atmosphere filling the shops, streets, and markets. While fully getting into the holiday mood, you can also chip away at that long Christmas shopping list by finding a great number of very unique, individual gifts for your friends and family. Who wouldn't want to receive a magic snow globe from one of the quaint Christmas markets in Austria on Christmas morning? Sounds like the plot of a classic holiday movie!
Whether you're looking for one-of-a-kind gifts, delicious food, getting fully into the Christmas vibes, fun activities, or making treasured memories, Christmas markets in Austria have something for everyone.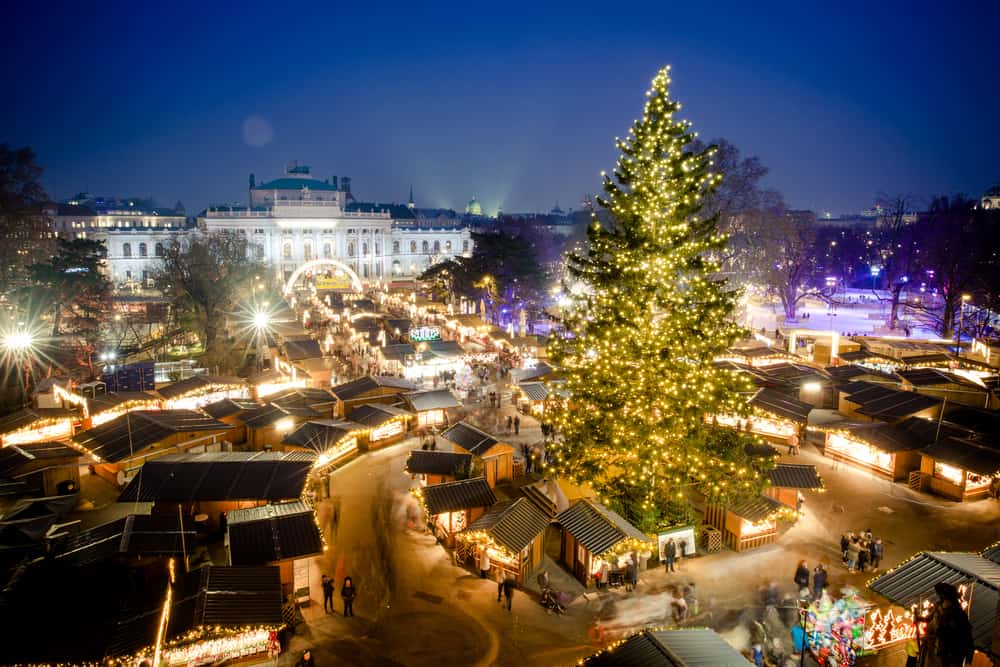 10 Festive Christmas Markets In Austria You Must See In 2020
Christkindlmarkt on the Rathausplatz is the biggest Christmas market in Vienna.
Though there are lots of Christmas markets in Austria, and many in Vienna, Christkindlmarkt on the Rathausplatz is the largest and busiest one of all. It takes place on the Rathausplatz, the square in front of the town hall, which is situated across from the Burgtheater. The history of this particular Austrian Christmas market goes back all the way to the late 18th century, making it not only filled with an old-fashioned vibe, but also a place with amazing historical roots.
It is estimated that every year this Austrian Christmas market attracts around 3.5 million people a year! Sometimes it's a very good idea to follow the crowd because it means there are some awesome reasons why so many people are flocking to this particular Christmas market. Possibly, one of those reasons is not in the market itself, but in the adjacent park, where there are magical lights, holiday surprises, and even an ice skating trail!
In the market itself, you'll find the classical stalls selling roast chestnuts (just like your imagination of a Charles Dickens Christmas), different kinds of pretzels, pastries, giant doughnuts, and even a Victorian-era kind of lollipop. There are also a vast number of places selling mugs of amazing Christmas punch. But more than the scrumptious taste-treats alone, this Christmas market is filled with stands that sell all sorts of wonderful, Christmassy decorations, arts, and crafts. You will be able to find the most beautiful, plastic-free, original decorations made of handcrafted wood or blown glass. Artisans from all over Austria and nearby countries come to sell their wares at numerous arts and crafts stalls.
There are simply too many wondrous things about one of the best Christmas markets in Austria to pick just one, but it might just be the giant Rathaus Christmas Tree at the center of the market.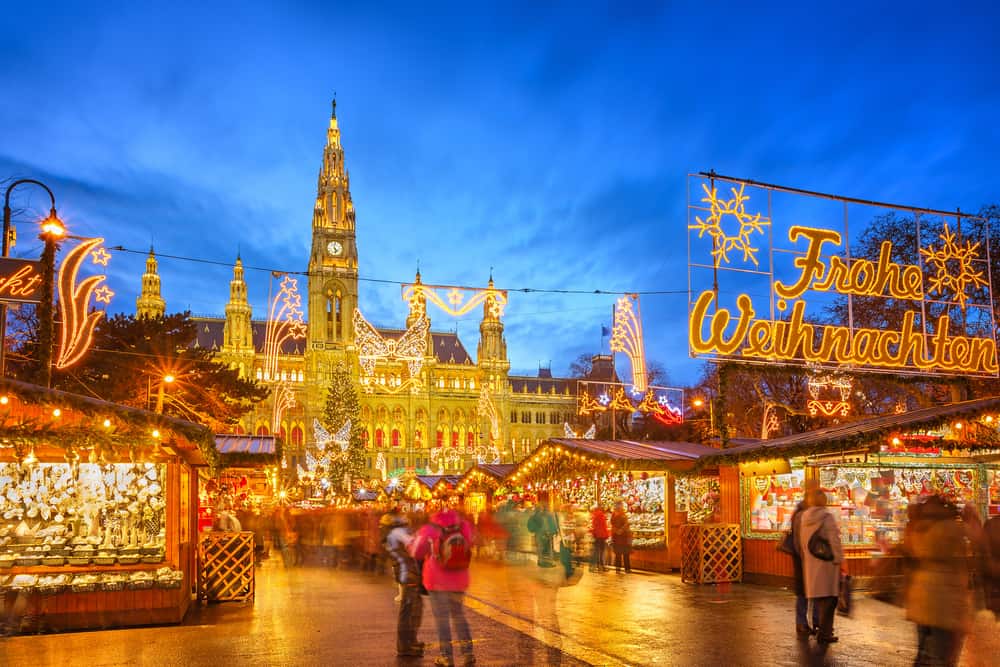 Christmas Village at Belvedere Palace is a Christmas market in Austria not to be missed.
A truly jaw-dropping experience of the Christmas markets in Austria is Christmas Village at Belvedere Palace in Vienna. What could be better than a magical Austrian Christmas market set alongside a real Baroque palace that dates back to 1717? If you stand across the lake, you will have a breathtaking view of the palace and market dazzlingly aglow with Christmas lights. Make sure to get a photo or two–or several dozen–as this is an experience you will never want to forget.
Though it is much smaller than a lot of main markets, there are no lack of incredible goods to buy, food to eat, and sights to see at this Christmas market in Austria. The stalls are full of charming and quality goods such as handcrafted soaps, candles, scented woods; glass, amber, and silver jewelry; wooden toys, ceramics, leather-bound journals, woolen hats, and handmade decorations. You might even be able to purchase a drinking horn made from real horn! Try wrapping and sticking that in someone's stocking for Christmas morning.
For the kids, there are some fun extras beyond the stunning view and charming vendor stalls. A small carousel will keep them entertained and happy, but if that doesn't satisfy their Christmassy desires, try riding the reindeer train! Kids or not, no one will be unhappy with all the scrumptious food and drink this Austrian Christmas market has to offer! Beyond the traditional chestnuts, you will find treats like dumplings, doughnuts, apple strudel, baked potatoes, sausages, crepes, cupcakes, raclette, galette Savoyards, hams, cheeses, and much more! You might want to consider showing up to this Christmas market hungry so you can try as much of the delicious food as possible!

Christmas Market at Hauptplatz (Main Square) in Linz is charming and less commercial.
If you're looking for one of the more authentic Christmas markets in Austria with a relaxed atmosphere, the Christmas market at the Main Square in Linz might be the perfect fit for you. The very view of the night skyline—historic architecture of beautiful, old buildings sparkling with Christmas lights—might alone be worth the whole trip to this Austrian Christmas market. The views, the smells, and the atmosphere are simply bursting with Christmas vibes. You will find a wonderful variety of unique, tasteful wares to begin crossing off that Christmas shopping list too.
The Christmas market at Hauptplatz in Linz is one full of classy, handcrafted treasures like snow globes, glass ornaments, framed calligraphy quotes, and much more. You will likely be able to find the perfect gift for your family, from your ten-year-old niece to ninety-year-old grandpa. Even if you aren't particularly looking to shop, this Austrian Christmas market is a perfect choice for a place to stroll around admiring the most beautiful and festive decorations.
And what would Christmas markets in Austria be without amazing food to eat? You really don't want to miss trying the famed Bauernkrapfen—an Austrian-style doughnut—with apricot marmalade, Nutella almonds, dark Austrian bread smeared with melted Raclette, or the fried, garlicky pastry called Langos. Of course, you will always find yummy drinks like Christmas punch to sip at Christmas markets in Austria.

In Graz, you will find 14 different Christmas Markets to choose from.
If you want to see several Christmas markets in Austria within a short distance of the others, Graz is the place for you! A city on the smaller side, of around 300,000 people, Graz offers 14 different Christmas markets all within walking distance of each other. It has also been known as the "green heart" of Austria because of its produce, a gourmet center because of its culinary fame, and is renown as a wine lover's heaven. If that alone doesn't make you want to visit the Christmas markets in Graz, then maybe the fact that many of the markets are themed will! The Kleine Neutorgasse is geared toward children, the Eisernes Tor is a charity market, and many others focus primarily on entertainment, food, or drink.
The traditional mulled wine glühwein is easily found at these particular Christmas markets in Austria. But in Graz, seeing as it's located in one of Austria's largest wine-producing regions, you can also find a special version called Schilcherglühwein, which is made with a rosé from the indigenous grape Blauer Wildbacher.
Whether you like wine or not, there are many more goods and treats to be found at the Graz Christmas markets in Austria! There are the usual foods to sample, handmade items to buy, and also unique and beautiful sights to see. One noteworthy landmark is a life-sized nativity scene sculpted out of ice. You can find it in the courtyard of the Landhaus, a 15th-century parliament building. And don't miss a visit to the market located at the site of an old fortress on top of a hillside, the Schlossberg. To get to the Schlossberg, you can either climb the stairs for a breathtaking view of the city or take the lift called a funicular!

Old Town Christmas Market in Innsbruck has a view like no other.
If you want to visit Christmas markets in Austria that also have a spectacular view, you will love the Old Town Christmas Market in Innsbruck. Not only does this market take place in a historic old town filled with amazing medieval buildings, but you will be able to do your Christmas shopping with a view of snowy Alpine mountains. Wander through stalls of Christmas vendors, sip mulled wine, steal enchanted glances at the surrounding snow-covered peaks, and you might just feel like you've stepped back in time in this traditional, old-fashioned Austrian Christmas market.
The view of the mountains alone makes this one of the Christmas markets in Austria you don't want to miss, but on top of that, the heart of Innsbruck's old town is filled with other jaw-dropping treasures. An enormous shining Christmas tree stands right next to Innsbruck's famous Golden Roof, a stunning building with 2,657 gilded copper tiles. If you visit this Christmas market around the 24th-28th of December, you might be able to catch the performance of trumpeters playing traditional Austrian Christmas songs from the encircling balconies.
Make sure to take a walk down the narrow alleys between the incredible facades of medieval buildings and keep your eyes peeled for 28 life-sized fairytale characters looking down at you from the old buildings above. Bring a mug of something hot to drink and your camera at the ready!

On Cathedral Square in Salzburg, you will find a charming Christmas market full of history.
With origins going all the way back to 1491, the Christmas Market on Cathedral Square is the oldest market in Salzburg. When you hear the name Salzburg, you might automatically think of the musical The Sound of Music or the classical composer Mozart, but did you know that Salzburg is also the birthplace of the famous Christmas carol, "Silent Night"? That alone seems reason enough for Salzburg to be one of the most quintessential Christmas markets in Austria!
There are over 90 events that take place at the Salzburg Christmas market and all of them offer a fun, festive, and informative accumulation of cultural traditions. You will find varied entertainment such as parades of Perchten—a figure of German folklore—donning scary costumes and masks, a presentation of Christmas mangers, authentic folk song and dance performers, and the Advent Brass Concert.
Of the Christmas markets in Austria, this one has extra charm in that the magnificent fortress looks down upon the city from a nearby hilltop, and the stalls and booths full of souvenirs, delicious treats, and handmade goods are set against the beautiful scenery of the Cathedral. Make sure to try a scrumptious baked apple before you leave.

Celebrate the Advent season in the charming, traditional, and festive Hallstatt Christmas Market.
When it comes to Christmas cheer, the beautiful town of Hallstatt knows how to celebrate. If you're looking for a wide variety of goods to buy, food to enjoy, and living traditions, this is one of the Christmas markets in Austria that has everything you want! You will be able to experience all sorts of genuine customs and delicacies, musical entertainment, arts, and crafts, all set in a winter wonderland.
The Christmas market in Hallstatt is known for the usual treats, such as mulled wine, Christmas punch, and Bratwurst sausages, but you definitely want to try some of its famous cookies and spicy smoked fish from Lake Hallstatt while you are there. And if you have a furry, four-legged best friend, make sure to visit the stall of the Hirlatzer Trachtenverein and ask for "Ozzy." You will be given a special Christmas dog biscuit!
You will marvel at the massive, brightly-lit Christmas tree and a three-dimensional nativity scene created by a local woodworking school. The numerous stalls and stands are filled with all kinds of yummy food and handmade Christmas surprises and decorations.
You might want to plan your trip to the Hallstatt Christmas Market on November 30, 2019, especially if you have little ones, for a special surprise. Every year, the children of the little village of Obertraun wait with torches in their hands on the shores of the lake for St. Nicholas. The jolly spirit of Christmas himself will arrive on Lake Hallstatt on his traditional wooden boat, bearing treats for the kids, and proceed to read a poem aloud before disappearing back into the darkness. There is certainly no lack of fun to be found at Christmas markets in Austria, and Hallstatt is no exception!

Hungerburg is a Christmas market in Austria that stands out above all the rest.
Yes, that pun was intended because Panorama Christmas Market at Hungerburg is literally above all others, situated in the snow peaks high above the town of Innsbruck. If you're looking for Christmas markets in Austria that are a little smaller and more relaxed but have views you can't find anywhere else, you definitely want to check out Hungerburg.
Though it may sound like an expedition to reach this panoramic Christmas market, the journey there is not only surprisingly easy but also half of the incredible experience. Simply take the Nordkettenbahnen funicular from the Congress lift station in the city center of Innsbruck. Noted architect Zaha Hadid designed the stations along the route the cable car takes, creating even more scenic views on your way up to the Christmas market.
Once you reach Panorama Christmas Market at Hungerburg, you will have a perfect, breathtaking, and unhindered view across Innsbruck. It's like looking down at a winter wonderland from the North Pole itself! You might want to hold off on sending out your Christmas cards before your trip to Hungerburg because this stunning outlook is the perfect opportunity for an unforgettable photo op.
You will also find the expected booths full of culinary delights and tons of Christmas memorabilia and souvenirs. Of the Christmas markets in Austria, you really don't want to miss this particualr snowy adventure.

Set in front of Mirabell Palace, this little Christmas market attracts people of all ages.
Anyone looking for a smaller, quieter atmosphere amongst Christmas markets in Austria will love this little, festive gem. Located in the center of Salzburg, near St. Andrew's Church, the Christmas market on Mirabellplatz is very easy to access via public transportation–the bus stop and parking garage are just opposite the market–and the train station only a short walk away. But the easy access to this Austrian Christmas market doesn't taint its quieter, less crowded experience. It's a newer Christmas market, but exuding traditional Yuletide charm and an abundance of locals.
Wander through artistically decorated stalls and booths without having to worry about tons of crowds. The relaxing and cozy vibes make it a market you want to just hang out in and take your time. Children and adults alike will greatly enjoy anticipating the coming of December the 25th at this charming Christmas market, where there are tons of delicious food and drink to try. It is definitely a market you want to visit while hungry! But if you weren't already, the smells of spicy mulled wine, winter tea, and freshly-baked pretzels wafting between the stalls will get your mouth watering.

Lake Wolfgang Christmas Market is visually stunning and filled with festive cheer.
If you are looking for Christmas markets in Austria that still hold intriguing old customs, Lake Wolfgang Christmas Market is a perfect place for you. On a cold winter night, you can see the welcoming glow of lanterns across the lovely Lake Wolfgangsee as you draw near. You can find this Austrian Christmas market located in the charming villages of St. Gilgen, Strobl, St. Wolfgang, which are all only about an hour from Salzburg. Rustic merchant stalls stretch from the lakeside to the Postplatz square, charmingly lit by candle and torchlight, in St. Wolfgang; in St. Gilgen, you will find a baroque Advent celebration in Mozart village; and in romantic Strobl, there are superlative Nativity scenes.
But each village is equal in that there is no lack of Christmas memorabilia, gifts, or incredible food! The stalls are filled with a wide variety of delicious treats—such as hot roasted chestnuts, crepes, pancakes, hot doughnuts, gingerbread, grilled bratwurst sausages, and chocolate-covered fruits—and traditional Christmas gifts like decorations, wood carvings, old-fashioned toys, candles, and hand-knitted sweaters.
There is something for everyone in each of the three villages that make up Lake Wolfgang Christmas Market. Visit all three or take your time in just one, you can't go wrong with this Austrian Christmas market!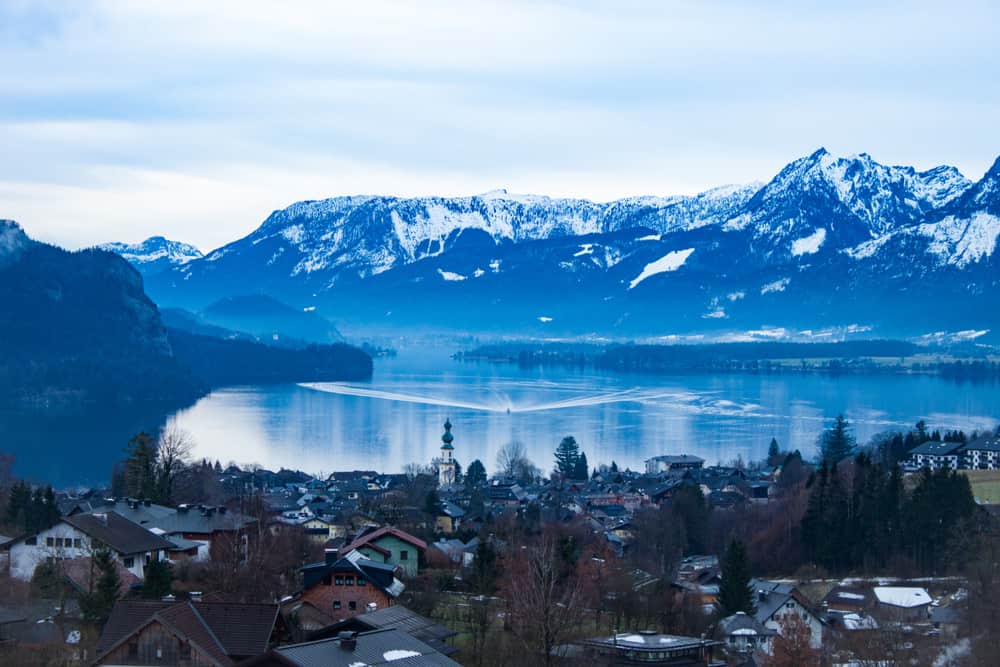 Packing Tips For Your Trip To Austria:
Here are some of our favorite items that you should consider packing for your trip to Austria! These are essential travel items that we use and love and you should make sure to consider for your travels.
A concealed travel pouch may be one of the most important items you bring with you! This unisex RFID blocking concealed travel pouch is lightweight and comes in several colors. It has lots of organization to give you peace of mind. You can keep your most valuable documents safe and secure next to your body.
If you have a pouch already you may not want to or need to invest in a new one. If it does not come with the RFID protection, these RFID sleeves would be handy to prevent identity theft. This configuration comes with enough passport and credit card sleeves that the entire family would be protected. They are slim too, so they will easily fit into your current pouch or wallet. These are the kind our family uses not only when traveling but at home as well.
If you have a camera on your packing list, you need to add additional memory cards on your list as well. Unless you are packing a computer for your trip, you will not be able to upload photos and clear your existing memory card. Purchasing additional memory cards cost under $20 and take up no space in your luggage. Having a backup can have the potential to save you a lot of heartaches if something goes awry! There is nothing worse than coming across that perfect moment and then finding out you don't have enough space to capture it on your camera!
Similarly, If you are planning to capture your trip on a smartphone, we beg you to bring some way to back up your memories. The best way to do this is with a portable smartphone flash drive. A flash drive is a small storage device that you can connect up to your smartphone and then safely and easily download the photos onto this device.
If you are planning on taking a lot of pictures with your phone you will definitely want to consider an external charging battery. This Anker high-speed phone charging battery is the exact one we carry with us on all of my trips. It can be used on a variety of phones, not just an iPhone like we have. And wow is it fast! We like that it holds its charging capabilities for several uses so we do not have to worry about it while out and about. And if we forget to recharge it at night, it will still be good to go the next day.
My mom was never a fan of packing cubes until she tried them out! Now she am sold. These Bagail packing cubes are the exact ones she use whenever she travels and she travels a lot. She cannot believe how much more organized she is now! And she will never leave without them anymore.
We never leave home on a trip without our Bobble filtration bottle. The 18.5-ounce size is perfect for travel and it will fit nicely in the pocket of a backpack or your purse. Also when filled with water, it is not too heavy to carry. And the Bobble carbon filter ensures fresh clean water whenever and wherever you fill the Bobble. You can find filter replacements here.
Perhaps you are traveling a long distance and packing space is a premium. Then this set of collapsible silicone foldable water bottles would work well for you. Would not take up much space in your suitcase at all. And you will be receiving a set of two.
You will want to bring a backpack or daypack with you to store snacks, your water bottle, phone, extra clothes, etc.. This foldable water-resistant backpack would be great. It is very affordable and is available in many color options for you to choose from. The fact that it folds down into a zippered pouch will make it easy to pack.
Perhaps you need a more substantial backpack for your international travel. This antitheft backpack has a charging port, is water-resistant and can comfortably carry up to a 15.6″ laptop. It comes in a range of colors to choose from and it is inexpensive as well.
We all need to protect our eyes from the sun's harmful UVA/UVB rays. These unisex polarized sunglasses come in a lot of lens colors and frame designs and are extremely affordable too.
If you are fond of the aviator-style of sunglasses these polarized aviators may interest you. We like polarized sunglasses because they remove the glare off the water and help you to see things more clearly.
Don't forget to bring along a universal power adapter if you are traveling abroad. This worldwide power plug is a great example and will charge your phone at the end of your busy days. And this world traveler adapter kit can charge several devices at the same time. This is what you will need when there are several people traveling in your group, or if you bring several electronic devices on your trip that require charging at the same time.
There are simply so many perfect Christmas markets in Austria, it is almost impossible to choose even ten favorites! Nothing really says Merry Christmas or fills you with all the warm, Yuletide vibes like Austrian Christmas markets. From the snowy winter scenes, the historic architecture, the dazzling lights, to the stalls filled with countless handmade goods and mouth-watering culinary delights, what is a better way to celebrate the season of Advent and anticipate Christmas than meandering through Christmas markets in Austria?
We wish you and yours a wonderful, Merry Christmas in Austria!