Heading to Europe for the Christmas holidays? Christmas Markets in Germany are a must-see! Christmas markets in Europe are the ultimate way to get in the holiday spirit.
Whether you're shopping for Christmas presents for yourself, your family members, or just picking up souvenirs, Christmas Markets in Germany are something you definitely don't want to miss. In this article, we've included the most festive Christmas markets in Germany so that you don't miss a single festive moment.
We love the holiday season and we know that you do too! Here are our top 10 Christmas markets in Germany.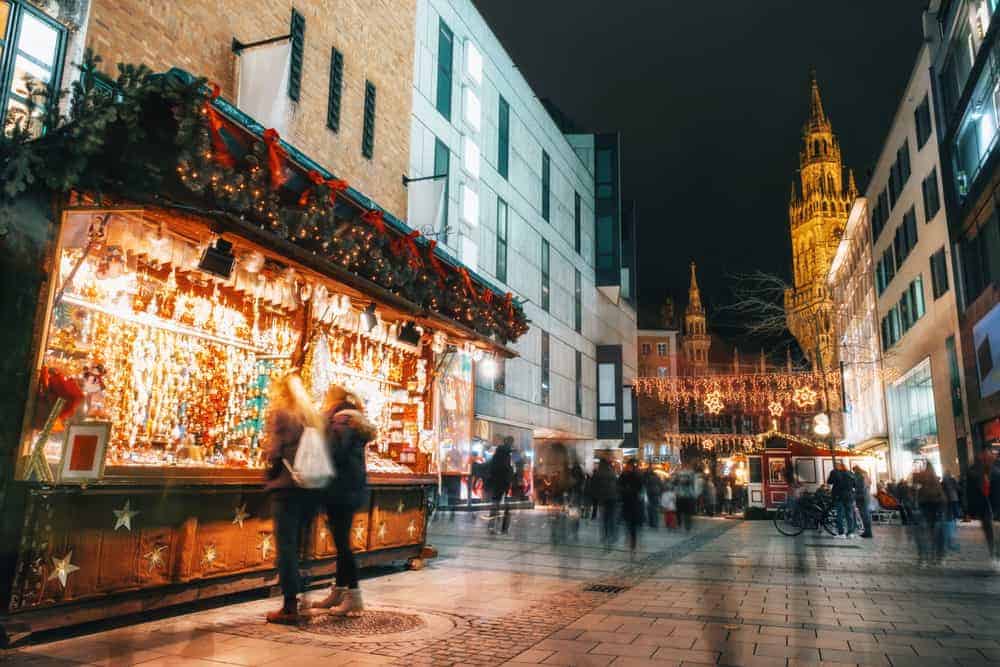 10 Festive Christmas Markets In Germany to See 
The Nuremberg Christmas Market is one of the most famous Christmas markets in Germany.
The first entry on our German Christmas markets list is a big one! The Nuremberg Christmas market is not only one of the most famous Christmas markets in Germany, but also in the world.
The market is famous for many reasons but especially for the food! Guests should be sure to stop by this German Christmas Market to try out the gingerbread and the sausages. Look for the sausages listed as '3 im Weggla' to get 3 sausages in one roll! The food in Germany is truly delightful. As for the gingerbread, you can try all sorts of shapes, sizes and flavours. Whatever your choice may be, don't forget to grab some to-go for your friends back home! German Christmas Markets like this one each have their traditions and for Nuremberg, it's gingerbread. They have been baking it for over 600 years.
German Christmas Markets all have their own German gifts, but at Nuremberg, you can also purchase gifts from all over the world. The Market of the Sister Cities sells gifts from across Europe and the world. You can find anything from French delicacies to hand-crafted Nicaraguan dolls.
If you are travelling with children, don't forget to stop by the Children's market. Here, children can ride the merry-go-round and stop by Santa's house! The adults can of course enjoy some mulled wine for the journey in a beautiful collectible mug to enjoy for seasons to come.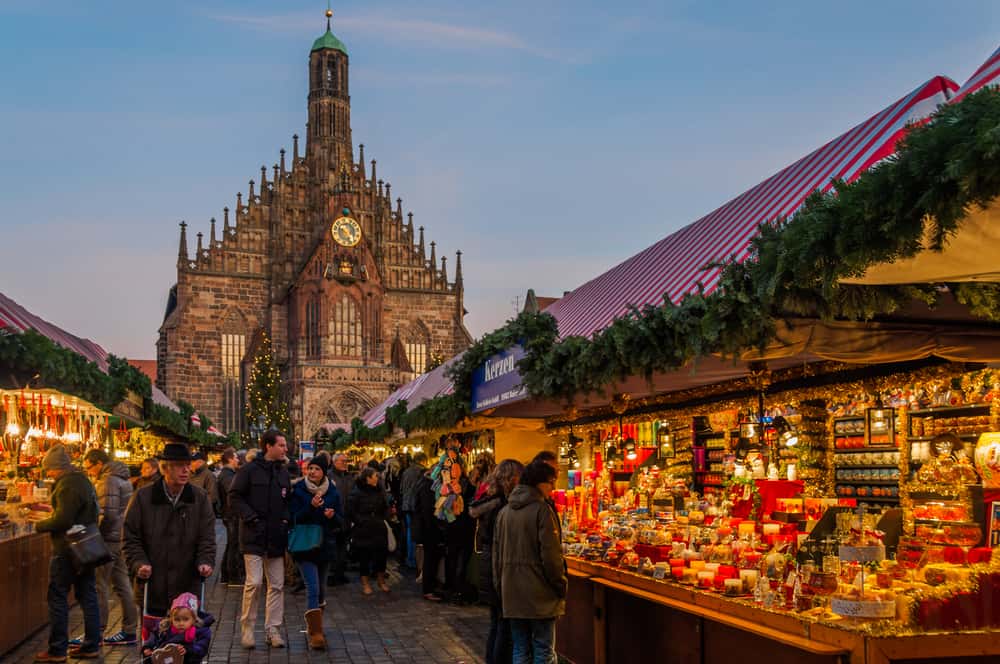 The Dresden Christmas Market is one of the oldest Christmas Markets in Germany
Did you know that the Dresden Christmas Market has been open for 585 years? This makes it one of the oldest Christmas Markets in Germany and the world! The first ever Christmas Market in Dresden began in the 1400s. Only a few other Christmas Market locations around the globe are older. This makes the Dresden Christmas Market one of the must see Christmas Markets in Germany.
The Dresden Christmas Market boasts some of the most unique regional characteristics of all Christmas Markets in Germany. The specialities include Lusatian blue-printed fabrics, Moravian Stars and Ore Mountain wooden crafts. Perhaps the most unique feature of this market is the Dresdner Christstollen fruit loaf that sits in the light of the step pyramid. In fact, the Stollen is so important to the region that parts of the festival are dedicated just to the bread. If you want to see a giant Stollen, be sure to visit the Dresden Stollenfest happening on December 8, 2019. Here, visitors can see Stollen that weighs multiple tons. Even the Dresdner Stollenmadchen (Stollen Ambassador) will be in attendance.
If you're in Dresden during the market season, there are many different tours that you can go on. Many of these centre around the Advent. These are so popular that they are likely to sell out so make sure to book in advance! There are many options, and some tours include Stollen for you to eat during your tour. One tour lets you enjoy the music of the advent played by the Dresden Residenz Orchestra.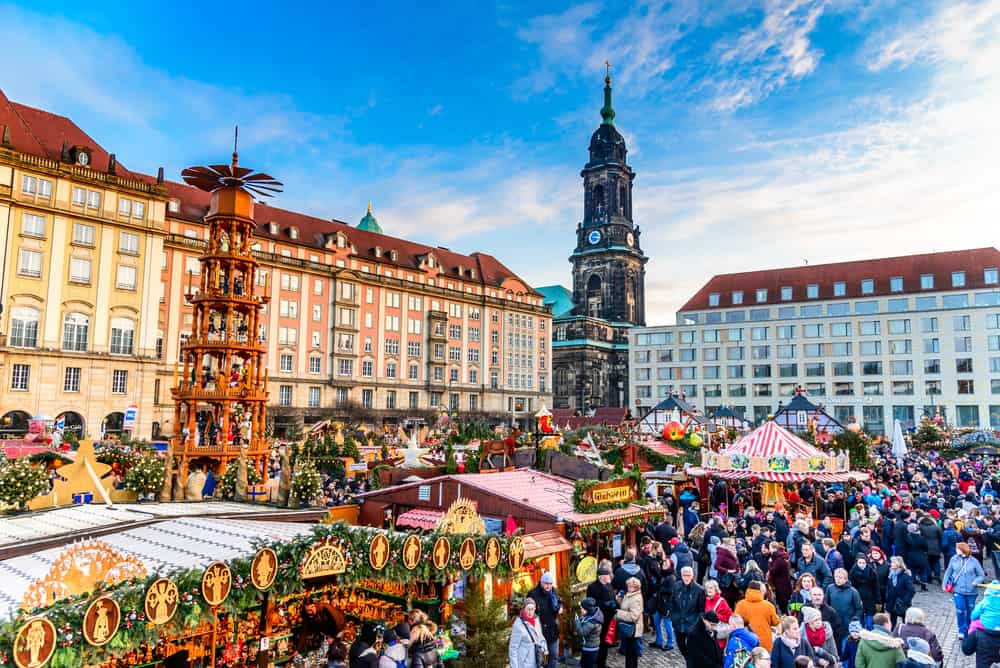 The Rothenburg Christmas Market is one of the most magical Christmas Markets in Germany
This medieval town is sure to blow you away. This is one of the most romantic and magical German Christmas Markets. The town of Rothenburg is said to seem as magical as the movies! This market has been a highlight of the area since the 15th century! The town turns itself into a winter wonderland, perfect for a romantic Christmas Market. Not much of the town has changed from its original form, making it the perfect historical get-away. This market runs from the 21st of November, right up until the 23rd of December.
One of the characteristics of this market is the continuous implementation of past traditions. The Rothenburg Riders are a staple of the market. These riders were once thought to bring messages from ancestors of doom. Over time, these horses have changed from scary omens to a welcome scene.
Food is a staple item of German Christmas Markets. Like many of the other markets in this list, Rothenburg has its share of delicacies to try out. They sell the usual treats like mulled wine and pastry. The specialty food for the Rothenburg market is the schneeball, which means snowball. This is a circular ball of pastry strips covered in powdered sugar or even chocolate! This is one delicacy of Christmas Markets in Germany that you can't miss!
For an even better view, those attending on Friday and Saturday nights before 8pm can view the beautiful market form the top of the town hall. What a beautiful view!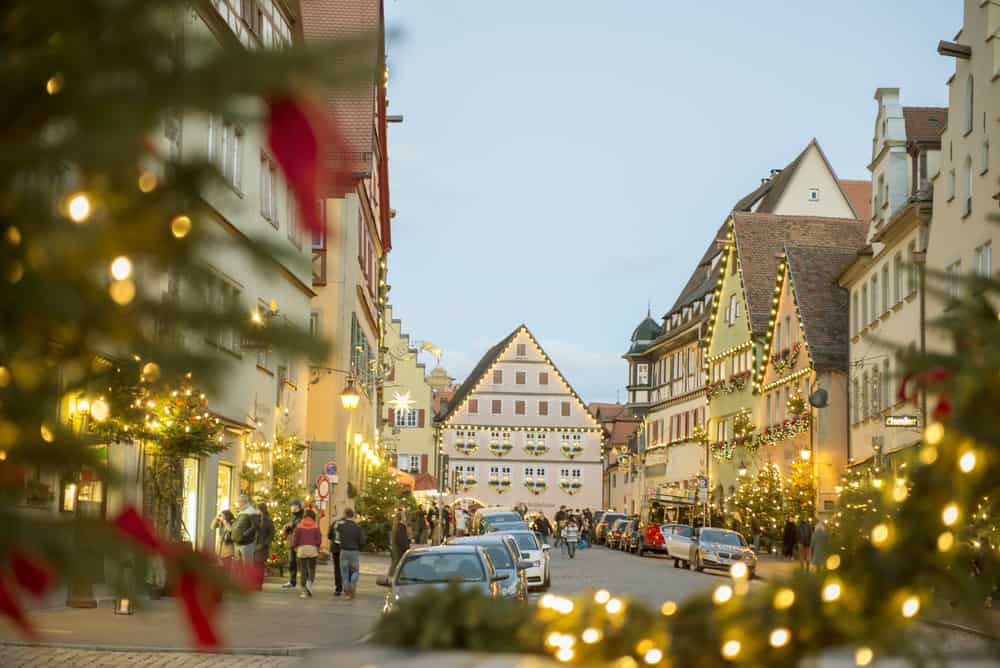 The Cologne Christmas Markets are the most diverse Christmas Markets in Germany
If you're headed to Cologne this Christmas, you will have your fair share of choices. Cologne doesn't just have one Christmas market, they have many, many choices. This is one of the most diverse Christmas Markets in Germany that we'eve ever seen.
For the more traditional market folks, Cologne has the Cathedral X-Mas Market. The highlight of this market is definitely the backdrop. The market is in front of one of the most famous Cathedrals in Europe. The Cologne Cathedral provides the perfect backdrop for this market. The market also boasts a huge Christmas tree with 50,000 LED lights! The market also features some of the highest quality craftsmen in the country!
The next one of the traditional old Christmas Market in Germany. The Old Market Christmas takes place out front of the town hall and is organized by the legendary house gnomes or Heinzelmannchen. These gnomes are said to have done many different jobs in Cologne, including sewing, baking, and cooking! This market will definitely give you that nostalgic German Christmas market feeling. Children also love this market as there is lots for them to do!
For the more modern visitors, the Heavenue Christmas Market will be your first stop. This market is taking on a completely new look this year under the theme of Christmas heaven. Rather than the traditional German Christmas Market items and food, this market is testing out new treats. Rather than mulled wine, the Market is trying out 'Rheinhertz', a new artisanal drink often made with regional ingredients and coffee. There will also be Churros, Bratwurst burgers and much more! Along with other vendors, this is where the Cologne AIDS Hilife and KLuST (Cologne Pride organization) booths will be.
There are many more options for Cologne Christmas Markets, including Nativity Scenes, Village of St. Nicholas and the Christmas-Market-Express.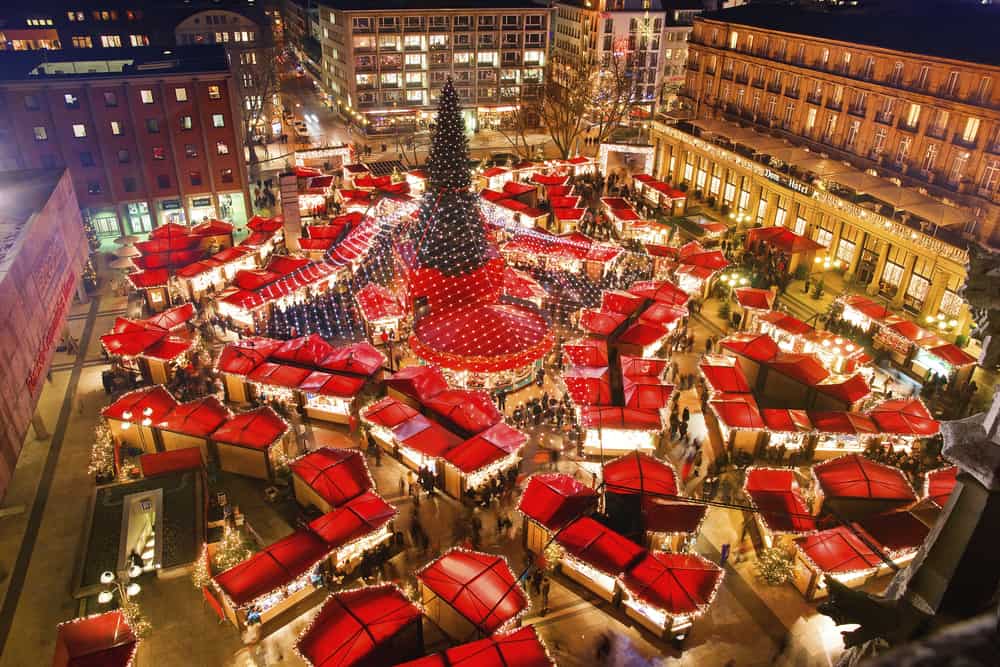 The Hamburg City Hall Market is one of the most festive Christmas Markets in Germany
Get ready because this market has a flying Santa! The City Hall Christmas Market in Hamburg is one of the most visited and well respective Christmas Markets in Germany. Located in front of City Hall, this market operates under the lights of a large Christmas tree. Here, visitors can find beautiful stalls built specifically for the vendors of this market! There are over 80 vendors and booths for visitors to check out.
Hamburg City Hall Market is set apart from all of the other German Christmas Markets by one attraction, the flying Santa! Three times a day, Santa climbs to the flying sled that floats high above the city. Here, Santa rides his reindeer-led sleigh across the city along the tightrope. According to one article, the market has had the same flying Santa Claus for over 17 years! You'll definitely want to have your cameras out for this one!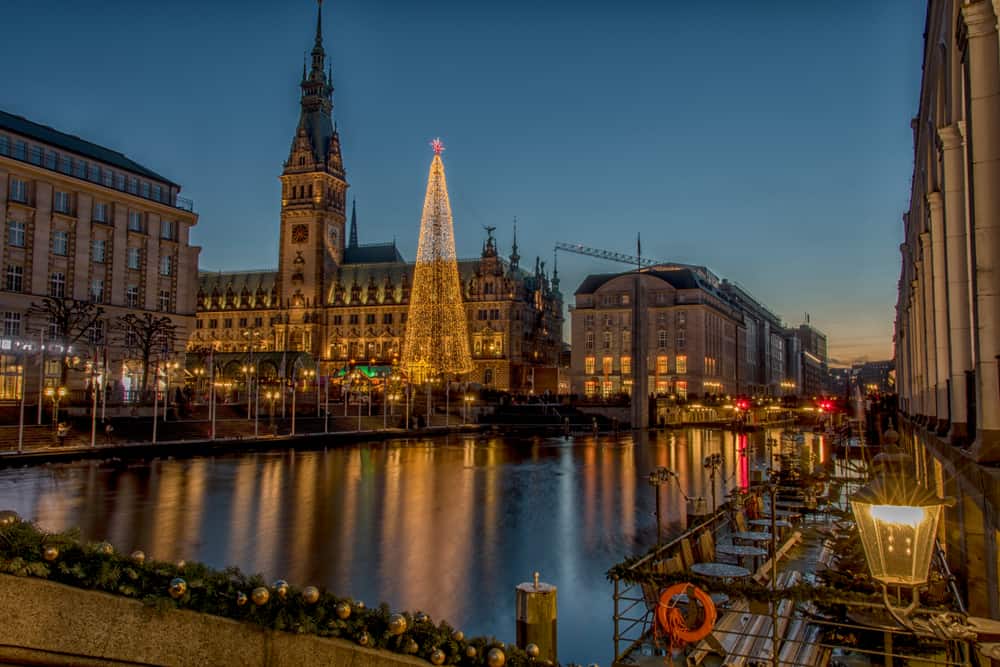 The Gendarmenmarkt Christmas Market in Berlin is one of the coziest Christmas Markets in Germany.
Like many other cities in Germany, Berlin has a lot of German Christmas Markets. For this article, we're only going to focus on a couple. The Gendarmenmarkt Christmas Market takes place in Gendarmenmarkt square every year from November 29 to December 31. According to visitors, Gendarmenmarkt is the most beautiful square in Berlin. During the summer, it is filled with open-air concerts and bustling tourists. However, in the winter, this former battleground becomes a gleaming German Christmas Market.
This market pairs its traditional history with modern day art. Inside the craft-tents, visitors can see the traditional works of dress-makers, carvers, and welders. But one thing that sets this one apart from other German Christmas Markets is the inclusion of more modern crafting. Visitors can also see graphic designers, photographers, and other modern media artists.
After a walk through the crafts area, visitors can take in a variety of traditional and unique German foods, while watching a variety of performers. Choirs, Jazz-bands and even fire-jugglers grace the stage during the lively month of this market.
To add to the cozy ambiance of the market, over 1,000 fairy lights are strung from tent to tent, making this one of the coziest Christmas Markets in Germany.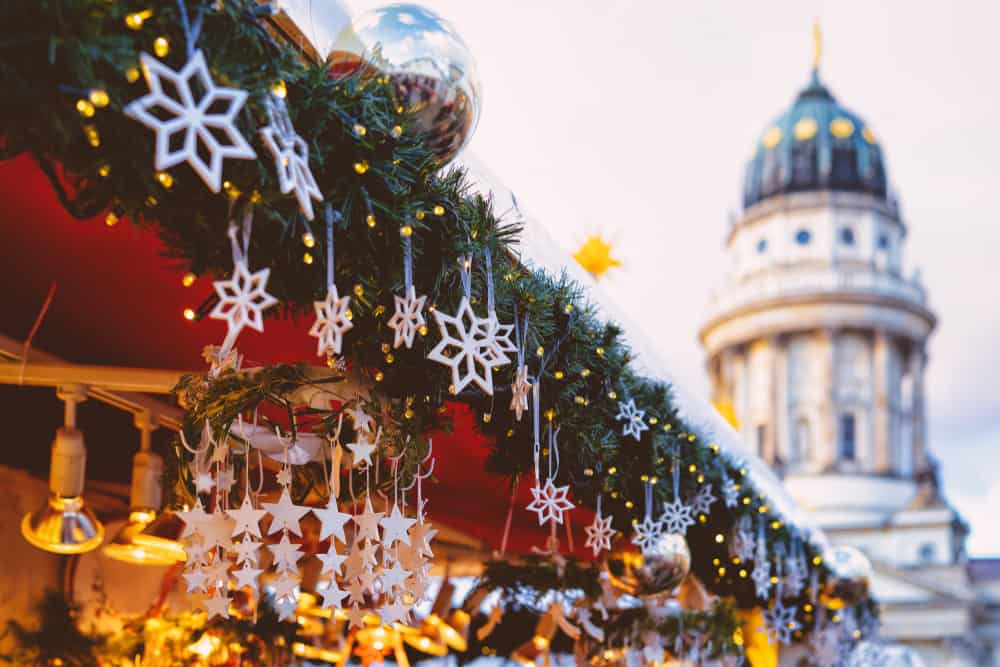 The Advent Market at Domane Dahlem is one of the most rustic Christmas Markets in Germany
Another Berlin Christmas Market joins the list! There are so many beautiful ones that we couldn't just pick one. For this selection, we chose one of the more unique Christmas Markets in Germany; the Doman Dahlem Advent Market.
This Advent Market is held in a 16th-century manor, providing a unique background for a bustling Christmas Market. Domane Dahlem is an open-air agriculture museum and a working farm! Visitors can learn about German Agriculture and visit the organic farm. While visitors learn and shop, animals mill around the country-side creating an atmosphere unlike any of the German Christmas Markets we've mentioned before.
The best part? This small-town, rustic feeling Christmas Market is all within city limits. It's completely accessible by Berlin transit and visitors don't have to go far to find this rustic atmosphere. It can be a nice break from the bustling inner city markets.
Visitors can also enjoy unique delicacies offered at the market, including goose, waffles, non-alcoholic punch for children and of course, mulled wine. Make sure to stop by at lunchtime to hear the music! This is one of the must-see Christmas Markets in Germany and especially in Berlin!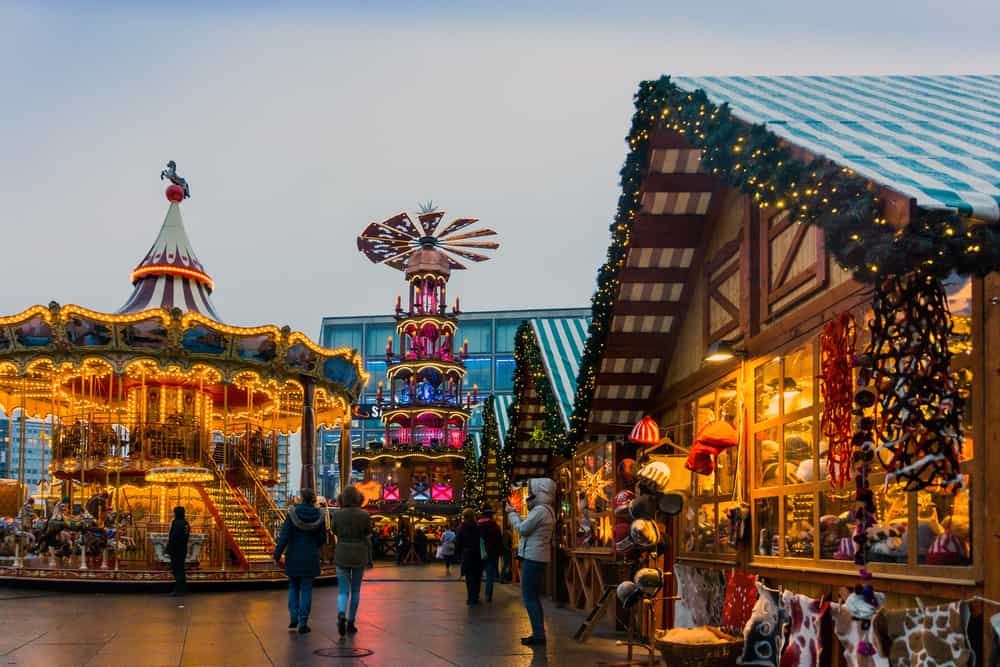 The Heidelberg Christmas Market is one of the most traditional and elegant Christmas Markets in Germany
What do you picture when we say that Heidelberg Market is one of the more traditional German Christmas Markets? Is it nuts roasting over a fire, ice-skating on ponds, and beautifully decorated market-stalls all under the backdrop of a castle? It is for us. That's why the Heidelberg Christmas Market is such a beautiful visit at Christmas time.
Hosted in Old Town Heidelberg, the Christmas market is a hit with the locals and tourists. This 5-square market features 'Germany's Most Beautiful Ice-Rink'. Here, visitors can skate with their loved ones as the sounds of the market fill the air around them. While some skate, others take in the shops around them. Each stall is elegantly decorated with the Christmas spirit, making it one of the most elegant Christmas Markets in Germany. As visitors shop, the smells of cooking fill the air. Roasting chestnuts and almonds can be purchased as you shop.
While this market can be busy, it offers a reprieve from the busy streets of the area, one of Europe's longest pedestrian zones. This market provides a perfect break from a busy trip.
All of these features help to cement the Heidelberg Market as one of the most traditional Christmas Markets in Germany.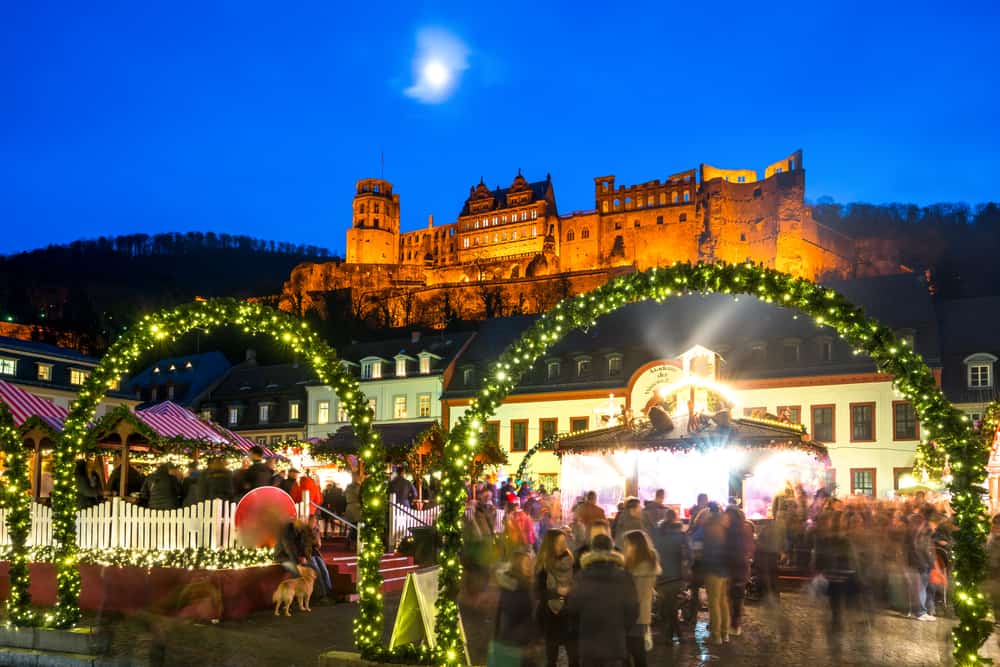 The Dusseldorf Christmas Market is one of the most wide-spread Christmas Markest in Germany.
Not only is Dusseldorf located near other Northern cities and their German Christmas Markets, but it also spread out all across Dusseldorf so there is no shortage of things to see. On Flinger Strasse, there are huts modeled after the historical Dusseldorf houses. Then, over on Schadowstrasse, visitors can snack to their heart's content. Over on Konigsalle, the market has added a 1700 square-meter ice-rink! Everywhere you go in Dusseldorf, there is Christmas fun to be had.
In addition to the number of events, the Dusseldorf Christmas Market is open before many other German Christmas Markets. In 2019, the Market opens on November 22. With most other Christmas Markets in Germany opening towards the end of November, the Dusseldorf Market is the perfect first stop on your trip!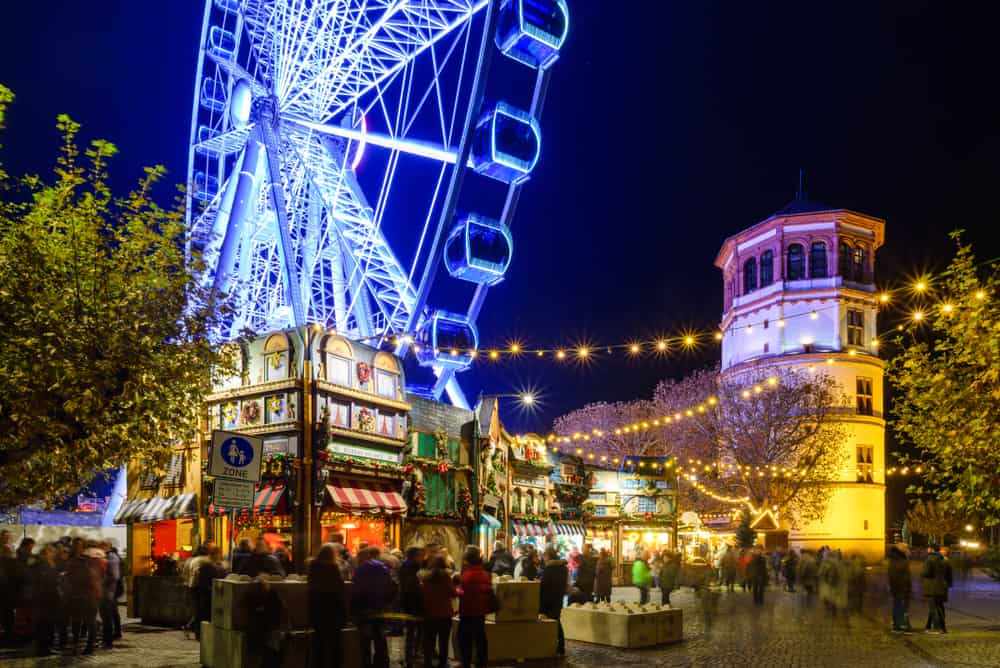 The Essen Christmas Market is one of the most unknown Christmas Markets in Germany
The last Christmas Market on our list is perhaps one of the most underrated Christmas Markets in Germany. Many cities near by have famous German Christmas Markets (such as the one from Dusseldorf that we discussed above), which often leaves the Essen Christmas Market off the list. However, it is definitely worth a visit if you are wondering what to do in Essen!
The Essen Christmas Market runs from the 16 of November until December 23, giving you plenty of time to enjoy all that Essen has to offer. At the market, you won't just find local German merchants, but international merchants from over 20 different countries. These merchants don't just bring gifts and ornaments but food as well. This means that the Essen Christmas Market offers both German and international food, which gives you the best of both worlds!
In addition to the 250+ market stands, the market shines underneath a canopy of 45,000 lights, adding to the Christmas atmosphere. Visitors can also walk down through the medieval market to the Cathedral to see the traditional advent show, the Nativity play (Krippenspiel). There are nativity plays taking place all over the city for you to find and you never know, you might just be guided by an angel!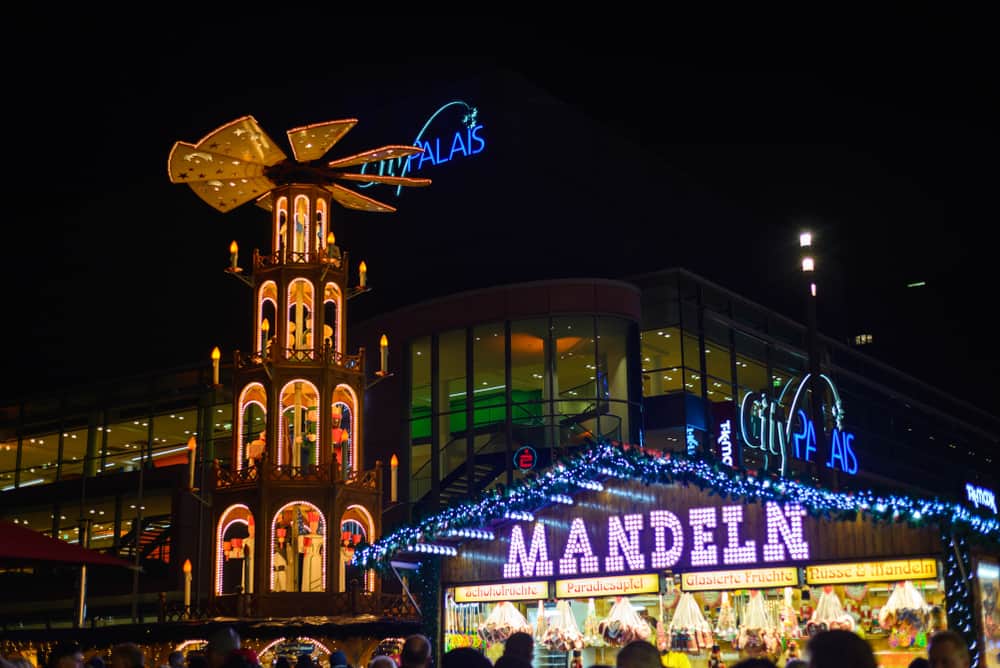 Packing Tips For Your Trip To Germany:
Here are some of our favorite items that you should consider packing for your trip to Germany! These are essential travel items that we use and love and you should make sure to consider for your travels.
A concealed travel pouch may be one of the most important items you bring with you! This unisex RFID blocking concealed travel pouch is lightweight and comes in several colors. It has lots of organization to give you peace of mind. You can keep your most valuable documents safe and secure next to your body.
If you have a pouch already you may not want to or need to invest in a new one. If it does not come with the RFID protection, these RFID sleeves would be handy to prevent identity theft. This configuration comes with enough passport and credit card sleeves that the entire family would be protected. They are slim too, so they will easily fit into your current pouch or wallet. These are the kind our family uses not only when traveling but at home as well.
If you have a camera on your packing list, you need to add additional memory cards on your list as well. Unless you are packing a computer for your trip, you will not be able to upload photos and clear your existing memory card. Purchasing additional memory cards cost under $20 and take up no space in your luggage. Having a backup can have the potential to save you a lot of heartaches if something goes awry! There is nothing worse than coming across that perfect moment and then finding out you don't have enough space to capture it on your camera!
Similarly, If you are planning to capture your trip on a smartphone, we beg you to bring some way to back up your memories. The best way to do this is with a portable smartphone flash drive. A flash drive is a small storage device that you can connect up to your smartphone and then safely and easily download the photos onto this device.
If you are planning on taking a lot of pictures with your phone you will definitely want to consider an external charging battery. This Anker high-speed phone charging battery is the exact one we carry with us on all of my trips. It can be used on a variety of phones, not just an iPhone like we have. And wow is it fast! We like that it holds its charging capabilities for several uses so we do not have to worry about it while out and about. And if we forget to recharge it at night, it will still be good to go the next day.
My mom was never a fan of packing cubes until she tried them out! Now she am sold. These Bagail packing cubes are the exact ones she use whenever she travels and she travels a lot. She cannot believe how much more organized she is now! And she will never leave without them anymore.
We never leave home on a trip without our Bobble filtration bottle. The 18.5-ounce size is perfect for travel and it will fit nicely in the pocket of a backpack or your purse. Also when filled with water, it is not too heavy to carry. And the Bobble carbon filter ensures fresh clean water whenever and wherever you fill the Bobble. You can find filter replacements here. 
Perhaps you are traveling a long distance and packing space is a premium. Then this set of collapsible silicone foldable water bottles would work well for you. Would not take up much space in your suitcase at all. And you will be receiving a set of two.
You will want to bring a backpack or daypack with you to store snacks, your water bottle, phone, extra clothes, etc.. This foldable water-resistant backpack would be great. It is very affordable and is available in many color options for you to choose from. The fact that it folds down into a zippered pouch will make it easy to pack.
Perhaps you need a more substantial backpack for your international travel. This antitheft backpack has a charging port, is water-resistant and can comfortably carry up to a 15.6″ laptop. It comes in a range of colors to choose from and it is inexpensive as well.
We all need to protect our eyes from the sun's harmful UVA/UVB rays. These unisex polarized sunglasses come in a lot of lens colors and frame designs and are extremely affordable too.
If you are fond of the aviator-style of sunglasses these polarized aviators may interest you. We like polarized sunglasses because they remove the glare off the water and help you to see things more clearly.
Don't forget to bring along a universal power adapter if you are traveling abroad. This worldwide power plug is a great example and will charge your phone at the end of your busy days. And this world traveler adapter kit can charge several devices at the same time. This is what you will need when there are several people traveling in your group, or if you bring several electronic devices on your trip that require charging at the same time.
There are so many magical and festive Christmas Markets in Germany. When traveling here, there's no shortage of ways to get into the Christmas spirit. Even if you aren't traveling to places on this list, be sure to give your city a quick google, you never know what magical Christmas Market might be hiding right near you. We hope you enjoy your Christmas season in Germany!