If you are searching for some of the best Airbnbs in Asheville, North Carolina, we have you covered! The accommodation you stay in has a major effect on any trip, so you want to book the perfect place. To help you out, we have compiled a list of some of the cutest and most unique Airbnb properties Asheville has to offer.
You will not be disappointed since Asheville has some of the best Airbnbs in North Carolina. Some might argue they could be some of the best in the United States as well, though that is up to you to decide!
Asheville is a very popular U.S. destination for travelers and you only have to do a Google image search to find out why! This adorable and hip city is surrounded by the Blue Ridge Mountains. If you want a vacation involving nature, then Asheville should top your list.
In this area, there are numerous hiking trails where you can find scenic vistas begging to be photographed. With the French Broad River flowing nearby, you can enjoy some time on the water tubing, boating, or fishing. At the end of the day, soak away your stress in a hot spring.
The city of Asheville itself is worthy of exploration as well. This city oozes coolness and is known for its art scene. There are plenty of museums and galleries to peruse. If you are a foodie, there are also amazing restaurants and no shortage of craft beer.
Looking to save money on your trip to Asheville? Get a FREE $55 Airbnb coupon by using our code when you book!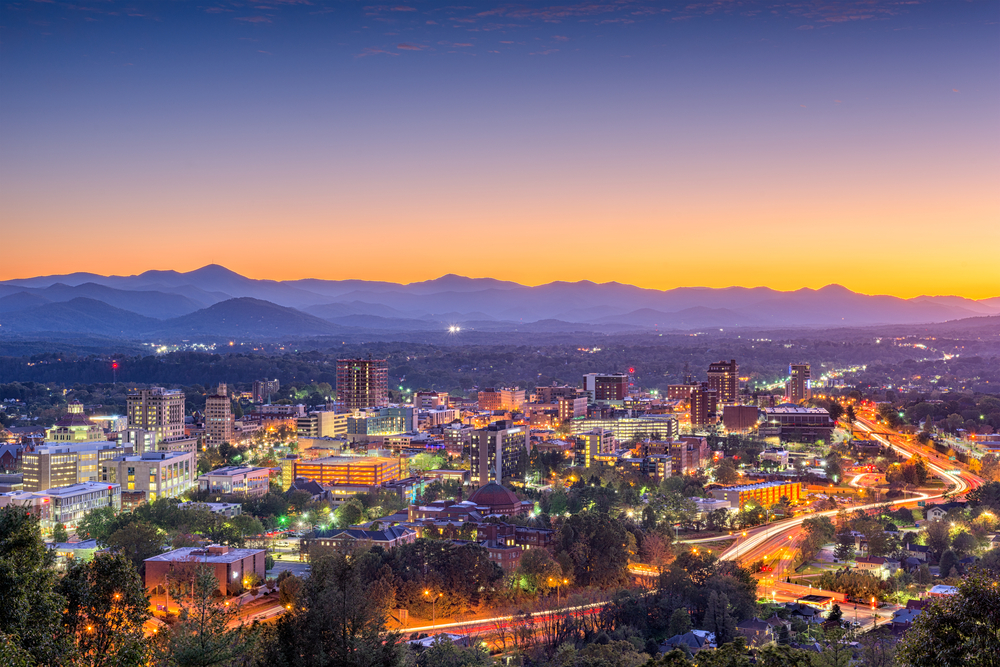 15 Best Airbnbs in Asheville, NC (Cabins, Tiny Houses, & More!)
Gashes Fluss Haus
Gashes Fluss Haus is a quaint cottage ideal for a couple's romantic getaway. Located on the outskirts of Asheville and surrounded by trees, this property provides the opportunity to relax in peace after an exciting day in the city. Plus, there is no better way to relax than in a shower with a floor made of river-polished rocks!
With a history dating back over 100 years, this rustic, two-story home has been updated to feel cozy with cute and modern furnishings. Complete with aesthetic whitewashed stone walls and a fire burning stove, you will feel right at home and never want to leave! When you do leave, though, you will have taken so many Instagram shots here, you will be sure to remember every detail.
Click Here To Check Rates On Airbnb!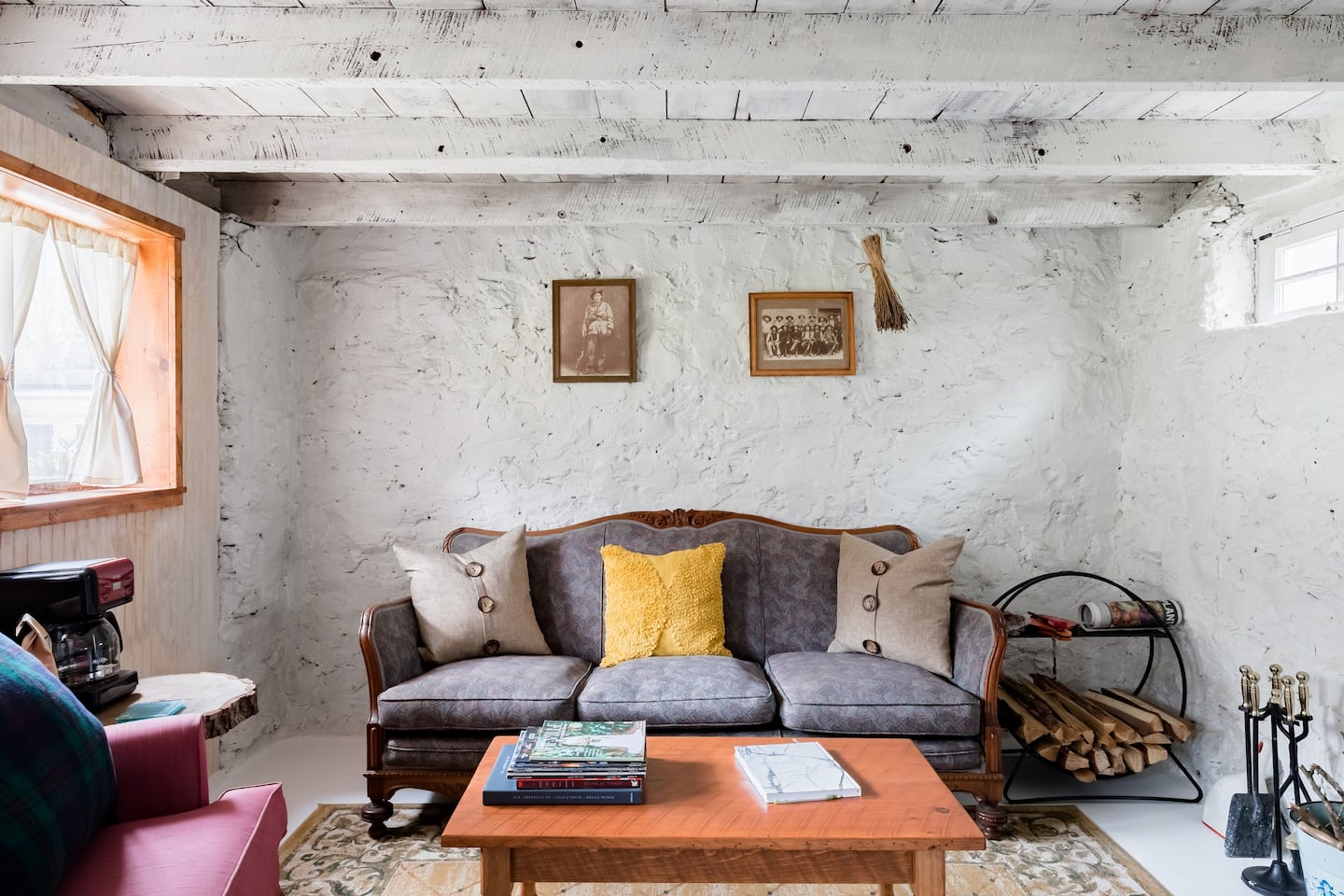 The Best View in Asheville!
Dubbed by management as the best view in Asheville, this next Airbnb property seems to offer an amazing view through every window. In 2017, Architectural Digest actually named this Asheville location the best Airbnb in North Carolina!
This minimalist home is contemporary with sleek lines and an open floor plan, providing plenty of room for guests to stretch out and relax. The fireplace will keep you cozy in the winter while large, folding doors will keep you cool in the hotter months.
This luxury Airbnb stay is only a few minutes from the iconic Blue Ridge Parkway and about 12 minutes from downtown Asheville.
Click Here To Check Rates On Airbnb!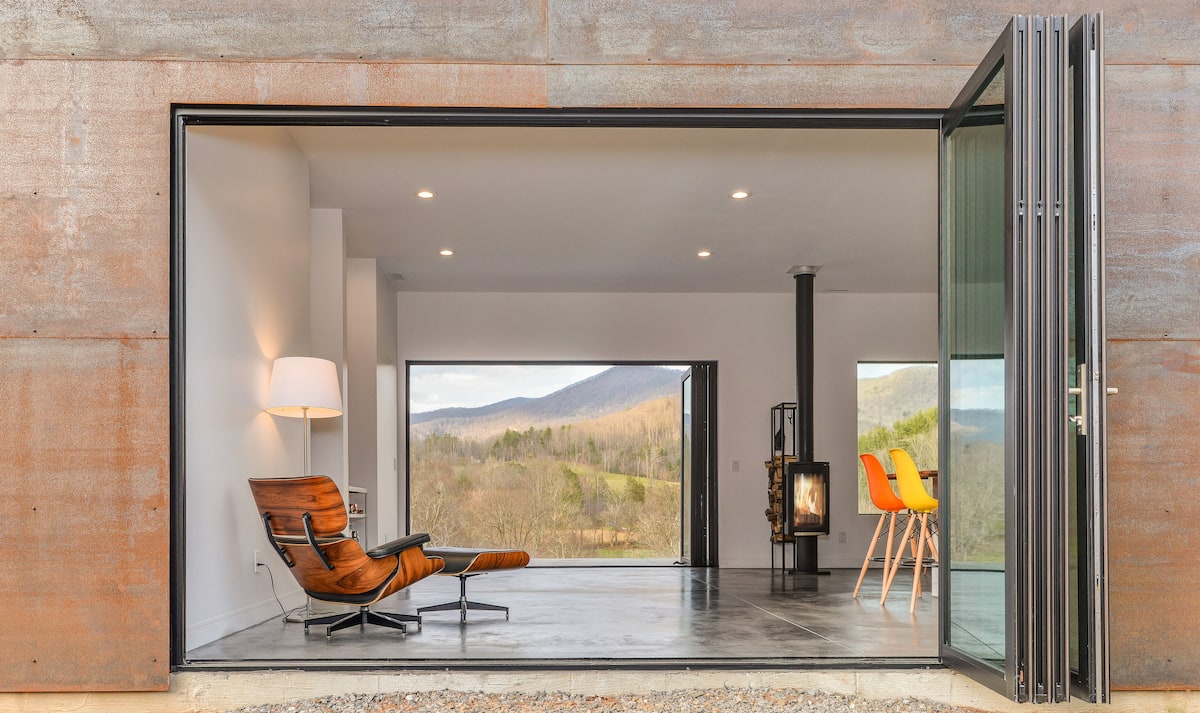 Pisgah Highlands Off-Grid Cabin
This off-grid cabin situated near the Pisgah National Forest is as cute as it is unique. If you are looking for a place with a ton of color during the fall, you can look no further! Though no matter the time of the year you visit, you will find amazing mountain views. The whole property runs on solar power or propane, so it is great for the environment that surrounds it.
The cabin is not terribly big, but it is the perfect size for a couple or a solo retreat. The queen-sized bed looks out through a glass garage door that can be opened for unobstructed, drop-dead gorgeous views. While having no wifi is part of this off-grid experience, you will be having too much fun to miss the internet. This is also a pet-friendly property if you are traveling with man's best friend. Because of all these attributes, this is one of the best cabins in the U.S.
Click Here To Check Rates On Airbnb!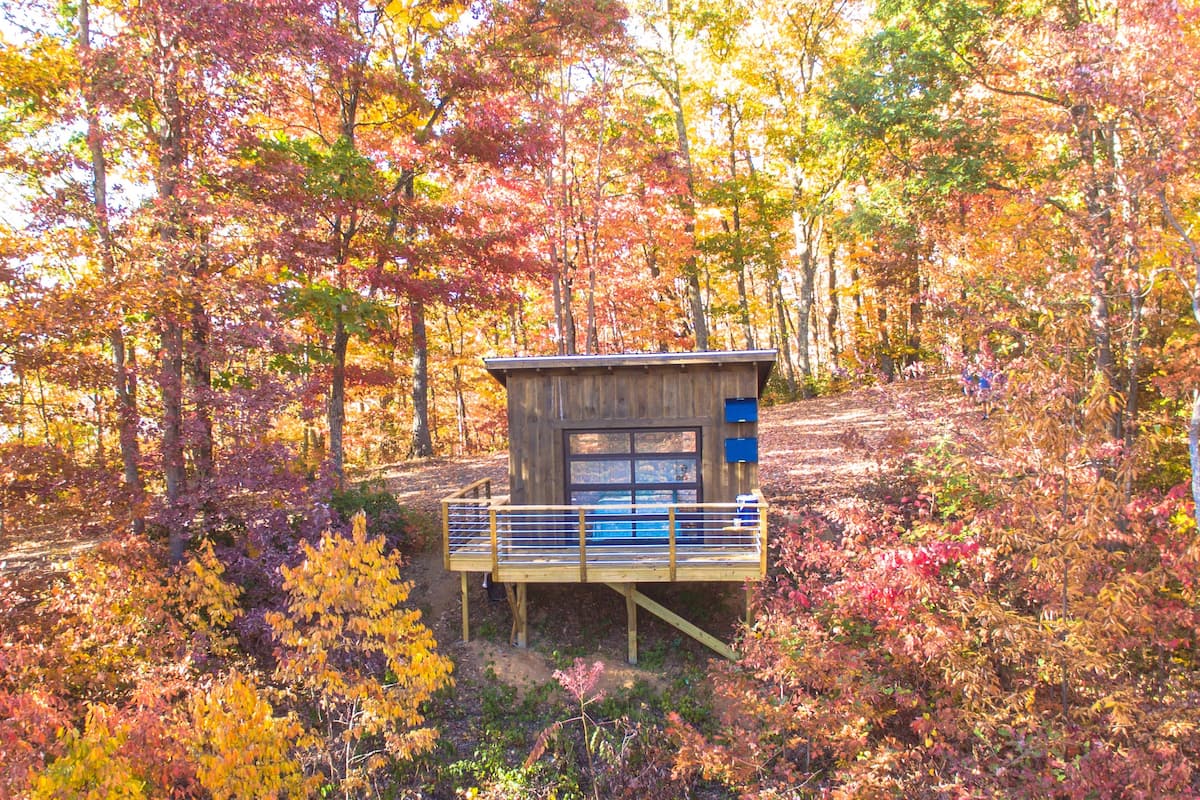 The Starling: A Small A-Frame in the Blue Ridge
The Starling is a 250 square foot, A-frame tiny house that will have you feeling as if you have traveled to Scandinavia instead of North Carolina. Adorable and rustic both inside and out, you will want to book this Airbnb in Asheville in a heartbeat. With floor to ceiling wood paneling, a wood-burning stove, and fairy lights for mood, the aesthetic here is to die for!
Sure, you'll have to use an outhouse, but never mind that! In the evening, you can unwind by the outdoor fire pit as you roast some yummy s'mores. When you climb the ladder to the bedroom loft, you will feel as if you are falling asleep in a fairy tale.
Click Here To Check Rates On Airbnb!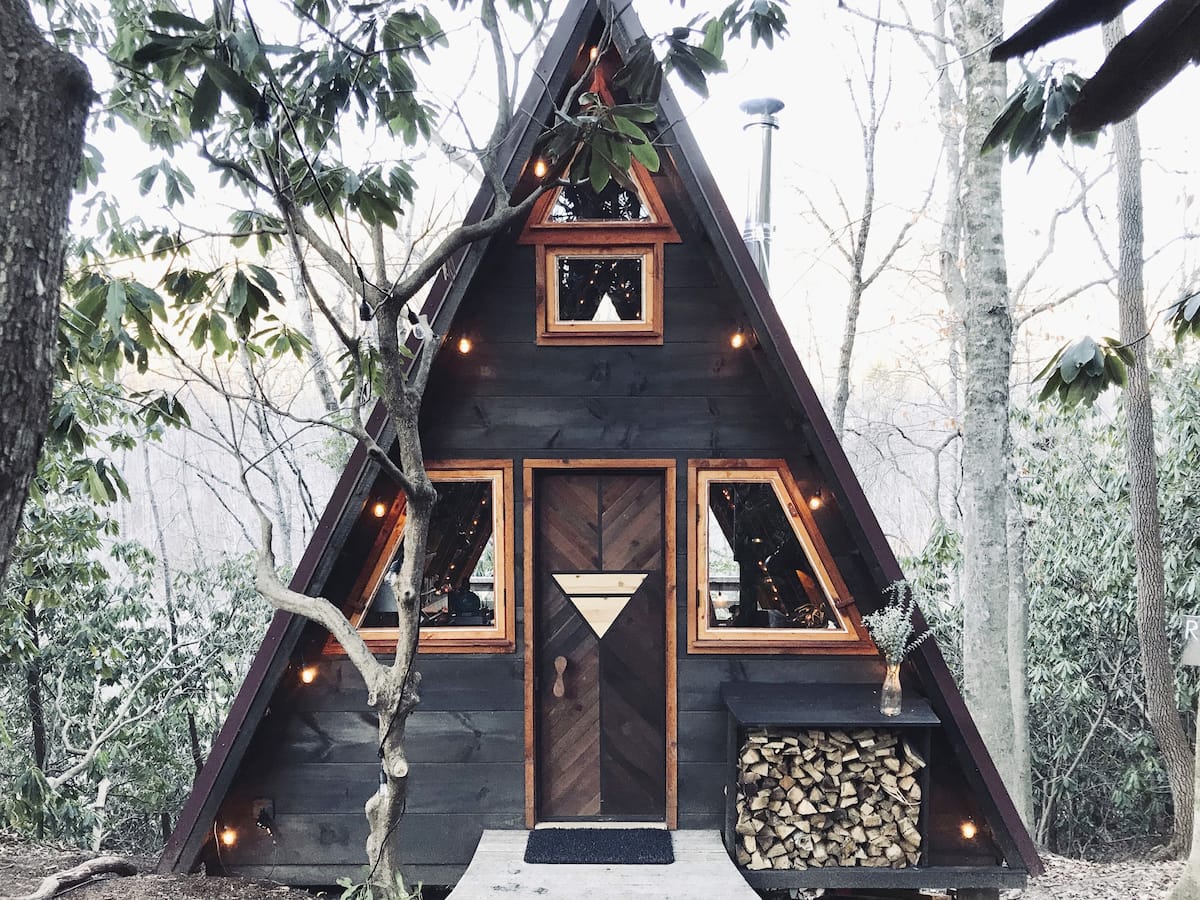 Sanctuary, Treehouses of Serenity
The rustic Sanctuary Treehouse is perfectly named because it really is a sanctuary lifted up among the trees. From its position, you are bound to get amazing views of the mountain sunset. The porch areas provide the best place to sit at night with some tea and stargaze. What could be better than that?!
With a large and beautifully decorated interior, there is plenty of room for a group of four. While there is only one double bed, there is also a futon in the living room. Since it is only ten minutes to downtown Asheville, this property is ideally located. While it gives the feeling of seclusion it is not far from the lively atmosphere of downtown.
Click Here To Check Rates On Airbnb!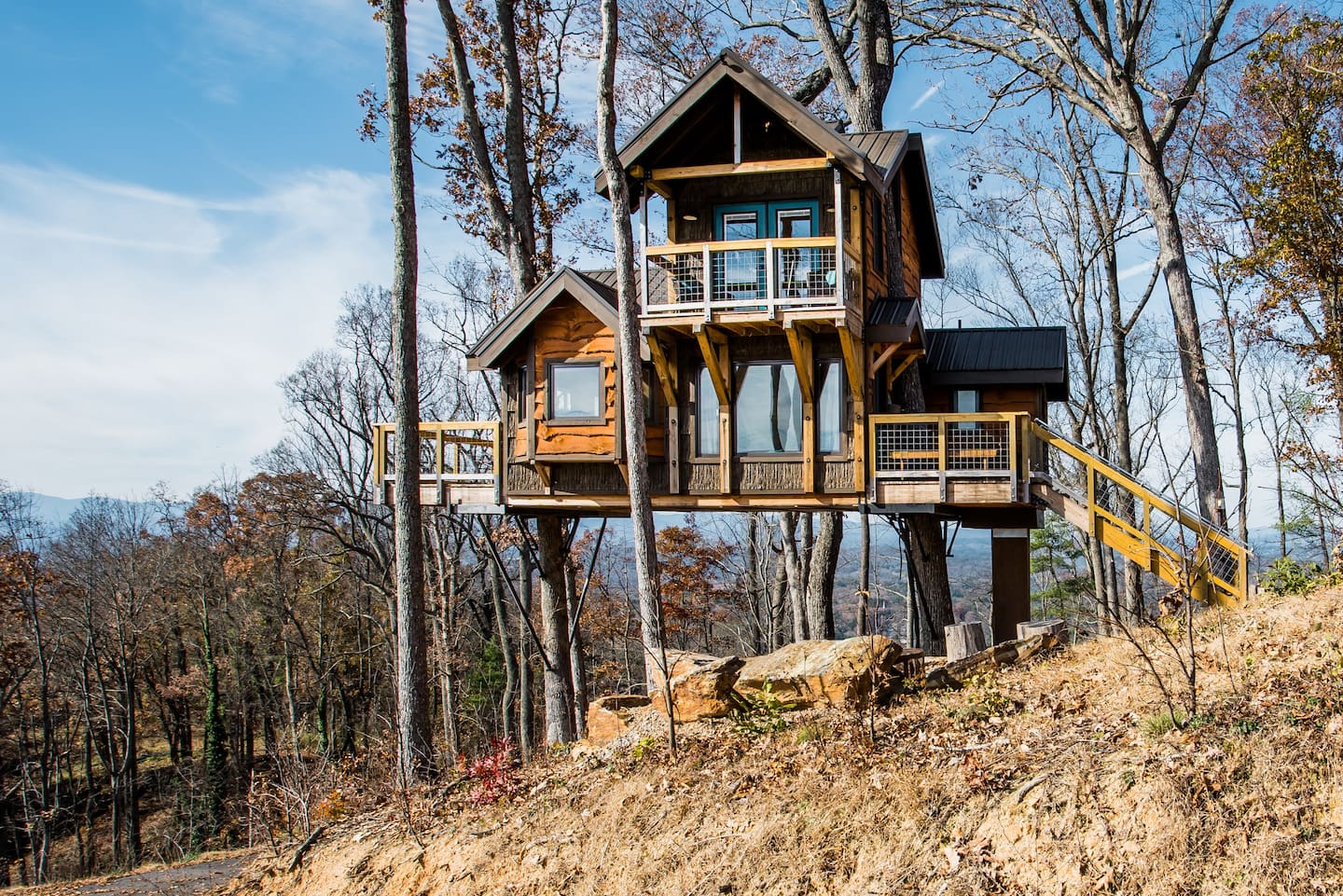 The RhodoDen – Airstream Glamping
Both affordable and unique, the RhodoDen is a revamped 1974 Airstream Argosy. With a nearby creek and a fire pit, you get all the fun of camping, but in style! When you retreat inside, you will find a cute and modern interior with fairy lights, a hot shower, and wifi. You will be left wondering how this trailer was made in the 70s!
If you like the idea of "glamping", you should consider booking this fun Asheville Airbnb! It is not something you see listed often. With only a journey of about 15 minutes to the city, you are not far off in the wilderness, but it will feel as if you are as you sit on the deck and listen to the trickling creek and singing birds.
Click Here To Check Rates On Airbnb!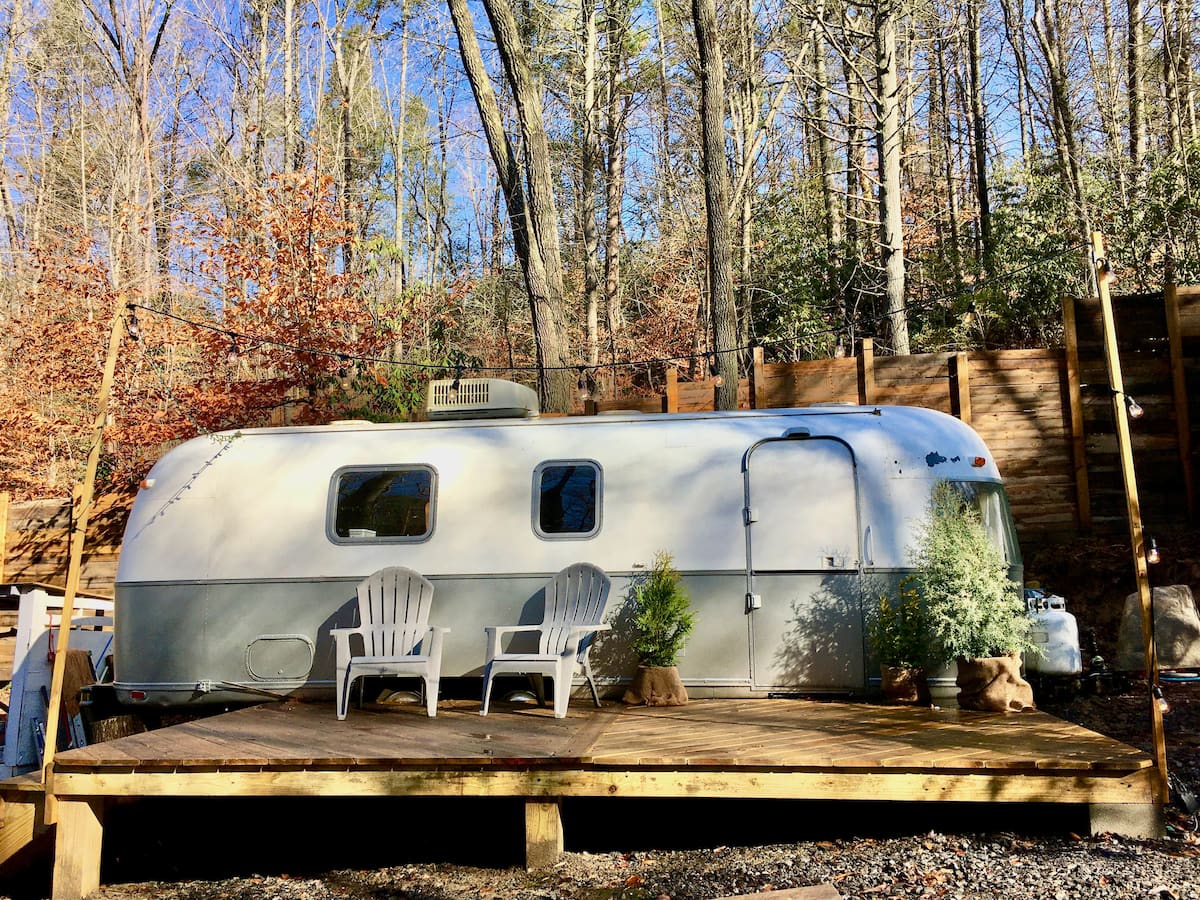 Urbane Retreat Cabin In Town Asheville
A log cabin in the woods? What is more idyllic than that? While it is scenic and secluded from the bustling city, this cabin Airbnb in Asheville is also only about ten minutes from any of the main attractions in the area. You do not have to sacrifice driving distance for the ability to be one with nature.
This Asheville cabin is open and inviting on the inside with many cute sitting areas perfect for sipping your morning coffee. There are also a ton of big windows that let in plenty of natural light. You will feel right at home here and not want to leave. In fact, the owners give a good discount for anyone looking for a long, extended stay.
Click Here To Check Rates On Airbnb!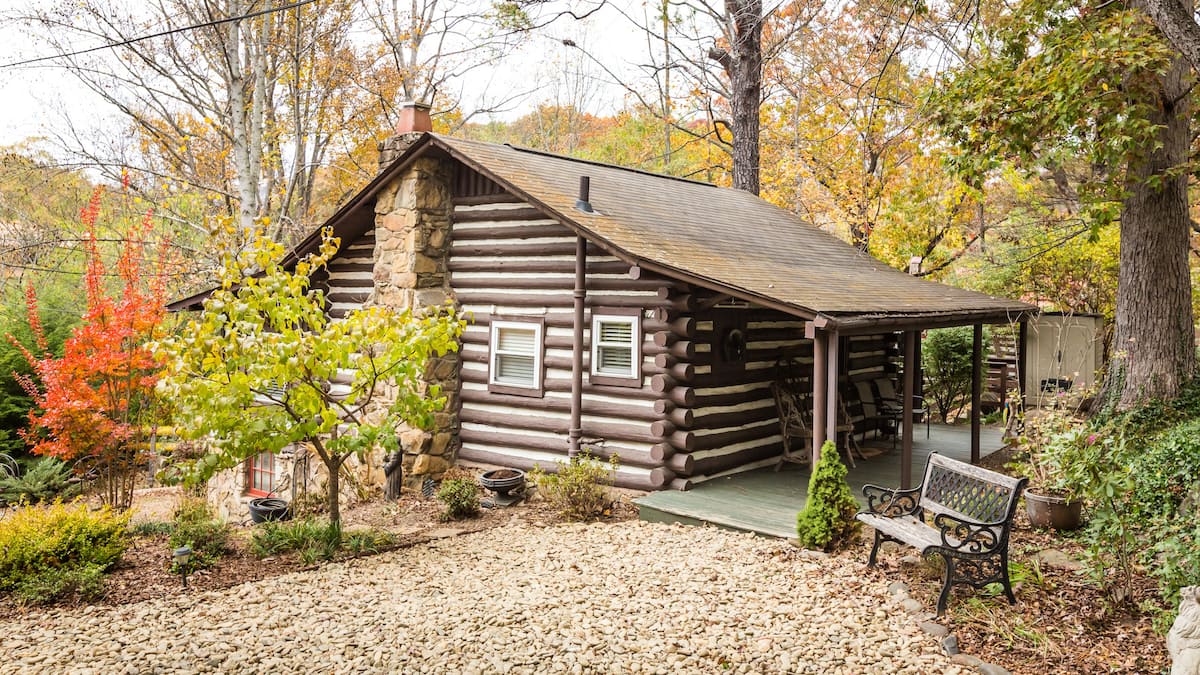 The Nook – Obsessively Handmade Hyperlocal AVL
If you came to Asheville specifically for the art scene or just love supporting local artists then the Nook Airbnb is perfect for you! This Asheville rental was created with the help of many local artisans, and you can find a number of beautiful handmade and original pieces throughout the rooms. Also, there is a swing in the living room! You really can't get more unique and photo-worthy than that!
The Nook gives you a place to slow down and appreciate the art and nature around you and how the two weave together. With a quaint breakfast alcove and not one, but two lofts, you are sure to fall head over heels for this property. All your friends will be jealous you got to stay in such a cool place!
This Airbnb is not far from Asheville or the Blue Ridge Parkway. When you are done exploring the city and surrounding mountains, you will look forward to hurrying back to the Nook to snuggle up and relax.
Click Here To Check Rates On Airbnb!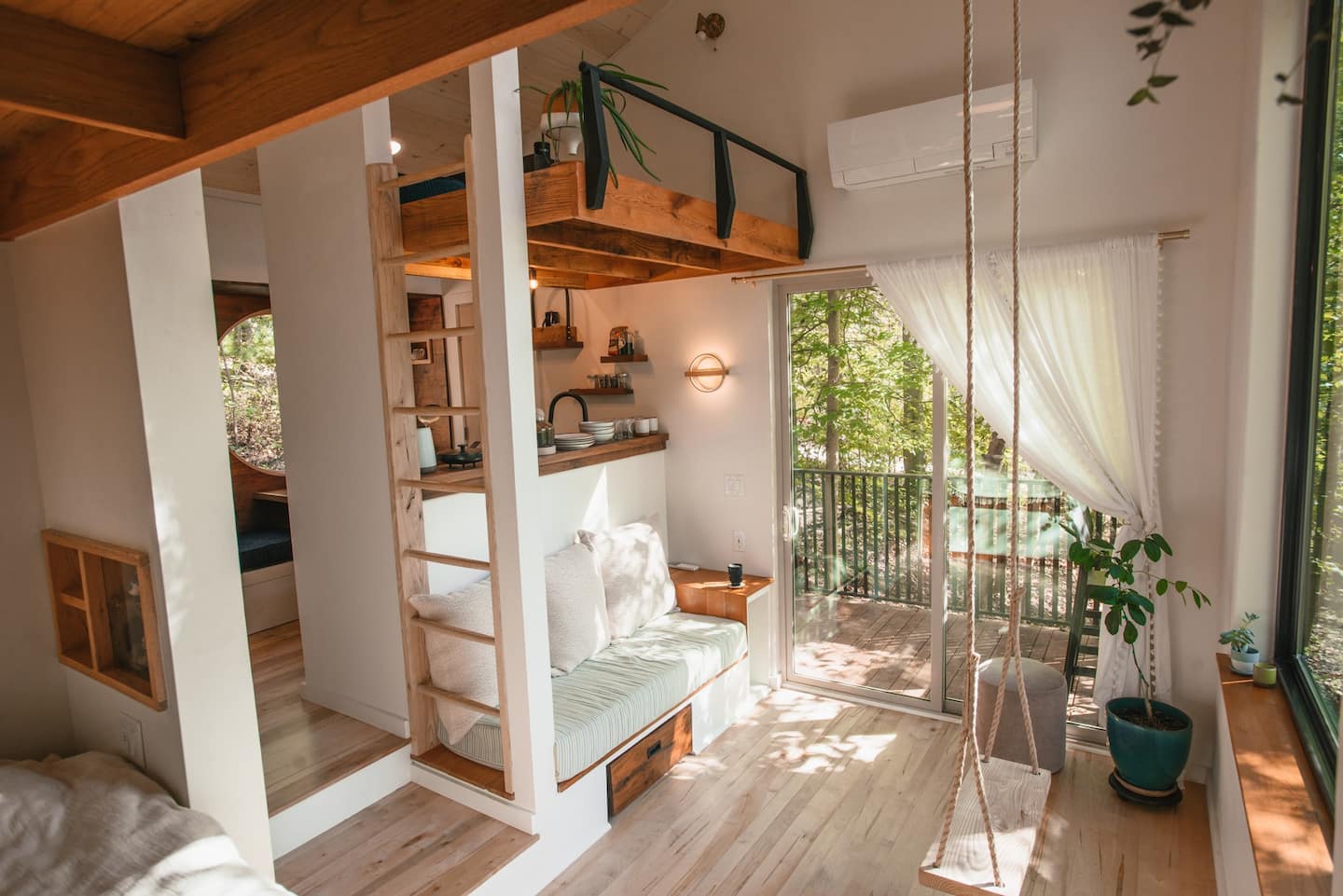 Tiny Arrowhead Cabin
The Arrowhead Cabin is a tiny 300 square foot Airbnb in Asheville perfect for disappearing into the woods. With plenty of hiking trails and mountain views nearby, nature lovers will adore this home away from home. This rental can host two people, but there is another Airbnb on the property about 50 feet away from where more friends or family can stay if you are traveling with others. Or maybe you can meet some new travel buddies!
This cabin is not far from the cute, artsy town of Weaverville or is about fifteen minutes from Asheville. When you come back from an evening hike or a day in the city, you can unwind on the porch's comfy couch, maybe with some craft beer you picked up in Asheville.
Click Here To Check Rates On Airbnb!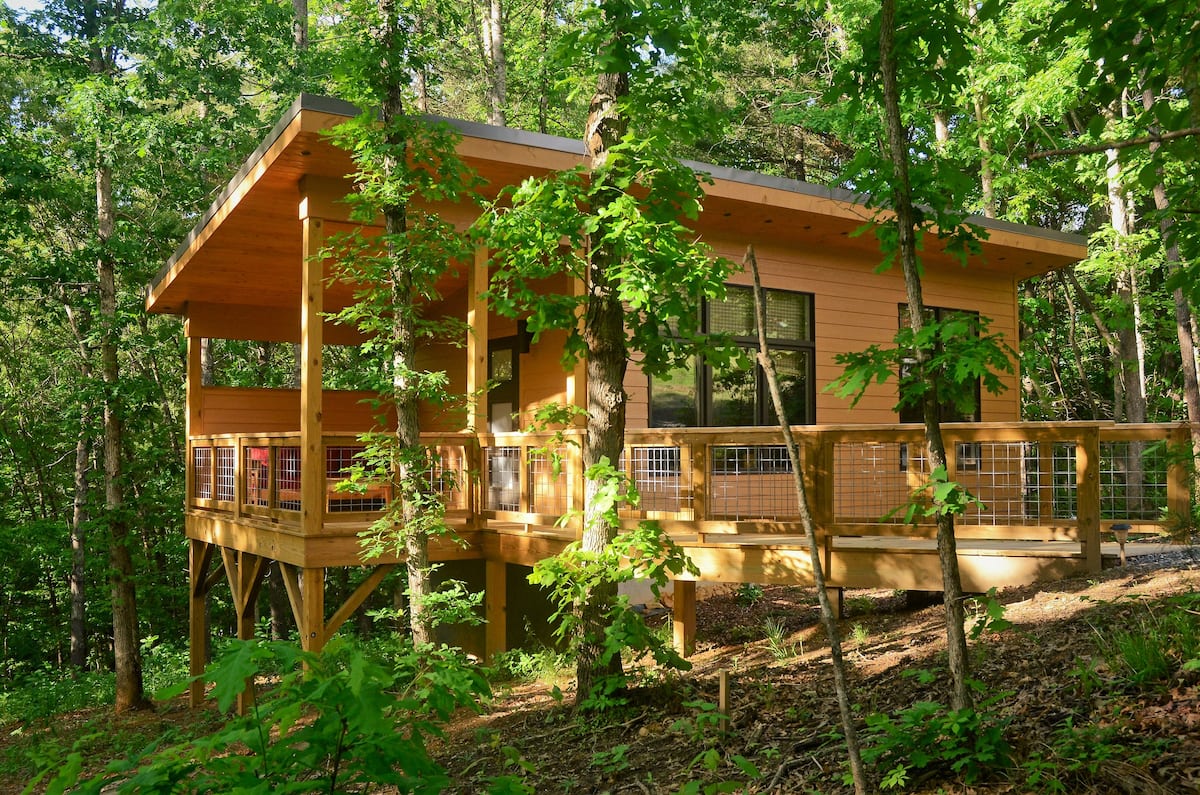 Gorgeous Log Home
So far, the Asheville Airbnbs listed are fit for two to four people, but if you are traveling with a family or large group, that just does not work. However, this next log home will solve that issue! Found in the mountains, and featuring an awe-inspiring wrap-around porch, this Airbnb can fit a party of ten. Because of its size, this is a great locale for an event or reunion. Maybe even book it over the holidays for a snowy winter wonderland.
Complete with a hot tub, fireplace, and a game room with billiards and foosball, you may never want to leave during your trip. But, you've got to get out and enjoy the nature opportunities at every turn. The fun of Asheville is about twenty-five minutes away.
Click Here To Check Rates On Airbnb!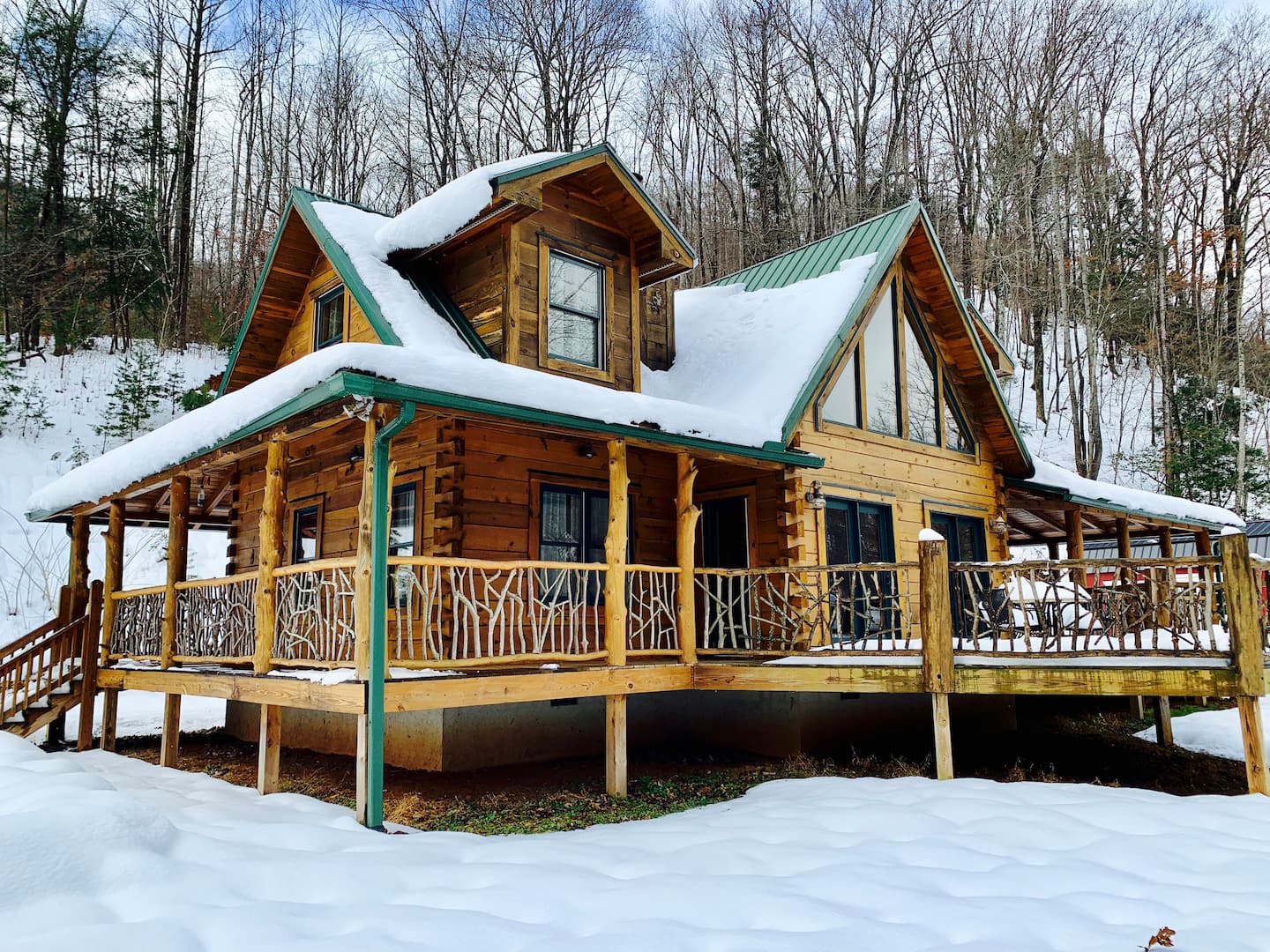 Eclectic and Stylish Simplicity in a Rustic Setting
This pretty, light-infused cottage is the perfect place to stay in Asheville. A collection of mismatched, rustic furniture fills the main room while a ladder leads to a loft. In the morning, spend some time on the deck, where you might spot wild rabbits or even the resident black bear. But, don't worry, she won't bother you if you don't bother her!
Asheville is about fifteen minutes away and the Blue Ridge Parkway is even closer. Though you only have to step out the door for mountain views! Beware booking in summer since there is no AC, but fall will provide cooler temps as well as beautiful foliage, so it is worth pushing your trip back for that alone!
Click Here To Check Rates On Airbnb!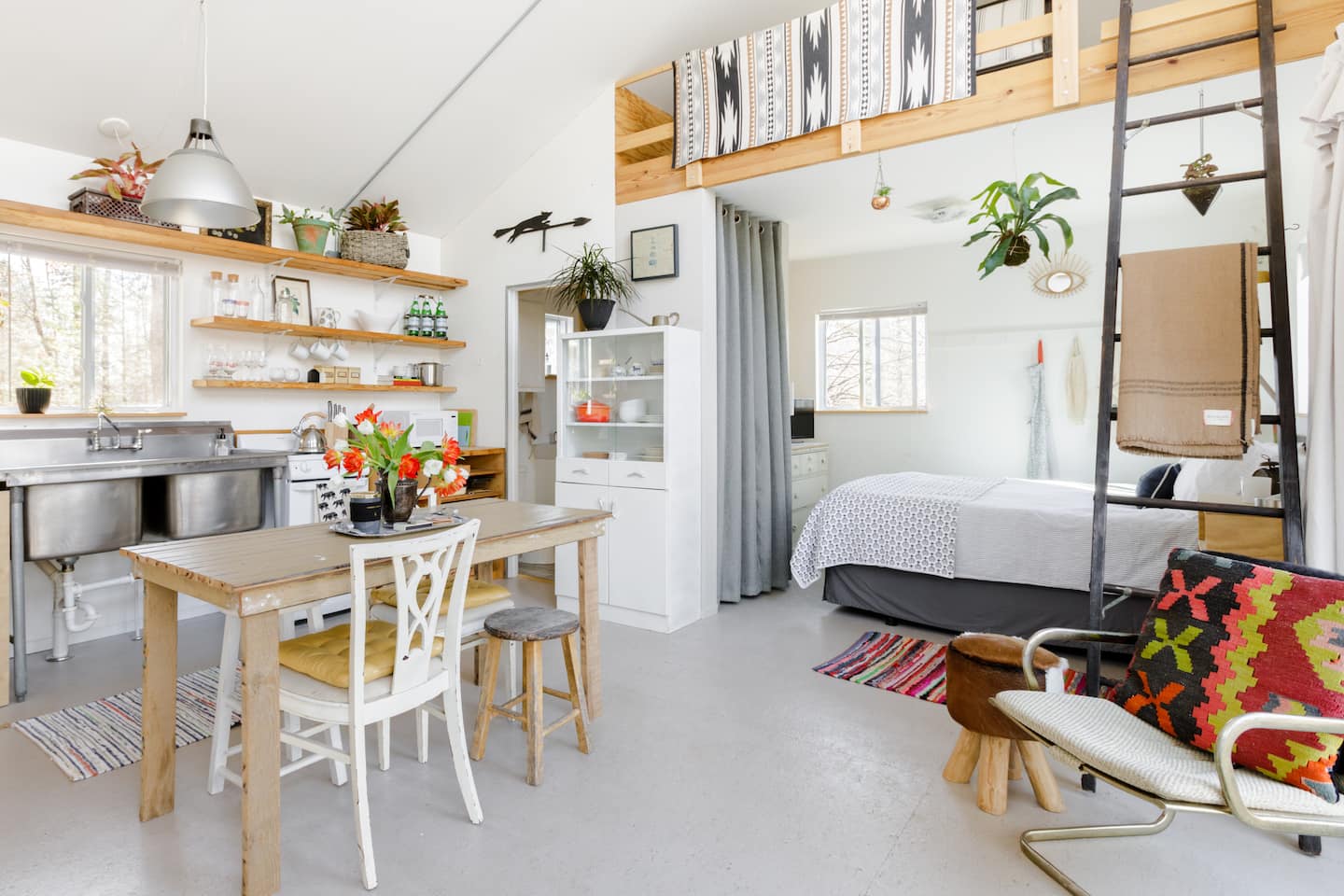 New Tiny House Near Downtown
The tiny house movement is steadily growing in popularity and if you have ever wanted to check one out Asheville gives you the chance! There are plenty of tiny house Airbnbs in Asheville to choose from and this traditional one near downtown is a good option. While the wooded-plank outside may appear relatively basic, the inside is a dream with high ceilings and matching wooden accents.
Even though the ground floor is only 288 square feet, this tiny house includes a full kitchen, a large couch, and a roomy shower. Stairs that double as storage lead to a bedroom loft. Enjoy sitting on the back deck to watch wildlife. When it comes time to visit downtown Asheville, you only have to travel about four miles.
Click Here To Check Rates On Airbnb!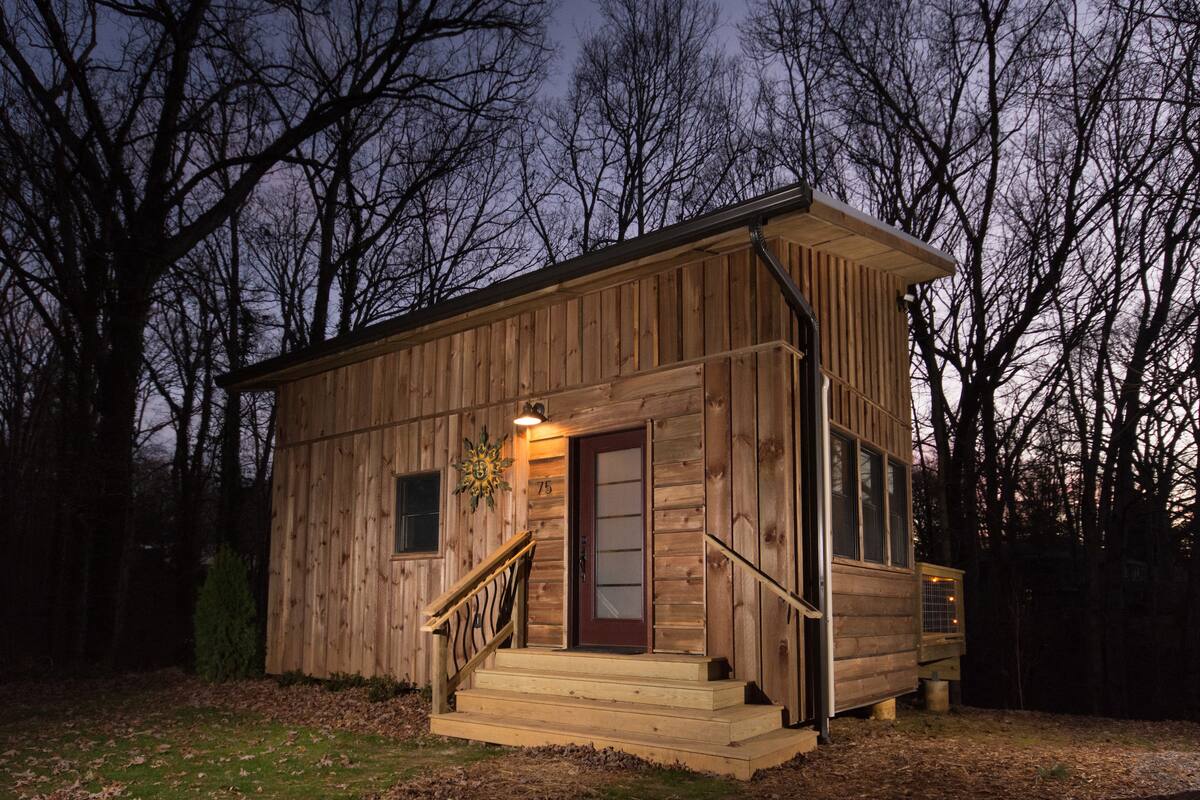 Private Luxury Where City & Nature Come Together
This luxurious, 960 square foot apartment will house up to four people in its beautiful rooms. The property is a mix of rustic and modern, giving off a homey feel. Guests will love all the natural light that streams through the many windows and skylights. A patio holds a hot tub perfect for soaking away your troubles.
Unlike many Asheville Airbnbs listed here, this one is in town. Since it is in a residential neighborhood you will feel as if you have moved right into Asheville. This location is walking distance to many cute cafes and restaurants, which is perfect for feeling like a local. It is also only a short drive to the downtown area so you are not far from the action.
Click Here To Check Rates On Airbnb!
Yurt Glamping With Mountain Views
Have you heard of a yurt? Though they originate in Central Asia, they are becoming trendy in the U.S. as tiny homes or short term rentals. They look like a large, round tent with wooden framing. If you are looking for a really unique place to stay in Asheville, this might be the Airbnb for you!
This yurt is found on the Hidden Flower Tiny Farm which is complete with a horse barn and a chicken coop, honing in on the overall rustic experience. The yurt is eco-friendly and mostly off-grid, but it does not lack modern amenities. Interestingly, your shower water will be used to irrigate the farm's garden. Panoramic mountain views will greet you each morning before you make the short jaunt to the city.
Click Here To Check Rates On Airbnb!
Charming Caboose
We will end this list of Airbnbs in Asheville with one of the most unique and interesting options. This Airbnb is a mishmash of a house and an old train caboose. The vintage 1947 caboose was renovated to be an Airbnb ready for its Instagram close-up. You will adore this fun and one of a kind place! Plus, it is only about ten miles from downtown Asheville.
The amenities are worth mentioning as well! The bathroom holds a Jacuzzi while outside you can find a hot tub, so no matter the weather you have hot, bubbling water to relax into. There is also a fire pit and some lawn games to keep you entertained.
Click Here To Check Rates On Airbnb!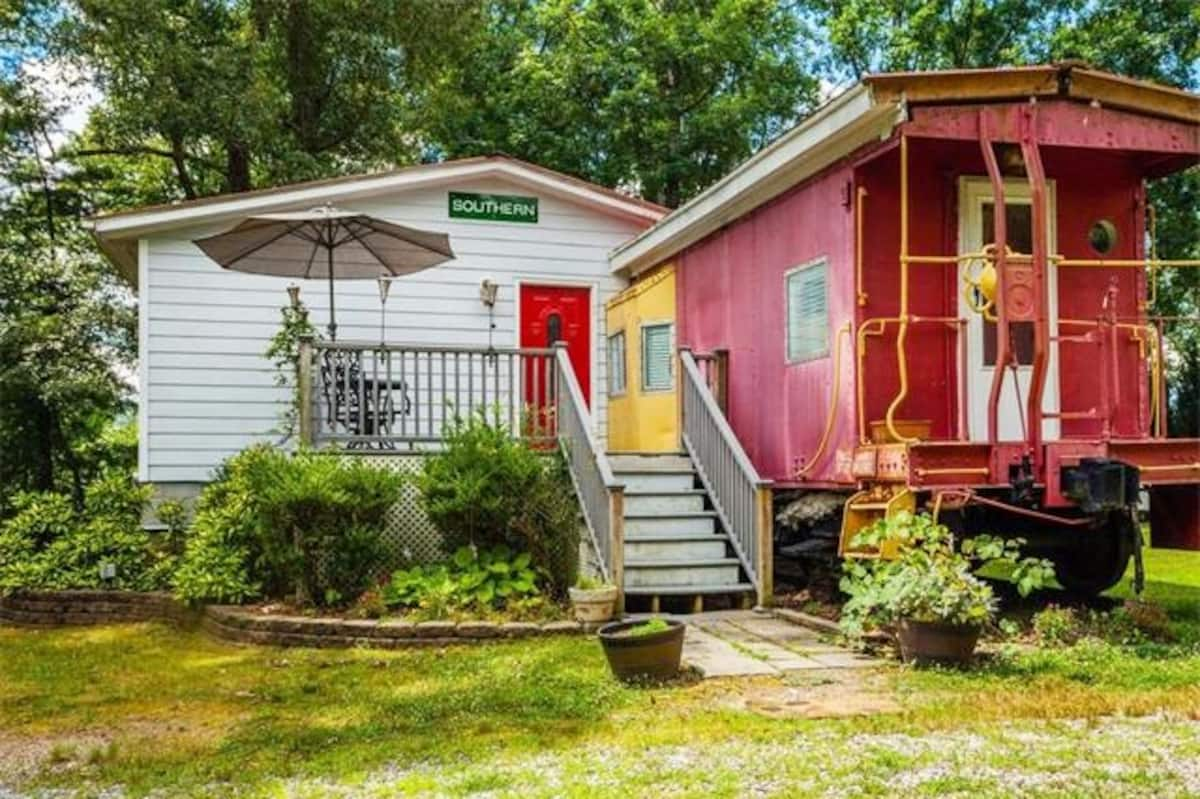 If you choose your travel destinations by accommodations alone, then Asheville should be near the top of your list! There are so many cute and original Airbnbs in Asheville that this list barely makes a dent. Cottages, treehouses, cabins, and more can be booked for your amazing trip to the Blue Ridge Mountains.