Are you looking for unusual things to do in New York that aren't Times Square? Wanting to find some of those unique things to do in New York that maybe not everyone has seen or done? Then this is the article for you!
As a born and raised New Yorker, Terrence knows some of the best hidden gems in New York, and Victoria has been to New York a plethora of times. We enjoy New York so much that we visit multiple times a year and we are always looking for unique NYC activities.
Whether you're spending four days in New York or just taking a quick day trip, there is no shortage of activities in New York. But if you're looking for some of the most unusual things to do in NYC, and perhaps a break from some of the more typical tourist spots, then you'll want to check out this list.
From a beautiful and unique bookstore, stunning views, a massive food store, and plenty of other quirky spots, here are some of the most unusual things to do in NYC.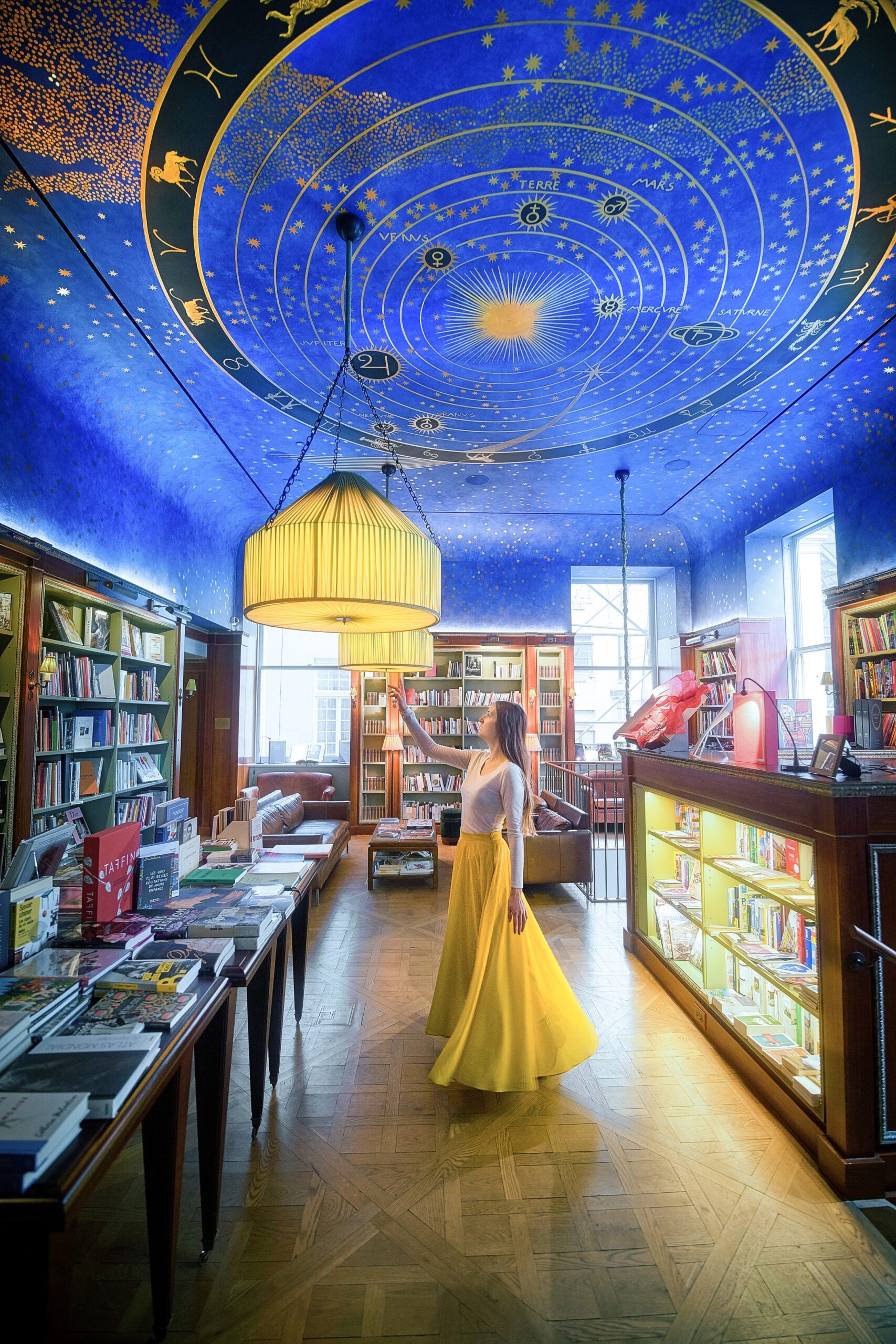 15 Unusual Things To Do In New York That Aren't Times Square
Albertine Books
Nestled in the Payne Whitney mansion, alongside the Cultural Services of the French Embassy, you'll find Albertine Books, one of the most unusual things to do in New York.
A gorgeous nod to French culture, Albertine Books features books in both French and English and has a wonderfully cozy feel. Perfect to go shopping here and then head to one of the best Upper East Side Cafes to grab a coffee and read your book!
At the entrance, you'll find a replica Michelangelo statue and on the second floor, you'll find a beautiful painted night sky on the ceiling. Albertine Book's beautiful atmosphere also makes it an excellent choice for one of the most romantic things to do in New York.

If you are planning to spend a few days in NYC, you will want to check out their website to see if they have any visiting authors doing readings or discussions. Either way, Albertine Books is a must-see if you're looking for a truly unusual thing to do in New York.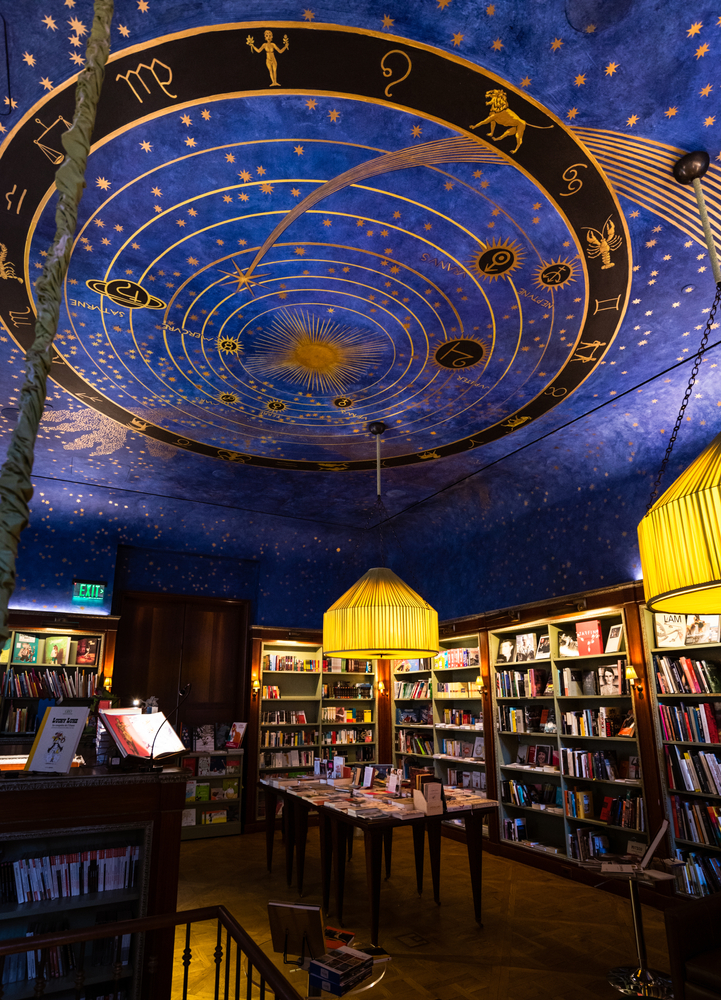 Visit Eataly
Eataly, located in the Flatiron district, is unlike any food market you've ever been to. With 42,500 square feet of marketplace, restaurant, and cooking school space, you're guaranteed to find something to interest you. That's what makes it one of the most unusual things to do in New York.
There are seven eateries that offer true Italian classics – pizza, meat, fish, pasta, panini, vegetables, pastries and coffee, gelato, and an amazing rooftop beer garden. If you're not in the mood to eat, but want to bring a bit of Italy home, there is a marketplace that sells the same quality products as those used by the chefs in the restaurants – plus olive oil and sauces. It is also home to one of the best rooftop restaurants in NYC!
If that weren't enough, there is even a cooking school, a bookstore, and a housewares section. Make sure to check out their website if you're interested in taking a cooking class or seeing what events they currently have going on. Be prepared to spend some time at Eataly as it's one of the coolest things to do in NYC!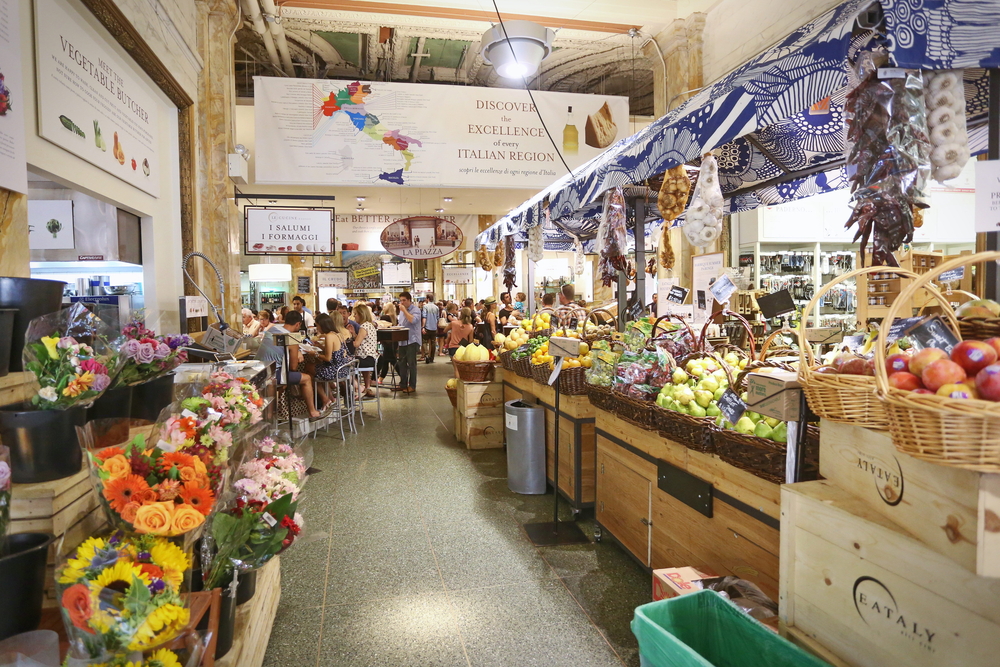 Visit The Cloisters At The MET
Want to experience the dramatic architecture and art of Medieval Europe without leaving the US? Then you'll definitely want to check out one of the best hidden gems in New York, the MET Cloisters.
Centered around four cloisters brought over from Europe shortly before World War II, the museum is a beautiful example of medieval architecture, and one of the most unusual things to do in New York.
Inside the museum, you'll find stunning medieval manuscripts, paintings, tapestries, and much more. You can take your time and walk around, or if you're interested in learning even more about the Cloisters and its treasure, you can do an audio guide.
If you're planning on being in New York for a few days, you may want to check out the New York Pass which includes entrance to the MET and same-day admission to the Cloisters.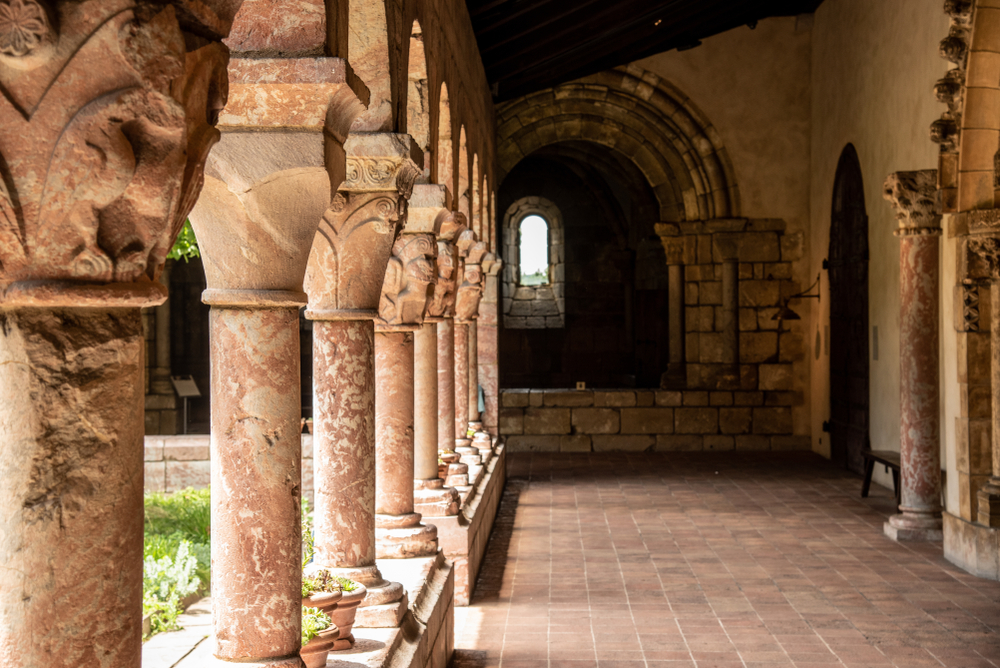 Visit The Catacombs Under Saint Patrick's Basilica
Hidden beneath the streets of NYC lies the Catacombs of St. Patrick's Basilica (Old St. Patrick's Cathedral). Previously closed to the public, the catacombs offer up a truly unique NYC activity.
With three available tour times (11 am, 1 pm, and 3 pm) it makes for a perfect daytime activity when you want a break from the busy NYC streets. It is also an available activity for those with the New York Pass. The candle-light tour is 90 minutes and features the final resting places of some of New York's most prominent Catholics.
You also get the opportunity to see areas that are typically closed to the public like the recently renovated Henry Erben Organ and one of the only Catholic cemeteries in Manhattan.
Featuring tile work by the noted builder and engineer Rafael Guastavino, original Edison light fixtures, and a quiet calm, the tour of the Catacombs under St. Patrick's Basilica is one of the most unusual things to do in NYC.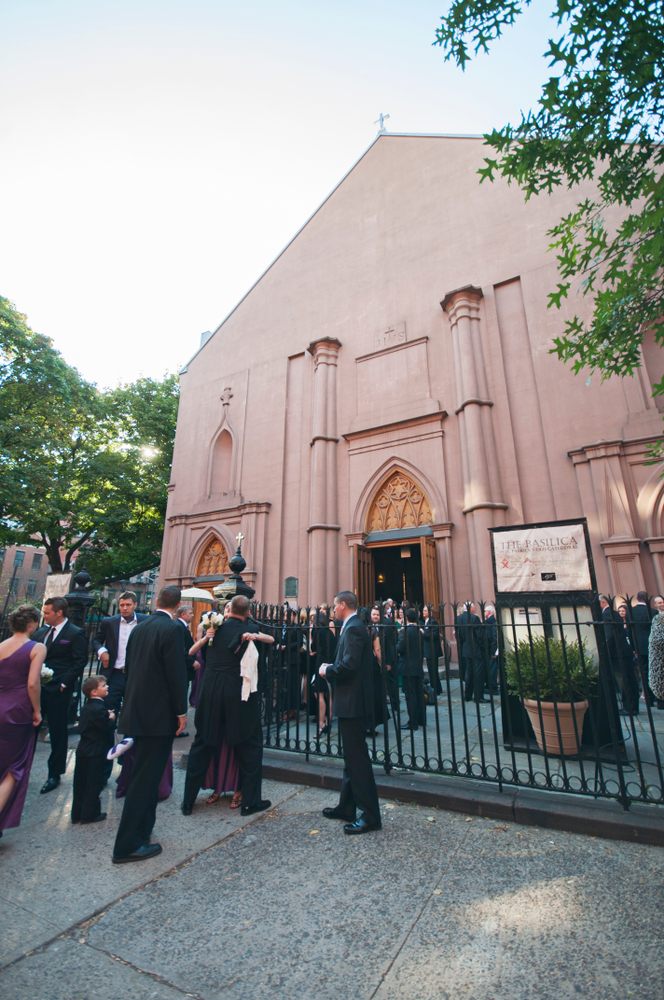 Ride The Staten Island Ferry For The Best Views
There is no shortage of beautiful views in NYC. But if you want the best views, ride the Staten Island Ferry, one of the hidden gems of New York.
The best part about the Staten Island Ferry is that it is completely free and great if you're looking to get the most out of New York on a budget! As it sails past the Statue of Liberty you'll have the perfect opportunity for that iconic close-up shot.
You'll also get to enjoy a beautiful panoramic view of Manhattan, making it one of the coolest things to do in NYC. When you get off the Ferry you can hang out in Staten Island for a bit and explore the area. Staten Island boasts it's own historical sites and landmarks, delicious eateries, and cultural attractions – and usually at a lower price.
If you don't have time, simply hop on the return ferry and enjoy your second viewing of the iconic Manhattan skyline. Either way, you don't want to miss out on this unusual thing to do in New York.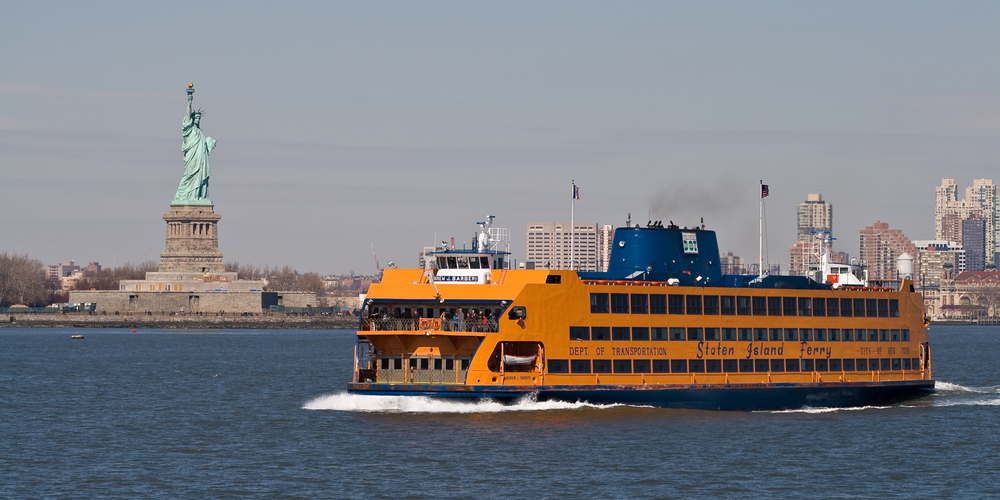 Explore Where Hamilton Lived
Hamilton fever took over NYC, and the world, in 2015 and it shows no signs of stopping. Fans of the musical, the man, or American History in general will enjoy one of the most unusual things to do in New York: visiting Hamilton Grange.
Since it's initial opening in 1802 it has moved twice and now resides in St. Nicholas Park. Although Hamilton only got to spend two years here before dying from his infamous duel with Aaron Burr, it is a must-see piece of NYC architecture.
Built by City Hall architect John McComb Jr, it features period-accurate decorated rooms, Eliza's serving tray, a replica of Hamilton's writing desk, and the family piano gifted by Eliza's sister, Angelica. For more information on visiting Hamilton Grange, visit the National Parks Service website.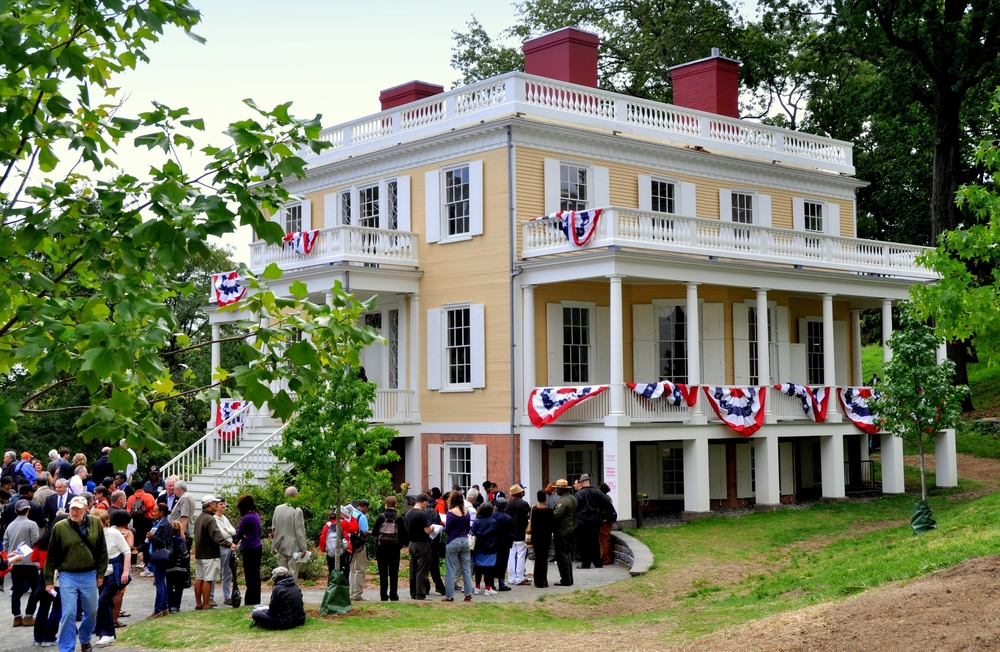 Ride On The SeaGlass Carousel
In The Battery, you'll find the SeaGlass Carousel, one of the most unusual things to do in NYC.
A nod to the original home of New York's first Aquarium, the SeaGlass Carousel is a 2,575 square foot pavilion made to look like a chambered nautilus. Inside you'll find 30 beautiful fiberglass fish rotating on four circular platforms, instead of a center pole typical of carousels.
Each fish is illuminated with LEDs and features it's own audio system, all creating a magical underwater experience. Further inspired by fish and their swimming patterns, riders swirl around and move up and down, and gain a sense of weightlessness.
With its whimsical atmosphere and unique design, the SeaGlass Carousel is one of the most unique activities in New York.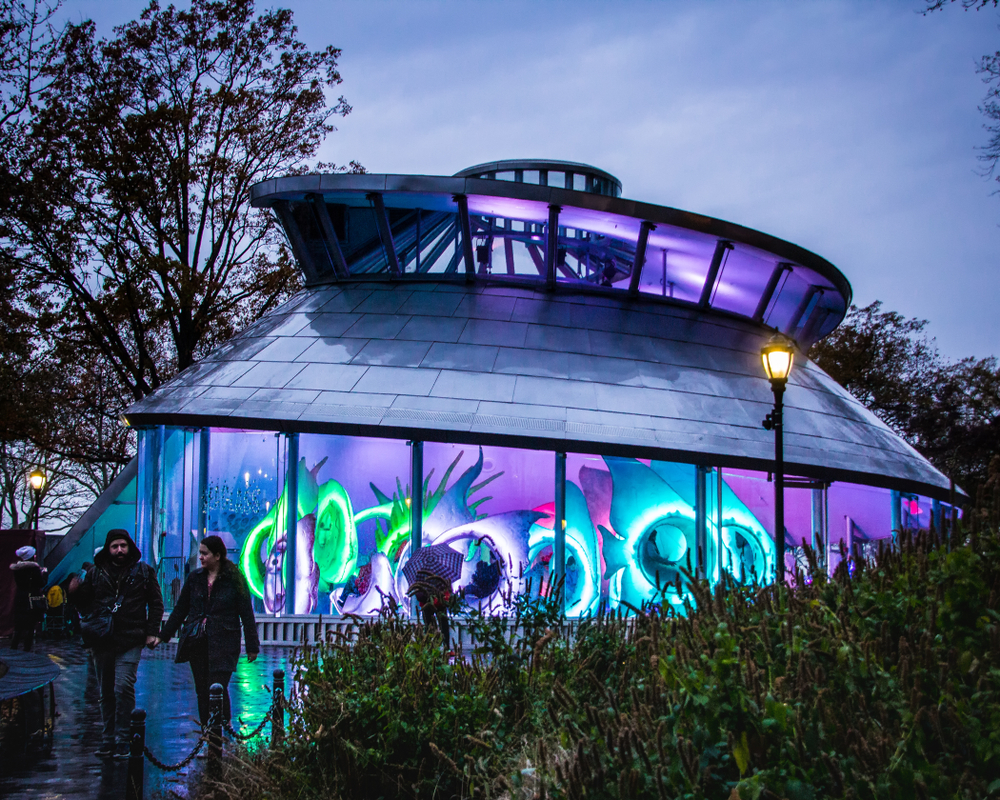 Explore The Brooklyn Botanical Gardens
With 52 acres of beautiful green space, The Brooklyn Botanical Gardens are a gorgeous hidden gem in New York. There are 15 distinct gardens and 6 conservatories, so be prepared to spend several hours meandering through the park.
You can follow the large loop and see everything, and there are even a few little nooks to be found within the gardens themselves. Feel like you're stepping into Japan in the traditional Japanese garden or find romance in the Shakespeare garden. Whatever you choose, there is something for everyone.
When most people think of New York they think of massive skyscrapers and busy city streets, and that is why the Brooklyn Botanical gardens are an unusual thing to do in New York. The Gardens even have a coffee shop, located in the Visitor Center adjacent to the Atrium and a restaurant. The restaurant, the Yellow Magnolia Cafe is a bright and airy cafe that overlooks the Lily Pool Terrace.
Depending on when you go, you can enjoy traditional cafe fare, or on the weekends, enjoy a special brunch menu. For those who plan on spending a few days in New York, the Brooklyn Botanical Gardens are included in the New York Pass.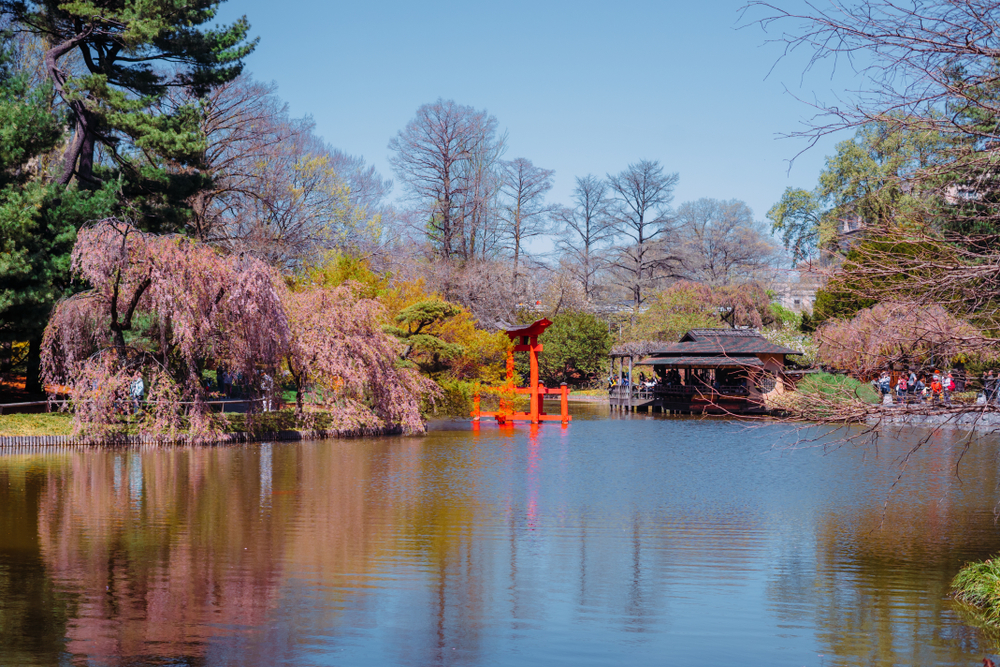 Visit The Tenement Museum
New York City is often referred to as the great Melting-Pot – a place where various cultures, immigrants, migrants, and refugees all came to make a better home for themselves. The Tenement Museum is a testament to that history and a truly unique NYC activity.
Located at 97 Orchard Street in the Lower East Side, the Tenement Museum is housed in a former Tenement building that was founded in the 1860s.
The museum tells the story of immigrants and migrants who lived there while it was open. It includes pieces that were found in the house, dating from 1860 to 1930, when it originally closed before sitting empty for 50 years.
What makes it one of the more unusual things to do in New York is that it tells the story of those original New Yorkers who time and history have forgotten. The immigrant, migrant, and refugee community helped make New York City what it is today, and the Tenement Museum aims to remember them and their stories.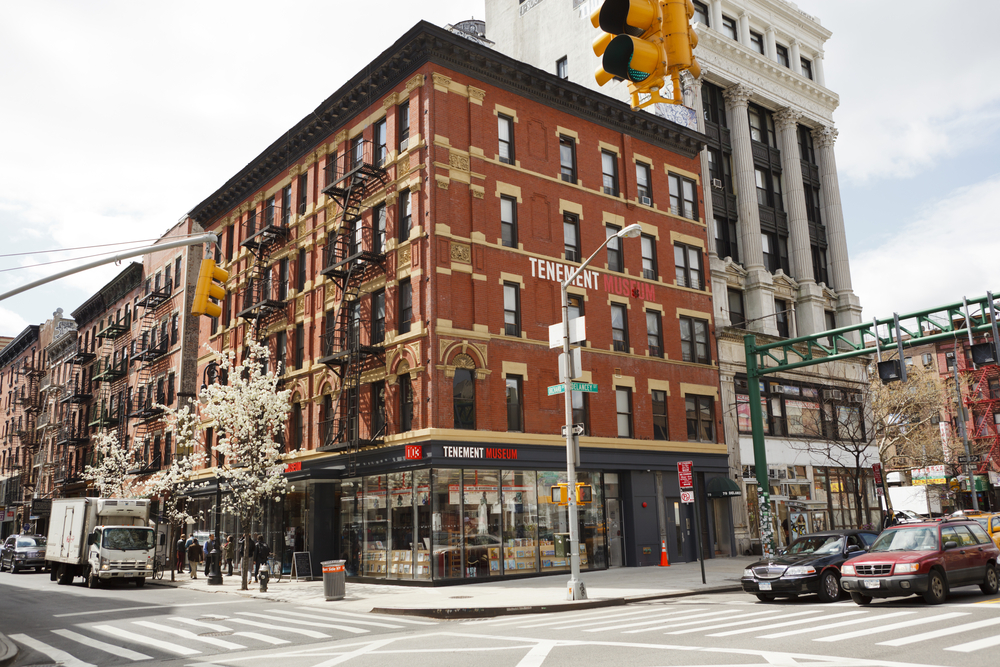 Take Photos From The Tudor Place Bridge
There are some truly iconic places to take photos in NYC – Times Square and Central Park immediately come to mind. But there are also some hidden gems in New York when it comes to getting that perfect shot. The Tudor Place Bridge is one of those places.
Popular amongst photographers, but less known by tourists, Tudor Place Bridge offers some beautiful unobstructed views of NYC. With the Chrysler Building in the background, you can capture classic shots of NYC streets as you practically float above them.
Beautiful at any time of day, make sure you take the time to walk across the bridge and enjoy one of the coolest things to do in NYC. If you want to do a long exposure shot, or maybe shoot the NYC skyline at night, make sure you bring a tripod.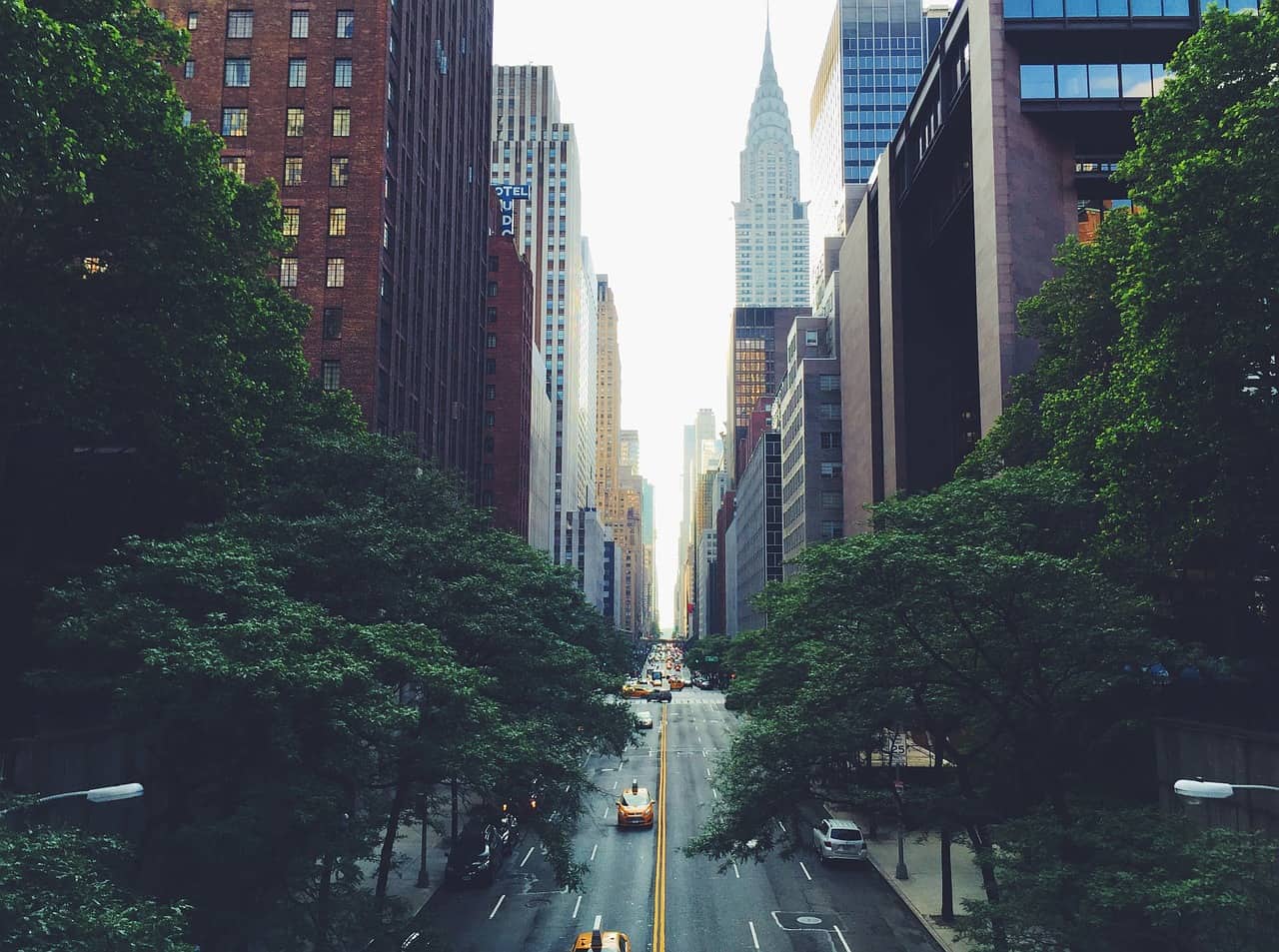 Visit The Pierpont Morgan Library
Bibliophiles will love this unusual thing to do in New York – the Pierpont Morgan Library. The Morgan Library, located on Madison Avenue, is also a museum and even has space for performances where you can catch concerts, readings, and talks.
Regarded as one of the most culturally important gifts in US history, the Pierpont Morgan Library was once a private library. But 11 years after his father Pierpont's death, J.P Morgan Jr realized it was an invaluable resource for the public and scholars. So, he donated it to the city of New York in 1924.
Since then it has become an important piece of NYC history and has continually grown and acquired rare materials. Now, it is an entire campus complex full of rare and important manuscripts, art, and even dining options. For more information on The Morgan Library and it's scheduled events, you can visit their website.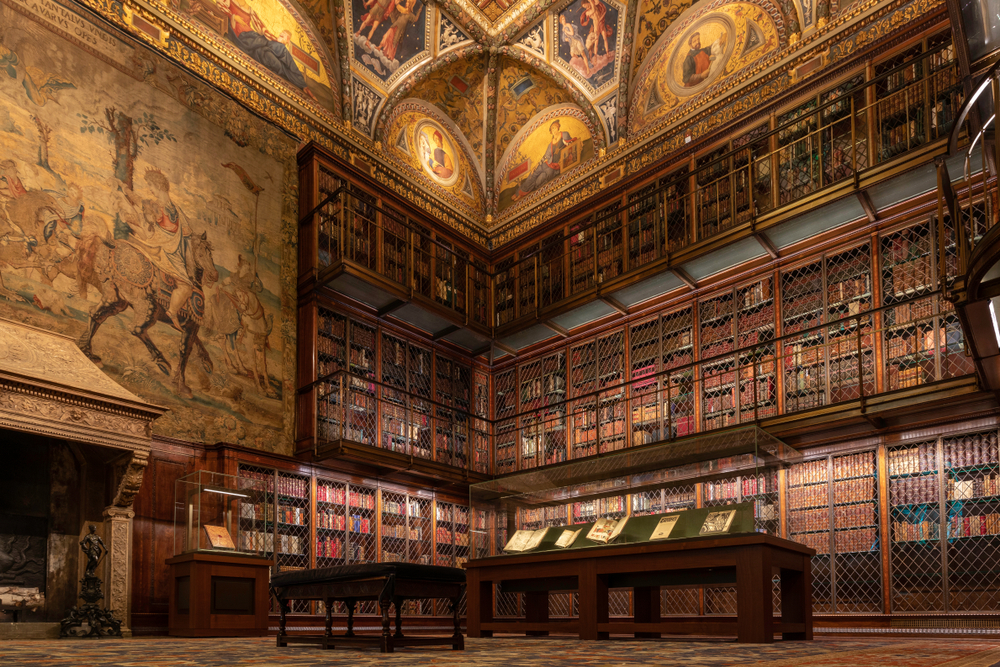 Visit The Mmuseumm
From April to November you can find this hidden gem in New York – The Mmuseumm. The Mmuseumm is open from Friday-Sunday, 11 am-6 pm and is wheelchair accessible, has a phone-based audioguide in English, as well as docents.
The Mmuseumm is a miniature museum, nestled in a shipping crate, in Cortlandt Alley. For a suggested donation of $5, this makes it a truly unusual thing to do in New York and great if you're looking for something to do in New York on a budget! Because of its size, you can even reserve private viewings with a guided tour of the current exhibit.
With an aim to tell a story about the modern world and current events through everyday objects, The Mmuseumm offers an interesting look at the world around us. It is also a classic example of one of the more unusual things to do in New York, that you can really only do in New York.
Take A Hip Hop Tour
New York City is widely acknowledged to be the birthplace and home of Hip Hop. So what would a visit to New York be without a unique NYC activity like a tour of Hip Hop's roots? That is exactly what Hush Hip Hop tours has spent almost 20 years creating and mastering.
Whether you want the full Birthplace of Hip Hop Tour or you'd like to focus on tours of Brooklyn, the Bronx, or Harlem, there is a tour available for everyone. You can ride along and see famous sights in the Hip Hop world, or take a walking tour and immerse yourself in the neighborhoods that created the iconic music genre.
If you happen to be more interested in the dancing influenced by Hip Hop, you can take the Dancer's Delight tour. There you'll see some of the most iconic music video and dance studio locations, and get the opportunity to do a little dancing along the way. For more information about their various tours, you can check out their website. This is surely one unusual thing to do in New York that you won't forget.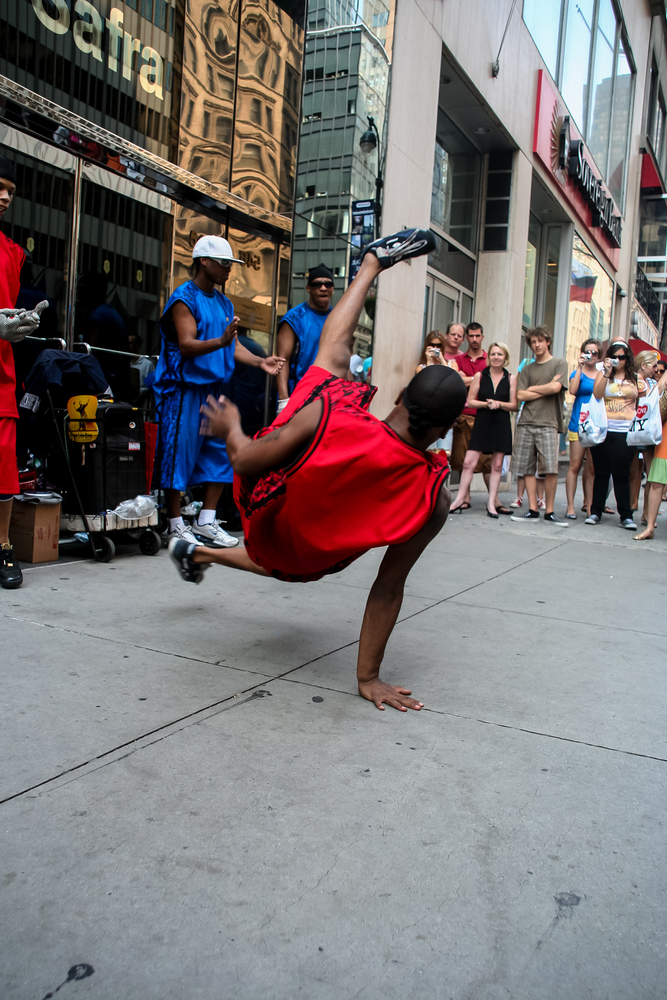 Visit Edgar Allan Poe's Cottage
When most people think Edgar Allan Poe, they think Baltimore Maryland. But few people know that Poe spent several years in NYC, where he penned some of his most famous poems and short stories, like "Annabel Lee" and "The Cask of Amontillado". That's why a visit to Edgar Allan Poe's NYC cottage is a wonderfully unusual thing to do in New York.
The Poe Cottage is the last place Poe lived before his death in Baltimore in 1849, and where his wife Virginia passed away after a long illness. The City of New York purchased the cottage in 1913, and since then it has been a museum honoring the famed poet and author.
With period-accurate rooms and decorations, the Poe Cottage allows you to step through time and experience the cottage as Poe himself did. For $5 for adults and $3 for children, you can experience this decidedly unique NYC activity, and see a different side of New York.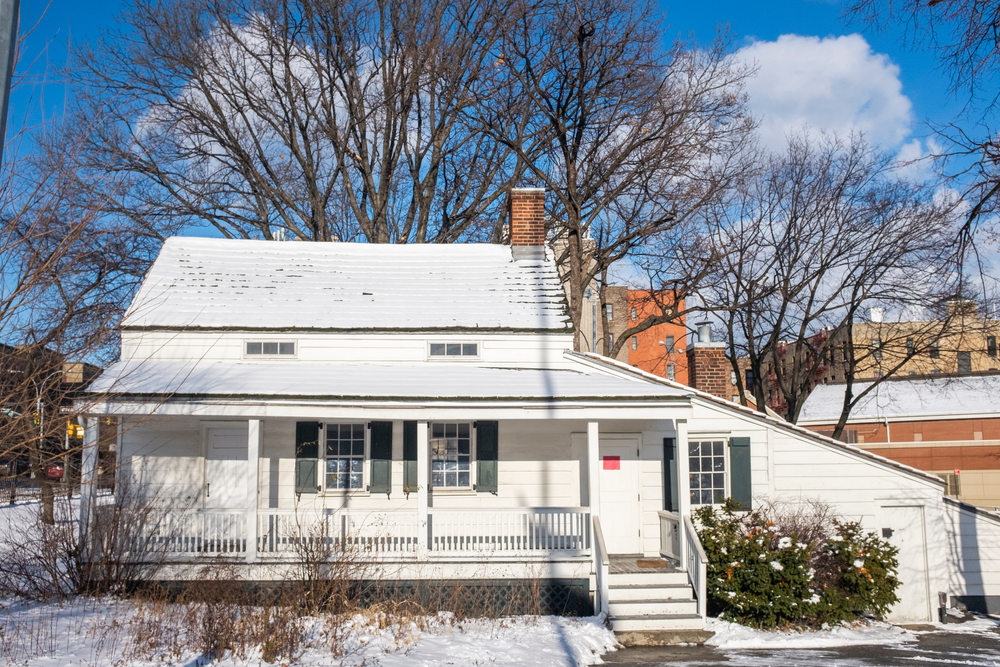 Visit Roosevelt Island
Roosevelt Island, once known as Blackwell Island, and then commonly referred to as Welfare Island, has quite a colorful past. It has housed insane asylums, prisons, outpatient hospitals, and now a beautiful park, fascinating ruins, and Cornell Tech.
Within the past 20 years there has been even more of a push to revitalize Roosevelt Island. It now has the beautiful Four Freedoms Park which offers music performances, yoga, book readings, kite flying, and public talks. You can also check out the ruins of the old Smallpox Hospital, which was the first hospital to open with a focus on treating Smallpox.
You can also find some beautiful views of the Manhattan skyline, visit the North Point Lighthouse, and see the sixth oldest house in New York City – the Blackwell House. With its interesting history and recent revitalization efforts, Roosevelt Island is one of the most unusual things to do in New York.