Are you planning to see New York in a day but don't know where to start? No worries, we have you covered! It might feel intimidating at first to try to see New York in a day when it is the most populated city in the United States, but it can also be extra exciting and fun. You will literally be in one location with countless amazing options to explore and enjoy in just one day in New York.
The best part is that, while there are so many choices of things to do and places to see, any one of them will be fun, memorable, photographable, and usually historic! Just walking the streets alone offers incredible views, unexpected restaurants and gift shops, and gives off the perfect vibes of the Big Apple that you've seen in dozens of movies. A trip on the Subway alone could take you to the famed Grand Central Station and provide a great starting place for your adventures to see New York in a day.
Check Out The New York Pass! Many, many of the attractions suggested here are included in the New York Pass and if you want to complete this itinerary and see the attractions that have tickets such as Top Of The Rock or One World Trade then check into a New York Pass because you can often save money by getting one and can save up to 43% off which is honestly amazing. This is what we did when we spent two days in NYC during the summer and it was so incredibly helpful and we highly recommend it!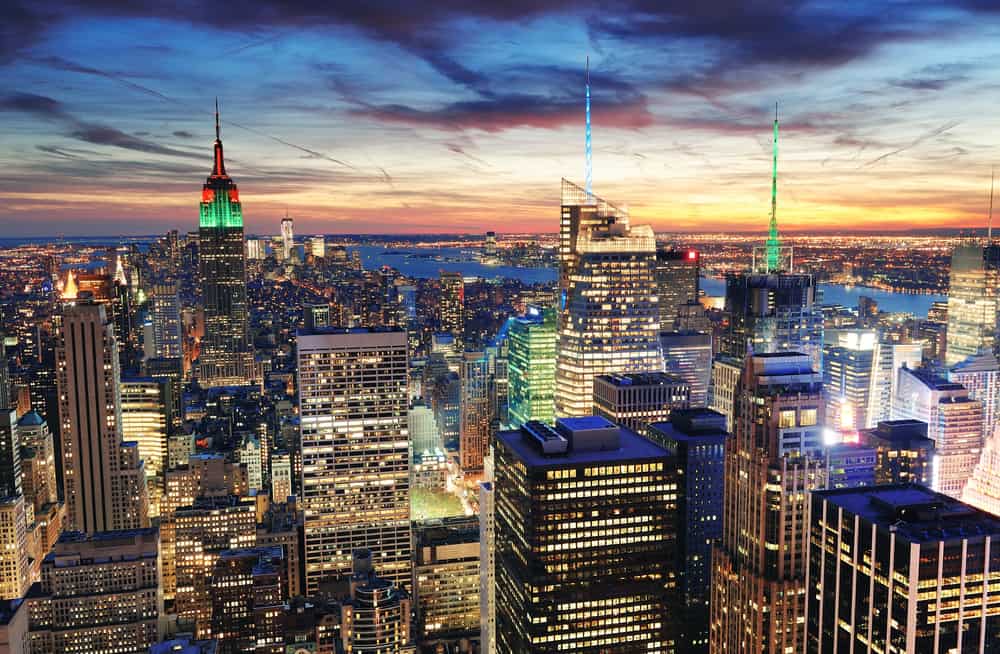 With over 6,000 skyscrapers in New York city—the most worldwide—just walking the streets is an experience in and of itself. Pretty much anything you decide to do in New York in a day will provide you with the expected stereotypes of being in the famed city. You might want to catch one of those yellow taxi cabs and head to the Brooklyn Bridge or to the top of the Empire State Building for that unforgettable view of the New York skyline, or walk the streets looking for a hidden gem of a pizza parlor to try some of the famed New York style pizza. And to find the best places to take photos during your trip, check out our article on the 10 Best NYC Photography Locations!
But if you are looking to narrow down some more specific todos for your special trip to see New York in a day, you need look no further. We've written up a list of the 10 most important things to do and see in New York in a day that we recommend. We hope this information is helpful to you when planning your special trip to explore New York in a day and that your time there is especially wonderful!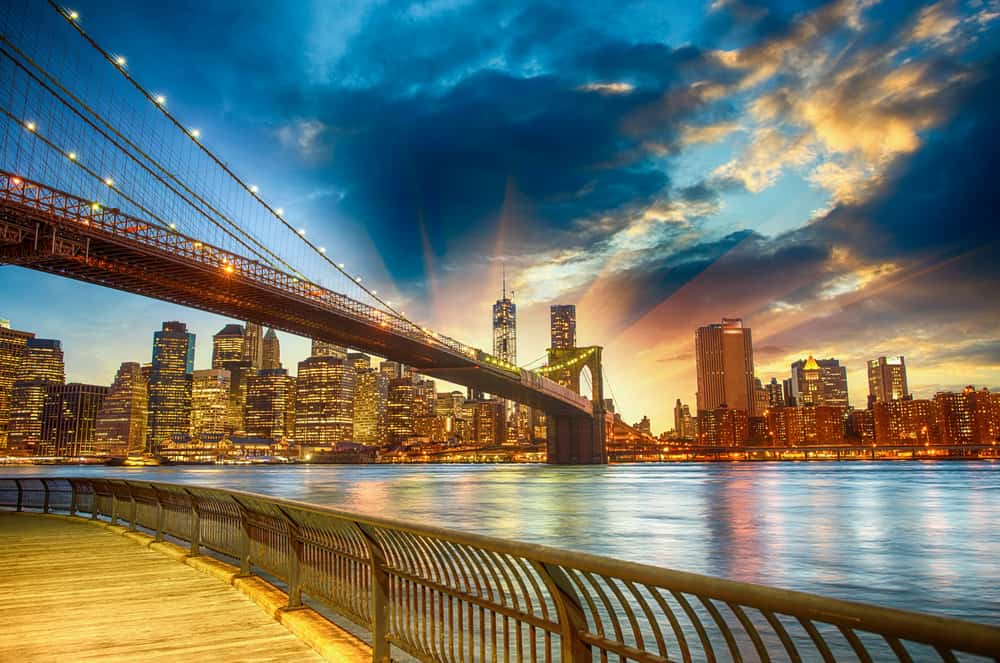 Hands Down, This Is How To See New York In A Day
Go Up On Top of Rockafeller Center
One of the best ways to see New York in a day is to literally see it all! There's hardly a better way to do this than from the top of Rockafeller Center, known as the Top of the Rock Observation Deck, which offers a spectacular 360-degree view of the New York City skyline and Central Park. An added bonus is that you'll be checking off that you got to see the acclaimed Rockafeller Center as well as the incredible outlook it offers.
Open daily from 8 am-midnight, with the last elevator going up at 11 pm, visiting the Observation Deck at Rockafeller Center is an easy stop to add to your itinerary to see New York in a day because of its operating hours. While the ticket price ($38 USD for adults) might seem steep at first, remember you are in a very expensive city and that you are paying for an unforgettable experience you'll have forever. You can make the cost more affordable by getting a New York Pass during your stay. Rockafeller Center also offers different deals that might work just for you. If you purchase the Sun & Stars tickets, you can return for a second visit within 24 hrs to see New York City in a whole new light. This might be a memorable way to start and end your one day in New York!
Book In Advance To Skip The Line: Top Of The Rock Entrance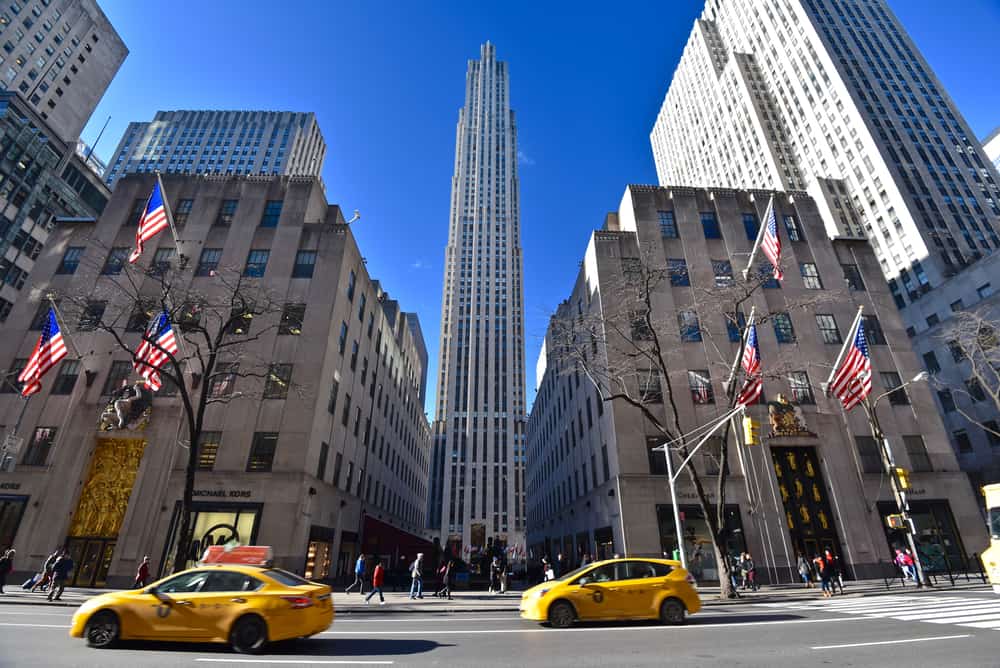 Take A Trip To Times Square
There is no limit to what you can do and see in Times Square during your New York in a day adventure. This is one of the most ideal places you will ever find just to walk around, stare at the sights of countless buildings and mesmerizing billboards, people watch, find amazing food and street performers, and simply take in the electric atmosphere New York City has to offer. But if you are looking for more specific things to do in Times Square during your one day in New York, we have a few awesome recommendations!
A number of public art and entertainment projects are open to people of all ages at various times that you can participate in. Certain ones happen daily, monthly, and seasonally. This is a particularly fun and interactive way to spend part of your one day in New York. Experiencing the Midnight Moment is something you can do in New York in a day in literally three minutes time. It is especially enchanting and dazzling too! Every night from 11:57—midnight the world's largest digital art exhibition takes place. For three exciting minutes, the enormous billboards are synchronized so that they display the same bright and spellbinding imagery.
With so much to offer, when you're seeing New York in a day, Times Square is a fantastic stop.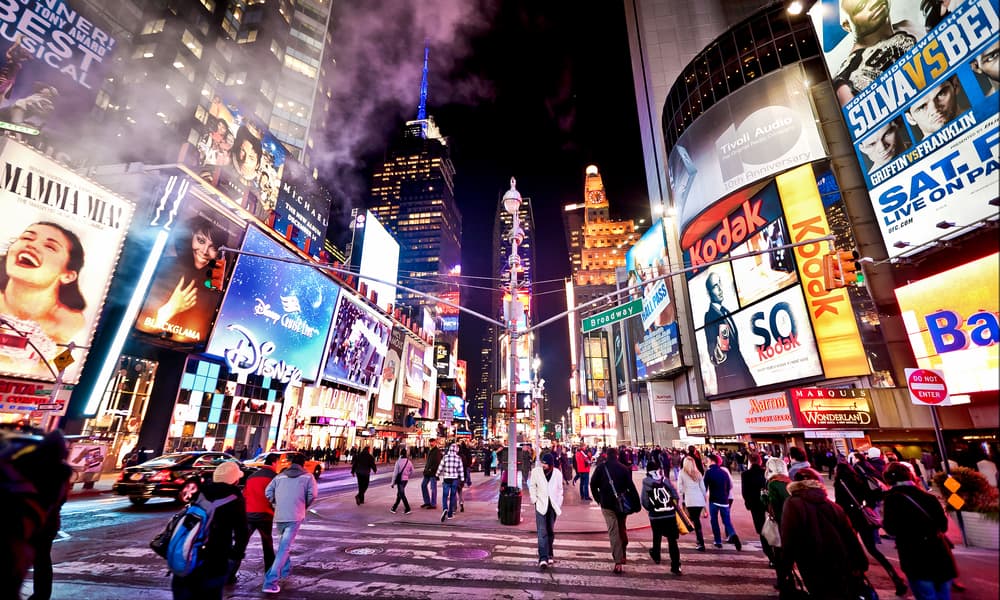 Visit Chinatown
New York's Chinatown is the second oldest Chinatown in the United States, second to San Francisco's. If you're a history-lover, part of seeing New York in a day for you will want to include this historic and culturally-rich part of Manhattan. Though much of it is tourist-focused, full of stores selling souvenirs, you will walk along winding, narrow old streets and see historic locations, some even 200 years old. One way to really dive into the historical side of Chinatown is to visit the Museum of Chinese in America, located in lower Manhattan. The exhibitions at the museum vary throughout the year but include a fascinating span of things like photography, floating projections, and interactive scenarios where you will experience what it felt like to be questioned by the immigration authority.
Beyond the amazing historical aspects, there are lots of other things to do in Chinatown during your trip to see New York in a day. If you are a shopping-lover, you might want to make sure to get to Canal Street, where there are limitless stores of the latest, trendy styles and chic boutiques. The vendors lining the streets, haggling with customers, gives it an open-air-bazaar kind of vibe. You can also see things like the amazing Mahayana Temple, the largest Buddhist temple in New York City, sample ice cream from the Original Chinatown Ice Cream Factory, and eat delicious foods at places like Jing Fong, New York City's premiere dim sum!
You really might want to make sure to add Chinatown to your "see New York in a day" itinerary!
Book Here: Chinatown Walking Tour [Includes SoHo + Little Italy too!]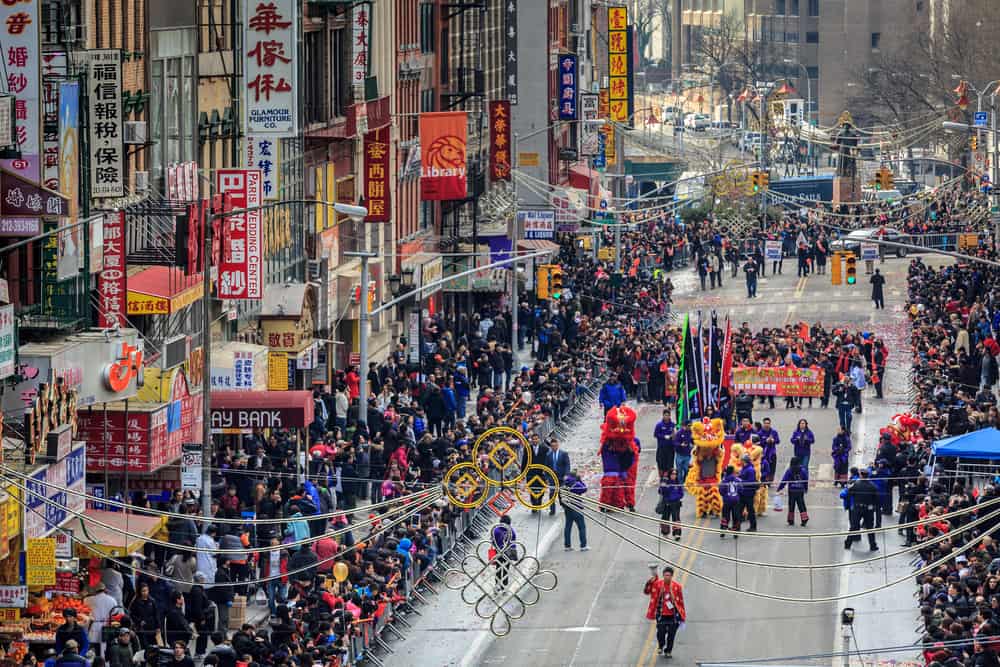 Check Out The Brooklyn Bridge
When you're trying to see New York in a day, you want to hit the highlights, for the experience to be awing, photographic, and memorable. The Brooklyn Bridge offers the perfect opportunity to fulfill all those things and is easily one of the most popular things to do in Brooklyn! Beginning at the intersection of Tillary Street and Boerum Place—the entrance one sees from a vehicle when crossing the Brooklyn Bridge—is the Brooklyn Bridge Pedestrian Walkway. The underpass on Washington Street, about two blocks from Front Street in Brooklyn, is the second way to get onto the walkway.
Not only is the bridge featured in dozens of movies, but it is an iconic feature of New York City, one that will make your time spent in New York in a day feel very productive! There are a lot of amazing spots for photography too, ones you've probably seen splattered all over your Instagram feed at one time or another. One of the best things to do is bike over the Brooklyn Bridge! It is an affordable and fun way to see NYC!
The bridge is accessible 24 hours a day and is a stunning experience at any time, but walking the bridge at sunset will offer the most dramatic experience. At sunset, you can see the views of Brooklyn, Manhattan, and the Statue of Liberty still in daylight, while at the same time watching all the city lights come on. It's a dazzling experience you will want to add to your itinerary to see New York in a day!
Reserve Now: Affordable Brooklyn Bridge Bike Rental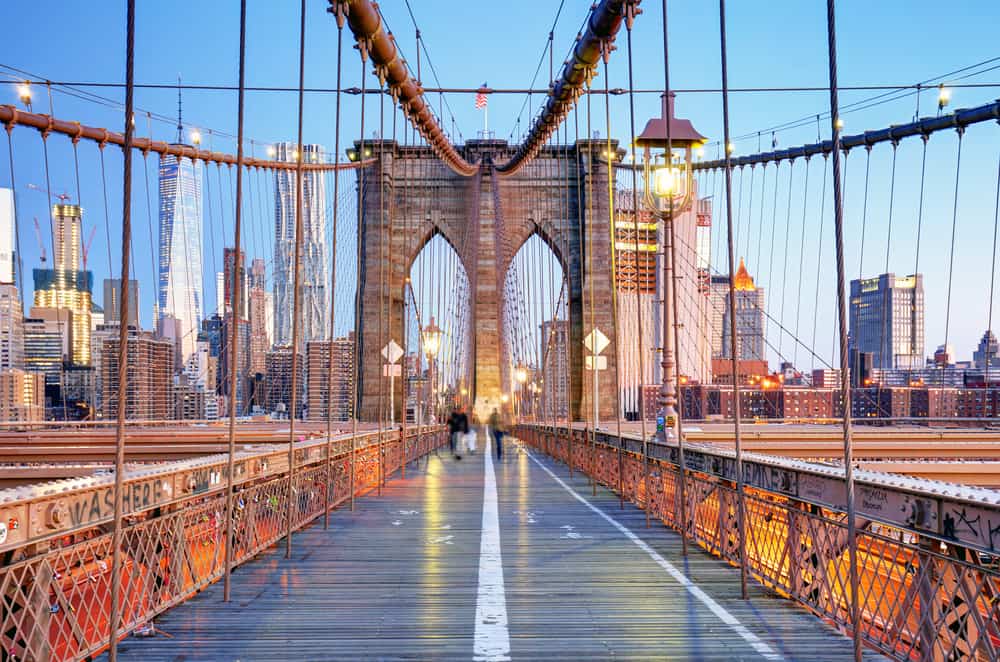 Spend Some Time At The Oculus And Ground Zero
A very memorable and important part of your "New York in a day trip" is checking out the Oculus and Ground Zero. There are many different tour options of Ground Zero that honor the heroes and victims of one of the greatest tragedies of our time. A great way to see everything for a good price is to purchase a package deal that takes you from St. Paul's Chapel, to the 9/11 memorial, to the 9/11 Museum, and up to Freedom Tower, where an elevator known as the "Sky Pod" rises 1,250 ft in the air in 60 seconds to the panoramic observation deck. This is another site that is included in the New York Pass [and no this isn't sponsored by them! We have used the NYC pass before and recommend it for saving money!]
The World Trade Center Oculus is a marvel of a building, one that is both fiscal and artistic, a show of strength and courage in the wake of destruction. The Oculus is a massive construction, designed by architect Santiago Calatrava, whose original intention was for it to look like a dove leaving a child's hand. You can see this idea in the high, crossed columns that make up the exterior. On the interior, you will find more amazing architectural views, the most stunning of which may be the view of the Freedom Tower that you can see from looking up at the opening in the ceiling. The sunlight streaming through this opening looks especially stunning in September—a fitting memorial.
Trains from all over New York City and all the way to New Jersey connect to the Oculus, making it easily accessible and a place of connectivity. Not only is the Oculus a transportation hub, but it is also full of a wide range of shops—from clothing stores, phone repair shops, to sweet treats. Seeing New York in a day will feel richer and fully after your trip to the Oculus and Ground Zero.
Choose now: New York Pass [Get many attractions in one!]
Reserve now: 9/11 Museum Skip The Line Access [highly recommend!]
Reserve Now: One World Observatory Skip-The-Line Access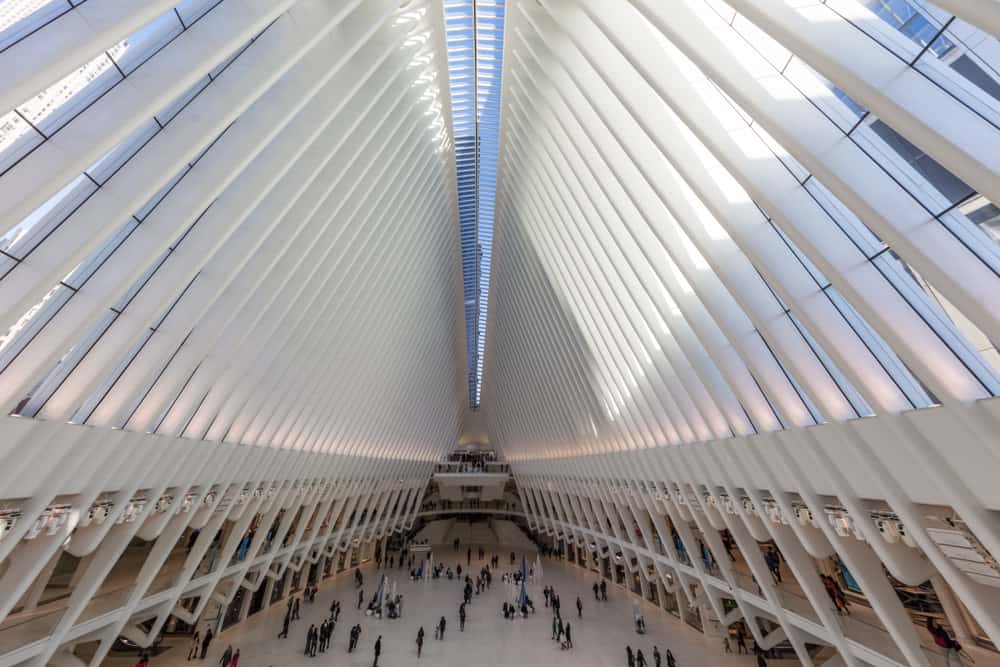 Take A Stroll In Central Park
A beautiful combination of famous landmarks and nature, Central Park is a wonderful destination to include in seeing New York in a day! Central Park spans all the way from 59th Street to 110th Street, between Fifth Avenue and Central Park West Central Park. It is very easy to access by subway too: 1, 2, 3, B, and C trains along the west side, 4, 5, 6 trains along the east side, and A, B, C, D, 1, N, R, and Q trains on the south side. It is open to the public between 6am—1am, and is free to enter!
Just taking a long, lovely walk in Central Park is a wonderful way to spend part of your time seeing New York in a day, but the park is also full of treasures to find that will make your wanderings there even more memorable and special. Within the park, you can find things like the famed statues of Alice in Wonderland and Balto, the Dairy Visitor Center and Gift Shop, the Central Park Zoo, the Lake, the Loch, Bethesda Fountain, the Conservatory Garden, the Shakespeare Garden, the renown Mall and Literary Walk, the Wollman Rink, and Belvedere Castle to name a few! You could easily spend hours of your trip enjoying many different touristy features of the Big Apple just within the boundaries of Central Park!
Book now: Affordable Central Park Bike Rental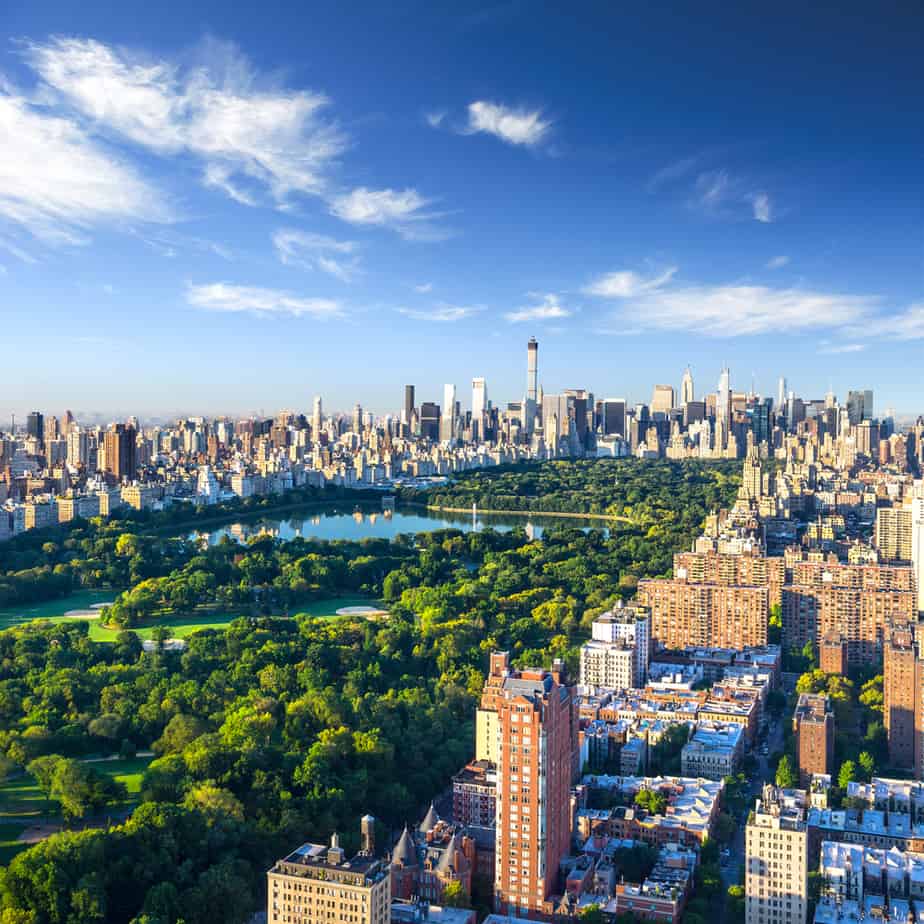 Take A Tour Of Ellis Island And The Statue Of Liberty
If you're especially looking to hit some of the highlights on your trip to see New York in a day, the Statue of Liberty is probably one of your very best options! When you imagine New York City, most likely one of the first things that come to mind is the world-famous statue standing on its pedestal on an island in the bay. The sight is said to have been a beacon of hope to many arriving on the shores of the United States. This is yet another one of the best things to do in NYC that is included with the New York City Pass. We just want to point out how you can visit multiple sites at a lower cost in case you want to save money.
Ferry services to both the Statue of Liberty National Monument and the Ellis Island Immigration Museum are the only way to get there. The tours tend to sell out quickly, so you might want to consider purchasing your tickets for a tour of the Statue of Liberty and Ellis Island in advance. Parking is limited at the ferry, so we recommend using public transport—bus or subway—to get there. You can easily reserve tickets in advance depending on your plans. Some tickets are just for passage on the ferry, but not an inside tour. However, if you want to see inside the pedestal or go up into Lady Liberty's crown, you can book tickets for those tours in advance as well. These sell out quickly, so make sure to plan ahead and get your spots reserved for one of the most historical and memorable sights to see in New York City!
Book Now: Statue Of Liberty And Ellis Island Priority Ticket
Book Now: Statue Of Liberty And Ellis Island All Access Tour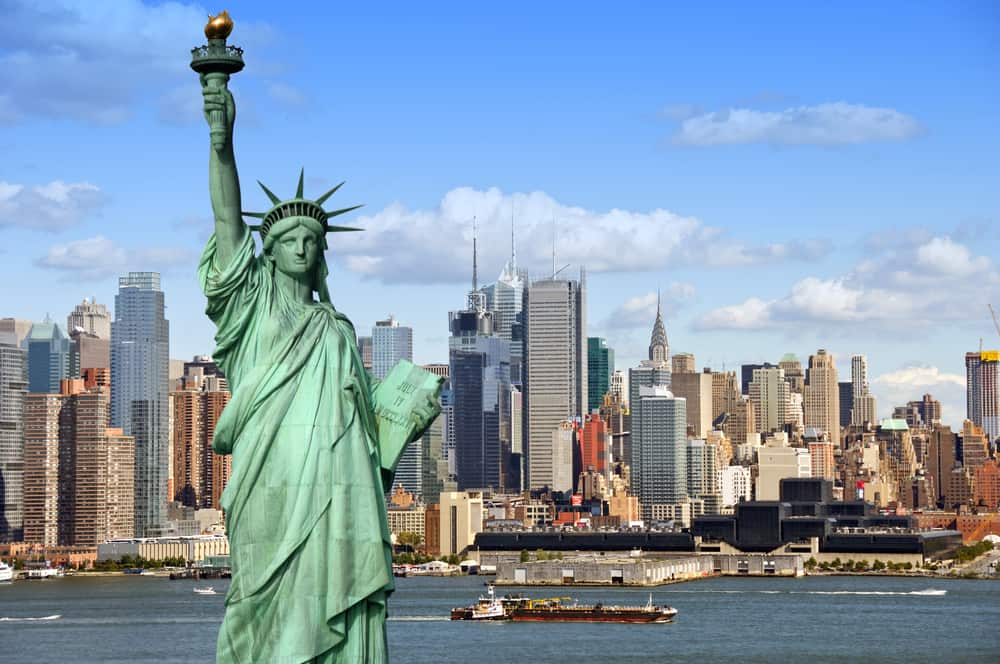 See The Metropolitan Museum Of Art
When you visit The Met, you can experience 5,000 years of art in one place! Though it is one museum, there are three locations you can choose from for your visit: The Met Fifth Avenue, The Met Breuer, and The Met Cloisters. Every single location is filled with wondrous treasures to see, so no matter what location is most convenient for your trip to see New York in a day, you won't go wrong! Especially if your one day in New York happens to fall during bad weather, you don't have to spend it feeling bummed out. The Met holds thousands of amazing things to see that will make your day historic and special, even if it is indoors! And yes, you guessed it! The Met is also part of the New York Pass!
The exhibitions at The Met seem practically endless! There are many that come and go seasonally, but at any time of year, there will be something amazing! The price is very reasonable to get inside any one of the locations, which are open seven days a week with the exception of The Met Breuer, which is closed on Mondays. The added expenses come from The Met store and amazing restaurants! There is a wide variety to choose from among the restaurants, and varying prices as well. If you need an afternoon pick-me-up, there's even a cafe in the bookstore that's a much cheaper option!
No matter which museum you choose, what do you do inside, or where you eat, a day spent in The Met is a fantastic and fun way to experience New York in a day!
Reserve here: Closing Time At The Met With Rooftop Drinks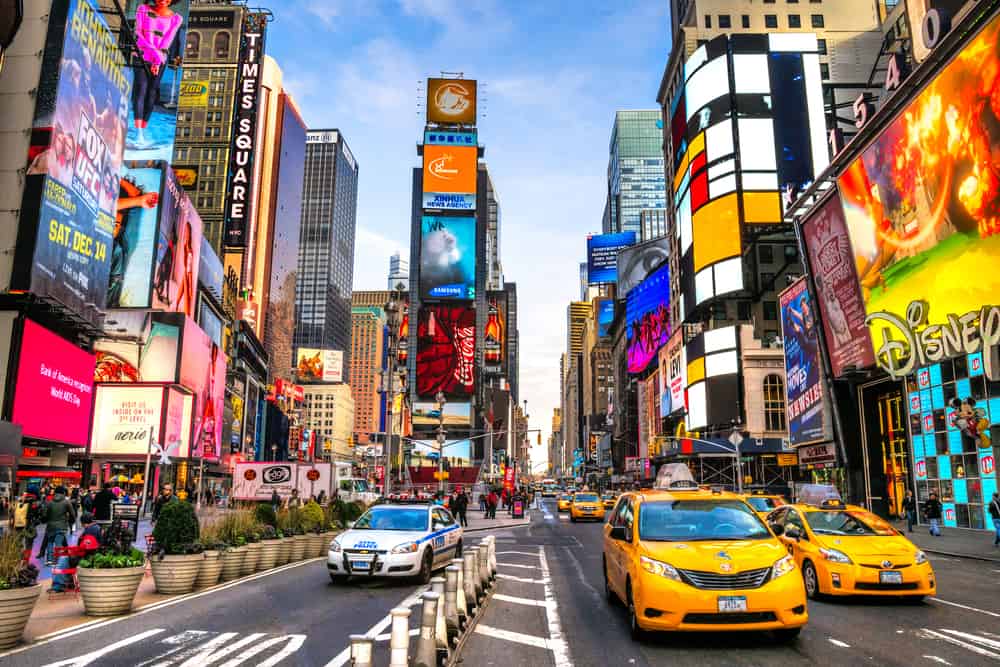 Visit And Explore The Empire State Building
It might sound cliche, but how can you not make a stop at the Empire State Building during your time in New York in a day? Yep, it is also included in the New York Pass and we are not here to sell you to something that won't save you money! We are not sponsored and just want to show you that you can actually save big! Synonymous with New York City, an American icon, and one of the Seven Wonder's of the Modern World, the Empire State Building is a must-see.
You'll be able to snap a ton of pictures craning your neck up at the magnificent skyscraper, and then get more shots from up top on the Observation Deck. It is said on a clear day, you can see up to 80 miles into the distance from the 86th floor. You'll be able to see Central Park, Manhattan, New Jersey, Connecticut, and even all the way to Pennsylvania and Massachusetts!
As expected, such a famed landmark invites lots of crowds, but an easy way to beat them is to visit the Empire State Building between 8:00 -10:00 am or after 10:00 pm! Depending on the season you are visiting, there are special extra features your visit will include. On Thursday, Friday, and Saturday between 9:30 pm-midnight during the summer months, you will find live music being played. Another feature that makes a trip to the Empire State Building very enjoyable is that the tours are done remarkably well, and you can linger and take tons of photos from the Observation Deck without feeling rushed!
Book Here: Empire State Building Skip The Line Access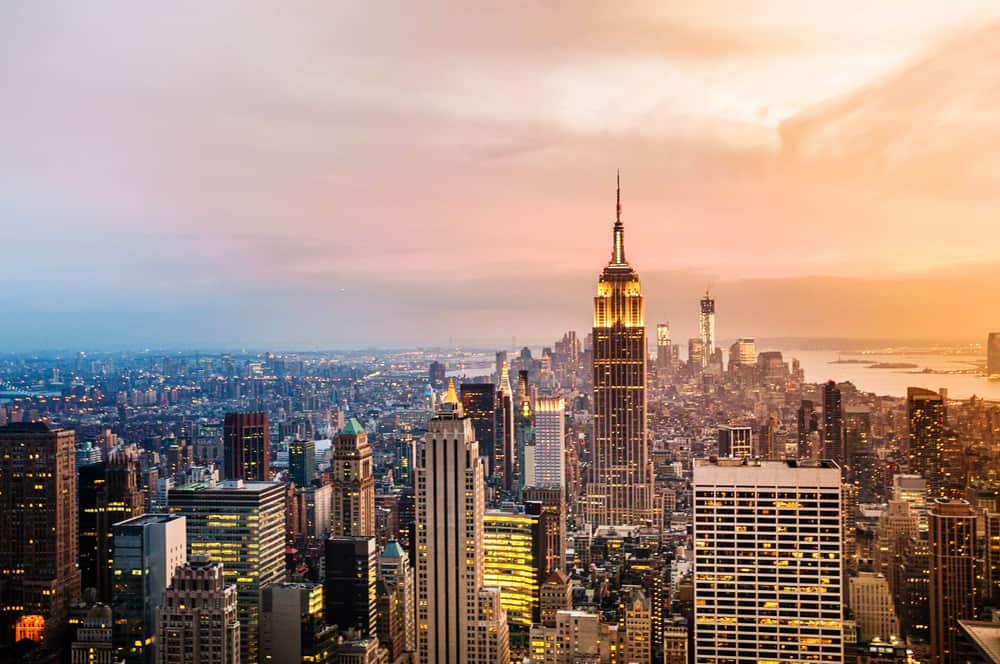 Spend Some Time Exploring Grand Central Terminal
Unless you've never watched a movie, you've caught glimpses of the famous and popular Grand Central Station and Terminal before. Located at 42nd Street and Park Avenue in Midtown Manhattan, Grand Central Terminal is not just a commuter rail terminal, but a dining, shopping, and cultural experience! There are 60 shops, 35 places to eat, and a busy calendar of events. Not to mention, Grand Central Terminal is a historic landmark of the Big Apple. Considering that all of Grand Central's actives are under one roof, it is an easy and convenient place to visit during days that are too cold, hot, or stormy to be outside. And you won't be missing out on any famous landmarks or fun shopping either. If you have more time in New York, you can even choose to take day trips!
Serving the northern parts of the New York metropolitan area, Grand Central is the southern terminus of the Metro-North Railroad's Harlem, Hudson and New Haven Lines. It is also a very easy location to access, considering it's a transport hub! If you want somewhere easy to get to on your trip to see New York in a day, Grand Central is a really good option. Grand Central Terminal is open daily from 5:30 am — 2:00 am, though the hours of individual shops and restaurants may vary. The long hours it is open also help make it a really good choice of a place to visit, as you can easily slide it in between other actives and itineraries. You just can't go wrong with a trip to Grand Central Terminal!
Reserve now: Grand Central Terminal Self-Guided Audio Tour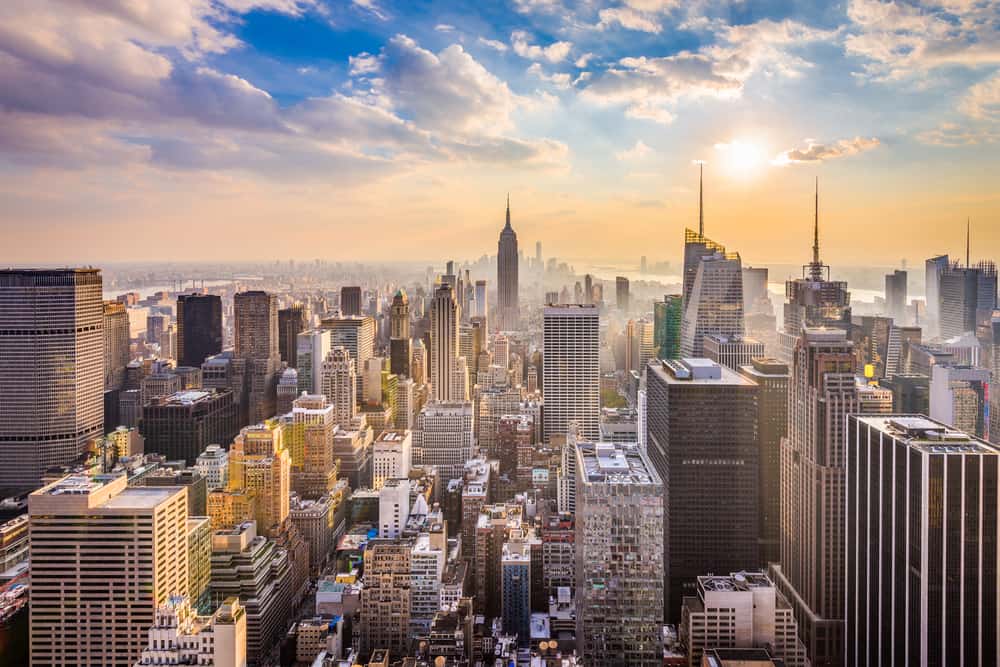 From some of the most amazing and iconic skyline views, to enormous and beautiful parks, to actives for the whole family to enjoy, and no limit to delicious food options, New York City is a perfect destination to visit. The diverse attractions it offers give opportunities for fun and adventure whether you are traveling solo, with friends, with children, for a romantic getaway, you name it! And so many indoor options make it a great place to visit at any time of the year. We hope that after reading this you feel even more excited about your decision to see New York in a day! You won't be missing out, because there is something for everyone and all within the same magnificent city! If you've only got one day to spend somewhere, we can hardly think of any better than New York City.
Please let us know which things you're going to do first in the comments! And we wish you a fun and safe trip seeing New York in a day!