Traveling with your significant other and looking for romantic things to do in NYC? We have got you covered with the best places to go in New York when you are with your significant other! The city of lights offers so much more than just sight-seeing; you can make the most amazing memories with the one you love by going to visit romantic things to do in NYC.
Traveling with someone can be frustrating when you can't decide on where to go, but hopefully, this list will give you some amazing ideas as to what are some romantic things to do in NYC! Make sure you put it on your list because there are some beautiful and awe-inspiring visits that you must go to!
If you are looking for the most romantic things to do in NYC but also want to take tons of pictures so you can view after your visit, look at our 10 Best NYC Photography Locations And Where To Find Them. This article offers a few more spots to go to in NYC, so find what works best for your trip and the places you want to visit!
New York City is so big and there are multitudes of romantic things to do in NYC. Planning ahead can make all the difference for you and your partner! Whether it be walking the Brooklyn Bridge at sunset or having a fancy dinner with your other half, New York has it all for couples.
If you have not traveled to New York before, make sure you educate yourself on the subway and bus system! It can be confusing and crowded many times during the day, so learn how to navigate around the city and hopefully, you will get to your destinations without any trouble!
Some of the most romantic things to do in NYC are located in the same general area, so see if you can go to multiple places in one day! New York is so much fun and even better with the person that you love, so make the most out of your trip and explore romantic things to do in NYC!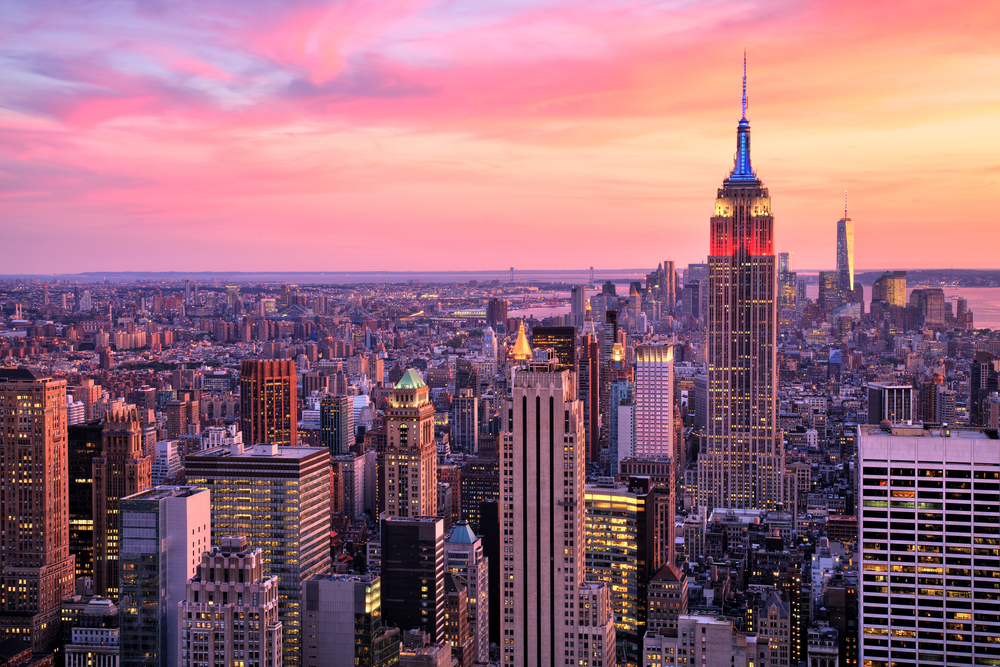 What Are The Most Romantic Things To Do In NYC?
Albertine Books Gives You French Vibes And Is A Must For Book Lovers
One of the romantic things to do in NYC is going to this little french bookshop! When you walk in, the smell of old books, hearing the soft music, and the small chatter going on around you will fill your romantic heart. Albertine Books is located on 5th Avenue, so this is a great place to go to start your morning!
Grab a coffee with your loved one and enjoy this small independent bookstore. It is filled with French and English books and is the perfect place for you and your partner to enjoy a quiet morning of reading books together.
This wonderful bookshop has two floors, the first one is mainly for books and browsing, while the second floor has an event space where Albertine has panel discussions and author talks. If you're lucky, maybe there will be an event going on when you stop by! However, to be sure, check out their website to see all of the events or specials happening!
Make sure to put Albertine on your list of romantic things to do in NYC, this little bookshop will transport you and your partner to another world with its French vibes. If you both are book lovers, then I am happy to report that it is very easy to spend an entire day here.
Or if you want to people watch, this is the perfect place for it. Inside it is small and intimate, you can meet fellow book lovers or watch them together with your significant other and enjoy the love in the air.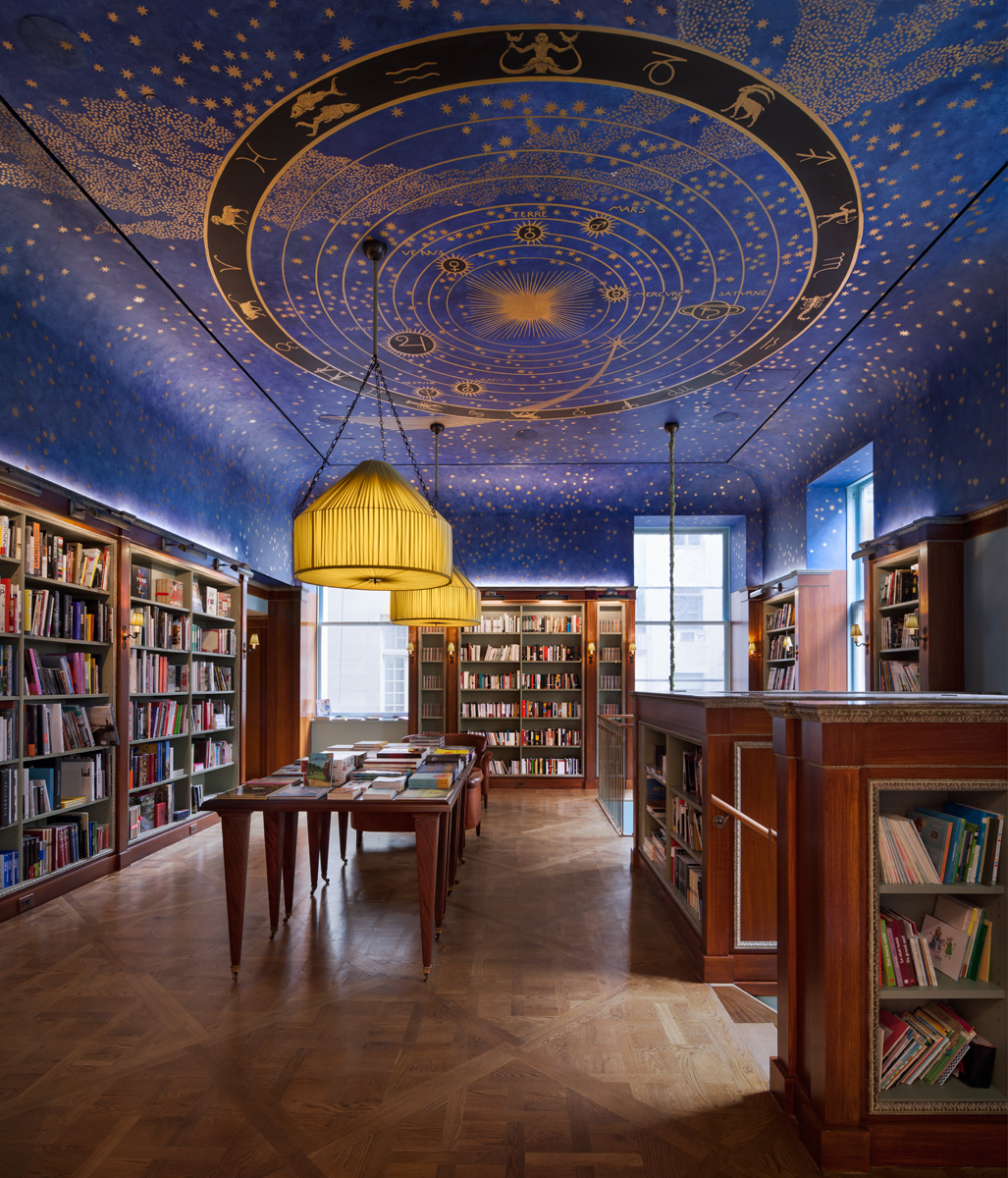 Walking the High Line Is Perfect For A Relaxing Stroll
If you are looking for somewhere to walk and talk with your partner, then I have a place that you will love! The High Line used to be an old raised railroad track that was decommissioned in the 80's and was almost demolished.
However, some amazing people founded Friends of the High Line and worked to make it into a public space where people everywhere could enjoy a park. It spans 1.45 miles and there is plenty of art to see while you are walking along the raised walkway. It is one of the best parks in NYC and you should certainly visit!
This is one of the best romantic things to do in NYC because it is so beautiful. There are wildflowers growing everywhere and there are many spots where you can stop and view the streets below or just enjoy a beautiful sculpture.
The High Line is also a great photo op and you can enjoy your time walking along this wonderful path. You can go at any time of day and before 11 at night, so you can see some beautiful sunsets or enjoy a blue-skied day in the park.
Chelsea Market is very close to the High Line and after a nice breakfast, lunch, or dinner, you can walk off your food by climbing the stairs and not having to worry about dodging the traffic below! This is also one of the most romantic things to do in NYC because you can do it multiple times a day or over the course of your stay. The amazing memories of being with your partner on this walk will be a highlight of your trip to New York.
Book your High Line and Greenwich Village Combo tour here!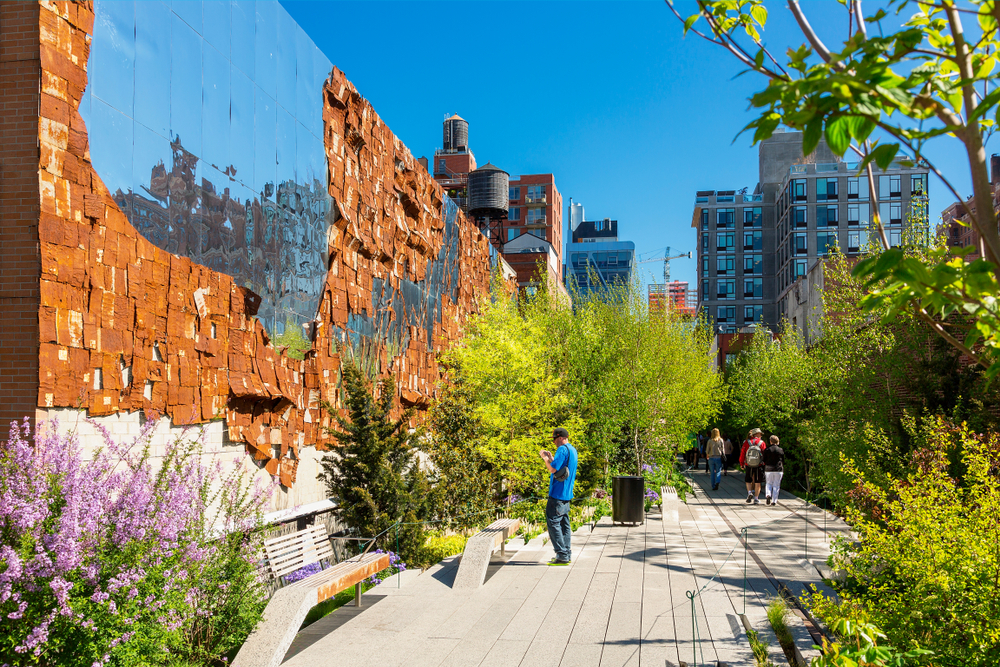 The Top Of The Rock Will Provide Gorgeous Views For Romantic Things To Do In NYC
For one of the most romantic things to do in NYC and some of the best views you will ever see, go to the Top of the Rock! Your breath will be taken away by the beauty that lays before you and your partner. It feels amazing to be seeing this with someone you love as you share those memories with them.
The Top of the Rock is on top of Rockefeller Center, it is 70 floors up so you can see all of Central Park and some of New York's most iconic skyscrapers!
Top of the Rock is definitely recommended for a couple, as it is a wonderful place to propose or share your love for the person you are with. Make sure to take your camera as the views will give you chills and you will want to remember those amazing moments. However, be aware that going to the observatory deck is not free, unfortunately.
There is a fee of $40 to access this beautiful part of New York, so plan ahead and buy your tickets in advance! You can get a New York Pass that will allow you to go to over 100 New York attractions, but this also has prices you will want to look at. If this is within your budget, make sure to plan with your loved one because missing out on this spectacular and alluring view will be a regret!
See the fantastic sights from the Top of The Rock! And many more attractions with the New York Pass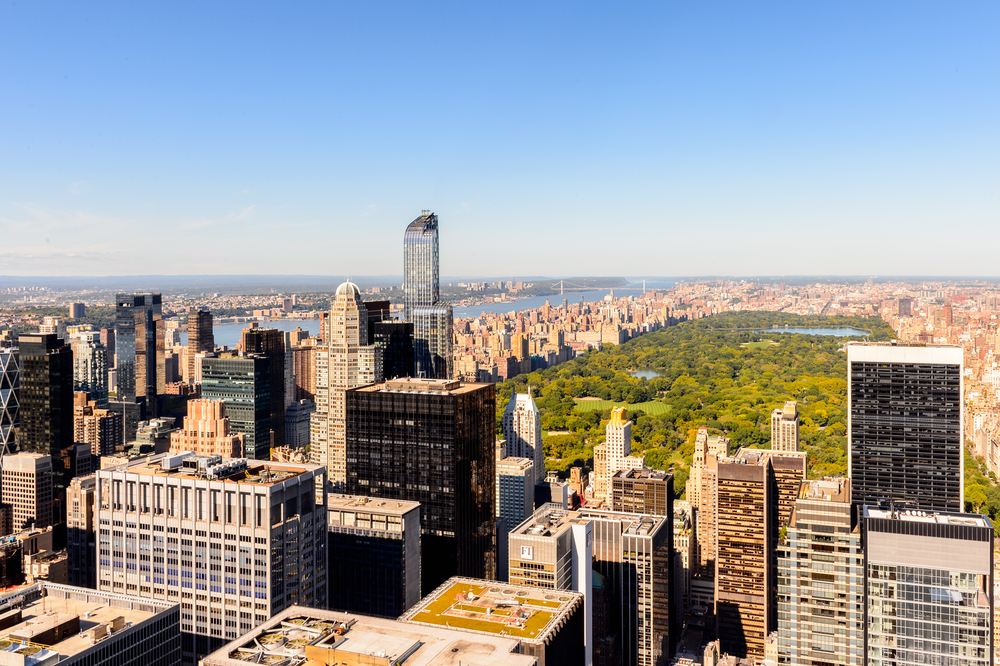 Walking The Brooklyn Bridge At Sunset Will Give You Memories To Treasure Forever
The Brooklyn Bridge is one of the most iconic parts of New York. Many movies or TV shows have had scenes based on the Brooklyn Bridge, so walking along it will be a great addition to your list of romantic things to do in NYC. It gives you an epic feeling to be there with the person you love and seeing the bright lights of the big city. Going for a nice walk at sunset will solidify the experience into a treasured part of your trip.
There are also plenty of places to eat nearby so getting a hot sandwich to go or cold ice cream and walking with your significant other at sunset is an unforgettable memory. Watch the beautiful sky change colors as the sun goes down on your day and takes you into a different view of New York.
The bridge is also pretty long so take your time and see everything that you can! Walking the Brooklyn Bridge at sunset is one of the most romantic things to do in NYC because you can stop and take pictures with your significant other, you can sit down and have a wonderful conversation, or you can simply walk to the end and back. The bridge offers you amazing sights and just try to be disappointed because trust me, it will be hard!
Walk the Brooklyn Bridge and Explore DUMBO on this walking tour!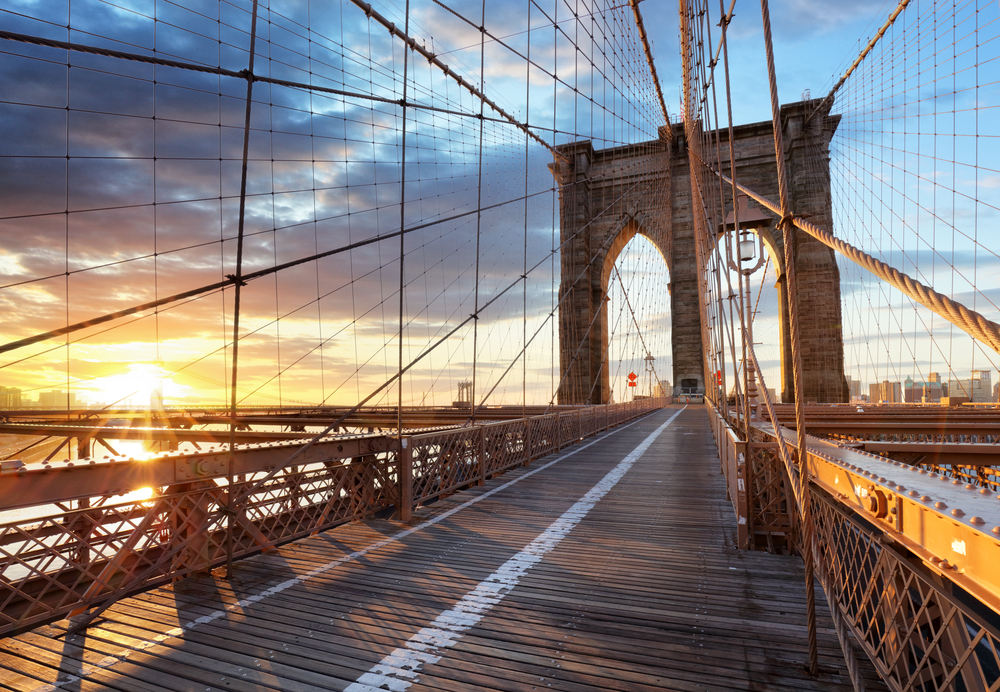 The Staten Island Ferry Is An Epic Boat Ride That Will Never Get Old
The Staten Island Ferry was among one of my favorite romantic things to do in NYC because it is free! It is also relatively easy to navigate your way there, it's pretty close to the Brooklyn Bridge, so you can hop on the ferry and then walk the bridge!
The Staten Island Ferry carries thousands of people a day to and from Staten Island for free, so you should definitely be one of those thousands! The boat is huge and you have so much space to walk around and enjoy the views you get from each side.
There are multiple levels to this boat so you can ride it multiple times and still not see everything there is! If you have time, this is something you can do throughout your trip, especially if one of your places to visit is on Staten Island.
This is one of the best romantic things to do in NYC because you can cuddle up next to your partner and enjoy their company and warmth, especially if it's cold outside! The icy wind is unforgiving, but it feels better when you have someone you love with you!
The Staten Island Ferry leaves at many points during the day, around 30-minute increments. Plan to spend about an hour for this great free boat ride or even more if you want to take your time! The ferry is also a really good way to see some iconic New York views, like the Statue of Liberty. I didn't end up going to the statue because I saw it while riding the ferry back to the mainland! The Staten Island Ferry is fun and must for romantic things to do in NYC!
A Broadway Show Should Be At The Top Of Your List On Romantic Things To Do In NYC
This one should be a bit obvious but something that should definitely be put on your list of romantic things to do in NYC! A Broadway show is such a classic form of New York attractions. Sure, you can see a Broadway show at your local theater, but seeing your favorite musical or play in the city where it was born is a wonderful feeling!
You and your partner can spend an evening watching a love story, a fairy tale, or a comedy and enjoy every second of it!
Now, I know you're wondering how you're going to pay for an expensive Broadway show for you and your partner, but let me tell you, there are plenty of ways! If you don't mind standing for an hour or two, you can wait in line at the TKTS Booth in Times Square.
Here you can get major discounts on your favorite shows and they even have an app that you can look at to see their prices. Be aware that they open at different times every day, so check to make sure you go at the right time! Another way to get cheap tickets is to put yourself in a lottery.
Unlike the short story, the lottery can allow you to be picked for tickets to see a show! Look online to see which ones have lotteries and add yourself to it in advance! This does not, unfortunately, guarantee your tickets but it can be a better alternative to waiting in line.
Broadway is where dreams come true and romantic things to do in NYC are found here. Getting a nice dinner before a show or simply walking from your hotel to the show can be a romantic and wonderful couples thing to do in NYC. If you are above age and like to drink, you can sip on something good while waiting for your show to start and enjoy your time with your partner.
See The Phantom of the Opera on Broadway!
See The Lion King on Broadway!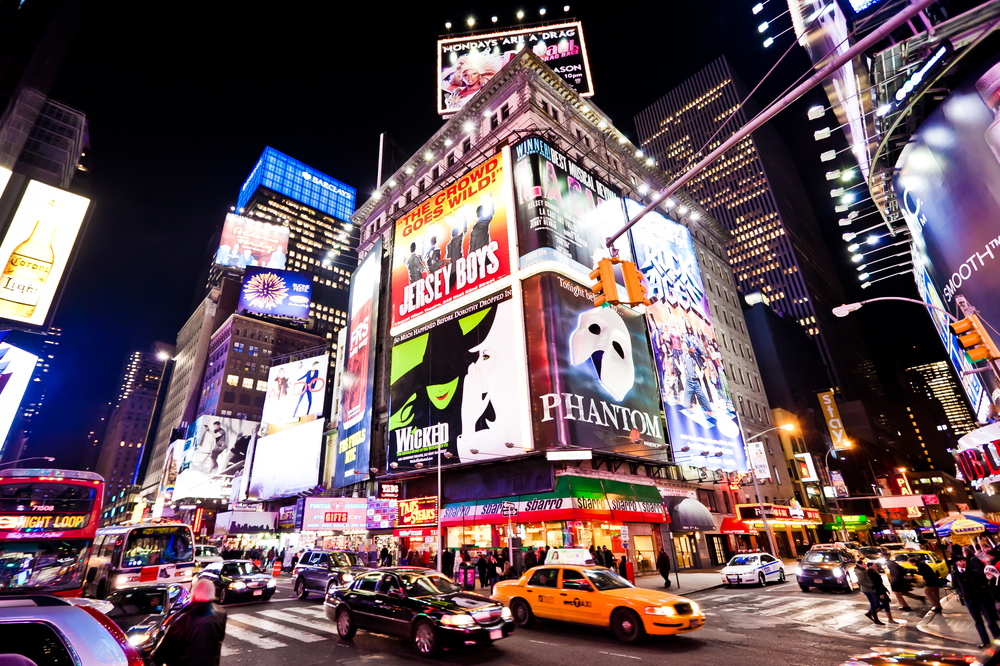 Go To A Fancy Dinner At SERRA By Birreria
When you imagine going to New York with your partner, do you dream that you will have a fancy dinner with them? We have the perfect place for you! SERRA By Birreria is about a 3-minute walk from Madison Square Park, which could be your destination for a post-dinner romantic stroll.
This delicious restaurant has a gorgeous interior and will make your night magical with the person you love! Trust me when I say that you will never want to leave and you will definitely want to come back. It is also one of the most Instagrammable places in NYC!
SERRA by Birreria should be on your list of romantic things to do in NYC because not only will you enjoy good food, you will have an amazing time with your partner. Make sure that you reserve a table beforehand because it will guarantee you a table for two. Check out their website for the menu and hours of operation.
This restaurant also has cooking classes you can take together and create fond memories. There are a variety of classes available, so the prices vary but you get so much out of attending! If you and your partner like to cook together or want to learn in a beautiful place, we highly suggest taking a class at SERRA By Birreria. It will be an unforgettable experience.
SERRA By Birreria also has an amazing rooftop where you can dine and wine while seeing some of the most breathtaking sights! Time your dinner right and watch the sunset and toast to an amazing trip with your partner.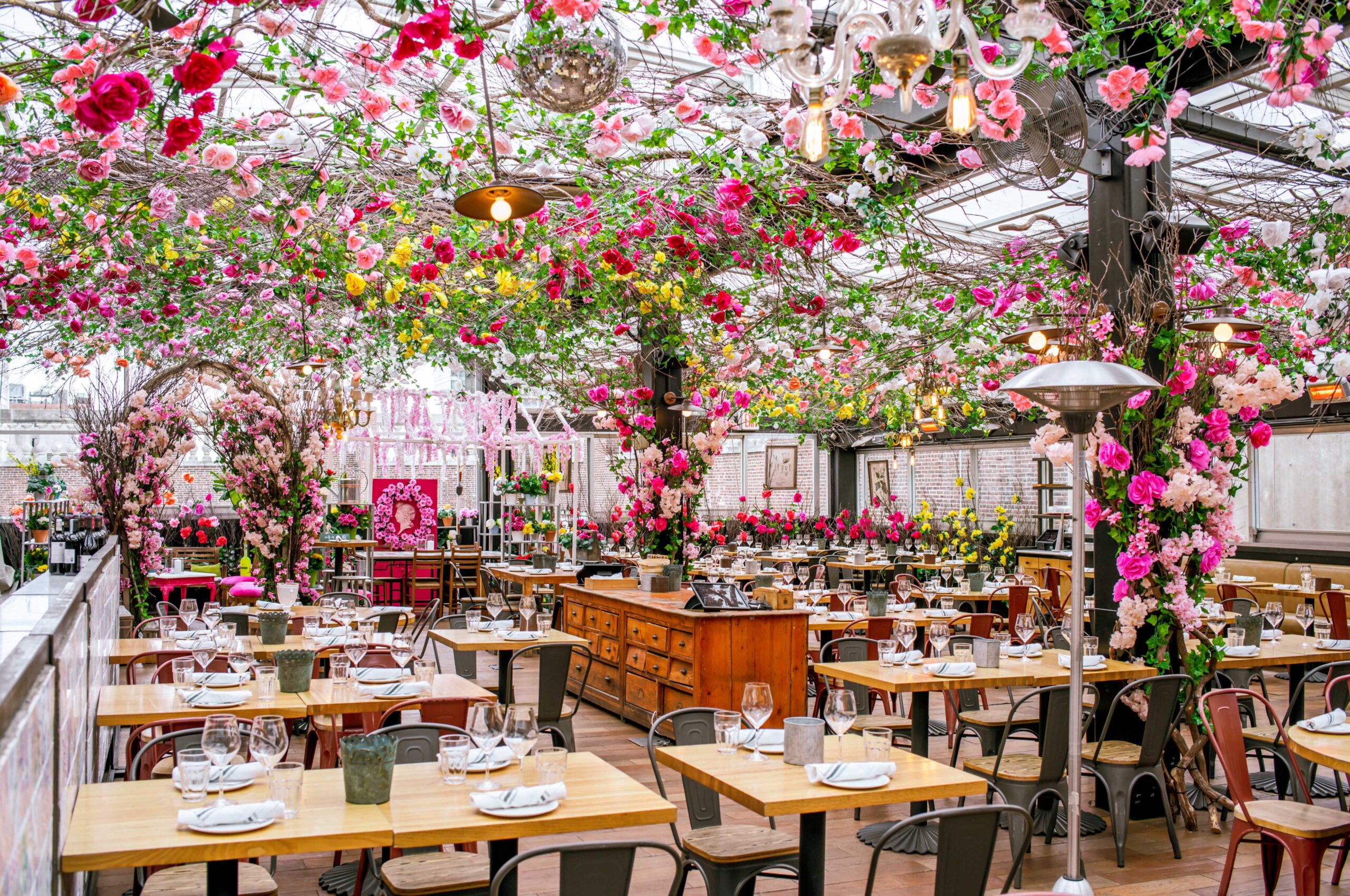 Row Boating At The Lake in Central Park Will Make You Feel Like You're In A Movie
As a couple that is vacationing in New York, renting a rowboat has to be one of the most iconic and romantic things to do in NYC. How many movies feature couples in rowboats that you can think of? Make your friends and family jealous by taking a boat ride on the second largest body of water in New York. Be sure to plan your trip accordingly if you'd like to go for a boat ride because it is only open from April to November and it is weather permitting.
The Loeb Boathouse is one of the main ways to rent a boat; peruse through their website to see all they offer because it is all amazing! One thing that is unique about the Loeb Boathouse is its offer of gondola rides. Relax and enjoy some truly gorgeous views of Central Park.
You have to book in advance through their website, so look for where to reserve your spot! You can find Loeb Boathouse on the east side of 74th Street where you can rent a boat with your partner and delight in the animals you can spot rowing on the water.
If water is not your thing or you don't have time to rent a boat, check out Kerb's Boathouse. You can spot this place by its faded green roof! Here you can take a stroll around and look at model boats that are used on the water and rent if you'd like or you can take a break as there is a small cafe attached to the building.
It offers light refreshments, so don't expect a full meal when you go. On a hot day, this boathouse can be a stopping point to sit with your significant other and watch the boats go by. Renting a rowboat in Central Park with the person you love will be fun and memorable for romantic things to do in NYC!
Escape the busy streets and enjoy a day on the water with this Central Park rowboat tour!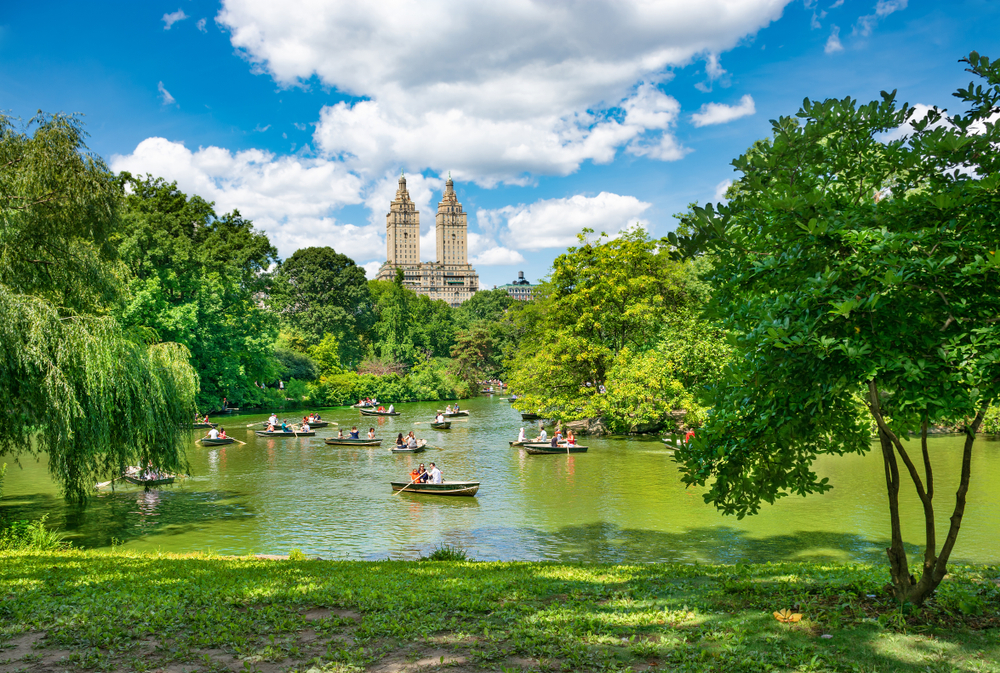 Get Lost In The Museum of Modern Art With Your Partner For Romantic Things To Do In NYC
Ah, the MoMA. What an amazing display of art and life; a true testament to the human spirit and will. This building houses some of the world's greatest paintings, sculptures, installations, and so much more. You and your partner can spend hours upon hours in this amazing place!
This is one of the best couples things to do in NYC, it is an iconic part of New York and you won't get it anywhere else. When you visit the MoMA, you will be surprised by just how big it is and how much time you can spend there.
Sometimes, it can be easier to split up and view each piece at your own pace, but it can be so much more fun with your partner by your side. Visiting the MoMA should be top of your list of romantic things to do in NYC, the paintings are so beautiful and you will associate the aesthetics with your significant other. Even if you aren't that into art, going to the MoMA might change your mind because there is something for everyone, all you have to do is look!
Unfortunately, the MoMA is not free, however, it has discounted prices if you fall into certain categories. If you are a student and have your student ID with you, show it to the person at the register and you don't have to pay full price.
If you are a senior or have a child with you, there are discounts for those as well. Walking through the halls with your partner will give you memories to last a lifetime and you will always remember this as one of your romantic things to do in NYC!
Take in all of the amazing work at the Museum of Modern Art and many other museums and attractions with the New York Pass!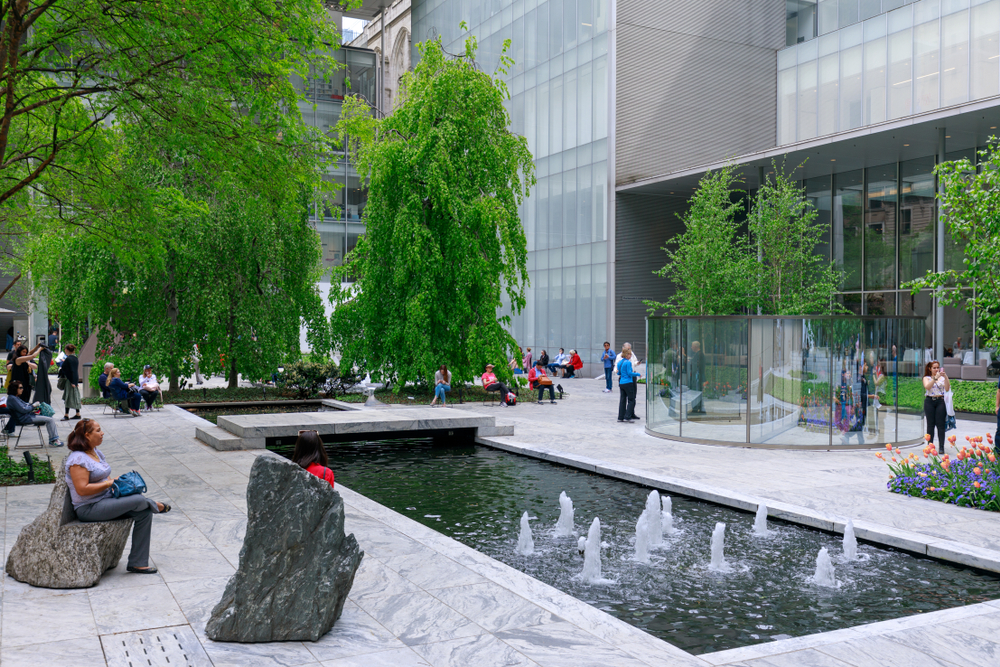 Visit The Museum Of Sex And Let It Surprise You By How Much You Will Like It
This is one of the more surprising romantic things to do in NYC but it is a place that you might really enjoy! It might seem a little weird at first but if we are being honest, the Museum of Sex is the best place to go with your partner. However, the museum does not shy away from nudity and is not modest, so when you are planning your romantic things to do in NYC, be sure that both of you are comfortable with this!
It was an amazing experience to see the history and background of something so personal. The Museum of Sex has multiple levels and even has a gift shop, so there is a lot for you and your partner to see. It is a small building, so it can get crowded fast; it is fun to go at night but that's when it gets most busy so plan accordingly! The Museum of Sex is such a fun couples things to do in NYC and they even have a small bounce house you can pay a little extra to jump in.
The museum is unfortunately not free, however, they do have student, senior, and military pricing valid if you have your ID with you! You may be uncomfortable with some of the exhibits but you won't regret visiting; the Museum of Sex offers everyone something that they can look at and like.
Open your mind and go see the evolution of human sexuality and maybe gain new amazing knowledge about yourself, your partner, and your relationship!
Visit the Museum Of Sex and many other NYC attractions with this Explorer Pass!
Chelsea Market Is The Best Place For A Good Meal And Time
Imagine you and your partner walking the High Line, getting hungry and in need of a break. Where can you go? Of course, there are plenty of nearby restaurants you can go to but somewhere that is close and air-conditioned is Chelsea Market! Chelsea Market is very close to the High Line and offers so much to see and do! Inside it smells amazing, there are restaurants of course, but there are also retail shops that you can browse through with your significant other.
It is no matter if you are vegan, vegetarian, pescatarian, or any type of dietary matter, you can find a place to eat in Chelsea Market. My favorite place to eat is Los Tacos No. 1, an amazing eatery that will blow your socks off and ruin all other restaurants for you! It can be very busy in Chelsea Market but all the better because you can stay really close to the person you love and have an amazing time window shopping and eating all the food!
There is a downstairs area that has a cute wall you can take pictures at, but also some of the best hot sauce you probably won't find in stores. In the area of the stairs, there is a bunch of seating where you can take your food and enjoy a relaxing meal while people-watching.
There is sometimes live music that is so nice to hear in the background while you talk with your significant other. This is one of the most romantic things to do in NYC because it is simple and cost-effective. You do not have to spend money and just enjoy the company you're with or you can get eat at some delicious places and shop to your heart's content!
Explore Chelsea and the rest of NYC on this sightseeing tour!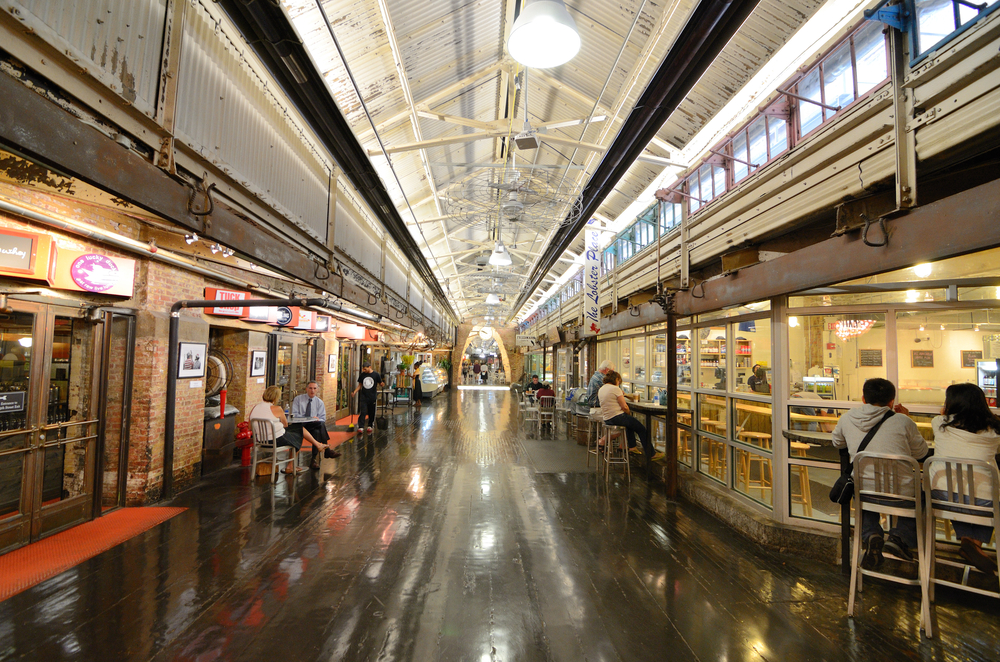 Times Square At Night Is One Of The Most Romantic Things To Do In NYC
Now, this is probably the best romantic things to do in NYC; you see it all the time in movies and TV shows. Couples walking around at night and viewing the city before them, enjoying the blinding lights of the billboards.
Times Square is usually very packed and it can be overwhelming at times but be near your partner and all will be good. As mentioned earlier, the TKTS Booth is in the heart of Times Square and features a large riser where you can sit and enjoy the bustle below.
Snuggle up close to your significant other and have an amazing time talking, or just revel in the fact you are in New York! It is so surreal to be there, take pictures with your partner and create memories that will last long after your romantic trip.
Times Square at night is a completely different world than during the day, the lights seem to shine forever and you don't need to worry about it getting dark. There is plenty of seating, so you can grab a cup of coffee or hot chocolate and sit with your significant other.
New York at night is an amazing sight by itself but Times Square will really give you chills, in the best way. It is one of the most romantic things to do in NYC for a reason; the perfect place the end your night and it is central to so many restaurants. Times Square can also be very romantic if you are looking to propose or say those three little words for the first time!
Explore Midtown and Times Square on this immersive bus tour!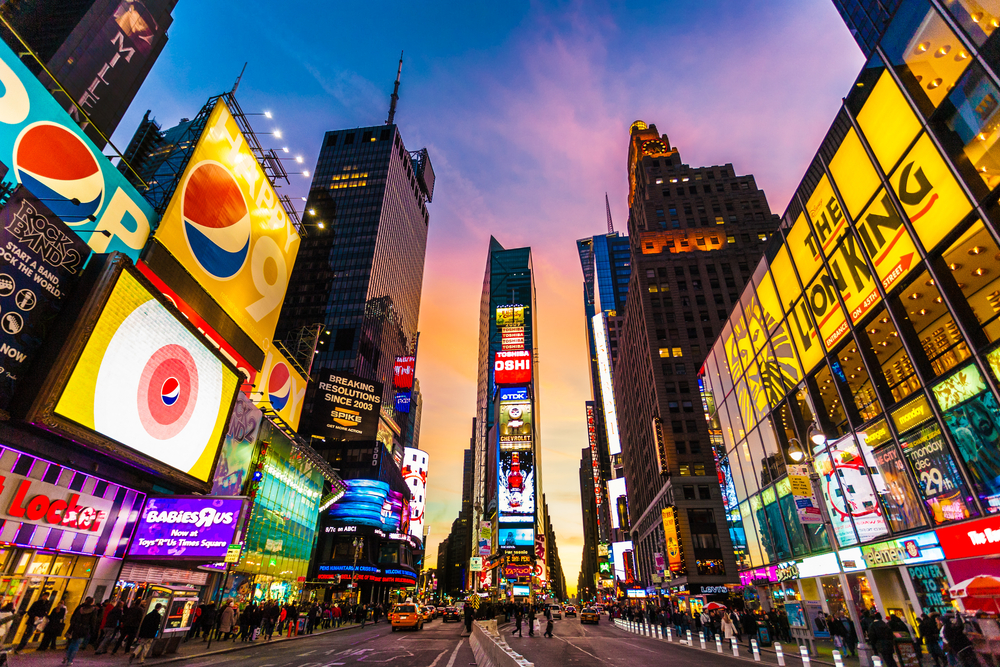 Attend A Jazz Show And Let It Rock Your Socks Off
What better way to savor a night on the town in New York by going to a jazz club? Have a fun night inside a loud and amazing jazz club while you spend time with your partner! Enjoy lively music, food, and drinks at a place that you will never be bored in. Jazz is an integral part of New York, so make sure you go to a club that has history. Listen to music from the greats and upcoming jazz artists, you will be in awe of their talent and love for music.
Visit the Birdland in Hell's Kitchen for a rotation of astounding musicians, they have a large list of bands in residence. Or you can go to Jazz Standard in Flatiron for the classic underground music scene. It is located below the Blue Smoke restaurant, so before you listen to awesome music, have a hearty barbeque dinner. Jazz is known for its romance, so of course, it should be on your list of romantic things to do in NYC! You have a choice of many different places to go and watch a show, so make sure to look close to where you're staying!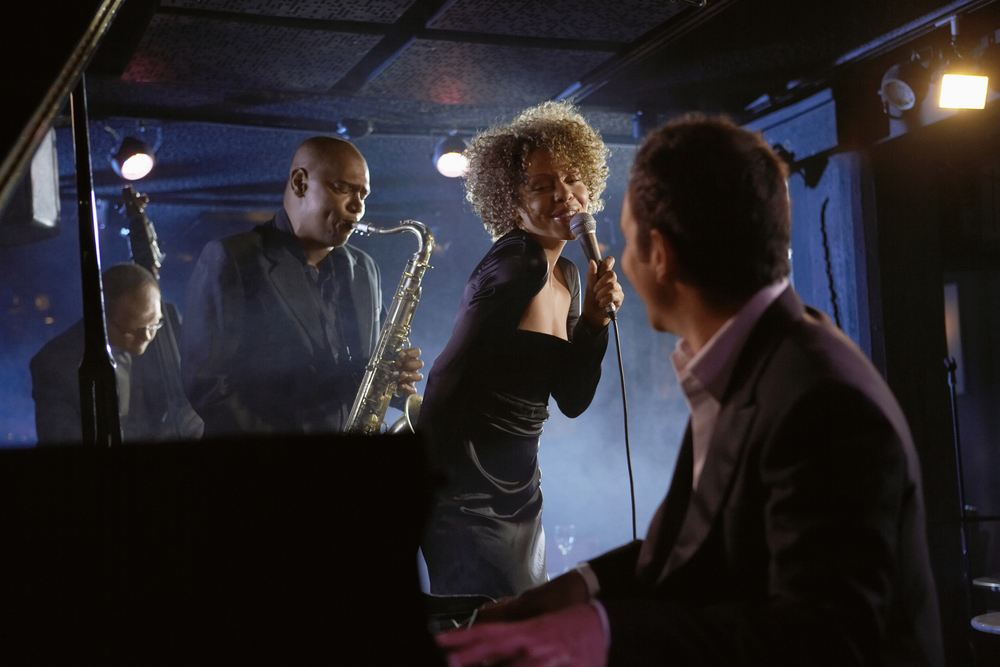 Ice Skating Is The Perfect Winter Date
Although winter can be cold and harsh, it makes for some truly amazing experiences! Traveling to New York during the cold season can be difficult and stressful, but take out your worries with ice-skating. It doesn't matter if you cannot ice skate or you have no balance, that's what the rails are for!
Hang on to your partner and to the wall; laugh at yourself and all of the people struggling to skate while they have a wonderful time. You know you want to be a part of the fun, so just go for it! See the beautiful lights of the city at night while you skate and take in the ambiance before you. This is something you will not forget!
There are a few places that you can skate at, but for most of them, you have to pay to skate. Rockefeller Center offers a unique skating experience as you can reserve a time to go, but be sure that you are able to pay and make it to your time slot! This rink is seen everywhere and is an iconic part of romantic things to do in NYC.
The huge Christmas tree overlooking the rink and the well-known gold statue are all part of this wonderful place, look at the prices and check it out here!
Conservatory Water is a lesser-known but still loved rink that anyone can go to. This area is free for skaters but only during certain times. This location is open when the ice is consistently 6 inches thick, so if you want to go, make sure you call ahead to see if it is open when you go! You must bring your own skates to Conservatory Water, but it is worth it to experience fun times with your partner.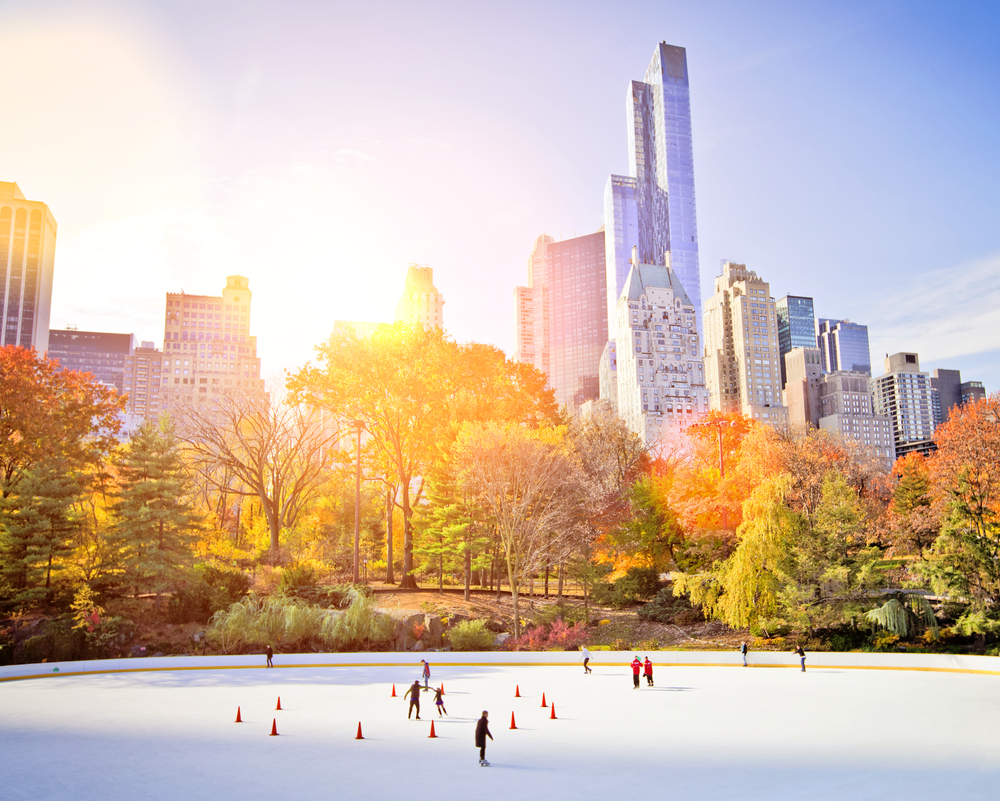 A Horse Carriage Ride Will Be One Of Your Favorite Romantic Things To Do In NYC
Ever wonder what it is like to ride in a carriage? New York has you covered! If you are planning a proposal or special night for your significant other, a horse-drawn carriage might just be the highlight of your trip. You can book different types of carriages, so look to see here what you can get. Tours include specifics like proposal tours, marriage tour, or even a private tour. Your ride can between 30 and 90 minutes, so find the best times for you and your partner!
It is better to book ahead as you can guarantee your ride and if you have any specific requests. Also, the weather might stop you from being able to ride, so look at the weather before your trip to make sure you will be able to experience this magic!
Take a nighttime ride through the beauty of Central Park or ride through downtown on a busy day to get the energetic feel of the city. Plan your magical proposal to your significant other and make them feel like the royalty they are! If you want your engagement to go smoothly and have special surprises planned, this is one of the best ways to do it.
A horse-drawn carriage ride can be an amazing way to end your trip to New York, make sure you plan accordingly. New York is amazing and even better with the person you love, so do some wonderful things and make some beautiful memories!
Book your romantic horse carriage ride through Central Park, Rockefeller, and Times Square!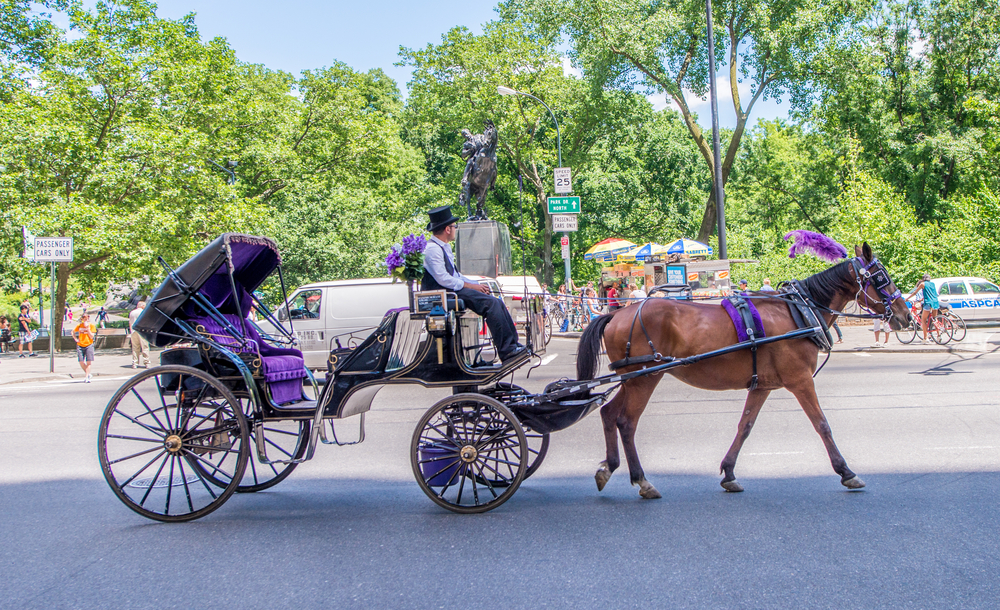 Romantic Hotels in New York
While some New York experiences are romantic and make you feel warm with love, having a romantic hotel to share with the person you love will complete your vacation in the city of lights! Some of the hotels may be pricey, so see what fits you best. Stay in upscale rooms that have all of the amenities you can think of or stay in places that have onsite bars and restaurants.
There are so many to choose from in the large city, your options are limitless. Here are our recommendations for romantic places to stay, be sure to look at each one for the benefits they offer. Check out these romantic hotels in New York below!
LUMA Hotel
One of the top-rated hotels for couples, the LUMA Hotel offers location and comfort! You can find this amazing hotel right next to Times Square and many other New York attractions. Some benefits of booking with LUMA are complimentary Wi-Fi, bathrobe and products, onsite bar, plush beds, and so much more. Look into this hotel for your romantic trip!
Check rates: Booking.com
Carnegie Hotel
The Carnegie Hotel has such a unique look, you might just want to spend more time at the hotel than walking about in the city! Home to custom Italian furniture and modern architecture, this hotel is amazing. Every night they host a complimentary wine hour and offer some delicious cheese to pair with. A few amenities include complimentary breakfast and Wi-Fi, walk-in shower, bath products, comfortable and stylish rooms, location, and a lot more!
Check rates: Booking.com
The Beekman
The look alone of The Beekman will take your breath away! It is very close to the Brooklyn Bridge, so you and your significant other can end your nights watching the sunset and then walk back to your hotel without even breaking a sweat. What is amazing about the Beekman is that the look of it is beautiful and you will never stop turning your head. The Beekman boasts a 9 story atrium with balconies, marble bathrooms, leather headboards, comfortable beds, large bathtubs, restaurants, and I could keep going! This is a highly recommended hotel, especially for couples, so look here for a very romantic place to stay in New York.
Check rates: Booking.com
NobleDEN Hotel
What stands out about the NobleDEN Hotel is the private terraces and balconies offered to guests. Not all rooms come with the private terrace or balcony but it is surely worth spending a little extra for privacy with your loved one. This modern hotel is right next to Little Italy, so if you or your partner is a big foodie, then this is the hotel for you! Little Italy is rich with food, culture, and ambiance, and all three make for a romantic New York getaway. NobleDEN offers its guests private balconies and terraces, free toiletries, a walk-in shower, location, a rooftop terrace, and much much more. Book here for a delicious trip to New York!
Check rates: Booking.com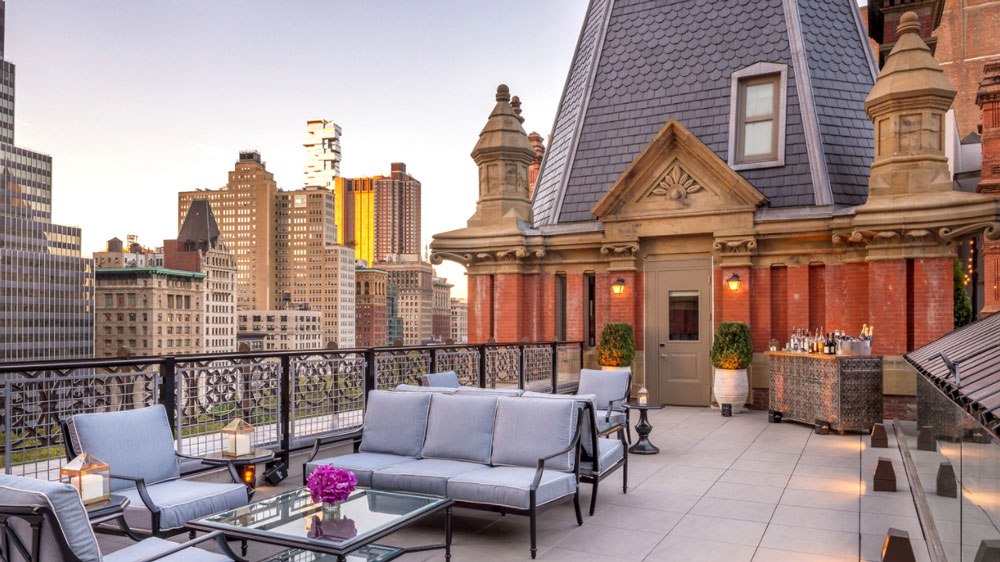 New York is big and wondrous, there is so much to see and do! You and your partner will have an amazing time during your trip and we hope this list helped you find romantic things to do in NYC. Make sure to check out some of the places or activities beforehand so that you know if you are able to do that or not.
It will help keep your trip stress-free and spend as much time with your significant other as possible! The city of lights has endless opportunities and things for you do to with the one you love, especially if you are planning something special. Many places will help accommodate any requests that you might have, so check it out and call ahead to make sure. New York can be very beautiful and inviting, it is awe-inspiring to many couples and we hope to you as well!