Are you looking for the coolest cabins in the USA? This guide has all of the best cabins in America.
There are tons of types of getaways that you can take. You can head into the city for a trip packed with fun, food, and entertainment. You can head to the beach for all the sun and sand you could possibly desire. Or you could escape into the welcoming peace and quiet of a cabin in nature.
If you're hoping for the latter, you're in luck! There are tons of amazing cabins in the USA for your quiet getaway. Pick from a beautiful A-frame cabin near Mount Rainier, handbuilt cabin in Hawaii, or an Instagram-worthy cabin in California.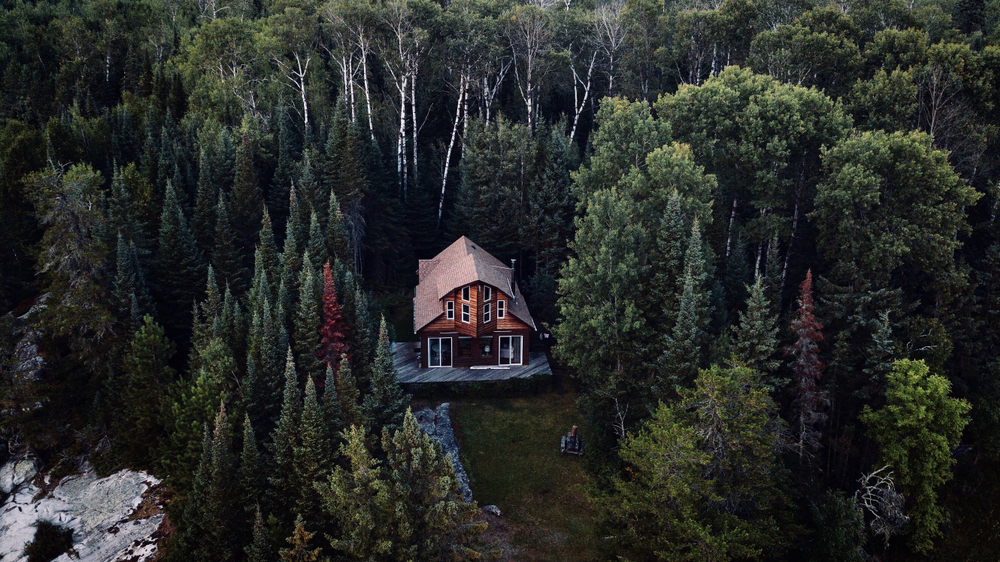 20 Coolest Cabins In The USA For Your Bucket List
Washington Treehouse
This treehouse is a strong start. our best cabins in the USA list. In fact,  Apartment Therapy has called this VRBO "One of the top 10 best rental treehouses in the USA." It only takes one look at the large soaking tub with a view of the evergreen treetops to see why this cabin is head and shoulders above the competition.
Watch the sunrise over Mt. Pilchuck from your sumptuous four-poster bed. Enjoy a cup of tea by the fire, or grill some fresh local food out on the front deck. Despite being a treehouse cabin in the wilderness, this spot boasts lots of luxury finishes. This treehouse would make an excellent romantic getaway!
If you can bear to leave this cozy cabin and its incredible views, the house is close to lots of hiking trails. The owners are also willing to direct you to some of their favorite local hidden gems! If this entry on our list of the best cabins in the USA is right up your alley, definitely check out this article about other cozy cabins in Washington.  
Click Here To Check Rates On VRBO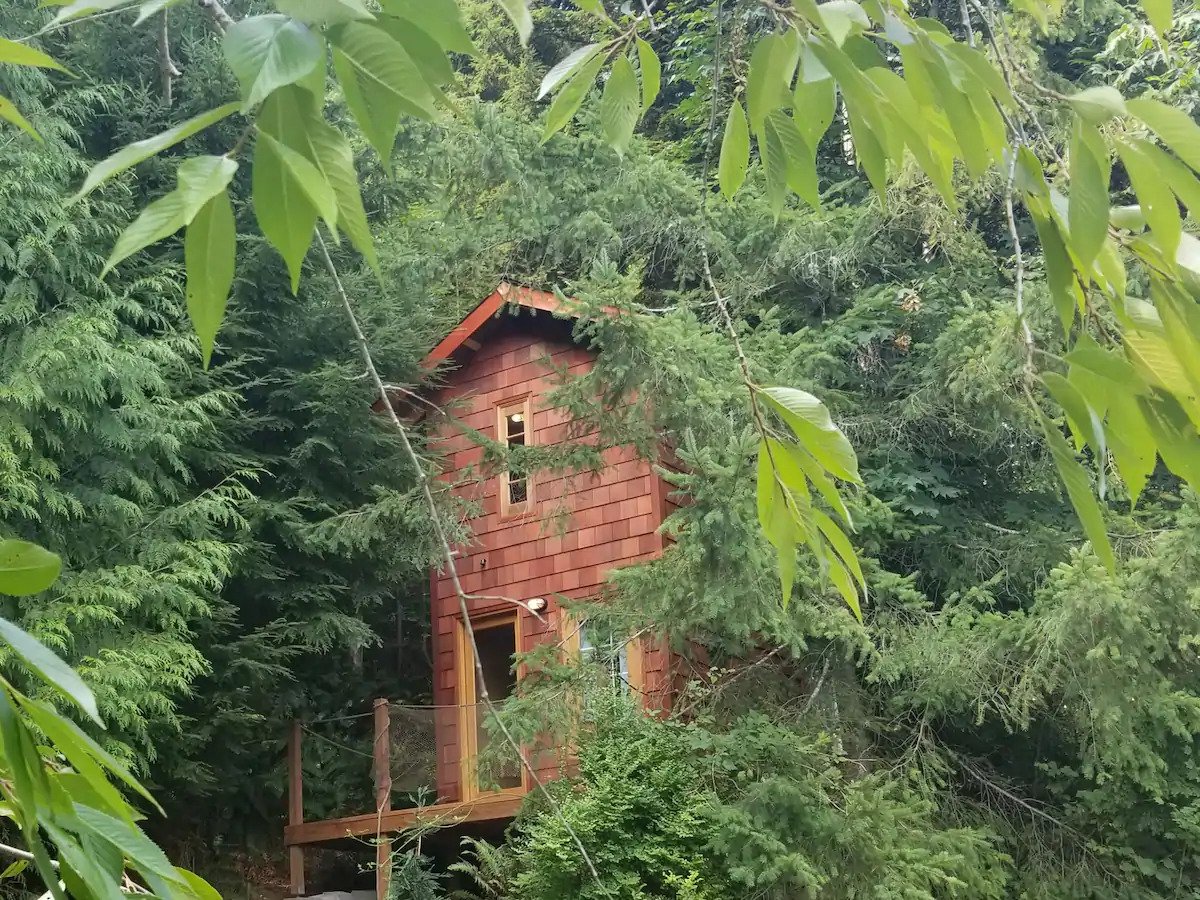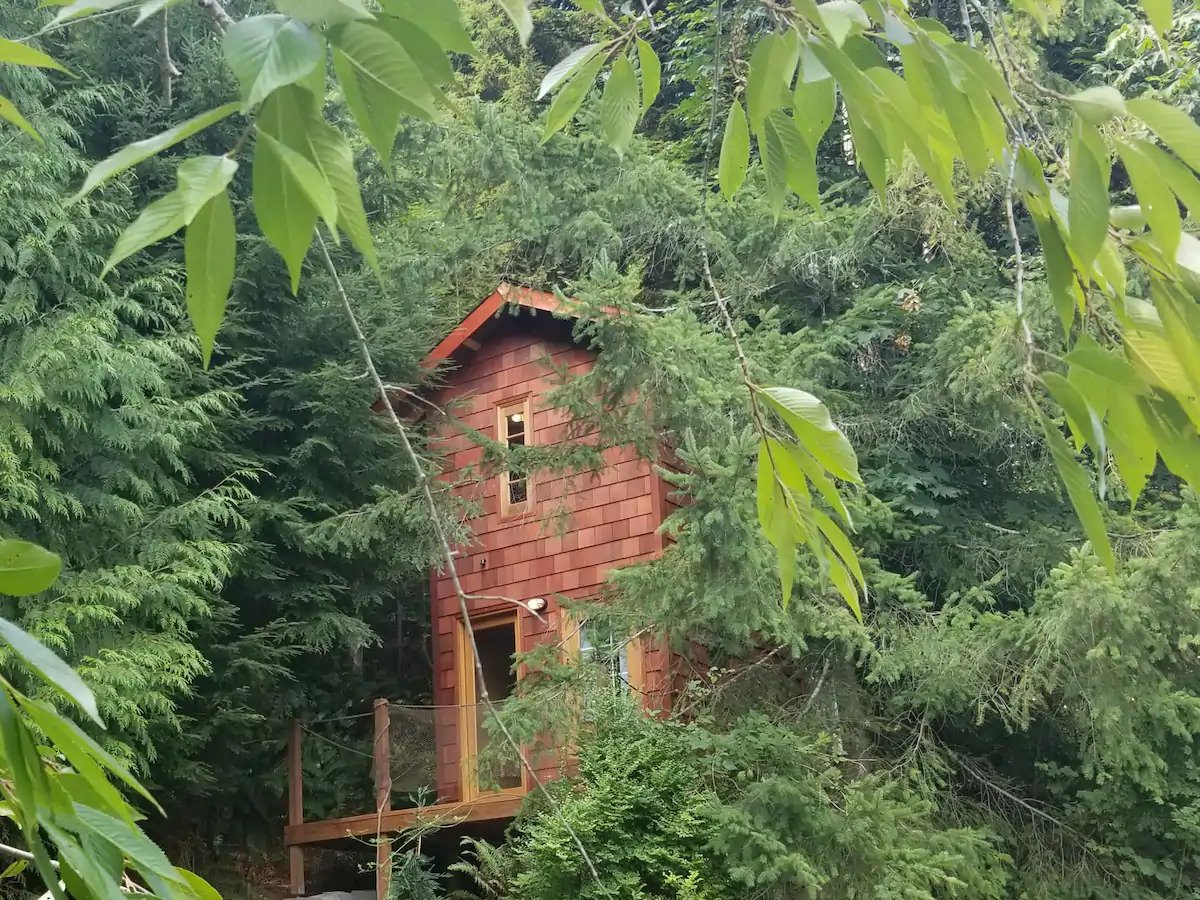 Vintage Maryland Log Cabin
If you're looking the best east coast USA cabin rentals, it really doesn't get better than this! The Charming Cabin's exterior has such cool log cabin vibes. The interior is full of shabby chic charm and is perfect for those who want to experience the comfort of home while staying in a vintage cabin retreat.
This cabin in Maryland was originally built in the 1890s and was renovated in 2016. It features a propane fireplace, a loft with a queen-sized bed, a stocked and fully updated kitchen, a front side porch, fire pit, and a shed for storage. It also is equipped with wifi and a living room tv as well as a bedroom tv. This cabin also made our list of the best cabins in Maryland. 
Take a trip to the nearby skiing resort, kayak or float down the Potomac River, check out the famous Appalachian trail, or go antique shopping. The list of things to do near this Charming Cabin is endless! This is truly one of the best log cabins in America.
Click Here To Check Rates On VRBO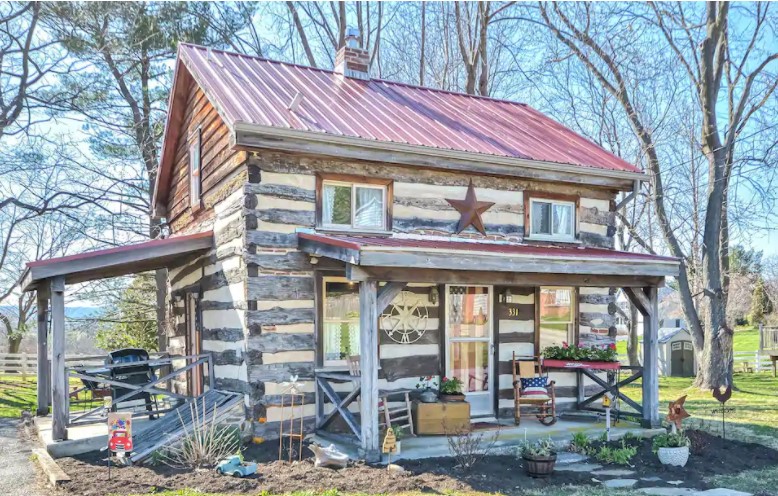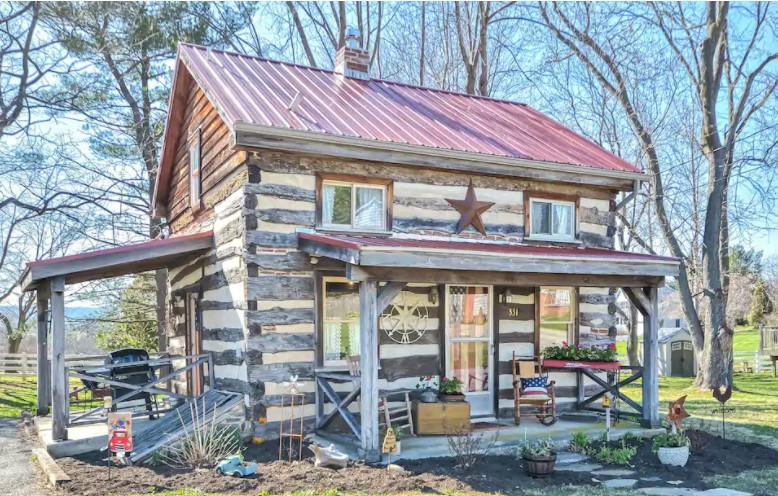 Adirondack A-Frame in New York
A-frame cabins in the USA are such a great choice for a vacation to remember. This particular A frame is in beautiful upstate New York. This is a special entry on our list of the best cabins in the USA due to it's large screened in porch and the awesome community lake right across the street. The rental includes an inflatable two person kayak so you can check out the lake.
This A frame cabin is pet friendly and has a fully fenced backyard for your pets. Coziness is the name of the game at this cabin, with a wood stove, outdoor fire pit, and a huge log pile to keep you toasty throughout your stay. It also has an AC unit and ceiling fans if you're planning to visit in the summer.
You can easily spend all of your trip lounging around in this lovely VRBO. If you do decide to venture out, the Ausable River, Whiteface Downhill Skiing, and Lake Placid are all conveniently nearby.
Click Here To Check Rates On VRBO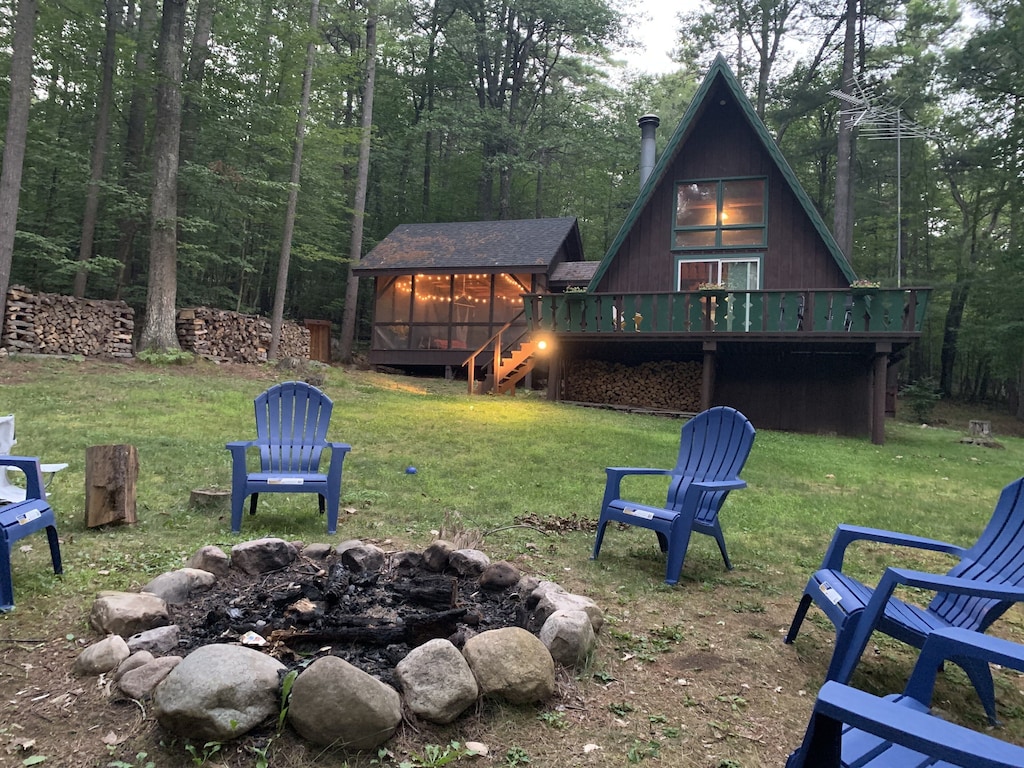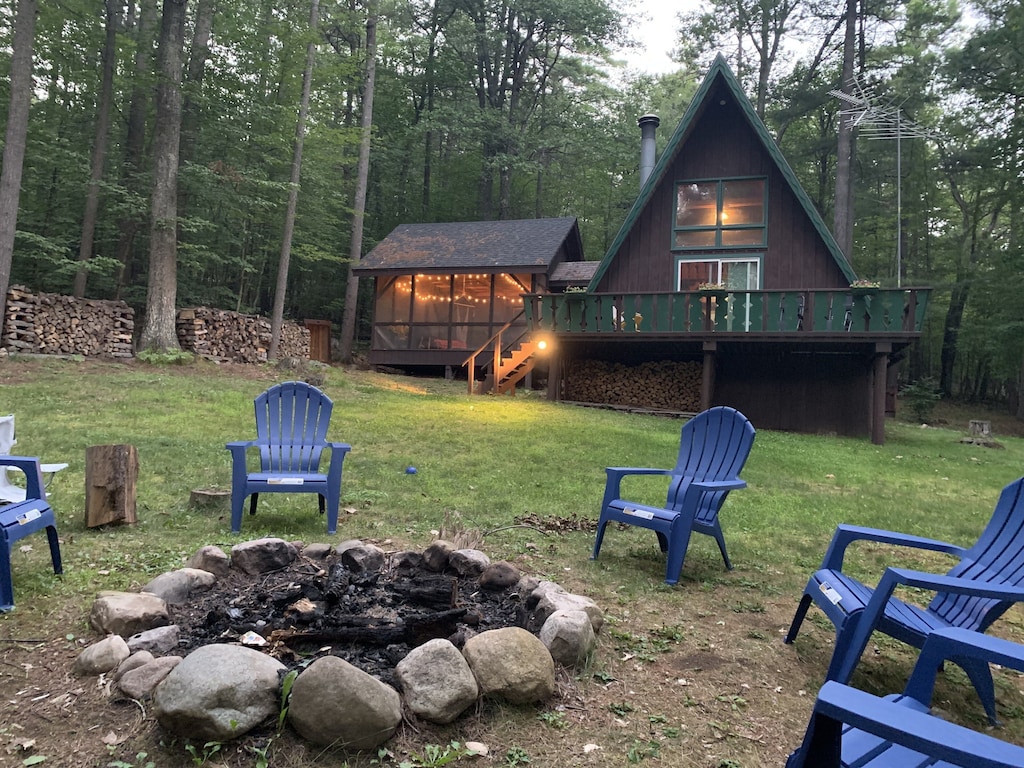 A-Frame Cabin in Ohio
When looking for the perfect USA cabin rentals, you can never have too many A-frame options! This one is located on a sweet farm in Hocking County, Ohio.
The full wall of windows, porch swing style queen bed, hidden bedroom behind a bookcase, an outdoor hot tub and huge indoor soaking tub make this a cabin in the USA to remember. This VRBO has many cool architectural touches like the river rock exterior and beautiful log slice walls inside. You can tell a lot of love went into designing this getaway spot.
This unique 6 sided A frame can accommodate up to 4 guests. The surrounding farm has U-pick blueberries and flowers that would be the cherry on top of this rustic farm getaway. This is definitely one of the best cabins in the Midwest!
Click Here To Check Rates On VRBO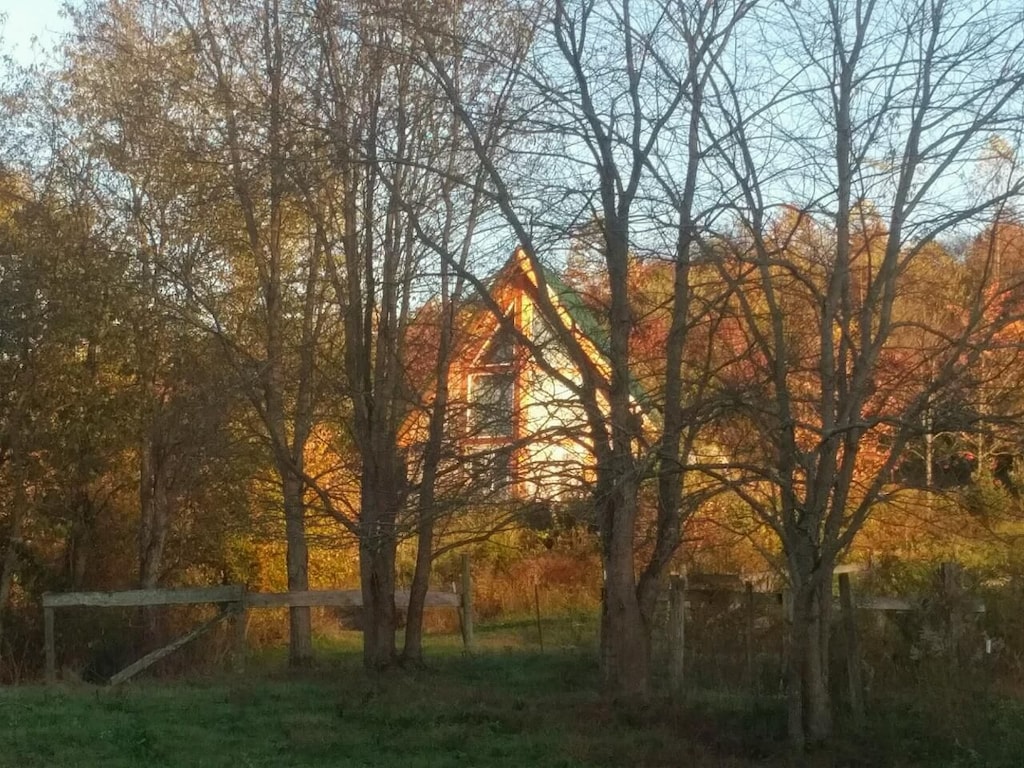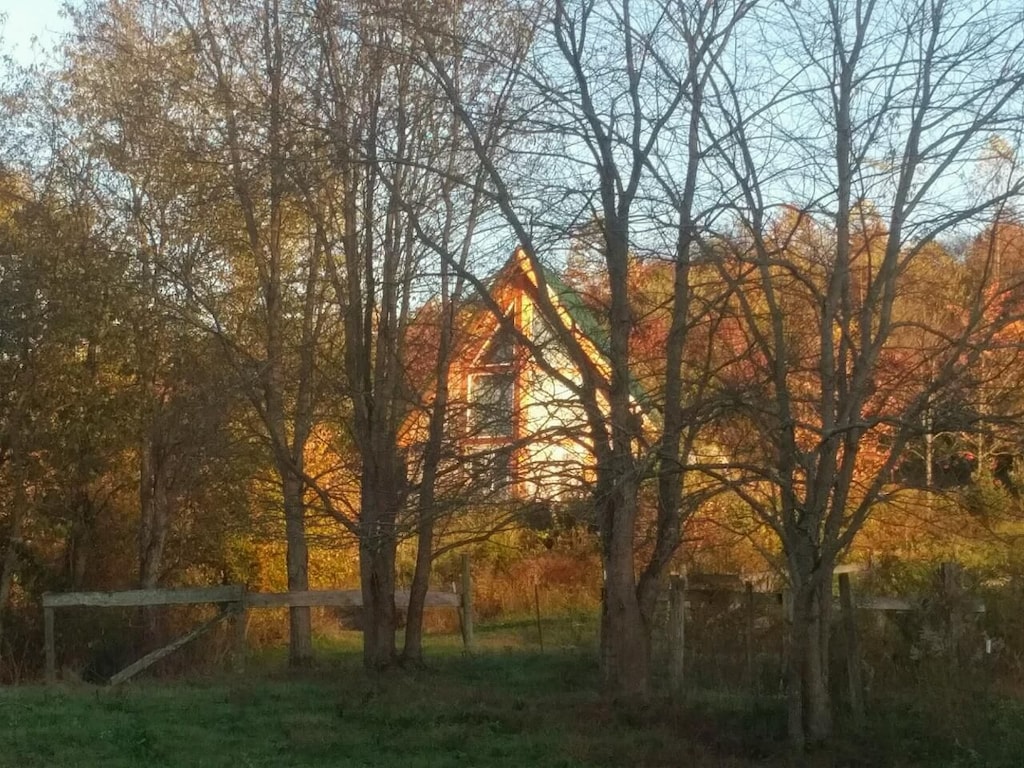 Renovated Hillside Cabin, Gatlinburg, Tennessee
It was hard to narrow down the best Gatlinburg cabins.  We decided this renovated hillside cabin is one of the best in the area, and, due to its proximity to the national park, it is also one of the best cabins in the Smoky Mountains. So what exactly makes this USA cabin so great, you ask? It's simple: the interior design and the location.
Decorated by a professional HGTV designer, there are tons of thoughtful touches found throughout the accommodation. In addition to a bubbling deck hot tub and high vaulted ceilings, this cabin also has stainless steel appliances, cozy pillows, and lively green plants dotted throughout the space.
As for the location, it's nestled near quite a few Tennessee gems. In addition to the alluring town of Gatlinburg and the breathtaking Great Smoky Mountains National Park, this renovated hillside cabin is also just a short drive away from the adorable town of Pigeon Forge, Tennessee.
Click Here To Check Rates On VRBO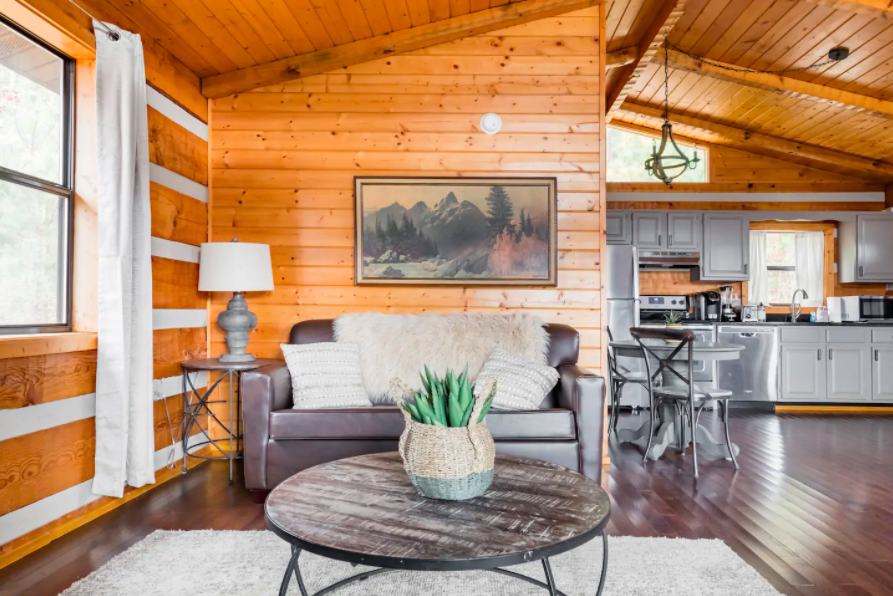 Handcrafted Hawaiian Cabin
Cozy cabins aren't just for cold climates y'all! This entry on our list of the best cabins in the USA is located in tropical Volcano, Hawaii.
This hand built cabin is tucked among old growth Koa and Ohia Lehua trees. It has a sweeping view of Mauna Loa Mountain. This 1200 square foot cabin can accommodate 4 guests in 3 bedrooms. It has 1.5 bathrooms.
The style of this cabin really brings nature in, with lots of huge windows and locally harvested wood details. You will love BBQing on the lanai or relaxing in the hot tub while listening to all the tropical birdsong.
The home's location is just 3 miles from the entrance to Volcano National Park. You can walk to the edge of the caldera from this property in just 20 minutes! This is a perfect vacation spot for those looking to visit the heart of Hawaii.
Click Here To Check Rates On VRBO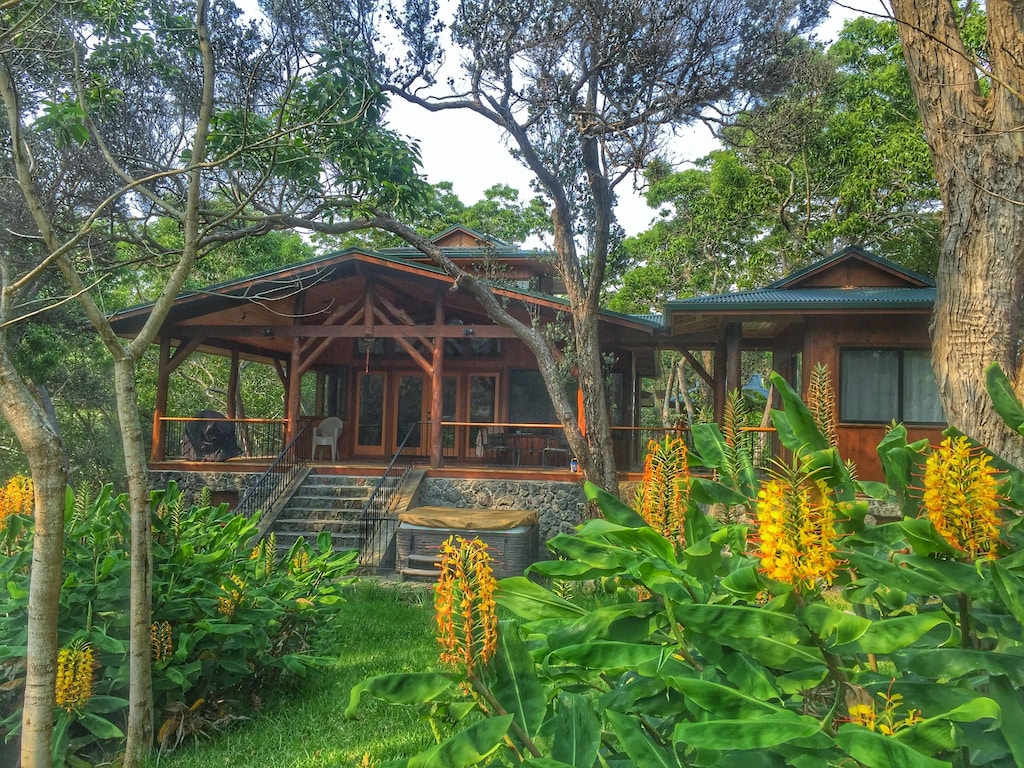 Sycamore Treehouse in Texas
The Sycamore Treehouse at HoneyTree Farm is one of the highest-rated cabins in the USA on this list. While many past guests praised the peace and quiet, others praise the interior design. One guest even compared it to a stunning Pinterest board.
While there are quite a few nature-related things to do in the area, most of the previous guests have seemed to content to just enjoy the cabin and nature around it. Many remarked on the colorful sunrises and sunsets, the greenery-filled nature trail on the property, and the unparalleled stargazing at night.
This definitely stands out among all the best cabins in the South. It is located in the popular vacation destination of the Texas Hill Country.  This cabin is perched on a bluff above Palo Alto creek, which gives it  stunning views of the surrounding hill county.
Click Here To Check Rates On Airbnb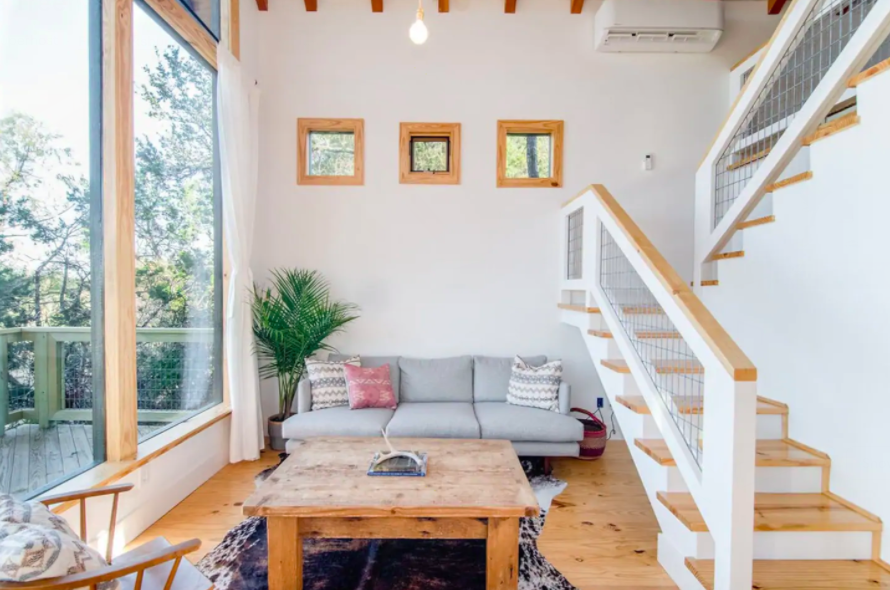 Cabin near Niagra Falls  
As with many of the cabins in the USA, the Cabin near Niagra Falls is a great place to escape the stress of everyday life and venture into nature. This cabin is located right on Lake Ontario in Wilson, NY. It has unobstructed views of the lake and 80 feet of private waterfront. Don't overlook this gem when on the lookout for cabins near Niagara Falls!
This charming cabin has a yard with beautiful old growth trees and lots of grass to stretch out on. The VRBO can accomodate 6 guests in 3 bedrooms. It has one bathroom. It's outdoor firepit and amazing back deck encourages spending time outdoors. If you come at the right time of year you can see the monarch butterfly migration from Southern Canada to Mexico right from your deck! What a magical experience.
This is such a great home base for exploring the Niagra Falls region. The Falls are only 25 minutes from this cabin, and there are so many other beautiful state parks in the area. You can also get to the Canadian border in less than 25 minutes if you feel like exploring Canada!
Make sure this VRBO is on your wishlist of cabins near Niagra Falls! You're sure to have an amazing time soaking up nature at this special VRBO.
Click Here To Check Rates On VRBO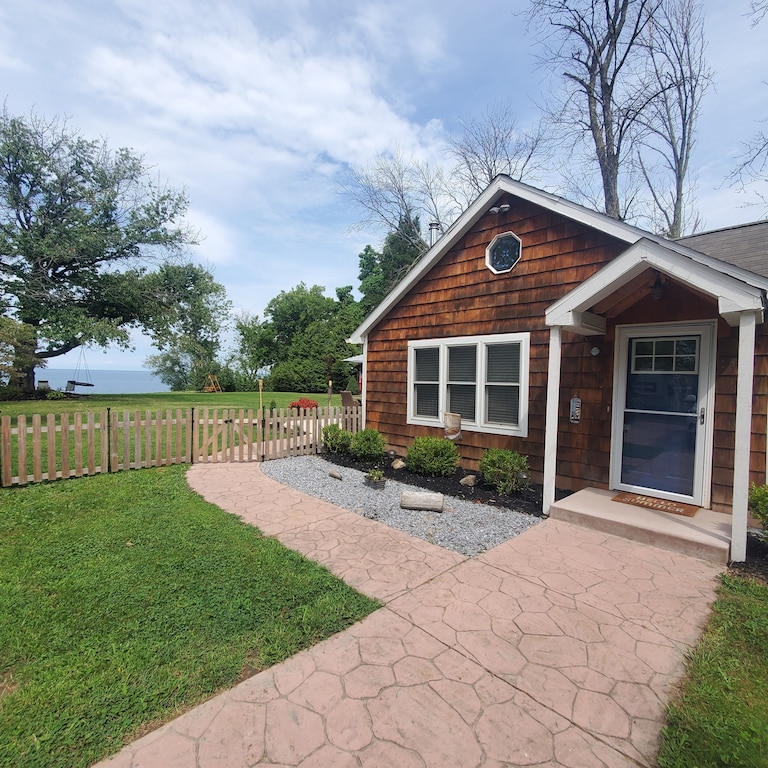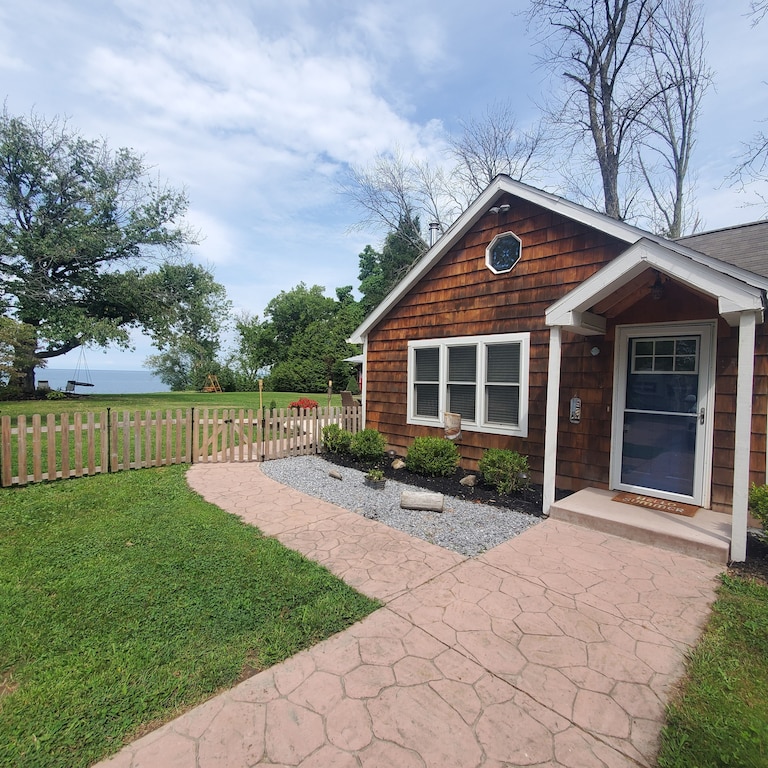 Casa Minnewaska, New York
With sleeping arrangements for 10 people, Casa Minnewaska is the largest of the cabins on this list of the best cabins in the USA. So if you're hoping to take a trip into nature with your extended family or a large group of friends, you should definitely consider this New York cabin rental.
This Airbnb is not only large, but it is also warm and inviting. Bundle together around the vintage fireplace, soak on the hot tub on the deck, or do a little stargazing from the porch.
Should you decide to leave the warm comfort of this cabin, there are a ton of exciting things for you to explore. If you're into hiking, head to Minnewaska State Park. If fishing is more up your alley, make your way to Roundout Creek. Or if you're a rock climber, the Shawangunk Mountains is where you'll want to go.
Click Here To Check Rates On Airbnb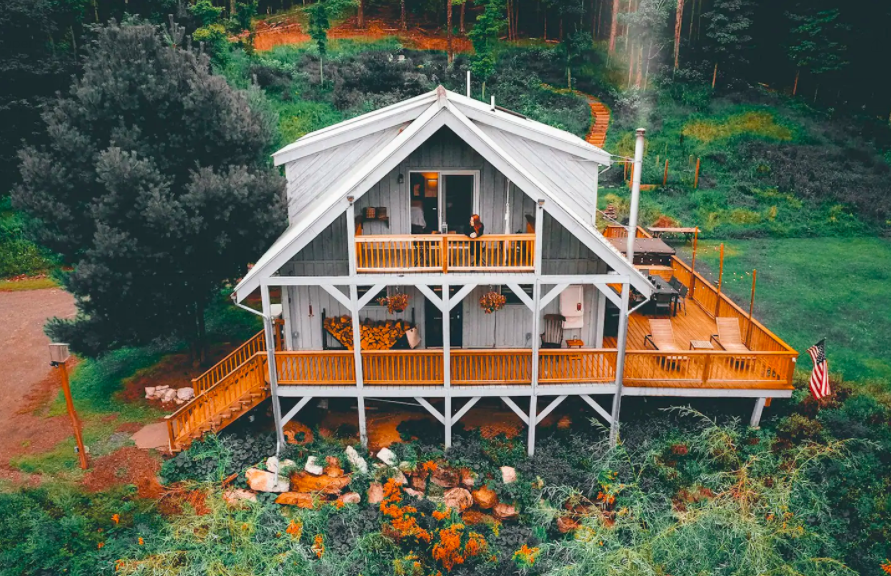 Off-Grid California Cabin 
This cabin might be one of the most secluded cabin rentals in the USA, so if you're looking to really get away from it all, this is your chance. This cabin has 9 acres of private river frontage on the Smith River. This is the most pristine river in the country, it is not dammed at any point. The cabin is completely secluded and 16 miles from it's nearest neighbors.
You'll need to bring everything you need for your stay, it takes 1.5 hours to get to a grocery store or restaurants from this California cabin. However, the river views and absolute wilderness make the long journey in worth it! Wait until you see the stars at night from a place as remote as this.
You'll love rafting the river or experiencing its beautiful swimming holes.  This would make a great additional stop on our Northern California road trip itinerary! 
Click Here To Check Rates On VRBO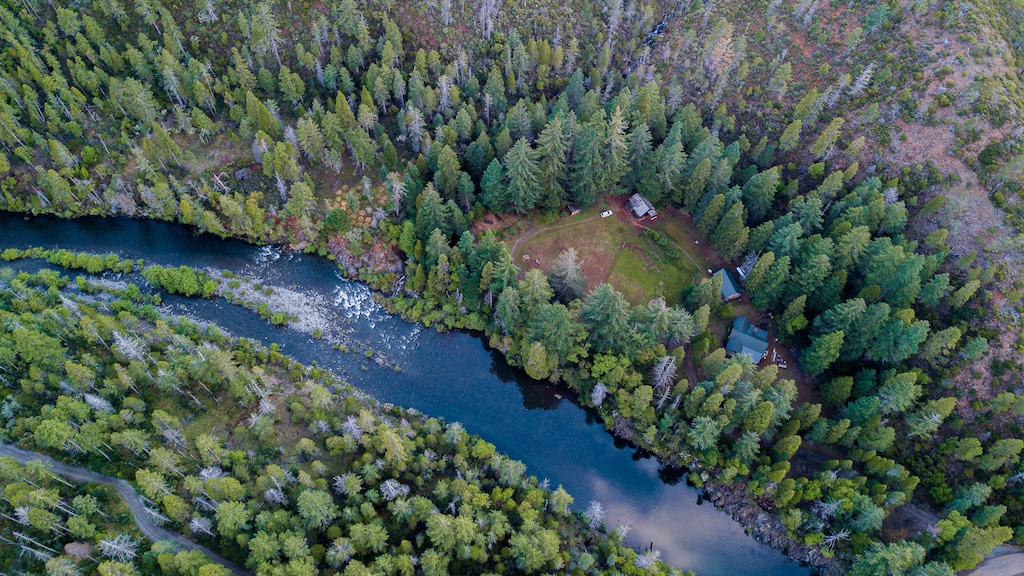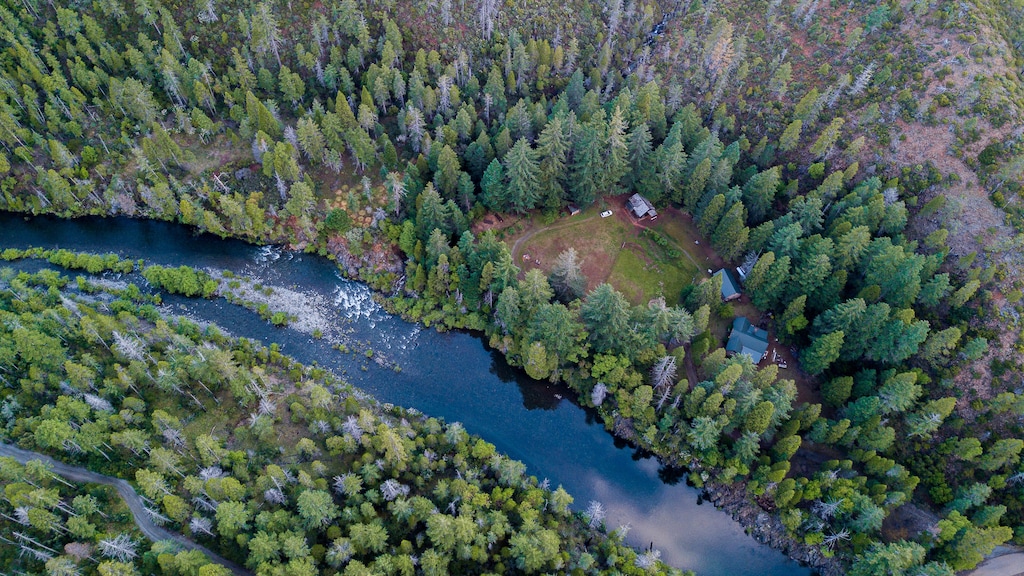 Minimalist Modern Cabin, Morongo Valley, California
The minimalist modern cabin in Morongo Valley, California is by far one of the most unique cabins in the USA. The entire exterior of the building is made with clear polycarbonate. Other than the wooden frame helping to keep the structure up, you'll get an unobstructed view of nature no matter where you in this cabin.
Situated in the middle of a desert, this cabin is also quite different from the forest cabins that dominate this list. Instead of hiking through evergreens or peeping at the fall foliage, you can instead spot some desert wildlife at the Big Morongo Canyon Preserve or take in the sights of Joshua Tree.
Click Here To Check Rates On Airbnb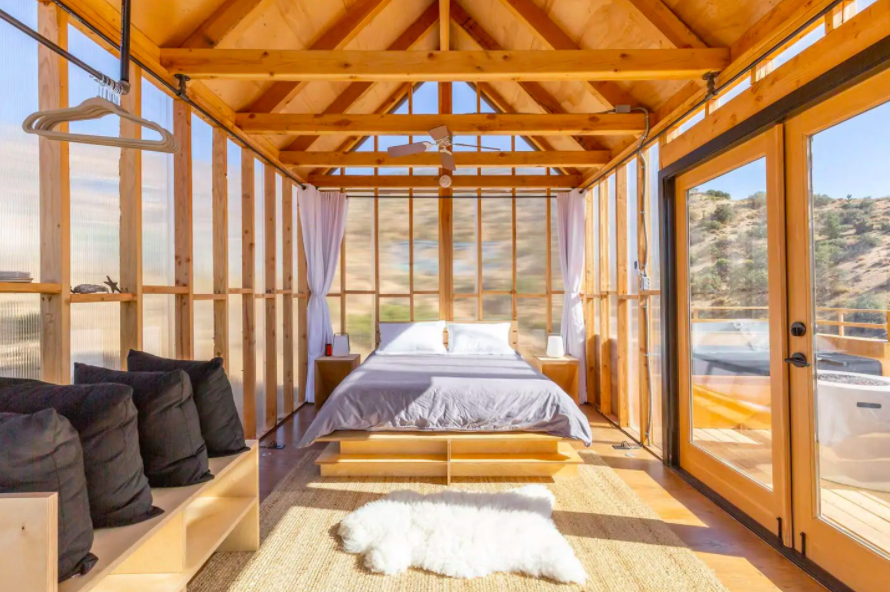 SkyCabin, Skykomish, Washington
Nestled in the tiny town of Skykomish, Washington, the SkyCabin is undoubtedly a fantastic place to stay. This asymmetric home is the perfect home base for a group of six looking to take advantage of all of the beautiful nature that Washington has to offer.
Within just a few miles of the SkyCabin hike, mountain bike, rock climb, kayak, ski, snowboard, and snowshoe as much as you would like (depending on the time of year of course). As a matter of fact, this cabin is only 12 miles from Stevens Pass, one of the best skiing spots in the state. 
Click Here To Check Rates On Airbnb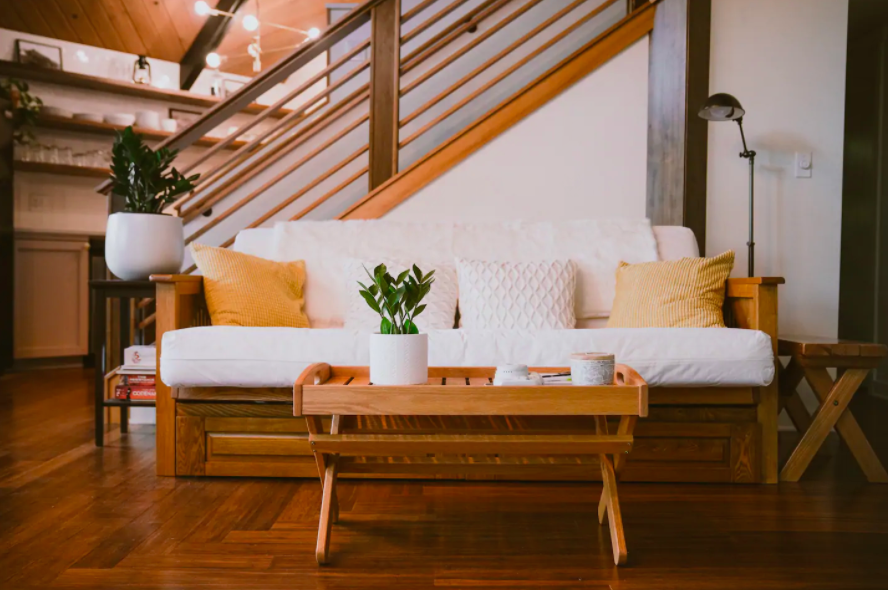 The Box Hop, Rockbridge, Ohio
The BoxHop is one of the most sought after cabins in the USA. As a matter of fact, it's often fully booked up to a year or even two in advance! In other words, you should definitely book it if you get the chance.
One of the things that makes The Box Hop so amazing is the location. Located near Hocking Hills State Park, this vacation rental gives guests easy access to amazing sites like Old Man's Cave and Cedar Falls.
But the wonderful nature of the location shouldn't cause you to overlook the intriguing architecture and décor of The Box Hop. As the name implies, The Box Hop is in fact, shaped like a box – three boxes to be exact. To be more specific, this unique cabin rental is made of three revamped shipping containers. And while that might sound a little rustic, the inside is furnished with everything you could want, including sleeping arrangements for six, a stocked kitchen, and even a large hot tub. 
Click Here To Check Rates for the BoxHop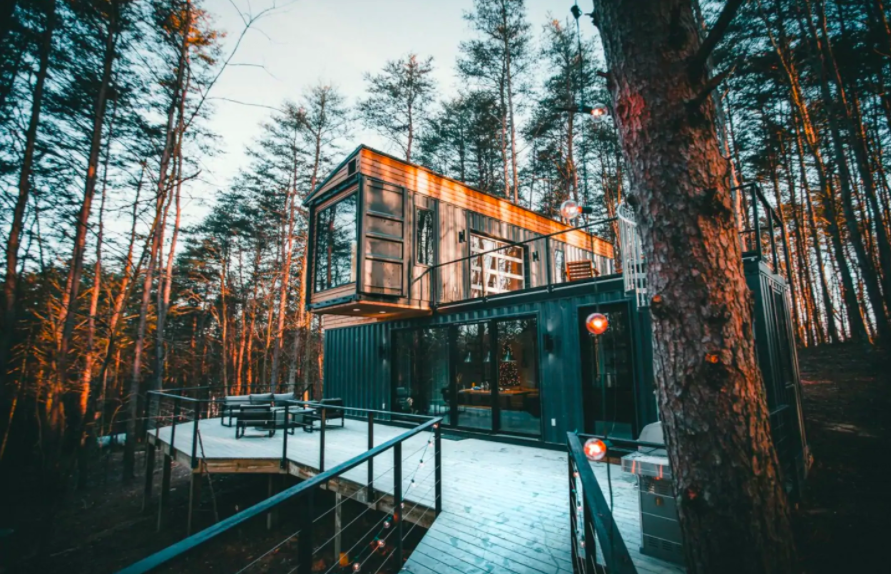 Moose Haven Cabin, Walden, Colorado
While there are thousands of Airbnbs in Colorado to choose from, Moose Haven Cabin is definitely one that you should consider. This A-frame house is larger than most and can sleep up to five guests within its wooden walls. The hosts also allow pets. It also has access to private trails on the property!
This no-frills cabin is perfect for exploring the wonderful nature and mountains that Colorado has to offer. Please note that the cabin has separate composting bathroom 20 feet away from the cabin and a shower house set 100 feet away from the cabin. Ski, snowshoe, hike, and bike throughout the land surrounding the cabin. Keep an eye out for horses, alpacas, and llamas. Then, head back to Moose Haven Cabin for a good night's rest.
Click Here To Check Rates On VRBO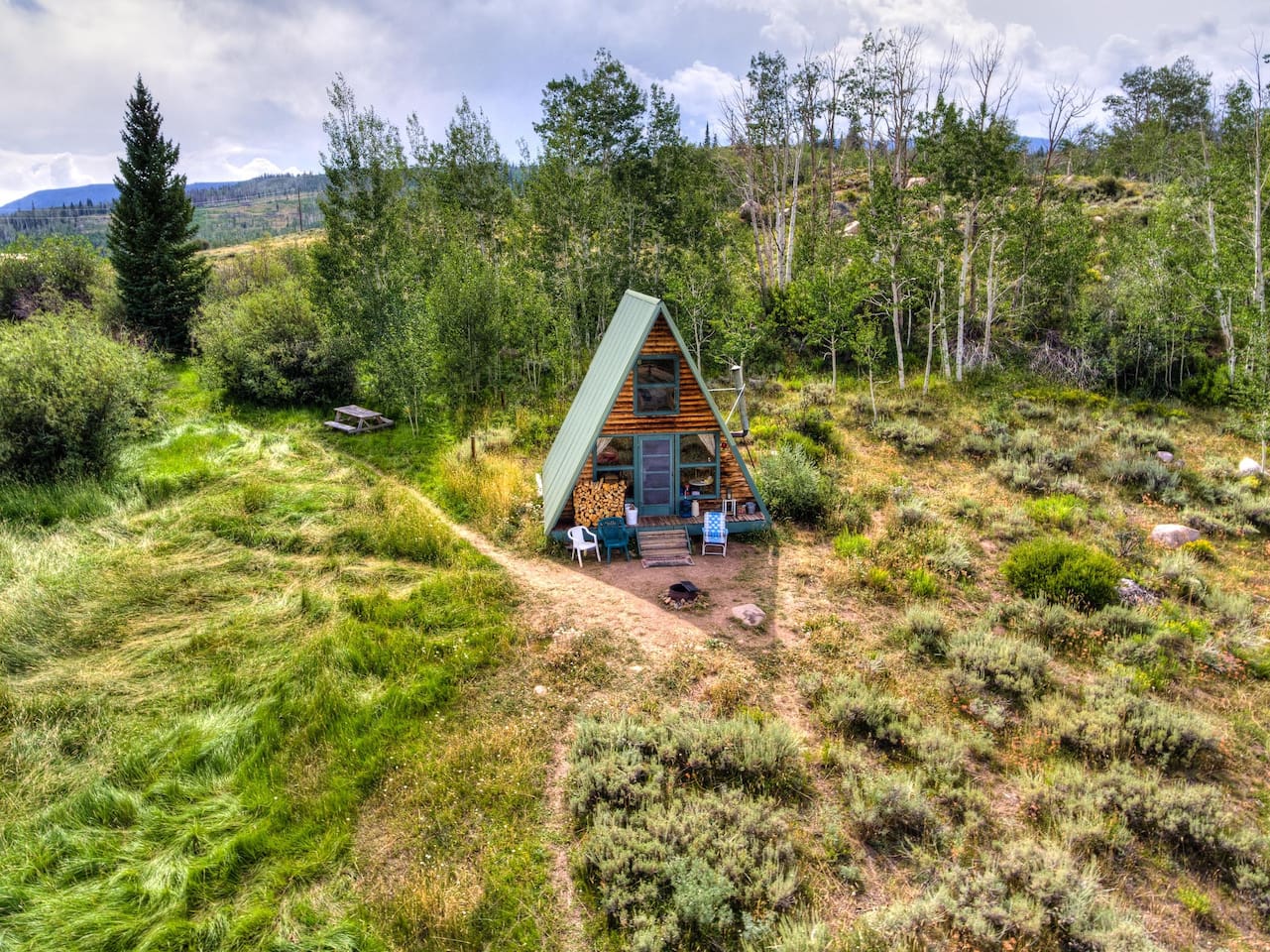 Classic Minnesota Cabin
Are you looking for the best cabins in the Midwest? We've found a great option for you! This classic Minnesota cabin is so warm and welcoming.
This sweet 1020 square foot cabin was built in 1958 and lovingly renovated in 2011. It is situated on crystal clear Lake O'Brien, which is the cleanest lake in the entire watershed district. The house comes with a 4 person paddleboat, a pontoon boat, and a canoe so your whole crew can get out and enjoy the lake!
This cozy cabin truly shows off the best in that famous Midwestern hospitality! You'll love the warm wood-paneled interior and all the beautiful outdoor spaces, including a fire pit and a dock.
Click Here To Check Rates On VRBO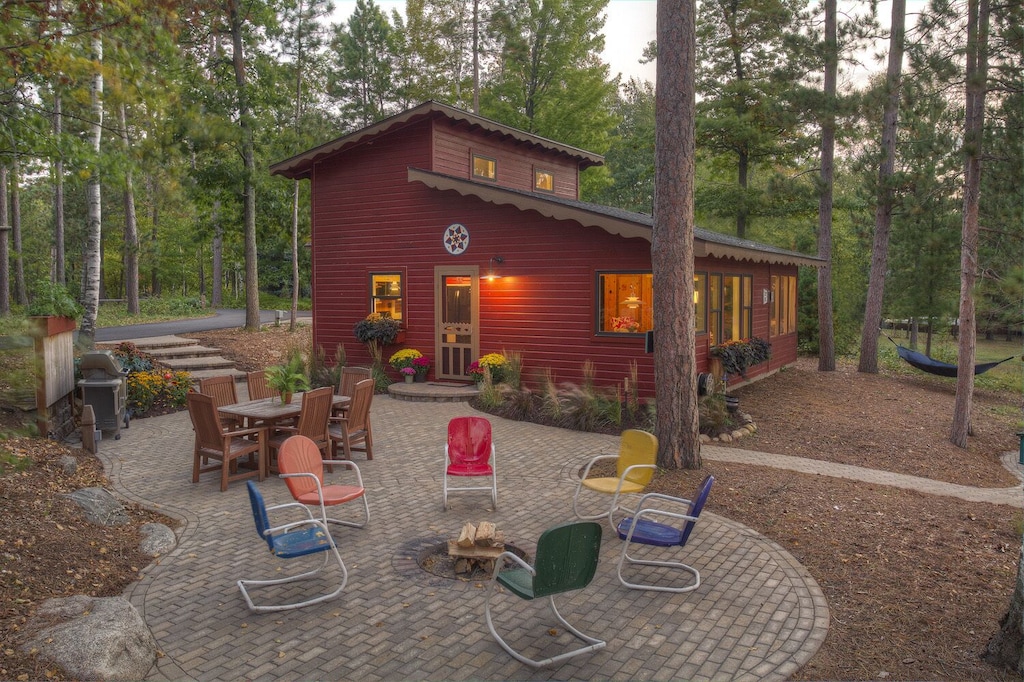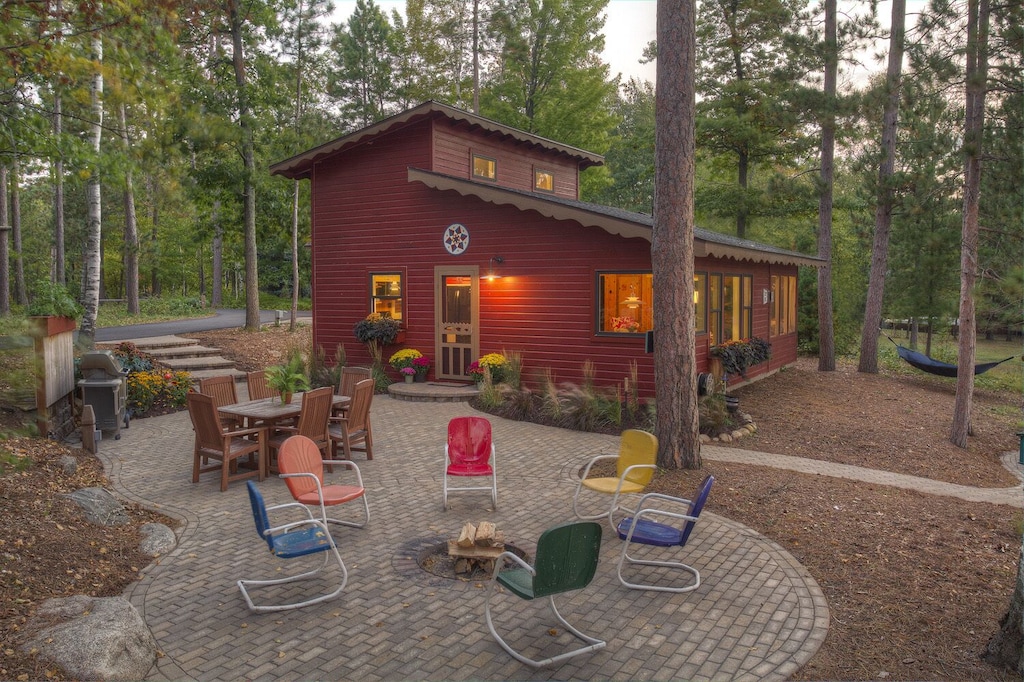 Architectural Beauty In The Woods, Royse City, Texas
One of the coolest cabins in the USA is this architectural beauty in the woods in Texas. Designed by the famous architect Frank Lloyd Wright, there are tons of eye-catching structural features in this Airbnb. With a seamless wooden-and-brick exterior, a see-through fireplace, and stained-glass windows, there truly is no other cabin in the USA quite like it.
While there isn't much to do in the nearby area, you can easily spend all of your time in your lovely cabin. And this architectural beauty also makes for a great place to spend a night on your Texas road trip.
It is important that this cabin is part of a series of cabins in the area. So while the property with all of the cabins is secluded, the individual cabins are not secluded from each other.
Click Here To Check Rates On VRBO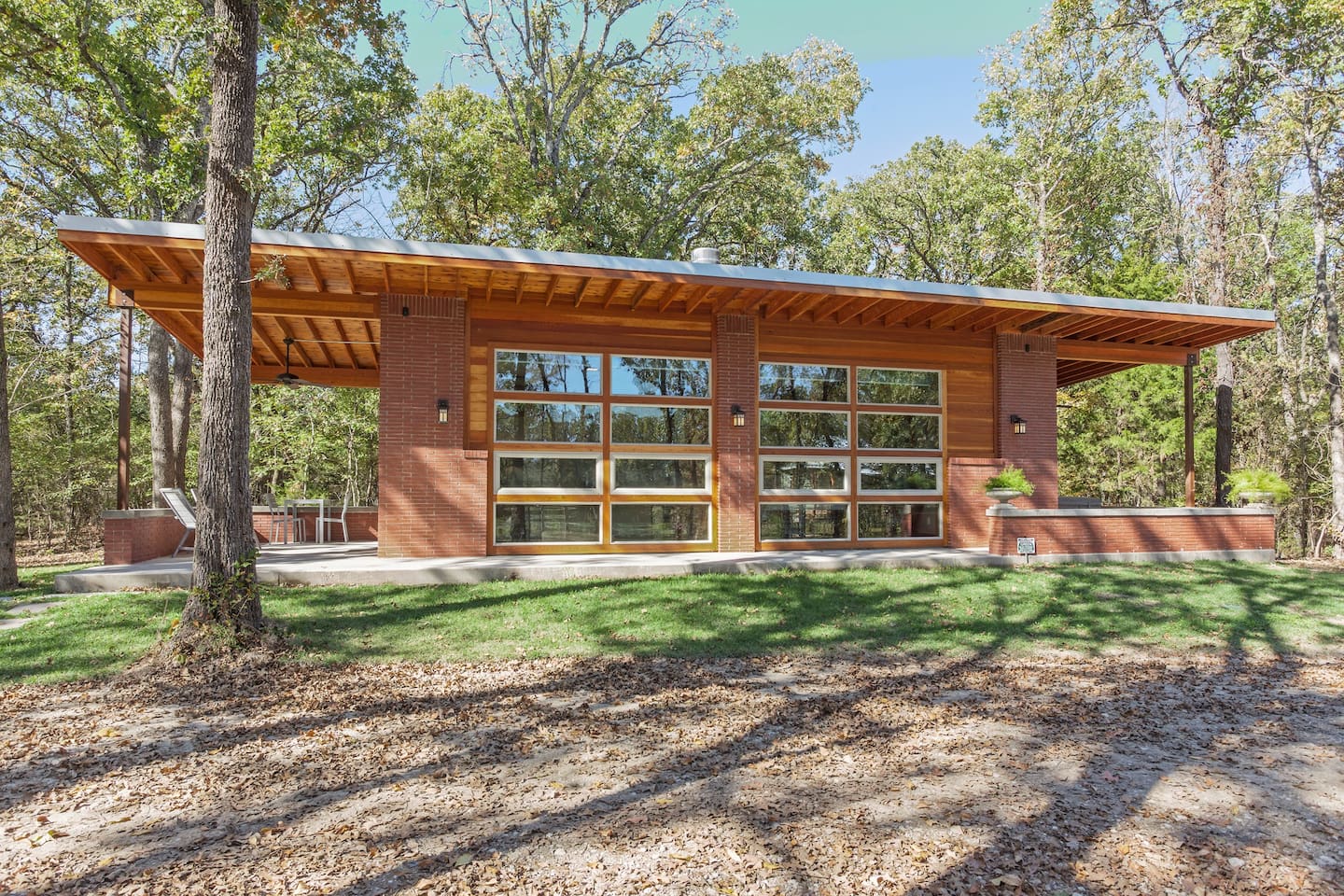 Pigeon Forge Cabin, Tennessee
Welcome to one of the best log cabins in America! Located in the highly sought-after Pigeon Forge, Tennessee this cabin makes a perfect home base for exploring the area. The cabin sleeps 10 guests in 3 bedrooms. It has 3 full bathrooms and 2 half bathrooms.
You'll love the outdoor hot tub and incredible mountain views. Inside the cabin is just as special, with warm wood tones throughout, cathedral ceilings in the family room and kitchen, and a really cool game room! This cabin really combines the best of luxury and rustic accommodations. Make note of this special VRBO for the next time you're looking for the best cabins in Pigeon Forge!
Click Here To Check Rates On VRBO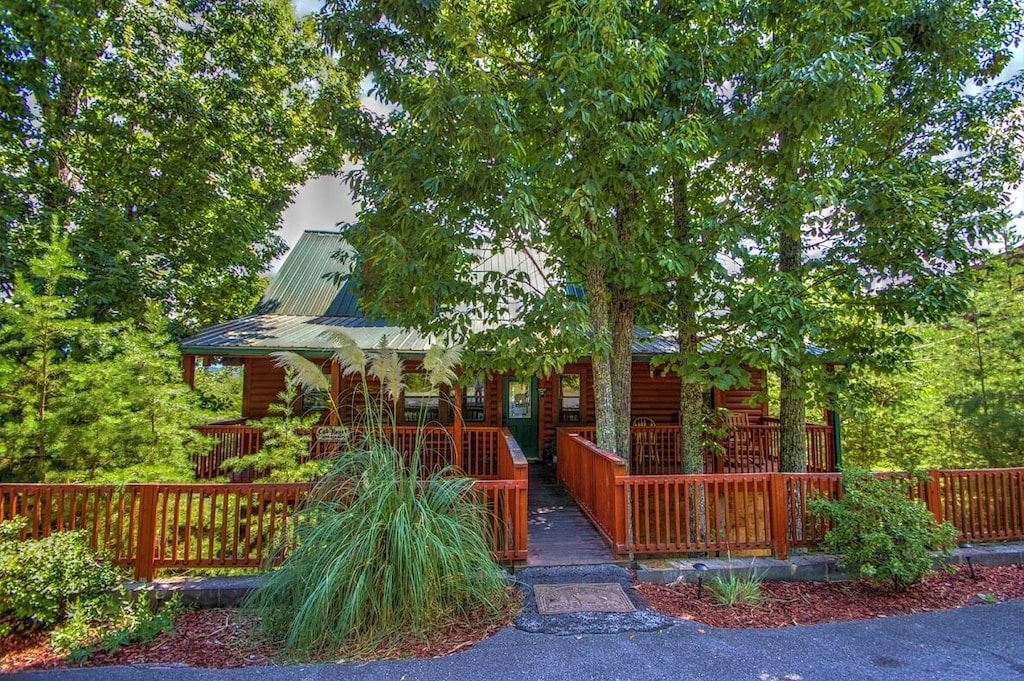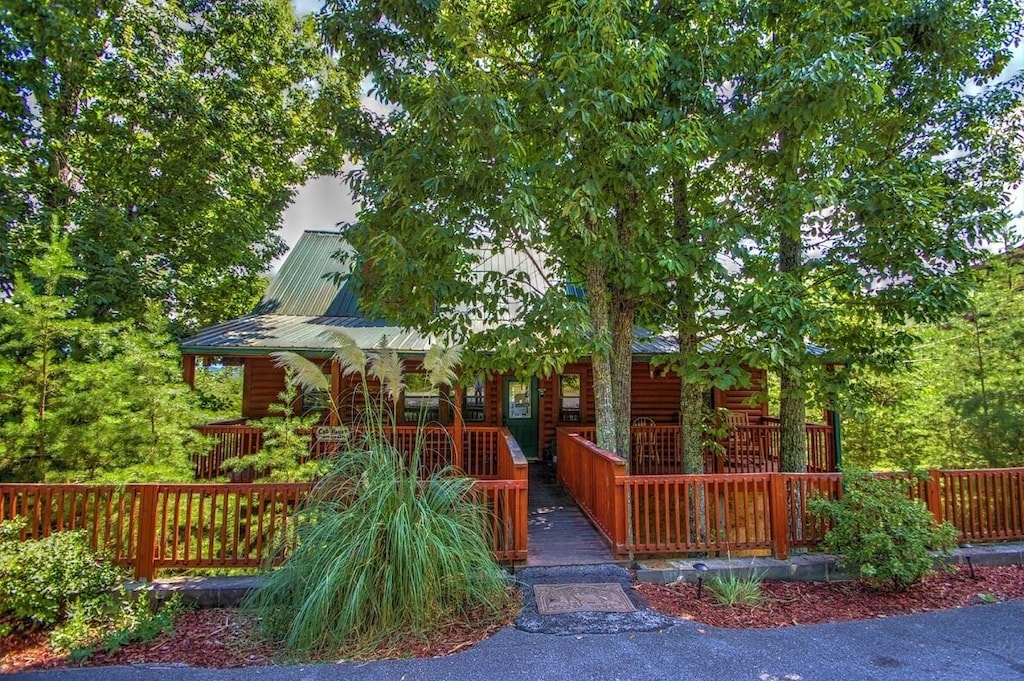 Poconos Hideaway with Pool, Pennsylvania
If you've been on the lookout for cabins with indoor pools in the USA, then this Ponocos cabin is the place to be! The awesome pool is the crown jewel of this entire lodge. With a pine shiplap lining the cathedral ceiling and large skylights, it is undeniably gorgeous. This indoor pool is heated, and perfect for a cold winter swim or a jaunt in the warm weather.
This has to be one of the top cabins with indoor pools in the USA! The rest of the cabin is awesome too.  Large groups will find the 8 bedrooms beyond comfortable. The game room is sure to be a crowd-pleaser. It is super close to some of the most popular Pennsylvania ski resorts, water parks, golf courses, and, of course, hiking. The décor will make you nostalgic with its vintage nautical charm.  If this is right up your alley, you may want to check out this article for more cabins with indoor pools in the USA.
Click Here To Check Rates On VRBO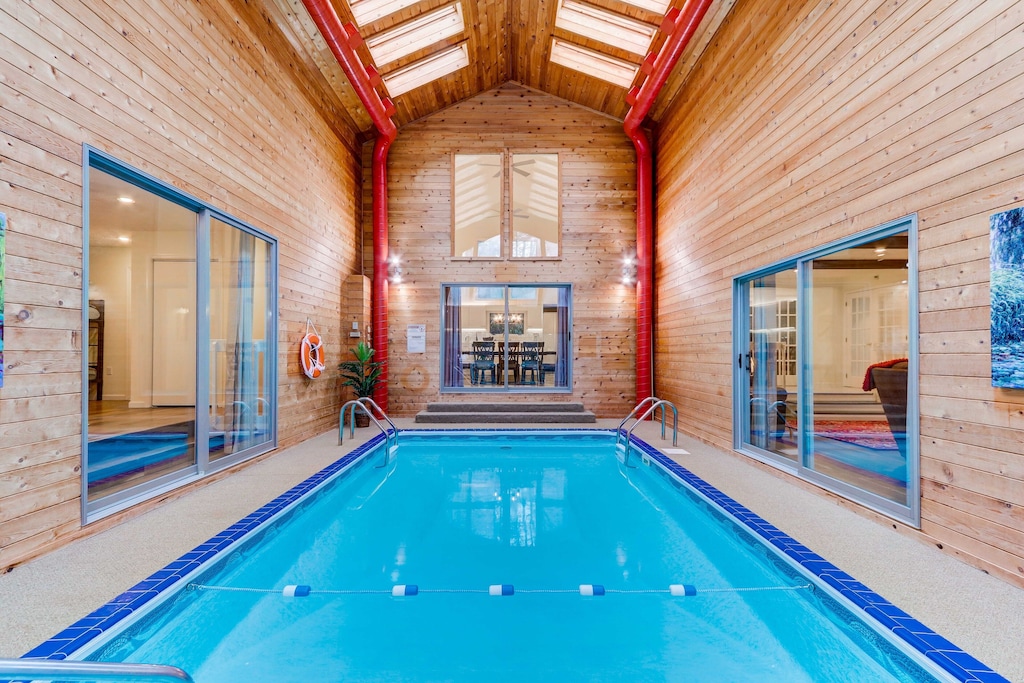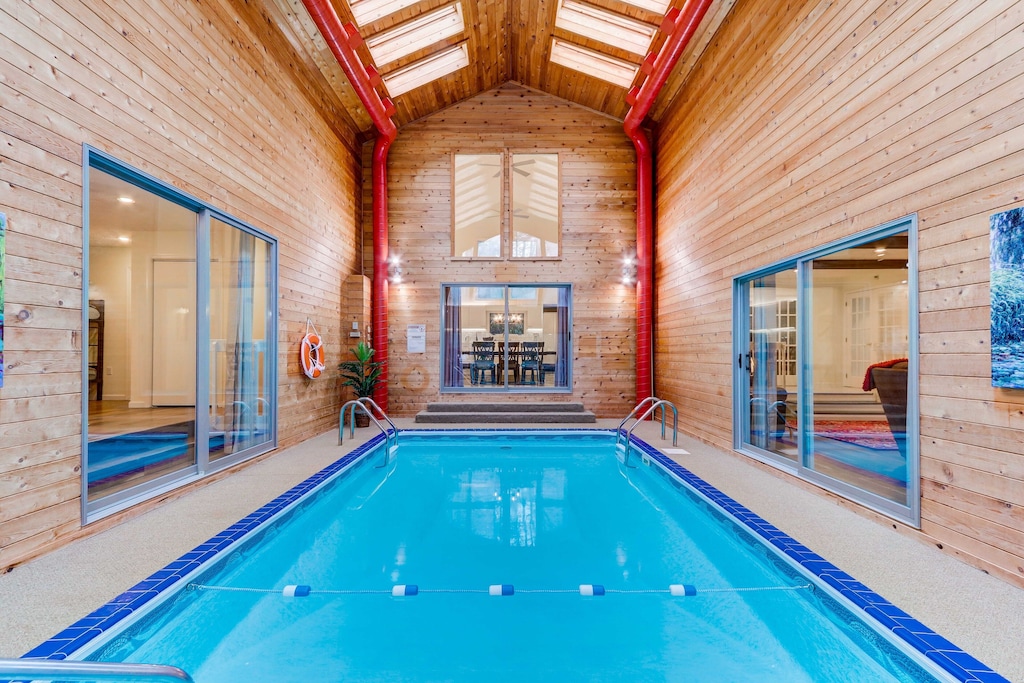 Eagle's Nest Cabin, Oregon
Love the forest and the beach? While staying at the Eagle's Nest Coastal Cabin you don't have to choose which one is your favorite. Experience both from one of the best cabins in Oregon! This cabin was built on the ocean edge of Neahkahnie Mountain to give you an incredible bird's eye view of the coastline and surrounding old-growth forest.
This spot has all the PNW cabin features we love- a wood stove, exposed beam redwood ceilings, as well as so many cozy wood and stone textures and features. The skylight over the loft bed with an incredible forest view is the perfect place to unwind from your day of Oregon Coast adventures. This VRBO can host 4 guests. It has 2 bedrooms and 1.5 bathrooms.
Click Here To Check Rates On VRBO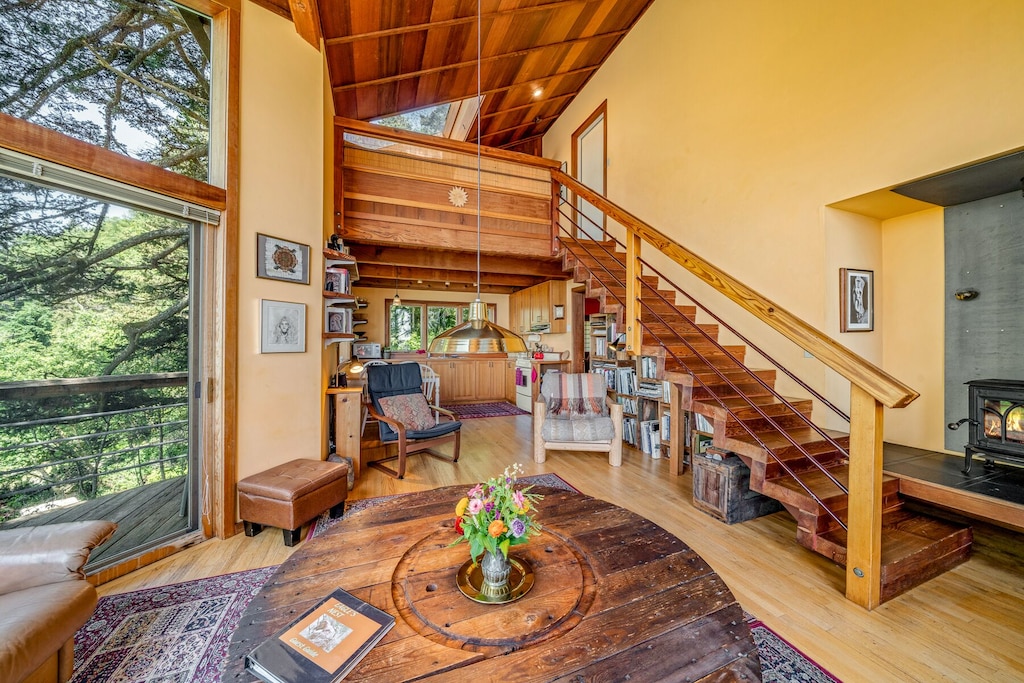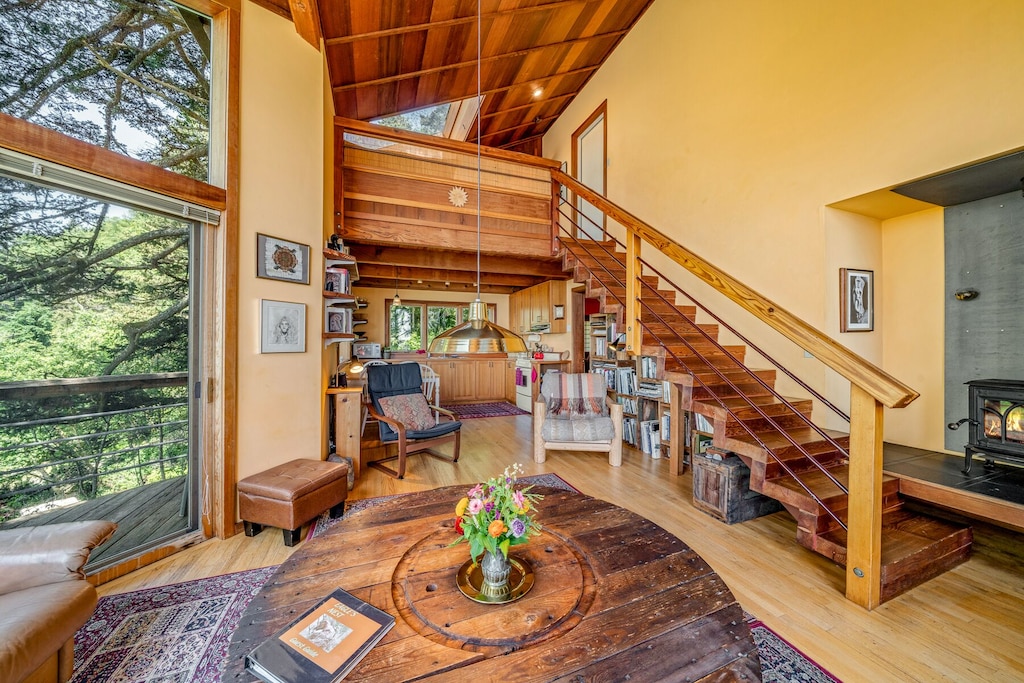 Mt. Hood Cabin, Oregon
No West Coast Road Trip is complete without seeing the splendor of Mt. Hood. This bear-themed cabin makes an adorable home base for mountain adventures. The 1,000-square-foot cabin can host 6 guests. It has 2 bedrooms, and 1 bathroom, and can host 6 guests.
The rustic charm of this cabin is only heightened by the abundance of cute bear-themed art! You're sure to love the spacious back deck with a grill and private hot tub. Imagine eating dinner and then having a soak out in the beautiful misty forest of the Pacific Northwest. The property also has a fire pit so you can truly get that outdoorsy camping feel before heading back to your warm bed inside the cabin. This is a standout choice among all the entries on our list of the coolest cabins in the USA.
Click Here To Check Rates On VRBO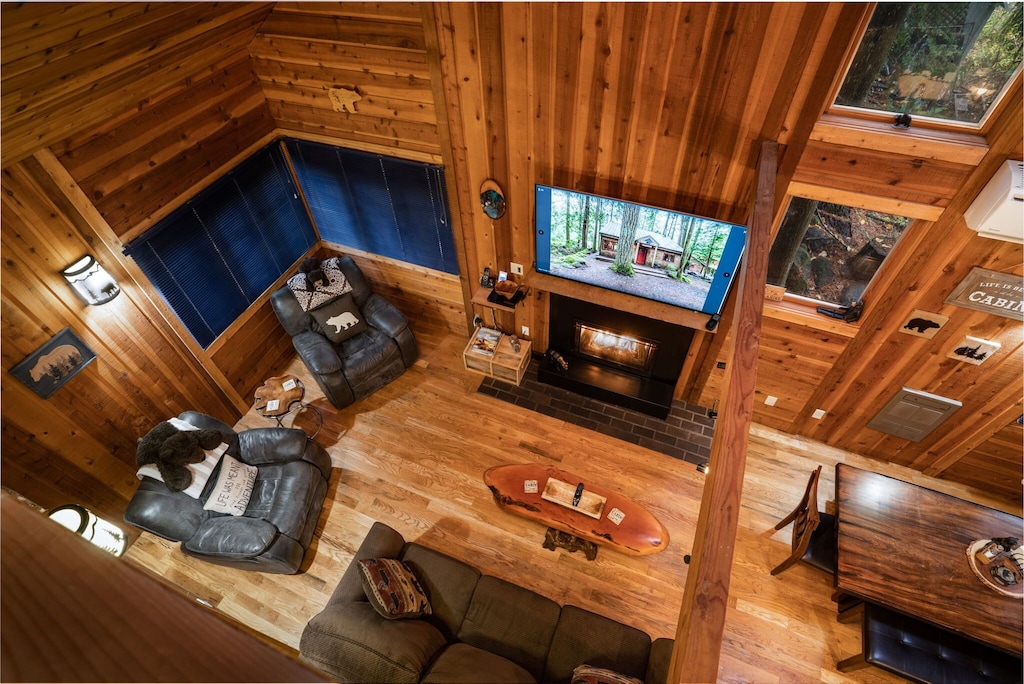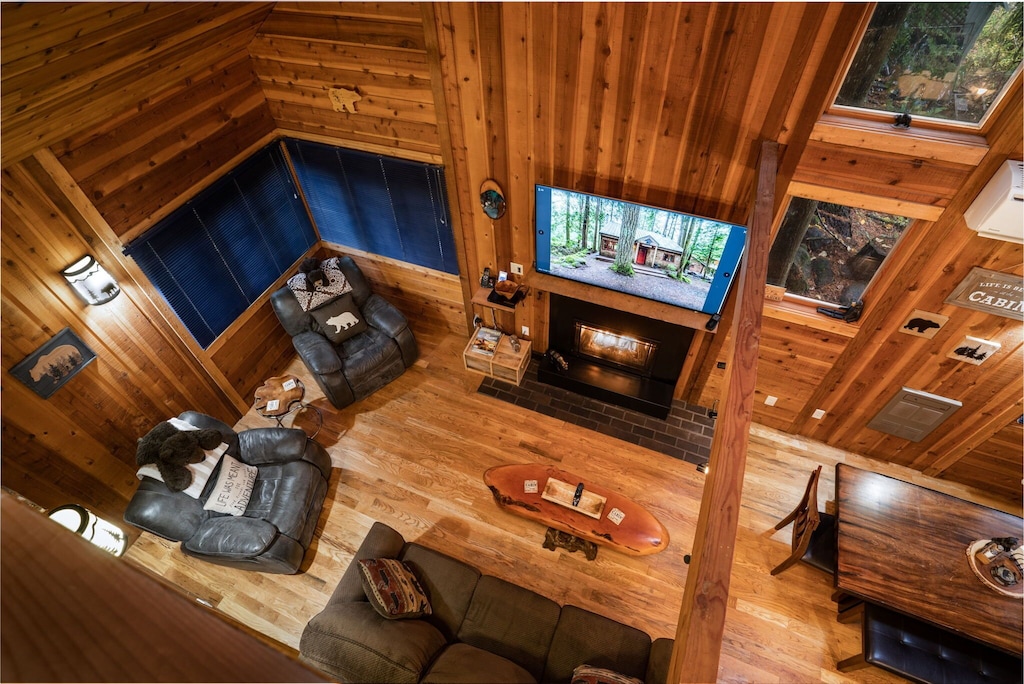 I hope you've enjoyed this list of the coolest cabins in the USA. There are so many great USA cabin rentals that are perfect for your trip out of the city, whether it's just for a weekend or for two weeks! If you have any questions, feel free to leave them below in the comments.