Are you looking for the coolest cabins in the USA? This guide has all of the best cabins in America.
There are tons of types of getaways that you can take. You can head into the city for a trip packed with fun, food, and entertainment. You can head to the beach for all the sun and sand you could possibly desire. Or you could escape into the welcoming peace and quiet of a cabin in nature.
If you're hoping for the latter, you're in luck! There are tons of amazing cabins in the USA for your quiet getaway. Pick from a beautiful A-frame cabin near Mount Rainier, a cabin with a private waterfall in Hawaii, or an Instagram-worthy cabin in Northern California.
Save money on your Airbnb cabin! Get a FREE $55 Airbnb coupon by using our code when you book!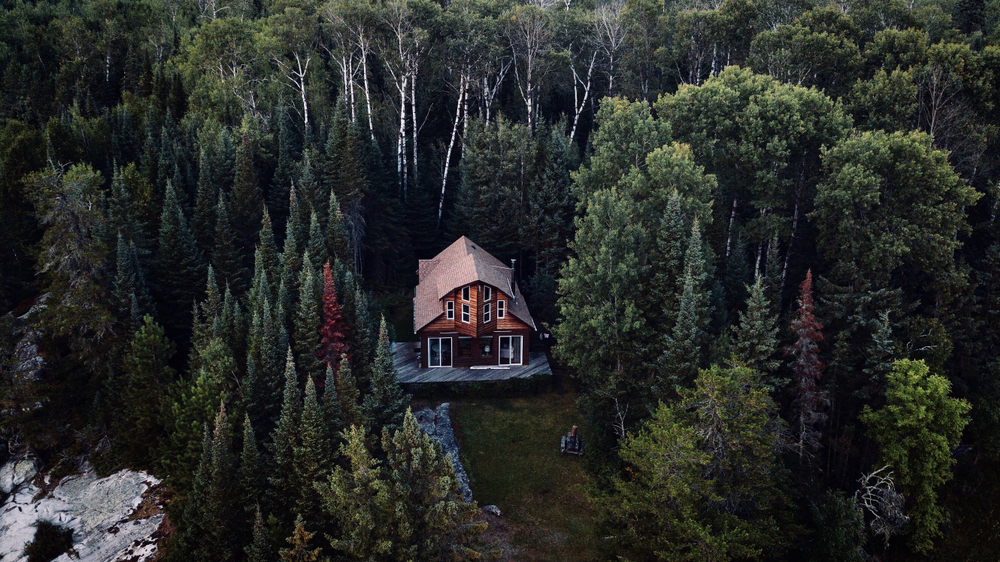 20 Coolest Cabins In The USA For Your Bucket List
Cozy River Cabin At Mt. Rainer, Packwood, Washington
Out of all of the cabin styles, the A-frame cabins in the USA may be the most alluring. The triangle-shaped architecture is simply so unique! And this cozy river cabin at Mt. Rainer gives you the opportunity to experience what it would be like to live in an A-frame home.
While the A-frame style definitely makes this accommodation unique, this cozy river cabin is even unique among A-frame buildings. The architect behind this building laid as many windows as possible into the design. Basically, you'll be able to enjoy nature, regardless of whether you are inside this Airbnb or outside of it.
While you could easily curl up with a good book, watch a little Netflix, and play fun board games for the entire duration of your stay in this cozy cabin, you can also easily venture out to see what the area has to offer. It is just steps away from Cowlitz River and Coal Creek, 10 miles from Gifford Pinchot National Forest, and 15 miles from the iconic Mount Rainer.
Click Here To Check Rates On Airbnb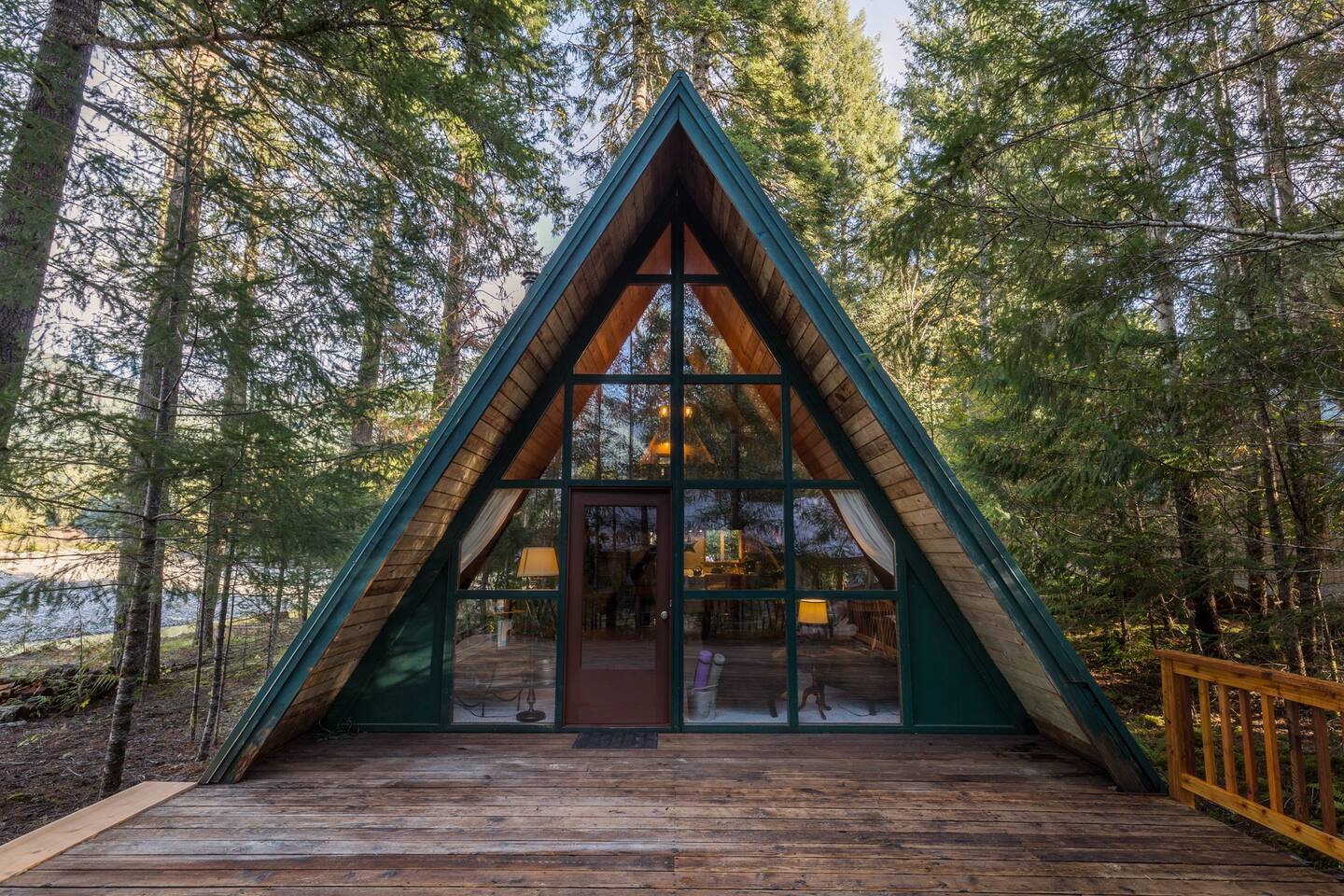 Pisgah Highlands Off-The-Grid Cabin, Chandler, North Carolina
There are tons of amazing Airbnbs in North Carolina, and the Pisgah Highlands off-the-grid cabin is definitely one of them. This tiny, adorable home boasts absolutely stunning views of Pisgah National Forest. And though it's tucked away in the forest and far off-the-grid, you'll have everything you need, including a comfy bed, a two-burner stove, and a generator.
But if you get a little tired of the seclusion, you can easily make the 25-minute drive into downtown Asheville. There are tons of places to visit in this up-and-coming city, including the Biltmore Estate, the North Carolina Arboretum, and the Asheville Urban Trail.
Click Here To Check Rates On Airbnb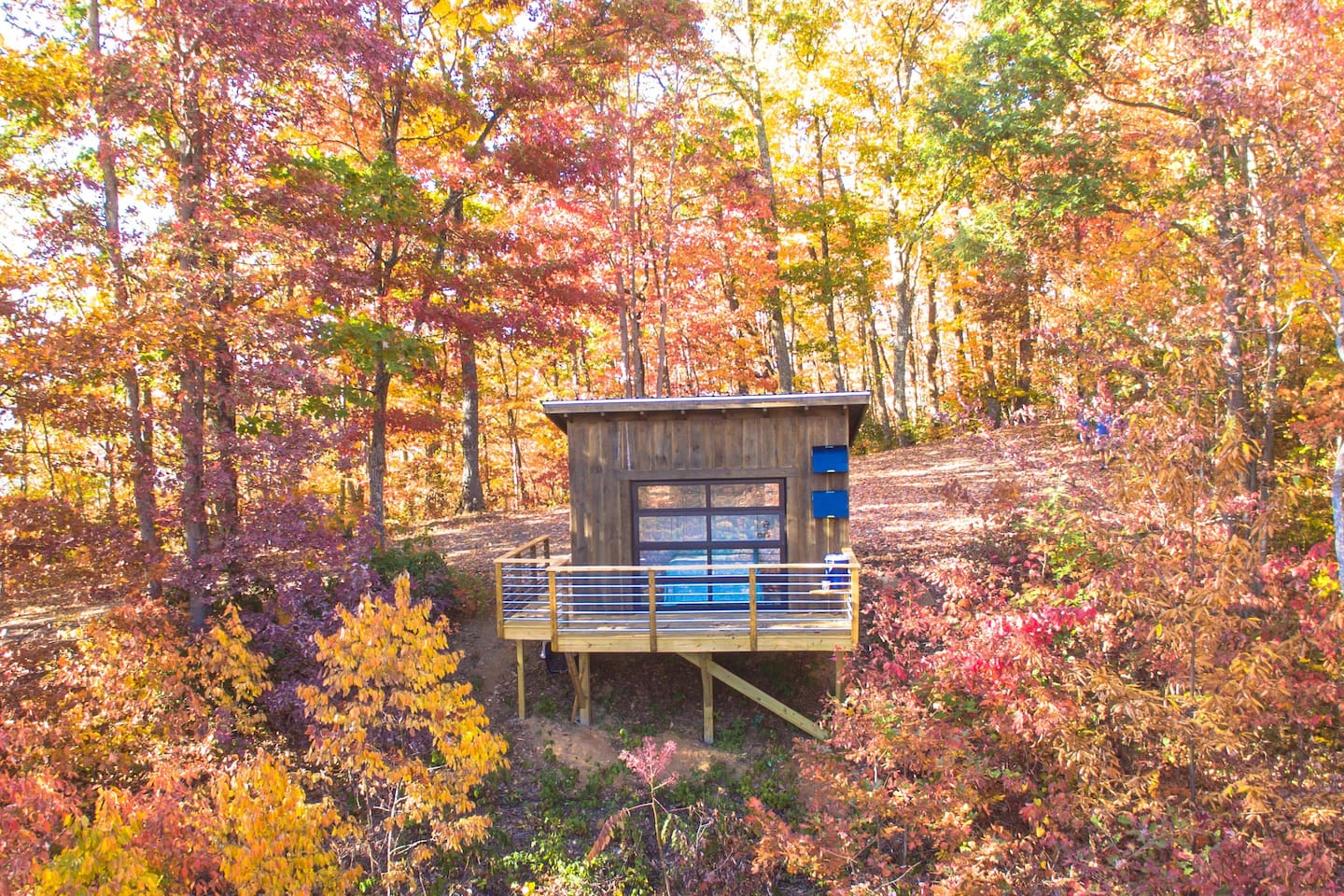 Adirondack Mountainside A-Frame, Jay, New York
While most A-frame cabins in the USA go for a modern vibe with warm wood and large glass windows, this Adirondack mountainside A-frame in New York goes for a completely different feel. This cabin embraces a more cozy, traditional European appeal with shades of blue and red adorning the exterior of the home.
The coziness continues into the interior of this secluded cabin. Soft pillows, cozy couches, and a warm fireplace add to the welcoming nature of this Airbnb. You can easily spend all of your trip lounging around in this loving home. But should you decide to venture out, Pitchoff Mountain, Porter Mountain, and Mirror Lake are all nearby.
Click Here To Check Rates On Airbnb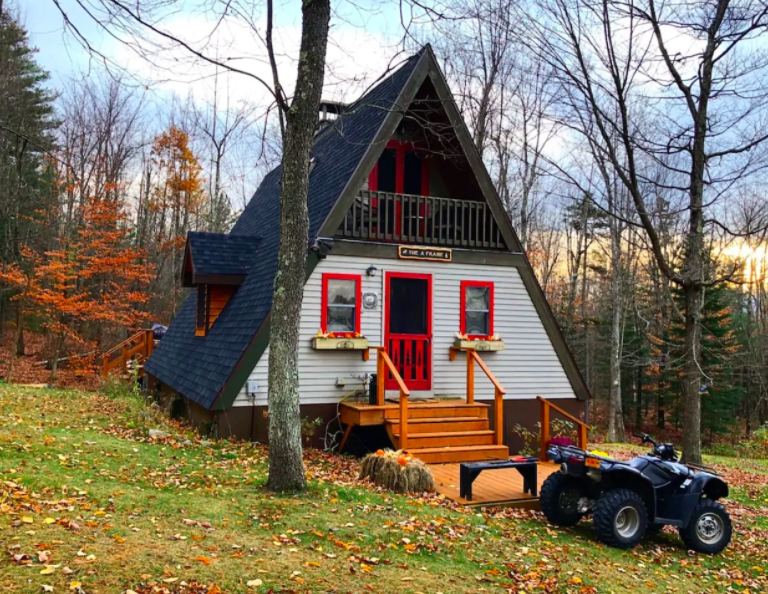 The Triangle: A-Frame Cabin, West Farmington, Ohio
While there are tons of USA cabin rentals, A-frames are dominating this list – and that might not be a bad thing. This triangular home embraces the unique architectural style – so much so that the entire accommodation is named after it.
Other than the shape, The Triangle is also based in a great location in the middle of nature. You can simply enjoy all of the gems that the forest has to offer during that time of year. Pick wildflowers in the spring, make snow angels in the winter, or pluck handfuls of juicy berries in the summer.
Click Here To Check Rates On Airbnb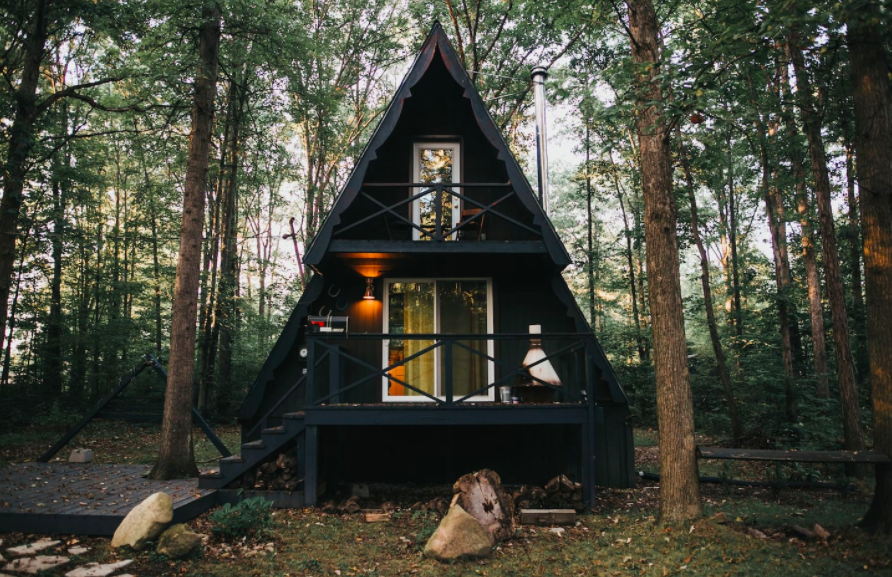 Renovated Hillside Cabin, Gatlinburg, Tennessee
There are tons of amazing Gatlinburg cabins, which isn't surprising because there are so many outdoorsy things to do in this adorable Tennessee town. This renovated hillside cabin is one of the best in the area, and, due to its proximity to the national park, it is also one of the best cabins in the Smoky Mountains. So what exactly makes this USA cabin so great, you ask? It's simple: the interior design and the location.
Decorated by a professional HGTV designer, there are tons of thoughtful touches found throughout the accommodation. In addition to a bubbling deck hot tub and high vaulted ceilings, this cabin also has stainless steel appliances, cozy pillows, and lively green plants dotted throughout the space.
As for the location, it's nestled near quite a few Tennessee gems. In addition to the alluring town of Gatlinburg and the breathtaking Great Smoky Mountains National Park, this renovated hillside cabin is also just a short drive away from the adorable town of Pigeon Forge, Tennessee.
Click Here To Check Rates On Airbnb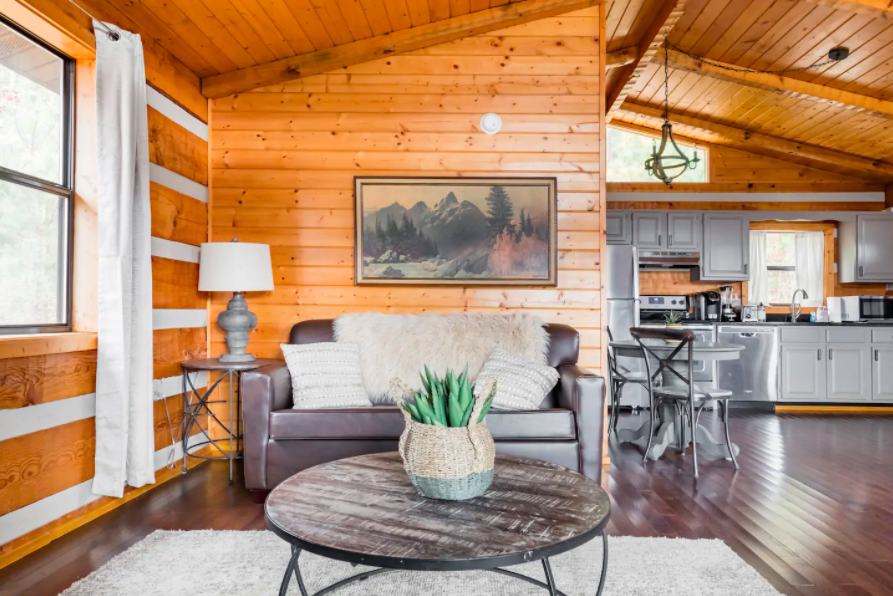 Ocean View Farm Cabin At Kulaniapia Falls, Hilo, Hawaii
Airbnbs have the coolest features and amenities. While some offer free bikes, others provide farm-fresh produce. The ocean view farm cabin at Kulaniapia Falls offers access to a private 120-foot Hawaiian waterfall.
While the cabin itself isn't particularly noteworthy, it's the property that earns this accommodation a spot on this list. In addition to the beautiful waterfall, this cabin also has views of both the Pacific Ocean and the snow-capped mountain known as Mauna Kea, a blooming local farm, access to adventurous tours, and even meals from private chefs.
Click Here To Check Rates On Airbnb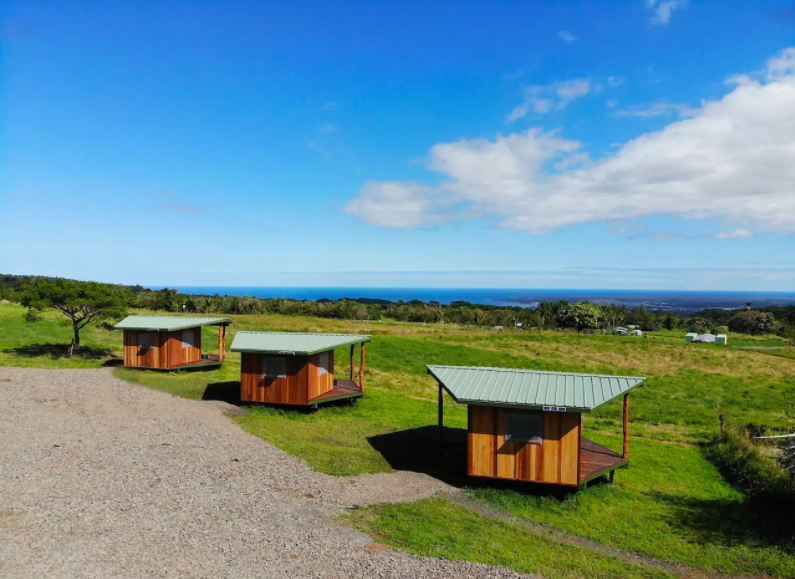 Sycamore Treehouse At HoneyTree Farm, Fredericksburg, Texas
The Sycamore Treehouse at HoneyTree Farm is the most highly rated cabin in the USA on this list. While many past guests praised the peace and quiet, others praise the interior design – with one guest even comparing it to a stunning Pinterest board.
While there are quite a few nature-related things to do in the area, most of the previous guests have seemed to content to just enjoy the cabin and nature around it. Many remarked on the colorful sunrises and sunsets, the greenery-filled nature trail on the property, and the unparalleled stargazing at night.
Click Here To Check Rates On Airbnb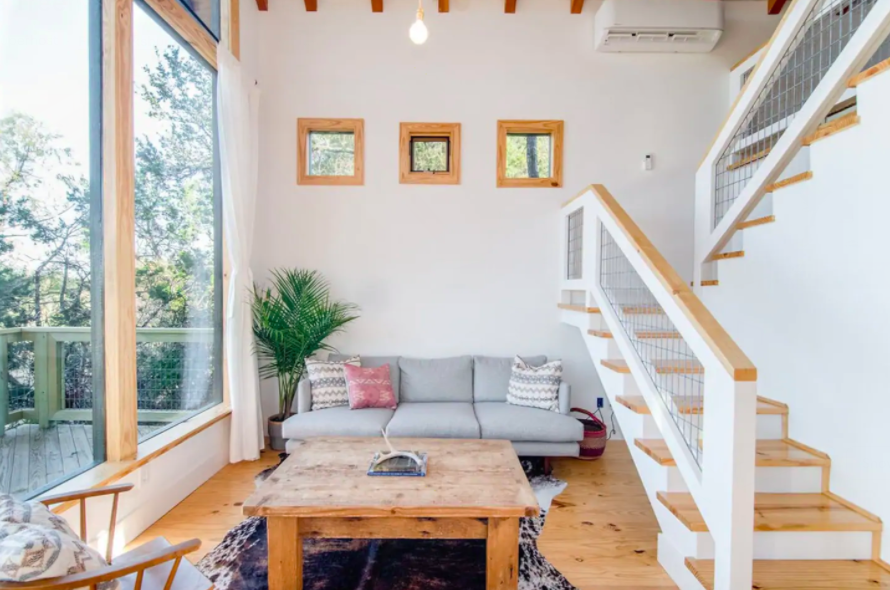 The A-Frame At Evergreen Cabins, Remsen, New York
As with many of the cabins in the USA, the A-frame at Evergreen Cabins is a great place to escape the stress of everyday life and venture into nature. And the location, exterior, and interior of this Airbnb embrace nature in every way.
In addition to the cozy fireplace and the fur rugs, the superhost behind this Airbnb found even more ways to bring nature into this accommodation. As a matter of fact, guests can roll the bed out onto the deck to stargaze at night! Add roasting some marshmallows and snacking on some s'mores to the night's itinerary, and it's absolutely perfect. As for the location, hiking, biking, fishing, snowmobiling, and hunting are all common activities in the area.
Click Here To Check Rates On Airbnb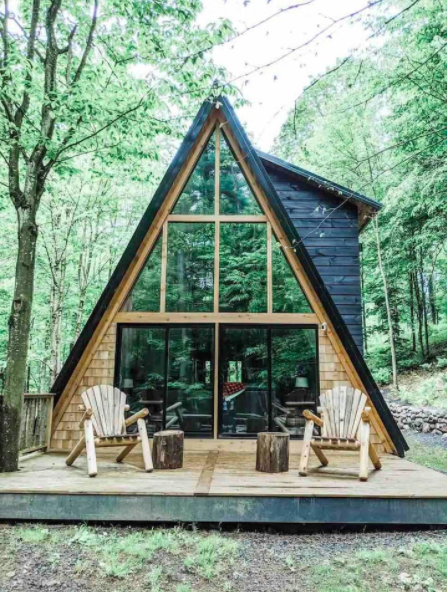 Casa Minnewaska, Kerhonson, New York
With sleeping arrangements for 10 people, Casa Minnewaska is the largest of the cabins on this list. So if you're hoping to take a trip into nature with your extended family or a large group of friends, you should definitely consider this USA cabin rental.
This Airbnb is not only large, but it is also warm and inviting. Bundle together around the vintage fireplace, soak on the hot tub on the deck, or do a little stargazing from the porch.
Should you decide to leave the warm comfort of this cabin, there are a ton of exciting things for you to explore. If you're into hiking, head to Minnewaska State Park. If fishing is more up your alley, make your way to Roundout Creek. Or if you're a rock climber, the Shawangunk Mountains is where you'll want to go.
Click Here To Check Rates On Airbnb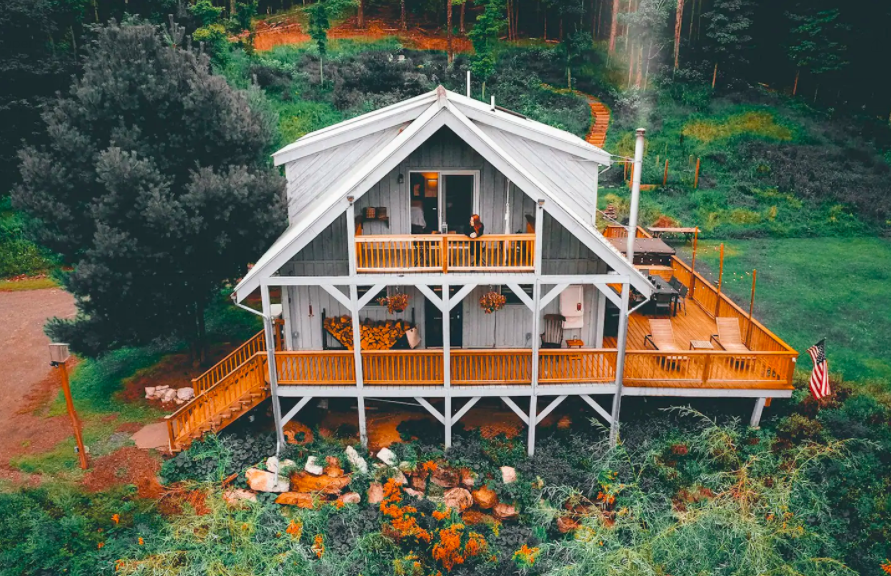 The Cobb Haus, Cobb, California
The Cobb Haus might be one of the best cabins in the USA, so if you get the chance to book it for you and one other loved one, do it. While once upon a time it was a subpar cabin that wouldn't have caught anyone's eye on Airbnb, the owners put in some much-needed TLC to bring it to life.
Now, this immaculate cabin rental boasts tons of loving touches: rows of twinkle lights on the patio, a vintage record player, an outdoor shower, and a pour-over coffee maker. And those are just the beginning. What other thoughtful touches will you find during your stay at The Cobb Haus?
Click Here To Check Rates On Airbnb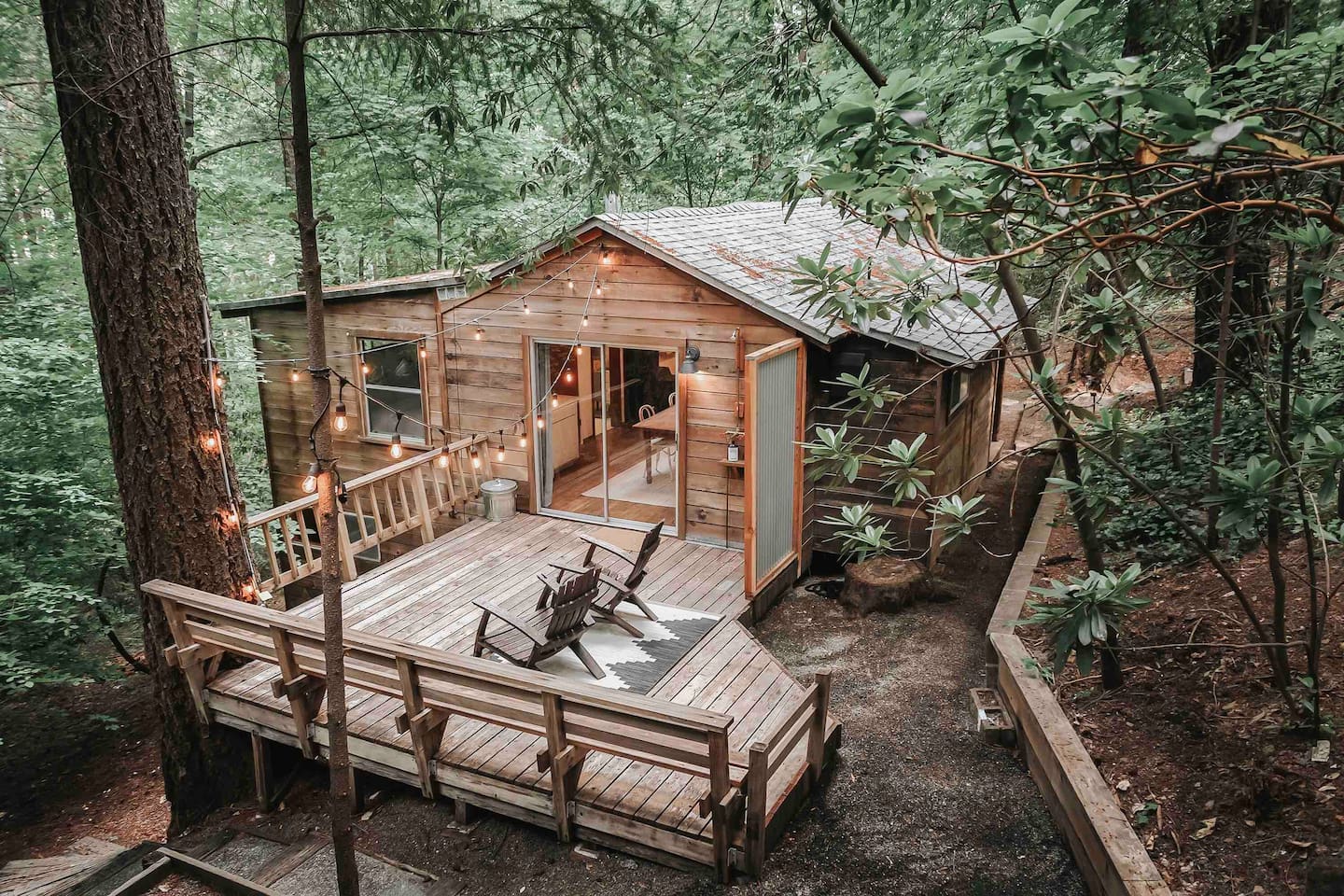 Minimalist Modern Cabin, Morongo Valley, California
The minimalist modern cabin in Morongo Valley, California is by far one of the most unique cabins in the USA. The entire exterior of the building is made with clear polycarbonate. Other than the wooden frame helping to keep the structure up, you'll get an unobstructed view of nature no matter where you in this cabin.
Situated in the middle of a desert, this cabin is also quite different from the forest cabins that dominate this list. Instead of hiking through evergreens or peeping at the fall foliage, you can instead spot some desert wildlife at the Big Morongo Canyon Preserve or take in the sights of Joshua Tree.
Click Here To Check Rates On Airbnb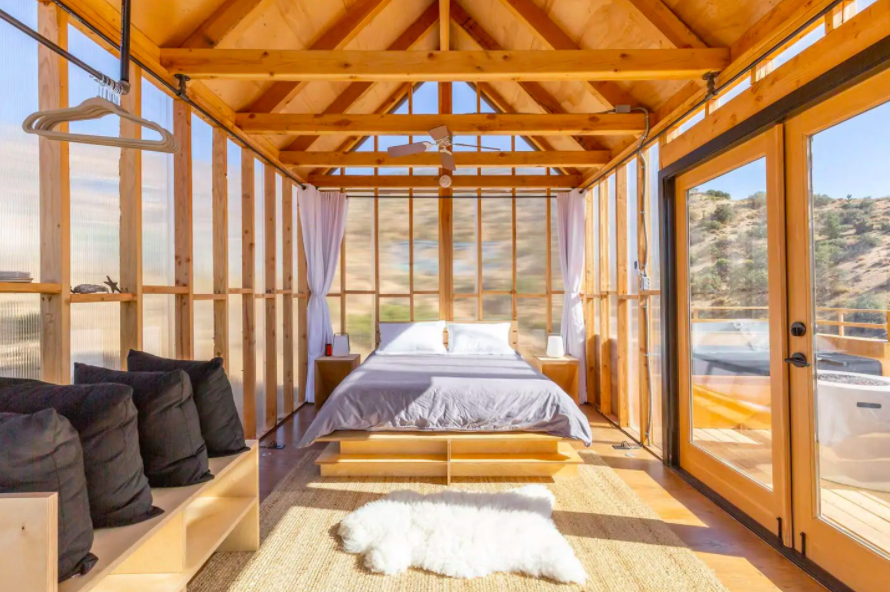 SkyCabin, Skykomish, Washington
Nestled in the tiny town of Skykomish, Washington, the SkyCabin is undoubtedly a fantastic place to stay. This asymmetric home is the perfect home base for a group of six looking to take advantage of all of the beautiful nature that Washington has to offer.
Within just a few miles of the SkyCabin hike, mountain bike, rock climb, kayak, ski, snowboard, and snowshoe as much as you would like (depending on the time of year of course). As a matter of fact, this cabin is only 12 miles from Stevens Pass, one of the best skiing spots in the state.
Click Here To Check Rates On Airbnb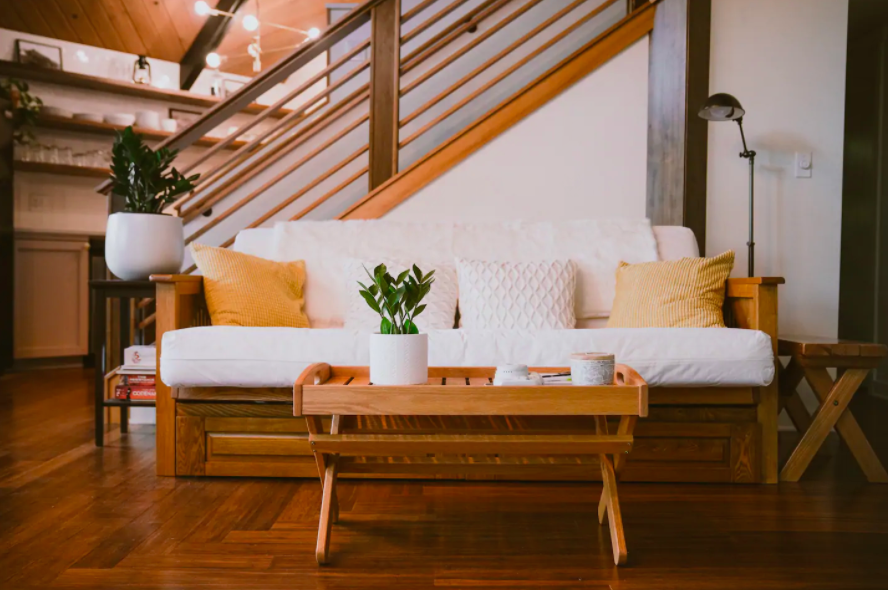 The Box Hop, Rockbridge, Ohio
The Box Hop is one of the most in-demand cabins in the USA. As a matter of fact, it's often fully booked up to a year or even two in advance! In other words, it's one of the best cabins in the USA, and you should definitely book it if you get the chance.
One of the things that makes The Box Hop so amazing is the location. Located near Hocking Hills State Park, this Airbnb gives guests easy access to amazing sites like Old Man's Cave and Cedar Falls.
But the wonderful nature of the location shouldn't cause you to overlook the intriguing architecture and décor of The Box Hop. As the name implies, The Box Hop is in fact, shaped like a box – three boxes to be exact. To be more specific, this unique cabin rental is made of three revamped shipping containers. And while that might sound a little rustic, the inside is furnished with everything you could want, including sleeping arrangements for six, a stocked kitchen, and even a large hot tub.
Click Here To Check Rates On Airbnb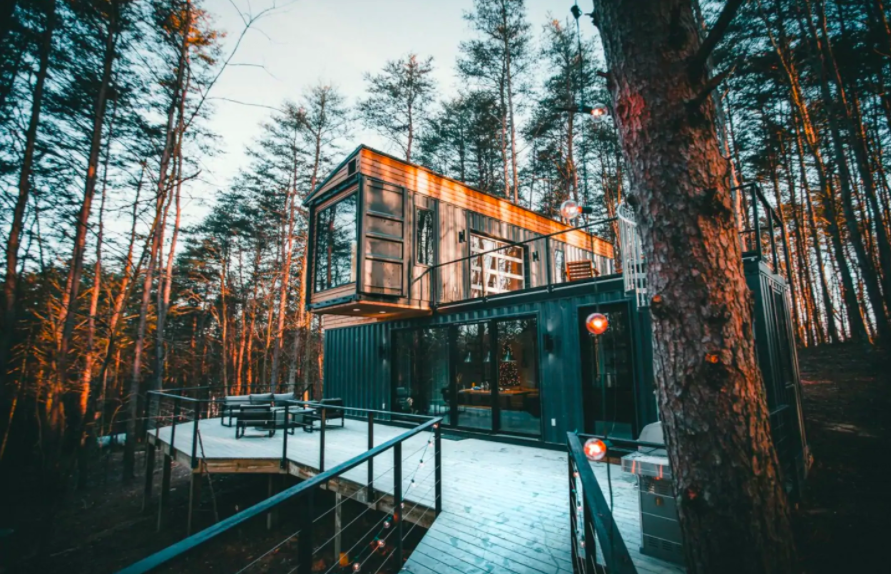 Moose Haven Cabin, Walden, Colorado
While there are thousands of Airbnbs in Colorado to choose from, Moose Haven Cabin is definitely one that you should consider. This A-frame house is larger than most and can sleep up to five guests within its wooden walls.
This no-frills cabin is perfect for exploring the wonderful nature and mountains that Colorado has to offer. Ski, snowshoe, hike, and bike throughout the land surrounding the cabin. Keep an eye out for horses, alpacas, and llamas. Then, head back to Moose Haven Cabin for a good night's rest.
Click Here To Check Rates On Airbnb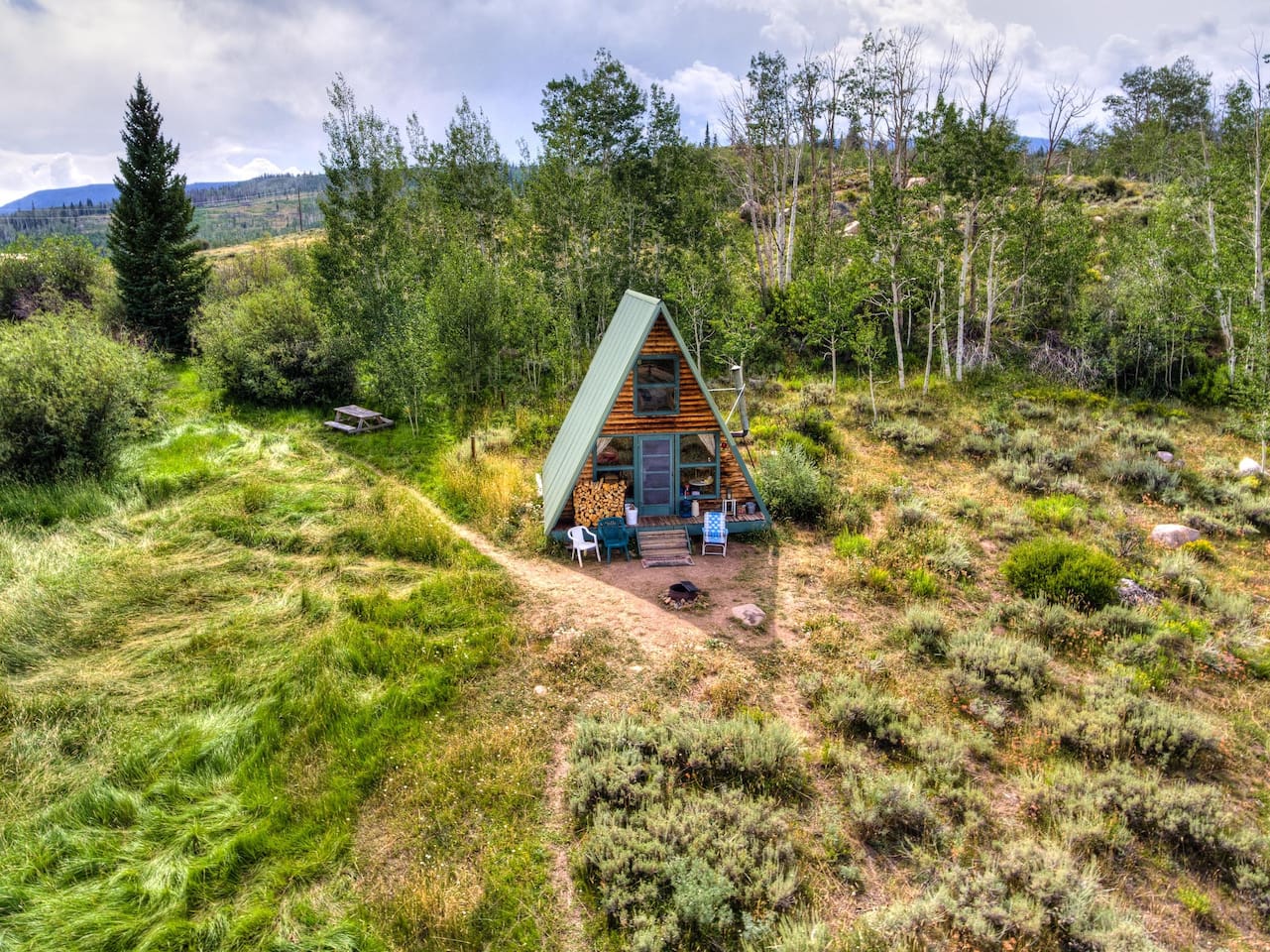 Vail's Bluff Luxury Farmhouse, Broken Bow, Oklahoma
The superhosts of Vail's Bluff luxury farmhouse spared no expense. They spruced up their cabin with every luxurious thing that came to mind, including Turkish cotton towels, hotel-quality sheets, William Roam toiletries, and a 70" smart TV. And that's just the start.
The home itself is absolutely breathtaking with modern touches purposefully placed throughout. And the location is another plus, especially for nature lovers. Broken Bow Lake, Beaver's Bend State Park, and Mountain Fork River are all just a few miles away from this accommodation. So feel free to spend your day out in the wild before coming home for a night of luxury.
Click Here To Check Rates On Airbnb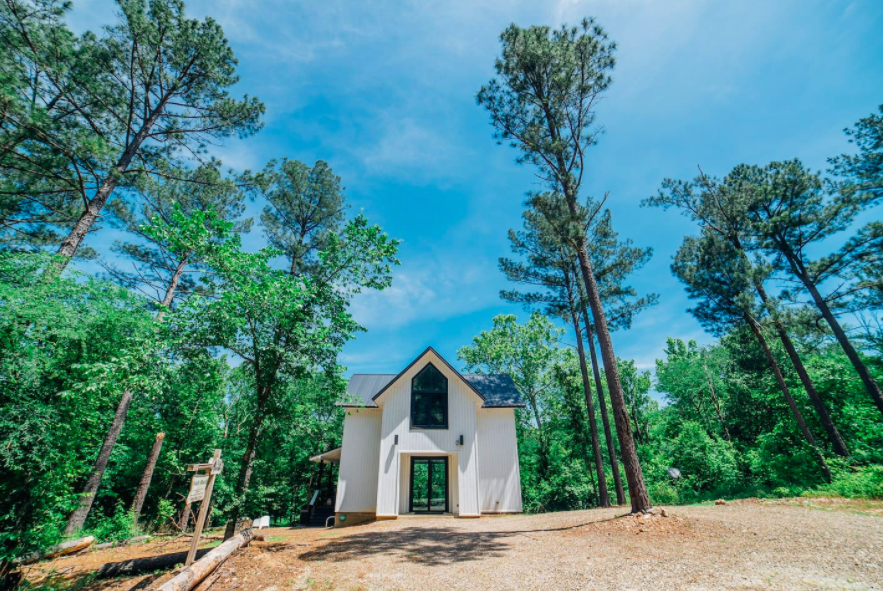 Architectural Beauty In The Woods, Royse City, Texas
One of the coolest cabins in the USA is this architectural beauty in the woods in Texas. Designed by renowned architect Frank Lloyd Wright, there are tons of eye-catching structural features in this Airbnb. With a seamless wooden-and-brick exterior, a see-through fireplace, and stained-glass windows, there truly is no other cabin in the USA quite like it.
While there isn't much to do in the nearby area, you can easily spend all of your time in your lovely cabin. And this architectural beauty also makes for a great place to spend a night on your Texas road trip.
It is important that this cabin is part of a series of cabins in the area. So while the property with all of the cabins is secluded, the individual cabins are not secluded from each other.
Click Here To Check Rates On Airbnb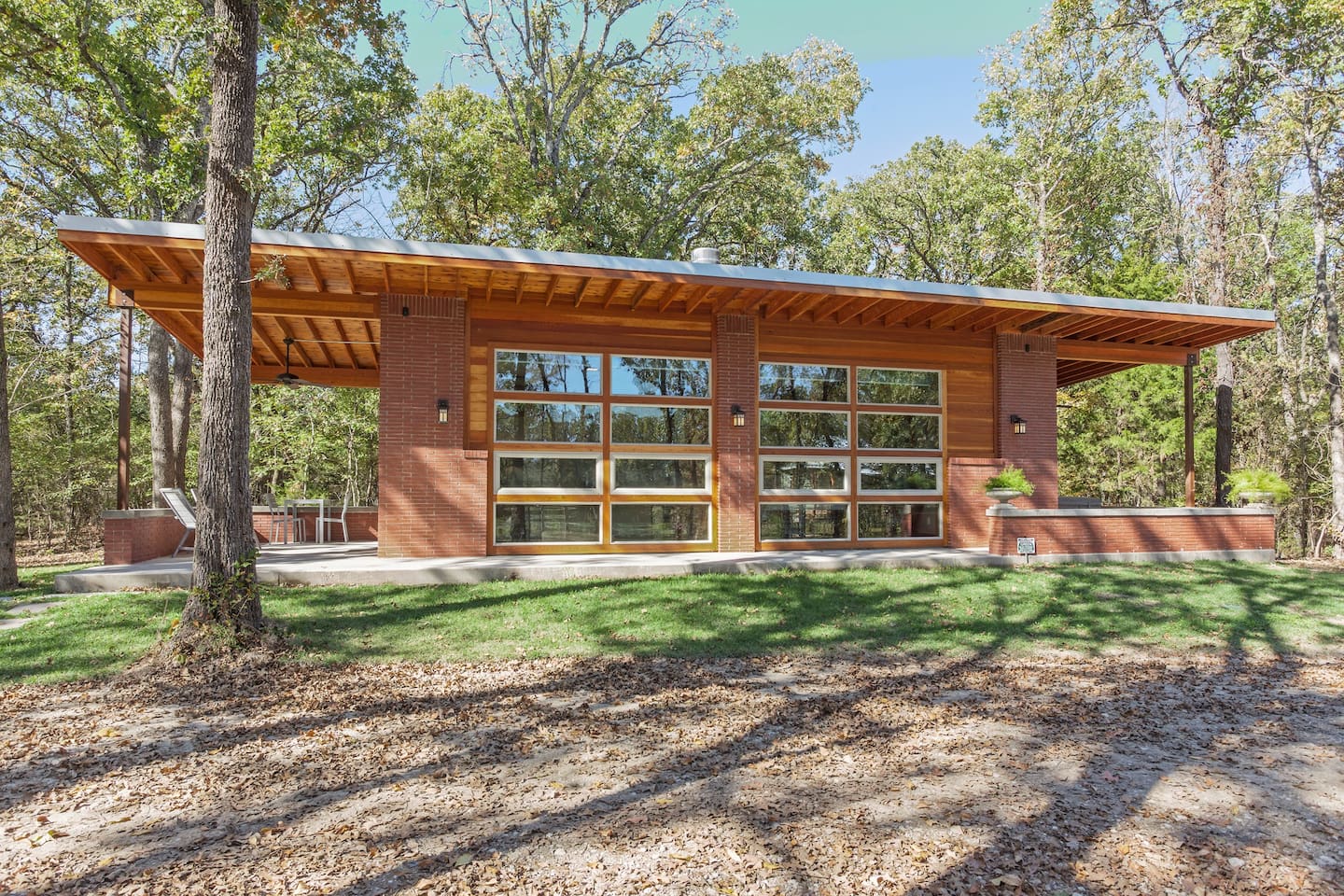 Cabin On Shandelee, Livingston Manor, New York
Situated on the top of Shandelee Mountain, this New York cabin offers stunning views of the nature in the area, making it a particularly beautiful spot to see fall foliage in the USA. As a matter of fact, many past guests have written about sitting on the outdoor patio and doing just that!
This cabin is also relatively close to many great natural landmarks in the area. Experience the beauty of the Catskills, drive the fifteen miles to Lake Superior, or simply enjoy the nature around the pristine property.
Click Here To Check Rates On Airbnb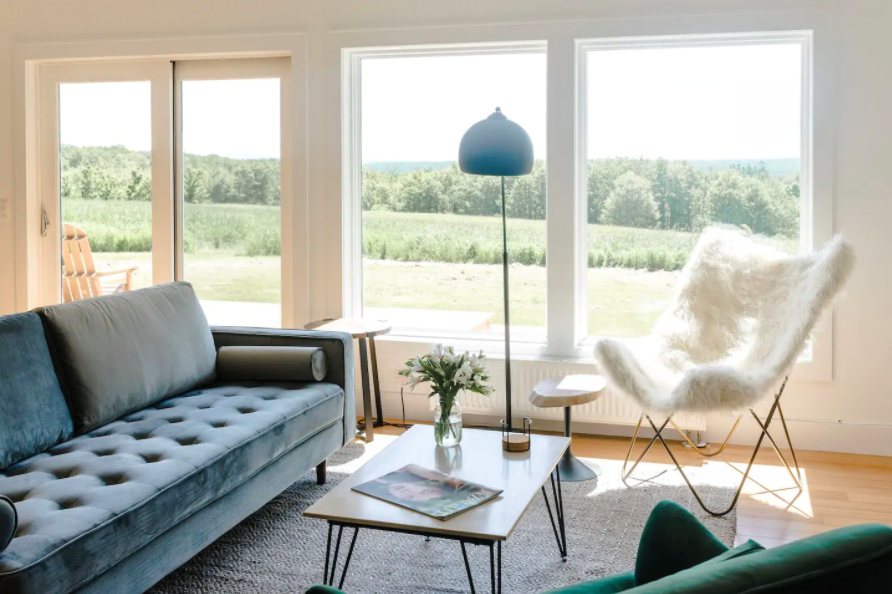 Naturalist Boudoir, Lumberton, Texas
Despite its name, you don't need to be a naturalist to stay at the Naturalist Boudoir. Instead, you can enjoy the privacy and seclusion that a cabin in the forest like this affords.
The warm wood paneling, large glass windows, and boho chandelier create a uniquely inviting atmosphere. And with fun features like an outdoor shower and a lovely hot tub, it's unlike any other Airbnb on this list of cabins in the USA.
It's important to note that there isn't a lot to do nearby. While you can, of course, explore the nature surrounding this Airbnb and a couple of nearby state parks, there aren't any major cities or attractions in the area. In other words, this private Airbnb is meant for you to cuddle up with your partner and never leave.
Click Here To Check Rates On Airbnb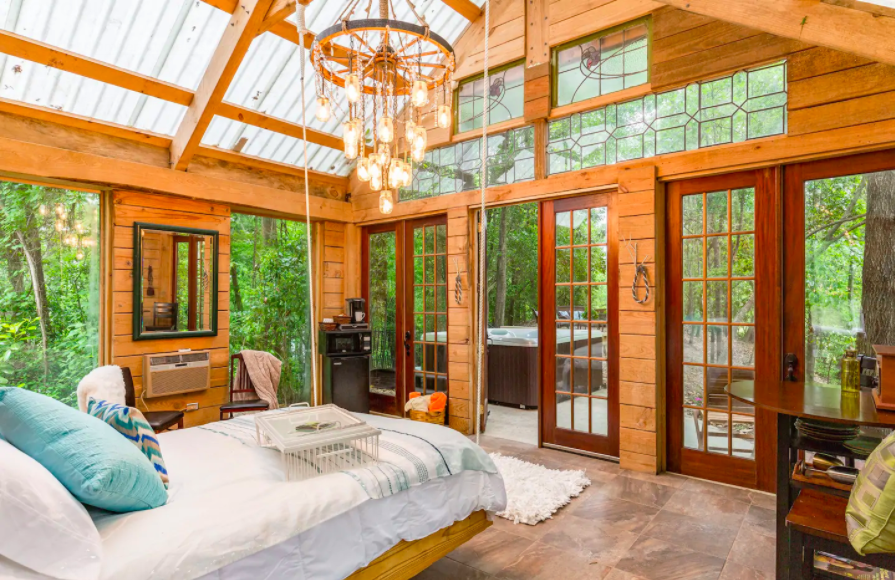 The Hideaway At Oceanside A-Frame, Oceanside, Oregon
From alpaca farms to luxury cabins, Oregon Airbnbs are quite unique and diversified, which is pretty representative as Oregon as a whole. The Hideaway at Oceanside A-Frame contributes to this feel with its pervasive ocean-theme.
Considering the oceanfront position of The Hideaway at Oceanside, the ocean-theme is quite appropriate. Keep an eye out for the various compasses, the octopus tentacle doorknob, and even a glass porthole.
As for the location, The Hideaway at Oceanside gives guests access to many gems of the Oregon Coast. Explore the tidepools at Oceanside Beach, devour cheese samples at Tillamook Creamery, and stare in awe at the views from Cape Meares State Scenic Viewpoint.
Click Here To Check Rates On Airbnb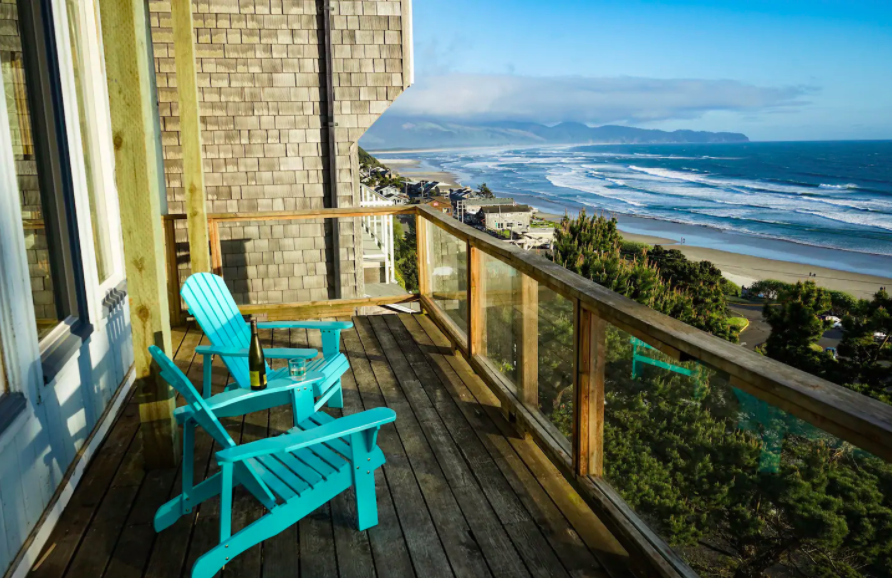 Toast Marshmallows On The Fire At The Tiny Catskill Cabin, Kerhonkson, New York
This superhosted Airbnb Plus exudes cleanliness and contemporary vibes. And, since this tiny Catskill cabin has sleeping arrangements for six people, it is the perfect cabin for a large family or a group of friends. Whip up some s'mores using the outdoor fire pit, curl up with a good book under the skylights, or breathe in the fresh air on the porch.
While staying in the Catskills, be sure to see everything there is to see in the area. Soak in the beauty of the fall foliage, zipline over Hunter Mountain, and take a peek at Kaaterskill Falls.
Click Here To Check Rates On Airbnb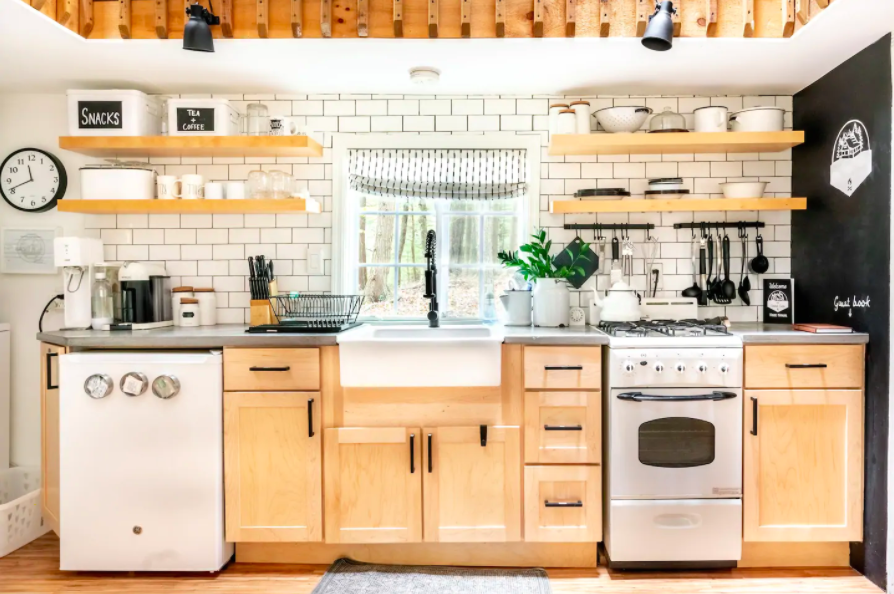 I hope you've enjoyed this list of the coolest cabins in the USA. There are so many great USA cabin rentals that are perfect for your trip out of the city, whether it's just for a weekend or for two weeks! If you have any questions, feel free to leave them below in the comments.