Are you looking for the best cabins in Oregon? You have come to the right place. We absolutely love the state of Oregon, it has the stunning coastlines, hot springs, and rugged mountains of Iceland, but without the international plane ticket cost! Click here for some of our best travel tips about Oregon.
We like to lean into that wild outdoorsy feeling by staying in a cozy cabin when we travel to Oregon. You will make some truly unique and special memories staying in secluded cabins in the state!
You will find the best cabins in Oregon near all the major attractions the state has to offer. There are Oregon coast cabins, mountain cabins, and even cabins right in the middle of Portland! Maybe it's because the state was the end point of the rough and tumble Oregon Trail, but Oregonians just love their romantic cabins. Do you want to stay in more than one of these cabins in Oregon? Click here for our Ultimate Oregon Road Trip Itinerary.
If the idea of cozying up with a great cup of coffee or a craft beer by the fireplace is your dream vacation, Oregon rental cabins are the place to be! We hope you enjoy your stay in the best cabins in Oregon. If you're looking to take some epic photographs on your trip, click here for our favorite hidden photography spots in Oregon.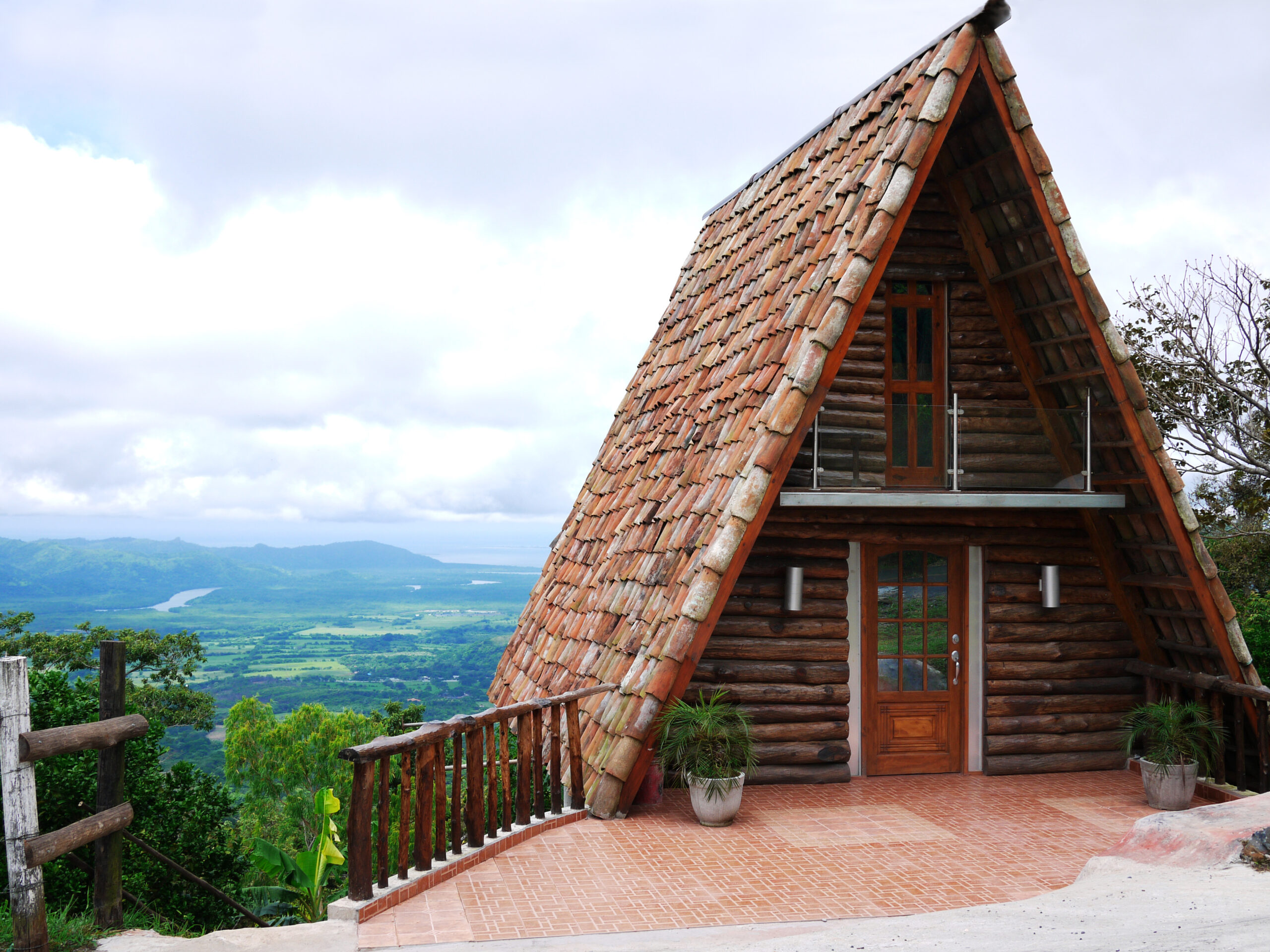 15 Cozy Cabins In Oregon You Must Visit
Geometric Dome
Get the once in a lifetime experience of dome living while being on a spacious and private lot when you stay at Geometric Dome. Amazing sunsets and a wood stove make this a truly wonderful cabin rental in Oregon. There is also a fire pit outside if you can't get enough of the great outdoors!
This dome cabin blends the best of both worlds, a short walk to the beautiful, forested, Deschutes River, or a short bike ride to downtown Bend, a college town in Central Oregon. The flexibility of choosing to adventure in the forest or the town makes this one of the best cabins in Oregon.
Click Here To Check Rates On Airbnb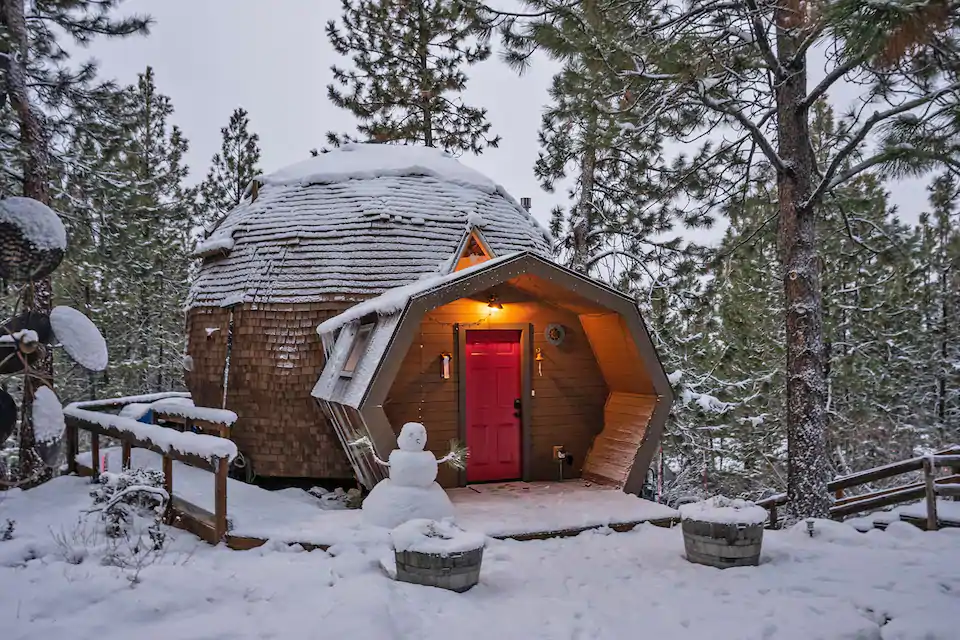 Heartland Treehouse
Woodsy treehouse with incredible views near the southern Oregon coast. It is private and secluded, with a pair of outdoor soaking tubs on the balcony. This is one of the most romantic cabins in Oregon for sure! The Heartland Treehouse also features an outdoor fire pit so you can stay warm while taking in the amazing forest scenery.
There is a nearby creek and waterfall to explore, as well as all the other splendors of the southern Oregon coast. You're sure to feel relaxed and rejuvenated if you choose this Oregon rental cabin.
Click Here To Check Rates On Airbnb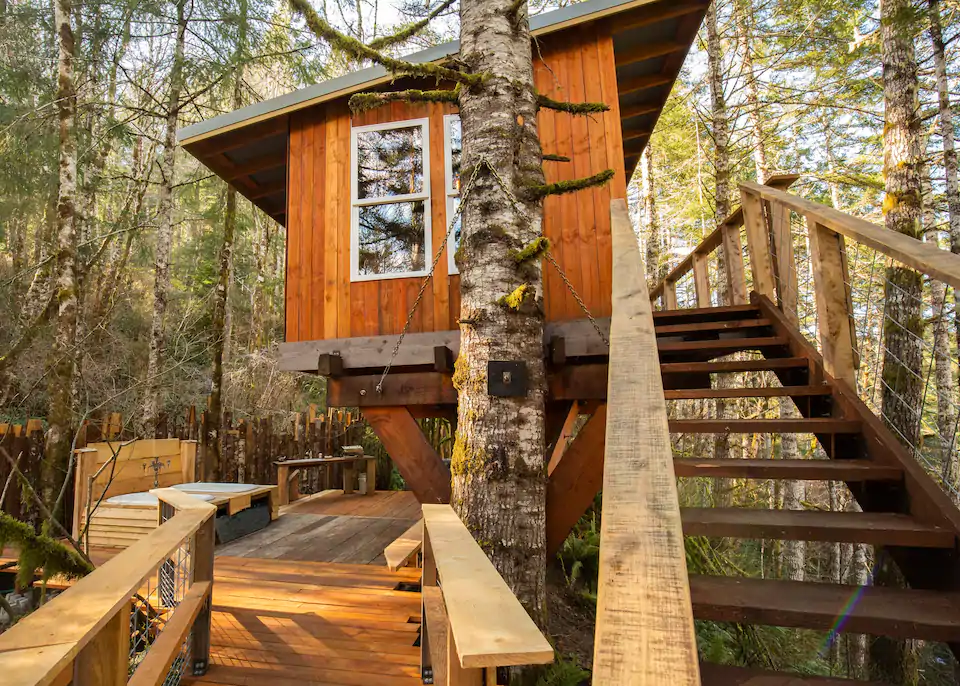 A-frame of Mind
Who hasn't dreamed of a cozy Oregon forest getaway in a classic A-frame cabin? On our list of the best cabins in Oregon, it's tough to beat this incredible A-frame in Bend, Oregon. This Airbnb boasts front and back decks, a hot tub, and a BBQ grill.
The inside is just as epic as the outside, with a full kitchen, a wood burning stove, a record player, record collection, and a selection of instruments you can try out. The two beds means this Airbnb can sleep 4. Bonus- the house is chock full of houseplants. This A-frame cabin promises to be a rockin' good time.
Click Here To Check Rates On Airbnb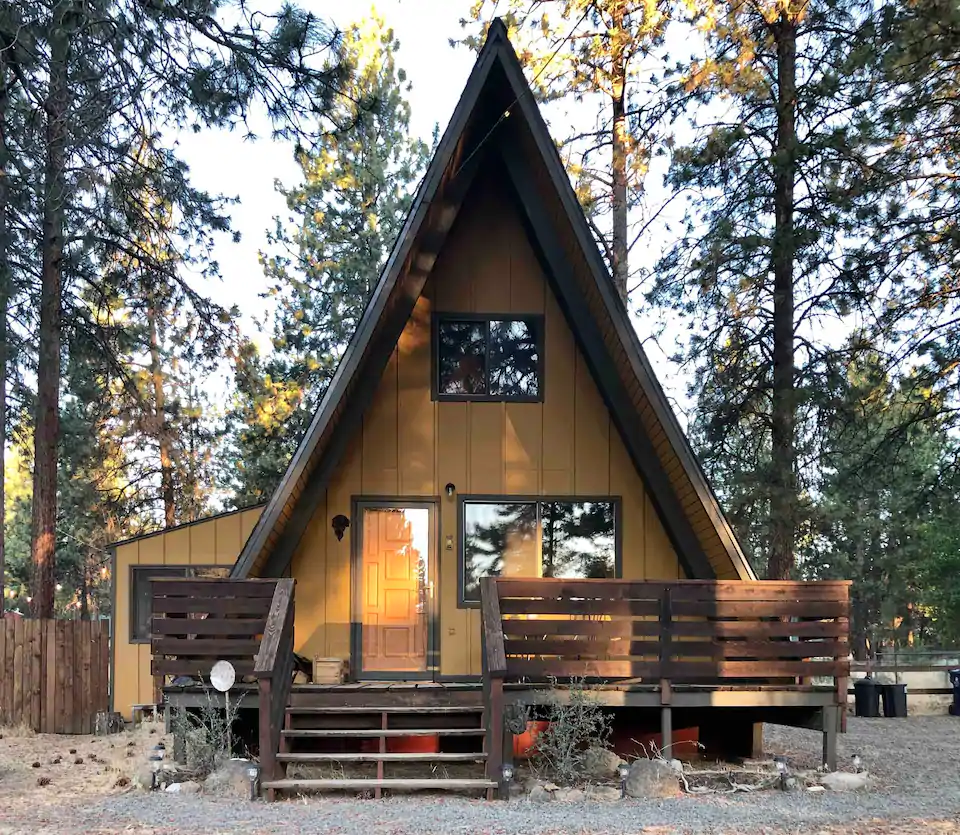 Farmhouse Cottage
This quirky vintage cottage is a 15-minute drive or 30-minute bike ride from downtown Portland, but you'd never know that from it's quaint, remote, feel. The charming kitchen, large garden to wander in, and vintage touches throughout make this one of the best cabins on this list!
The outdoor fire pit, wood stove, hot tub, and BBQ make sure you'll experience supreme coziness during your stay. This is a great option if you're into the cottage lifestyle but want to experience the hustle and bustle of Portland during the day. Click here for some of our favorite things to do in Portland, OR.
Click Here To Check Rates On Airbnb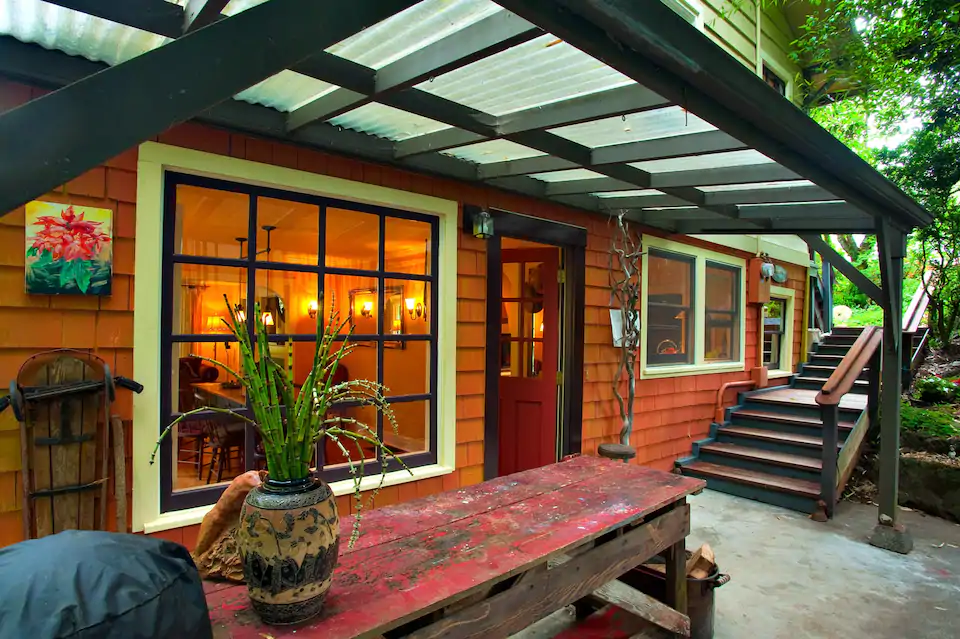 Tiny Humboldt House
This is the cozy little house that could! Featured in the New York Times and the book "Little House in the City" this two-story cabin has a dreamy downtown Portland location and lots of "wait how did they fit that?" amenities.
An indoor fireplace, incredible kitchen, washer/dryer, and spacious bathroom with full sized tub and skylight await you. Blending cozy, bright, cabin vibes with an unbeatable downtown city location is sure to make an this unforgettable cabin rental in Oregon. Click here for some of our favorite things to do in Portland, OR.
Click Here To Check Rates On Airbnb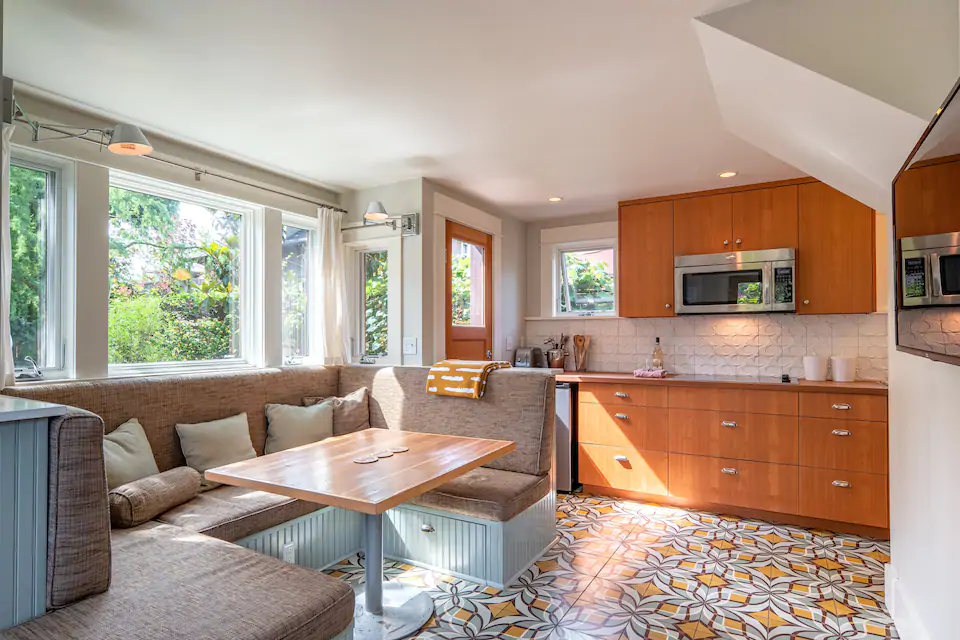 Ocean Front A-Frame
Combining the dreamy aesthetic of an A frame cabin with unbelievable Oregon coast views, it doesn't get better than this! Sip your morning coffee in the hot tub while watching for whales. Cuddle up by the fireplace after a day at Glendeden Beach. Check out our Oregon Coast Road Trip Itinerary for more spots along the coast you'll want to see.
This installment on our Best Cabins in Oregon list is not to be missed. Come stay at the Salacia Chalet for sea air and cozy vibes. Located close to the dreamy Lincoln Beach area of Oregon, this cabin has 5 beds so you can bring the whole family.
Click Here To Check Rates On Airbnb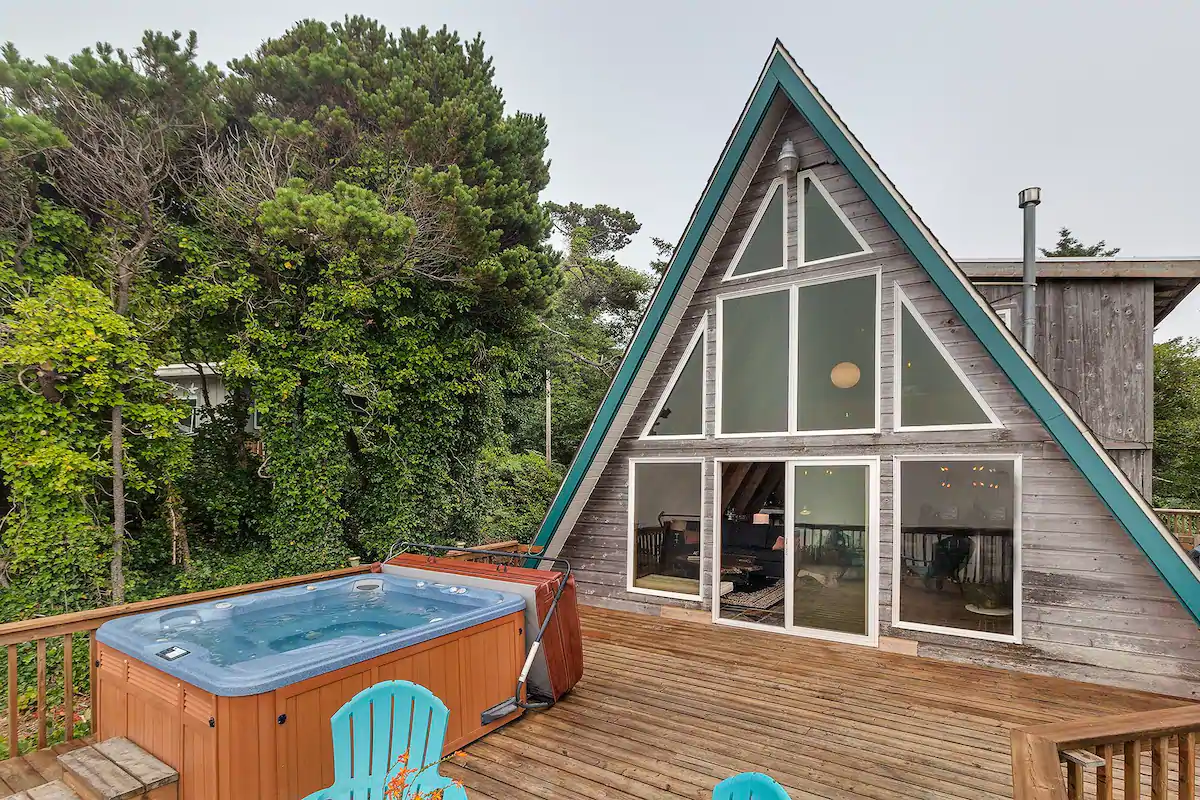 Luxe Mt. Hood Cabin
This surprisingly luxurious cabin is tucked into the Mt. Hood wilderness. Unwind from a day of skiing, snowshoeing, or mountain biking in the cabin's sauna. The cabin also has heated floors throughout, and a dreamy bed setup with linen sheets and an idyllic forest view from bed. Wifi and a smart tv make sure that you'll be entertained while you cozy up by the woodstove in the Hide and Seek Cabin.
The spaciousness and high end finishes of the kitchen and bathroom will make you forget you're in a 600 sq ft cabin in the wilderness, rather than a high end hotel. This cabin even has a gas stove so you can make a hearty meal after your day of Oregon outdoor adventures.
Click Here To Check Rates On Airbnb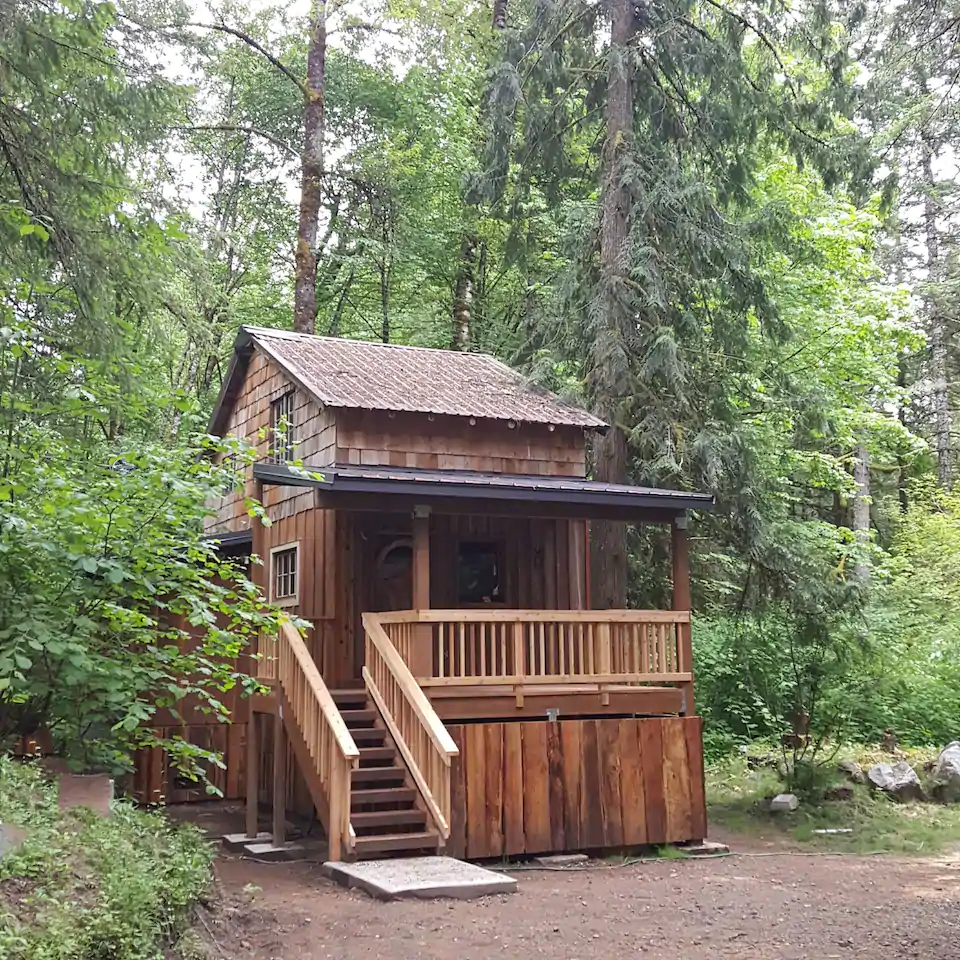 Riverfront 1920s Cabin
Stay in this little slice of history- this is the only remaining cabin on Mt. Hood that used the 1920's cordwood building technique, resulting in its charming polka-dot exterior. The inside has been lovingly refurbished. You'll love the modern touches like the large soaking tub and the espresso machine. Come check out this Little Yew Lodge, a truly charming and unique choice out of all the cabin rentals in Oregon.
The prospectors who built this place in the 1920's really did pick the most stunning spot for a cabin. Tucked in the Mt. Hood wilderness this cabin overlooks the Sandy River. There is a lovely deck out back with picnic tables and a BBQ grill to soak in tranquil river views. The cabin is surrounded by massive trees that are over 100 years old.
Click Here To Check Rates On Airbnb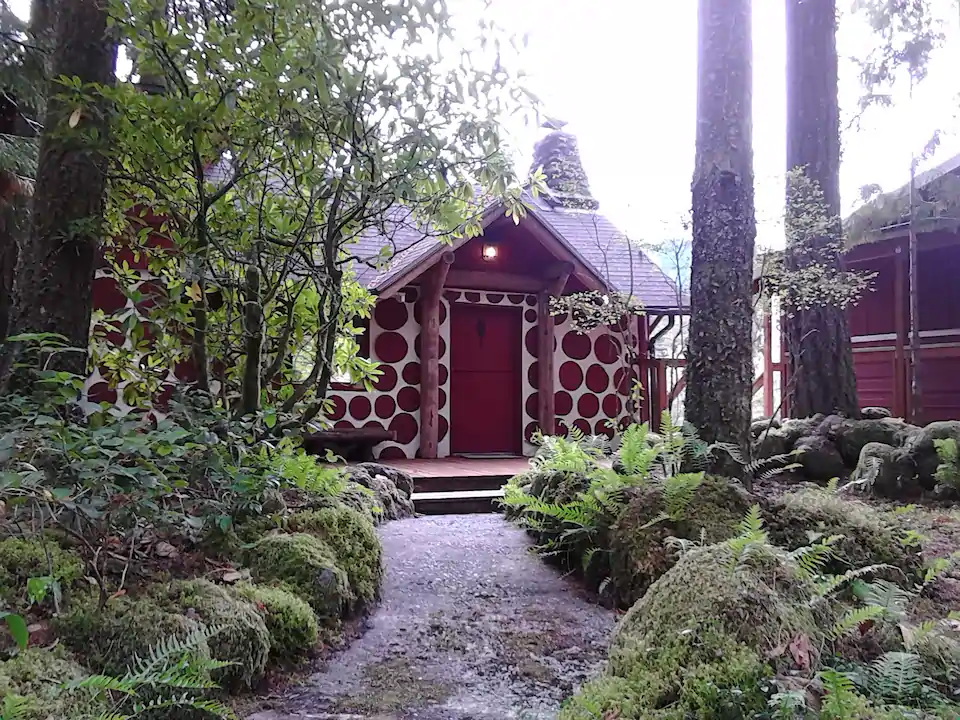 Red Blanket Cabin
This cozy cabin is located near one of Oregon's main natural attractions- Crater Lake National Park. Location alone puts this at the top of the list of the best cabins in Oregon! This area is very remote and has absolutely lovely stargazing. Maximize your time outside in the Oregon wilderness with a spacious patio, an outdoor fireplace and a bbq.
The Red Blanket Cabin has lots of lovely wood accents and includes two bedrooms, both with top of the line Sleep number beds. A well-appointed kitchen makes sure you can cook up a feast when you get back from hiking. Use the record player and record collection to have some groovy vinyl tunes be the soundtrack to your forest escape.
Click Here To Check Rates On Airbnb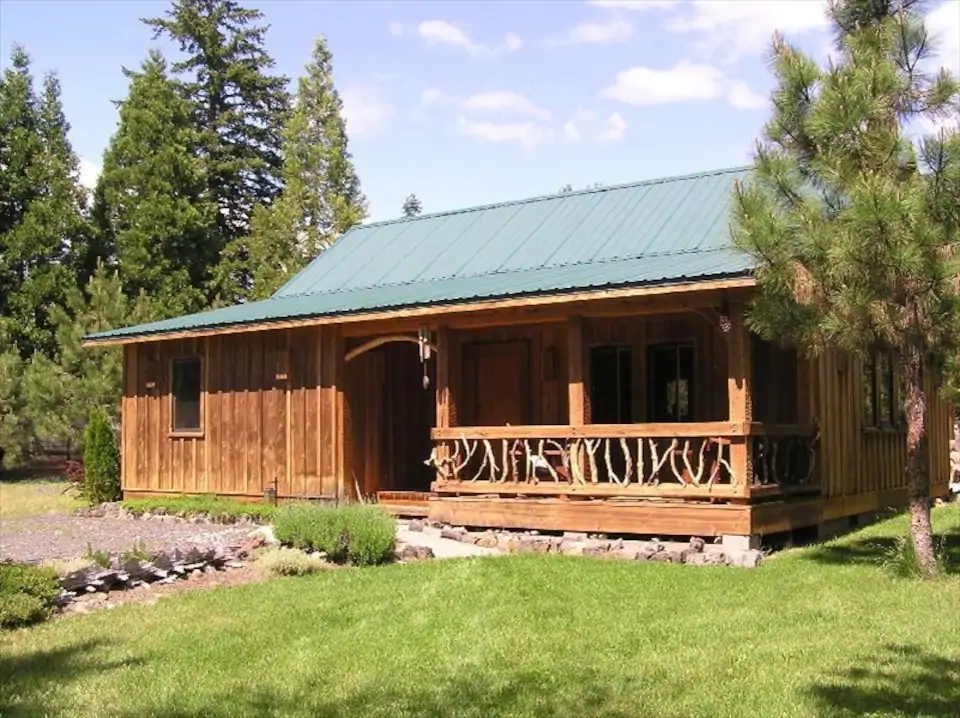 Riverfront Forested Cabin
If you really need to get away from it all, this is best cabin in Oregon for you! No cell service and a beautiful river running right through the property. This cabin is tucked deep in the picturesque Umpqua National Forest. Relax in a hammock by the river and watch for blue herons. Soak in the private hot tub with an amazing view of the Milky Way.
We know you'll enjoy the homey Lincoln log feel of this traditionally constructed cabin. The Riverfront Forested Cabin boasts great fishing and mountain biking nearby, as well as great swimming holes along the river. This spot would be great for a peaceful Oregon summer getaway.
Click Here To Check Rates On Airbnb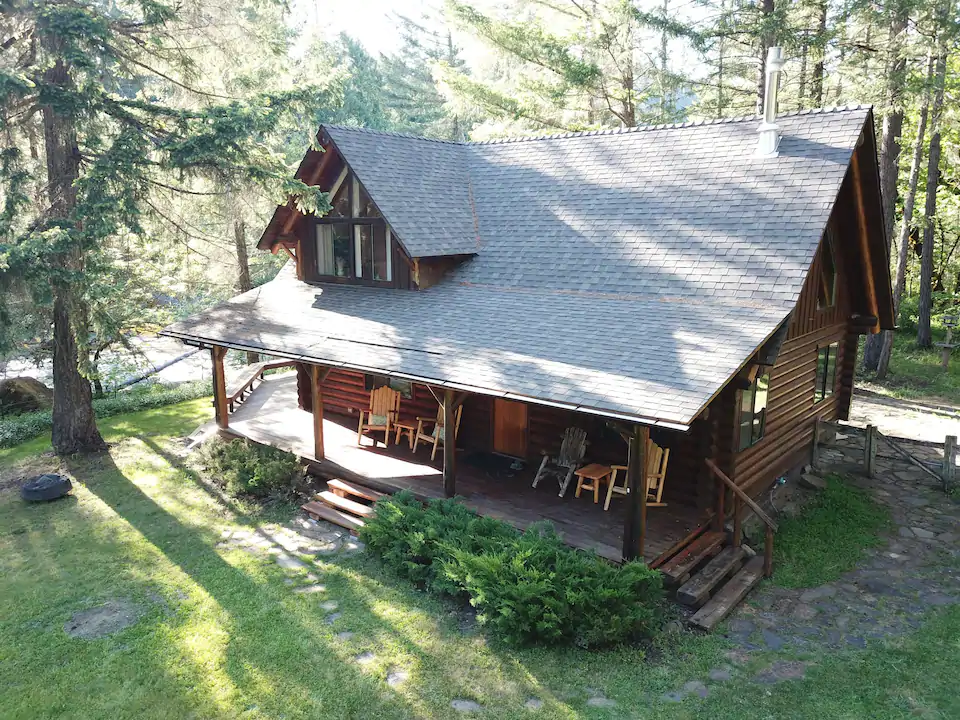 Rustic Coastal Cabin
Love the forest and the beach? While staying at the Rustic Coastal Cabin you don't have to choose which one is your favorite. Experience both from one of the best cabins in Oregon! Take in the stunning forest views from your wraparound porch, then head to the amazing local beaches to play all day. This cabin's location in Brookings puts you near some of the most scenic spots on the Oregon Coast. In fact, our Oregon Coast Road Trip Itinerary recommends a few stops nearby.
This spot has all the cabin features you love- wood stove, exposed beam ceilings, so many cozy wood and stone textures and patterns. There is a clawfoot bathtub with a forested view that is the perfect place to unwind from your day of adventure.
Click Here To Check Rates On Airbnb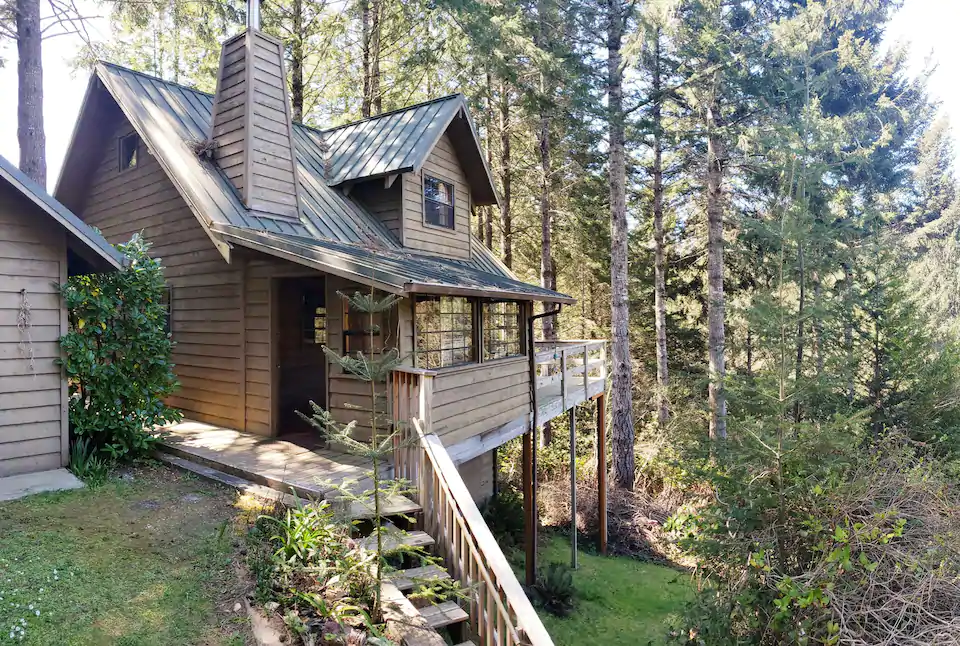 The Lighthouse Cottage
One of the most unique cabins we've ever seen, it doesn't get cuter than this! This cozy lighthouse cabin near Gold Beach is just the sweetest. Soak in the amazing views of the Oregon Coast from your very own tiny lighthouse. Enjoy a beer in the private hot tub while you watch the sunset over the waves. We love the Oregon Coast. Click here for our Oregon Coast Road Trip Itinerary.
The full sized washer and dryer here can keep up with all your beach day laundry. The cozy little lighthouse kitchen will keep you nourished after a long day of beach fun. Like any good lighthouse, the real showstopper are the views from every side. Come make some memories at this unforgettable entry on our best cabins in Oregon list!
Click Here To Check Rates On Airbnb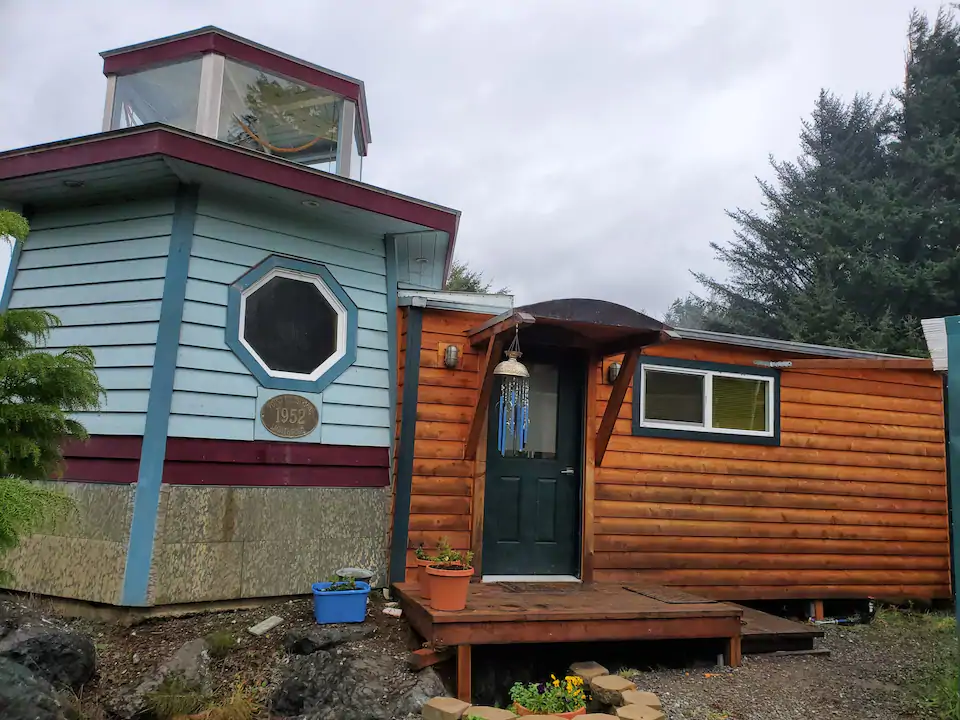 Wilson Farm Cottage
The perfect cabin getaway for those craving the simple life. This cabin is located on the stunning 8 acres of Wilson Farm in Damascus, OR. Enjoy the simple pleasures of farm life. The owners of the farm will even let you get to know their animals, which include chickens, goats, pigs, and ducks.
Eat a farm fresh dinner at the table in the covered garden patio. Meander the misty farm and surrounding wilderness. Enjoy the lovely little whitewashed farm kitchen. Make use of the relaxing clawfoot bath tub. This must be one of the most romantic cabins in Oregon. This custom cabin's design is chock full of vintage charm, certainly a cottage-core fans dream! A truly special cabin on our best cabins in Oregon roundup.
Click Here To Check Rates On Airbnb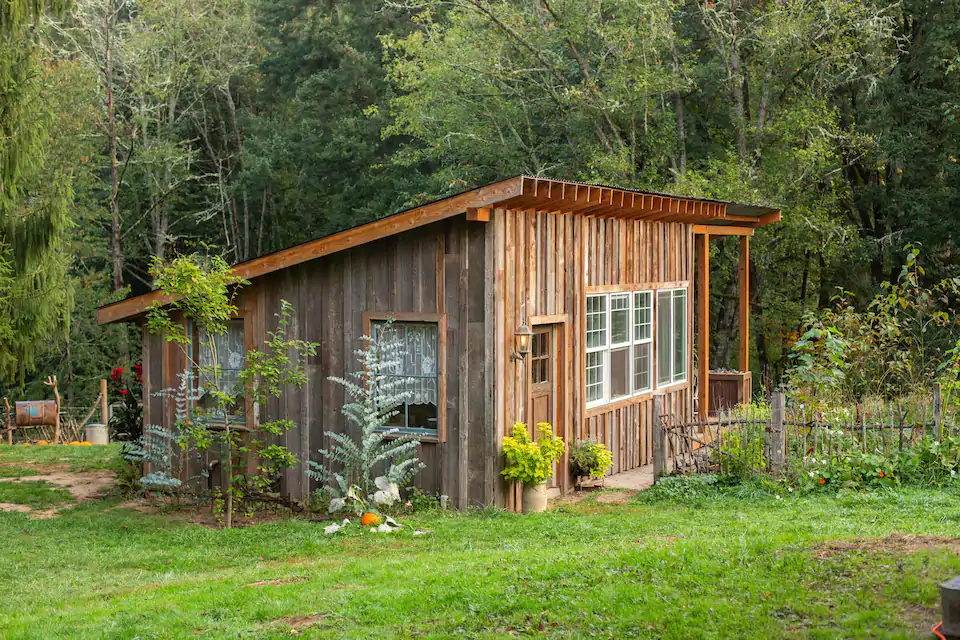 Osprey Treehouse
This Airbnb has everything you love about cabins, located 20 feet in the air! Catch a birds eye view of the unbelievable Columbia River Gorge from this picturesque spot. This cleverly designed treehouse has tucked a lovely bathroom and kitchenette into its octagonal floor plan. The two balconies make sure that you can bring the Oregon outdoors in during your cabin getaway.
You'll love feeling like a part of the forest, nestled high in the trees and surrounded by big picture windows. The Columbia River is a short walk away. Enjoy exploring its many beaches and coves, but be sure to make it come to catch the sunset from your cozy treehouse cabin. You won't to miss this entry on our list of Best Cabins in Oregon.
Click Here To Check Rates On Airbnb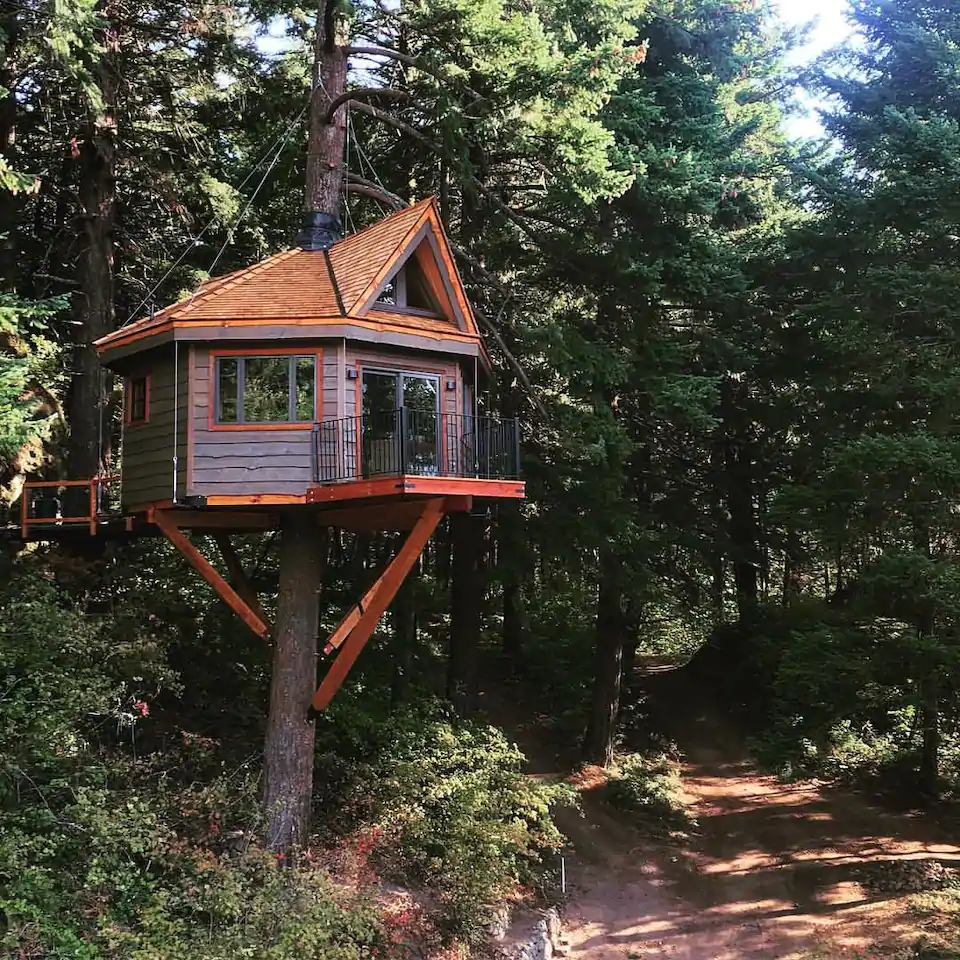 Cozy & Private A-Frame
This spacious 3 bedroom A-frame is an absolutely stunning entry on our list of the Best Cabins in Oregon. You'll love coming home to that huge central fireplace after a day of skiing, snowshoeing, mountain biking, or hiking on Mt. Hood. The hosts of this Airbnb thoughtfully provide a trail map of the area so you can explore the many waterfalls and lakes the National Forest has to offer.
A truly unique feature of this A frame is that there is a large soaking tub in the point of the A. The perfect spot to warm up after a day of adventure in Oregon! There is also an outdoor fire pit and BBQ on the large deck if you prefer to do your warming up while stargazing.
Click Here To Check Rates On Airbnb