Are you looking for a vacation rental in Colorado? You have come to the right place. From a Cozy Mountain Vail rental to a Historic Carriage rental in Denver, we have found some of the most unique, cozy, and highest-rated rentals in Colorado. Whether you want to take it easy or are the more adventurous type, we have got your covered.
Colorado is a state with a diverse landscape from the arid desert, river canyons, and snow-covered mountains, there is something for everyone and every season. There is skiing in the winter, hiking in the summer, and a host of other activities you can enjoy like river rafting, fishing, and mountaineering. Mix that with the sights and nightlife of Denver and Colorado makes a great location for any traveler.
Staying in a unique location will only add to the experience, so let us dive into the best rentals in Colorado. We have found, treehouses, cabins, converted buses, Tuscan palaces, and some vintage gems.
Often cheaper and with more amenities, Airbnbs are a great option for travelers. They are often in stunning locations and you can experience the quirky and unique, which is often missing when staying in hotels. In this list, we will break down the best Airbnb in Colorado with the location, so you can decide which Airbnb is right for your stay.
To read more about Colorado see our Colorado road trip itinerary.
Looking to save money on your trip to Colorado? Get a FREE $55 Airbnb coupon by using our code when you book!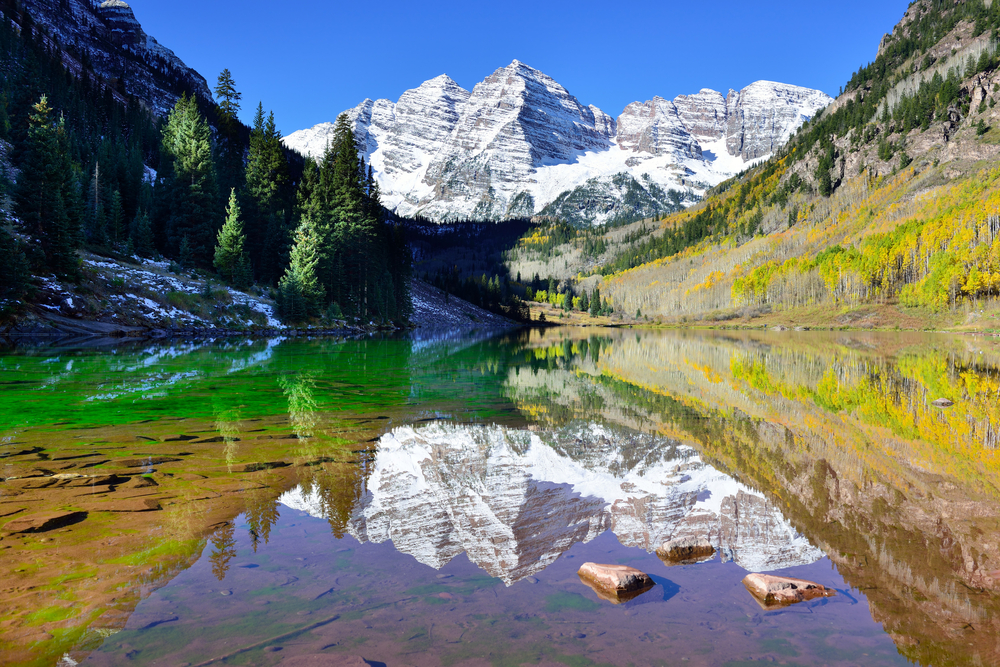 20 Best Airbnbs In Colorado (Treehouses, VRBOs and more!)
Little Red Treehouse
In Lyons, Colorado The Little Red Tree House is an intimate getaway for two that won't disappoint. A 5-minute walk from Lyons town with private road access, the treehouse is equipped with everything you need. Guests get access to a picnic area, a pergola and a big lawn, but what people come here for is the incredible views that look over the plains and mountains.
An adorable little property with great big views, definitely one of the best Airbnb in Colorado.
Click Here To Check Rates On Airbnb
Cliff House
In Cortez, Colorado you will find the opportunity to stay at this extremely unique little house that is built right into a cliff! The Cliff House is on the flank of Sleeping Ute Mountain. It is a short trip to Mesa Verde.
This little one bedroom and one bathroom house sleeps up to three people. This space is all things natural especially with the house including the red rock cliff side as a wall. The owners even chose to not include a TV in hopes of helping you relax and reconnect to nature.
This unique Colorado VRBO is one you do not want to miss!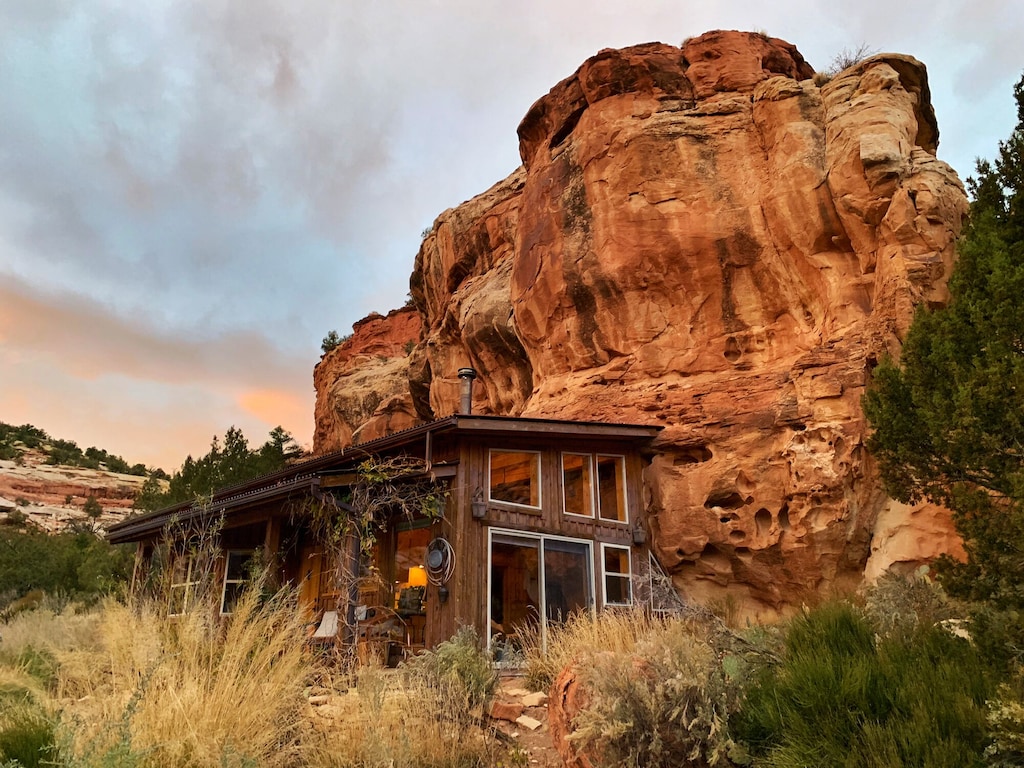 Moose Haven Cabin @ 22 West
In Walden, Colorado this 2-bedroom property can accommodate 5 guests and is perfect for that off-the-grid experience. You step out the door of Moose Haven Cabin and you are in the wild; Routt National Forest and the Mount Zirkel Wilderness are right on your doorstep.
This cabin is remote, so please bear that in mind and the bathroom and shower house is a short walk. If you like the outdoors then this property is for you and an added bonus is that you can bring pets.
A real getaway for those craving the outdoors.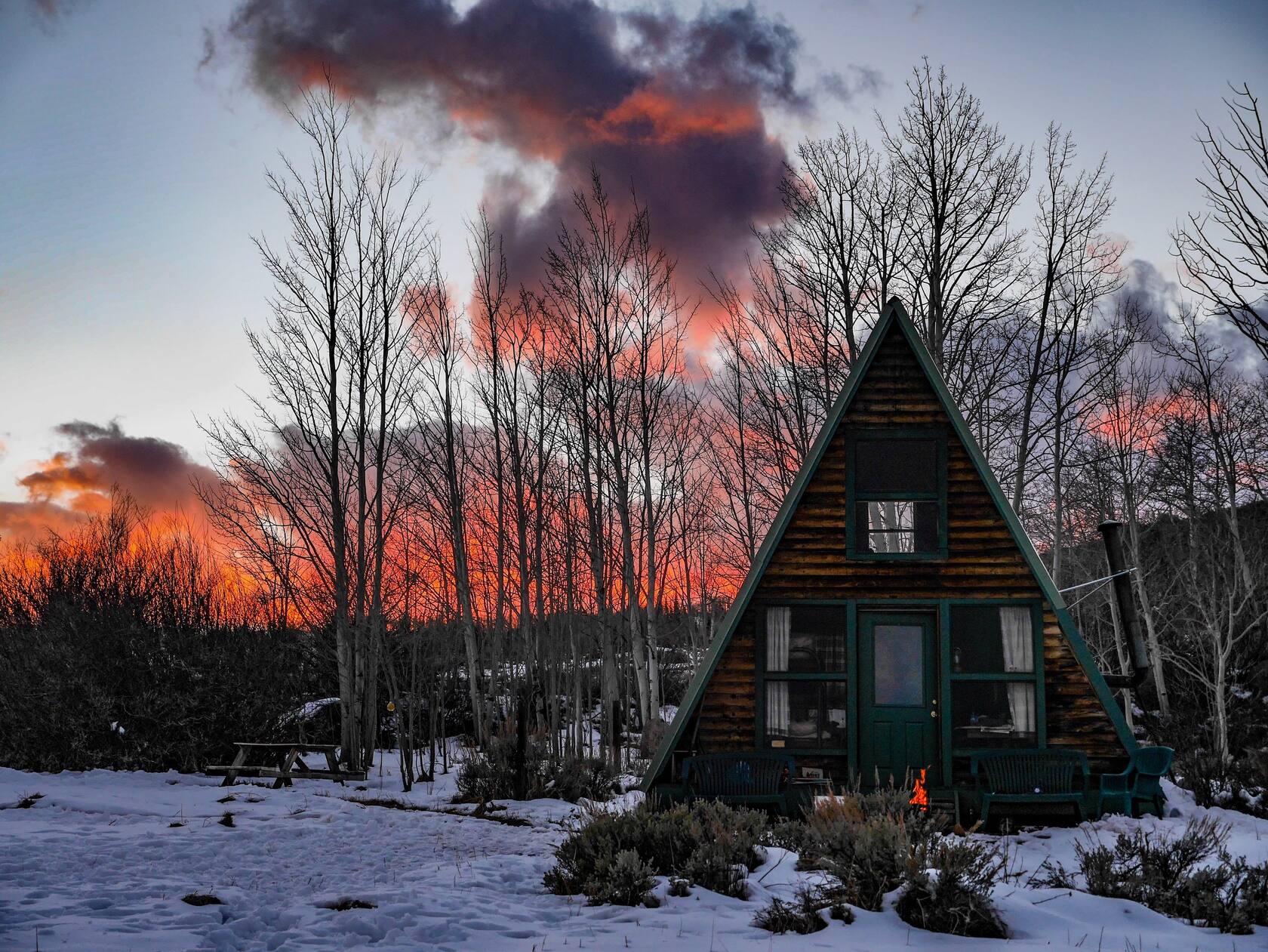 Bear's Den
Near Grant, Colorado in the Rockey Mountains The Bear's Den has some beautiful views around the house. This Colorado vacation rental has a wrap around porch and windows that cover almost every angle.
You can relax and enjoy the water front view, or maybe get a glimpse of some of the local wildlife! There is also easy access to an array of outdoor amenities locally.
This VRBO has two bedrooms and sleeps up to four people. It is beautiful and unique VRBO that is worth looking at!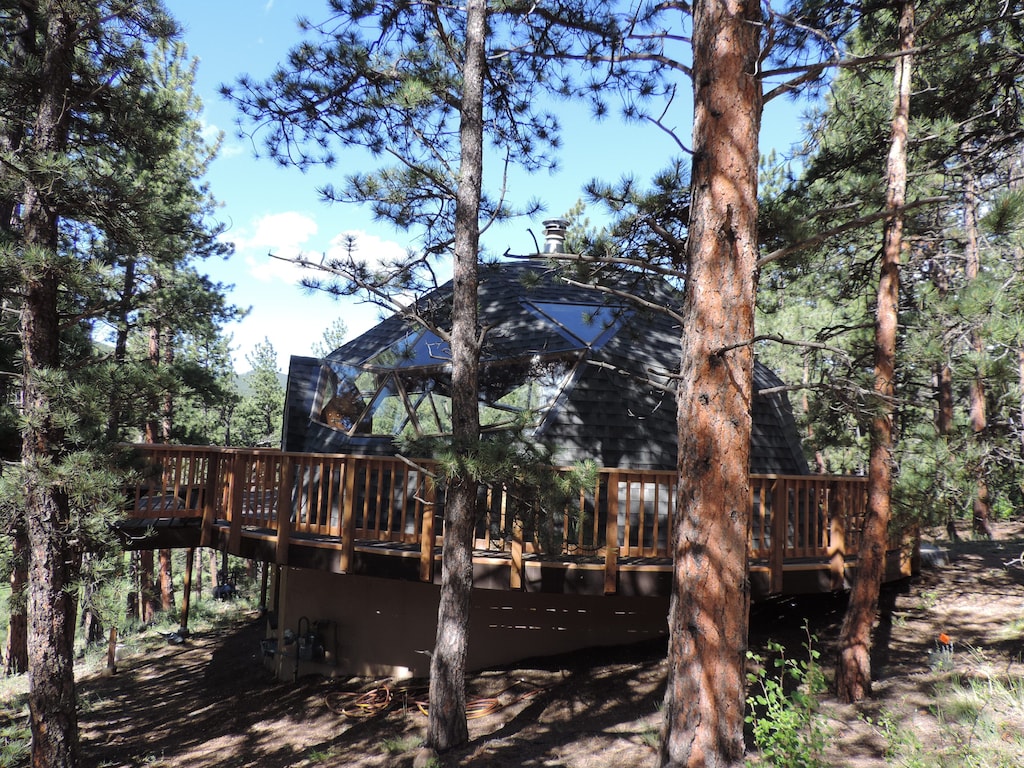 Still Water Mountain Retreat
Still Water Mountain Retreat sleeps 8 and is in Idaho Springs, Colorado. This home sits near a beautiful pond on two acres.
This home has been in a family for years and well cared for and loved. It recently transferred ownership, and the new owners want to give people the chance to enjoy Idaho Springs like a local. This Colorado VRBO is well maintained. It is seclusive and quiet, the perfect escape if you want to get away.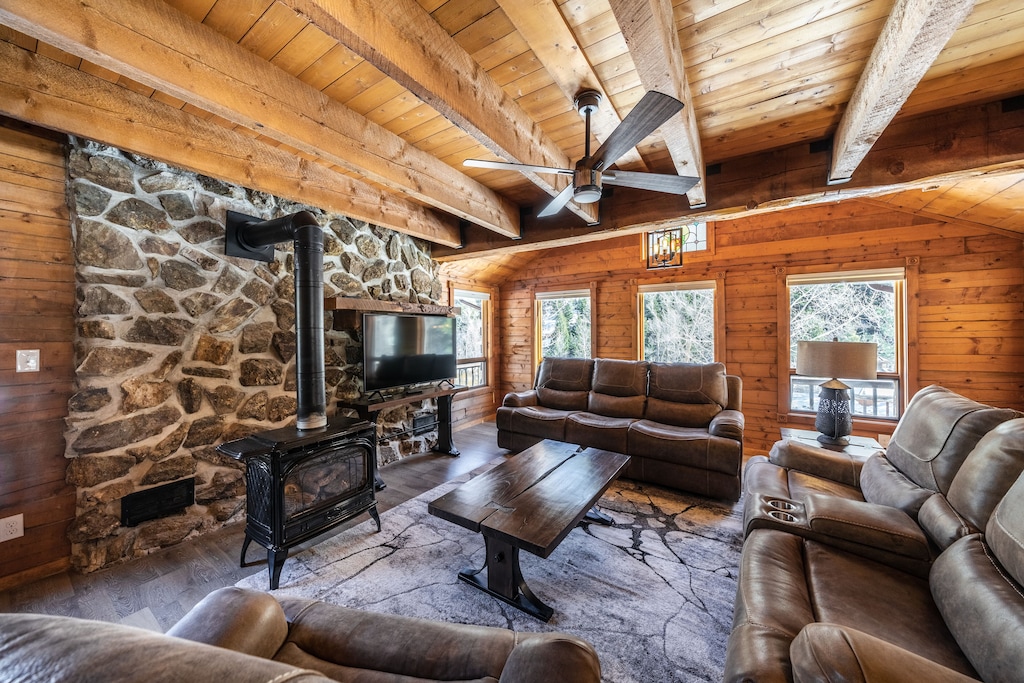 Secluded Glamping San Juan Mountains
Are you looking for a fun place to stay in Pagosa Springs, Colorado? Then look no further than this fun barn with glamping tents in the San Juan Mountains!
With multiple glamping tents you can sleep up to a party of twenty people! You will also have access to the finished barn with bathrooms, TV, and full kitchen.
On the ranch there is fishing, horse back riding, access to hiking the San Juan Forest and even Elk hunting in the mountains during Elk season. There is also archery and yard games!
If you have a large gathering of people, this is a Colorado VRBO worth looking at!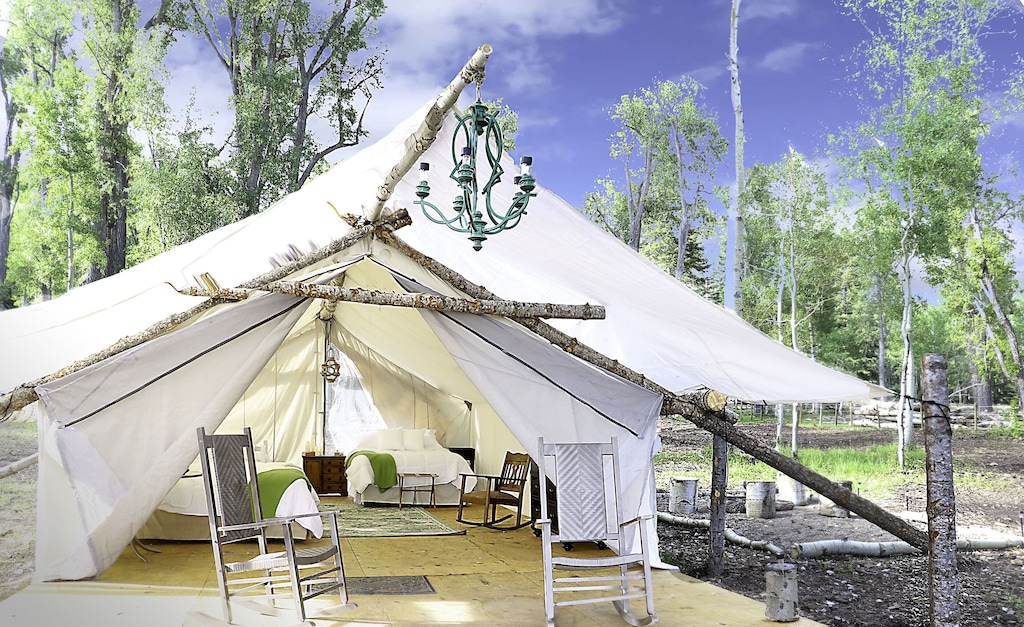 Wonder Haus
Sleeping 8 people, Wonder Haus in Pagosa Springs is such a unique and breathtaking property. Set on 7 acres surrounded by the San Juan National Forest, this property is a passive solar earth home with a stargazing observation tower.
Close to downtown Pagosa Springs, this property is light, airy, and has incredible views.
If you are looking for something different, this property might be for you.
Click Here To Check Rates On Airbnb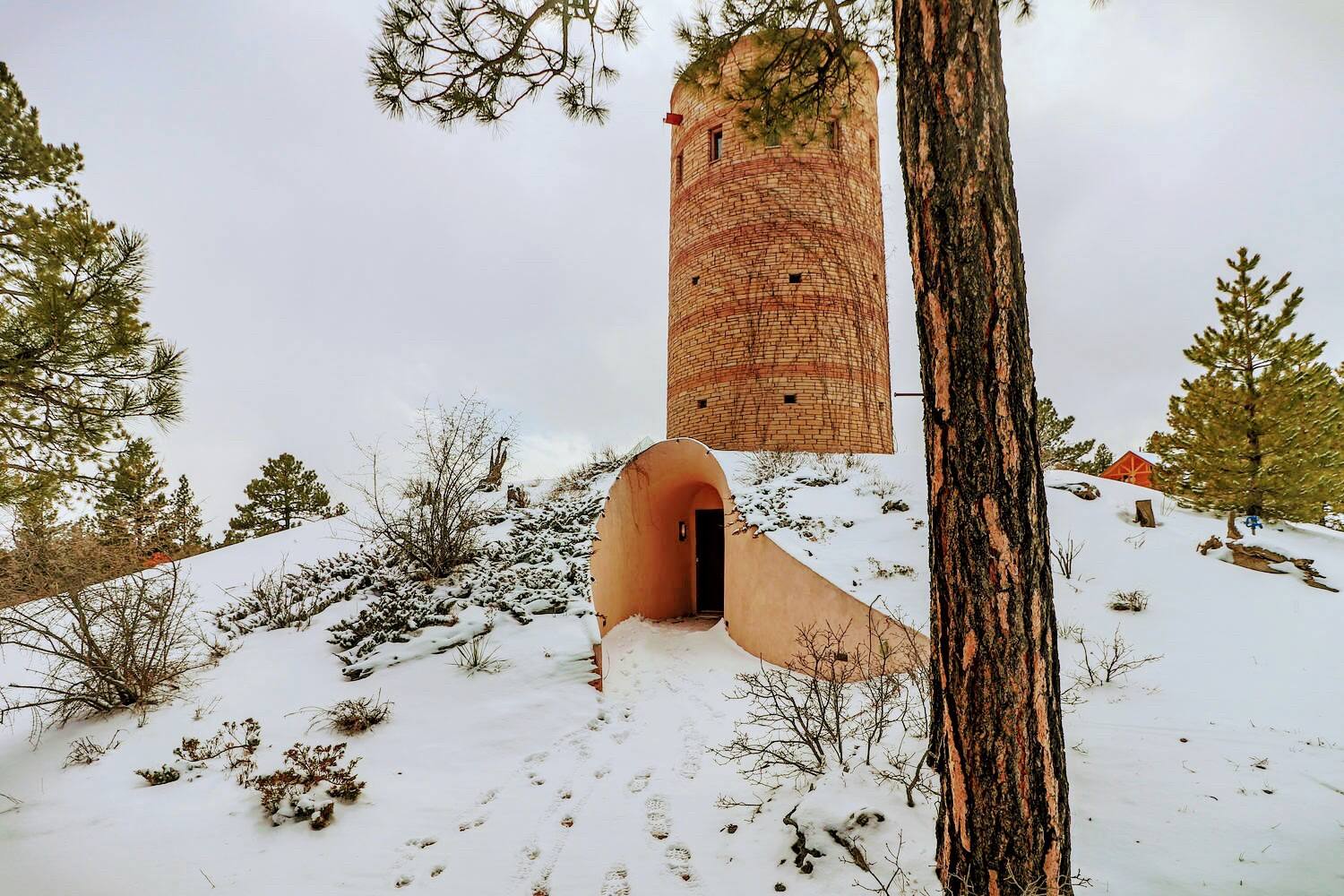 Historical Trolley Car on Urban Farmstay
The Historical Trolley Car is a guest house constructed around a Denver Streetcar Trolley. The open plan living is colorful and bright and has an outdoor patio area overlooking a creek.
In Wheat Ridge, Colorado this property is 4 miles away from Denver and 15 minutes from Red Rocks. There are also so many amazing Airbnbs in Denver that you can stay at this is just one of a good deal of unique places.
This is a great getaway for two if you want country living but still access to the hustle and bustle of Denver.
Click Here To Check Rates On Airbnb
Modern Urban Sanctuary
If you are looking for an extremely fun VRBO in Colorado, then take a look at this Modern Urban Sanctuary.
In Whittier, Colorado you will find a converted 100-year-old, mission-style church is ideal for groups. This six bedroom renovated church can sleep up to 18 people. It was carefully redone with respect to the architecture, but bringing in a modern feel to it as well. This is the perfect unique place to stay while you go out on adventures around Colorado!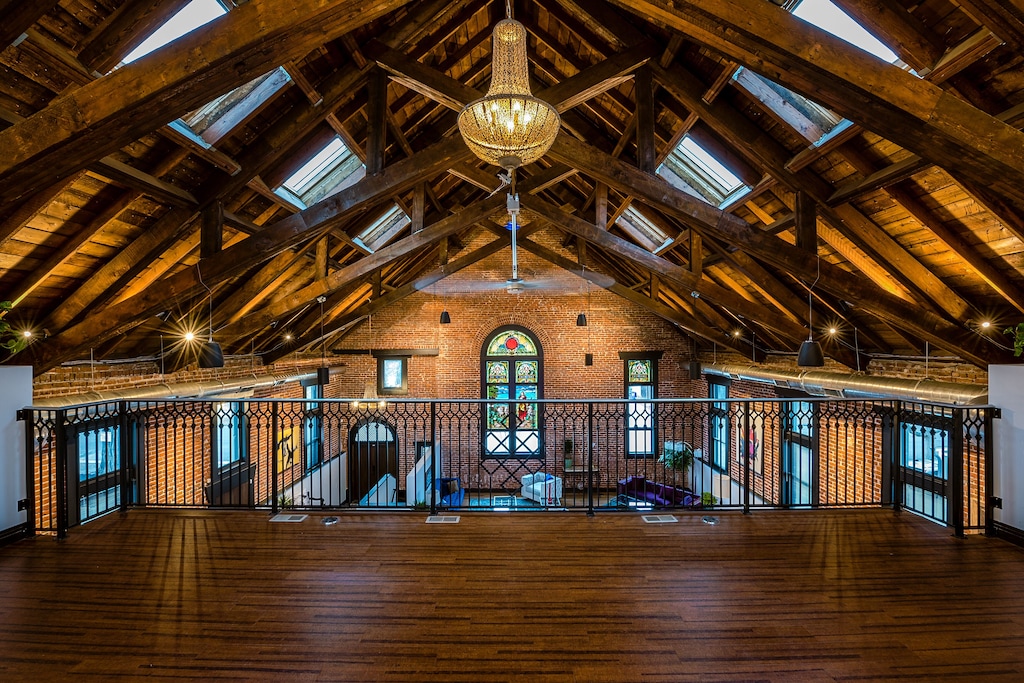 Big Blue Trace
In Breckenridge, Colorado you will have the chance to stay at a beautiful VRBO. The Big Blue Trace is a large house that can fit up to eleven people!
This house has plenty of fun things to do with two living rooms and a media room. There is a brand new hot tub as well for you to enjoy! If you are wanting to ski, the owners suggest checking out Breckenridge Ski Resort website as it is the closest ski resort.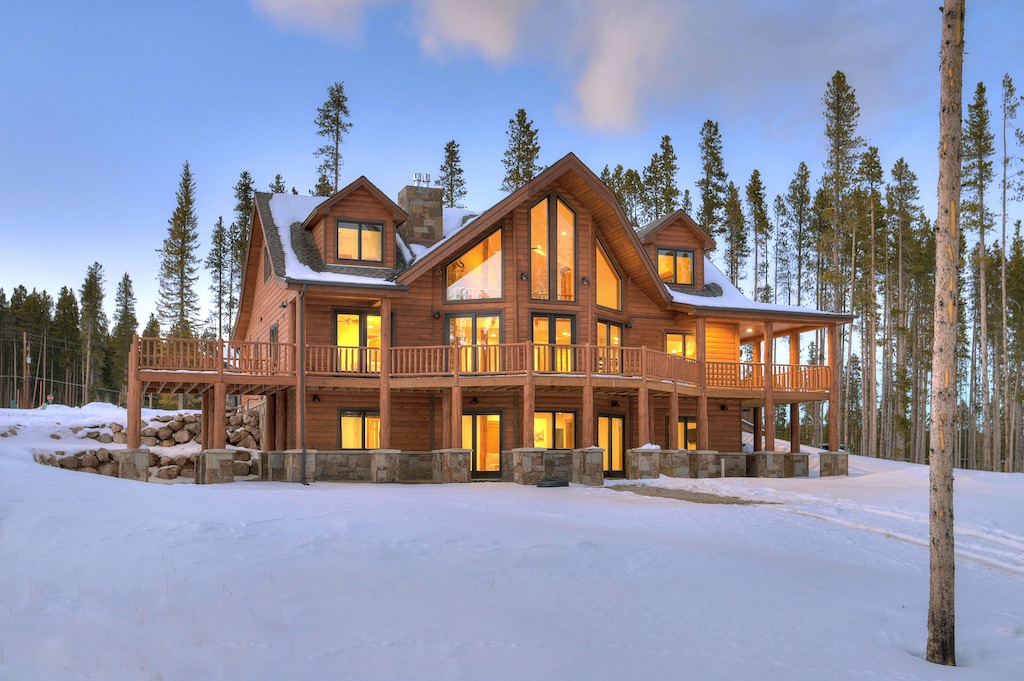 Holloway Cabin on Creek & Private Hot-Springs
Holloway Cabin sleeps 4 guests and is nestled in the mountains in Buena Vista. A restored 1800s mining cabin, this property piece de resistance is an odorless hot spring hot tub with an ever-flowing infinity-edge, also complete with mood lighting.
A great Airbnb in Colorado to while away your days in the Rocky Mountains while enjoying the scenery.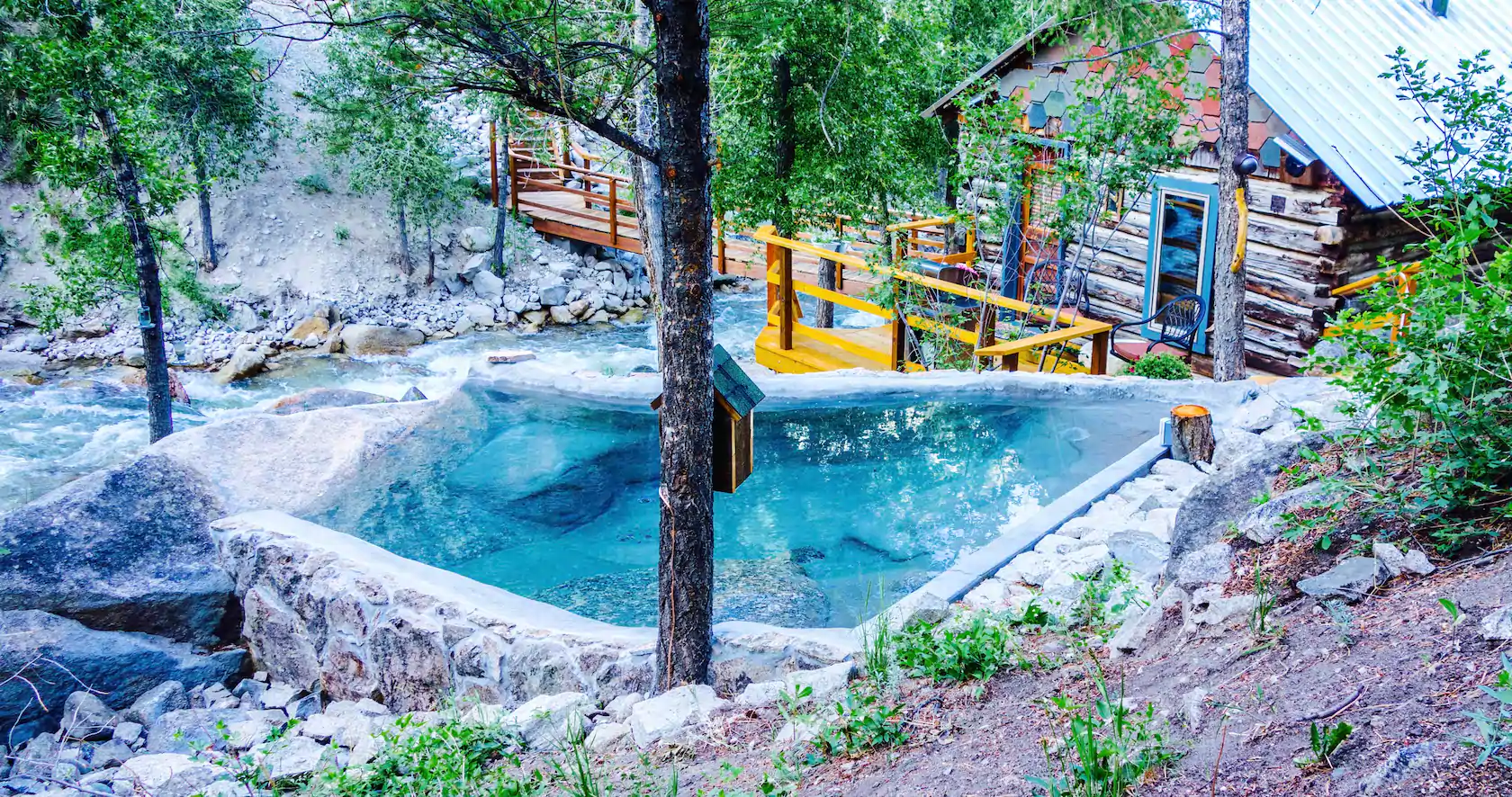 1914 Cabin Bordering Forest, Fishing, Views
Sleeping six, this 1914 Cabin is a few short minutes from the entrance to Rocky Mountain National Park and across the road from the Big Thompson River. This is mountain living just as you would expect.
Fully modernized, inside this 100 + years property has been cared for and has all the mountain charm you could wish for.
A property that really gets you close to nature without losing any of the comforts.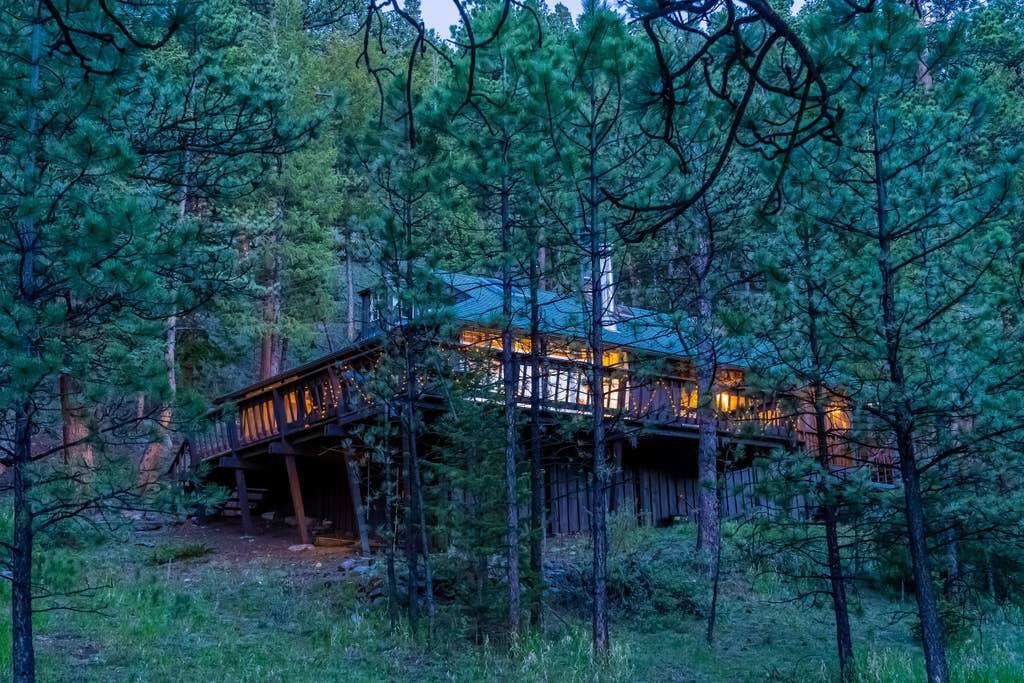 Elouisa – Refurbished '57 Schoolbus
Situated in 26 acres in Mancos, Elouisa is complete with all you need to enjoy mountain living. She is vintage, quirky, and cozy. Oh, and did we mention the view overlooking Mesa Verde.
A cozy place to stay for that real 'into the wild' feeling.
Elouisa is completely private with hiking trails and mountain living right outside your door and window.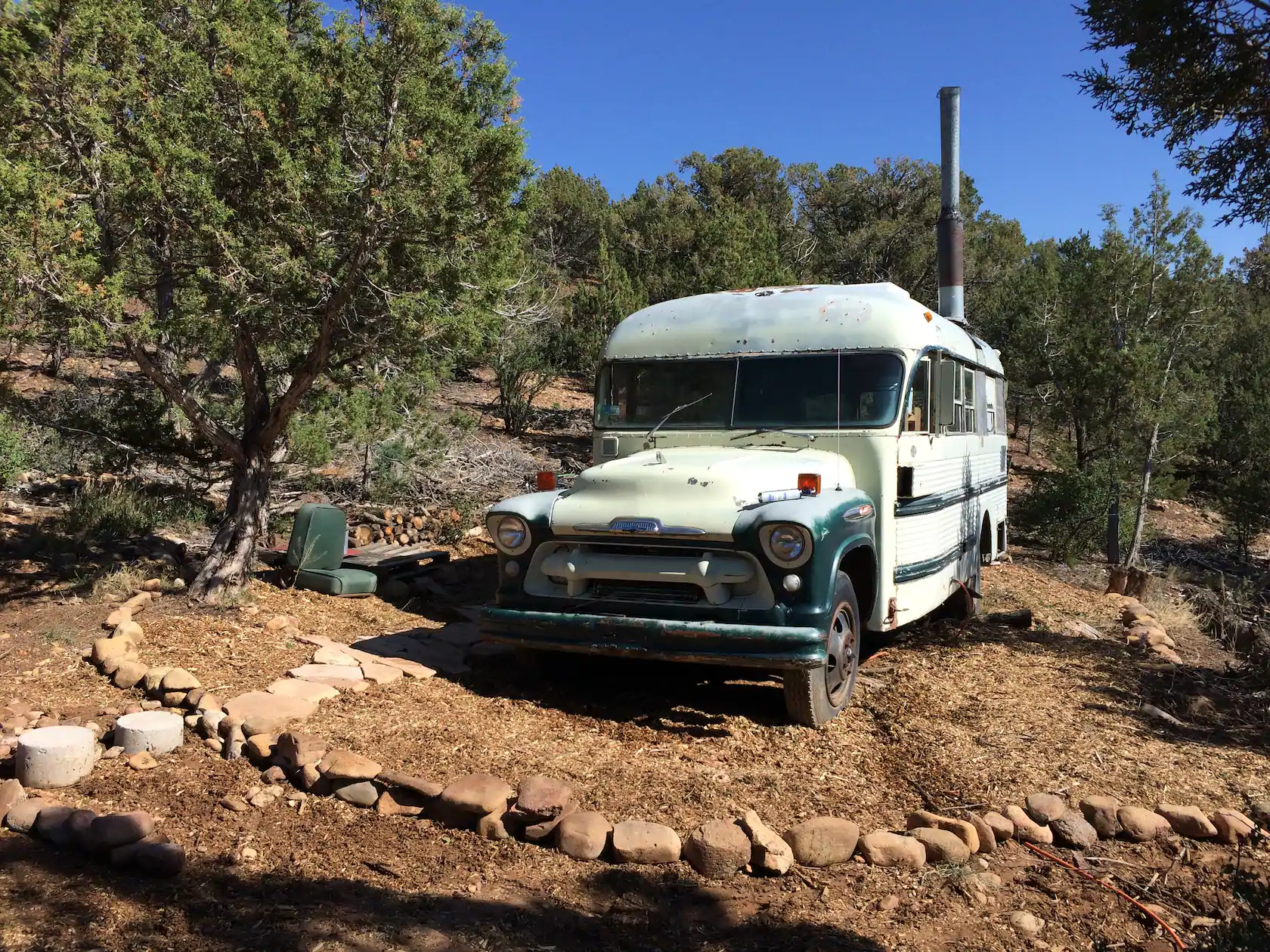 Amazing Tiny House – Mountain Tiny Living Dream
She might be tiny but she has all you need and bags of charm. The Tiny House is located in scenic Fairplay, (of South Park tv show fame!).
If you are seeking a relaxing and cozy mountain experience this VRBO in Colorado might be just perfect for you. It can sleep, three guests.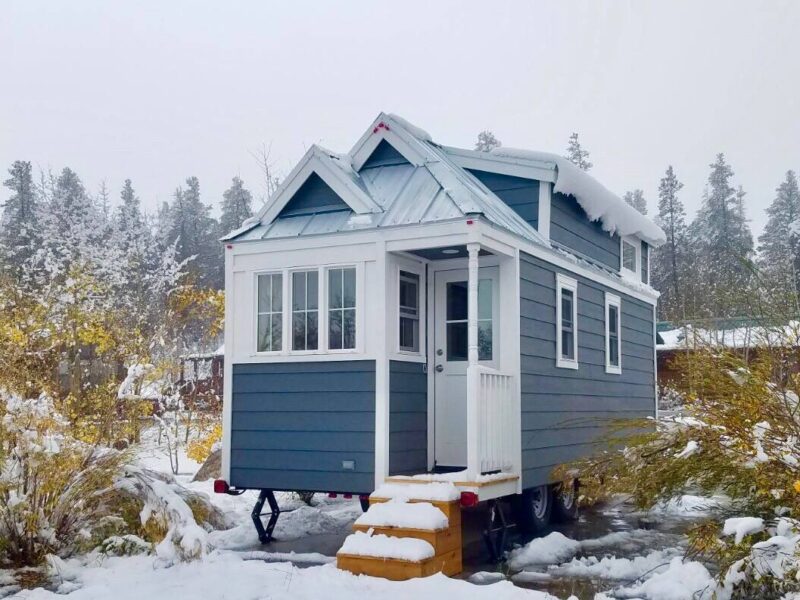 Stunning yurt property near Creede, Colorado
Holding up to four guests, this stunning yurt property offers you the true wilderness experience in the San Juan Mountains. This Airbnb in Colorado is for you if you want solitude, views and to go off-grid.
You will need a 4WD to get to this location and you need to arrive in daylight, that's how remote it is and don't expect wifi and phone signal.
The location is stunning, the view even more so and this really is remote mountain living.
Click Here To Check Rates On Airbnb
Moose Creek Lodge
In Fairplay, Colorado you will find this adorable A-frame cabin, Moose Creek Lodge.
This vacation rental in Colorado is conveniently located right around the corner from a National Forest entrance and Thompson Park. So if you love hiking and the outdoors, this is a rental you should take a look at!
This rental has three bedrooms and can sleep up to eight people. It is a perfect mid-size rental for smaller groups of people!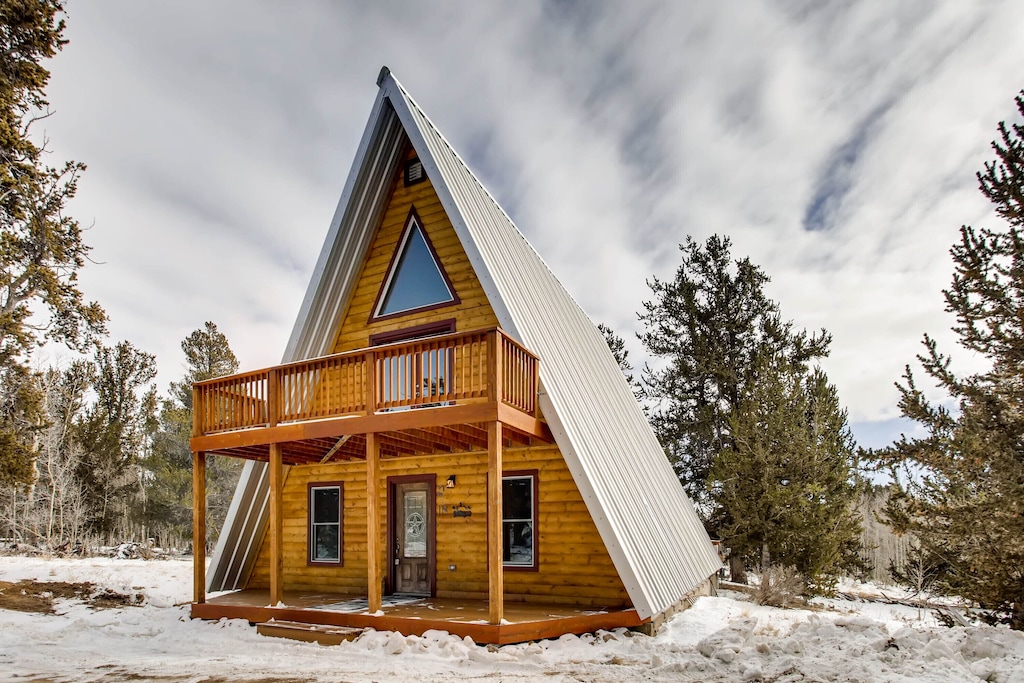 Rustic Mountain Home
If you are looking for a vacation rental in Steamboat Springs, then look no further than the Rustic Mountain Home.
This large five bedroom home can fit up to fourteen people! It sits on ten amazing acres with views all around. If you want space with your group, this is the place to go and relax.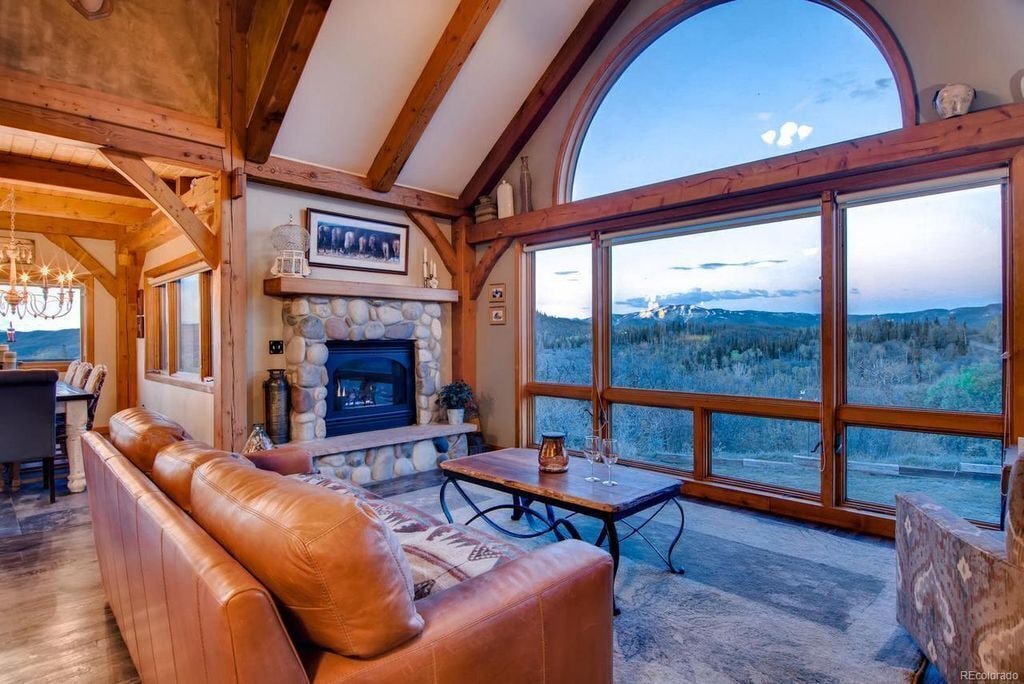 East Vail
Are you looking for a spot in East Vail, Colorado? Then look no further than this newly remodeled home!
This beautiful home can house up to six people. You can enjoy the hot tub and spectacular views on the deck! This is also located near the free shuttle bus line that runs to Vail Village. So this is the perfect place to stay to go enjoy some skiing or the local town!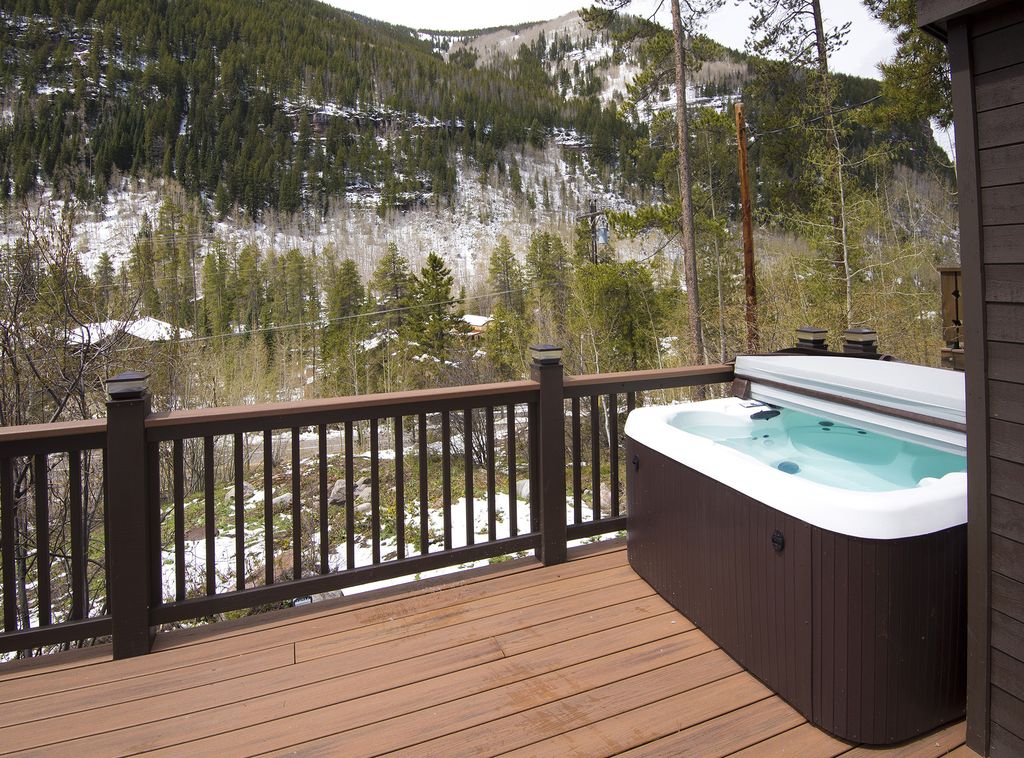 A Mine Shaft
If an Italian villa isn't up your street then how about a stay for 16 in A Mine Shaft. This luxury property in Breckenridge was built in the style of a classic Colorado mining site, utilizing an array of vintage reclaimed materials. Featuring a game room, home theater, gourmet kitchen, and outdoor hot tub the chalet is full o flight, windows, and views that are breathtaking.
This property is stunning inside and comes with a three-car garage which is heated, ensuring you don't get cold in the winter.
An incredible vacation rental in Colorado for those who want that little bit extra.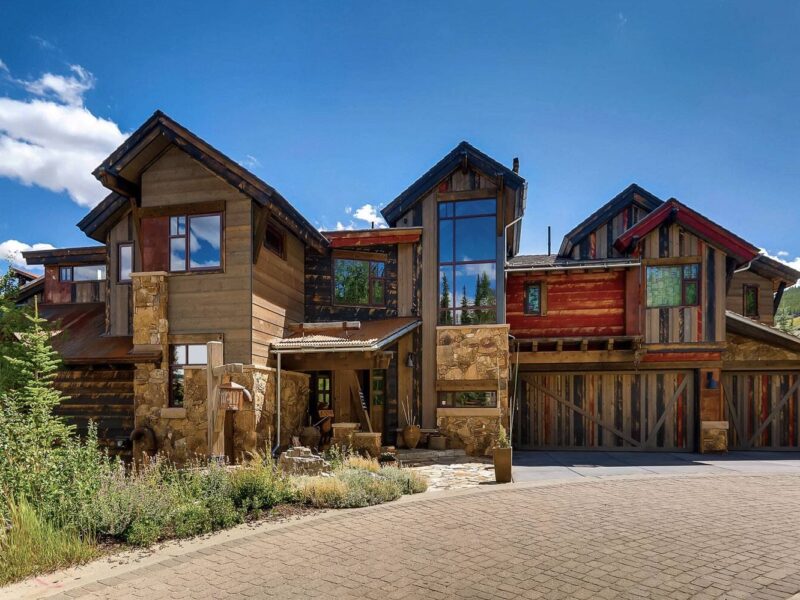 Estes Park
For a great place to stay in Estes Park, Colorado look no further then this private vacation rental!
This location is great with an easy walk to the local town. So you can go enjoy your time there, and then go home and relax in the amazing hot tub with gorgeous views!
This Colorado VRBO sleeps up to six people. So it is a great spot for a family or small group. Enjoy this relaxing spot and recharge!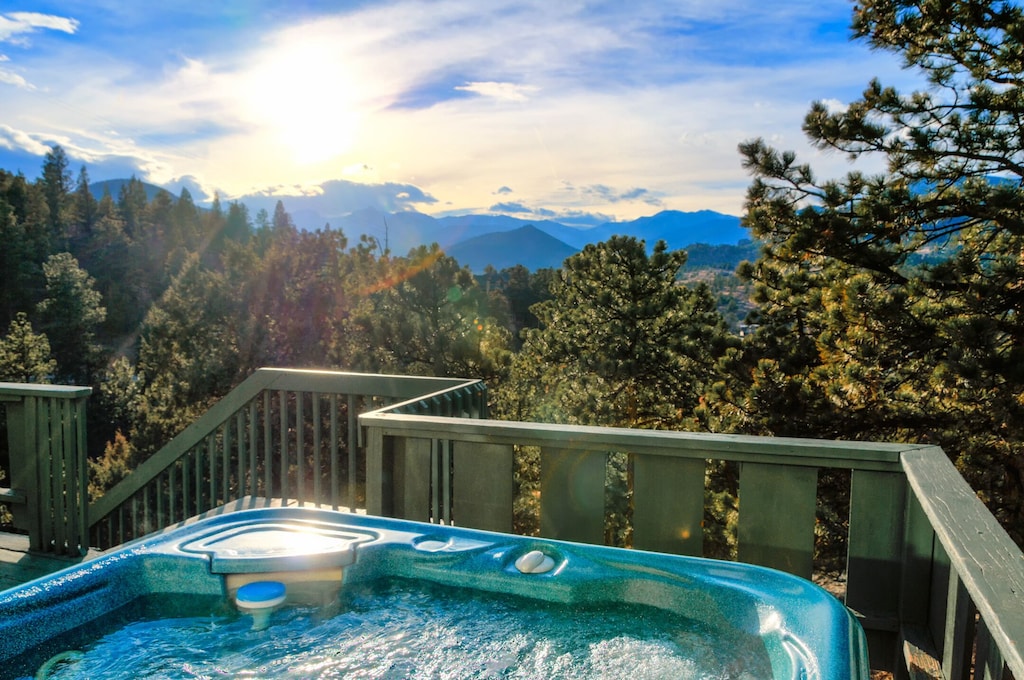 We know of you pick on of these vacation rentals in Colorado, you will have an amazing time. We cant wait to hear all about it. Enjoy your holiday in Colorado!