Are you looking for the best cabins in Washington? We have found a great selection for you! There are cabins for every taste and budget tucked in to the Evergreen State. It was so hard to narrow down this list to only a few of the best cabins in Washington State.
Whether you want to enjoy lush views from your very own treehouse, live your cottagecore dream by waking up on a picturesque farm, or watch the waves out the window while sipping a cup of tea, there is a cabin on this list for you. We have found the most romantic cabins in Washington and are excited to share them with you!
It's no secret that Terrance and I love the Pacific Northwest and especially Washington State. If you're looking to road trip to more than one of these dreamy rental cabins, check out our ultimate Washington Road Trip. There is so much to see and do in Washington State. Click here for some of our favorite stops to make in the Evergreen State.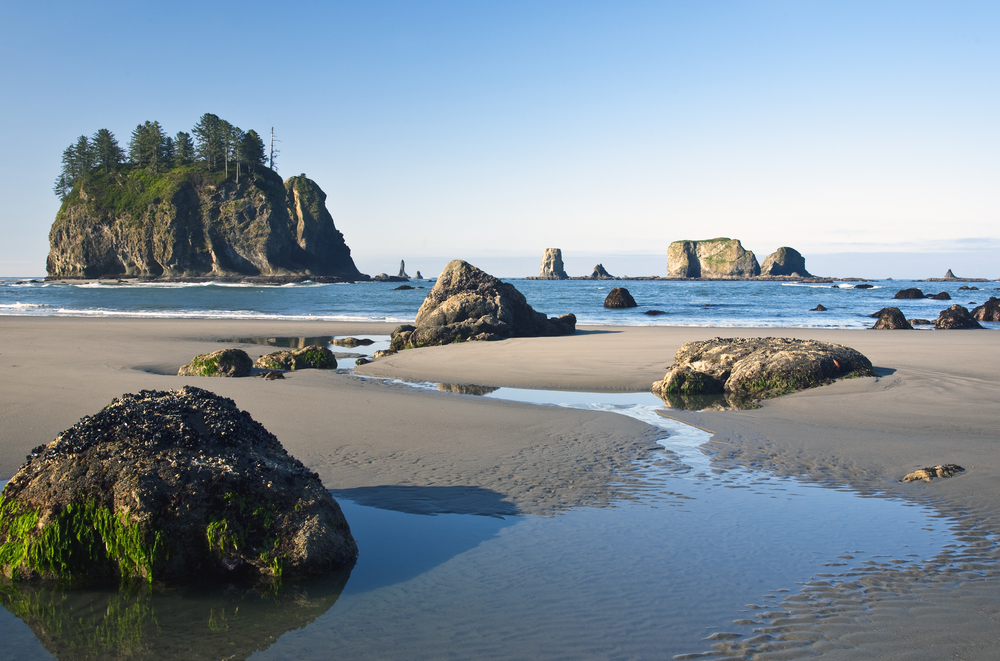 15 Cozy Cabins in Washington State
Treehouse at Deer Ridge
Starting our best cabins in Washington State list off strong with what Apartment Therapy has called "One of the top 10 best rental treehouses in the USA." It only takes one look at the large soaking tub with a view of the evergreen treetops to see why this cabin is head and shoulders above the competition.
Watch the sunrise over Mt. Pilchuck from your sumptuous four-poster bed. Enjoy a cup of tea by the fire, or grill some fresh local food out on the front deck. Despite being a treehouse cabin in the wilderness, this spot boasts lots of luxury finishes and would surely make a romantic getaway.
If you can bear to leave this cozy cabin and it's incredible views, the house is close to lots of hiking trails and the owners promise to direct you to some of their favorite local hidden gems. Don't forget to check out some of the coolest Airbnbs In Washington!
Click Here To Check Rates on VRBO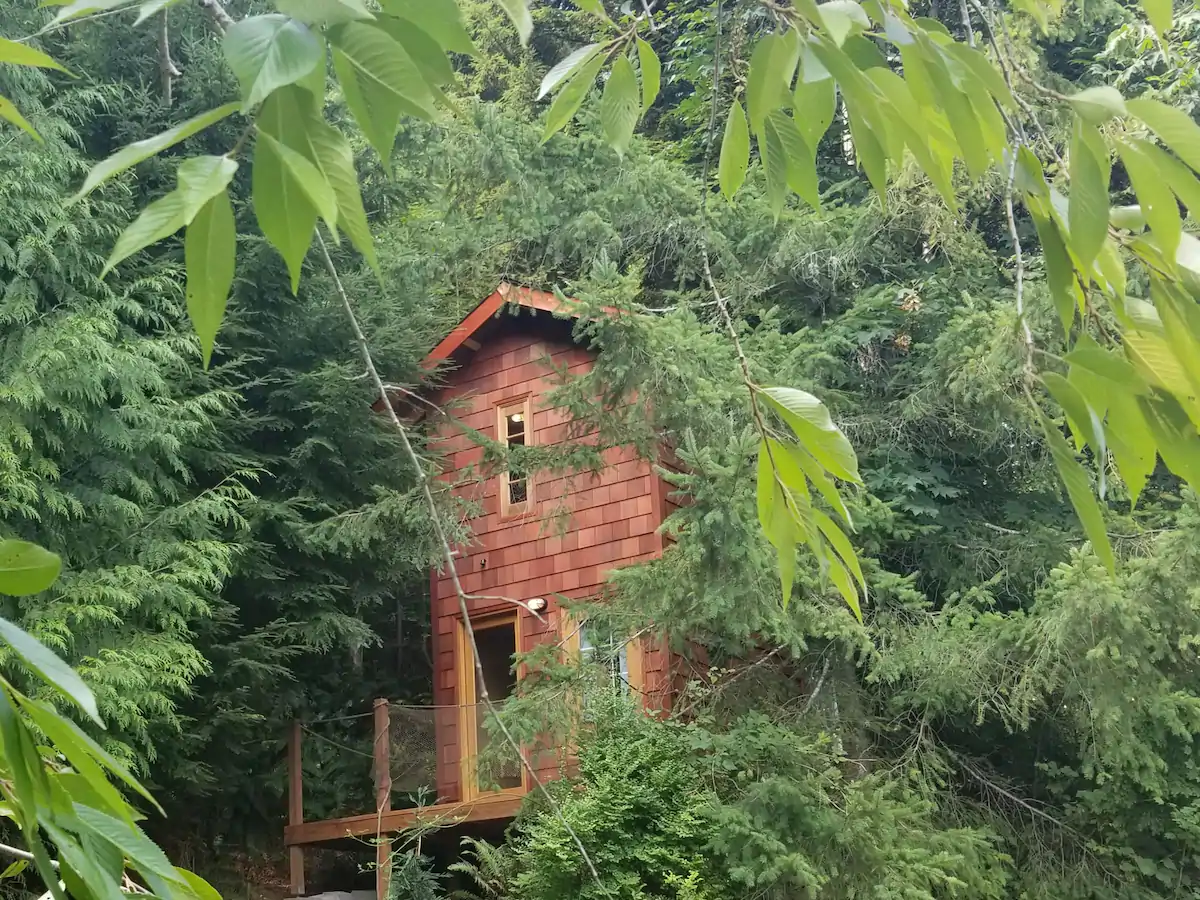 Riverfront Hot Tub Cabin
This amazing cabin just outside Leavenworth, Washington is perfect for those looking for a quiet retreat in nature. This deck with a hot tub overlooking the river is truly what PNW dreams are made of!
The sweet wood-paneled cabin has a gorgeous wood-burning stove and river rock hearth. It has a spacious loft with 2 queen beds. This VRBO in Washington can sleep 4 guests. Please note that there are steep stairs to the cabin and the deck so this is not a good choice for travelers with small children.
This cabin puts you in a quiet and beautiful natural location while also having you close to one of the most popular vacation destinations in Washington: the town of Leavenworth. Leavenworth is Washington's iconic Christmas year-round Bavarian-themed village. It's such a fun stop to make on any Washington Road Trip.
Click Here To Check Rates On VRBO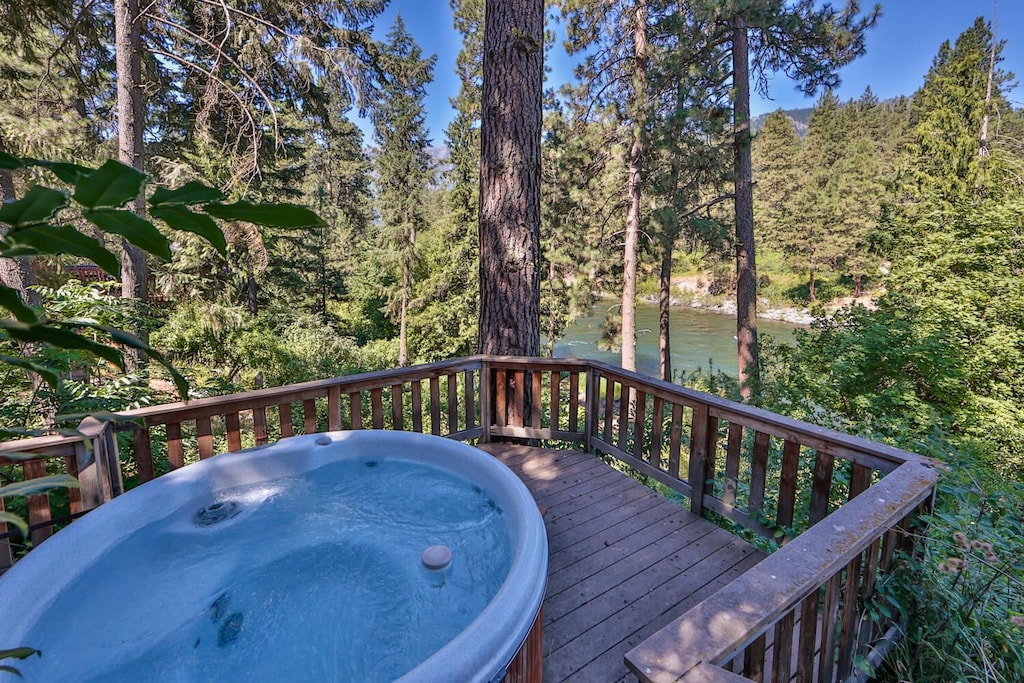 Leavenworth A-Frame
There's something irresistible about a classic A-frame. Not only does this spot have that A-frame charm, but its location is also near some of Washington States' most beloved attractions making it one of the best cabins in Washington.
While staying in this A-frame you are only 15 miles from the Bavarian-themed Christmas-year-round mountain town of Leavenworth. You are a mere 30 miles away from the famous Steven's Pass Ski Resort. There's no shortage of adventures to have in this section of the Cascade Mountains. From shopping to skiing to mountain biking to fine dining, this area has it all. Your A frame will be the perfect home base, with wooded views, a spacious modern kitchen, and a BBQ grill.
Click Here To Check Rates On VRBO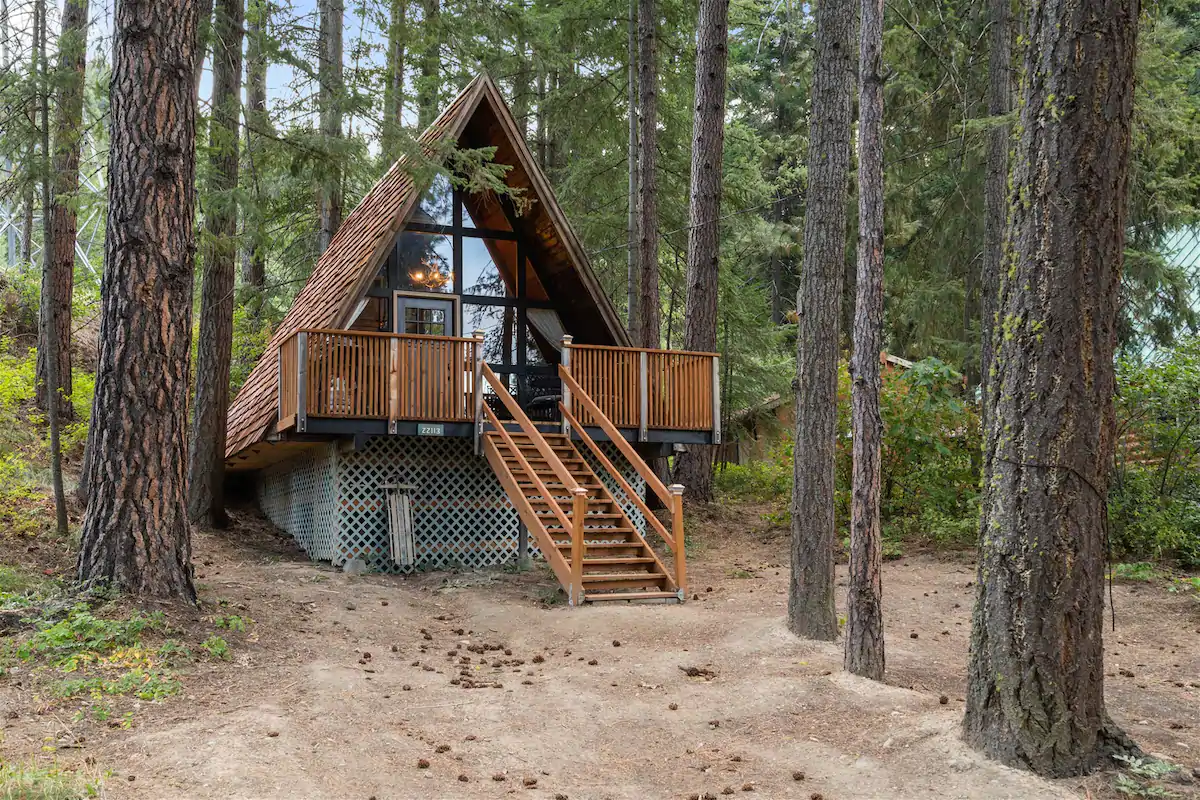 Beachfront Cabin
This retro and light-filled cabin is located near one of Washington's favorite beach towns: Ocean Shores. You'll be sure to have a getaway to remember if you choose this cabin rental. This cabin has its own acre of beachfront property with lots of old-growth native plants, and a private path to the beach.
There are so few people on this stretch of coast that the beach itself is the only designated light airplane airstrip on the entire Pacific Coast. This cabin has great gray whale watching in April/May and November/December, so pack your binoculars.
The cabin is spacious and dog friendly, so feel free to bring your pup to this remote beach getaway. Unwind in nature and hear the waves crashing on the rocks without the usual beach crowds. No wifi here, but whether you choose to relax on the sun-drenched private deck or beside the wood-burning stove, you're sure to have a great time at this romantic cabin in Washington.
Click Here To Check Rates On VRBO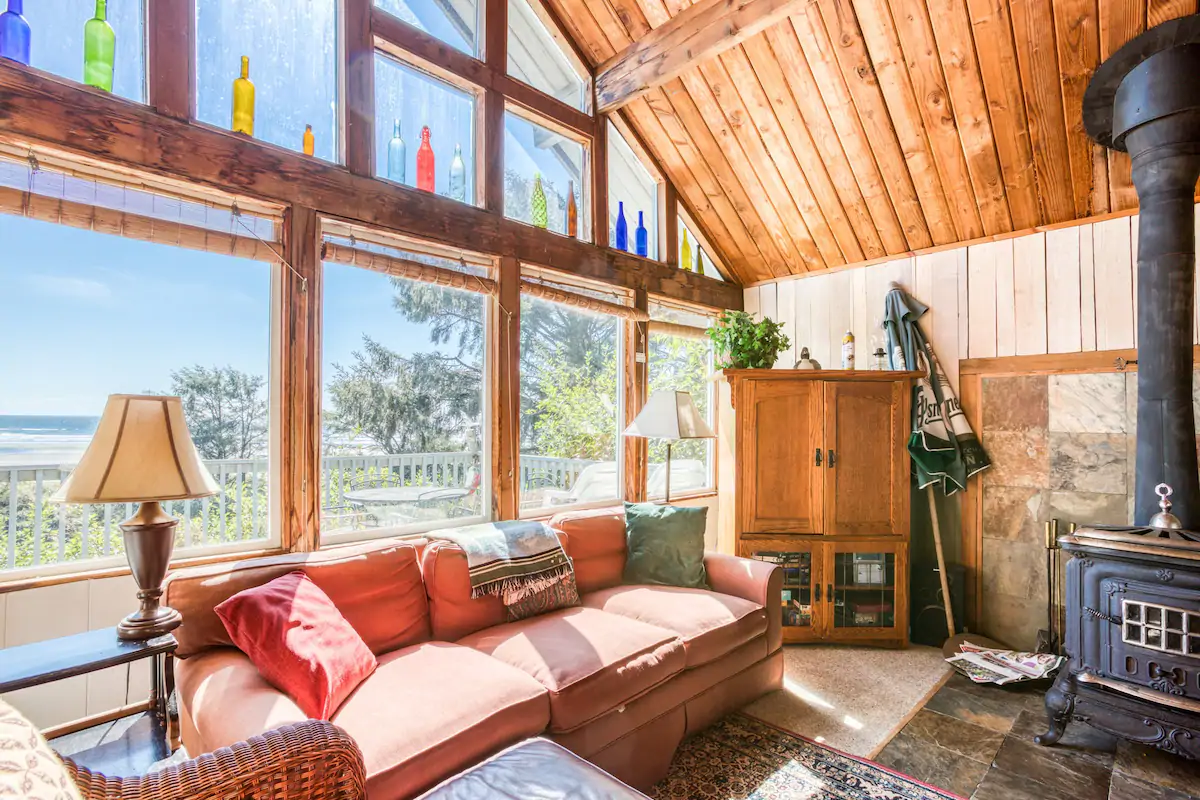 Adeline Cabin
If you're looking to escape to nature it doesn't get better than this! The Adeline Cabin is located at the edge of one of Mazama's iconic meadows. you'll love the epic views of the mountains and the unique highland vegetation. Consider booking during wildflower season!
This VRBO is located on the Flagg Mountain Loop cross-country ski trail. It's also located only a short ski or bike ride into the town of Mazama and the famous Methow Trails trailhead. After a day of hiking, mountain biking, or skiing, you can unwind in the cabin's sauna. This handmade cabin has 2 bedrooms and can sleep 6 guests. It has all the amenities you need for a comfortable stay in the remote Washington wilderness.
Click Here To Check Rates On VRBO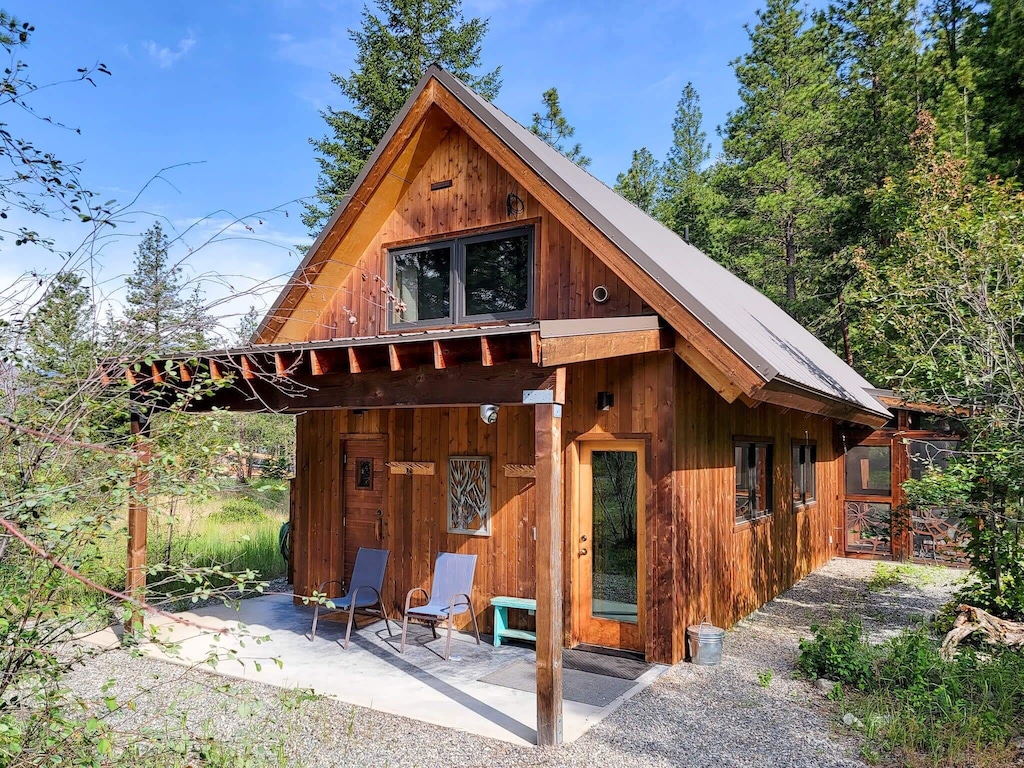 The Gnome House
In Deer Harbor, on Orcas Island, Washington is The Gnome House. The Gnome House is the perfect cozy place for a small group or family looking to experience the charming Orcas Island.
You'll find a very charming and lovingly kept home when you step inside The Gnome House. It feels like stepping into a home straight out of a Scandinavian fairy tale. There are large cedar beams, rounded doors, a wooden spiral staircase, and a beautiful shipbuilder's bay window.
On the main floor, you'll find a small sitting area, a wood-burning stove, and a small kitchenette and bathroom. In the upstairs loft, there is a queen-sized bed, and on the way upstairs, you'll find another little sleeping nook. Outside, there is a beautiful garden spa, a hot tub, a fire pit, and a kid's play area. This is one of the best Cabins in Washington for small families.
Click Here To Check Rates On VRBO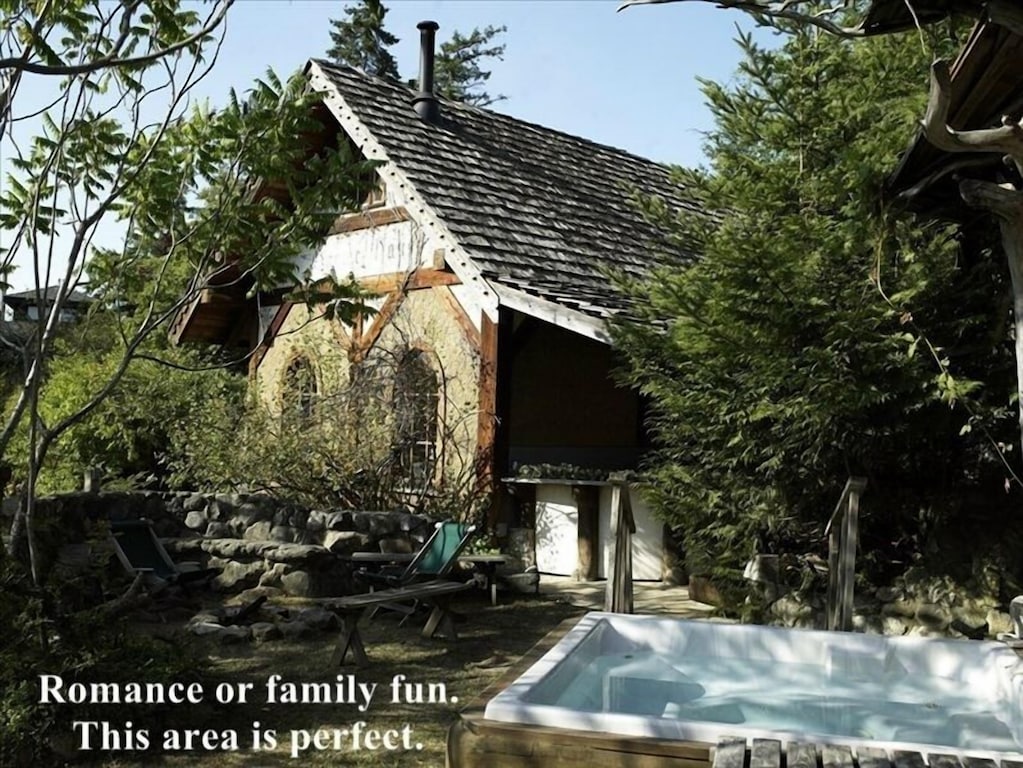 The Treehouse Mill
Washington State is truly full of incredible cabins. Here is another one that looks straight out of a fairytale! This Treehouse Mill was lovingly constructed from an old Seattle Mill Barn. It would make a lovely romantic getaway!
This cabin has several romantic touches like twinkling lights in the trees surrounding the cabin and a large soaking tub in front of the fireplace. It has a lovely rustic feel and a private fire pit for stargazing! The cabin is roughly 200 square feet with a 50 square foot deck designed for indoor-outdoor living. It can sleep 2 guests.
Click Here To Check Rates On VRBO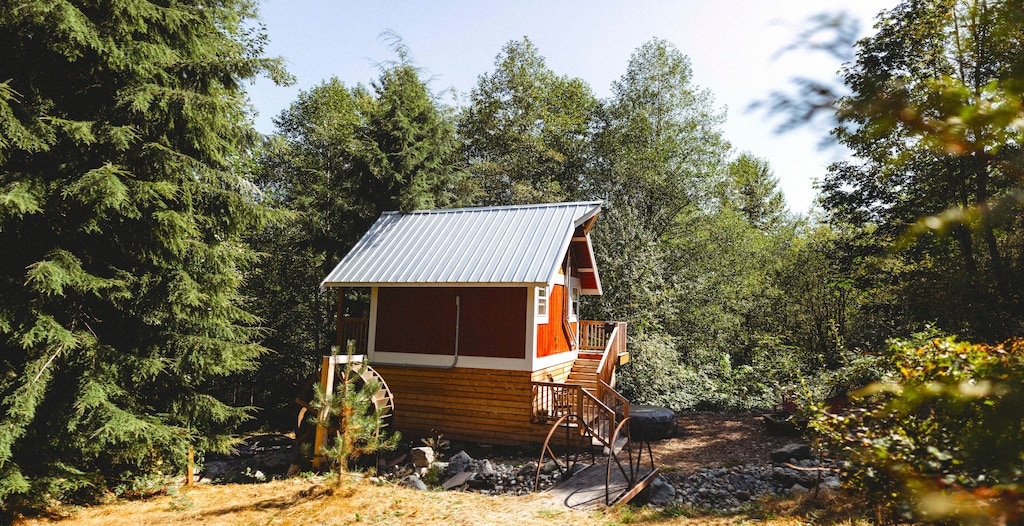 Pond Cabin
This cabin on our list of best Cabins in Washington practically begs for a special anniversary or birthday trip. In fact, a lot of the reviews say it's a birthday or anniversary tradition in their family to come to stay here! How sweet!
You can definitely see why! The Big Lake Cabin is unbelievably picturesque. It's got that classic Washington cabin cedar siding and green roof. The cabin is built right on the edge of the startlingly blue pond on the property. The pond is for the exclusive use of the cabin, and is even stocked with fish! If it is too cold for a swim when you are visiting, you can use the hot tub on the deck overlooking the pond and woodland.
The 900-square-foot cabin can accommodate 4 guests. It has 1 bedroom and 1.5 bathrooms. The inside is cozy, cute, and has everything you need for a memorable stay in the Skagit Valley.
Click Here To Check Rates On VRBO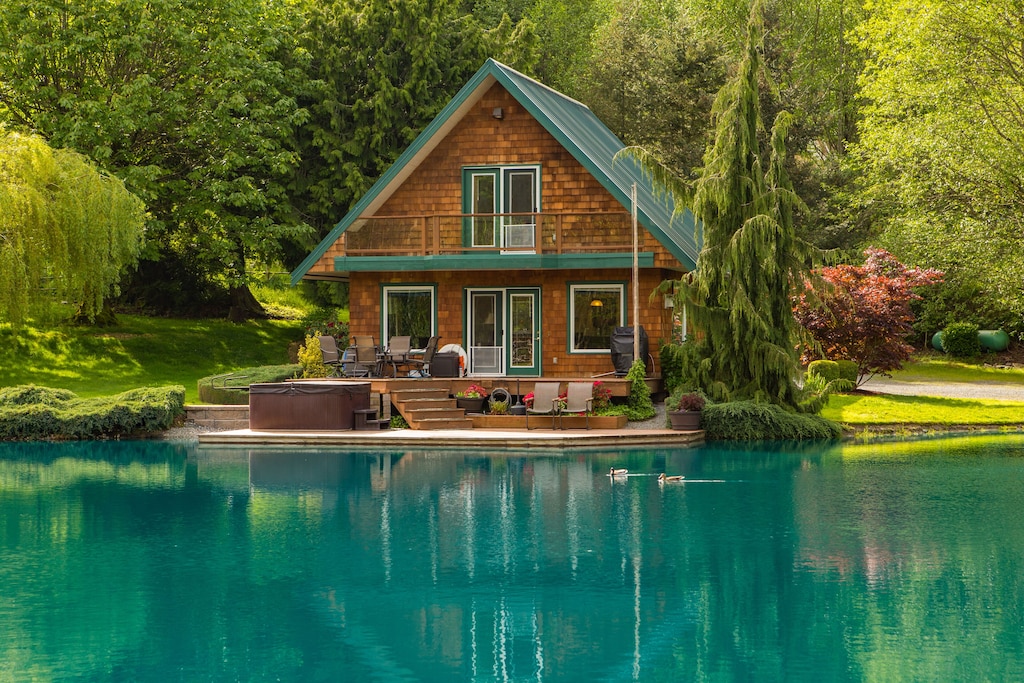 Mt. Rainier Cabin
This cozy cabin is located heart of Mt. Baker-Snoqualmie National Forest in the gorgeous North Central Cascade Mountains. It boasts a sweeping view of Beckler Peak in the adjacent Wild Sky Wilderness. Surrounded by old-growth trees and perched above the river, this cabin it is not to be missed!
This cabin has both an outdoor fire pit and a grill. The inside is also super welcoming with a smart TV loaded with Netflix, and lots of toys and games for kids. Reviewers' report is great for families!
This cabin can sleep 12 guests in 4 bedrooms. It has 2 full bathrooms. Whether you're in the mountains to play in the snow, soak up the long PNW summer days, or catch wildflower season, this cabin will be a great home base for your adventure.
Click Here To Check Rates On VRBO
Treehouse at Twilight Beach
If you're looking for a unique wilderness escape in Washington, this is the VRBO for you! Just look at the log cabin-esque rustic exterior. You're sure to have amazing birds-eye views from this treehouse.
Inside, you'll find a cozy space with huge windows for taking in the birds-eye views. The wood paneling and rustic touches really enhance the woodland vibes. This 150-square-foot VRBO can sleep 2 guests. Please note- the bathroom is down the stairs at the base of the treehouse.
This treehouse is located in a part of Washington famous for being in the Twilight books and movies. Whether you're a Twilight fan or not this would definitely be a memorable home base for exploring this beautiful area!
Click Here To Check Rates On VRBO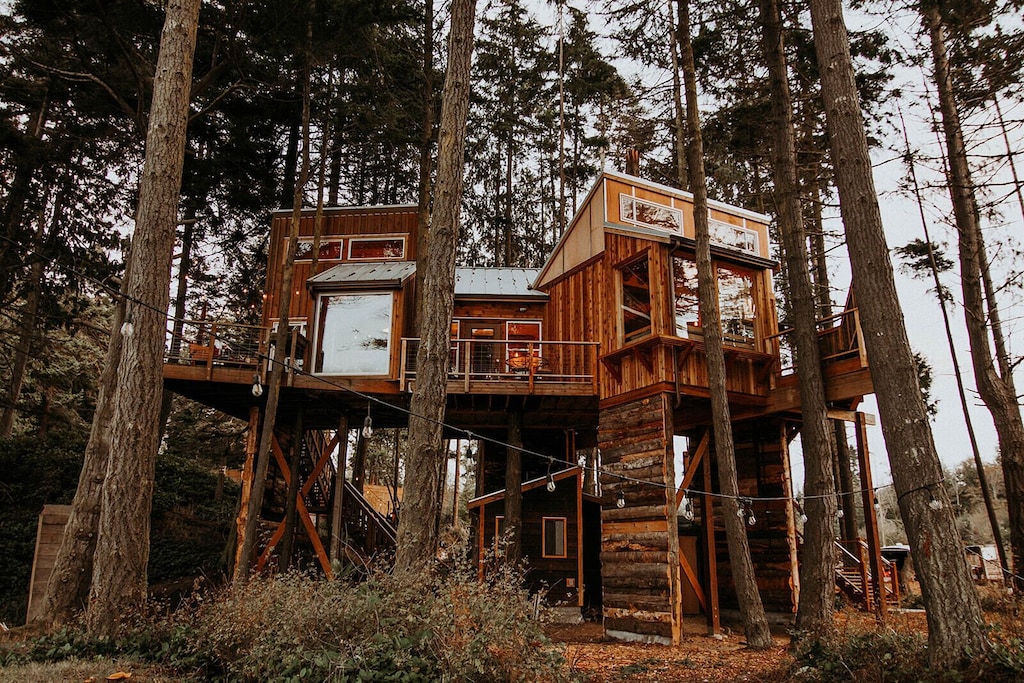 Glacier Cabin
If you long to escape to the mountains, you will love this cabin in Washington! Its location near one of our favorite Washington stops, Mt. Baker makes this spot extra special.
The lovely porch, fire pit, and large private outdoor hot tub make this cabin in Washington a must-stay. There's a spacious and well-equipped kitchen so that you can get gourmet during your mountain stay. There is a full-sized washer and dryer to keep up with all of your adventure laundry. This cabin has 4 beds and is pet friendly so you can bring your whole crew on this getaway.
Click Here To Check Rates On VRBO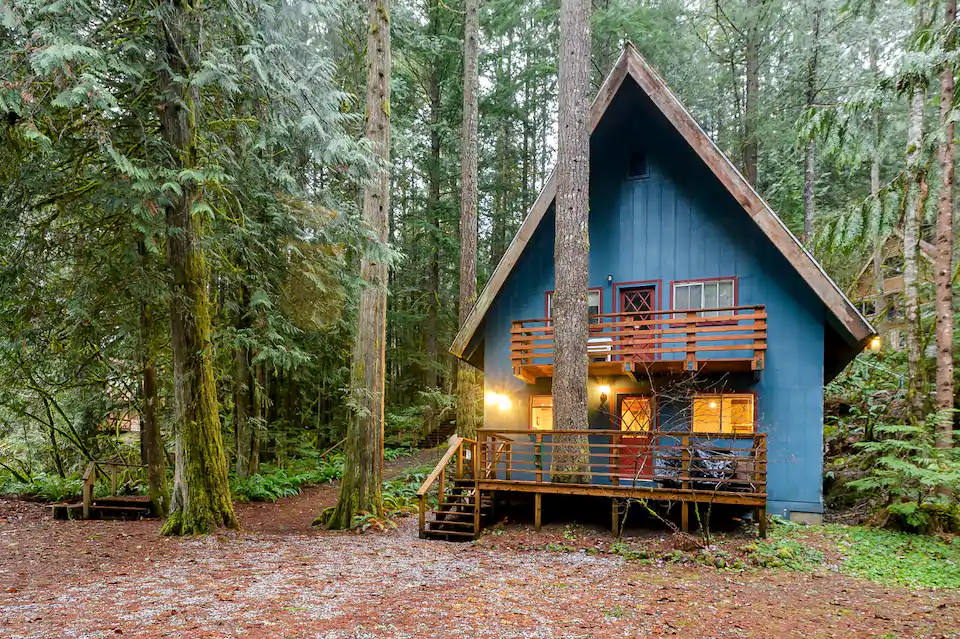 Cottage-in-the-Barn
The San Juan Islands are one of our favorite spots to explore in Washington State. Take the island tranquility to the next level by staying in this cabin at Dragonfly Farm.
You'll feel like you've stepped back in time while staying in this lovingly refurbished old barn. The greenhouse, gardens, orchards, and pond are yours to explore. The owners even have kayaks and canoes you can take out on the water.
With so much to take in you might not want to leave the 25-acre farm, but if you do feel the call to explore further the farm adjoins Turtleback Mountain Preserve, home to some lovely hiking and birdwatching. The cabin's stove, oven, and dishwasher mean you can easily prepare farm-fresh meals to nourish you after your adventures. The cottage can host 6 guests in 2 bedrooms.
Click Here To Check Rates On VRBO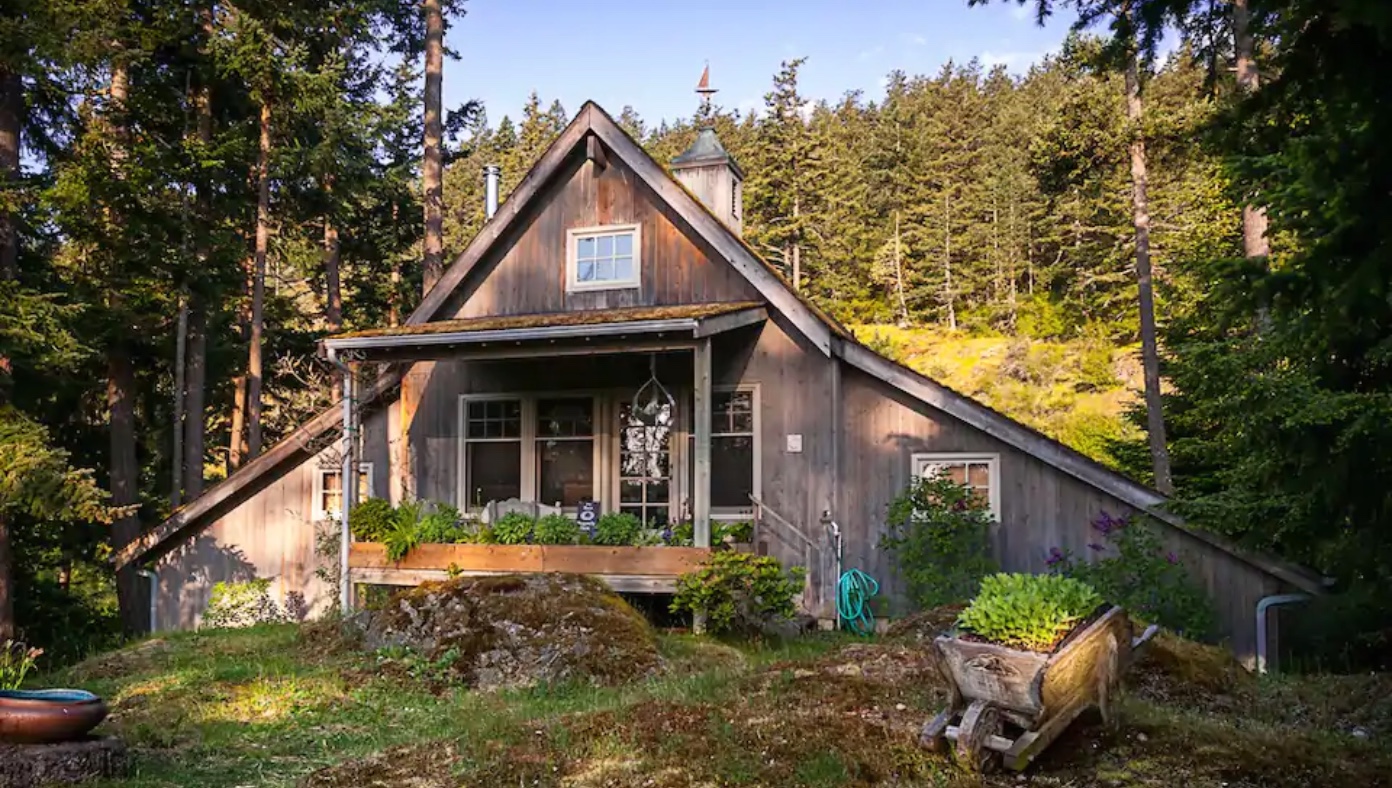 Hood Canal Beach Cabin
If you like your cabin with a side of sea breeze, this entry on the best cabins in Washington list is for you! This cabin is right on its own stretch of a secluded beach. Kayak, swim, sunbathe or search for crabs and clams for dinner right off the deck. It doesn't get more convenient than that!
The inside of the cabin is comfy and cozy, but you'll likely spend most of your time at the beach when staying at this gem. There is even a clever pass through window in the kitchen so that most dining can be done outdoors. There is a well-equipped kitchen so that you can fry up your catch of the day in style.
Click Here To Check Rates On VRBO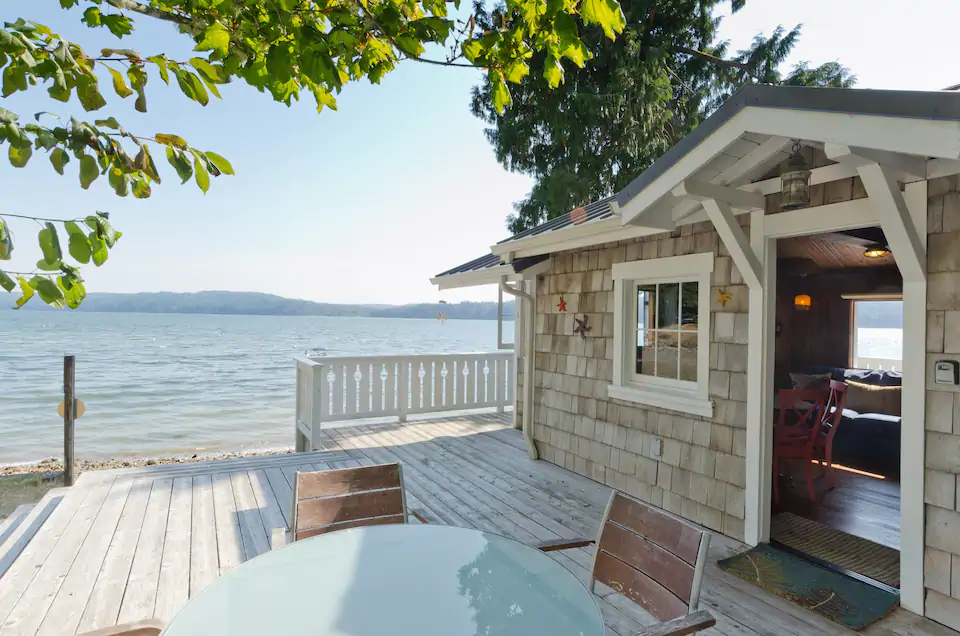 Riverfront Cabin
If you're looking for privacy and seclusion in nature, this is the entry on our best cabins in Washington list for you! The land surrounding this cottage and across the river is private and protected. When you stay here you'll have a picturesque 20′ deep swimming hole, a sandy beach, and a waterfall all to yourself!
The Washougal river that flows by this cabin is one of the pristine unpolluted rivers in this region. You'll be able to enjoy fishing, whitewater rafting, canoeing, and kayaking at this VRBO. a
If it's too cold to enjoy a plunge in the river, you'll love the private hot tub on the property. You're sure to stay toasty and warm curled up with a good book next to the cabin's custom river rock hearth. This VRBO's location provides easy, year-round access to hiking, boating, fishing, skiing, and all the best the Washington Wilderness has to offer.
Please note, this cabin does not have cell service. It can sleep 5 guests in 2 bedrooms. Dogs are welcome for an additional fee!
Click Here To Check Rates On VRBO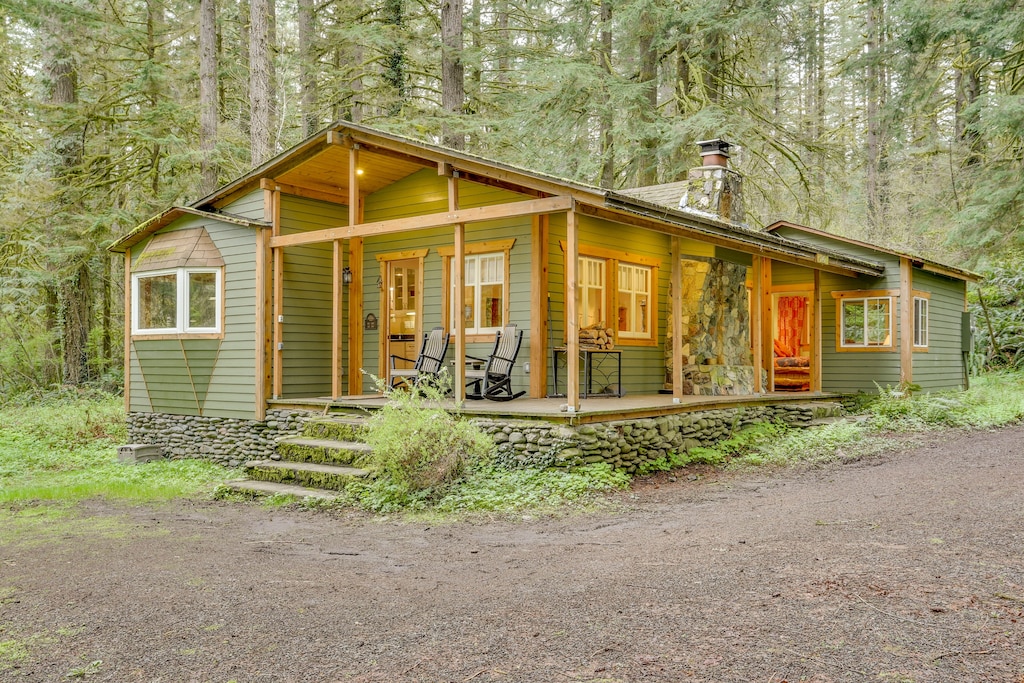 Log Cabin Homestead
Rounding out our list of cabins in Washington is this 100-year-old log cabin. Come live your Little House on the Prairie childhood dreams in Yakima County, Washington.
This antique log cabin has been lovingly refurbished and can now host up to 10 guests. It has 5 bedrooms and 2 full bathrooms. The property has both a firepit and a hot tub for you to use. The home is full of amazing vintage touches like a clawfoot bathtub and cool furniture.
This 220-acre property near the Naches river is truly what homesteading dreams are made of. You'll likely see some cool wildlife if you choose to stay at this VRBO in the Washington wilderness. Lots of reviewers report epic elk herd sightings in the Winter!
Click Here To Check Rates On VRBO