Are you looking for the best Airbnbs in Maui for your next trip to this magical, tropical island? We're here to help you out! These sixteen unique locations are our favorite Airbnbs in Maui.
Maui attracts visitors from all over the world with its stunning beaches and lush jungle landscape. Enjoy epic wildlife with plentiful whale and turtle sightings. Scout out the best natural swimming holes to dive into. Sip locally grown coffee on your private lanai. Whatever you choose to do, you're sure to experience an ideal mix of relaxation and adventure during your Maui vacation.
We suggest stepping away from the luxury resorts and joining the locals for the ultimate, authentic Maui experience. Choosing to stay at Airbnbs in Hawaii gives you the opportunity to live just steps away from a world class beach or see a cascading waterfall from the comfort of a hot tub. For an added bonus you will get to know the local hosts who are more than happy to provide you with helpful recommendations.
So go ahead and take a look at this list of our favorite Airbnbs in Maui! Staying at any of these listings will be the cherry on top of a memorable Hawaiian vacation.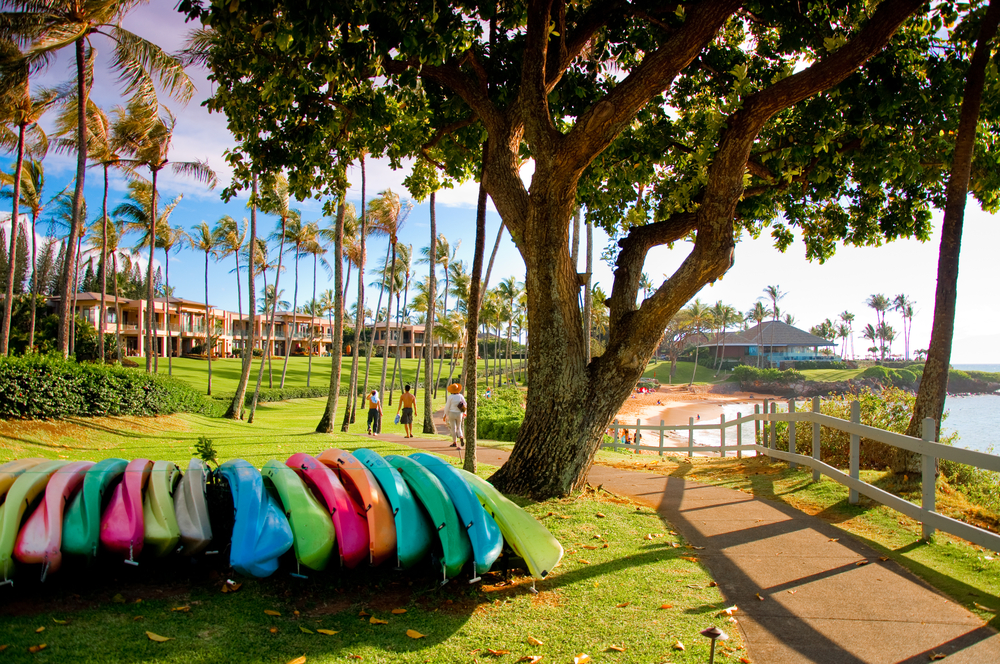 16 Best Airbnbs In Maui (Treehouses, Bungalows & More!)
The Farm Cottage-At Olamana Organics
If you're ready to kick back and soak up the beauty of the island at one of the best Airbnbs in Hana, look no farther than the charming JJ's Hana Hale situated on 6 acres of hobby farm and animal rescue.
The inside of the cottage is charming with large living room windows that give you a glimpse of the beauty outside, and a cozy queen bed that you'll wake up in each morning to the sound of the birds chirping.
The cottage is 750 square feet and has 1 bedroom, 1 bath. It can sleep 2 guests. You'll cook fresh eggs from the farm for breakfast! All the reviews are raving about the friendly and adorable rescue animals that live on this property. If you've always dreamed of having cute horse neighbors you're in luck!
The location of this cottage is also really special. It is located one mile from one of Maui's famous black sand beaches and Waianapanapa State Park. It is less than a mile from the Hana Lava Tubes.
Click Here To Check Rates On VRBO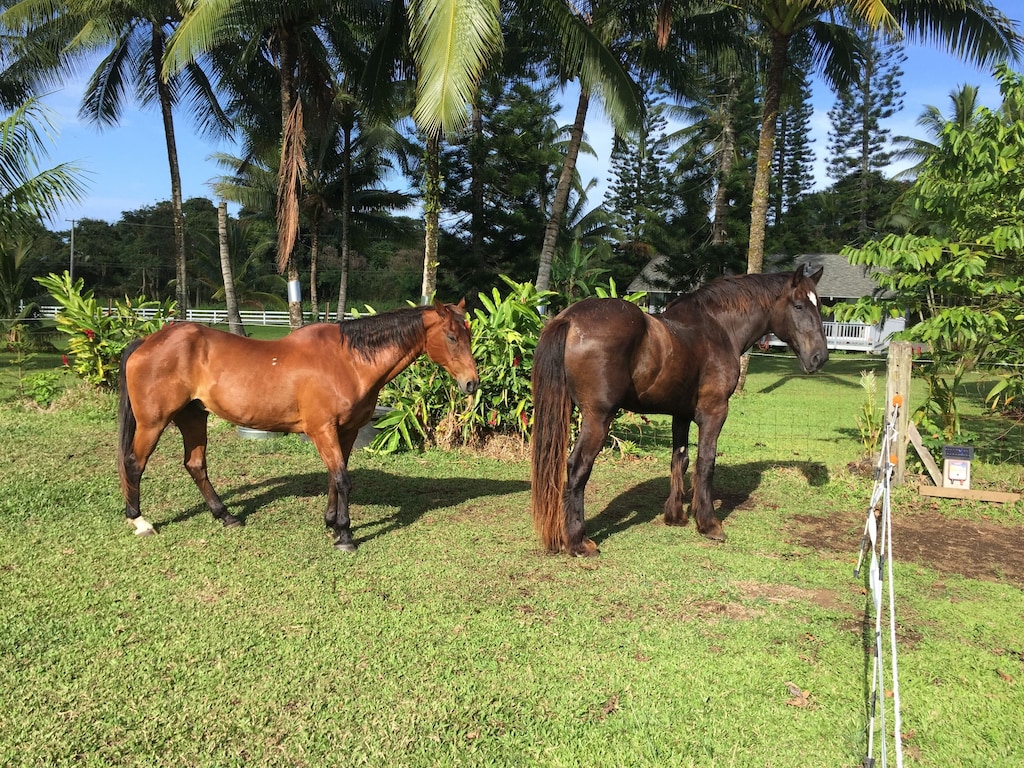 North Shore Lookout Maui- Duke's Cottage
The Duke's Cottage is one of the best Airbnbs in Maui thanks to its central location in Upcountry Maui. It has a romantic vibe perfect for honeymooners. The cottage is one of 5 suites on the 9-acre North Shore Lookout Maui property. This allows you to alternate between private time and engaging in conversation with the hosts and fellow travelers. Though it's entirely acceptable to keep to yourself the whole time as well- I'm an introvert, I get it!
The North Shore Lookout is a bed and breakfast, so you'll have the luxury of waking up to a delicious breakfast each morning. The property is also a working fruit and vegetable farm home to a number of farm animals including pigs and horses.
If you choose to spend some time around the property, a shared pool, Jacuzzi, and fire pit await you. Get ready to relax and kick back in a beautiful setting. You can also take a nap or read a book in the hammock on your private lanai.
Due to its central location, the cottage is the perfect home base for accessing all sides of the island. You'll love exploring from the pristine beaches and famous surfing waves to the majestic mountains. It's also a convenient location for accessing Twin Falls and the Road to Hana. The nearby town of Makawao is also a charming arts community. Their galleries and shops will keep you plenty busy!
Click Here To Check Rates On Airbnb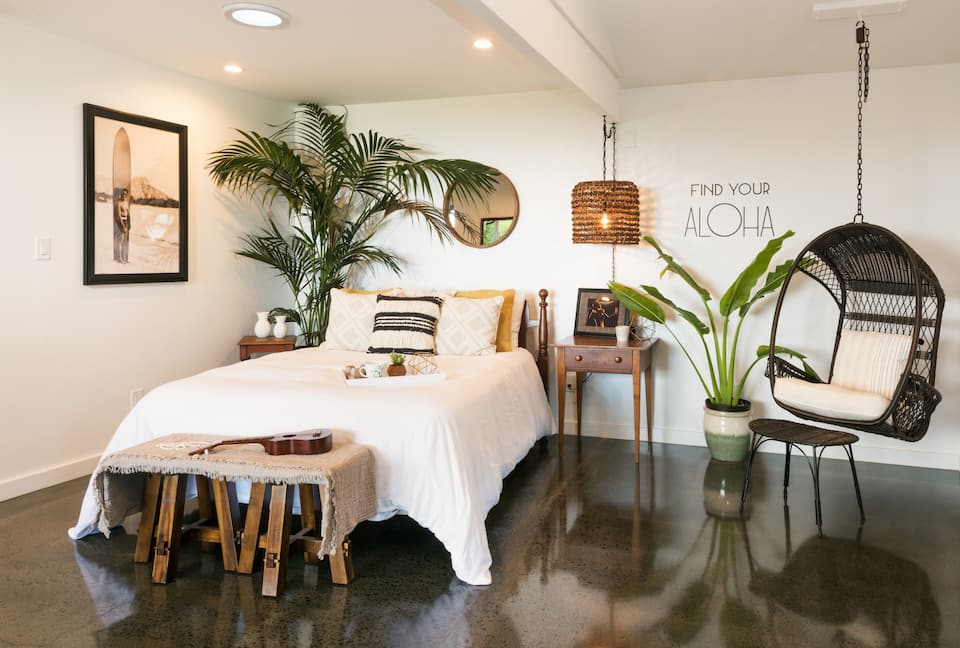 Oceanview Penthouse
If you're hoping for epic ocean views on your Hawaii getaway, this is the entry on our list of Airbnbs in Maui for you! This top-floor penthouse can accommodate 6 guests, so you can bring the whole family or friend group!
The penthouse is in the luxurious Papakea resort complex. The resort is located in the Honokowai Area of West Maui. It encompasses 13 acres of oceanfront, lush, grounds. Amenities include 2 ocean-side swimming pools, 2 whirlpool spas, tennis courts, oceanside cabanas, and 2 twelve-hole putting greens.
The resort has a great location near Duke's Beach House, the Times Market grocery store, coffee shops, and a local farmers market. This is the perfect central location for beach activities. It is just minutes away from Napili, Kapalua, and Honolua Bay to the north as well as Ka'anapali Beach Resort area to the south. If you don't want to rent a car, look into the local trolley service. This public transit option will make your vacation even more relaxing and budget-friendly!
Click Here To Check Rates On Airbnb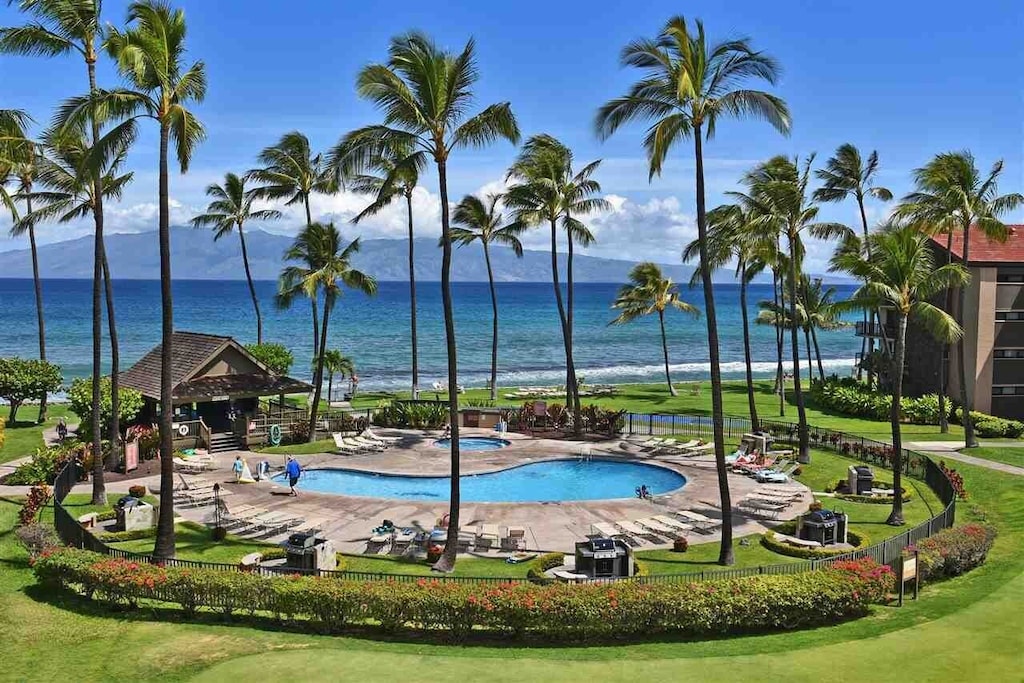 Blue Door On Church Street
If you're looking for Airbnbs in Kahului, we suggest staying in the nearby town of Wailuku and driving into Kahului. With its tasteful modern décor and convenient location, the Blue Door on Church Street in Wailuku is undoubtedly one of the best Maui vacation homes. This will be the perfect home base for your vacation. This historic, beautifully renovated 1930s home is located in the historic town of Wailuku, which includes the Ka'ahumanu Church built in 1876.
Nearly everything you can think of is within walking distance of the Airbnb. Food trucks, restaurants, excellent coffee, and shops are all right outside your door. However, if you want to venture to Hana or Lahaina, you'll need a rental car.
After taking in the beauty of the island you can return to the Airbnb for some rest and relaxation in the luxurious soaking tub before hitting the hay in the comfortable king bed. When you wake up the next day, grab your morning Wailuku Coffee and rock in the front porch chairs for a slow start to your morning.
Some additional perks of this charming accommodation include the infrared sauna for unwinding after a long adventurous day. It also has a washer and dryer that come in handy after a day at the beach. The sauna, washer, and dryer are shared with the guests staying at the host's other Airbnb locations next door.
Click Here To Check Rates On Airbnb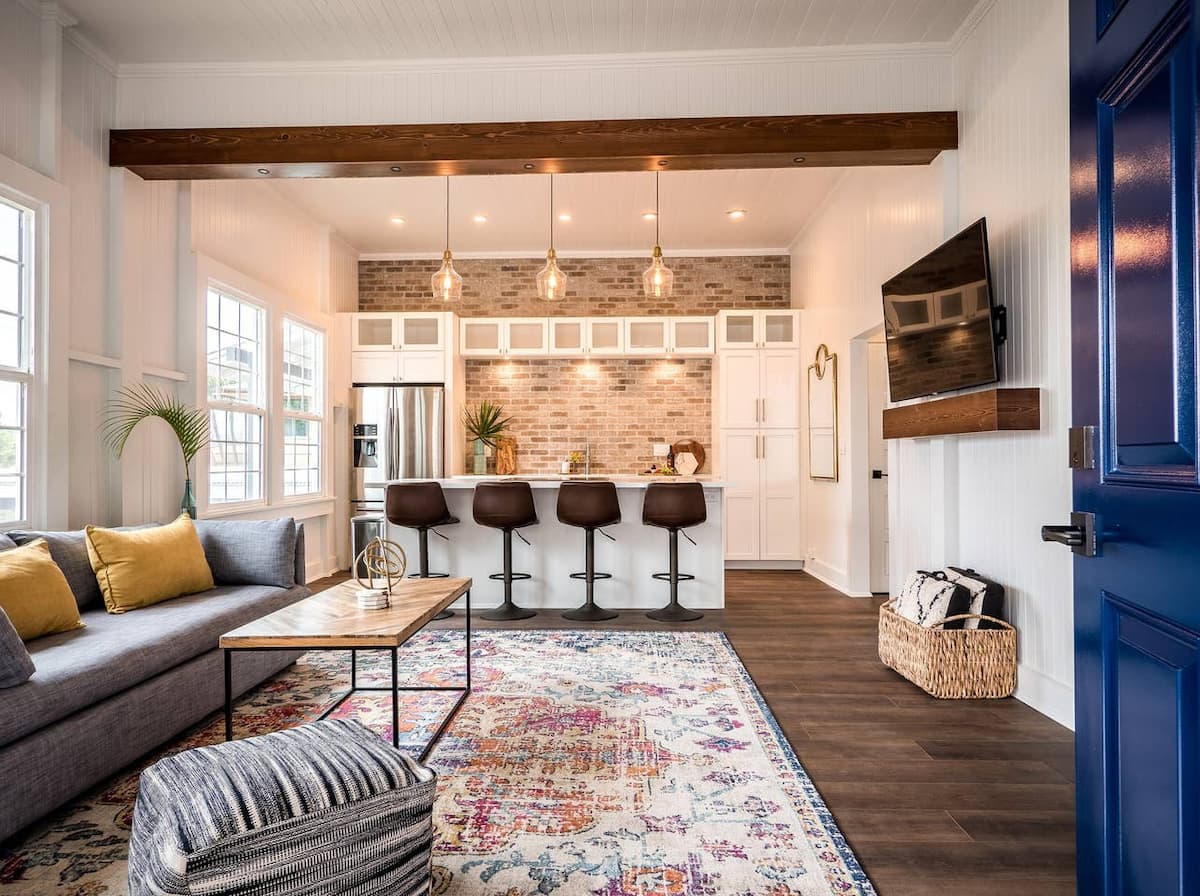 Sunset Views
This lovely 500-square-foot condo has an undeniably Hawaiian flair. You'll love kicking back at this relaxing retreat with a cup of coffee or cocktail in hand on the private lanai. The lanai has amazing views of the sunset over Lanai and Molokai islands.
This 1 bedroom 1 bathroom unit can sleep 4 guests. Wander through the lush tropical gardens surrounding the unit and you'll find a heated pool, tennis courts, and picnic areas with gas-fired grills. This small condo complex also has Coin-operated laundry facilities and a small library where you can pick out your next beach read.
This property is a beach hoppers dream location. It is located less than a mile from Kahana Beach, Honokowai Beach Park, Kahekili Beach, and Keka'a Beach. Ka'opala Beach, Keonenui Beach, and May's Beach are all less than 2 miles away. You're sure to have a whale of a good time at this Condo in Maui.
Click Here To Check Rates On Airbnb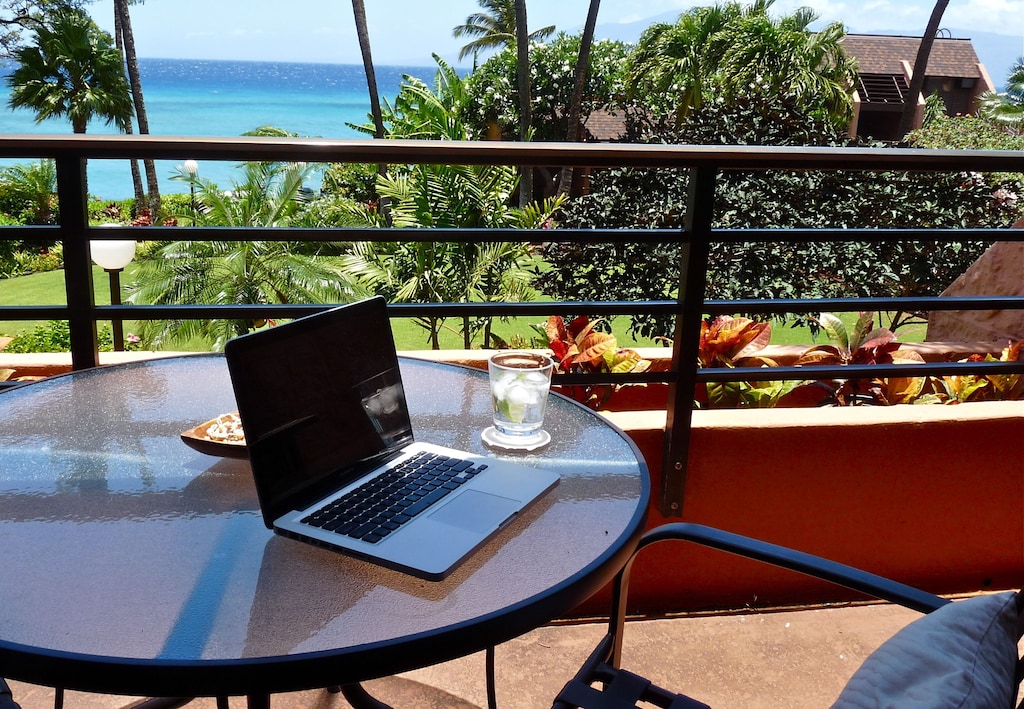 The Cliff House
Perched on the side of a cliff with unmatched views lies The Cliff House. This magical residence is easily one of the best Airbnbs in Maui. It's hard to believe that you actually have the opportunity to stay at a place that is the textbook definition of a tropical paradise. 
The true magic of this Airbnb is found outdoors when you peer over the cliff's edge and are greeted with views of a brilliant waterfall thundering below you, lush trees, the outline of the Haleakala volcano, and the sparkling ocean. With a Jacuzzi that also gives you access to these views, an emerald-tiled pool, and a BBQ, you'll never want to go indoors.
The interior of the house is also spectacular and is filled with teakwood and marble. You'll love the skylight over the bed perfect for stargazing. The bathroom also features an outdoor shower, and if you're keen on spending the night poolside, there's a casita bedroom near the pool where you can do just that.
There's no better place to quietly take in the beauty of the island as the Airbnb is not located particularly close to anything in the way of shops and restaurants. The house is located on farm property, however, so between touring the farm and lounging at the pool, you'll hardly need anything else to keep you occupied.
Click Here To Check Rates On Airbnb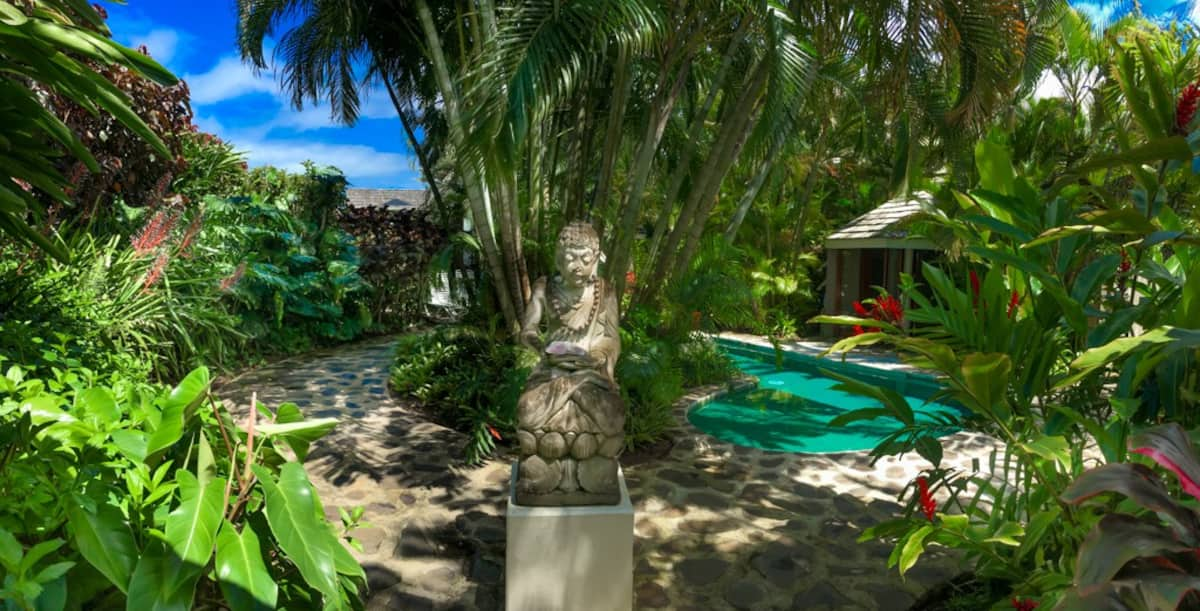 Gingerbread House
Can you picture yourself grabbing fresh fruit off the tree in the morning and kicking back in a charming cottage in a jungle landscape? You can experience all this and more at one of the best Maui Airbnbs where none other than Jimi Hendrix stayed in 1970 while filming Rainbow Bridge.
At the Gingerbread House, 4.5 acres of farmland and lush greenery await you with another 4 acres next door where you'll find The Sacred Garden. Whether you're wandering the garden's labyrinth or picking passion fruit on the main property, you're in for a relaxing stay immersed in nature.
Thanks to its central location on the island, the house receives an even balance of rain and sunshine and is decorated with endless rainbows. It's also conveniently located no more than 10 minutes from beaches, shops, restaurants, and the towns of Makawao and Haiku.
Be prepared to encounter a gang of animals during your stay from the friendly Golden Retriever and the wandering cats to the chickens, roosters, and cows across the seasonal stream. Though the animals and the hosts are eager to welcome you to your home away from home, you'll be afforded plenty of privacy during your stay.
Click Here To Check Rates On VRBO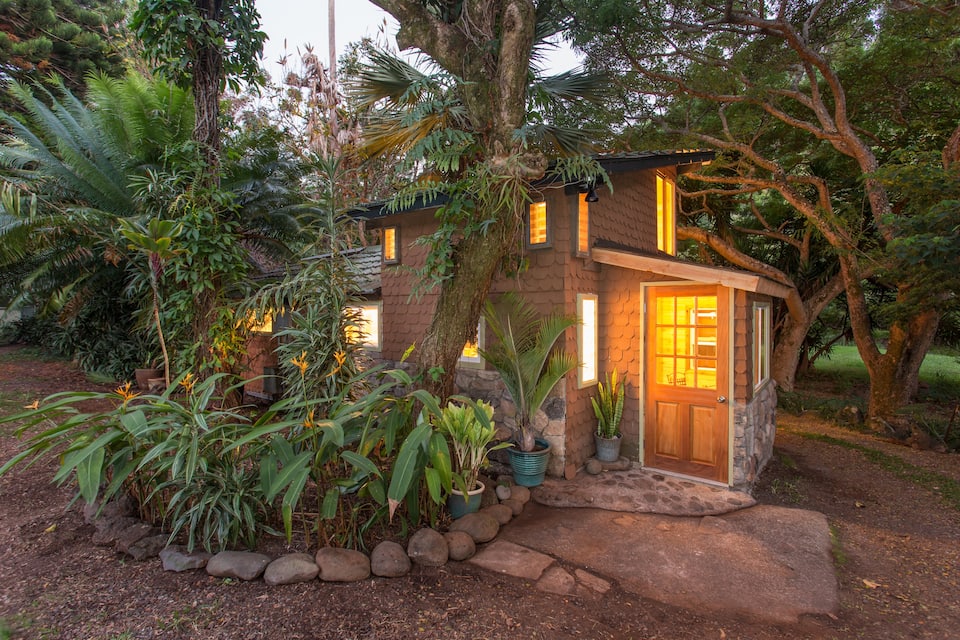 Fisher's Hana Hale
This Hale has a dreamy location across the street from Waikoloa Beach and Hana Bay. It is within walking distance of Hana town and Maui's famous red sand beach.
After a day of adventure, you'll love relaxing in your breezy vacation home in Maui. Try out the traditional screened-in Hawaiian sleeping porch and feel sea breezes sweeping over you all night long. You'll love falling asleep to the sound of Maui's tropical frogs singing for you. You can rest easy knowing you're one of a select few who will wake up in the morning and once again be in one of the best Airbnbs in Maui with the ocean as your playground.
This lovely Hale can sleep 4 guests. It has `1 bedroom and 1 bathroom. If you have a larger party, contact the host to see if you can rent the upstairs property as well to keep your party together.
Click Here To Check Rates On VRBO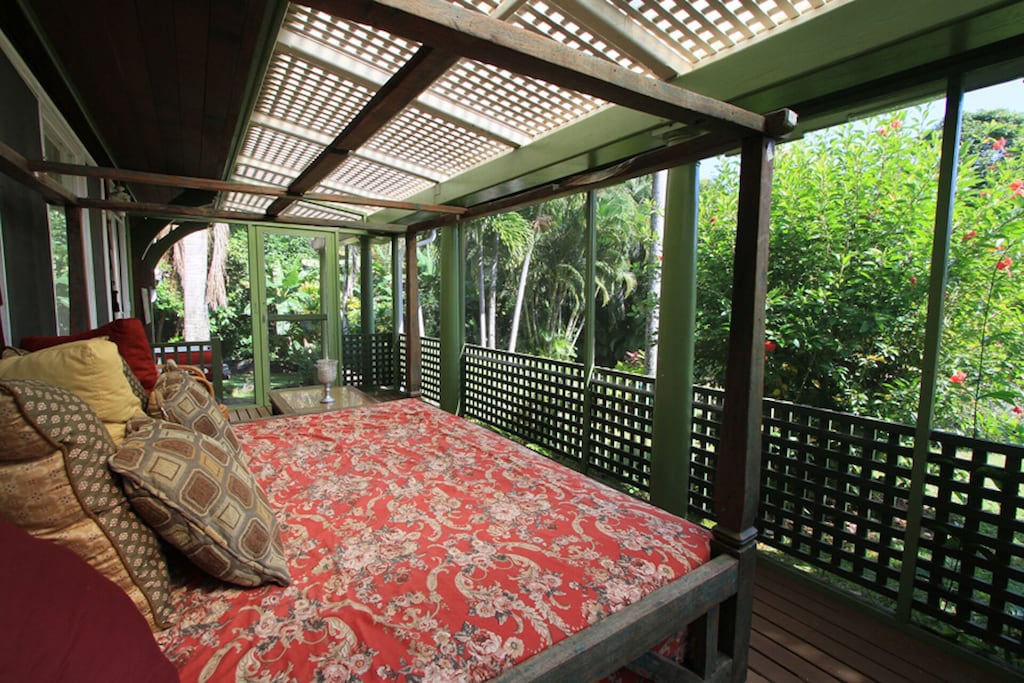 Cottage Paradise
If you're looking for a 5-star hotel experience combined with the privacy of having your own space, this is the option on our list of Airbnbs in Maui for you! This amazing cottage has its own private pool with a waterfall, a hot tub, an outdoor tiki bar, a grill, an outdoor shower, a fire pit, and beautiful tropical landscaping.
You'll never want to leave this 700-square-foot cottage paradise. The cottage can accommodate 4 guests in luxury and comfort. It has 2 bedrooms and 3 bathrooms. This cottage has views of the many distinct landscape features that make Maui so unique including the Pacific Ocean, the Molokini Crater, the Island of Kaho'olawi, and upcountry Haleakala.
The cottage offers oodles of privacy while still being less than a mile from The Shops at Wailea. There you will find numerous choices of shops and restaurants, an ice-cream parlor, coffee shop, a mini grocery store, art galleries, clothing, and souvenirs. You'll also be within two miles of Ulua Beach, Mokapu Beach, Keawakapu Beach, and Wailea Beach. This is truly a top-tier VRBO in Maui, Hawaii and we hope you'll check it out.
Click Here To Check Rates On VRBO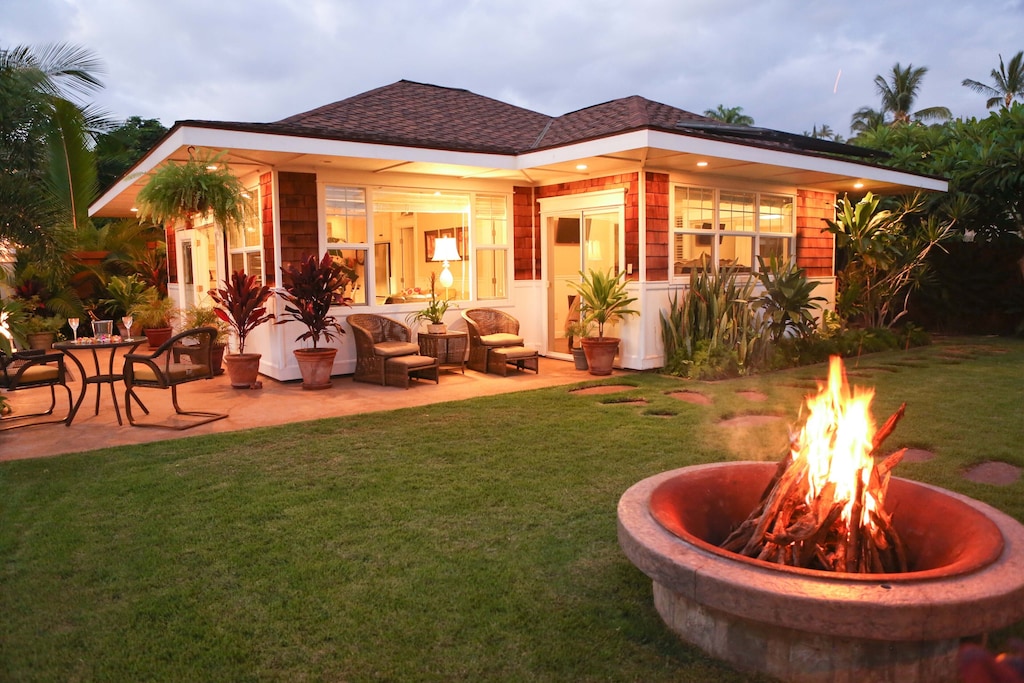 Forever Ocean Views
If you're hoping to do some whale watching while on your Maui getaway, check out this VRBO! The panoramic views from this villa will make it easy to spot any majestic whales in the area! Whale season is December-April in this part of Maui.
This 2 bedroom 3 bath condo unit can sleep 6 guests. You'll love the porches, sunrooms, and endless views this place offers. It also has a gourmet kitchen for cooking up all the delicious fresh island produce and seafood Maui has to offer.
It has a great location as well, the complex has two pools you have access to, and you can easily walk to D.T. Fleming's beach, Napili Bay and Oneloa Bay. The nearby Kapalua Resort boasts 100 miles of trails planned from the mountain ridge to the coastline where you can walk, hike, or horseback ride. What a great place to stay if you want to explore the great outdoors of Maui!
Click Here To Check Rates On VRBO
Hamoa Beach House
If you're looking for beach houses for rent in Maui, you'll definitely want to consider the Hamoa Beach House. This home is definitely pricey, but with three bedrooms that can accommodate up to 8 people, the price becomes more manageable when split among friends or family.
The price aside, it's hard to resist a house with beautiful cathedral ceilings. I love the floor-to-ceiling windows for soaking up the Maui views. Nearly everywhere on the one-acre property has a view of the ocean including the outdoor hot tub and each of the bedrooms.  This house is in a quiet location just steps from the beach.
Located between Hamoa and Koki beaches, the Airbnb is in beautiful Hana. This is rainier and more remote side of the island so you'll be met with plenty of peace and quiet. Get ready to relax and take in the fresh ocean breeze! Because the Airbnb is relatively far from major grocery stores, restaurants, shops, etc., you'll want to stock up on food and essentials ahead of time. The Costco in Kahului is a great option.
Though the house is far from major tourist spots on the island, it's conveniently close to natural attractions including a waterfall, the Kaeleku Caverns, the Kahanu Gardens, and the Red Sands Beach. Whether you're taking in the natural beauty of the island or are watching the sunset from the backyard hammock you're sure to have an epic vacation at this VRBO.
Click Here To Check Rates On VRBO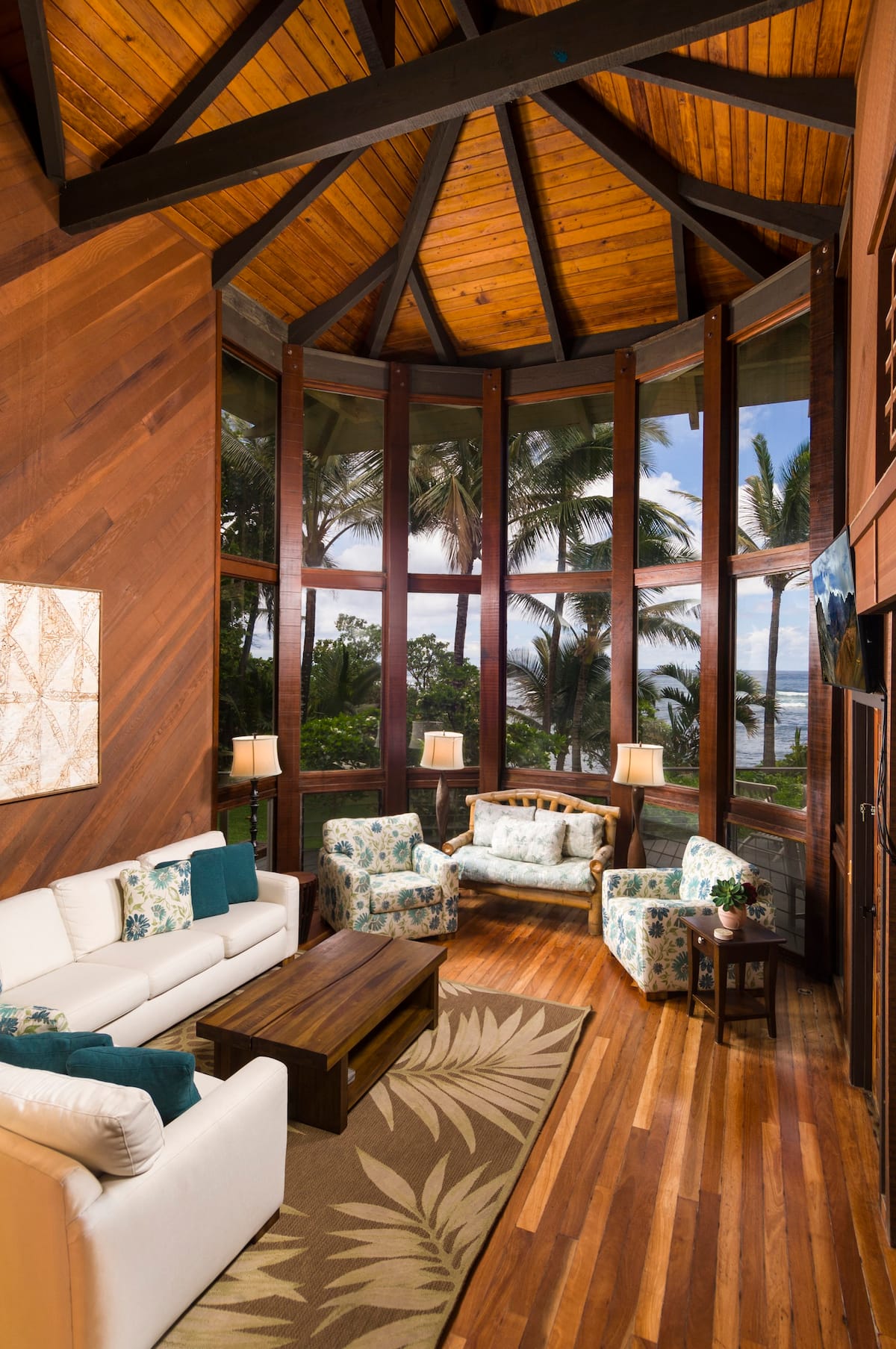 303 Hula Hideaway
When staying at Airbnbs in Maui the ocean's never far, but imagine hovering over the ocean from a third-floor condo. The steady sound of crashing waves will soothe you to sleep in this lovely Airbnb. The Hula Hideaway is just 10 feet from the edge of the ocean and has stunning views of the distant Hawaiian islands Moloka'i and Lanai. 
It's hard not to spend every waking minute at the condo looking out from your private lanai to the ocean below where you'll be endlessly entertained by the sight of whales and turtles. The lanai also provides the perfect spot for watching the magical Maui sunsets.
If you'd rather take in the ocean from ground level, there's a beach nearby that can be easily reached by foot as well as other top-notch beaches as close as 5 minutes away by car. The hosts have thoughtfully provided you with everything you'll need for a memorable beach day from beach chairs and an umbrella to an ice chest for bringing drinks and food along.
The condo is also conveniently close to grocery stores and the town of Lahaina. Both of these are best reached by car. You'll be happy to know however that there is a coffee shop and brewery that is walking distance from your cozy home away from home. So grab your drink of choice, head to the balcony, look out for rainbows, feel the fresh breeze, and enjoy your time on the beautiful island.
Click Here To Check Rates On VRBO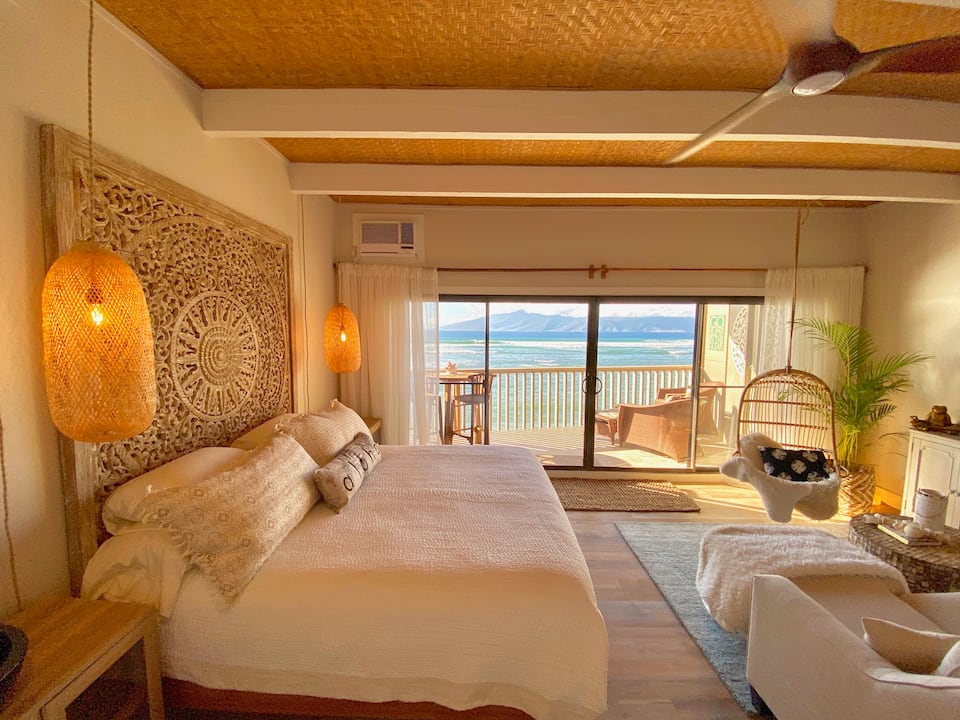 StarWind Cottage
Resting atop a rainforest canopy is one of the best Airbnbs in Maui. The StarWind Cottage has breathtaking views from the deck stretching from the rainforest out to the Haleakala volcano across to the ocean and beyond.
The private balcony is particularly enticing with its patio furniture perfect for enjoying an outdoor meal or the fruit basket left by the hosts. The hot tub that allows you to soak and relax while enjoying the landscape. You can enjoy the beautiful scenery from inside the cottage as well thanks to large windows throughout. In the living and dining area where the windows stretch in a panel across the whole wall!
Because the property is off the main road and away from major tourist destinations on the island, you'll experience plenty of peace and quiet during your stay. This will allow you to fully appreciate the mesmerizing sunsets from the lanai or the gentle sound of rain outside the bedroom window.
The location of the cottage makes it a great launching point for exploring the rest of the island. Whether you're hiking or exploring nearby or are driving out to Hana or other towns around the island, you'll appreciate coming home to this cozy paradise each night.
Click Here To Check Rates On VRBO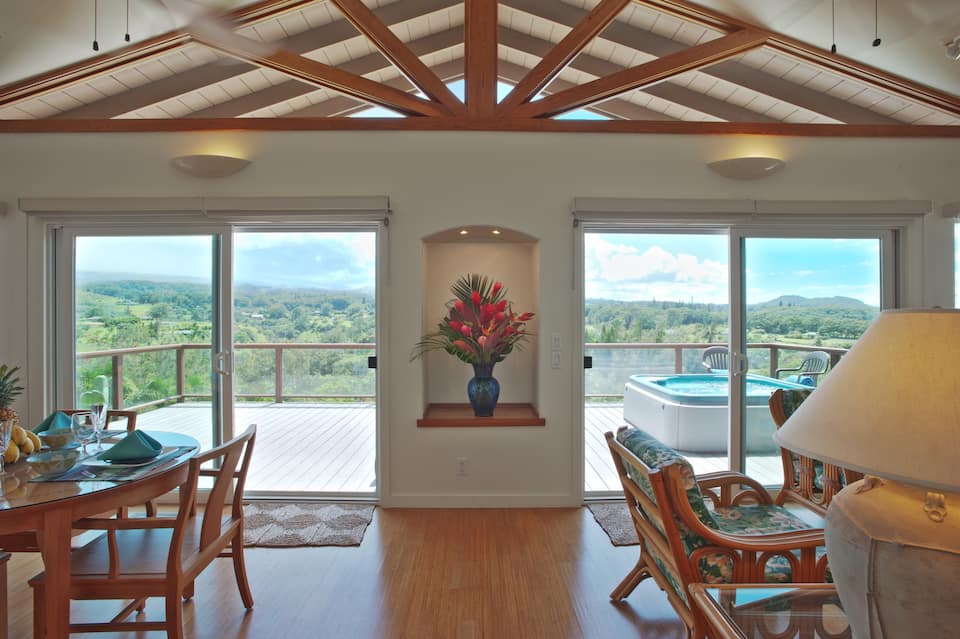 Coastal Chic
Grab your loved ones and head to one of the most charming Airbnbs in Maui. This cute, cozy studio loft can host up to 4 people.
This coastal chic studio is located only 10 feet from the edge of the ocean. You'll have unobstructed views of the ocean, islands of Molokai and Lanai, whales, sea turtles, sailboats, and those famous Hawaiian rainbows.
There are restaurants, Kahana beach, and shops within walking distance of this lovely property. The VRBO is located tucked between Kaanapali and Kapalua and is only a ten-minute drive to the famous Lahaina area. Other reviewers are raving about this lovely coastal studio and say it is great for anniversaries or other romantic getaways.
Click Here To Check Rates On VRBO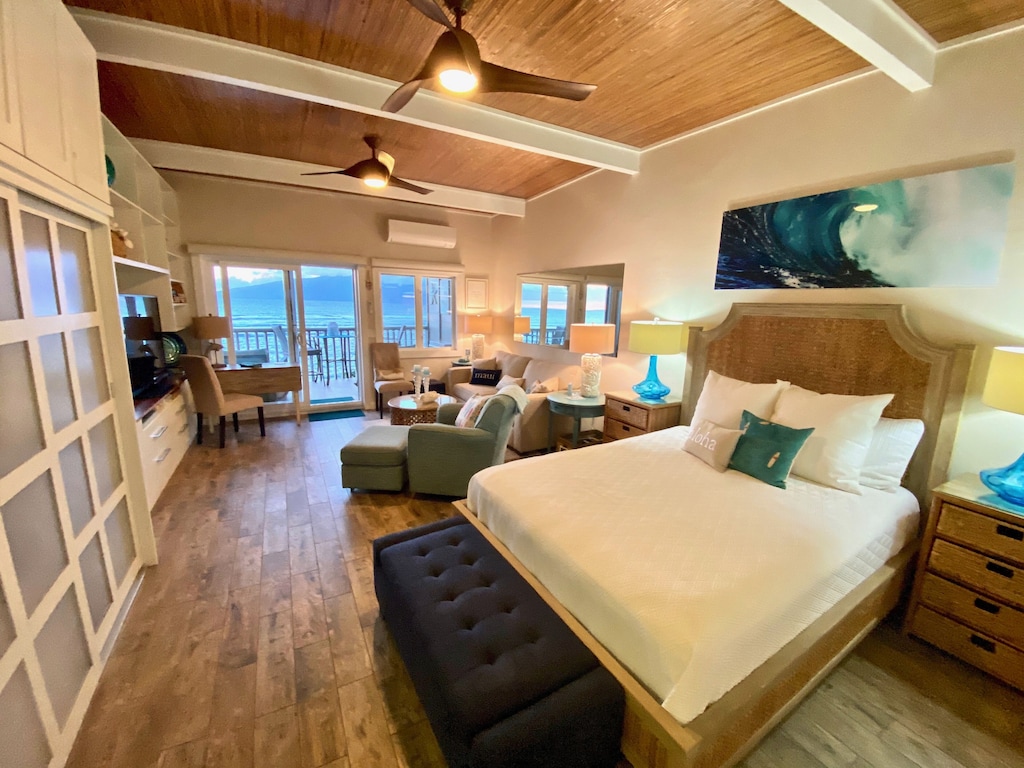 Hana Ocean Palms Bungalow
As luxurious as Maui resorts can be, we suggest getting a more authentic experience in one of the best Airbnbs in Maui. The Ocean Palms Bungalow is nestled in the jungle just a stone's throw from the ocean. This is a perfect spot to appreciate the natural beauty of Maui.
The home is located just 300 yards from the beautiful Waioka Pond (Venus Pools) a natural ocean pool. If it's a beach you're seeking, however, a one-mile stroll will take you to the soft sand and stunning waters of Hamoa Beach. Hamoa Beach is a perfect place to soak up the sun or leap through the ocean waves.
The interior of the house isn't glamorous, but it's cozy. The decor brings the outdoor jungle in with ample windows and a screened-in patio area. The outside of the property features an outdoor shower, a grill, a seasonal vegetable garden, and endless palms, and fruit trees. You can pick avocados, papayas, and bananas right off the tree during your stay!
Though the owners also live in a separate home on the same property, you'll have plenty of privacy. There is plenty of space to relax and explore. Whether you choose to stay at the Airbnb or venture to the beach, the nearby Haleakala National Park, or any of Hana's other impressive natural attractions, you're sure to enjoy your stay at this peaceful home.
Click Here To Check Rates On VRBO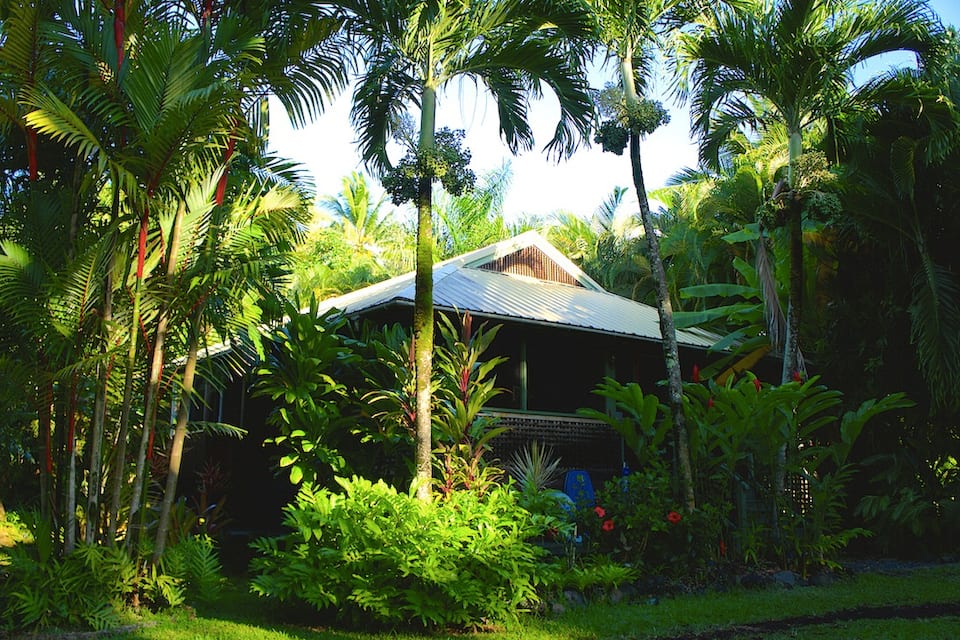 Maui Dream Place
The sunset and ocean views from the main lanai are enough to include the Maui Dream Place among the best VRBOs in Maui. The home is spotlessly clean, beautifully decorated, spacious, and full of natural light. 
During your stay at the condo, you'll have access to the complex's two pools, hot tubs, outdoor grills, and tennis courts. If you're more of a beach person the beach is just across the street. The hosts have thoughtfully included beach toys, snorkel gear, body boards, and more.
The condo is located in Kihei just a short distance from restaurants and shops. You'll have easy access to everything you could need during your trip. Imagine grabbing some dinner in town and enjoying it on the main lanai as you watch the spectacular sunset.
The property has an epic Master Bathroom with a lanai and views of the ocean from the bed. There is also a more closed-off lanai with shutters that are off of the upstairs bedroom. Whether you're enjoying a cup of morning coffee on any of the lanais or are washing away the beach sand in the luxurious walk-in shower, you'll find you have everything you need in this little slice of paradise.
Click Here To Check Rates On VRBO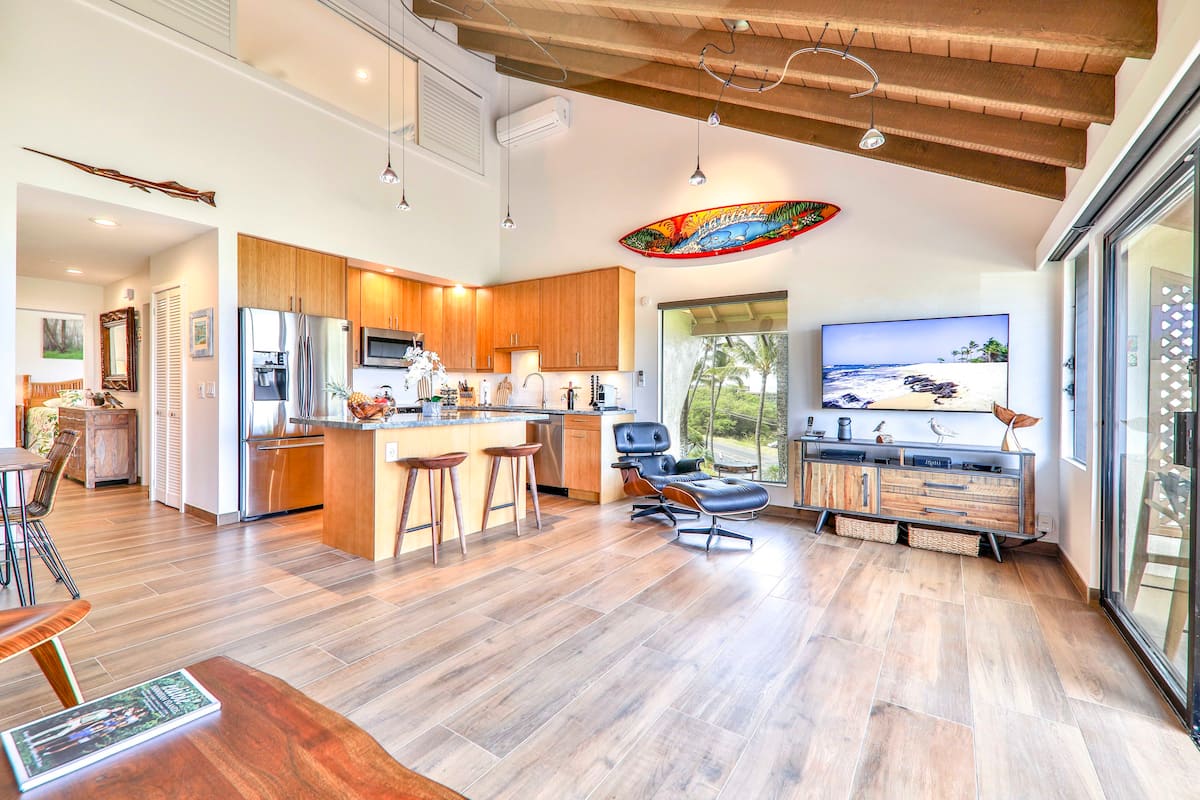 We're thrilled you've chosen to venture to the rainforests and beaches of Maui for your next tropical vacation. Any one of these spectacular Airbnbs in Maui will provide you with a charming and relaxing home away from home.
Whether you're looking out at the beach from a private lanai or are picking fresh fruit from the lush, tree-filled landscape, you're sure to have a memorable vacation on this beautiful Hawaiian island. Please let us know if you have any questions or comments as you go about choosing from this list of the best Airbnbs in Maui.