If you looking for where to stay in San Francisco, you've found the right place! Talk about a great destination for any time of year with so many fun attractions. We are going to provide you with a detailed layout of exactly where to stay in San Francisco by area. There are many stunning sights to see including parks, museums, beaches, and bridges. San Francisco is also known to have quite the foodie scene which will delight your taste buds. Do you love wine? Then, you are in luck because San Francisco has some of the best wine tours in the country!
Below, we will give you a comprehensive breakdown of where to stay in San Francisco by area, including affordable, mid-range, and luxury accommodations. We will share a little bit about each area to help you pick the best place for you. Whether you are looking for high-end luxury and relaxation or if you are more focused on sticking to a budget, we will guide you right to the perfect match. Come with us as we explore all of the fabulous aspects of San Francisco.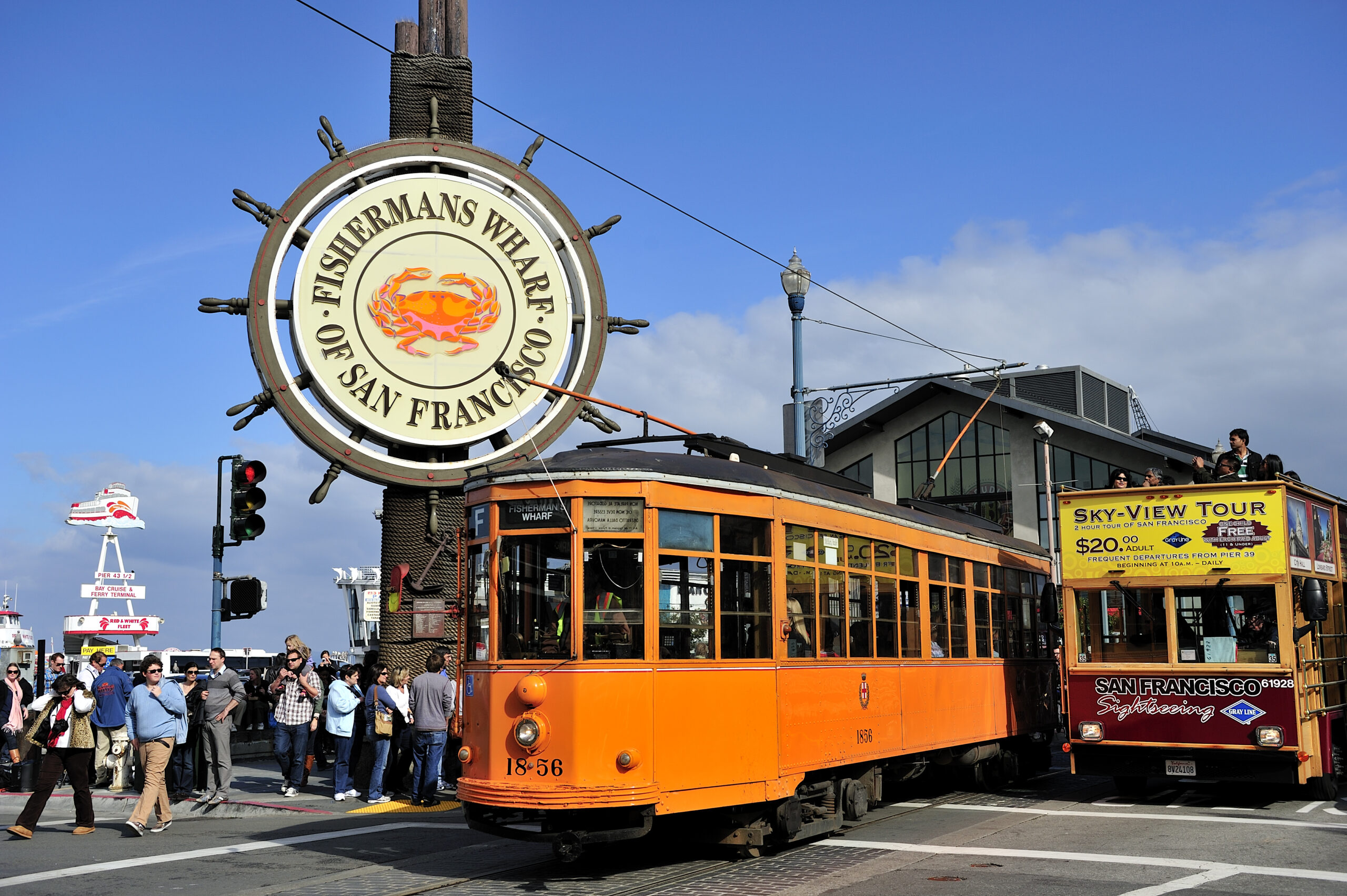 Exactly Where To Stay In San Francisco By Area
Understanding San Francisco Neighborhoods 
The neighborhoods in San Francisco have so much to offer in terms of culture, arts, food, and architecture. San Francisco can be an expensive place to live, but you'll be surprised by all of the free attractions that are available. You can spend an entire day just taking in the beautiful scenery. Food options range from extremely affordable cafes all the way to Michelin Star rated establishments.
You won't have to worry about transportation in San Francisco because this city has an extensive transit system in place. San Francisco's network of fuel-efficient Muni buses, historic streetcars, light rail Metro trains, Uber, Lyft, and iconic cable cars cover all of your sightseeing destinations with ease. You will have many options to travel in comfort, safety, and environmentally friendly fashion.
Looking for things to do? No worries at all! You can check out the diverse beer scene, tour a museum, catch some live music, take a creepy night tour at Alcatraz, walk the Golden Gate Bridge, smile at the playful seals, book a wine tour…The list goes on and on!
The weather is typically very pleasant, but it can be slightly cool and foggy. It is best to layer with a light jacket to avoid being uncomfortably chilly. Even though there is plenty of public transit available, walking can be more efficient at times and offer a more authentic city experience. Be sure to pack good sneakers as the terrain can be quite hilly!
San Francisco's Pride Parade takes place in June and attracts more than one million attendees. It is an amazingly colorful gathering that celebrates acceptance and love, so if you want to party and dance you won't want to miss this opportunity to support the LGBTQ+ community.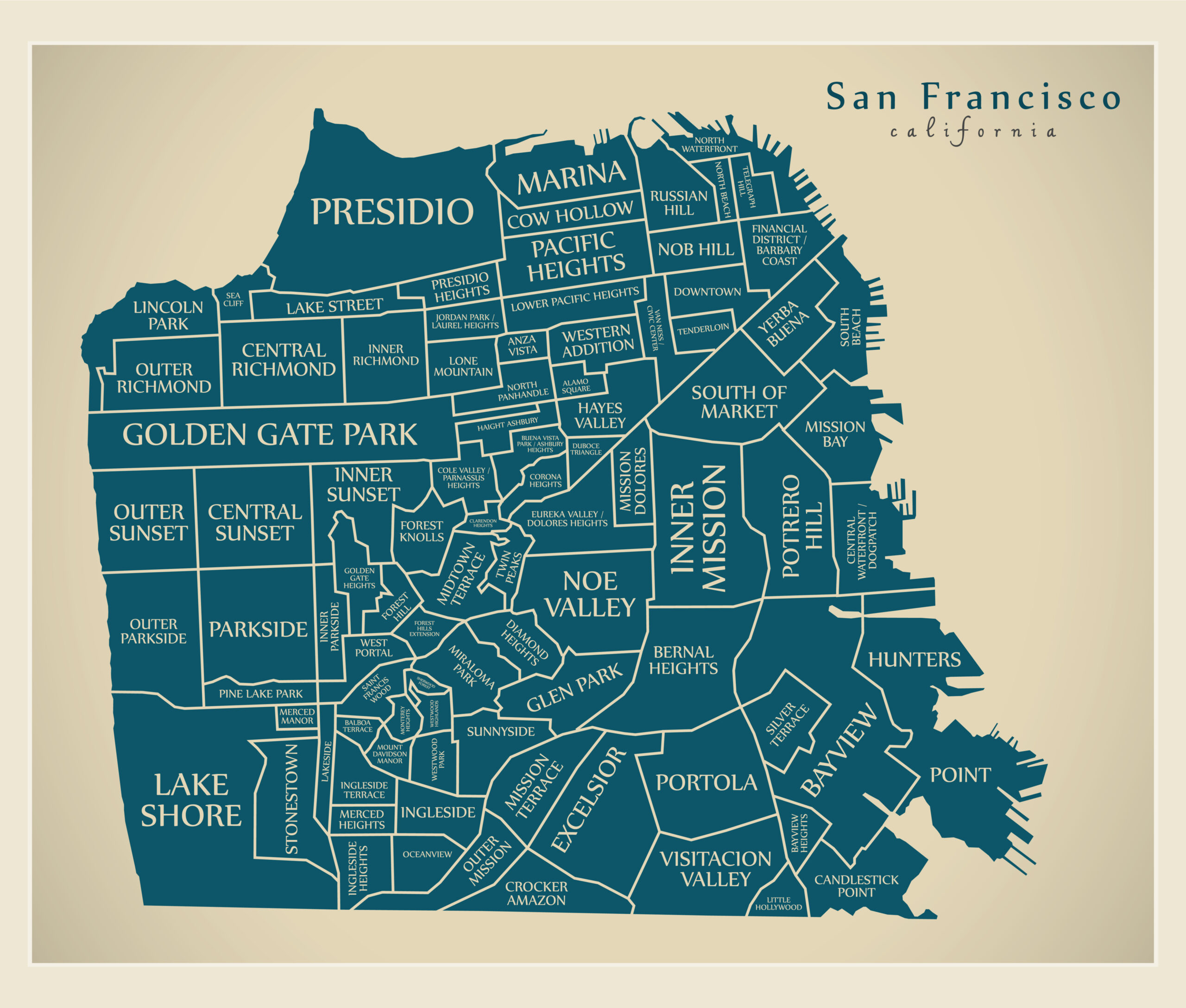 Union Square Is Great For First Time 
Visitors
Union Square is a perfect starting point for first-time visitors because you have everything right at your fingertips. Union Square became San Francisco's shopping epicenter in the early 1900s. Today, it features high-end retail and hotels that completely surround the bustling square. The shopping extends out by many blocks from the central square.
The Financial District and waterfront are situated on one side. SOMA (south of Market area) and the San Francisco Museum of Modern Art are behind Macy's with Chinatown and North Beach on the opposite side. Then, you have the theatre and art gallery districts on the other remaining side.
A few noteworthy streets include Maiden Lane, Geary Street, and Market Street. Maiden Lane is for foot traffic only and is lined with art galleries and restaurants. Geary Street is home to The American Conservatory Theatre and Curran Theaters. Hotel Diva is also located on Geary Street and features a really cute "Walk of Fame" sidewalk with signatures of famous guests. You can shop until your heart's content on Market Street, plus there is a great photo opportunity with the spiral escalators.
If you plan on enjoying some theatre while you visit, you'll want to stop by the TIX half-price ticket booth which is located across from the St. Francis Hotel.  TIX helps theatres fill unsold seats to same day shows and can help you find entertainment while also sticking to a budget.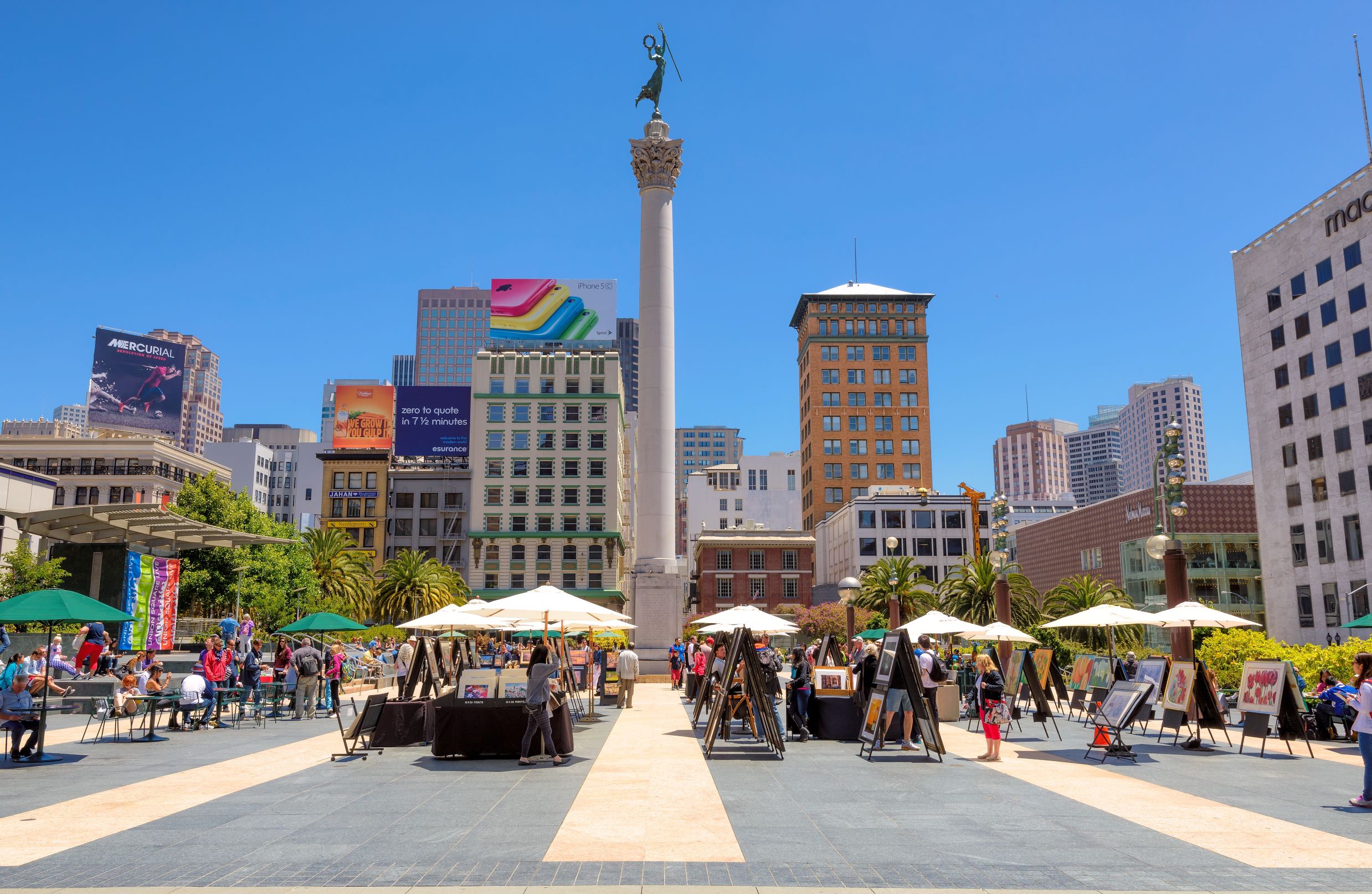 Best Hotels In Union Square
Affordable: Union Square Plaza Hotel 
Union Square Plaza Hotel is a great option for those looking to stay directly in the Theatre District. Simply furnished rooms with very few amenities, but it is affordable with many restaurants and shops just a few steps away.
The famous Powell Street Cable Car is 1 block from this hotel and Chinatown is just a 10-minute walk away. Fisherman's Wharf is only 1.6 miles away.
Check Rates: Booking.com
Mid-range: Hotel Bijou 
Hotel Bijou is a very modern hotel that features a gorgeous on-site restaurant, wellness spa, and special package options. The rooms are designed to provide ultimate comfort and relaxation. You can even arrange in-room spa services.
Hotel Bijou is steps from the Powell Street Bart Public Transportation Station and The Westfield Mall shopping mall is only a 5 minute walk away.
Check Rates: Booking.com
Luxury: Axiom Hotel 
Axiom Hotel delivers when it comes to blending century-old architecture with elegant modern design. The rooms are crisp and refined with luxurious linens. Amenities include a library, game room, extensive fitness center, and an on-site coffee shop.
The Dragon's Gate entrance to Chinatown is only 0.6 mi away. The Coit Tower and North Beach are also conveniently just 1.9 miles away from this hotel. There are so many hip boutique hotels in San Francisco you should check out!
Check Rates: Booking.com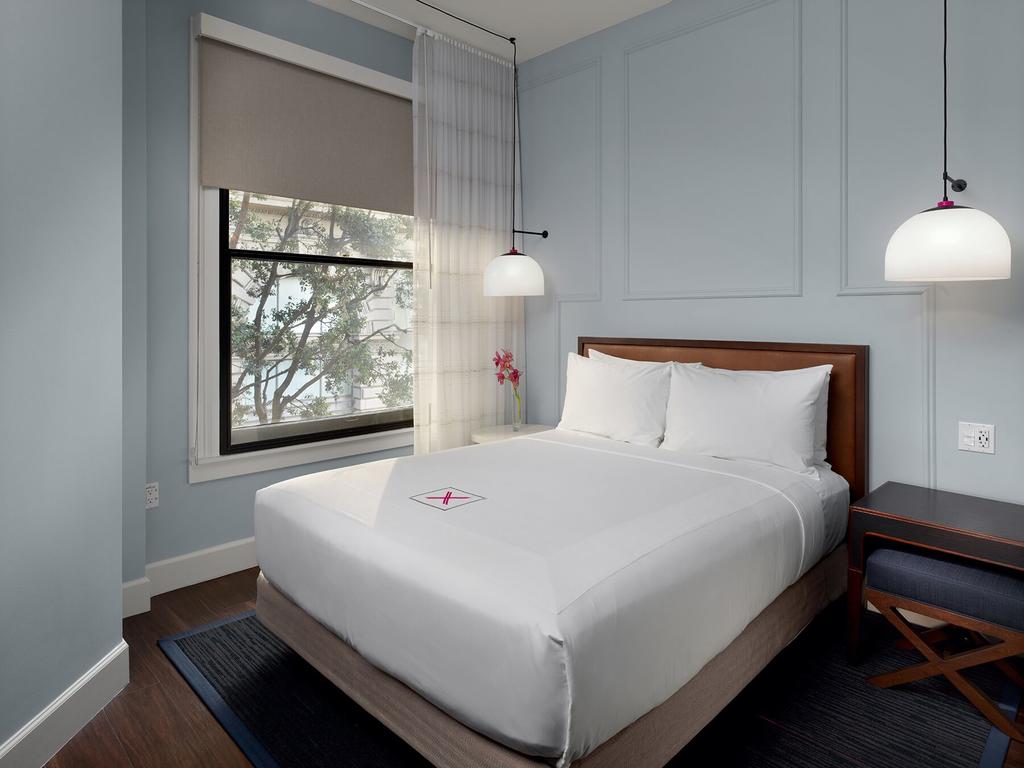 Downtown Is Close To Everything
Downtown is the best area to stay in San Francisco if you want to be close to all of the sights and attractions! There is a wide variety of bars and restaurants that offer great happy hour specials.  If you are looking for a romantic getaway with elegant date-nights, then this is also perfect for you as there are many fine dining opportunities.
A must-see while you are staying in Downtown is the Ferry Building Marketplace! The Ferry Building is well known for its history of being the primary portal for the city and its dramatic clock tower is a powerful waterfront icon. Today, the Ferry Building Marketplace is an expansive farmer's market featuring fresh produce as well as many other merchants. Its a great place to take photos, walk around outside enjoying the breezy weather, and purchase unique items.
Downtown is a great home base for all of your San Francisco excursions because they are all within a 10-20 minute walk/cab ride. You will have plenty of things to do close to your hotel, but also  the ease of being able to venture out to other nearby destinations.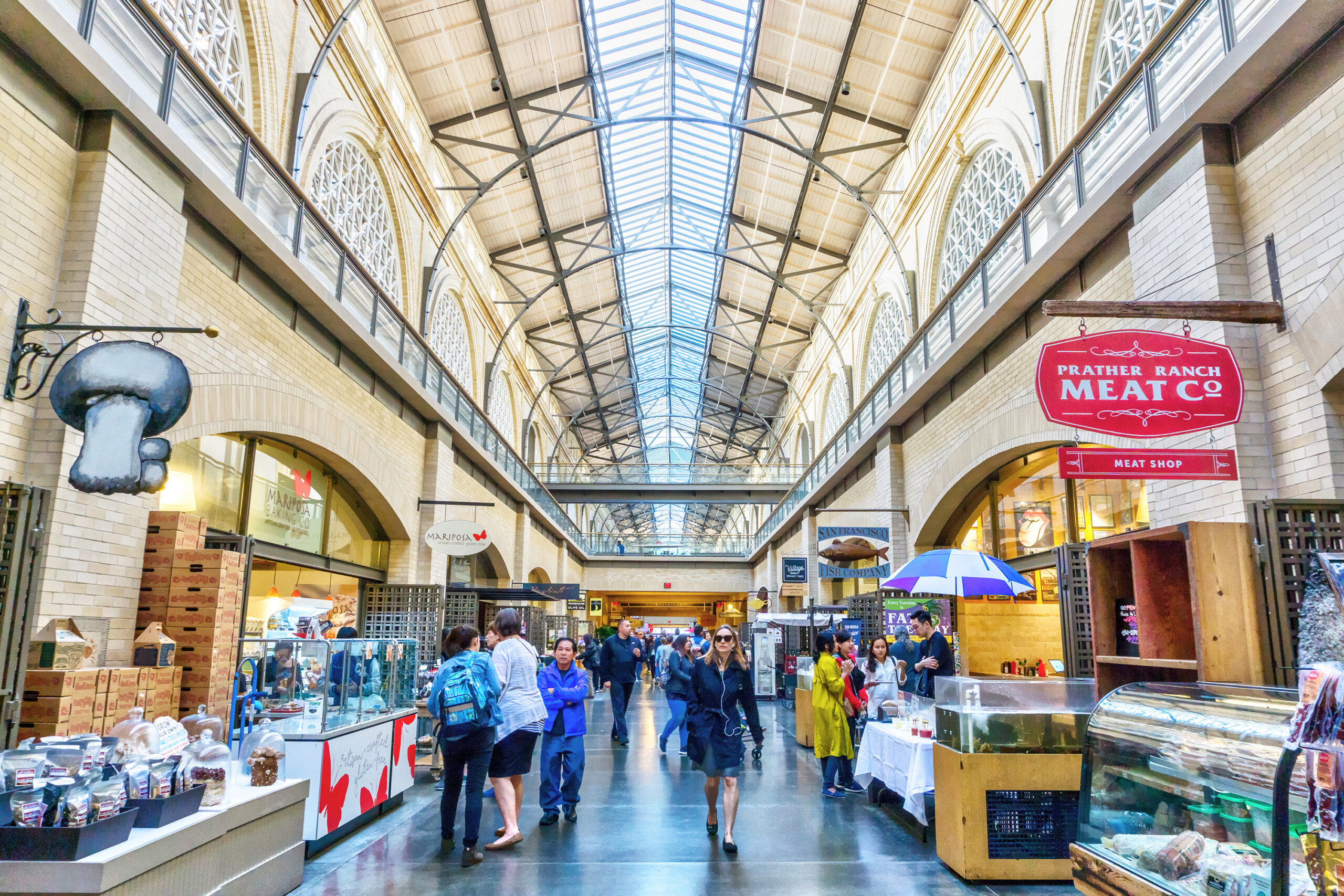 Best Hotels In Downtown
Affordable: Haveli Hotel San Francisco
Haveli Hotel is affordable and conveniently located right in downtown San Francisco. The guest rooms are simply furnished and the hotel offers an airport shuttle service. There is an on-site business center and an on-site hair/beauty salon.
The airport is 12 miles from the Haveli Hotel. The Moscone Convention Center is only 0.5 miles away and Union Square is a 10-minute walk away.
Check Rates: Booking.com
Mid-range: BEI Hotel San Francisco
BEI Hotel is a stunning hotel with stellar views of the city. Spacious and well-appointed rooms are decorated with contemporary elegance. Amenities include an on-site restaurant, fitness center that offers classes, a business center with meeting rooms, and a sun deck terrace.
San Francisco City Hall is a 5 minute walk away. Both Union Square and The Mascone Convention Center are a 10-minute walk away.
Check Rates: Booking.com
Luxury: Carriage Inn
Carriage Inn provides the perfect mixture of character and history. Each guest room is individually designed to celebrate a famous figure in San Francisco history.  Antique typewriters, furniture, and wall hangings all add to the charm of this lovely inn.
Amenities include a fitness center and a heated pool. Located just 2 miles away from AT&T Park which is the home of baseball's San Francisco Giants.
Check Rates: Booking.com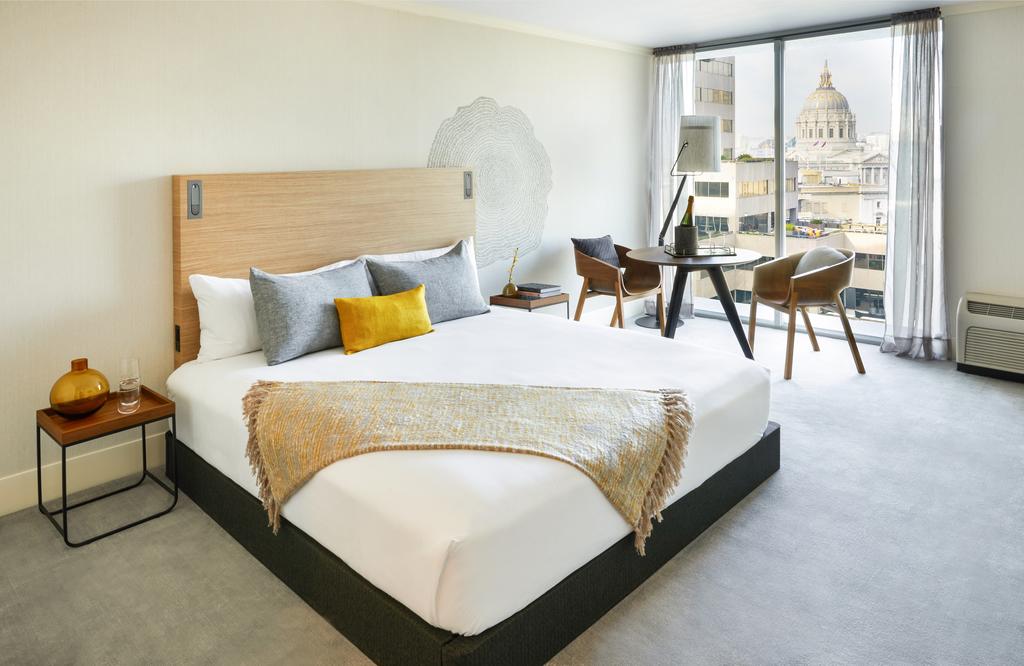 Fisherman's Wharf Is Ideal For Families
Fisherman's Wharf is probably one of the most recognized destinations and it is for good reason! Yes, it is touristy, but it is so much fun! You will love every minute of this energetic spot with sea lions hanging out on the rocky shoreline, tons of fishing boats, lots of fresh seafood, and the amazing smell of baking sourdough from the French bread bakeries. So many sights and activities packed into one convenient location makes Fisherman's Wharf where to stay in San Francisco with kids.
The Musee Mechanique is full of old-fashioned arcade games and is sure to make even the toughest critic smile. Chocolate lovers will definitely want to stop by Ghirardelli Square to try one of their specialty sundaes. An assortment of colorful docked boats makes for a perfect photo opportunity. At the corner of Jefferson and Taylor, the sidewalk is lined with little stands that sell a variety of seafood which makes it ideal for sampling many different flavors while still being able to walk and sight-see.
It can sometimes be hard to find restrooms, so we want you to know that you can find public restrooms across Taylor Street from the sidewalk seafood stands. You can also find them at Pier 39 and Ghirardelli Square. The hotels in Fisherman's Wharf are more on the pricey end, but you are paying for the prime location with tons of fun things to do.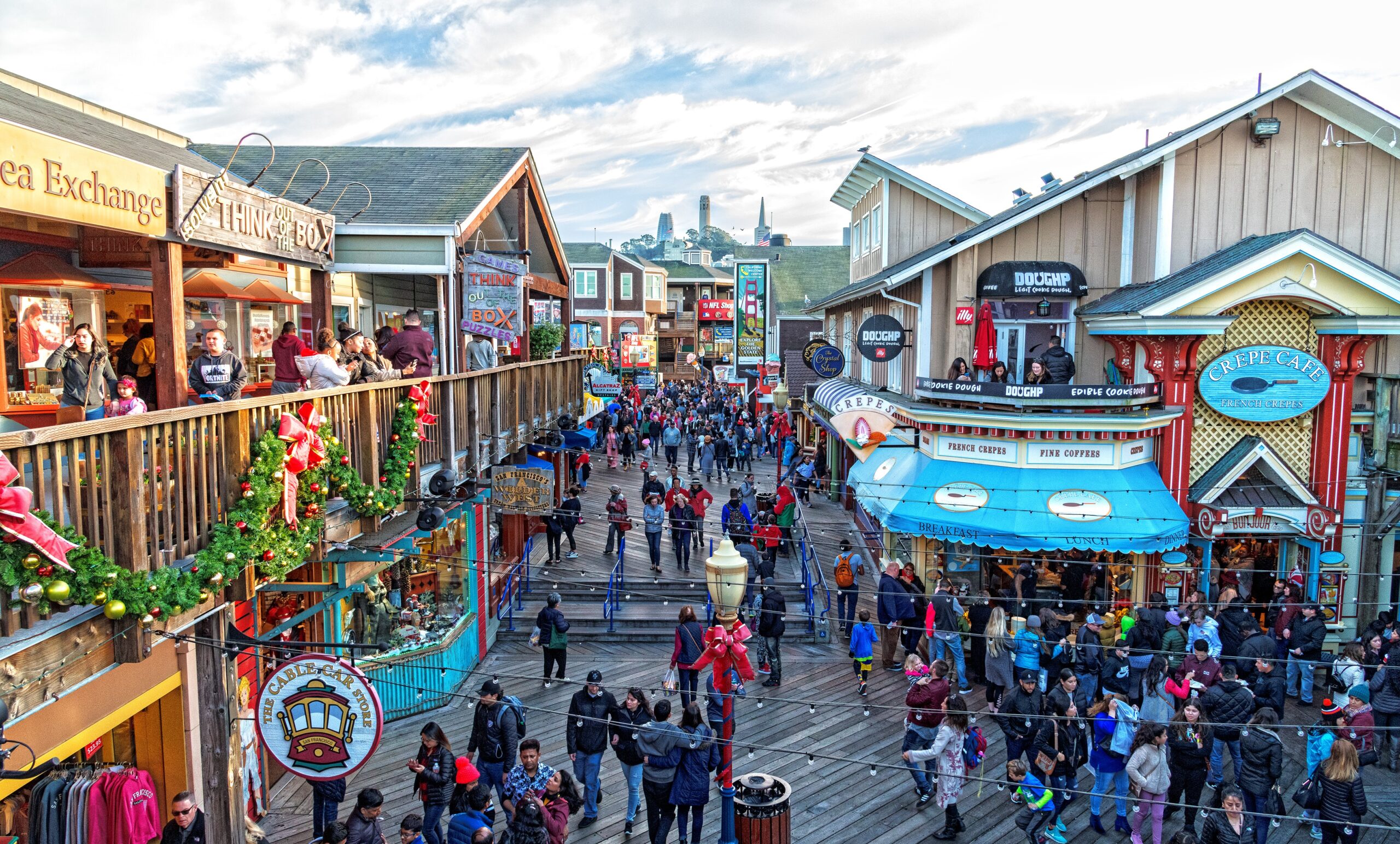 Best Hotels In Fisherman's Wharf
Mid-range: Hotel Riu Plaza Fisherman's Wharf
Hotel Riu Plaza is a family-friendly hotel that features an outdoor pool. The on-site Northpoint Bar & Restaurant serves breakfast, lunch, and dinner. Amenities include a fitness center, a business center, a spacious main lobby with plenty of comfortable seating, and a coffee shop.
Check Rates: Booking.com
Luxury: Hotel Zephyr San Francisco
Hotel Zephyr is a whimsical property that features nautical-themed rooms with fishnet-covered light fixtures and porthole-style windows. It has a resort-style courtyard with large game and play areas. There is also an indoor game room that includes a pool table, darts, ping-pong, and Jenga.
The Camper is an actual RV that has been re-imagined into a quick-serve food and beverage stop serving locally-sourced cuisine and craft beers and California wines. It is open to guests for breakfast, lunch, and dinner. It is truly one of the most unique hotels in San Francisco!
Check Rates: Booking.com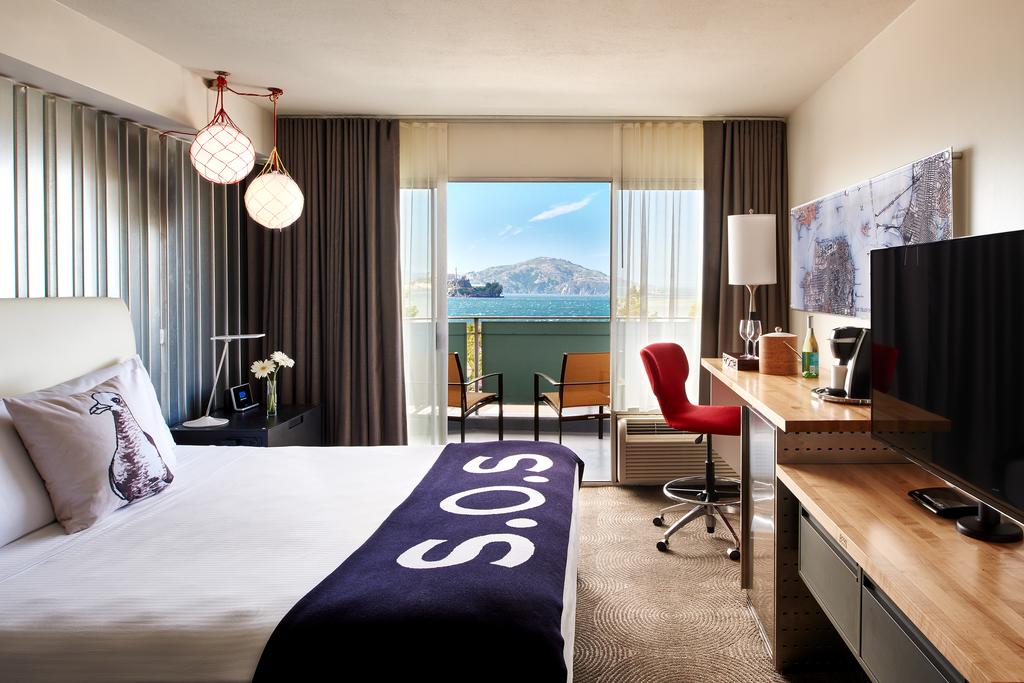 South Of Market/SOMA Is Budget Friendly
South of Market is a very dense urban area with a lot of restaurants, bars, coffee shops, and parks. There are many things to do that are free and open to the public daily which makes it the perfect place to stay in San Francisco on a budget. If you plan to stay for a week or more, Union Square and Fisherman's Wharf are just a short walk or cab ride away, so you will have plenty of options if you want to explore more of San Francisco.
You can check out the work of talented artist Anton Refregier in the historic Rincon Center which features 27 murals in its light-filled main lobby. The Yerba Buena Center hosts many public art exhibits that are free of charge as well as other ticketed musical and performance art events.
Each year, Yerba Buena Gardens offers free festival performances from May to October. The festival includes local bands, theater performances, and kids shows. Yerba Buena Gardens is comprised of 5 acres of land that has flowers, trees, and a butterfly garden which makes it a perfect addition to your itinerary anytime of year. For an affordable lunch, Box Kitchen serves American comfort food, burgers, and waffles with all full meals totaling less than $10 per person.
If you love baseball, you can go to a San Francisco Giants game! The average cost of a ticket is around $38.00, but you can easily find tickets for around $18 with a good view. Traveling with kids or just young at heart, then you might want to check out the LeRoy King Carousel which is an indoor carousel that is open daily and tied to the Children's Creativity Museum.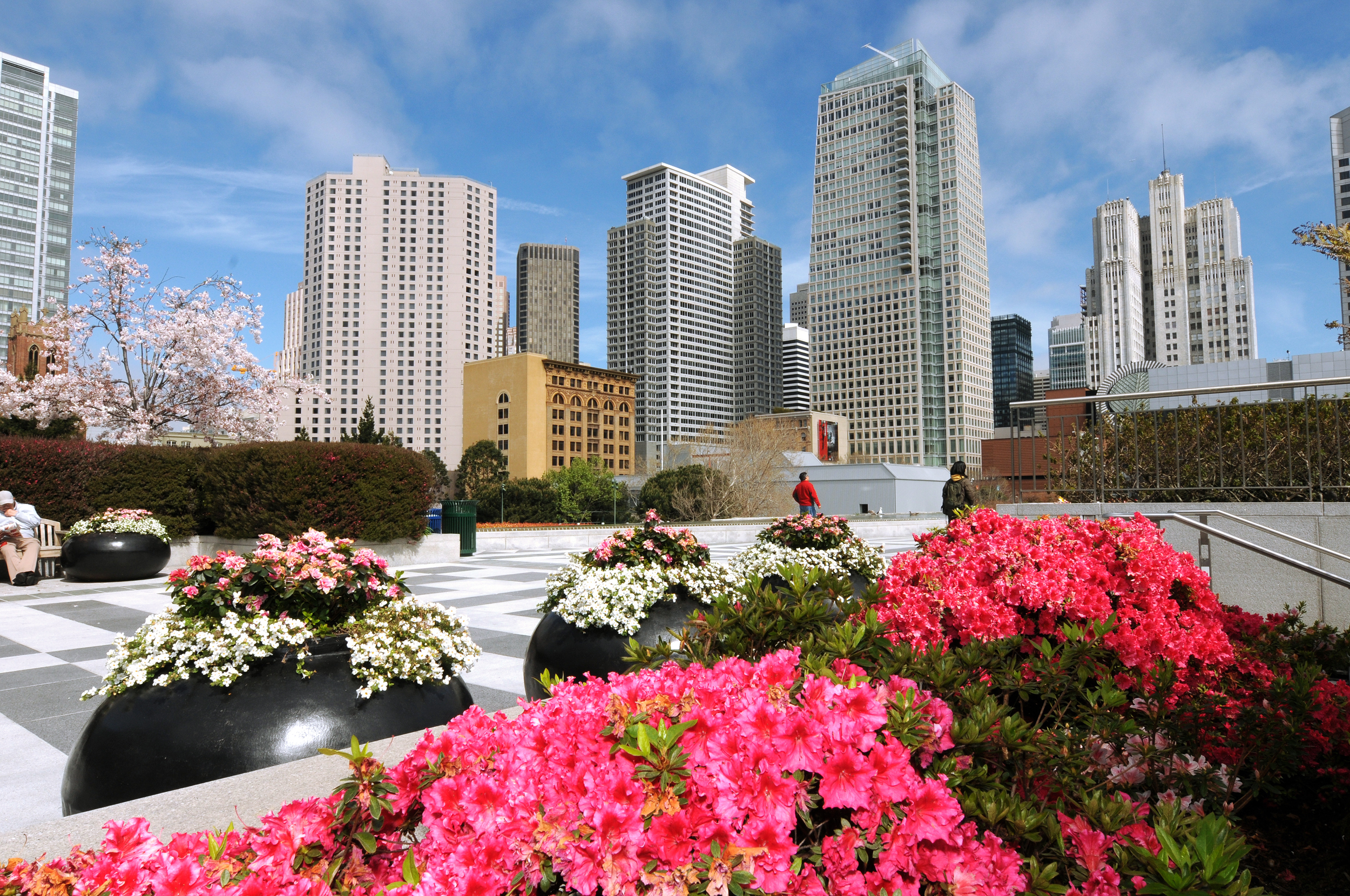 Best Hotels In South of Market/SOMA
Affordable: Minna Hotel
Minna Hotel is in the heart of SOMA and it truly is a hidden gem! This accommodation has a striking color palette of slate gray, fire engine red, and straw hat tan. The rooms are private with shared restrooms and shower facilities.
A continental breakfast is served daily in the large open dining space which makes it the perfect place to stay in San Francisco on a budget.
Check Rates: Booking.com
Mid-Range: The Utah Inn 
The Utah Inn is a charming historic inn that has been fully renovated. It has spacious rooms with a clean and classic design. The architectural design gives personality and character throughout the building.
Guests can enjoy live music and drinks downstairs at the Utah Saloon. The Utah Inn is a 10-minute walk from AT&T Park (Home of the Giants) and a 15-minute walk from Union Square Park.
Check Rates: Booking.com
Luxury: Hotel Via 
Hotel Via is an outstanding property that features custom-made furniture, a sun terrace, and very spacious rooms. Guests can enjoy the on-site rooftop bar with panoramic views of Oracle Park, the Bay, and the San Francisco skyline.
Other amenities include a fitness center, room service, and an on-site restaurant that serves cocktails and small plates based on seasonal ingredients.
Check Rates: Booking.com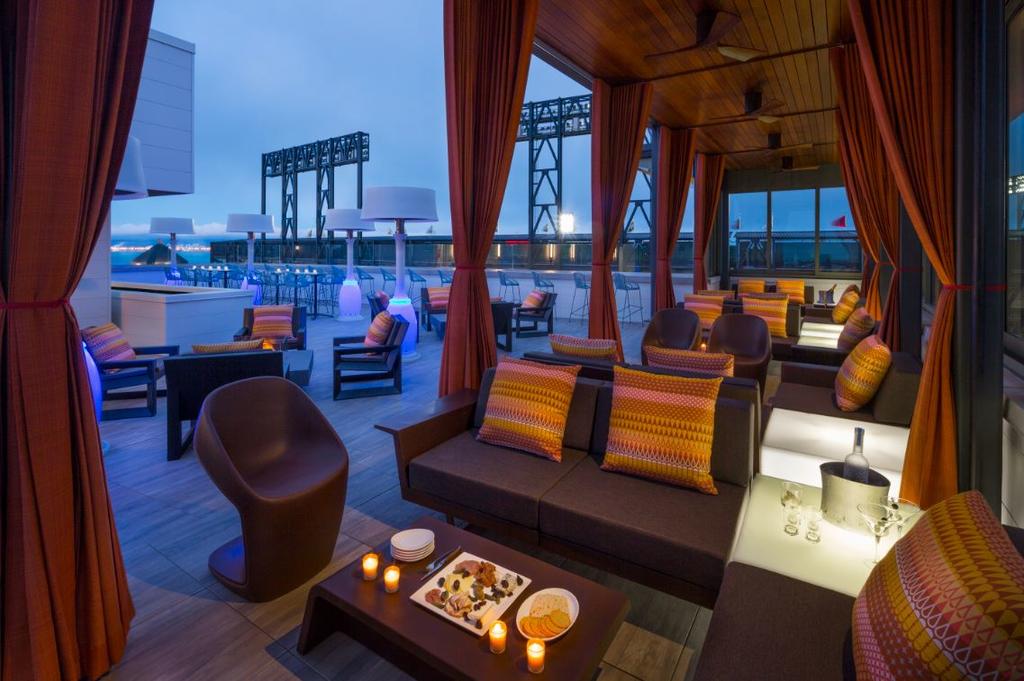 North Beach And China Town Are For Foodies
North Beach is a lively neighborhood that is rich with Italian heritage. Annually it draws countless locals and tourists to small "Mom & Pop" restaurants,  quirky coffee shops, and retro styled bars. North Beach is also home to the iconic Coit Tower which you can go to the top of for panoramic city views.
City Lights is a very famous bookstore known for being a happening gathering spot during the Beat Movement. City Lights is a great place to pop in for souvenir shopping and it has a very recognizable storefront that makes for a perfect photo opportunity.
China Town in San Francisco is one of the oldest and well established China Towns in the United States. Get ready to take an adventure for your taste buds! You can dig into some of the most savory dim sum you've ever experienced, drink tasty herbal tea all day and night, and sing off-key at multiple karaoke joints.
Once you've sampled all of the delectable food, you'll definitely want to get your camera ready for some photos at Dragon's Gate. Dragon's Gate is the only authentic Chinatown gate in the country. The three entryways are guarded by a trio of stone lion statues, said to ward off evil.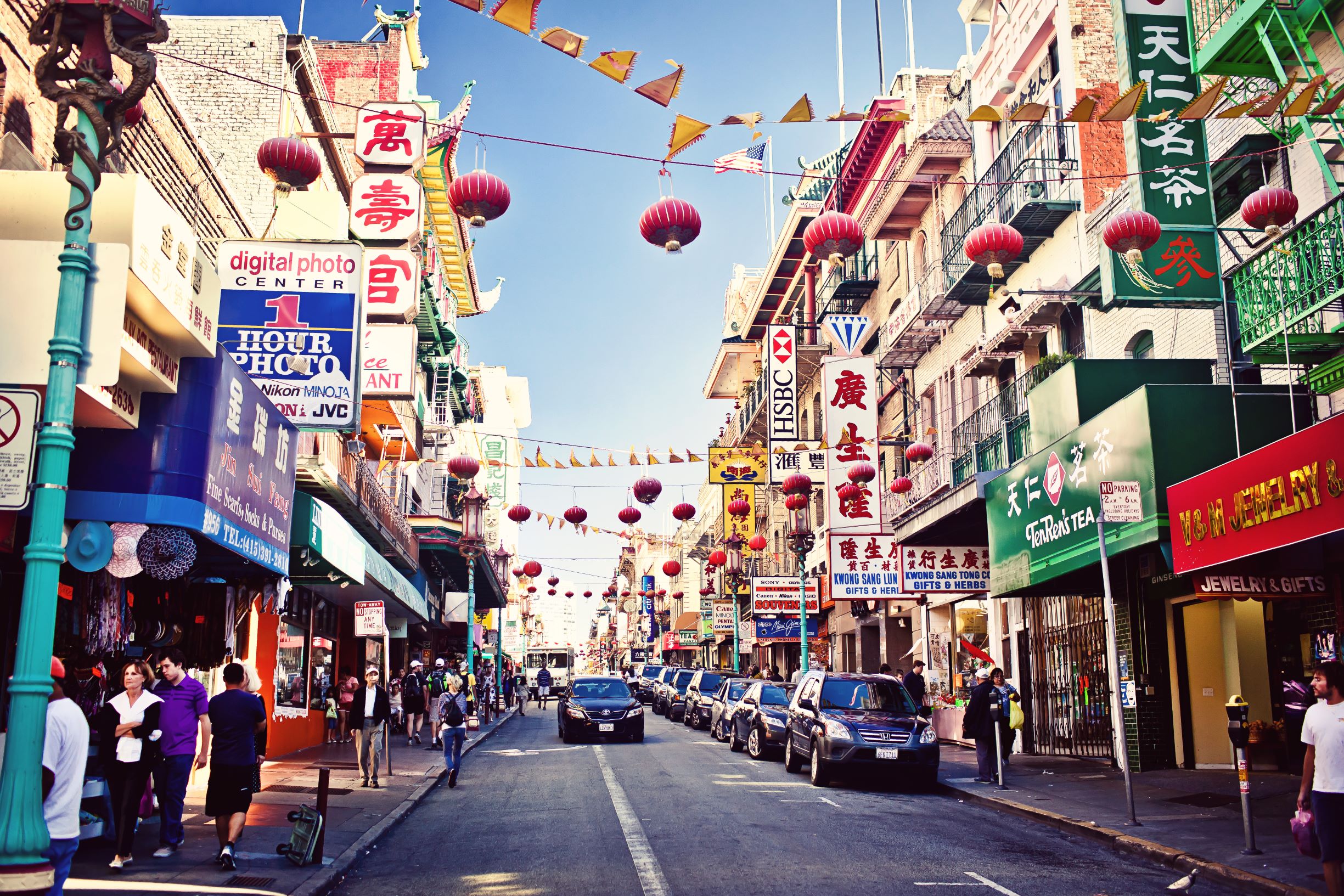 Best Hotels In North Beach And China Town
Affordable: San Remo Hotel
San Remo Hotel is a cozy hotel that is furnished with Victorian heirlooms, historic photos, and pedestal sinks. The on-site restaurant, Fior d'Italia, opened in 1886 and is one of the country's oldest Italian restaurants.
The bathroom and shower facilities are shared and located on each floor. The Powell Street cable car is only 1 block from the hotel and provides instant access to exciting Union Square.
Check Rates: Booking.com
Mid-Range: Grant Plaza Hotel
Grant Plaza Hotel is a traditional hotel with large rooms that are located right at the gateway to China Town. Stained glass windows are featured throughout the hotel property which really adds a touch of elegance and unexpected beauty.
Check Rates: Booking.com
Luxury: Washington Square Inn
The Washington Square Inn has 15 rooms, each decorated with antique furnishings. Some of the guest rooms include bay windows and fireplaces. A European-style breakfast is included daily with your stay and can be served in the room upon request.
An evening reception is held daily that includes wine and hors d'oeuvres. Italian bakeries, cafes, and small shops are all within close vicinity.
Check Rates: Booking.com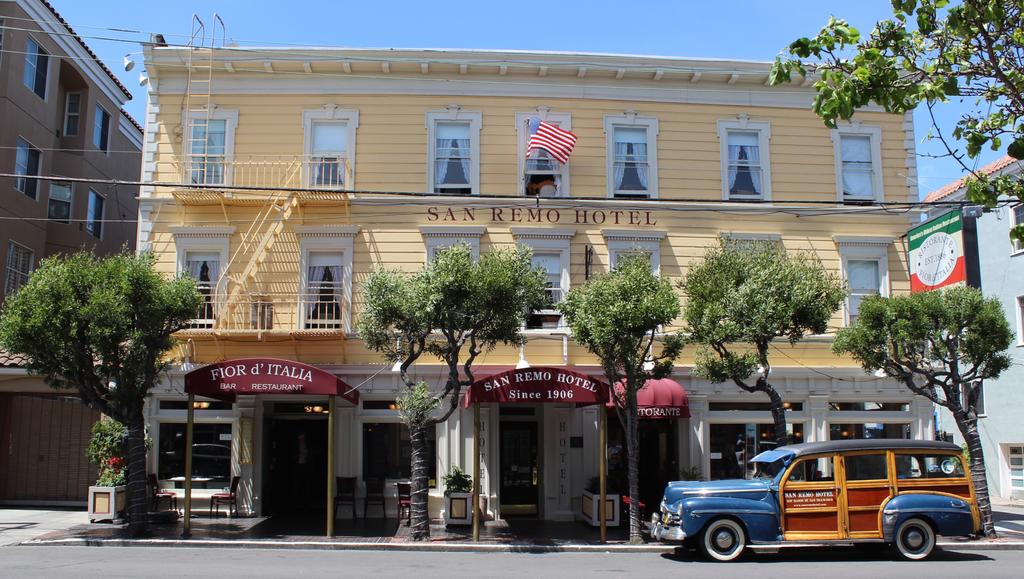 The Mission District Has The Best Nightlife
If you live for exciting nightlife, then the Mission District is where to stay in San Francisco for you! The Mission District is a high-spirited area with Latino roots. There are plenty of clubs with live music, dancing, and specialty cocktails. You will also find a few beer gardens that are fabulous for sitting back and relaxing while you sip a marvelous microbrew.
Throughout the Mission District, you will also find tattoo parlors, cafes with curated menus, and homemade ice-cream shops. There is no shortage of interesting places to take your scrapbook photographs as there are quite a few brightly colored murals sprinkled around the neighborhood. You can get a bargain souvenir in one of the many thrift stores along Mission Street.
Want a really entertaining dinner experience? Well, head on over to Foreign Cinema where they combine indie films with Cali-Mediterranean entrees. There is indoor dining as well as airy outdoor seating perfect for a more laid back night out on the town.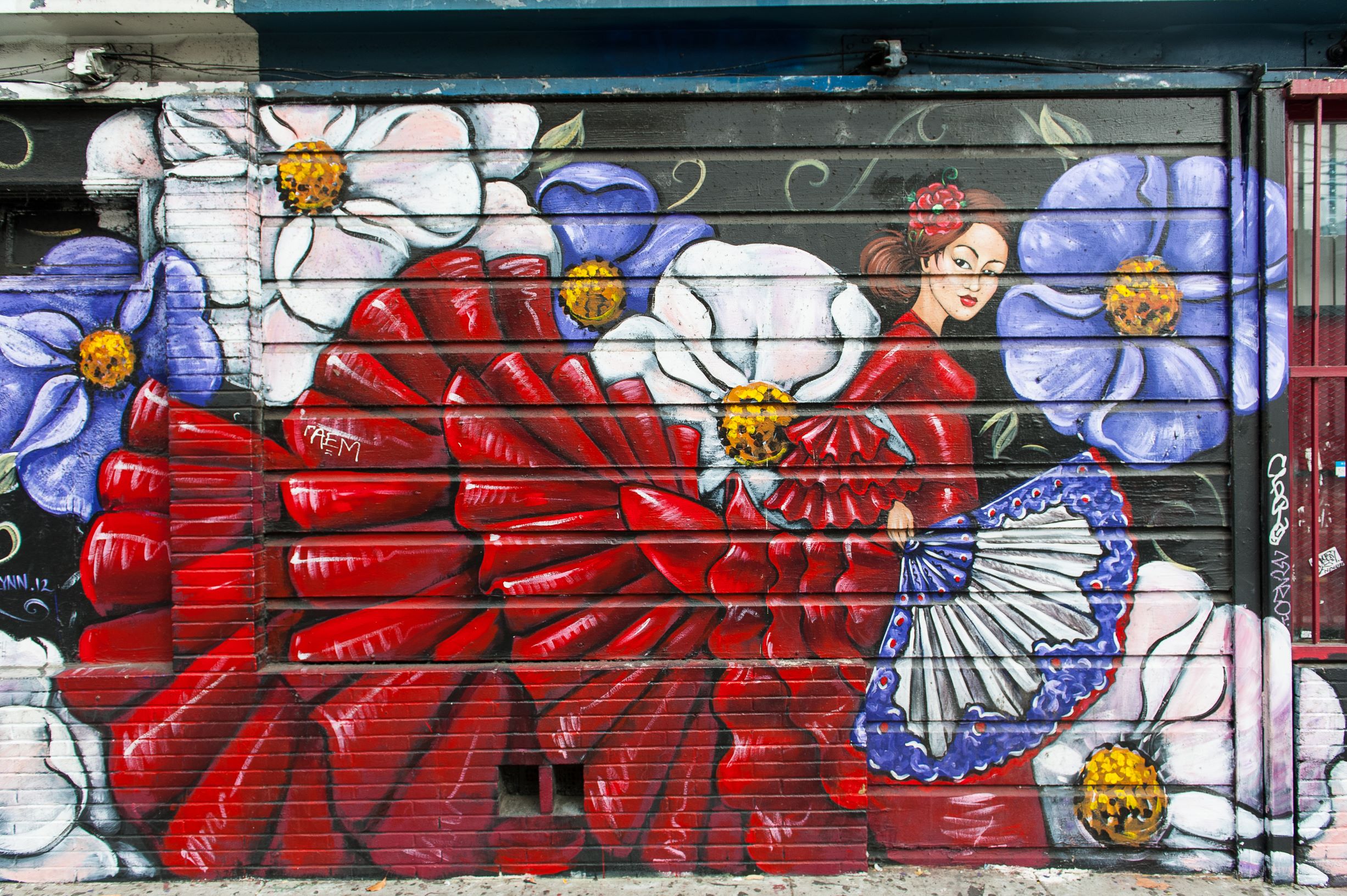 Best Hotels In The Mission District
Affordable: Union Hotel 
Union Hotel features simply furnished small rooms at a budget-friendly rate. You will be conveniently located right in the middle of all of the best clubs and bars. Staying here will free up extra funds to spend on food and drinks.
Check Rates: Booking.com
Mid-range: Nineteen 06 Mission
Nineteen 06 is a very posh bed and breakfast that features a modern design that is environmentally conscious. Each room is designed with re-purposed materials, energy-efficient lighting, and organic toiletries.
Amenities include a terrace and shared lounge area, both are perfect for mingling. Breakfast is available at a very low cost.
Check Rates: Booking.com
Luxury: Inn San Francisco
The Inn San Francisco is a stunningly authentic Victorian B&B that serves an elaborate complimentary breakfast daily. All guest rooms include bathrobes, toiletries, and some feature garden tubs.
Amenities include a garden, rooftop terrace, game room, library, pool, and hot tub. This B&B is 2 miles from Moscone Center and 2.1 miles from Union Square.
Check Rates: Booking.com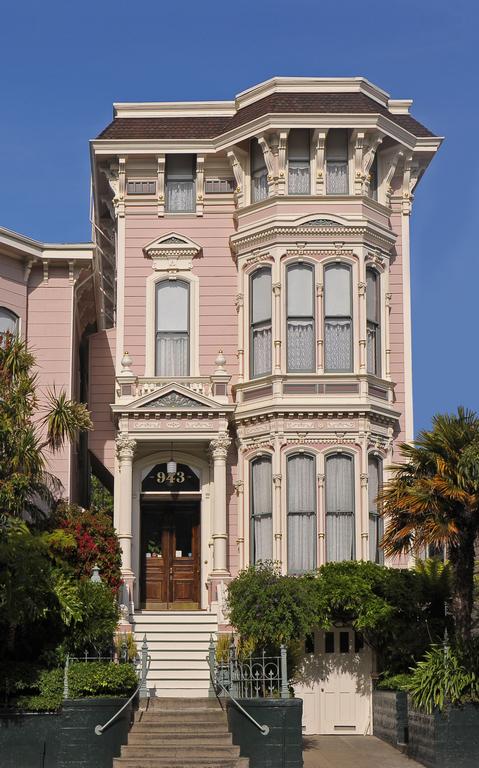 The Financial District Is A Hot Spot For Luxury Hotels
Do you want to be pampered? Do you just adore tiny monogrammed soaps? Then, the Financial District is definitely where to stay in San Francisco! Not only is the Financial District the best place to stay in San Francisco for luxury hotels, it is also perfect for all things extravagant and divine.
The Financial District has many indulgent restaurants including Tadich Grill which is the city's oldest restaurant. Tadich Grill offers up delicious food with a very charming ambiance. The View Lounge is an aptly named restaurant with delicious food and specialty cocktails that exudes romance and luxury. Do you love fancy and innovative drinks? Check out Sky Bar which is located on the 40th floor of the Loews Regency Hotel. Sky Bar is the highest outdoor venue in San Francisco and features an open sky deck with a rotating cocktail menu.
Fully relax at Spa Vitale with a full body massage, deep tub soak, or skin treatment body wrap. Before heading out for a night on the town, you can stop at Cupid's Span for a fun photo opportunity. The Financial District also has some very impressive skyscrapers including the Transamerica Pyramid which is often lit with different colors depending on the time of year.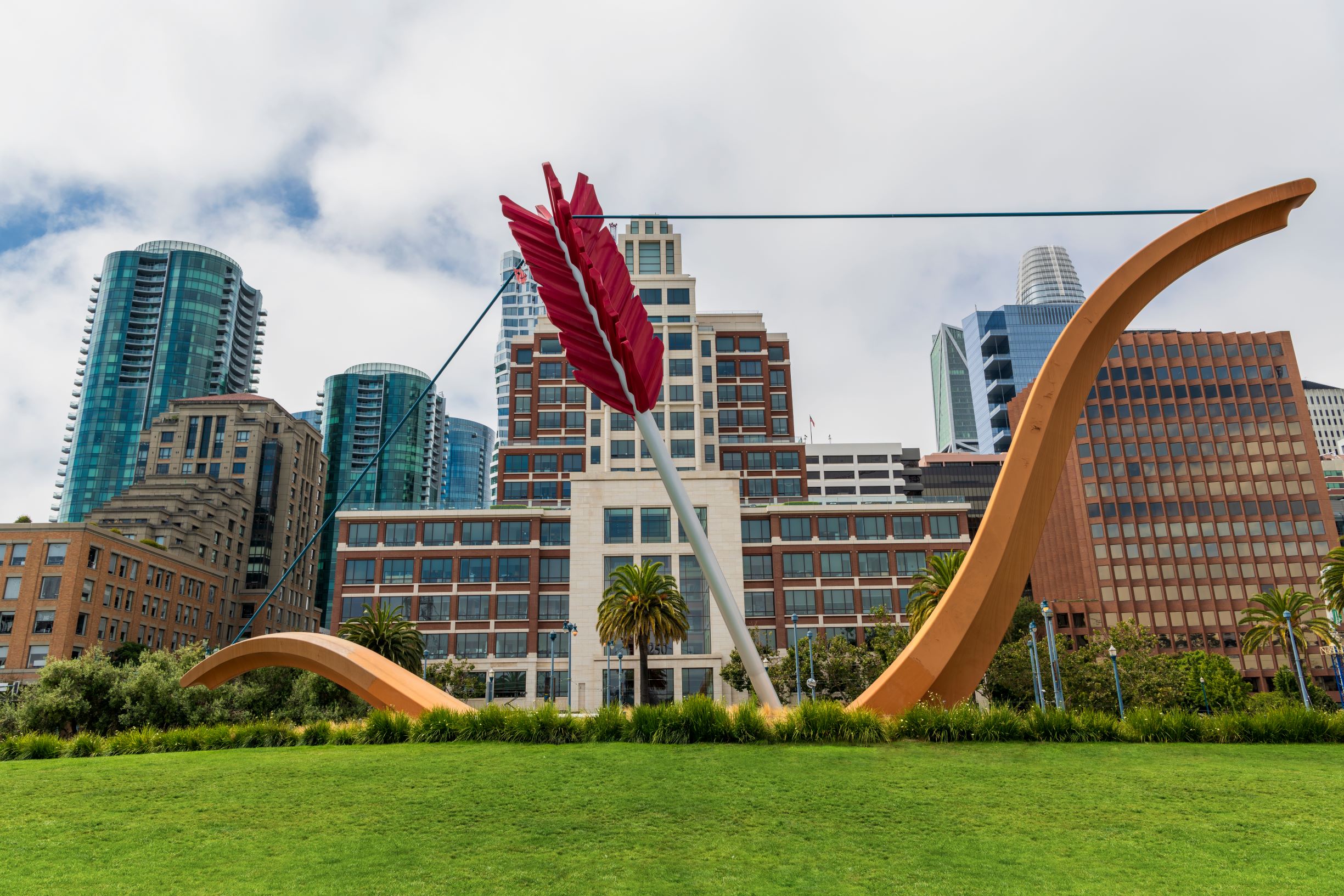 Best Hotels In The Financial District
Affordable: Club Quarters Hotel
Club Quarters Hotel offers a private club-style experience with phenomenal guest service. A custom coffee maker with free coffee and tea is provided in each guest room as well as a multi-purpose workspace.
Amenities include concierge assistance, grocery delivery to your room, and a fitness center that features Peloton equipment.
Check Rates: Booking.com
Mid-range: Galleria Park
Galleria Park is a real stand out when is comes to elegant and elaborate interior design. So many textures, colors, and rich materials working together to provide an absolutely stunning aesthetic. Each guest room features desks with marble tops, luxurious linens, and framed fine art.
Amenities include a terrace, a garden, and a fitness center. Guests can indulge in nightly wine tasting and full dinner menu room service.
Check Rates: Booking.com
Luxury: Palace Hotel
Palace Hotel is the ultimate in luxury. You'll truly never want to leave! Guest rooms have 11-foot ceilings, marble baths, solid oak doors from the early 1900s with brass monogrammed door knobs, pillow-top mattresses, and custom sofas.
Amenities include an on-site restaurant, fitness center, pool, hot tub, spa services, and a solarium. The attention to detail throughout this property is enchanting with Austrian crystal chandeliers, velvet upholstered lounge seating and glass domes.
Check Rates: Booking.com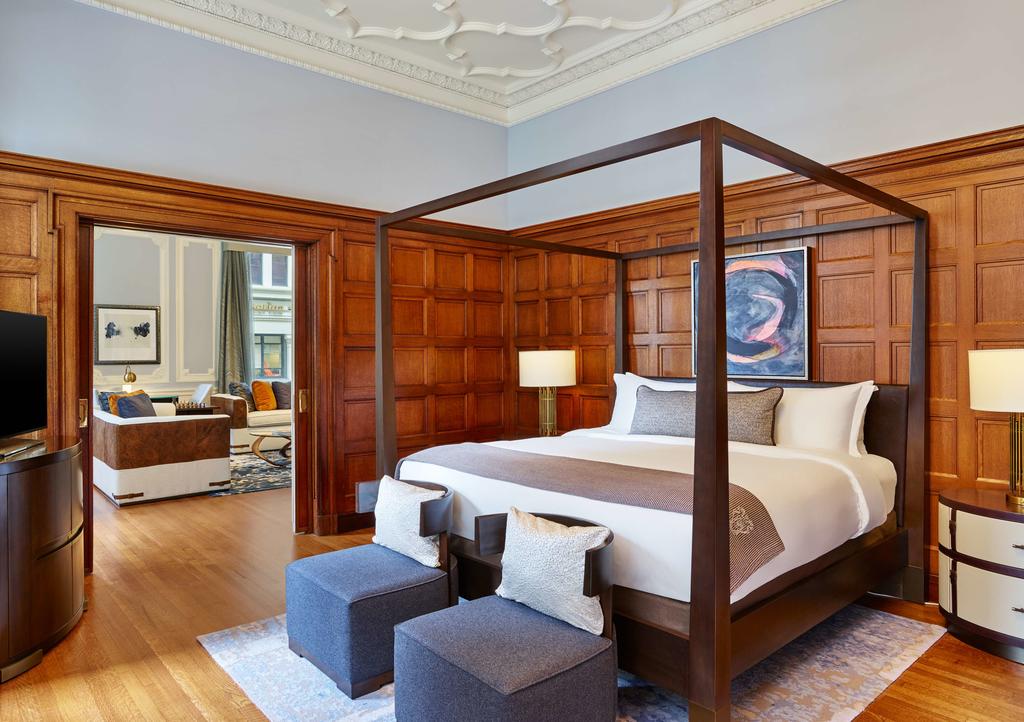 Haight-Ashbury Has Roots Of Peace & Love
Are you a 60's hippie at heart? Groovy! You'll feel right at home in the "Summer of Love" birthplace, Haight-Ashbury. This unique neighborhood was booming with hippies, artists, musicians, and all in favor of free love during 1967. Over time there has been a transition of hippies moving out and yuppies coming in, but the far-out vibes are still ever-present.
When you think of San Francisco and you envision the multi-colored Victorian homes lining the streets, you are seeing the neighborhood of Haight-Ashbury. There is such an interesting mixture of murals, tiny shops, cute cafes, and quintessential San Fran homes. Plan a picnic on Hippie Hill, a favorite hangout of Janis Joplin and The Grateful Dead, located at the east end of Golden Gate Park.
Fan of vinyl? Amoeba Music is calling your name! The bowling alley turned music shop has a large selection of CDs and vinyl for you to peruse in a quirky atmosphere. Prepare yourself for incredible views of Downtown and the Golden Gate Bridge after you hike of the hills of Beuna Vista Park. Yearning for more history? Well, you'll be happy to know that Haight-Ashbury has walking-tours available that will transport you to another time.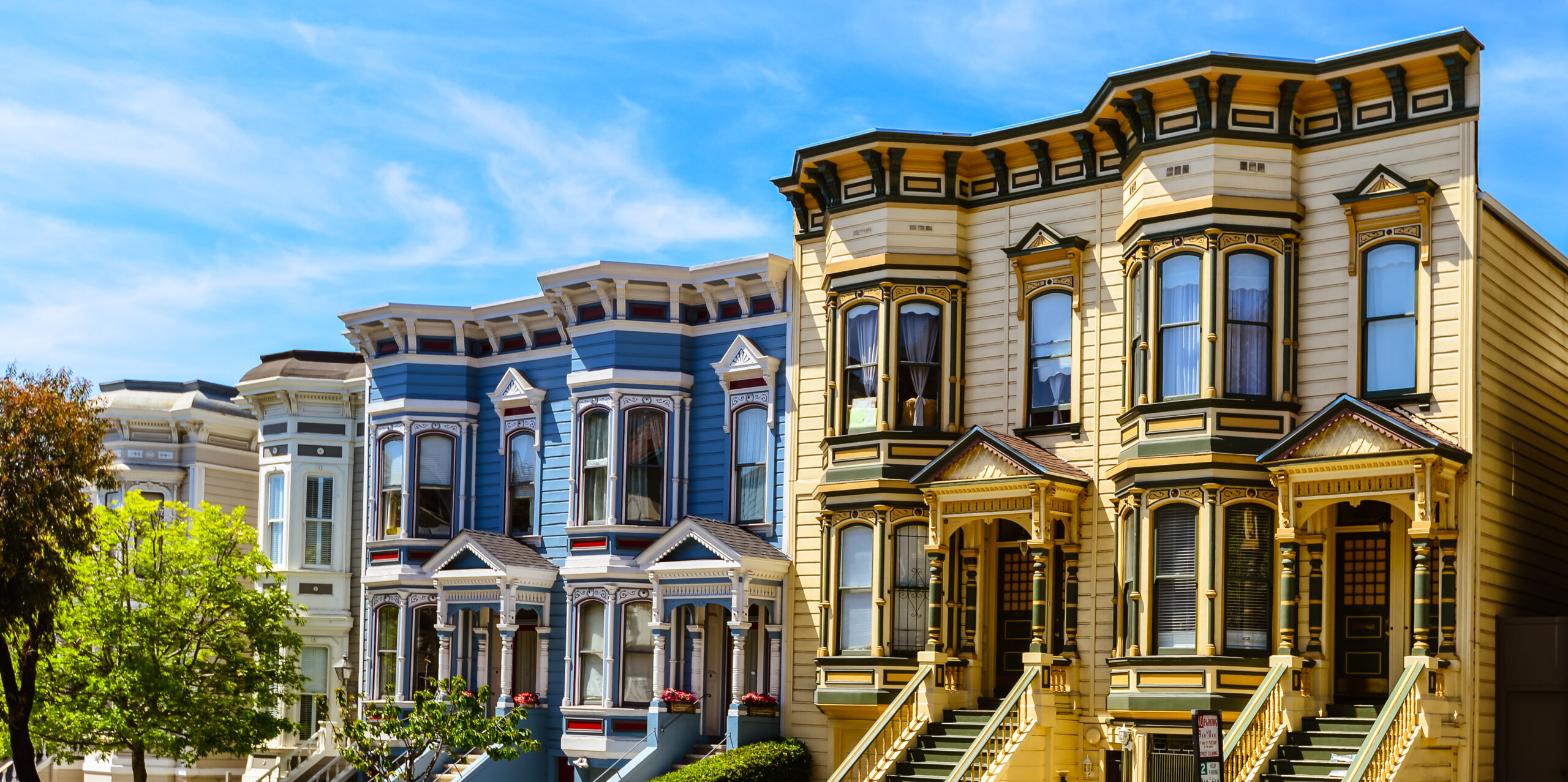 Best Hotels In Haight-Ashbury
Affordable: Oak Hotel
Oak Hotel provides very simple and understated rooms. The lack of refined decor and amenities is compensated by the affordable rate and the prime location in Haight-Ashbury.
Check Rates: Booking.com
Mid-range: Edwardian Hotel
Edwardian Hotel is located just 1.4 miles from the intersection of Haight & Ashbury. The guest rooms are cute and colorful with private bathrooms. A few of the rooms offer fantastic city views.
Check Rates: Booking.com
Luxury: Noe's Nest Bed and Breakfast
Wow, Noe's Nest Bed and Breakfast is right out of a fairy tale! Each room varies with individualized decor that feels special and like your own private Victorian dream home.  Suites are available that include garden views and spa baths.
A delightful and generous breakfast is served every morning with dietary needs taken into account upon request. You will feel swept far from everything, even though you are a mere 1.9 miles from the intersection of Haight and Ashbury.
Check Rates: Booking.com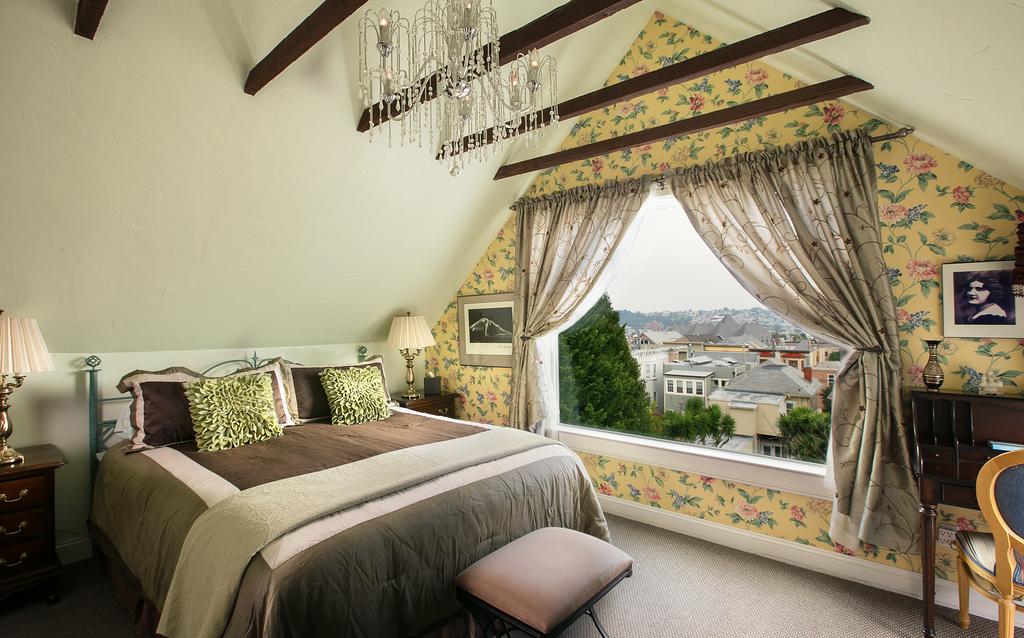 When choosing the best area to stay in San Francisco, just remember that you really can't go wrong with any of these outstanding neighborhoods. Just focus on the activities and vibe you are looking for and let your heart guide you.
Seeing the Golden Gate Bridge in real life is truly awe-inspiring and we just know that it will be an experience you'll never forget! Fisherman's Wharf holds a special spot in our hearts and is definitely one of our favorite San Francisco destinations. We hope you have enjoyed discovering the best places to stay in San Francisco and we can't wait to hear which one becomes your favorite!