We are officially halfway through 2016 and Follow Me Away has had a pretty busy 6 month period! We experienced a ton and learned a great deal about travel, blogging, life, and ourselves. We grew a lot, but still have a long way to go. Check out our epic mid-year recap:
January:
In January, we set off to Arizona for a week. Follow Me Away's website wasn't even created yet and we were strictly posting to Instagram. We were new baby travel bloggers and, looking back at our old posts, you can tell we had no idea what we were doing. Although the blog wasn't set up yet, we still had some idea's jotted down and created content accordingly during the trip. We learned pretty fast that as travel bloggers, landscape-oriented photography is where it is at!
In Arizona, we shot in the Arizona desert, at Cathedral Rock in Sedona, and at the famous Grand Canyon. It was Terrence's first time at the Grand Canyon and although it was freezing, the photoshoot was exciting.
February:
On February 2, Followmeaway.com was born! We published our first post and have been working to bring you super interesting content ever since.
We had a month between Arizona and our Europe departure date and what did we do? Absolutely nothing. We planned a trip to Seattle and Terrence taught on the Creative Live Platform. While we were in the Pacific Northwest, we went on a tour of the Seattle Mariner's baseball stadium [Terrence's favorite team] and shot in three locations around the Olympic peninsula.
We had four days between when we returned home from Seattle and when we had to leave for Iceland, and then Europe for 3 months. We planned the first two weeks of our Europe trip on the flight back to Tampa, packed our lives into a backpack, and got everything in order in just four days. We probably wouldn't recommend this but we are Olympic procrastinators.
On Leap Day [February 29th], we left Tampa for Boston at 7am EST. We proceeded to have a 12-hour layover in Boston between our domestic flight and our international flight to Iceland. During our time in Boston, we learned that our flight would be an additional 3 hours late. It was pretty rough, we won't lie!
March:
We spent the first 8 days of March in Iceland! Visiting the country in the winter was pretty exciting and we were proud of ourselves for sticking to our budget and not eating out one time! In a span of four days, we did eight photoshoots. The weather was extremely harsh and one of our shoots lasted only four minutes! We also had our first bad Airbnb experience where our Berlin accommodations canceled on us last minute.
After Iceland, we landed in Berlin because it was the cheapest flight from Iceland to mainland Europe. We spent 5 days relaxing and enjoying the culture. Berlin was such an eclectic city and we really enjoyed it.
Little did we know that we were about to hop on a train and head to Prague, the capital of the Czech Republic. Talk about surprises! We arrived in Prague and it was cold and gray outside. The next day, we headed into town and were essentially transported to a magical storybook town. We even did our first city photoshoot for Follow Me Away in Prague and asked our Airbnb host if we could extend our trip by a day.
Next up was Vienna and more Airbnb host issues. Thankfully, we were able to get out and have a little fun by going to the ballet in Vienna for three euros! After four days in Austria, we took a 4-hour bus ride to Budapest. We had a great time experiencing Hungarian culture for one day until Victoria fell ill for an entire week. We attempted to celebrate the Easter holiday in Budapest but the sickness overshadowed the fun.
On March 25, 2016, while Terrence was on the phone with his bank about replacing his stolen credit card and Victoria was sick and bored, Victoria submitted a post regarding Follow Me Away to Buzzfeed.com and our lives changed forever. In a matter of a few hours, the post featuring Follow Me Away was published on Buzzfeed's community page and quickly made its way to the homepage of Buzzfeed.com. This post went viral and led to us being featured on a host of international news websites. We are forever grateful for the outpouring of love and support from our friends, family, and followers around the world and we couldn't do it without you!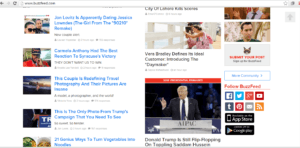 April: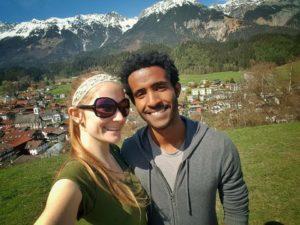 We left Hungary and spent 8 days in Salzburg and Innsbruck, Austria. Follow Me Away did 3 photoshoots in the country and even found a "hidden" castle perched on a mountain. Despite the fun, we were feeling pretty homesick but, with nowhere else to go and no flight home, we knew we had to push on.
Our bus was hours late but we finally arrived in Trento, Italy to find out that our rental car was an hour away. After speaking with the company, we had to pay more money but were able to move our car to a pickup location in Trento. Our Trento Airbnb host was horrible and had a 2-year-old child who opened our door while we changed, threw food at us, screamed at the top of his lungs, and had parents who didn't shush him or pay him any mind. While in Trento, we were able to get out and see the beautiful countryside, including the Dolomites/Italian Alps.
We were happy to get out of Trento and head to Milan where we ran into more car rental troubles. This was probably our 5-6th bad "travel day" in a row and our psyche needed a rest. After paying a $14 toll, we ended up in beautiful Bogliasco, Italy where our Airbnb was affordable and had a beautiful view of the sea. We didn't even care that the home didn't offer WiFi. The Mediterranean Sea replenished our souls and saved our trip!
Next up we headed to Imperia, Italy where we were excited to be back in a Wifi zone after 3 days of no internet. We took a lovely day trip to Monaco and it lived up to the name "a millionaire's playground."  After that we drove to the French Alps for our second time visiting Modane, France. On our way, we spent over $100 in road tolls! Moral of the story, don't drive in Italy because it can get crazy expensive!
Modane was better than we remembered and we were thrilled to have a car so we could get out and explore the beautiful French Alps! We did multiple shoots for Follow Me Away and spent a lot of time in nature and enjoying the view. After three days in the Alps, we headed back to Turin where our rental car blew a tire and we didn't have a spare. We were so thankful that this event happened near a rest stop and that someone spoke enough English to assist us.
Needless to say, we missed our bus and, while waiting for our next bus, we found out that our Airbnb host for a week in Paris canceled on us with less than 24 hours to go. Unlike their usual fantastic customer service, Airbnb fell extremely short in this case and really gave us the runaround. After spending a day in Lyon, we arrived in Paris.
Paris was wonderful and we reviewed tons of awesome restaurants, went to the Louvre, and spent a day of magic at Disneyland Paris. An entire week still wasn't long enough and we can't wait to go back for an extended period of time.
We hopped on a train to Frankfurt, Germany, and met up with Victoria's dad for an R.V. road trip around Europe.
May:
We spent 7 days RVing around 8 countries and we covered a lot of ground. One of our favorites was visiting Luxembourg! What an awesome little country!
On the last day of our road trip, an article hit the internet concerning people of color using #Airbnbwhileblack. Although we knew our experiences were a little off, we had a great deal of trouble, and Terrence brought it up multiple times, this article really hit home and inspired us to tell our own story about using #airbnbwhileblack. We pitched the article to Huffington Post and Victoria became an official Huffington Post contributor.
After a 12 hour wait at the Amsterdam Airport, we hopped on a flight to Ireland. When we arrived in Ireland, border patrol was NOT happy that we had not yet purchased our return flight home so they gave us until May 20th to leave or else we would be breaking the law.
While in Ireland, we partnered with Irish Car Rentals and went on an epic road trip. We were fortunate enough to head to co. Donegal, a little-known county in the far north of Ireland. We were also able to visit Northern Ireland and enter the UK for the first time. Ireland is full of ruins and we were excited to be able to shoot them for Follow Me Away. Our favorites were the Bunbeg Beach shipwreck and Dunluce Castle. Checking "shipwreck"  and "castle ruins on the sea" off our shoot bucket list and an epic experience.
On May 19th, we said goodbye to Europe and headed back to the USA where we are trying to assimilate back into "normal life" for the summer.
June:
Since being back in the United States, we have blogged a lot, edited a lot, and were interviewed for ABC's Nightline for our experiences of #Airbnbwhileblack. We have yet to shoot since we have been in Florida because of the rain and weather, but we plan to after we are caught up!
What's next for the second half of 2016:
While we never know what our lives will bring, here is what we have planned:
More photoshoots!
Tons of fun reviews of things to do/see/eat around Florida
A trip to NYC at the end of July
Follow Me Away heads to the Bahamas in August on a sponsored Carnival cruise
We antipiate spending the fall in Paris and plan to rent an apartment in the city
Who knows?! Looking at Southeast Asia or Western Africa! Any suggestions?
We have been extremely blessed and want to thank each and every one of your for your love and support on our journey! We can't believe that Follow Me Away is just 4 months old. We are so excited to see what the rest of the year holds for us.