A few hours away from most over-priced European cities, Prague is nestled in Bohemia, right in the center of the Czech Republic. Prague features a rich history, Gothic architecture, a castle, cobblestone streets, delicious food, and affordable prices.
If you are planning a trip to Prague, Czech out:
The Gothic architecture of Prague Castle
Touristy? Yeah. Epic? You bet! This castle is easily one of the most famous Prague highlights to see on this list! Although you have to hike up a steep hillside, paying a visit to Prague Castle should be top on your list. It is truly one of the best Czech Castles you must visit!
Even if you don't want to pay to visit the interior, the exterior is still spectacular to see and photograph. Keep an eye out for the official Czech Guards outside the gate and the Gothic gargoyles on the cathedral. It is truly one of the best places to visit in the Czech Republic!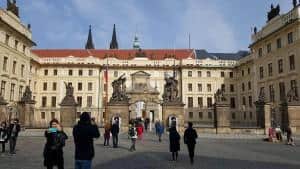 The view from the cliff-side Prague Castle Starbucks
This Starbucks location is probably one of the most fantastic you will ever come across. Literally hanging off the cliff in front of Prague Castle, this Starbucks has two terraces that make for spectacular photos and a wonderful place to enjoy a cup of coffee.
If you are visiting Prague with kids, this is a great place to get them a cool beverage and relax with a view.
Easily accessible from Prague Castle, this Starbucks offers one of the best views of Old Town Prague. If you are visiting Prague in summer, it is a good way to cool down with a view!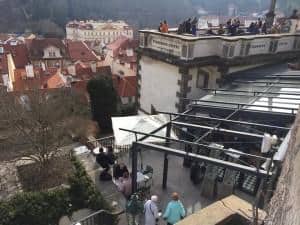 The delicious goodness of a Prague chimney cake (Trdelník)
This traditional pastry is made from sweet dough, baked on a spit, rolled in sugars and nuts, and then filled with any variety of wonderful fillings. Some fillings include ice cream, chocolate, sweet apples, and strawberries.
Chimneys are inexpensive, delicious, and can't be missed. They are great when you are traveling Prague on a budget as they are quite affordable to try!
For even cheaper cakes, find a shop that is off the "main drag." There are plenty of Gluten free, vegan, and vegetarian options as well, if you know where to look!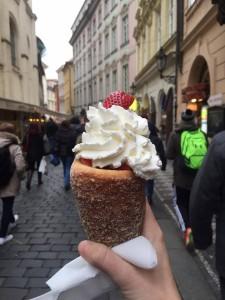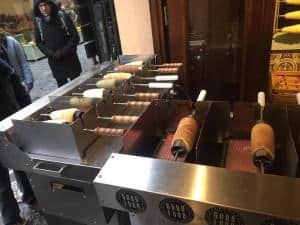 The splendor of the city at night
If you come to Prague and you don't venture out at night, you are really missing out! Even if you have seen Charles Bridge and Prague Castle may times by day, the city really transforms into something magical once the sun sets. Wander around the city and take in the lights, strolling musicians, and old-world charm. The best part? It doesn't cost a dime!
The Bohemian Art showcased in galleries and museums 
Bohemia is a region of artists and it makes sense that the capital is chalk full of galleries and museums housing works from world-famous creatives. Escape the crowds and time-travel back in history at one of the cities many affordable museums. Whether you prefer contemporary, traditional, or quirky art, the city has something for everyone.
The original "Infant of Prague" statue
A worldwide icon of Christianity dating back to the 16th century, the Infant of Prague statue of the Child Jesus is housed in a cathedral in Prague. This statue has been said to produce so many miracles, this rendition of the Infant Jesus quickly spread internationally. While in the city, don't forget to make time to visit this famous religious statue and its gorgeous accompanying church. Unlike many church's in Old Town, it is completely free!
Have you been to Prague? What are your favorite "can't miss" suggestions? Enlighten us in the comments!