We knew we were going to Europe for a minimum of 3 months on a one-way ticket for roughly 8 months prior to departure. This means we have no good excuse for waiting so long to pack our bags. When Creative Live called, we put our trip on hold, went to Seattle, and only had 4 days in-between flights to pack [Warning: Do not try this at home! Side effects may be stress, crying, forgetting things, regret, and complaining].
Since we were traveling during shoulder season, our packing list had to contain a mix of both winter and warmer weather clothes. In addition, we were going to snowy Iceland for 8 days so we had to prepare for that as well. We knew we wanted to travel light via backpacks, however, as creatives, we also had to bring gear for our photos which meant an entire backpack stocked with camera equipment and a plethora of dress options. We also knew we had to bring shoes for both freezing snow and warmer weather.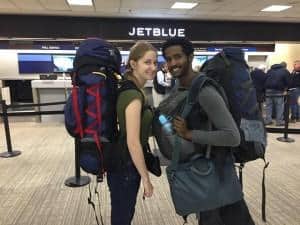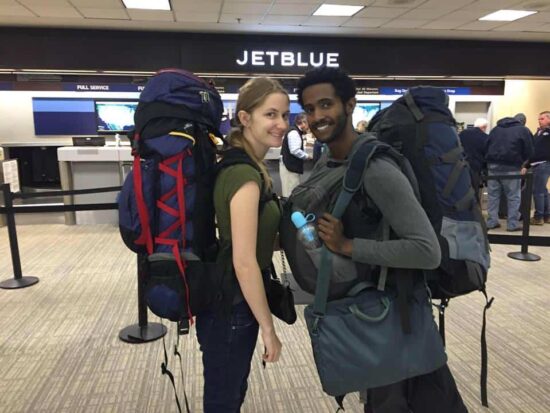 We packed our bags, waited a day, unpacked, and then repacked, taking things out in the process. This was a good way for us to rid ourselves of unnecessary items. It is also a great idea to follow a backpacking checklist to make sure you didn't miss any essentials and make sure to choose the correct backpack for women if you are a lady traveling Europe!
Our Packing List for Europe in Winter/Spring (Including Iceland in Winter)
Victoria: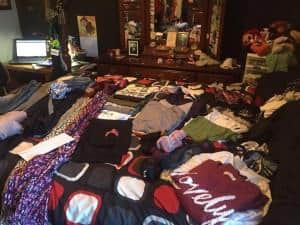 Large backpack:
Clothes:
2 Pairs of skinny jeans
1 Pair of boot cut jean
1 Pair of jean shorts
2 Short dresses
2 Maxi dresses
2 Tank tops
2 "Around the house" shirts
2 Sleep shirts
1 Sleep bottom
2 "Around the house" bottoms
1 Sweater
1 Cardigan
5 Long sleeve shirts
5 Short sleeve shirts
1 Fancy shirt (long sleeve)
1 Pair of sweat pants
1 Pair of fleece lined leggings
12 Pairs of underwear
6 Pairs of socks (2 fluffy, 2 wool, 2 crew cut)
2 Pairs of gloves (one ski one city)
1 Jacket
4 Photoshoot dresses (A necessary evil, although bulky!)
Shoes:
2 Pairs of ballet flats
1 Pair of Converse
1 Pair of hiking boots
1 Pair of snow/city boots
Accessories:
1 Warm headband
2 Fashion scarves
1 Warm scarf
4 Necklaces
3 Headbands
1 Hair Flower
1 Bracelet
1 Crochet cross-body purse
1 Larger cross-body purse
Toiletries:
Foundation
Blush
Powder
Blush brush
Lipstick
Lip gloss
2 Chapsticks
Toothbrush/charger
Toothpaste
Diva Cup
Retainers
Floss
Mascara
Smaller backpack:
20lbs of food
11" HP laptop/charger
14" Lenovo laptop/charger
Portable iPhone charger
2 iPhone chargers
Pillow
Sleep mask
Ear plugs
International outlet converter
Mini Bluetooth speaker
Terrence:
Large backpack:
Clothes:
5 Pairs of jeans
1 Hoodie
3 Sleep shirts
2 Pairs of sweat pants
4 T-shirts
2 Pairs of fleece lined leggings
5 Sweaters
1 Jacket
3 Thermal long sleeve tops
3 button down tops
5 Pairs of socks (wool)
10 Pairs of underwear
3 Pairs of gloves (snow and city)
4 Photoshoot dresses
Shoes:
Accessories:
Toiletries:
Cologne
Deoderant
Toothpaste
Mouth wash
2 Curling brushes
1 Beard brush
Trimming set
Pocket knife
Second backpack:
Sony A99 Camera
50 mm lens
70-200 mm lens
85 mm lens
35 mm lens
28-85 mm
2 Chargers
2 Batteries
Dust blower
2 SD cards
2 External hard drives
International power strip
Phone charger
2 reusable water bottles w/filter replacements
Takeaways:
Plain and simple, we wish we brought more long sleeve shirts. We know we will be happy to have short sleeve tops/dresses when it gets warmer, but 5 long sleeve shirts, 3 of which are boring thermals, just didn't cut it. Moral of the story, if you are going somewhere cold, bring lots of long sleeve tops! The food gets tiring to lug around, but it has saved us tons of money and saving money is cool. Other than that, we are pretty pleased with everything we packed!
Did we miss anything? Think we packed too much? What do you generally take when you travel for an extended time?
Pin this post: