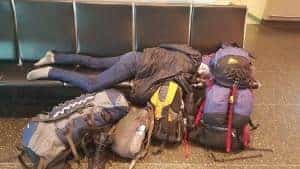 Today is the day. It's the day we leave everything behind and set off to Europe with a one way ticket. It is also the day that we have a 10 hour layover at Boston Logan International Airport before we head to Iceland. Don't get us wrong, Boston is a pretty cool city, with great public transportation and a rich history. The uncool part? Boston Logan doesn't offer luggage storage or any sort of lockers to keep our bags while we head out to explore. We aren't about to trek around carrying 40+ pounds of luggage on our backs, so we are stuck waiting out the layover. So, without further adieu, we present you with a comprehensive list of things we would rather be doing than sitting in Boston Logan Airport:
Terrence:
Sitting outside watching the sunset
Editing on my nice, giant desktop computer
Learning to braid Victoria's hair
Cutting all my hair off and getting Boston's Fenway Park shaved into my head
Drinking a beer
Sleeping
Ironing clothes, my favorite pastime
Traveling to Dade City, Florida for a photoshoot
Drinking Dunkin' Dounuts
Drinking Smoothie King
Washing dishes
Watching the latest Steph Curry highlights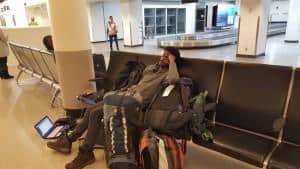 Victoria:
Sleeping
Not sitting at the Airport in Boston
Not sitting in any airport
Sleeping in our Iceland Airbnb
Eating my last big American meal at Sweet Tomatoes
Making money
Snuggling with my dog
Watching Downton Abbey with my mom
Taking a nap
Re-organizing my closet
Meeting my sister to wait for AAA when her car breaks down
Exploring Boston without having to carry around 40lbs of luggage each
We're sure the city is a pretty fun place to see, we just can't go find out for ourselves. 6 hours down, 4 more to go!