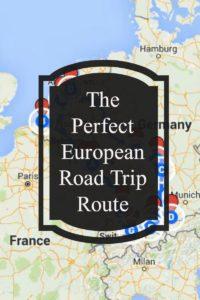 Victoria's Dad came to visit us in Europe and we set off on a fantastic European road trip. We were able to hit 8 countries in just 7 days. This itinerary is perfect for those of you who want to experience lots of European countries and culture in a small amount of time. In most locations, we felt like we had just enough time to experience the hidden gems of the city before moving on to the next.
We rented an RV/motor home for our road trip, but the same route can be easily accomplished with a rental car and booked lodging at each stop.
Check out this overview of our route: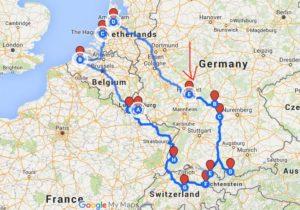 We started and ended in Frankfurt, Germany [red arrow] because it was the cheapest for Victoria's Dad to fly into. The route can be modified any way you want as Amsterdam is another budget friendly airport to arrive/depart.
When driving this route, you will visit:
Frankfurt, Germany
Wurzburg, Germany
Rothenburg, Germany
Neuschwanstein Castle
Bregenz, Austria
Vaduz, Lichtenstein
Lake Lucerne, Switzerland
Black Forest, Germany
Trier, Germany
Luxembourg City, Luxembourg
Bruges, Belgium
Delft, Netherlands
Amsterdam, Netherlands
Why should these cities, sites, and villages make your European road trip route? Here's why:
Frankfurt, Germany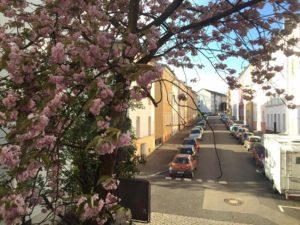 Frankfurt isn't special. Not going to lie. It is expensive to spend time in but cheap to fly into. Rental cars are reasonably priced so it is perfect to arrive, grab your car, and go. Frankfurt is also centrally located to a ton of European countries so you are pretty much set, no matter which direction you want to go.
Wurzburg, Germany
Wurzburg is the start of Germany's romantic road and the perfect place to spend your first night. It is a bit outside expensive Frankfurt and cute enough to start your journey off on a pleasant foot.
Rothenburg, Germany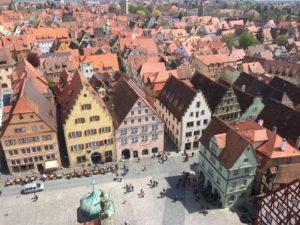 There are tons of towns along the Romantic Road, but Rothenburg was our favorite and is our top suggestions. The historic city center is built inside an old castle with a moat and all. The buildings are traditionally "German," the cafes and bakeries are affordable, and the cathedrals are spectacular. Make sure to take the time to climb the old church tower and take in the view. It is free to climb the tower and only costs 2 euro to go out on the tiny rooftop area. The views of the village and German landscape are totally worth the cost.
Neuschwanstein Castle, Germany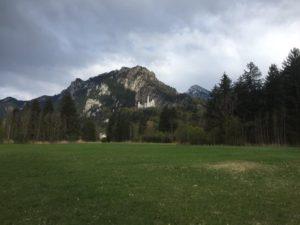 The well known German castle and inspiration for Walt Disney's Cinderella castle sits at the end of the Romantic road and is where you will be spending your second night. The castle is near the town of Schwangau which features plenty of hotels and hostels.
Bregenz, Austria
Bregenz is a super cool stop because you have the chance to ride a cable car to the top of a mountain and you can see four countries all at once! On a nice day, pack a picnic lunch you bought at a local grocery store and feast atop the mountain before heading on to your next stop along your European road trip route.
Vaduz, Lichtenstein
Lichtenstein is the smallest place ever so you can breeze right on through in 1-2 hours max. Did you know that real royalty still live in a castle on a cliff in Vaduz? Pretty cool to stalk…err..view from the road below and imagine what they are doing inside. Plus, you get to add  "Lichtenstein" to the list of places you have been.
Lake Lucerne, Switzerland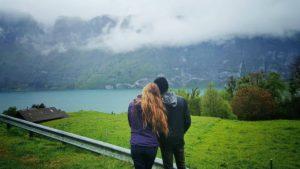 Lake Lucerne is one of the prettiest places you ever did see. It is postcard "Swiss" featuring a deep blue lake surrounded by beautiful green fields and towering snow-capped mountains. In the warmer months, the lake is a haven for watersports lovers. Even driving around the lake is impressive, but you are going to want to really take in the landscape. Lake Lucerne is where you spend your third night.
Black Forest, Germany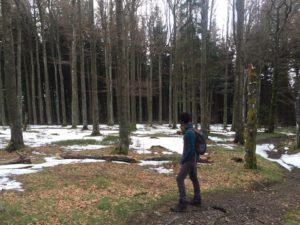 The Black Forest was given its name because the forest is so thick that the trees literally appear black. Don't make the same mistake we did and believe all the Photoshopped images you see online. The trees themselves do not actually have black bark. It is called the Black Forest because of the density of the landscape. Since you spent the morning on Lake Lucerne and the afternoon hiking in the Black Forest, you will spend your fourth night in this famous German National Park.
Trier, Germany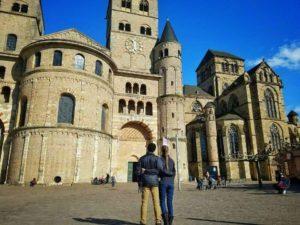 Trier is roughly 2,000 years old and is the oldest city in this part of Europe. The city is full of ancient Roman ruins such as old churches, baths, and aqua ducts. Trier is perfect if you are looking to get a piece of ancient history but don't have time to trek all the way down to Rome. Make sure to do the free walking tour of the city and to visit Trier's many churches. This is where you will spend your fifth night. 
Luxembourg City, Luxembourg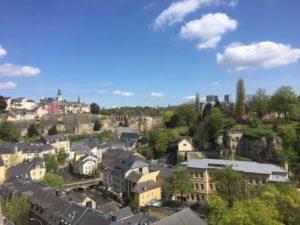 Pryre is very close to Luxembourg so the capital is the perfect place for you to start your sixth day. Luxembourg City is one of the prettiest cities we have ever been to and the country offers free wifi to everyone which we loved. Make sure to take the time to walk through the old city, past the current royal residence [they are super proud of their royal family], and around the central city park.
Bruges, Belgium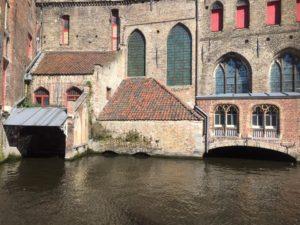 Bruges is known as the "Venice of the North" because the city is built on a huge network of canals. The building style is unlike anything we have ever seen and each and every home is unique so walking the narrow streets is a treat. You can go on a small boat ride through the canals for under 10 euros a person which gives you a different perspective of the city. Have your camera ready because this village is Instagram-worthy. You will spend your sixth night in Bruges.
Delft, Netherlands
Delft is the home of the pretty blue Delft China! If shopping for dishes or looking at internationally known craftsmanship is your thing, stop in Delft and have some brunch. Keep an eye out for the traditional dutch windmills along your drive!
Amsterdam, Netherlands
While you are in Amsterdam, take a moment to stroll through the infamous red light district and pay homage to history at Anne Frank's house. If you want to visit the Anne Frank Memorial, it is free and quiet. Looking to visit her home? Get ready for tons of people and at least an hour wait. Amsterdam is also the home to tons of tulips so if you come during the right time of year, make sure to find some on your way in and out of town. You will spend your last night in Amsterdam before heading off to Frankfurt for your flight home.
This European road trip route will afford you the ability to see both big towns and small villages as well as well-known landscapes and hidden gems. The pace is speedy but not too fast and you have just enough time to enjoy each stop before heading on to the next.
Have you done a European road trip? What was your itinerary?