Are you looking for a fun and whimsical treehouse in Oregon to stay? Then we have some great selections for you!
One of the best things about the Pacific Northwest is its beautiful trees. So what better way to enjoy the trees than to sleep among them?
While you sleep amongst the trees, you can enjoy the many fun things to do in Oregon. There is hiking, there are amazing beaches, and fun local life to enjoy!
These treehouse rentals in Oregon are a uniquely fun and inexpensive way to stay in Oregon! With a variety of options, you can choose which one suits your vacation plan best!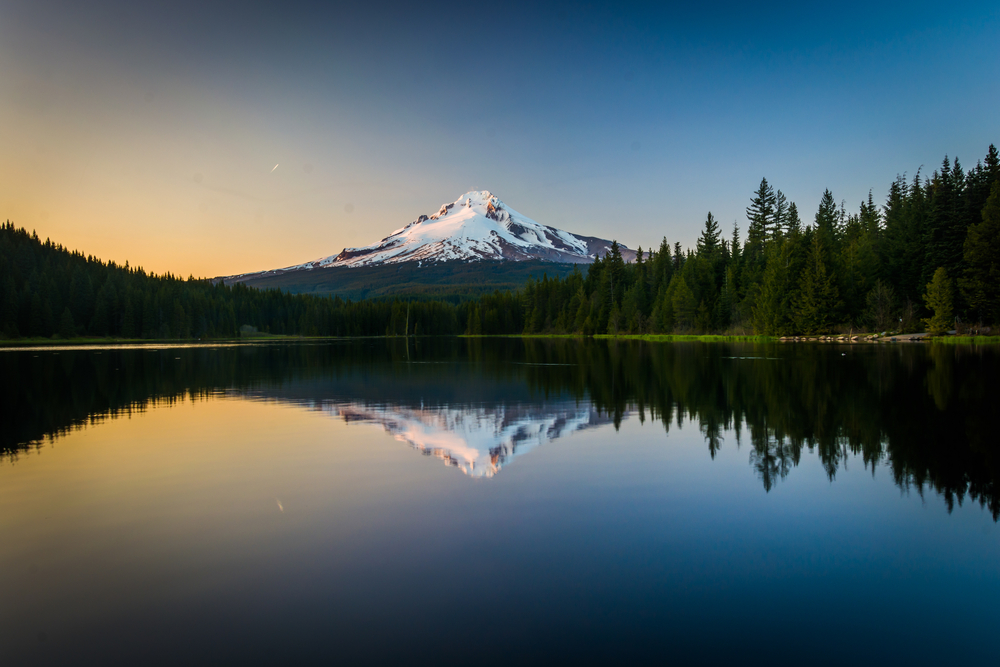 6 Whimsical Oregon Treehouses You Can Stay In
Tabor Treehouse
In the Portland, Oregon area the Tabor Treehouse is a prime location for you to stay! It feels like a private little getaway while being close to all of the great things Portland has to offer.
With Wifi, a bathroom, and a kitchenette, this is the perfect getaway if you want to work for a bit in a different environment! Or if you want to just get away, this is the place for you as well.
This little house sleeps two people, so it is the prefect get away for you and your partner. You will want to check out this adorable treehouse for sure!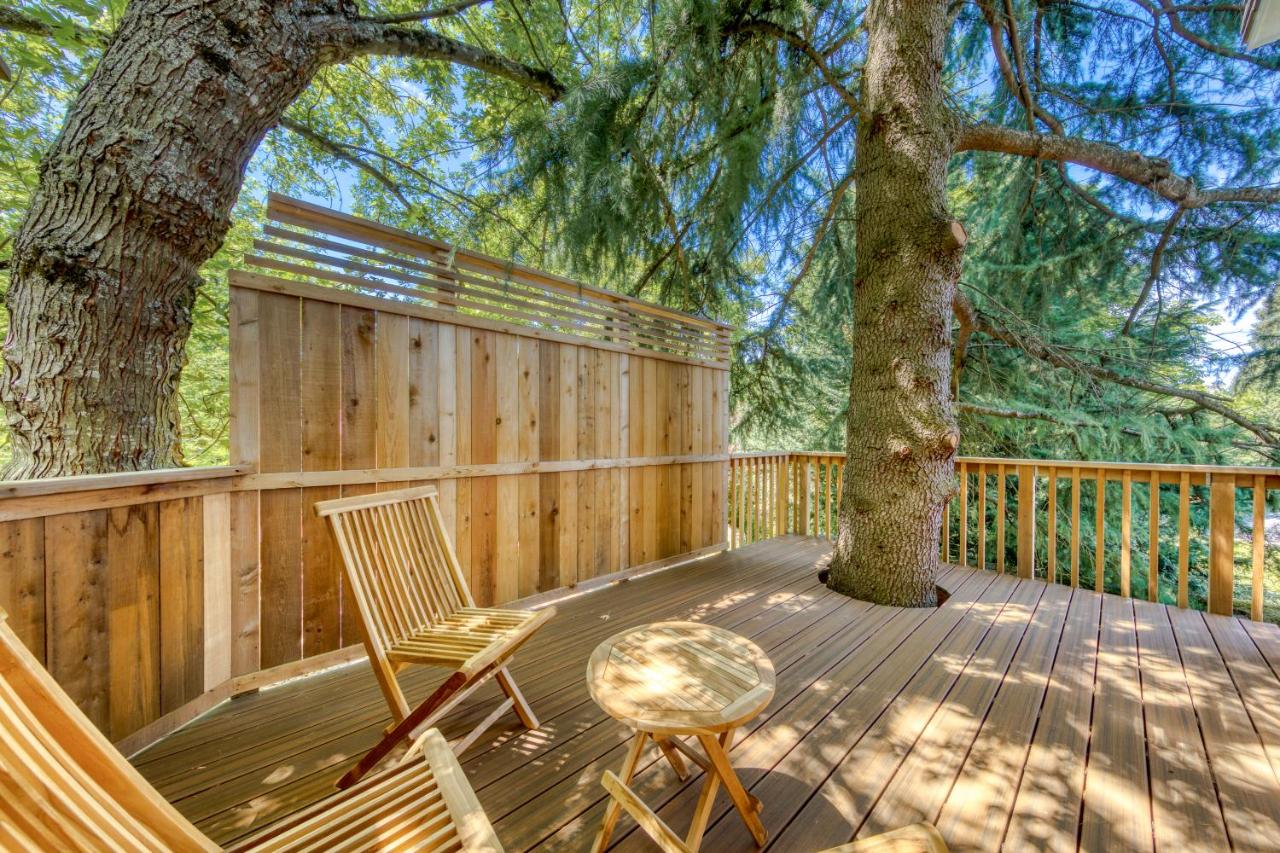 The Treehouse
In West Linn, Oregon you can enjoy a space a little more outside of Portland at The Treehouse. However since it is only about 10 miles outside of Portland, you can still enjoy all of the amazing restaurants and local shops!
This amazing house offers space for up to 4 people. So you can go with another couple or with your kids! It has plenty of space for everyone.
You can relax under the canopy of trees while listening to the nearby stream. You can also enjoy the hot tub on the beautiful deck. There is even a ping pong table and a tiki bar!
This Oregon treehouse rental is one worth looking at!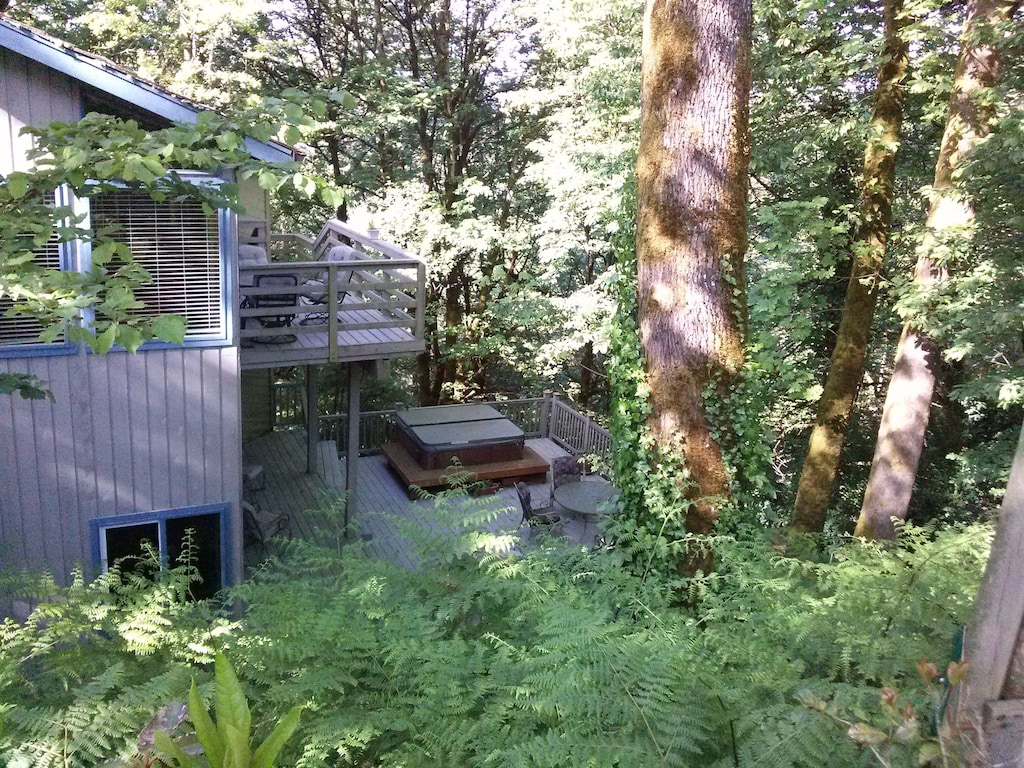 Romantic Wilderness Tree House
Are you looking for a spot that is a little more remote? Then look no further than the Romantic Wilderness Tree House.
In the heart of the Cascade Mountains you can enjoy the solitude of this cozy little treehouse in Oregon. This seclusive little treehouse can sleep up to 4 people. So enjoy with a small group of friends!
The closest town is White Salmon, Oregon. This little town has restaurants including a nationally known microbrewery! There are also shops and some art galleries.
Or if you prefer you can enjoy the hiking and local nature! Of course you can always just enjoy the treehouse and relax if you like.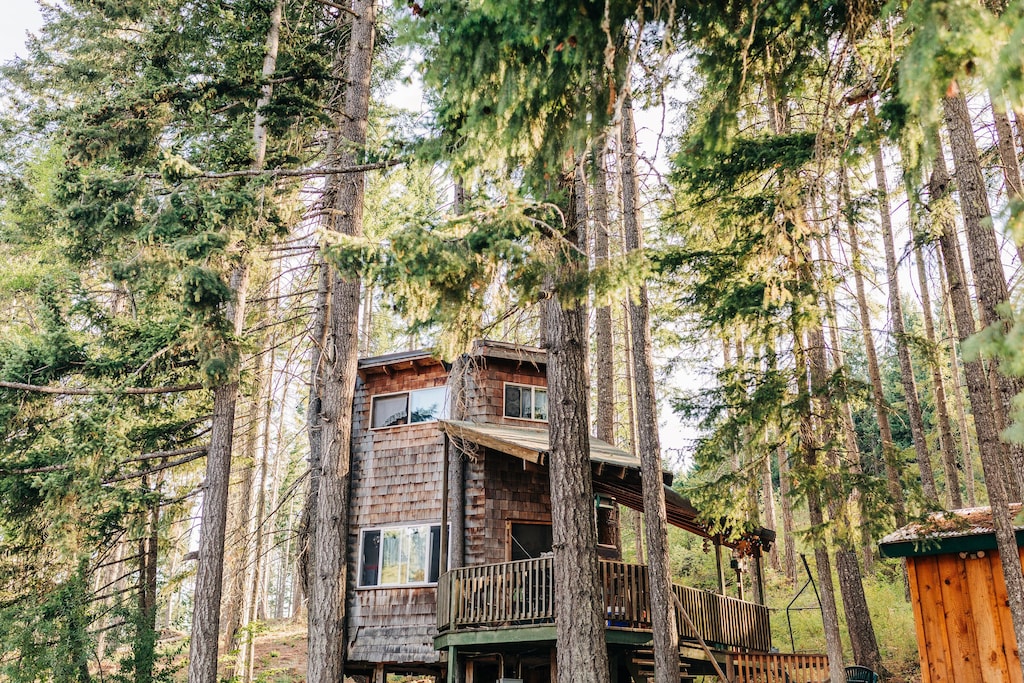 Refuge on the Rogue River
In Merlin, Oregon you can find a perfect Refuge on the Rogue River. On a whole 5.5 acres, you will truly be able to get away from it all!
You can float in the river near the house. Or you can see the salmon jumping the dramatic Rainie Falls while you enjoy a day hike! You can simply enjoy the property you are staying on with its river and fishing. Or you can venture out and see the local hiking spots!
This house can fit 6-8 people comfortably. So you can have a whole group to spend time with while you enjoy nature in this Oregon treehouse.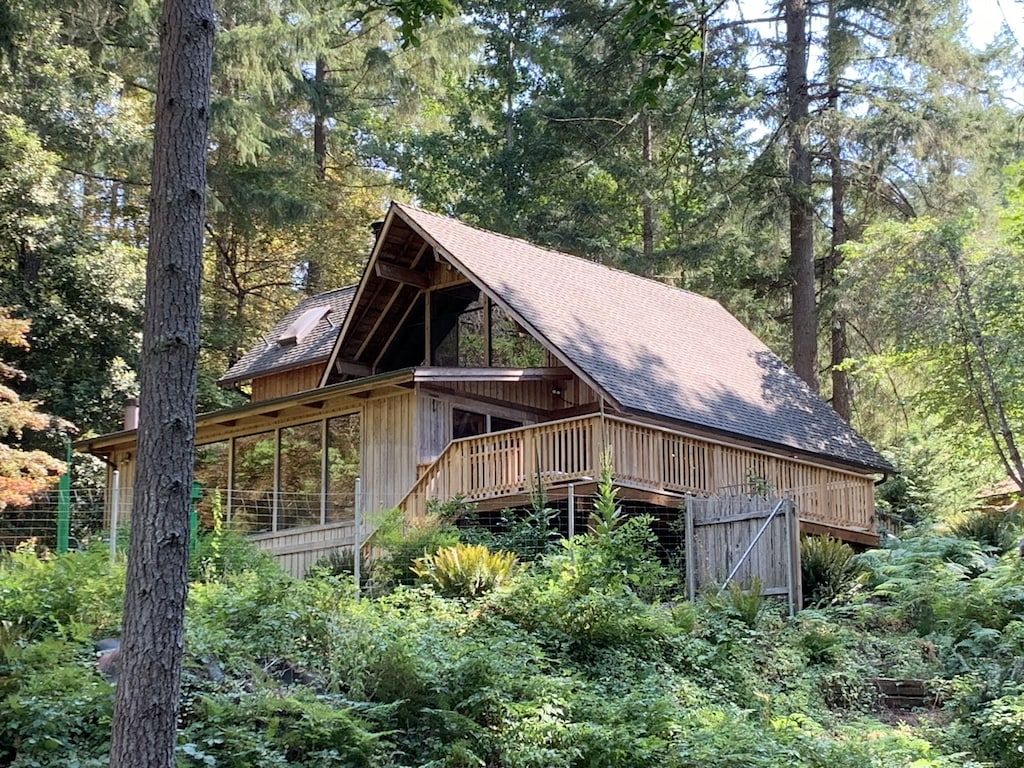 Eagle's Nest
In Manzanita, Oregon you can enjoy the trees and coastal views at the Eagle's Nest. This treehouse rental in Oregon is a spot with looking at!
On the edge of Neahkahnie Mountain, 4 people can enjoy the views and solitude. There is a short 15 minute walk to the beach, so if you enjoy beach life, this is the Oregon treehouse you want to look at!
If you want to truly get away from it all, this seclusive spot is the place to go. Enjoy your time ti rejuvenate in nature with this treehouse that was lovingly built by hand.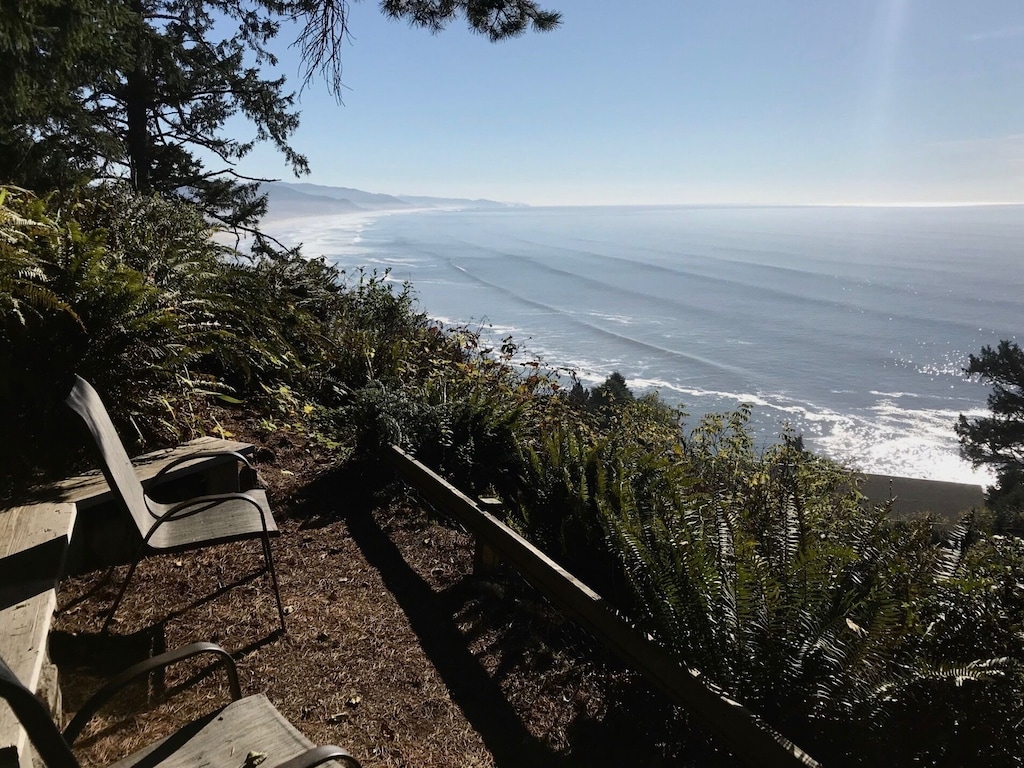 Spectacular Luxury Cabin
In Bend, Oregon near Tumalo Lake you can stay at this Spectacular Luxury Cabin. This Oregon treehouse is a bit different than what is the typical treehouse, but it is a spot worth looking at!
This house is amongst the trees and raised up, and can fit up to 8 people in this amazingly unique treehouse in Oregon. The huge windows allow you to see all of the trees around you! And you can enjoy the wrap around porch with the hot tub and views of the lake while you unwind!
Included with the treehouse rental are kayaks, canoes, and stand up paddle boards. There is no better way to explore the lake than by being on it! Or you can go enjoy Tumalo Falls which is just 4 miles away.
Whether you want to relax and enjoy the quiet of the house and local lake, or go out exploring, you cannot go wrong with this Oregon treehouse.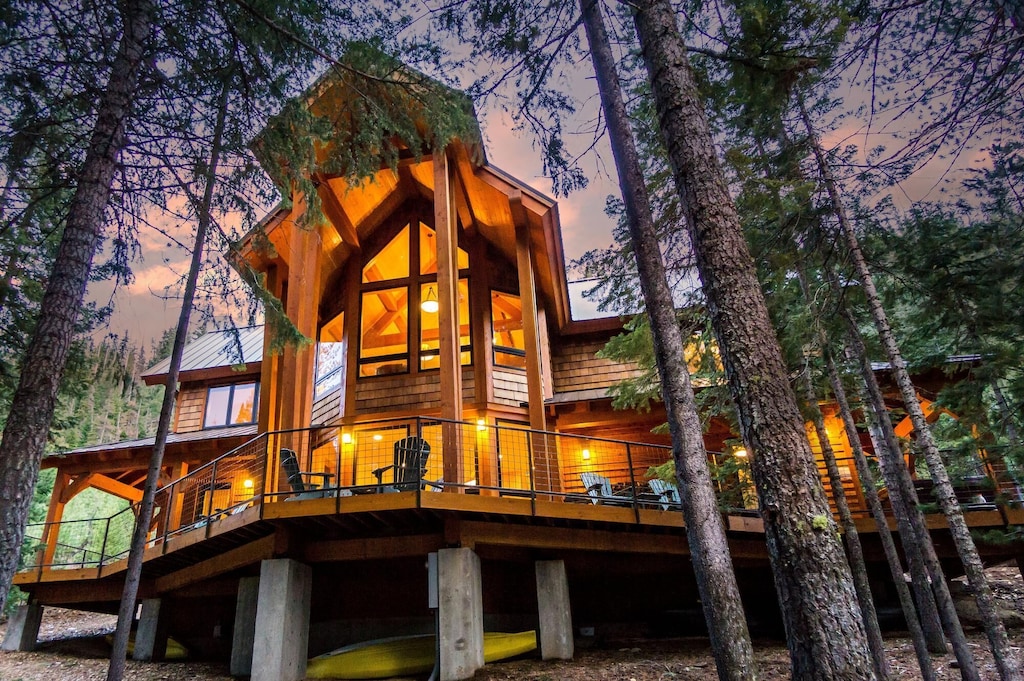 We know whichever Oregon treehouse you choose to stay at, we know you will love it! We can't wait to hear about your stay!