Are you dreaming of a cozy vacation in one of the best cabins in Colorado? Then look no further! This list is full of the top Colorado cabin rentals that you won't want to miss!
Colorado has some of the most diverse natural landscapes of any state. Between the beautiful snowcapped Rocky Mountains, the unique red rock formations, the jaw-dropping and ancient cliff dwellings, and the unusual sand dunes, it's no wonder people flock to Colorado for both adventure and relaxation.
We're included a variety of cabins for vacationers of all sorts. With cabins located near popular spots, other cabins in the middle of the beautiful Rocky Mountains, and even one built into a cliff, you're sure to find something perfect for your getaway, whether you prefer some peace and quiet or if you want a little more hustle and bustle.
Without further ado, here's our top picks for cabins in Colorado (and don't forget to check out our epic Colorado road trip itinerary if you decide to explore even more of this great state!).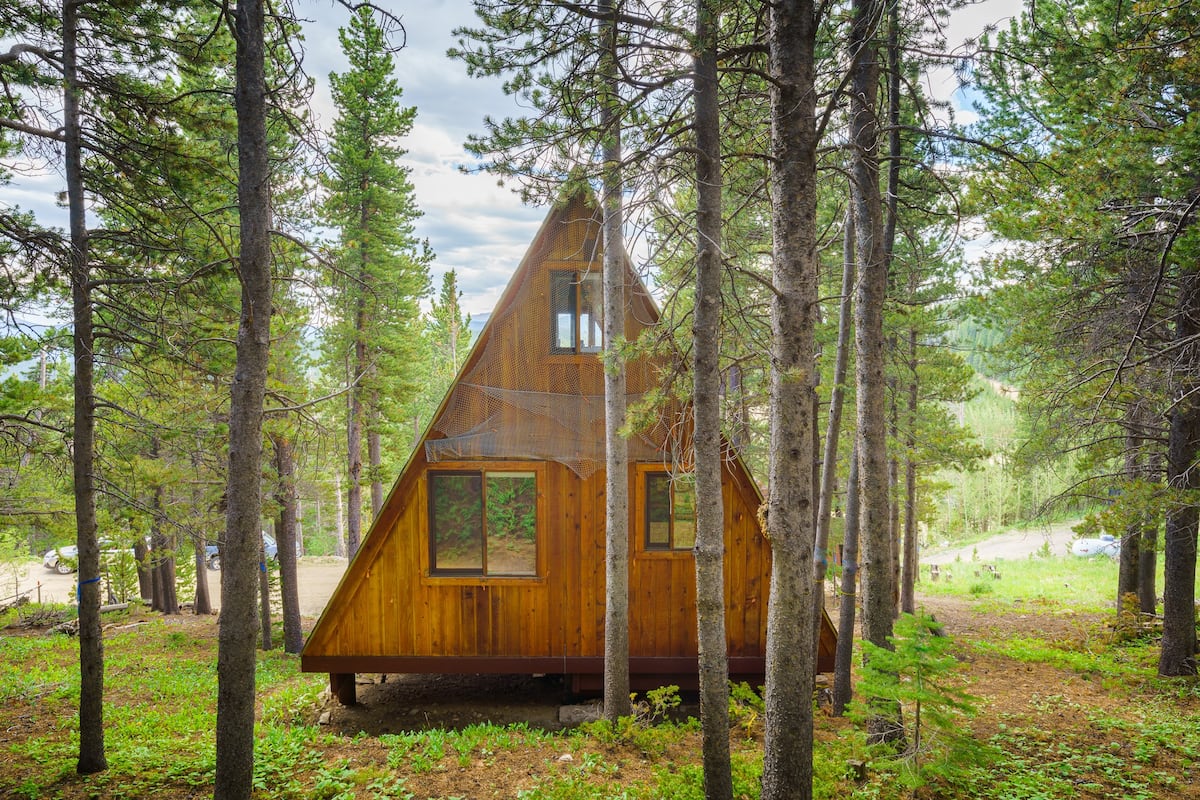 15 Cozy Cabins In Colorado For A Getaway
Log Cabin On The River
Have you always wanted to stay in a log cabin? This rustic getaway is one the best cabins in Denver! With a gorgeous exterior, large yard to spread out in, and full kitchen, it's the place to stay during your mountain vacation!
This cabin can fit up to four guests in two bedrooms. It also boasts some amazing views off the deck, which is made even more cozy with a gas fire pit. The best part is its central location convenient for travel to Denver, Golden, Black Hawk, and even Boulder!
Click Here To Check Rates On Airbnb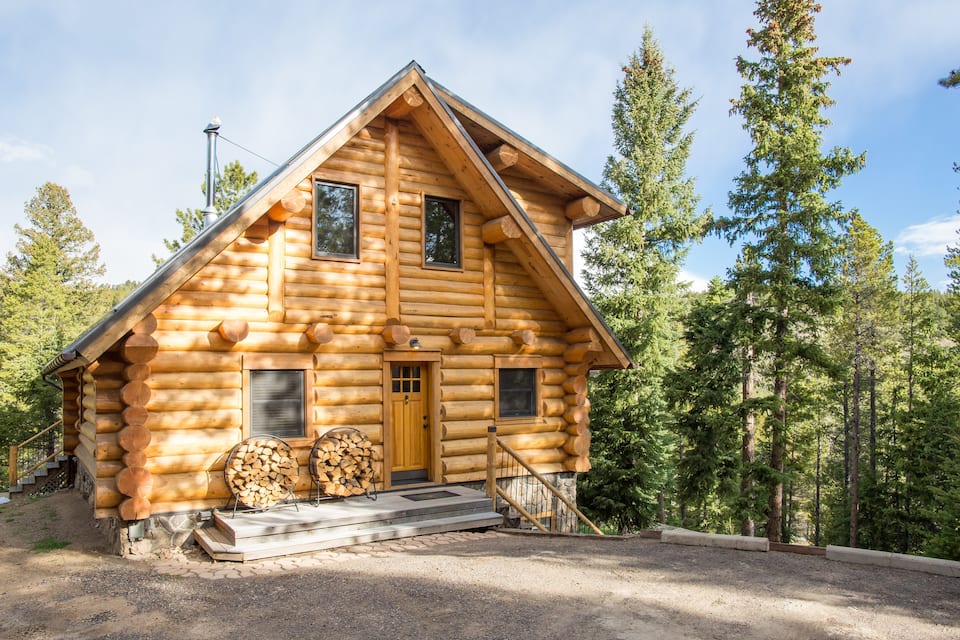 Hygge Chalet and Sauna
Escape to this beautiful blue A-frame in the middle of the Rocky Mountains! Located on 3.5 acres near the cute mountain town Georgetown, this gorgeous A-frame features a modern Scandinavian design that makes it especially cozy during the winter.
Try out the outdoor steam sauna, or spend the night looking up at the stars with a beverage from the complimentary hot drink bar. If hiking is more your style, there is private trail on the property that takes you right into Rocky Mountain National Park!
Click Here To Check Rates On Airbnb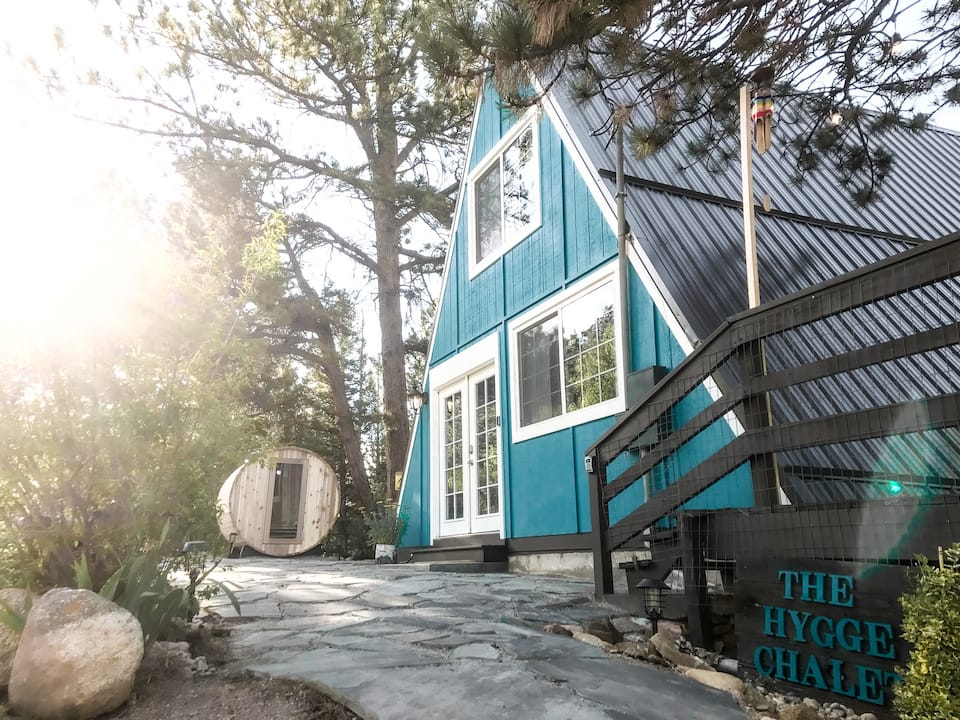 Mountainside Resort Cabin
It doesn't get more tranquil than this cabin that overlooks a high altitude meadow, a lake, and Pike National Forest. This recently renovated beauty can fit up to six guests and features a large kitchen, firepit, and a hot tub. Being so far from light pollution means you'll have an amazing view of the stars, especially from the hot tub! Unwind in the beautiful scenery at one of the top cabins in the Colorado mountains.
Click Here To Check Rates On Airbnb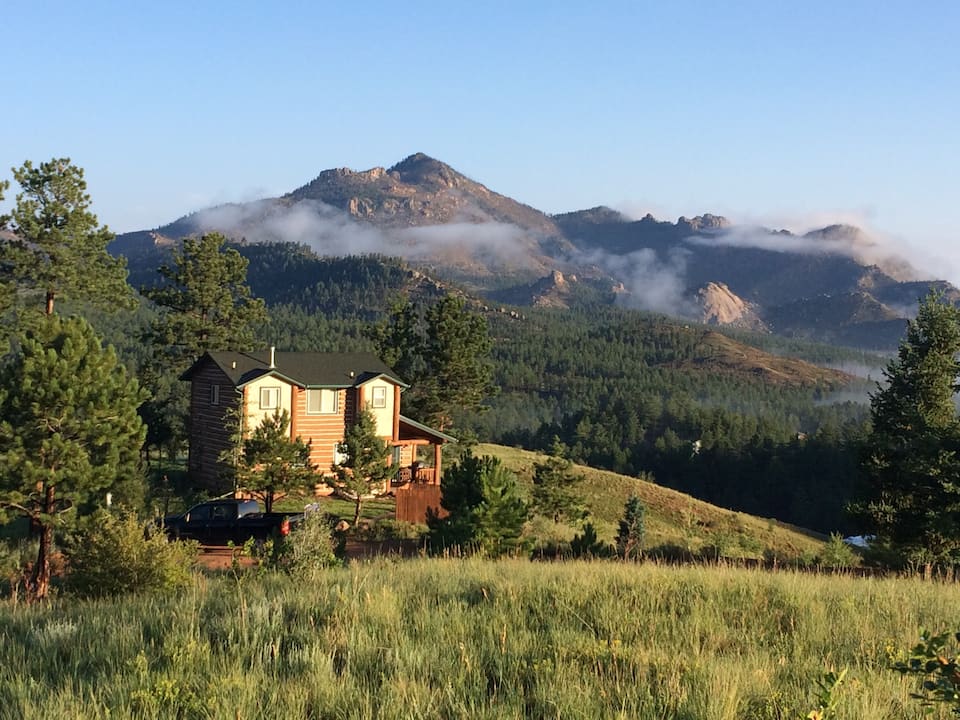 Starz Camping Cabin
Camping under the stars meets cozy cabin vibes in this adorable Airbnb! This red cedar log cabin clocks in at 120 square feet and can have up to two guests, perfect for a romantic getaway. It's right next to the Cimarron Valley and all the outdoor recreation you could want like hiking, hunting, and fishing.
While there is no electricity or plumbing, this tiny stay does have access to campground facilities like a squeaky clean bathhouse and outdoor grill. Cell phone service is spotty, but the WiFi is great. You might not even notice though with views like these.
Click Here To Check Rates On Airbnb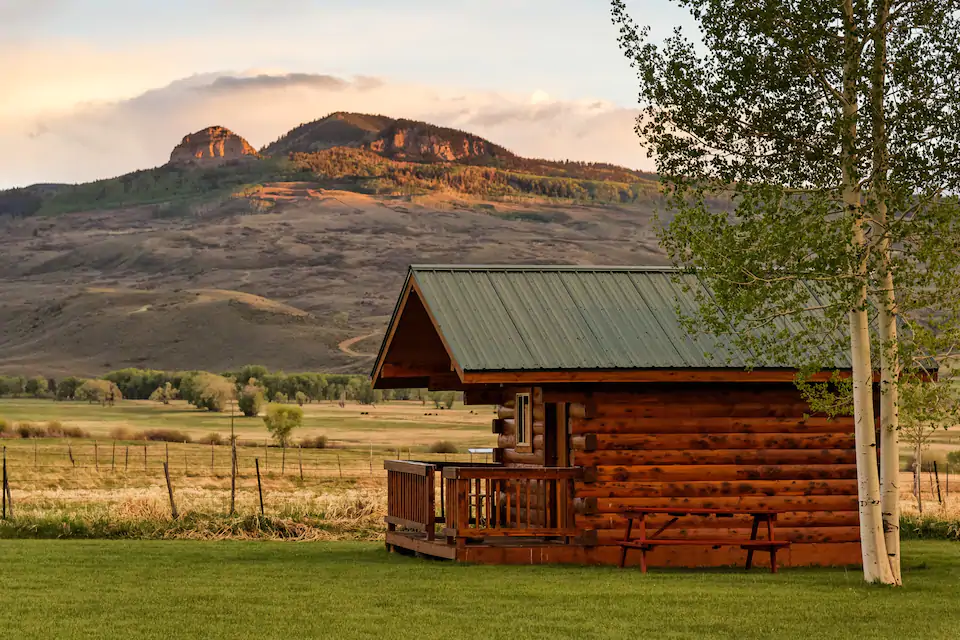 Sage Canyon Cliff House
Now if you want something really unique, you have to check out this cliff house, one of the coolest Colorado cabin rentals. It's built right into the red rock formation! The rock cliff creates an amazing center piece for the living room, and even the bathroom (the red rock shower is to die for!).
Located close to Mesa Verde and the four corners, there are plenty of day trips in store for you here! Catch a glimpse of the interesting wildlife around, like geckos, marmots, and foxes. Up to three guests can come have the experience of a lifetime.
Click Here To Check Rates On Airbnb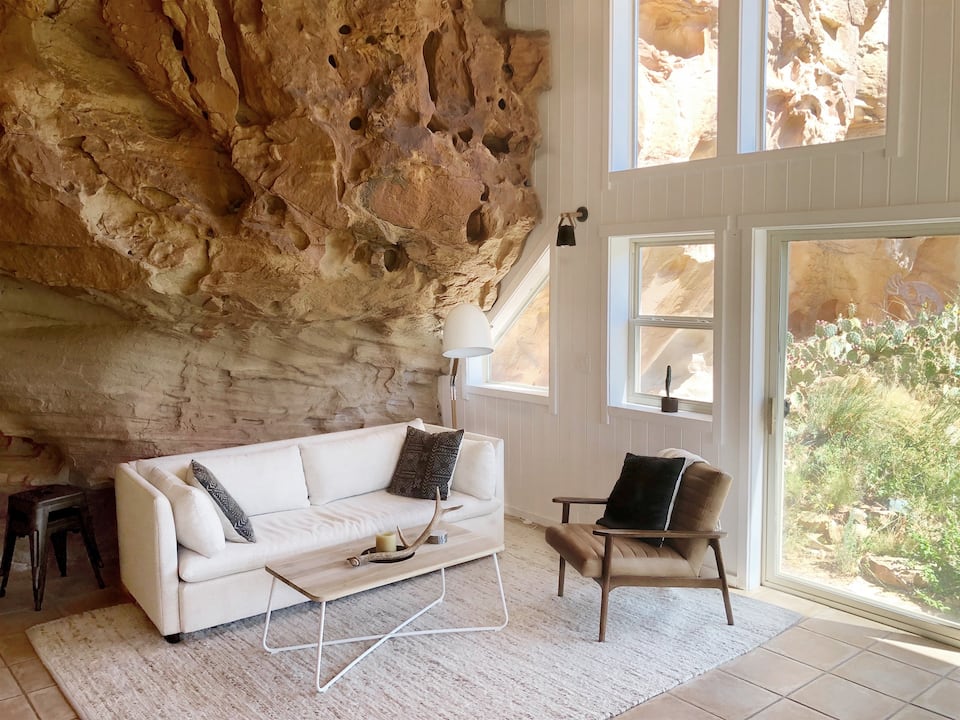 Waterfront A-frame
Relax along the beautiful Frying Pan River at one of the most comfortable Aspen, Colorado cabins! It is apart of the historic Dallenbach Ranch property which boasts 140 acres. Thanks to its prime spot on the river, it's the perfect place to go fly fishing for rainbow and brown trout. You and up to three other guests will love spending the morning sipping local coffee provided by the host and taking in the view of the local red rock formations.
Click Here To Check Rates On Airbnb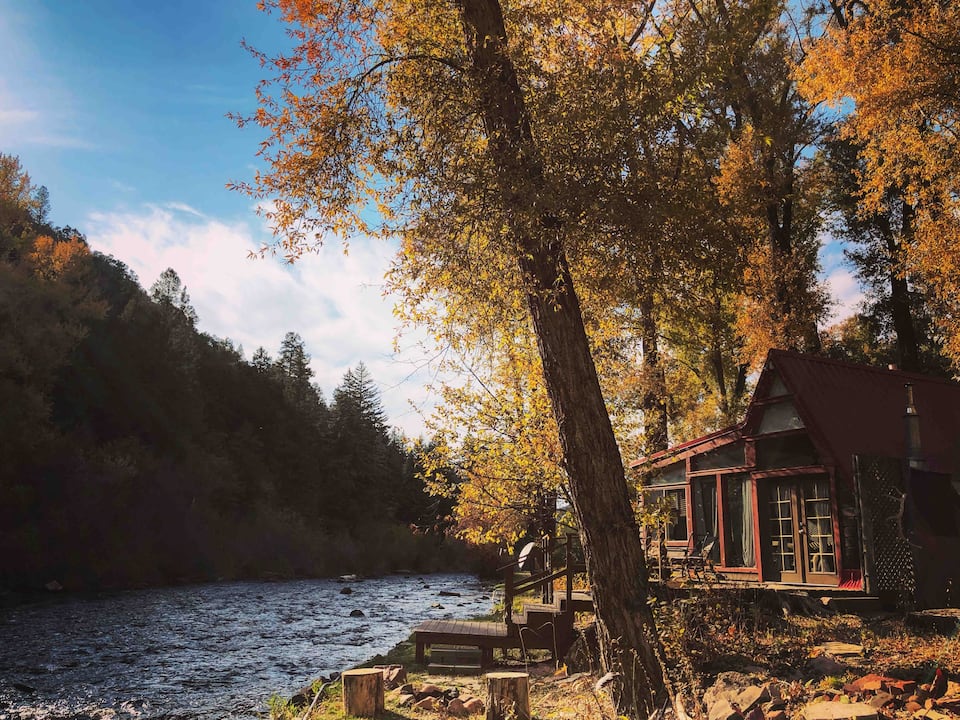 Wicker Creel Cabin
Stay just outside the heart of Breckenridge at this huge Airbnb meant for up to 10 guests. Don't be fooled by its charming log cabin exterior. This Colorado cabin has all the modern conveniences for you to stay comfortably with the whole family.
The wrap-around porch is the perfect spot to indulge in nature. You'll be able to cook for the whole family in the large kitchen. There is a ton of room to spread out here, which even includes a separate guest house. The hot tub at this cabin rental is a great way to end a long day at Breckenridge or outdoor adventure.
Click Here To Check Rates On Airbnb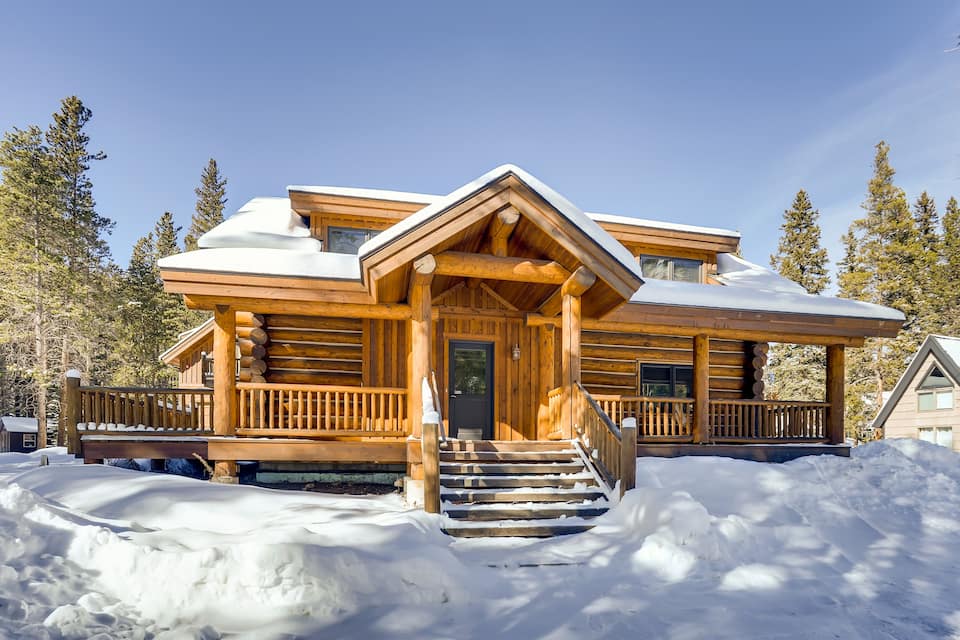 Luxurious And Modern Chalet
If you want to vacation in luxury, then don't pass up this Colorado cabin rental! Large picture windows let in a ton of light and highlight the gorgeous mountain views. The interior of this cabin was designed with both elegance and comfort in mind.
In-floor heating helps warm those cool nights, as does the jacuzzi bathtub, the steam shower, and the two gas fireplaces. The large and modern kitchen as well as the kitchenette allow you to whip up gourmet meals. It's also easy to get to the little town of Nederland, to different ski resorts, and to a plethora of State Parks.
Click Here To Check Rates On Airbnb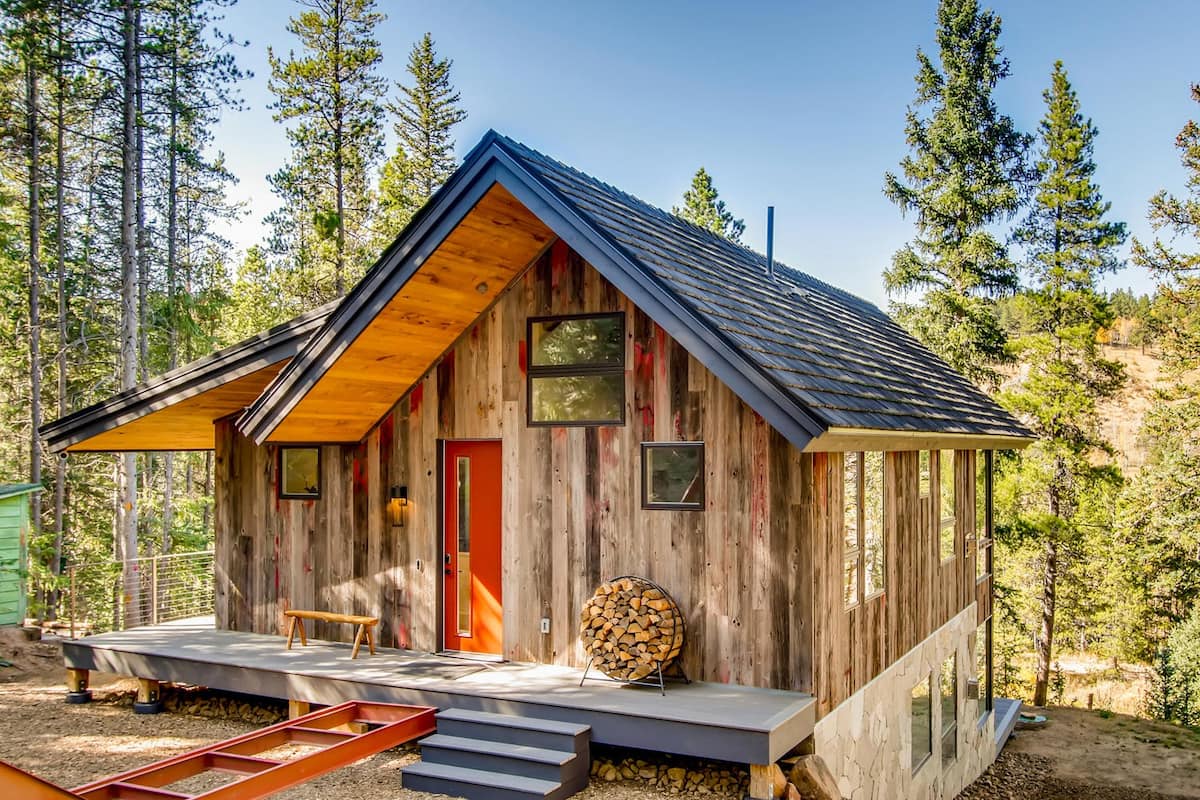 Moose Haven Cabin
Experience off the grid living here at the quaint Moose Have Cabin. This remote a-frame is set deep into the Rocky Mountains and is an incredible getaway for anyone looking for a break from modern technology.
This Airbnb features unique and sustainable elements. It's heated by a wood stove, run by solar power, utilizes a gas grill for cooking, gets its water from a well, and even has a compostable bathroom. Up to five guests can stay here comfortably. In the summer time, you won't want to miss "Narnia Trail", a private and exquisite hiking trail that ends where two waterfalls come together.
Click Here To Check Rates On Airbnb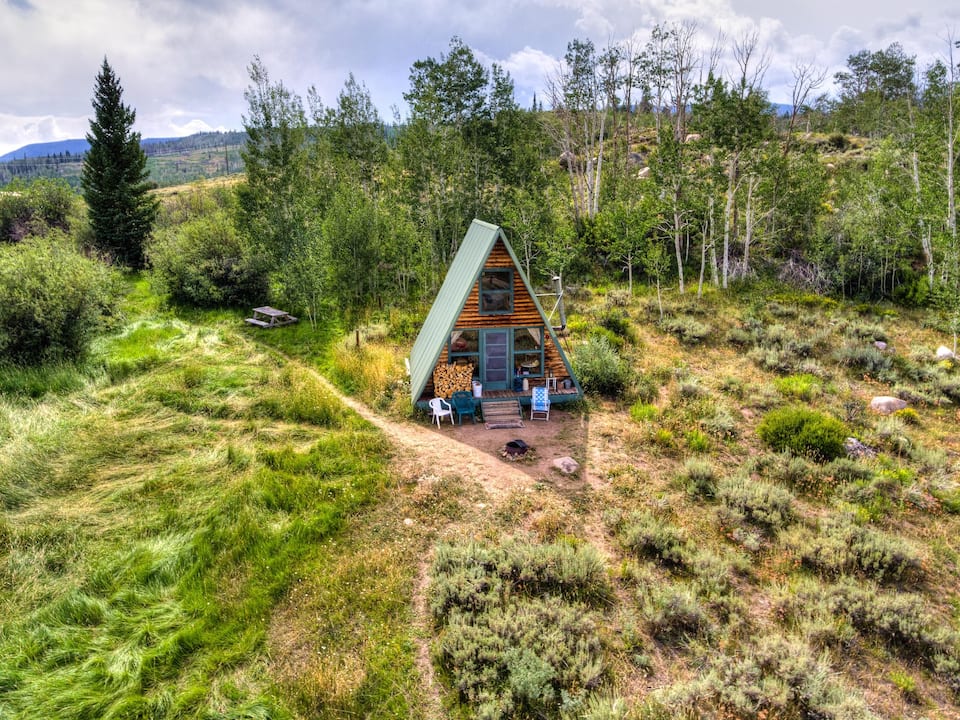 Secluded Mountain Getaway
This tranquil getaway is one of the top Estes Park cabin rentals, and for good reason! At this Airbnb, you are welcome to explore the 10 acres of pine forest that surrounds the cabin. It's only a short walk to Rocky Mountain National Park, and a quick drive to downtown Estes Park which is full of cool things to do as seen in our guide to the city. The cabin itself has been recently update and can host up to 8 people. The large deck is the focal point of the cabin and is the perfect place to soak up the natural landscape.
Click Here To Check Rates On Airbnb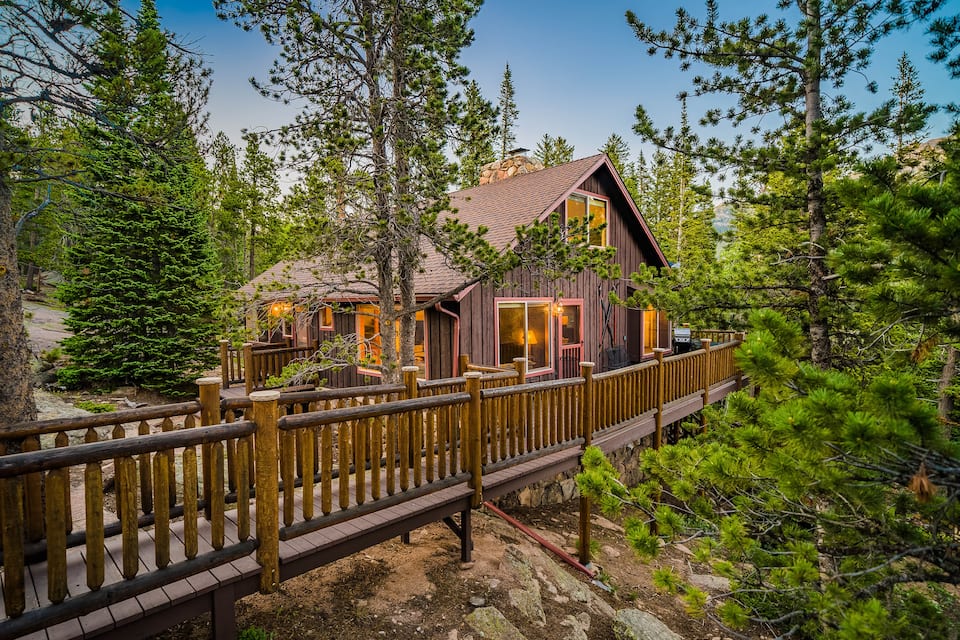 Charming Woodland A-frame
This newly built A-frame is tucked into the forests of Colorado and gives off some majorly cozy vibes! It is located conveniently near Idaho Springs and Black Hawk but still feels nice and secluded. Keep in mind that it can be a bit hard to get to in snowy conditions, so you'll want to keep an eye on the weather. There's also a set of stairs you have to climb to get to the cabin itself.
Once there though, it's impossible not to love the retro charm of the interior design, along with an adorably vintage kitchen. Not to mention the homey loft! Up to four guests can enjoy this charmer.
Click Here To Check Rates On Airbnb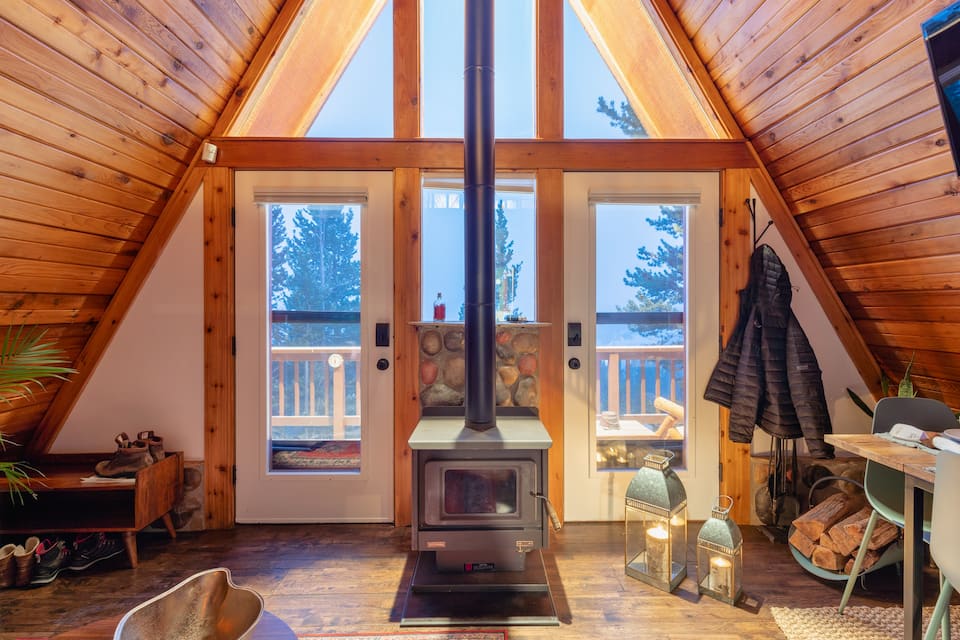 Cascade Mountain Retreat
Bring the whole family to this large log cabin get away! This is one of the top cabins in Colorado Springs not only because of its size but because of what all it offers. You'll get the run of 9 tranquil acres during your stay. Watch the wildlife from one of its many gorgeous decks and patios.
The pine accented interior gives it the right amount of rustic. The full and large kitchen is sure to be a gathering point for your group! Plus, it's right next to some of the best Colorado Springs attractions, like Cave of the Winds Mountain Park and Garden of the Gods. One thing to note is that the dirt road to the cabin is uphill and can be tricky, but it's so worth it to get to stay here!
Click Here To Check Rates On Airbnb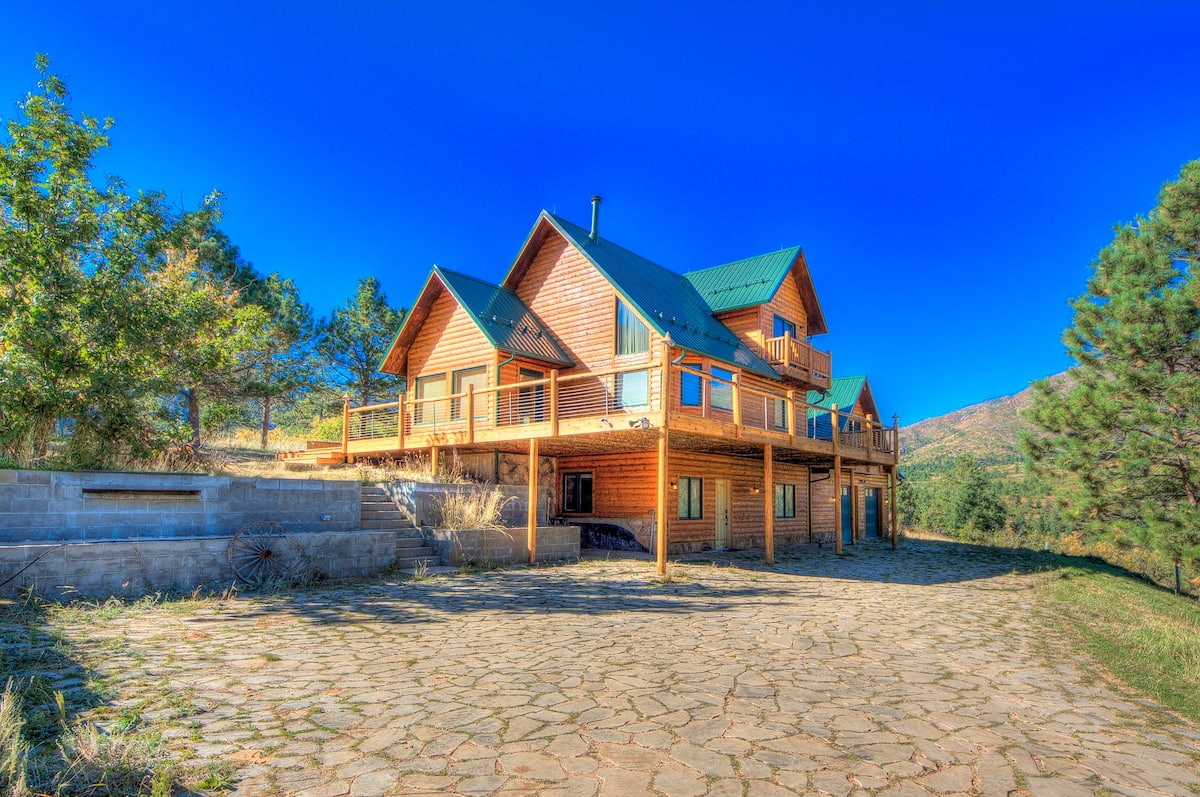 Serene Stay in Steamboat Springs
This absolutely stunning cabin simply has some of the best views you'll ever see! Come for the brilliant fall colors, or to see the mist roll down the mountainside in the morning from the comfort of the wrap-around patio.
Five beautiful acres of land is sure to give some much needed privacy for up to six guests. It's only 22 miles outside of Steamboat Springs where you can find some fabulous restaurants and even better hot springs like the Strawberry Park Hot Springs (don't miss our picks for other top natural hot springs in Colorado).
Click Here To Check Rates On Airbnb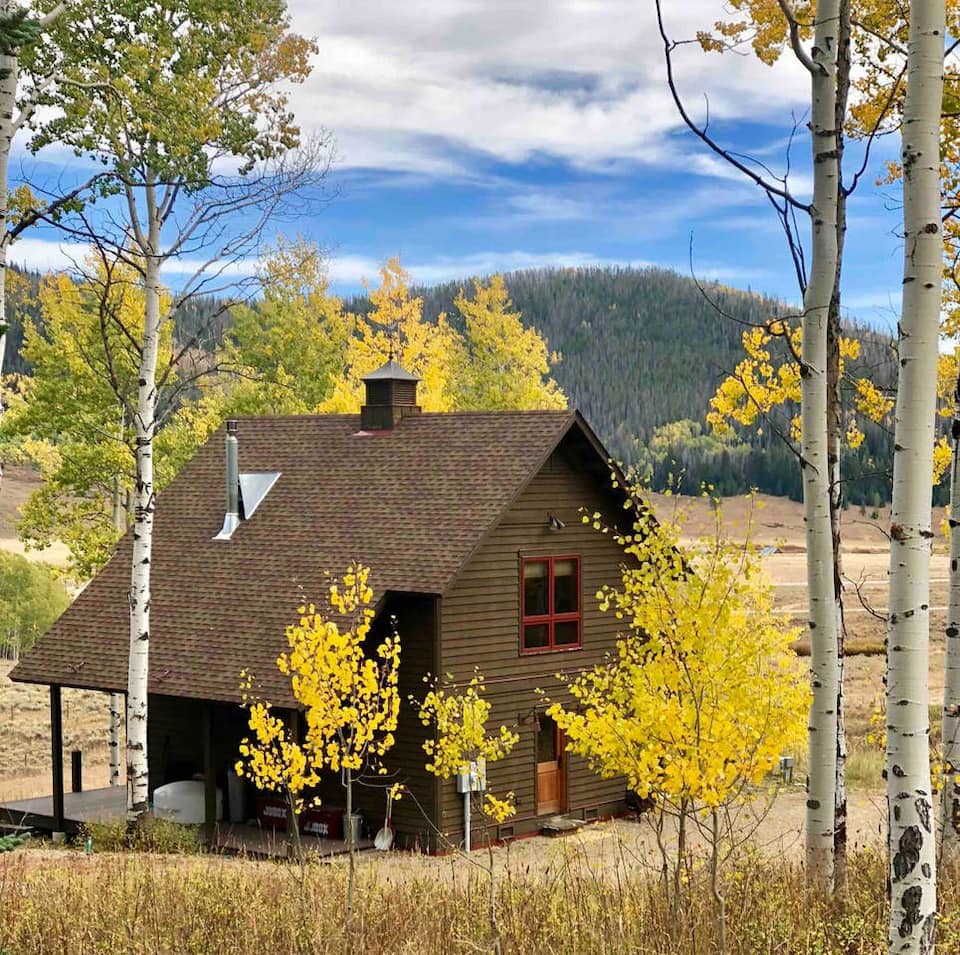 Pikes Peak Getaway
Feel like the king of the castle in this Colorado cabin rental located atop a hill by Pikes Peak! The homey interior is perfect for families of up to ten, complete with laundry, a full kitchen, WIFI, and a pool table. The huge windows give the most wonderful view of the Sangre de Cristos mountain range. You can see them from the walk out patio and wrap-around deck as well. Check out the popular hiking trails while you're here!
Click Here To Check Rates On Airbnb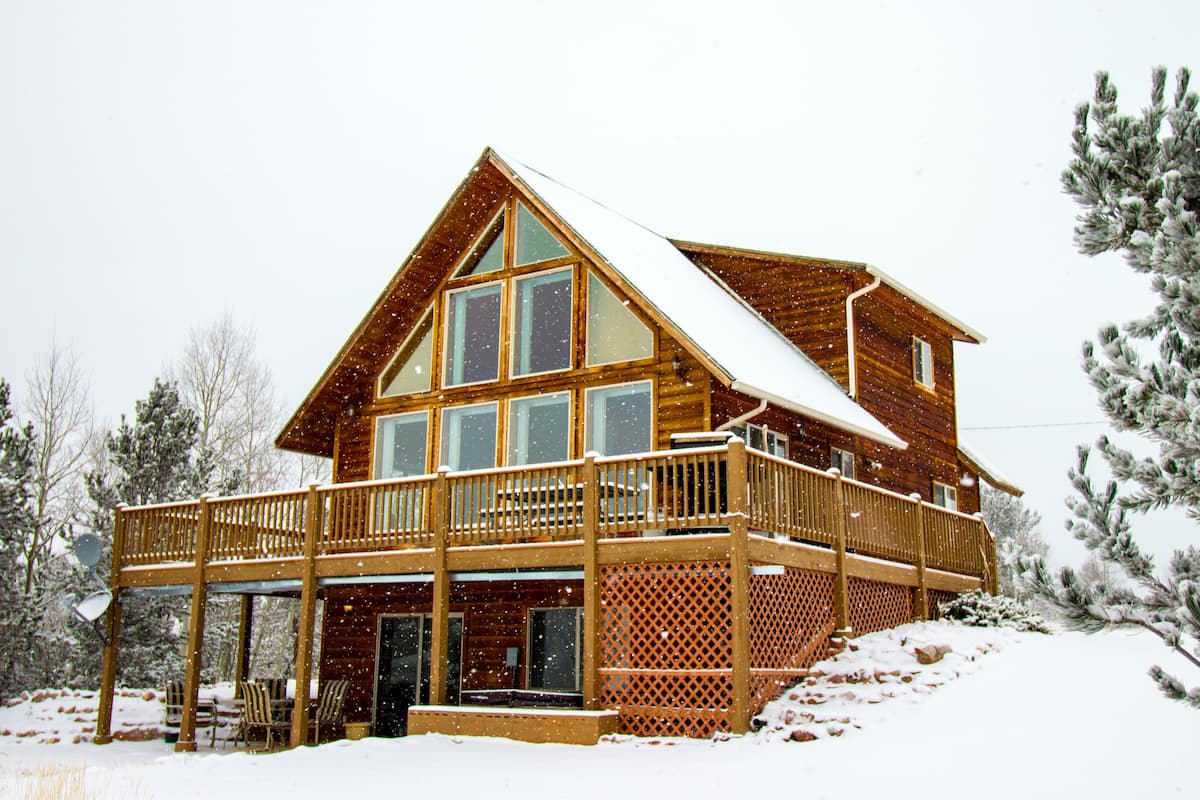 Tranquil Log Cabin
Get back in touch with nature at this beautiful Colorado log cabin. Located at 11,000 feet above sea level, its two acres backs up to the picturesque Pike National Forest. The huge deck provides plenty of serene views of aspen trees and evergreens. The interior embraces cabin chic with pine accents throughout.
If you're coming in winter, you'll want to make sure your tires are up to snuff in order to get to the cabin. Once there, sleds and two sets of snow shoes are provided for your use.
Click Here To Check Rates On Airbnb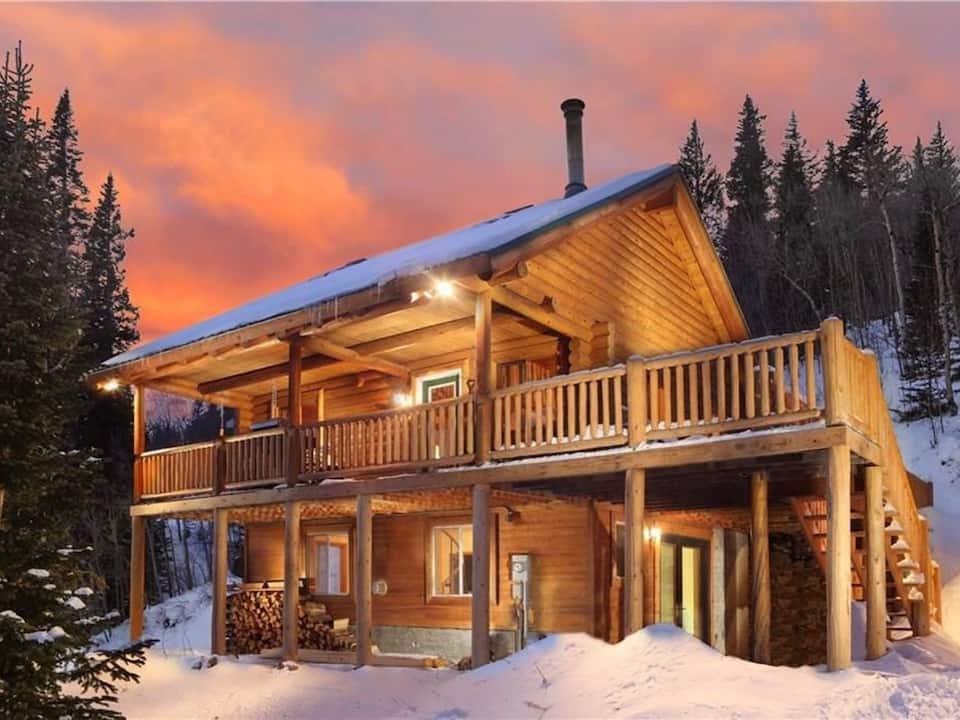 We hope we've given you a better idea about what some of the best cabins in Colorado are. No matter which one you pick, we know you'll have a wonderful time in this amazing state. Make sure to check out our picks for other top Airbnbs in Colorado if you want to see more!