If you're looking for an amazing list full of cozy cabins in Idaho, then you've come to the right place. Idaho is home to some of the most beautiful sights in the Western United States. Many of the featured cabins are situated close to some of the best views Idaho has to offer!
Idaho is located in the Western United States between Montana, Wyoming, Washington, and Oregon. It's home to stunning State Parks, natural hot springs, quirky museums, and so much more. There truly is something for everyone when visiting Idaho.
Whether you're looking for a romantic cabin in Idaho getaway or are more interested in thrill-seeking adventures, the cabin rentals in Idaho on this list are guaranteed to meet your wishes.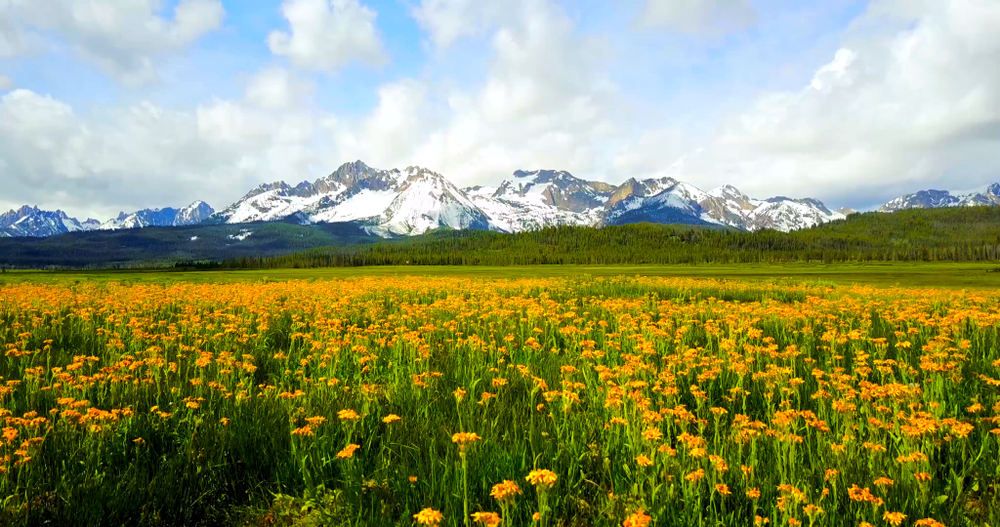 Getting To Know Idaho
Idaho is often overlooked when people think about adventuring in the Western United States, and it shouldn't be. Known as the 'Gem State', it boasts over 30 State Parks, each with something unique to offer. There is rock climbing on world-class routes, picture-perfect lake beaches, Oregon Trail history, picturesque skiing opportunities, and so much more.
Many of these cabin rentals in Idaho are also near Yellowstone National Park, the Grand Tetons, and Lake Cascade. If you plan to enjoy your cabin stay in Idaho in the Summer months, you'll find excellent white water rafting opportunities, amazing hiking experiences, and plenty of other water sports.
In the winter months, you can expect world-renowned ski slopes, snowshoeing, snowmobile activities, and dips in the natural hot springs. If you're more interested in cozying up by the fire in your romantic cabin, there are plenty of opportunities for that too.
It is advised that when planning to travel by car, you rent or use a vehicle that has four-wheel or all-wheel drive. Much of Idaho is still kept very rural, and although they are used to random snowstorms, you may not be.
Between the remote nature of some of these cabin rentals in Idaho and the possibility of unexpected weather, it's best to be prepared when getting around. With all that in mind, let's take a look at some of the best cozy cabins in Idaho!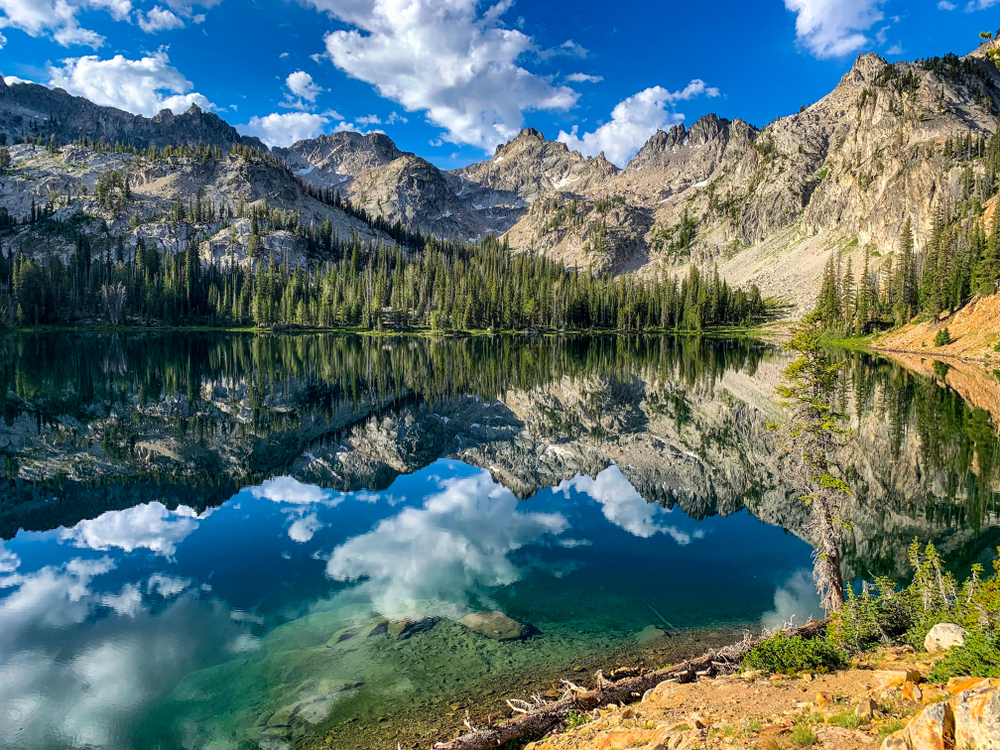 12 Cozy Cabins In Idaho You Must Visit
Cascade Lake A Frame
This Cascade Lake A Frame is a secluded cabin in Idaho. It is a short walk from breathtaking views at Cascade Lake, one of the most picturesque lakes in Idaho. It is also situated near gorgeous views of Idaho's Salmon River Mountains.
Inside you'll find space for up to 8 guests. The Aframe is 2,000 square feet and has 2 bedrooms and 2 full bathrooms. The den and loft offer lots of additional sleeping options, so you can bring the whole family or friend group!
The A frame has an outdoor fire pit and decks perfect for stargazing! Imagine seeing the stars twinkling off of calm Lake Cascade as you roast marshmallows around a fire. When you're looking for cabin getaways in Idaho, this one has got to be a contender!
Check Rates: VRBO.com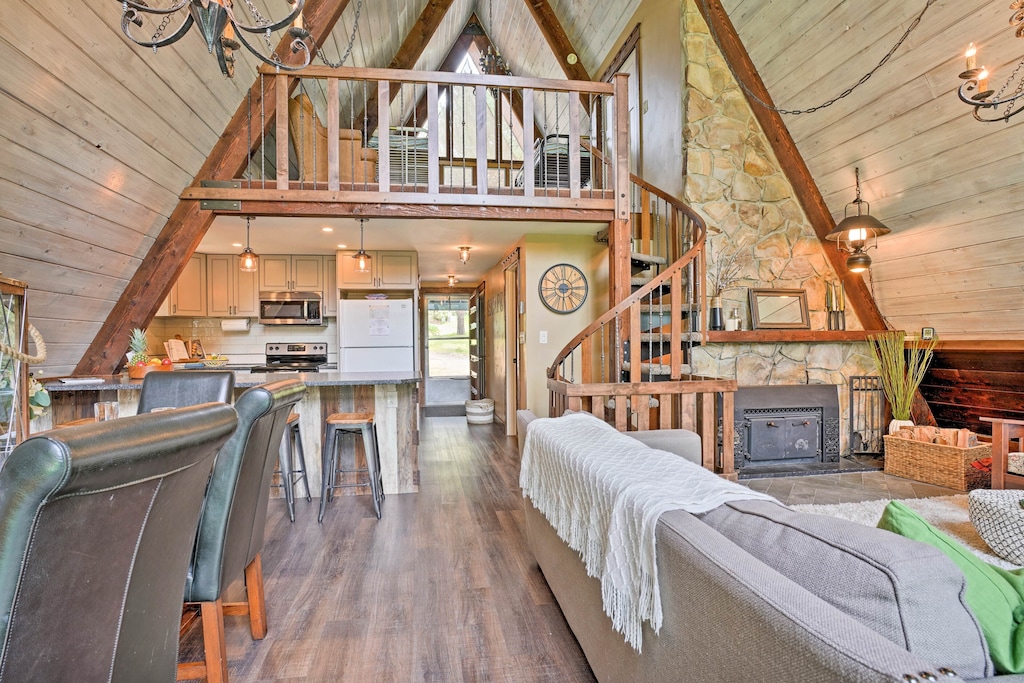 Cheerful Waterfront Cabin
Looking for lake cabins in Idaho? We found this gem on Lake Pend Oreille. It boasts some amazing lakeside views and a private dock! With just a quick walk through the backyard, you can dip your toes into the lake.
The cabin is located a little over a mile from Garfield Bay. There you'll find a small convenience store, a restaurant with a bar, and awesome kayaking and paddle boarding opportunities. Outside of Garfield Bay, you'll find a variety of marinas with more restaurants, bars, and even boat trips to local state-protected islands.
The cabin has room for up to 6 guests. Every room in the house features more gorgeous lake views. This VRBO is 1,000 square feet is a 2 bedroom 2 bathroom cabin. You'll love all the modern finishes, especially in the spacious kitchen!
There is also a large back porch with plenty of space to relax, hang out, grill dinner, and enjoy the scenery. It also has a private dock on Lake Pend Oreille. Inside, cozy up next to a full fireplace, watch a movie on the flat screen tv, or enjoy a family game night.
Check Rates: VRBO.com
Traditional Log Cabin
Near Ponderosa State Park you'll find this lovely Traditional Log Cabin in Idaho. It is also near McCall, which hosts a popular golf course, and plenty of restaurants, cute shops, breweries, and recreational outfitters. It's secluded but within driving distance of plenty of activities. This makes it the best of both worlds when you're looking for log cabin rentals in Idaho!
The Traditional Log Cabin has a beautiful front porch with a porch swing and a nearby firepit. Inside you'll find a large living room with a funky circular fireplace and two bedrooms, a full kitchen, and a full bath and half bath. The upstairs loft also has a sectional sofa and two twin-sized beds nestled in the nook of the peaked roof. What a great spot to relax and enjoy the natural beauty of Idaho!
Check Rates: VRBO.com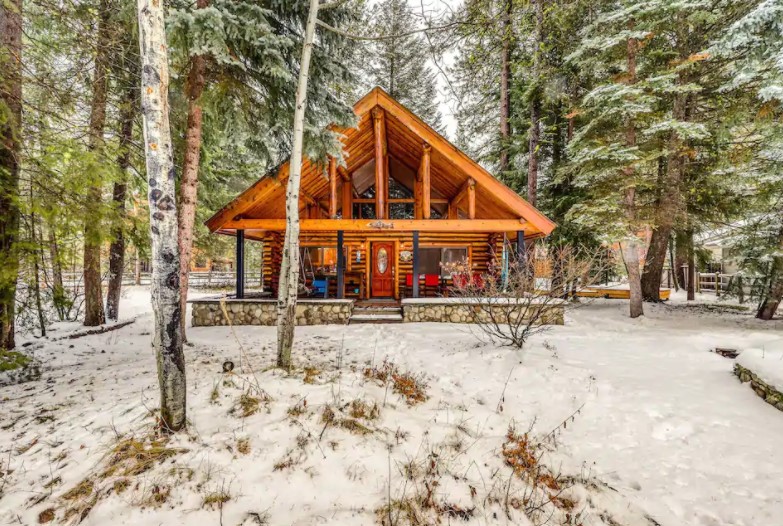 The Yellowstone Cabin
The Yellowstone Cabin is a charming vacation rental just an 8-mile drive from West entrance of Yellowstone National Park. This cabin in Idaho is surrounded by lakes, endless forests, waterfalls, and rivers. Its proximity to Yellowstone makes it a great place to spot amazing rare wildlife!
This is a 1 bedroom, 1 bath, 870 square foot cabin. It is a one-story cabin with only 2 steps up to the deck, making it a great choice for those who don't like stairs. There is room for 4 guests in this cozy little cabin.
You'll love watching the sunset over Lion's Head mountain from the deck of your very own log cabin! There is direct trail access from this cabin, making it perfect for exploring the stunning Idaho forests. If you're looking for romantic cabins in Idaho, this would be a great choice!
Check Rates: VRBO.com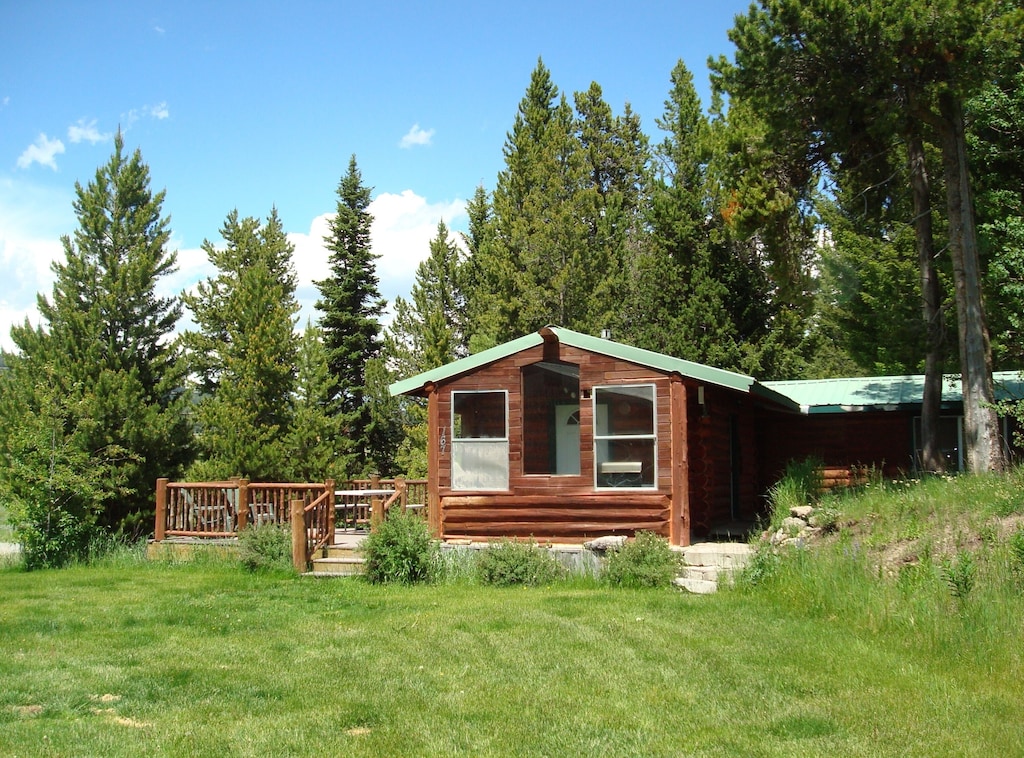 Riverfront Cabin
If it's mountain cabins in Idaho you're hunting for, this cabin is the perfect escape! It's got a beautiful view of the Sawtooth Mountains. The cabin is nestled on 1.4 shady acres directly on Valley Creek. The Riverfront Cabin can host 7 guests. It has 3 bedrooms and 2.5 bathrooms. You'll love the BBQ grill and outdoor dining table with a view of the mountains!
This Idaho vacation rental is located a 15-minute walk from the town of Stanley. Stanley is just chock full of things to do! If you're looking for outdoor adventures, hit the nearby trails, enjoy water sports, or check out one of the nearby hot springs. If shopping, dining, and leisure activities are more your speed, you'll find plenty to do in Stanley as well. No matter your preference, you're sure to enjoy your stay in this adorable Riverfront Cabin. This would make a great stop on any Idaho road trip!
Check Rates: VRBO.com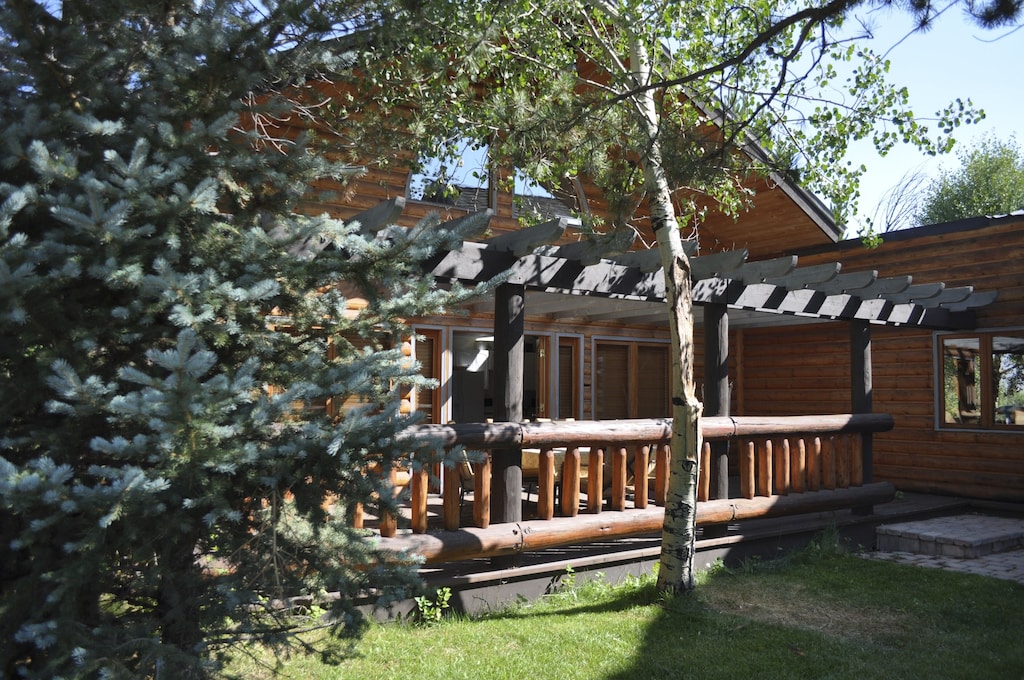 Luxury in Tetonia
Adding a touch of luxury to our list of cabin rentals in Idaho with this incredible VRBO! This 5,100 square foot cabin overlooks the Teton River and has breathtaking views of the Teton peaks.
No detail has been overlooked in making this one of the most comfortable and relaxing stays in the West. You've got to click through these listing photos to truly understand how beautiful this property is. This cabin can accommodate 12 guests. It has 4 bedrooms and 4.5 bathrooms. The VRBO is located in a private gated community called River Rim Ranch.
When renting this cabin you'll be able to walk a trail right to the Teton River. This would definitely be a luxurious home base for exploring the mighty Tetons, Snake River, Grand Teton, and Yellowstone National Parks.
If you're visiting in the winter, make sure to bring your skis! This cabin is located minutes from Grand Targhee Ski Resort and Jackson Hole Mountain Resort. If you're planning a summer trip there is plenty to do as well! Check out the local golf, horseback riding, scenic ATV rides, white water rafting, and fly fishing. I bet you didn't know there were mountain cabins in Idaho like this!
Check Rates: VRBO.com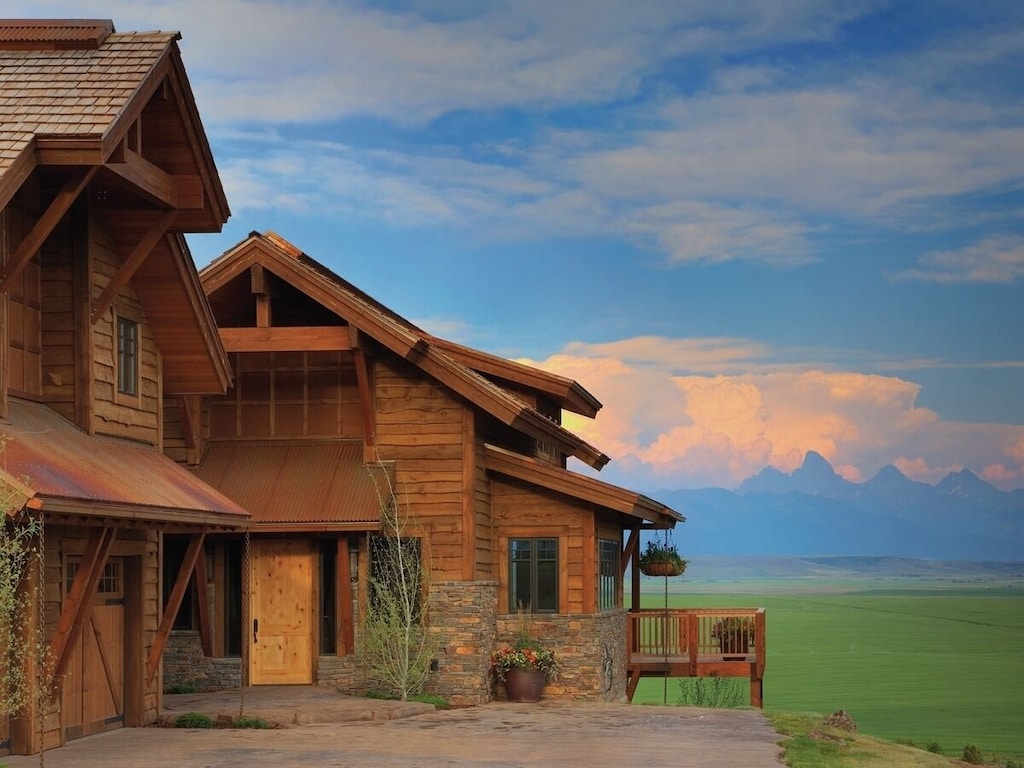 Hot Tub Cabin
Nestled in the foothills of the Centennial Mountains in Island Park,, you'll find the Hot Tub Cabin. This romantic cabin in Idaho is just 14 miles from Yellowstone National Park and near some of the best activities, Island Park has to offer.
This sweet little cabin is 840 square feet. It can accommodate 6 guests. It's got one bedroom and one bathroom. This cabin shares an entire private mountain full of trails and things to do with only two other local cabins. What a great place to enjoy the unspoiled Idaho wilderness!
You'll love the private hot tub, as well as the outdoor firepit and grill. This little handbuilt cabin really encourages you to go outdoors and relax in nature. When you're looking for rustic cabin rentals in Idaho, put the Hot Tub Cabin on your list!
Check Rates: VRBO.com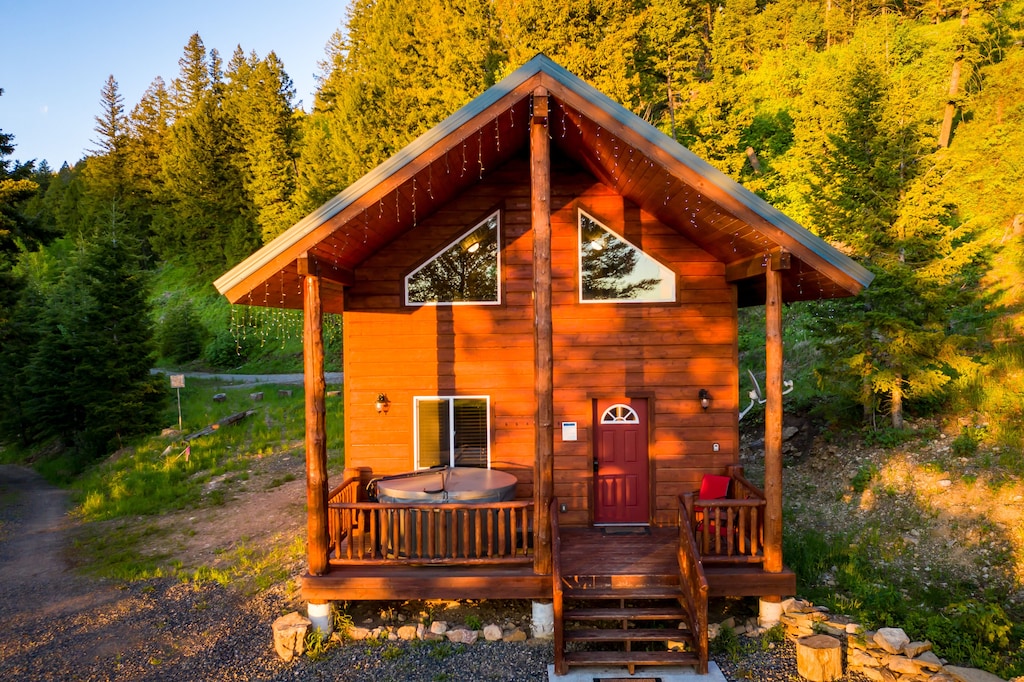 Drive-In Movie Theater Cabin
This cozy little cabin in Idaho is perfect for a couple or small family looking for a little more unique experience. Located at the Spud Drive-In Movie Theater, you'll find this little cabin.
The Drive-In Movie Theater Little Cabin has a few quirks, making it more of a camping cabin experience than some of the other cabins on this list. The cabin itself does not have a bathroom, but guests use the theater's bathrooms which are open 24/7. The showers are located 20 yards away from the theater, for more privacy.
If that doesn't bother you then you're in for a truly unique cabin in Idaho experience. Use the grill out front to make your own dinner, or hit up the theater's snack bar for Drive-In Theater classics like old-style hamburgers and shakes, all while watching a movie from the front porch of your cabin.
Inside the cabin, you'll find a simple setup with a queen-sized bed and a set of bunk beds. It's perfect for a couple or small family, especially if you've never gotten to experience the magic that is Drive-In Movie Theaters. With so many closing every year, this is an experience you or your family won't soon forget.
Check Rates: Airbnb.com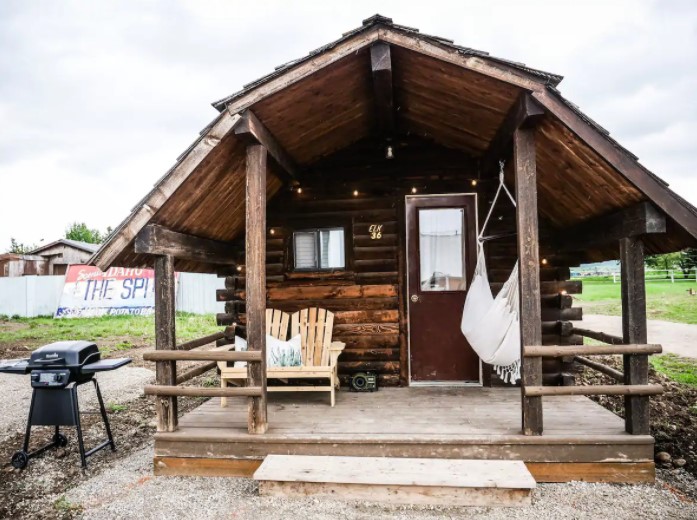 Rustic Valley Cabin
Looking for Idaho cabins to rent near hot springs? We've got you covered!
Located in the town of Challis, near the Salmon-Challis National Forest, you'll find this sweet little cabin. This cabin has a great location near the downtown of Challis, so you'll be able to walk to get food and groceries. It is also less than 4 miles from the lovely Challis Hot Springs! One of Idaho's coolest ghost towns, Bayhorse Ghost Town, is only 8 miles away. The Rustic Valley Cabin would make an excellent home base for getting to know central Idaho!
This Idaho vacation rental is perfect no matter the season. In the Summer enjoy hiking, fishing backpacking, and floating along the Salmon River. In the Winter you'll find ample opportunities for snowshoeing, skiing, and dips in the local hot springs.
Inside the cabin, there is a small kitchen with a stove and range, fridge, and farm sink. Towards the back of the cabin are a queen-sized bed and a small bathroom. This cabin was built in 1930, one of the original dwellings in Challis! It was lovingly updated in August 2020 and has a chic, modern, Western feel.
Check Rates: VRBO.com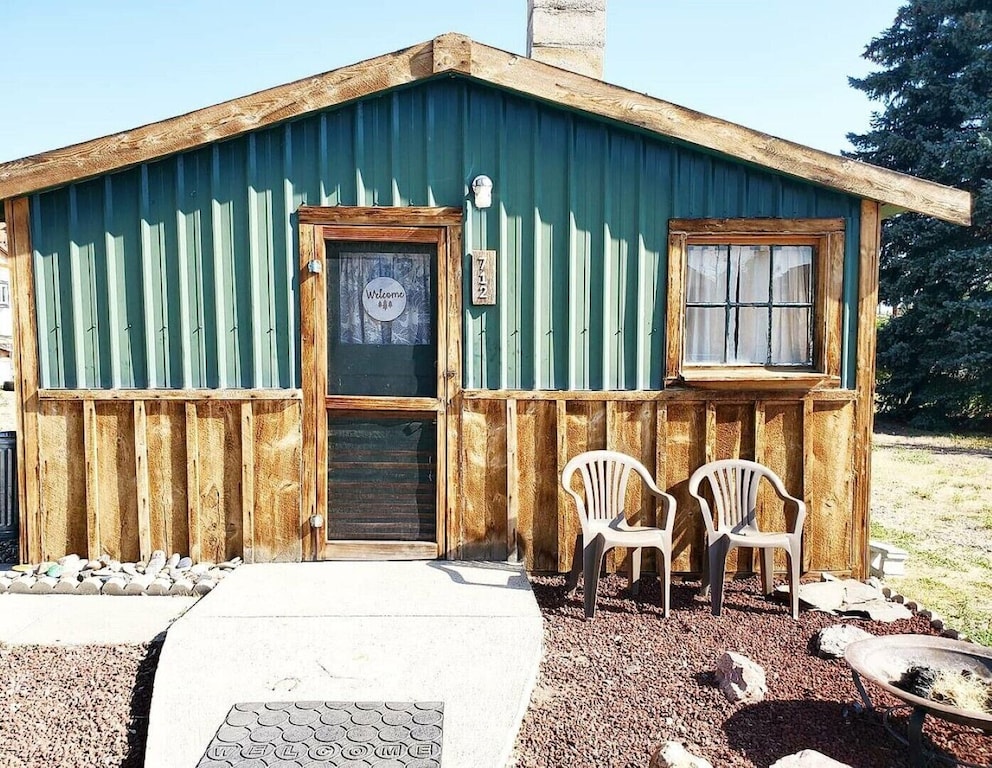 Bottle Bay Lakefront Lodge
Nestled in the Idaho forest and overlooking Lake Pend Oreille you'll find this stunning lodge. Outside, you'll find a spacious back porch that overlooks the lake and welcomes you into this romantic lakefront retreat.
Inside, you'll find an open floor plan with large picture windows and epic timber cathedral ceilings. The cabin is 2,908 square feet and can host 8 guests. It has 3 bedrooms and 3.5 bathrooms. You'll love the private beach access and dock!
Even if you're stuck inside on a rainy day, this cabin is stocked with shuffleboard and ping pong tables, and board games. The huge stone fireplace is just begging you to curl up next to it with tea and a good book.
The location right on Lake Pend Orielle makes this one of the best Idaho cabins. It is also close to the famous Silverwood Theme park and the town of Sandpoint. This is a great choice for your next lake house getaway!
Check Rates: VRBO.com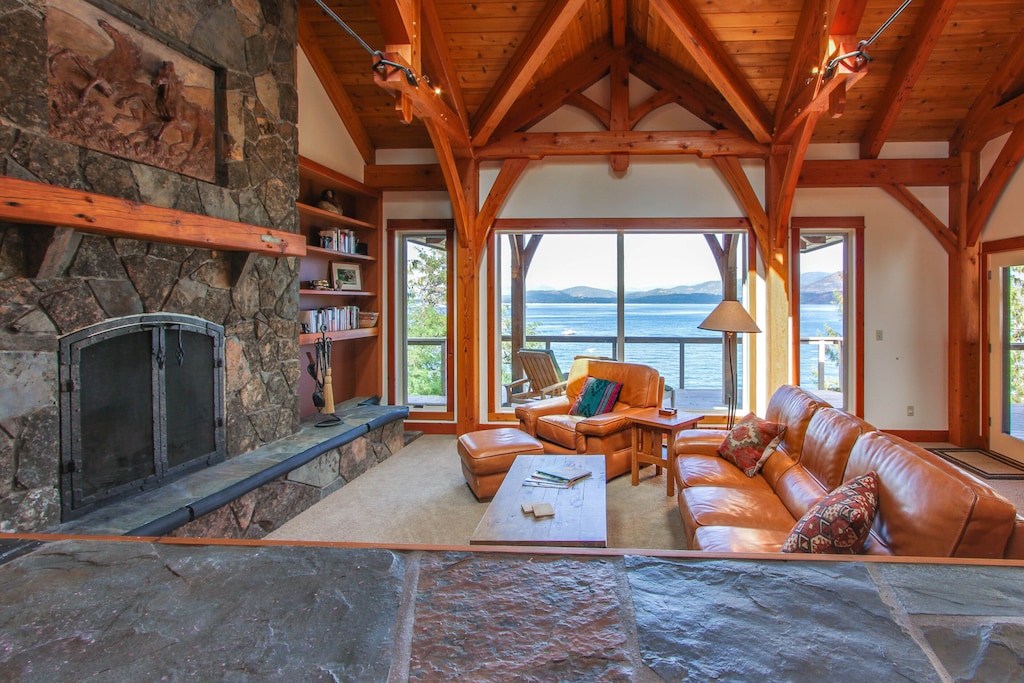 Romantic Log Cabin
If you dream of sleeping on the peaked roof of one of the log cabins in Idaho, you've gotta check this out! The Huppa House is located in Garden Valley Idaho. That's just one hour from downtown Boise! The cabin is minutes away from the nearby town of Crouch, the Terrace Lakes Golf Course, an outdoor theater, and plenty of opportunities for biking and hiking, and is close to the Payette River.
Inside this beautiful cabin in Idaho, you'll find an open main floor with large windows overlooking the cabin's wooded front yard. It also features a full kitchen, a cozy living room with a stove, a private queen-sized bedroom, and a full bath. The other queen bed is located in the sweet loft above the kitchen.
You'll love grilling on the patio and wildlife watching with your morning coffee. The Huppa House is a perfect romantic cabin in Idaho and you're sure to have an amazing stay there. This is one of the best rustic cabins in Idaho!
Check Rates: VRBO.com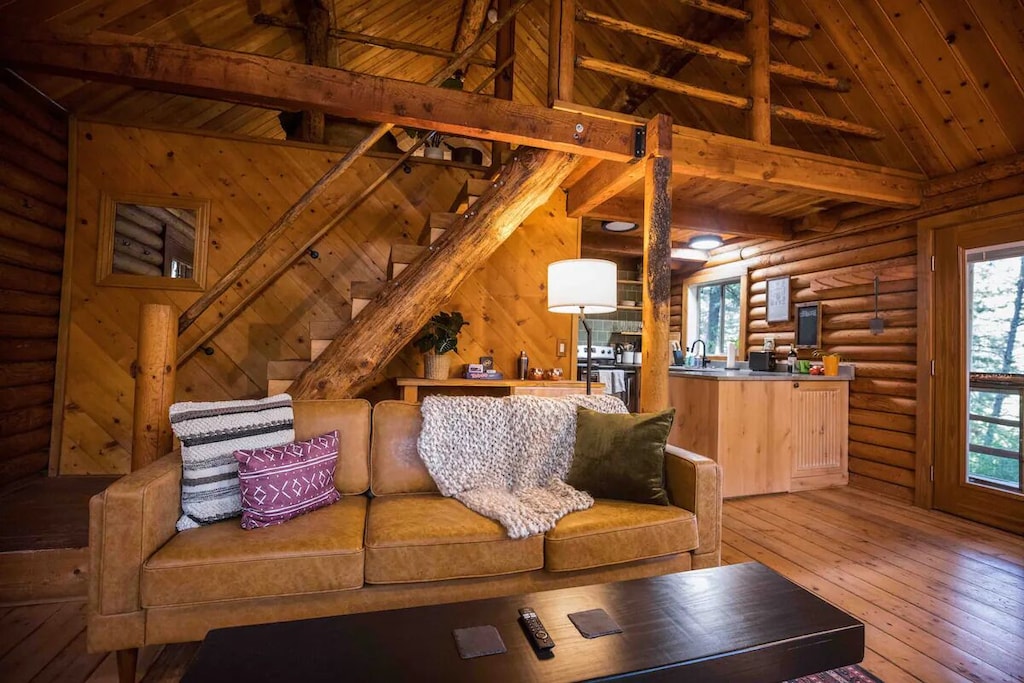 Secluded Lake View Cabin
This is one of the best log cabins in Idaho! The Secluded Lake View Cabin is located near the beautiful Lake Cascade. When staying here you'll be surrounded by National Forests full of hiking and biking trails and Tamarack Ski Resort is only 7 miles away. There's a town only 5 miles south, so you'll be able to pick up takeout or go shopping with ease.
This 1800 square foot log cabin in Idaho can sleep 9 guests. It has 1 private bedroom as well as a basement and loft with lots of sleeping options. It has 3 bathrooms. This VRBO definitely has the warm rustic feel that you would expect from a classic Idaho cabin.
You'll love sipping your morning coffee with beautiful Lake Cascade views and admiring the stars at night through the canopy of pine trees. If you're looking to get into nature without being too far from the comforts of civilization this is a great option for you out of all the cabins in Idaho.
Check Rates: VRBO.com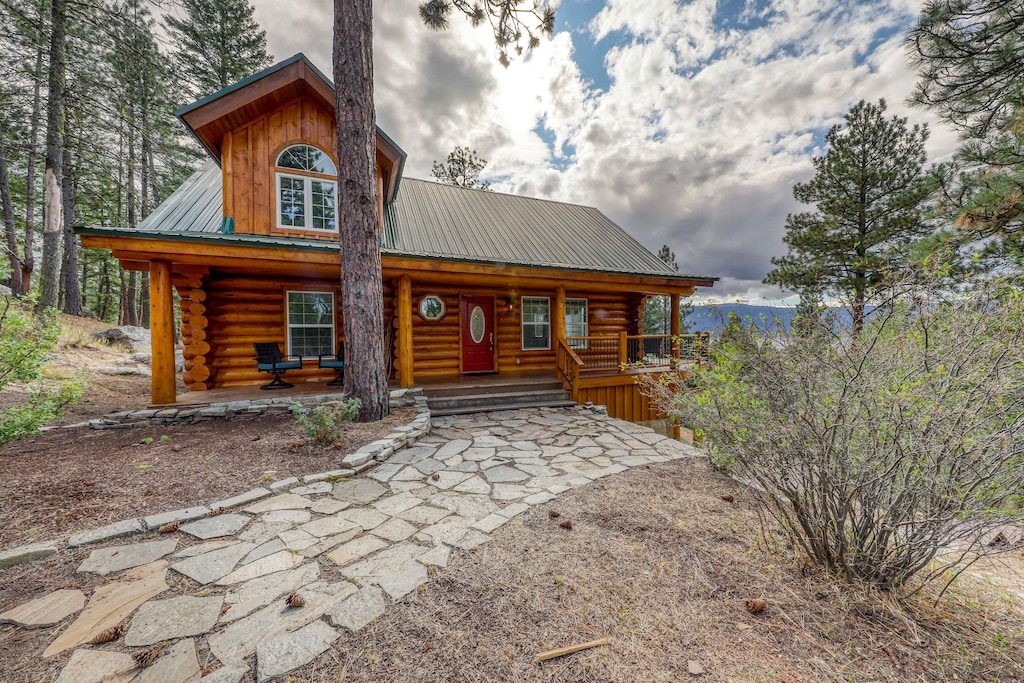 Island Park Cabin
This 700-square-foot cabin makes a great home base for exploring Yellowstone and the Island Park area. It is on a 1-acre wooded lot with a creek that runs through it. That creek means that you might get to do some lovely wildlife watching from the comfort of your cabin!
The cabin has 3 bedrooms and 1 bathroom. The smaller two bedrooms are up in the cabin's loft and there is a large main floor bedroom. It can sleep 6 guests. There is a fire pit and a propane grill outside so you can take advantage of Idaho's great outdoors. On a clear day, you can even see the Teton Mountains from this special little cabin.
This is another entry on our list of cabin rentals in Idaho that would make a great road trip stop! Click here to get our Idaho road trip itinerary.
Check Rates: VRBO.com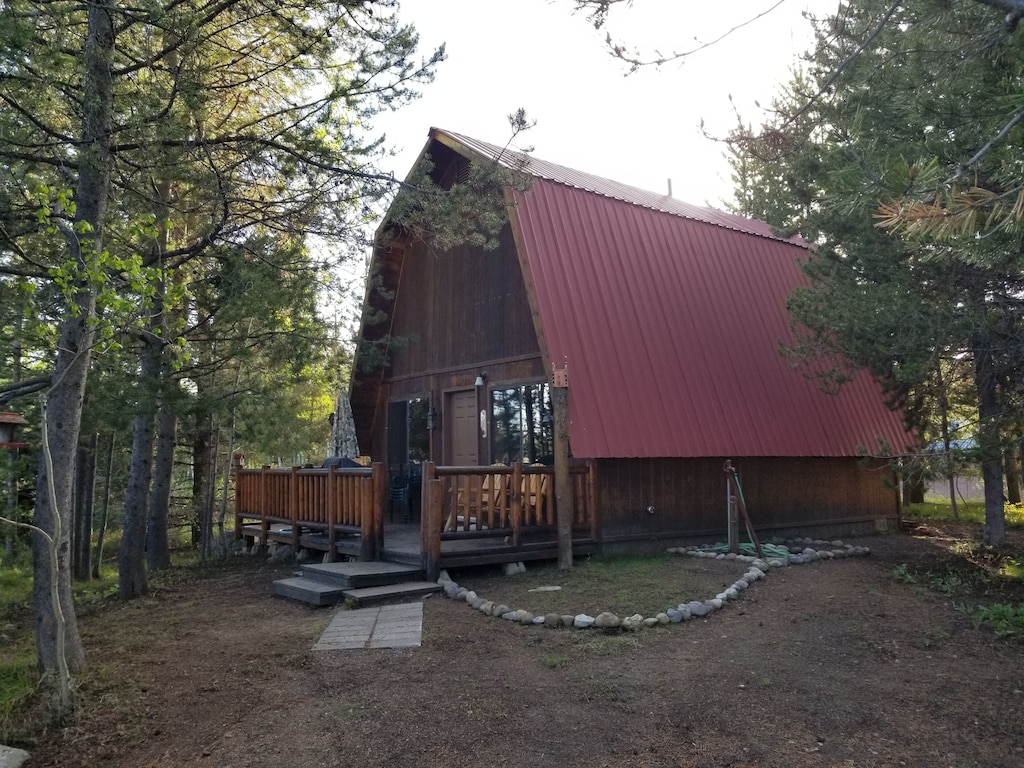 Huckleberry Hideaway
Are you looking for cabins in McCall Idaho? If so, you must check out the Huckleberry Hideaway! This sweet A frame is just too cute!
This cabin is located steps away from Payette Lake. Walk to Picnic Point Beach with a delicious packed lunch. Check out the amazing ski resorts within half an hour of this cabin. Take a kayak out on the lake! The possibilities are endless at this entry on our list of cabins to rent in Idaho.
This lovely A frame cabin can host 4 guests. It has 3 bedrooms and 1 bathroom tucked into its 900 square feet. Curl up by the gas fireplace with a good book, or grill some dinner out on the deck. The choice is yours!
Check Rates: VRBO.com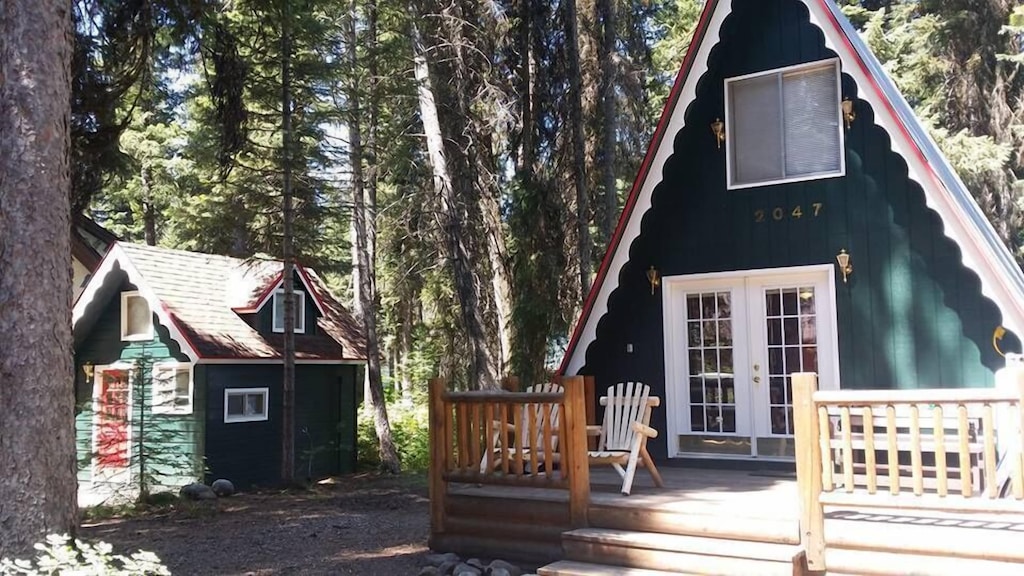 Lava Hot Springs Cottage
If you want to visit Idaho for the hot springs, let us introduce you to this Chesterfield Farm Cottage!
This stands out among all the cabins to rent in Idaho because of its idyllic farm setting and proximity to the Lava Hot Springs. You'll love the sweeping views of pastures, hills, and ponds. This farm is home to goats, chickens, ducks, and cats. Guests are welcome to participate in feeding the livestock if they want!
This farm cottage can host 5 guests in 3 bedrooms. It has one bathroom. Check out the sweet farm decor and retro potbelly stove! Staying here puts you in close proximity to the Caribou- Targhee National Forest and the Pebble Creek Ski Area, as well as the famous Lava Creek Hot Springs. This would be a great choice out of all the romantic cabins in Idaho for a getaway.
Check Rates: VRBO.com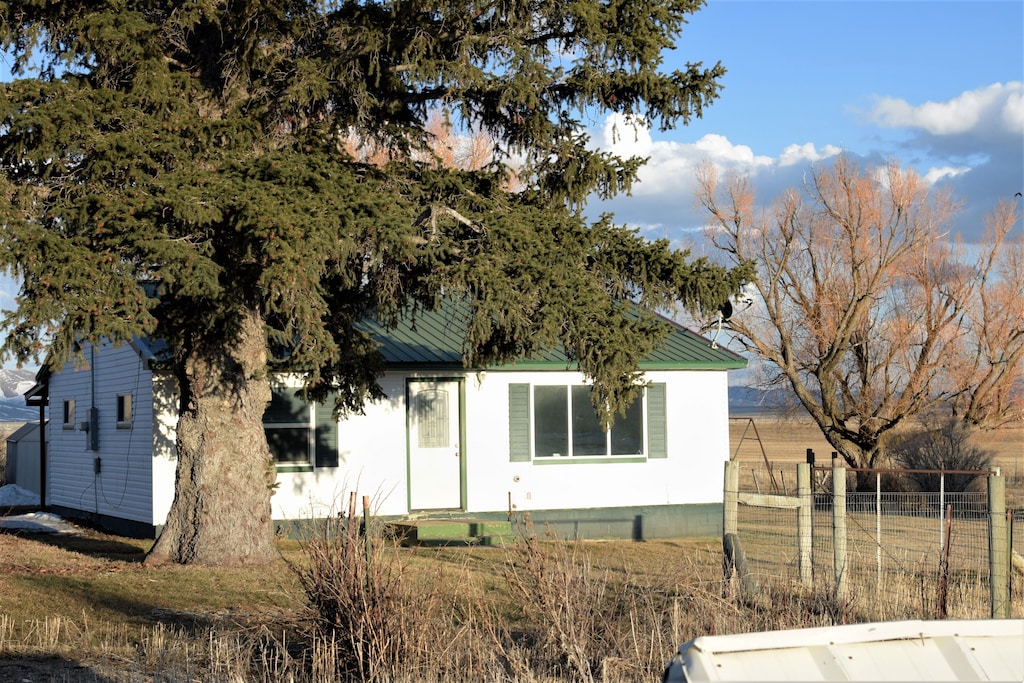 You're sure to have a special time when staying at any of these secluded cabins in Idaho. As you can see this list has a cabin for every preference and budget! If you want to stay in even more cabins in the great Pacific Northwest, be sure to check out our Cabins in Oregon and Cabins in Washington articles as well. Happy travels!