If you're wondering what are the best things to do in Estes Park, then look no further!
Estes Park is one of the most enjoyable mountain towns in Colorado, and we're here to make sure you have a great time while you're there with this guide.
Located 90 miles from Denver, next to the Continental Divide, Estes Park is a popular stop for good reason. Between the fascinating (and sometimes spooky) history, the gorgeous natural landscapes, and the bustling downtown, there are just too many Estes Park attractions to count!
No matter whether you're planning a quick day trip or an epic Colorado road trip, Estes Park is a great place to stay for people of all ages (especially with all these awesome Estes Park Airbnbs to pick from!).
The best part is that many of the best things to do in Estes Park happen to be inexpensive or free as well as kid-friendly (although adults will have a blast too!). We know you will love this list of what to do in Estes Park!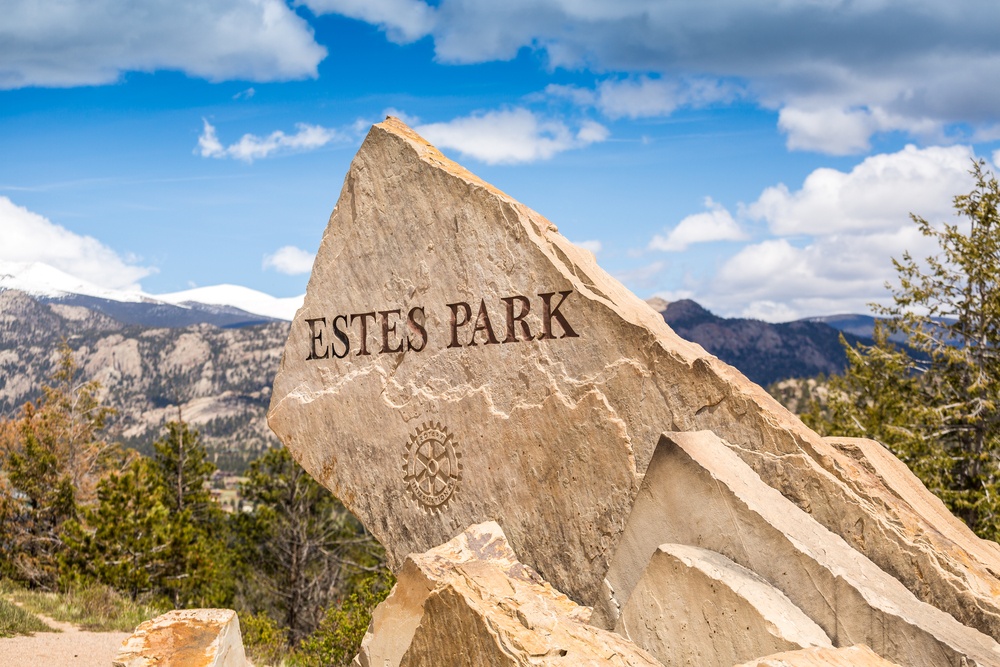 12 Coolest Things To Do In Estes Park, Colorado
The Stanley Hotel
Hands down, the historic Stanley Hotel is one of the first things that comes to mind when thinking of fun things to do in Estes Park. With over 14,000 square feet and 140 rooms, there is plenty to explore at this famous Estes Park attraction.
The Stanley Hotel first opened in 1909 by Freeland Oscar Stanley, whose spirit is said to still roam its grounds. After Stephan King published The Shining in 1977 which was said to be inspired by his stay here, interest in the hotel sky rocketed.
Today you can stay in the hotel, but be warned, it can be hard to secure a room! They also offer two tours of the hotel– a family-friendly day tour full of history (around $23 per ticket) or the creepy night tour full of ghosts (around $28 per ticket). The grounds are also always open for people to wander and enjoy for free.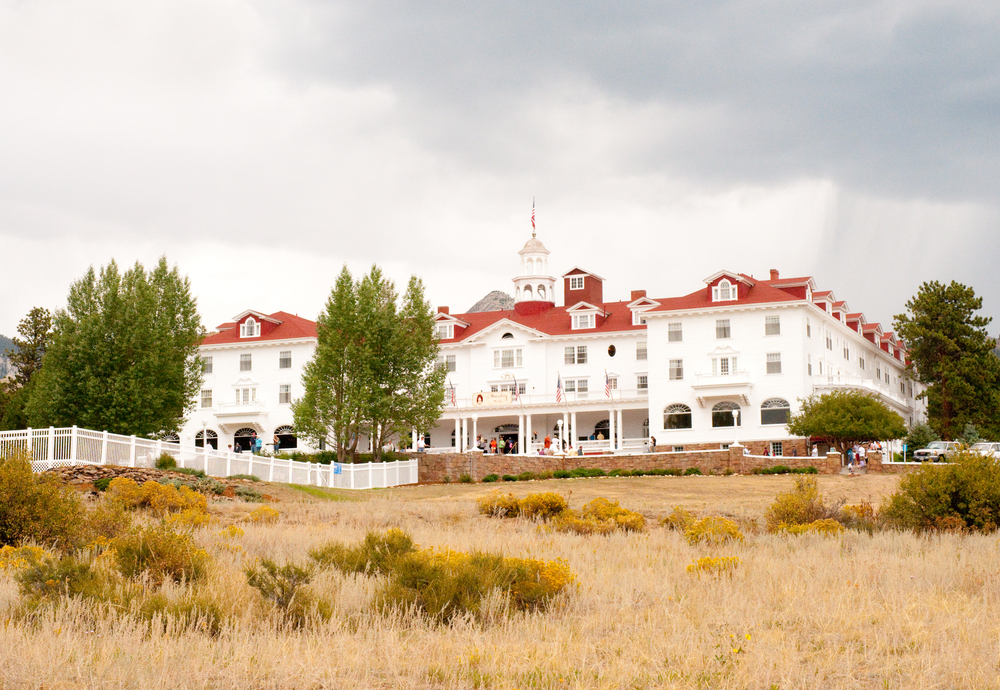 Explore Downtown
Downtown Estes Park is one most quaint mountain towns in the West that you will definitely want to explore.
Check out the Riverwalk that runs along the Fall River and experience one of the best things to do in Estes Park. It offers a plethora of beautiful views as well as access to a ton of local businesses and restaurants. There is also a scavenger hunt on the Riverwalk called Pikas in the Park. Kids under 12 that can find all 12 of these cute bronze statues can claim a prize at the Visitor's Center.
If all this exploring gets you hungry or thirsty, Estes Park is full of amazing restaurants and breweries. Local favorites include Penelope's Old Time Burgers for the best hamburgers and the You Need Pie Diner and Bakery for the best pie you will have in your life!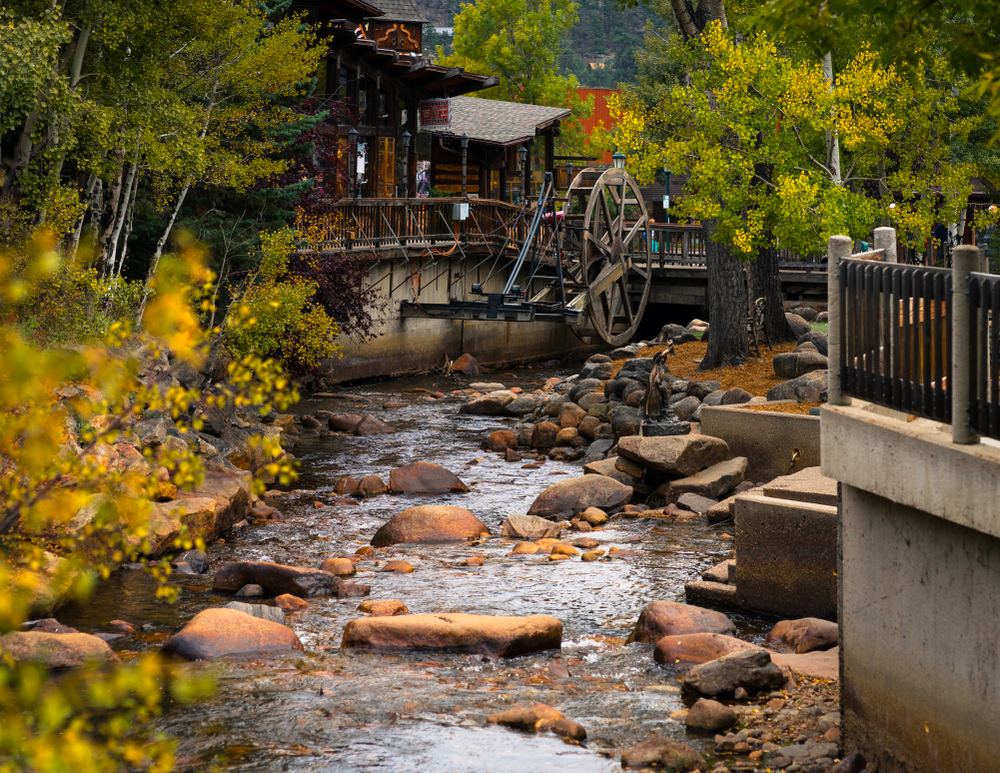 Rocky Mountain National Park
With over 415 square miles, Rocky Mountain National Park is a must-see for any visitor. The entrance to the park is less than 5 miles away from downtown Estes. If you're visiting in summer, there's even a free shuttle into the park from Estes Park (although you'll still have to pay the park entrance fee).
Once inside, you'll marvel at the beautiful scenery and wildlife. In fact, it's one of the top places to see elk bugling! Make sure to drive Trail Ridge Road if you can. It has some of the best scenic overlooks in the park and goes up to 12,000 feet!
You might not expect it, but it is also one of the best things to do in Estes Park in winter. There are just so many fun activities to do there when there is snow on the ground, like snowshoeing, cross-country skiing, and sledding.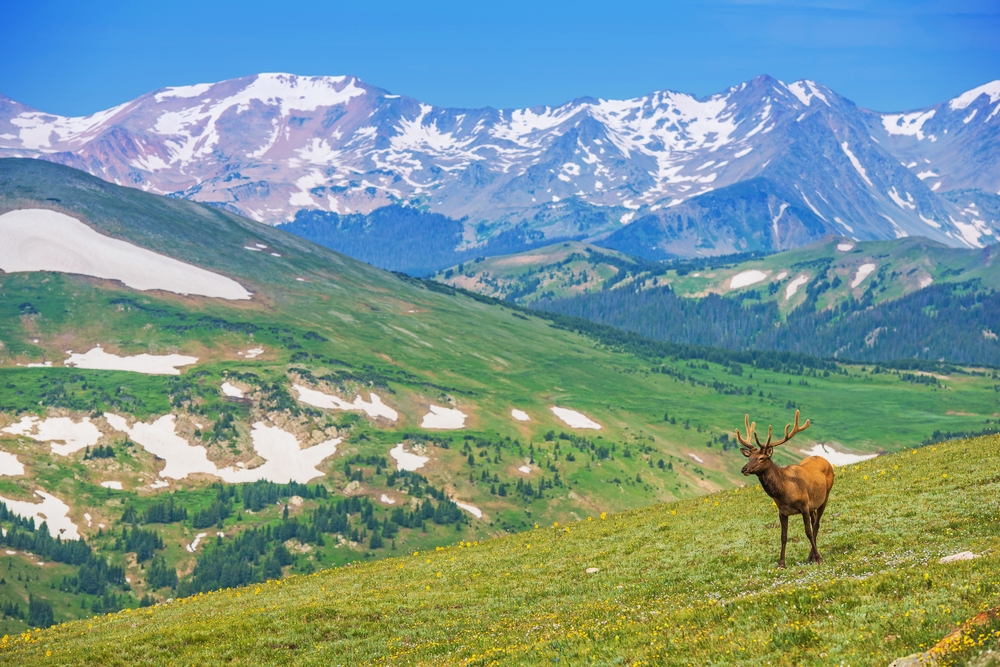 Horseback Tour
Imaging seeing the Rocky Mountains' breathing taking views just like a cowboy on horseback. Well, now you can! A horseback tour is a fabulous thing to do in Estes Park, Colorado, and there is nothing like it!
There are also so many options to customize your tour! Some tours, like the ones offered at Jackson Stables, take you into Rocky Mountain National Park. Others having a dining option and a horse ride, like the steak dinner offered at Sombrero Ranch.
Be warned that horseback tours can be pricey, but also usually good for people of all ages, making it one of the top things to do in Estes Park with kids. Don't forget the once in a lifetime opportunity to take some awesome pictures!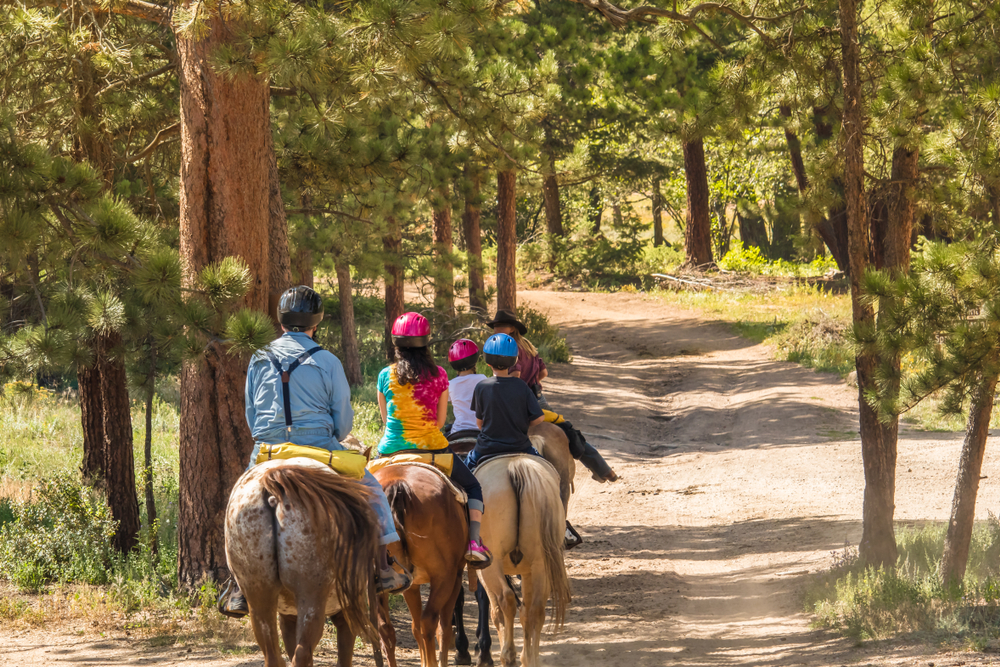 Rafting
If you're looking for an adventure, whitewater rafting is something you have to try! There are somethings you should know about this Estes Park attraction.
The Poudre River and the Colorado River are the most popular rafting spots in this region. It can be a little bit of a trek to get there from Estes Park (about 1-2 hours), but the drive there is through some of the most beautiful areas in this state. Many rafting companies, like Rapid Transit Rafting, offering transportation as well, so kick back and enjoy the ride.
There are an array of classes and experiences for everyone, from beginners to advanced rafters. Most rafting companies supply all the gear you'll need, though you should wear something you don't mind getting wet. Keep an eye out for wildlife while you're there, including great-horned sheep and eagles!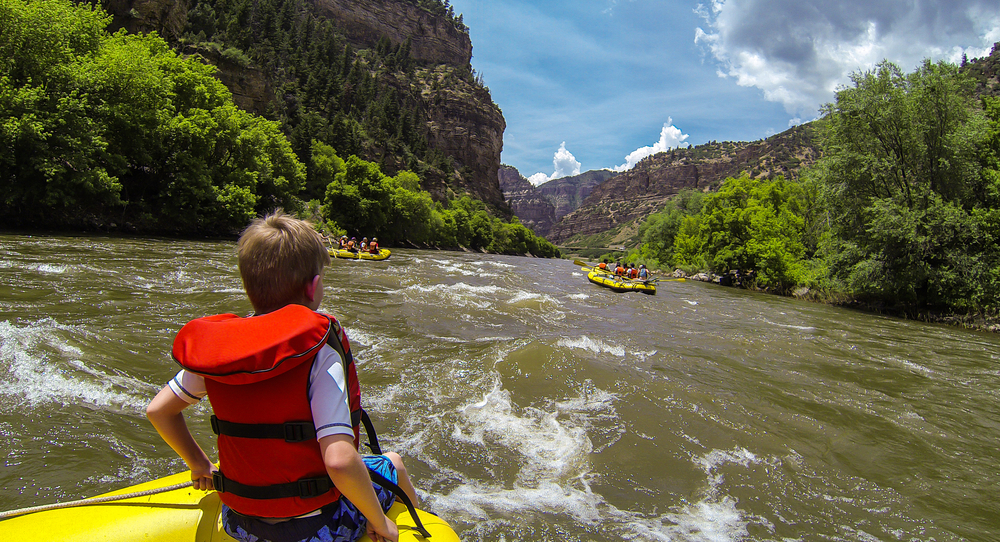 MacGregor Ranch Museum
Located next to Rocky Mountain National Park, the MacGregor Ranch Museum is definitely one of the best things to do in Estes Park with kids.
Established in 1873, the ranch is an example of an original Colorado homestead that shows how the settlers actually lived and worked during this time. It's a working ranch even today! The house itself is full of artifacts from the MacGregor family, while antique farm equipment decorates the grounds.
The museum itself is only open in summer, but you can explore the grounds all year round. If you do choose to go on a guided tour, it's an inexpensive way to learn about the history, and kids can go for free!
Estes Park Aerial Tramway
Soar above Estes Park and take in the views in style via the Aerial Tramway! The Tramway operates from late May to early September. A ticket will run you $14 for adults, $10 for kids 6-11, and free for kids under 6.
Enjoy being carried up the summit of Prospector Mountain. Once there, you can hike the trail, check out the fun gift shop, or stop for an excellent cup of coffee. Plus, the photo ops are phenomenal!
You might want to get there early though because sometimes it can be a bit of wait to get on the Tramway (although a well worth-it one!). You'll definitely want to put this on your list of what to do in Estes Park!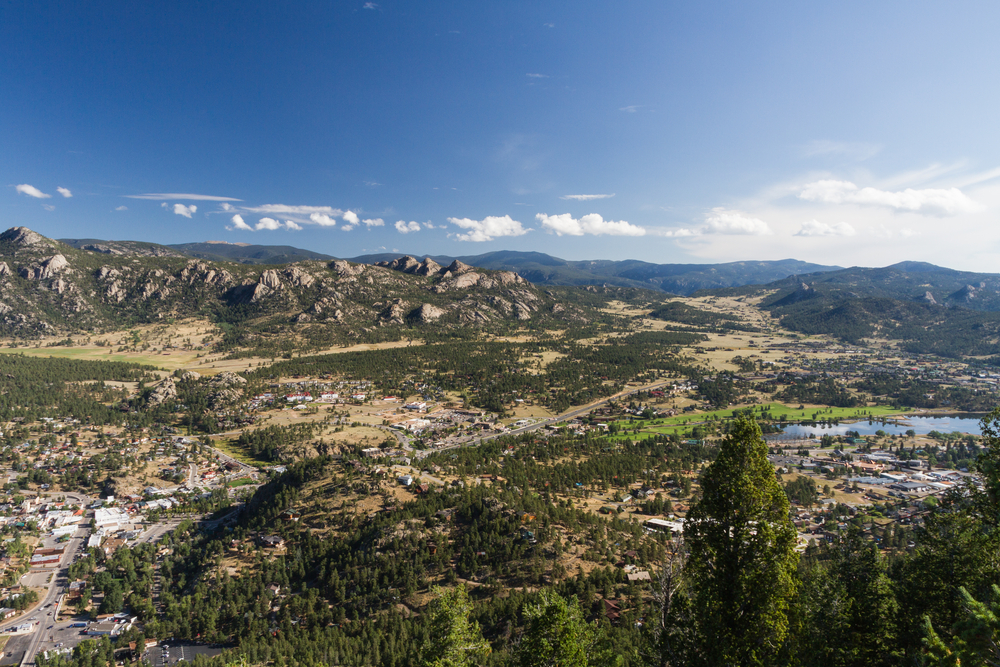 Open Air Adventure Park
If you're looking for a little physical exertion for yourself and your travel companions, give the Open Air Adventure Park a try. With 32 courses to participate in, it is one of the coolest things to do in Estes Park, Colorado.
Be prepared to be hosted into the air and challenged like never before, including with tight ropes, rope bridges, and swinging logs. The park is open in spring and summer as well as for extended fall weekends. It costs $29 for kids and $39 for everyone else.
If aerial adventure isn't your cup of tea, feel like a real life Viking with ax throwing. That's right! You can rent an ax throwing lane for $25 and share it with up to 3 other people.
The park is open rain or shine, but make sure to closely read the safety guidelines before going, which include tying long hair back, wearing pants of any sort, and no open toe shoe!
Peak to Peak Scenic Byway
If you want to take in some of the best views that Colorado has to offer, you won't want to miss to the Peak to Peak Scenic Byway! Created in 1918, the Byway starts in Estes Park and heads south for 55 miles, ending next to Denver.
If you're planning to start in Estes Park, go to Denver, and return back to Estes, plan for a 3-4 hour drive. You'll want to take your time with this drive though because there are so many great places to stop along the way.
The Byway passes through some awesome mountain towns like Nederland (known for its popular hikes), Black Hawk (a top gambling spot), and Central City (famous for its historical stops like the Central City Opera House).
We especially recommend this Estes Park attraction during the fall. The changing leaves are out of this world beautiful!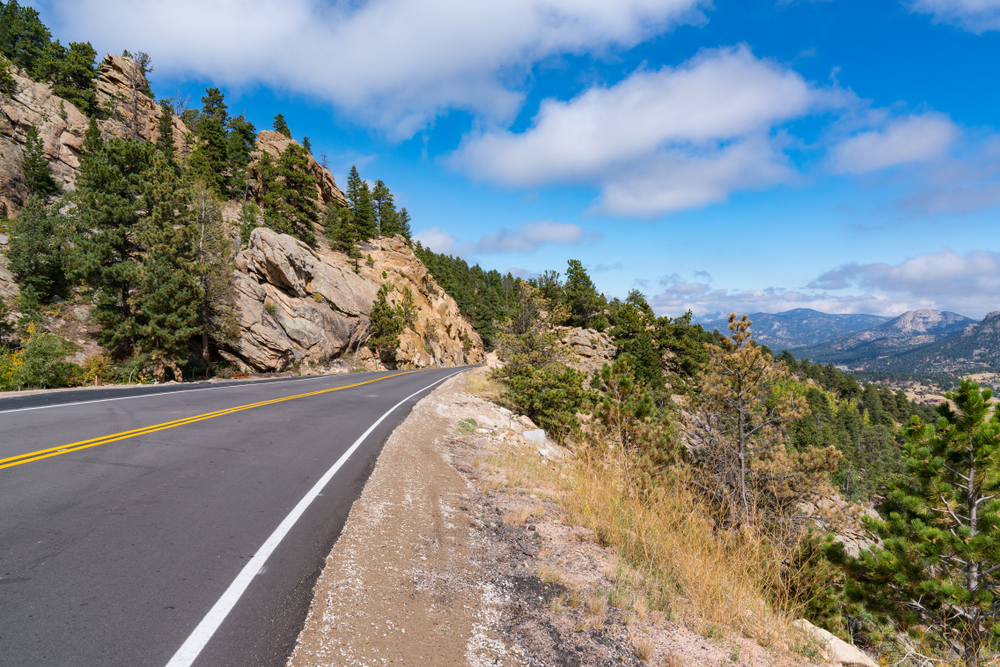 Lake Estes Marina
Have some fun in the sun at the Lake Estes Marina. Majestic mountains surround this lake, making for some incredible scenery.
The Marina is open from May to early October and rents out all sorts of lake equipment, like kayaks, canoes, and paddle boards. There is no swimming in the lake because of how cold it is, but visitors are allowed to get in at designated spots. Are you a fishing fan? You can buy a license on sight and rent out fishing equipment like rods and reels.
Around the lake is a 3.75 mile loop where you can go walking or biking, and you can even rent a bike if you don't want to haul your own! Bring a picnic while you're at it! There's plenty of tables to sit at.
You might even catch a glimpse at a bald eagle and other rare birds which are known to flock to Lake Estes, earning it its titles as one of the best things to do in Estes Park!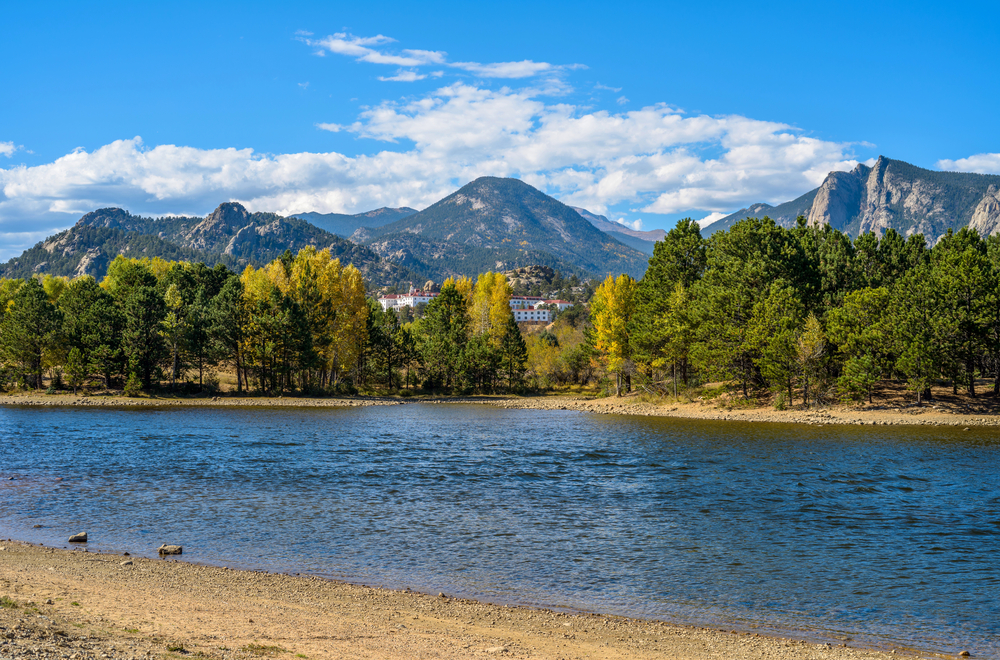 Estes Park Memorial Observatory
Spend an extraordinary evening stargazing at the Estes Park Memorial Observatory.
The Observatory offers great lectures about all things astronomy. Knowledgeable and friendly guides are eager to help you understand the stars, and you can book private or group sessions. Take a peek through their cool telescope to see if you can spot your favorite galaxies!
If you do visit, make sure to dress accordingly because the tours often start inside and continue in the beautiful outdoors. You'll also want to book your visit ahead of time. This experience is completely free, although donations are appreciated. This is definitely one of the top things to do in Estes Park with kids!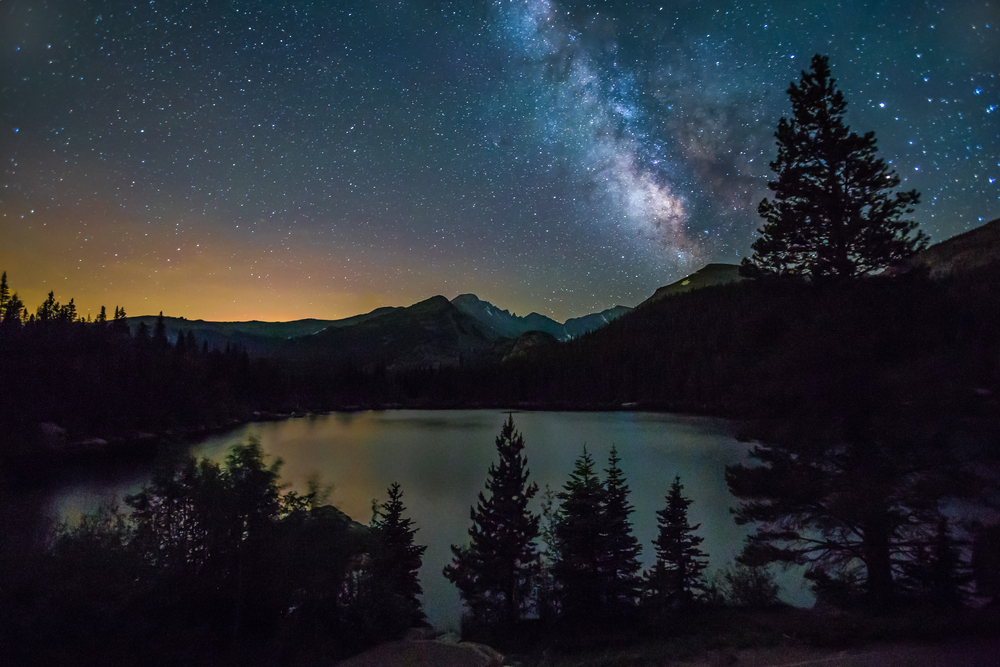 Rock Climbing
Estes Park is known world wide for its rocking climbing, a legacy which began almost as soon as the city was founded. Novice and experienced climbers alike will find plenty to enjoy in this diverse terrain. If you're not from the area, make sure to rest up and let yourself acclimate to the altitude before trying to climb.
Lumpy Ridge is the most popular spot with a variety of climbs from beginners to more advanced. For more of a challenge, try bouldering at the easy to get to Emerald Lake.
If you're interested in rock climbing, but need a lesson first, Kent Mountain Adventure Center and Estes Park Rock Climbing are two great places to start!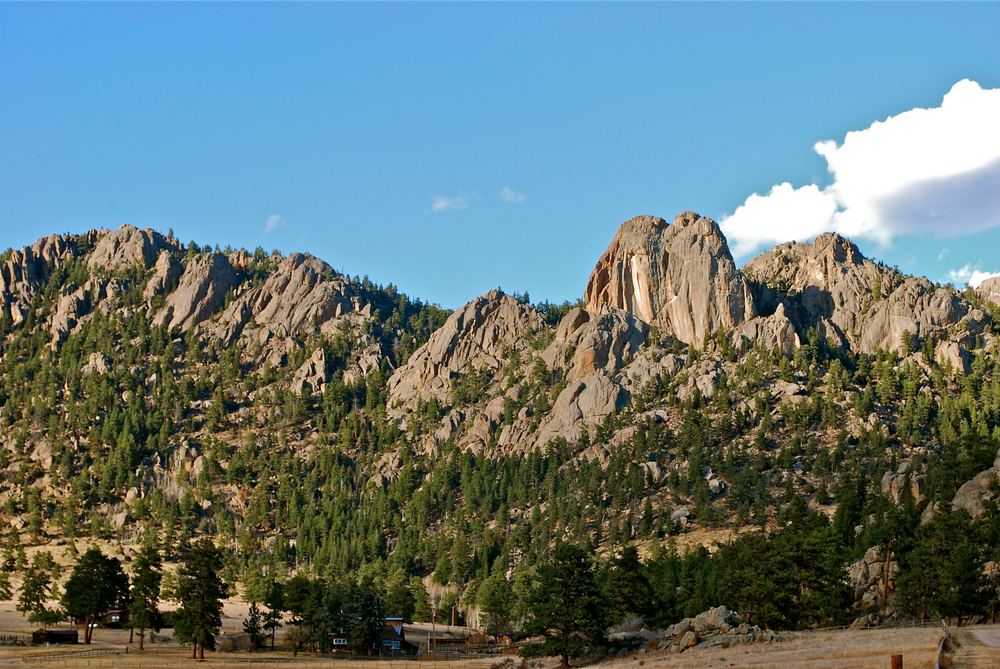 We hope you've enjoyed our guide to the coolest things to do in Estes Park. No matter what you choose to do in this quaint mountain town, we know you'll have a wonderful trip. Happy travels!