Looking for the best Colorado weekend getaways? We're here to help make the process easier with this list that includes the best ski slopes, charming mountain towns, and historic sites.
From snowshoeing in Boulder and hiking Pikes Peak in Colorado Springs to exploring the beauty of Rocky Mountain National Park and kayaking on Grand Lake, Colorado is an outdoor lover's paradise.
The beauty of the snowcapped Rocky Mountains and the reflections in the alpine lakes will have you falling in love with the state in a heartbeat. So pack your bags, pick your favorite of these 12 Colorado weekend trips and get ready for an adventurous vacation you won't soon forget.
Save money on your trip to Colorado! Get a FREE $55 Airbnb coupon by using our code when you book! 
12 Fabulous Weekend Getaways In Colorado
Get Your Heart Pumping On The Iconic Flatirons in Boulder
With its convenient proximity to the state's capital and outdoor beauty, Boulder ranks among the top weekend trips from Denver.
Adventure enthusiasts will quickly fall in love with the city, and the great news is it's appealing at all times of the year. There are activities for every season from hiking to snowshoeing, and the natural beauty never fails to impress whether you're greeted with blooming wildflowers or snow-sprinkled peaks.
Boulder has an extensive collection of fantastic hiking trails, however we suggest starting with the Flatirons, an iconic Boulder landmark and a beautiful hike. The Flatirons are easily recognizable with their jagged peaks.
Though hiking the first two Flatirons is only a 2.5-mile round trip hike, the hike will get your blood pumping on the moderate to difficult trail that is particularly tricky to navigate in the winter when slippery ice coats the trail.
Your efforts will be rewarded at the top however. And if you're a particularly adventurous rock climber you might try rock climbing up the 3rd Flatiron as well.
This hike begins in Chautauqua Park, the starting point for a number of different hikes including the hike to the Royal Arch that follows the Bluebell Road Trail to the Royal Arch Trail.
When you've worked up a sufficient appetite post-hike you have plenty of great food options to choose from. Some favorites include the Czech Republic inspired Bohemian Biergarten for those in a sausage, schnitzel, and beer kind of mood, and the delicious tapas menu from The Med.
Beyond the satisfying food and natural beauty of the area, Boulder is a hip college town home to the University of Colorado Boulder. A stroll down the four-block Pearl Street Mall in the heart of downtown is always a favorite activity as well.
Where to stay in Boulder: 
Mid-range/Luxury: Hotel Boulderado. Check rates: Booking.com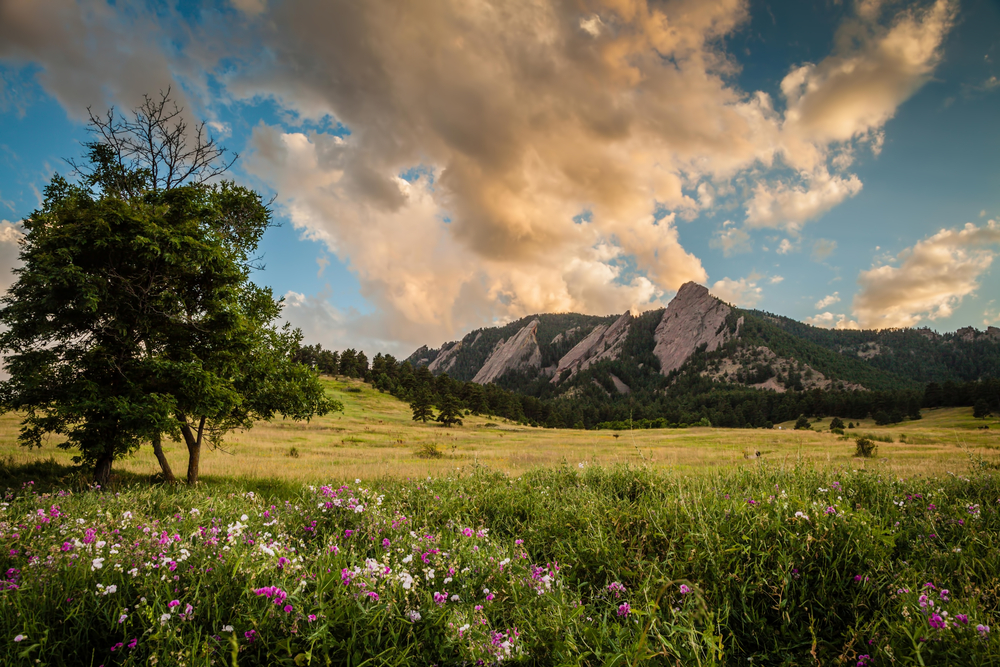 Learn About the Mining And Railroad History Of Durango
Durango, Colorado is a Southwest gem located near the Four Corners area where Arizona, New Mexico, Utah, and Colorado meet. With rugged mountains, a rich history (and the ancient ruins of Mesa Verde roughly 40 minutes away), hiking, skiing, and so much more to offer, Durango is one of the most underrated weekend getaways in Colorado.
If you're sticking around town you'll want to spend time in downtown Durango, a National Registered Historic District with rich mining and railroad history. The historic downtown is the heartbeat of the city with museums, brewpubs, restaurants, art galleries, and events throughout the year.
You can even book a ticket aboard the historic Durango & Silverton Narrow Gauge Railroad Train that's been in operation since 1882. You'll have 2 hours and 15 minutes in Silverton to shop and explore before returning to Durango.
Adventurous lovers of the outdoors will have no shortage of things to do from white water rafting down the Animas River to a visit to the Pinkerton Hot Springs. And though the name sounds daunting, you're sure to have a blast riding the Inferno Mountain Coaster or the Alpine Slide in the summer or skiing in the winter at the Purgatory Ski Resort.
Just a short drive outside of Durango you'll find Mesa Verde, a national park and UNESCO World Heritage Site. A visit to this site is a fascinating glimpse into the lives of the Ancestral Pueblo People.
You'll find roughly 600 cliff dwellings and 5,000 archeological sites within Mesa Verde, many of which are remarkably well preserved. Be sure to take a tour of Cliff Palace, the park's largest cliff dwelling, and take a drive around the Mesa Top Loop to hit many of the parks highlights.
So grab a locally brewed beer at the Animas Brewing Company after a thrilling zip line tour and settle into this charming Old West town.
Where to stay in Durango:
Mid-range/Luxury: General Palmer Hotel. Check rates: Booking.com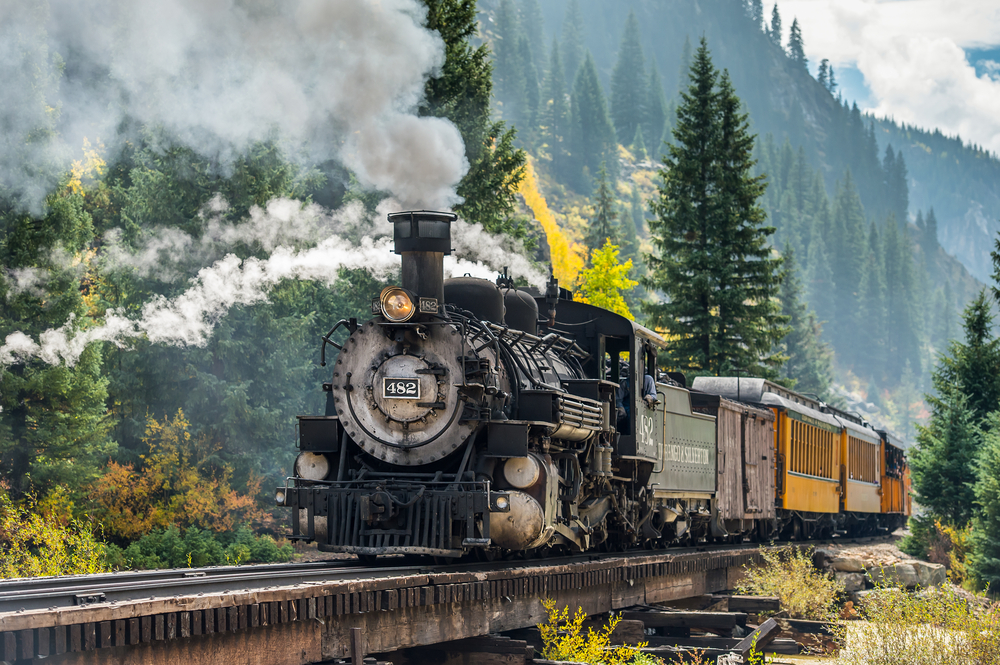 Marvel At The Beauty Of The Maroon Bells In Aspen
The small mountain town of Aspen is one of the best Colorado weekend getaways for avid skiers.
Aspen is home to some of Colorado's best ski areas including Snowmass Ski Resort, Aspen Mountain, Aspen Highlands, and Buttermilk. Buttermilk is a particularly great option for beginners and children and the other three will give you the thrill of a lifetime with steep mountain slopes and impressive views.
When you're done on the slopes and are looking for a nice warm place to thaw out, we suggest heading to Glenwood Springs (roughly 50 minutes away) to relax in the Glenwood Hot Springs pool at the Glenwood Hot Springs Resort, the Iron Mountain Hot Springs along the Colorado River, or the Yampah Vapor Caves where you can experience the mineral-rich steam inside an underground cavern. All three experiences are incredibly relaxing and are the perfect contrast to being outside all day in the snow.
Aspen's appeal as one of the best vacation spots in Colorado goes far beyond its ski fame. When visiting in the summer and fall we definitely suggest visiting the Maroon Bells Scenic Area with its towering peaks and reflective lakes.
Unsurprisingly the Maroon Bells are incredibly popular and frequently photographed. As part of the Rocky Mountains, the Maroon Bells along with the surrounding landscape combine to produce the most idyllic scenery.
The area offers a number of hikes of varying difficulty levels to allow you to fully soak in the beauty of the area.
For more outdoor summer activities you can raft or kayak on the Roaring Fork River and get your heart pumping on the rapids while taking in the picturesque views. To soak in more amazing views we suggest taking the Silver Queen Gondola to the top of Aspen Mountain to enjoy the world from above.
Where to stay in Aspen:
Luxury: Hotel Jerome. Check rates: Booking.com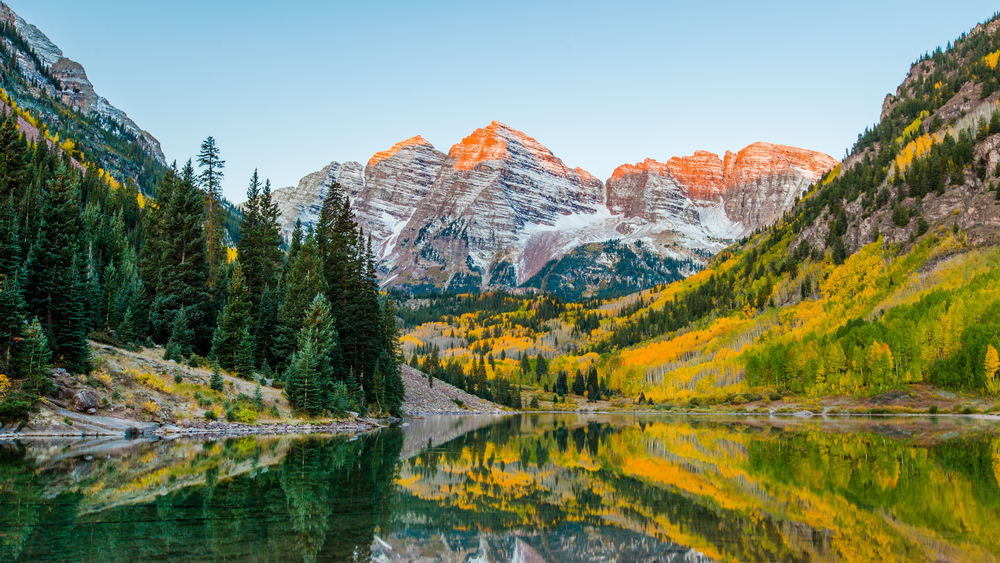 Hike The Picturesque Trails Of Rocky Mountain National Park While Visiting Estes Park
Colorado weekend getaways to Estes Park will leave you breathless as you experience some of the state's most draw-dropping landscapes (and that's a high bar in a state like Colorado).
Rocky Mountain National Park, one of the nation's most popular national parks, is located within Estes Park. The landscape of the park is idyllic with beautiful reflective lakes, towering mountains, pine forests, waterfalls, and summer wildflowers, and if you're lucky you'll spot wandering elk, bighorn sheep, or moose.
Be sure to bring your hiking boots along to maximize your experience in the park. We suggest tackling the Bluebird Lake hike, the Gem Lake Trail hike, or the Bear Lake Trailhead to Emerald Lake hike for some of the best views in the park.
The Glacier Gorge area is another highlight of Rocky Mountain National Park. Hikes of differing difficulty levels will take you to Alberta Falls, Mills Lake, Sky Pond, and more.
If you're interested in taking advantage of the dark skies in the area and highly knowledgeable volunteers, we suggest stopping at the Estes Park Memorial Observatory for a visit. Taking a tour of the observatory, looking through the telescope, and attending a classroom lecture are great activities perfect for both adults and children.
The Stanley Hotel, listed on the National Register of Historic Places, is an interesting stop for a slice of history. Though you can stay overnight at this historic hotel surrounded by the beauty of Estes Park, you can also attend a day or night tour to hear about the stories and people associated with the hotel and the inspiration it provided for Stephen King's The Shining.
Estes Park also has its own rafting company called Rapid Transit Rafting, where you'll want to take advantage of the thrilling white water rapids. What better way to cap off your vacation than with a full day trip on the Upper Colorado River or a half-day trip on the Cache la Poudre River.
Where to stay in Estes Park:
Mid-range/Luxury: Hotel Boulder Brook on Fall River. Check rates: Booking.com
https://www.booking.com/hotel/us/boulder-brook-on-fall-river.en.html?aid=1332439&no_rooms=1&group_adults=2
Enjoy The Food Trucks, Red Rocks and Street Art In Denver
If you're looking for Colorado weekend getaways that offer a little bit of everything, look no farther than Denver. With the Rocky Mountains in your sights and an abundance of sunshine all year long, you can't help but fall in love with this city.
The Mile High City has something for everyone from great sports and exceptional food to unique street art and concerts. On top of that, you're never too far from a hiking trail. There are also so many amazing Airbnbs in Denver that you can stay at!
Stopping for lunch at an indoor food truck is a big part of the Denver lifestyle. There are plenty of great options including Avanti in the Lower Highlands where a little slice of Venezuelan paradise awaits you at Quiero Arepas, and The Source in the RiNo district. And of course, ice cream makes everything better, so head over to Sweet Cow Ice Cream for Denver's best.
Beer enthusiasts will feel right at home in the capital with roughly 150 breweries located around the city. Some of the breweries also offer trivia nights or live music so you can spice up your beer sampling and make an evening out of it.
If you have the chance to catch a concert or a movie at Denver's Red Rocks Amphitheater, we highly recommend it. There's nothing quite like belting the lyrics of a song sung by your favorite artist surrounded by picturesque red rocks under the Denver night sky.
Even if you're not able to catch a concert, the amphitheater is still worth a stop whether it's to go hiking or biking on the surrounding trails or to work out on the stadium steps either on your own or as part of a Yoga on the Rocks class.
Union Station is another great stop perfect for doing a little shopping in the boutiques and bookstore, grabbing a nice lunch, or just kicking back and enjoying a little people watching. Union Station and its hustle and bustle that comes from being a major transportation hub is part of what makes Denver a vibrant, happening city.
Where to stay in Denver:
Mid-range/Luxury: Hotel Grand Hyatt. Check rates: Booking.com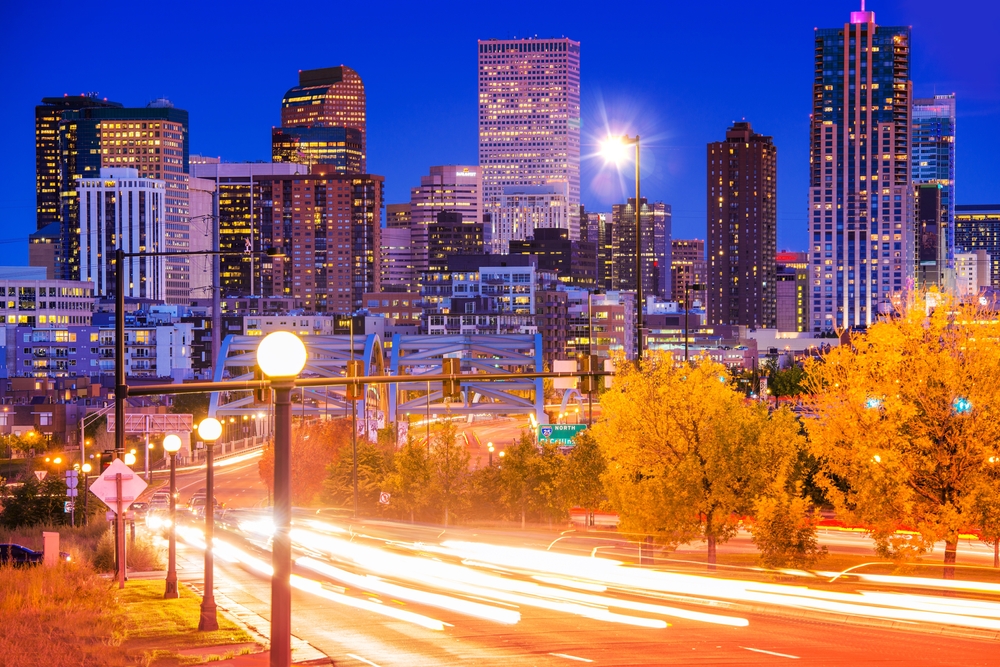 Ski The World Famous Slopes In Telluride
Telluride is easily one of the best vacation spots in Colorado at any time of year. This former mining town, tucked away in a box canyon in the San Juan Mountains, is known for its ski resort but also offers plenty of activities and outdoor beauty in the summer.
Telluride's Ski Resort isn't just one of the best ski locations in Colorado, it's one of the best in the world. For ski fanatics, this is the place to be. Across 2,000 skiable acres, you can enjoy skiing and snowboarding in the Colorado sunshine.
Beyond the unmatched ski opportunities, the historic downtown is a great stop for boutique shopping, art galleries, and great food. While downtown you'll also want to visit the Telluride Historical Museum to learn about the town's mining and ski history as well as information on the Ute Tribe and their occupancy of the Telluride Valley.
Like the other towns and cities on this list, Telluride has its own impressive natural beauty beginning with a hike to Bridal Veil Falls, Colorado's highest free-falling waterfall. If you're still hungry for more waterfalls when that hike is complete, go ahead and lace up your boots for another 4.5-mile round trip hike to Bear Creek Falls.
For some of the best views, we suggest taking the 13-minute free gondola ride from Telluride to Mountain Village. Soak it all in as you climb higher and higher over the San Sophia Ridge until the ride hits its peak at Station St. Sophia.
You can bring your camera along and ride the gondola just for fun snapping pictures along the way or you can ride with a specific destination in mind such as Allred's Restaurant at the mountaintop.
For more history and delicious food join Telluride locals Lois and Howie Stern on the Tasting Telluride Food Tour. Good times are sure to ensue with entertaining hosts and top-notch restaurants.
Where to stay in Telluride:
Luxury: Madeline Hotel and Residences. Check rates: Booking.com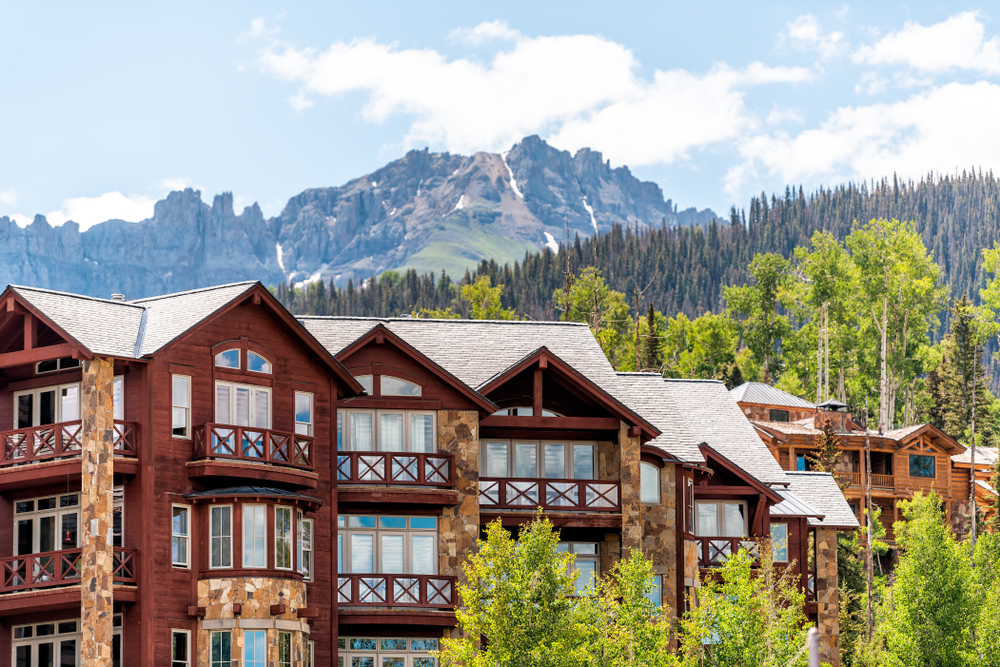 Admire North America's Highest Elevation Botanical Garden in Vail
Vail is one of the world's top ski and snowboarding locations, yet it offers so much more than just an epic day on the slopes. Whether you're ice-skating in Vail Village or relaxing at the Sonnenalp Spa, Vail is among the most romantic getaways in Colorado.
The Betty Ford Alpine Gardens is a highlight of the small ski town. This beautiful botanical garden in the Rocky Mountains holds the title of North America's highest elevation botanical garden.
The Alpine Gardens display alpine and mountain plants from around the world including local plants from the Rocky Mountains. Workshops, tours, and yoga among other activities are offered in the garden as well as a children's garden and children's programs.
Vail is heaven for avid hikers with hiking trails ranging in difficulty level throughout the town. You can also hike Vail Mountain, the same mountain that skiers and snowboarders take to in the winter.
Depending on the hike you choose, you'll either hike from the base of the mountain or take the gondola up partway and begin the hike from there. No matter which trail you choose, the scenery will take your breath away as you climb higher and higher.
And of course this list of Vail activities wouldn't be complete without a mention of the world-class Vail Ski Resort. Whether you're a skilled skier tackling Vail's famous back bowls or are a beginner still learning at the ski school, a day at one of the largest single mountain ski resorts in the country is sure to leave you exhausted but out of this world happy.
For summer fun, the resort's Epic Discovery is the place to be where you can engage in any number of thrilling activities including adult adventure courses, zip lining, and tubing. The town may be small, but it packs quite a punch!
Where to stay in Vail:
Mid-range/Luxury: Sonnenalp. Check rates: Booking.com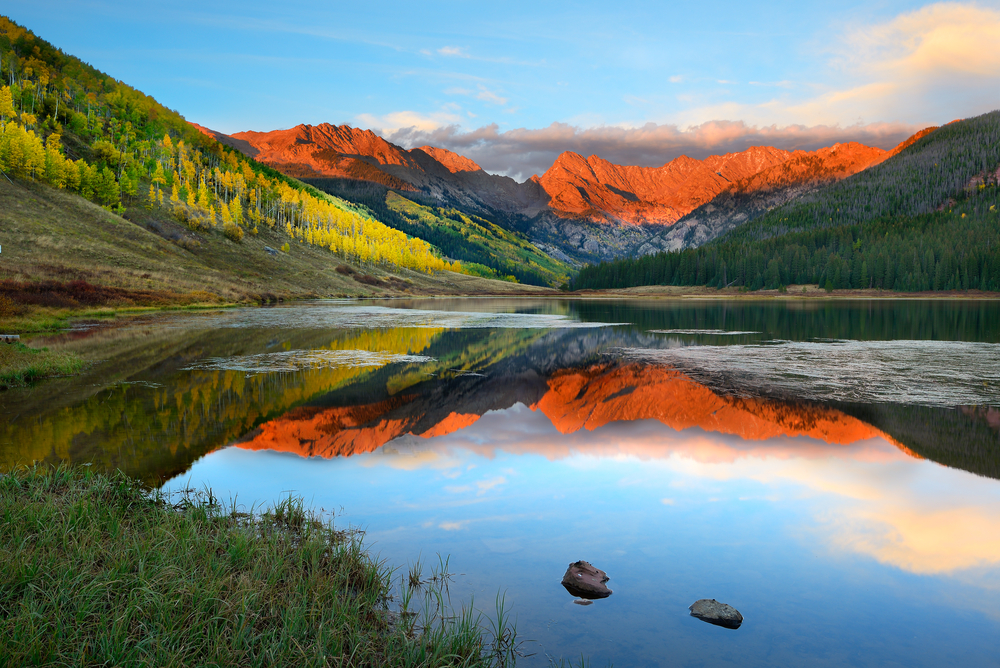 Kayak And Paddle Board On The Mountain Encircled Grand Lake
Welcome to the western gateway to Rocky Mountain National Park. If you're determined to experience the beauty of this national park, Grand Lake and Estes Park are easily the best Colorado weekend getaways for making that happen.
Grand Lake is the less popular of the two entrances given that it's only open to the park for less than half the year. But if you're visiting Grand Lake from summer to early fall, you'll definitely want to head into the quieter side of the park to take advantage of the jaw-dropping mountain and lake views and excellent hiking trails.
Adams Falls is among the hikes we suggest trying. This popular trail is only .6 miles, is very kid-friendly, and takes you to a beautiful set of falls streaming past a wall of boulders.
The town of Grand Lake has far more to offer than just the national park however, starting with the lake itself. If you head to the marina you can rent a number of different boats including kayaks and paddleboards to venture out and explore the beautiful mountain encircled lake on your own terms.
Restaurants, ice cream, gift shops, coffee shops, galleries, and more can all be found on the Grand Lake Boardwalk on Grand Avenue. Stroll the historic boardwalk, buy tickets for a professional theatre production at Rocky Mountain Repertory Theatre, or head down to the sandy beach by the lake.
Though it's a two-hour drive away, Grand Lake is among the favorite weekend getaways from Denver for visitors and locals alike with its alpine lake, surrounding mountains, and Wild West feel along the boardwalk.
Where to stay in Grand Lake:
Mid-range: Grand View Mountain Lodge. Check rates: Booking.com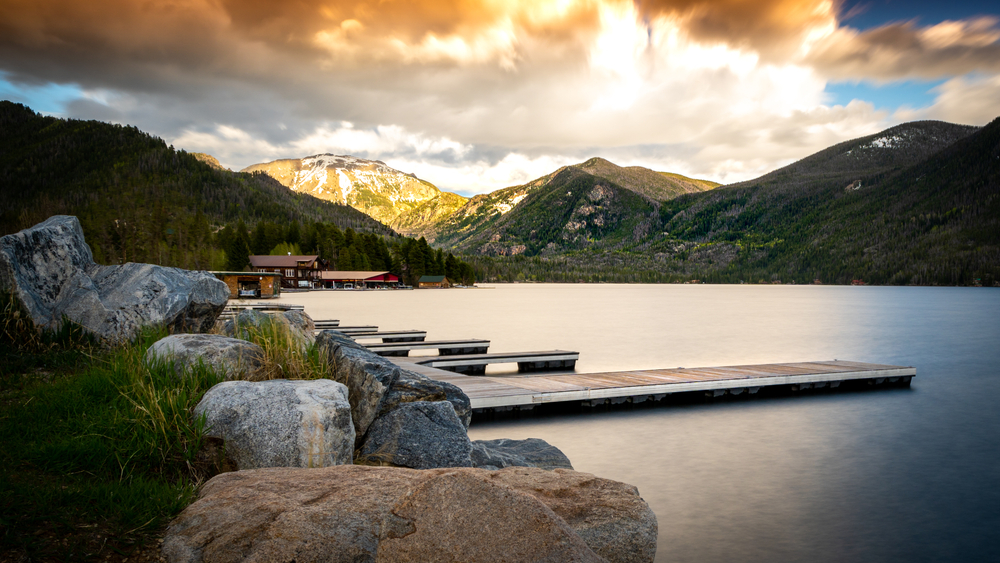 Ski On The Famous Champagne Power Snow In Steamboat Springs
From sledding and ice-skating to hot springs and art, Steamboat Springs is one of those Colorado weekend getaways that has it all.
A $5 day-use fee and ¼ mile of easy hiking will take you to the base of Fish Creek Falls. For those wishing to get in a slightly more challenging hike, you can continue on to Upper Falls or even further to Long Lake.
This postcard-worthy waterfall is wildly popular so you may have to battle the crowds to see it, but the natural beauty is worth your time whether it's in the lush green forests of summer or the frozen wonderland of winter.
Relaxing in local hot springs in the winter is always a welcome activity particularly when the landscape is draped with the famous Champagne Powder Snow (dry, light snow great for skiing) that is characteristic of Steamboat Springs. The Strawberry Park Hot Springs are next to a flowing creek that is used to help cool down the water temperature.
For year-round fun on a working cattle ranch that is perfect for families, head to Saddleback Ranch. You can pay for a number of different activities including cattle drives, horseback rides, and wagon rides in the summer and snowmobile tours, tubing, and sleigh rides in the winter.
And of course the top-notch ski opportunities are not to be missed during your trip either. As we mentioned before, Steamboat Springs is known for its Champagne Powder that is particularly sublime for skiing.
Steamboat Ski Resort is the ultimate skiing location great for a day on the slopes capped off with hot chocolate and Champagne Powder donuts. For smaller hills and great ski jumping you can head to the Howelsen Hill Ski Area, a ski area well known for being a training ground for Olympic athletes.
Where to stay in Steamboat Springs:
Affordable/Mid-range: Homewood Suites. Check rates: Booking.com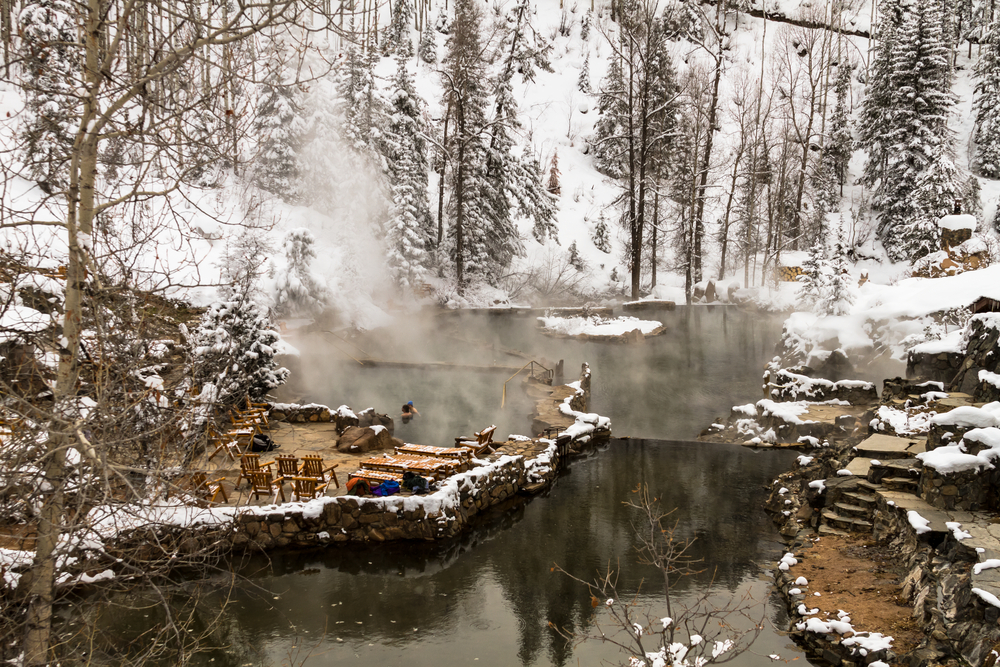 Hike The Mountain That Inspired "America The Beautiful" In Colorado Springs
Colorado Springs is home to an Olympic Training Center, the US Air Force Academy, and Pikes Peak, just a sample of what ranks it among the best weekend trips from Denver.
Pikes Peak is not just a 14,115-foot summit in the Rocky Mountains, it is the summit that inspired Katharine Lee Bates to write the poem that is now the song "America The Beautiful." That kind of inspirational beauty is worth visiting in person.
There are two trails you can choose from to summit Pikes Peak. The first, and most popular is the Barr Trail that ends up being around 26 miles round trip and can be completed in a single day by the fittest and most experienced of hikers or broken up into two days by camping overnight partway through.
The other shorter option is the Crags Trail that is 13.6 miles round trip. Though both of these routes are strenuous, the effort is well worth the reward, and summiting Pikes Peak should be on every avid hiker's bucket list.
Pikes Peak is only the beginning of Colorado Springs' outdoor appeal that helps rank it among the top Colorado weekend getaways. Garden of the Gods Park is a National Natural Landmark you'll want to visit for its geological history and eye-catching red rocks.
This natural wonder is perfect for adults and kids and it's free to enter! Learn more about the park's history and formation at the visitor's center and then head outside to hike, bike, or ride horses through the picturesque landscape.
As the one Colorado waterfall on National Geographic's international waterfalls list, Seven Falls (located less than 1 mile away from the luxury Broadmoor Resort) is definitely worth a stop as well during your trip to Colorado Springs. A 224-step staircase will take you to the top of the falls and if you stay until the sun goes down in the summer you can see the falls lit up with multi-colored lights.
Where to stay in Colorado Springs:
Luxury: Garden of the Gods Club & Resort. Check rates: Booking.com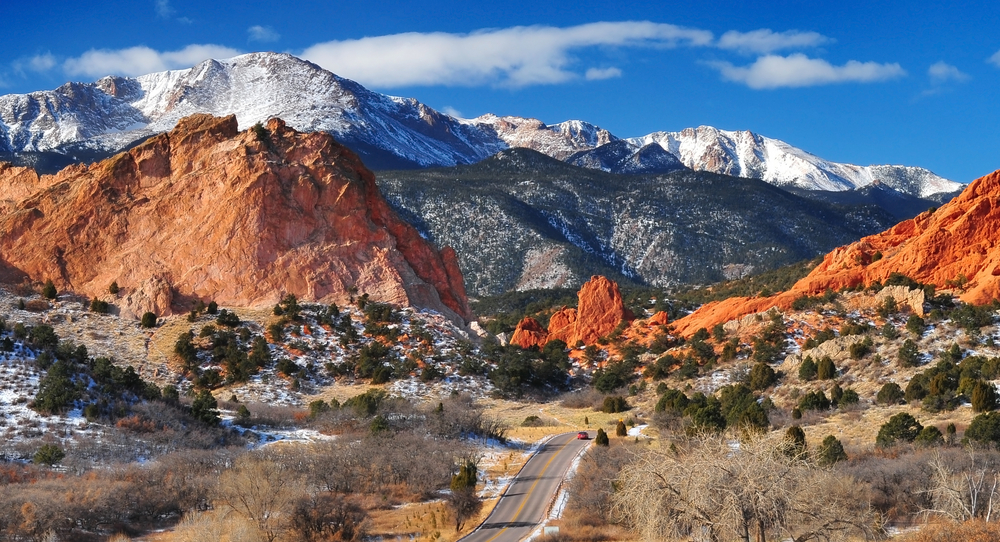 Ride On A Siberian Husky Pulled Sled In Breckenridge
Colorado weekend getaways to Breckenridge will have you soaking in the charm of this beautiful mountain town.
Breckenridge is another one of Colorado's popular ski towns. An abundance of snowfall and great slopes at the Breckenridge Ski Resort make the ski area a favorite for locals and visitors alike.
For a thrilling adventure, head to Good Times Adventure to be pulled on a sled across the sparkling snow by a team of Siberian Huskies. The adorable dogs and Rocky Mountain scenery make for a remarkably unique and memorable Breckenridge experience.
The Breckenridge Nordic Center offers some of the best cross country skiing and snowshoeing opportunities as well as group or private lessons for inexperienced skiers. You can explore the extensive set of trails on your own or take part in guided adventures.
If you're visiting in the summer and are looking for great activities for kids, the Peak 8 Fun Park is the place to go. A bounce house, alpine slide, bungee trampoline, and maze are just a handful of activities available.
For a relaxing evening after all of these outdoor activities, take a stroll through the Breckenridge Main Street and experience the Wild West feel of the historic mining town. Stop into the shops before grabbing dinner to finish off your trip to one of the best vacation spots in Colorado.
Where to stay in Breckenridge:
Mid-range/Luxury: Marriott's Mountain Valley Lodge. Check rates: Booking.com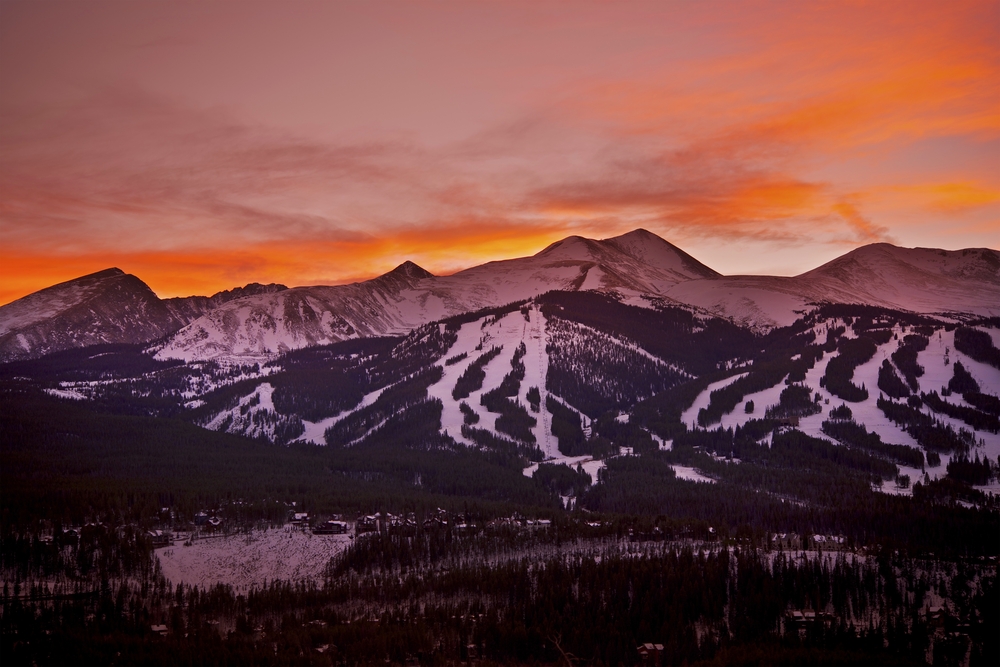 Relax In The Mineral Rich Hot Springs Of Glenwood Springs
Searching for Colorado weekend getaways with smaller tourist populations, remarkable natural beauty, and world-famous hot springs? Look no further than Glenwood Springs.
Be sure to secure a permit to visit Hanging Lake, one of Glenwood Springs' most popular tourist destinations. The steep hike to the lake can be difficult, but it's under a mile and well worth the effort for the enchanting green water and lacy, trickling waterfall you'll enjoy at the end.
If you're an avid biker you'll have the time of your life biking the Rio Grande Trail along the Roaring Fork River, gripping your brakes on the heart pumping downhills of the Boy Scout Trail, or heading into the White River National Forest on the Transfer Trail.
For a collection of family-friendly outdoor activities all in one place, visit the Glenwood Caverns, Adventure Park. Be sure to tour the caverns with their stalactites and stalagmites followed by rides on the Alpine Coaster, the Cliffhanger Roller Coaster, and the Giant Canyon Swing.
Though Glenwood Springs doesn't have world-famous ski slopes like Aspen, Vail, or Telluride, the Sunlight Mountain Ski Resort will still give you a thrilling (and less expensive) ski experience. So bring the family for some fun under the Colorado sun, and ski for as long as you want without worrying about long lines.
To wind down your day you can relax in 16 mineral-rich geothermal pools at The Iron Mountain Hot Springs right alongside the Colorado River with the Rocky Mountains providing a spectacular backdrop. You also have the option of relaxing in the world's largest hot springs pool at the Glenwood Hot Springs.
Where to stay in Glenwood Springs:
Affordable: Hanging Lake Inn. Check rates: Booking.com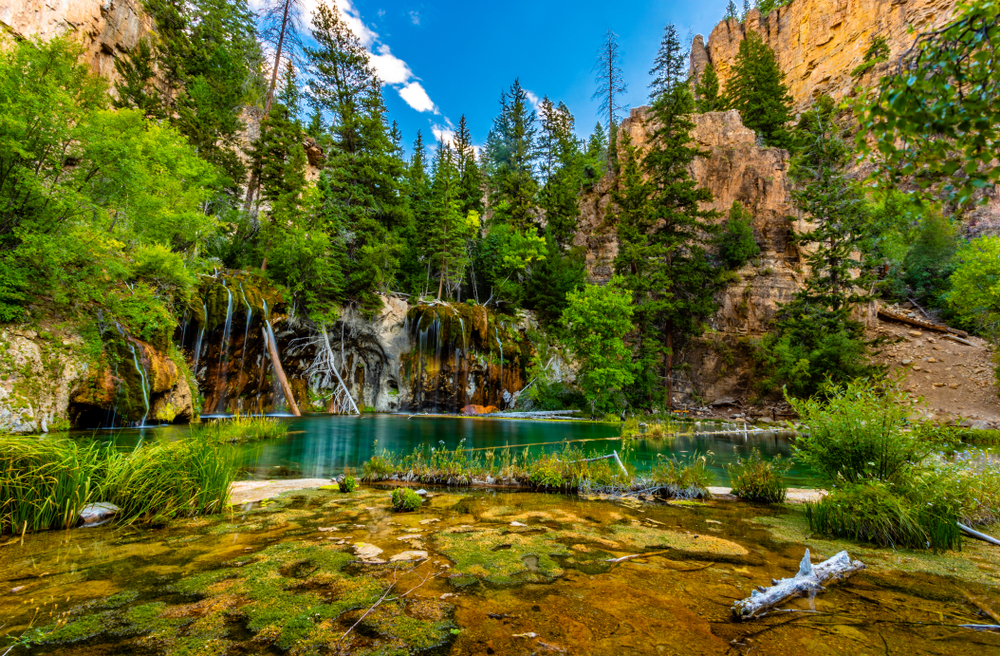 Colorado weekend getaways are always adventurous and memorable, from dog sledding in Breckenridge to skiing in Vail. It's hard to go wrong when vacationing among Colorado's natural beauty.
If you have any questions or comments as you plan your Colorado trip, feel free to let us know!