Looking for the best Airbnb in Ireland for your next trip to the Emerald Isle? We're here to help you out with these suggestions!
There's a reason tourists flock to Ireland consistently: with stunning views of rolling lands, rich history, lovely locals, and more beautiful landscapes, it's hard not to enjoy your time in this gorgeous country, especially if you are taking an Ireland Road Trip! 
You'll find one of a kind hole-in-the-wall pubs, breathtaking cliffs, stretches of green, the best fish and chips around, and more when visiting Ireland! The only thing that could make your trip even more memorable is finding an ideal Ireland Airbnb.
Airbnbs can be a great option when traveling as they allow you to stay in accommodations more unique to the area as opposed to setting up camp in a generic hotel room. They also allow you to connect with locals, and in most cases, are kinder on your wallets!
So go ahead and take a look through our list of unique suggestions and find the best Airbnb in Ireland for you!
Save money on your trip! Get a FREE $55 Airbnb coupon by using our code when you book!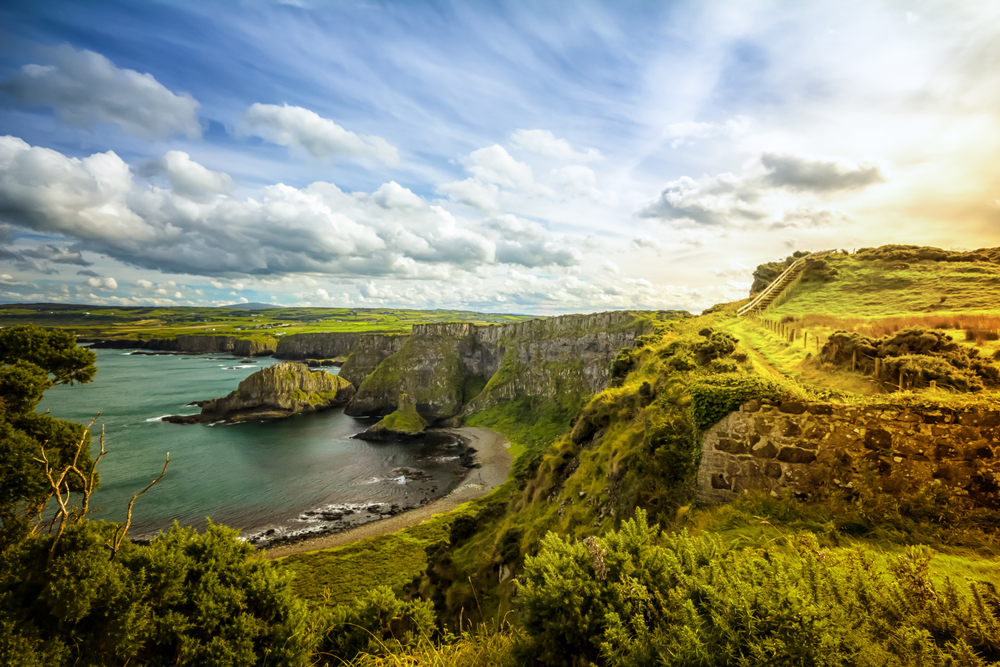 17 Best Airbnbs in Ireland (Cottages, Floating Pods & More)
1. Pine Shepherds Hut (2-Man Wagon)
If you're looking for a unique Airbnb in Ireland, this is one of the best ones around! This beautifully crafted Shepherd's Hut was once a wagon on wheels that were used by shepherds but now has been renovated in Winter Pine for a glamping experience.
The hut itself has its own stove so you can stay warm and make your own fires, and a queen-size bed. The glamping facilities also feature a kitchen area and dining area as well as a shower block, hot-tub, and clay oven pizza.
Those who rent here have easy check-in and check out, full access to the main fields around the farmland, and are close to the Boyne Ramparts Walk so you can explore! It is also pet friendly and overall is a unique Ireland Airbnb because who wouldn't want to camp in the rolling farms of the Emerald Isle?
Click Here to Check Rates on Airbnb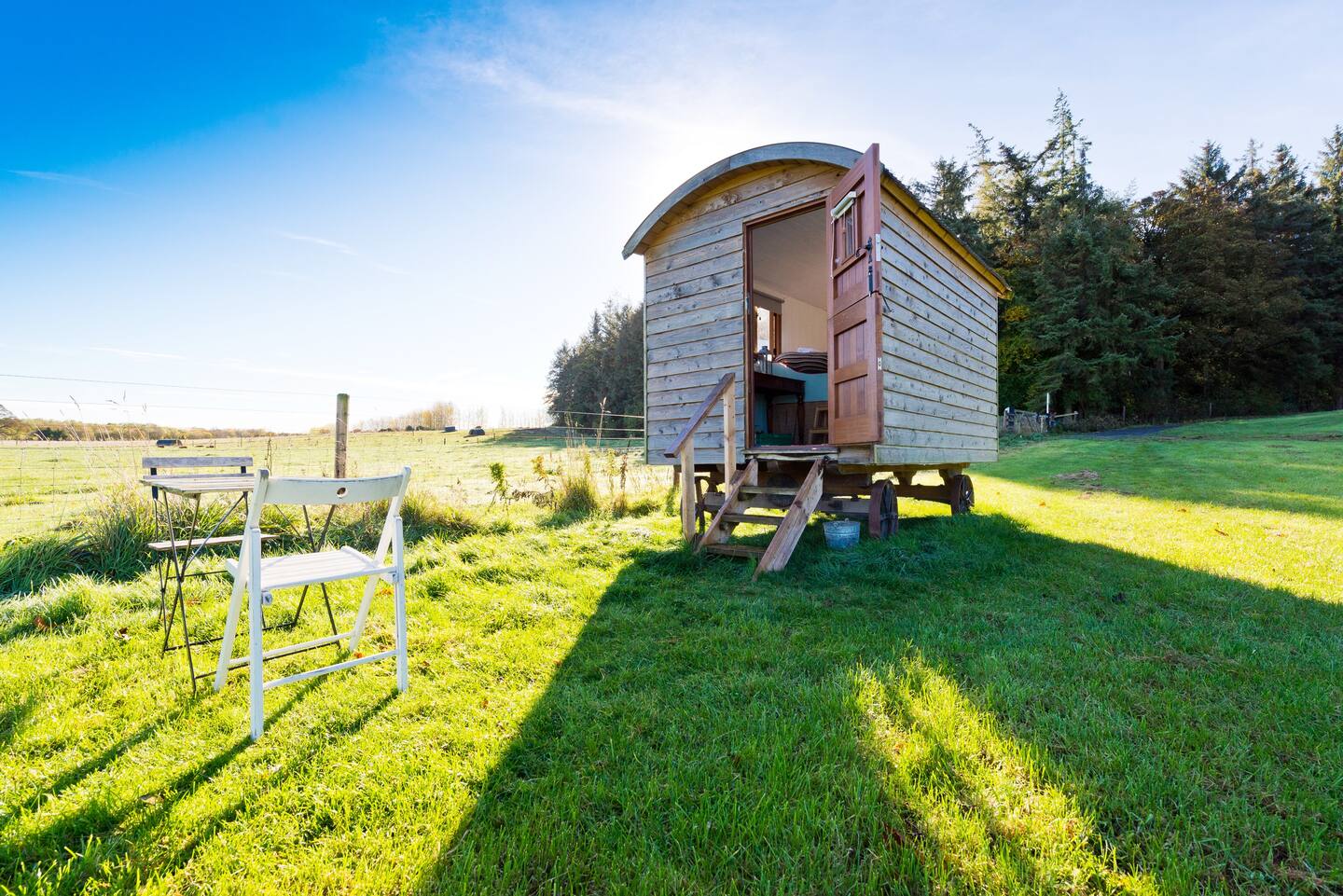 2. A Restored 200 Year Old Church
Bookeen Hall is a 200-year-old church that is only 20 minutes away from Galway and is close to the iconic Cliffs of Moher, The Burren, and Connemara. Better yet? It is now an Airbnb in Ireland!
This church Airbnb offers a private room with a king-size bed and a single bed as well as a private bathroom, accommodating up to 5 people. This space is a protected national monument that was once used for services by the Church of Ireland.
Today you can marvel at the stone, rectangular hall, gothic windows, and bell tower when settling in for the night. You can enjoy a continental breakfast each morning and the bright, open interiors at this Ireland Airbnb! Make sure to explore the bell tower and reading room, as well as the surrounding countryside!
Click Here to Check out Rates on Airbnb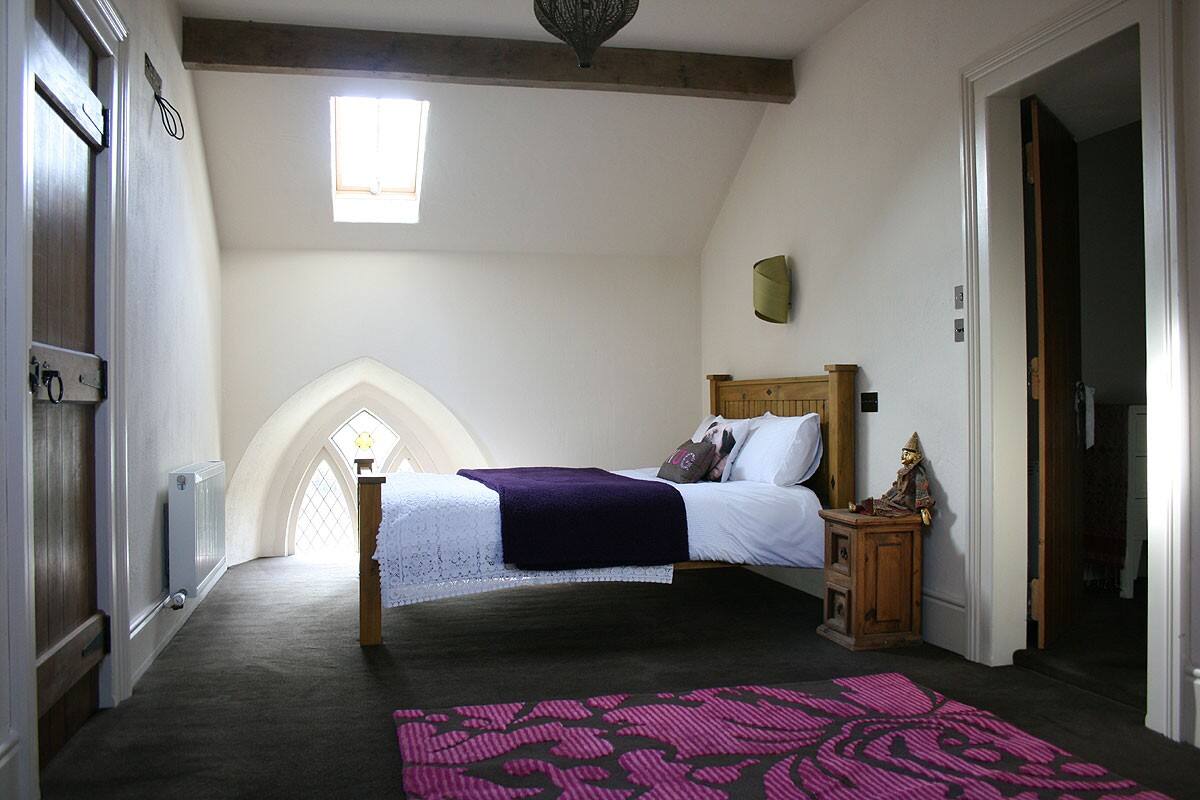 3. Thatched Cottage in County Kerry
If you're looking for an authentic cottage Airbnb in Ireland, look no further! This thatched cottage in County Kerry is surrounded by its original fencing and fascia hedge and features gardens and a terrace that looks over rushing streams.
This space is full of charm with its traditional Irish double door, rustic fireplace, and tall ceilings. It features a sitting room and a loft bedroom as well as a large kitchen and lobby.
Guests have access to the entire cottage when staying here, and easy check-in and check out processes. Better yet, most guests love the natural feel this Ireland Airbnb has, with its new hot tub, stunning scenery, and ravine. It's all about the ambiance and location here!
Click Here to Check Rates on Airbnb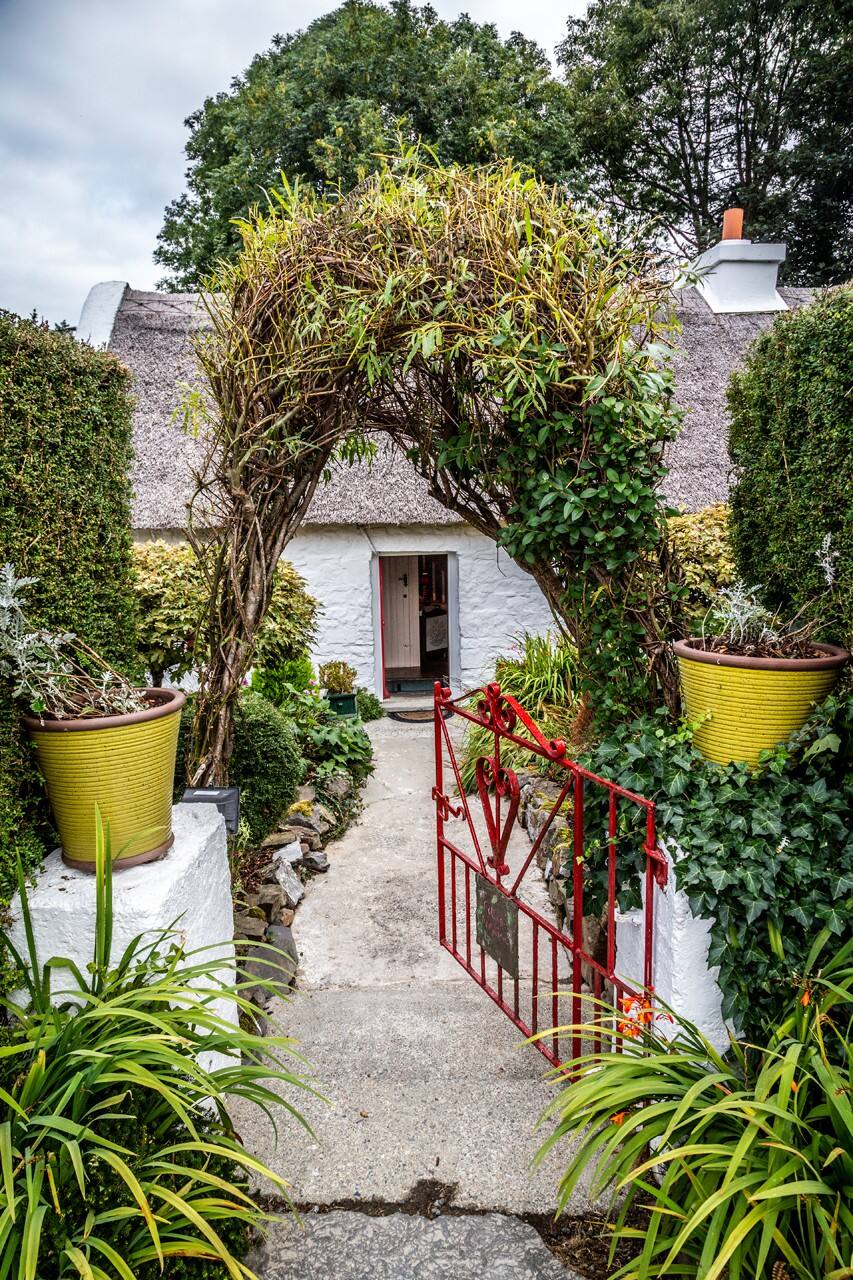 4. Lighthouse Dwelling: Tower House
This Airbnb in Ireland is wild and remote! About 5km from the village of Leabgarrow, this lighthouse Airbnb is located on the edge of a cliff! The houses are detached bedrooms that once were former Lightkeepers' dwellings, but are now for rent.
This lighthouse is still operational, and when guests rent here, they have access to the entire house and grounds in the vicinity of the lighthouse. There is a magical view of the light beaming out over the ocean late at night that you don't want to miss!
Because the lighthouse is still operational, guests cannot explore it that specific area, but this remote location– a literal house perched on a cliff– is at the tip of a remote headland, making it the best getting away from it all experience. You can even explore the gardens or just relax and listen to the waters crash below the cliff at this Ireland Airbnb.
Click Here to Check Out Rates on Airbnb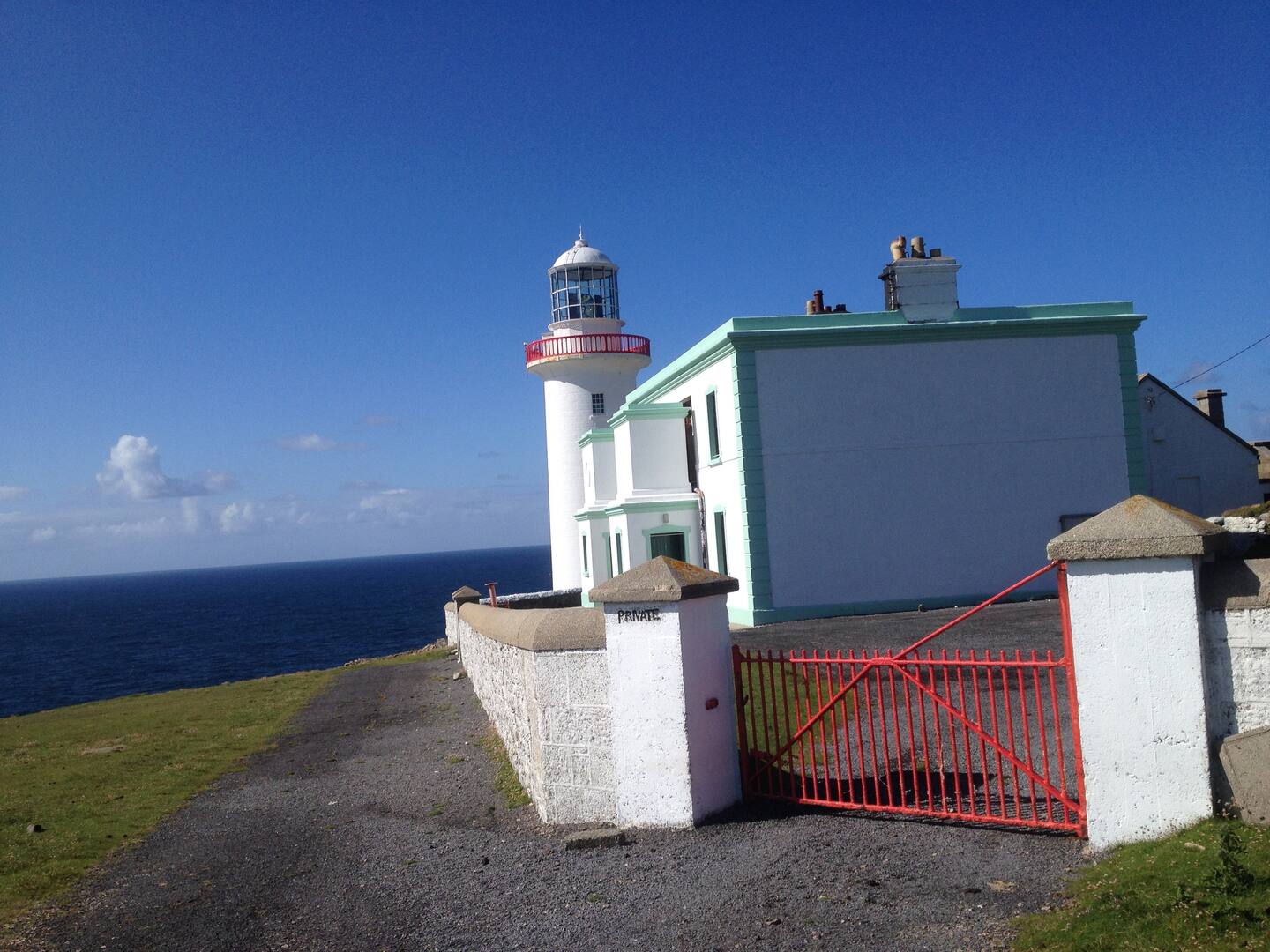 5. A Private Room in Cahercastle
Cahercastle has been standing since the late 1400s, and now you can rent a private castle room as an Airbnb in Ireland! This beautiful, medieval castle experience is easy to rent when you stay in the master bedroom, the highest room in the castle. Can someone say Rapunzel let down your hair?
Since this castle is old, its layout is a bit quirky, but it is all the adventure that counts! You'll have to go downstairs into the living room to have a bath or shower, and there is a huge fireplace with a cooker for underfloor heating.
Galway is just a 25 minutes drive from this castle. This Ireland Airbnb features winding staircases, an occasional cobweb, and more. This isn't a tourist attraction (like Blarney Castle), but the chance to really stay and experience what it is like to stay in a unique place!
Click Here to Check Rates on Airbnb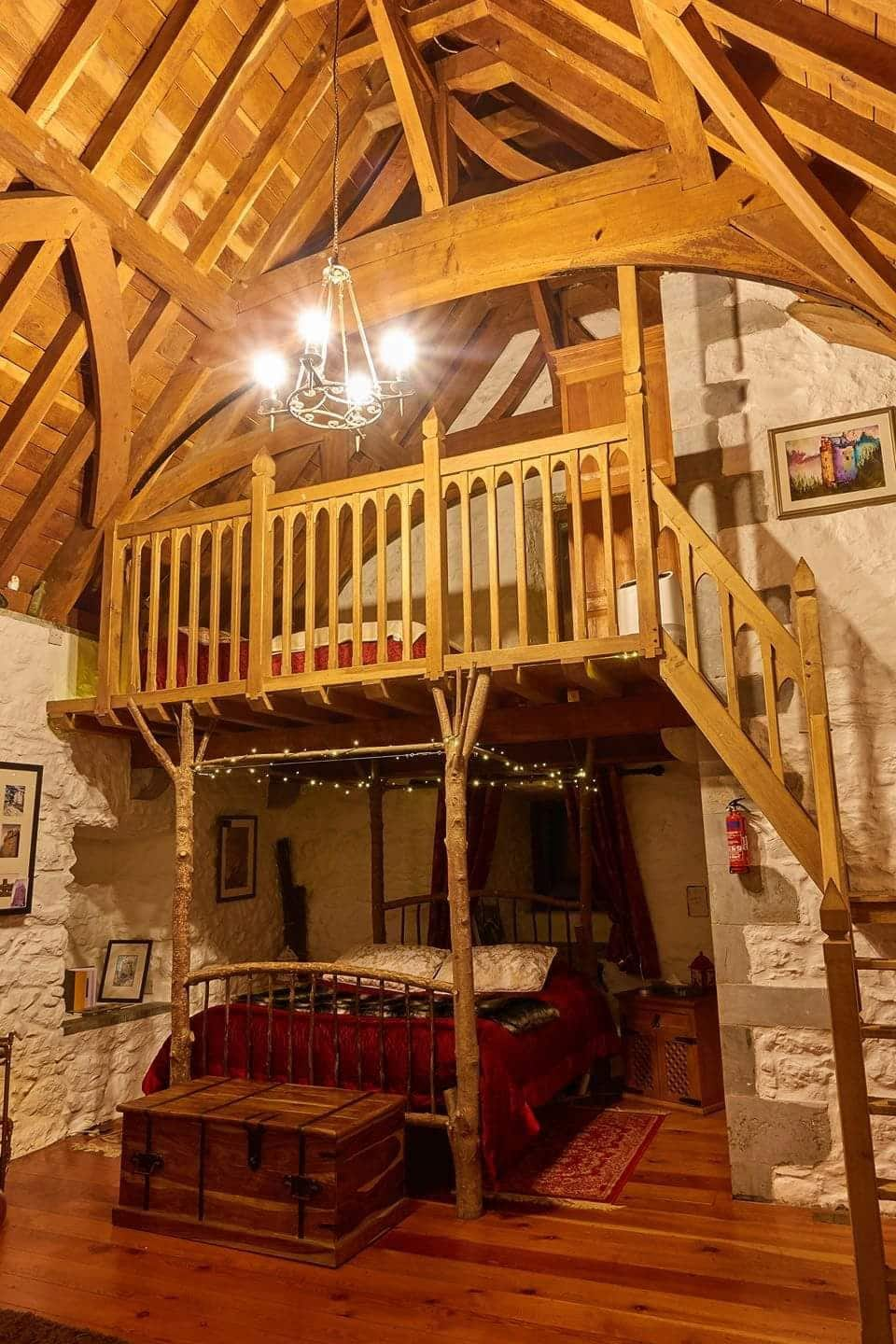 6. TreeHouse Apartment
There's no denying the fact that Ireland is full of greens and nature, so what better way to experience it other than renting an Ireland Airbnb that is a treehouse apartment?
This apartment is close to the villages of Schull and Ballydehob. With its large sites, guests love to go on walks and explore, and also go swimming in the quay.
The apartment itself is relaxing with a sea view from the couch, a balcony, an open floor plan, and all the amenities needed. With a garden and the hosts at a farmhouse close by, this immersive green experience might just be perfect for you! Check out this Airbnb in Ireland!
Click Here to Check Rates on Airbnb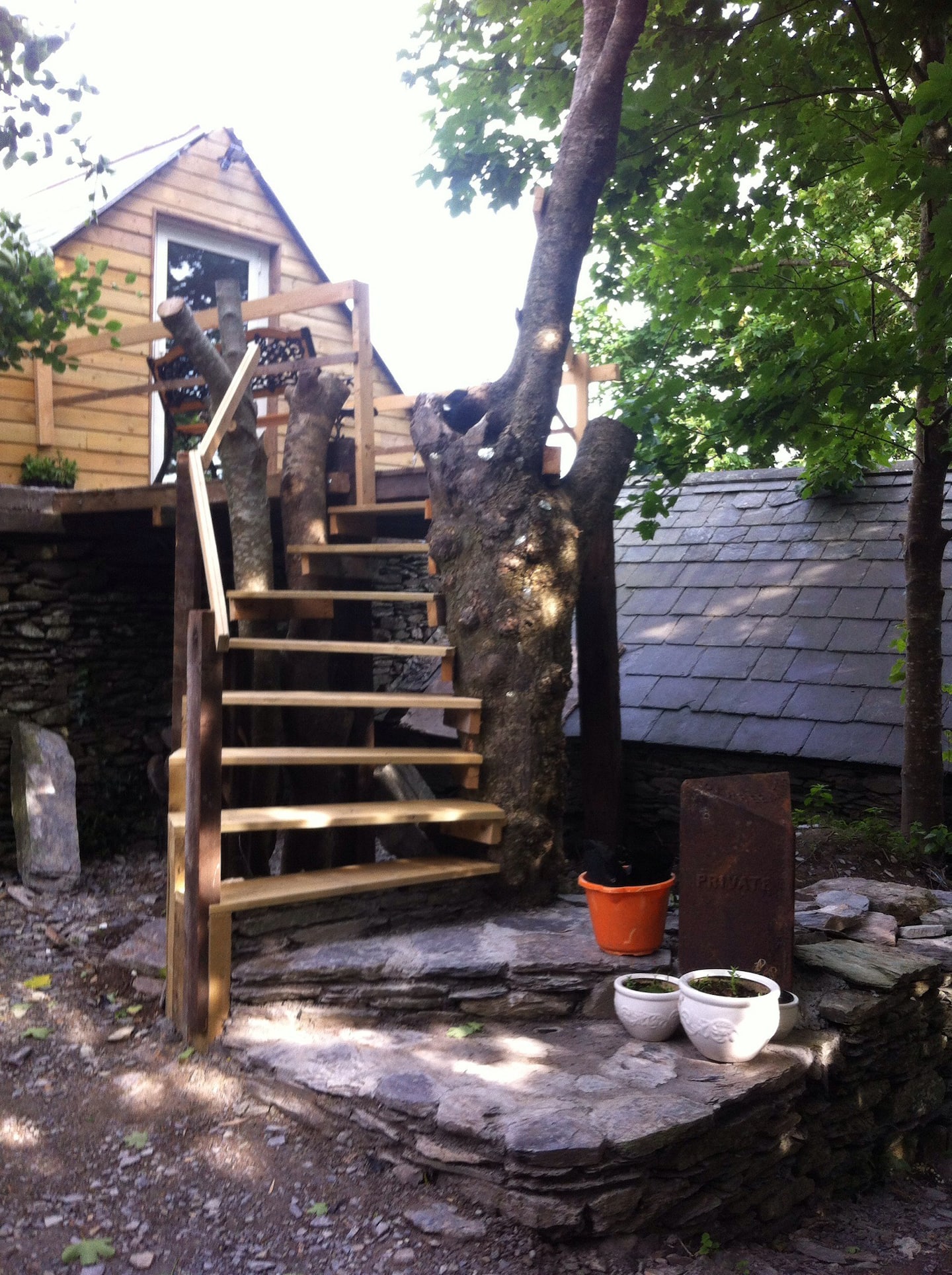 7. Cropod in County Donegal
Hillpods are known as the best getaway as they are some of the most unique places you can stay when looking to rent an Airbnb in Ireland! This Cropod is contemporary and mountain-inspired.
Located in County Donegal, this Ireland Airbnb is literally under the hill and is a perfect, cozy getaway for couples. It features 1 bedroom, 1 bed, and 1 bath, and is a great area for a retreat or destination that is unlike anything else.
The windows look out to seascapes, and the secluded beach and mountain surrounding you can lead you to the seven lakes when you go exploring the area. Secluded, romantic, unique, and contemporary by the sea, this hill pod is worth checking out!
Click Here to Check out Rates on Airbnb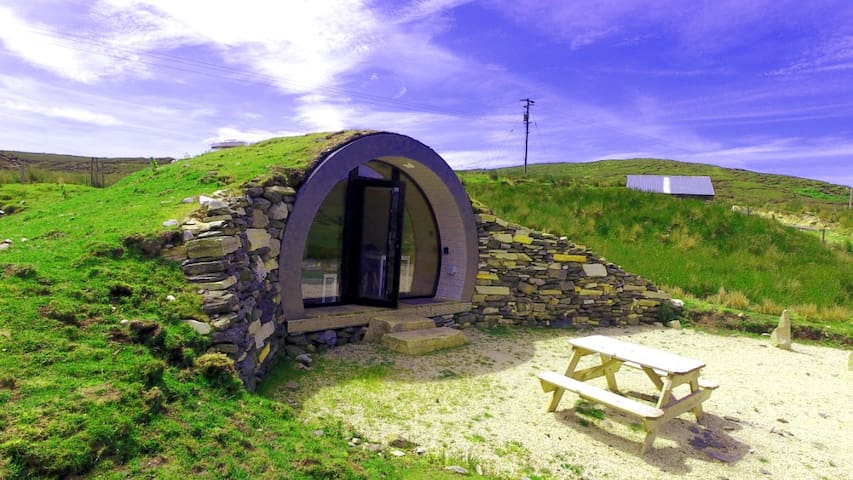 8. Seashore Cottage on Galway Bay
Is there anything more romantic or perfect than a comfy cottage on the cusp of a bay? This Airbnb in Ireland is a Seashore cottage located on the edge of Galway Bay in Oranmore. While the area is famous for Ostyers (and its annual oyster festival!), you are also close to Galway city!
When renting this Ireland Airbnb you have access to the full cottage which includes the kitchen, living room, bathroom, 2 bedrooms, and mooring.
Spacious and perfectly located to the vibrant city of Galway, you are also close to the Galway Bay Golf Resort and Rinville Park. You can also go bird watching and check out the local festivals or just enjoy the seascapes and limestone hills in this comfortable cottage!
Click Here to Check out Rates on Airbnb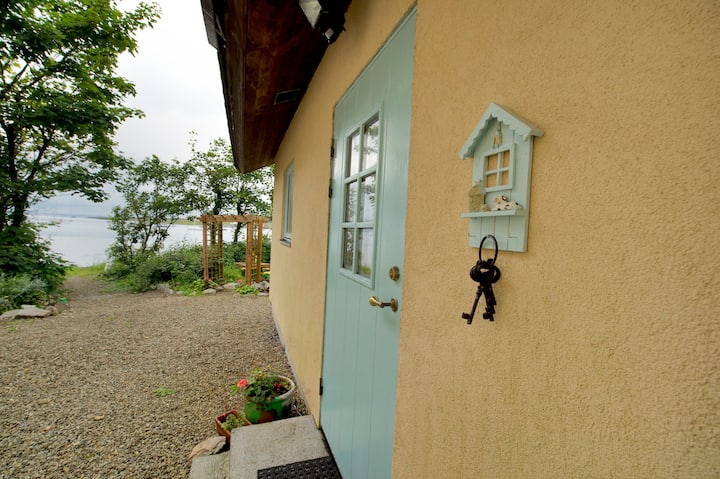 9. Tiny House in County Clare
This Wild Atlantic Cabin is bright and modernly decorated while perfectly located in the heart of the countryside. Only a 10-minute drive from Lahinch beach and 15 minutes from Doolin, this cabin has great views of the countryside and Lascannor bay in the distance.
This Airbnb in Ireland is situated in 2.5 acres of land but is small– which is perfect for tiny house living! This bright and cheery space is also cozy and warm all year long. With insulated walls, an en-suite shower room, living room, kitchen area, and glass patio doors that open to a covered deck, all you need is in the 5mx5.8x home!
Guests have full access to the cabin and garden area when they rent here. It is about 7k from the nearest village, but the great areas surrounding the cabin are great, and any day trips to town or bays or beaches are worth it!
Click Here to Check out Rates on Airbnb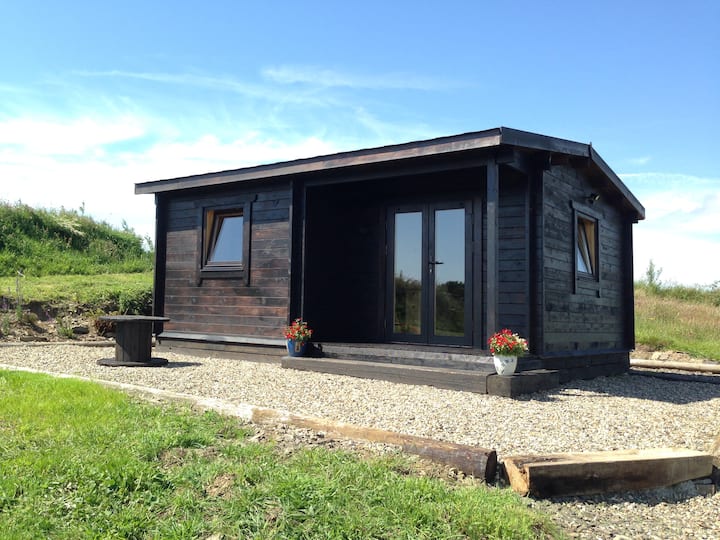 10. The Ranch Cabin
The ranch cabin is a charming wood cabin located between the borders of Laois, Kilkenny, and Tipperary. With its gated walls and a stunning view of Slieve Bloom mountains, this Airbnb in Ireland offers great sunset views and is an escape from the city and touristy attractions.
This Ireland Airbnb is well-reviewed for its peace and quiet, and that it's central location can take you to Castle, Portlaoise, and even Limerick. The Kildare shopping village is even a short drive away!
When renting here you can explore the full cabin and the farm around it, which features birds and animals. You have a private entrance and are more than likely to witness rabbits scurrying around during sunrise. The birds sing each morning and the views are beautiful in this Ireland Airbnb.
Click Here to Check Rates out on Airbnb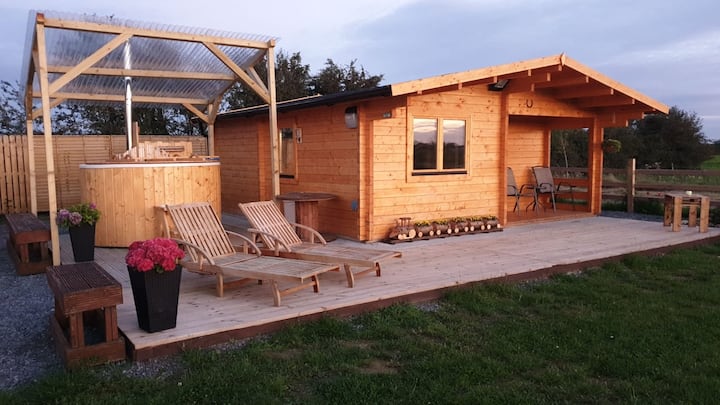 11. Crookedwood Farm
Once a dairy farm, Crookedwood farm is set in the Boyne Valley and has recently become an Airbnb in Ireland that offers a unique and fun experience that lets guests meet friendly animals while exploring the historic Boyne Valley.
This beautiful studio is a converted hay barn set in the middle of the farm and is spacious, comfortable, and bright. It features a kitchen, bathroom, bedrooms, and living area.
Here you can meet the animals as well (a donkey, Shetland ponies, pot-bellied bigs, and collies!), but better yet you are perfectly placed for close day trips to Newgrange, Slane Castle & Whiskey Distillery, Trim Castle & Loughcrew, etc in Dunmoe.
Click Here to Check out Rates on Airbnb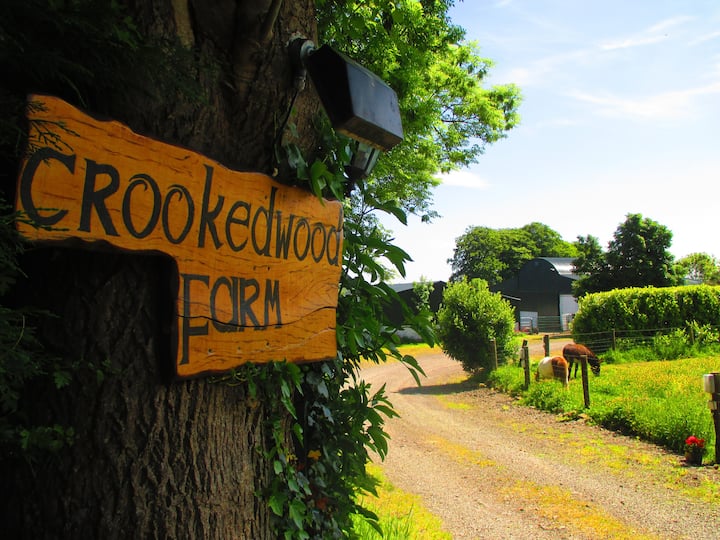 12. Guesthouse No.1 Wild Atlantic Way
Newly built, this Airbnb in Ireland is a spacious apartment that is beautifully located on the Wild Atlantic Way. Perfectly placed between the Old head of Kindle and Garretstown in Country Cork, this apartment overlooks the Wild Atlantic Way for stunning views.
Idyllic because of its location, guests can explore Cork and Kinsale, and they can kayak, swim, bike, visit historic sites and relax at local pubs nearby.
This space is bright and modern and features private parking as well as a large garden space. It can fit 4 people and has a large living area which makes it comfortable and perfect to look out those windows and enjoy the Wild Atlantic views. Check out this Ireland Airbnb if you want to stay near Cork!
Click Here to Check Rates on Airbnb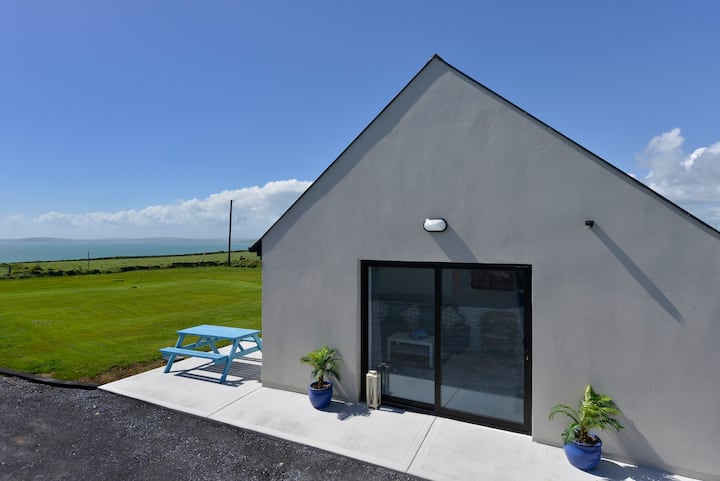 13. Private Room by Cliffs of Moher
Everyone knows that when you visit Ireland, you have to see the stunning Cliffs of Moher. But now you can rent an Airbnb in Ireland that is literally on the cliffs!
This private guest room is well rented and reviewed because it features unspoiled views of the Atlantic where you can literally watch waves crash against the jagged coastline and spot some dolphins.
The room has a private entrance and private bathroom, is spacious, and although this is an Ireland Airbnb that is just a private room, the hosts provide breakfast and those views are totally worth waking up to at least once!
Click Here to Check Rates on Airbnb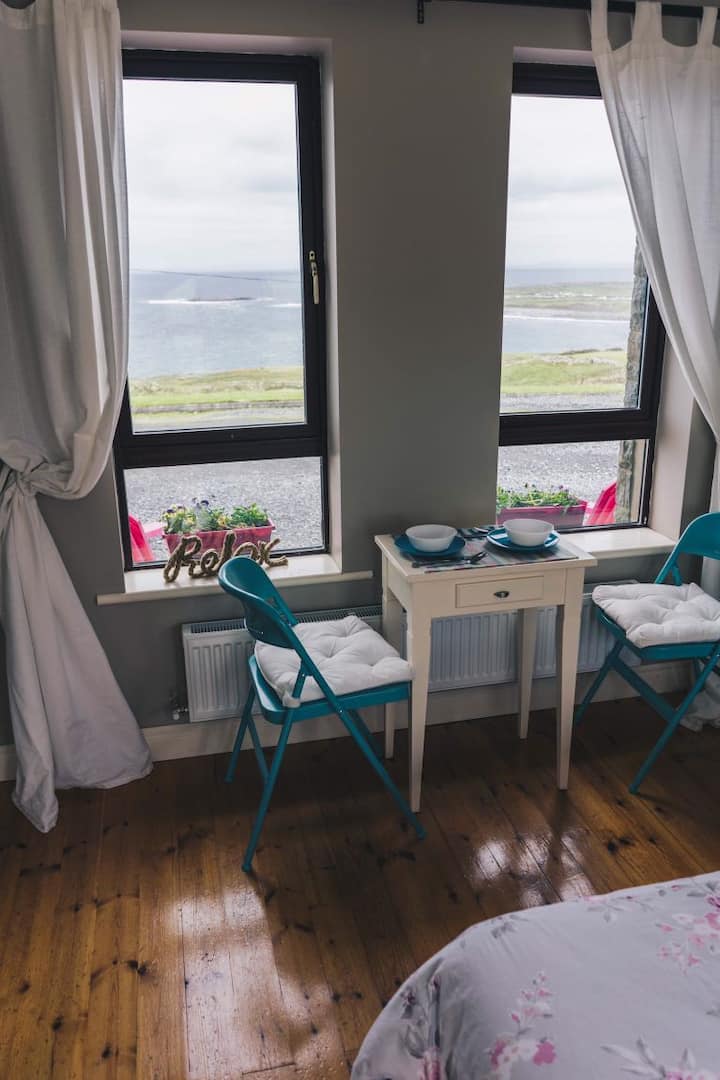 14. Hut in Rural West Cork
This rural cabin, also known as a hut, is a perfect Airbnb in Ireland that lets guests stay far from tourist crowds in an eccentric cabin in a garden alongside the West Cork countryside.
Views can be well enjoyed from your deck, and breakfast is served with home-made produce from the kitchen and garden. This Ireland Airbnb is quiet but is still only a short drive to the Wild Atlantic Way and even Skibbereen town.
The elevated views of this hut are to die for, and the studio is completely self-contained and separated from the host's house. You have privacy and all you need alongside the rolling hills of west cork, which are perfect for stargazing in the evenings and taking in the greens in the morning.
Click Here to Check Rates on Airbnb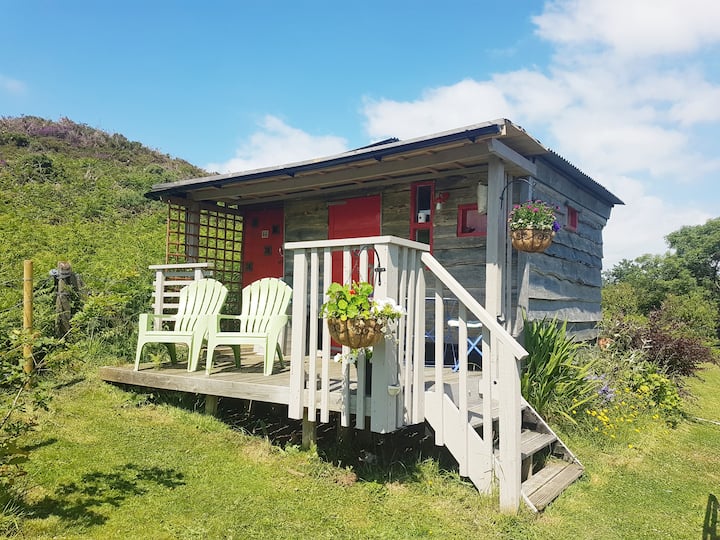 15. Wild Atlantic Bus at Aishling Cottage
This Airbnb in Ireland was designed by the host to give guests a unique holiday and accommodation experience– which it certainly does! This Ireland Airbnb was renovated from a double-decker bus, but after it's life work, it is now a place to rent and stay!
The Wild Atlantic Bus is located on the outskirts of Galway, close to one of the biggest coastal routes in Europe. The space can easily accommodate six people as it has 3 double beds, a full kitchen, and a wet room. Outside is a great fire pit, a luxurious outdoor shower, and great views.
This is the perfect retreat for exploring the magical landscape the Connemara area has to offer, and breaking from staying in something traditional has this Ireland Airbnb a hot spot. It is a lasting memory!
Click Here to Check out Rates on Airbnb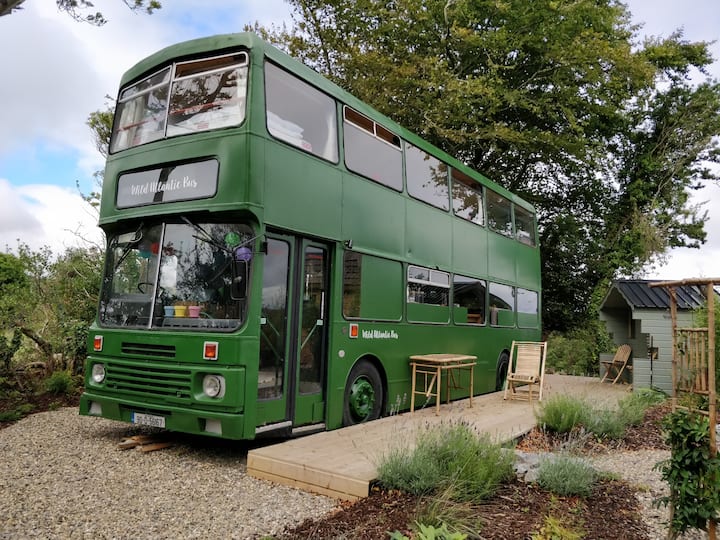 16. Beautiful Boat in the Heart of Galway City
If you're looking for a romantic getaway along the banks of Lough Atalia, which is a tidal inlet off of Galway Bay. This large barge has been renovated and turned into a spacious and comfortable dwelling and is close to a popular area in town!
Saying on a boat as an Airbnb in Ireland offers something different, some privacy, peace, and quiet, etc. This boat is made up of a large kitchen, breakfast bar, an open plan dining area, and a turf burning stove. It also has a large bathroom and a bathroom!
Underfloor heating ensures you stay toasty even on cooler nights, and this is an off-grid listing to be as green as possible. Having sole access to this boat is something unique for any Ireland Airbnb so float away while you stay in Galway!
Click Here to Check out Rates on Airbnb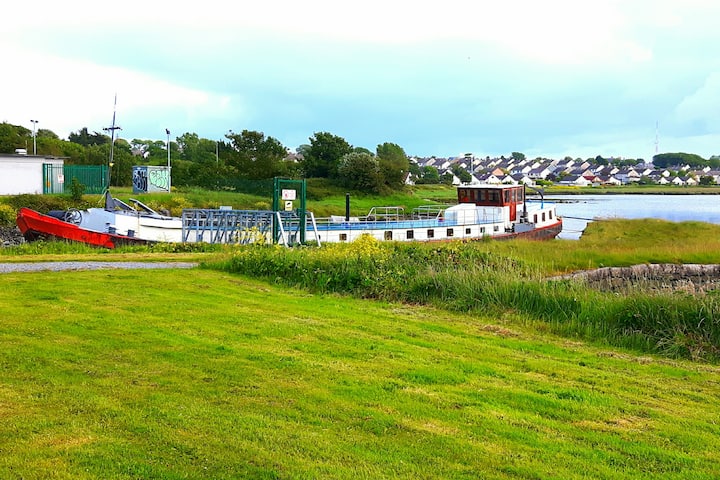 17. Kilrish Marina Floating Pod
Glamping (also known as glamorized camping) has become a trend in Airbnbs, and this Airbnb in Ireland is no exception. This floating pod is situated in the peaceful and sheltered waters of Kilrush Marina amongst the yachts and boats.
Each pod here has an outdoor seating area, a double and single bed, a small kitchen, and when you rent here you have access to the Marina Centre facilities such as the showers, loudly, etc.
These pods are unique, as they are an Airbnb in Ireland that literally float! There is nothing like the sound of water lapping or the gentle rocking of waves to get you to fall asleep, and this base location is great for exploring the Wild Atlantic Way, Loop Head Peninsula, and West Clare.
Click Here to Check our Rates on Airbnb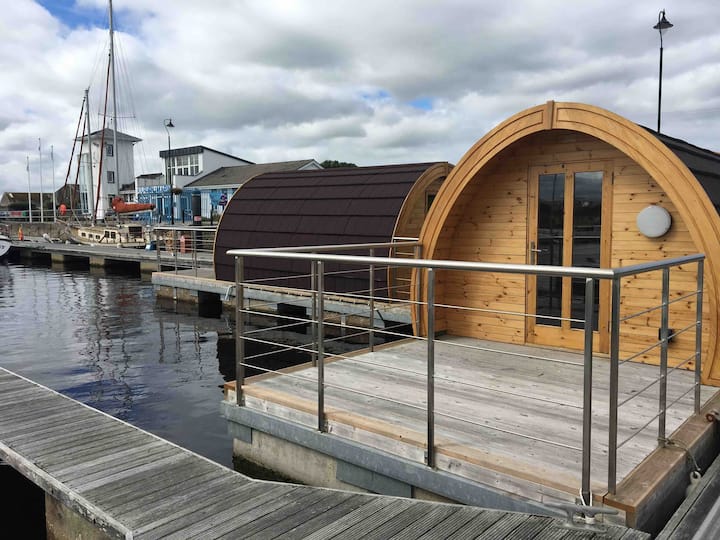 We are thrilled you've chosen the Emerald Isle for your next vacation and adventure. We hope you'll find a location on this list that catches your eye so you end up in the best Airbnb in Ireland for you!
Whether you're staying close to a major city or looking to stay more rural, the unique options Ireland offers ensures your time in this country will be full of gorgeous views and grand adventures. Let us know if you have any questions or comments as you go about choosing your next Ireland Airbnb, and until then, make sure to check out our article on 40 Incredible Things to Do in Ireland to add some ideas to your itinerary! Maybe even check out our article on Adventure activities to do while you explore this wonderful country!