Are you interested in some of the best slot canyons in Arizona? We have you covered with 9 of the coolest slot canyons in Arizona.
Arizona has some of the most beautiful landscapes and natural wonders. One of the most interesting and special aspects of Arizona attractions are slot canyons. Slot canyons are a great experience for the adventurous or those who are looking to experience something new.
Some of the most beautiful slot canyons are in the southwest United States and a number of them are located in Arizona, including one of the most popular slot canyons, Antelope Canyon. These otherworldly destinations are breathtaking and make for one of the most fascinating tourist visits.
Slot canyons are a great way to experience the natural wonders that occur when nature changes over time. If you are looking for something new to do on your next trip to Arizona we believe our selection of the 9 coolest slot canyons in Arizona may be just what you're looking for.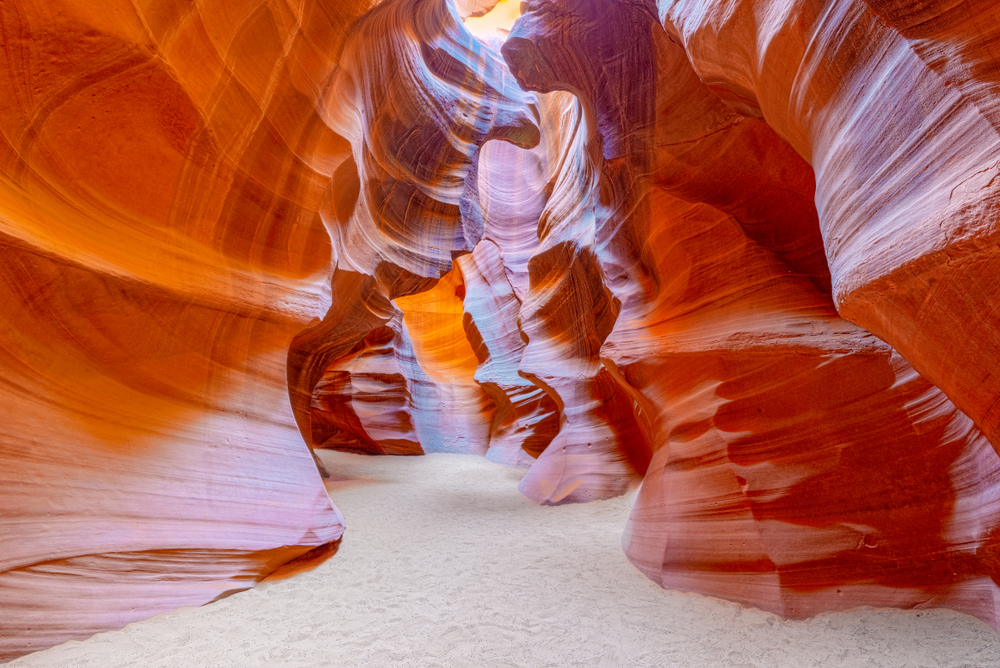 What Are Slot Canyons?
A slot canyon is created by water rushing through a crack in a rock and eroding it away over millions of years this creates a deep crevice within.
The creation of slot canyons is what makes them some of the most unique and beautiful places to visit. The erosion process shapes and changes the canyons into something that is breathtaking and can be the subject of some truly stunning photographs.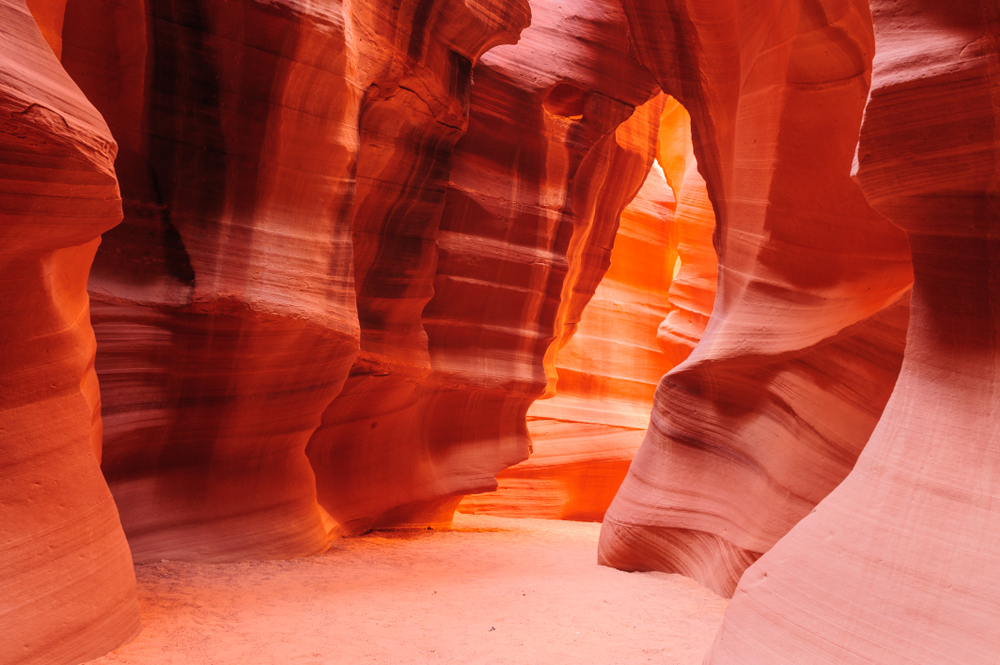 Are Slot Canyons Dangerous?
The biggest danger for tourists exploring slot canyons is flash flooding. Because slot canyons are often deep and far from high ground a flash flood can be deadly.
It is advised to check the weather before exploring a slot canyon to avoid getting caught in a precarious situation. If there is a possibility of rain it might be best to postpone your visit. You should also identify escape routes on a canyon map in the chance that there is bad weather.
Knowing the signs of a flash flood: a sudden increase in water depth or speed, water turning muddy or dark, floating debris, and a loud roar (similar to a jet engine) can be the difference between life and death. If you notice any of the signs of a flash flood you should move to high ground immediately.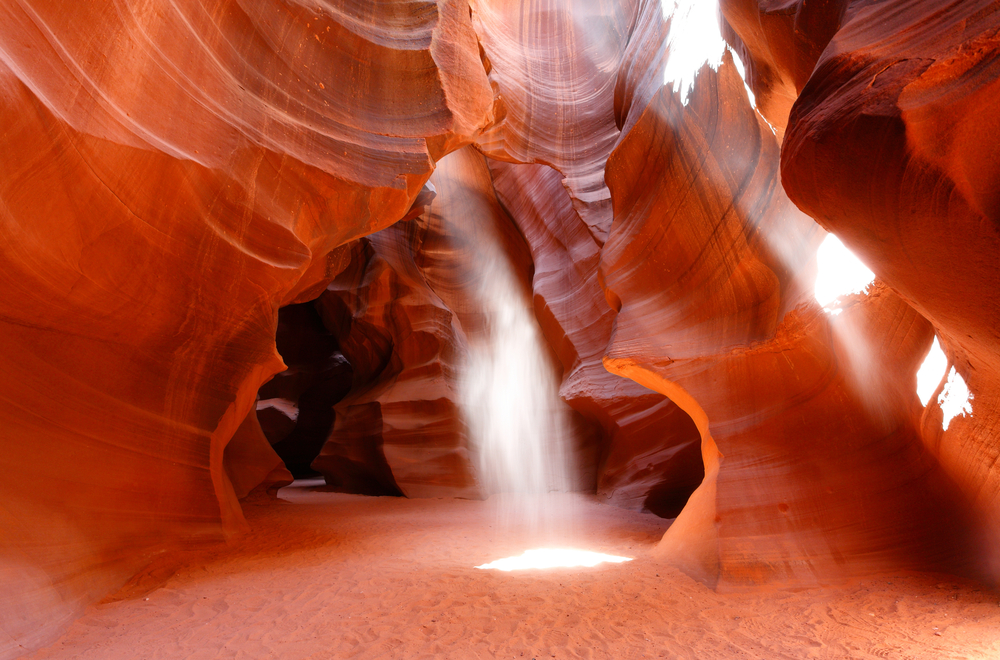 Why Do You Need A Permit Or Tour At Many Arizona Slot Canyons?
It is necessary to have a permit to visit some of the best slot canyons in Arizona. Most of the slot canyons in Arizona are located on Navajo land and in order to visit some locations it is required that you have a Navajo guide. The use of permits and guides to visit the best slot canyons in Arizona helps protect the land and you as a tourist. It also provides a source of income to the Navajo tribe.
This can be done by going through a licensed tour company or guide that specializes in the slot canyon you are interested in. The guides are informative, helpful, and are usually able to offer an insider's view into the best slot canyons in Arizona.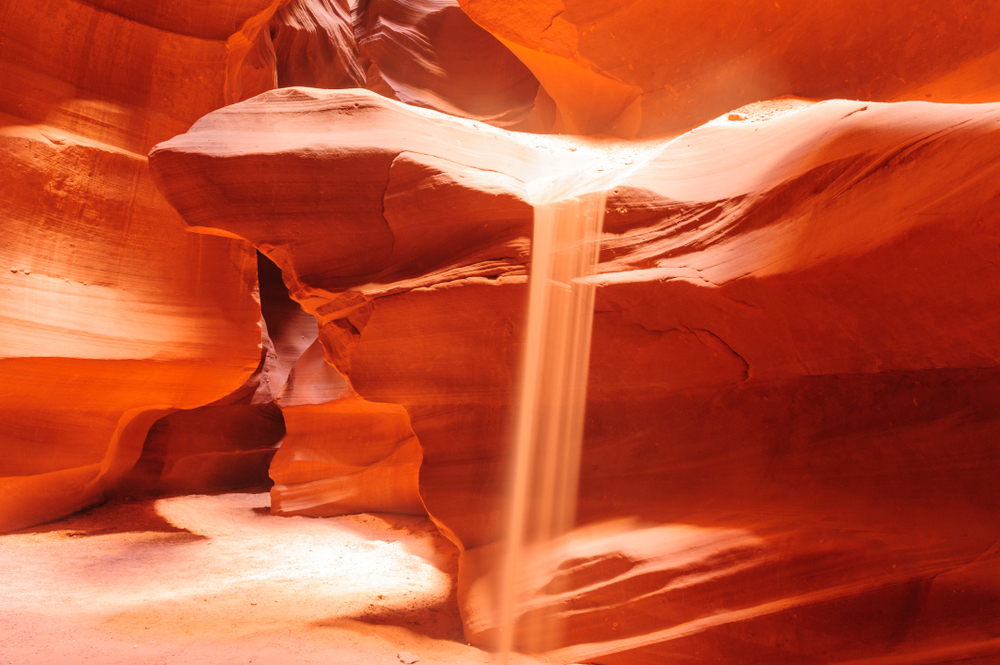 9 Best Slot Canyons in Arizona
Upper and Lower Antelope Canyon
Antelope Canyon is one of the most popular slot canyons. It is also one of the best slot canyons in Arizona. This canyon is an interesting destination because it is so large that it is actually composed of two slope canyons. There is an upper and lower antelope canyon.
Both sections have their own features unique to their elevation and creation. They are also both popular with tourists year-round. A tour is required to visit either section, but we advise booking a tour in advance as slots fill up quickly.
One of the most prominent features of upper antelope canyon is the sunlight that filters throughout. Because this canyon is located at an elevation of 4000 feet there is frequent sunlight showing in the canyon. This light illuminates the reds and oranges of the canyon and changes position throughout the year creating a unique viewing experience for each visit.
Lower antelope canyon is also a popular destination, though for a different reason. The lower canyon is v-shaped meaning the light shines from above onto the canyon floor instead of through specific openings like the a-shaped upper canyon. This brightens up the canyon and makes it an ideal location for interesting photographs.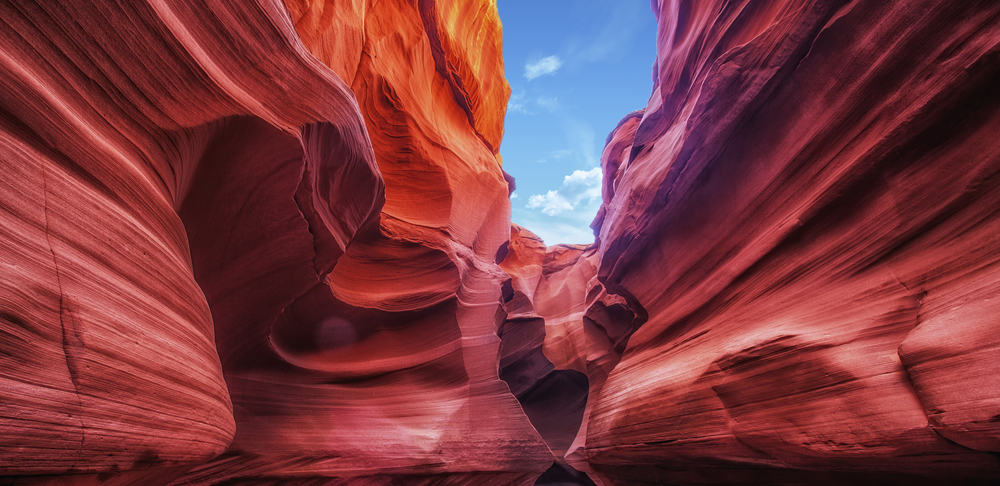 Canyon X
Canyon X is a part of the same system as Antelope canyon and located near Page, Arizona- the location of many slot canyons. It more secluded and has fewer visitors due to smaller tour groups. This offers a more personalized exploration of one of Arizona's best slot canyons. The tours are also longer than those at Antelope Canyon, due to the group size and that of the canyon.
One of the most interesting features of Canyon X is one of the overhead openings in the canyon. The opening is the source of the name Canyon X and is shaped like the letter.
Cardiac Canyon
Because Antelope Canyon is so large there are many smaller slot canyons that are a part of the larger system. Cardiac Canyon has a name set to deter the faint of heart, and unlike most of the other slot canyons in the Antelope Canyon system, this one does have some terrain that is harder to navigate.
The entrance to the canyon is a sand-slide down a 90-meter slope, into the bottom of the canyon.
The tour for Cardiac Canyon is offered by Taadidiin Tours and is 6 hours long. This may seem a bit long for some but the payoff, if you're up to it, is definitely worth it. The canyon itself has intricately carved patterns along the walls. It also is decorated with beautiful pourings of sunlight that help showcase the reds and oranges in the canyon.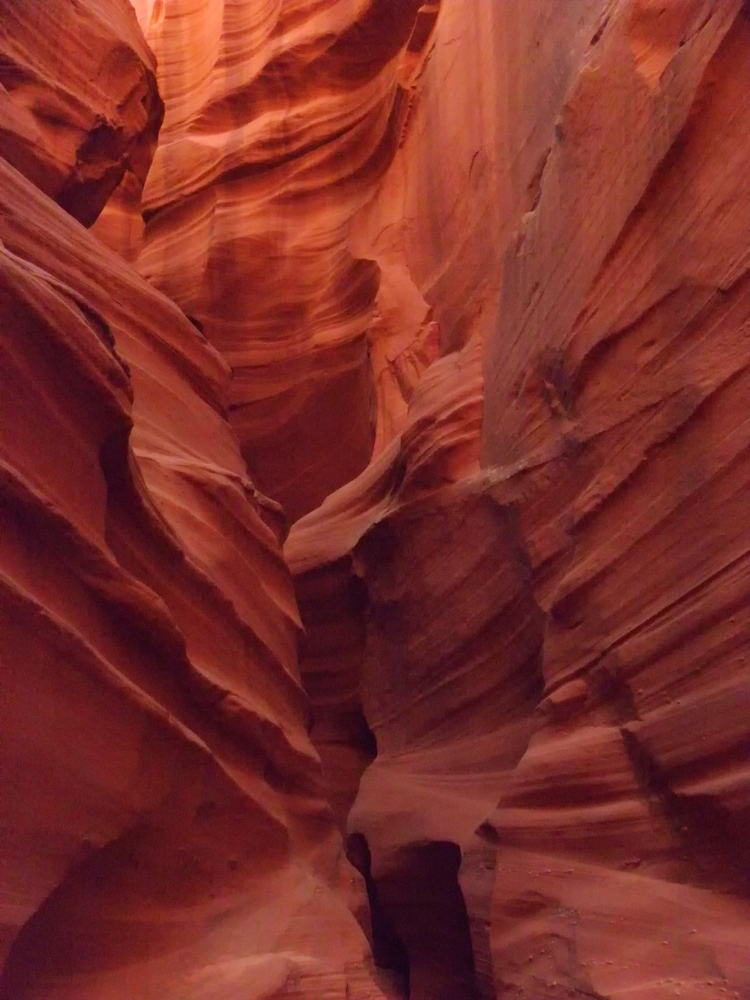 Secret Canyon
One of the most unique slot canyons in Arizona is the Secret Canyon which is part of the Antelope Canyon system outside of Page, Arizona.
The only way to view this canyon is through guided tours. This limits access to the canyon but also makes for a more personalized experience. The only tour group with access to Secret Canyon is Horseshoe Bend Tours. The largest tour groups allow 25 people, but they are often smaller than that.
Secret Canyon is one of the coolest slot canyons in Arizona because it offers similar views to Antelope Canyon, but with less of a crowd.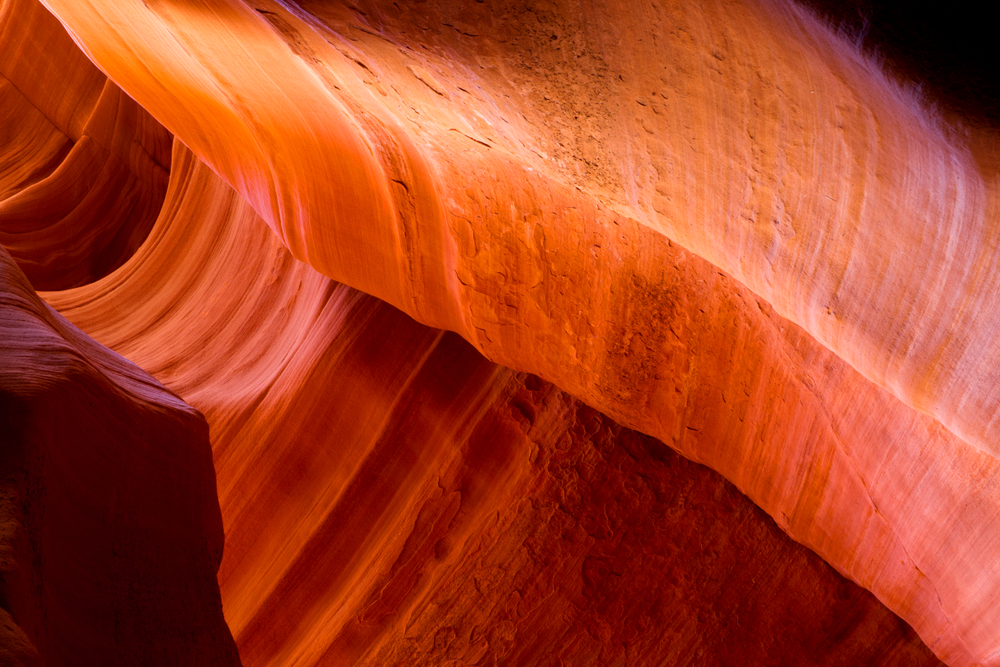 Rattlesnake Canyon
This slot canyon does not get its name from actual snakes, but rather the pattern left in the canyon as a result of the stream that cuts through it.
There are some narrow sections in the canyon, so it is harder t get through than some of the other slot canyons. There is only one tour company that has access to this canyon, Adventurous Antelope Canyon Tours, making for smaller group sizes and more individualized tours.
The colors of this canyon make it one of the best slot canyons in Arizona. The canyon has sections of ricks bathed in reds and oranges along with other areas covered in blues and reds. All of these colors blend together in a breathtaking view.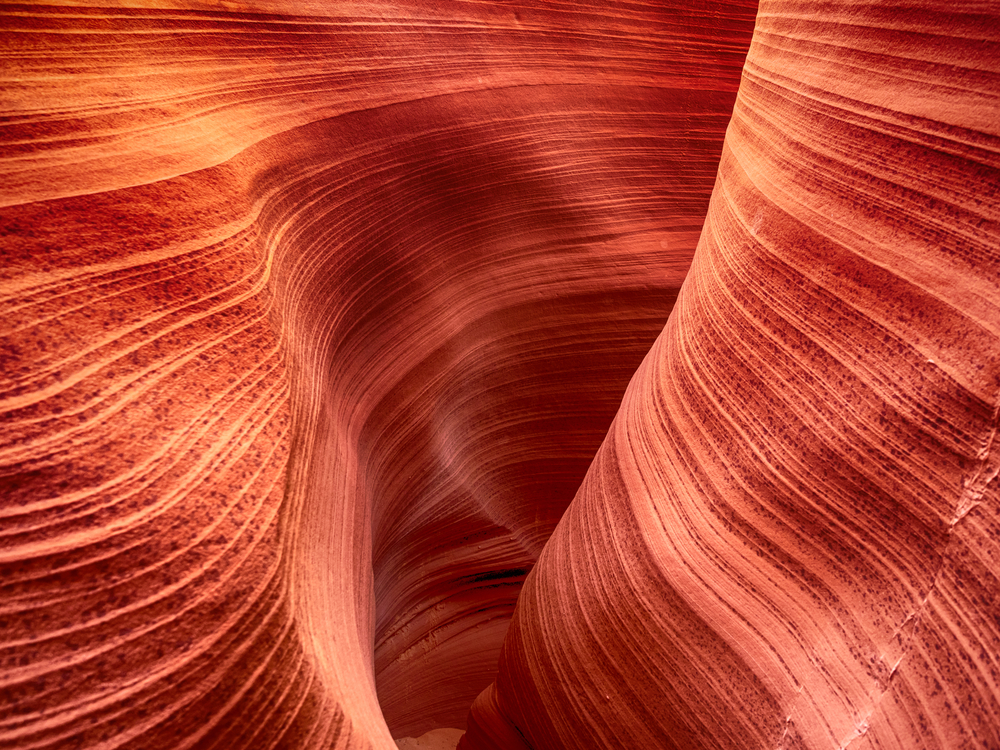 Mountain Sheep Canyon
This canyon gets its name from the various treks up and down throughout the slot canyon. Mountain Sheep canyon has many ladders inside to get from one area of the canyon to the next, the name is reminiscent of this fact.
Mountain Sheep Canyon is another slot canyon located inside the larger Antelope Canyon near Page, Arizona.
This canyon has a texture that differs from some of the other canyons with the Antelope Canyon region. The lines and texture are much harsher within this canyon when compared to the other canyons. Although this may deter some we believe the texture of this canyon adds to its beauty.
This canyon is also longer than some of the others at 1.5 miles. So although the tour through the canyon may be strenuous for some it does offer some beautiful and unique views.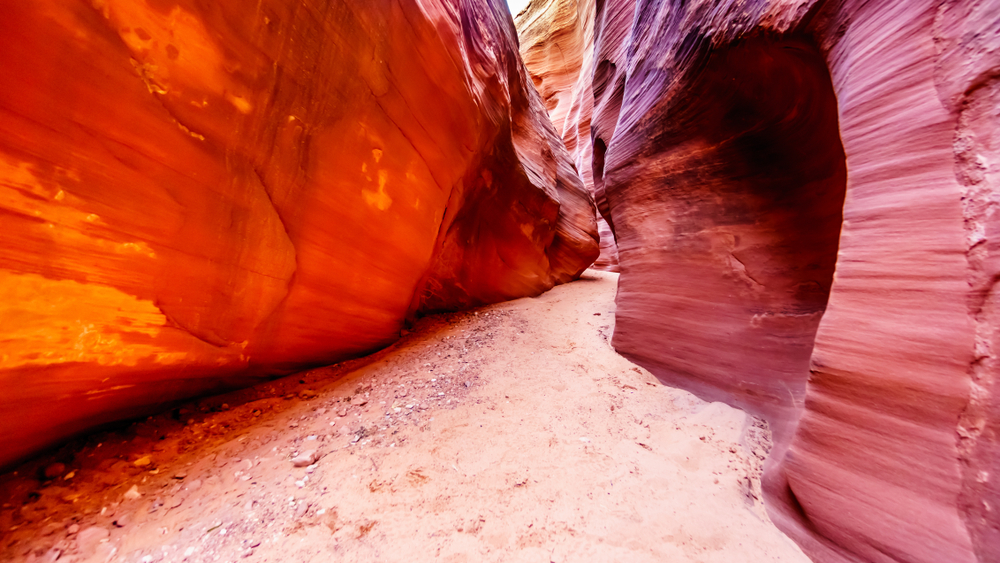 Water Holes Canyon
Water holes canyon is located close to Antelope canyon and canyon x, near Page, Arizona. This slot canyon is not as well-known as Antelope canyon, making it an ideal location for those who wish to have a more personalized tour.
Sunlight illuminates Water Holes canyon. The light moves across the canyon throughout the day resulting in a special view depending on the time you choose to go. The narrow sections and various turns of the canyon make any tour of this location an adventure.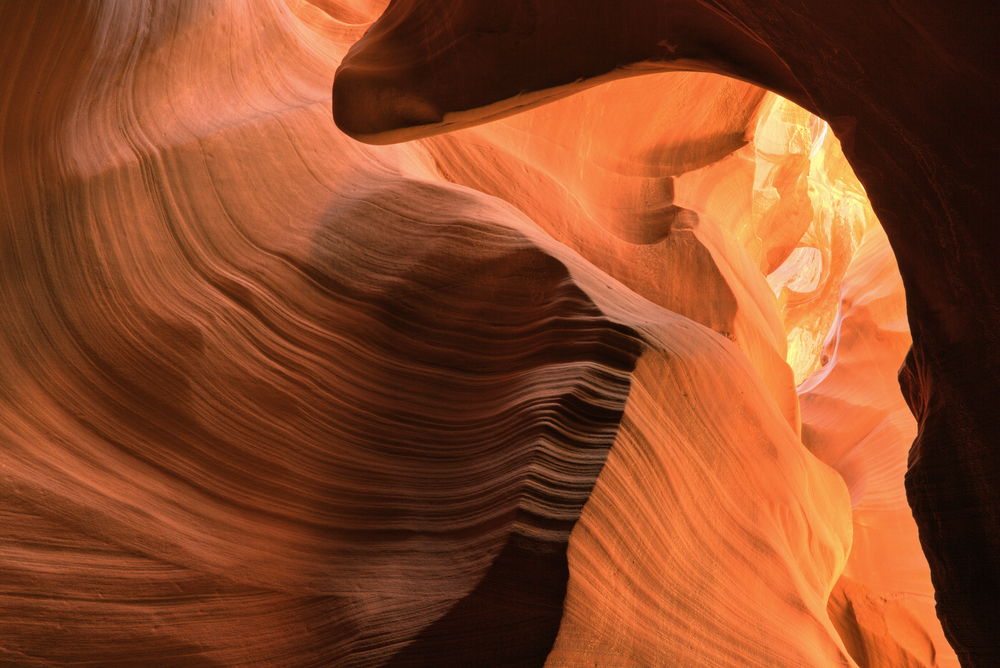 Cathedral Canyon
This slot canyon is one of the many located near Page, Arizona. One of the most unique features of this slot canyons are the rock formations that can be seen on the tour.
The rock formations visible on a tour of Cathedral Canyon include Cathedral Rock, Four Sisters, Thumb Rock, and Pucket Rock. These unique features make it one of the coolest slot canyons in Arizona, and one you won't want to miss.
Although there are some narrow passages and the entrance to the canyon is down a 10-foot ladder this is one of the most interesting slot canyons in Arizona.
Tour groups for this canyon are kept small to create a more personalized experience while visiting Cathedral Canyon.
Deer Creek Narrows
One of the best slot canyons in Arizona is deer Creek Narrows. This canyon is one of the most fascinating because it is located inside the Grand Canyon national park.
It is prohibited to climb or rappel into Deer Creek Narrow, with or without the use of ropes and other technical equipment. This is prohibited in order to protect cultural resources. There is still a hiking trail available from the river to campsites and other regions up the canyon.
Visiting this slot canyon offers a view of the Grand Canyon and the Colorado River that many others are not able to experience. We recommend visiting Deer Creek Narrows as not only is it one of the coolest slot canyons in Arizona, but it is a truly unique and wonderful opportunity.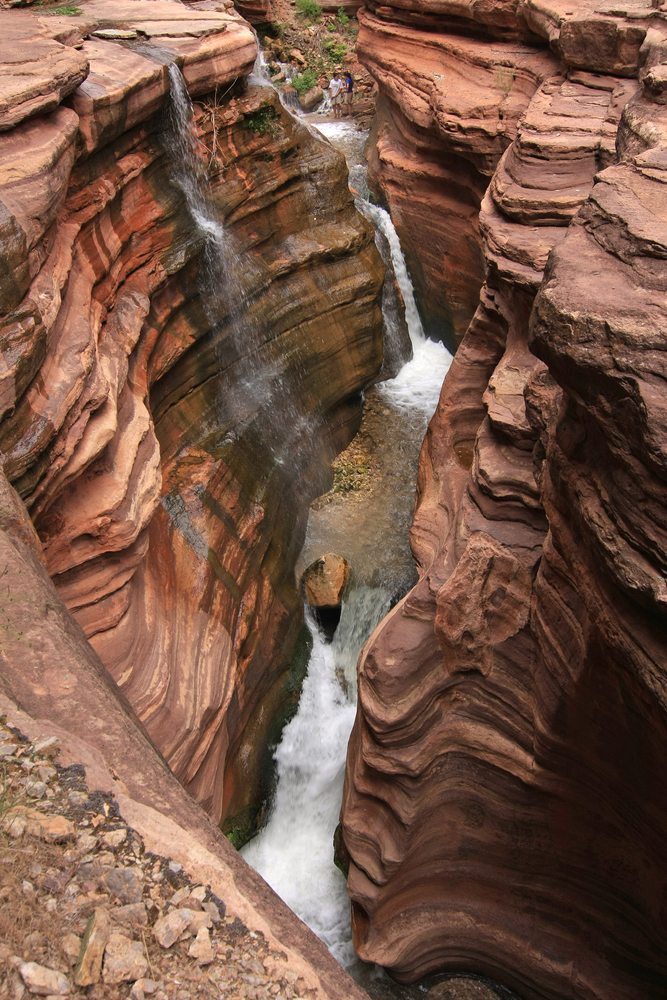 We hope you enjoyed our choices for the coolest slot canyons in Arizona. If you're looking for a fun and unique experience, and some out of this world pictures we highly recommend checking out some of the slot canyons we mentioned.
Because most of these canyons are so close to each other, near Page, Arizona you could plan a trip to visit a number of them at once. Each slot canyon has its own features and qualities that make it one of the best in Arizona. We hope you have fun on your next journey into the strange and wonderful slot canyons of Arizona.