There's no better way to relax and unwind than a delightful visit to a soothing natural hot spring in Utah. Warm water and beautiful scenery? Time to soak it all in.
Visiting hot springs anywhere in the world can have its own delights, but there's a reason that Utah reigns supreme. Its diverse geography, from snowy peaks to beautifully formed red rock canyons, have been drawing people outside for generations. Utah's natural hot springs are celebrated for their picture perfect locations and accessibility.

There's a bath for every bather; from a spa-worthy dip in geothermal pools to your own personal vintage tub placed purposefully across a desert landscape. One things for certain, if you're looking for an attractive hot spring, Utah makes a splash. Below we have a list of five natural hot springs in Utah you must see.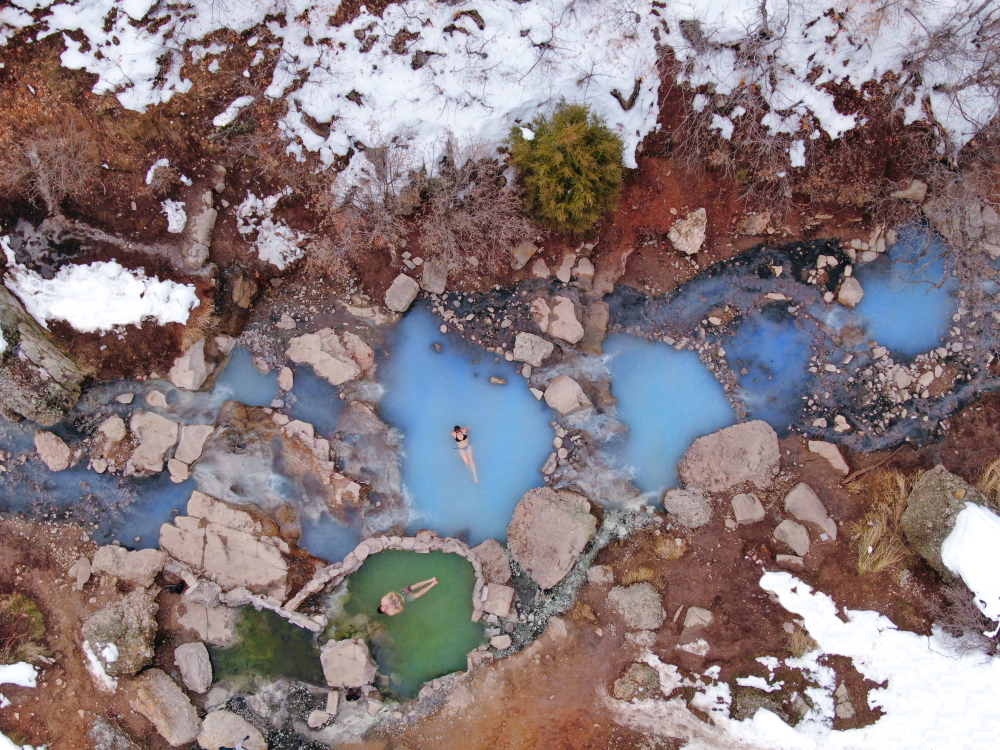 5 Natural Hot Springs In Utah You Must See
Meadow Hot Springs Is A "Go Now"
Just west of Fillmore Utah near the small town of Meadow is a secluded hot spot not too far from the I-15. These three pools are known by locals and travelers alike for their crystal clear bathing waters and bucolic setting.
The first of these pools is the warmest at a balmy 97 to 100 degrees Fahrenheit. There's ample space here suited for lounging with larger groups of friends or family.
All of the pools are fairly deep which makes them ideal locations to try your hand at scuba, or for those adventurous types who enjoy free-diving. There are fish in the third pool, and with its lower temperature, it is not uncommon for a local cow or two to pay the springs a visit. Now that's a sight to see. Imagine swimming with such company! 
Keep in mind when visiting Meadow Hot Springs that the pools are located on private property. The owner graciously keeps these wonders open to the public under the condition that visitors keep the area clean. Moreover, perhaps the most exciting tidbit of Meadow Hot Springs is that these wonderful pools in Utah are FREE (donations accepted).
Don't forget to check out our Detailed Road Trip Packing List so you don't forget any essentials for your trip!

Mystic Hot Springs Is Picture Perfect
Chances are you've probably seen a photograph that goes a little like this: A bohemian-chic woman clad in a black folk hat rests in a vintage tub that backs up against beautiful red rock. This image, or something similar, is especially recognizable on social media. Now, where might a photograph like this be taken? That's right, you guessed it. Mystic Hot Springs, Utah.
Mystic Hot Springs is located near Monroe, Utah on land that is rich in history. Before being homesteaded back in 1886 it was a camp for indigenous people who relished the waters for its healing properties. Today the springs is an affordable attraction that somewhat resembles a "hippie's resort" with a handful of ramshackle cabins that are available for stay (an aesthetic that seems to be popular these days).
In addition, the property boasts a few groovy converted buses and a campground as well as its own holistic center which offers treatments and massages for purchase. But if that's not enough to convince you, come for a concert! Mystic Hot Springs is known to host music celebrations of all kinds. If there's one thing this springs in the Utah red rock, ROCKS…it's the vibe!

Diamond Fork Hot Springs Is A Hiker's Paradise
Diamond Fork Hot Springs is a destination for the nature lovers. Tucked securely in a picturesque canyon, the springs' occasionally milky blue waters is reminiscent of a certain famous lagoon in Iceland, and just as warm and welcoming. If you're a fan of waterfalls you're in luck as this location boasts a beautiful one. The springs aren't too difficult to to get to, and are fairly close to civilization making them a popular weekend getaway.
Located about an hour outside of Salt Lake City, just off from Spanish Fork, Utah you begin your journey at Diamond Fork road to hike to the hot springs. The hike itself is about 4.5 miles (in and out) in the summer. In the winter the distance can go up to to 12.5 miles if the road to the parking lot is closed. Plan on at least a half day for your visit, and make sure to pay attention to the road signs. If you want the Blue Lagoon feel but not the Blue Lagoon price (Diamond Fork Hot Springs is FREE) come visit this spectacular place.
Diamond Fork Hot Springs (also known as Fifth Water Trail) is located at these coordinates, 40°05'04.9″N 111°21'18.2″W,

Baker Hot Springs Is A "Make Your Own Soak" Experience
Call yourself Goldilocks because Baker Hot Springs is the perfect spot to create your own "just right" experience. Its three baths (at no cost to you) are man made, built into a land known by some as "Mini Yellowstone." Natural bubbling pools scatter the area, but these are too hot to swim in. Visitors with young children beware, a dip in any of the pools that are not Baker Springs can send you on a trip to the hospital.
To achieve your perfect bathing experience there is a cool-water spring that emerges west of the hot springs. By redirecting the cooler water (through PVC pipe on location) you make your own "not too hot," "not too cold" temperature in the cement soaking pools.

Homestead Crater Is Far From A Hole
On a cute little colonial resort in Midway, Utah (the same Midway well known for its magical ice castles) is a crater you can swim in. Walk through a small tunnel and you'll find yourself in a thousands-year-old cave that looks something akin to Mexico's grand cenotes with rock walls stretching to a ceiling that opens to sky. Filled to the brim (its depth reaches up to 65 feet) with warm water, the interior of Homestead Crater stays heated at a constant range of 90 – 96 degrees Fahrenheit making it a perfect cold weather destination.
Homestead Crater offers more than just a relaxing dip. Paddle boarding, yoga, snorkeling, and scuba diving are all popular activities available for purchase at the space. One fascinating draw to this natural wonder is that it is actually the only warm true scuba diving location in the continental United States. Neat!

Tips For Visiting Hot Springs In Utah
Dress appropriately. Since these springs are primarily found in natural landscapes you will be exposed to the elements. In addition to your swimsuit and towel consider bringing along water shoes and a jacket. Furthermore, though several of these locations are rumored to be skinny-dipping friendly it is technically illegal to be nude anywhere public in Utah so "bare" that in mind. Everything You Need To Know About Visiting Nude Hot Springs
Pack in, pack out. Trash belongs nowhere but in the rubbish bin. It's simple. Whatever you bring to the springs with you, you take out. It's common courtesy to keep the beauty of the places intact. Locals that keep the springs visitor-worthy will appreciate that you respect the land.
Avoid crowds. Go earlier in the morning or during the weekdays if you are less of a people person and more of a solitary bather. Weekends, especially during the winter months, tend to be a "hot spot" for dates and family outings.
Now that you've seen the extent of what Utah's hot springs has to offer, get up and go! Treat yourself to some good clean mineral water and much deserved rest and relaxation. While Utah has so much going for it in the adventure world, with its wide collection of outdoor sports and activities, it is clearly also a place to just unwind and peacefully take in the wonders of the landscape. From red rock, to mountain tops covered in snow, to grassy cattle ranges, to holes in the ground…Utah has it all. It just needs you.