Looking for the best Airbnb in Arizona for your next trip to the desert? We're here to help you out with these suggestions.
There's a reason snowbirds flock to Arizona for half of the year. With practically perfect winter weather and an abundance of sunshine all year long it's hard to not enjoy your time in this southwest paradise.
You'll find ancient saguaro cacti in the desert expanses of the south, unusual red rock formations in Sedona, and pine and aspen forests up north giving you a taste of the variety of impressive landscapes the state has to offer. The only thing that could make your trip even more memorable is finding the ideal Arizona Airbnb.
Airbnbs can be a great option when traveling as they allow you to stay in accommodations more unique to the area as opposed to setting up camp in a generic hotel room. They also allow you to connect with locals and often are kinder on your wallet than a hotel would be.
So go ahead and take a look through our list of unique suggestions and find the best Airbnb in Arizona for you.
Looking to save money on your trip to Arizona? Get a FREE $55 Airbnb coupon by using our code when you book!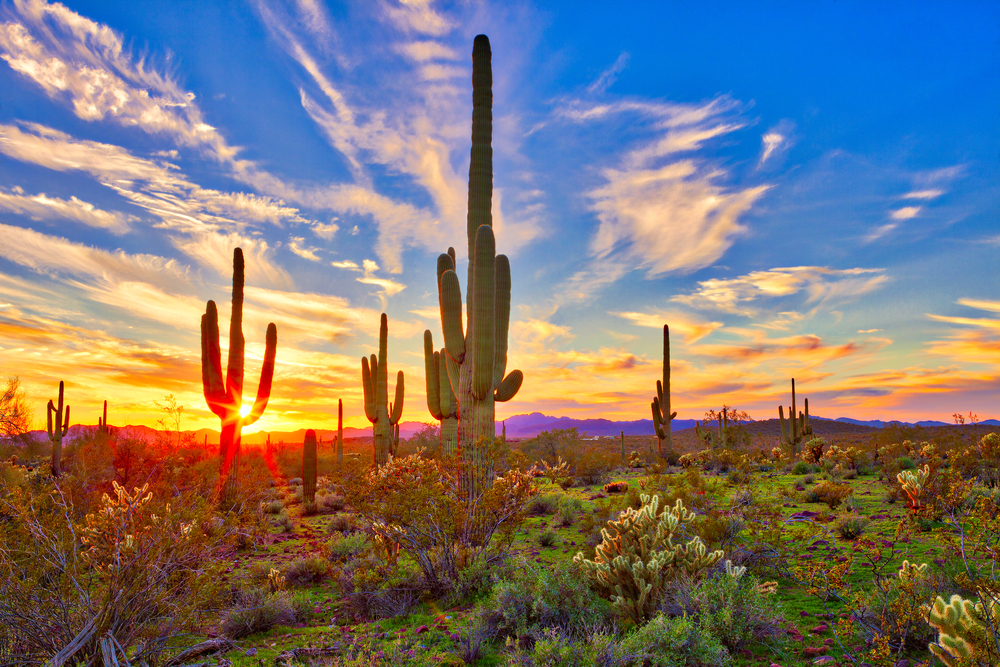 12 Best Airbnbs in Arizona (Cabins, Casitas, & More)
Casita Del Rey
We should start by mentioning that this beautiful Tucson, Arizona Airbnb is home to Mediterranean miniature donkeys, horses, Nigerian Dwarf and Pygmy goats, and chickens. Visiting the animals is just one of the activities available on this impressive 5-acre property.
The small one-bedroom casita exudes southwest charm and is the perfect place to rest your head at night, but the real fun is found right outside the door.
When you're not visiting the animals you can cool off in the pool, shoot some hoops on the basketball court, relax in the courtyard, or grill at the BBQ pit.
And when you're ready to venture outside the property to explore the rest of Tucson you'll be happy to know that just a short drive will take you to downtown Tucson or to top-notch hiking trails in the Catalina Foothills.
Click Here To Check Rates On Airbnb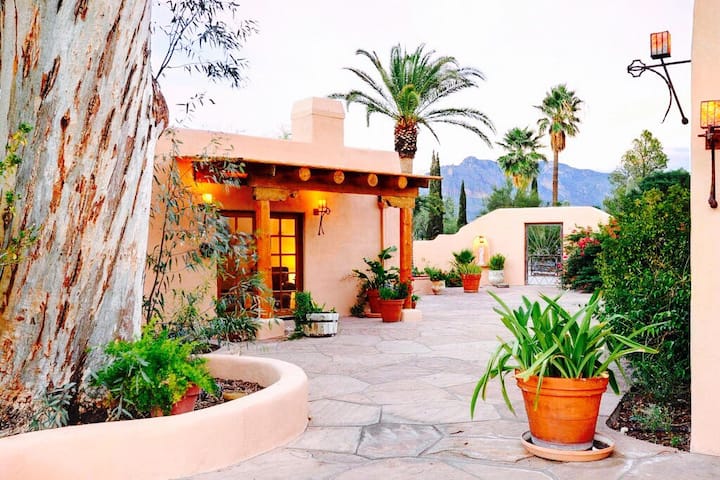 On The Water In Havasu
Arizona is far more than just dry desert, and this Arizona Airbnb perched right on the edge of Lake Havasu is the perfect example of the kind of diverse beauty you can experience in the state.
There's nothing quite like having a view of the lake every time you look out the window. Not to mention the majestic mountains in the background.
There's also a large patio allowing you to sit outdoors and admire the views before descending the private staircase that leads down to the lake. Bring a pool float and enjoy a relaxing afternoon on the water.
With one queen bed and one sofa bed, this Lake Havasu home can accommodate up to 4 people. Bring your family, start up the outdoor grill and bask in the Arizona sunshine.
Click Here To Check Rates On Airbnb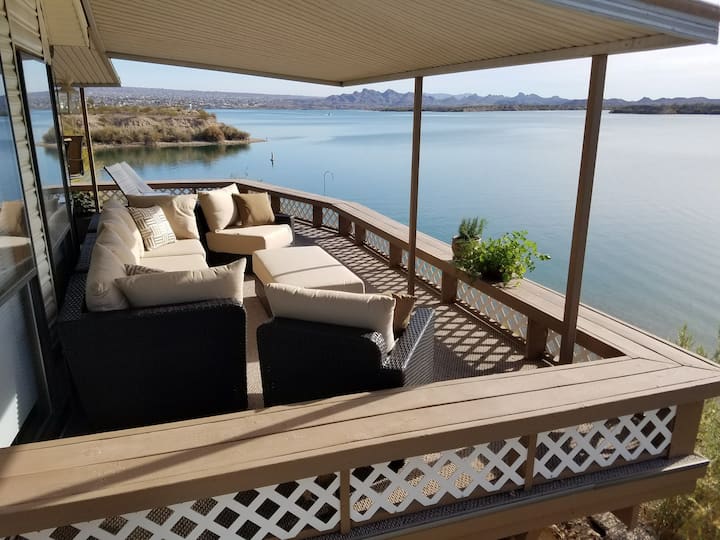 Social D To Nth Degree At A-frame Roadrunner Ranch
Looking for a weekend getaway to an Airbnb in Arizona that will allow you to escape your busy city life? This cozy A-frame cabin in Flagstaff that can accommodate up to 6 guests provides you with the perfect opportunity to do just that.
Expect to connect with the guests you arrived with and with nature as you settle into this solar-powered, self-sufficient Arizona Airbnb. The cabin is just a short drive from the Sunset Crater Volcano National Monument and Wupatki National Monument.
A 45-minute drive will take you to Grand Falls (nicknamed the Chocolate Falls) and if you're willing to sit in the car for just over an hour you'll reach what is arguably Arizona's ultimate highlight, The Grand Canyon.
Put away your phone (after all there's no cell service or Wi-Fi), play a board game, or just talk, and enjoy "roughing it" at this one of a kind Arizona Airbnb.
Click Here To Check Rates On Airbnb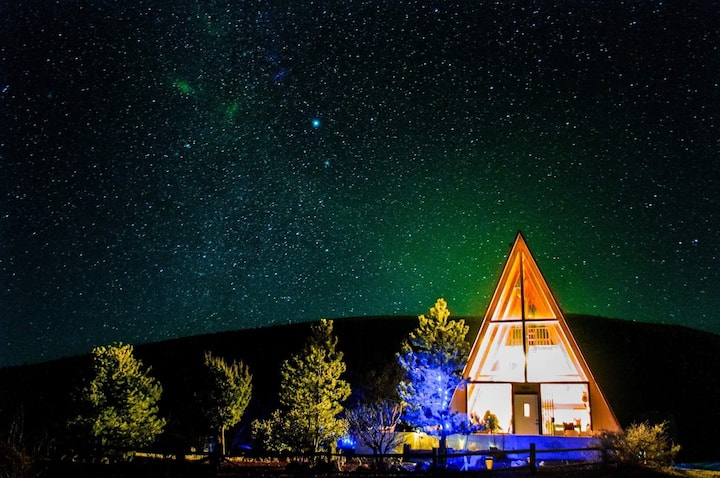 Tucson Poet's Studio
Adobe brick is a signature building tool in the southwest, and to be able to stay in an Airbnb in Arizona that is built from sun-dried Adobe brick is a unique opportunity that should be cherished.
This charming Poet's Studio guesthouse is an ideal 2-person accommodation located in close proximity to excellent restaurant options as well as downtown Tucson. If you're visiting during the fiery hot summer months, make sure you take advantage of the plunge pool on the property to cool off.
The thoughtful host has coffee and green corn tamales among other treats waiting for you when you arrive. And if you can't bear to leave your pet at home while you travel, they're more than welcome at the studio!
You won't be disappointed if you allow the Poet's Studio to be your home base as you explore Arizona's southern desert landscapes.
Click Here To Check Rates On Airbnb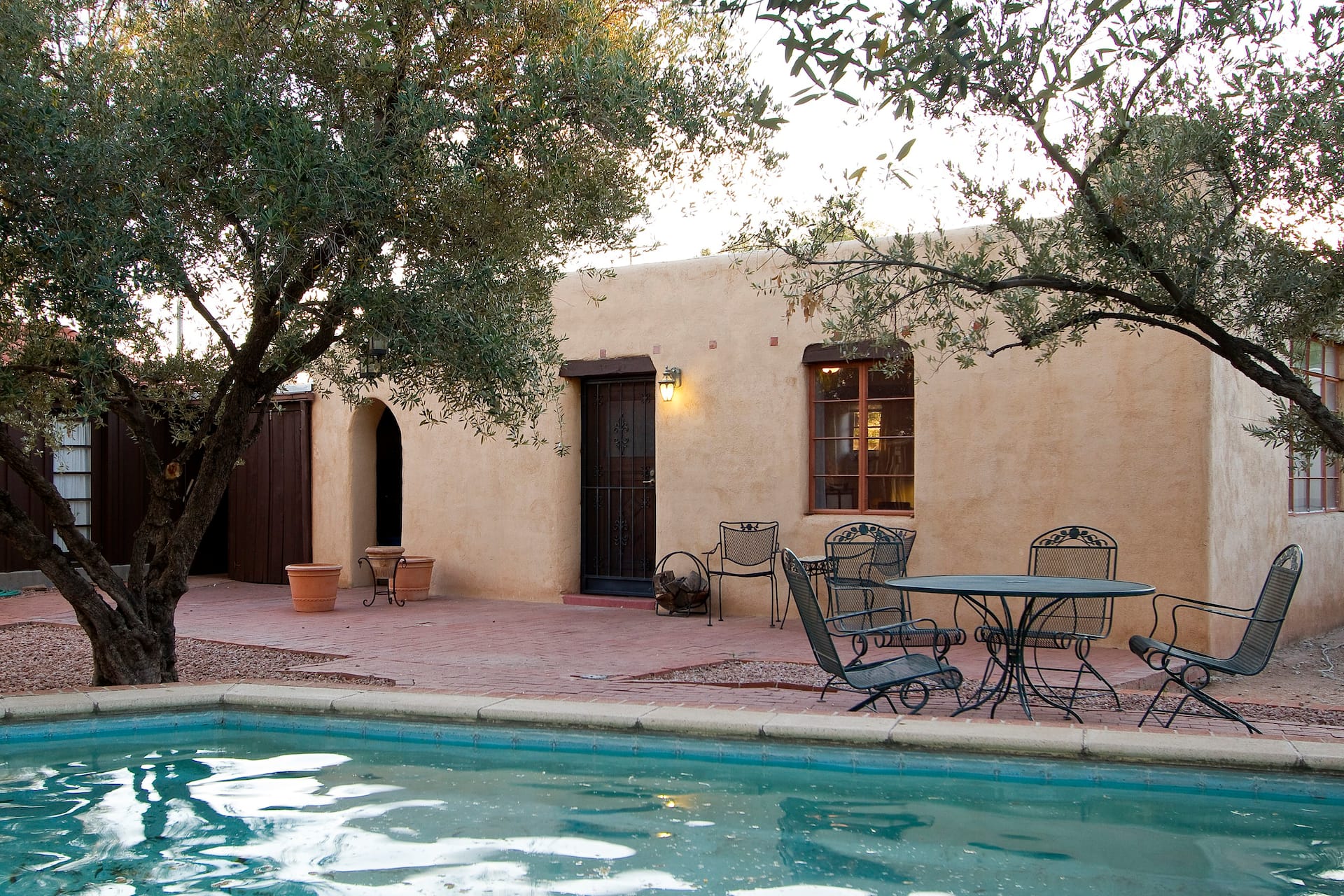 The Kiva Cave Creek
We weren't kidding when we said our suggestions were unique. This incredibly unusual Cave Creek, Arizona Airbnb is built underground in the form of a kiva with a little sleeping loft to crawl into at night (or a pull-out couch for the less nimble).
Kivas originated as structures designed by the southwest Pueblo people who created these underground rooms for ceremonial purposes.
Though this particular Airbnb in Arizona is largely underground, there are plenty of aboveground windows letting sunlight stream into the cozy space. And if you step outside you'll find ancient saguaro cacti scattered around the desert and a refreshingly clear view of the stars lighting up the night sky.
You might also enjoy a vibrant Arizona sunset while sitting around the fire pit. This Cave Creek kiva is certainly an Arizona Airbnb experience you'll be telling your friends about when you get home.
Click Here To Check Rates On Airbnb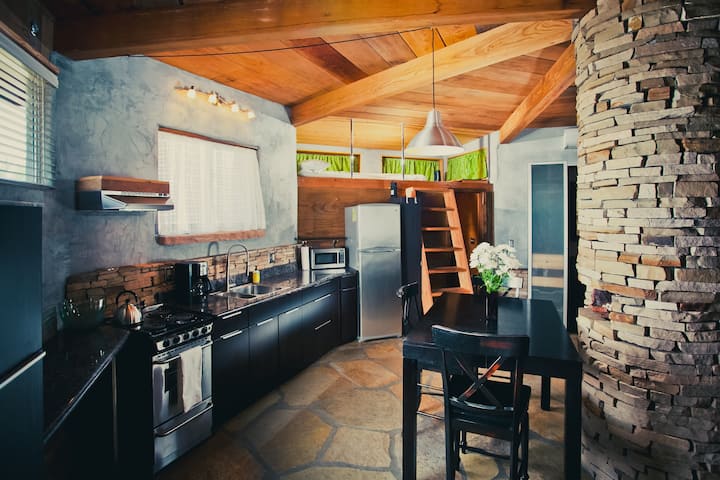 Trailhead Casita
This two bedroom Sedona Airbnb stands out from the rest with its vibrant interior walls and proximity to Sugarloaf Mountain.
Sedona's red rocks are a sight to behold and this casita offers views of those red rocks right out the bedroom window. There's also a private trail that leads to a network of hiking trails if you're up for the adventure.
One of the sleeping accommodations is a cozy loft, a unique bedtime haven. This can be an exciting layout for children but is not recommended for those who have a difficult time climbing a ladder.
Sedona itself boasts excellent hiking trails through the famous red rocks to scenic viewpoints, outdoor adventure opportunities including jeep tours, interesting shops for collecting souvenirs, and plenty of delicious food options.
Click Here To Check Rates On Airbnb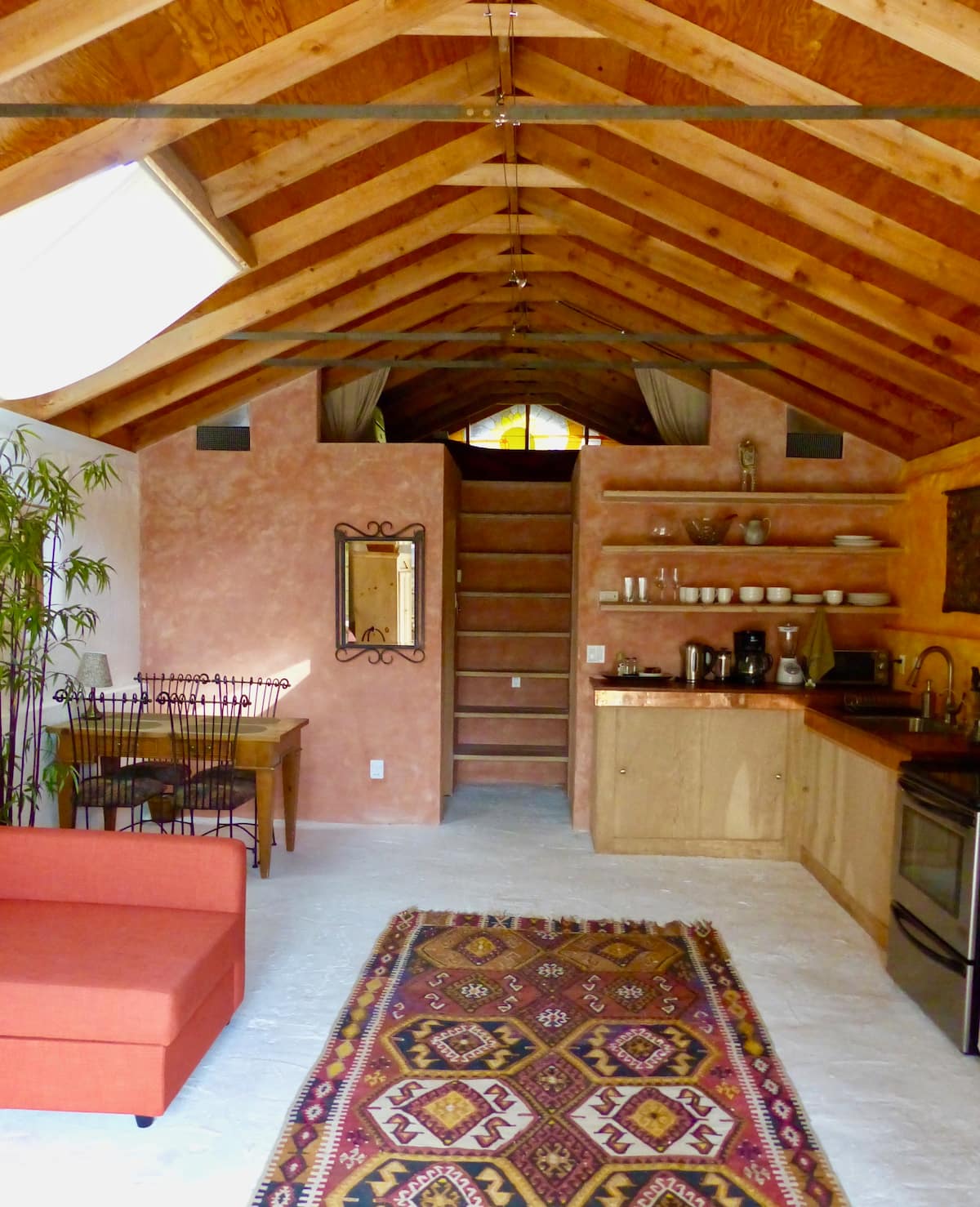 Cactus Cottage
Looking for the best Airbnb in Arizona that's located in the Prescott pines? Look no further.
This adorable little studio cottage was built by one of the owners and is beautifully constructed and designed. It's located in a quiet Prescott neighborhood within walking distance of the historic Whiskey Row and its saloons and art galleries.
You can start your day by relaxing in the patio hammock before embarking on your Prescott adventures.
The cottage sleeps up to 3 people making it the perfect accommodation situation for couples or small families. With a welcome sign and the hosts living in the main house to address any questions or concerns, you're bound to feel right at home in this precious getaway cottage.
Click Here To Check Rates On Airbnb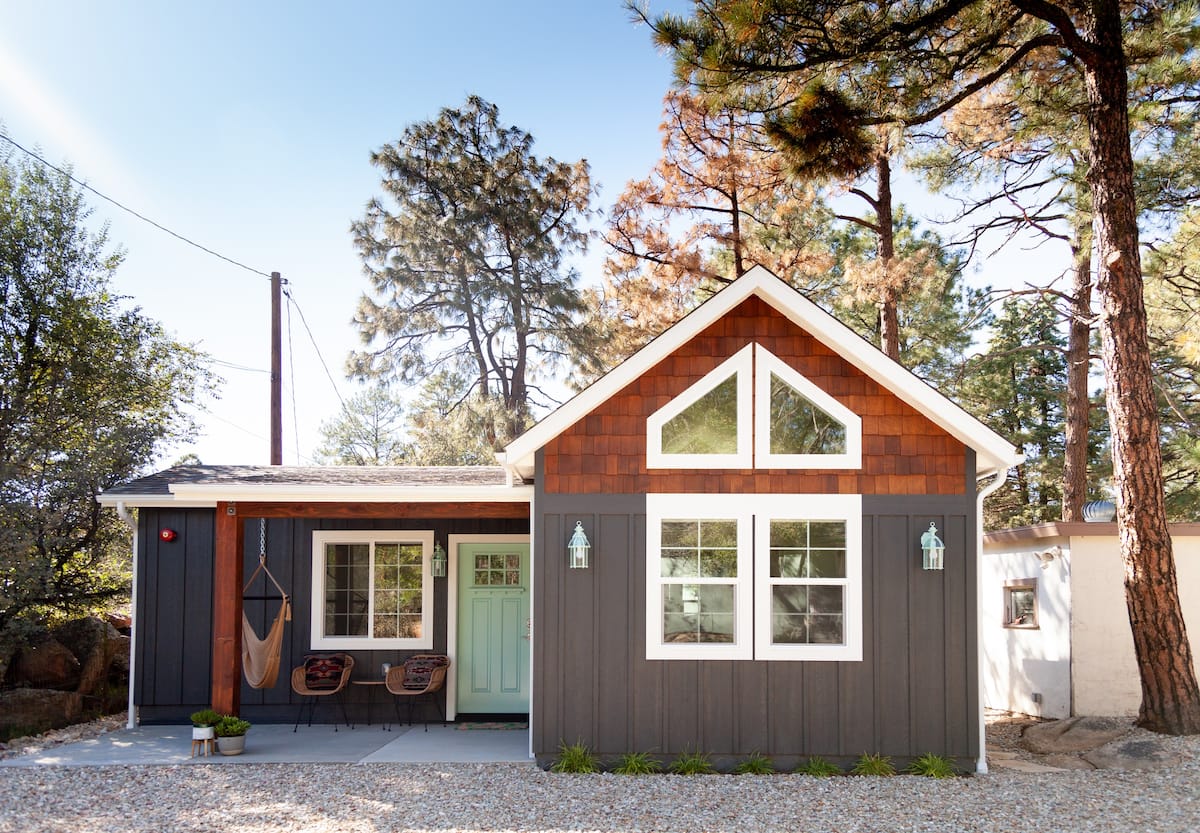 Cozy Desert Oasis
This beautifully decorated one bedroom Airbnb in Arizona is perfect for couples looking to take advantage of the activities available in and around Tempe.
You can head on over to Tempe Town Lake and rent a kayak to spend a romantic day on the water. When you're all rowed out you can head to Mill Avenue near the Arizona State University campus to grab a bite to eat.
You'll also be right next door to the Phoenix Zoo and the Desert Botanical Gardens which we highly recommend for acquainting yourself with the beautiful plants native to the Arizona desert.
Papago Park hiking trails and spring training baseball fields are also nearby to keep you plenty occupied during your stay. This charming Arizona Airbnb is the perfect introduction to this beautiful state.
Click Here To Check Rates On Airbnb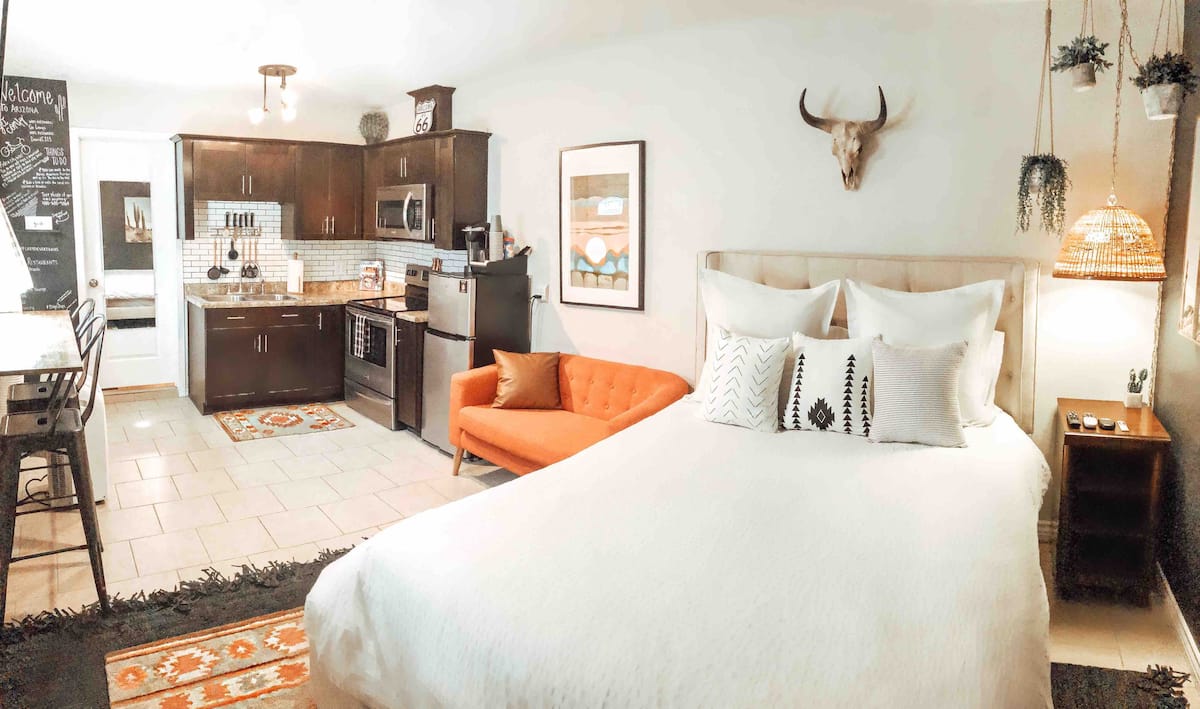 Rainbow House
The Rainbow House is a fantastic solar-powered Sedona Airbnb located in the middle of the vibrant red rocks, a signature mark in this unique desert town. With ideal temperatures and endless hiking trails, Sedona is the perfect home base for your Arizona trip.
The home itself is eclectic and displays uniquely tiled floors with unusual, colorful designs. The views from inside are also impressive, allowing you to appreciate Sedona's beauty whether you're sipping on coffee inside or getting dirty on the trails.
With two bedrooms, this Arizona Airbnb can accommodate a family or group of 4. It's the perfect location for everyone to recharge and reconnect.
Whether you're relaxing on the deck, admiring the unique interior decorations of the home, or just using it as a place to rest your head before setting out on your Sedona adventures, the rainbow house is sure to help make your stay a memorable one.
Click Here To Check Rates On Airbnb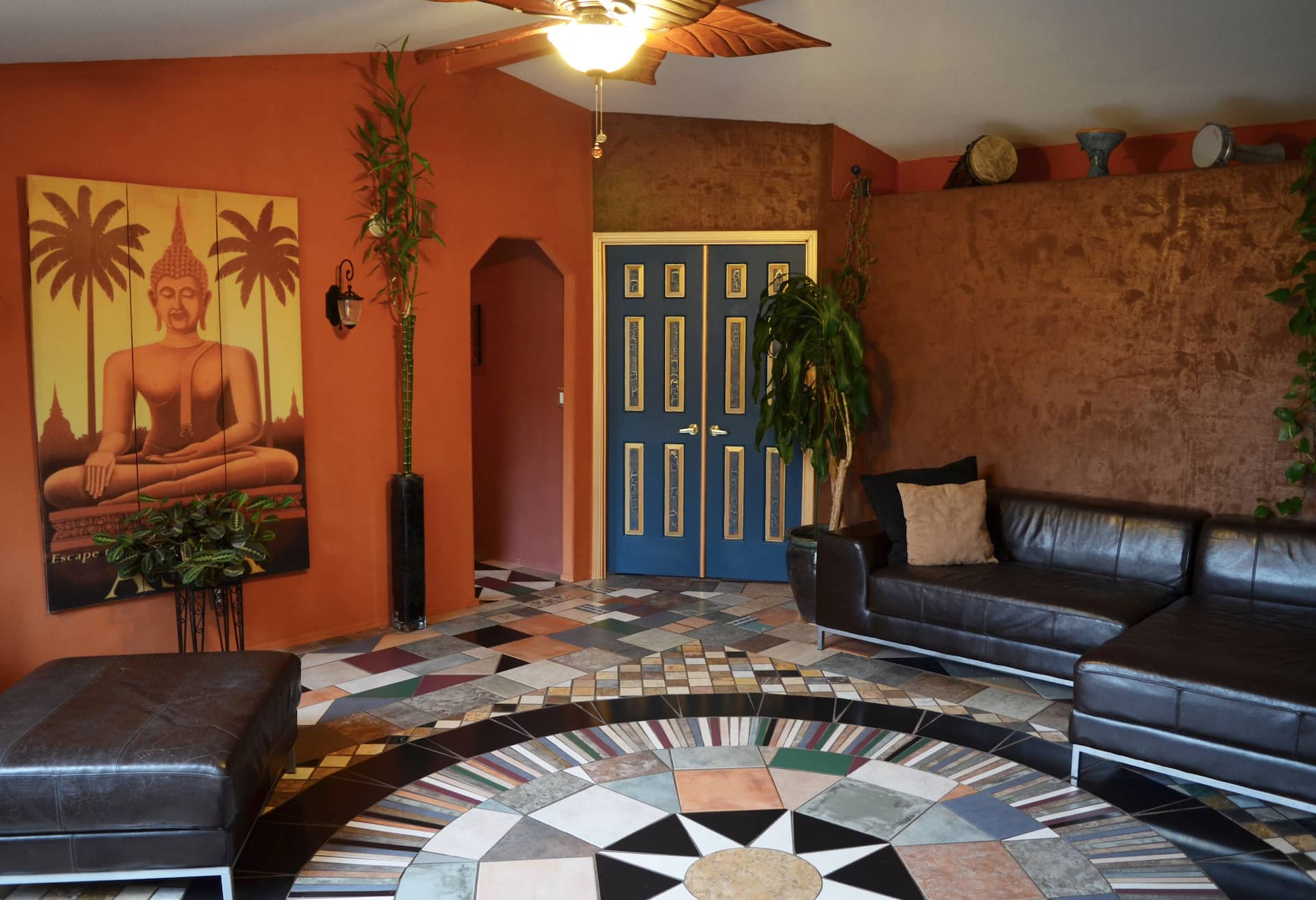 Luxe Bedroom In Resort Setting At Villa Paradiso Shared Pool
This beautiful mid-century home is the best Airbnb in Arizona if you're choosing to make Phoenix your home base.
This location has all the welcoming charm of a home coupled with the luxury of a resort. A rain shower pops of vibrant color, Asian antiques, a smart TV, and an outdoor dining area with heat lamps are just a handful of the many things you'll find upon entering this Phoenix Airbnb.
You'll also have access to a pool with sun loungers and a day bed as well as a continental breakfast every morning to help begin your day.
Tell your significant other to pack their bags, because you won't want to miss out on this opportunity to enjoy Phoenix in style.
Click Here To Check Rates On Airbnb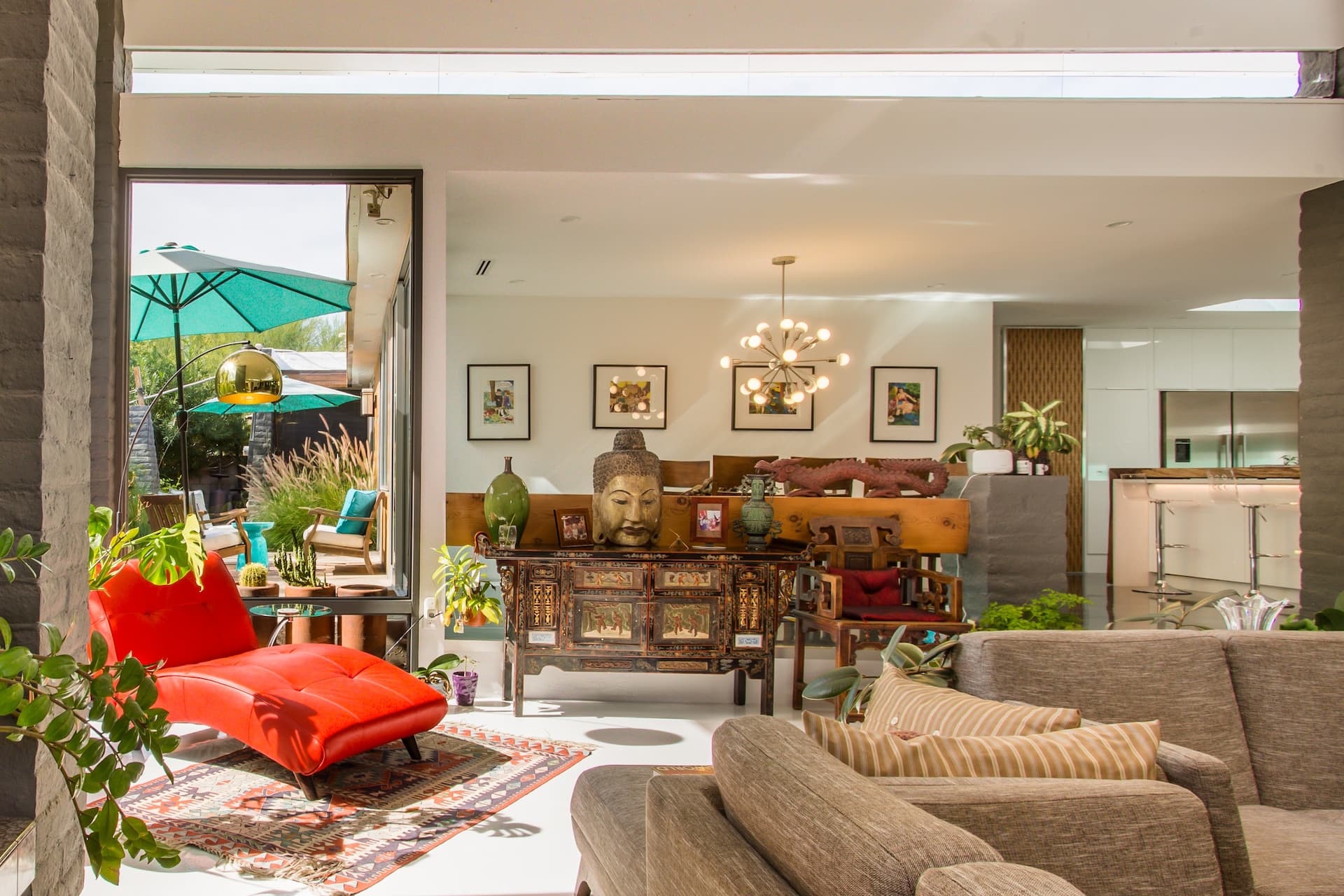 A-Frame Mountain View Cabin In A National Forest
Another beautiful A-frame cabin option awaits you at the edge of the Coconino National Forest in Flagstaff. This is the perfect Airbnb in Arizona to immerse yourself in nature and feel like you have the world to yourselves.
And when you get sick of the people you're rooming with, you can venture just a short distance away to the Sunset Crater Volcano or Wupatki National Monuments, or tackle a section of the Arizona Trail at Walnut Canyon. If you're an avid skier you might also want to try the slopes at the Arizona Snowbowl.
You also have access to 3 mountain bikes, a BBQ grill for whipping up a delicious dinner, firewood to keep you warm on a winter night, and binoculars for star gazing at the clear skies free from light pollution.
You will have some cellphone reception at the cabin, but you might choose to set down your phone and challenge your friends and family to a board game or read your favorite book. Peace, quiet, and a whole lot of Flagstaff wilderness are waiting for you at this Arizona Airbnb.
Click Here To Check Rates On Airbnb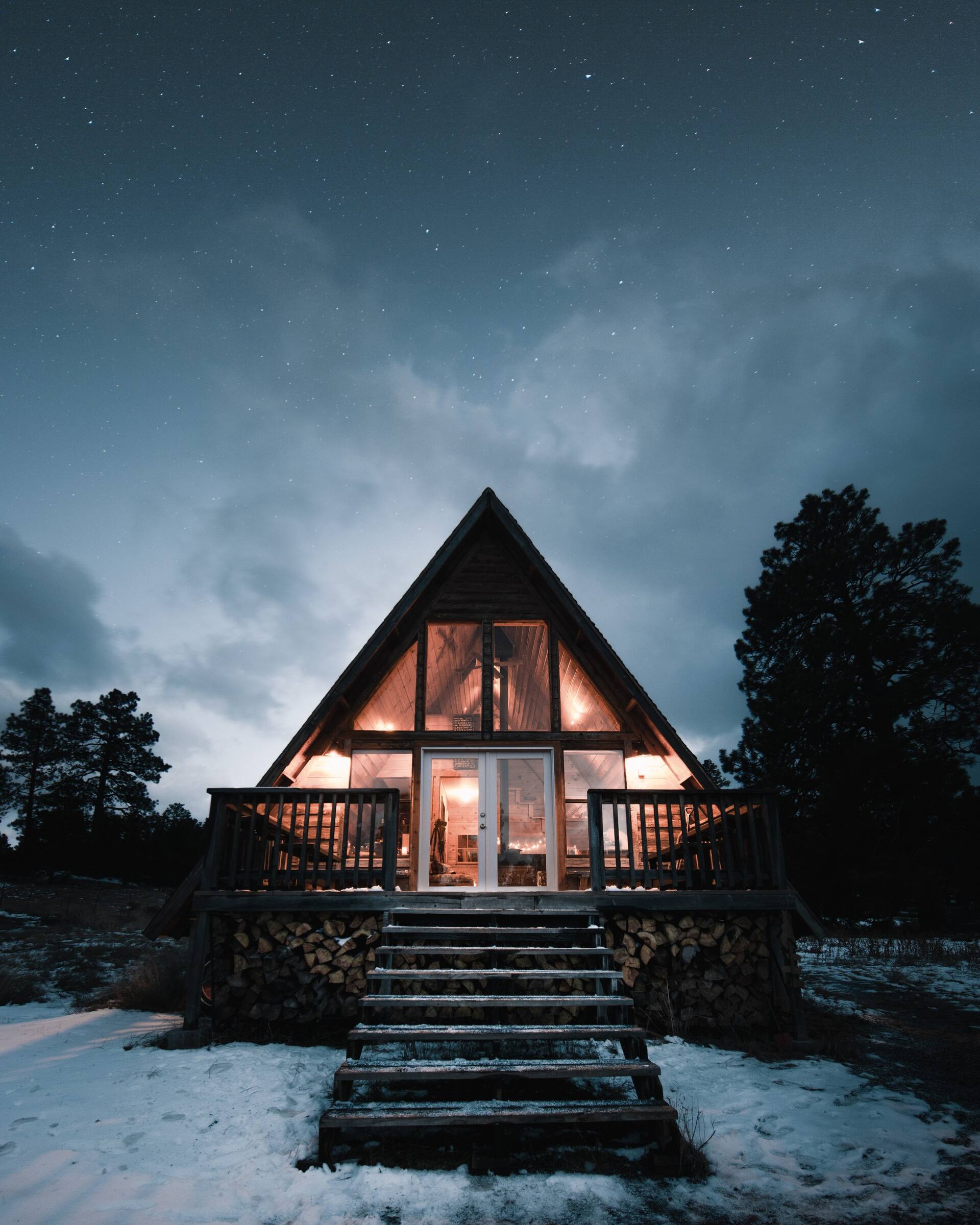 Stunning Southwest Style Vacation Home
Grab your entire friend group or extended family and come stay at this beautiful 4 bedroom Airbnb in Arizona. Everyone from kids to grandparents will have fun exploring Tucson with this southwest home as a home base.
Though the interior design of the home has many appealing aspects, the highlight of this Arizona Airbnb is arguably its outdoor amenities.
Outside, you'll find an outdoor kitchen and a private pool and Jacuzzi so you can splash around in the water whether you're visiting in the summer or winter.
There's so much to do in Tucson whether it's visiting Saguaro National Park, hiking in Sabino Canyon, or educating yourself on the native plant and animal life at the Arizona-Sonora Desert Museum. At the same time, this Airbnb property has enough to offer where you could never leave the house and still have a wonderful vacation.
Click Here To Check Rates On Airbnb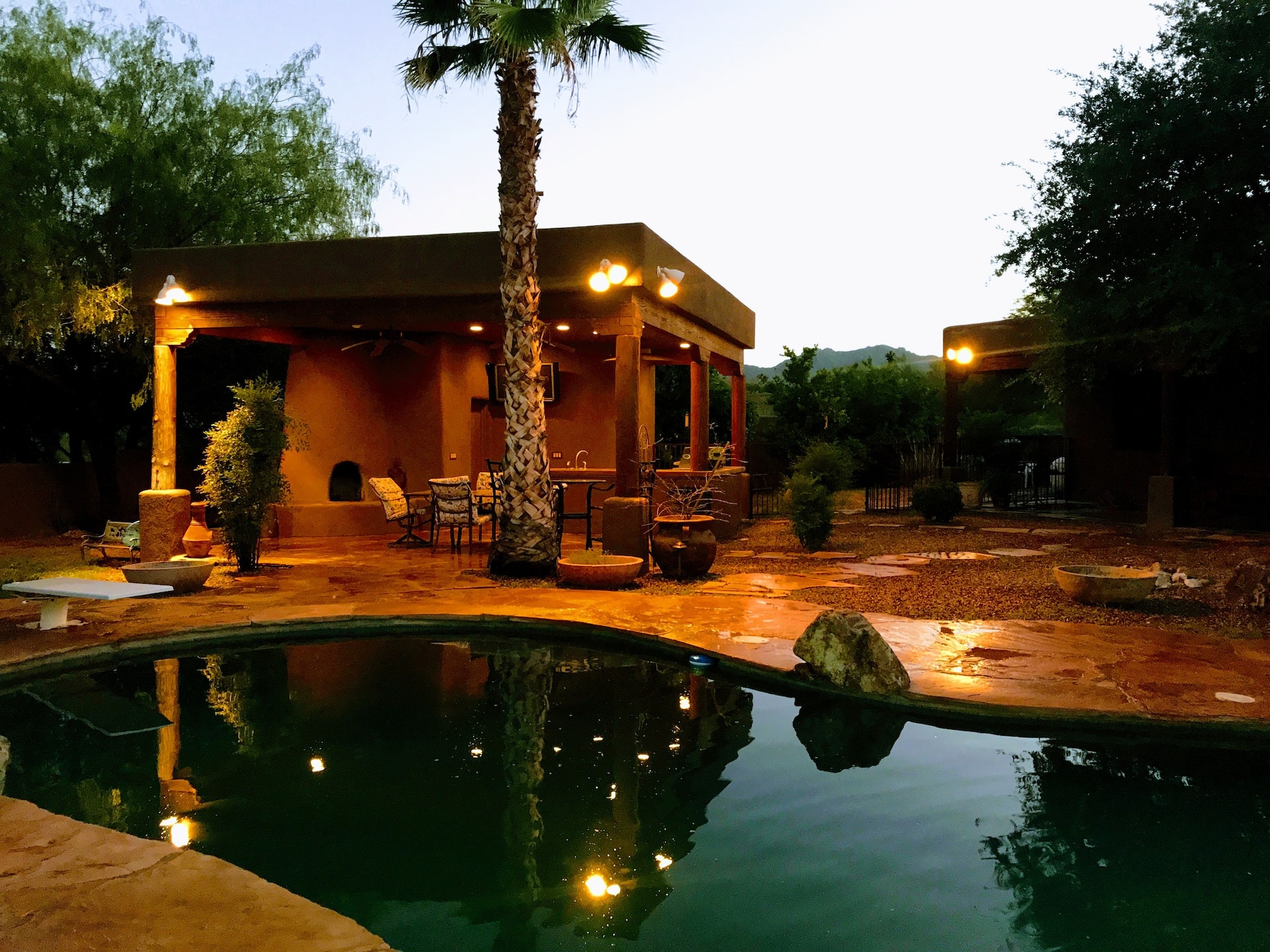 We're thrilled you've chosen to call the deserts and forests of Arizona your home for your next vacation. We hope you'll find a location on this list that catches your eye so you end up in the best Airbnb in Arizona for you.
Whether you're staying in a major city or ditching the cell phone to take a load off in a remote area, you're sure to enjoy your time in this wonderful state. Let us know if you have any questions or comments as you go about choosing your next Arizona Airbnb.