Are you looking for the best hikes in Sedona? We teamed up with Expedia.com to bring you our picks on some memorable Sedona hikes! Red Rock Country, as Sedona is often called, is full of hikes perfect for all ages and skill level. Whether you want experienced Sedona hikes or trails for beginners, there are plenty of Sedona hiking trails for everyone. No matter your fitness level, hiking in Sedona should be on the top of your itinerary.
You can use our Free Airbnb coupon to get $40 off your stay in Sedona! We love Airbnb and it is one of the best ways to stay in Sedona! Claim your coupon here!
If you are currently planning a trip to Sedona, you may enjoy these articles too:
The Ultimate 5 Day Arizona Road Trip Itinerary
5 Things To Know Before Camping In Sedona
Top 5 Best Hikes In Sedona
#1. Devil's Bridge Hike Offers Memorable Sedona Hiking Views
The trail to Devil's Bridge in Sedona is hands down one of the best hikes in Sedona and shouldn't be missed! If you are looking for a Sedona hiking option with major views at the end, this is the trail for you! It is one of the easy hiking trails in Sedona and is a favorite for families as well as experienced hikers. The hike to Devil's Bridge in Sedona is two miles each way and very flat for the majority of the hike. The last 1/4 of a mile [tops] becomes steeper, with a very short but steep climb up to the stunning finale!
Do not let the steep end to this Sedona hike put you off from skipping the trip to Devil's Bridge. It  truly offers one of the most memorable Sedona hiking views! The climb is quick and easy and the view at the end is totally worth it! Make sure to bring plenty of water and to wear good shoes! Click Here to see more great views of Sedona on Expedia.com.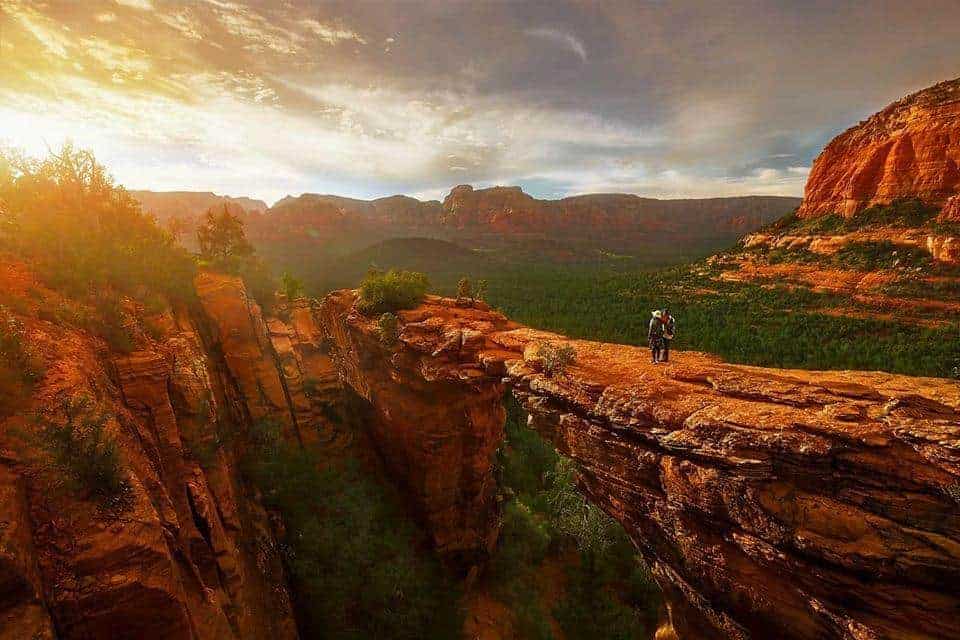 #2. Cathedral Rock Trail Is One Of The Best Hikes In Sedona For All Skill Levels
Cathedral Rock Trail is one of the Sedona hiking trails that are broken down into two parts. If you drive to Oak Creek and park, you have a short and easy hike along a river until you come to a stunning view of Cathedral Rock towering above you. it is truly one of the best natural wonders in Arizona!
This is also a great opportunity to experience a Sedona vortex! This Sedona hiking trail is easy for the whole family and quite accessible for most skill levels. The entire trail is flat with no steep incline or decline. 
The end of the first part of the Cathedral Rock Trail is one of the best and easiest places to see a vortex in Sedona! The second part of this hike climbs to the top of Cathedral Rock and is for more experienced hikers. If you are looking to go hiking in Sedona, the Cathedral Rock Trail is an easy choice to add to your list of trails! It is consistently cited as one of the top hikes in Sedona and once you visit, you will understand why.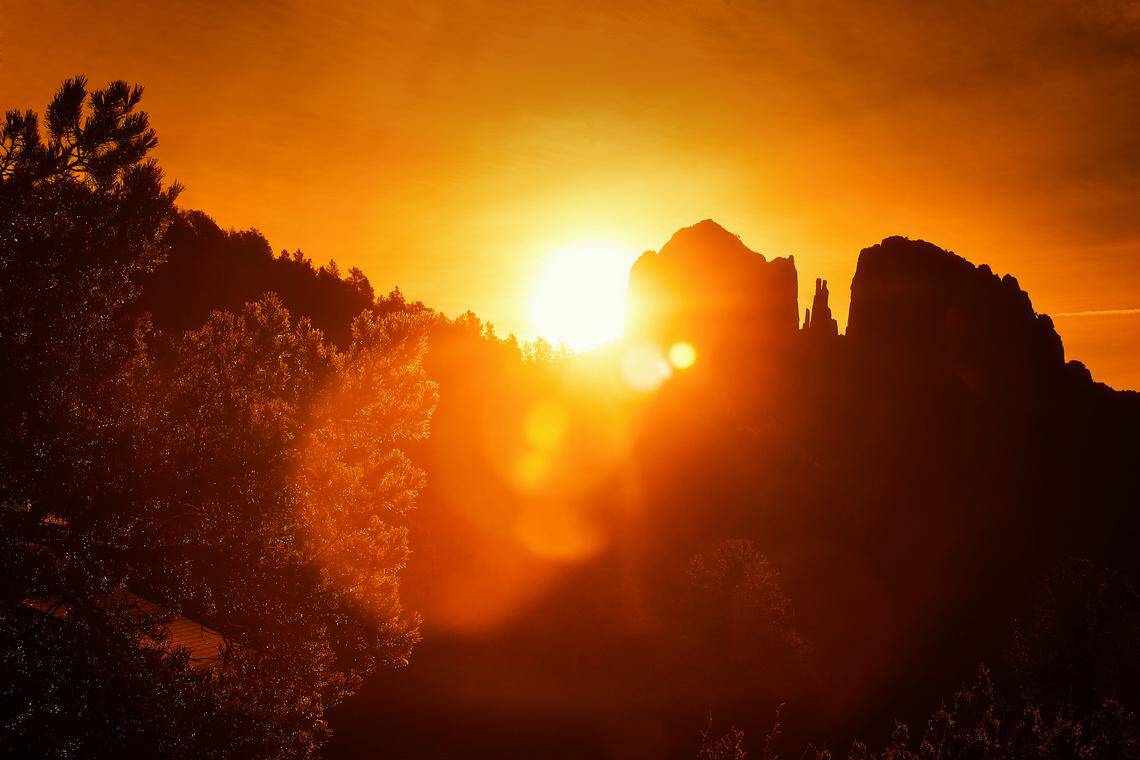 #3. Loy Canyon Trail Is One Of The Top Hikes In Sedona With A Big Payoff At The End
Are you looking for one of the best moderate to easy hikes in Sedona with a big payoff? The Loy Canyon Trail heads through unique canyons and winds past blue pools before it leads you to the top of Loy Butte. This is one of the best hiking trails in Sedona that you can choose to do some or all of the hike. If you want to see Loy Canyon, walk part of the way, if you want to complete the journey up to Loy Butte, finish this Sedona hike for stunning vistas. No matter what, Loy Canyon Trail is a wonderful addition to your list of top hikes in Sedona.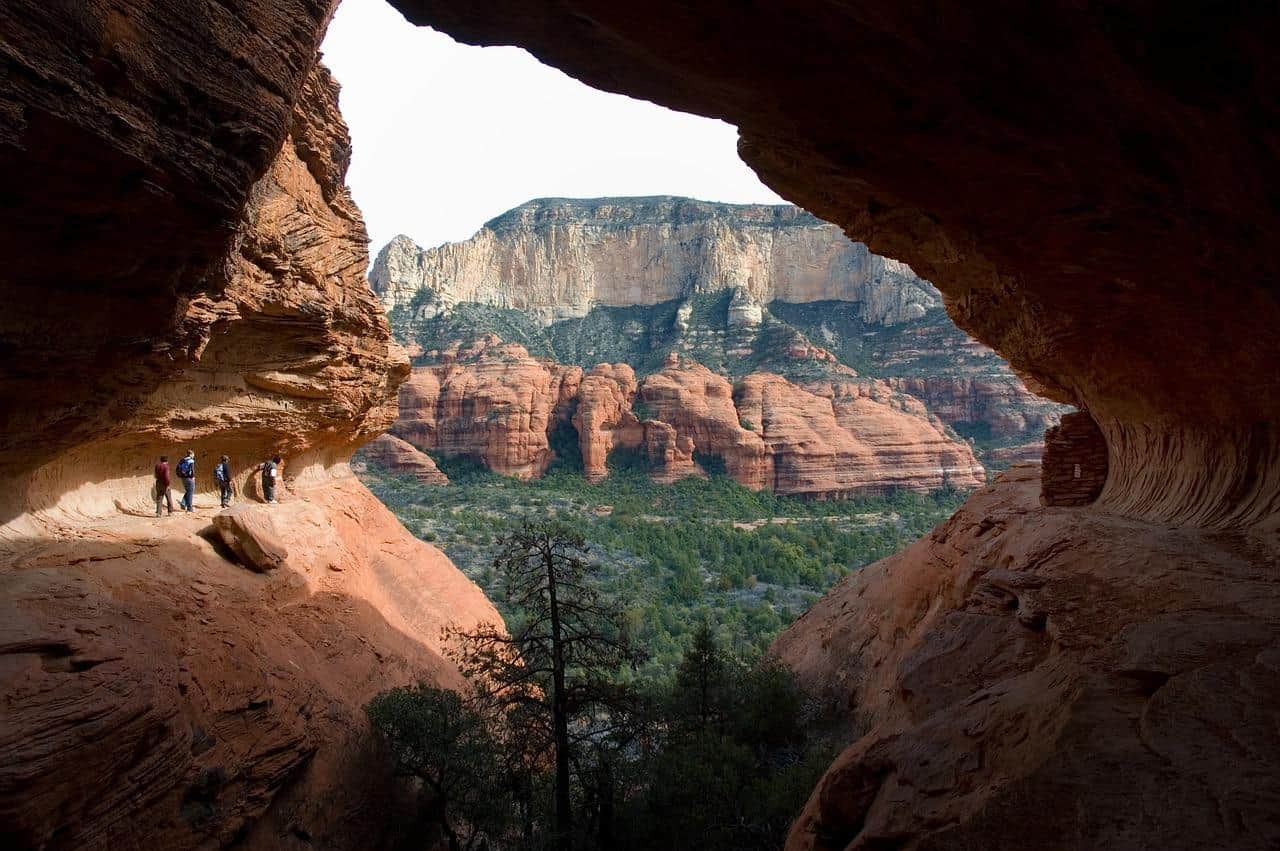 #4. Palatki Ruins Trail Is An Easy Walking Experience Through Ancient Ruins
The Palatki Ruins Trail is one of the most overlooked Sedona hiking trails and that is probably because it isn't even really a true hike. If you hope to visit the Palatki Ruins, it is best to call ahead and make a reservation with a guide so you can learn more about the history of the ruins! Each of the two trails at the Palatki Heritage Center is just 1/4 of a mile each way so you can easily visit the ruins without expending too much energy in the Sedona heat.
One of the trails takes you right up to the Sinagua cliff dwellings, while the other leads to an alcove with ancient paintings from every native people that inhabited the cliff dwellings. If you are looking for a peek into the past along with getting some exercise, Platatki Ruins Trail is one of the best hikes in Sedona for you!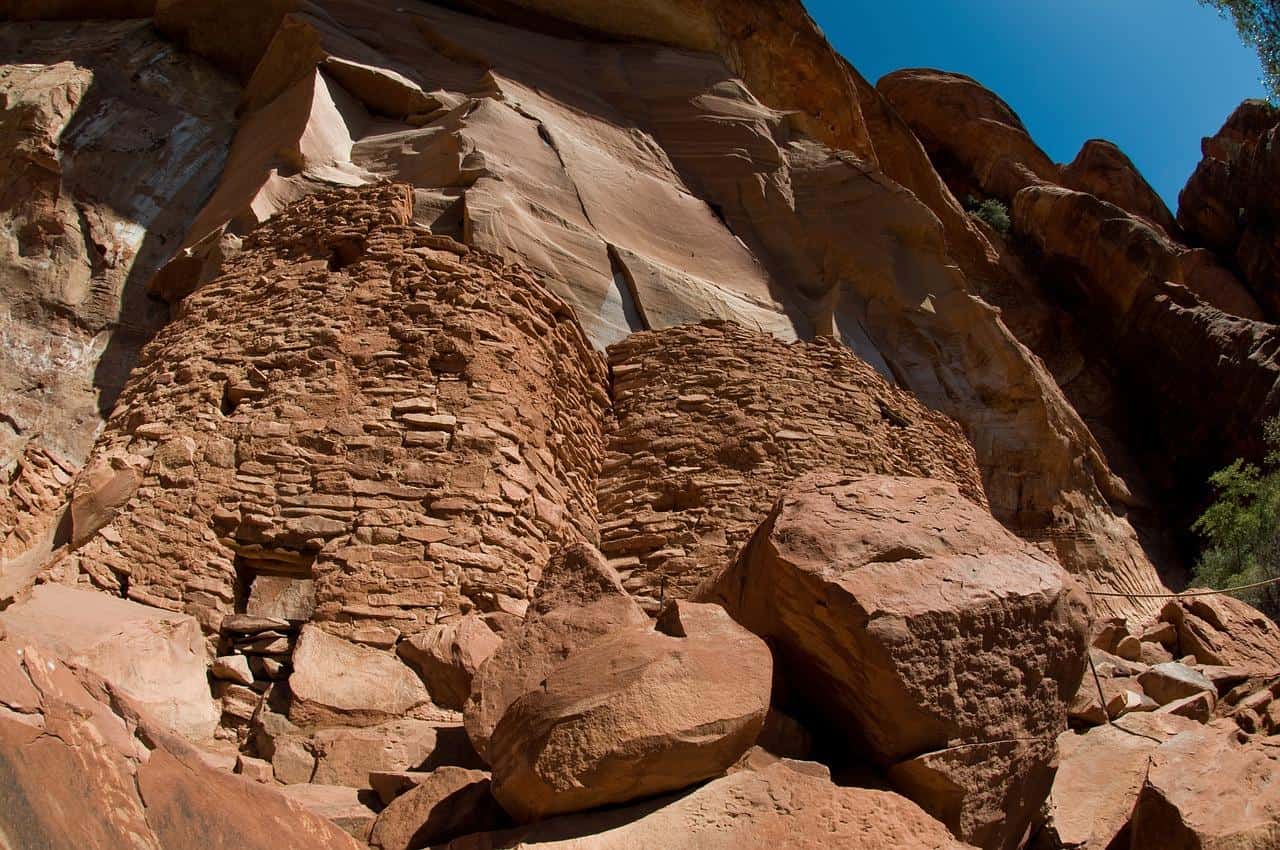 #5. Bell Rock/Courthouse Butte Loop Is The Top Sedona Hiking Trail For More Advanced Hikers
Looking to kick it up a notch? The Sedona hike around Bell Rock and Courthouse Butte is moderate and perfect for those looking for more active Sedona hiking trails.
The loop is 4.5 miles round trip and is fairly easy but gets moderate when it comes to hiking up steps made out of rocks. If you choose this top hike in Sedona, make sure to bring plenty of water because the steep finish may make you very thirsty, especially during the warmer months! It is also one of the best dog friendly hikes in Sedona!
The views as you round each bend make the Bell Rock and Courthouse Butte Loop Trail one of the best hikes in Sedona because there is a surprise around every corner.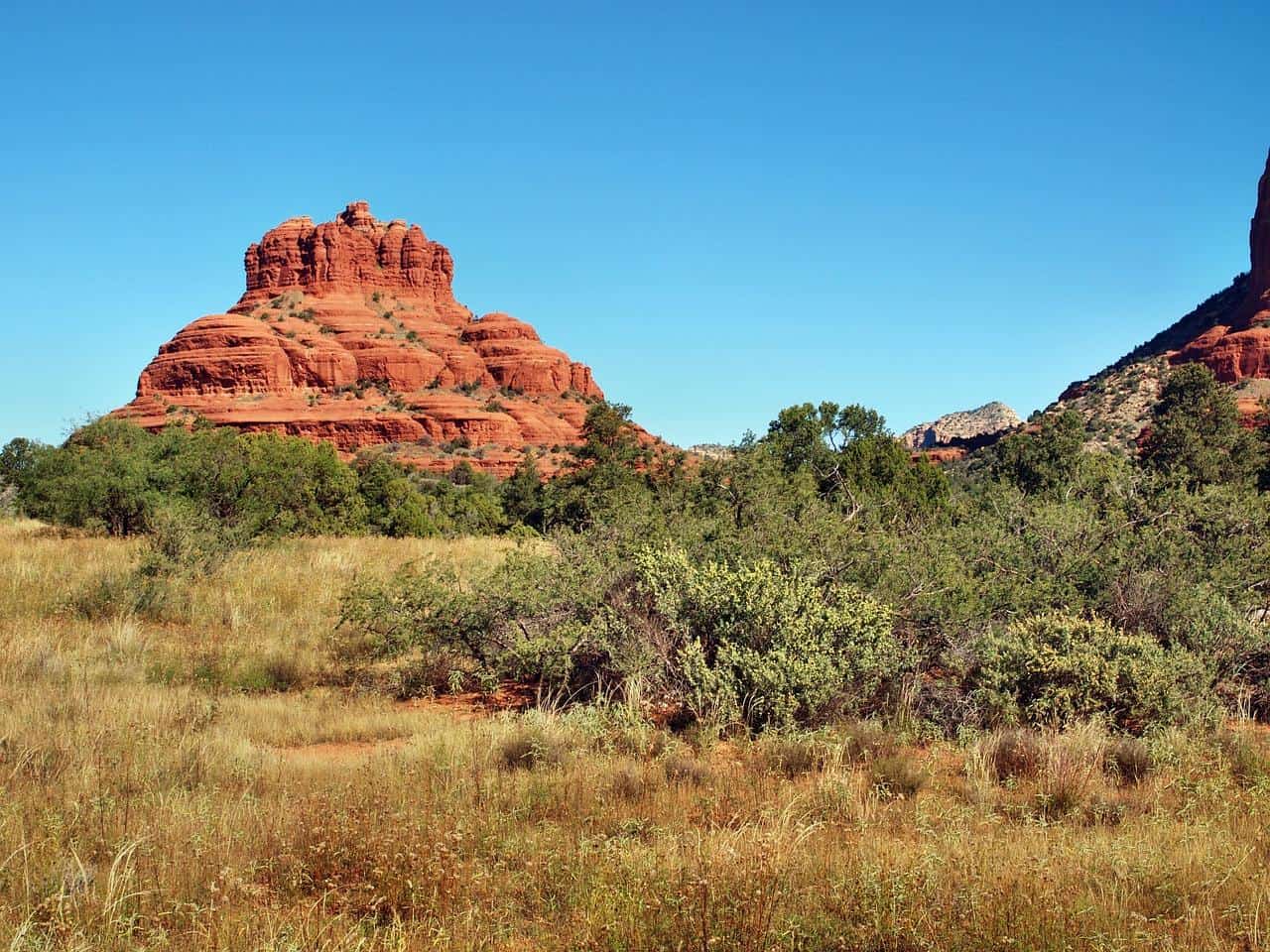 5 Sedona Hiking Tips And Tricks
#1. Choose Your Sedona Hikes Based On Time Of Day
The best time for Sedona hiking is usually in the morning or early evening after the weather cools off. Depending on what time of year you are hiking in Sedona, choose your hike accordingly. Although summers in Sedona can be quite temperate, day also tend to run pretty hot because this is the desert, after all! If you want to do simple hiking in Sedona such as the lower Cathedral Rock Trail, feel free to do this Sedona hike at any time of the day. That being said, if you choose a longer hike in Sedona that requires a good elevation change and takes longer to complete, you may want to avoid the heat of the day. If you are hiking in Sedona during the off-season or shoulder-season, you should be okay to plan your hikes anytime of day!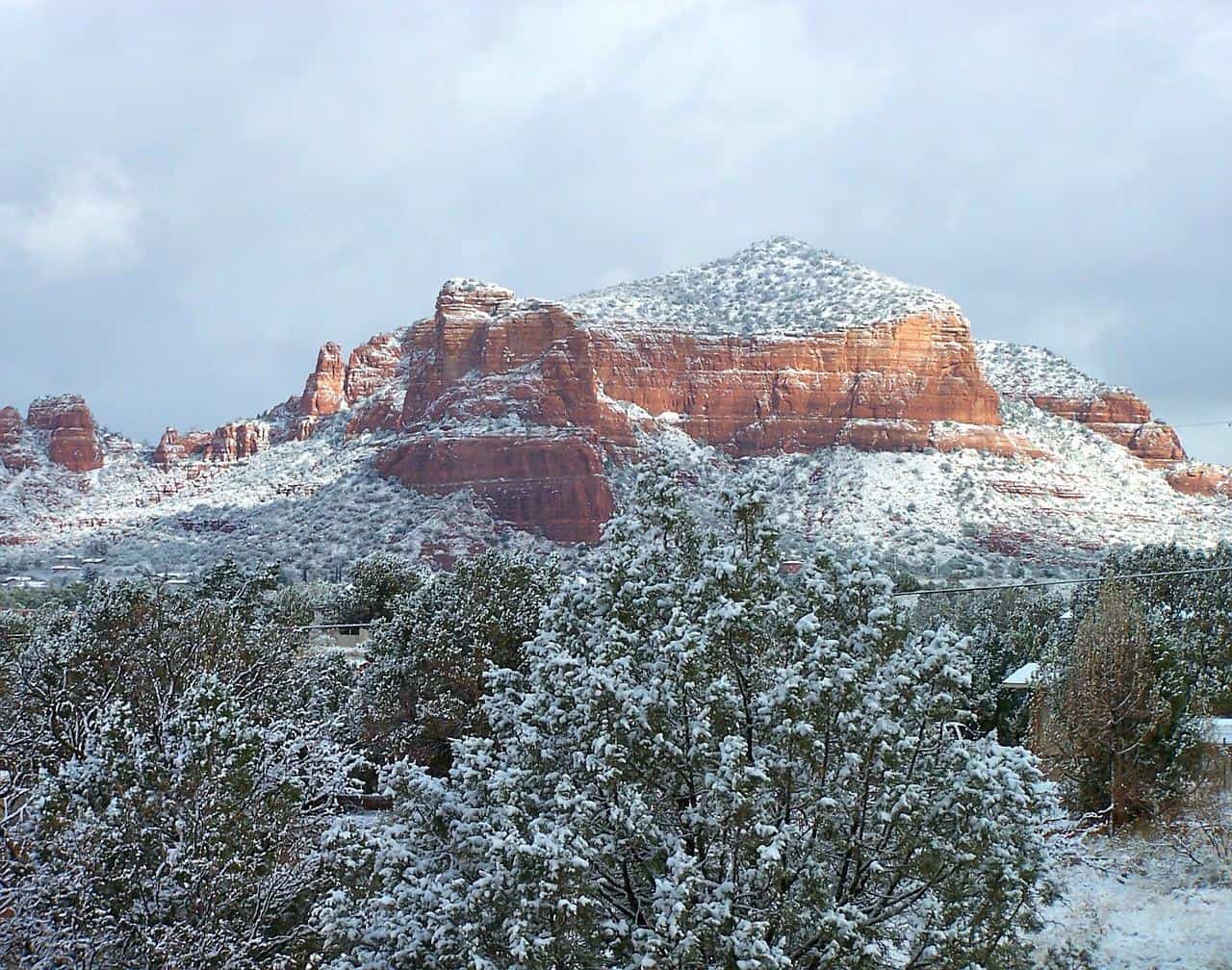 #2. Watch Carefully For Lightning When Hiking In Sedona
Believe it or not, Sedona experience frequent lightning and rain storms during the summer months. If you aren't from an area of the world that gets much lightning, please note that it is extremely dangerous! This may sound obvious, but you wouldn't believe how many people started their Sedona hiking in the midst of a terrible lightning storm. Just because there is no rain nearby does not mean you are safe! If you see lighting nearby, put your Sedona hike on hold for your own safety! The best hikes in Sedona will be there for you once the storm passes.
#3. Let Someone Know Where You Are Hiking In Sedona, Especially If You Go Off-Trail
Remember the movie 127 Hours? If you didn't watch it, it is about a hiker in Utah who went off the trail and a rock fell on him and he was stuck. He didn't tell anyone where he was going so no one knew where to look for him when he went missing. Avoid this by always telling someone where and when you go hiking in Sedona. Unless you are doing one of the very easy Sedona hiking trails such as the ruins trail above, make sure to make your plans known to someone else not in your group.
This could be a friend, your parents, or even a generic post on Facebook tagging your location. That way, if something happens along one of the hiking trails in Sedona and you don't have cell service to call for help, the rest of the world will know where to start looking if you go missing. This may sound morbid, but it is essential to be safe when exploring the best hikes in Sedona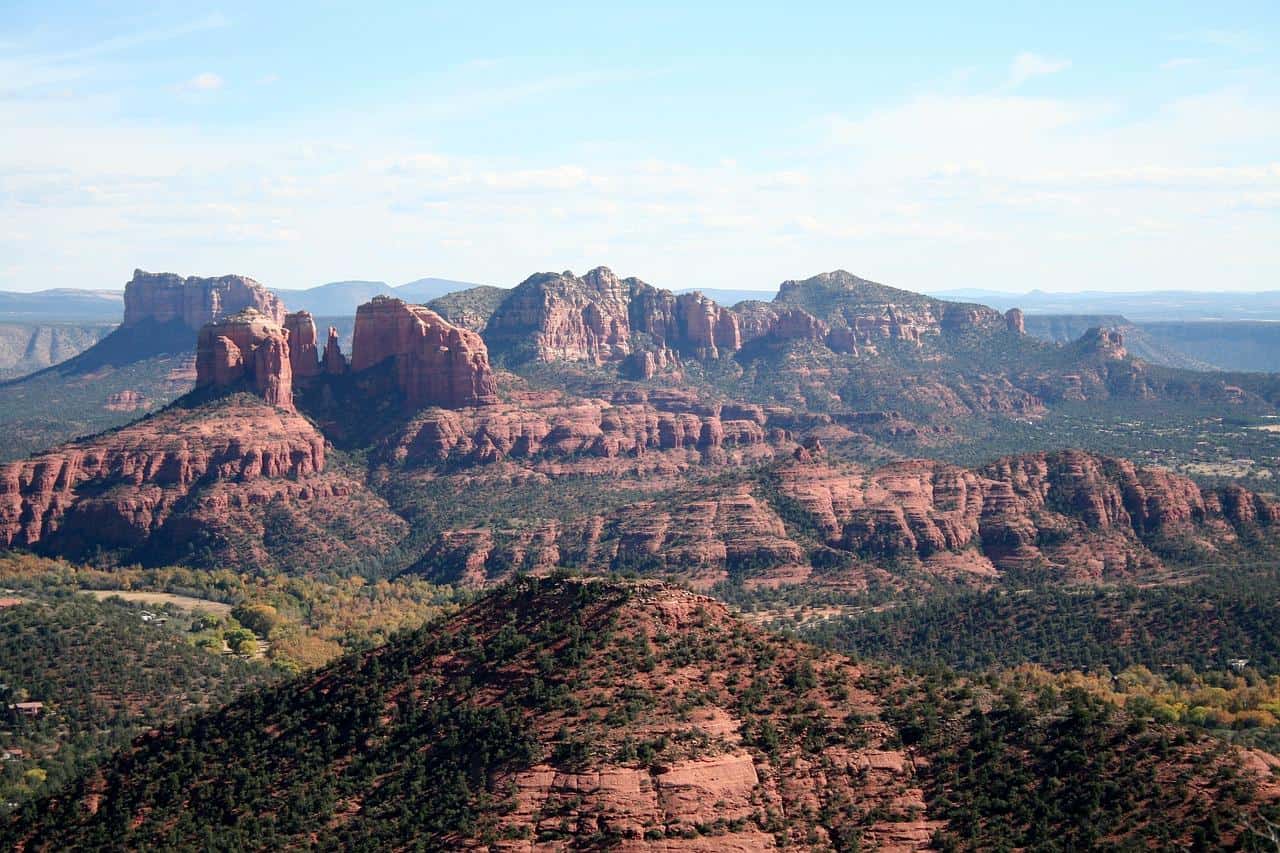 #4. Make Sure To Leave No Trace When hiking Sedona
This means if you are exploring the best Sedona hiking trails and you bring lunch, you better not leave any garbage on the trail! Pack it all up in your bag and take it with you when you leave. Do not leave anything behind other than in a designated trash can. Avoid leaving organic matter such as banana peels along the Sedona trails as well. This waste could be harmful to the native animals as they may not be used to the produce or garbage you are tossing. Be kind to the environment!
#5. Bring Plenty Of Water And Some Snacks When Hitting The Sedona Trails
This is the desert we are talking about. Bringing water on any of these best Sedona hiking trails is essential. You should pack a few protein bars or y our favorite snack as well. You never know when your blood sugar will drop and you don't want to be stranded miles from your car with nothing to eat or drink. Sure, this will add a little more weight to your backpack, but it has the potential to save your life! Plus, having a full tummy will make your time exploring Sedona's best hikes more enjoyable and satisfying.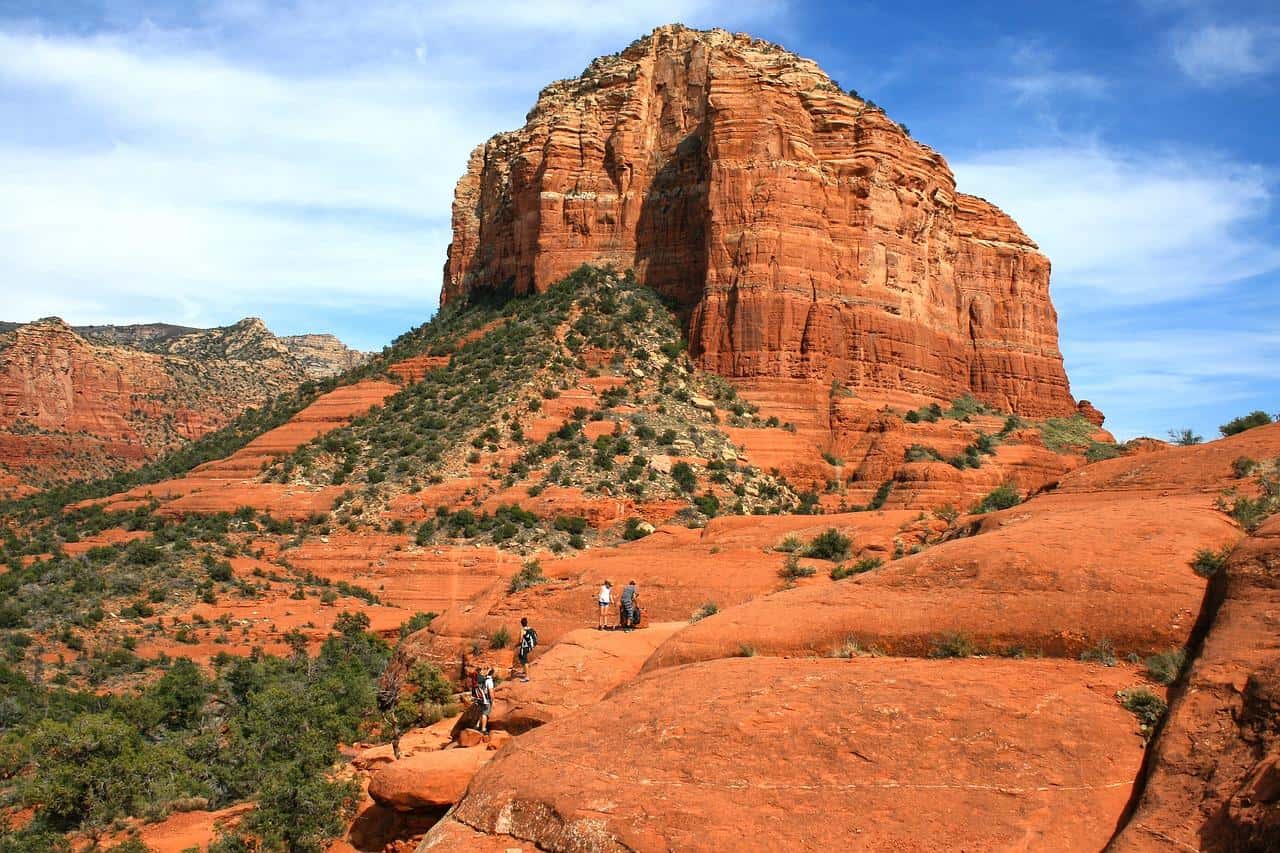 Don't Forget To Pack These 5 Things When Exploring Sedona's Best Hikes:
#1. Water Bottle. Your number one goal is to stay hydrated when hiking in Sedona! We love Bobble water bottles and highly recommend them as they filter water as you drink! We always carry two with us to be sure we have enough water for a hike. If you are doing a longer hike or are looking to get more serious about your water consumption, we suggest a hydration backpack. These backpacks come with a water "bladder" in the backpack so you can be hiking in Sedona and sip your water through a straw attached to your backpack. This is a great way to get your water while exploring the best hikes in Sedona without stopping.
#2. A Safety Whistle. Packing a safety whistle may not be your first thought, but it could come in handy and save your life! Depending on the kind of Sedona hiking you plan to do, packing a safety whistle is always a good idea! If you are hiking in a remote area of Sedona and you don't have cell phone service, a whistle may help you attract attention in the event of an emergency.
#3. Proper Hiking Shoes. We aren't the ones to tell you that you have to buy new shoes because we understand everyone's financial situation is different. That being said, we highly recommend making sure you are packing proper shoes for exploring Sedona hiking trails. Do not hike in flip flops or shoes with a slippery bottom. If you prefer an open toe shoe, a hiking sandal such as this one is a good bet. Otherwise, pack solid hiking shoes that offer good support and protect your feet. Good hiking shoes often make all the difference when hiking Sedona!
#4. Trail Mix And Protein Bars. As we said above, exploring the best trails in Sedona is better done with a full stomach! If you don't have time to run to the store before your trip, there are plenty of great products you can buy straight from Amazon and have them delivered to your home in just days. If you sign up for Amazon Prime, you will also get free shipping! We love this brand of bars and they are cheaper to order online than from our local store! As for trail mix, you can make your own or you can buy a big bag of trail mix online or at your local store. The nuts and seeds in trail mix will help you stay satisfied longer.
#5. Sunglasses. Even if you don't usually wear sunglasses, we urge you to protect your eye and buy a cheap pair for hiking in Sedona. The sun is strong in the desert and the red rocks reflect it even more than usual resulting in extra strain on your eyes. When exploring Sedona hikes, do yourself and your eyes a favor by wearing sunglasses to protect them from the harmful rays of the sun.
Do you have a favorite Sedona hiking trail to add to our list of best hikes in Sedona?  What are your favorite tips for enjoying the best Sedona hikes? Tell us your suggestion for the best hiking trails in Sedona in the comments!
Pin this post: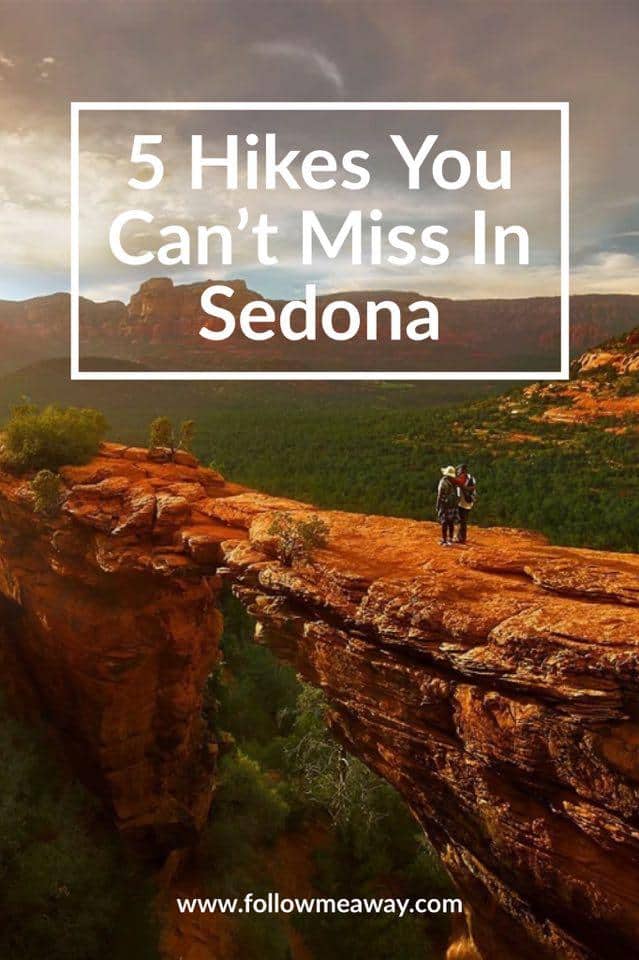 Please note: Some links in this article may be affiliate links. We may earn a small commission from some of the links in this article at no additional cost to you.