Trying to plan the perfect Maine road trip? Look no further! We're here to help make the process a little less stressful!
It is one of the best road trips in the USA and should totally be on your bucket list!
Maine has so much to offer: from scenic roads to iconic lighthouses, famous lobster shacks, breathtaking trees alongside winding drives, fun cities, and some national parks, you won't be disappointed with any stop you add to your Maine road trip itinerary.
We are listing some of our favorite and "must-see" stops for a Maine road trip below. Victoria actually grew up exploring Maine and New England by RV, so we hope that you enjoy this itinerary!
Keep your personal timeline in mind as you get the car ready to go! You're in for an amazing adventure.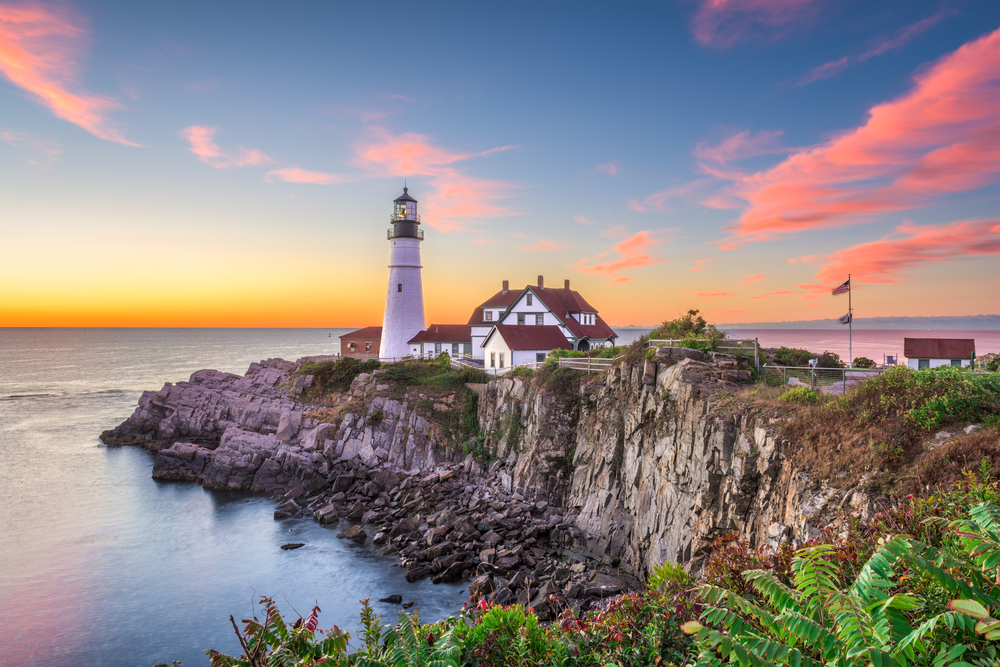 The Ultimate Maine Road trip Itinerary
Getting to Maine
When starting your Maine road trip, we recommend flying into the Boston Logan International Airport. This airport is large and therefore a huge hub for many Airlines such as Delta, Cape Air, Southwest, American, United, and more.
Because this airport is a hub, it also has a variety of cities to depart from, including, Chicago, Dallas, Atlanta Fort Lauderdale, Vegas, and more! So no matter where you are coming from, you will find a well-priced flight here at Boston Logan International Airport.
If you want to fly into somewhere else, however, you can also consider flying into Portland (Portland, Maine, of course!), through their Portland International Jetport! We just suggest Boston Logan International because it is close to the border of the state and easier to rent cars from for Maine road trip!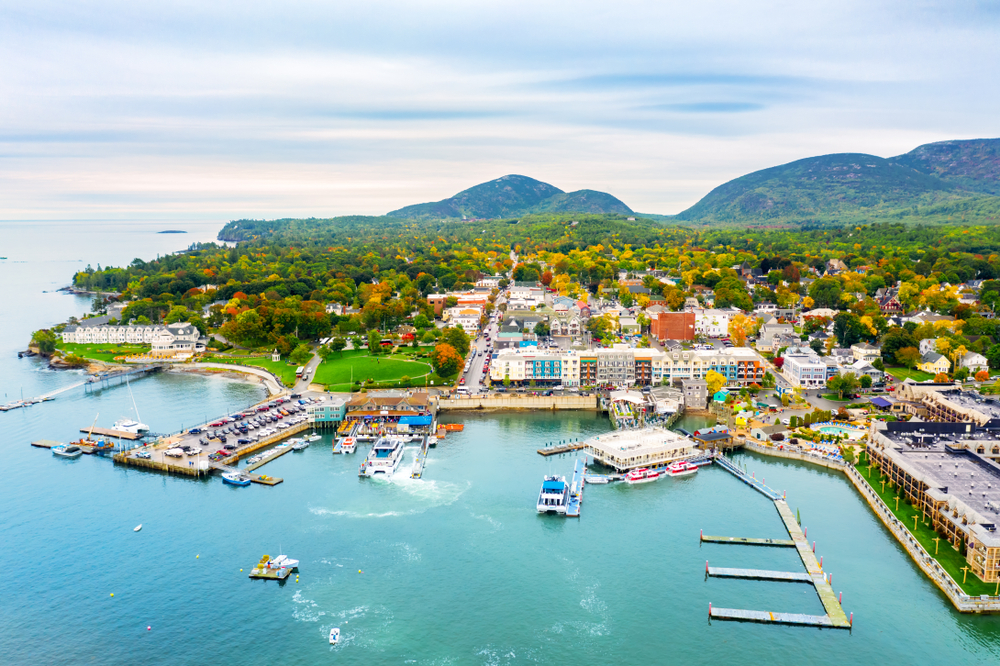 Getting Around During Your Maine Road Trip
To begin your Maine road trip, you'll need a car! So make sure to stop by the Rental Car Center serving Boston Logan after you land. Airport terminals run every 5-6 minutes and will take you straight to the RCC where you can rent out a vehicle.
Here you can rent from Enterprise, Budget, Hertz, Alamo, BOS, Thrifty, and Advantage! Just make sure to get a car that has some room and good gas mileage so you are comfortable and prepared for all your adventures of a road trip to Maine.
Don't forget to check out our Detailed Road Trip Packing List so you don't forget any essentials for your trip!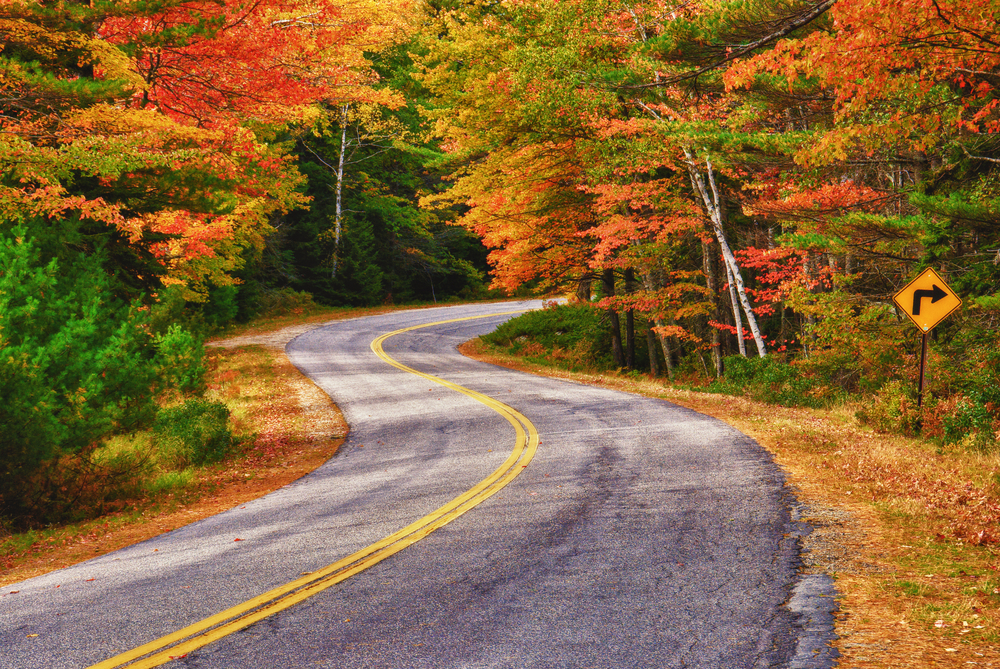 When to See Fall Foliage in Maine
We know that the fall foliage in New England is spectacular: people come from all over to see the leaves change, and Maine has some of the bright orange, yellow and red hues across their Maples, Oaks, Elms and Birch trees.
Many people travel to Maine during late September to see the fall foliage. The September to October weather also is perfect timing for touring the coast and witnessing these hues act as a stake contrast of the blue waters of the nearby oceans, lakes, and rivers! So make sure to keep this in mind when you're planning a date for your Maine road trip!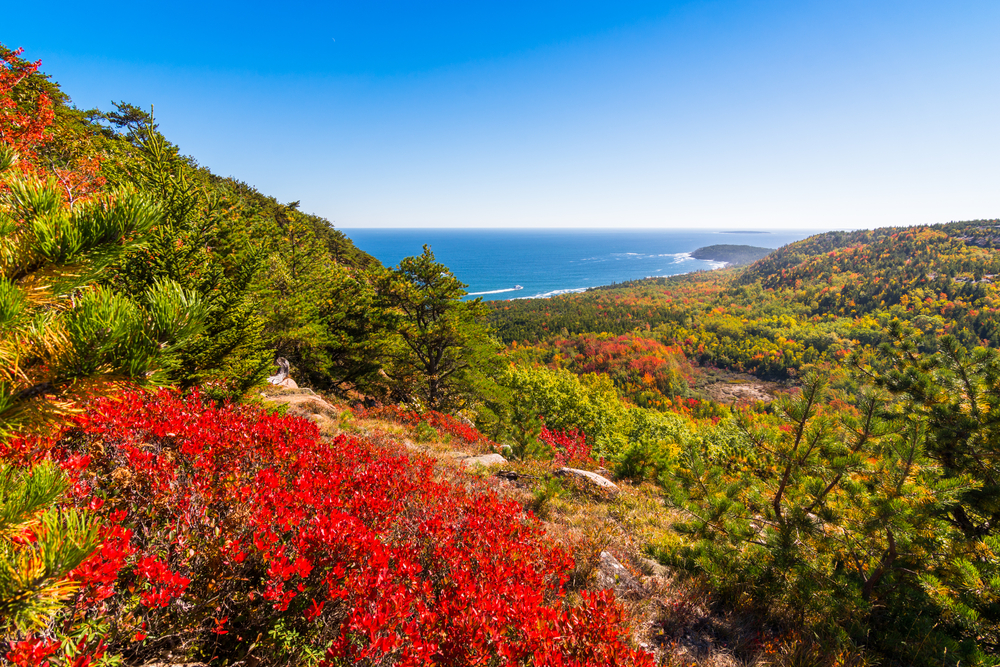 Stop 1: Rest and Relax at Ogunquit Beach
Ogunquit, Maine is a must stop for your Maine road trip because it truly is a beautiful place by the sea! With miles of sandy beaches, a scenic coast, art galleries, fun shopping, and dining adventures, this place ranks as one of the best vacation spots!
Perkins Cove is a small fishing village that is great for shopping and restaurants! There are also a variety of tours from boat harbors that you can visit here! Marginal Way is a 1.25-mile coastal walking path that connects Perkins Village to Ogunquit, so this is a great science route to walk.
There is also some great theater here, so you can check out the Ogunquit Playhouse or the Museum of American Art if you're interested! Or if you want to do something beyond the beach and small towns, make sure to check our some events: local food and wine tastings are popular and fall-themed events are dependent on the time of year you visit!
Where to Stay in Ogunquit Beach
Mid-Range: Ogunquit River Inn. Check Rates: Booking.com
Mid-Range: Ogunquit Tides. Check Rates: Booking.com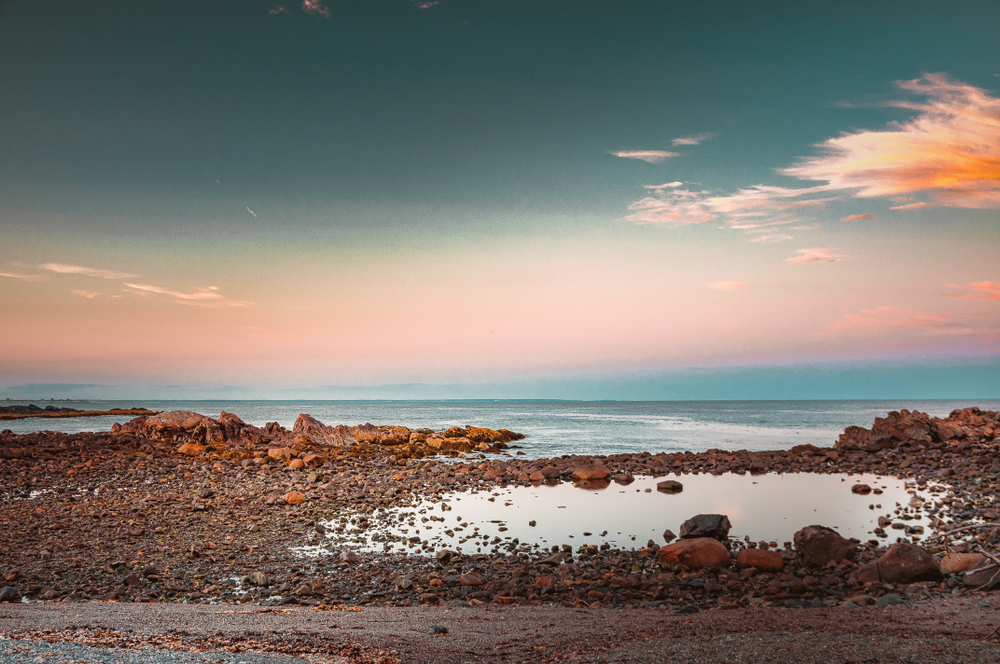 Stop 2: Continue to Relax in Kennebunkport
Kennebunkport is a coastal town in southern Maine that is famous for it's long, sandy beaches. You must check this location out during your Maine road trip if you're interested in stopping by Goose Rocks Beach as well as Arundel Beach. This is truly one of the best things to do in Maine!
The Seashore Trolley Museum is also a neat and niche place that displays a huge collection of streetcars, and many people like checking out St. Ann'e Episcopal Church since it dates back to 1887 and its rustic stone architecture contrasted with its grass fields are breathtaking.
Cape Porpoise is also a nearby lobster-fishing village that sits in a harbor and is well known for its local seafood. From most restaurants and galleries here, you can also view the 1833 Goat Island Lighthouse!
Where to Stay in Kennebunkport
Mid-Range: Lodge at Kennebunk. Check Rates: Booking.com
High Range-Range: The Boathouse. Check Rates: Booking.com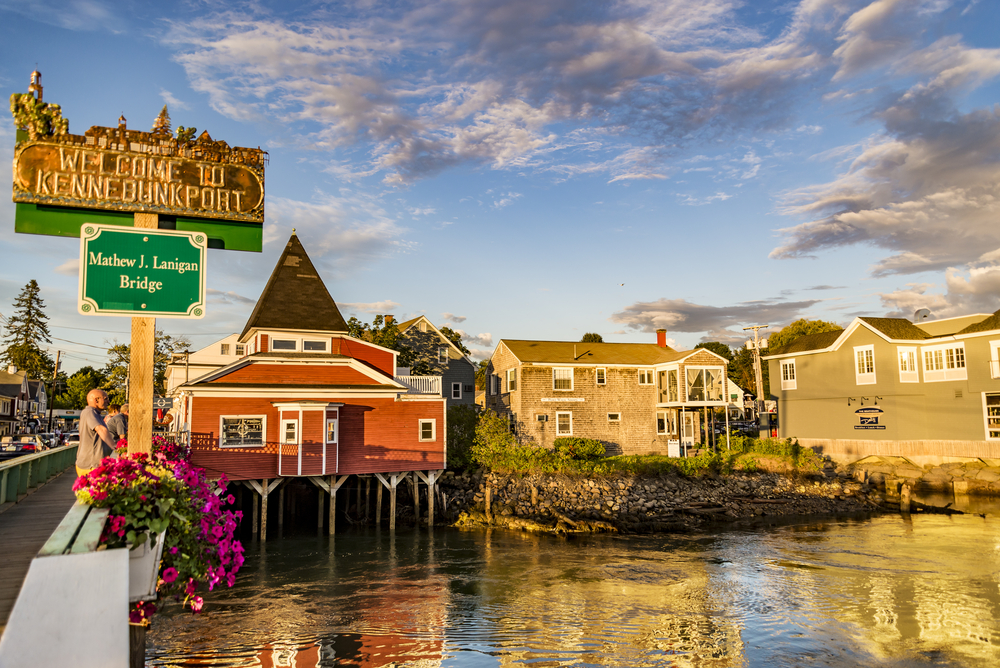 Stop 3: Make sure to Visit Cape Elizabeth for Iconic Lighthouses
A Genteel town, Cape Elizabeth is another stop you have to spend some time during your Maine road trip This place of history and coastlines and parks hugs the Casco Bay, making ripe for adventure!
Many tourists love to explore this area by bike and cross the Casco Bay Bridge to get to the Cape Elizabeth's coast. But the hardest decision to make when visiting here comes down to visiting lighthouses: there are so many! Portland Headlight, Ram Island Ledge Lighthouse, and Cape Elizabeth Lighthouse are active and great views.
Williams Park has great trails to explore old batteries, but more importantly, Two Lights State Park is set on a rocky shoreline where you can view twin lighthouses that are close by. This place is perfect for lunch alongside the crashing waves, but you can also check out Crescent Bech State Park!
Where to Stay Near Cape Elizabeth
Mid-Range: The Francis Check Rates: Booking.com
High-Range: Inn by the Sea. Check Rates: Booking.com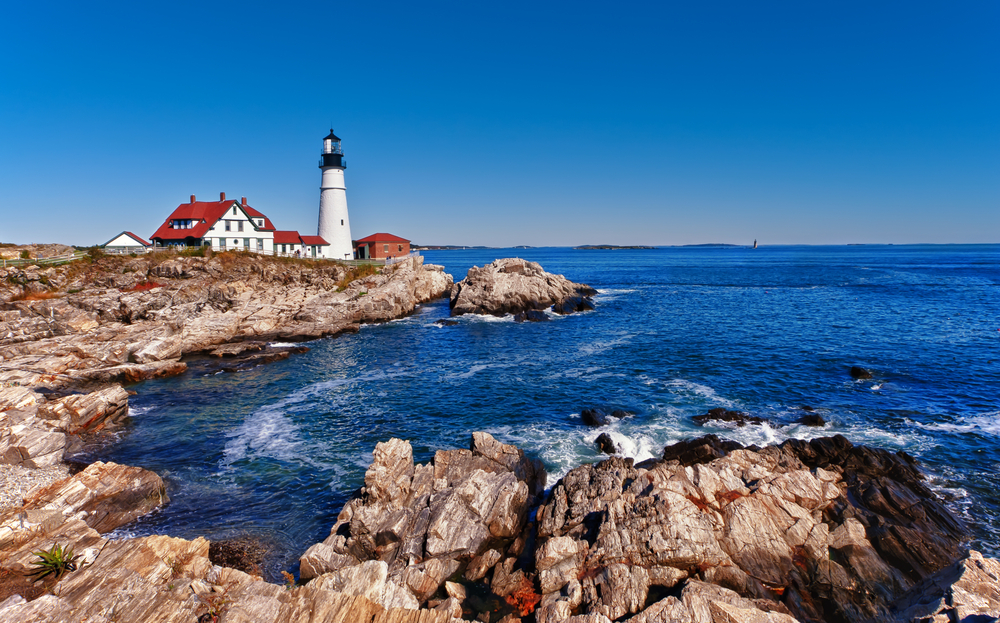 Stop 4: Spend some time in Portland, Maine (not Oregon!)
Set on the peninsula extending into Casco Bay, Portland is a great city to stop in during your Maine road trip, and it's close to Cape Elizabeth! The Old Port features fishing wharves, warehouses, restaurants, and unique Indie shops that are great for exploring.
Fort Willams Park is fantastic for visiting a rocky coast, as the seaside park is coastal and has an old fort and views of lighthouses! The Portland Head Lighthouse is also super cool to check out.
If you're looking for something more "indoors" to do, you can check out the Portland Museum of Art, but we highly recommend visiting Peaks Island, where there are more beaches and a really cool Fifth Maine Regiment Museum!
Where to stay near Portland
Mid-Range: Hampton Inn Portland Downtown Waterfront Check Rates: Booking.com
High-Range: Portland Harbor Hotel. Check Rates: Booking.com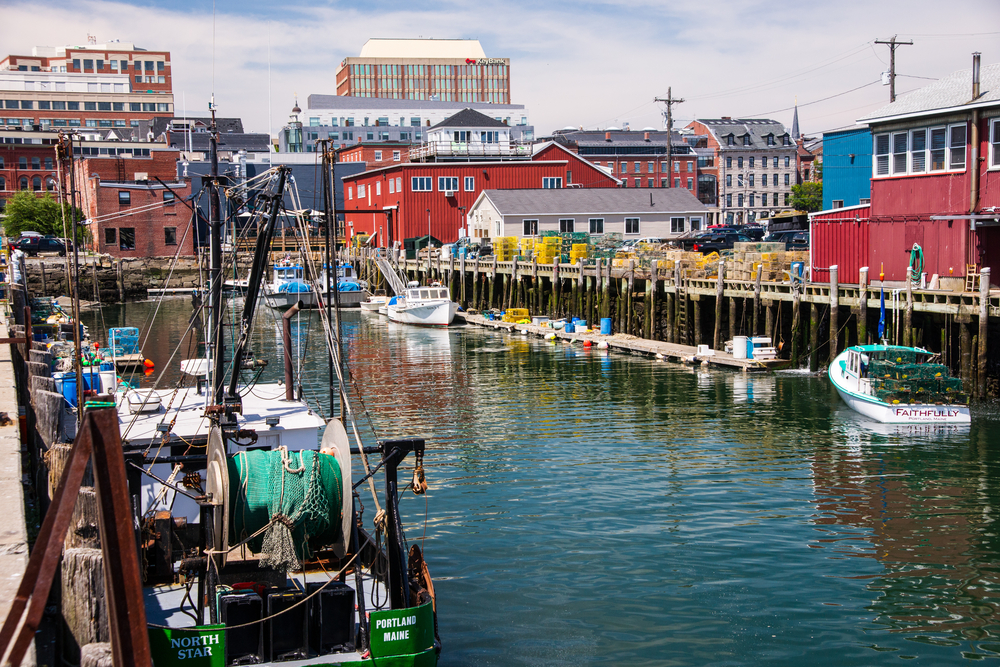 Stop 5: Enjoy the Water in Waldoboro
Waldoboro is a cute, quaint town in Maine that is perfect for any Maine road trip itinerary. Well known for its lakes, this place thrives off of its agricultural and fishing legacy.
We recommend checking out all the lake and pond wonders Waldoboro has! From Damariscotta Lake to Pemaquid Pond and Duckpuddle Pond, these bodies of waters are perfect for evenings that you want to fish, relax, boat, and watch sunsets!
We also think the Waldoboro Historical Society is a cute museum to check out! And the Goose River Peace Corps Preserve and Pond are just fantastic for exploring trails and greenery! Make sure to take in the scenery at Waldoboro!
Where to Stay Near Waldoboro
Mid-Range: Claddagh Motel and Suites. Check Rates: Booking.com
Mid-Range: Ledges by the Bay. Check Rates: Booking.com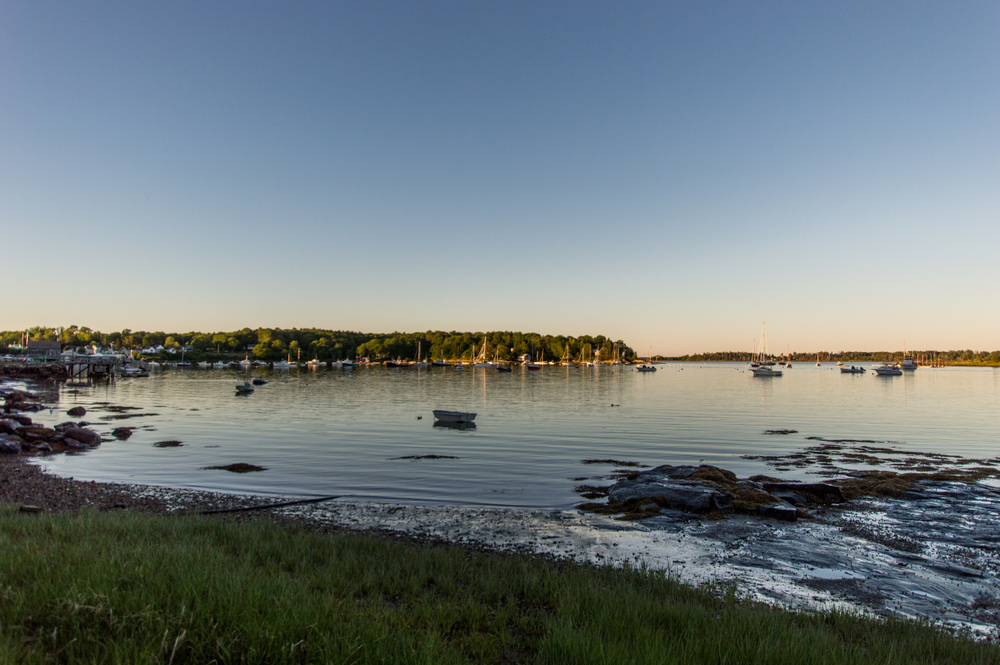 Stop 6: Check out Rockland and it's cute Bay and Harbor
Rockland, Maine is a popular tourist spot, so you must add it to your Maine road trip itinerary. Rockland is known as mid-coast Maine and is beautifully famous because the mountains and sea converge here right on Rockland Harbor and Penobscot Bay.
The Rockland Breakwater Lighthouse is a highlight of the town, and there are plenty of tours you can take that lets you travel around Penobscot Bay.
There are also amazing restaurants and shops to check out here, such as Rustica— a great Italian place– and Jess' Market. Many tourists love renting bikes to explore the small-time and highly recommend looking at great festivals that might be going on when you visit: Rockland is famous for its Summer Solstice Festival!
Where to Stay Near Rockland
Mid-Range: Glen Cove Inn & Suites. Check Rates: Booking.com
Mid-Range: Strawberry Hill Seaside Inn. Check Rates: Booking.com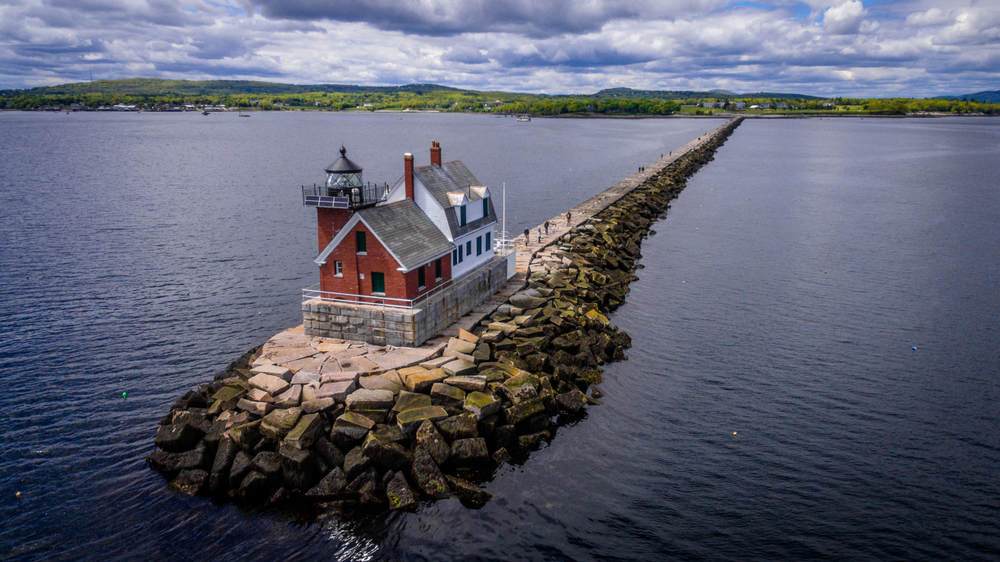 Stop 7: You Must See the East Coast's Acadia National Park
Would you really be on a Maine road trip without stopping by and witnessing Acadia National Park in all of its glory? Acadia National Park is a 47,000-acre recreation area on Maine's Mount Desert.
Known for its foods, rocky beaches, and breathtaking granite, there are some must-sees here. Cadillac Mountain is the tallest point on the East coast for example. It's known for its sweeping panoramic views.
But also make sure to check out Sand Beach, where the quiet cove is super relaxing, or even Jordan Pond where there are some beautiful trails with nearby mountains and lakes! We recommend ensuring that you check out the Bubble Mountain hike though, and Mount Desert Island!
Where to stay near Acadia
Low-Range: Acadia Pines Motel. Check Rates: Booking.com
Mid-Range: Anchorage Motel. Check Rates: Booking.com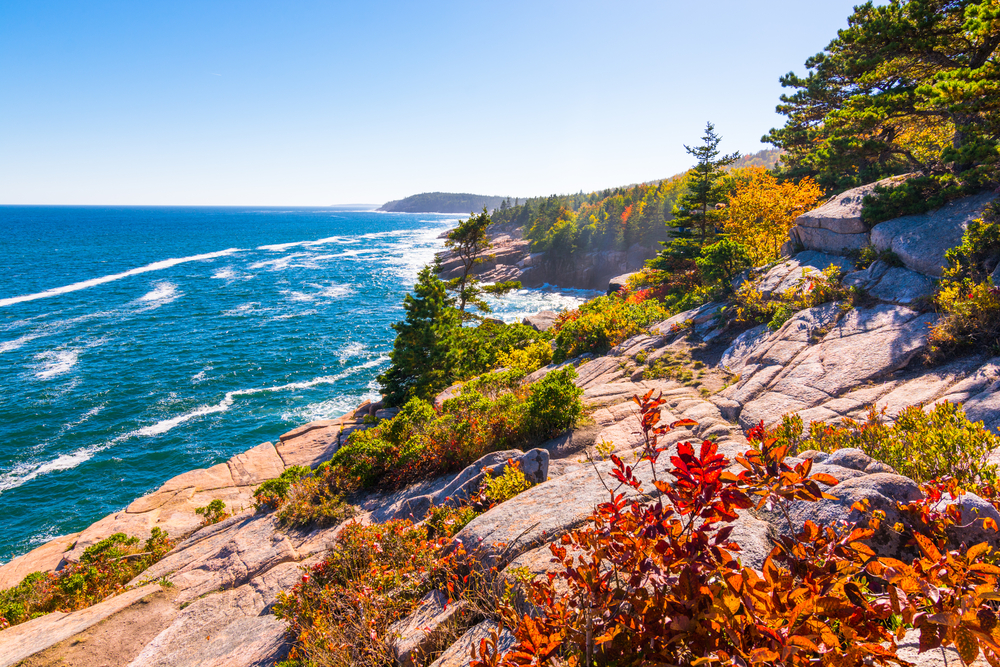 Stop 8: Spend some Time In Bar Harbor
This bayside town is close to Acadia and is a popular getaway or stops for tourists which is why we're listing it on your Maine road trip itinerary! You can view this town from the top of Cadillac Mountain.
Many people stop by here because it is so close to Acadia, but while here make sure to check out the Ocean Trail, Schoodic Peninsula, and Frenchman Bay.
The Criterion Theatre is also a cool place for an evening in, or exploring Village Green, a small historical town with lots to explore! The College of the Atlantic Gardens is also quaint and quiet if you're looking for something a bit different to explore!
Where to stay in Bar Harbor
Mid-Range: Moseley Cottage Inn. Check Rates: Booking.com
High-Range: Bar Harbor Grand Hotel. Check Rates: Booking.com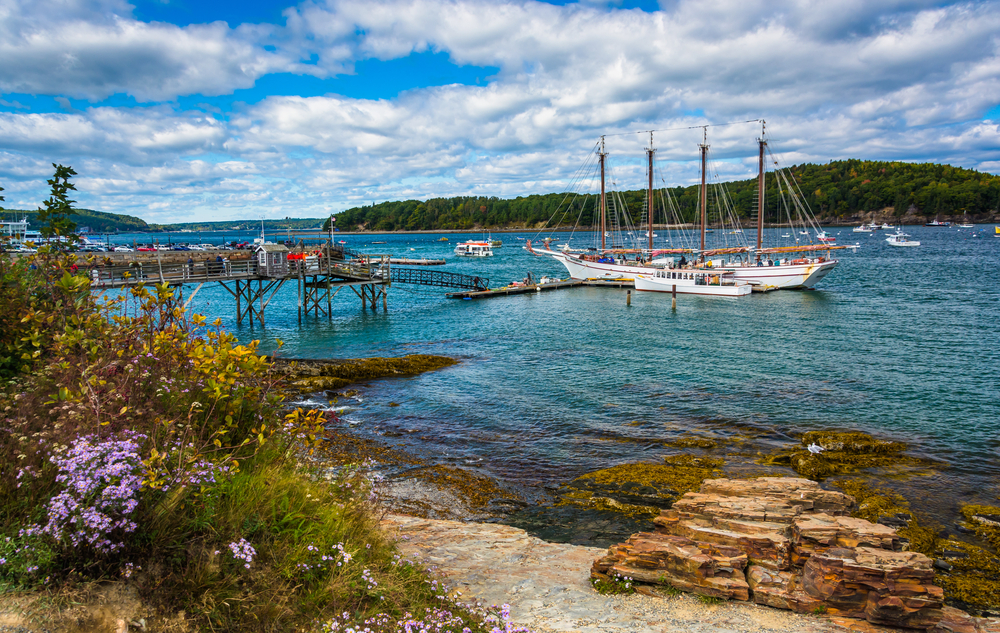 Stop 9: Take a trip on a ferry to Nova Scotia
Although Nova Scotia is technically a province in eastern Canada and not a part of Maine, you have to add it to your Maine road trip! Thankfully you can take the CAT ferry from Bar Harbor for a day trip to Nova!
Some of the top sights you'll want to visit in Nova during your trip include the Cape Breton Highlands National Park where you can take trails through mountains, valleys, waterfalls, and coastlines. The Kejimkujik National Park is similar to Cape Breton as well!
Or you can explore the Maritime Museum of the Atlantic, the Halifax Public Gardens of the Halifax Citadel National Site. And if you're feeling REALLY adventurous, off the coast of Sable Island there are tons of shipwrecks to explore if you want to go diving or snorkeling! Just watch for the high tides Nova is famous for!
Where to Stay in Nova Scotia
Low-Range: Hillside Landing B&B. Check Rates: Booking.com
Mid-Range: Residence Inn. Check Rates: Booking.com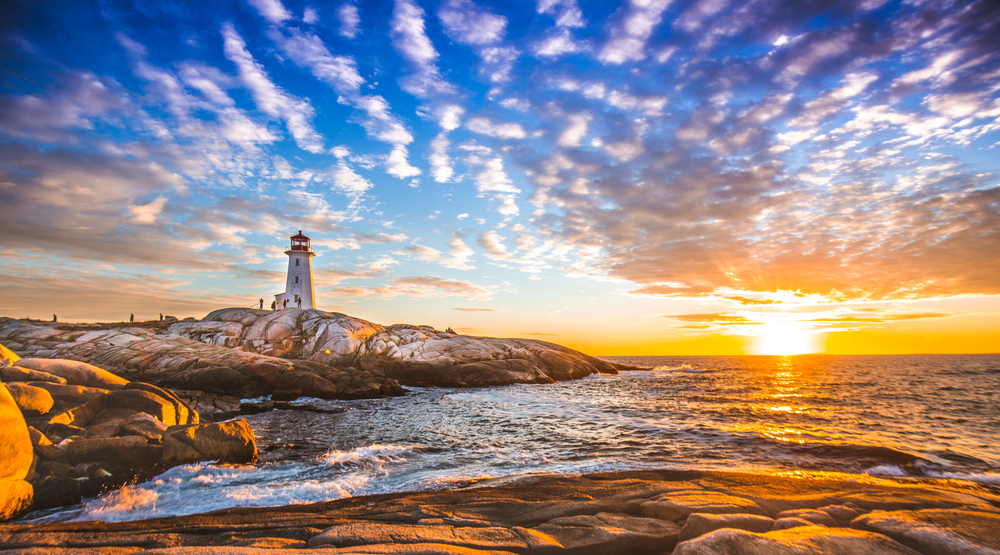 We are so excited you've chosen o embark on a Maine road trip, as it is truly a gorgeous state with unforgettable coastlines. After your day trip to Nova, you can head back to Boston or Portland to go ahead and fly home! But as we've mentioned, this guide only touches the surface of what Maine has to offer. If you want to know more or have more time to explore, check out some other stops as well. Either way, we know you'll have fun!
With More Time:
There is truly so much to do in Maine, so if you are traveling with a bit more time, or for a longer period of time, we are adding a few more stops you might want to stop and explore during your Maine road trip! These stops are super popular as well but are a bit further out of the "loop" during your traveling adventures. They will take more time to get to, but definitely check them out if you have that extra time!
Visit Chimney Pond Via Mount Katahdin
To climb Mount Katahdin during your extended Maine road trip, we suggest taking the Chimney Pond Trail. This trail is 6.3 miles and is considered a "moderate" hike, but is well known for the lake and views it offers.
The Chimney Pond Campgrounds are also part of the "backcountry" near Baxter State Park. Here you can rest and realz while having the closest access to other trails such as Hamlin Ridge and Saddle.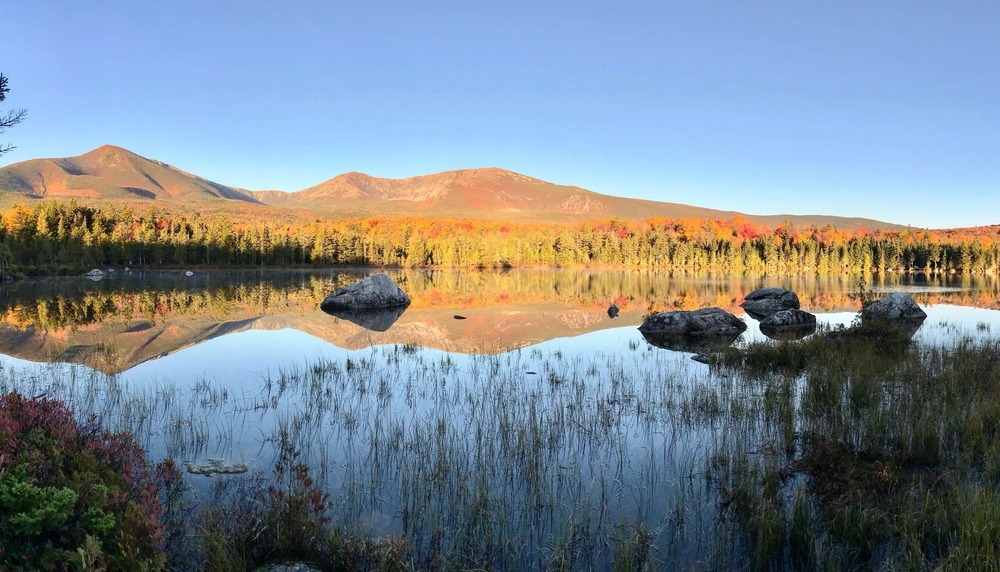 Visit Oh My Gosh Corner/Carrabassett
Carrabassett Valley is located between the Bigelow Mountains and is known for its scenic routes of birches and rivers. Many people love to come here for skiing in the winter, as there is a bend in the Route known as "Oh My Gosh Corner."
From this corner, you can see Sugarloaf Mountain, is 163 trails trifling down its surface. The bend in this road is breathtaking: its north-facing mountain towers around the corner at a 4,237 summit along Carrabassett River. You don't want to miss it during your Maine road trip.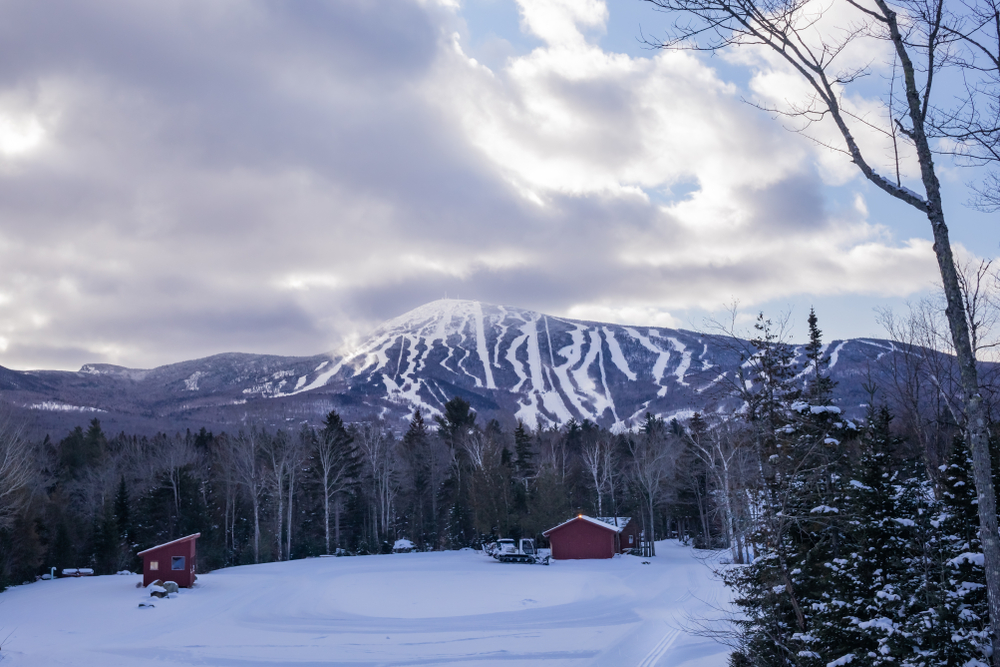 Visit Moosehead Lake
Moosehead Lake is the largest lake in Maine, which means you have to stop and see it with your Maine itinerary! Situated in the Longfellow Mountains, this lake is surrounded by the Kennebec River.
Near Beaver Cove, the terrain slopes gently toward the water making it a perfect place to swim. The water clarity is great, temperatures fairly warm, and Mount Kineo is also close: here you can explore the 700-foot scenic cliffs in-between your lake day!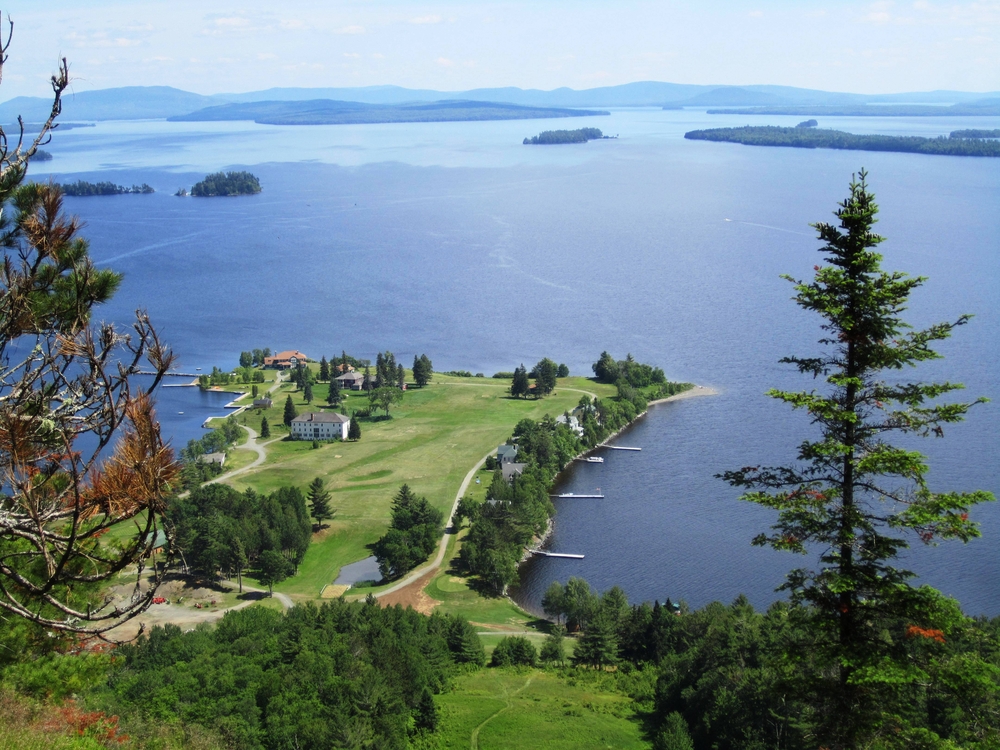 Visit Rangeley Lake
Fed by a variety of streams, Rangeley Lake is situated close to Rangeley, which was named one of the best winter towns inNew England. Its lake is over 6,000 arches and is super deep (149 feet!). But no matter what time of year you are taking your Maine road trip, you've got to stop here!
Many people love to fish here, as the lake is known for its brook trout and salmon. Beyond the lake though, there is Rangeley Village with hotels, restaurants and shops, and the Rangeley Lakes Region Historical Society is a cute museum that exhibits the town's history!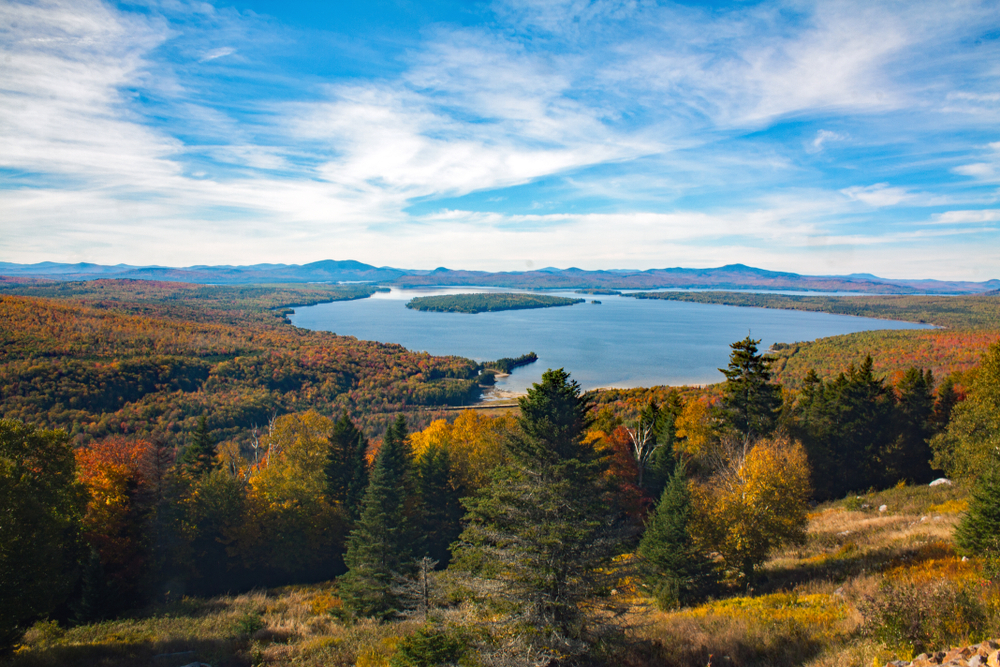 Visit Sugarloaf Mountain
Sugarloaf Mountain is a lovely mountain in Maine. Open from 8 a.m. until sunset, this natural landmark has geographical beauty and striking landscape views. After taking lifts to the top of Sugarloaf and exploring the park, you can check out the nearby towns.
Visit Baxter State Park
Our last suggestion for your Maine road trip itinerary includes Baxter State Park. This is a large wilderness area that has been permanently preserved and features a variety of trails (we highly recommend checking out the Knife Edge trail!), sights, and mountains.
Mount Katahdin is Maine's tallest peak and is located here. It is also a favorite hike amongst tourists! And Baxter Peak is also popular, although its trial is more difficult. If you're feeling more "woodsy" too, you can explore the monuments and breathtaking sights of Katahdin Woods and Waters!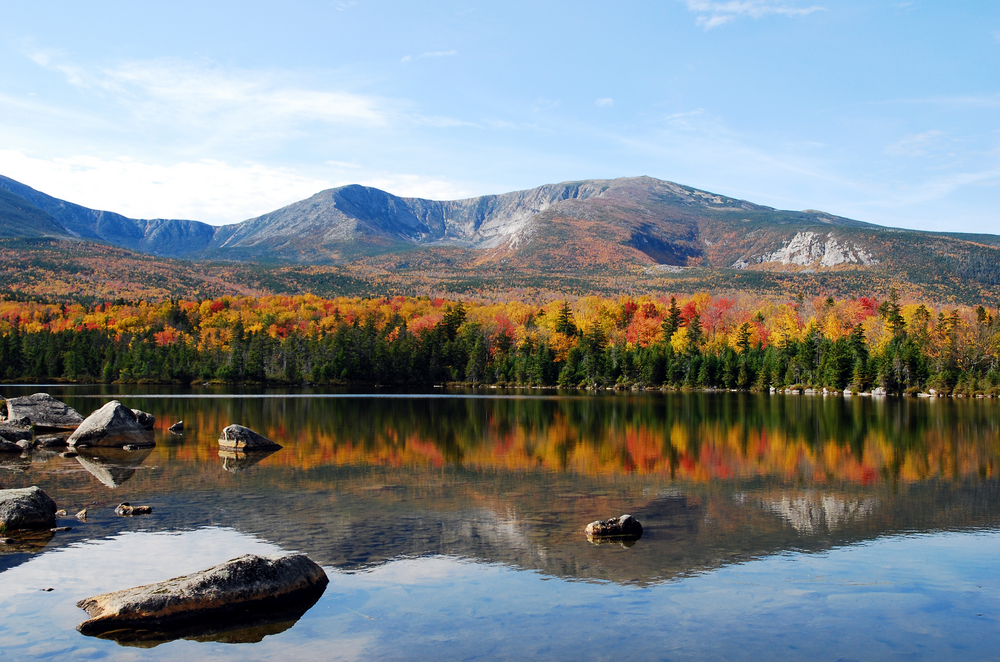 And there you have it! A great Maine road trip itinerary that will take you around the state to experience national parks, iconic lighthouses, potent landscapes, and more. Make sure to drive safe and have TONS of fun during your Maine road trip– we promise it will be unforgettable!