Are you dreaming of a cozy Colorado getaway in one of the best Estes Park Airbnbs? Look no further! You'll find all you could want to know about the top cabins in Estes Park right here.
Estes Park is one of the most charming little cities in all of the West. If you're wondering where to stop on a Colorado road trip, Estes Park is a must (feel free to steal our epic Colorado itinerary while you're at it).
Located a short 90 minute drive from Denver, this mountain city is known as the gateway to Rocky Mountain National Park and all the wildlife that the park is known for, including elk, moose, and bears. Take a stroll down the streets of the quaint downtown, or tour the famously haunted Stanley Hotel, which was the inspiration for Stephen King's bestselling novel The Shining.
At the end of a busy day, you'll want a comfy place to rest your head. From cabins to downtown condos to chalets to forest retreats, the options for Airbnbs in Estes Park are endless! Don't worry though! We've done all the hard work and put together this guide of where to stay in Estes Park. So sit back and enjoy the ride!
15 Best Estes Park Airbnbs (Cabins, Chalets, And More!)
Little Red Treehouse
Everything about this Airbnb in Estes Park is quaint and cozy. The walkway up to the cabin features romantic lighting that leads the way to your home away from home. A cute patio lends itself for great wildlife watching, where you'll find some of the best views of Estes Park are from the air.
A small but formidable kitchen should provide for your needs, and the unit does include WiFi. At night, you can climb up to the loft bed meant for one, or take advantage of the murphy bed that can fit two. Stay high in the sky in this picturesque Estes Park cabin for two!
Click Here To Check Rates On Airbnb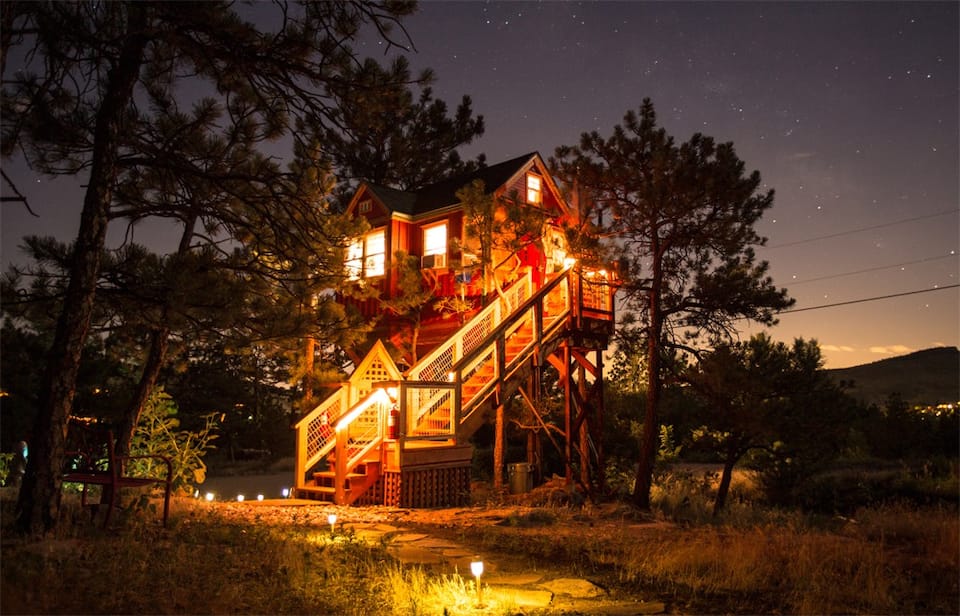 Tranquil Mountain Getaway on 10 Acres
Moss Brook Cabin is the cabin of your daydreams! If you want to stay at a secluded retreat, you'll love the 10 acres of forest that surround this cabin.
The best part is that this Estes Park Airbnb is only 500 yards away from the boundary of Rocky Mountain National Park! You'll love listening to elk bugle from the comfort of the huge wrap-around deck, or picnicking next to the babbling brook on the property.
The house itself has 3 nice sized bedrooms, with the ability to fit up to 8 guests. The full kitchen is the perfect amenity, since downtown Estes Park is about 10 miles away. Unwinding in nature is easy here at this beautiful cabin in Estes Park.
Click Here To Check Rates On Airbnb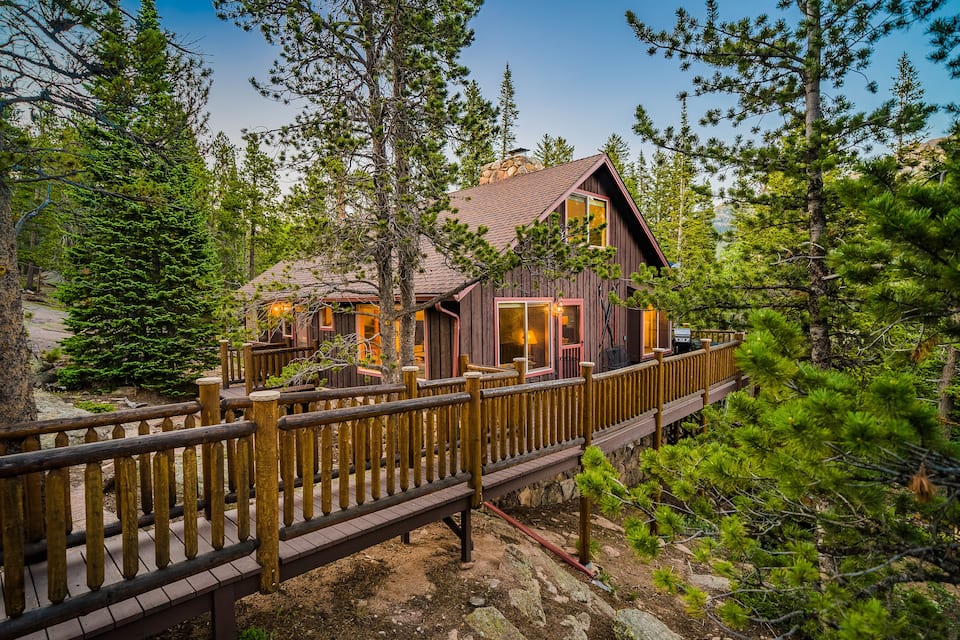 Luxurious Downtown Loft
Would you rather stay in the thick of all the action? Check out this Estes Park Airbnb right on Elkhorn Avenue. Staying above local boutiques means you are always only steps away from the best shopping and restaurants that Estes Park has to offer.
The loft itself is gorgeous, with a modern style that mixes with rustic touches. The kitchen is nicely renovated and well stocked with whatever you need to make gourmet meals at home. High ceilings pair well with the skylights and huge fireplace. Relax on the deck that overlooks the hustle and bustle of the city!
Click Here To Check Rates On Airbnb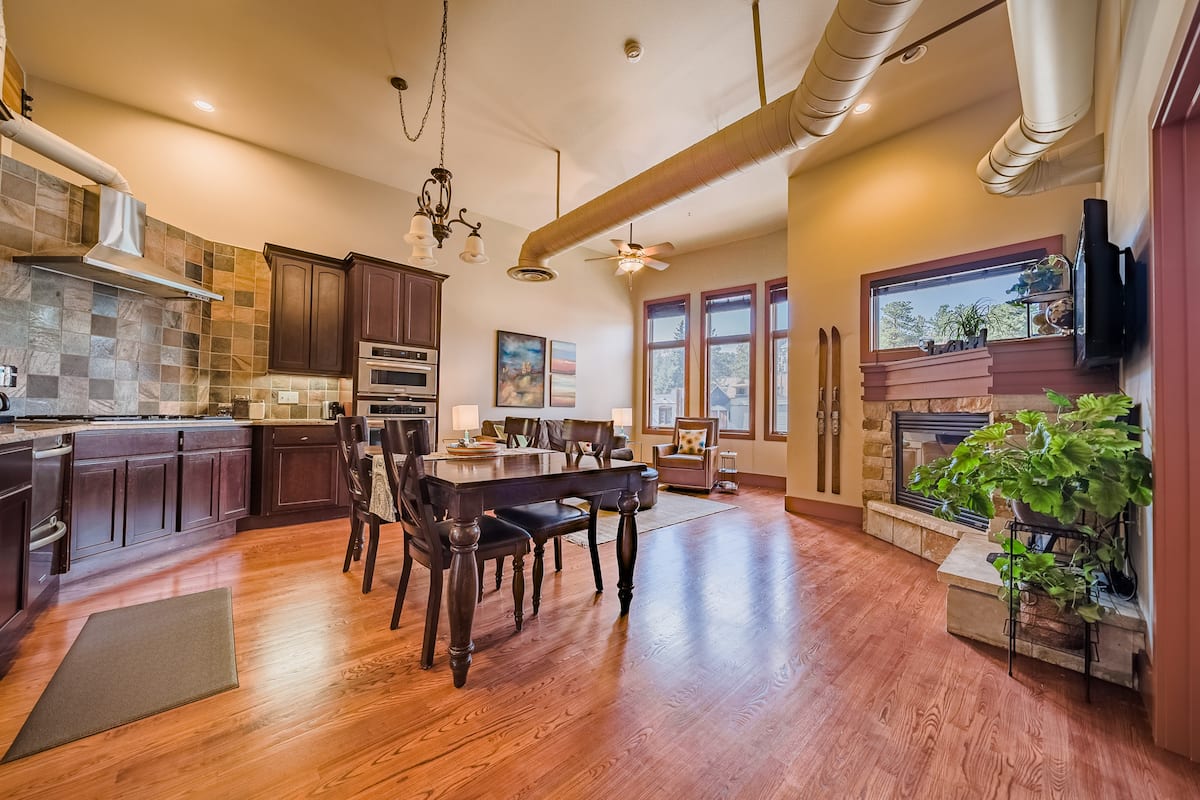 Rustic Mountain Chalet
Stay steps away from Rocky Mountain National Park in this Estes Park Airbnb! From the wrap-around deck you'll be able to watch the wildlife wandering down from the National Park and admire the wildflowers that grow in the large yard.
The inside is so comfortable with 3 bedrooms that can fit up to 8 guests, a big full kitchen, log-siding dining room, and grand fireplace! Take advantage of the fast WiFi and laundry during your stay. There's even a bonus outdoor recreation pavilion to enjoy!
Click Here To Check Rates On Airbnb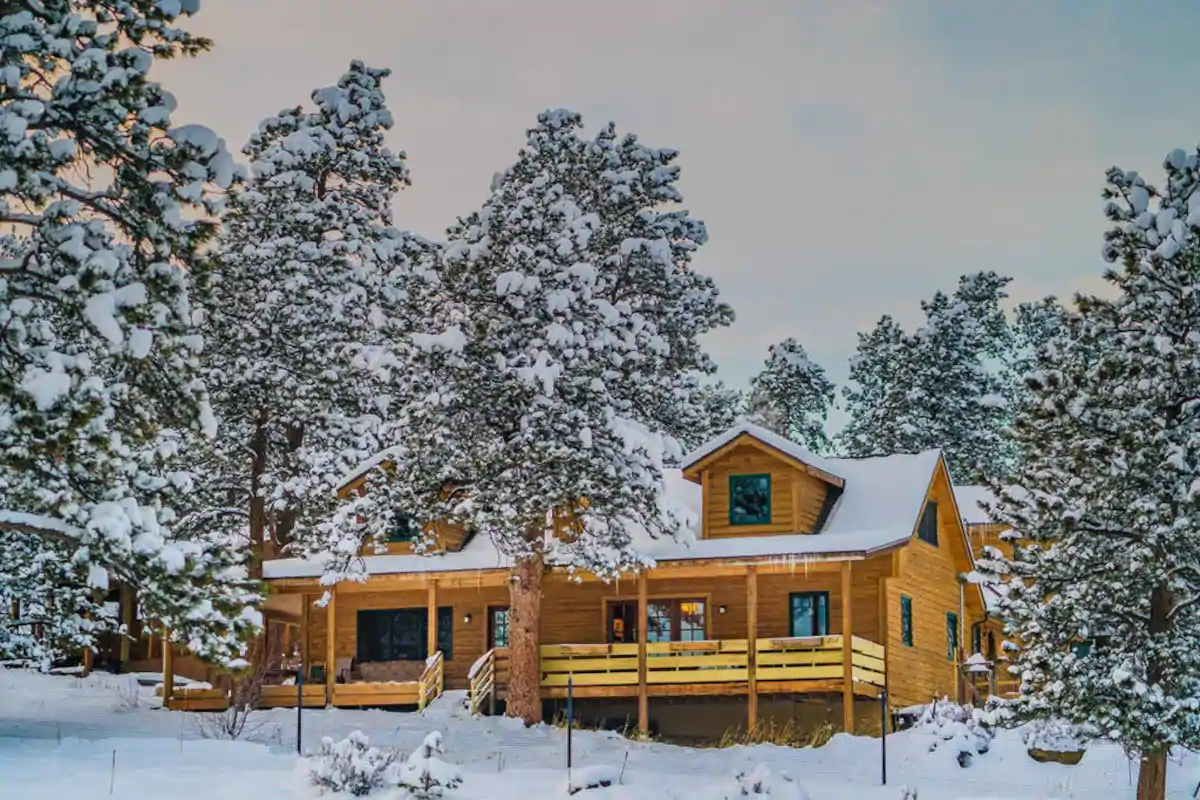 Artsy Cottage in Downtown
This funky and fun cottage near downtown is the perfect place for anyone looking a unique Airbnb in Estes Park.
It sits on a serene hillside that looks down to the heart of Estes Park. The cabin's deck is a great place to soak in the literally unbelievable views of the surrounding valley! It's also within walking distance to many shops, eateries, and breweries.
The interior décor is bohemian inspired with plenty of plants and fairy lights that up to 4 guests can enjoy. The instruments that fill the home serve as both beautiful decoration and creative outlets for guests. Try an impromptu jam session while you're here!
Click Here To Check Rates On Airbnb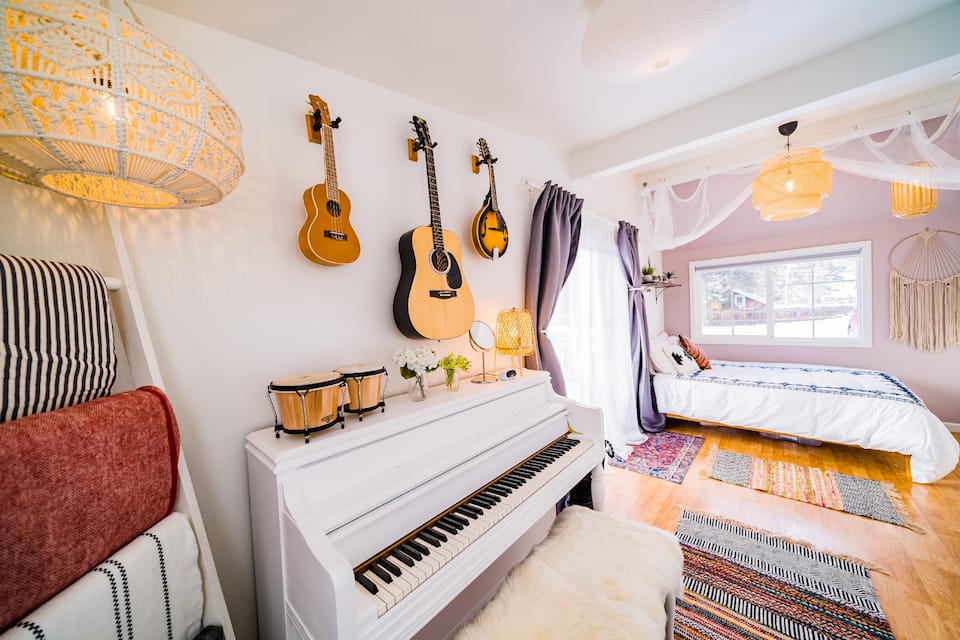 Historic Hillside Cabin
Enjoy some fresh mountain air from the comfort of the hot tub at this great Estes Park Airbnb.
This cute cabin was actually built in the late 1800s in one of the original and historical neighborhoods of Estes Valley. With a full kitchen, laundry, hot tub, and WiFi, it doesn't lack for any modern convenience despite its age!
It has everything you could want from a cabin, like beautiful pine woodwork and a stone fireplace, while also being located within walking distance to downtown Estes Park. You and up to 3 other people will love staying in this quaint cabin.
Click Here To Check Rates On Airbnb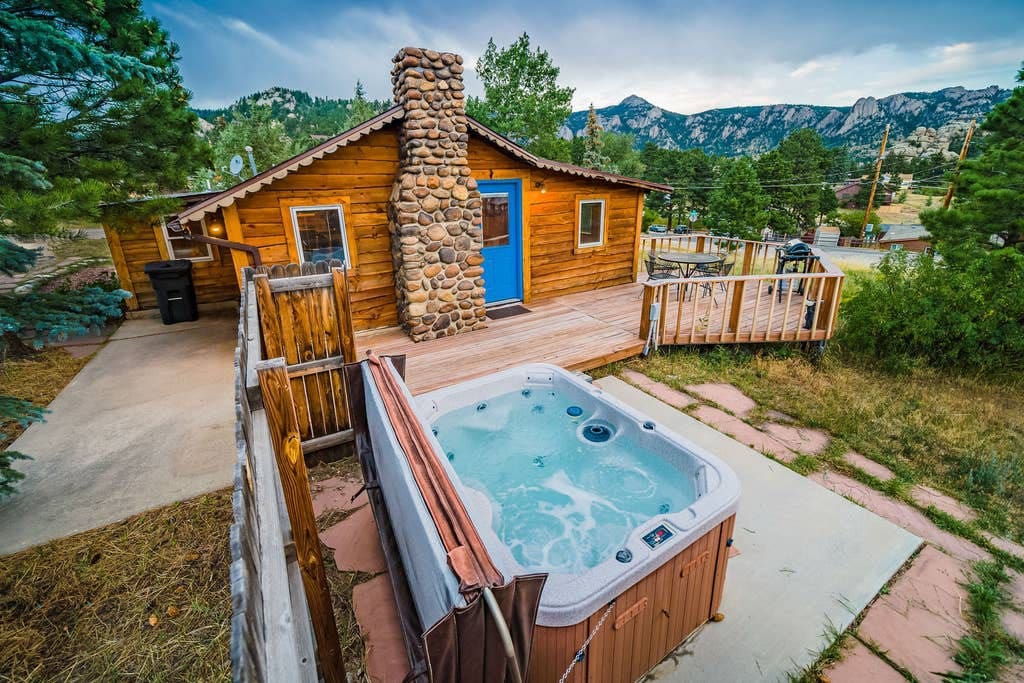 Blue Spruce Manor lodge
Have you ever fantasized about having a whole lodge to yourself? Make those dreams real with the Blue Spruce Manor.
This luxurious and large cabin rental in Estes Park can house up to 12 guests. Jaw-dropping wood finishes decorate the sky-high ceilings and accentuate the grand fireplace. It also boasts an oversized kitchen, spacious 5 bedrooms, a soaking tub, a riverside deck, and an upstairs game room.
The Manor is located closer to Rocky Mountain National Park than downtown Estes Park, making it a great escape. Be warned, the internet here can be slow, and cell phone service can be spotted, but you might not notice when you're surrounded by so much beautiful nature.
Click Here To Check Rates On Airbnb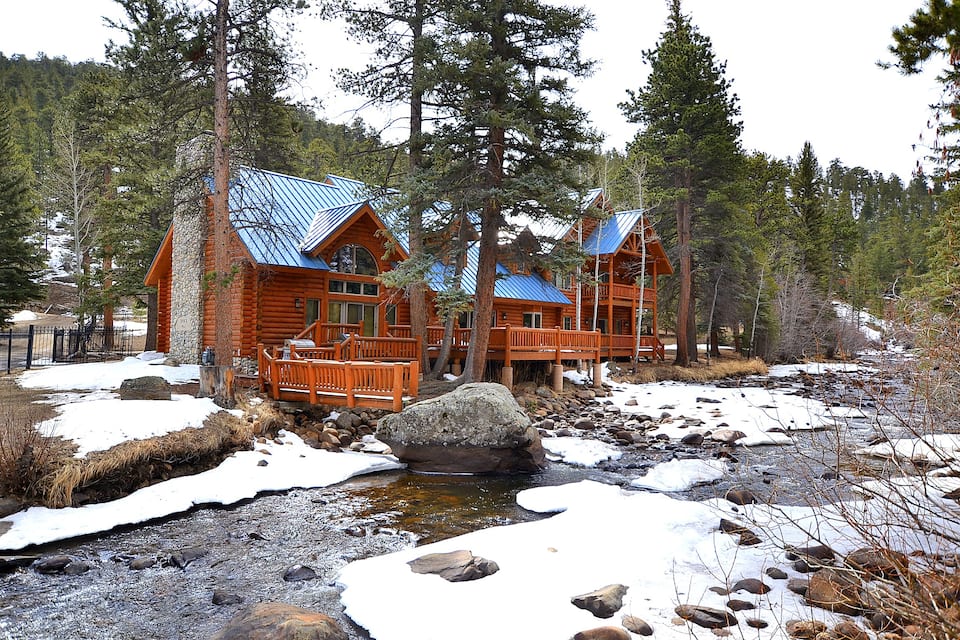 Charming Getaway with the best views!
For those who care most about breath-taking mountain views, this Estes Park Airbnb is a perfect choice. This cabin comes with 3 bedrooms and 1 bath and is able to fit up to 6 guests.
Plenty of windows fill the house with natural light while the rustic mountain décor makes it feel so relaxing. The hallmark of this house is the 2 patios and firepit that are great for gathering around in order to soak in some beautiful nature.
The cabin is within walking distance to downtown Estes Park and a short drive to the National Park. There are lots of kid friendly activities nearby like archaeology digs and climbing walls.
Click Here To Check Rates on Airbnb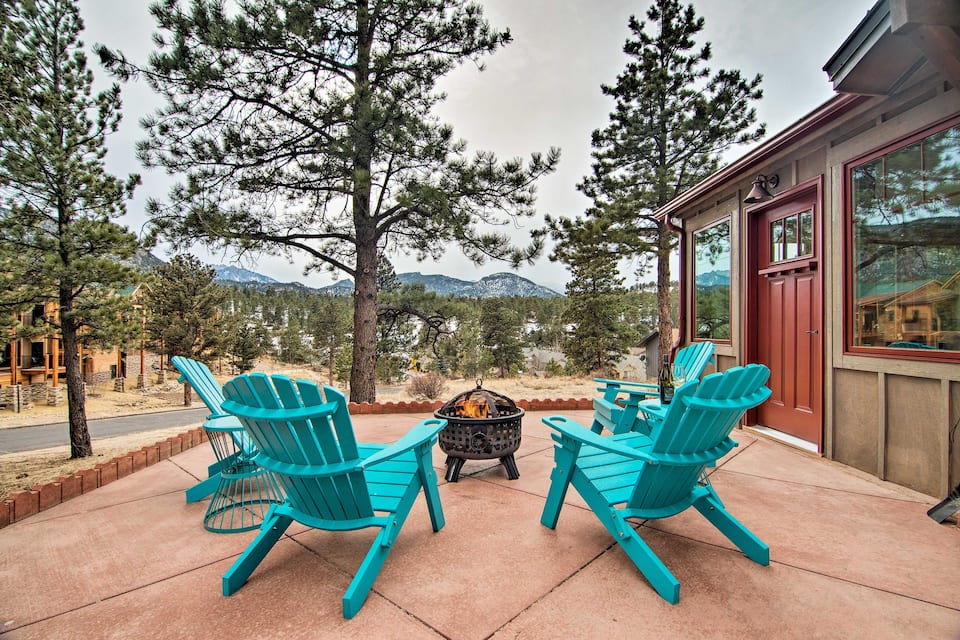 Photogenic Rural Studio
This popular cabin in Estes Park might the modern Airbnb for you!
It features its a private entrance, a kitchenette, a large hot tub, and a covered deck. It can accommodate up to 4 guests. The inside is decorated with gorgeous photos of nature taken by the host.
For those who enjoy fishing or relaxing by the water, this Estes Park Airbnb is a quarter of a mile away from Mary's Lake. The area is known to have a bobcat, so if you're lucky you might glimpse this visitor from the living room window or the hot tub.
Click Here To Check Rates On Airbnb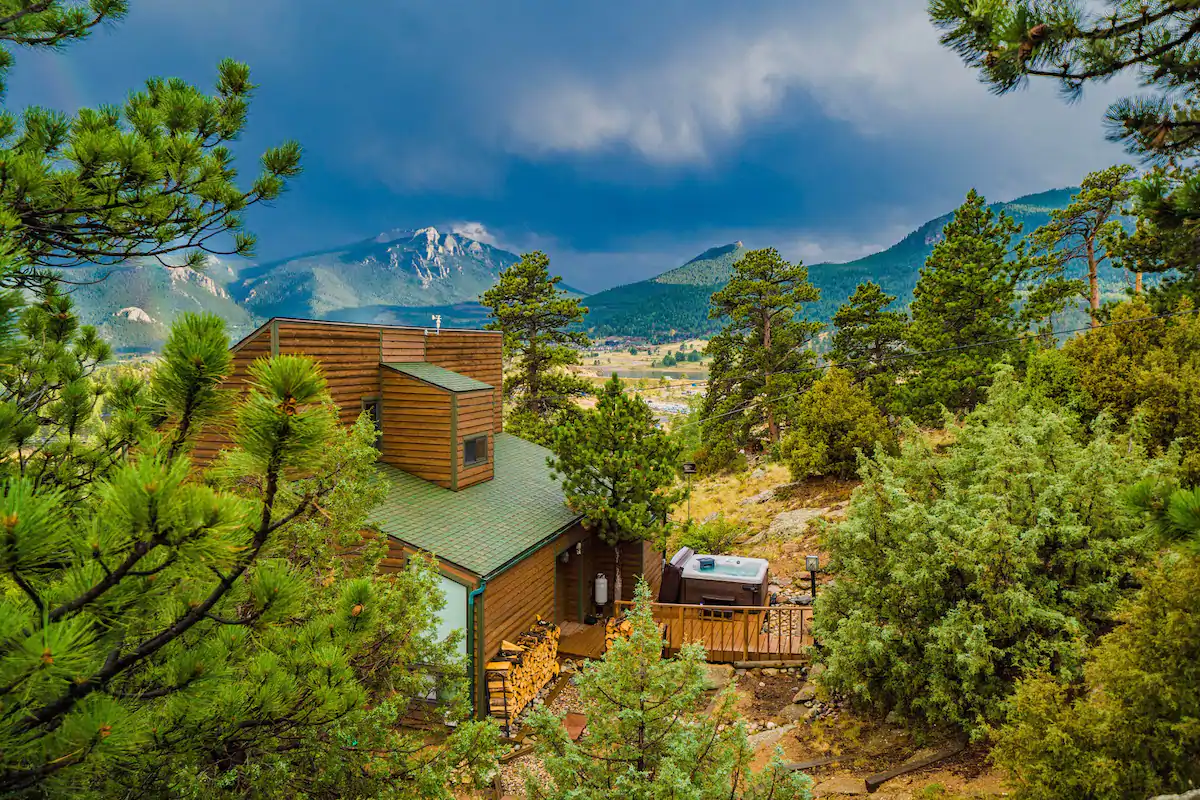 Hilltop Hideaway
This beautiful bright blue house is one of the best Airbnbs in Estes Park!
This cabin offers the best of both worlds. It's close to downtown Estes Park but still feels like a restful and remote mountain cabin. You'll be able to walk to the Historic Park Theater as well as plenty of breweries, wineries, and taprooms.
You really can't beat the views this house has that overlook the valley and mountains beyond. You can even see the Stanley Hotel! Enjoy this eye candy from the deck with a cup of coffee or a glass or wine, and try out the barbeque grill while you're at it! For those chill mornings, there's a cozy and enclosed sun porch too. Up to 8 guests can stay in this spectacular home, plus pets are welcome!
Click Here To Check Rates On Airbnb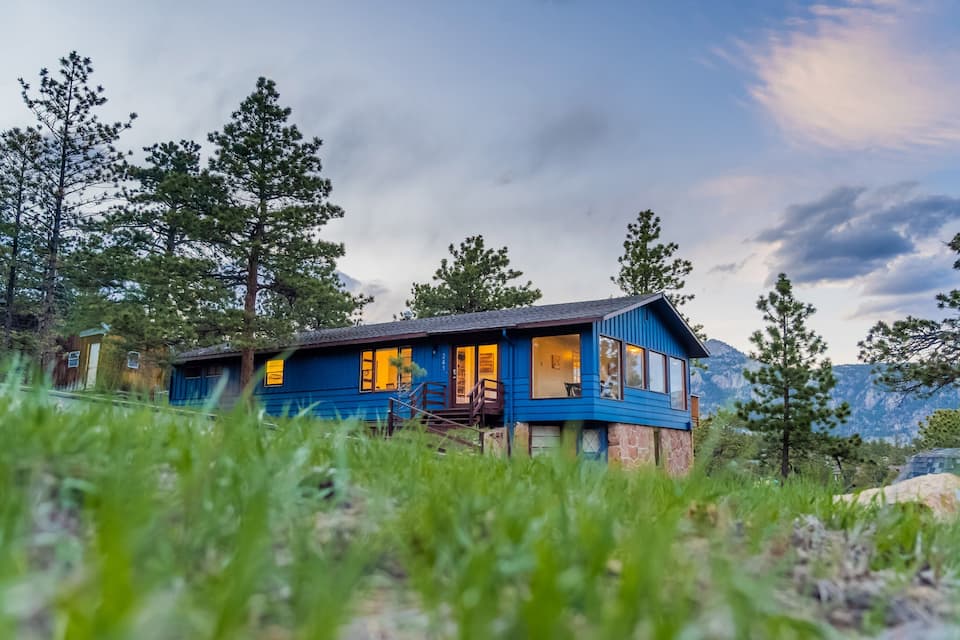 The Bird House Cabin
What makes the Bird House Cabin special is its quaint nostalgia for classic Rocky Mountain cabin décor.
Natural wood, cabin quilts, and nature illustrations all can be found in this cabin in Estes Park. This cozy Airbnb nestled in the woods is part of a duplex and can fit up to 3 guests.
It's a quiet getaway, near both downtown Estes and the National Park. If you like hiking, you'll love how close this cabin is to hiking trails. Bring your snow boots though if you plan to hike here in the Spring!
Click Here To Check Rates On Airbnb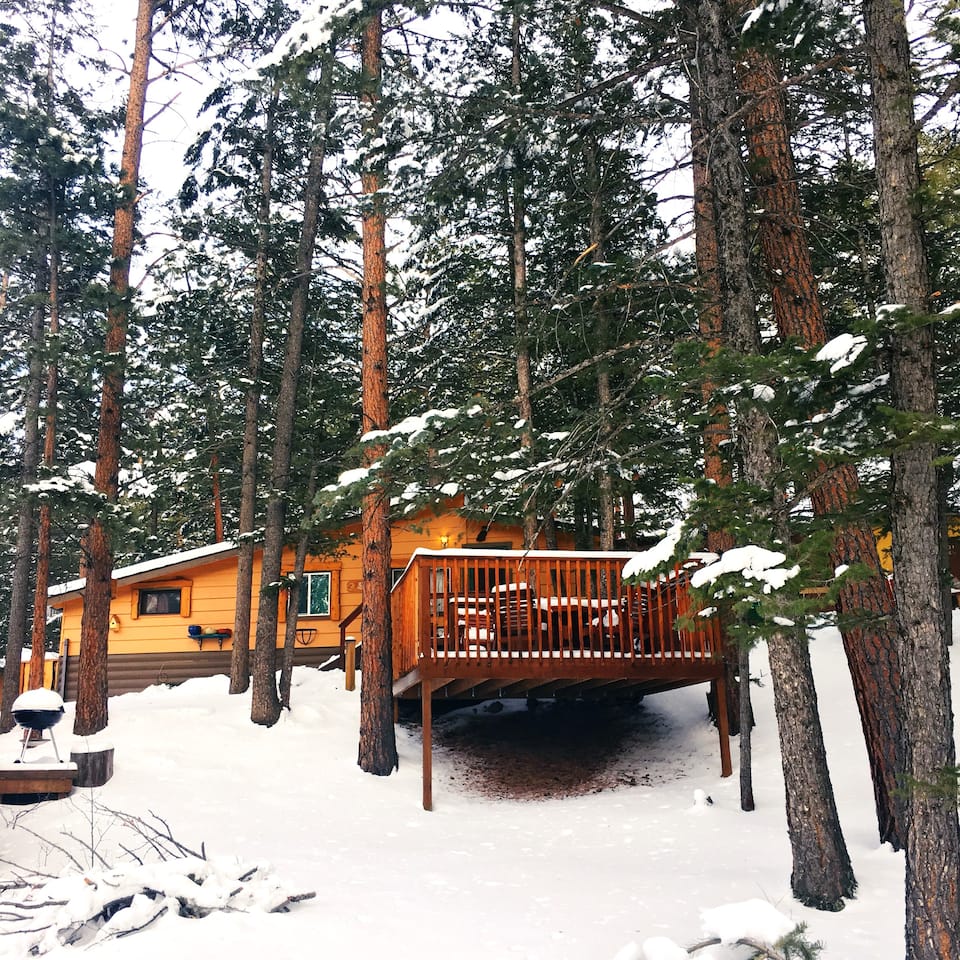 Peaceful A-Frame Cabin
If you've always wanted to stay in an a-frame cabin, now is your chance!
This cute little cabin is in a quiet neighborhood south of downtown Estes Park and can fit up to 6 guests. The unique shape of this Estes Park cabin means it has spacious ceilings and gorgeous exposed wood beams that match the rustic décor.
Enjoy wildlife watching from the 3 large decks attached to this home. You're likely to spot deer and elk! The Airbnb also overlooks some beautiful aspen and pine trees. A full kitchen and laundry on site are just the cherries on top!
Click Here To Check Rates On Airbnb
Private Escape on 3 Acres
Feel at one with nature in this fabulous Airbnb in Estes Park.
While only being 2 miles from downtown Estes Park, this house feels both secluded and spacious. Huge, beautiful windows that overlook the Continental Divide are the focal point of this cabin. The pine wood décor is an echo of the woodland that surrounds this home.
This Airbnb has 4 bedrooms that can fit up to 8 guests. The cabin offers a crib, baby gates, and a highchair, making it especially accommodating to families. There's also a ping pong table onsite!
Click Here To Check Rates On Airbnb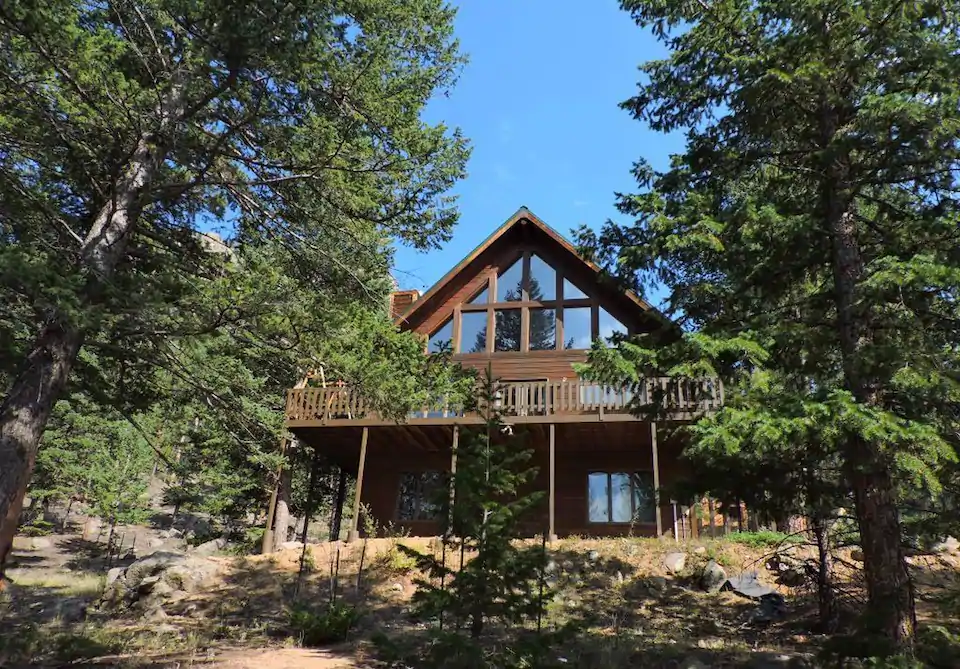 Vintage Cabin in the Woods
This gem of a cabin was built in 1914 and has one of the best nature locations of any cabin rental in Estes Park. Located next to the entrance of Rocky Mountain National Park, it has great mountain views, which can be best seen from the big wrap-around deck.
Charming wood paneling can be found throughout the cabin and give it some cozy and rustic vibes. You'll love the skylights which are perfectly placed to be able to see the stars from bed.
The fast WiFi, full kitchen, laundry unit, and 3 bedrooms that can fit up to 6 guests make it a great retreat for the whole family. Feel free to curl up to the huge stone fireplace with a book from the cabin's eclectic bookshelf.
Click Here To Check Rates On Airbnb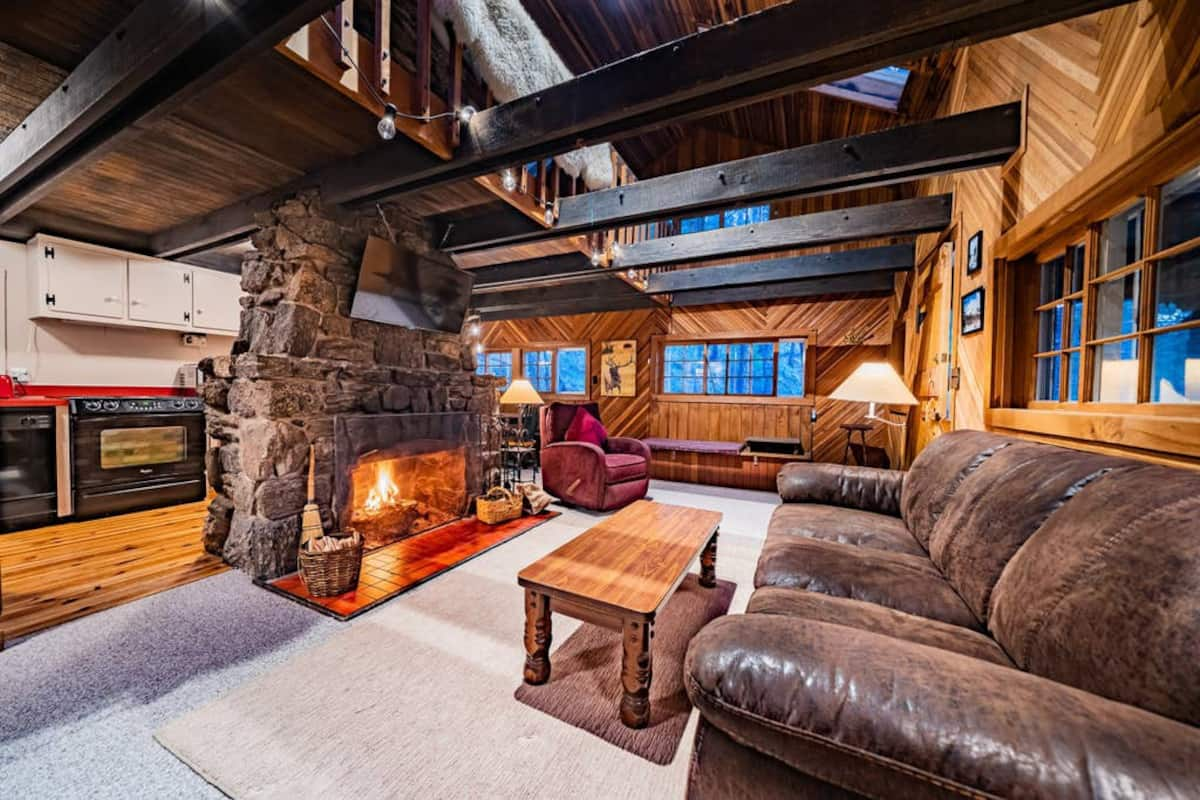 Bristol Mountain Vacation Home
Bristol Mountain Vacation Home is a top contender for large groups thinking about where to stay in Estes Park!
This Airbnb boasts 5 bedrooms that can comfortably fit up to 12 people. The awesome outdoor space is a great place to entertain. Sip some tea by the lily pond or make a smore over the firepit! The house overlooks some of the prettiest views in town.
The indoors are designed to feel as comfortable as a Colorado cabin with all the luxuries of a high-end vacation home. Some of the best features include a nicely updated kitchen, a jet tub, high ceilings, large windows that let in plenty of light, and 3 fireplaces. This might be the most expensive Estes Park Airbnb on this list, but it is well worth the price!
Click Here To Check Rates On Airbnb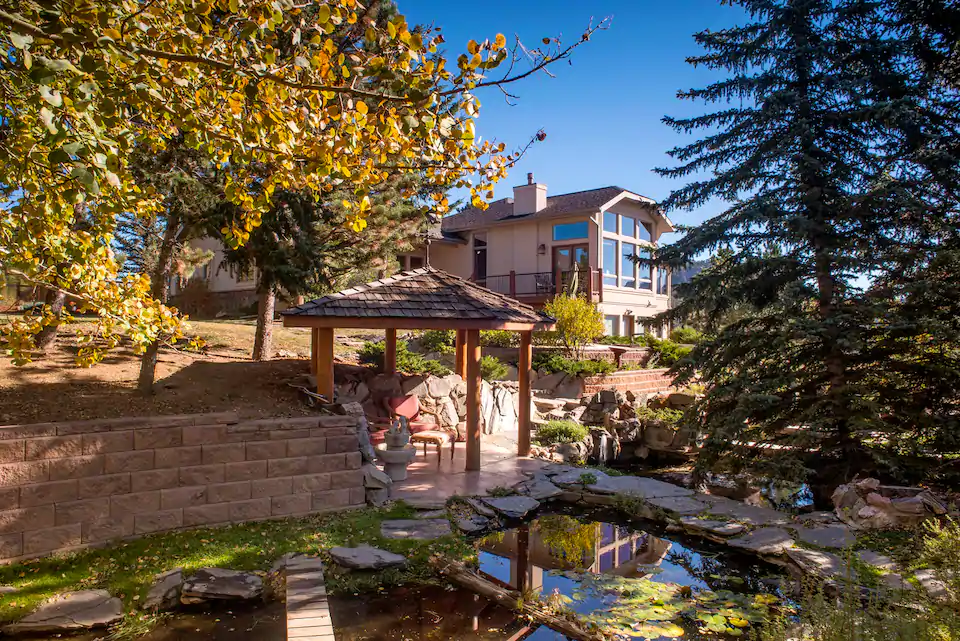 And there you have it! Whether you want something cute and cozy or large and secluded, there's a fantastic Estes Park Airbnb that perfectly fits your needs. We know you'll enjoy your time in this quaint mountain town, and hopefully we've made your vacation planning just a little bit easier.
If learning more about Estes Park has inspired you to explore more of the beautiful state of Colorado, then feel free to take a look at our top picks for the best Airbnbs in Colorado as well as the top Airbnbs in Denver. Happy travels!