Are you looking for the best Airbnb in Denver? You've come to the right place! From homesteading cabins and nature-filled treehouses to Victorian mansions and historic trolley cars, this guide has some of the top Denver Airbnbs.
Denver is a growing city that has it all. This mile-high city is brimming with art galleries, delicious restaurants, and historical Western sites. Looking for a nature fix? Hike at Red Rocks less than half an hour away or get lost in the majesty of the Rocky Mountains. Take a side trip to one of the many microbreweries that Colorado is known for!
The best thing about staying in an Airbnb in downtown Denver is how unique and comfortable they are, way better (and less expensive!) than staying in a generic hotel. Plus, you'll get a chance to connect with the locals and the vibe of this unique city.
With so many Airbnbs in Denver, Colorado, it can be tough to decide on one, so we've compiled some of the best to make it easier for you to just relax on your vacation. And if you decide to explore even more of Colorado outside Denver, make sure to check out our awesome Colorado road trip itinerary.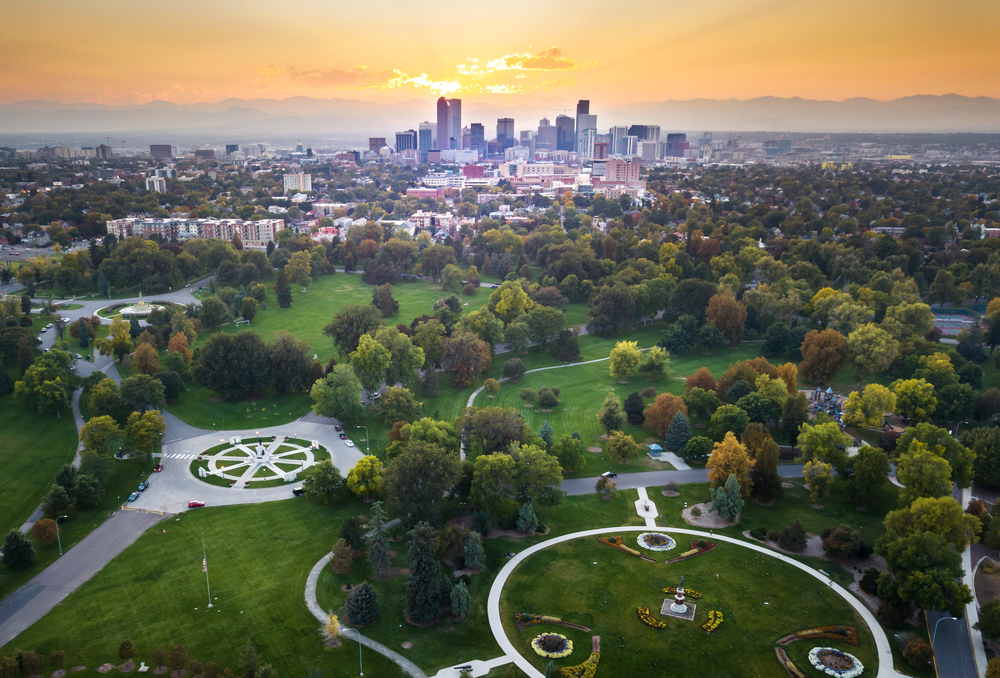 14 Best Airbnbs in Denver CO (Treehouses, Cabins, & More!)
Stylish Loft in Art District
Stunning and stylish are the best words for this loft located right next to Denver's trendy River North Art district. The owner describes this Airbnb as "vintage charm meets steam-punk fashion", and we couldn't agree more!
Between the exposed brick walls, the open layout, the industrial-inspired decor, and the cute garden, you will feel fabulous and comfortable while you and up to 3 other people stay here.
This loft's location is just as impressive as its interior! Great breweries, wineries, and cideries surround this artisanal Airbnb for those looking to sample the local spirits. If you are spending 2 days in Denver, this is a great location!
If you're looking for more family friendly activities, there are plenty of fun nearby attractions, like the Denver Museum of Nature and Science, the Denver Zoo, and the historical landmark turned bustling social hub Denver Union Station. Experience the city like a true Denverite in this downtown Airbnb!
Click Here To Check Rates on Airbnb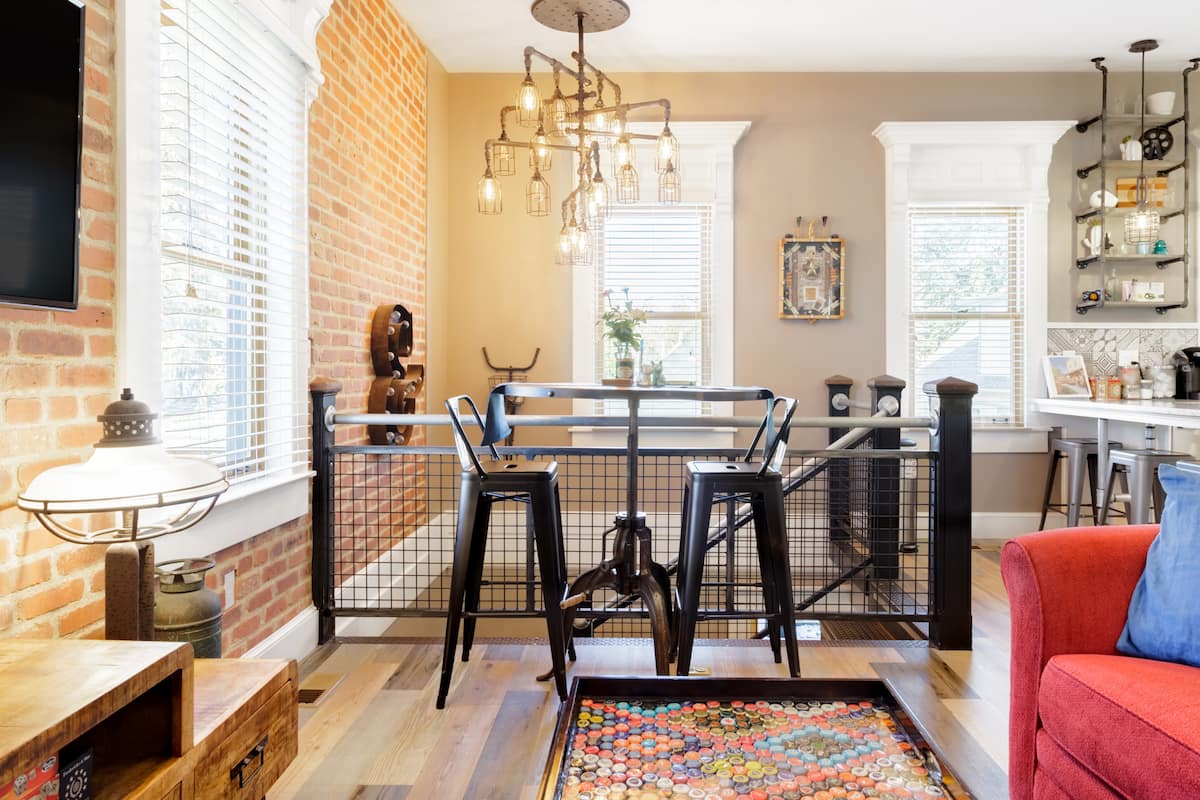 Historic Trolley Car in West Denver
If you're looking for something a little quieter than the fast-paced vibe of downtown, check out this beautifully renovated trolley car, perfect for anyone looking for a quirky and historic getaway for 2 people.
Located on a homestead only 15 minutes outside downtown and 15 minutes from Red Rocks, this Denver Airbnb is a great place to relax before a day full of adventure.
Pops of color accentuate the unique interior where you can still see many of the original features of the trolley car! You'll have access to a convenient kitchenette along with a vintage gas fireplace, ideal for curling up next to on cool nights.
The best part is the porch that overlooks the animals that also reside on the property. Grab a cup of coffee and watch the goats and chickens frolick!
Click Here To Check Rates on Airbnb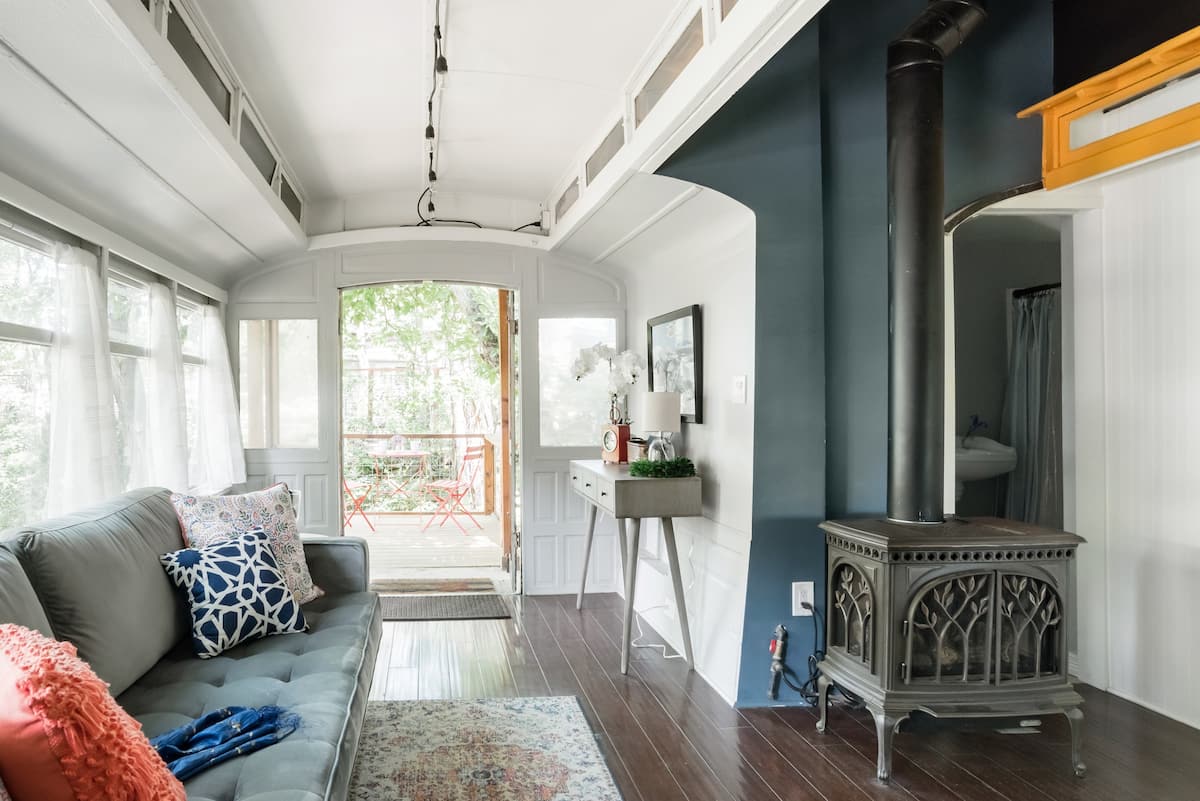 Vibrant Downtown Condo
Looking for an Airbnb in downtown Denver with some character? Then look no further than this charming Capitol Hill getaway that can fit up to 2 guests.
If you're not familiar with Capitol Hill, it's one of Denver's oldest and most busy neighborhoods, named for its proximity to the Colorado State Capitol building (which is a must stop for any visitor to Denver). Some of Denver's top attractions, like the Denver Art Museum and History Colorado are within a 2 block radius of this condo.
This Denver Airbnb beautifully mixes the original Victorian features like the ornate fireplace and crown molding with gorgeous modern patterns and works of art. Your worries will feel like they're a million miles away when you take a soak in the vintage claw foot tub or dive into a book in the sun room hammock.
If comfortable and charming is what you're looking for, give this one a try!
Click Here To Check Rates on Airbnb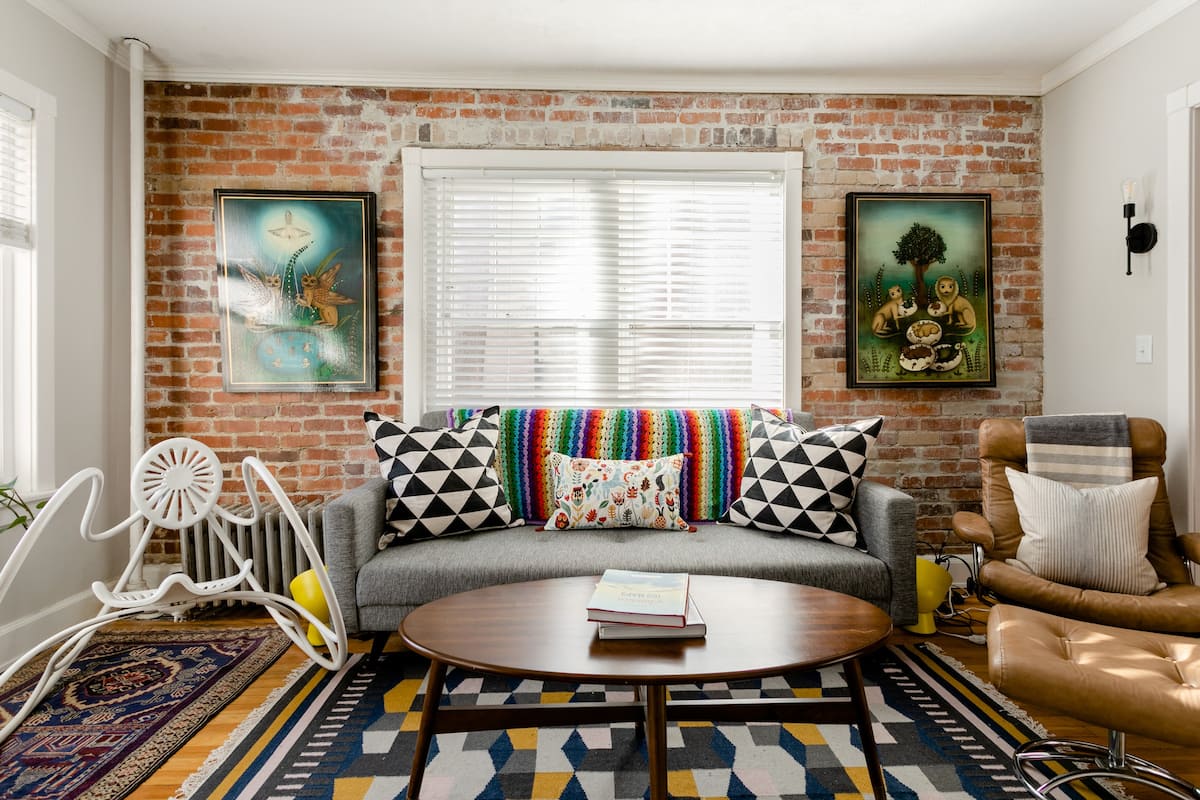 Sunny North Denver Bungalow
The Blue Bungalow of East Berkeley is an airy and spacious vintage house located right next to Denver's hip Tennyson neighborhood.
This Airbnb in Denver, Colorado has the best of both worlds. You can enjoy the quiet surrounding neighborhood (which has some of the best restaurants and coffee shops around), or you can drive just 10 minutes straight into the busy downtown and all the activities it offers.
You'll have the main house to yourself, which includes two bedrooms (that can accommodate up to 6 guests), WIFI and cable, a gorgeous full kitchen, and a laundry unit. Our favorite feature is the full window garage door that opens out to out to the large porch– the perfect way to let in the fresh Colorado air!
Click Here To Check Rates on Airbnb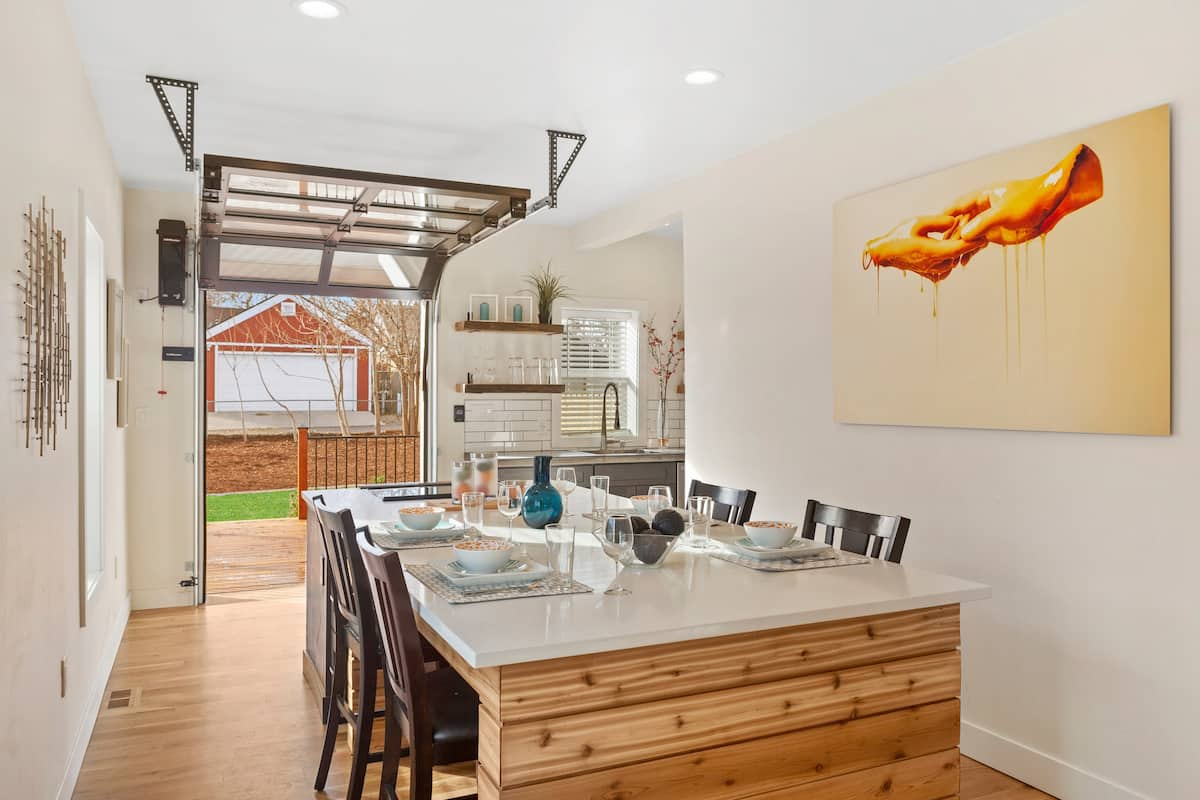 Historic Hideaway in Highlands
Take a cozy vacation for 2 in this adorable and historical carriage house in North Denver.
The Highlands is one the most popular and trendy neighborhoods in Denver, as well as one of the most colorful and well established. You won't regret staying here!
This Denver Airbnb is within walking distance to a variety of local shops and restaurants, not to mention some fun farmer's markets. It is also just a hop, skip, and a jump from the heart of Denver and the up-and-coming RiNo Art district.
Once inside this Airbnb in Denver, you'll feel right at home. Its amenities include WIFI, a full-sized kitchen, washer and dryer, and a gas grill. For a small fee, you can also bring a dog with you. You and your furry friends will love kicking up your feet on the cozy porch after a full day.
Click Here To Check Rates on Airbnb
Spacious Penthouse in Capitol Hill
Breath-taking city views await you at this sunny penthouse Airbnb in Downtown Denver. If you want to stay in the heart of it all, you will love the busy vibes of the neighboring Capitol Hill area.
The penthouse itself is gorgeous, with tons of windows to create a beautiful panorama of Denver. The light color schemes and natural wood accents make this Denver Airbnb feel so comfortable and minimalist. It can fit up to 6 people, making it a great place for you and your friends or family.
You will love being able to walk to the best attractions Denver has to offer, including the historic Molly Brown House, vibrant 16th Street Mall, and the serene Denver Botanic Gardens. If you're feeling really adventurous, stop by the popular Cheesman Park, which was once a cemetery!
Click Here To Check Rates on Airbnb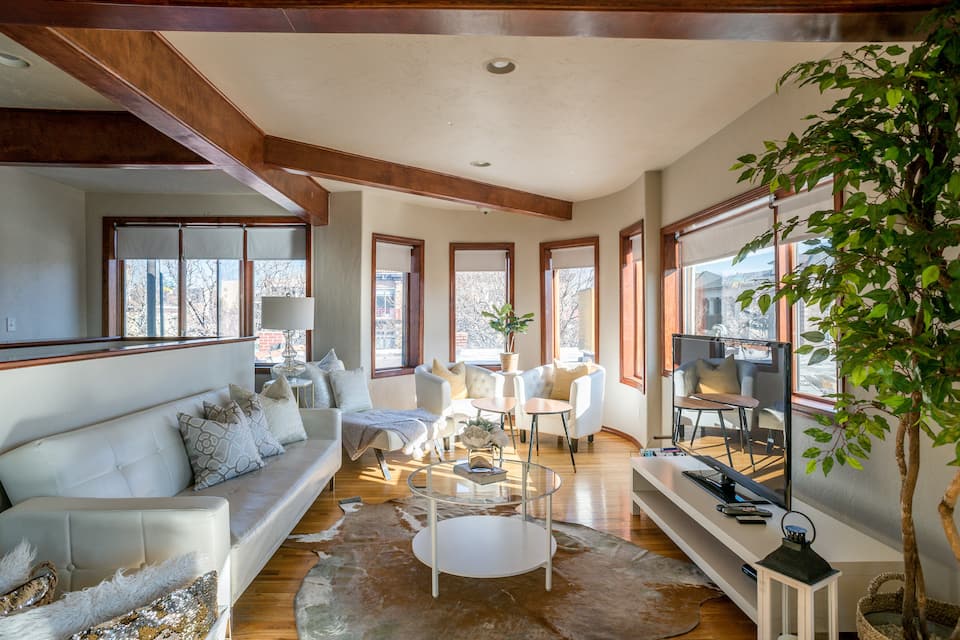 Secluded Treehouse Escape
If a balance between nature and city is more of your cup of tea, you need to check out this urban cabin in Denver. The Treehouse Escape is surrounded by beautiful and large trees that will really make you forget that you're actually in the city.
Cook breakfast in the full kitchen with fresh eggs from the chickens who also live on the grounds. Relax in the farmhouse-inspired décor, which includes natural wood accents and floors, soothing cool colors, and large windows to let in plenty of light. With one big queen bed, it's the perfect vacation spot for 2, though it can fit up to 4.
This quaint Airbnb is located right between downtown Denver and the majestic Rocky Mountains, giving you so many options of things to do. Take the short drive (or light rail trip) into the heart of the city, or head to the opposite way to Dinosaur Ridge and Red Rocks!
Click Here To Check Rates on Airbnb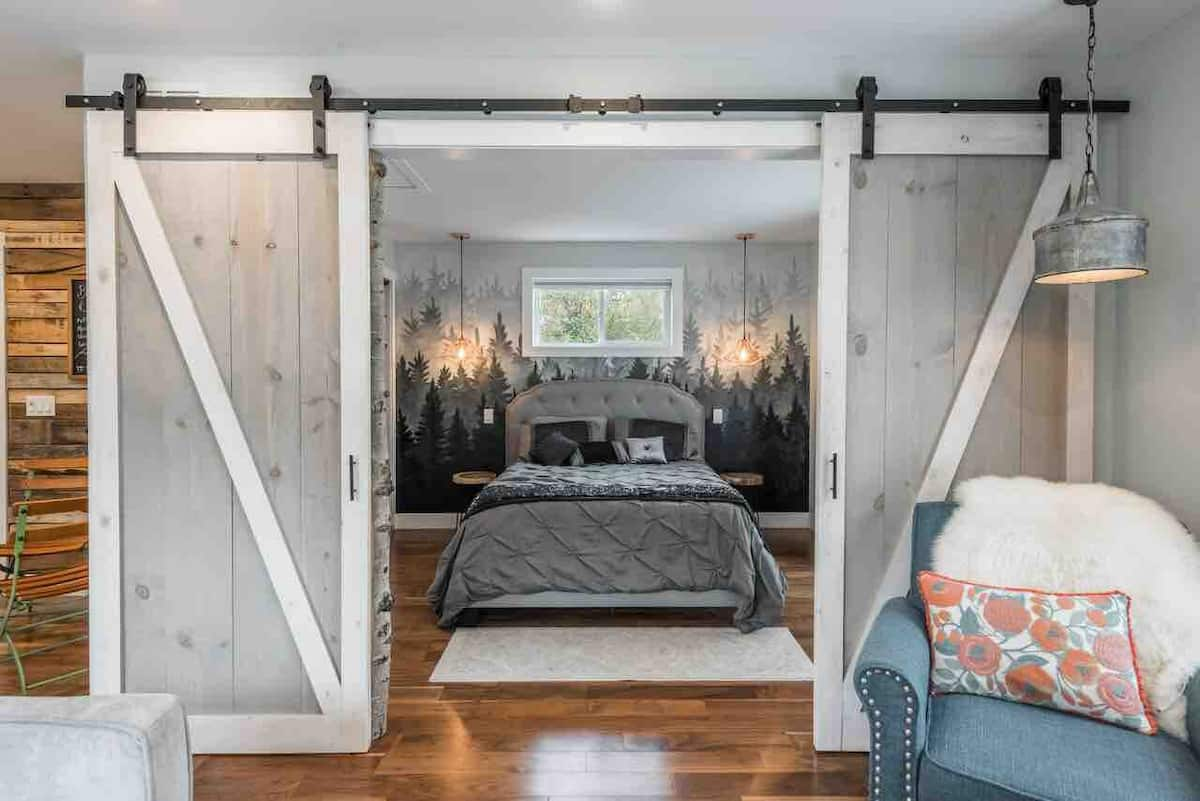 The Artist's Historic Loft
The Railroad Overall Laundry building is the perfect symbol of Denver itself.
Built in 1890 when Denver was an Old West town, it has recently been remodeled and converted into a modern and funky Airbnb in downtown Denver. You'll love the exposed brick walls, full kitchen, cozy patio, and bright pops of color throughout.
The surrounding historic (and quiet) neighborhood is a great place to explore. If you're looking for more lively activities, music and art venues are nearby, along with fabulous eateries.
Up to 4 guests can comfortably stay here, but be warned– this place is not toddler proof!
Click Here To Check Rates on Airbnb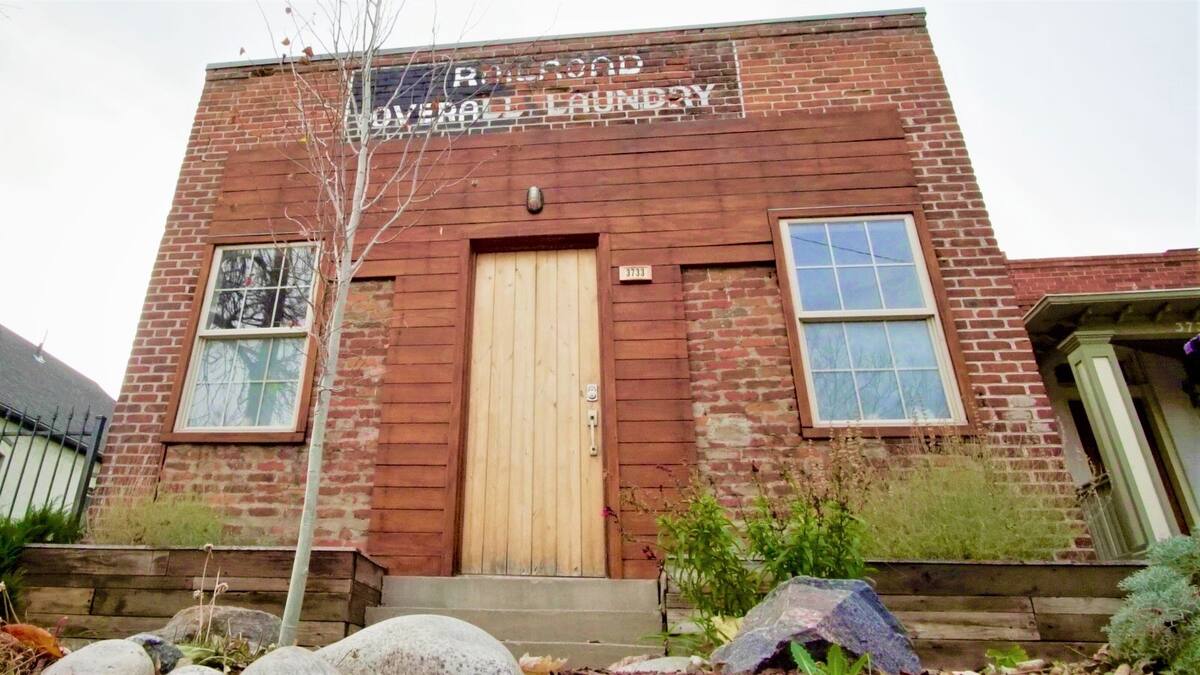 Charming Flat in Historic Home
Denver is full of charming, turn-of-the-century mansions, and this is your chance to stay in one! This Airbnb in Denver is for the bottom floor of one of these historical homes and has been nicely remodeled.
It is one of the most affordable Denver Airbnbs if you want to stay in the thick of it, with the capacity to fit up to 2 guests. It has a private entrance next to a color garden. The comfortable layout includes a mini fridge and laundry.
It has a prime location crazy close to the Denver Zoo and Denver Museum of Nature and Science. If you're looking for top-notch restaurant recommendations, make sure to ask the very knowledgeable host!
Click Here To Check Rates on Airbnb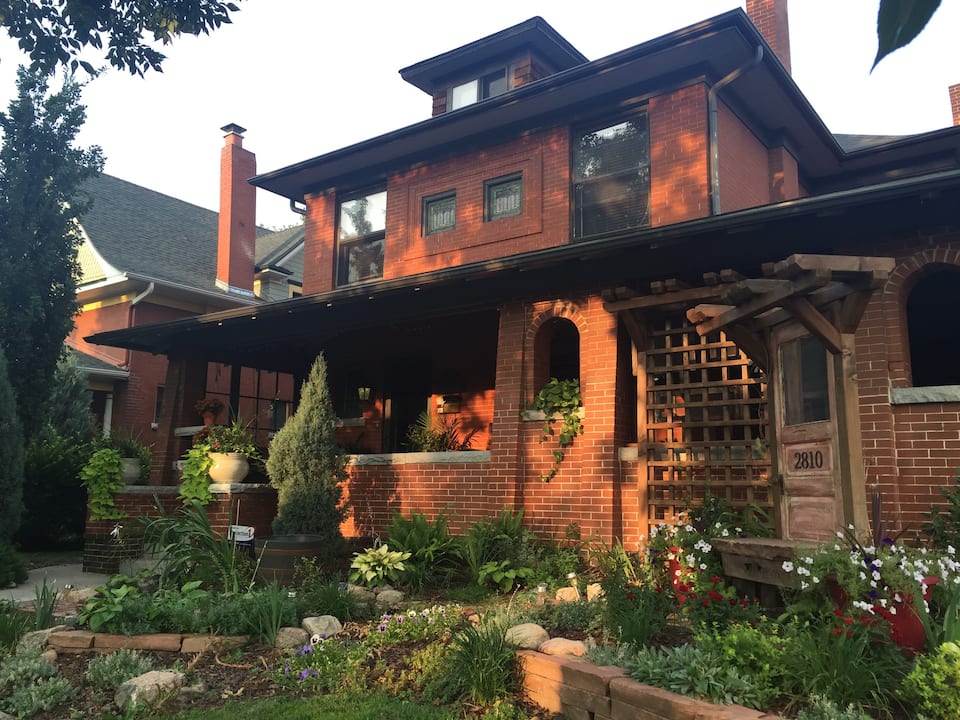 Quirky Downtown Carriage House
This quirky 1800s carriage house is the perfect place to rest your head while in Denver. Featured in Architectural Digest Online for its unique qualities, you can't help but appreciate how industrial touches coexist with history in this Denver Airbnb.
Exposed brick walls play backdrop to the quirky artistic color and tiling choices, which perfect matches the vibe of Denver itself. There are heated floors in the full kitchen to keep your feet toasty while you cook, and there is also access to a hot tub.
It is located right next to the hip RiNo Art district, meaning you'll have plenty of restaurants, breweries, and art venues to check out nearby. It can also house up to 3 guests.
Click Here To Check Rates on Airbnb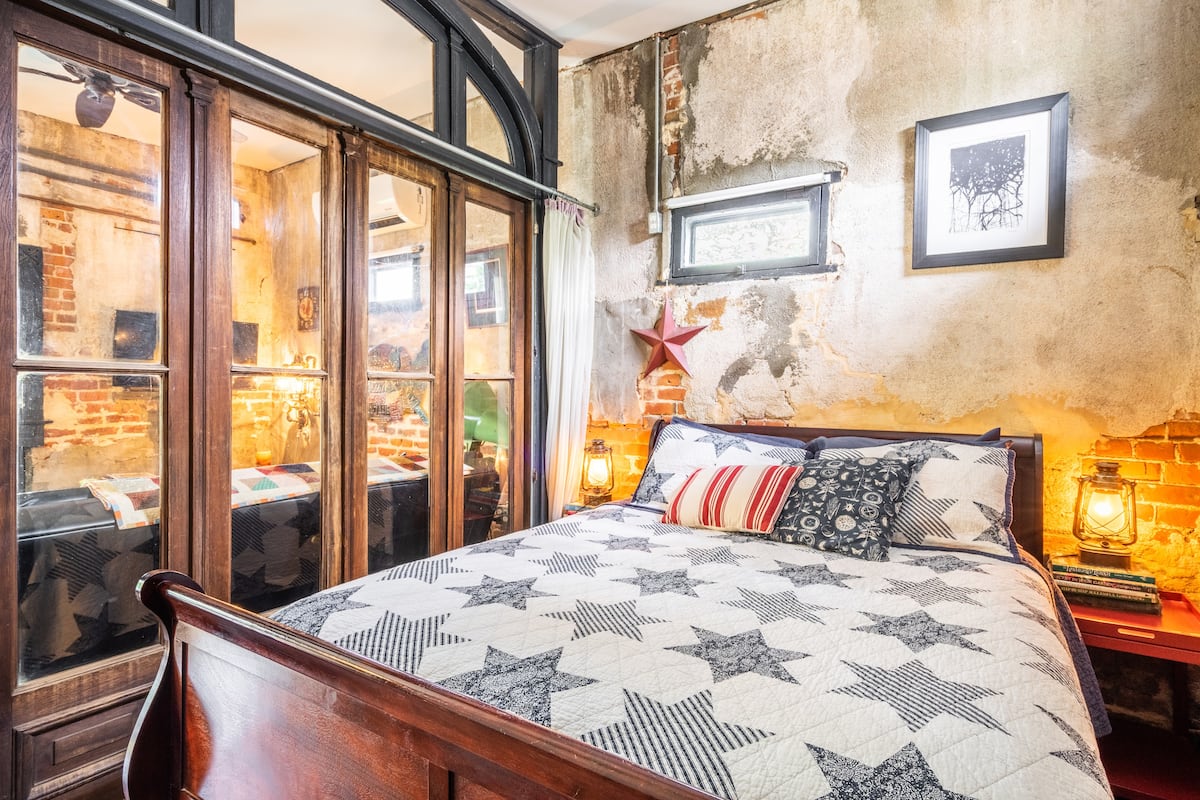 Modern Living in the Ballpark District
If comfort and light are something you need on your vacation, then you will love this Airbnb in Denver!
Floor to ceiling windows, high ceilings, full kitchen, cute patio, and an ultra open layout are all features of this loft near Coors Field. The white and grey color scheme along with the natural wood accents create a spa-like aesthetic that you won't want to leave. The 2 bedrooms mean that 4 people can stay here comfortably.
This Denver Airbnb comes with a guaranteed parking spot (a rare commodity in Denver!). Its convenient location makes it easy to get to downtown attractions like Denver Union Station. While you're here, make sure to try a farm-to-table restaurant, a popular eating choice among Denverites.
Click Here To Check Rates on Airbnb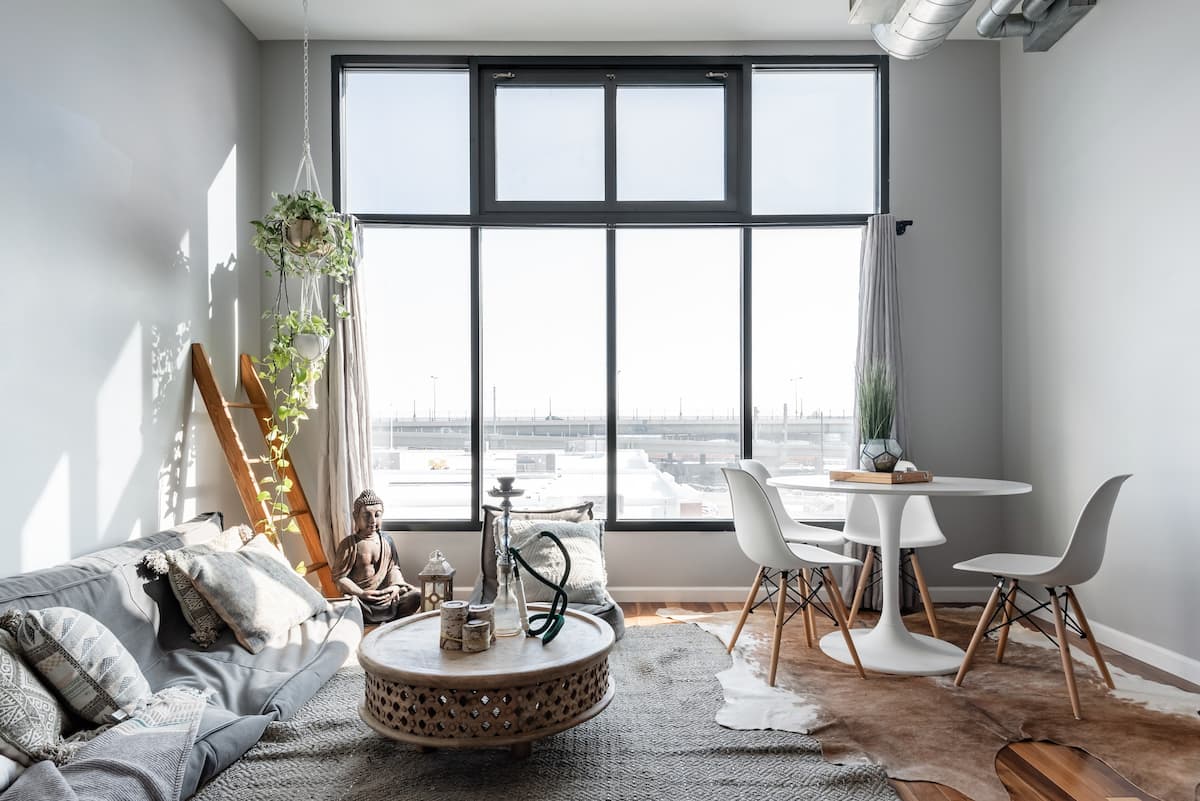 Farmhouse Chic in South Platte
Rest and relaxation is the name of the game in this 1920s Denver Airbnb!
With 3 bedrooms, you'll have plenty of room to spread out. Modern and rustic accents team up to give this house a homey and comfortable vibe. The large kitchen in particular is quite nice, with lots of natural light. Keep an eye out for the locally made artworks that decorate this house!
With only a 15 minute drive to downtown, you'll love escaping the hustle and bustle of the city each day to return to this quiet Denver neighborhood.
It's also close to many of Denver's favorite restaurants found on South Broadway.
Click Here To Check Rates on Airbnb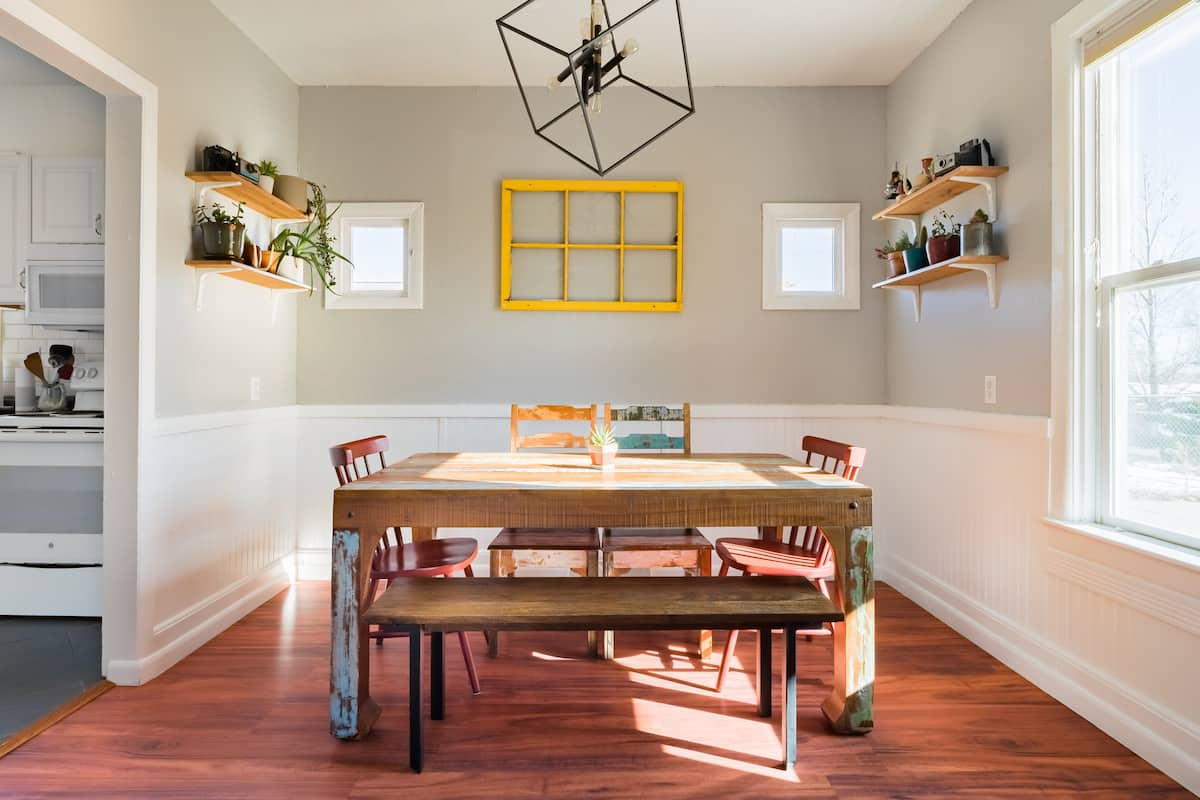 Luxurious Converted Church in Downtown
Last but not least on this list is one of the most unique and luxurious Airbnbs in Denver, Colorado.
This 1930s church was remodeled in 2016 in a transformation that preserved the grandiose feeling of the building while bringing in comfortable conveniences of modern day.
The sky-high ceilings and unusual architecture make this a one-of-a-kind experience. Check out the bright and airy choir loft! With 5 bedrooms that can host up to 12 guests, this is a great option for large groups.
It is also within walking distance to many popular restaurants and bars, and only a short trip to downtown. This Denver Airbnb is worth the price!
Click Here To Check Rates on Airbnb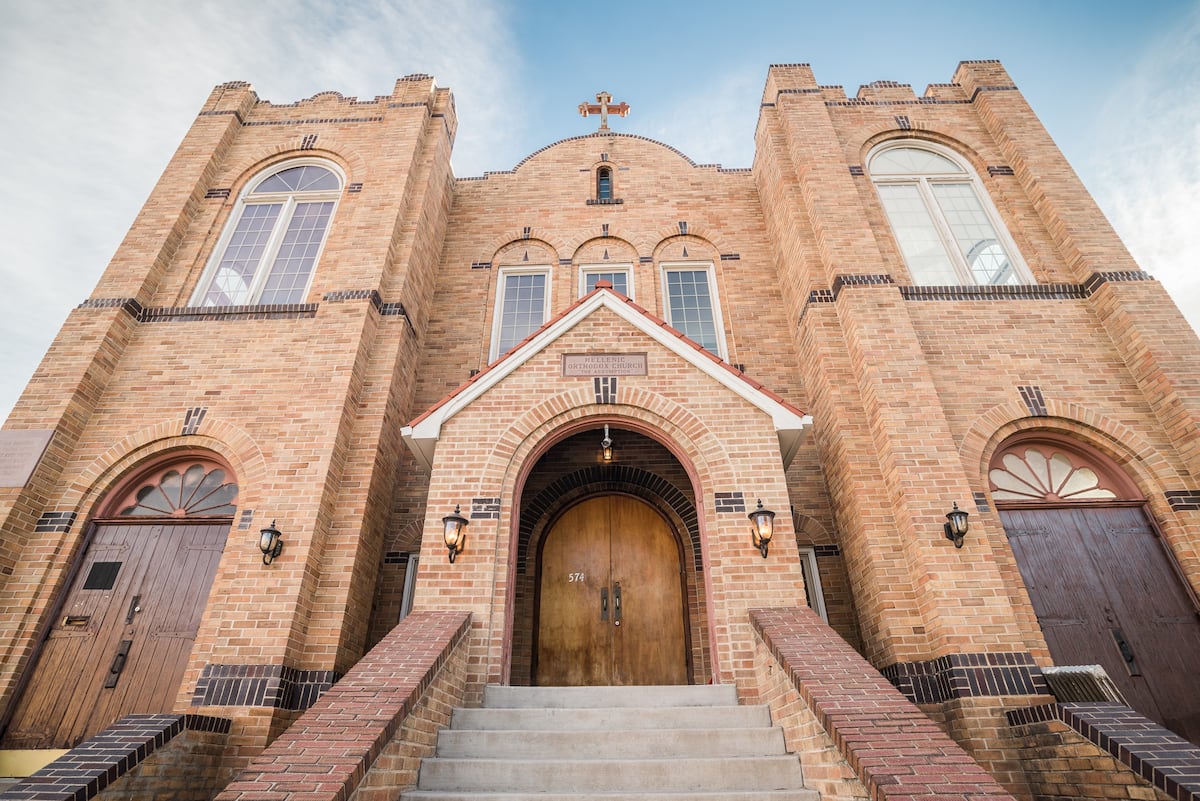 We hope you've enjoyed viewing some of the best Denver Airbnbs. Denver is a fun, modern city with a great vibe and interesting history. No matter where you stay in Denver, we know you'll have a wonderful time.
If you've been inspired to explore even more of the state outside Denver, make sure to check out our top picks for the best Airbnbs in Colorado. Happy travels!