Are you looking to escape and want to know what the best weekend getaways in Virginia are? Well, you are in luck because we have got you covered! Virginia is truly a gem when it comes to weekend escapes. There are practically any type of landscape and even vibrant cities to explore.
I absolutely love traveling to Virginia! One of my lifelong best friends lives here, it is near DC, one of my close work friends lives here, and I spent a lot of time exploring Virginia as a child!
I am here to show you some of the most unique getaways in Virginia, as I've had decades of experience to tell you all the best that you shouldn't miss.
It doesn't matter if you are looking for a romantic getaway, an action-packed adventure, or a step back in time, Virginia has got you covered. From the beautiful Blue Ridge Mountains to the old-time charm of Old Town Alexandria, from the serene beauty of Chincoteague Island or a beach stay in Virginia Beach, this state is brimming with unique attractions and stunning views.
So, let's dive in and discover the best Virginia getaways. Grab your overnight bag, it's time to start planning your next unforgettable trip in VA!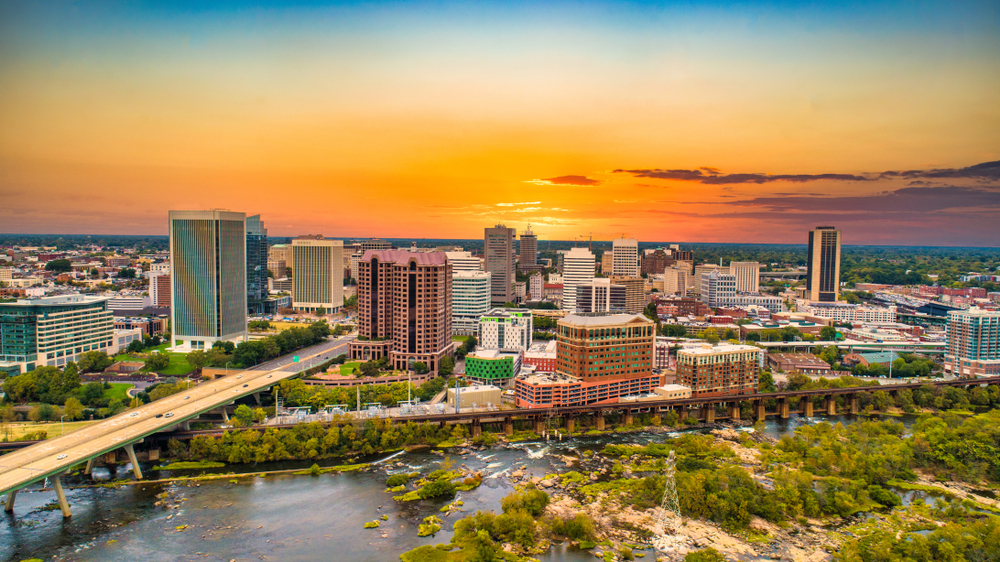 Best Weekend Getaways in Virginia
Virginia Beach Weekend
Virginia Beach is a beautiful coastal city where the Chesapeake Bay meets the Atlantic Ocean. It's one of the best staycations in Virginia, any time of the year.
I have many friends who live here and have visited a ton of times, and it is totally worth a trip as there are many options for weekend getaways in Virginia Beach!
Virginia Beach is so much fun for its water-based activities. You will have time to book a whale-watching or dolphin-watching cruise it is an unforgettable experience on the Atlantic. Most boat tours will leave from Rudee Inlet on 5th Street at the oceanfront.
For outdoor lovers, the First Landing State Park is a must-visit. There are over 20 miles of trails plus 1.5 miles of sandy beach shores. It is the perfect place if you are in the mood for a long hike or bike ride. If you're seeking a thrill, head across the street from the Hilton Virginia Beach Oceanfront to iFly Indoor Skydiving! This fun inside adventure is perfect for any age.
Virginia Beach also has a variety of fun events throughout the year. From music festivals to wine or beer festivals, there's always something going on. Check out the event calendar on the Virginia Beach website to see what's on during your visit.
A romantic weekend getaway in Virginia Beach might include checking into the Hilton Virginia Beach Oceanfront which has stunning views of the Atlantic, and all the romantic vibes you are looking for.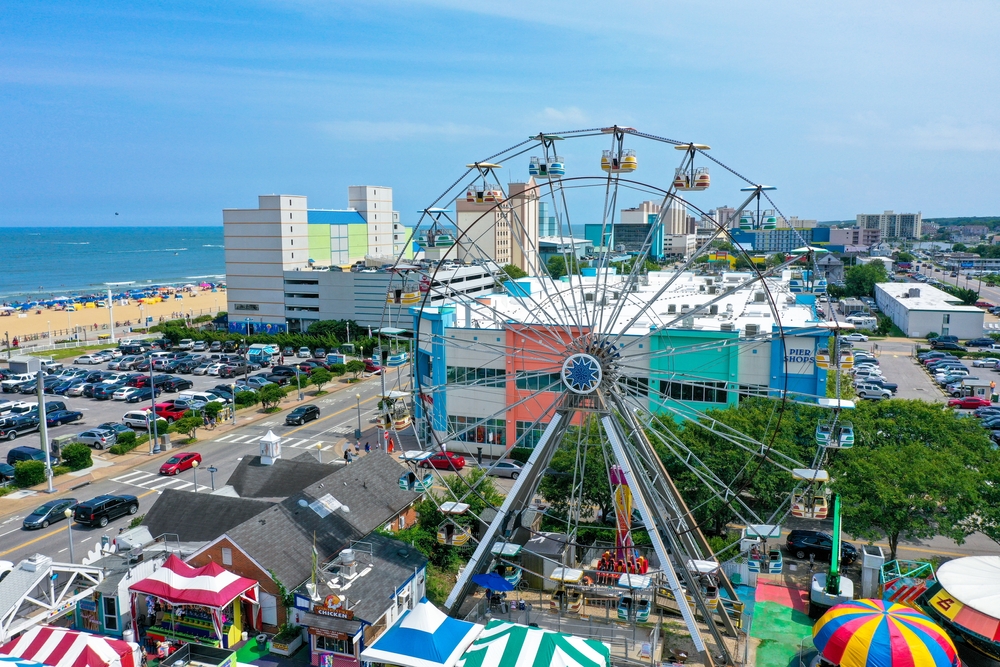 The Greenbrier
The Greenbrier is a luxury resort that is also known as "America's Resort". It has been serving guests since America was founded back in 1778. It is situated in the breathtaking Allegheny Mountains near White Sulphur Springs and is a National Historic Landmark. 27 U.S. Presidents have visited The Greenbrier last 200 years.
One of my friends who lives in Virginia is always coming here! It is one of her favorite weekend getaways in Virginia for girlfriends and couples alike. So romantic and fun!
The resort is on 11,000 acres of beautiful mountains that give off such an enchanting setting for its guests. You can explore the huge property on a horse-drawn carriage for one of the most unique Virginia weekend getaways.
The Greenbrier is not just famous for its beauty and history but also for its amenities and activities on site. If you are feeling lucky it features an on-site casino where you can test your luck.
Check rates & dates here: Booking.com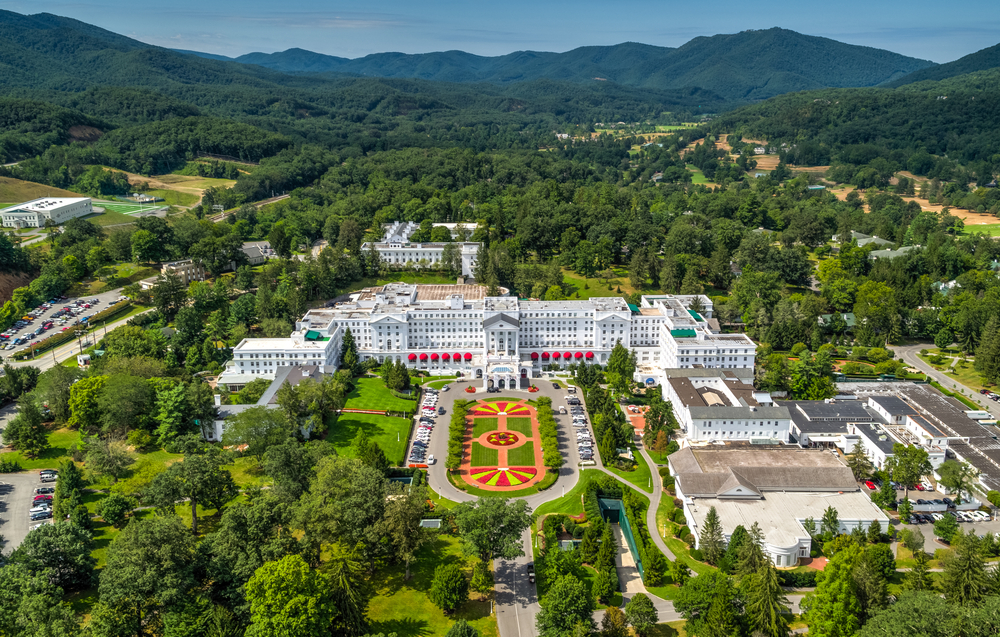 Shenandoah National Park
Up next is one of the cheap weekend getaways in Virginia, Shenandoah National Park. It is best known for its stunning vistas, waterfalls, and diverse wildlife.
The park's most famous feature is Skyline Drive. This is a 105-mile road that runs the entire length of the park along the Blue Ridge Mountains. This scenic route offers 70 overlooks that have breathtaking views of the Shenandoah Valley to the west and the rolling Piedmont mountain range to the east.
For hikers, the park offers over 500 miles of trails, including 101 miles of the Appalachian Trail. These trails range from easy treks to challenging hikes that lead to beautiful waterfalls, panoramic viewpoints, and quiet wooded areas.
Also, Shenandoah National Park is full of wildlife. Expect to spot a few deer, black bears, and numerous birds as you walk along.
Shenandoah offers a variety of accommodation options for those wishing to stay the entire weekend. You can choose from traditional lodges, and cozy cabins, or for a more rustic weekend, there are several camping spots to set up your tent.
This is truly one of my favorite weekend getaways in Virginia's mountains.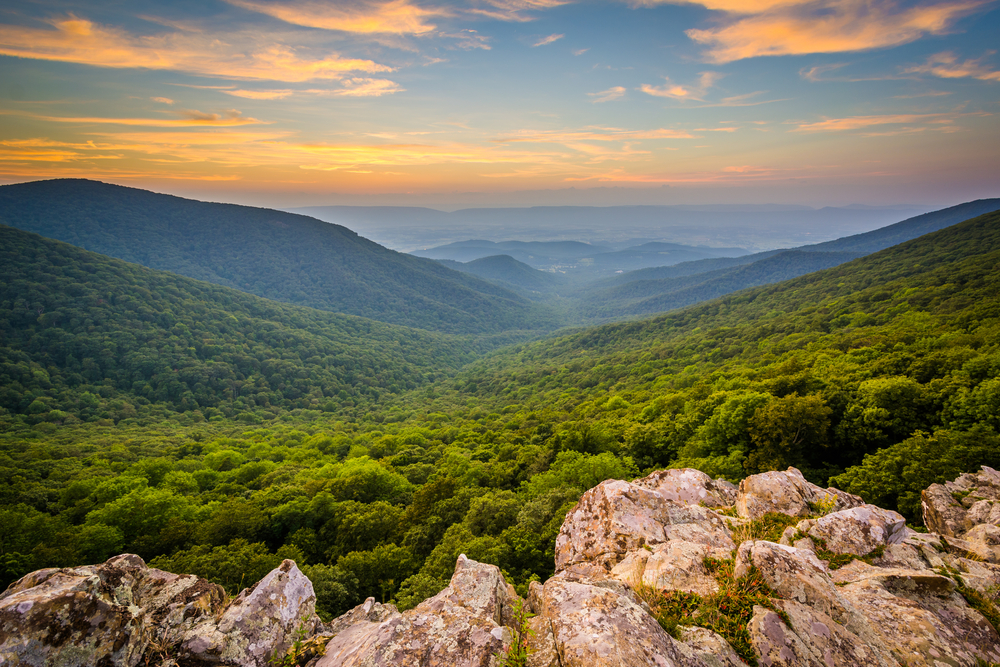 Massanutten Resort
Massanutten Resort is always rated as one of the best Virginia mountain weekend getaways. This breathtaking property is located in the heart of Virginia. It spans over 6,000 acres of mountainous terrain. It's known not just for its size but also for the variety of amenities you can enjoy year-round.
Regardless of the season, you can enjoy a splash-filled day at the water park. In the summer you can enjoy the outdoor water park, and in the winter, make a splash at the indoor one.
For winter sports Massanutten Resort has the tallest vertical drop in all of Virginia, Maryland, and Pennsylvania. There are 1,110 feet of thrilling terrain, and 14 trails so all types of skiers can enjoy the mountain. When the snow stops, Massanutten turns into the coolest bike trail.
The location of the resort also adds to its appeal. It is conveniently located just minutes from the Shenandoah National Park and Skyline Drive so it is an excellent home base for exploring the natural beauty of Virginia.
Check rates & dates: Hotels.com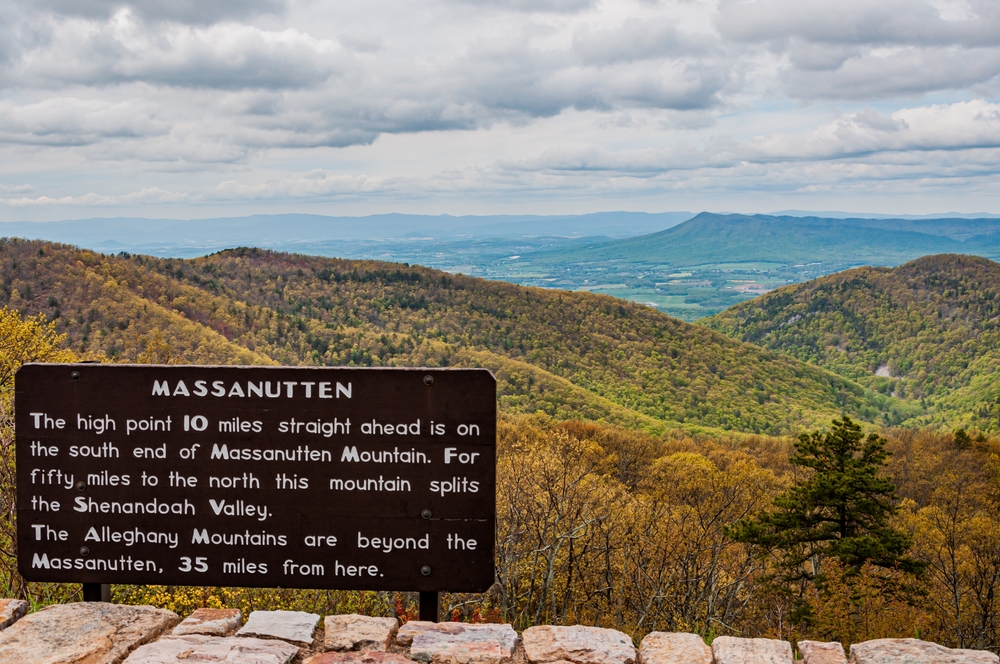 Williamsburg
Williamsburg, Virginia, is a city steeped in history and tradition and makes for excellent weekend trips in Virginia. If you don't already know, Williamsburg is on the map for its significant role in the American Revolution. And there is a living history museum that will transport you back to the 18th century.
There is also Colonial Williamsburg to check out. It is the largest outdoor history museum in the United States. Walk down cobblestone streets, visit the historic buildings, and meet interpreters dressed in period-appropriate clothes who bring history to life.
I have gone here so many times!! As a little girl, I used to dress up in a little bonnet and skirt and walk around Colonial Williamsburg with my parents and sister. It was really fun and I still love it as an adult!
In addition to its historical importance, Williamsburg also has a variety of modern attractions. It's home to Busch Gardens. Which is an action-packed adventure park with roller coasters, delicious dining, and exciting themed events throughout the year.
Williamsburg is also known for its higher education. The most notable is the College of William & Mary, which is the second-oldest college in America. The beautiful campus adds to the city's charm and attracts students from all around the world.
For outdoor lovers, Williamsburg also offers plenty of parks and trails to explore. Which are perfect for hiking, biking, and picnicking. Williamsburg is one of the best weekend getaways in Virginia for a well-rounded trip.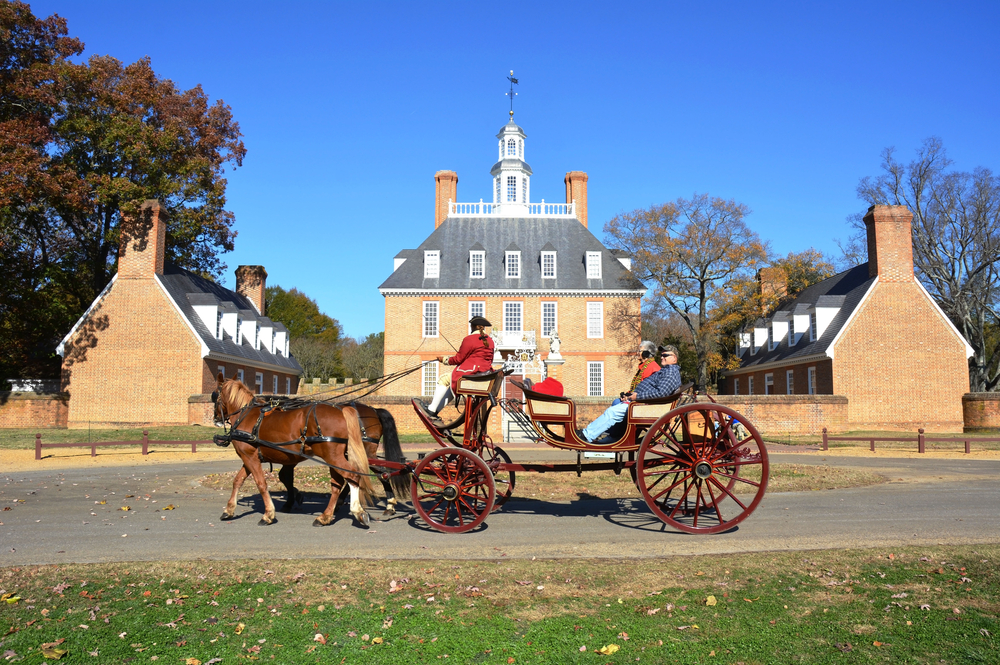 Alexandria
Alexandria, Virginia, is one of the top places to visit in Virginia for the weekend! This historic VA city is on the banks of the Potomac River and is just a few miles from Washington, D.C. Alexandria is best known for its history, beautifully preserved buildings, and beautiful waterfront.
In the heart of Alexandria is Old Town, which is the city's historic downtown district. It has cobblestone streets, colonial-era architecture, and plenty of boutiques shops, and dining options. King Street, the main street, is often ranked as one of the "Great Streets" of America.
One of Alexandria's most iconic landmarks is the Torpedo Factory Art Center. It was once a naval torpedo factory, but now the building displays artists' studios, and galleries, and there is even an archaeology museum inside.
If you are traveling with any history buffs, Alexandria offers numerous historic sites and museums. The George Washington Masonic National Memorial, the Stabler-Leadbeater Apothecary Museum, and the Carlyle House Historic Park are a few of the top museums to check out.
And of course, we have to talk about Alexandria's proximity to Washington, D.C. You can be in the nation's capital in just under 30 minutes. You can also visit national landmarks like the Smithsonian museums, the National Mall, and the U.S. Capitol can be just a short metro ride away.
If you are looking to get outside during your weekend getaway in Virginia the Mount Vernon Trail is the perfect place to start. This is a scenic 18-mile path that runs along the Potomac River from Mount Vernon to Theodore Roosevelt Island. And, Alexandria's waterfront is also a popular spot for boating, kayaking, and paddleboarding.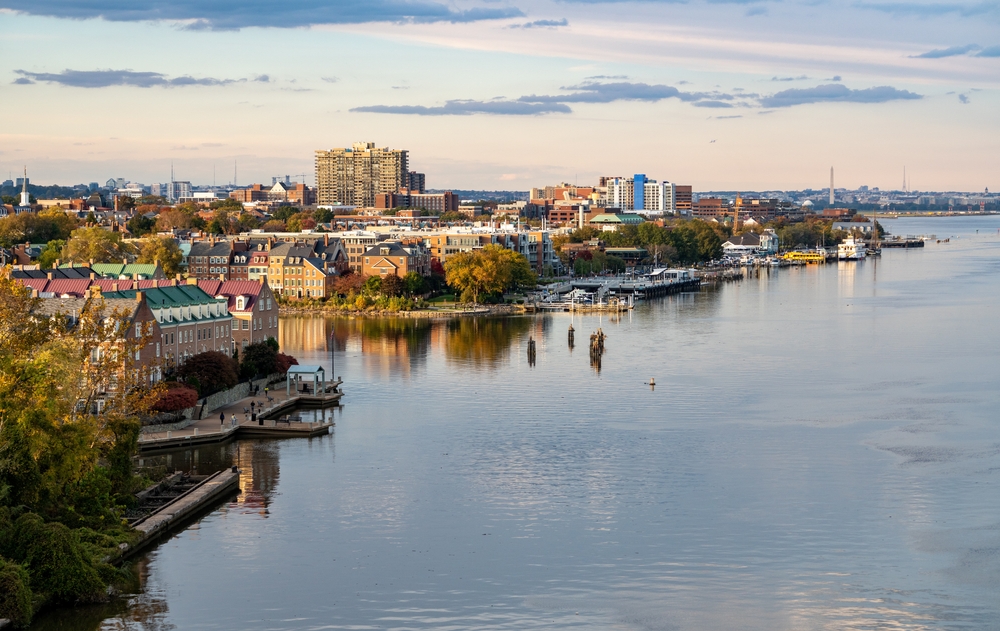 The Omni Homestead
The Omni Homestead Resort is located in Hot Springs, Virginia. This is a luxurious retreat that offers plenty of activities and experiences for one of the most romantic weekend getaways in Virginia. This unique resort in VA is home to a two-acre water park or you can soak in the sun, take a refreshing dip, or simply relax by the pool.
There is also hiking to be done at the nearby Cascades Gorge. This picturesque trail features beautiful waterfalls and diverse blooms that provide a perfect blend of adventure and nature. Pack your clubs too because the Omni resort has one of the top-ranked golf courses and the nation's oldest first tee.
And if you prefer staying indoors, the Omni Homestead resort has you covered there too. There is a private movie theater and a family game room that is the perfect place for some downtime. A weekend at The Omni Homestead Resort wouldn't be complete without booking one of the spa services. Try one of the relaxing couple's massage or refresh in the mineral hot springs that the area is famous for.
You can also book a daily historic tour which gives you a chance to learn about the resort's history and hot springs. And for dining, there is everything from casual quick eats to fine dining right on the resort.
Check rates & dates: Hotels.com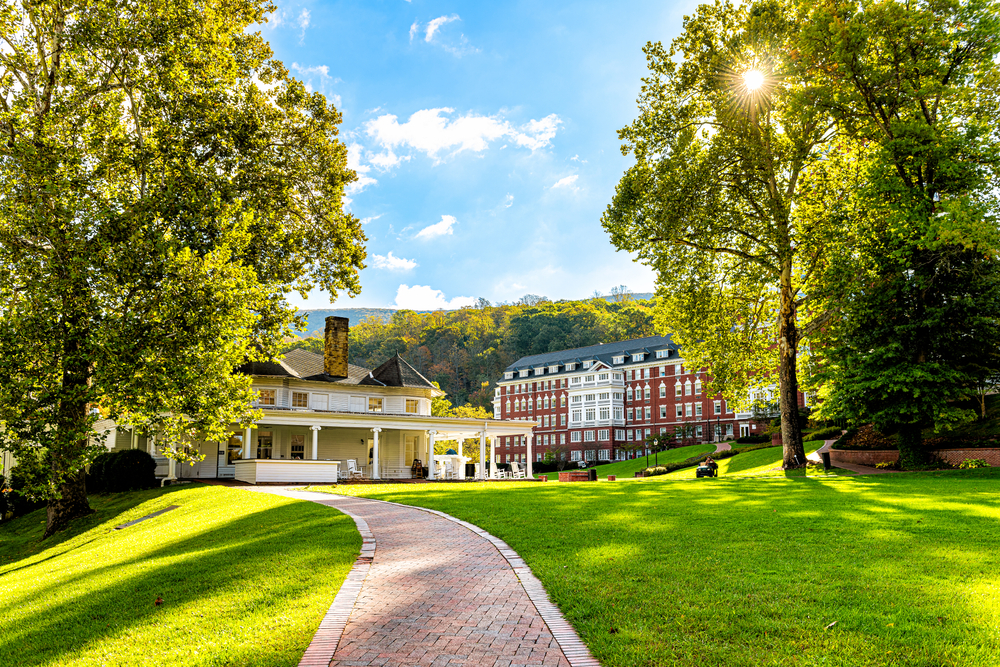 Richmond
Spending some time in Richmond is the best mini-vacation in Virginia. Richmond has a bright cultural scene, a rich history, and impressive foodie spots.
Start your visit in Richmond by exploring the Virginia Museum of Fine Arts. Here you can see a wide range of art from all around the world. To get your history filled in the American Civil War Museum and the Virginia State Capitol are must-sees.
Richmond is also known to have an active outdoor community. The James River Park has a variety of trails for hiking and biking. And the Lewis Ginter Botanical Garden is another great spot to enjoy the great outdoors. One unique way to explore downtown Richmond is through the 1.25-mile urban walk along the James River. This will teach you about the importance of Richmond while learning and enjoying some fresh air.
For a taste of local culture, head to Richmond's oldest neighborhood, Church Hill. Here you'll find The Roosevelt, a Southern-style restaurant known for its Southern dishes and delicious craft cocktails.
You will also love shopping at the local boutiques in the Carytown district. And if you're visiting on a weekend, don't miss the chance to explore one of the local farmers' markets, where you can find everything from fresh produce to homemade gifts.
Finally, make sure to visit Maymon. This is a 100-acre Victorian estate featuring beautiful gardens, a nature center, and a historic mansion. It's the perfect spot to unwind and soak up some local VA history.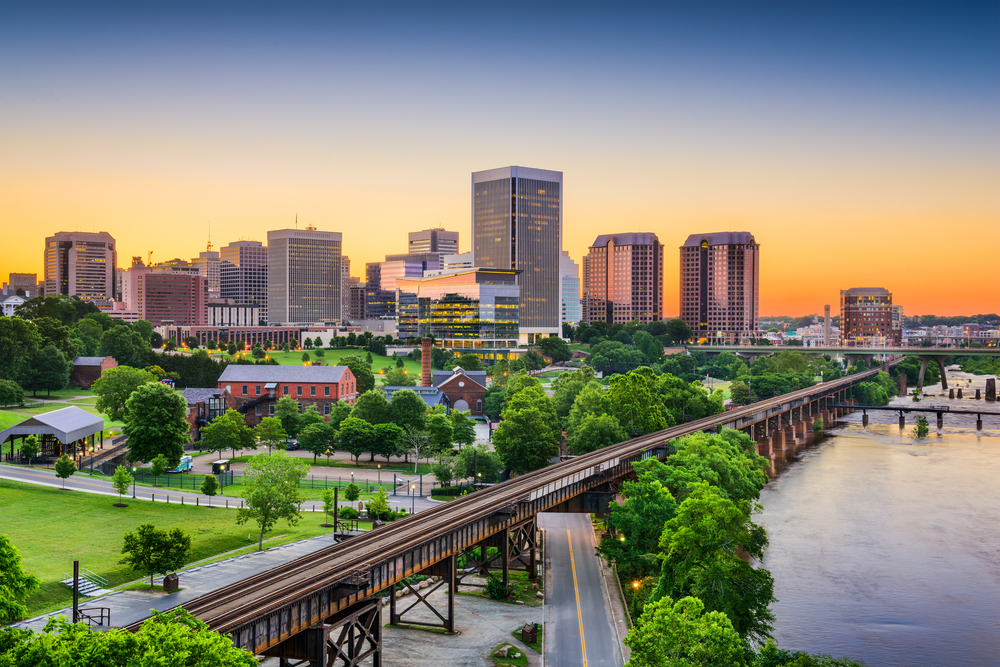 Charlottesville
Charlottesville is one of the best locations for a Virginia girl's trip ideas. It is a perfect blend of history, culture, and outdoor beauty.
Start your visit to the historic Monticello which was once the home of Thomas Jefferson. This beautifully preserved plantation gives guided tours that provide insight into Jefferson's life and his many contributions to the nation's history.
Just a short drive from Monticello is James Monroe's Highland. This is another historic presidential home that's worth a visit. And the University of Virginia, founded by Jefferson himself, is a UNESCO World Heritage Site with a stunning campus
For lovers of the great outdoors, Charlottesville, VA is a start of the Blue Ridge Mountains and Shenandoah National Parks. There are numerous hiking trails, beautiful drives, and opportunities for wildlife spotting. Closer to town, you can enjoy a leisurely stroll or bike ride along the Rivanna Trail, a 20-mile urban wilderness trail.
Charlottesville VA is also known for its vibrant arts scene. The downtown pedestrian mall has art galleries, theaters, shops, and restaurants. After that try to catch a show at the Paramount Theater or enjoy live music at one of the many venues around town!
Foodies will fall in love with Charlottesville's culinary scene. From farm-to-table restaurants to food trucks, there's something for everyone. And don't miss the chance to visit one of the area's many vineyards. Charlottesville is in the heart of Virginia wine country and offers plenty of opportunities for wine tasting.
Finally, all bookworms should visit the New Dominion Bookshook. This is the oldest independent bookseller in Virginia. It's the perfect place to pick up a new read and enjoy the cozy and welcoming atmosphere. Heading in Charlottesville is one of the best weekend getaways in Virginia!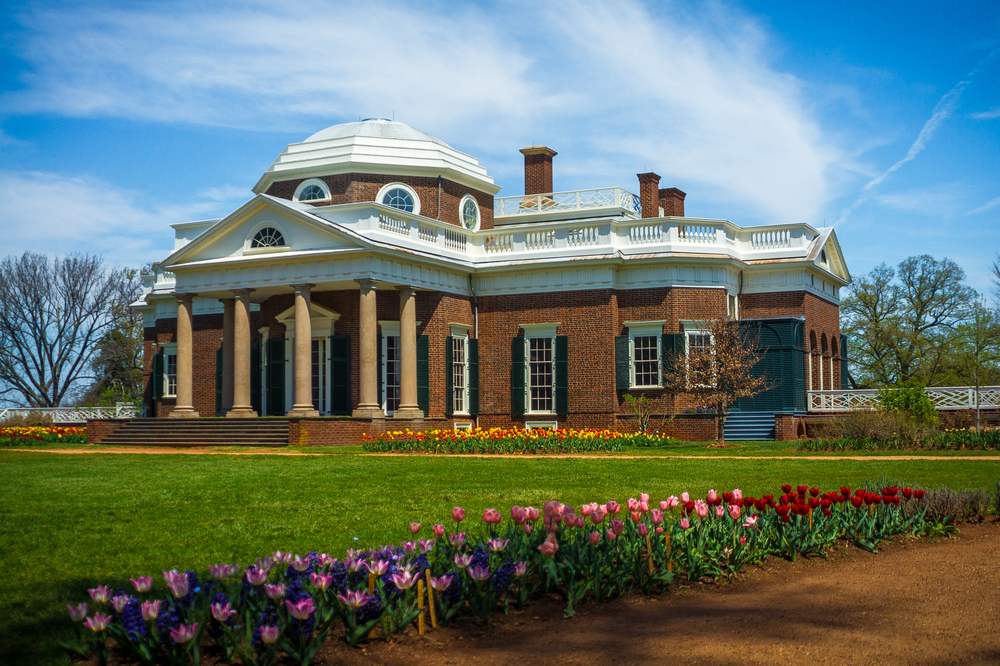 Lexington
Lexington, Virginia, is a charming small VA town known for its rich history, natural mountain beauty, and walkable downtown area. It makes for one of the best and inexpensive romantic getaways in Virginia filled with a variety of activities.
Start your visit at the Visitor Center of Lexington. Here, you can map out your itinerary and learn about Lexington's history. The University Chapel and Galleries are also worth a visit, offering a glimpse into the educational and artistic legacy of the region.
The outdoors is one of the reasons Lexington is special. You can spend time hiking in parks or exploring the Rockbridge County area. Food lovers will find plenty to savor in Lexington. The town boasts numerous restaurants, ranging from cozy cafes to upscale dining establishments.
The Main Street in Lexington has everything you want in a shopping experience. There are a number of boutiques, galleries, and restaurants just steps away, it's an ideal place to spend a leisurely afternoon picking up one-of-a-kind finds. You will be so happy you picked Lexington, it is one of the best weekend getaways in Virginia.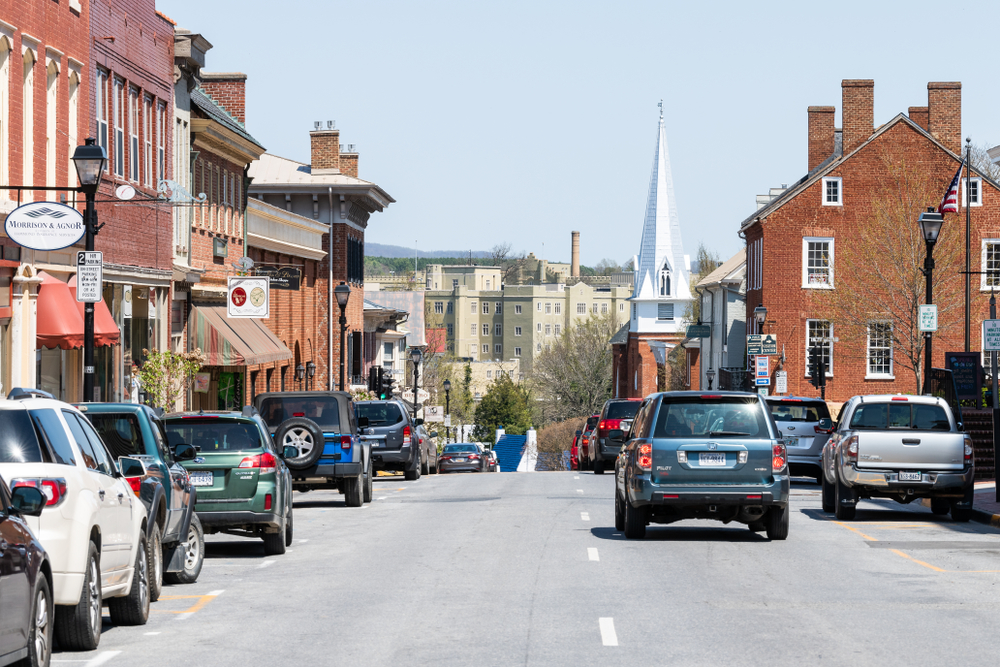 Cape Charles
Cape Charles, Virginia, is a hidden gem on the Eastern Shore. It is the perfect place for a quiet family weekend getaway in Virginia. It has a very laid-back small-town vibe. You will love the historic charm, beautiful beaches, and a relaxed atmosphere.
During your stay, start by exploring the downtown's sweet little shops that offer unique local goods. The downtown area is full of life and perfect for leisurely strolls. You find a local brewery, distillery, ice cream shop, and oceanfront restaurants. In the evenings, there's nothing like ending the day with a beautiful sunset over the Chesapeake Bay.
One of the top attractions in Cape Charles is the beachfront. This is the perfect place to relax, soak up the sun, and take a refreshing swim in the clean water. You can also visit Kiptopeke State Park, which is an excellent place for hiking, fishing, and camping. Both of these locations allow dogs on the beach year-round. So bring the whole family and enjoy one of the best weekend getaways in VA.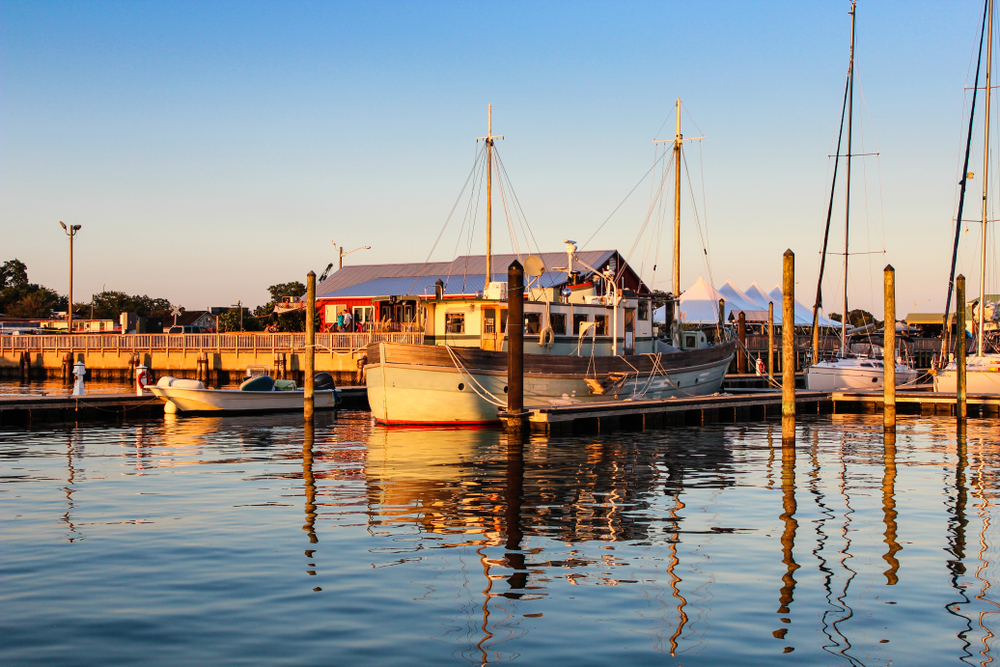 Lake Moomaw
Lake Moomaw is located in the mountains of western Virginia. This beautiful lake is a quiet haven if you are looking to escape for the weekend. The 2,530-acre lake is ideal for boating, canoeing, and fishing. Rig your poles for Trout, bass, and catfish.
If you're more of a land-lover, the area surrounding the lake has plenty of hiking trails. These trails offer stunning views of the lake and the nearby Alleghany Mountains. Moomaw is also surrounded by 3 campgrounds. Most camp spots are first come first serve, so try and get there early to the best spots.
For those who prefer to be in the water rather than on it, there are also plenty of places to swim. The lake's beaches are a great place to relax and enjoy a picnic or campfire. If you are looking for one of the best weekend getaways in Virginia on a budget, Lake Moomaw is the perfect place for you!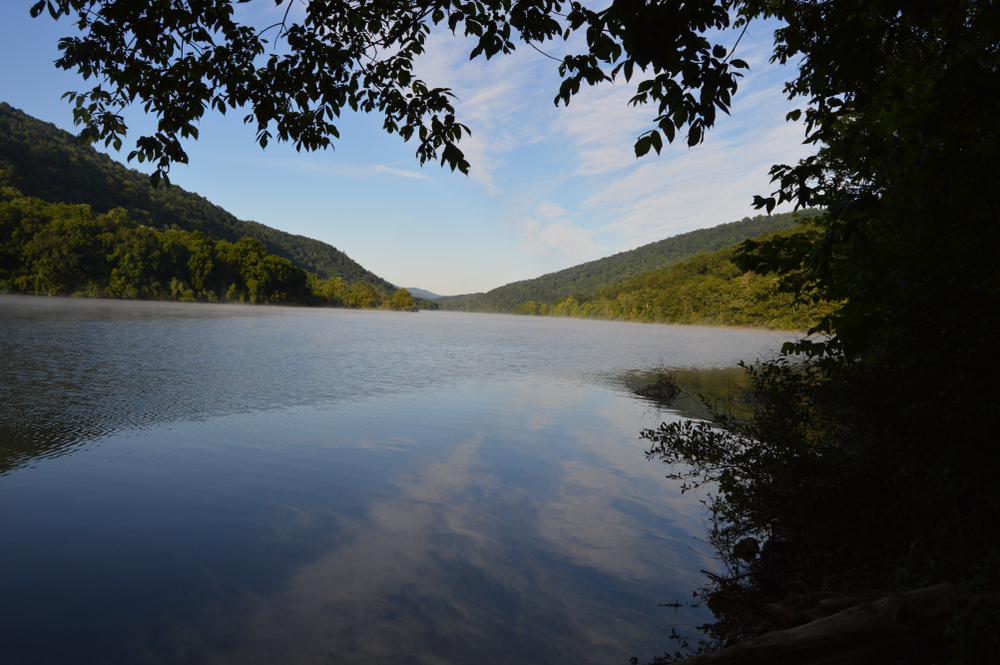 Luray Caverns
Luray Caverns, located in Luray, Virginia, is a popular destination for weekend getaways in VA and is known for its breathtaking natural beauty.
This was my Dad's favorite place growing up and we visited many times. It is worth it and a great weekend getaway in Virginia for families. I know, because I did it growing up, and it is still cool!
The main attraction at Luray Caverns is the cavern itself. A self-guided tour reveals 19 different stops, each with a special geological formation. Be sure to take some time checking out the Luray Cavern Organ. This is a natural lithophone that produces musical tones when struck. There is also an underground lake that has the most beautiful reflections of the stalactites above.
Admission to Luray Caverns will also give you access to several museums in Luray. Check out the Toy and Car Museum for a look into the past. And the Luray Valley Museum will give you an insight into the local history of Luray.
If you have more time on your weekend trip, you can also explore the surrounding area as the Luray Caverns are located very close to the Shenandoah National Park. This is one of the best places to visit if you are looking for one of the weekend getaways in Virginia on a budget!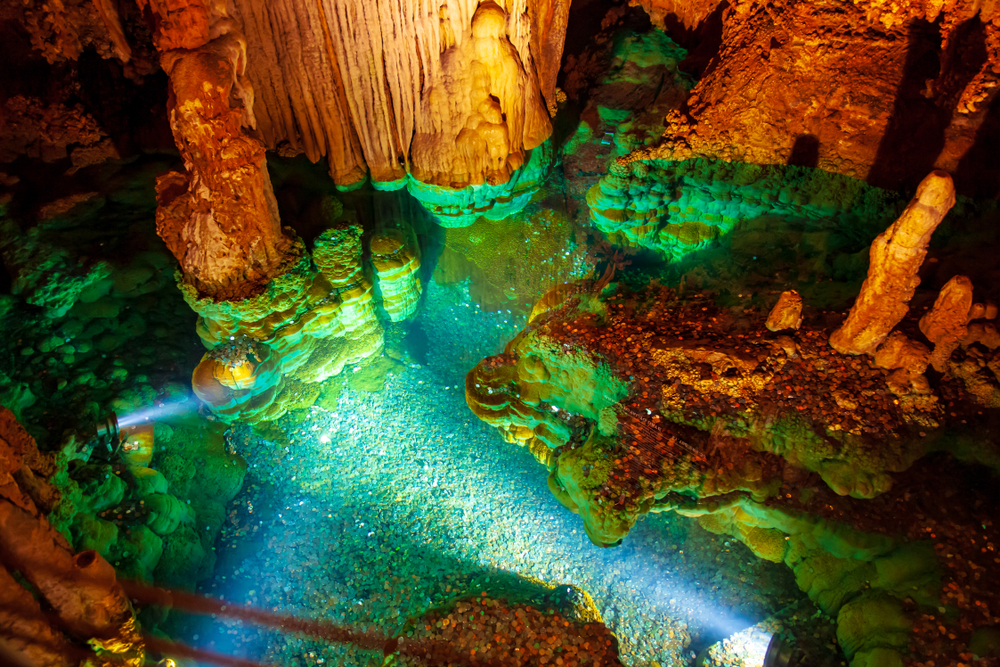 Natural Bridge
Natural Bridge, Virginia is one of the best quick trips in Virginia. This small town has been an important part of US history and is a great place to relax in nature.
One of the main attractions is the Natural Bridge State Park. Here, you'll find the famous natural limestone arch. It stands at an impressive 215 feet high and is a truly breathtaking sight. The park has beautiful forests and beautiful rock formations.
For animal lovers or people traveling with children, the Virginia Safari Park is a must-visit. This is a drive-thru zoo that allows you to get up close and personal with a variety of animals. You can purchase animal food, and the animals will come right up to your window and eat the food. Hold on tight to your bucket because the animals will try and knock it out of your hand and eat the entire thing.
Nearby there is also the Great Valley Farm Brewery and Halcyon Days Cider. Both are set in amazing outdoor venues and have a very relaxed atmosphere. All of these attractions make Natural Bridge VA one of the best places to go in Virginia for the weekend.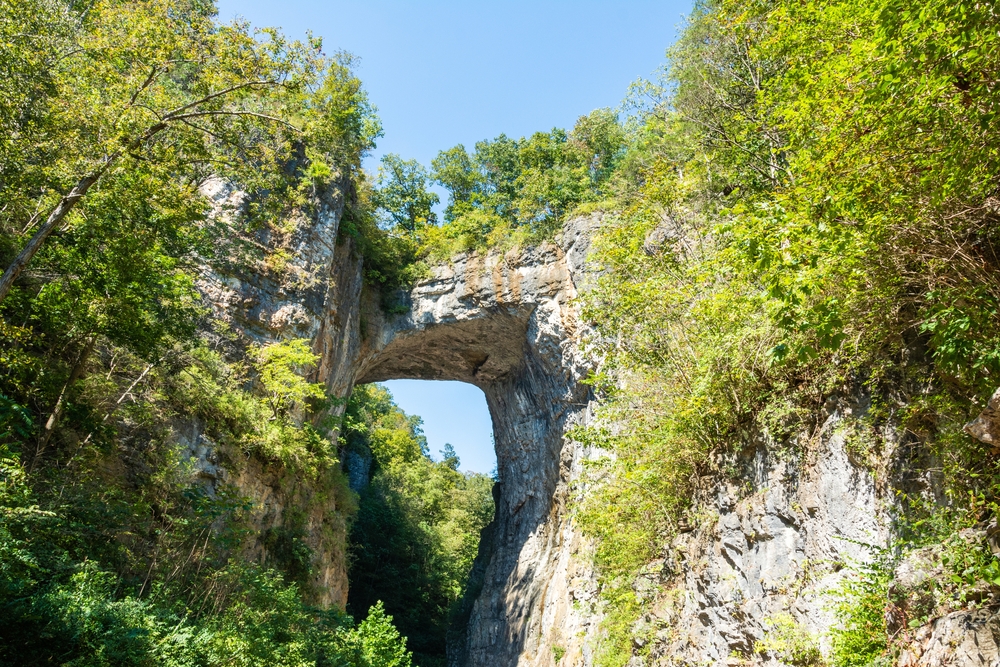 Assateague Island National Seashore
Up next for fun Virginia weekend getaways, is the Assateague Island National Seashore. The Assateague Island is best known for its herd of wild ponies. These ponies freely roam around the island. For the best chance of seeing them, head to the marsh areas, this is their favorite place for a snack.
There is more to this VA barrier island though. It is 37 miles long and is located off the eastern coast of the Delmarva Peninsula. The sandy beaches, salt marshes, maritime forests, and coastal bays provide a range of areas that are the perfect place for exploration.
Assateague also offers fun activities like fishing, biking, kayaking, and hiking. The island's south entrance is a quarter-mile east of Chincoteague, Virginia, and Ocean City, Maryland, making it easy to create no matter where you are coming from.