Are you searching for the best places to experience Fall in Georgia? Well, we are here to point you in the right direction as we share all of the perfect locations for leaf peeping. Witnessing the leaves changing color is really such a fun activity and something that you just must do in person at least once in your life!
The colors of Fall in Georgia are truly spectacular and photos don't really do it justice. Your eyes won't believe the bright red and orange that almost make the tree seem like its magically on fire. The subtle yellows and golds are just as special. Each tree is unique and gorgeous and then when you see them all together, it really blows you away.
"Leaf showers" occur spontaneously when the wind is just right and the leaves are ready to dance their way to the ground. The leaves fall from the branches and swirl around in the wind creating a delightful shower. Be on the look out for these as they make for great photos and slow-motion videos.
The great thing about Fall in Georgia is that the weather is extremely comfortable with highs in the 70s and lows at night in the 50s. No need to pack multiple layers or big bulky jackets, just light sweaters or a light jacket will be perfect.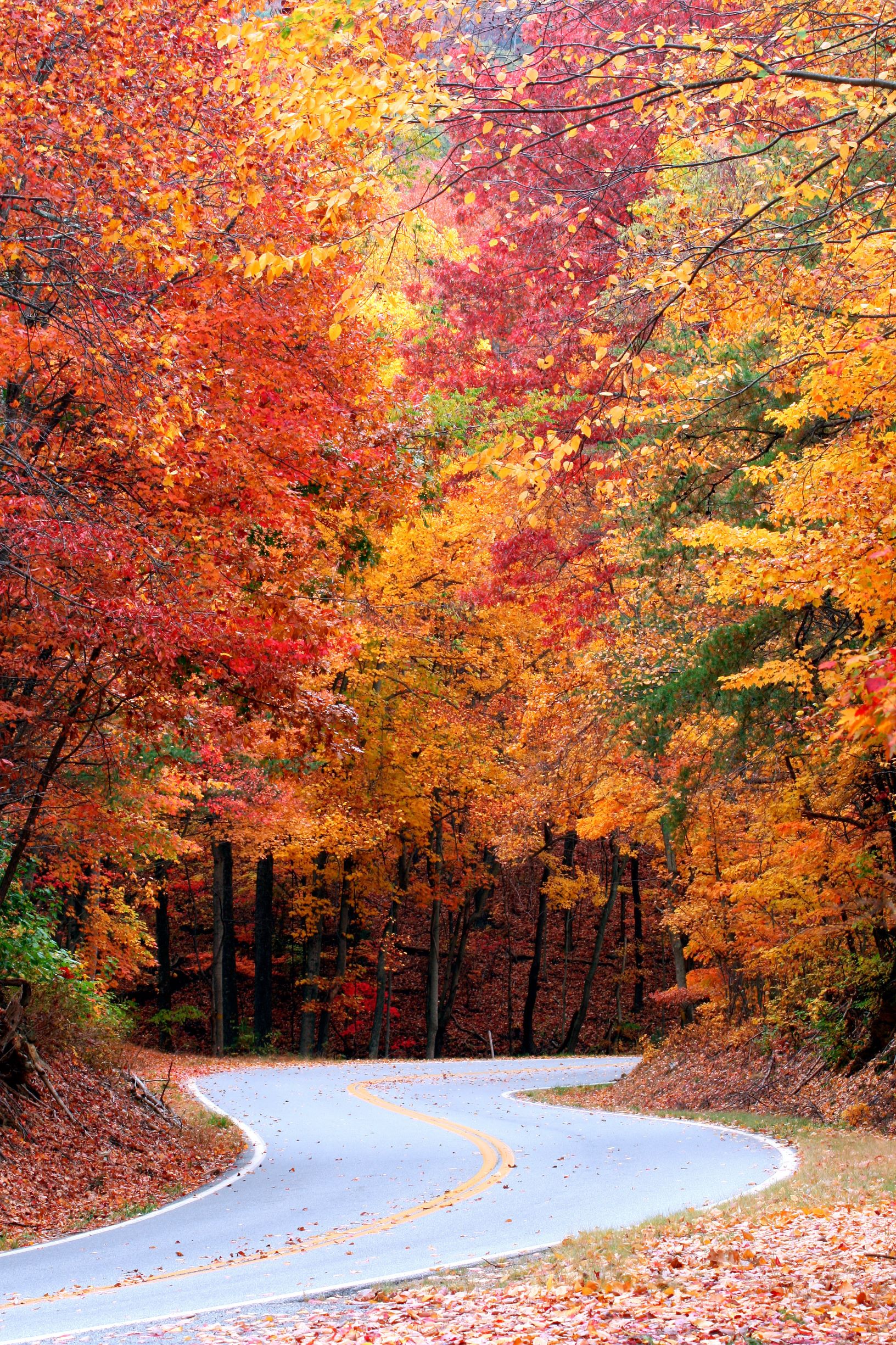 10 Best Places To See Fall Foliage In Georgia
1. Marietta Georgia
Located only 20 minutes from Atlanta, Marietta is a great place to visit during Fall in Georgia because it has so much to offer visitors on top of stunning fall foliage. You can easily fill your itinerary with visiting museums, enjoying live music and theatre, going on hiking trails, and visiting State Parks.
During Fall in Georgia, Marietta hosts a fall festival complete with costume contests, Touch-A-Truck, homemade crafts, art, and other goodies. The Touch-A-Truck event features firetrucks, ambulances, tractors, police cars, and tow trucks all on display for an up-close interactive experience.
Kennesaw Mountain National Battlefield Park is a preserved Civil War Battlefield that offers exceptional views of beautiful fall foliage as well as a look back on American History. Marietta also offers several different ghost tours that are lantern-led walking tours throughout historic parts of town.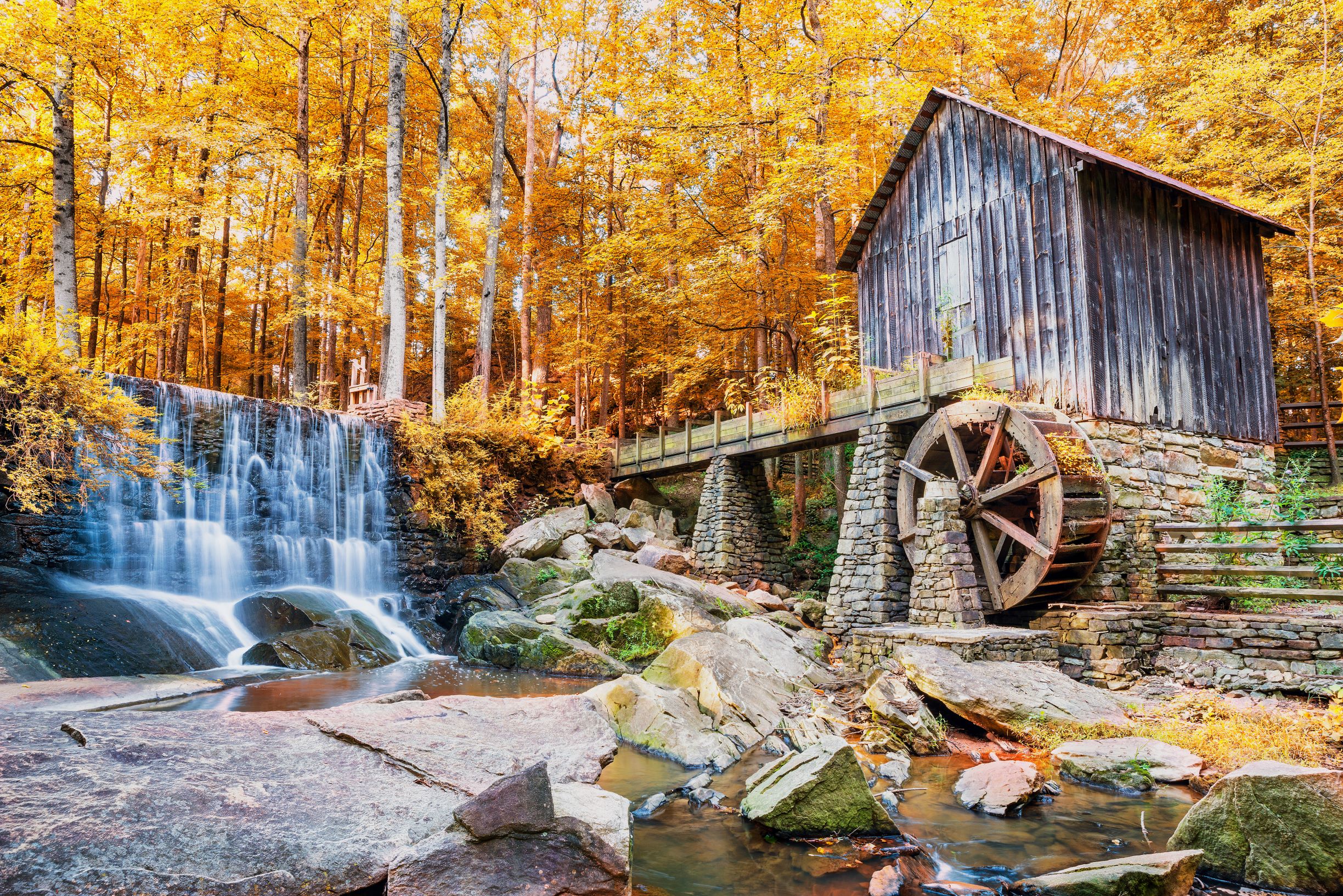 2. Atlanta Georgia
Wow, Atlanta is definitely the place to be for Fall in Georgia! Now, you'll have to remember that it is wildly popular, but we can promise that it will not disappoint. Atlanta has many different locations that have some of the most gorgeous fall leaves!
Piedmont Park is a great spot for families to check out. It has two play areas that are under large tree canopies, so you get to see the pretty leaves and your kids will get to have fun playing too! Piedmont Park consists of 211 acres of lush scenery as well as food vendors, trails, and picnic areas with grills.
Grant Park is another great spot for seeing Fall in Georgia. It consists of 130 acres and is Atlanta's oldest city park. Grant Park provides miles of walking and jogging paths and hosts many festivals throughout the year. It is also home to Zoo Atlanta, Grant Park Pool, Grant Park Playground, Oakland Cemetery, and several cafes and restaurants.
The Roswell Mill and historic town square are another great location in Atlanta for experiencing Fall in Georgia. This is the ultimate spot for taking the most epic photos! You can walk over a bridge to a waterfall on the other side. The bridge, waterfall, and historic architecture of the town square are all fantastic backgrounds and then you get the added bonus of the spectacular fall leaves!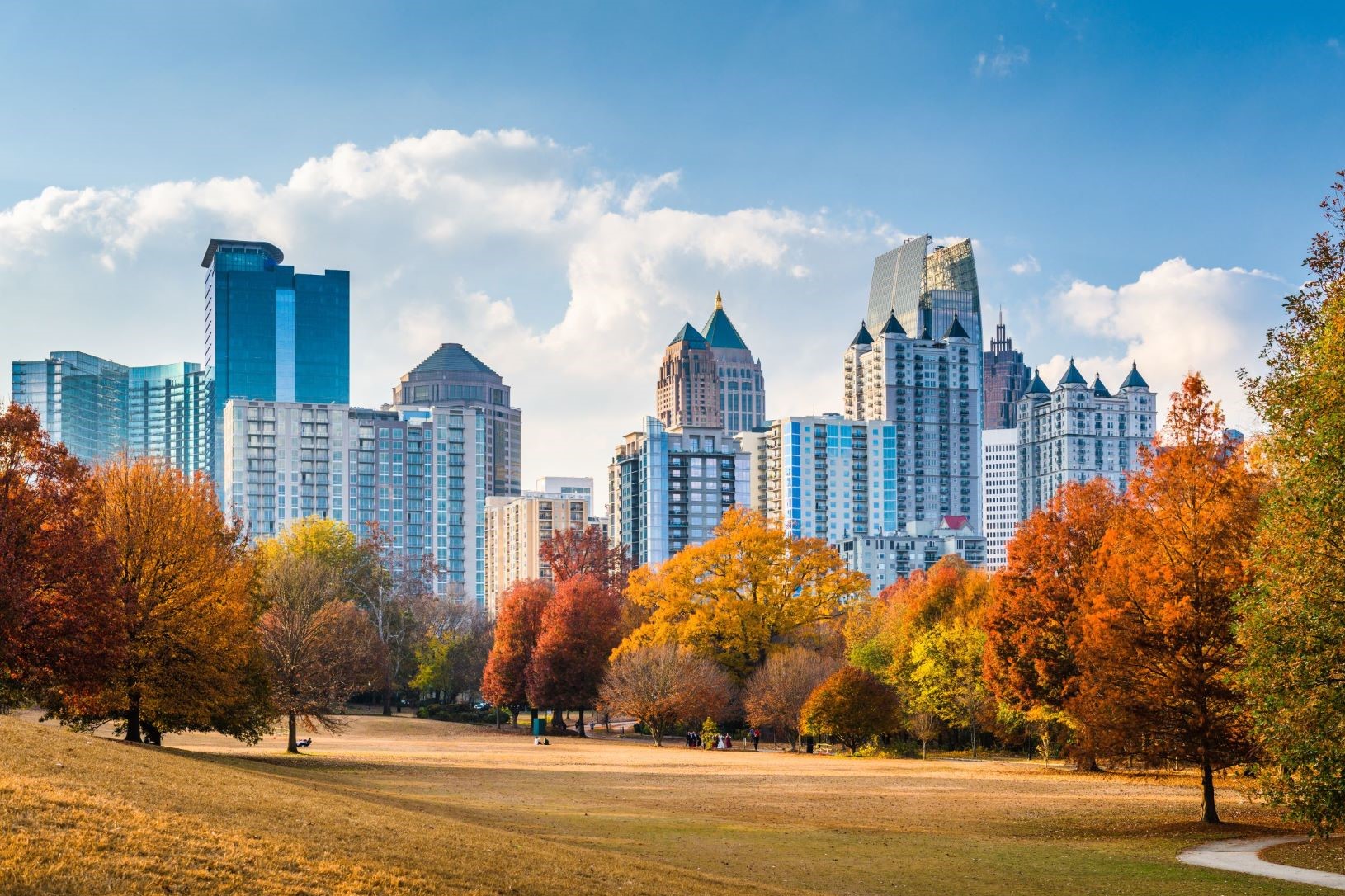 3. Cloudland Canyon State Park
Cloudland Canyon State Park consists of 3,538 acres of land and features waterfalls, caves, sandstone cliffs, canyons, creeks, and diverse wildlife. It is a beautiful park to visit year-round, but really shines during Fall in Georgia.
Every where you look you will see endless beauty and fall leaves. Be sure to pack an extra battery and memory stick for your camera because we can promise you that you won't want to stop taking photos here.
Cloudland Canyon State Park includes campsites and lodging, so you can stay for a bit and really unwind in this natural oasis. Attractions include horseback riding, bike rentals, and geocaching.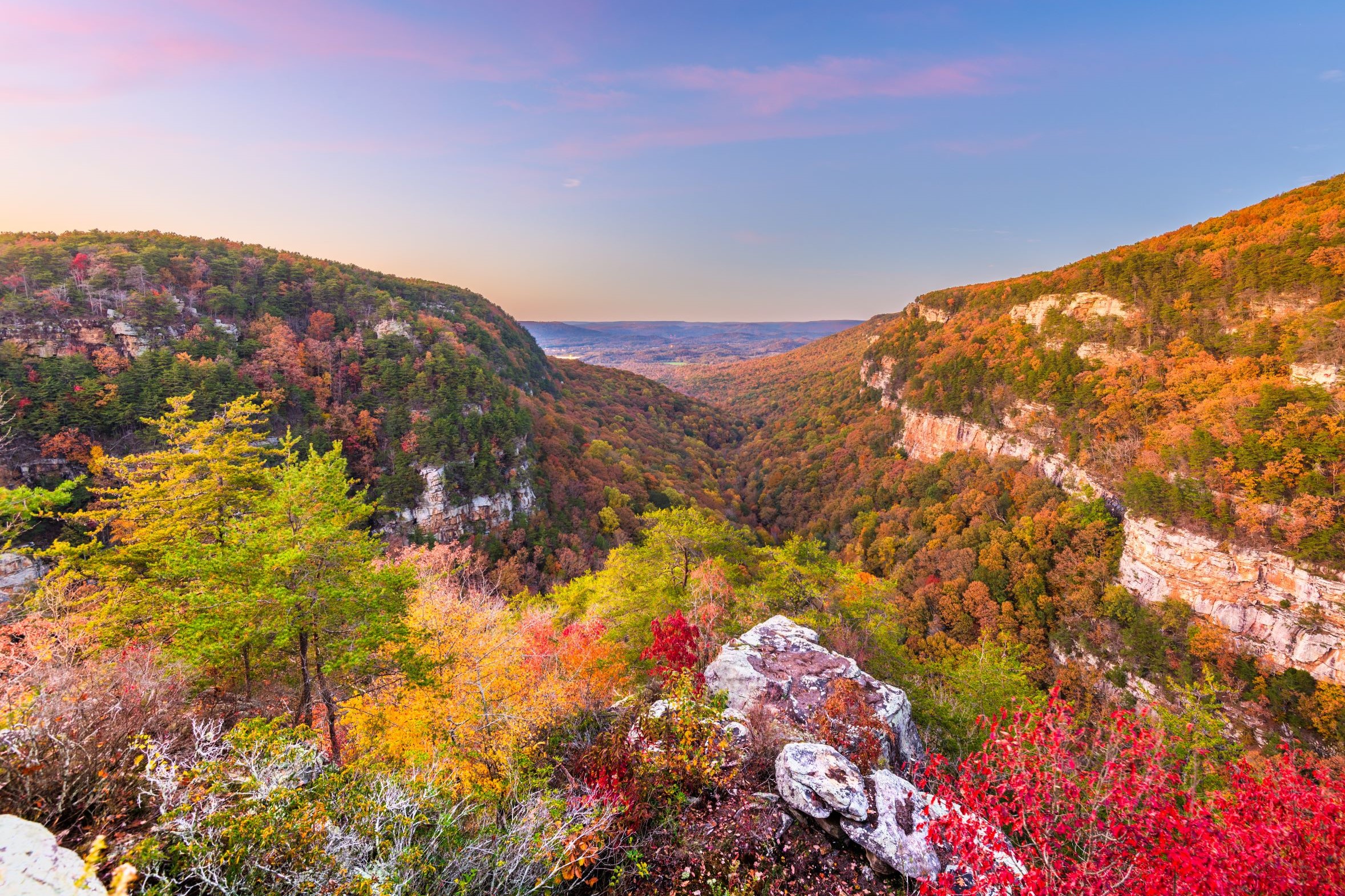 4. Tallulah Gorge State Park
Tallulah Gorge State Park offers a really unique experience of being able to walk across a suspension bridge that is 80 feet above the rocky river bottom. While on the bridge, you will feel it swaying back and forth a bit, so if you don't like heights and motion you might want to skip this part.
If you can tough it out, you will get to see some of the most stunning fall foliage with views of the river and waterfalls. You can also check out Sliding Rock which is a natural rock formation water slide the empties into a swimming hole.
Tallulah Gorge State Park also has a white sandy beach on Tallulah Lake where visitors can swim and build sand castles. Campsites, RV and Trailer sites, and picnic shelters are all available to rent.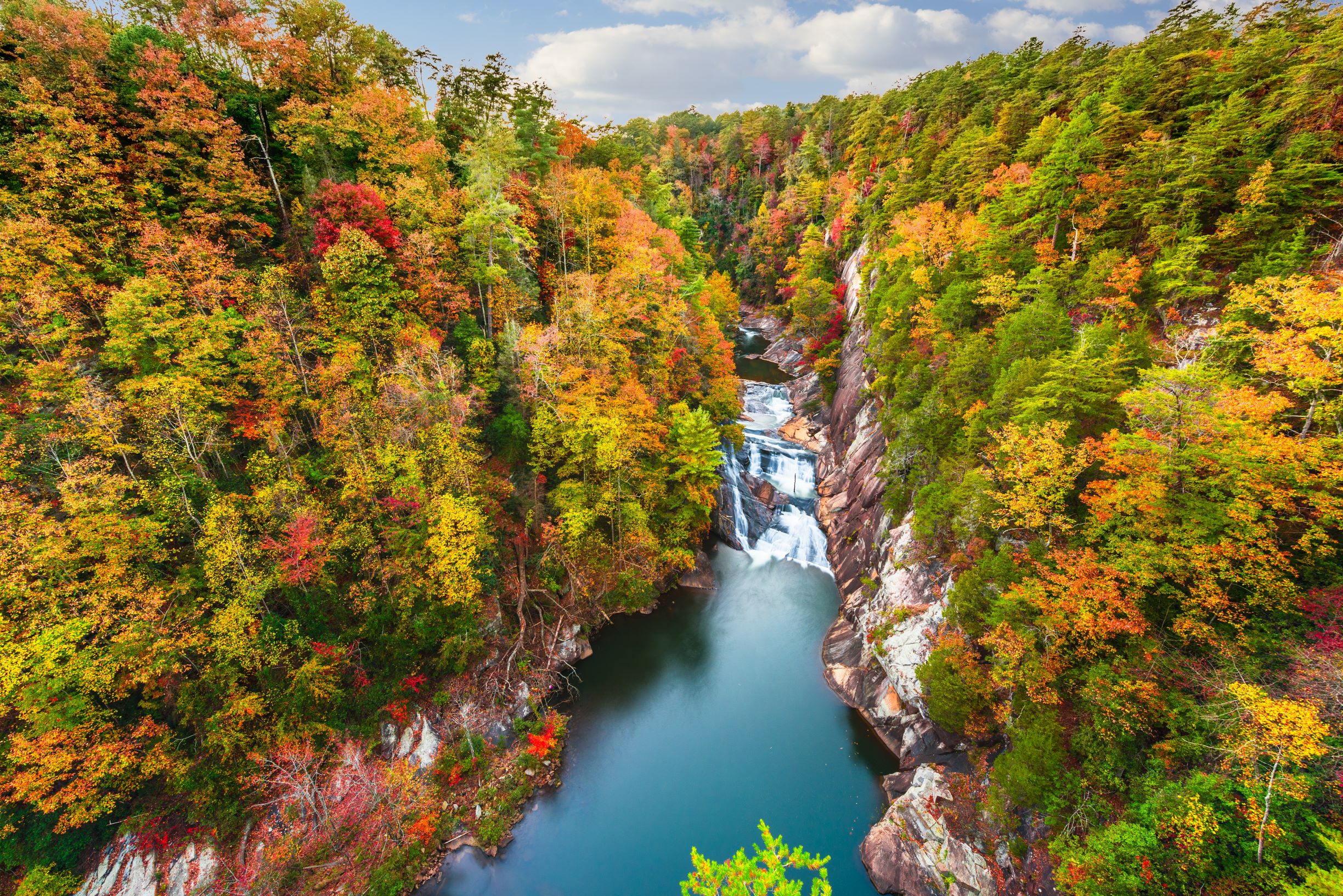 5. Helen Georgia
Helen is a very charming small town in the heart of the Blue Ridge Mountains and it is one of the best places to see Fall in Georgia with Southern hospitality. Helen, Georgia is a really interesting town that is a recreation of a Bavarian Apline Village. It will make you feel like you've gone back in time with its cobble stone streets and homemade treats.
Attractions include hiking, camping, river tubing, and old-fashioned buggy rides. It is the perfect way to see Fall in Georgia while also getting the great small town vibe. You should check out the Russell-Brasstown Scenic Byway which is 40.6 miles long and surrounded the Chattahoochee National Forest. It is a fabulous scenic route that shows the true beauty of the southern Appalachian Mountains; even more amazing when it is enhanced by the colors of the changing leaves.
It is truly one of the Cutest Small Towns In America and you really shouldn't miss it!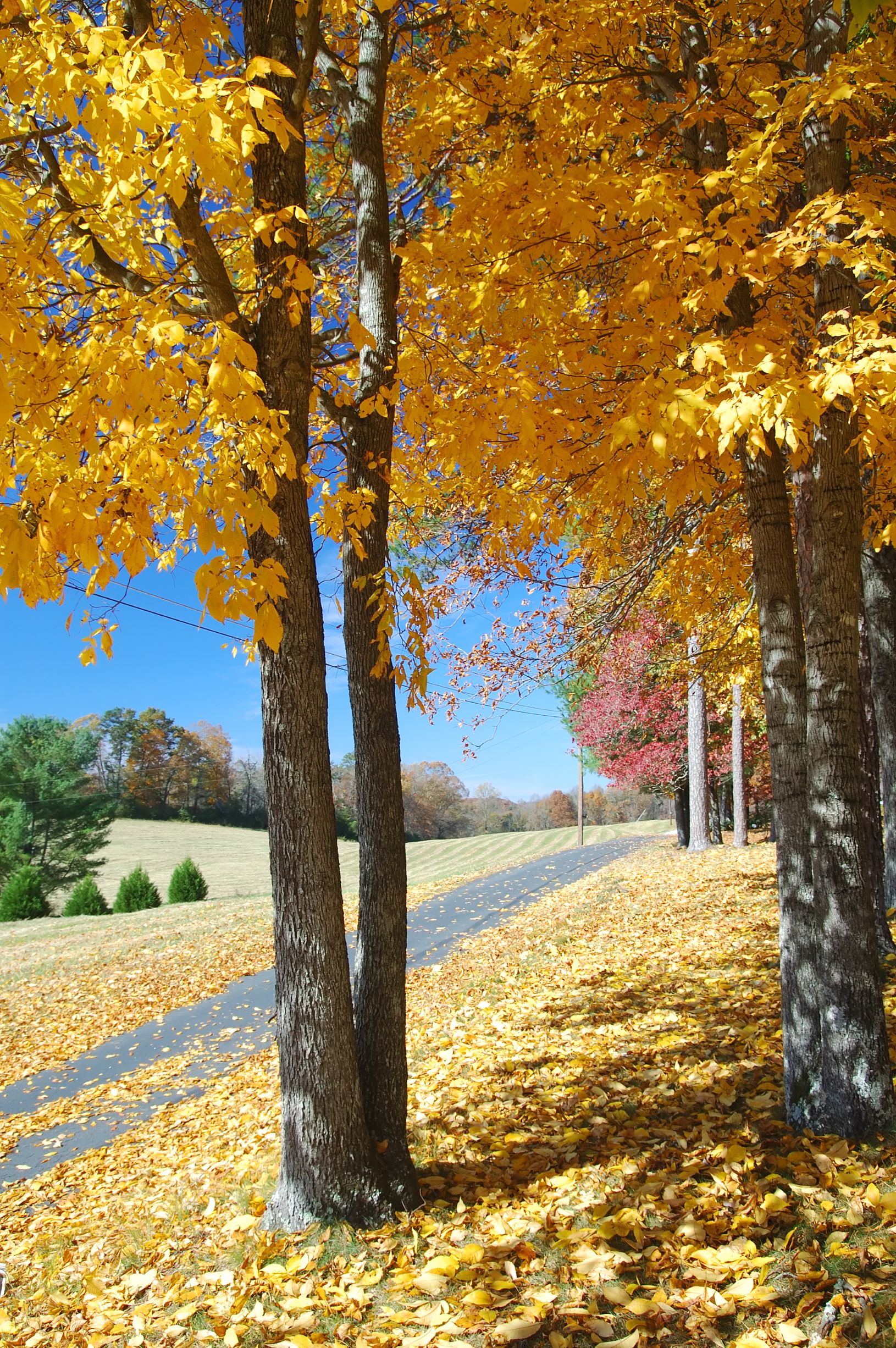 6. Brasstown Bald
Located near Blairsville, Brass Town Bald is the states highest peak and it offers some of the most incredible and unobstructed views of the fall foliage. Situated 4,784 feet above sea level, you will feel like you are on top of the world and you are guaranteed to get some phenomenal photos.
You will see blankets of fog in the valleys and you'll even be higher than some of the lower level clouds. The observation deck and visitors center features exhibits that provide information on local wildlife, history, and culture. The observation deck provides panoramic views and on very clear days, it is possible to see 4 different states.
Brasstown Bald is where the locals and seasoned leaf peepers love to experience Fall in Georgia.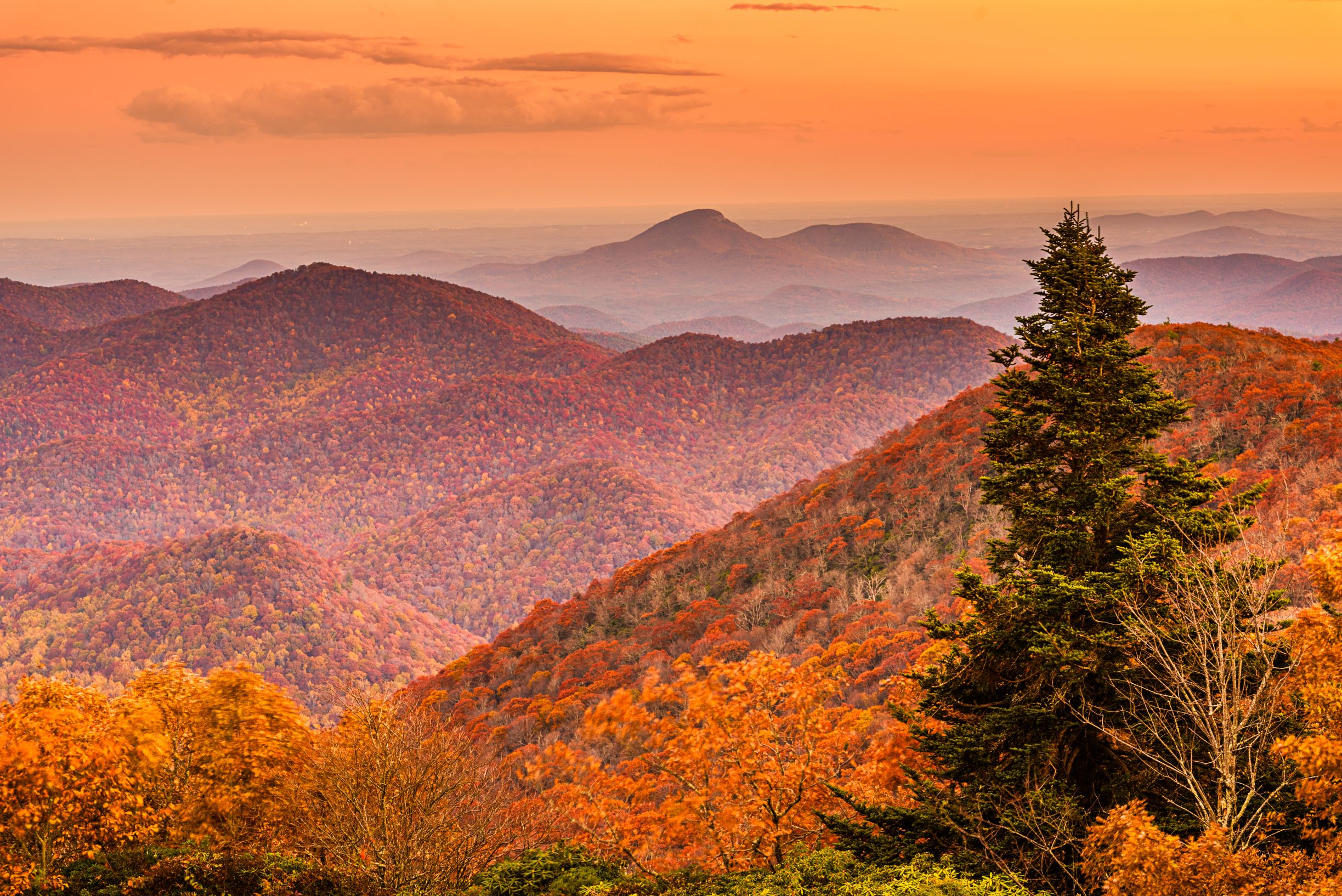 7. Fort Mountain
Fort Mountain really stands out on our list of best places to visit during Fall in Georgia because it has some an interesting element that can't be explained! There is a 800 ft long ancient stone wall from around 500 to 1500 AD of which its origin is still unknown today. Makes for a great place to take a photo with a quirky back story.
In addition to its mysterious stone wall, Fort Mountain has a historic fire look-out tower that was built in the 1930s. The view from the Fort Mountain Overlook is quite breathtaking as it offers stretches of land with peaks and valleys that are all filled with colorful leaves during Fall in Georgia.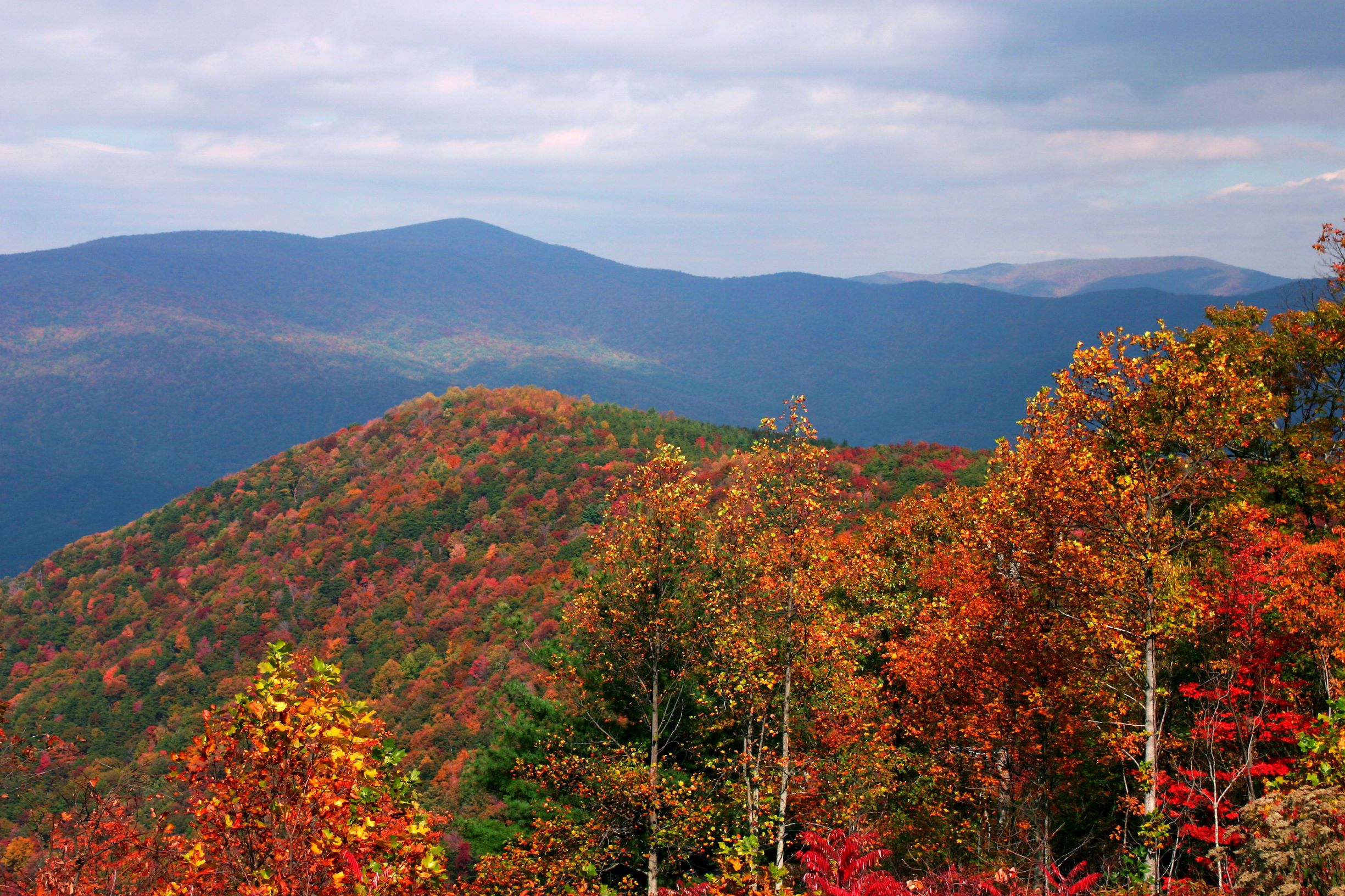 8. Yonah Mountain
Yonah Mountain is situated between Helen and Cleveland and it is the site of a Native American legend. The legend states that a Cherokee maiden named Nacoochee fell in love with Chickasaw warrior named Sautee. Their love was forbidden by the elders and a war was started when the two eloped. The Cherokees are said to have thrown Sautee off the mountain and Naccochee decided to follow in a "Lovers Leap" to her death.
Climbing Yonah Mountain is considered a moderate climb due to the rugged terrain and steep drop-offs, but the views are well worth the effort. There are several little outcrops close to the summit that make for a great place to rest and have a snack while you take in all of the gorgeous fall scenery.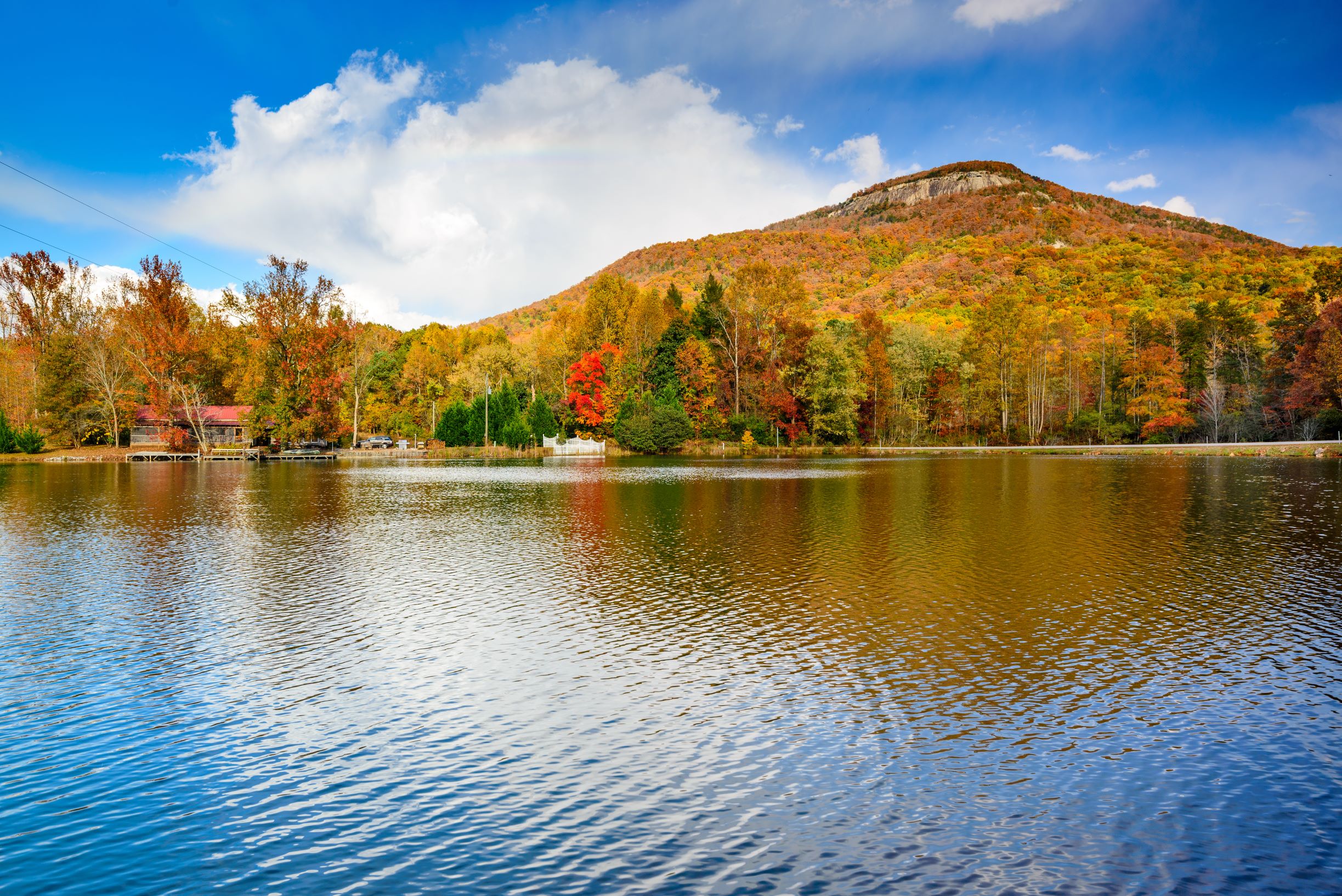 9. Vogel State Park
Vogel State Park is located at the base of Blood Mountain and is the second oldest state park in Georgia. It consists of 233 acres of land with a 22 acre lake. Vogel State Park has several campsites, cottages, lake shelters, picnic shelters, and RV/Trailer sites.
Activities include hiking, fishing, paddle boarding, kayaking, and biking. One really great thing about Vogel State Park is that there are various trails starting at easy and they go up to advanced. People come from all over to experience Fall in Georgia at Vogel State Park, but you really don't feel overwhelmed or crowded because it is so spacious.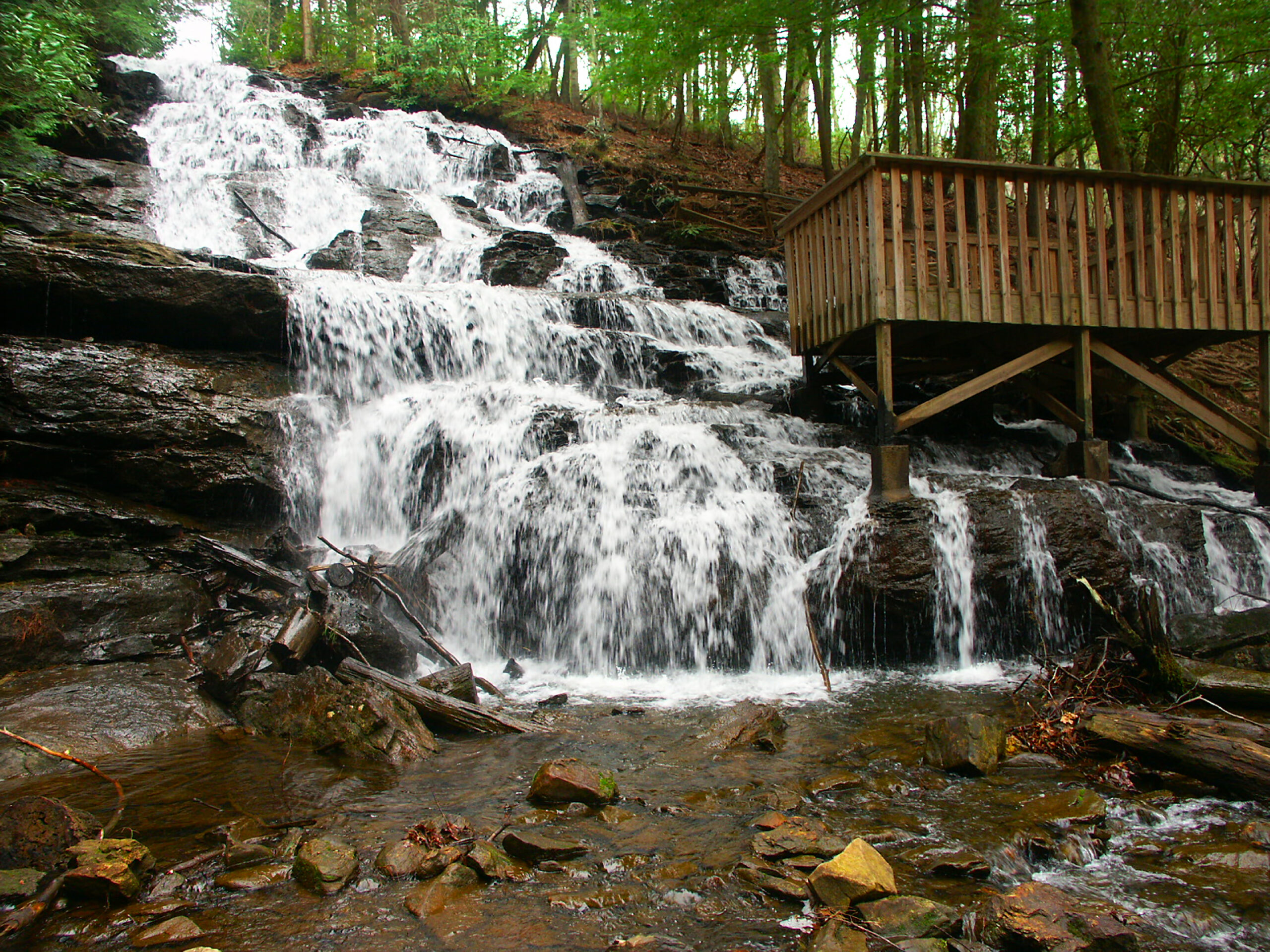 10. Amicalola Falls
Amicalola Falls is a must-see destination year-round, but it is exceptionally brilliant during Fall in Georgia. It is a 729 foot waterfall that just so happens to be the third-highest cascading waterfall east of the Mississippi River. Seeing the misty water cascading down the rocks flanked by vibrant fall foliage is the ultimate leaf peeping dream come true.
Amicalola Falls is a stunning natural attraction that is part of a state park that features an adventure lodge. Now, this is an awesome place to stay for the full thrilling nature experience! The lodge has excellent accommodations and every room has a great view. Activities include zip-lining, bird of prey meet and greets, guided hikes, GPS scavenger hunts, and archery.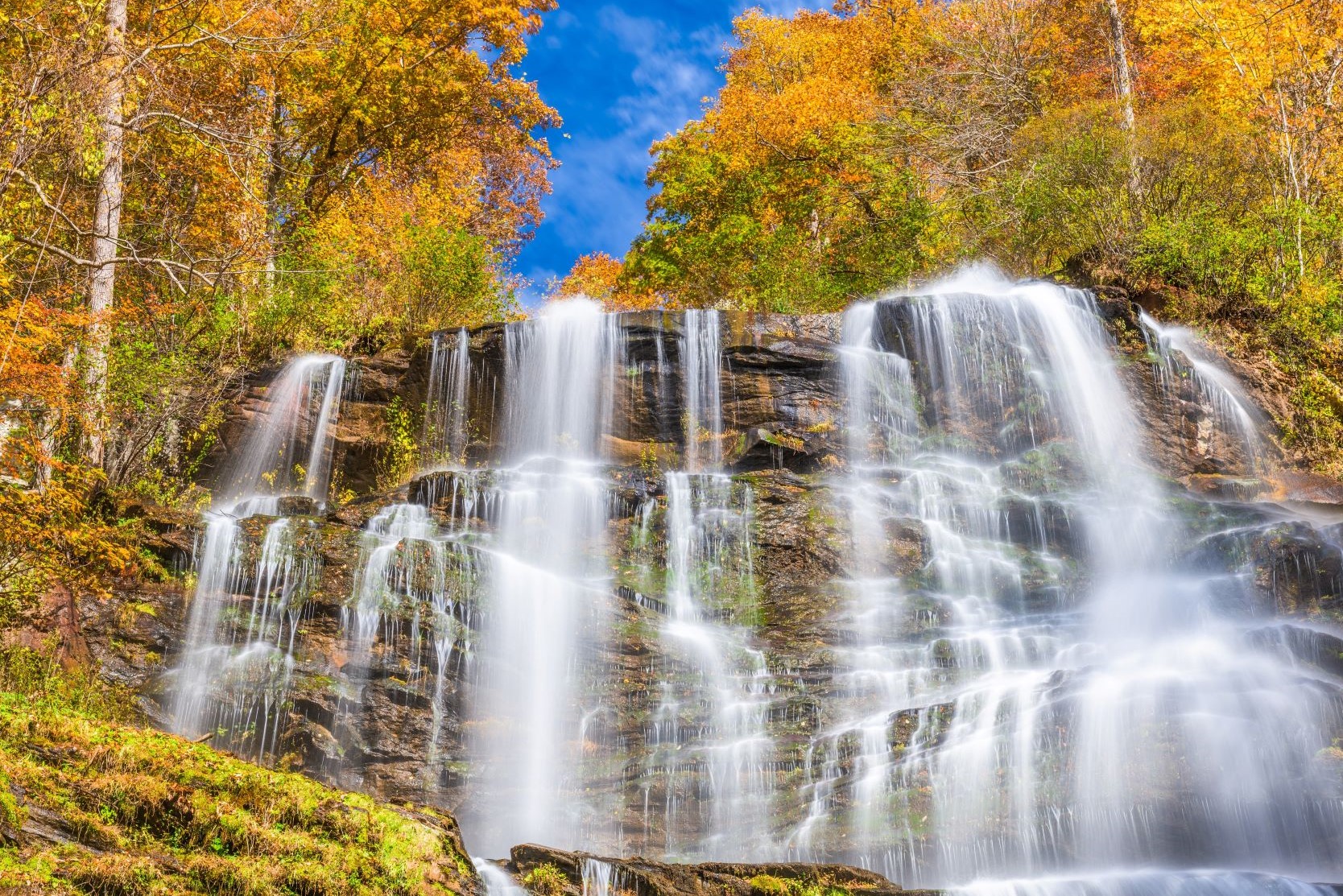 Well, we hope you have enjoyed learning a little bit about all of these incredible places to visit during Fall in Georgia! Start sipping your pumpkin latte as you pack your favorite sweaters for the best fall trip ever! Get ready to have a fabulous trip and come home with countless photos and warm memories.