Trying to plan the perfect Georgia road trip? We're here to help make the process a little less stressful! Georgia has so much to offer, especially when you're taking some time and driving through the state, so you're sure to be in for a great time with this trip!
Georgia is full of adventure: from mountains to historical sites, unique towns, bustling cities, scenic byways, and more, your trip is bound to be exciting!
Below we are listing some of the "must-sees" for your Georgia itinerary. Make sure to stop and explore these sites if they interest you, but don't be afraid to keep your personal timeline in mind when planning this trip!
With that being said, get the car ready to go with some travel snacks and your best playlist of podcasts and songs– you are in for a wild exploration on your Georgia road trip!
Don't forget to check out our list of the Best Things To Do In Georgia!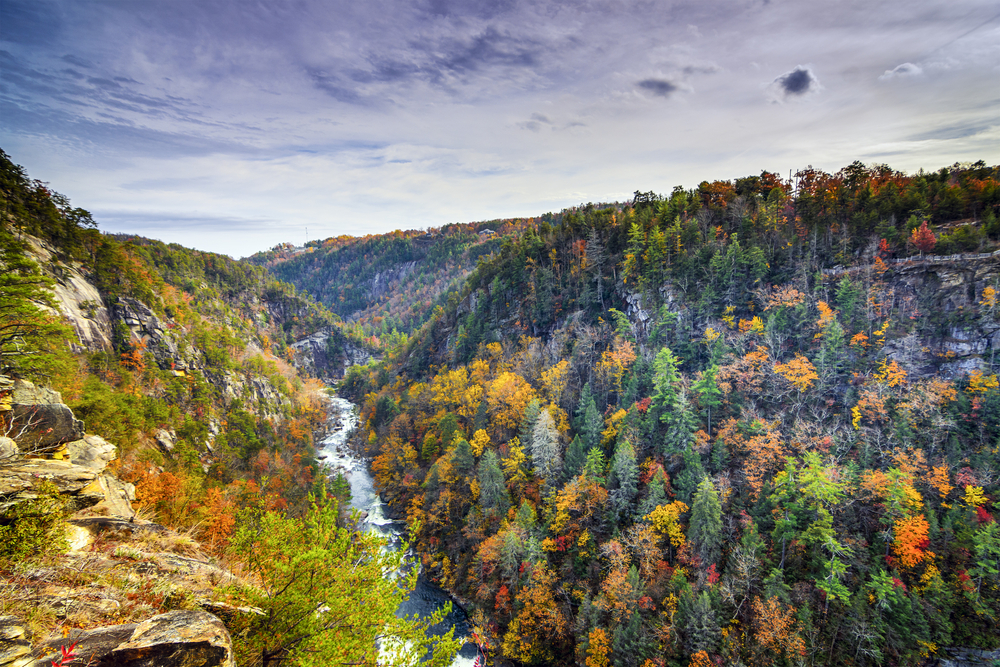 The Ultimate Georgia Road Trip
Getting to Georgia
If you have to fly into Georgia to begin your Georgia road trip, we recommend flying into Atlanta Airport. Not only is this airport large and accommodating, offering flight carriers such as United Airlines, Delta, and more, but they also are a great hub that many cities fly too, like Tampa, Phoenix, Philadelphia, and more!
The Atlanta Airport can be a bit big and scary to navigate (with lots of shopping and dining experiences!), but it is always bustling and full of people already on an adventure, and we think starting here is a great starting point for you! Flights can be a bit more expensive to Atlanta, but make sure to check your carrier, as who you fly with can affect the prices. And even consider driving into the city if you're coming in from a nearby state: it may be a bit cheaper!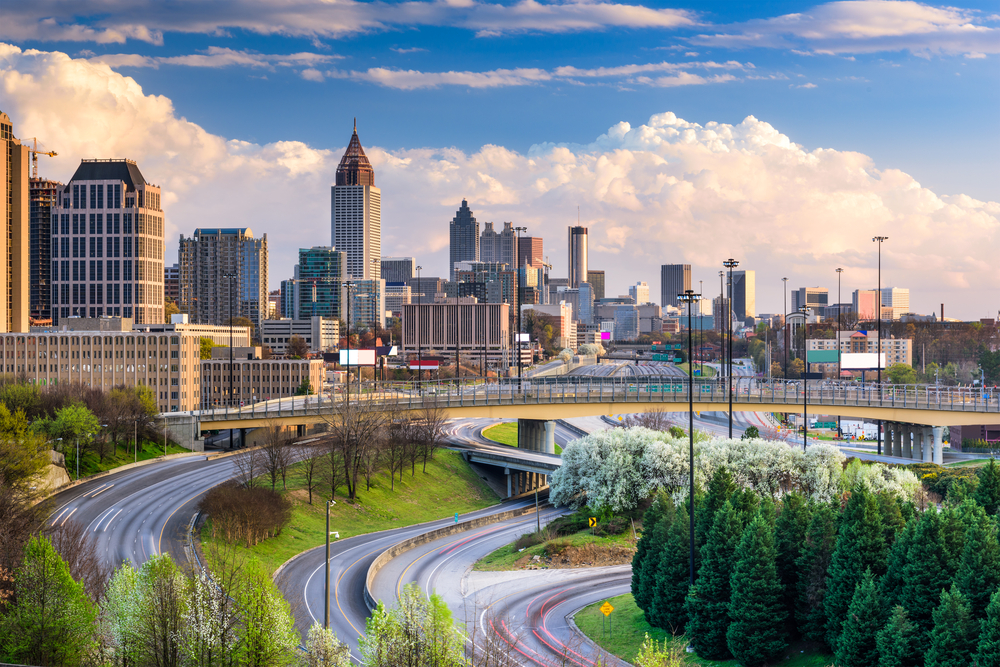 Getting Around Georgia
The Hartsfield-Jackson Atlanta International Airport features a rental car center (RCC) on-site so you can easily start your Georgia road trip the second you get off your flight and into a car! This RCC is a one-stop facility that houses 13 rental car brands, such as Enterprise Alamo, Budget Car Rental, and more.
To get to the RCC, just take the SkyTrain! The RCC is open 24 hours a day, seven days a week for your convenience. We recommend possibly renting a car that will be more spacious for your comfort, and looking at gas mileage too! You don't want to constantly be adding gas stations to your Georgia itinerary, so maybe save those fancy sport car rentals for another trip!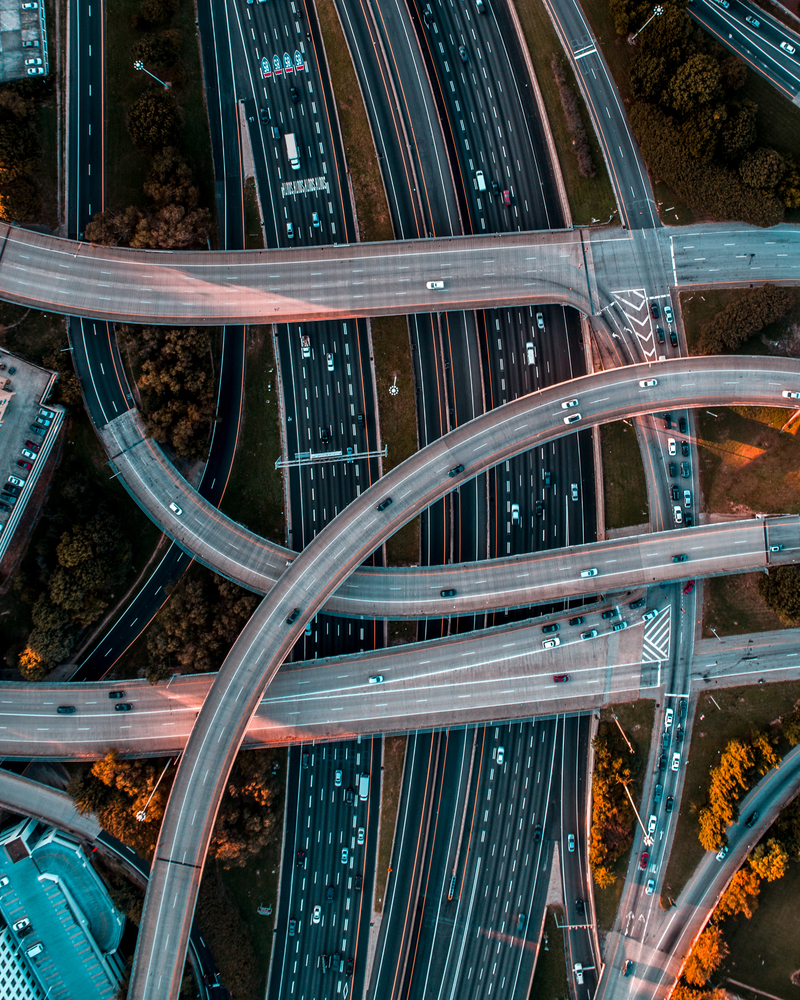 Stop 1: Downtown Atlanta, Georgia
Since you're flying into Atlanta, it only seems fair to use this as your starting point for your Georgia road trip! Atlanta is a big city, with lots to do, so make sure to pace yourself as you explore some cool (and slightly touristy things) like The Georgia Aquarium or the World of Coca-Cola. 
The Atlanta Botanical Gardens are 30 acres of plants, statues, and fountains, and Centennial Olympic Park is the site of the 1996 Olympics. There are also cool tours, like the CNN Studio Tour, where you can go behind the TV news network.
Or if you're looking for more outdoorsy or historical type things to explore, Martin Luther King Jr. National Historical Park is the birthplace, family church, and tomb of King, and the High Museum of Art features a diverse art collection. The close-by Piedmont Park is also lush and green and has farmers' markets all the time.
But whatever you decide to do in Atlanta, it will make for a great start for your Georgia road trip, especially now there are so many things to add to your Georgia itinerary in just one city!
Where to Stay Near Atlanta
Mid-Range: Miraculous Elaborate Downtown Fotress ,Check Rates: Airbnb.com
Mid-Range: Beautiful Bliss Palace ,Check Rates: Airbnb.com
Stop 2: Cloudland Canyon State Park
Now that your road trip in Georgia has officially begun, you're going to head northwest toward the Cloudland Canyon State Park from Atlanta. This natural park is on the western edge of the famous Lookout Mountain and is well known for Sitton Gulch Creek that cuts through the mountain in a deep gorge.
The Sitton Gulch Trail runs parallel to the creek, which you can easily follow, but be careful of the strewn boulder's nearby. You can also add Waterfalls Trail to your Georgia itinerary, which is a short, steep trail that features stairs that go into the canyon.
If you go down the Waterfalls Trail, you can find Cherokee Falls and Hemlock Falls, which are great for settling and relaxing and watching water cascade into pools. Sitton's Cave is also close by too, featuring gorgeous mineral formations that are a must-see for your Georgia road trip!
Where to Stay Near Cloudland Canyon State Park
Mid-Range: Secluded Getaway Cabin ,Check Rates: Airbnb.com
Mid-Range: Cherry Blossom Yurt on Lookout Mountain ,Check Rates: Airbnb.com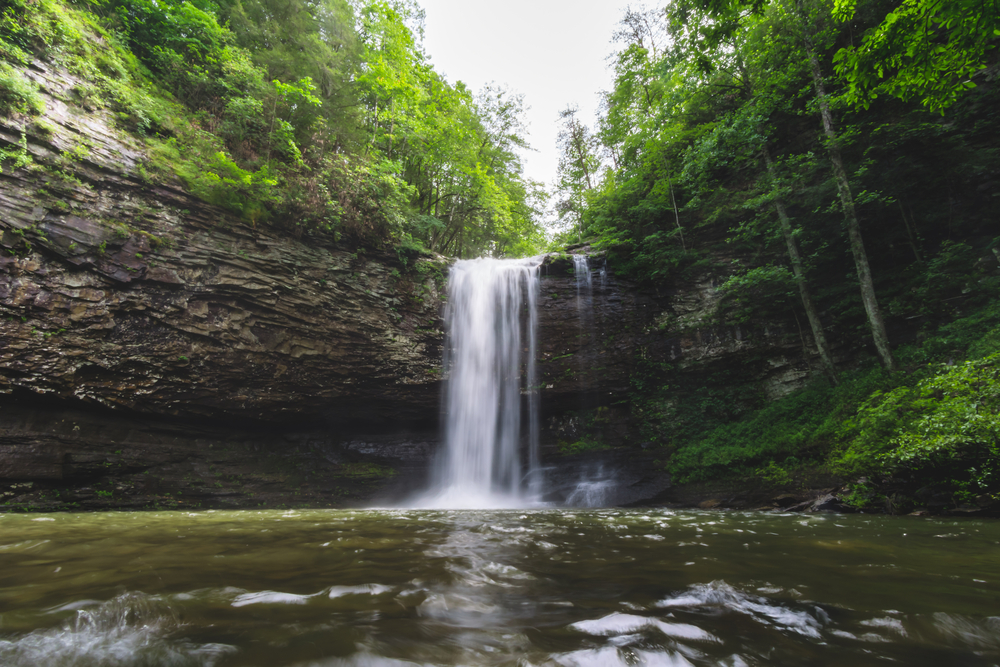 Stop 3: Yonah Mountain
Yonah Mountain is next up on your Georgia itinerary! This mountain ridge is located in the Chattahoochee-Oconee National Forest in Georgia and Yonah translates to Bear in Cherokee.
Yonah Mountain is most famous for Yonah Mountain Trail, which takes hikers through a rocky, wildflower-filled forest. Climbing this mountain offers it's great Yonah Summit views, and there are great campsites close by.
Yonah rises from the foothills of the southern Appalachian Mountains and just skyward. These incredible, steep climbs are one of Georgia's most popular trails, and the rolling landscape from the views are worth every stop. Be warned though, this is a moderately strenuous hike due to its upward nature, so be prepared! And watch out for those extreme drop-offs!
Where to Stay Near Yonah Mountain 
Mid-Range: Greystone Acres Suite A ,Check Rates: Airbnb.com
High-Range: Windancer Lookout ,Check Rates: Airbnb.com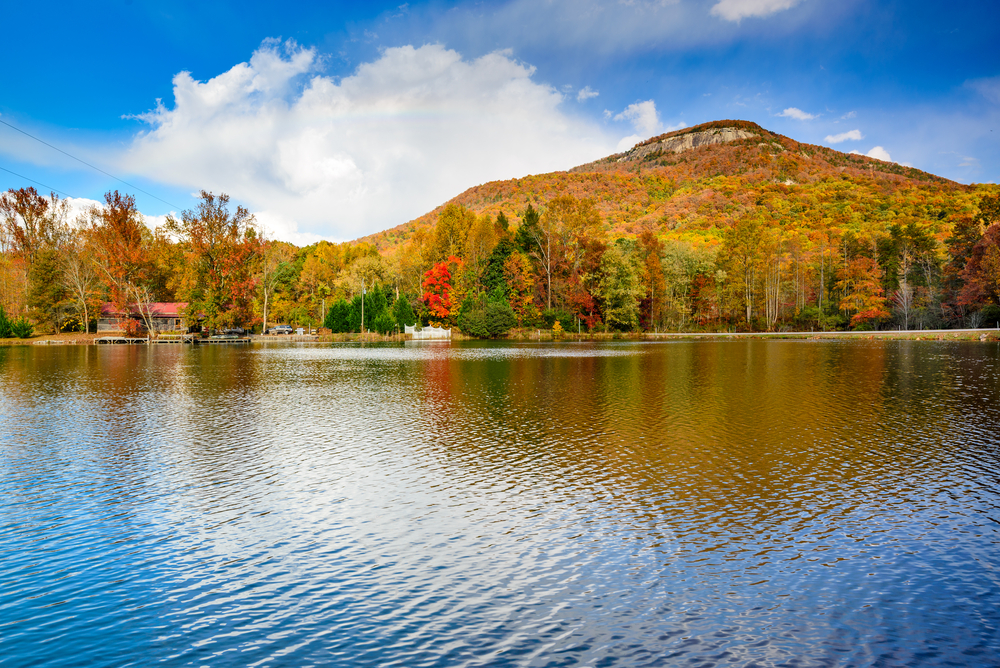 Stop 4: Helen, Georgia
Yonah Mountain sits between Cleveland and Helen, so it only makes sense to add Helen as your next stop on your Georgia Road trip, especially because a lot of campsites on Yonah Mountain Trail are so close to the town of Helen anyway!
Helen is a mountain town known for its vineyards and Bavarian-Style buildings. Since this town is in the heart of it all, there is so much to do: Unicoi State Park is close by and has a lake as well as campsites where you can relax and spend some time. There are also trails that run through the Chattahoochee National Forest to to Anna Ruby and Rave Cliff Waterfalls that you can explore.
If you want to fish for trout, Dukes Creek is in a nearby state park, and the Hardman Farm State Historic Site is home to the Nacoochee Indian Mound burial site.  Helen is also a great lodging town with cute and quaint shops and restaurants– all one of a kind!
And if you're looking for some adventure, you can always to the Helen Tubing and Waterpark! There's so much to do in Helen, it's up to you to add what you want on your Georgia itinerary!
Where to Stay Near Helen
Mid-Range: Mountain Top Log Cabin ,Check Rates: Airbnb.com
High-Range: Cozy Treehouse ,Check Rates: Airbnb.com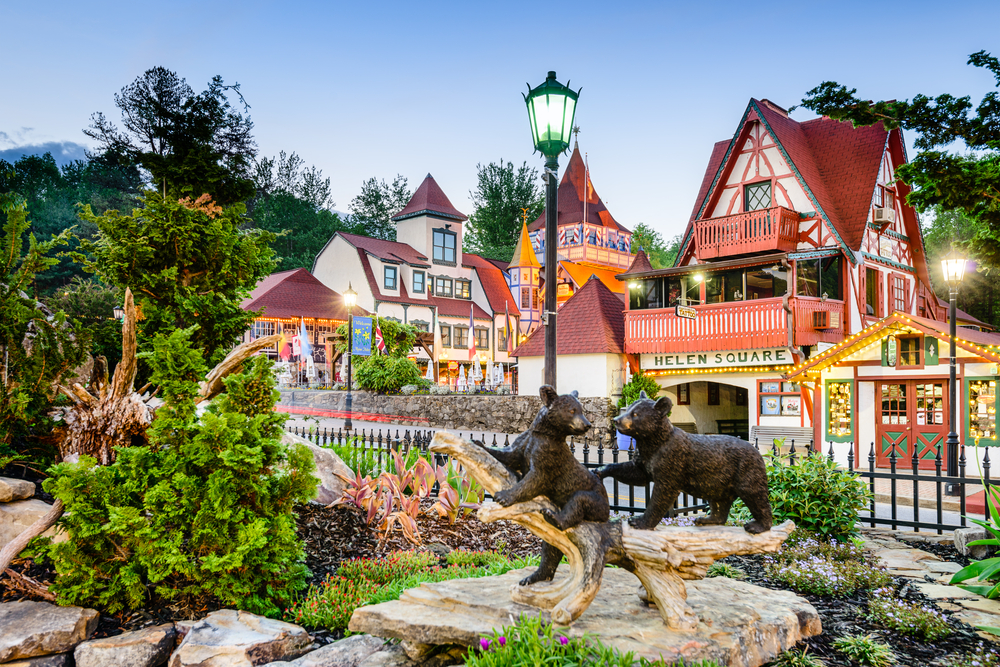 Stop 5: Tallulah Gorge State Park
As you continue on your road trip in Georgia, we next recommend stopping by Tallulah Gorge State Park, a 2,689-acre park with waterfalls, gorges, rivers, and more. This park is arguably most famous for the Tallulah Gorge (hence its name), as the Tallulah River cuts through rock to create a stunning canyon you can look over from a suspension bridge.
Visitors also love to visit Hurricane Falls here, where they can get closer to the canyon on different sets of trails. Lake Tugalo is also close by, and this features a lot of outdoor recreation, like fishing, kayaking, and camping near the edge of the water.
Many people love to take the Tallulah Gorge Rim Trail to get the direct view of the Tallulah falls dam, and along the way, they stop by Ocean Falls and L'Ea d'Or Falls to rest and relish in the sound of crashing water and natural beauty. This is truly one of the coolest places to stop on your Georgia road trip!
Where to Stay Near Tallulah Gorge State Park
Mid-Range:River Cabin on Tallulah River ,Check Rates: Airbnb.com
Mid-Range: The Honeymoon Cottage ,Check Rates: Airbnb.com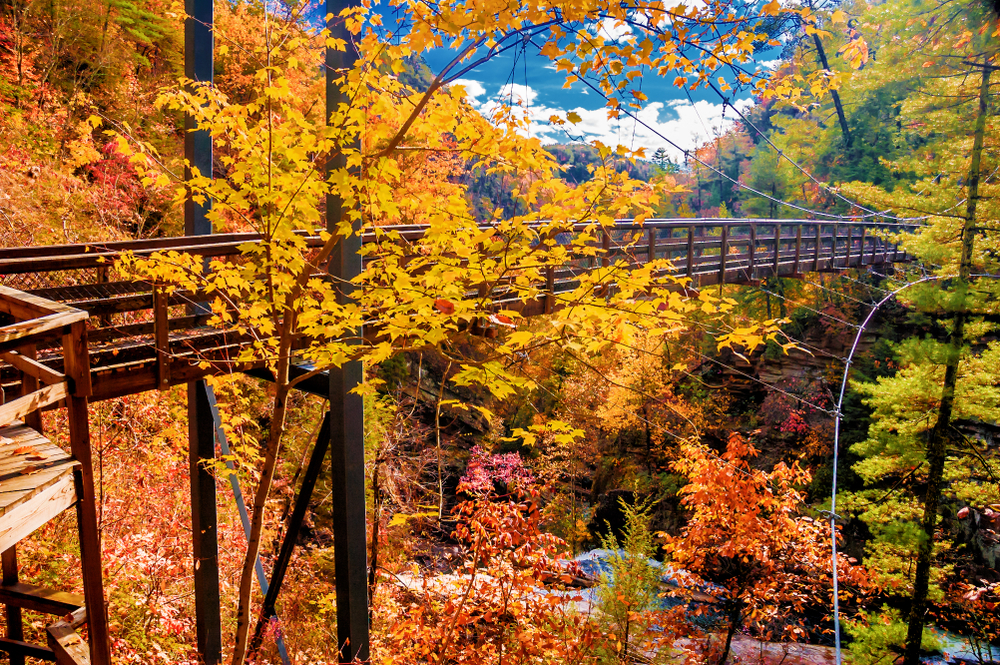 Stop 6: Savannah, Georgia
Savannah, Georgia is your next stop on your Georgia Road Trip (and warning, will be the longest stretch of your road trip- but we promise it is totally worth it!). This coastal city is famous for its historic district that is filled with cobblestoned squares and parks like Forsyth Park that are surrounded by giant oak trees covered in Spanish moss.
Savannah is great because it has fantastic landscapes, well-preserved architecture, and vibrant history. From visiting the Birthplace of Juliette Gordon Low, the creator of Girl Scouts, to walking through Savannah's Telfair Museum, you can experience history and art at the same time.
There are also great trolley tours to take you through the city. Old Town Trolley Tours can offer great overviews of Savanah, and you'll be able to stop and weave through historic buildings that feature shops and restaurants along River Street.
Lastly, make sure to visit the Cathedral of St. John the Baptist, which is the most photographed landmark in Savannah due to its peaks and 81 stained glass windows. And if you want to feel adventures, float down the Savanna River on a Riverboat Cruise in the evenings!
Where to Stay Near Savannah
Mid-Range: King Suite in Downton Boutique Hotel,Check Rates: Airbnb.com
Mid-Range: The Golden Fox ,Check Rates: Airbnb.com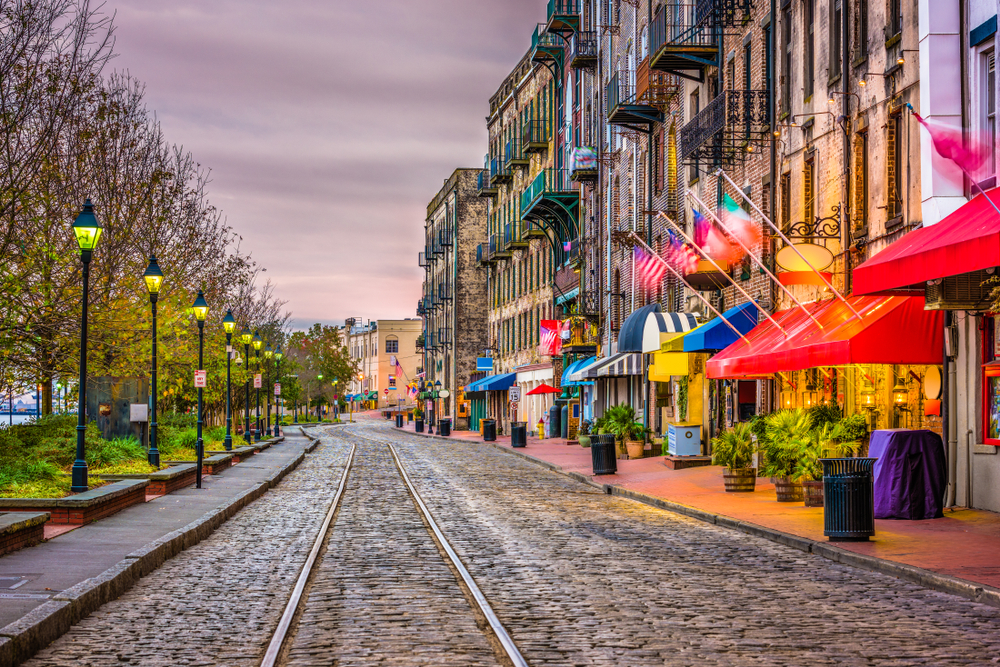 Stop 7: Jekyll Island State Park
After spending some time in Savannah, head toward Jekyll Island State Park as part of your road trip in Georgia! This state-managed island offers a variety of recreational activities, great photography spots, and more.
We highly recommend checking out Driftwood Beach in particular: this beach is known for its numerous driftwood trees that are scattered around the shore, and give off a looming presence during sunset– perfect for photo ops! The St. Simons Lighthouse Museum is also great for exploring as historic property.
St. Andrews Beach features picnic areas for relaxing afternoons, and if you find yourself exploring the Historic District, also make sure to check out their unique Trail System too! Or if you're feeling more outdoorsy, the Great Dunes Park and Neptune Park are great for relaxing with their pools, slides, and loungers. You must add this to your Georgia itinerary!
Where to Stay Near Jekyll Island State Park
Mid-Range: Beach Cove,Check Rates: Airbnb.com
Mid-Range: Cottage on Frederica ,Check Rates: Airbnb.com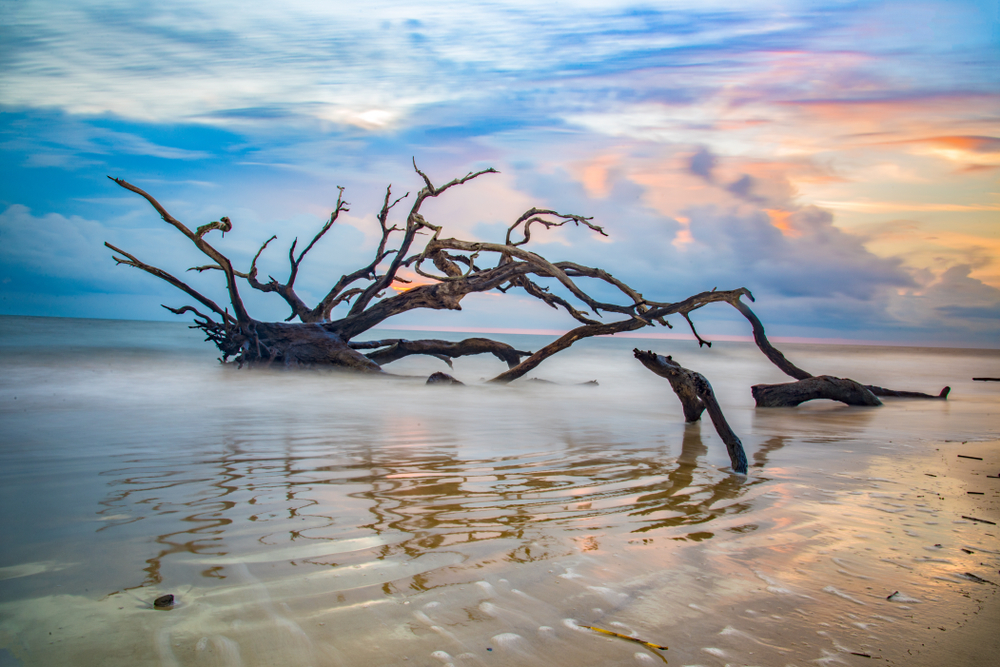 Stop 8: Okefenokee Swamp Park
After checking out Jekyll State Park, plan your visit to Okefenokee Swamp Park as a part of your Georgia road trip! This refuge has SO much to see, including multiple historic cites, and is known as the "Land of the Trembling Earth."
When visiting, you can check out the Chesser Island Homestead, or go down a drive on Swamp Island Drive, which is 7.5 miles long, so you can walk it too if you're feeling adventurous! The Wildnerness Canoe Trails let you explore the 120 miles of water trails in the swamp.
The Upland Discovery Trail lets you walk through pines and palmettos to experience the true wildlife of this beautiful park: here you will find woodpeckers, warblers, and white-tailed deer. This trail is about 9 miles in length, and easy for exploration.
Although some may not want to add a swamp to their Georgia itinerary, this shallow wetland is the largest blackwater swamp in North America. It features uniquely gorgeous views and wildlife, so we suggest checking it out!
Where to Stay Near Okefenokee Swamp Park
Mid-Range: Mansion at Oak Lane ,Check Rates: Airbnb.com
Mid-Range: Lilies in the Pines Guest Suite ,Check Rates: Airbnb.com

Stop 9: Radium Springs in Albany
Radium Springs is famous as being a part of the "Seven Natural Wonders of Georgia" so of course, we had to add it to your Georgia road trip. This is the largest natural spring in the state, and it is well known for its deep blue waters.
The Springs flow at 70,000 gallons per minute and empty into the river, which you can walk along. There is also a complex and extensive cavern system underneath the blue water that is ripe for exploration.
Unfortunately, the water is a constant 68 degrees– too cold to swim in during your road trip in Georgia– but you can stroll through the Courtyard where the old Radium Springs Casino once was and admire the waters as well as the flora from recently renovated terraces and gazebos!
Where to Stay Near Radium Springs
Low-Range: Nana's B&B ,Check Rates: Airbnb.com
Mid-Range:Rose Ellen's Raspberry Patch , Check Rates: Airbnb.com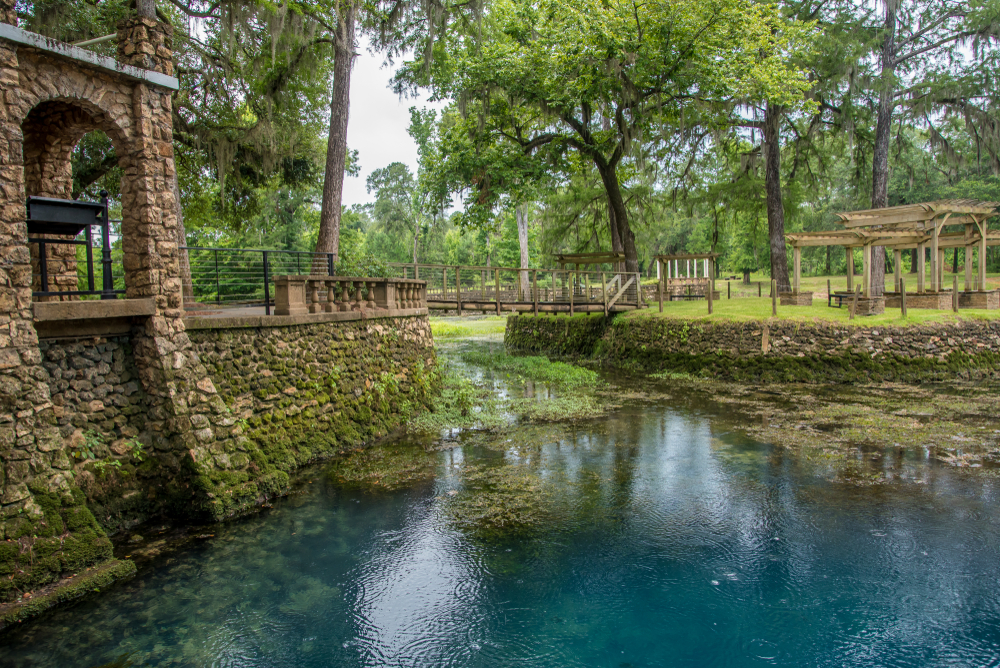 Stop 10: Providence Canyon State Park
Providence Canyon State Park is an outdoor recreational area that features over 1,000 acres in southwest Georgia. Most famously, this park is home to Providence Canyon, which is referred to as "Little Grand Canyon" and is also a part of the Seven Natural Wonders of Georgia.
At this state park, there are also 2 picnic shelters, 9 campsites, a museum and a visitor center to prepare you for your stay! But even when you're not camping, the nearby Hannahatchee Creek, Flint RiverQuarium, and Lake Walter F. George are ripe for exploration.
However, before you go explore around the canyon itself, make sure to take in the massive gullies this natural wonder. You can enjoy views from a Rim Trail and immerse yourself in the soil that is pink, orange, red and purple. This spot is truly magical for photographs: between the canyon and the rare Plumleaf Azalea that grows here, you'll want to add it to your Georgia itinerary at least for a photo op.
Where to Stay Near Providence Canyon State Park
Low-Range: Organic Veggies and Pecan Farm Staycation ,Check Rates: Airbnb.com
Mid-Range: Parrot Farmhouse-Style Rural Retreat, Check Rates: Airbnb.com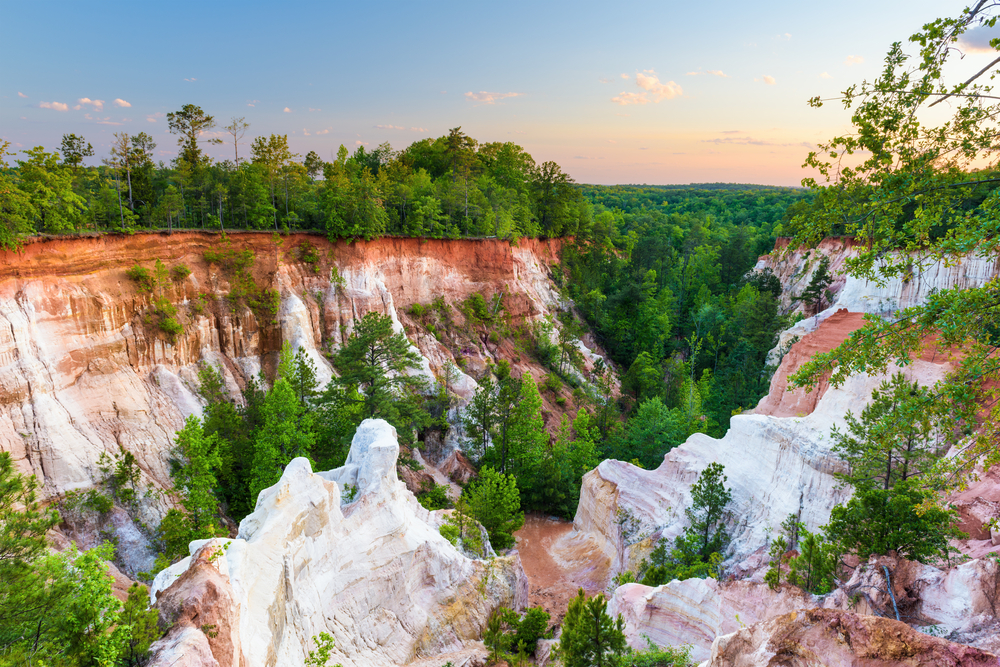 Stop 11: Columbus, Georgia
As your last stop for your Georgia road trip, we recommend spending some time in Columbus, Georgia! This city is a true river city. Founded in 1828, it is ripe with history (here is where the last battle of the Civil War took place!) and great for adventure.
This city is full of cool things to do: from the National Civil War Naval Museum that displays warships, to the Coca-Cola Space Science Center that features immersive theatre and observatories, you won't be bored in this city!
There is also the National Infantry Museum that you can check out, but we reckoned taking some time to explore the Chattahoochee River Walk and the Columbus Botanical Gardens to really appreciate the views of this historic place!
Where to Stay Near Columbus
Low-Range: Park Suite ,Check Rates: Airbnb.com
Mid-Range: Lake Oliver House, Check Rates: Airbnb.com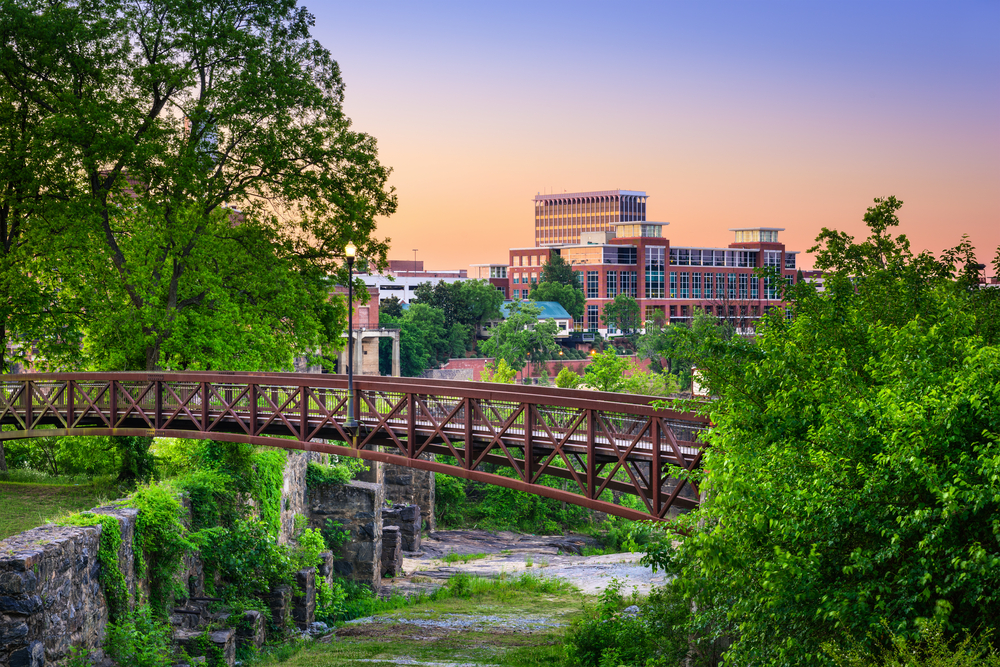 And there you have it! A great Georgia road trip itinerary that will take you in a full loop around the state to visit state parks, potent landscapes, vibrant cites, cute towns, fun hikes and more. Make sure to drive safe and have fun during your Georgia road trip– we promise it will be unforgettable! And if you're worried about packing: check out our article on 25 road trip essentials you don't want to forget!