In case you didn't know, Bray is a pretty little town about a 30 minute train ride south of Dublin. We didn't have much time in Ireland, so we decided to hit the Bray to Greystones trail on our second/last day in the country. The train ride was beautiful, but we were already so tired from our flight and previous day exploring. Upon arriving in Bray, we had yet another mile walk until we arrived at the trail we were looking to explore. I wasn't feeling well, and hadn't brought a proper jacket, starting the day off sick.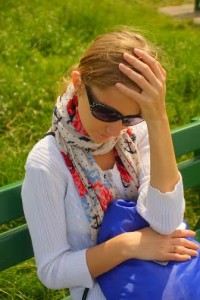 Since we only had one day, sickness and complaining about being tired fit no where into the equation and shortly after this picture was taken, we immediately began shooting. During this first shoot, an Irish family was having a picnic and their dog ran up to us and got in our shot. Instead of stopping, we continued to shoot and include the pup in our photos.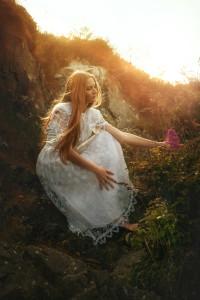 Continuing along the path to Greystones, we noticed various ivy draped walls and cliff-faces. The white gown and green ivy provided a striking contrast we just had to shoot. When we were taking pictures, many an Irish hiker was surprised to see a woman in white emerging from the woods and passed by with puzzled looks on their faces.
Of course, I couldn't be the only one to get my photo taken during this trip, so we had to make a pit stop and take some photos of Terrence as well. This photo came from what we like to call his 'GQ" photoshoot. In it you can catch a glimpse of the Bray-Greystones pathway as well as the sea and cliff-face.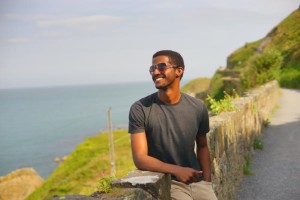 After walking roughly a mile more, we came upon the ancient Irish ruins we had been searching for. Unfortunately, a group of super rowdy frat-boy-esque tourists were right where we wanted to go, so we had to photograph only the bottom part of the ruins until they decided to leave. They even asked if they could take pictures of us using our expensive gear…like we could give thousands of dollars of equipment to drunk 20 year olds. By this time, the lighting was perfect and we were able to get some stunning shots in the ruins.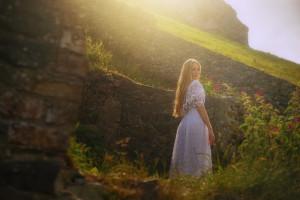 After the frat boy party left, we were able to actually venture up the mountain side for a few pictures, including one creepy one we just had to capture! It's crazy what a slight lighting change can do to the mood of a photo! [Isn't natural light just so neat?!]
We knew we had to hike all the way back to town, it was getting late, and we wanted to shoot one last location we saw on the way in. In order to get to the rocky area we had our eyes set on, we had to walk through some shallow [and freezing!] water. The rock face was super slippery and we knew we had to be fast because we were losing light.
What we forgot to account for during this part of the shoot was the tide. Yep, the tide had risen so much that the ankle deep water was just below the waist. I kept the photoshoot dress on because there was no way in hell I was getting my jeans wet. Terrence had no other choice than to soak his clothes for the [pretty long] walk back to the beach. I spent the entire walk convincing him that we had a mile walk to the train station, a 30 min train ride, and then a mile back to our hotel in Dublin and that he couldn't possibly wear soaked jeans in 50* weather that entire time. After much convincing, he finally decided to wear my jeans for the duration of the journey home, and I decided I would wear the other photoshoot dress. At least both of us would be dry….right? And the experience led to lots of laughs and some funny pictures. He wears the jeans well…doesn't he?
Not sure trekking out to the rocky area and soaking our clothes was worth it for the shots we got, but we loved the ruins and Greystones trail. Oh and by the way, an old Irish guy with bloodshot eyes "evil villain" laughed at us during our walk back.
Pin it: