2019 was a wonky year for us! It started off being really great in the first half and then the second half was much more difficult. It was our plan to "slow down" and travel less so that we wouldn't burn out.
We are happy that we did achieve this goal for the most part, and really only felt burnt out/tired for two trips that we went on this year. That is a WIN compared to the previous years.
Sadly, Terrence's family had a hard second half of the year.
As I said, the first half was FAB and we had just gotten off the trip of a lifetime in Iceland in June and his parents told him their cat knocked something over and was limping. Then, he went and took the cat to the vet and it turned out he had aggressive bone cancer.
As a result and for a good reason, Terrence was mentally "off" in the second half of 2019 and poor little Maxx eventually went to a better place right after Thanksgiving.
His sister, Chelsea, never recovered, and sadly, the family had to make the tough decision to put her down as well, the day after Christmas. They found out later that she had a tumor in the back of her throat/mouth.
It has been quite a difficult second half of 2019, but we can only keep a good outlook heading into 2020! I just wanted to give a quick recap as to why before heading into the month-by-month recap below.
Refresh your memory with our 2018 recap!
Refresh your memory with our 2017 recap!
View this post on Instagram
January
January was really fun because we headed to New York City for me to speak at the 2019 New York Times Travel Show! It was really great and I spoke to a packed room/audience along with two other bloggers that I know. My Aunt and two cousins as well as Terrence's cousin came out to watch me speak which was really nice!
We were up in New York City for 5 days and spent that time in and out of travel blogging conferences. There were two at the time so we did them back to back! Then, we spent a little time with Terrence's extended family as they live in New York City.
Finally, on the last day, we went around the city in the freezing cold and took photos for a campaign we were doing with Olympus Cameras. The best part was that we got to enjoy the Met!
View this post on Instagram
March
At one of the travel conferences, we spoke to a cruise brand and they had been interested in us doing a Middle Eastern Cruise. They were VERY interested in working with us, and then, they just disappeared into thin air.
The place in the Middle East that the cruise went to that I was most interested to was a country called Oman. Most westerners haven't even heard of Oman before. I asked Terrence if he would be interested in planning a trip to Oman ourselves, and he did a quick Google search and was 100% SOLD because the beauty is unlike anything you have ever seen!
One of my three goals for 2019 was to Fly lie-flat business class. In the first 3 months of the year, we made that happen with a partnership with Oman Air! I have never slept so good in my entire life and I am spoiled forever now!
View this post on Instagram

Oman is truly one of the most beautiful and underrated places on this planet. If you have never considered it, I highly recommend it! We enjoyed every moment we spent in Oman and swam in crystal blue waters of Wadi Shab and Wadi Bani Khalid. Swimming in the Wadis was so memorable and the water is WARM unlike the freezing cold springs in Florida!
Unfortunately, we narrowly avoided a potential scam at Wadi Tiwi and it is something we reflect back on quite often and thank the Lord we got out safely.
View this post on Instagram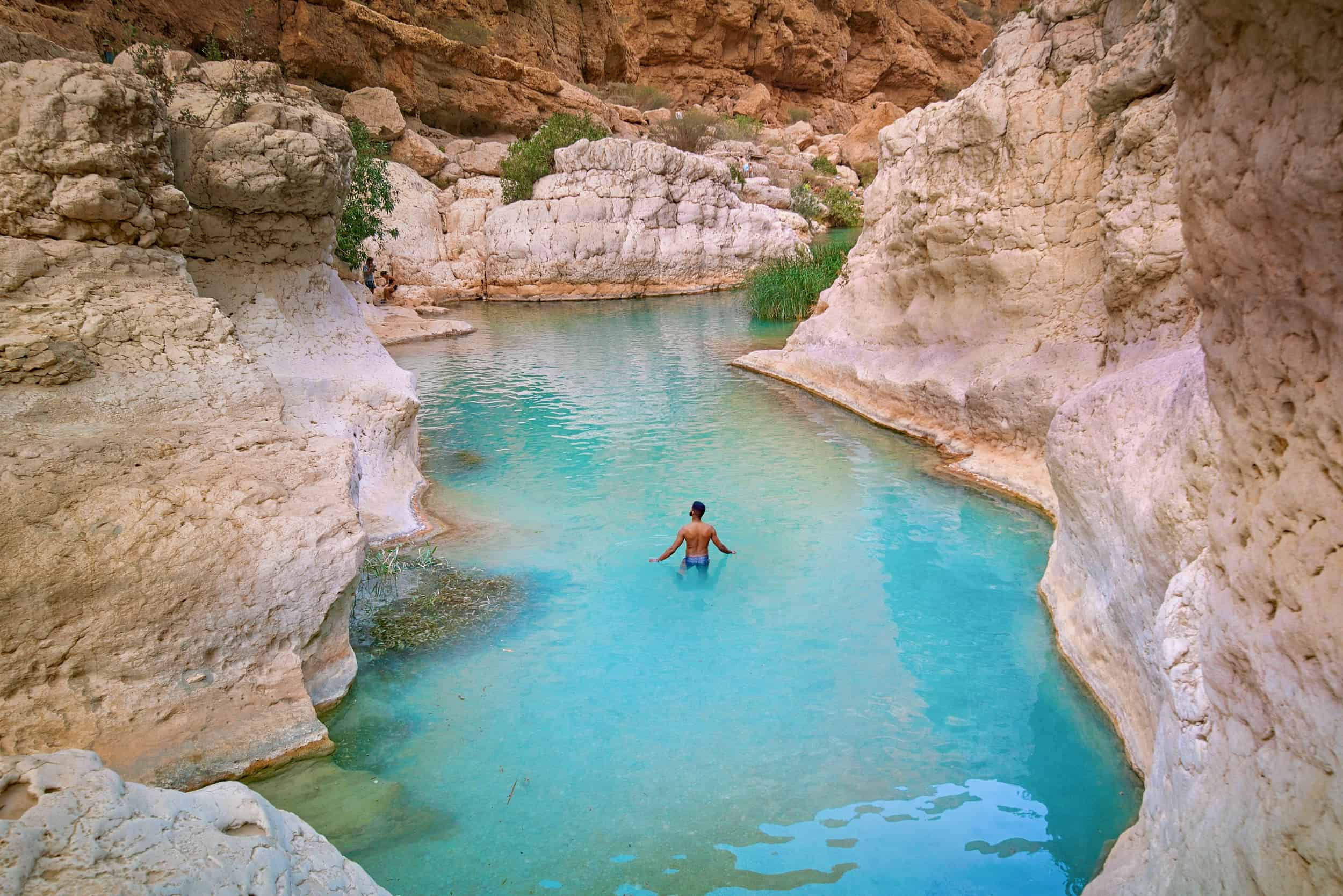 From the sights and sounds of Muscat and all the fabulous Middle Eastern Malls where we watched US on the opening weekend, to the remote desert landscapes, we couldn't have thought of a better country for our introduction into the Middle East!
We are now totally in love and hope to get back some time in 2020! If you take away one thing from this post, I hope that it is to visit Oman. You will NOT be disappointed!
View this post on Instagram
April
In April, we went on the ultimate river cruise experience with Crystal River Cruises! You can check out our full Crystal River Cruises review here! Not only that, it was a mother-daughter campaign with my mom Linda On The Run. She brought her sister my Aunt Robyne along with us and the whole goal was "adult-multigenerational family travel."
View this post on Instagram
Crystal Cruises was easily the best river cruise EVER! And between both of us, we had done multiple river cruises. This cruise took us deep into Eastern Europe and we got to see a variety of countries including Croatia, Serbia, Slovakia and more.
We also spent Easter on Crystal Mahler and the food was just incredible. This was a lovely spring trip that we did that was relaxing and quite fun. Also, the rooms on the cruise were the biggest cruise ship rooms we have EVER been on and it was quite an experience! They were the size of a full hotel room with a walk-in closet. Totally understand the hype behind Crystal River Cruises and the experience was overall very wonderful!
View this post on Instagram
June
June is what I call "the trip of a lifetime." This is hard to come by when travel is your job and you get to see a lot of epic places. To me, it is more about the FEELING you personally get, rather than the place itself.
View this post on Instagram
This trip of a lifetime was Iceland, our 4th time back. But our first time in SUMMER. It was truly the most fantastic and most epic trip we have ever had! We concentrated on the south coast, our favorite part of Iceland, but also headed out to the mysterious Westman Islands off the southern tip of Iceland.
This was our first time to the Westman Islands and they did NOT disappoint! We loved everything the Westman Islands offered and there were hardly any tourists which is unlike many places in Iceland.
View this post on Instagram
We reveled in the Midnight Sun and this is what made the trip so memorable and fantastic! The sun didn't set until past 12:30am or later and rose at around 2am. It NEVER got dark and only got "twilight' which left a million hours for FUN! We started hikes at 9:30pm "because we could" and we didn't begin our day and leave the house until 4-5pm! It was unreal.
We also stayed up all night at Stokksness. Terrence said he wanted to see the sunset and the sunrise without going to sleep so we stayed up. It was cloudy and it took longer for the sun to rise and break through the clouds than we thought, by almost an hour, but it was the most exhilarating and epic thing to witness! We didn't go back to sleep until 8am that day!
Overall, Iceland holds our hearts and we will never tire of this magical place!
View this post on Instagram
July
July was our first time in New Orleans. It was HOT HOT HOT but we live in Florida so we were used to it! This was one of our two least favorite trips in 2019, due to the lack of vegetarian food options for me. It was to the point where I felt like crying.
View this post on Instagram
In 2019, I was shocked and appalled that the majority of restaurants didn't have vegetarian options. Not even a single vegetarian option, let alone vegan. While New Orleans does have vegetarian/vegan restaurants as a whole, you have to go out of your way to get to them and vegetarians have almost 0 options if you want to eat with meat-eating friends in the French Quarter.
I must say that I travel widely to "meat-heavy" places and I have never felt so disappointed in the vegetarian food offerings as I did in New Orleans for vegetarians.
That being said, we loved New Orleans as a whole and there were a lot of fun things to do. We loved seeing the famous carousel bar, and the restaurants we found that DID have vegetarian options were FAB! It was just that FINDING those restaurants was very difficult!
View this post on Instagram
August
This was one of the most difficult but best trips of the year. This was the SECOND "trip of a lifetime." My mom invited me as her guest on a Viking River Cruise press trip to Russia. I said yes back in Oman, but then felt very weird as Terrence couldn't come and this would be my first trip without Terrence. We tried everything to get him to be able to come, but they were sold out so we had to do it alone.
View this post on Instagram
It was easily one of the best trips I have EVER been on and my mom and I have fallen in love with Russia! We took all of the photos ourselves, and I called Terrence up at 2-3am his time with a million photo questions and how to do the settings and more. Then, I imported the photos and transferred them to him on Russian boat wifi so he could edit them for me! Terrence is worth his weight in GOLD for all the photography work he does that I don't appreciate.
The biggest takeaway for both my mom and I was that Russia doesn't "look like the soviet union." That is what I kept my eyes open for immediately. I expected it to look like Belgrade and other Soviet-era cities. The first day we went into Saint Petersburg, I was shocked to see that it looked more like Vienna and Paris than it did ANY Eastern-European country.
View this post on Instagram
I was 100% WRONG in my perception of Russia and it was the most fantastic country ever. From seeing wooden churches on a remote island just south of the Arctic Circle to going inside the Kremlin and seeing a town filled with more churches than you could imagine, Russia didn't disappoint.
The visa process was a pain, but I do hope we get to go back soon. I loved it [and it had more vegetarian options than New Orleans FYI!]
View this post on Instagram
September
We had planned to go to Italy for 17 days in May but canceled it because everywhere we wanted to go was buried under FEET of snow! This was the coldest May in over 65 years which was a little insane. THEN, in September, the areas we wanted to visit got snowed in AGAIN. Thankfully, the snow melted, but we were very close to canceling this trip and losing out on $$. We didn't, but we should have.
View this post on Instagram
This trip to Italy was one of the worst trips we have ever been on. I will not sugar coat it. I don't have much to say for this recap other than from day 2 we wanted to go home and we were on "drone mode" just floating through the trip with no emotion just doing what we had to do to get home.
While Italy is a beautiful country and we saw so many fantastic sites, it isn't worth it if your heart just isn't in it. We have visited Italy for months of time combined at this point, and it never grows on us. In doing this recap, I realize how I have barely even posted any photos on Instagram when we have so much content it isn't even funny. I just don't have the heart to post anything when the experience was so negative for us.
View this post on Instagram
That is okay. This was our first trip since 2016 and now that we were established bloggers we thought we would like it better. We didn't and we were miserable. This isn't to say we will never go back, the landscapes are incredible, but we need to go in knowing it isn't our favorite and NOT go for 17 days!
That being said, it was our first time to Venice and we LOVED Venice! It was soooo cute and we would totally go back there. So glad that we finally got to go to Venice and see what all the hype was about!
View this post on Instagram
November
November was our THIRD annual birthday trip for me to Paris where I turned 27! This was the BEST trip yet and there was no arguing and everyone had a fantastic time. We got a three-bedroom at the foot of the Eiffel Tower and got to see the Eiffel Tower sparkle every night.
We spent our days taking a million photos, eating a million pastries, going to museums, and just scootering around. We ate at the same little Italian restaurant a bunch of times in a row and went to our favorite pastry shop almost every night.
Paris is always a good idea and I will never not want to go back!
View this post on Instagram
December
For the last trip of the year, we went on a family vacation with Terrence's family! It was their first cruise ever and we had had it booked since February! They LOVED IT and it was really fun seeing them enjoy Royal Caribbean for the first time.
We went on the newly renovated Oasis Of The Seas, which is our favorite ship. We won the dodgeball contest and I threw one of the shots that kept us in the competition. We went and explored Haiti, Jamaica, and Cozumel and it was our first time in Cozumel. The water was truly stunning!
It was a great way to cap of a lovely year of travel and we truly enjoy any time that we sail on Royal Caribbean and can't wait to do it again soon!
View this post on Instagram
The High Points Of 2019
1000000% Iceland and Russia! Those are my top two trips of the year. Runners up are Oman and Paris as they were both better than I expected as well!
The Low Points In 2019
Sadly, the low points of 2019 were Italy and New Orleans and also Terrence's poor family having to put down both of their kitties! 🙁 Compared to previous years, there are far fewer "low points" this year than other years which means we are doing better not burning out!
View this post on Instagram
The Takeaways
In 2019, this was our goal:
For 2019, we would like to continue to NOT run around stressed out and to continue to say NO to trips we KNOW we will be too tired to enjoy [a big problem for me!] We would also LOVE to do more cruises that we pay for and treat them as vacations to get away from the never-ending to-do list of owning your own business!
We did pretty good! We did a MUCH better job of saying no and said no to A LOT of trips including multiple cruises and multiple press trips. We really only felt "burnt out" in Italy so one trip out of the year is great!
We did NOT do more cruises that we paid for as a vacation in 2019. We only did one and that was with Terrence's family. While it was epic, I don't think it ticked this box as we only did one and it was the week before Christmas!
For 2020 I would like:
To travel even LESS and be even more careful with where we choose to go! I would like to take fewer trips but they can be more meaningful and they can last longer. We already have a month in Iceland booked, so we will see how this goes. I would also like to do more "paid" cruises which was our goal in 2019 that we didn't achieve!
As always, thanks so much for always supporting us! We truly appreciate it!
View this post on Instagram