Are you looking for the best Airbnbs in California?? Join us in exploring these cozy, unique, stunning accommodations. Airbnbs provide a terrific variety of options, price ranges, experiences, local culture, and possibility! Whether you're looking for a small and intimate location for a romantic getaway, or you're booking a house for the extended family reunion, we have a little bit of everything on this list.
California is an amazing state, in geography alone. Some of these Airbnbs are surrounded by gorgeous nature, and it all ranges from beach to desert to lush mountain ranges.
If you're on a road trip, we want to help you find the best Airbnbs in California for your adventure. (For more info on Cali road trips, click here.)
If you're looking for posh and sophisticated city dwelling, we've got you covered with places in LA, San Diego, San Francisco, and more.
California is full of great vacation pastimes, and depending on which area you're traveling to and what time of year you go, you'll have plenty of opportunity for hiking, swimming, skiing, photography, nightlife, architecture, national parks, and more. You just need to find a fabulous place to stay at night!
Airbnbs are an amazing part of any traveling experience; they generally have lots of character, more so than if you were only staying in hotels, and you can usually get a great rate for your stay!
Have fun browsing and choosing your favorites of these best California Airbnbs…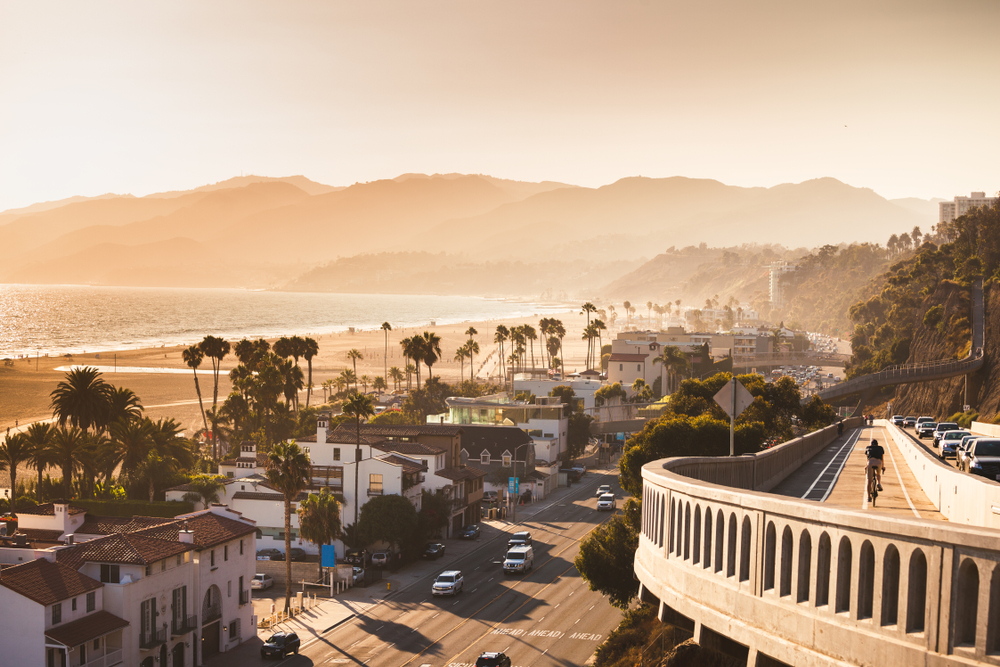 16 Best Airbnbs in California (Beach Houses, Treehouses, & More!)
Surfscape Beach House
To start things off, check out this stunning Surfscape Beach House in Northern California's Bodega Bay. This California Airbnb is FILLED with gorgeous natural light, thanks to floor-to-ceiling windows. The decor is also light, sleek, modern, and beachy. Shiplap across the ceiling is a great touch, evidence of the attention to detail throughout the entire place. The whole atmosphere is super quality, cozy, and airy.
And look at the VIEWS out those floor-to-ceiling windows! You'll have panoramic sights of the ocean, all around. This beach house gives you access to a little private beach, which you can see clearly from the living room and dining room, or you can head outside and drink in the view from your private deck with lounge seating, a hammock, a fire pit, and your own hot tub! What more could you want from a Airbnb in Bodega Bay?!
Surfscape Beach House accommodates 4 guests, with 2 bedrooms and 2 bathrooms. They provide everything you'll need for a comfortable, luxurious stay. This is a top Airbnb in California, with so much to enjoy!
Click Here to Check Rates on Airbnb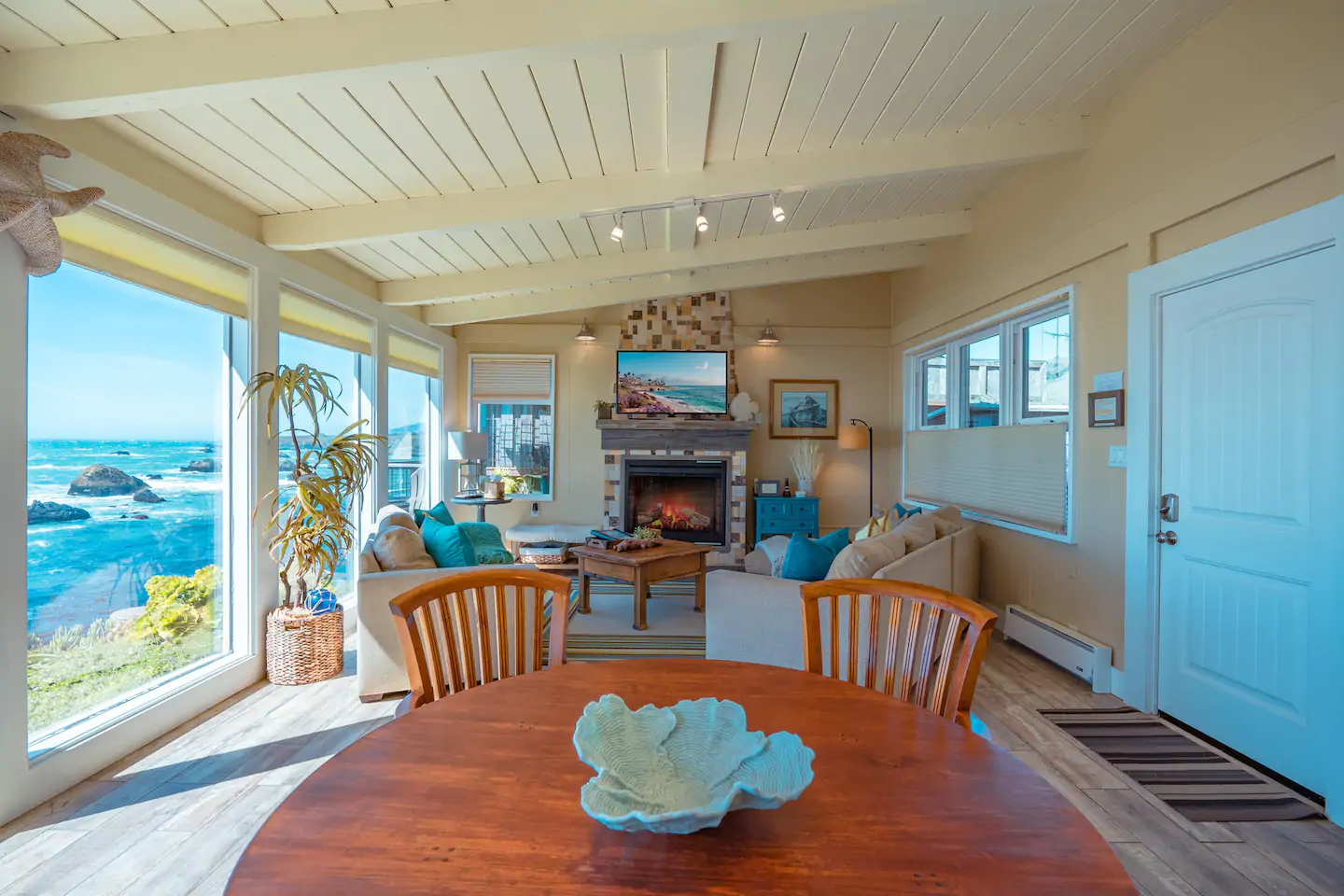 Industrial Loft in L.A.'s Fashion District
This bright and airy Industrial Loft, located in downtown Los Angeles is such a treat for the eyes. Concrete floors, tons of natural light, and bright pops of orange paint are a delightful combination here. This loft is suitable for 2 guests, as it's a 1 bedroom, 1 bathroom, but it also includes a pull-out couch in the living room.
This Southern California Airbnb gives you a great taste of modern — but housed in one of the original manufacturing buildings of L.A.'s Fashion District! Old mixed with new. It has a gorgeous balcony, with cool city views. And visitors have access to a rooftop, with a common lounging/BBQ area, bulb lights strung up, plants, hot tubs, and surrounding skyscraper views.
If you're looking for Airbnbs in Los Angeles, this is a perfect option for city life in luxury and style. (And while you're in L.A., take a look at this Los Angeles itinerary!)
Click Here to Check Rates on Airbnb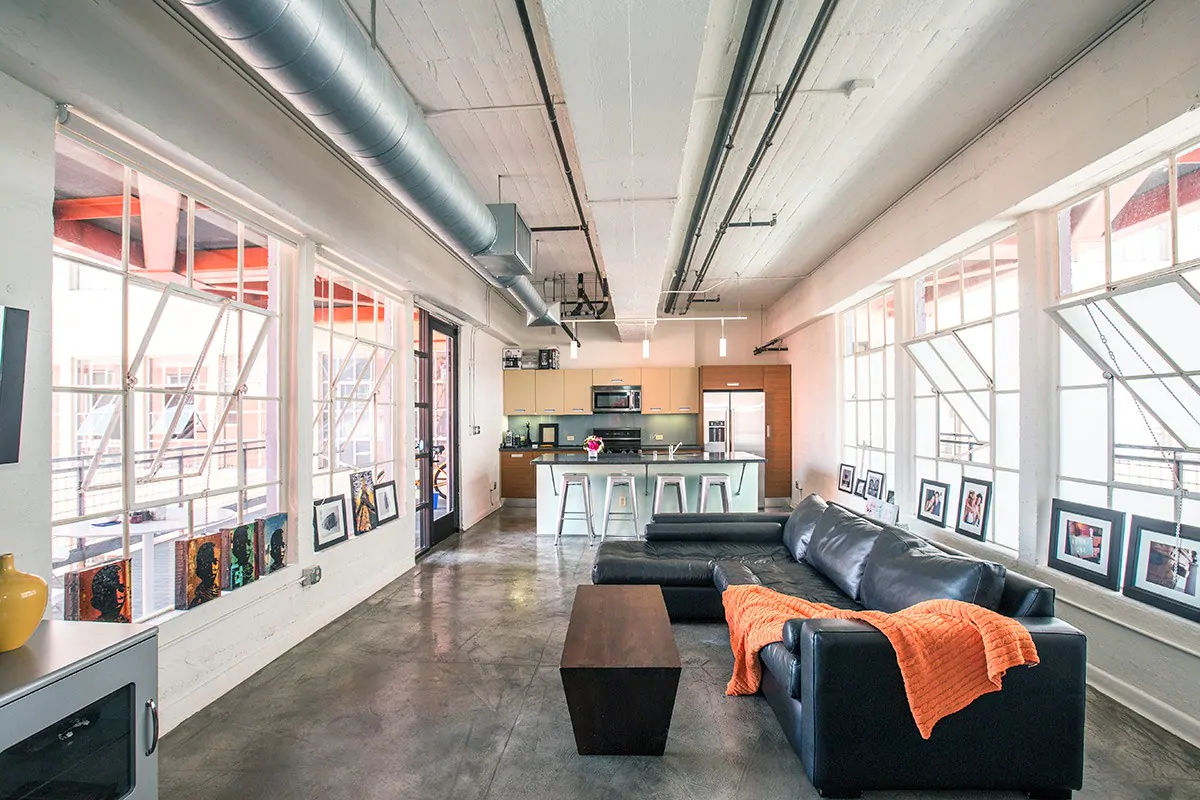 Treehouse Adventure
Just 30-some miles away from the Industrial Loft is this awesome Treehouse Adventure, a unique and whimsical Airbnb in Brea, California. Did you love Magic Treehouse as a kid? Tom Sawyer's treehouse? Your own treehouse in your backyard? You're never, ever too old to engage in some childlike wonder, play, and joy, and this is one of the best California Airbnbs in which to do just that!
This treehouse is a 5 minute walk from Brea's downtown dining, shopping, movie theater, and parks. And if you're in the L.A. area to go to Disneyland, that's only 11 miles away!
The host of this inviting, adventurous Airbnb in California wants you to know you may be sleeping up in a tree, but you still have nearly all the comforts of home! The treehouse amenities include bedding for 3 guests, a full bathroom with a shower, a fire pit, Direct TV, Wi-fi, a fridge and microwave, two outdoor decks, and a SLIDE. You can SLIDE down from your treehouse in the mornings to get started with your day's activities!
Treehouse Adventure is one of the best Airbnbs in California for those of you looking for something out of the ordinary!
Click Here to Check Rates on Airbnb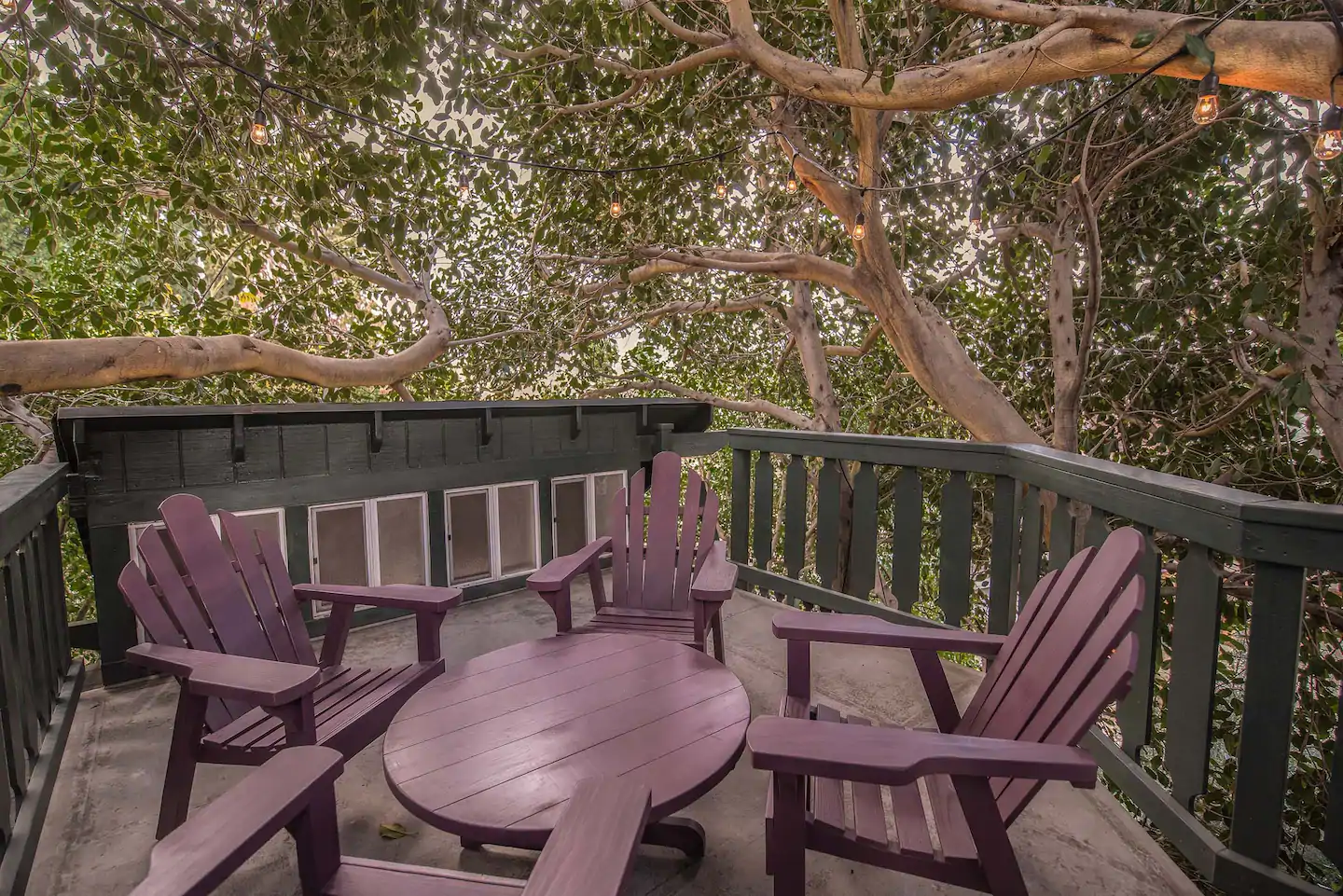 The Shack Attack
Sleeping just 2 guests, another cozy, romantic, and wildly creative California Airbnb is located in Joshua Tree, The Shack Attack! This is a terrific remote location for all desert lovers. It's an artistic, custom space, with calming whites and tans, to blend well with the desert feel.
At The Shack Attack, you'll have access to a king bed, a bathroom with a walk-in shower, an adorable kitchen, and terrific outdoor features, including 2 seating areas and a fancy soaking tub. And everything is so aesthetically pleasing and soothing!
While in the desert, you can enjoy seeing the Joshua trees, going for hikes, observing the rock formations and star gazing. Don't forget to check out some of the best hikes in Joshua Tree!
We hope you'll love this sandy California Airbnb!
Click Here to Check Rates on Airbnb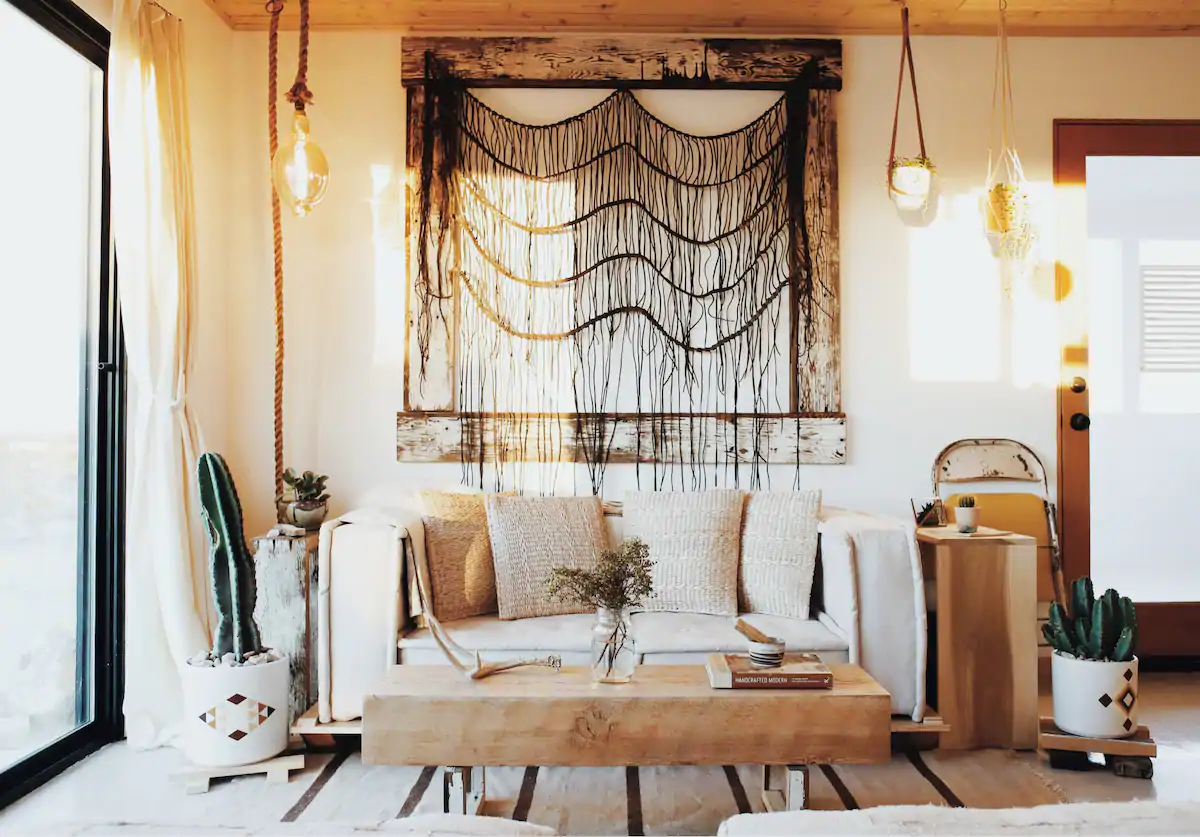 1974 Airstream
If you're looking for an iconic Airbnb in Carpinteria, look no further! This restored 1974 Airstream is so cool. Settle in and enjoy the metallic look, with great touches of natural wood and design.
This California Airbnb sleeps 2 and is another 1 bedroom, 1 bathroom location. The surroundings are lovely and earthy, as it's located on an organic ranch! You'll see an avocado orchard, cacti, and plenty of other plants.
This Airstream offers outdoor seating, a full kitchen, air conditioning, Smart TV, and a fire pit.
Carpinteria is a great town to visit the beach in, and you can even go to a seal preserve there! Ojai is also a short drive away, about 30 minutes.
Overall, this Airstream is a gorgeous and relaxing Airbnb in California.
Click Here to Check Rates on Airbnb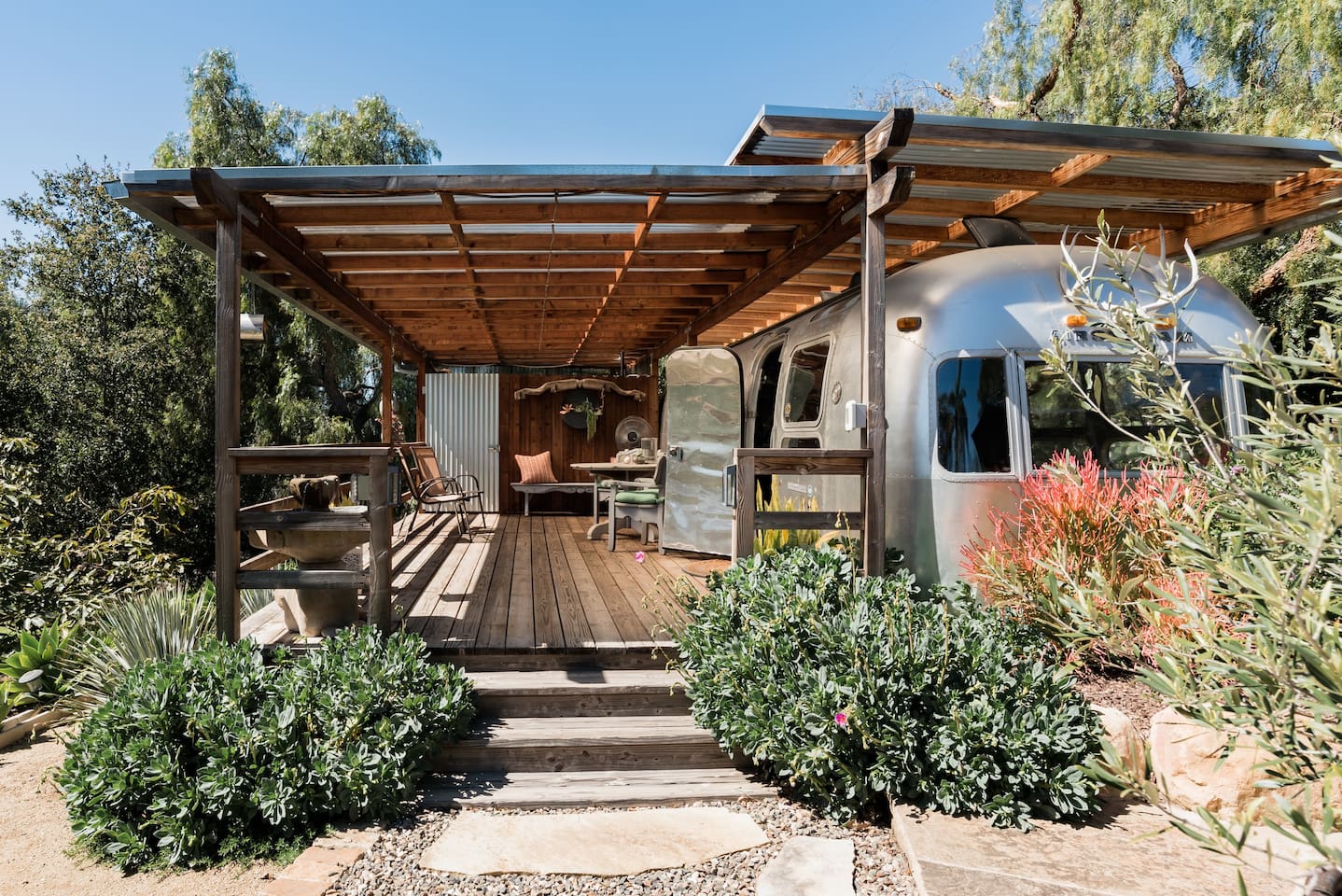 Colorful Oasis
Love colors? Dream Home is a gorgeous, poolside desert spot, and it definitely ranks as a must-consider Airbnb in Palm Springs! You will LOVE the dreamy decor, the creamsicle-orange paint, the bright yellow doors, and the whole vibe of this cozy Airbnb in California.
Two guests can stay here, with one bedroom and one bathroom. It has a gorgeous pool and patio area, with elegant, desert cacti landscaping. Other features include a fully detailed kitchen, original, commissioned artwork, an Amazon Echo, Netflix, air conditioning, great views, and lots of books!
This colorful oasis has everything you'll need out of a California Airbnb, for your fabulous stay in Palm Springs!
Click Here to Check Rates on Airbnb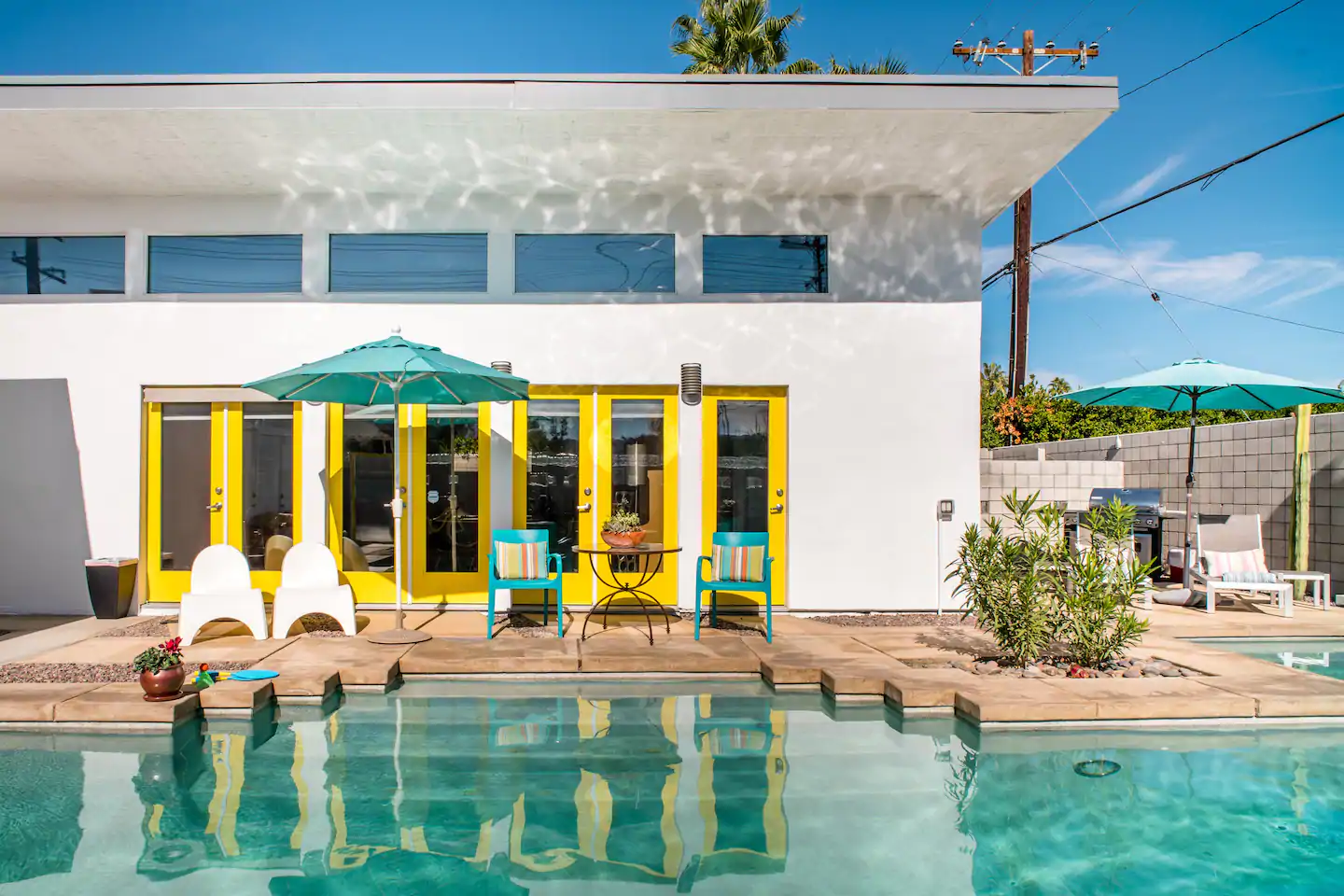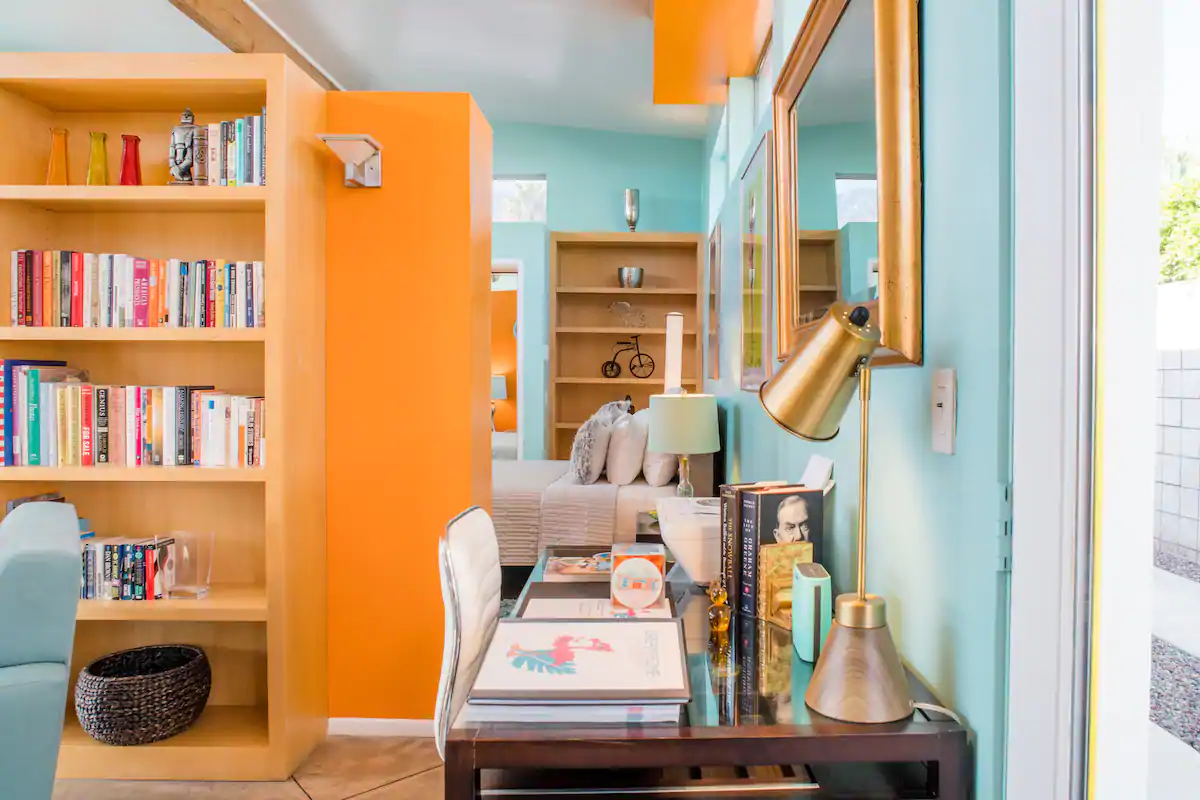 Ocean Beach Home with 180° Rooftop View
This sleek, modern Beach Home will be a fancy stay and is a great choice for Airbnbs in San Diego! You'll only be a block from the beach, for all your swimming, surfing, and sunbathing. The house is also within walking distance to restaurants, bars, and shopping.
The rooftop deck is a highlight of this California Airbnb… guests have access to the 600 square foot area, with panoramic views of San Diego. (Lots of palm trees in sight!)
Additionally, this Beach Home is a great spot to consider if you're booking a vacation to San Diego with the whole family or meeting up with several friends; this Airbnb in Southern California can accommodate seven guests.
It has huge windows, lots of white space and professional decorating, a loft, and three small balconies. You're certain to feel freshly at home and at ease in this clean, calm, luxurious atmosphere.
Click Here to Check Rates on Airbnb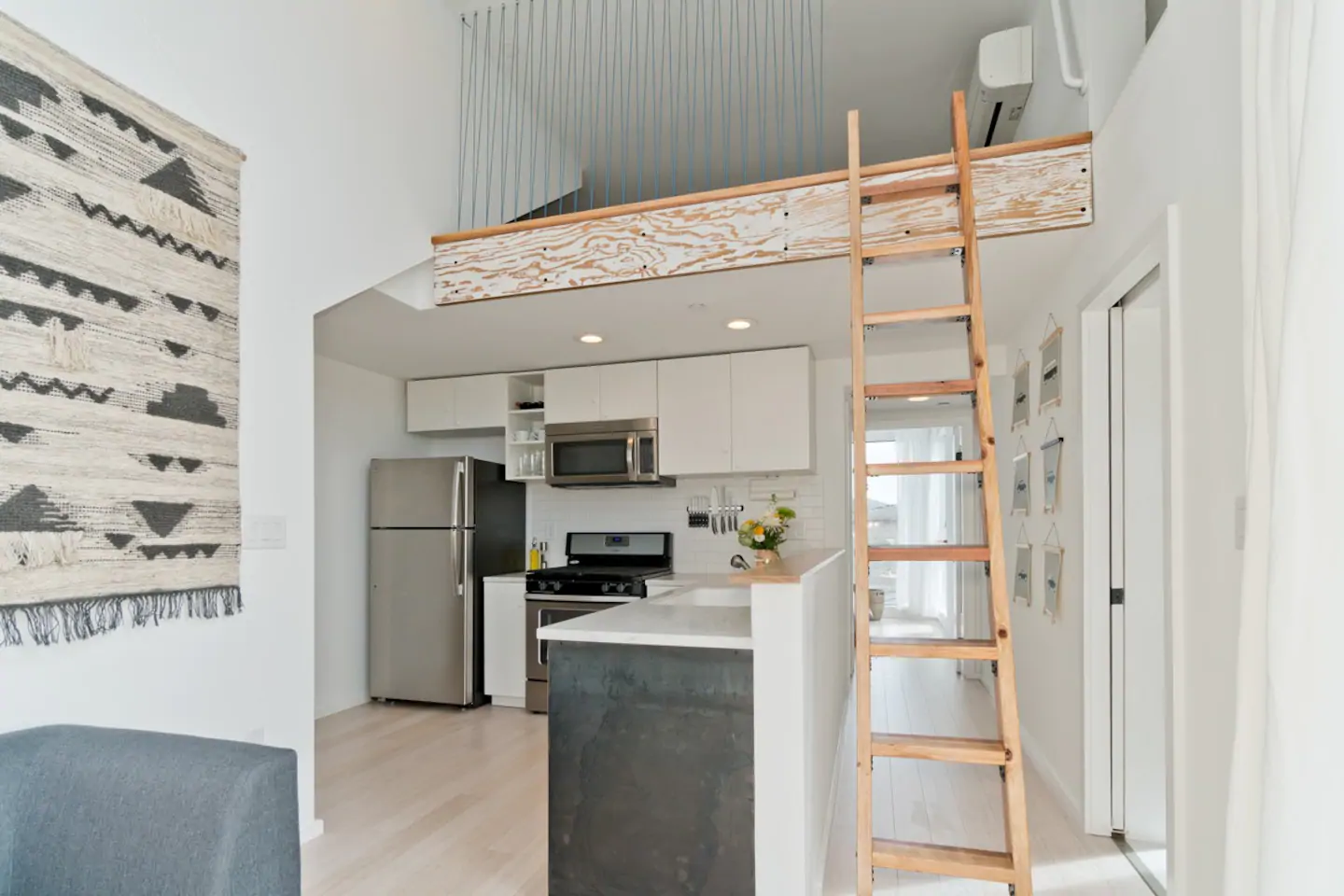 Big Bear Cabin for ten!
Big Bear Gambrel should be top of your list for Airbnbs in Big Bear! This terrific cabin has been updated and modernized, yet still has that cozy, woodsy cabin feel. And this is one of the best California Airbnbs for accommodating several guests — 10 can stay here! — in a mountain town.
Some of the best perks of this Airbnb in California: a hot tub, a decked-out game room, a pool table, and an adorable, super cool miniature a-frame in the backyard. The a-frame has a 7.5 foot window facing the trees, for great views during your nap, afternoon reading session, or star gazing. And they've really thought of everything in terms of entertainment and over-the-top features for comfort and fun, in the game room and elsewhere throughout the cabin!
If you're headed to Big Bear Lake soon, definitely add this place to your list.
Click Here to Check Rates on Airbnb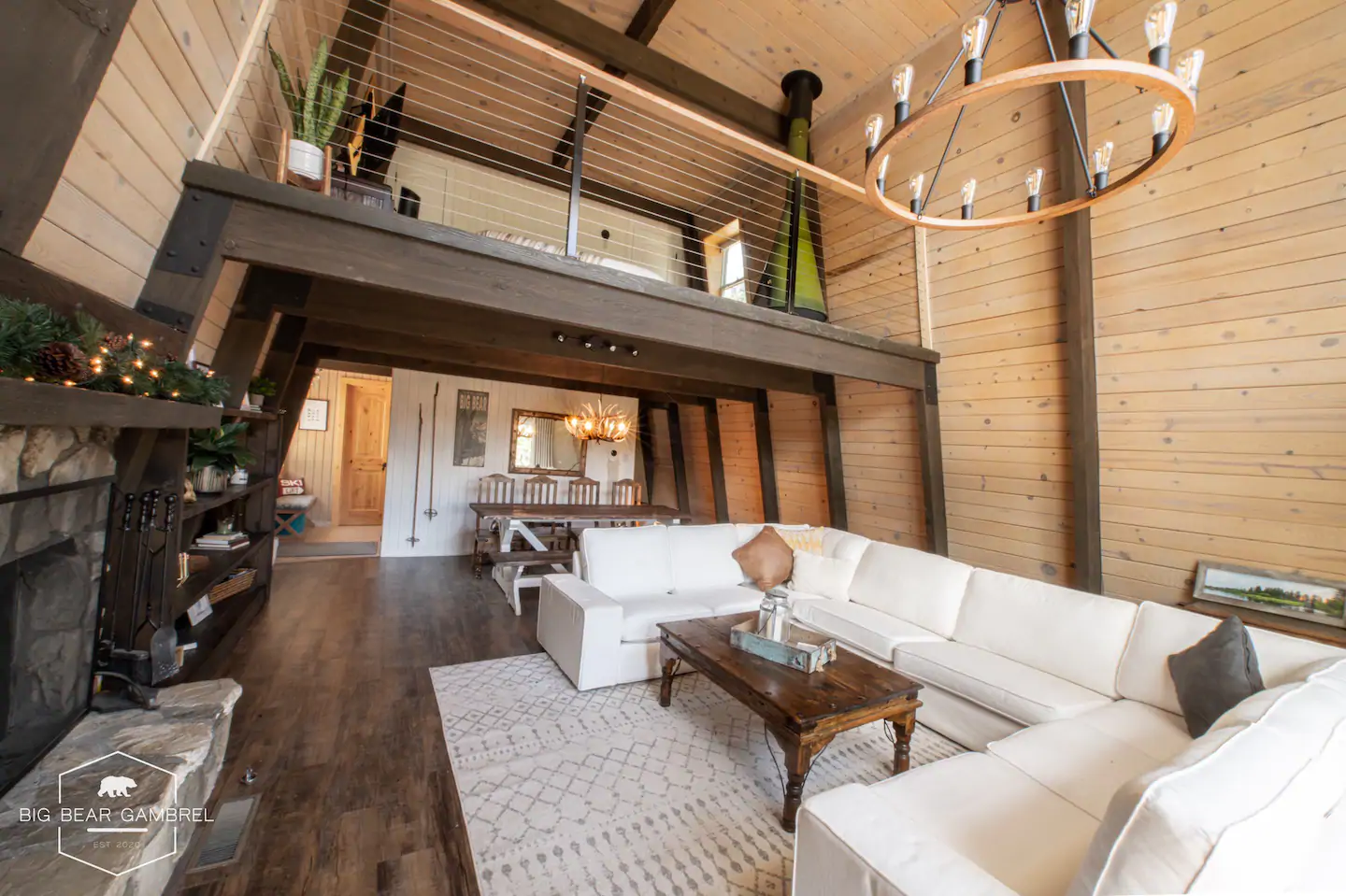 Dome Life
Alright, another cool spot in the San Diego area! This Dome Life Airbnb in La Mesa is an artsy, creative, unique architectural find!
Dome houses have such a distinct and fun shape. This one accommodates 4 people, with 2 bedrooms and 1 bathroom. The stairway leading up to semi-private loft bedroom over the kitchen is beautiful wood and cable. The space is well laid out and cozy. Decor — modern and comfortable. The dome's shape is accented on the interior with cool brown hexagon panels! And the huge chalk board wall gives the kids in your group (or the kid within us all!) a fun creative outlet.
Dome Life is a fantastic California Airbnb, and for your stay near San Diego, it's got everything you need. Kitchen appliances, shower cosmetics, Netflix, Hulu Plus, snacks, a deck, and more…
While you're looking for some of the best Airbnbs in California, definitely put this on your list for SoCal.
Click Here to Check Rates on Airbnb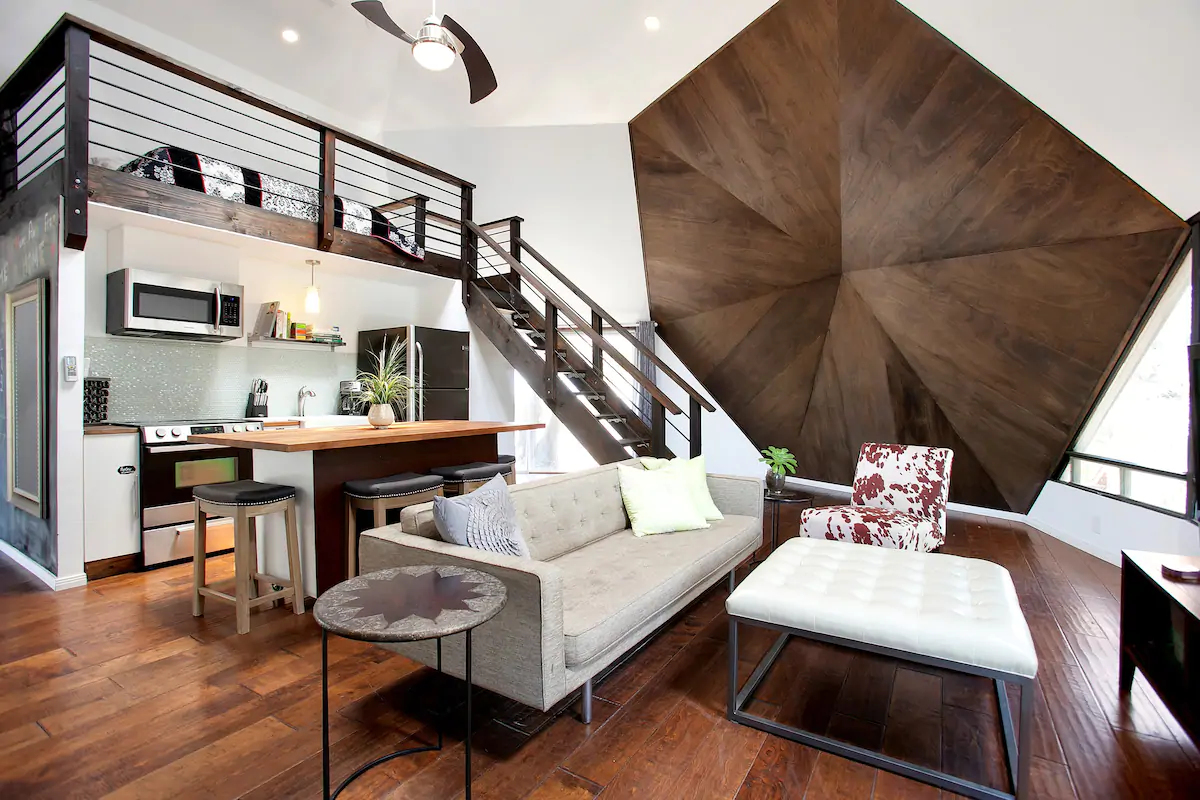 Sunset Yurt
Would you love a more woodsy, "glamping" feel? Check out Sunset Yurt, an impressively fancy Airbnb in Garden Valley! For a mix of glamorous camping and absolute style, you can't go wrong with this lovely California Airbnb.
Sunset Yurt sleeps 2, since it's really just 1 room and a bathroom. This is perfect for a simple getaway. They have the basics your really need (hello, coffee maker and comfy bed!) and not a lot of extra distractions or busyness.
Except one awesome extra! Look at that infinity pool! Enjoy your soak and swim in a pool that looks like it's just falling right off the edge and down into the trees and mountains!
Sunset Yurt does have a small fridge and an outdoor (uncovered) picnic table. You'll likely be doing all your cooking and dining outside. The hosts of this California Airbnb offer to rent you a camping box with all the cooking and dining utensils you might need, if you don't want to bring your own.
This is definitely on the list of best California Airbnbs, for a glamping experience, in a unique yurt!
Click Here to Check Rates on Airbnb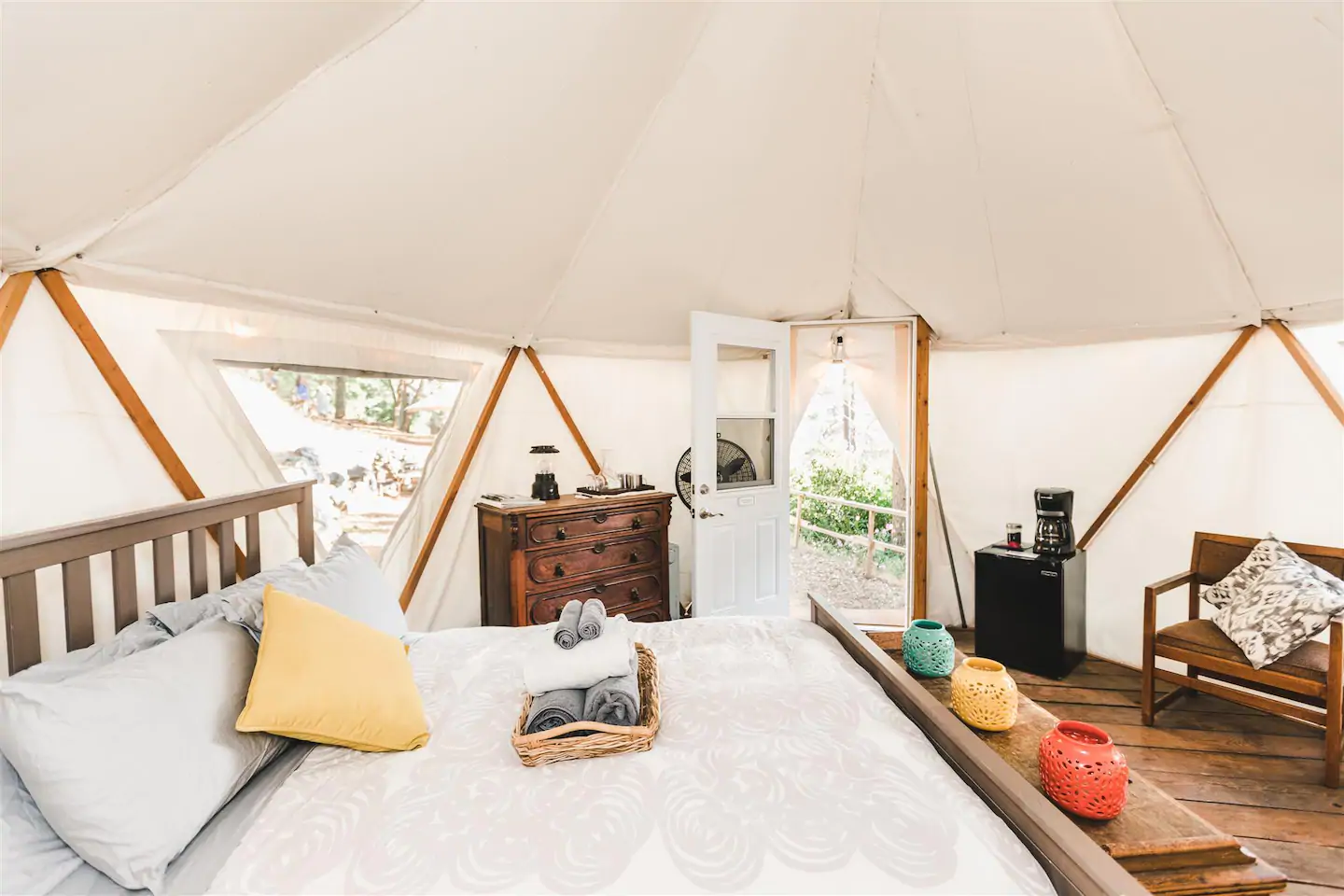 West Shore Hideaway
Headed to Lake Tahoe?? West Shore Hideaway, located in Tahoma, is a gorgeous luxury house on the western edge of the lake — a terrific choice for Airbnbs in Lake Tahoe!
Eight guests can stay here, with three bedrooms and three bathrooms. The space will inspire and delight: you'll love the attention to detail every where and how spacious, open-concept, and stunningly-decorated this place is. We love the huge windows, beautiful staircase, hardwood floors and ceiling, and the wrap-around deck!
West Shore Hideaway is near both the lakeshore and mountains. It's a great place to unwind and enjoy lake culture. (To see more of the best Airbnbs in Lake Tahoe, click here.)
Click Here to Check Rates on Airbnb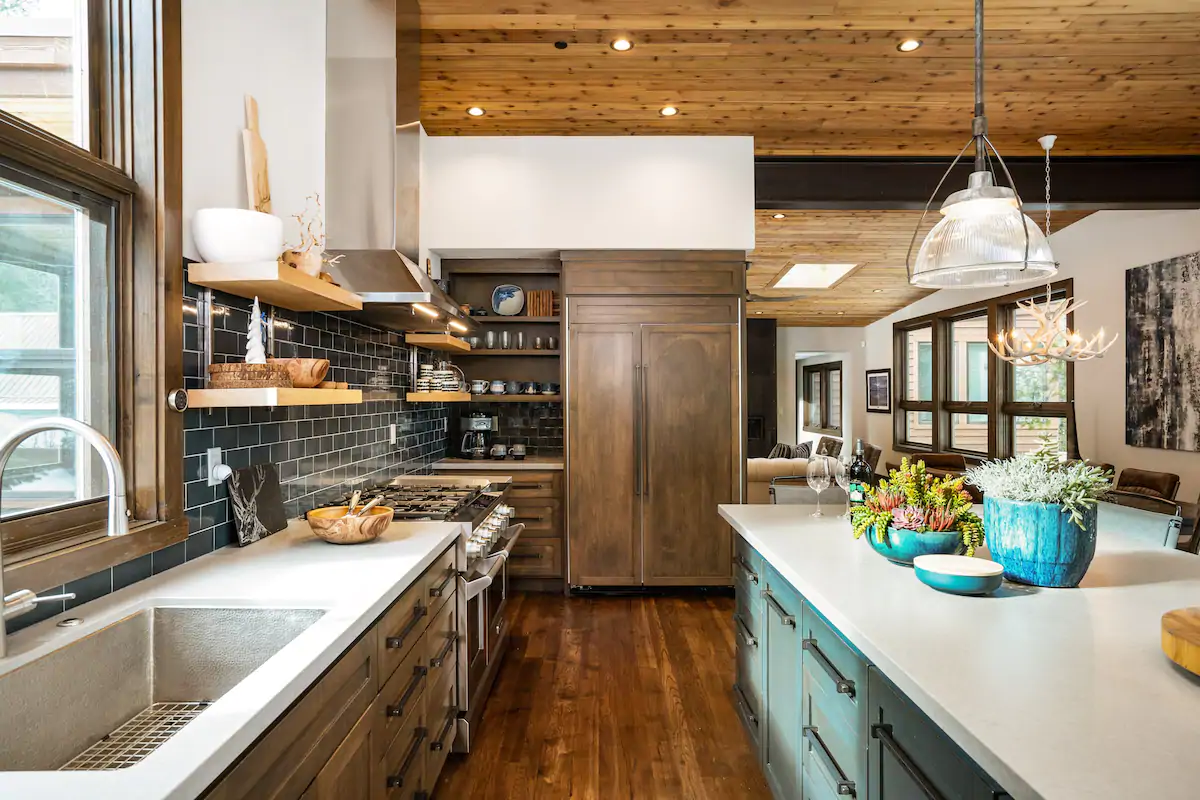 The Cobb Haus
The Cobb Haus, one of the best California Airbnbs, has a minimalistic, forest feel to it. It is pretty and pleasing in its soothing simplicity. The light, dark, and wood all blend beautifully together. For Airbnbs in Cobb, definitely consider this one.
The Cobb Haus is just for two guests, with one bedroom and one bathroom. There's a lovely deck, with sparkling bistro lights strung above. The outdoor shower will add relaxation and adventure to your stay! There's plenty to do locally around this cabin, or you can take the opportunity to stay in and enjoy the peace.
Pretty much everything you'll need is provided in this California Airbnb; an especially nice touch is the attention to homey and classic bonding activities, such as board games, cards, a record collection and record player, books, and toys for the kids!
Check this place out if you're craving a small and delightful cabin stay.
Click Here to Check Rates on Airbnb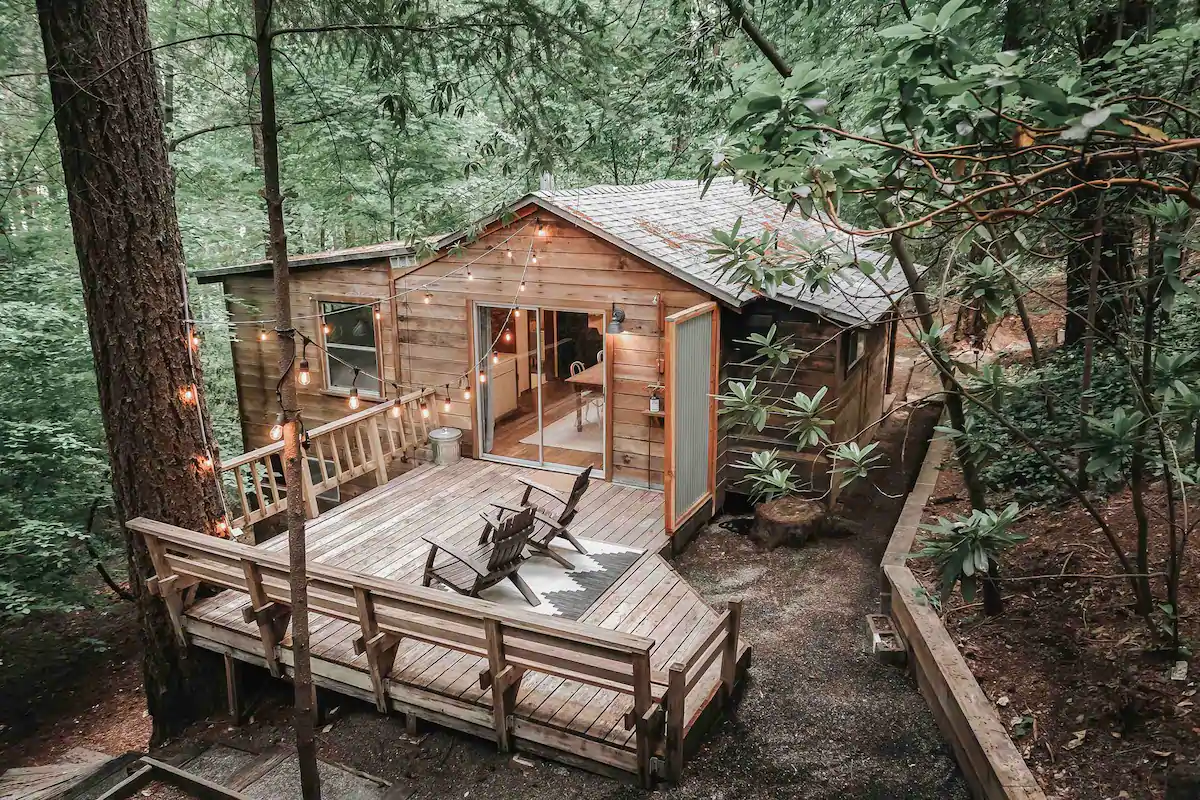 Beach and Pier Studio
Beach and Pier Studio is a simple, accommodating, comfortable Airbnb in Santa Monica. This is another great one for color lovers! Bright red curtains and other bold decor and pieces.
Important to note: This studio has a one month minimum stay required. So if you're looking for a long beach vacation or an extended stay in Santa Monica, this California Airbnb has you covered. Beach and Pier Studio sleeps 2 guests. Its best features include the views, the little zen garden with seating and plants, and its location right across from the beach and Santa Monica Pier.
Click Here to Check Rates on Airbnb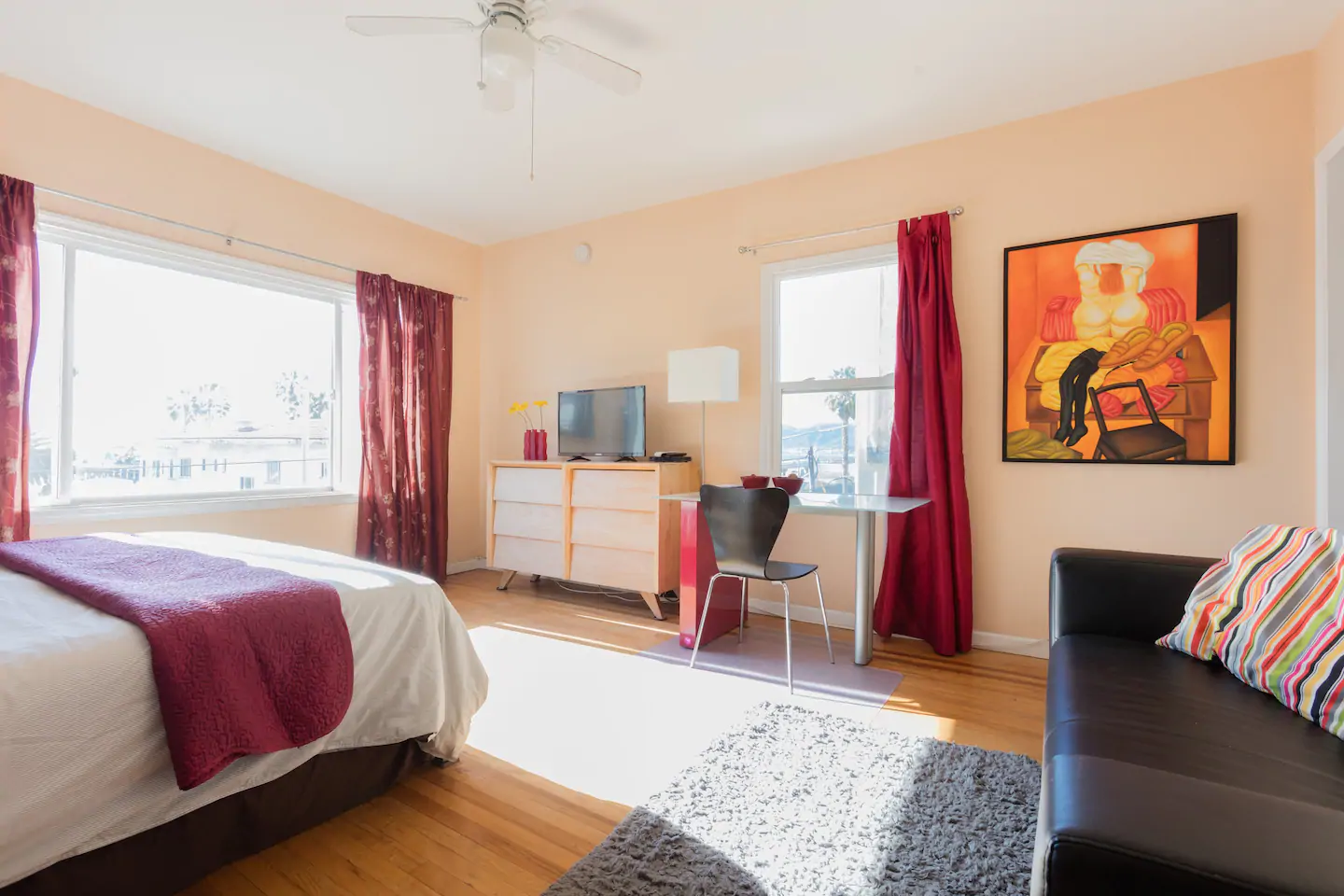 Sonoma House with Private Wine Cellar
On your way to a stay in wine country? Looking for Airbnbs in Sonoma? This little guesthouse in Sonoma is one of the best Airbnbs in California, in regards to unique, romantic, cozy, and idyllic.
This little vacation stay fits perfectly into the Sonoma lifestyle, with beautiful rock work on the exterior, as well as twinkle lights and winding vines growing all around. The private wine cellar gives you a romantic spot for dinner and drinks. You'll be less than 10 minutes away from the plaza.
This Sonoma House accommodates four guests, and the host recommends it for a couples getaway or girls trip. Don't miss this one on your list of best California Airbnbs to consider.
Click Here to Check Rates on Airbnb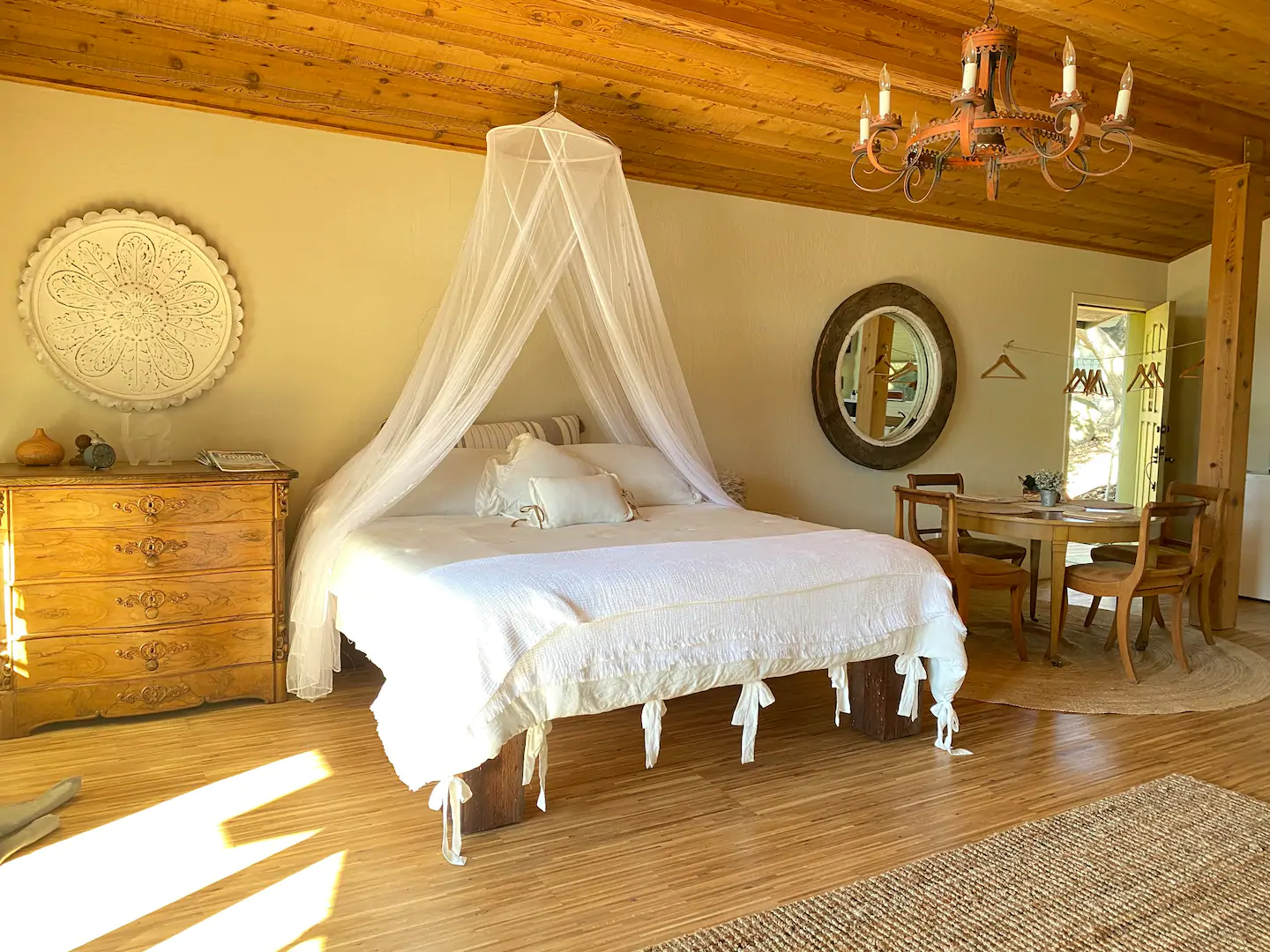 Wine Country Treehouse
This Wine Country Treehouse is a beautiful and adventurous Airbnb in Carmel Valley. If you're planning a trip to Carmel-by-the-Sea (20 minute drive) or Big Sur (50 minute drive), this is a fairly close by spot, in a beautiful area.
This California Airbnb is a perfect mix of treehouse adventure and vacation luxuries! The views are terrific, luscious, and green. You can enjoy the mountain and trees all around from the deck… or from the hot tub on the deck! There's also plenty of cozy seating, and the bed is placed right inside the glass double doors. The skylights over the bed will give you a great view of the stars as you fall asleep. The interior is a classy, inviting culmination of whites, grays, blacks, and tans. Your shower has windows looking right out into the oak trees all around you!
Wine Country Treehouse accommodates two, and it will make for a fabulous romantic getaway — "love nest," as the host calls it — within walking distance to all your local wine tasting dates. Definitely one of the best Airbnbs in California.
Click Here to Check Rates on Airbnb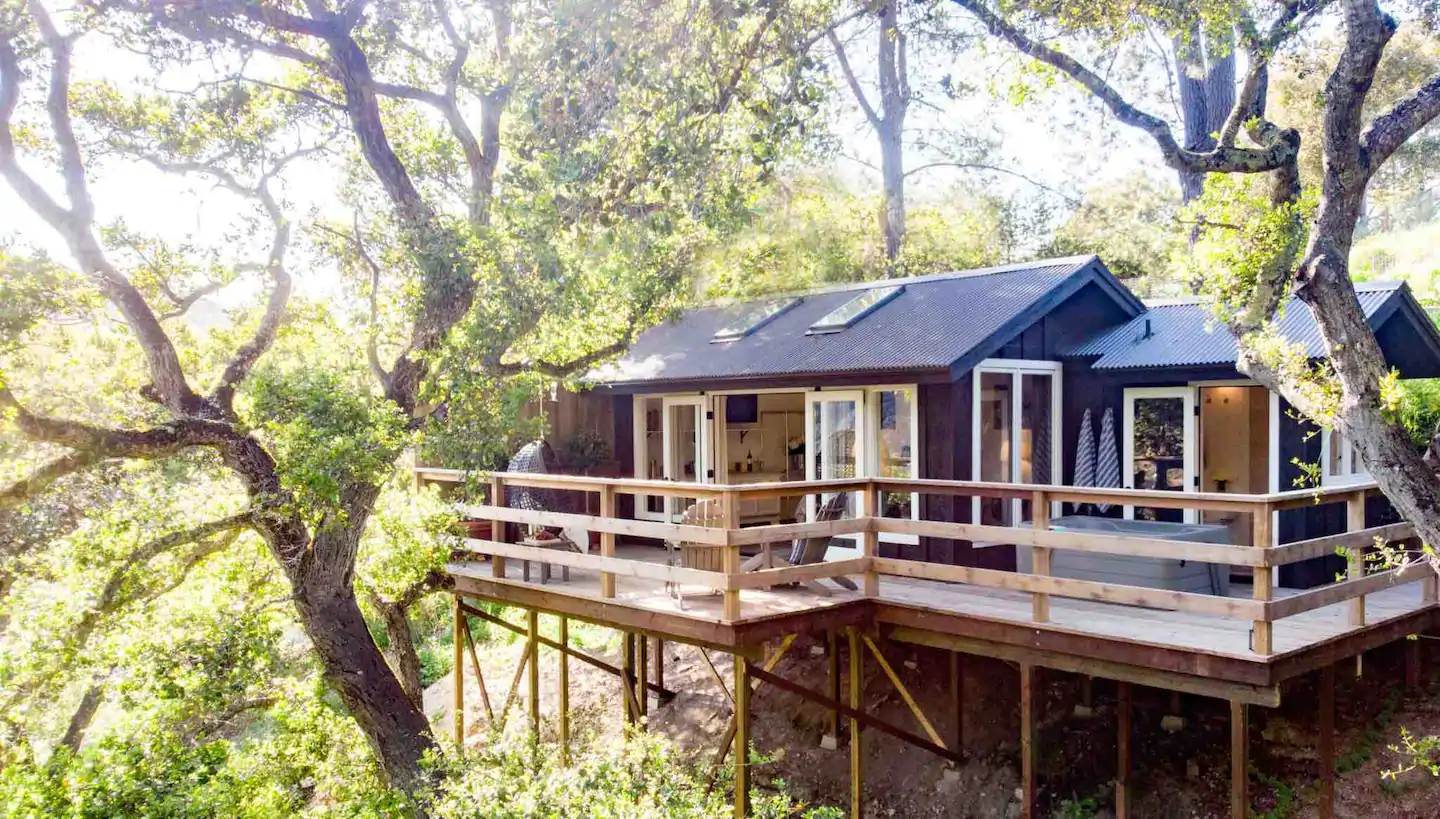 San Francisco Spacious Home
Just 10 miles south of San Francisco, there is a California Airbnb waiting for you! This Spacious Home gives you complete access to two stories, enough room for 4 guests, with 4 bedrooms and 3 bathrooms. If you're looking for Airbnbs in San Francisco, this is a great option.
This home is tasteful and welcoming and offers everything you'll need — the fully stocked kitchen, a piano, washer and dryer, a fireplace, and balcony.
For more to do outside your Airbnb while staying here, check out these fun things you must see in San Francisco and also these San Fran wine tours.
We hope you'll love this California Airbnb in the Bay Area!
Click Here to Check Rates on Airbnb